We have recently published How To Transform an Old Basement Into A Chic And Functional Home Office on Homesthetics and today we will continue with a complementary article meant to help you with your home office. Further on 18 DIY Desks will help you enhance your home office with passion and elegance. The practicality, functionality and efficiency of the office is the most important thing and refreshing its look or building it from scratch on your own will ensure its success.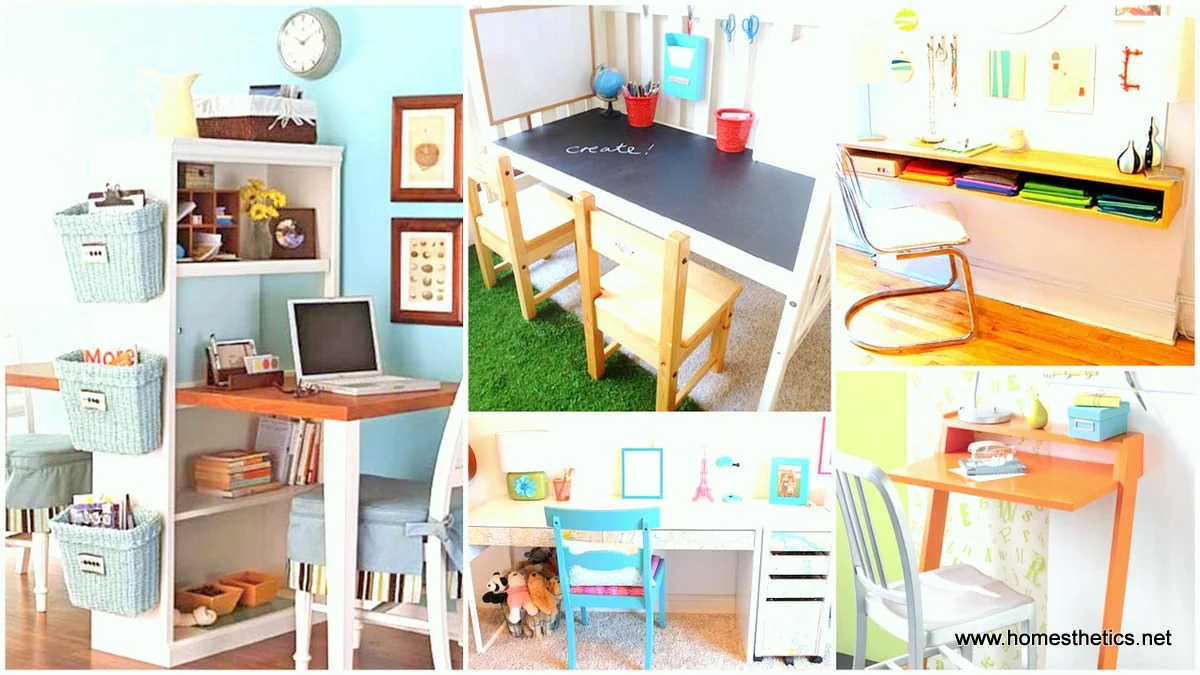 Whether we realize or not we are all influenced by environmental factors, exterior factors, routine and aesthetics values in our work routine, ensuring the adequate design for yourself will make you more productive; a good design has the power to rejuvenate, inspire and encourage creativity .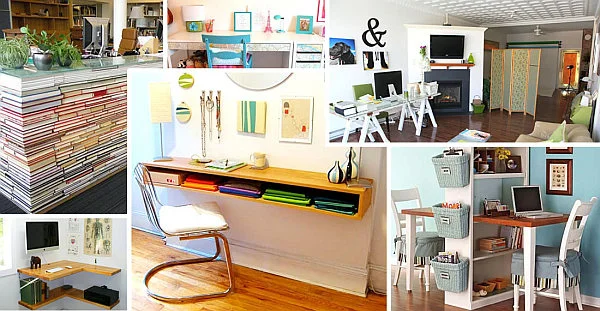 The desire for high customization these days gave birth to a large number of DIY desk projects in a big palette, from relatively easy projects to complex and intricate ones. Bellow we have made a small selection of do it yourself desks from all the levels, encouraging you to try and design your own desk and to send to us, and we`ll add it here in our gallery. If you are not interested in building desk we still encourage you to throw a look bellow, several organization style ideas are worth considering. Your existing office can be refreshed in different ways, rejuvenating your space.
DIY Desks Ideas for Your Home Office
Large DIY Desks
The first collection displays sturdy -large pieces dedicated for the dedicated ones  to home working. These desks are highly effective because they have englobed big storage areas, managing to offer any equipment or files you need at hand.  Most workaholics  are falling in this collection, we need large desks that can keep anything we need in close quarters, from staples, to printers, two or three monitors, drawing tablet telephone keyboard mouse to audio system or headset, two three cups of coffee a laptop and a bowl of snacks, business card organized, pencils and many many others. Organization is important in the workplace and a huge desk will help you organize better if you have a lot of equipment.
Bellow there is a Pottery Barn inspired DIY desk with painted file cabinets which are carrying the top of a disassembled IKEA Effektiv desk. In the end the individual obtained a beautiful and charming corner work space without much hassle. You can find the full tutorial on IKE Ahackers, on this site you will find do it yourself ideas mainly based on IKEA furniture parts.
A similar project has been featured on Jannypie. Entitled DIY Build Your Own Craft Desk, it presents a large corner desk realized in a creative manner, in one end table legs are providing support to the structure while in the middle and the other end a cube shelving adds support and storage areas in a beautiful and space saving manner.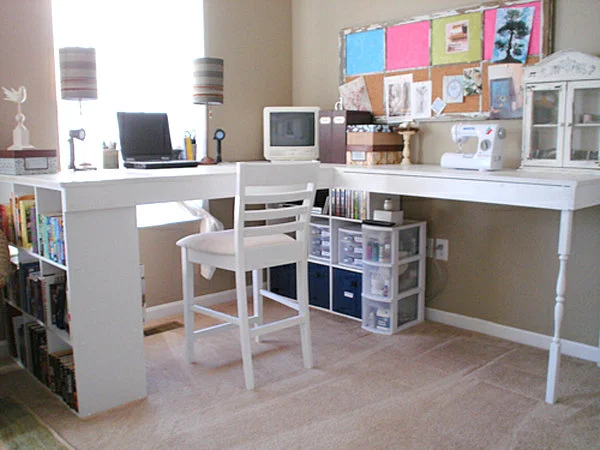 Including storage areas in the desk base is a trend that catches on really quickly because it`s space efficient and it keeps the desired items near you whilst being stylish and practical. As you`ve probably noticed the DIY desk below utilizes baskets from IKEA for organizational spaces, these are coming extremely stylish designs and different sizes. On top of three minimalist white storage areas a white wooden top gives the ensemble substance, texture and depth. The full tutorial can be found here :  Aubrey + Lindsay's Little House Blog.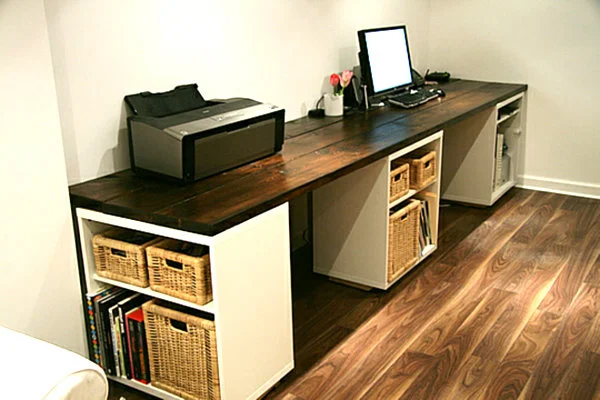 The sustainable cause can be supported in your own desk trough reclaimed wood and some regular support brackets as showcased in the picture bellow. When combined with a desk and beautiful cozy and personal items the result is shattering.  [from Apartment Therapy]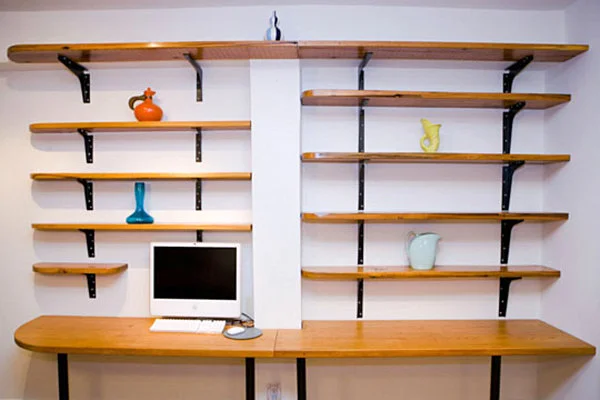 Bellow we have a spectacular desk, materialized in a library out of hundreds of recycled books. If you like the idea and plan to shelter such a piece in your own home we encourage you to talk to a professional that will help you make sure that the item is steady and usable. It will take you a while but it will definitely be worth it, an extraordinary conversation starter and graphic example for DIY desks.  [from Recyclart]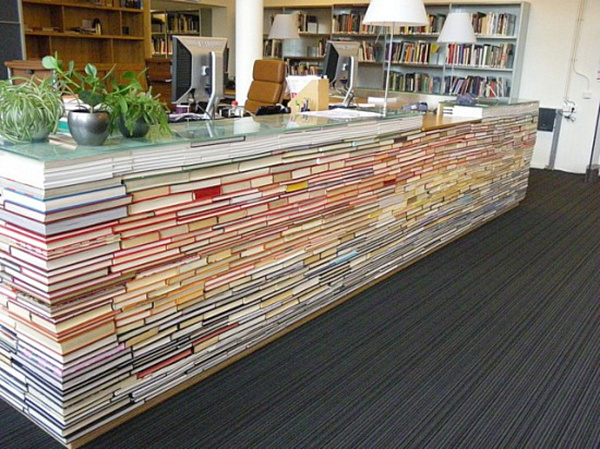 Medium Sized DIY Desks
The second collection in our small guide showcases average sized furniture, a combination of space efficiency and substance. Scaling down an object enhances it a personal manner, on a small desk you will find only the things that you definitely need, things that have a meaning for you and they`re used on the daily basis. The minimalist DIY desk bellow has been built from scratch using a recycled door panel and some pieced of wood for legs. The complete tutorial can be found here: Instructables.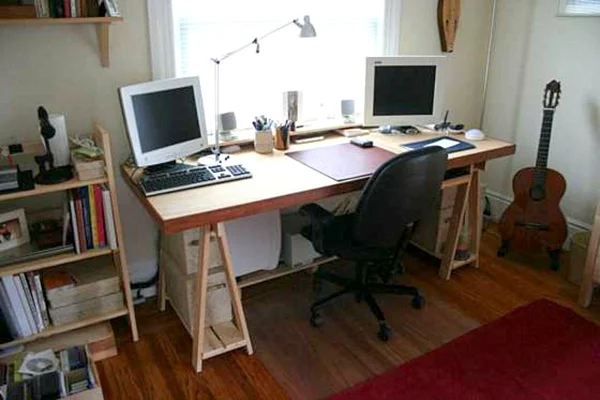 A very similar minimalist desk dressed in white is presented bellow. This as well has been designed from an old door. [from & Unlimited Dogs]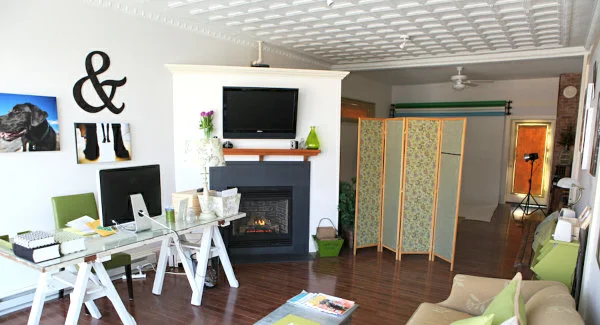 We are not allowed to forget that our children are in need of a comfortable and highly personalized desk as well. Beside the obvious colorful choices out there and extravagant designs, which we do not recommend, we think they`re a few DIY desk ideas worth considering.
Bellow a minimalist desk design has been transformed in something really neat and unique. On the IKEA Micke Desk several maps have been used to prove texture color and detail. This method can transform absolutely any piece of furniture into an extraordinary eye candy. This project as well has been spotted at IKEAhackers.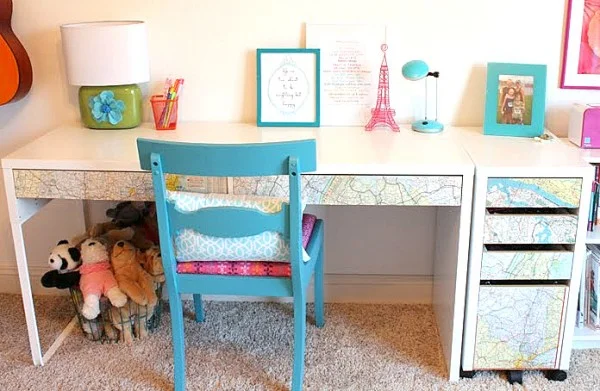 Bellow a very simple and elegant design that shelters room for stage is showcased. It`s entitled Parson Tower Desk and the full tutorial for can be found at  Ana White.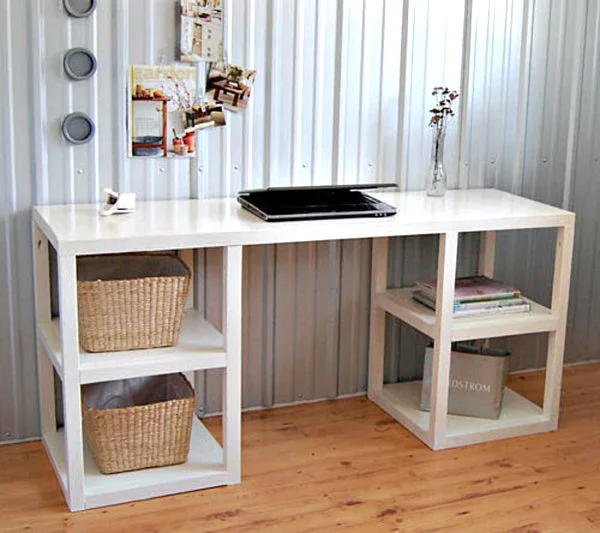 The next example bellow is really original and creative, the outgrown children`s bed has been converted a DIY playing area with a chalkboard surface for learning to write and draw. These helps you as a parent to learn the child that there is a place to work and have fun and different place to sleep. His own small desk at a very young age will make him realize that you as well should not be disturbed as when working, can help him learn that he can draw just at his desk without confining his creativity and freedom.
We find this method extraordinary, probably the best one in this article and we invite you to try it out if you`re in that specific time frame in your life. More details about the crafting at : Apartment Therapy.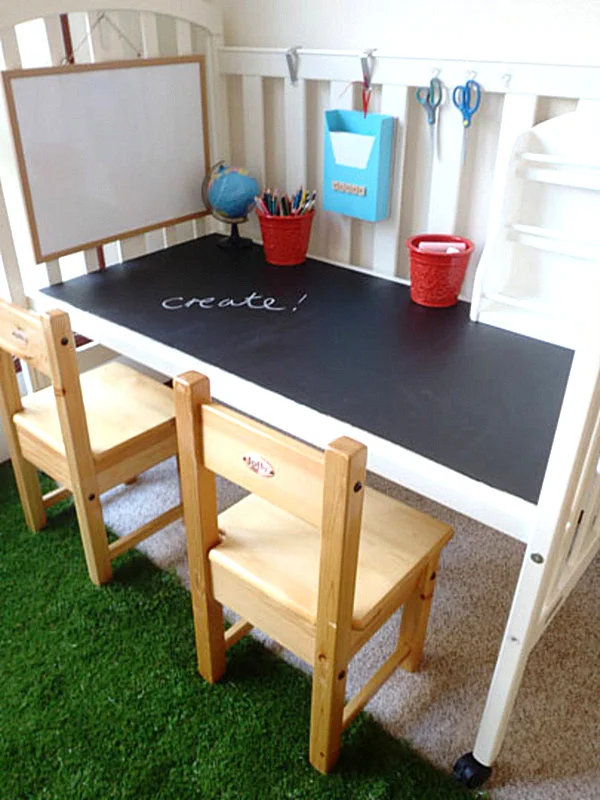 A really simple and graphic DIY desk can be obtained using three-rod hairpin legs as a base and a pine top as top, choose your favorite wood essence and personalize it as much as possible. The tapered legs have a magnificent mid-century apparel and the simple clean design makes ideal for tones of interior design setups.
The free space beneath the top is highlighting the free space as well enhancing the feeling of a bigger space and allowing energy to circulate trough out the room.
If you think  a small desk design can satisfy your requirements or have the possibility of cantilevering an averaged sized one you can eliminate the need for desk legs altogether. The small desk bellow has been created by Maggie Pattillo and it uses oak boards and brackets to create a really compact modern effect. In this desk project the structure can raise problems if it`s not properly built and secured. You can get in touch with an expert to ensure that everything is sturdy. A full tutorial can be found on Design Sponge.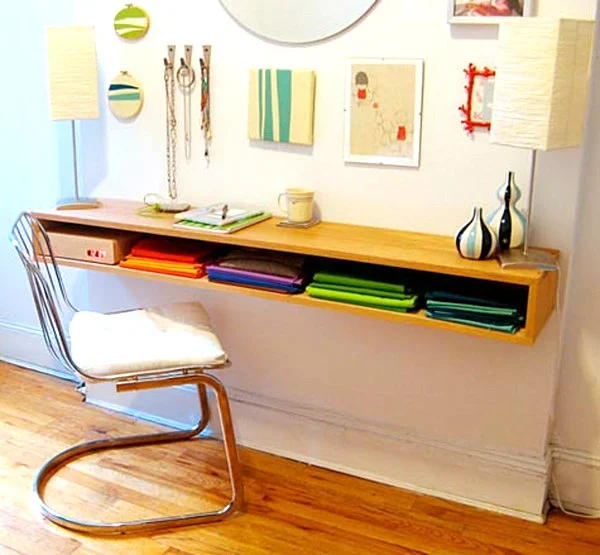 Small DIY Desks
The last pack of DIY Desk contains small pieces as the one above, pieces that are not sacrificing on style and essence. Why would you pay more if you need just a small clever desk. The selection bellow is tailored for small spaces in a wonderful manner.
When the blueprint is limited you can always make use of your vertical space by adding storage. The chic desk bellow has been realized out of apple crates and wooden planks. It has been first spotted at the Anthropologie clothing store and it inspired a similar  DIY project/turorial that can be viewed at Apartment Therapy.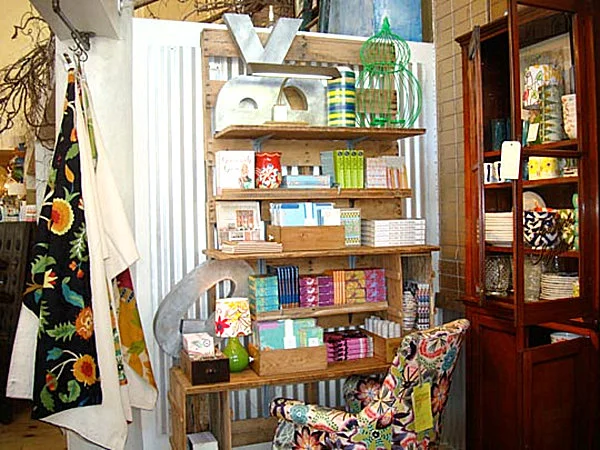 A small footprint piece of furniture entitled  Cubby Desk and Hutch is a build yourself project from Ana White, a small piece sustaining a big cause for small spaces.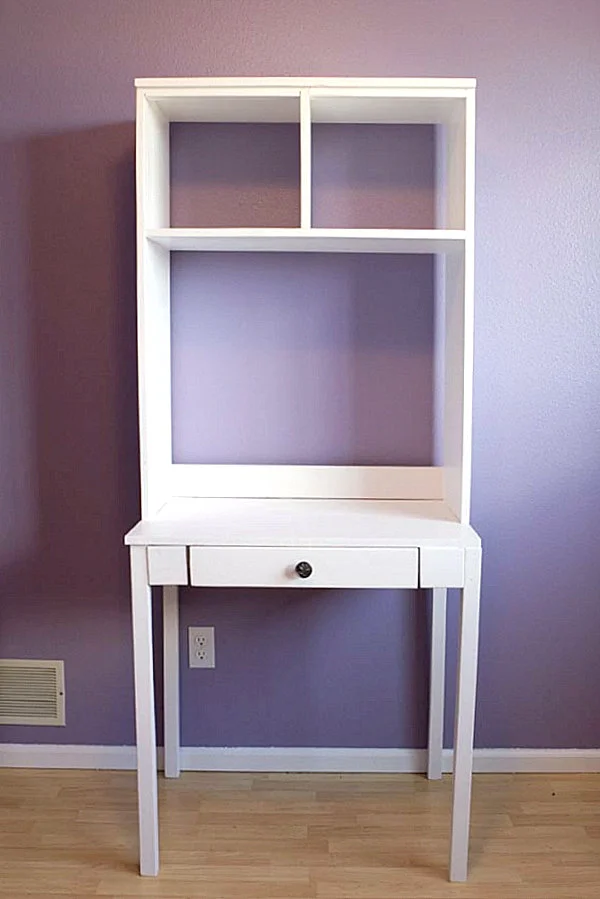 The Floating Corner Desk by Tom Geisler is realized from two IKEA butcher block counter tops. The upper top becomes a desk top while the second one is transformed into a useful shelf.  [from Lifehacker]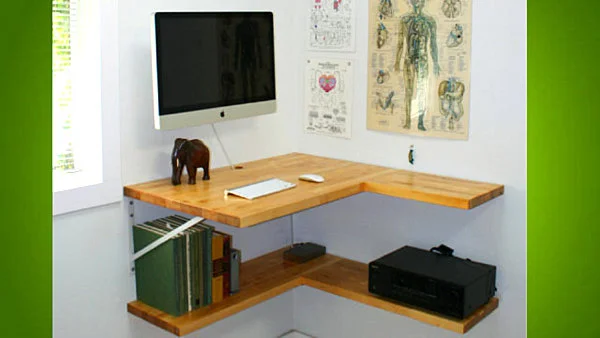 IKEA furniture is the starting point of a multitude of DIY projects worldwide thanks to fair prices and accessibility. The iMac Computer Desk bellow has been constructed from IKEA Ludving products and a Vitamin stool. A simple sturdy piece of furniture accommodates a wide display in a natural manner that enhances small spaces. The full tutorial can be found at:  IKEAhackers.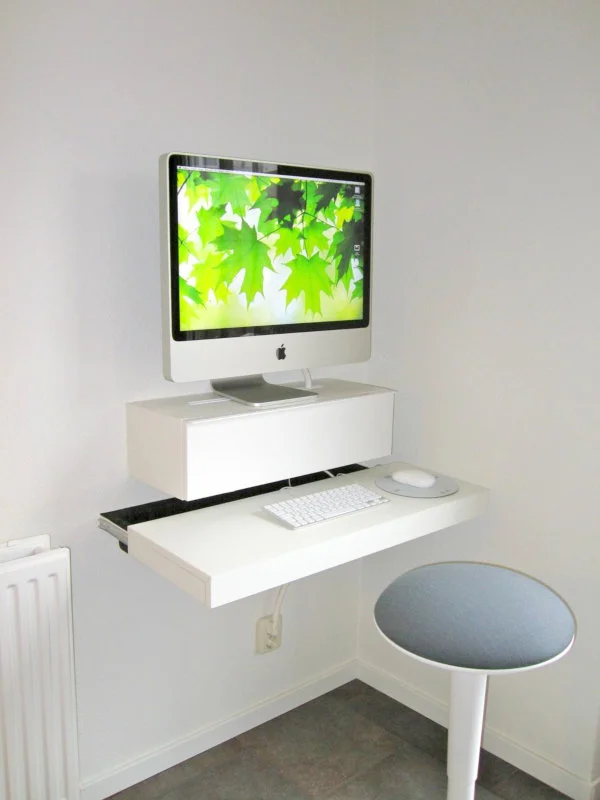 Bellow a very chic DIY mini laptop desk is wearing a fashionable color materialized trough a coat of enamel. This small DIY desk can be characterized as stylish and space effective. The full tutorial can be accessed at  Fresh Home Ideas.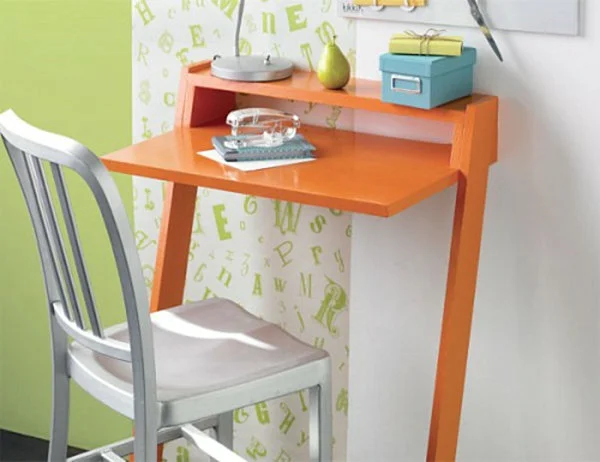 In the last image presented an average desk is sliced into two smaller desks by a bookshelf that delivers outstanding functionality trough storage spaces. An extraordinary display of functionality with great aesthetic value for two individuals. [from Better Homes and Gardensvia Apartment Therapy]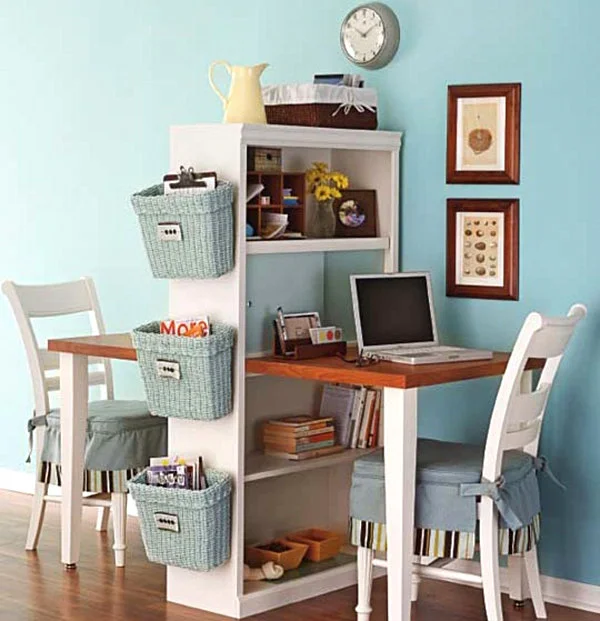 We`ve hardly scratched the surface of creativity with our small DIY desks selection, from the smallest wall mounted surfaces up to the biggest L-shaped corner desks with humongous storage, a wide variety of ideas can be materialized easily at home. In this manner you can be practical and efficient with ease whilst being creative in your own work-space. What do you think? Are you the individual that would rather build his own desk or the one who commissions another individual?
Related Articles
13 Best Art Desks & Best Drafting Tables for Artists
Acrylic Home Office Desks for Your Interior Design
Space-Saving Hideaway Desks for Small Apartment Designs
27 Unique Desks and Coffee Tables Materialized in Highly Creative DIY Projects
23+ Ingenious Cubicle Decor Ideas to Transform Your Workspace
Use Simple & Fun DIY Cubicle Decor Ideas to Emphasize Your Desk
31 Super Useful DIY Desk Decor Ideas to Follow
We would love to hear your opinion bellow regarding the DIY desk projects or on Facebook, Twitter or G+!
PS: We have also written an article for Interior Deluxe that might interest you. It`s entitled Enhance Your DIY Projects Through Proper Lighting and it covers a few methods of improving your project through LED Lighting. Enjoy!