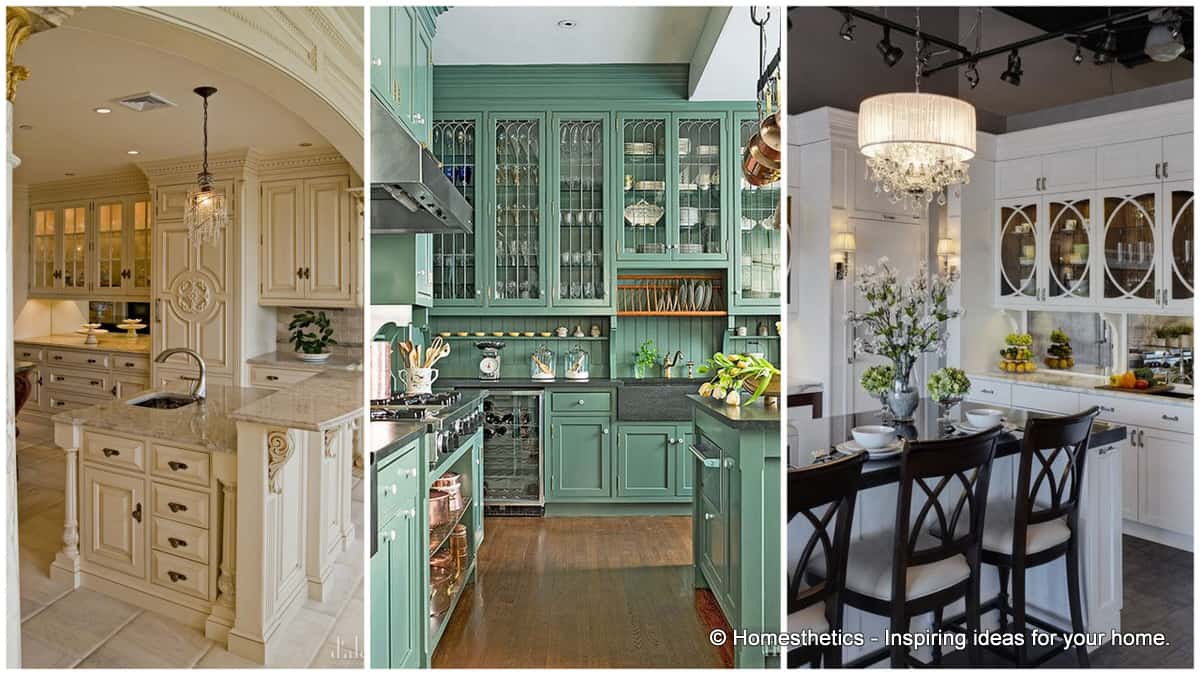 There is something elegant and chic about glass kitchen cabinets. They seem to open everything up to look more spacious and the room more lighted,with a list of glass to choose from like beveled, frosted, smooth and crystal. In case you did not know, beveled glass is one that is cut to a specific size and angle in order to produce a chic framed appearance. The whole point of having a clear glass cabinet in your kitchen is not to show off how much groceries you have, but rather to display your finest flatware and china. However, if you don't want to use wood cabinets, then a frosted glass would be just the thing for your tin cans and cereal boxes. As you will notice in this article, glass used in kitchen cabinets are sometimes for artistry beautification in conjunction with wood cabinets. If you have young children, this is something to consider when installing glass cabinets. You certainly would not want such cabinets on the floor like you will see in this article. For this will only be all too eye-catching for your toddler. Also,don't place them  to low that they can climb up on a chair either – so consider these matters first.
Remember you cabinets are the real center of attraction and attention in your kitchen, not your island. There are a few glass cabinet door styles to choose from like clear or slightly opaque, leaded, patterned, etched or grooved glass. No more searching with multiple styles to choose from for your kitchen decor. If you're wondering, a few common areas for glass cabinet doors are the corners, end, those that frame the appliances or kitchen sink, peninsula and small top cabinets.
Finally, the cherry on the cake would be to have lights in the interior of your glass cabinets. This displaying your many fine china and champagne glasses would itself enhance your entire glass kitchen cabinet decor.
#1 cream country kitchen cabinet design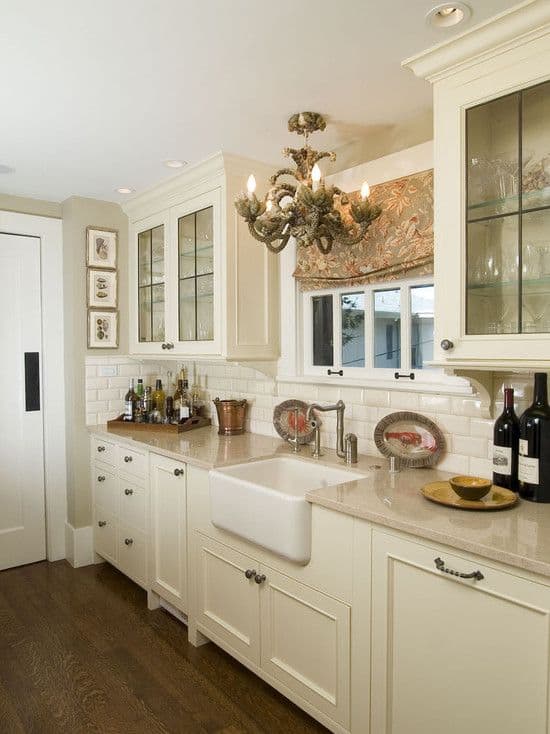 #2 Victorian home with glass kitchen cabinets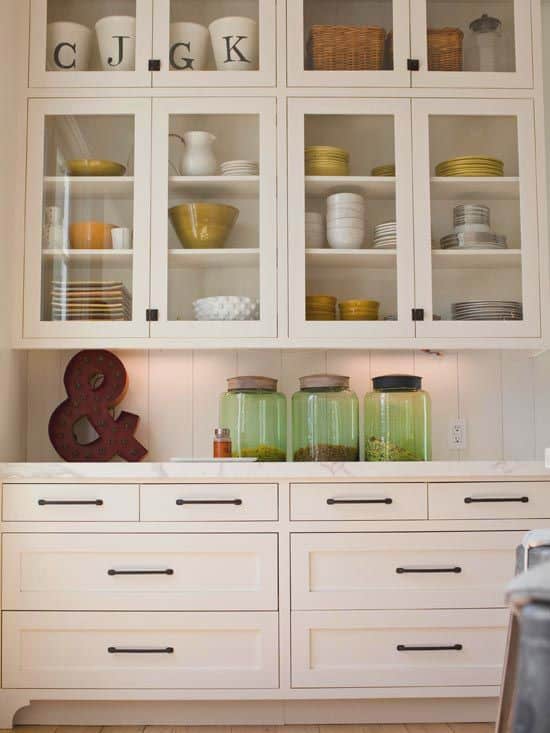 #3 European style kitchen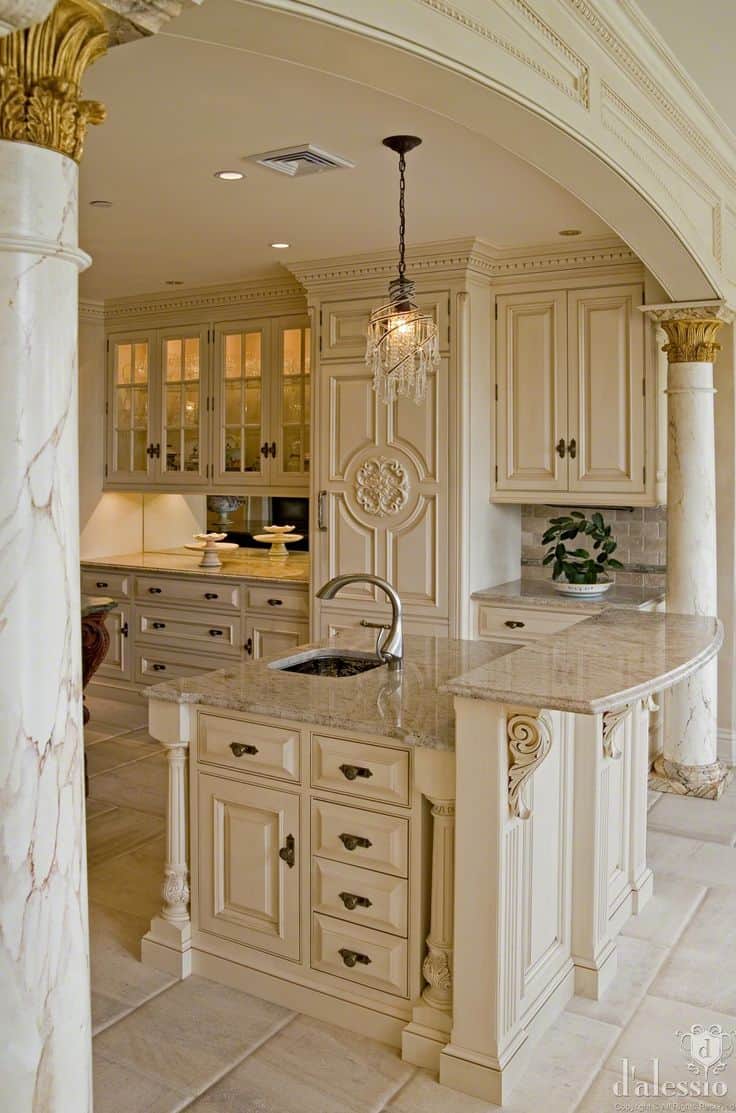 #4 nautical loing white kitchen with glass cabinets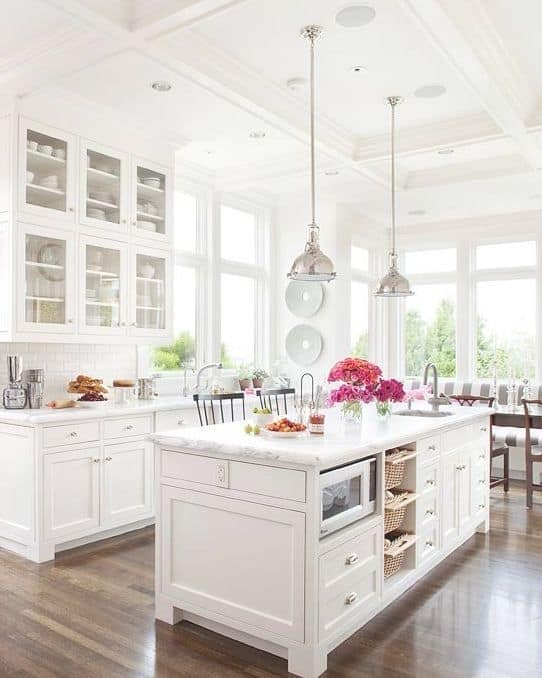 #5 glass kitchen cabinets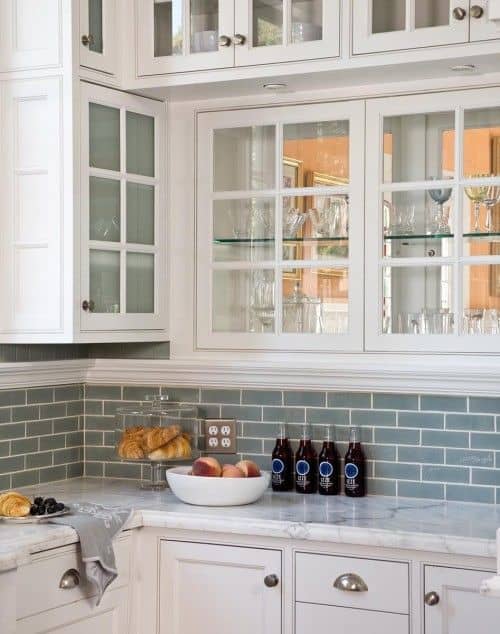 #6 white upper cabinets with teal subway tile back splash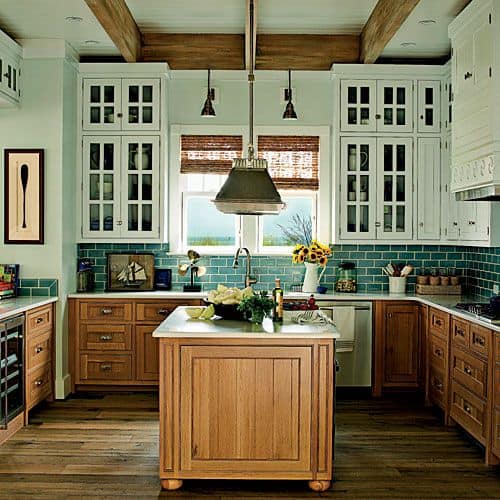 #7 glass front cabinets in this kitchen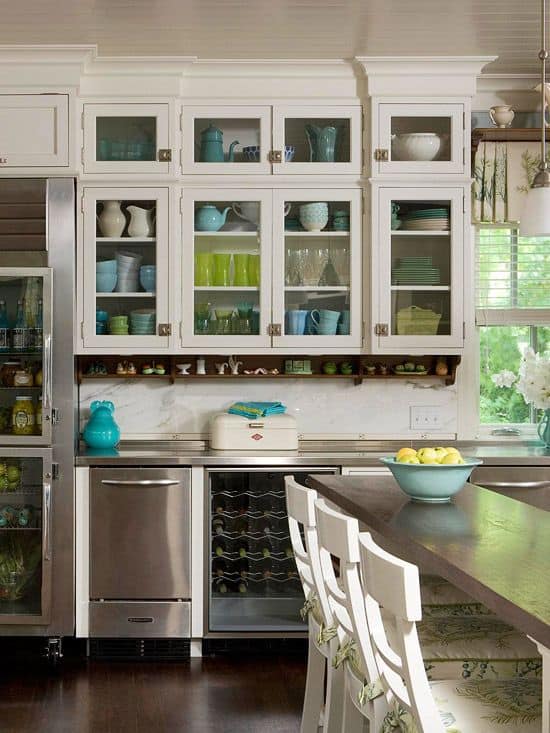 #8 handsome green cabinets with white porcelain knobs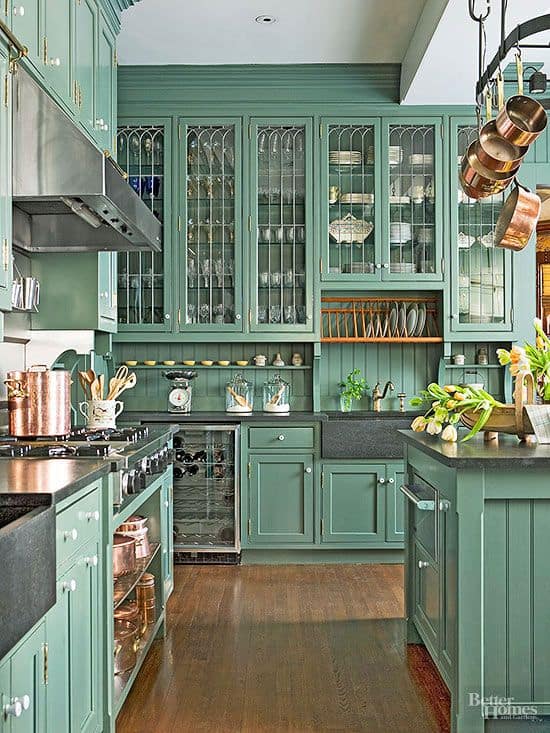 #9 white glass cabinets with dark contrast in the background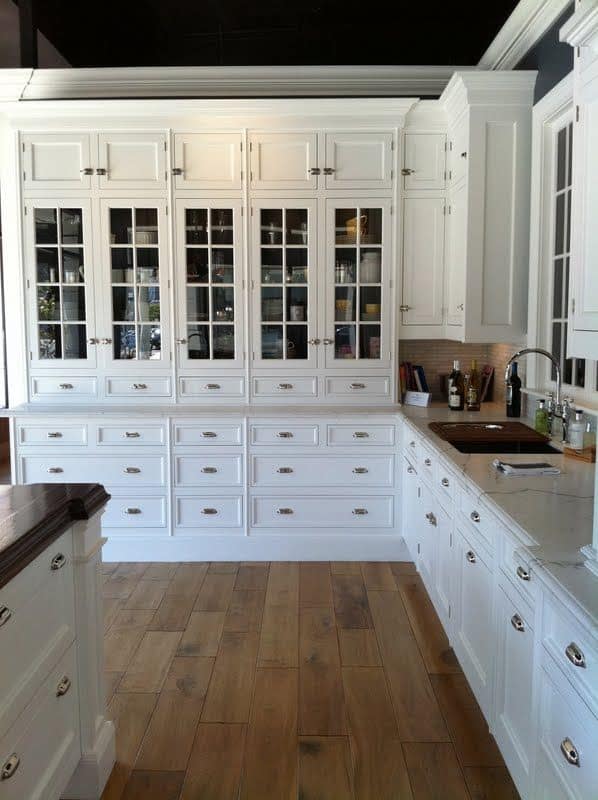 #10 cottage kitchen styled decor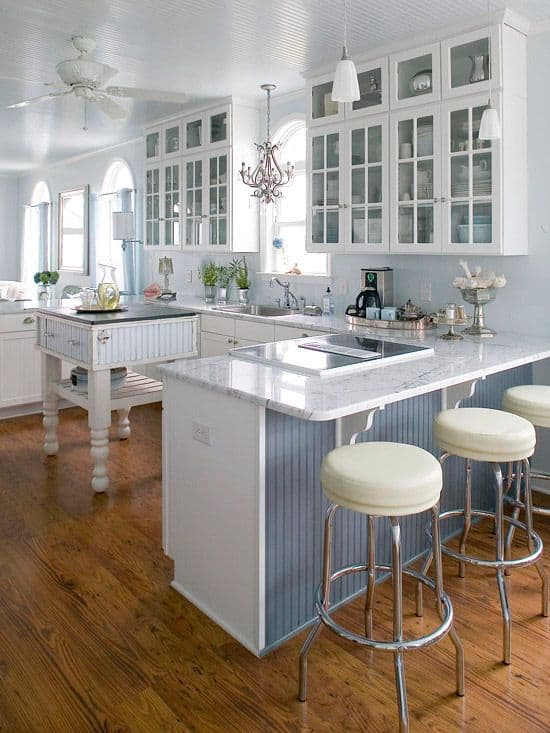 #11 subway tile back splash under this tinted glass cabinet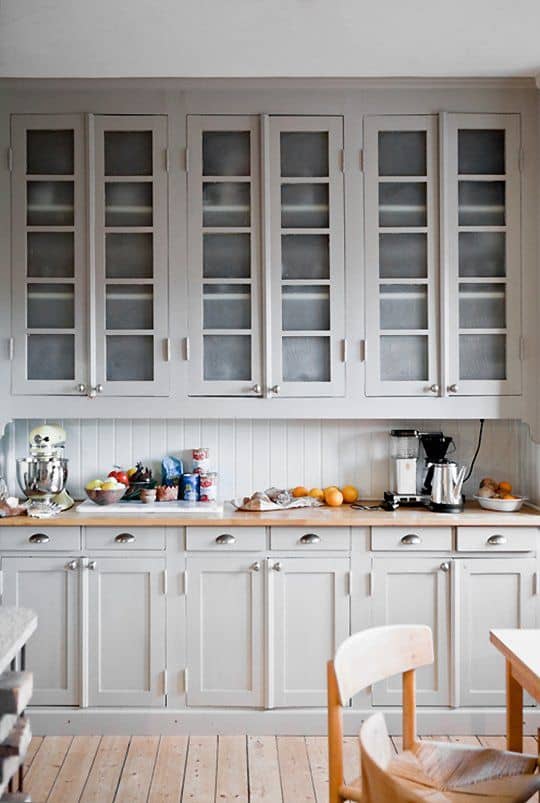 #12 white and black kitchen decor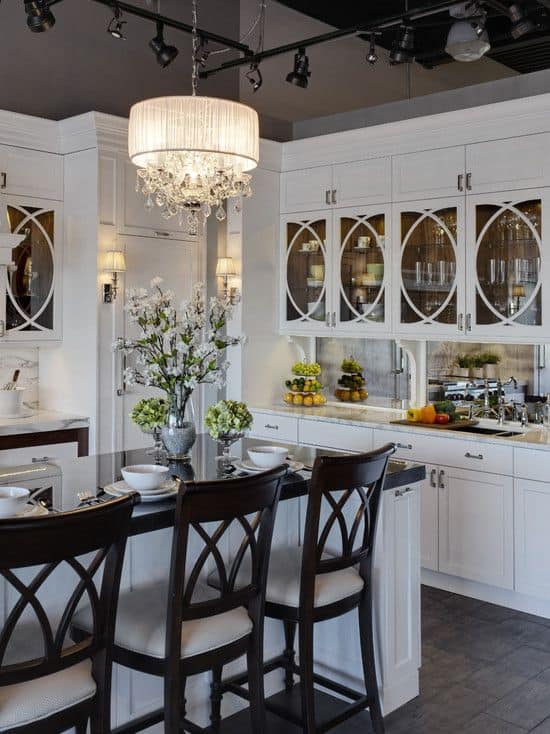 #13 fine looking cabinets
Source: southshoredecoratingblog.com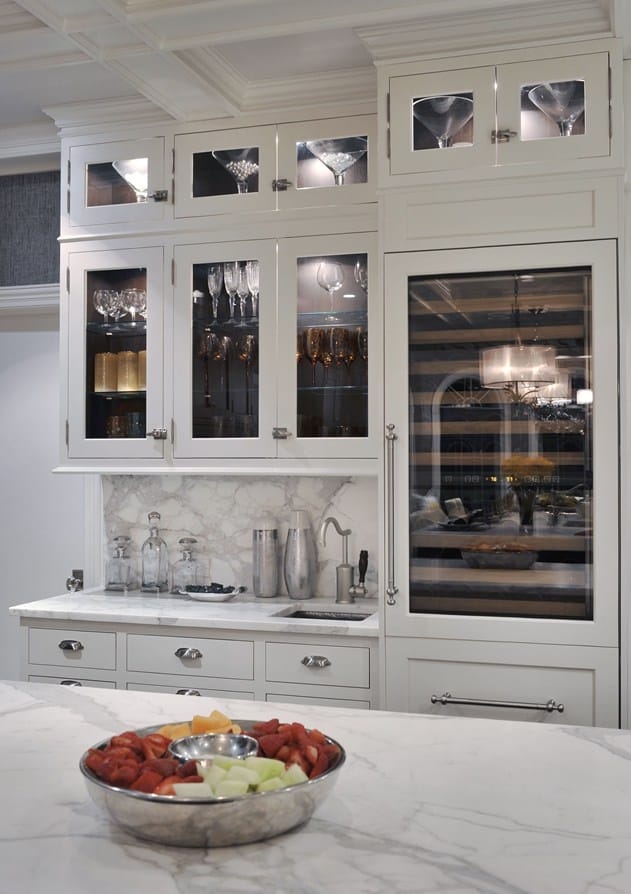 #14 glass kitchen cabinets over marble tiles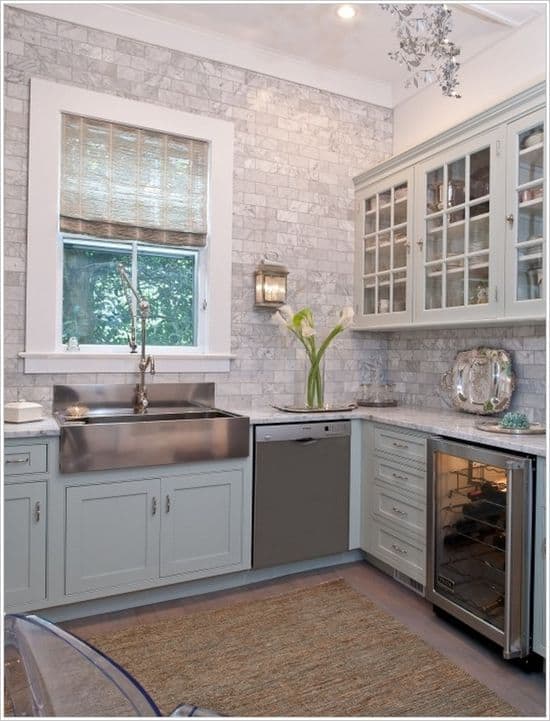 #15 all white kitchen with mini glass cabinets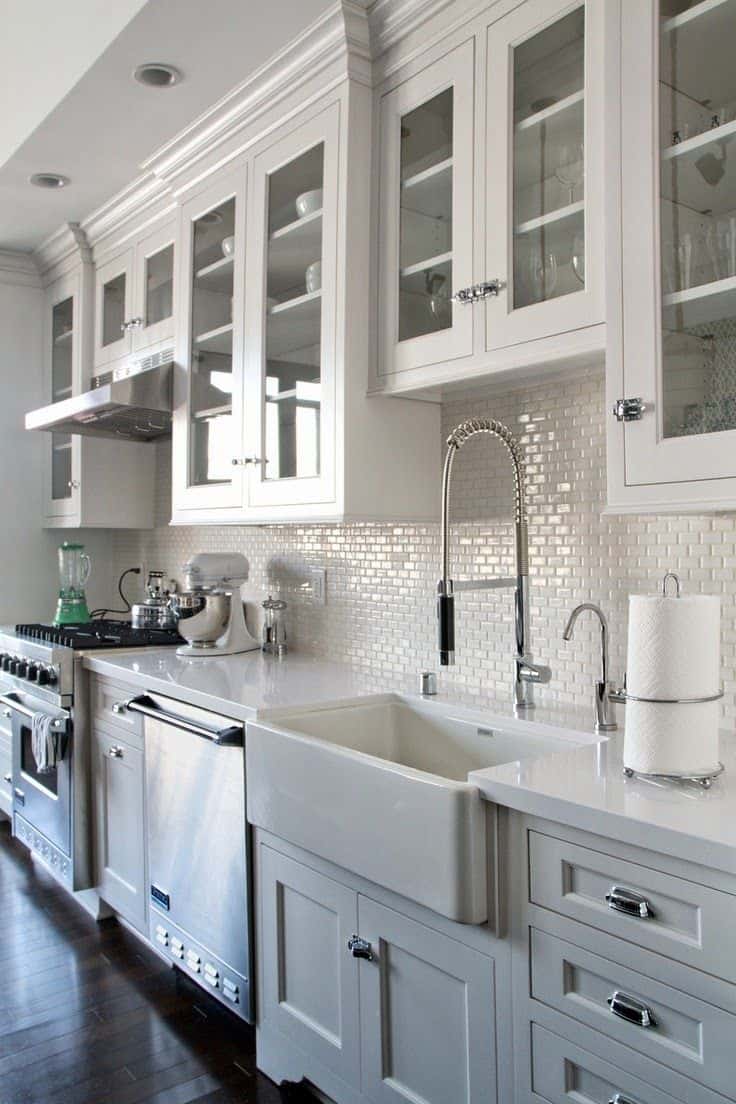 #16 now here's something you don't see often – glass cabinets on the kitchen floor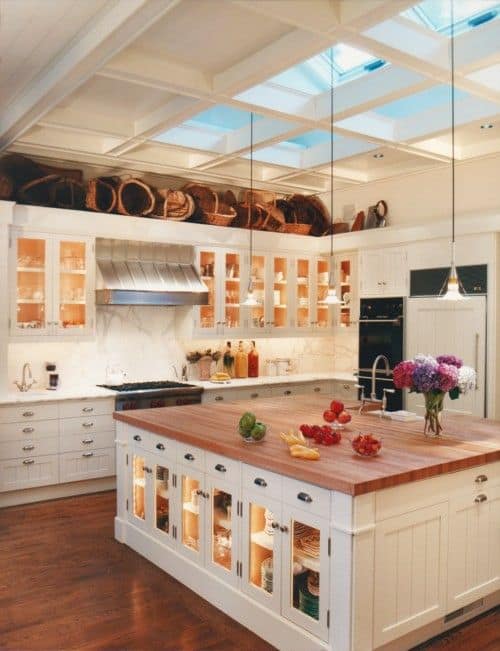 #17 glass kitchen cabinets on a dark wooden floor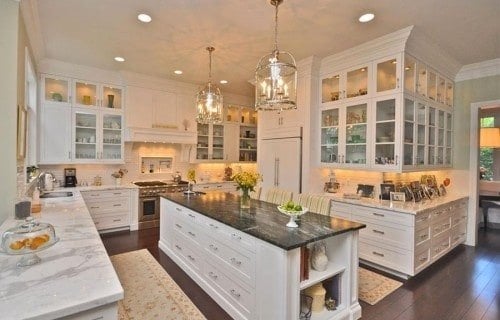 #18 frame less glass kitchen cabinet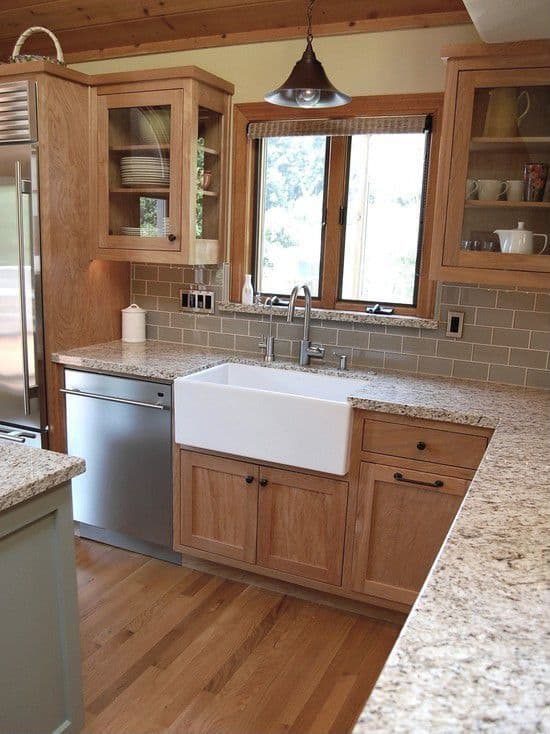 #19 delicately styled white cabinets with glass front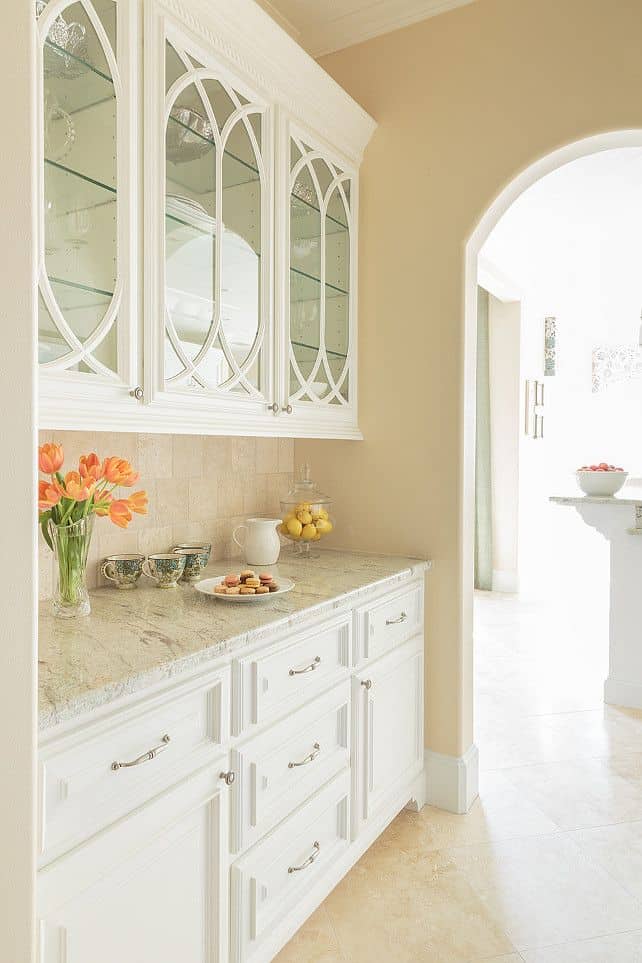 #20 another white kitchen with vanished floors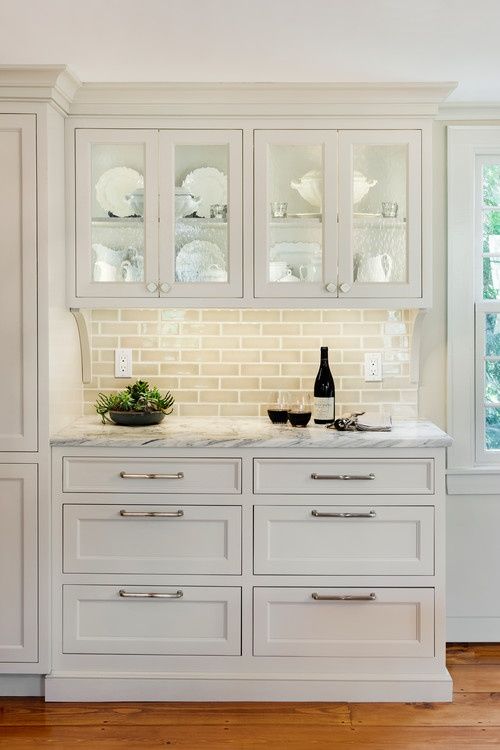 #21 cozy kitchen with space for your house pet
Source: southernhospitalityblog.com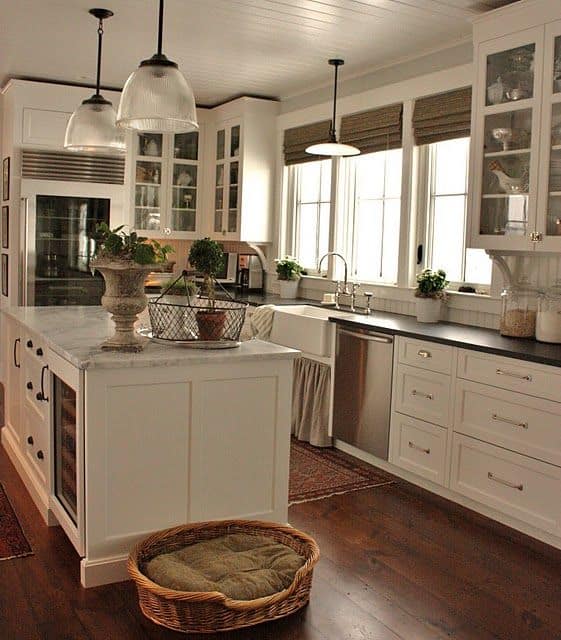 #22 love the look of silver and white in this decor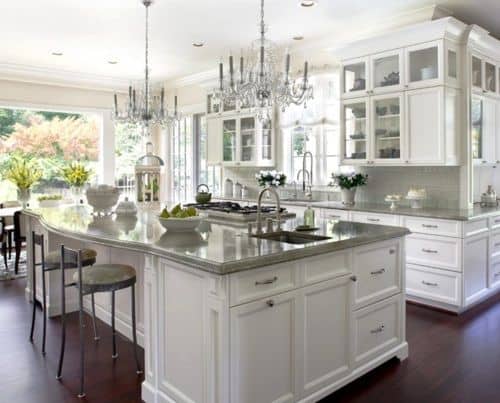 #23 white glass cabinets with dark counter tops
#24 another version of a white kitchen – just gorgeous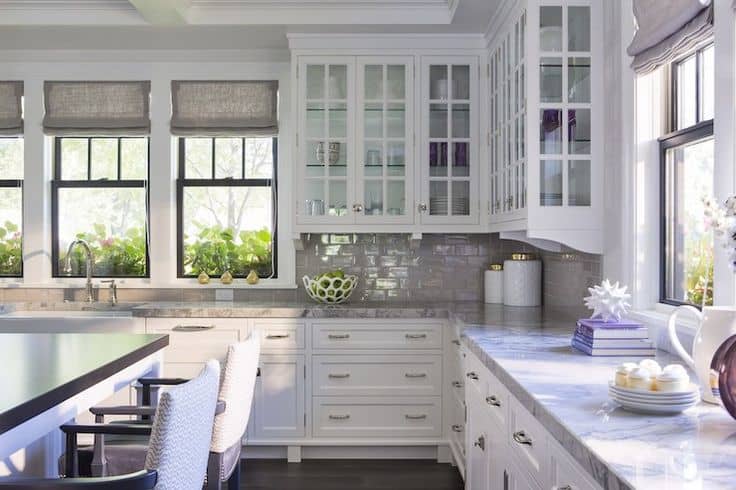 #25 grey glass cabinets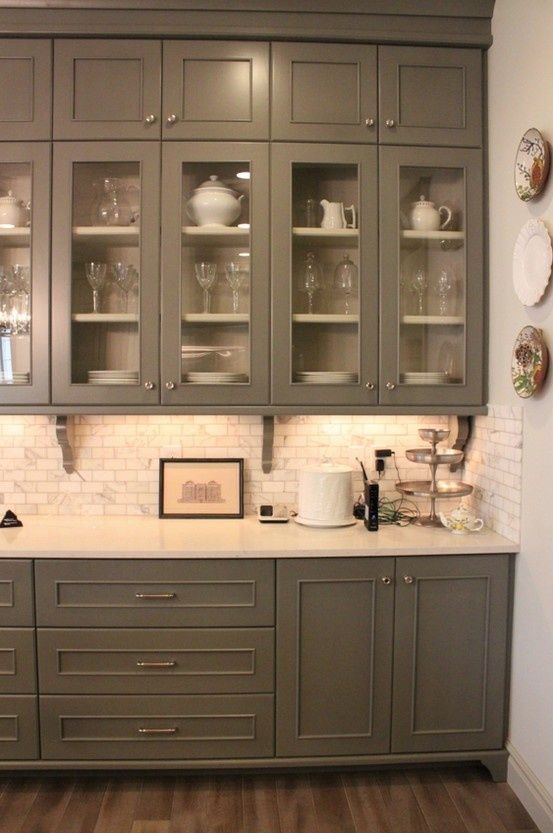 #26 pure elegance with the right touch of blue
Source: zsazsabellagio.blogspot.com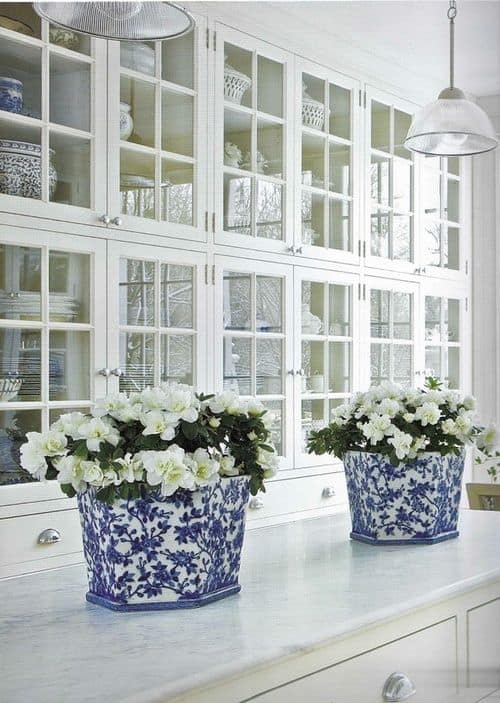 #27 rustic chandelier against classy glass cabinets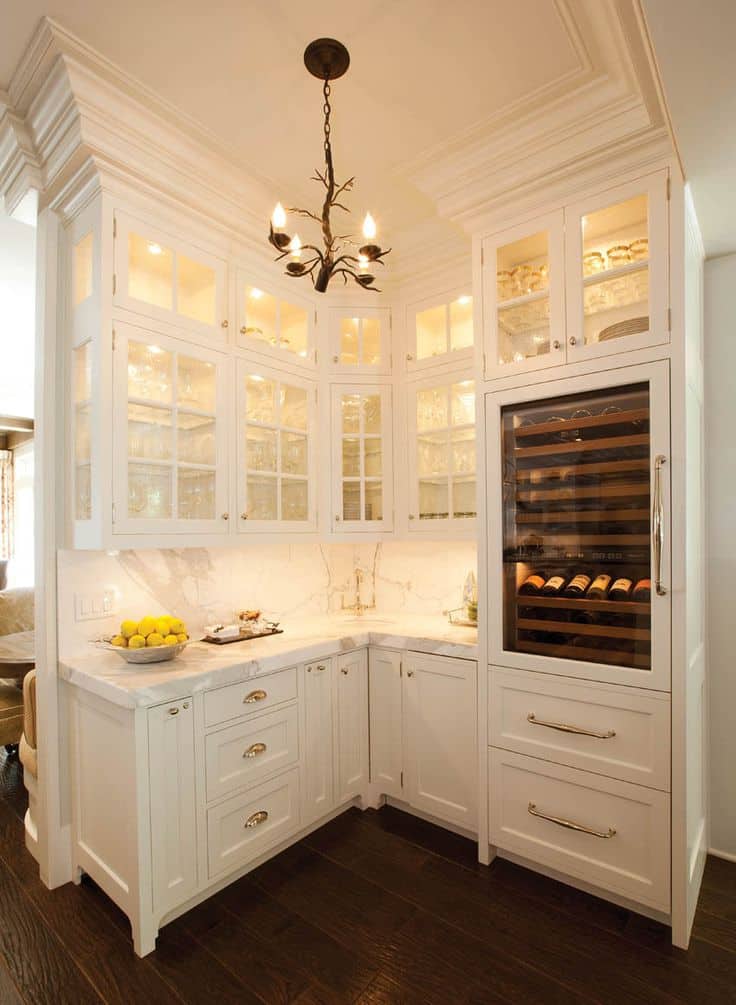 Whether beaded, leaded or painted – having glass cabinets in your kitchen would always add a touch of class. Do leave your comments in the comment section below.