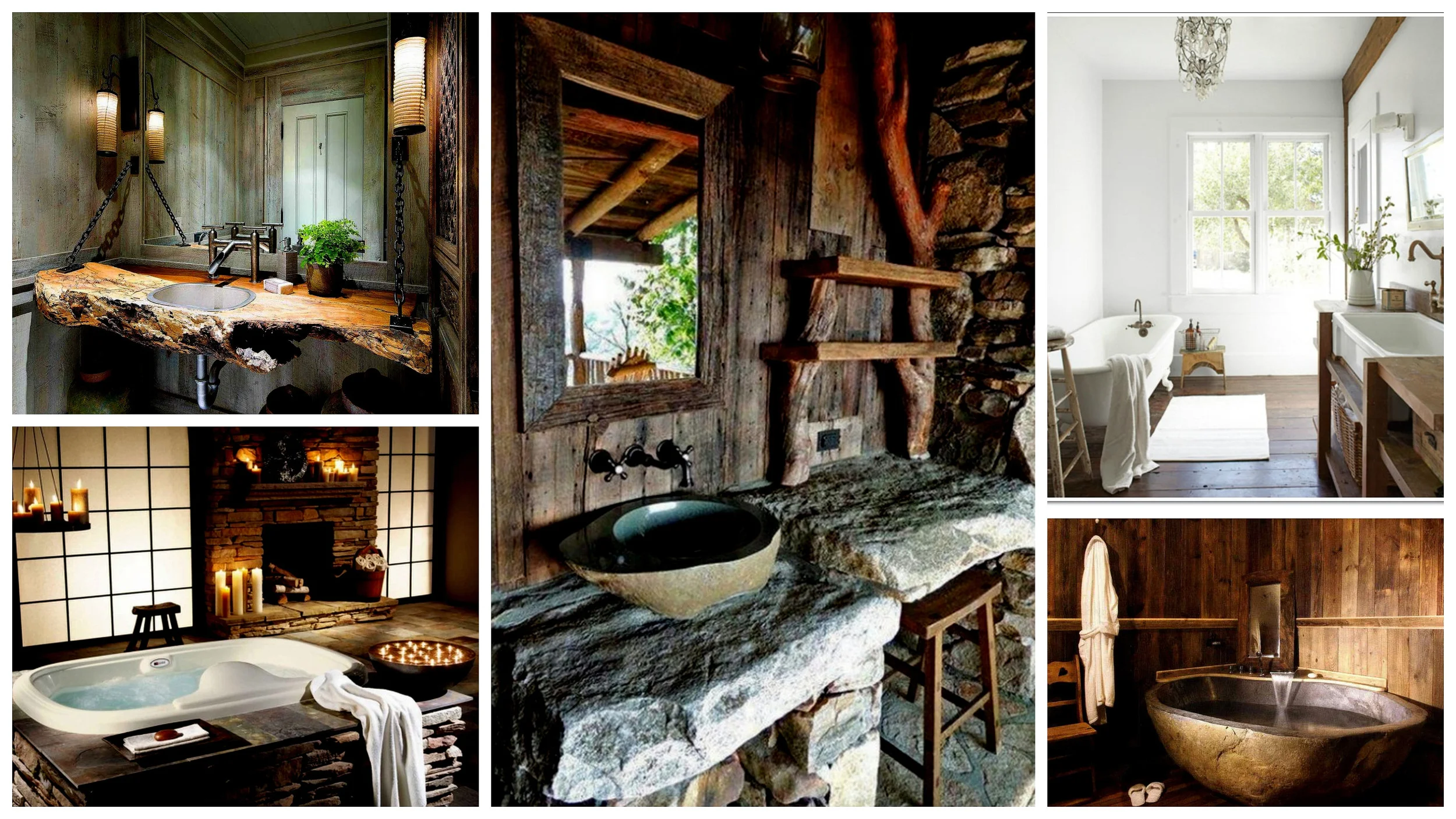 Bathroom interior design is often overlooked in the home decor planning stages, often being materialized in dull monotone designs, the attention of the homeowner being focused more on the entertainment and living areas. The bathroom is a sanctuary, it can become an extraordinary space in which we retreat from our offices into supreme relaxation, serendipity and tranquility. Showcased bellow 40 exceptional rustic bathroom designs filled with coziness and warmth are enhancing the traditional bathroom design further on. Warmth and coziness is being inserted through a variety of wood textures and colors exuding calm, relaxation and a feel of appurtenance in the world, a feel or proximity in the real world, in the nature.
Do Not Overlook Your Bathroom!
Many are not realizing that in the bathroom you are spending a whole lot of time. The bathroom is for most of us the first room in which we enter after waking up, it`s also the one that we visit every time we wash our hands or take a relaxing long bath immersed in scents of perfume, water and warmth. This is the room in which we take care of ourselves more than anywhere, here we take care of a wound, here most of us are keeping meds. Here calm and relaxation can be found at its best, you have to take part in the design of your own personal bathroom, you have to set the tone, calibrate the atmosphere and use it as much as possible to enhance your living quality.
Why a Rustic Design?
There is no doubt : modern bathrooms are very appealing and therefore widely spread. The atmosphere that they wear and the vibe that they exude is sadly a little cold and sterile, it enters the realm of commercial beyond recognition at a certain point. The rustic design though is far more special, this look is definitely not everyone`s cup of tea. A rustic bathroom design exudes charm, warmth, coziness and even a high end feel of superiority and nobility if applied and used correctly. The rustic bathroom décor is cozy, comfortable and most importantly highly customizable.
Natural Materials Will Dominate Your Rustic Bathroom
Rustic designs means natural materials. Period. Start imagining your interior design, piece by piece, all the walls, the ceilling and floor. Add materials and consider leaving them unpolished, consider rough-cut stone, exposed brick or some distressed wood. By bringing the nature indoors you generate that feel of appurtenance and that calm, relaxing atmosphere.
Consider Using a Paint Treatment
Color and texture can be added by using certain paint techniques such as rag rolling, sponging or crackle painting to create a weathered, though, organic look. Clean perfect walls are usually avoided in rustic interior design, the imperfections are adding interest and coziness in the room. Minimalist design can receive and be enhanced by a rustic design as well. A impeccable white wood in which the wooden texture is used as an accent color and texture would look astonishing.
Flood the Interior In Light
In a natural decor the natural light must animate the scenario. A low light scenographic decor exist of course but the more light you bring in the better, you should be able to control the privacy line and the amount of natural light that enters though, if you want more privacy and stars in the ensemble consider using a skylight above the bath tub.
Enlarge your Space with Large Mirrors
Remember to use mirrors. A mirror positioned in the right place can double the size of a room and creates a fresher, more open atmosphere,  removing the cluttered effect.
Lighting Fixtures are of the Most Importance
The light plays an essential role in every room of a home and in the bathroom especially. It can create the right romantic atmosphere when needed and it should proper illuminate the vanity destined to grooming. A plus can be considered the addition of a light dimmer. Thus you could generate several lighting intensities depending on your mood and desired ambiance. And because we are talking about rustic bathrooms, try to be traditional all the way and ind those right lighting fixtures that will fit your rustic decor.
Go Creative on the Vanity
Don't stop at the first vanity you find in a store. Be more creative and re-purpose some old piece of wood to place the vanity on or incorporate it into an antique dresser. the effect will be a more appealing one, in theme with the hole ensemble.
Use Open Cabinetry
Try not to overdue with the cabinetry. Use open ones in which you can store baskets or other small beautiful boxes to lighten the mood and not overcrowd it.
Frame the Mirror
The mirror frame is as important as the mirror so choose rope, natural wood or old pipes to recreate that vintage, retro, rustic look you are searching for.
Think Big 
When you think of sink the phrase the bigger the better is true. Choose a properly large sink that can fulfill your needs without having to clean water from the floor all the time.
Creative Sink Ideas
Converting an old metal washtub into a sink can be a great idea for your rustic bathroom. Just be careful to proper disinfect it first.
Use a Claw Foot Tub
Browse through antique stores or junk yards in search of a claw-foot tub. It was very popular on days' past and would look great in an elegant rustic decor.
Modern can be Rustic too
Who said rustic equal old? Modern wood tubs or sinks can also be beautiful and would look terrific in a rustic bathroom decor.
Find intersting  Fixtures
As we have stated earlier, be careful what type of fixtures you choose. An aluminum shiny one would not fit at all in your design scheme so go for black iron or wooden fictures instead.
Finishing Touches
Take your time when designing your home. Details can and will make a big difference, trust us.
Some Furniture can Add Variety to Your Design
A big bathroom should not remain empty so try adding up some furniture like an old apothecary table or a nice vintage wooden chair where you can relax and do your nails.
Always Re-purpose
Re-purpose with every chance you have. It is a pity to throw away old furniture when you can reuse it in a rustic design. Every single home item can be re-purposed and given a new fresh look and life. Just be more creative and recycle more!
Be a Detail Freak
Decorative small objects can really add texture and richness to your design scheme so search for old crystal vases and antique decorations to add to your rustic bathroom. You will want everything to be perfect. In the end, the most important advice is to have fun with it and relax in your beautiful rustic bathroom.