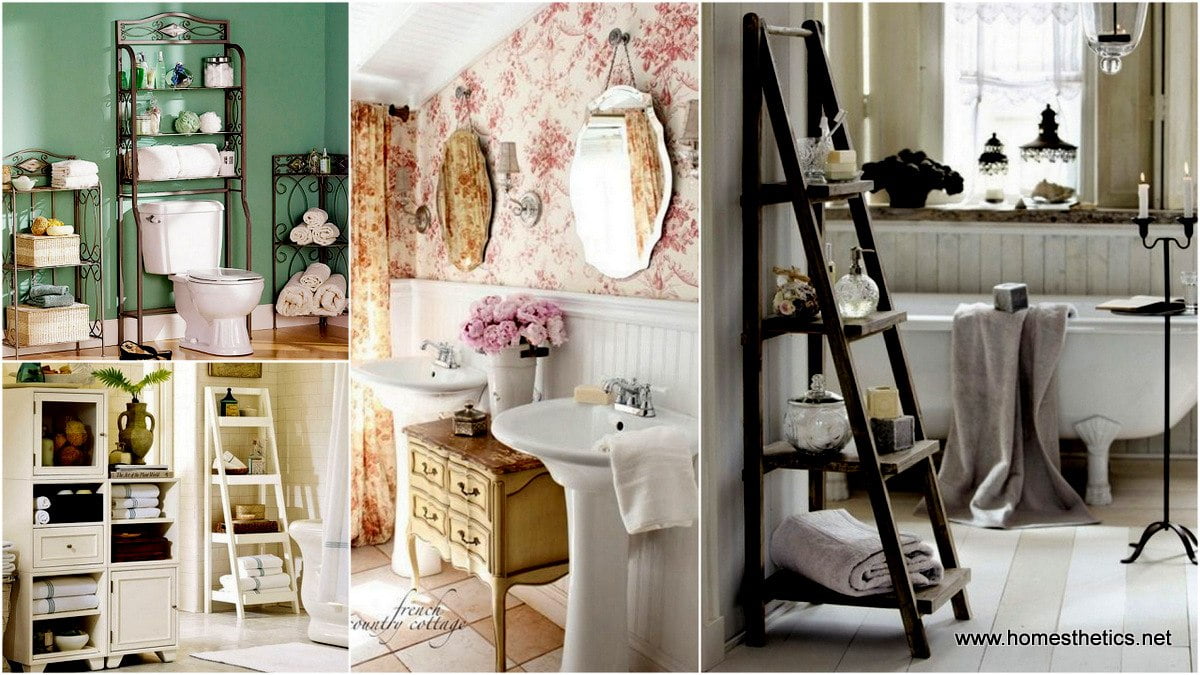 I just love a vintage decor! Old paint, pastel colors, wallpaper, tons of storage ideas and those glamorous jars and boxes where you can store flagrant soaps and bath salts. Going vintage is one of the safest methods of designing a bathroom. And if you are among the many who face the small bathroom problem, well here you have a few tips and tricks that will add glamour to your small space. Starting with the small colored bath tub that will definitely remind you of times long passed and continuing with glass jars filled with colorful soaps, ladders used as shelves and storage for your soft, white towels and even small decorative signs with floral accents that will lift up the atmosphere.
We all know storage is usually underestimated when you redesign a room, but sooner or later piles of items come crushing over you and you find yourself looking desperately for help.
There re always options which will solve any small bathroom emergency: use shelving over the door for additional room because, usually, that is a guaranteed dead spot, as well as maximize the space over the toilet with shelves filled with wicker baskets. This storage solution is compatible with any interior design scheme and will fit perfectly in a vintage decor. A great idea of transforming a tiny bathroom into a cozy oasis is utilizing wood as a theme. You can use it on the walls and even as counter top for a white modern sink. Thus you will keep something of the old glamour of rich dark wood and the elegance of today's modernity.
Colors are another trick you can use to enlarge your room and make it glamorous. A white room will look big no matter of its actual size and with  a few silvery or gold accents you have got yourself an elegant vintage bathroom. In contrast, dark colors can minimize a space but not necessary in the wrong way. A navy blue wallpaper matched with pure white vintage furniture would look divine in any bathroom, big or small. And, if you feel wild and adventurous, choose bold colors like the mint green showcased below. As I've said, the possibilities are numerous. It's just a matter of mixing and matching and choosing the right items, colors and designs for your space and taste. Because, in the end, your home should reflect yourself and your personality. Enjoy!