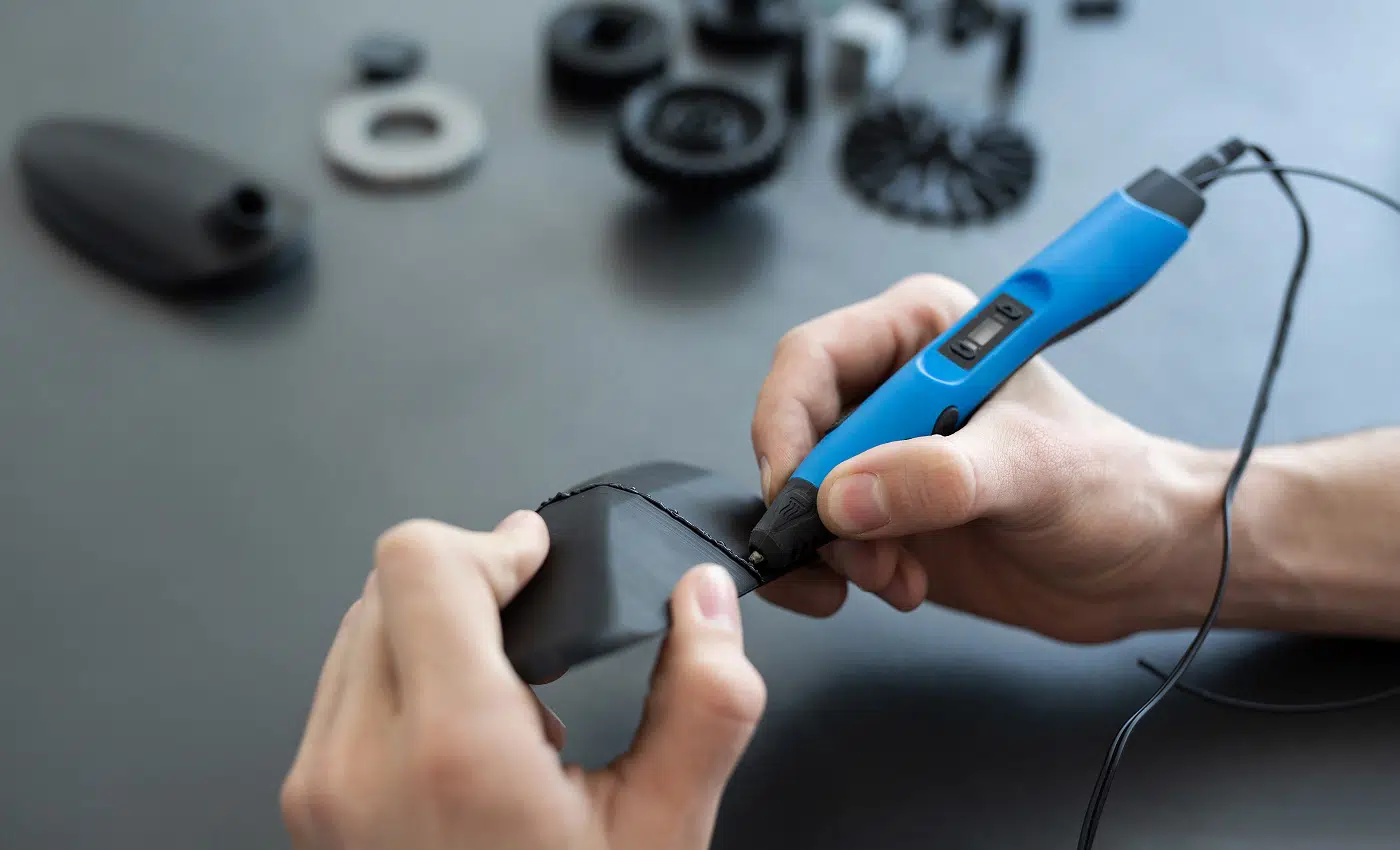 Technology is advancing every day, allowing us to create increasingly complex designs and stretch our creativity. Here's where 3D pens come into the picture. 
3D pens are trending today and are used by professionals and hobbyists alike. While kids can use these to create shapes and patterns, adults may use them to design and create artworks and intricate models. 
Furthermore, some might want a precise and portable product, while others might be looking for a powerful model to work on official projects. And so, we decided to create this list of the best 3D pens of 2022, which covers products that offer various types of features. 
Without further ado, let's begin! 
8 Best 3D Pens Of 2023 Reviewed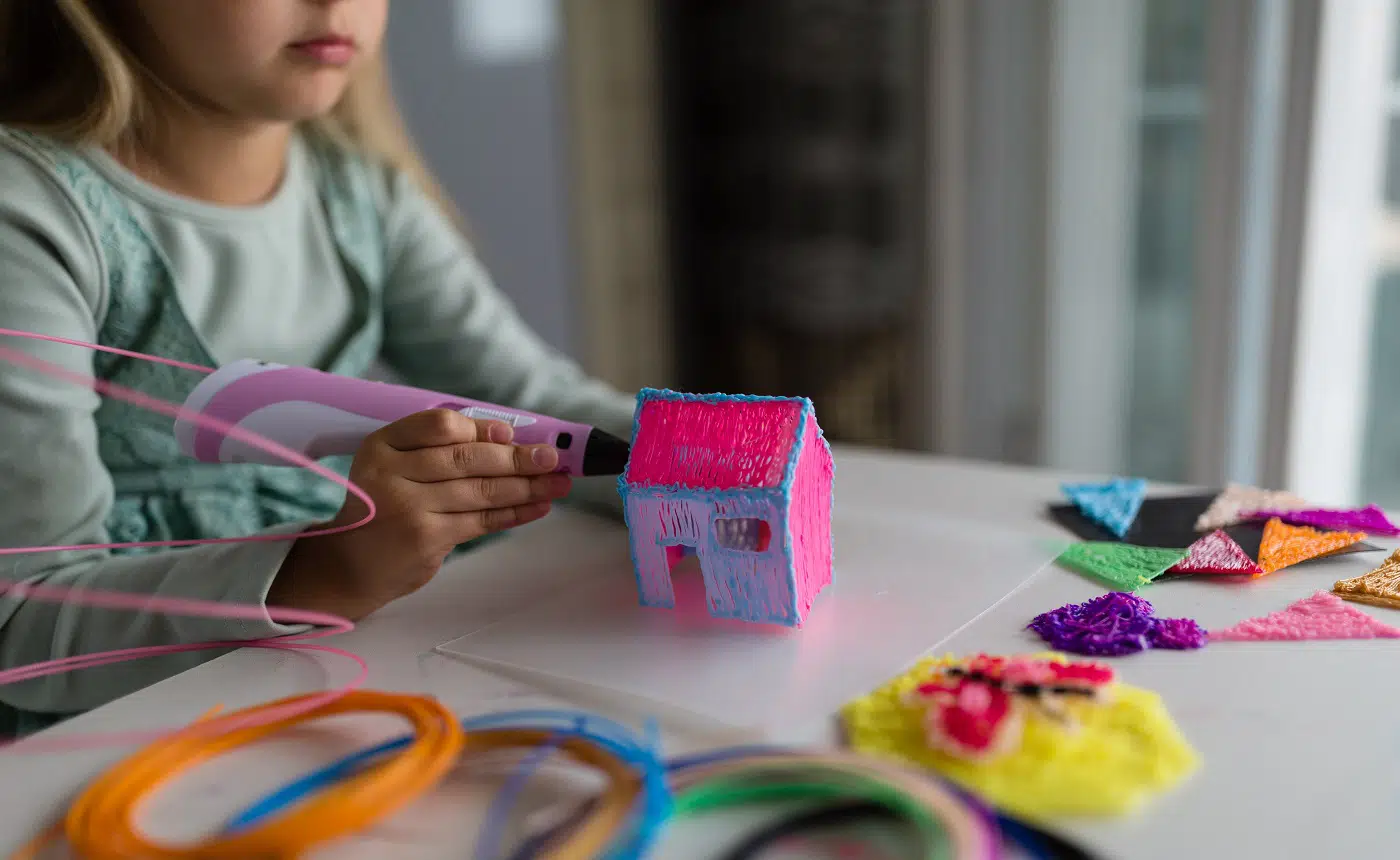 It is time to transform your ordinary artwork into 3D art with the MYNT3D Super 3D Pen. This pen will glide easily, allowing you to draw, build, design, and correct errors with one movement. We loved the ergonomic design and the exciting features that accompany it.
Why Did We Like It?
To begin with, the pen comes with a step-less speed slider, which will let you regulate the flow. It provides optimal control over the material being used so that you can draw flawlessly. Plus, it will help you make scales or draw intricate designs in the air.
Moving on, the 3D pen has a sealed ultrasonic nozzle that does not clog easily. This makes the pen durable, doing away with the pesky task of cleaning it after a few uses. All in all, this product is perfect for engineers, artists, and kids alike.
The pack consists of a touch pen, USB cord, AC adapter, repair tools, and a manual. Also, users can work with three color choices. On that note, the set contains almost all that you need to start working once the package arrives.
What Could've Been Better?
After using the 3D pen for a month, we did not face any issues with the drawing process. Having said that, we did notice that the pen heats up when used for an extended period, making it challenging to work with. It has to be left for some time to cool down before proceeding.
Pros
Comes with a detailed manual

Sleek and easy to use

Perfect for people of all ages

Protected from defects for a year
Cons
May heat up after prolonged use
Have you always wanted to bring your imagination to life? The MYNT3D Professional Printing 3D Pen will help you do just that with its brilliant features. You will even get a large OLED display that will help track the temperature of materials, allowing you to work even better.
Why Did We Like It?
Thanks to this 3D pen, which boasts an adjustable feed, creating three-dimensional objects have never been easier. You can regulate the flow and speed of the plastic to give you more control over the material.
Plus, the temperature is adjustable, and you can keep increasing in increments of one degree from 130 to 240 degrees Celsius. As a result, you can finetune your settings for effortless drawing. The flow and the thickness can be regulated, making it a very professional pen.
That is not all; you will be receiving three ABS plastic filament choices, an adapter, a touch pen, and a one-year limited warranty with every purchase. Moreover, this convenient piece can be connected to a power bank for charging, making it a portable option that you can work with outdoors.
What Could've Been Better?
We had some queries about using the product, and we tried contacting customer service to get our issues resolved. But nobody answered our phone on multiple occasions when we tried reaching out. Ultimately, we had to go to Youtube for quick solutions. 
Pros
Slim and ergonomic design

Nozzle replacement tools included

Speed and flow can be regulated

Works with PLA filament type
Cons
Inefficient customer service
If you have been looking for a multi-functional option that both beginners and professionals can use, then the SCRIB3D P1 3D Printing Pen is an excellent choice. It comes as a ready-to-use kit, which doubles as the ideal present for any art enthusiast on their special day.
Why Did We Like It?
The kit contains three colors of 15 meters each or ten shades that measure 60 meters. These are made of PLA plastic and will work wonderfully for your project. Apart from that, you get a detailed instruction manual, a power adapter, and a stencil guide. It is indeed a versatile option, and all you need to do is take the product out and plug it in.
Moving on, the 3D pen has a step-less speed function, which allows optimal temperature control. You can adjust the temperature of PLA from 160 to 210 degrees Fahrenheit and ABS from 410 to 455 degrees Fahrenheit.
Adding to it, the pen has some safety features in place. You can not only regulate flow but also use the ceramic nozzle easily without it clogging. The company ensures that the device is not overheated by providing the auto-sleep feature. So, the 3D pen will switch off by itself if not used for two minutes.
What Could've Been Better?
When you switch on the 3D pen to start drawing, you may have to wait for a while as it takes time to warm up. It should take you a few minutes, so it is best not to rush. But once you start working, the wait will be worth your while.
Pros
Works with PLA and ABS

Equipped with indicator lights

Minimal clogging

Ideal for intricate projects
Next, we have an excellent option for kids. The 3Doodler Start+ Essentials (2021) 3D Pen comes with no hot parts, and the nib stays cool. Kids who are six years or older can easily use this option to create their favorite shapes, which can help develop their creativity and brain functioning in a fun way.
Why Did We Like It?
Many parents are using this 3D pen today to encourage stem learning at home. After all, this nifty device can help boost creativity, allowing kids to plan, design, and build. The pen is made of plastic that is child-friendly and will not lead to any health hazards. Plus, you can go to the 3Doodler website to buy more of the material.
Aside from that, the pen nozzle is safe to touch by kids and adults as it is designed not to burn your skin. There are no wires, so your kids can draw at the park or backyard. And you can charge this easy-to-use device within 30 minutes.
With every purchase, you will also receive an activity guide, which includes some tips for doodling and more than 10 stencils to help your kids get started. The designs should make your kid's first doodling experience all the more exciting.
What Could've Been Better?
We noticed discrepancies in the extrusion speed, and that led to clogging at certain times. In case you notice clogging, just take a small piece of cloth and clean the nib. You can then continue working with it. If your kids are using it, explain the process to them beforehand so that they can handle clogged nibs themselves.
Pros
Enhances learning curve

Charges in less than 30 minutes

Templates and stencils provided

No risk of burning
Creating personalized art and craft pieces has never been this easy, thanks to the 3Doodler Create+ 3D Printing Pen. It comes with a set of colors to get you started, and you can get to work as soon as you receive the package. Read on to know more about its bells and whistles.
Sale
Why Did We Like It?
Most art projects require a varied palette, and fortunately, this pack will offer you 15 color choices. Adding to its versatility, you can use ABS, PLA, and flexy plastic with this 3D pen. As for the plastic material, it is safe and does not contain any toxic elements.
Unlike other pens, this model comes with a booklet full of templates. You can go through them to get ideas and then design your own model. The pen comes with a dual drive to give you complete speed control. You can then work with various types of models beginning from intricate ones to easy options.
Plus, we noticed that the plastic hardened almost as soon as it came out of the nozzle. That made it really easy to work with 3D structures with or without stencils.
What Could've Been Better?
While the 3D pen will work very well, you might have to spend a few extra bucks on it. It is expensive, and we will recommend purchasing it for professional use only. On that note, the results are excellent and will ensure a smooth finish that can fetch a good price on the market.
Pros
Smooth drawing experience

Dries instantly

Does not heat up

Non-toxic and safe plastic
If you want a product with a sleek and ergonomic design, then the SCRIB3D Advanced 3D Printing Pen provides an excellent option. It can fit in your hands easily, and you can enjoy a comfortable drawing experience. What's more, this convenient option comes in a ready-to-use kit to help you get started on your masterpiece instantly.
Why Did We Like It?
To begin with, the item features an LCD display with buttons on the side. You can fine-tune the speed, temperature, and flow while drawing lines. On that note, there are eight-speed options to pick from, allowing you to draw different structures.
The best part is that this 3D pen is beginner-friendly and is designed to help people understand the working process. And to begin, all you need to do is wait for the red indicator light to light up, which will let you know once the pen is hot. This process should take about two to three minutes.
Aside from that, it is very easy to put the filament in the pen; you need only click the forward button twice. Operating the pen is pretty easy, and you can always learn about it in the detailed step-by-step manual provided.
We also assure you that this is a risk-free and safe purchase as it comes with a one-year guarantee.
What Could've Been Better?
The 3D pen tends to heat up and dribble sometimes. Hence, letting your kids use it alone can be dangerous. Only let them play with it under strict supervision. We noticed dribbling even at a lower temperature. Hence, please cover the area and floor adequately while working too.
Pros
Excellent choice for beginners

Different speed options

LCD screen with buttons

Sleek and ergonomic design
If you are not looking for advanced features and simply want a pen to play around with, then the MYNT3D Basic 3D Pen is an incredible choice. Going by its name, the product is "basic" and comes with the required set of qualities. You can know more about it in the following section. 
Why Did We Like It?
To begin with, the pen offers a user-friendly design that passionate hobbyists and DIYers can use. It is a great pen with all the critical features you would need to begin making 3D structures. 
Moving on, you can design beautiful shapes with intricate designs, thanks to the speed options. Toggle among high, low, and medium speeds to create such designs and to fill spaces. 
Moreover, you will get a detailed user manual that will help you understand the usage. Beginners would really need this, and hence, it adds a feather to its cap. Moreover, you will get a power cable, ABS filament, and a stand with the pack. All you need is a USB AC adapter, and you are all set. 
What Could've Been Better?
The 3D pen has a cable that comes in the pack. Now one end of the cable has a particularly unique round port that fits into the pen. Please be very careful with the USB cable as a replacement would not be easily available. You can try contacting customer care to see if they offer these cables separately. 
Pros
For a clog-free experience

Easy to use

Budget-friendly option

Perfect for gifting
Cons
Replacement cable not readily available
Let us end this list with a product exclusively made for kids. The MYNT3D Junior2 3D Pen is designed specifically for young ones, and it will not burn their hands at all. We believe this can be a great gifting option on birthdays and other special occasions. 
Why Did We Like It?
The best 3D pen for kids needs to have some key characteristics like a cool body and a good grip. This 3D pen offers excellent build quality along with a comfortable grip. It comes with a low-temperature nozzle that will never heat up too much. So, if you have a young artist at home, this can enhance their creativity. 
Additionally, the product is battery-powered and will need an AC adapter to be charged. Once charged, one can work with it for hours. 
On top of it, the sealed nozzle design will not clog easily, while the ergonomic design will ensure a good grip. Not only that, the pack includes a user guide, along with three rolls of MYNT3D PCL plastic. Hence, you can start working with the kit as soon as it arrives. 
What Could've Been Better?
Unlike other pens, this 3D pen will not work with ABS and PLA filament options. You will need to purchase PCL plastic filaments for this. Now, if you are starting out and have no old filaments, then purchasing PCL variants would not be a problem. Otherwise, it is best to choose an option that supports the other two types. 
Pros
Completely safe for kids

Detailed user guide

Does not clog easily

Protection for a year against defects
Cons
Doesn't work with both PLA and ABS
3D Pen Buying Guide
A 3D pen can become an essential part of an engineer, architect, or artist's toolbox. It comes with a hoard of extra features, but it can be an expensive choice in general. Hence, you will want to choose the right model that fits your purpose. 
To help you out, we have written about some of the important points to remember before deciding upon one. Read on carefully! 
1. Purpose
What do you need a 3D pen for? If you plan to just play around with it, then you will not need the most advanced or expensive option. However, if you are a professional working with clients, it is best to opt for the most advanced option. That would impress the client, and you can do an impeccable job. 
2. Ergonomic Design
A 3D pen is not just about a long, thick circular body with a nib. Some options will come with temperature controls, while others may be regular pen options. If you plan to work for long hours, you will need a good grip as otherwise, the job becomes strenuous. We will recommend looking for an ergonomic shape that fits well in your hand. 
Also, the heating element inside the pen should be such that the entire body of the 3D pen does not heat up immediately. That could prevent you from working at a stretch, which may hinder the entire workflow. 
Normally, there is a PLA plastic filament inside the pen, which is heated up and then pushed out. Now, the pen's temperature has to be kept in mind while purchasing. You can buy options where the temperature can be adjusted. Do not use bad quality hard plastic as that may reduce the product's durability. 
Also, please read through customer reviews to understand the general opinion before purchasing one. 
3. Cables
If you are looking for portability, then there are options that do not require a permanent cable connection. You can charge it with a micro USB cable and then use it whenever needed. These work better for those who travel a lot and may need to use the pen in places with no wall socket options. 
On the other hand, powerful models will often come with a cable that needs to be plugged in. These require a lot of power, and that can only be provided from the main electricity source. 
4. Suitability
Some pens do not come with a temperature adjustment feature and may heat up a lot. These are not going to be suitable for children who might end up hurting themselves. The PCL filament may also be toxic if consumed by mistake. 
It can get messy, and the kids may not be able to handle it. Hence, if you have a toddler below six years, it is best to keep them away from the pens. 
For children older than six years or teenagers, a 3D pen with low heat can be a great option. These will not just appeal to the eye, but the design and bright colors can become a part of their learning process. It can encourage them to make more models while learning the intricacies of the methods. 
5. Filament Types
Material compatibility is very important when it comes to 3D pens. You will need to use filaments that fit well with the 3D pen model that you are using. There are two main types of filaments, and they are as follows: 
PLA or polylactic acid is a kind of thermoplastic polyester that is made from sugar cane, tapioca roots, chips, and cornstarch. You will notice a glossy finish while the plastic is very brittle. 
ABS or acrylonitrile butadiene styrene is another kind of thermoplastic that has a matte finish. If you are using this, know that the setting process is quicker, and you may finish the job faster. 
You can also use other proprietary filament types that are made of wood polycarbonate, metal, and other proprietary materials. Some prefer using eco-plastic filament as it is a safer and non-toxic option. 
Now while purchasing pens, you might find some plastic filaments provided with the pack, which will also have to be taken into consideration. If you wish to play with colors, there are options that come with 10 to 15 color choices. But you will get shorter sticks which may not be enough for large projects. 
Other packs may come with two to three color choices but with longer filaments. These can last for a greater amount of time. However, it will depend on the project type and the need. Please pay attention to this along with the pen when choosing. 
Moreover, you will also find glue gun options on the market that use PLA filaments to do a similar job. These can be used as an alternative to 3D pens. 
6. Nozzle
The nozzle is an essential part of a normal pen, and you should always check it before buying. It should not heat up too much as that could hamper the workflow. Plus, if you are purchasing for kids, the nozzle should be closed, and it should stay cool throughout. Otherwise, the kid might end up burning fingers, which needs to be prevented. 
Next, one of the major problems associated with nozzles is clogging. The mouth tends to clog easily, which prevents plastic from flowing out well. You might then have discrepancies in the 3D structure that you are creating. In such a case, we will recommend switching off the pen. Then take a cloth and clean the nib well. 
Remove any plastic bits stuck on the nozzle and then start working again. Also, please do not touch it immediately after seeing it clog. The nib is handling melted plastic and is going to be hot. Instead, leave it for a few minutes and then clean the nib.
7. Customer Support
A good and reputed brand will always have an efficient customer support team in place. So, before investing in a 3D pen, please check whether a customer support helpline is provided. You should be able to reach them when needed, hence, know about their working hours beforehand. 
Some companies offer customer support throughout the day. But you will not be able to contact them beyond office hours. Others might offer to assist at any time of the day. 
In case you are unable to get in touch with customer care, we will recommend reading through the customer reviews. If the pen has been working well for most people, then you might not have to worry too much, as the product should be easy to use. Otherwise, we will recommend looking for other options. 
8. User Guide
While many of you may not look at the user guide at all, it is a must-have for beginners and kids. If you are purchasing a 3D pen for kids, then let them explore it on their own with your supervision. Sit with them and take them through the rules explaining how to use the pen. Then let them use the knowledge to create structures with it. 
On the other hand, adults using the pen for the first time will also need information regarding the process. Hence, user manuals are handy, and it is best to get one with the pack. If it is not provided, you can contact customer care and talk to them about it. They might provide you with a soft copy of the manual, which can then be helpful. 
However, if you are unable to contact customer care and the user manual is not very detailed, then you can go on YouTube to find tutorial videos. 
9. Cool Ink
If you are not keen on using thermoplastic to create 3D objects, then cool UV ink can be a great alternative. It comes in liquid form and can be cured with UV light to make it solid. This process takes place as soon as the ink leaves the nozzle. There are light-sensitive photopolymers in the liquid ink, which help it solidify later. 
Cool UV ink does not need any heating element, making it a safe option. This would mean that the pen can safely be used without worrying about burns. 
10. Speed
The best 3D pens will come with speed adjustment features that are needed to make intricate designs. You can draw fast and slow, depending upon the complexity of the design. We will recommend practicing a few times on a flat surface to understand how to toggle among the speed levels. 
Also, you will understand the material compatibility and how to control speed to achieve that. If you have a printed model already, use that as an example to create the new structure. 
11. Starter Stencils
In case you do not know how a 3D pen works, you can opt for packs that come with starter stencils. These will guide you while creating various structures. Kids and adults who are using these pens for the first time can find this helpful. Plus, they can be reused as many times as you want. 
12. Indicator Lights
Some 3D pens come with two indicator lights which will tell you if the plastic is heated and when the switch is on. These lights are essential for beginners as they will be able to operate the product better. Also, you will know that the pen is switched on, and you will not touch the nozzle by mistake. 
13. Warranty
If you do not have a warranty and the 3D pen malfunctions, you will just have to throw out the pen or pay a lump sum to get it replaced. 
So, don't forget to check the warranty period offered by the brand as you might need it for a defective product. Some brands will offer a one-year warranty for malfunctioning pens, while others may offer a six-month warranty.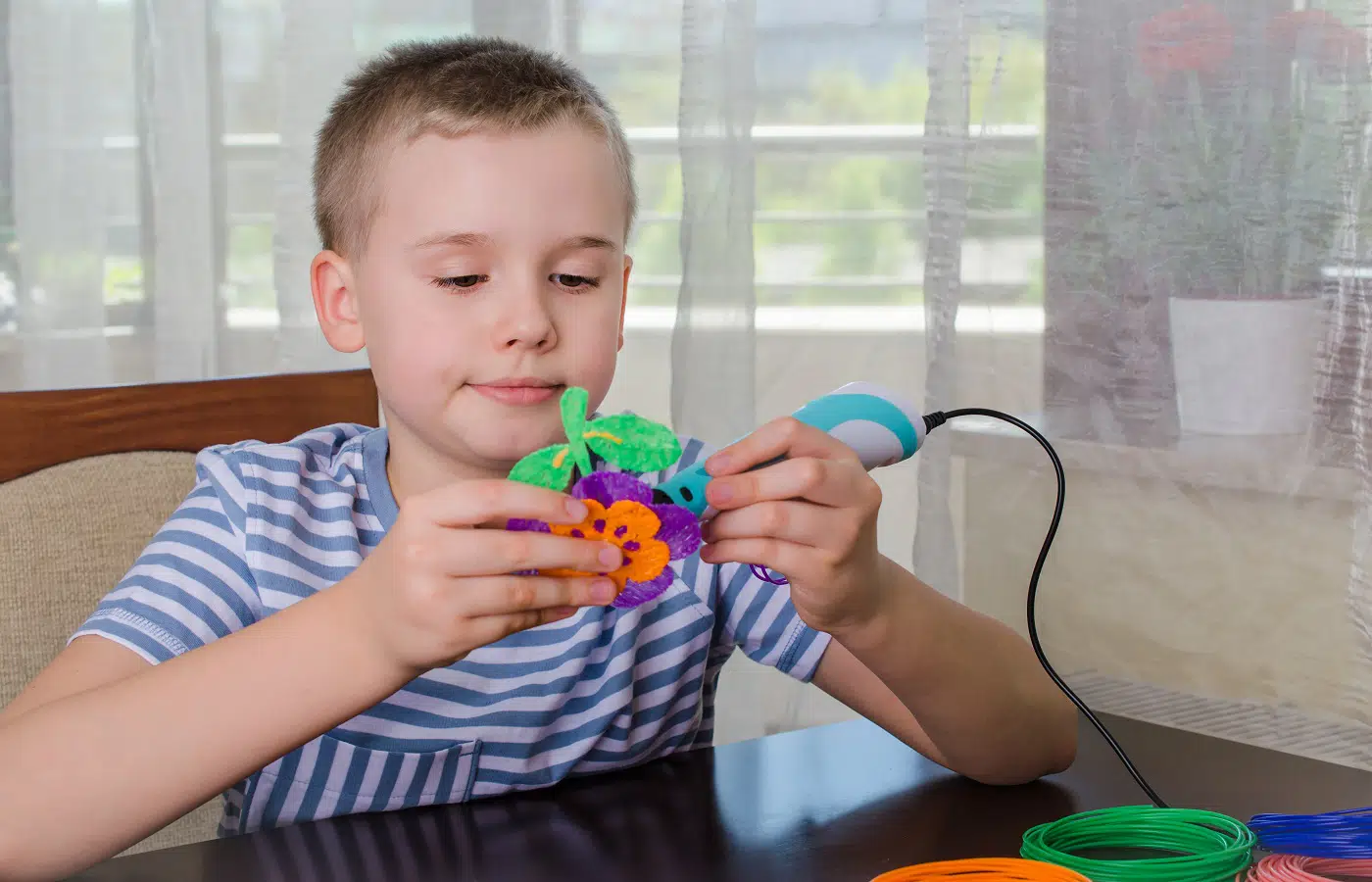 Top 3D Pens Verdict
3D pens can be fun to use, and today, architects and designers have found them to be very efficient. This list included a lot of choices, and you will also find inspirational 3D printed designs online. 
There are 3D printers available on the market too in case you are not satisfied with pens. If you are still confused, let us make it easier and tell you about our favorites one last time. 
The MYNT3D Super 3D Pen is our topmost choice as it glides effortlessly and offers a very smooth performance. And the MYNT3D Professional Printing 3D Pen is a perfect choice for professionals. 
On the other hand, the 3Doodler Start+ Essentials 3D Pen is for kids who love to explore their creativity. With this, we will now be ending this guide. 
Until next time! Take care. 
Related Articles