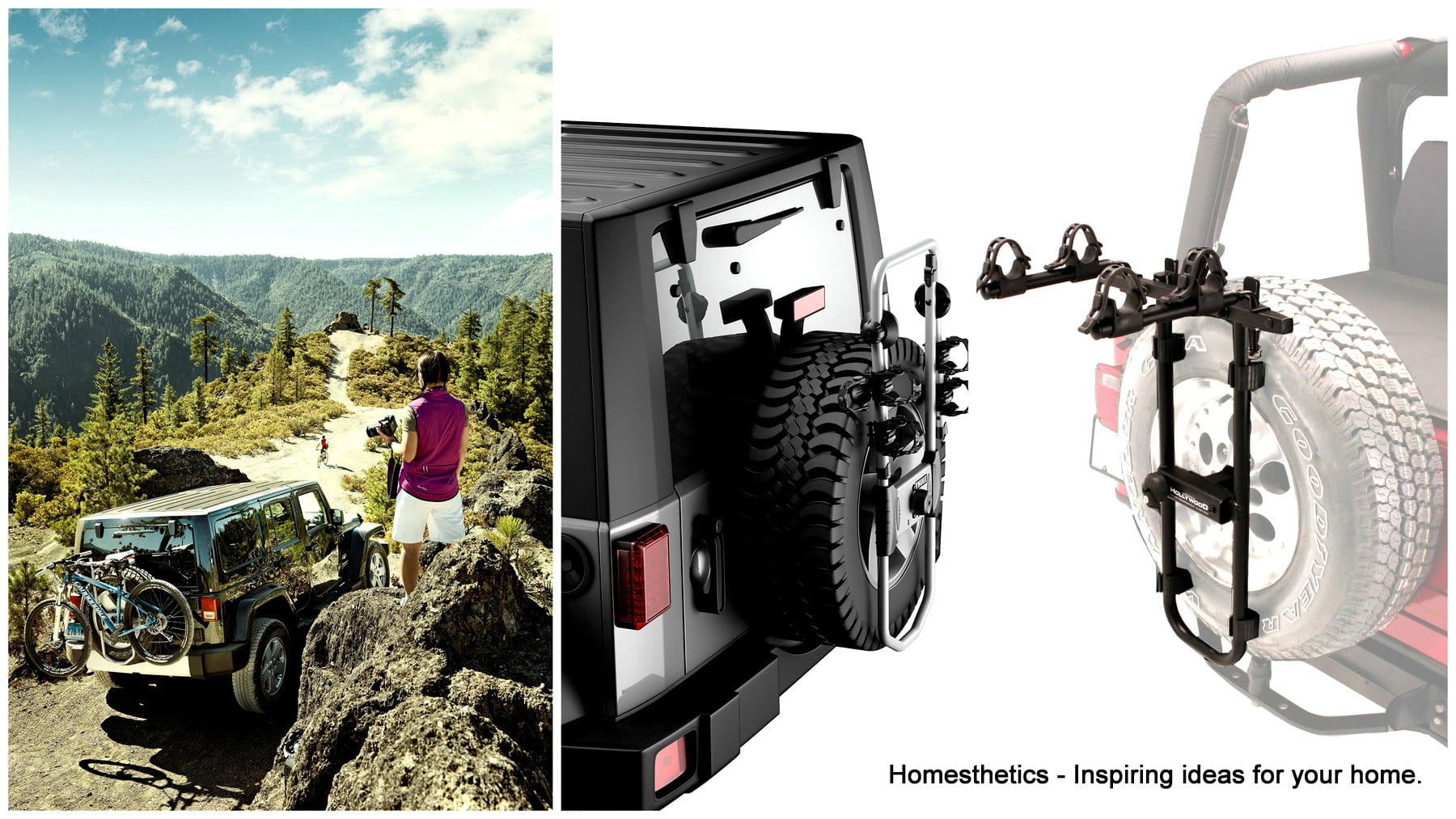 Bike racks are a wonderful way to stash bikes while going on road trips or even relocating.
Compared to the hooking your bike up to the roof rack, or somehow trying to cram it into the truck, it saves a lot of space and saves your bike from getting cramped up and possibly get scratches.
Now that we know why bike racks are the preferred way to go when it comes to transporting bikes, we'll have a look at the top five racks currently on the market!
After we're done with the reviews, we'll look at what you need to take care of while considering buying the best bike racks for Jeep Wranglers, and which factors should influence your decision.
Without further ado, let's get started with reviews!
Best Bike Racks for Jeep Wrangler
This rubber and black metal based tire rack is one of the best additions to the market. This is ideal for beginners, given that it comes assembled as is – you just have to attach it and forget it. It comes with a universal adapter plate which attaches very snugly on the back of the Jeep Wrangler, but does well on VW Fox and Honda CRV-LX models too.
Experience
This is one of the easiest to manage bike racks you can get. The adjustable mounts mean you can vary the location of the rack using the bolts under the Wrangler's spare tires. Safety straps and bike cradles made out of rubber guarantee your bike staying in position all through the journey. You can carry up to two bikes if needed.
Once you arrive at the destination, you can easily compress the arms and access the trunk. If you have space left over, you can just as easily chuck this in the trunk too! Users report that, despite being made of metal, it fares very well against rust, lasting for years in humid conditions with minimal rusting which can be solved with a bit of paint.
Pros
Adjustable as per need 

Compact, can be chucked in the trunk if necessary 

Universal mount usable on other cars as well 
This is another wonderful rack from Hollywood Racks – the key difference here being that you can naturally have more than one bike on this rack without any fuss or adjustment. If you go riding in tandem often, you needn't look anywhere else. It can also bear more load without any problems.
Experience
Hollywood Racks have a simple formula, and we can't find any reason to argue against it. This one comes with much the same features as does the Bolt-On Tire Rack – including the collapsible arms and the wonderful natural way in which the universal plate attaches to the bolts of the spare tires.
The width between the arms is naturally adjusted to having multiple bikes, and the cradle is built out of rubber – making sure your bikes don't get any scratches. The tie down straps help secure your bike. Attach the clamp, as well as the strap system, and you're all set to carry your bikes! The same multi-car versatility of the Bolt-On has been reported for the SR1.
Pros
Incredibly versatile, can be used on other cars if necessary   

Wide and strong enough to accommodate two bikes with ease 

Easy to install and set up 
Cons
You'll have to invest in good quality locks yourself  
This is another bike rack which has been around for quite a while. This rather modern and uniquely styled bike rack comes with a number of features, and keep both of your bikes (if desired) secure and safe. The anti-sway cradle, the collapsible arms and the maximum tire width of 12.5 inches make it one of the best bike racks to have.
Sale
Experience
This Yakima rack comes with a whole host of features, including the powder coated finish which both gives it a modern look and prevents rusting. The features include the proprietary lock, which can be used very easily with any other Yakima product – so you don't have to wonder about your keys all that often.
The product fits like a charm onto the Jeep Wrangler, and also gives you a bottle opener (two of them in fact) for cracking a cold one with your mates after a long day of biking trails. You can mount the rack either off-centre or at the centre using the universal mount plate behind the exposed spare tire.
Pros
Yakima products are always lookers, this one is no different 

Can fit two bikes with relative ease, even BMX bikes can be fitted in this rack  

60 inch locking cable is best in class  
Cons
Slightly more expensive than the competition    
For the ultimate in bike protection, look no further. To prevent scratches and bumps, this particular bike rack is angled outwards and upwards. The rack also has a wider bottom part than the competition, which secures the rim from touching the rack, instead using the back tire to fit against the bottom foot.
 Experience
This rack comes from a pedigree, and a legacy of over 50 years in making bike racks. A single bike or two bikes, whichever fits the bill for 70 pounds worth of weight – can be accommodated easily. Bear in mind, however, that the arms do not collapse on this product.  This is a pro and a con – you can fit a number of different types of bikes on these arms.
The rack fits just as well on anything that supports a mount, from large trucks to SUVs. Allen Sports suggests an assembly time of barely seconds. The spare tire is irrelevant to this bike rack, which makes it a wonderful rack to store stuff than bikes as well – and a large variety of bikes which can't be accommodated by other racks.
Pros
The spare wheel size versatility is unrivalled in the market   

The product is incredibly robust and will last for ages 

Adaptable for other vehicles, not limited to just the Jeep Wrangler 
Cons
No adjustable or collapsible arms, hence it'll have to be kept on the back at all times 
The Thule 963PRO Spare Me 2 is only meant for vehicles that use the bolt system to carry spare tires – hence, it won't be compatible with other tow truck mounts. It's a rather sophisticated looking bit of kit, and arguably one of the better looking products on the market. The rack installs right on to the tire, and not the mount below it.
Sale
 Experience
The rack fits on tires of any size you can think of, even though it doesn't make use of the universal mount. The anti sway cage structure, as well as the stay-put cradles, make sure that the bikes don't slam into each other at any point. It is very durable, stable, and installing it is by far the easiest of any product which has been reviewed.
Further, the quality of the locking knob as well as the integrated cable for locking leave nothing for the elements – they secure your bikes in position firmly and deftly. A few niggles exist, however, chief of which is that some users have reported loose screws at some points in time. They can be tightened back in at any time, however.
Pros
Wonderfully designed bike rack

Locking system is best in class 

Structurally very secure 
Cons
Some screws are known to loosen up with time    
Things to Consider When Buying a Bike Rack
Now that we're done with the reviews, we can look at some of the factors which make a great bike rack better than a bike rack which is just "good". These should always be kept in mind before making a purchase – both bikes and cars are a long term purchase, and you should make sure not to jeopardize any of them due to the bike rack.
Bike weight limit
This is one of the most practical factors that should influence your buying decision. Most bike racks are generally rated at 70 pounds as reviewed, however you can go in for a lower weight limit if you're sure you won't be carrying two bikes at any point in time. For the sake of versatility, the higher the limit, the better it is.
Security
A lock for your bike is essential, and the same goes for the bike rack. These are very prone to being stolen at any point, and most bike racks come with some sort of locking system or the other. If not, you should definitely consider the cost of getting your own lock while making the purchase.
Ease of Use
The rack should have collapsible arms if it isn't compact, but it should have some sort of compactness to it. It shouldn't be cumbersome or too complicated to figure out. Taking a dry run of the installation (some people put up videos online) or reviews can definitely help out in this regard.
Bike racks must offer some sort of flexibility towards installation and retrieving your bike from the rack shouldn't be a problem.
Style
This is strictly personal, but you should have some form in the rack – only function makes the rear end of the Wrangler look unseemly and unbecoming. It should suit the overall colour choices and exterior finishes of the Jeep.
This wraps up our review and guide for the Best Bike Racks for Jeep Wrangler today. Armed with this knowledge, you can safely go out there and get the bike rack suited to your needs. Have fun shopping!
Related Articles