Using the best concrete paints is one of the most affordable and easiest ways to revamp concrete flooring.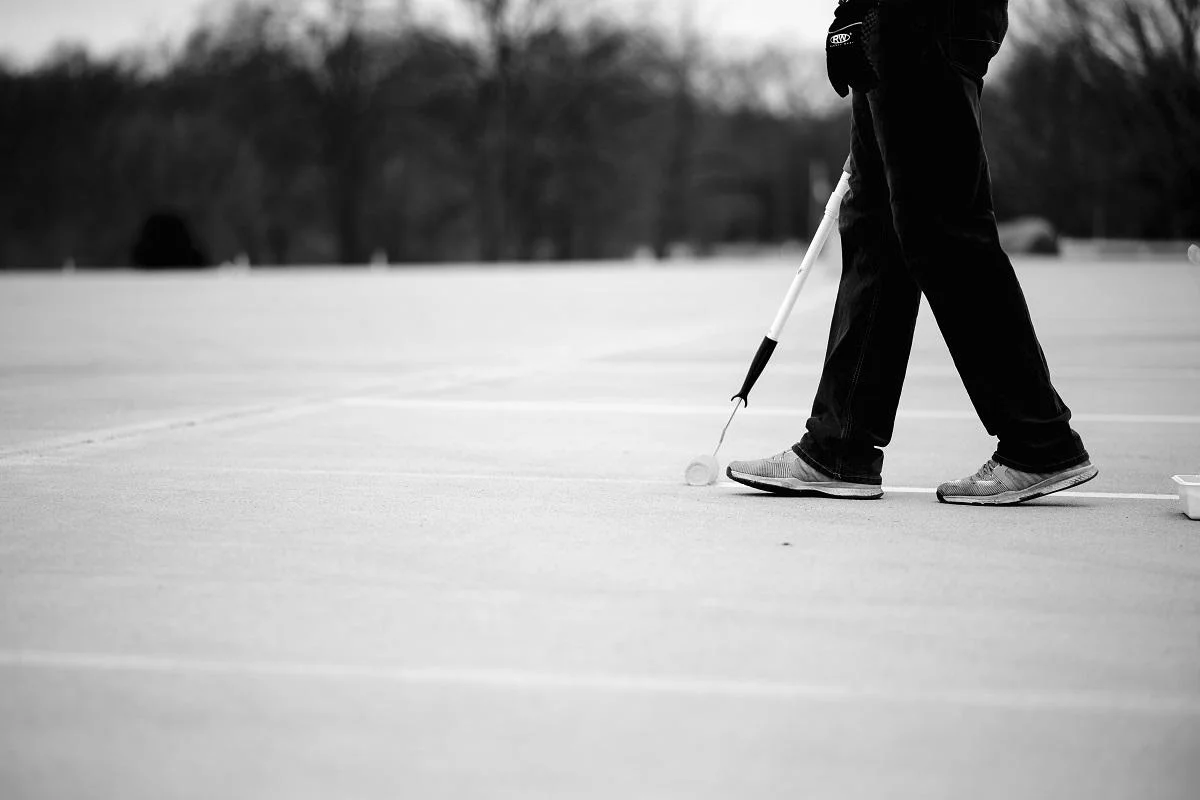 Concrete is by far the most prevalent flooring option, especially in high-traffic areas and surfaces that are exposed to external factors. The high durability and low maintenance have definitely played a part in the popularity of concrete over the years. 
Having said that, most people perceive concrete floors to be lackluster compared to other flooring options. Even though it isn't necessarily true, concrete floors can get a bit dull over the years. 
There's no need to worry, as a couple of concrete paints can easily fix the drab concrete floor and transform it into an attractive surface. Today we're here to provide concrete floor paint ideas, to help you create beautifully painted concrete floors without much hassle. 
What Are The Advantages Of Painting Concrete Floors?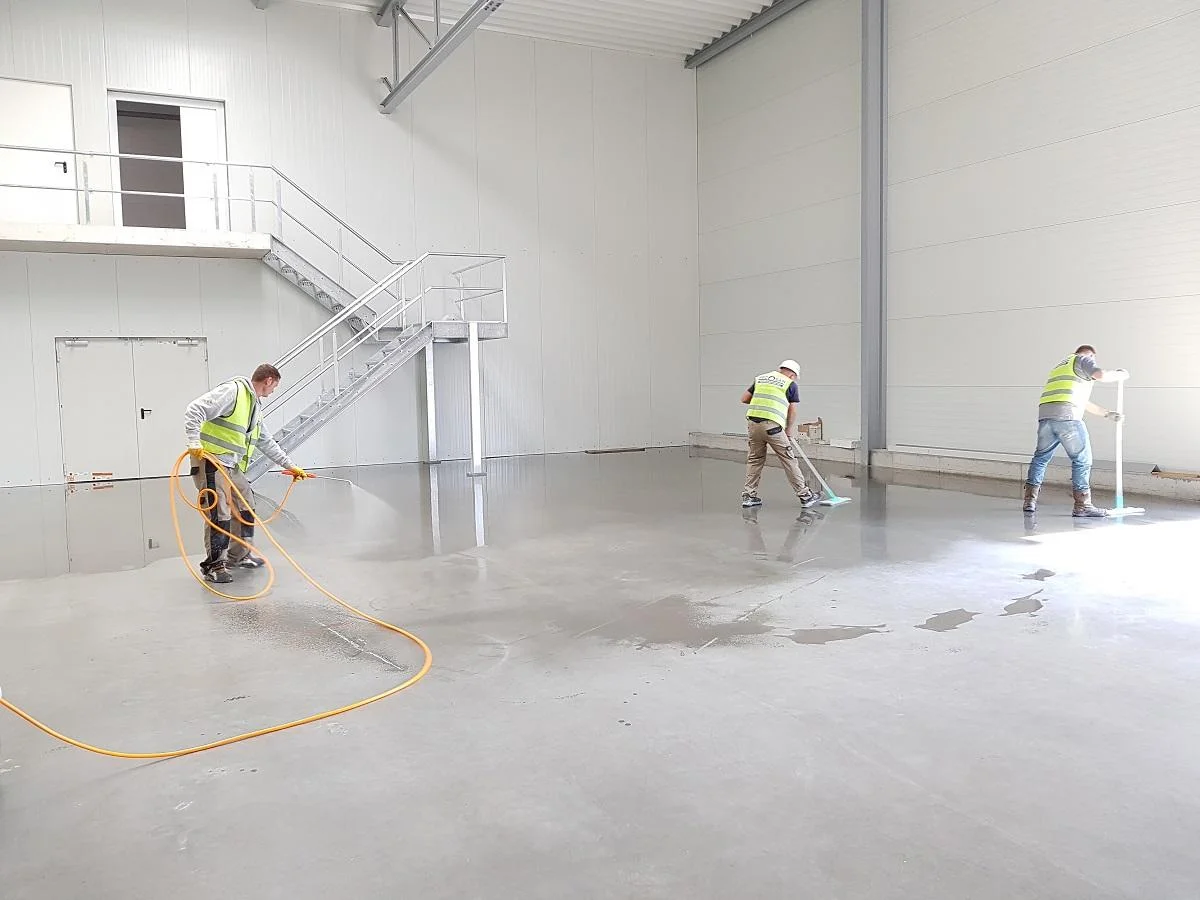 More than ever before, options for concrete paints are on the rise. This wasn't the case a few years back, as most people preferred to opt for acid-staining exterior surfaces to achieve better durability. 
Painted concrete surfaces have come a long way, and now you can choose ultra-durable paints that won't chip or peel. This brings us to one of the basic advantages of painting concrete floors which is ease of use. The primary application is no different than painting the walls of a home, so you can easily paint concrete surfaces by yourself using simple tools like paintbrushes and rollers. 
On top of that, concrete paints aren't that expensive, especially when you opt for self-application. Even additional components like decorative color chips are available for an economical price which helps to cut down on the overall cost. 
Don't like the texture or finish of your concrete floor? There's no need to worry as two coats of the right concrete paint can easily hide everything from minor imperfections to concrete stains. Currently, you can find paints in various color options, so customizing any concrete surface won't be an issue. 
These days you can especially find concrete paints that are meant to protect high-traffic areas from further damage. These easy-to-apply paints are meant to be used in garages, walkways, porches, patio, or pool decks, and they resist chemical spills as well as hot tire pickup. 
Another advantage of painting concrete surfaces is that cleaning them is hassle-free, as they're usually water-based acrylic formulations. You won't really need to use any special procedures to maintain the surface once the painting project is over. 
How Are Concrete Floors Painted?
Now that you know why painting concrete floors is a good option, let's find out how it's actually done. But, before you start the process, make sure that the paint is suitable for the surface. 
In case you're looking for durability, it's best to opt for concrete paints that are ideal for indoor and outdoor use. You can also pick anti-skid or slip-resistant paints for surfaces like your garage floor and porch. 
1. Preparing The Surface
The first step is usually to scrape the concrete surface with a wire brush and scraper to remove any high spots. You should also use a degreaser to get rid of as much dirt and grime as possible, especially in areas like the garage. It's even recommended to use water for rinsing the surface and drying it off with a wet/dry vacuum. 
Another step for prepping is to fill the cracks or low spots present on the floor using a concrete crack filler or sealant. Make sure to even out the top surface after applying the filler and remove all crumbling concrete debris using a vacuum cleaner. In case the cracks are too deep, it's best to contact a flooring contractor as they can help you check if there are any underlying damages in the concrete. 
At this point you might be wondering - "do I need to prime exterior concrete before painting?" An extra step done by some is to etch the concrete surface with a concrete etcher for the paint to stick better. Then, a generous coat of a suitable primer is applied to the floor, so try to pick a primer that works for both epoxy and concrete surfaces. 
You can skip the primer if the paint doesn't demand one, but it does help in evening out the surface and provides better adhesion. 
2. Application
Once your concrete surface is dry and free from moisture, it's time to begin painting. It's no different than painting any other surface, so you can easily spread the paint with any paintbrush. In case you decide to use an epoxy-based paint, follow the instructions on the container to mix it well before application.
While laying down the first coat, ensure that it's as even as possible for a professional-looking floor. Wait for it to dry completely before applying the second coat for the best coverage. 
3. Sealant
To be honest, most people don't add a sealer as the paints already come with sealant-like properties. However, you can definitely add a clear finish concrete sealer to make the newly painted concrete floor long-lasting. That's because a good-quality sealer can protect it from scratches, peeling, and regular wear and tear. 
Other than that, a sealant is preferred by those who like a shiny finish. The high-gloss finish can elevate the look of outdoor concrete surfaces and make them resistant to oil, gas, or acids. But remember to check the compatibility of the sealer with the concrete paint before proceeding with the application.  
Concrete Floor Paint Ideas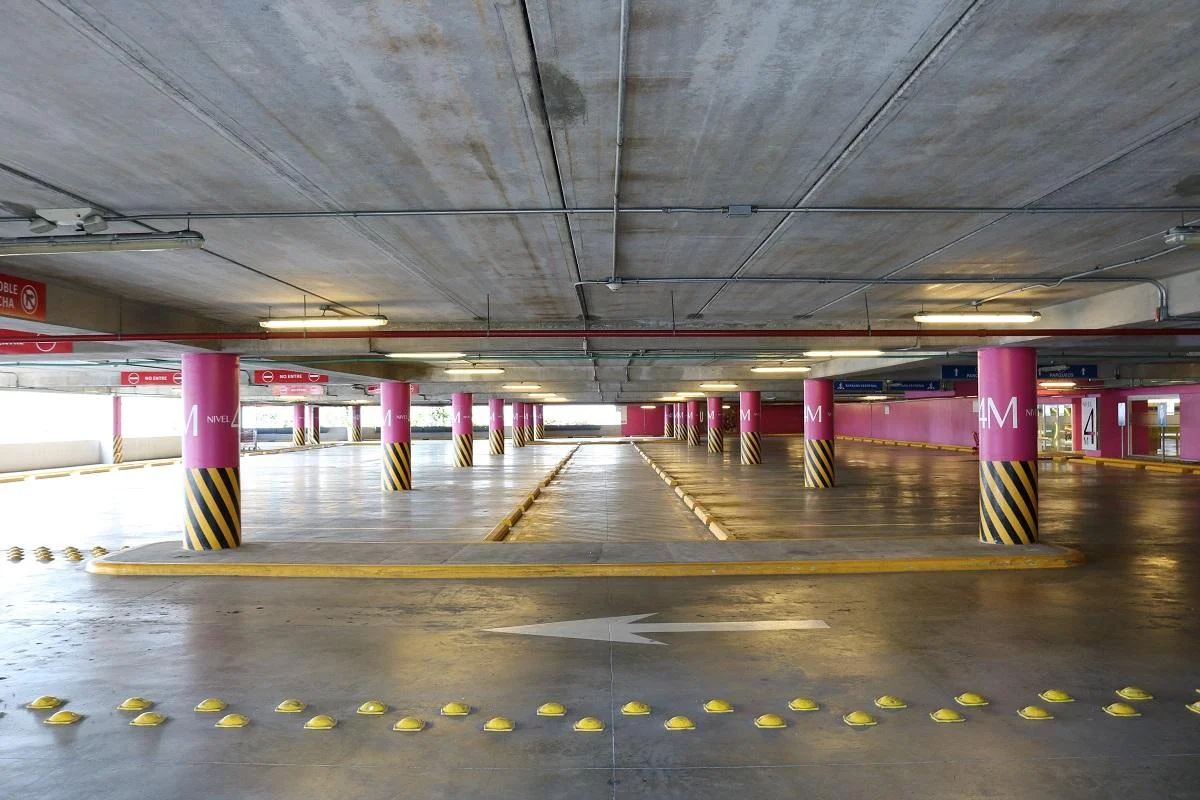 1. Faux Stenciled Rug
One of the most popular trends is to use a stencil to create a painted rug on the concrete floor. All you need to do is strategically lay down the stencil and use a paint roller to apply the concrete paint. Just make sure not to lift the stencil too soon, or you may damage the design.
Also, top the whole surface with a coat of clear sealant to reduce damage from regular wear and tear. 
2. Diamond Motifs
Love the look of traditional concrete floors? You can DIY a diamond motif floor using painter's tape and concrete paint. Begin by measuring the area and then use the tape to create the diamond shapes. Alternatively, you can find vinyl diamond-shaped stencils that make your job easier. 
We recommend laying down a coat of white or gray paint as a base. Then create the diamond designs and fill them in with brighter or darker colors for a contrasting look. 
3. Faux Grout Lines
Another simple design you can create by using painter's tape is faux grout lines. This design looks excellent on basement floors and porches, so start by laying down a light-colored concrete paint and let it dry before using the tape to create faux tiles. 
You can proceed to paint the surface with a slightly darker-colored paint to create the illusion of grout lines. And make sure to lift the tape carefully so that the lines come out even. 
4. Bold Stripes
Want to change the dull look of your laundry rooms or porches? Think about using bright or pastel-colored concrete paints to create bold stripes. There's not much that needs to be done apart from measuring the total area and dividing it into equal horizontal stripes. You can even use black and gray paint for the stripes to give the floor a bolder or more traditional look. 
5. Graphic
There's no point in shying away from using fun graphics to highlight a concrete surface area of your home. You can opt for fun vinyl graphic stencils and paint the surface to create unique patterns. Just learn how to remove paint from concrete to get rid of as much hardened residue from a previous paint job to have a smooth surface. 
6. Painted Tiles
Let's be honest, tiles can be quite expensive, especially when you need to cover a large area. But, you can still get the tiled look on a concrete surface by clubbing faux grout lines with stencils. 
More people are using it to create unique tiled looks in living rooms or patios, as these spaces usually draw a lot of attention from guests. We like the use of vinyl stencils with Greek, Moroccan, or Portuguese tile designs as they provide more quirky finishes. 
7. Adding Flakes
We couldn't miss mentioning vinyl chips or flakes as they have always been used to create extremely durable floors with an industrial feel. You just need to throw flakes on a wet layer of paint to get the desired look. The experts recommend using a good-quality transparent sealer on top to prevent the flakes from peeling off. 
Concrete Floor Paint Ideas Frequently Asked Questions ?
Are concrete stains better than paints?
One of the reasons many homeowners prefer using concrete stains over paints is durability. While a layer of paint sits on the top, a concrete stain penetrates the surface, making it long-lasting. 
Stains might be a better option if you prefer a more earthy and translucent finish or want to mimic the look of marbled floors. Having said that, working with a stain, especially the acid-based variants, can be a bit challenging for a beginner. 
Those who want to use paints but are concerned about durability can purchase concrete paints formulated for interior and exterior durability to achieve a better finish.
What type of paint is best suited for concrete?
As you would have guessed, paints for concrete are available in different formulations and apart from the water-based concrete paints, variants made of latex and epoxy are available. But, most professionals suggest using water-based paints due to their quick drying time. 
Other than that, whenever you're purchasing paint for concrete surfaces, try to find one that's specifically meant for that floor type. For instance, many brands make garage floor paint for garage floors designed to resist scratches and abrasion from tires. 
Are there any drawbacks of painting a concrete floor?
Like any other medium, concrete paints have some drawbacks, which might make them unsuitable for concrete floors. One of the foremost things to know is that paints applied on high-traffic floors need frequent touch-ups but this issue can be solved by topping it with a high-quality sealer. 
Another thing to note is that concrete paints are opaque, so you won't be able to achieve mottling effects or color variations. You'll need to use a concrete acid stain to achieve such finishes. 
We want to add that some concrete paints tend to be slippery, but you can use a slip-resistant variant or mix the paint with anti-skid additives to improve traction.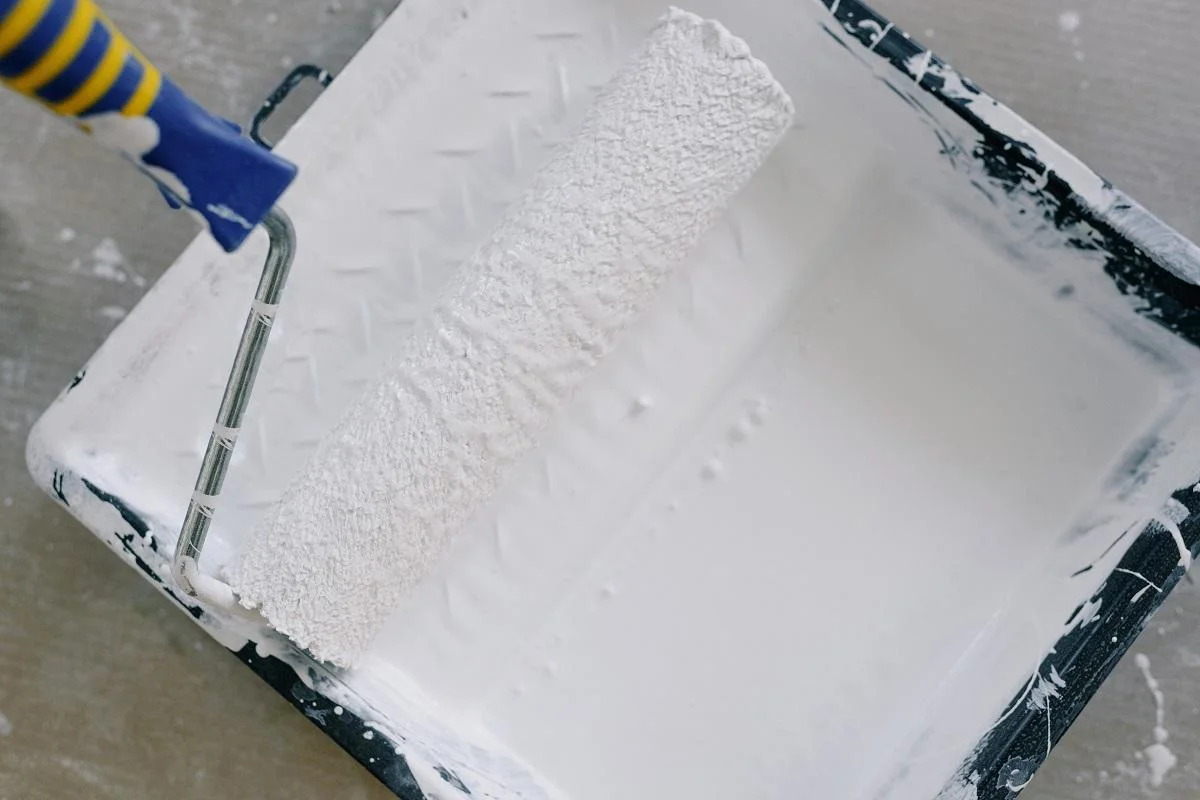 Concrete Floor Paint Ideas Final Words
We hope this guide will help you paint any concrete surface in your home in eye-catching designs and patterns. 
Remember to order a suitable paint in the right amount based on the square footage of the concrete surface. Also, apply a fresh coat of paint only on dry and moisture-free concrete surfaces to avoid peeling. 
Contact a professional contractor if you find it challenging to plan the paint job for concrete surfaces on your property. They are experts who can help you get the desired outcome and can even make the concrete surfaces look better than before. 
Taking suggestions from a professional is especially important if you have a polished concrete floor. Such surfaces need extra attention to detect any damages that might exist in the concrete. 
Until next time, goodbye, and take care!