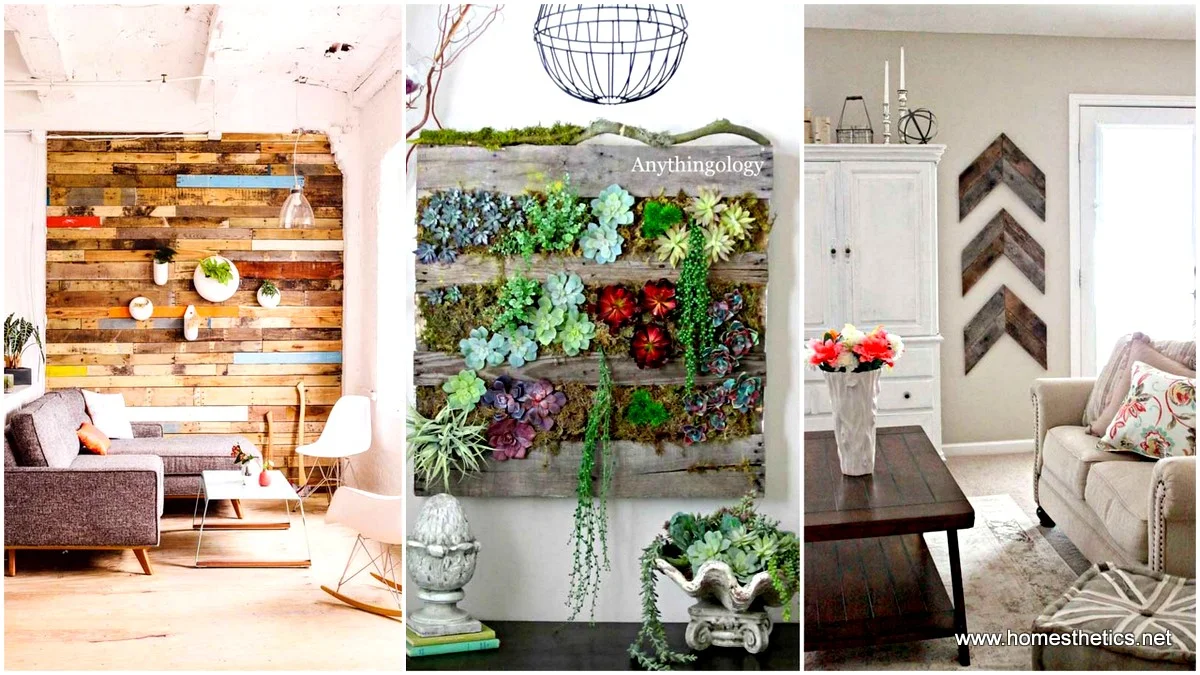 Wood pallets are highly accessible and affordable! They make great materials to DIY a simple project at home.
One of the best ways to utilize pallet walls is by incorporating them into your walls. There are different pallet wall ideas you can try out.
Today, we've listed some of the best and most creative pallet wall ideas you can create. It'll make your home look good without costing a fortune.
50 Pallet Wall Ideas to Try Out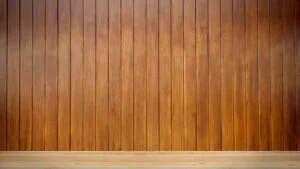 If you're looking for a way to spruce your home, consider using wood pallets. There are a bunch of projects you can do with it, regardless of the difficulty range.
1. Pallet Wall Bedroom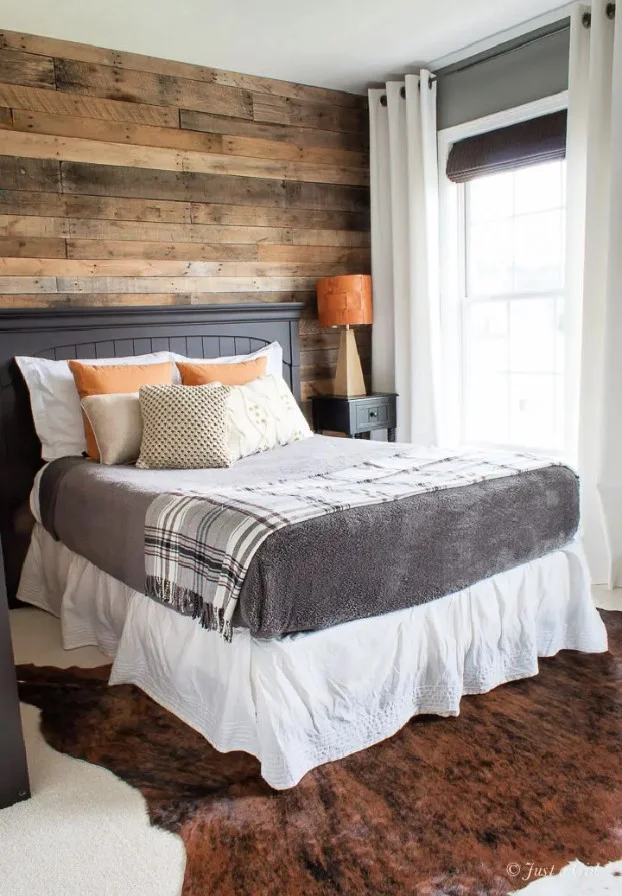 via justagirl
Create a rustic-inspired bedroom by installing pallets plank on the wall. This is a great way to spruce your plain-looking walls!
You can choose between installing the wood planks on only one side or all four. We recommended starting with only one side to see if you love what it looks like. 
2. Kitchen Pallet Wall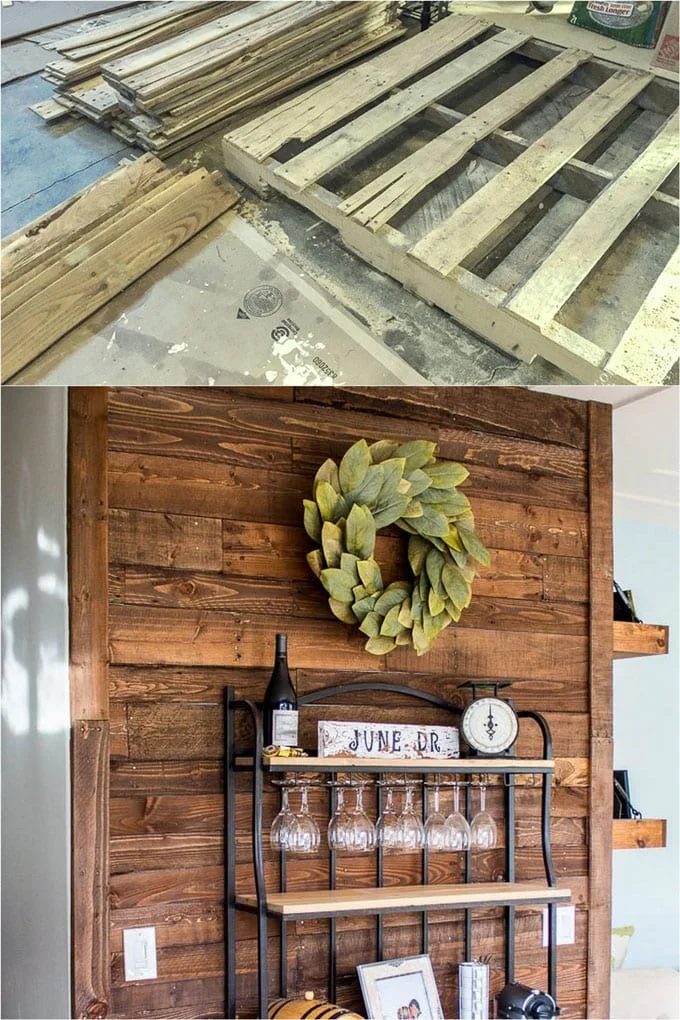 Pallet boards look so good in modern interiors. It's one way to add pop to your interior without costing a fortune. 
A modern and rustic interior looks nice together; it's a creative decorating idea you should try.
3. Geometric Wood Accent Wall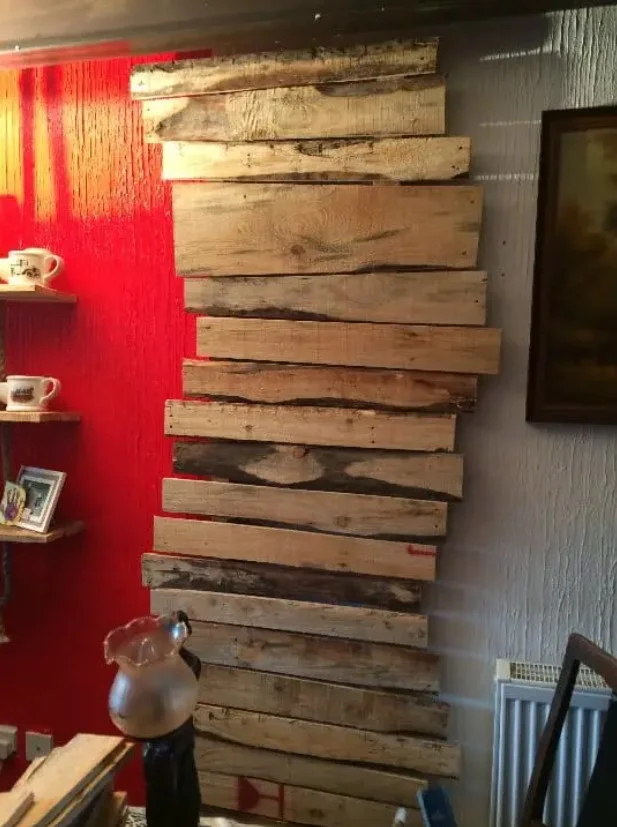 via 1001 Pallets
If you've got extra wooden pallets lying around, turn them into a geometric pallet wall. You only need a few leftover pieces and a geometric pattern to build. 
All you need is a solid vertical base to attach your pallets. This will instantly add a rustic charm to your room. 
4. Fireplace Wood Wall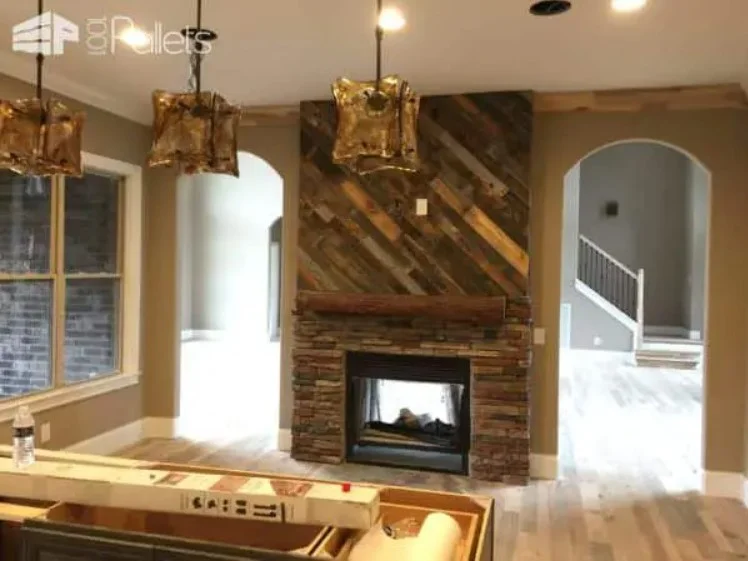 via 1001 Pallets
Transform your living room into a page straight out of a magazine with this cabin-inspired look. Create a pallet wood wall for your fireplace and watch it come to life. 
You can use different colors of wood planks. But darker shades generally look great for that rustic and cozy feel. Add in your favorite lights to complete the look! 
5. Living Room Pallet Wall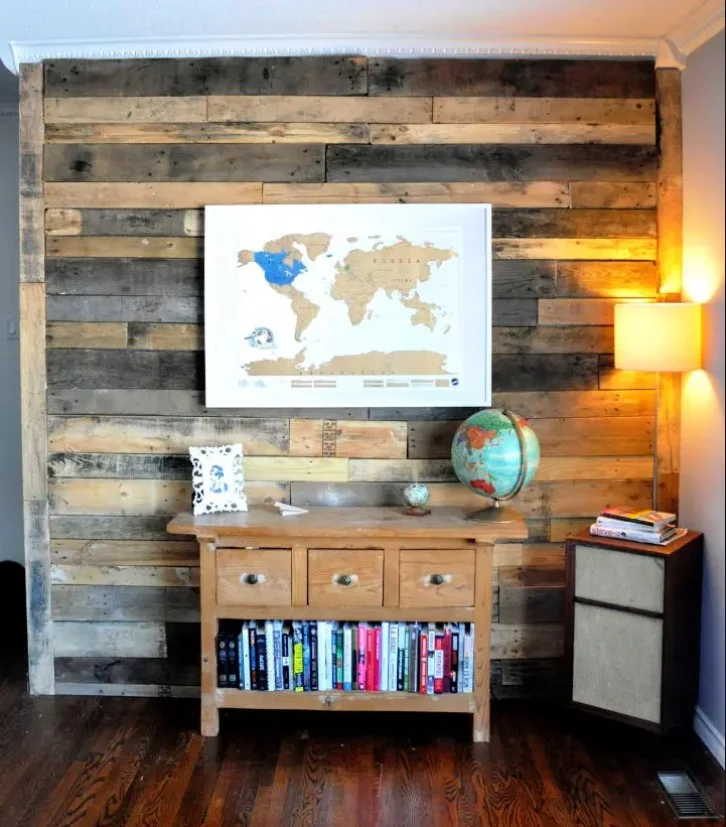 via artisandesarts
Do you need help figuring out what to do with your plain living room wall? We've all been there and know how annoying that feeling can be. 
Why not create a pallet wood wall to transform it? Using pallet planks is perfect because of the beautiful different colors it comes in. 
6. Pallet Wall on Plywood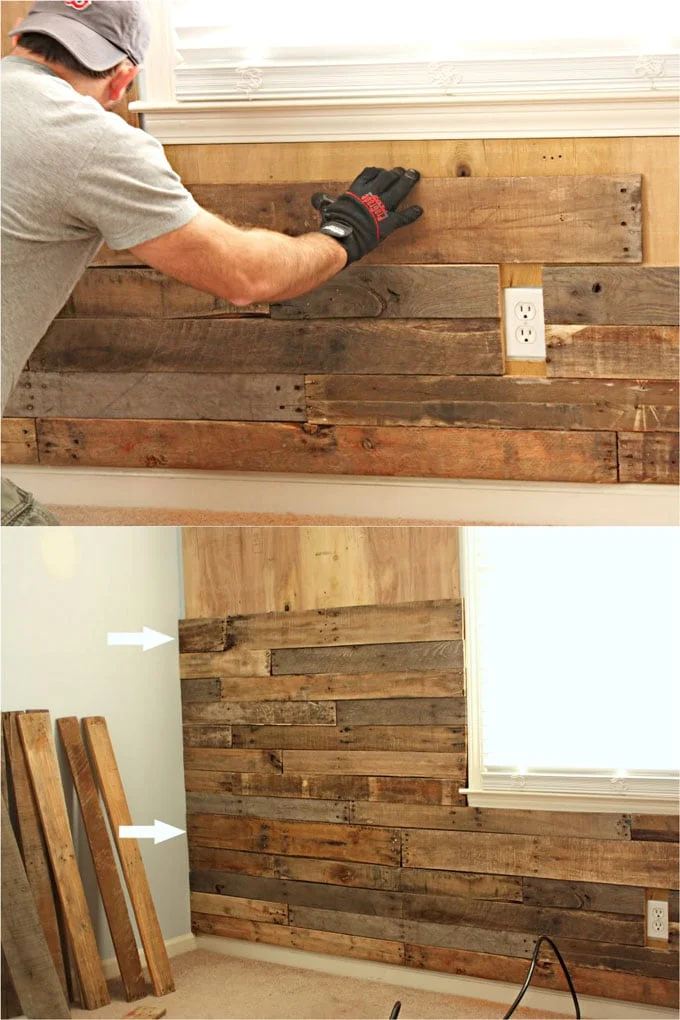 via Bower Power
Wood on top of wood? That sounds like a good idea! You can install a pallet wall on top of your plywood to cover thin pieces of plywood behind it. 
This DIY craft gives your old walls a glam touch you didn't think was possible. Your room will look so much better with pallet planks!
7. Garage Man Cave Wood Wall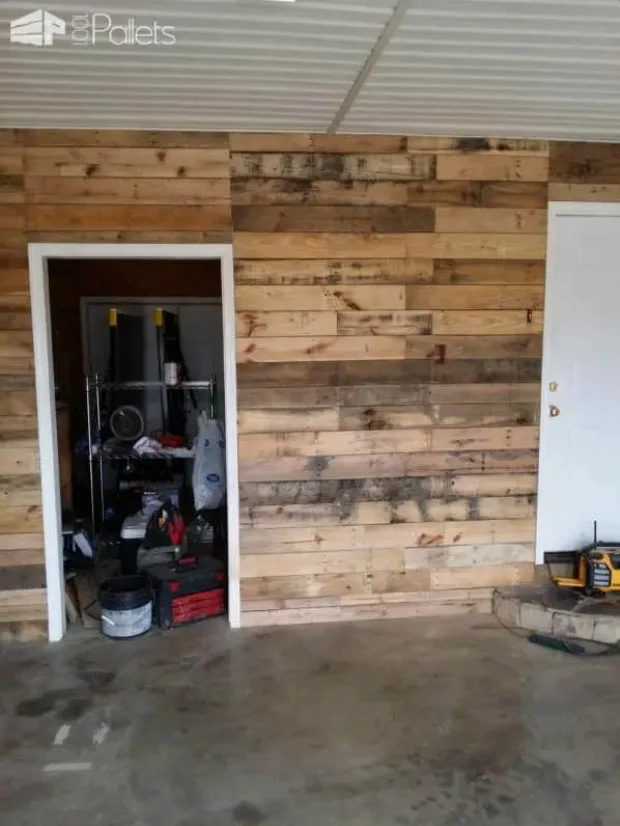 via 1001 Pallet
If you aren't using your garage at home, consider transforming it into your man cave. Start using wooden pallets on the walls, and add your favorite art pieces!
Your pallet wood wall will look outstanding! We're sure you'll wow your friends with this DIY wall. 
8. Garden Pallet Wall Accent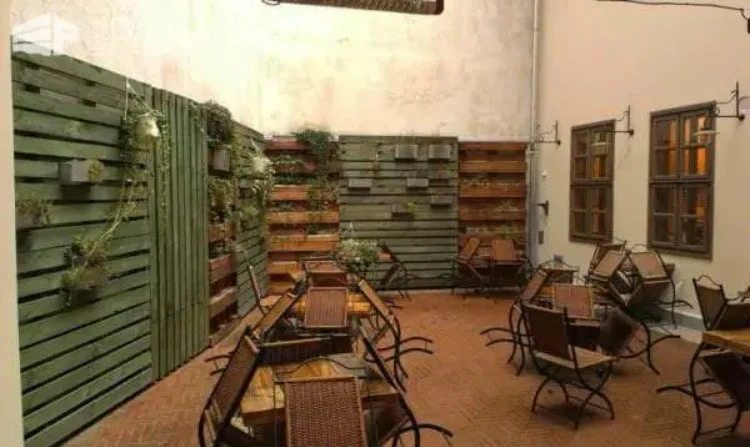 via 1001 Pallets
Does your outdoor area need some sprucing? Why not use free pallets to liven it up? This is one of the best ideas you can do without too much cost. 
You can add some built-in planters for your favorite plants. Your wall will look so much better and alive than before. 
9. Basement Pallet Wall 

Décor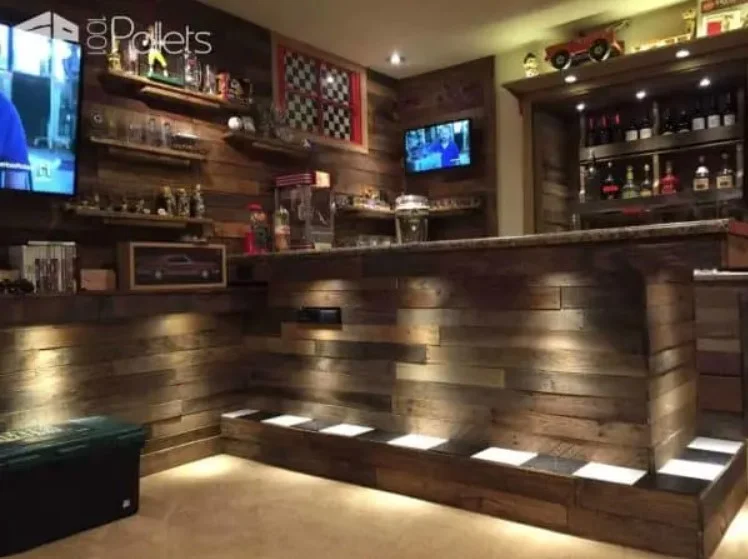 via 1001 Pallets
Transform your basement into your very own at-home bar. You and your friends won't have to go far to have awesome drinks and a good night.
You can start by making your pallet wood walls. Eventually, you can even make your own handcrafted pallet wall bar! 
10. Children's Room Wood Pallet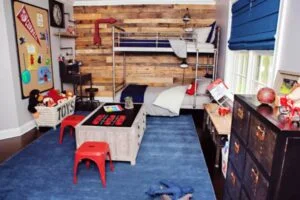 via projectnursery
Believe it or not, pallet walls also look great in a children's room. It won't look out of place, and we're sure your child will love having wood walls. 
Wood pallets are perfect for creating a pirate-inspired bedroom many kids dream of having. Get your kids to build it with you, and enjoy the moment!
This is a good break from the usual fairy-tale bedroom décor you've been looking at. 
11. White Washed Pallet Wall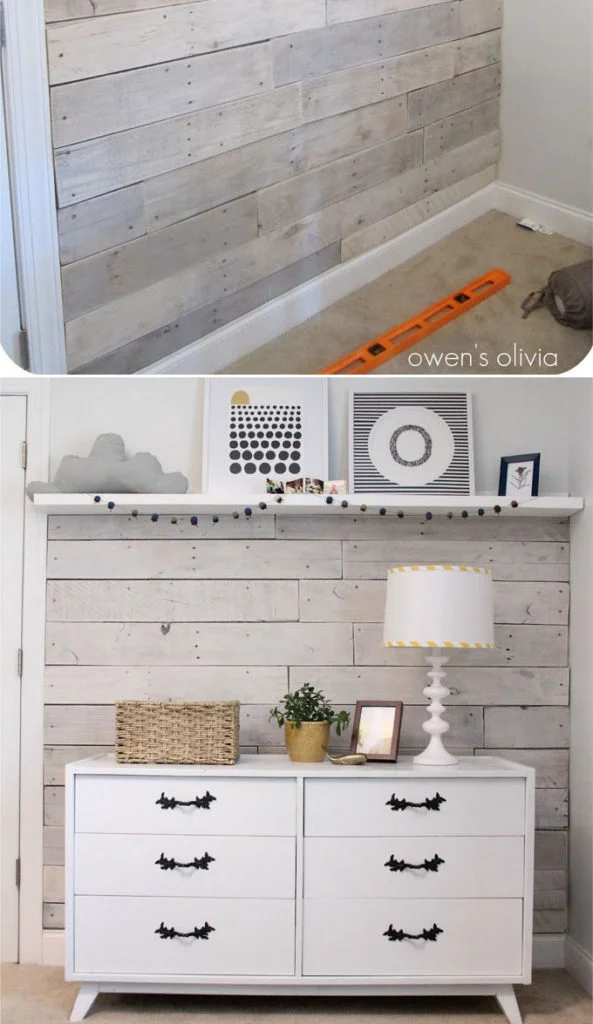 via Owen's Olivia
Whitewash your wood pallets to create a modern-looking wood pallet wall in your house. You don't have to stick to the usual shades of brown! 
This is one of the clever ideas to brighten your home, even while you're using wood. You don't need to worry about your pallet walls looking brown and boring. 
12. Pallet Privacy Wall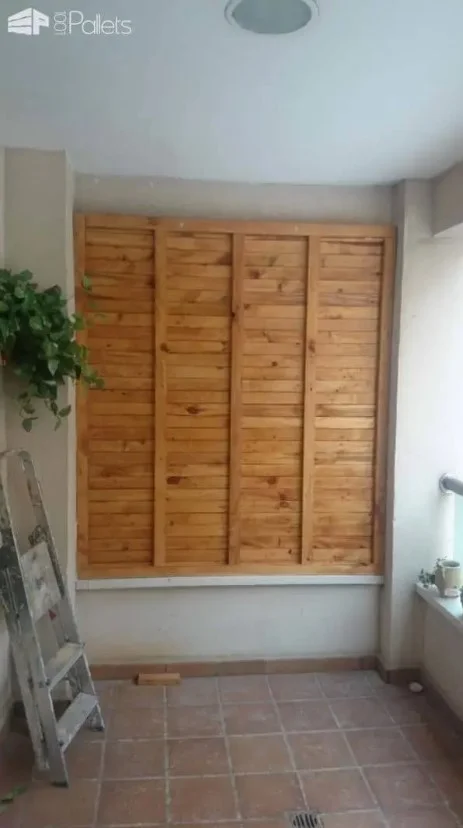 via 1001 Pallets
Build a privacy wall on your patio or balcony with the help of pallets. You can keep your peeping neighbors away and gain your privacy!
You can even put this wall in your garden and add some of your favorite plants and flowers. 
Make sure to check out other outdoor privacy screen ideas to prevent your neighbors from spying on you. 
13. Toilet Pallet Wood Wall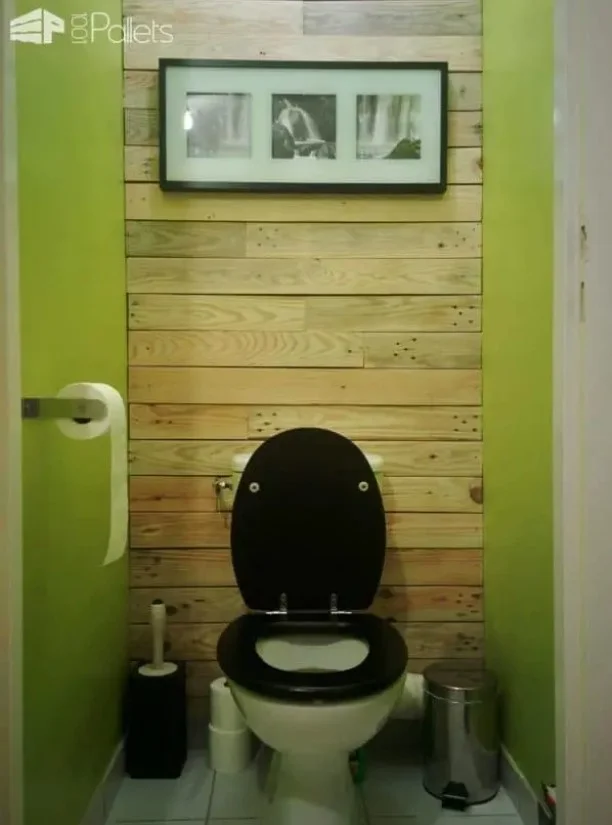 via 1001 Pallets
Pallet walls are perfect even in your toilet. It'll give your bathroom a rustic feel without having to do a ton of work. 
Decorate it with your favorite pieces to tie the whole concept together! Remember to use wall studs for the installation so it doesn't fall over. 
14. DIY Pallet Wall Star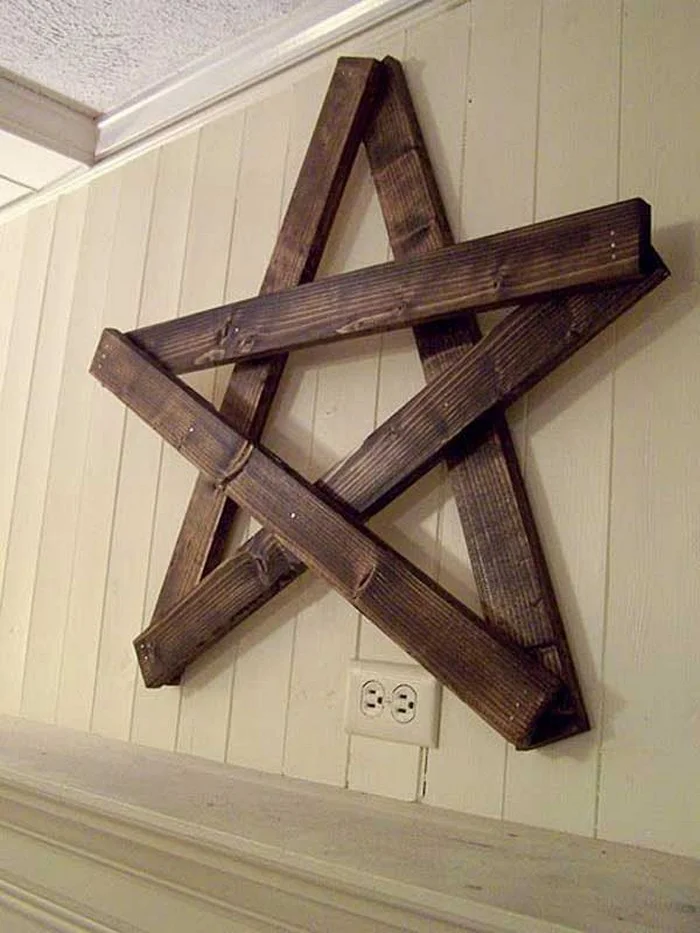 via Recycled Crafts
Another pallet wall art you can do is this simple starcraft. There are a lot of awesome ideas out there but start with something simple. 
Finishing this star creation won't take a day. But be warned, assembling everything might get tricky.
15. Home Pallet Accent Wall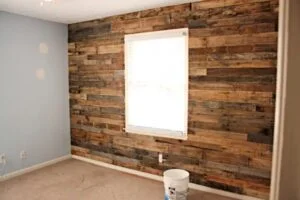 via bowerpower
Surround your window with beautiful wood planks. The brown wood shades greatly contrast the light that comes through your bedroom. 
You don't have to worry about choosing the same wood shade for your pallet walls. The charm of it is with the different shades, each having its personality. 
16. Multi-Colored Pallet Wall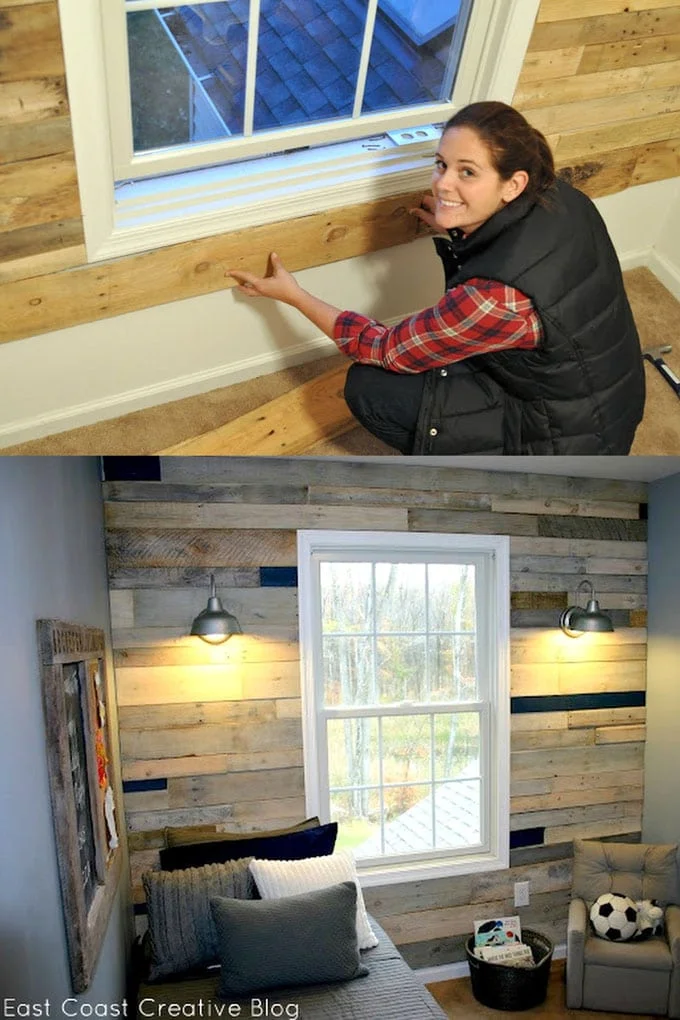 Another wood pallet creation is this multi-colored pallet wall. If you're bored of the usual shades, painting over them helps. 
You can choose your favorite color and make them pop on your wall! In the alternative, you can choose different colors of wood if you want to avoid doing some painting.. 
17. Corner Wood Accent Wall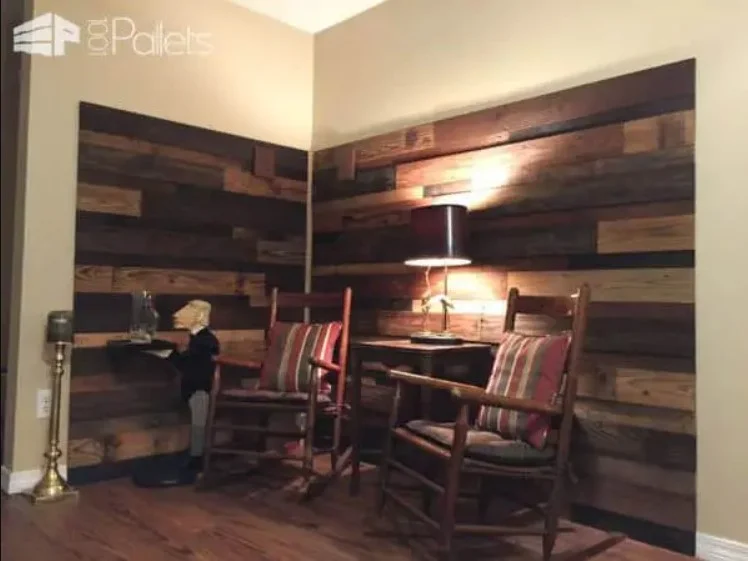 via 1001 Pallets
We all have that one corner in our room that needs to be improved. If adding a corner couch and some lights are not doing the trick, what will?
Why not try this corner wood wall? Incorporating wooden pallets on the wall will make your corner look much better!
18. DIY Pallet Arrows Wall Art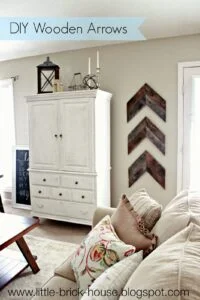 This simple DIY wall art is perfect for your bedroom. You only need a few pallets to stick together and shape into an arrow!
The best part is that you don't have to nail them on your bedroom wall. A simple adhesive can do the trick. 
19. Pallet Wall Frames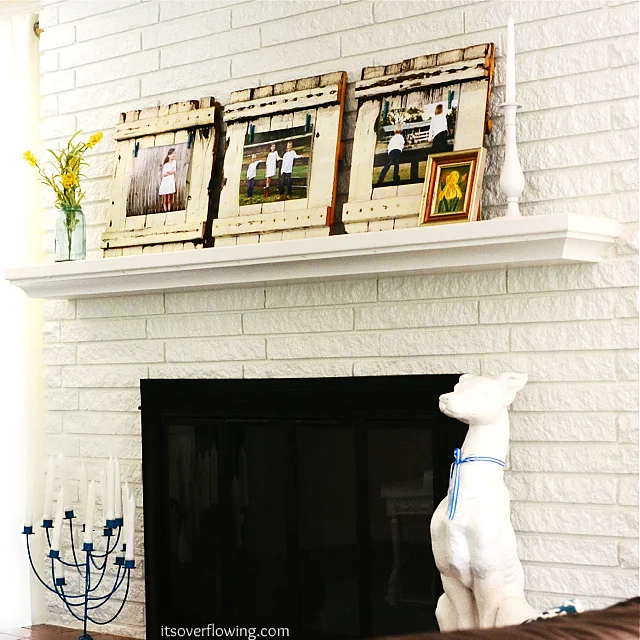 via It's Overflowing
Get your whole family involved with this DIY pallet wall décor. It's so easy to do; even your kids can do it. 
Painting over your craft is also a great way to add some of your personality to this DIY craft. 
20. Portable Pallet Wall Screen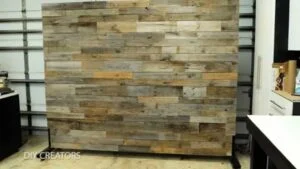 via diycreators
If you're looking for a portable privacy screen, this wooden pallet craft is a great place to start. 
You can customize the height and width depending on how much you want to block out! You can easily wheel this screen behind you whenever you need some privacy. 
21. Patterned Wood Wall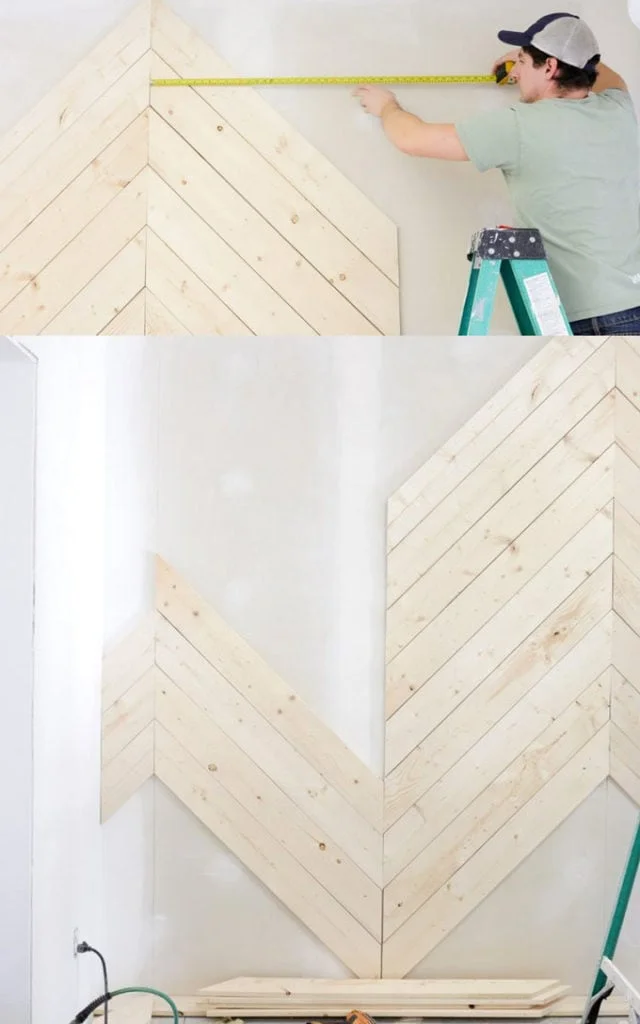 via Mamas Dance
Create awesome patterns on your wall with the use of pallets! We're sure you'll enjoy doing this at home. 
Ensure you have the right tools with you to get the right measurements. You want to stay close and accurate so the pattern looks symmetrical. 
22. Ocean Pallet Wall Art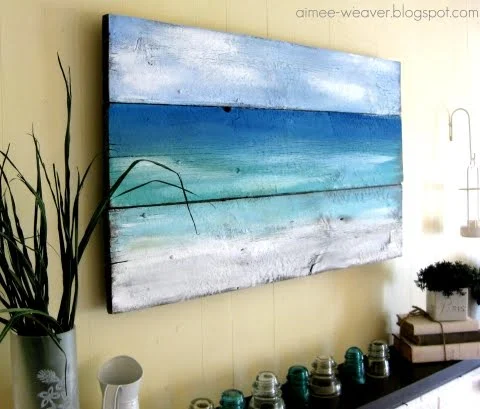 Another ocean-inspired wall art you can use is this three-piece wall pallet. It takes less than half a day to complete! 
We recommend printing a photo of your favorite ocean view and drawing inspiration from it! Don't worry because it doesn't have to look perfect. 
23. Vertical Garden Wood Wall Art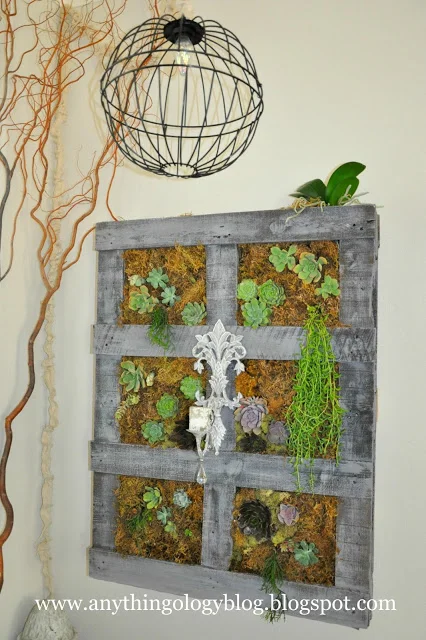 via Anythingology
Bring nature into your room by crafting this wall garden out of wood planks. You can choose your favorite indoor plants to grow!
Consider this your mini planter at home. Ensure the slots are large enough to hold your soil or moss in. You don't want soil spilling all over your floor. 
24. Shark Wall Art Wood 

Décor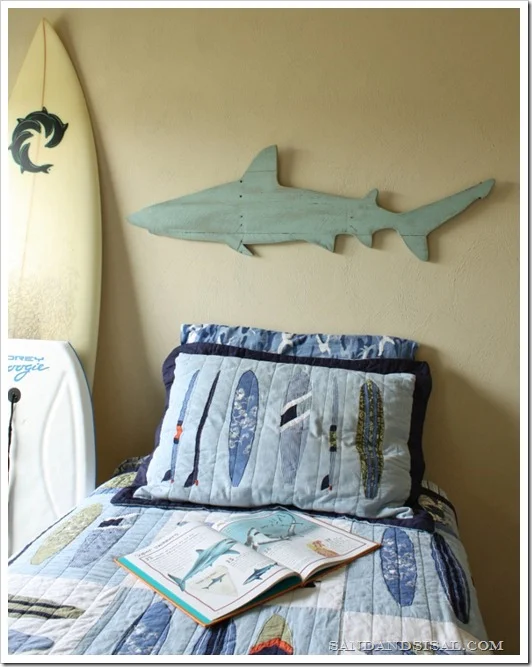 via Sand and Sisal
This shark wall art is perfect for your kid's bedroom. It's easy, although you must carve and cut the wood to the right shape. 
Just sand the edges so you or your kid won't get splintered. Apply a clear lacquer on top to give it a nice finish. 
25. Decorative Dark Pallet Wall Installation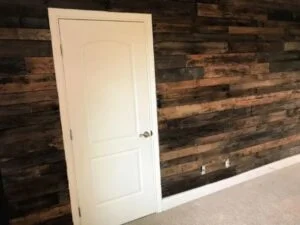 via medium
Wood pallets come in different colors, ranging from very dark to light. We love darker shades for our bedroom because it gives a cozy feel. 
It's perfect for homes with a dark aesthetic and wants to use different materials to achieve this look. 
26. Stick on Wood Pallets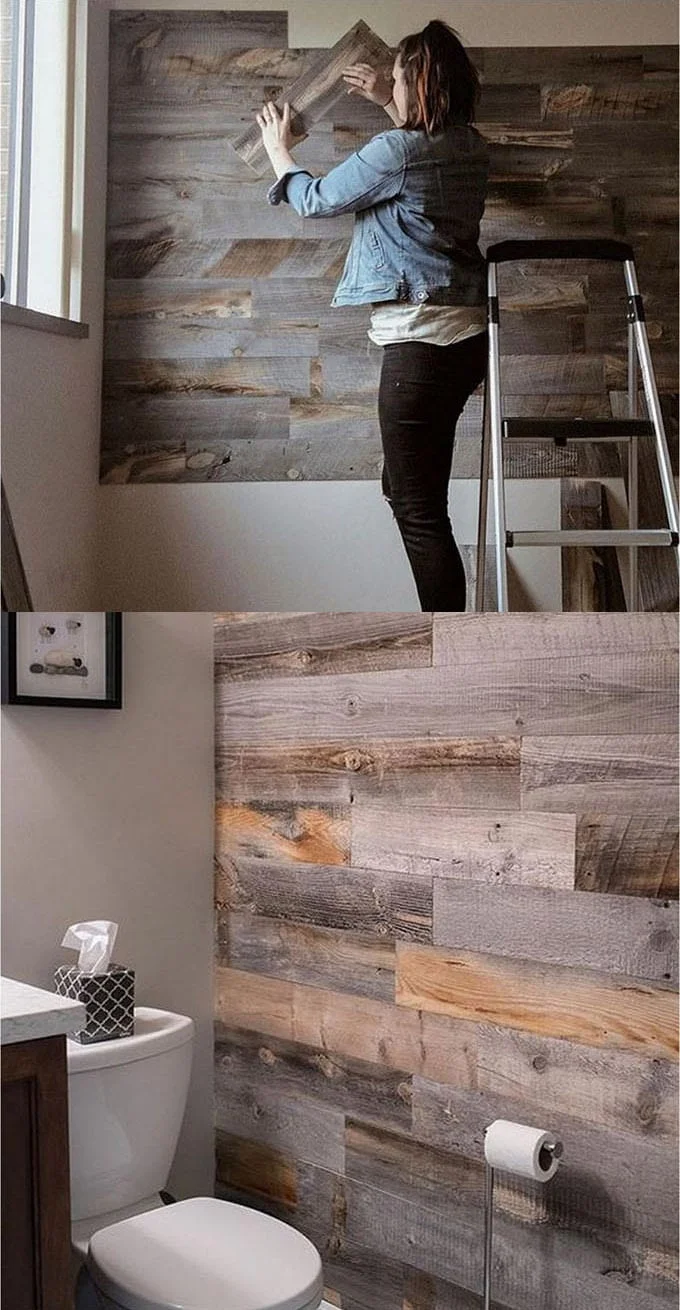 via stickwood
Stick-on wood pallets are perfect for anyone who wants to do a quick and easy DIY craft. Stick-on pallets are highly accessible and even affordable.
The only challenge with stick-on pallets is ensuring you get enough pieces to cover the wall!
27. Unique Pallet Wall 

Décor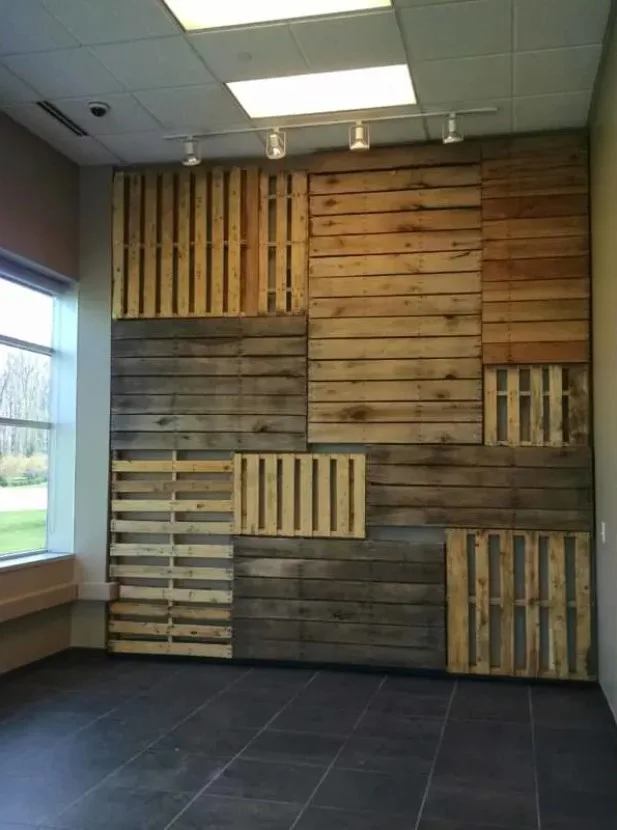 via 1001 Pallets
Another one of the awesome pallet wall ideas we recommend is this one. It's a clever way to get crafty and give your bedroom a rustic feel. 
Pair it with rustic-inspired lights, and your room is complete! Just stick them properly on your wall so they don't fall over. 
28. Pumpkin Wood Wall Art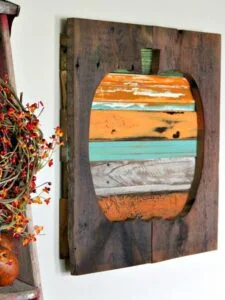 Start the fall season by crafting this awesome pallet wall decoration. This is one of the great ideas you can do with your kids to excite them for the holidays! 
You can choose different shades of orange for a beautiful and vibrant-looking pumpkin. Nail it on your wall, and viola!
29. UpCycled Pallet Bed Headboard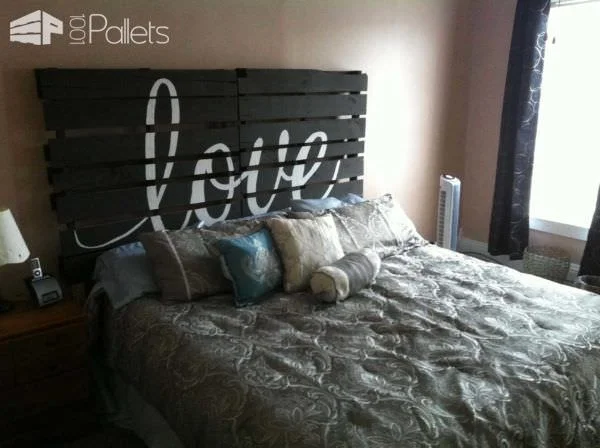 via 1001 Pallets
If you still need a headboard for your bed, consider making one out of wood pallets. 
This headboard is so easy to put together. All you need are a few ideas to get you started. You can also cover the planks with a shade that fits your room's aesthetic. 
30. Pallet Wall Floating Shelves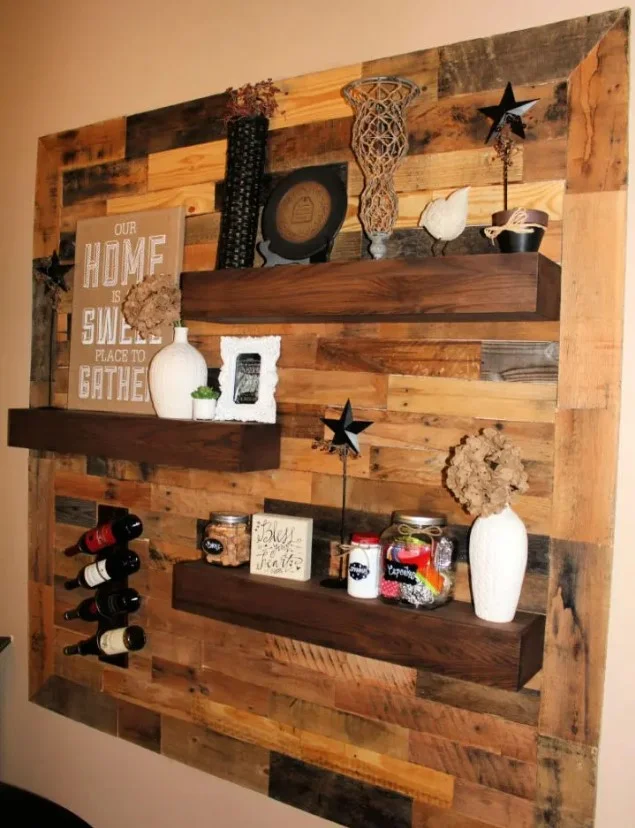 via ellerydesigns
We love installing hanging shelves in our house because it gives us an extra place to put our mementos. We can display all our special pieces for everyone to see! 
This is one of the best pallet wall ideas where you can get creative minus the cost! Build the shelves in your bedroom or even in your hallway!
31. Wooden Planks Wallpaper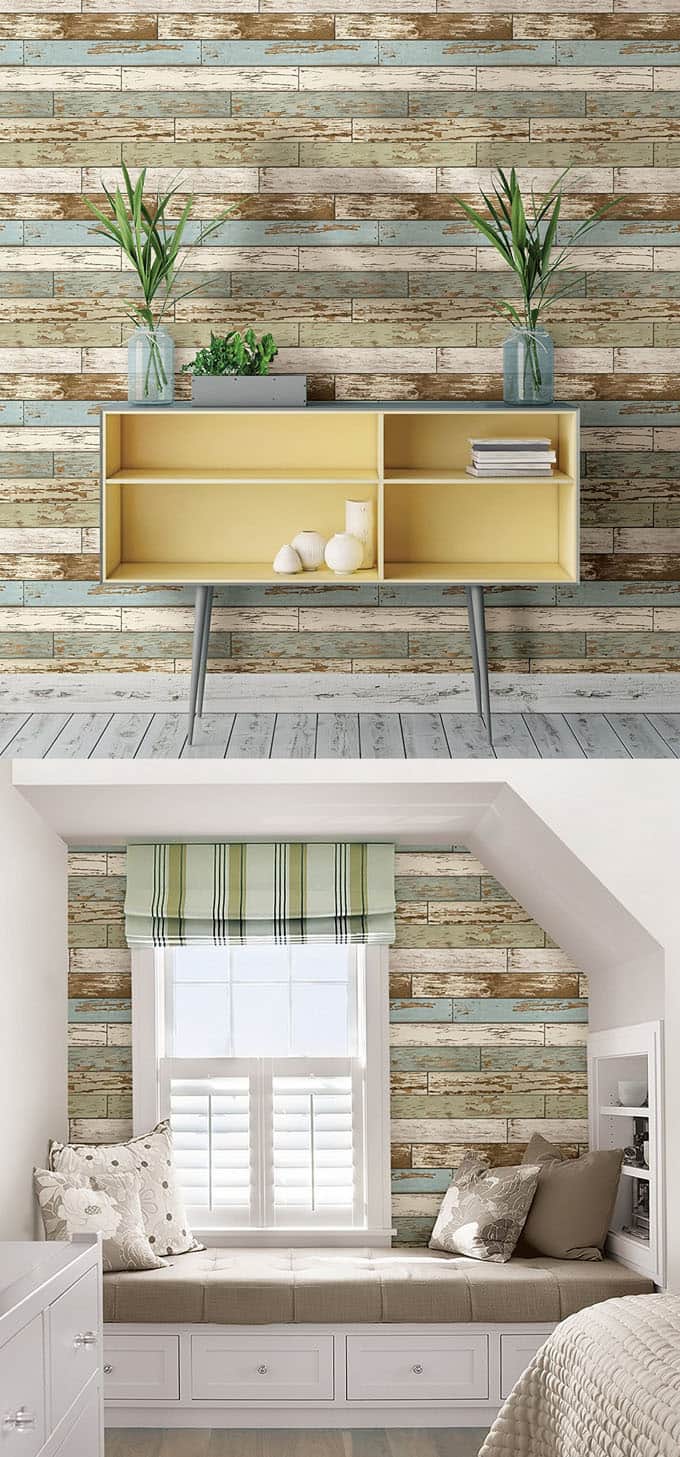 via NuWallpaper
Consider this wooden planks-inspired wallpaper if you aren't ready to go all in. It gives the same illusion as the real thing, perfect for those who can't decide yet. 
You don't need to use nails and studs anymore. However, keep in mind that sticking the wallpaper may take some time. 
32. Pallet Room Divider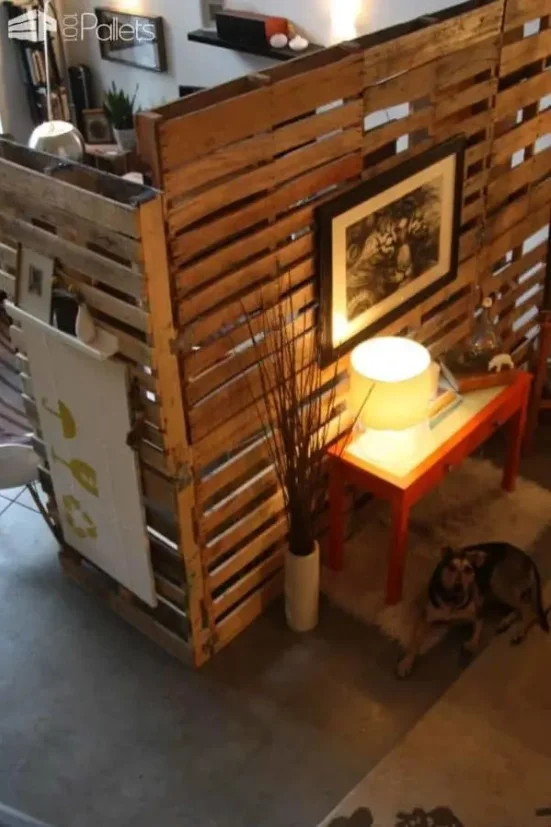 via 1001 Pallets
Build your room divider out of wood pallets. It doesn't matter if you don't have a rustic-themed room because this divider ties in seamlessly. 
Assembling all the wooden pallets is simple, although it may take some time. Just make sure to use reliable screws, so they don't fall apart.
33. Family Inspired Wall Art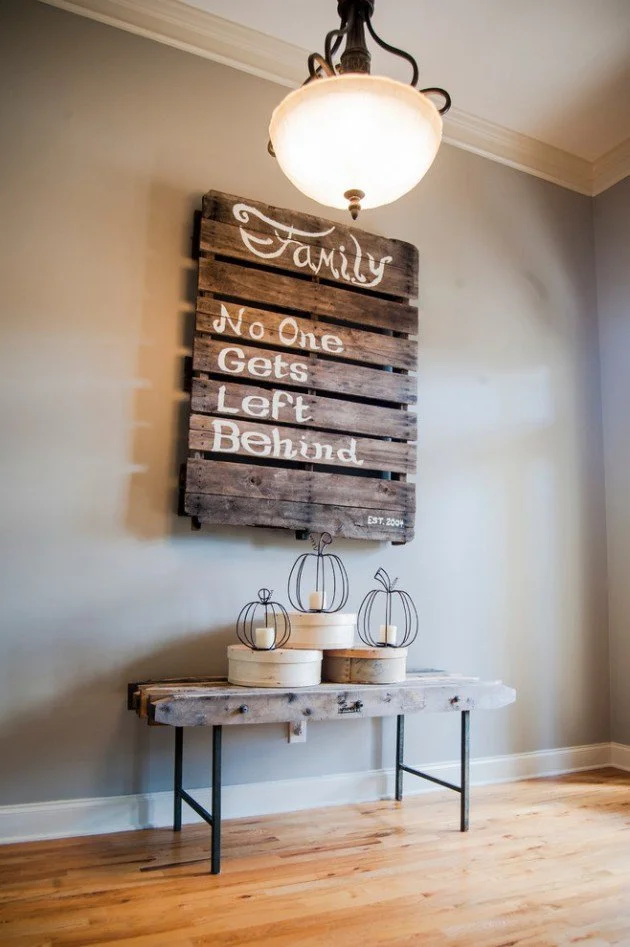 via Houzz
This DIY pallet wall art is great for the whole family to do! This board is also an awesome statement piece you can hang near your front door. 
Your kids can write their names on the board to make it extra special! Just make sure to screw them on properly or use studs. 
34. Wood Pallet Wall Vase 

Décor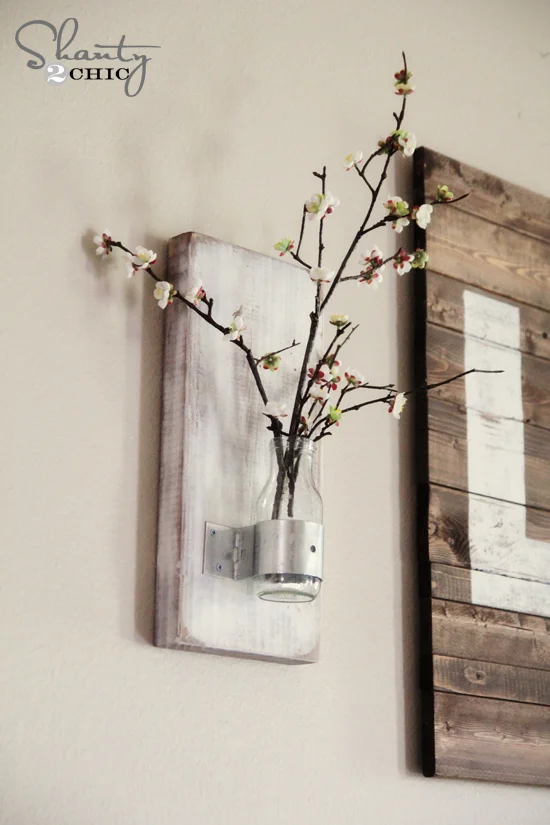 via Shanty 2 Chic
Create this wood pallet wall vase with a few easy steps and materials! All you need is a small wood pallet you can hang on the wall. 
Add a small vase to place your favorite flower, and your room will look much better. You can incorporate this in your hallway or anywhere in your house! 
35. Stained Bathroom Pallet Wall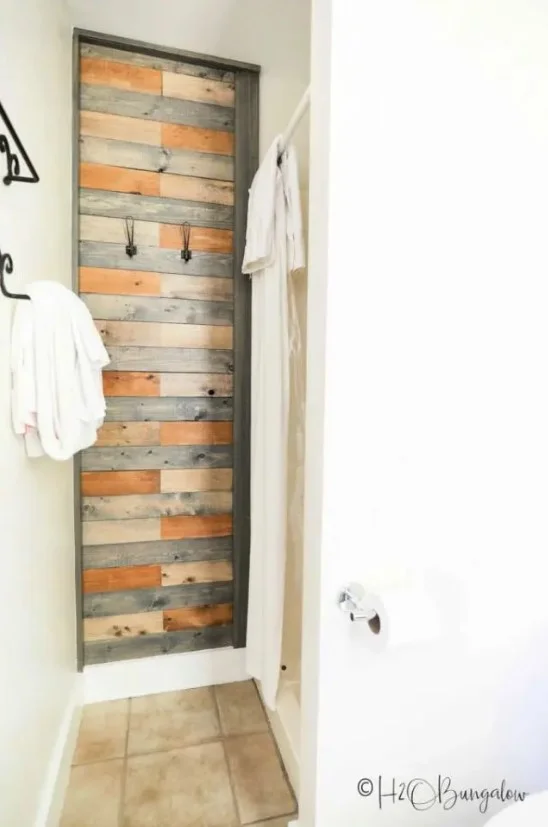 via h2obungalow
If you're looking for one of a kind pallet wall ideas for your bathroom, this stained bathroom project is perfect for you. 
There's a lot of creativity involved in staining wood. You can be as creative as you want to achieve the different colors. 
36. Entryway pallet Wood Wall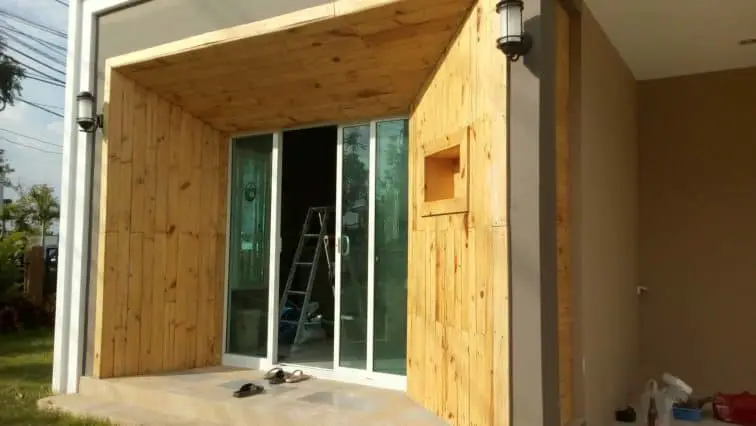 via 1001 Pallets
Create an impactful wall entrance with this pallet wood wall. This will wow your neighbors and make them jealous of this wonderful creation. 
And all this hardly costs you anything because pallets are highly affordable and sometimes even free!
37. Chevron Pattern Wall Art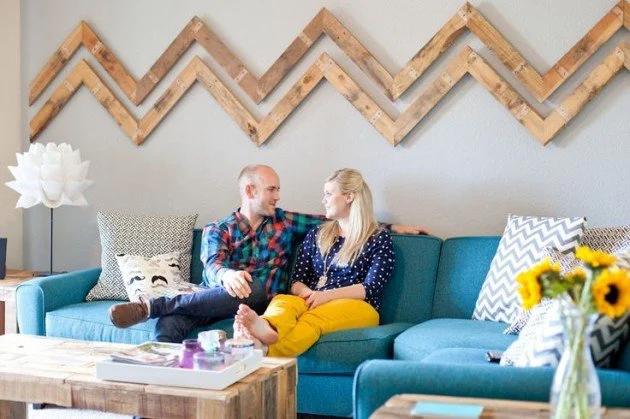 via Nicole Dianne
Creating this chevron pattern wall art is one of the best and simplest pallet wall ideas you can do at home. All you need is a few pallet woods. 
Screw them on your walls and form them into a chevron pattern! You can choose between painting the pallet to your favorite colors or leaving it as is. 
38. DIY Colorful Peace Sign 

Décor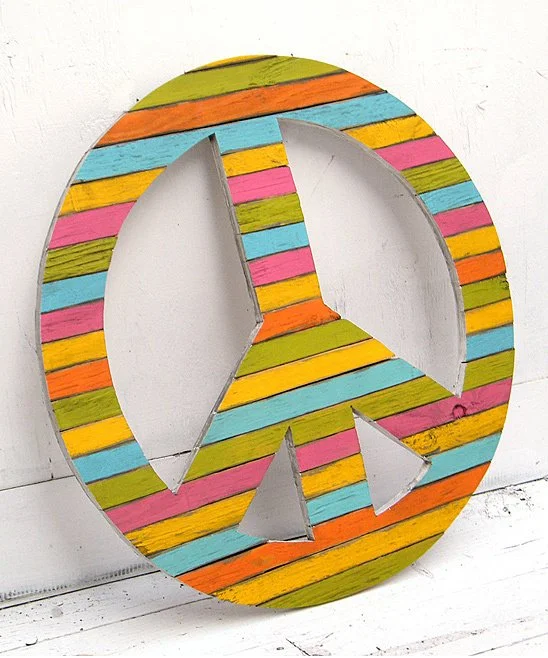 via Zulily
Create this flawless pallet wall art in no time. All you need are a few pallets and your favorite symbol to craft. 
Cutting the wood planks will be challenging, so take your time. Make sure to smoothen the edges properly to avoid being splintered. 
39. Wood Pallet Drawing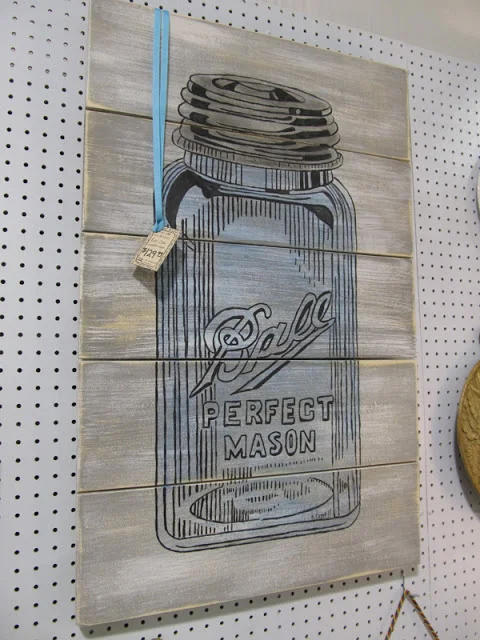 via First A Dream
Create one of a kind painting on your pallet wood! The sky's the limit because you can choose anything to draw, and this is the free way to do so. 
Finish off your painting with some lacquer to give it a nice coating. Alternatively, you can leave it as is to give it a natural charm. 
40. Painted Over Pallet Wall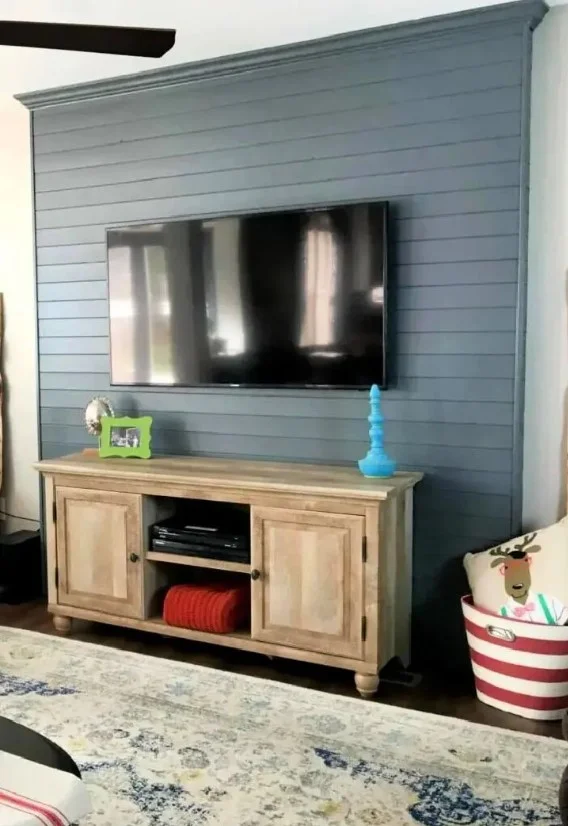 If you're tired of the usual TV wood wall concept, this project might be what you're looking for. 
To cut the story short, you'll cover your wood pallets with your favorite color to match your interior. 
We recommend choosing neutral shades so that it ties seamlessly with your space. You can do some swatches to help you find the perfect color. 
41. Bathroom Accent Wall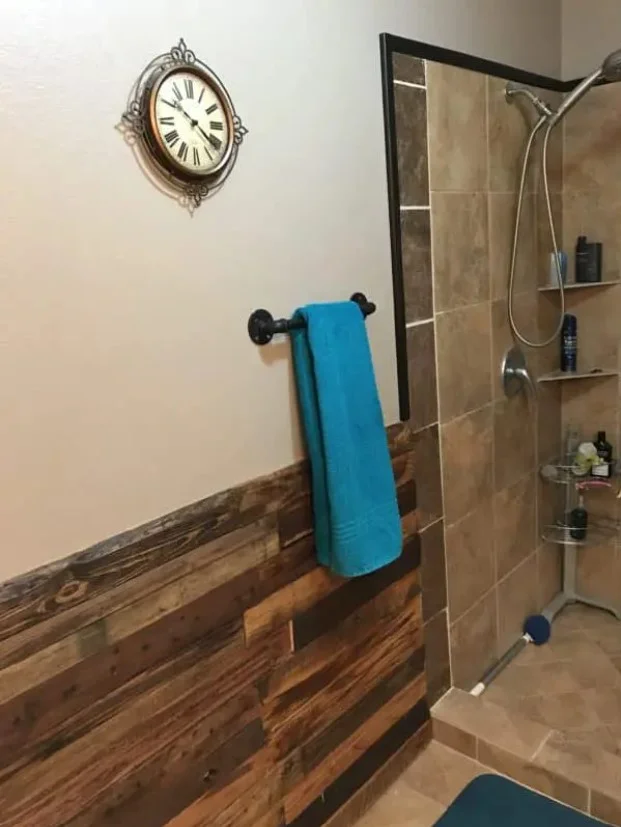 via 1001 Pallets
Use wooden pallets as an accent in your bathroom! This pallet wood wall incorporates a simple rustic fee without doing a total makeover. 
Just waterproof your wood wall to prevent it from getting tarnished easily. Find your favorite wood pallet shade, and you're all set. 
42. Nautical Wood Wall Art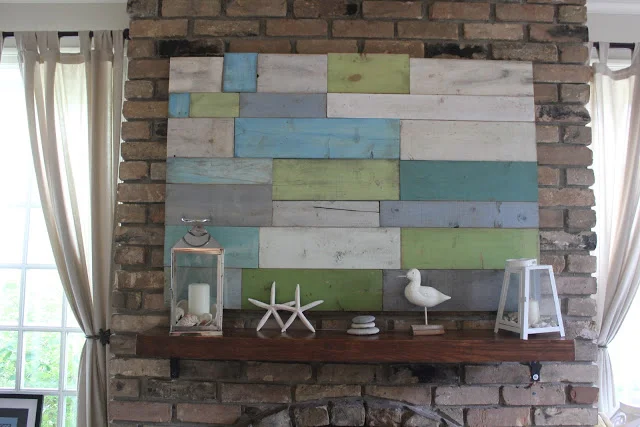 Bring the ocean to your home with this inspired pallet wood wall idea. You can paint it in different shades of the ocean! 
This DIY wall art project is so easy to complete. But full disclosure, figuring out which shades to paint was hard. 
43. Wood Pallet Wall Clock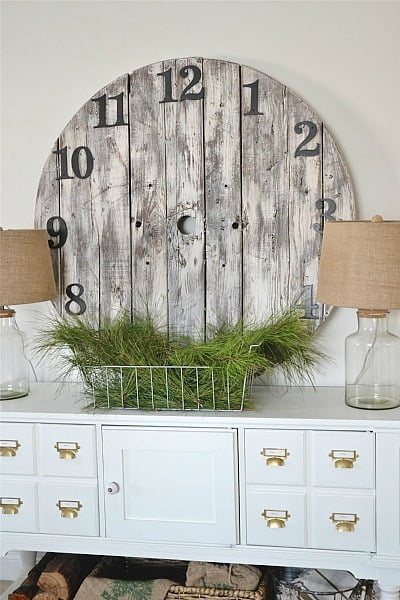 via Liz Marie
Trade your old wall clock for this DIY pallet wall idea. It's a great DIY project you can do with your kids. 
The only problem you might experience with this project is building the clocking mechanism. But don't worry because there are ready-made ones you can install. 
44. Statement Wood Wall Decors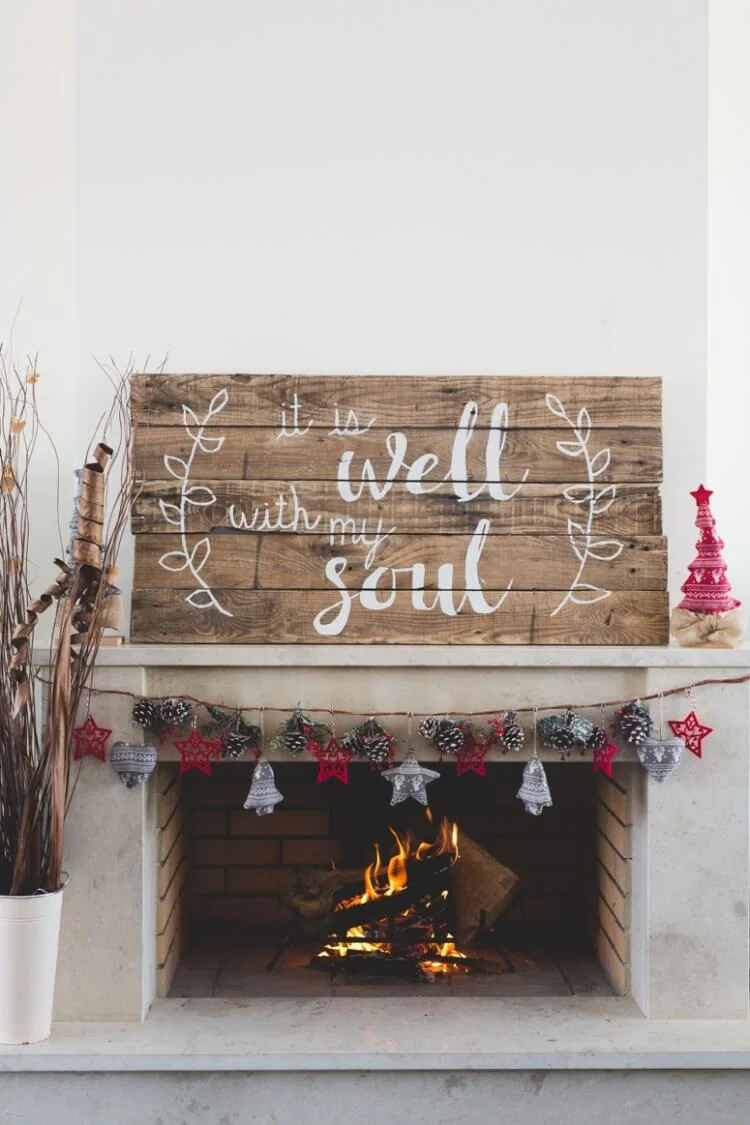 via sixcleversisters
You won't believe how many statement pieces we can make with free pallets. And you know what? We're not complaining! 
We can be as creative as we want and add our favorite quotes. Hang the pieces in your hallway or on your front door.
45. Pallet Wall Color Variations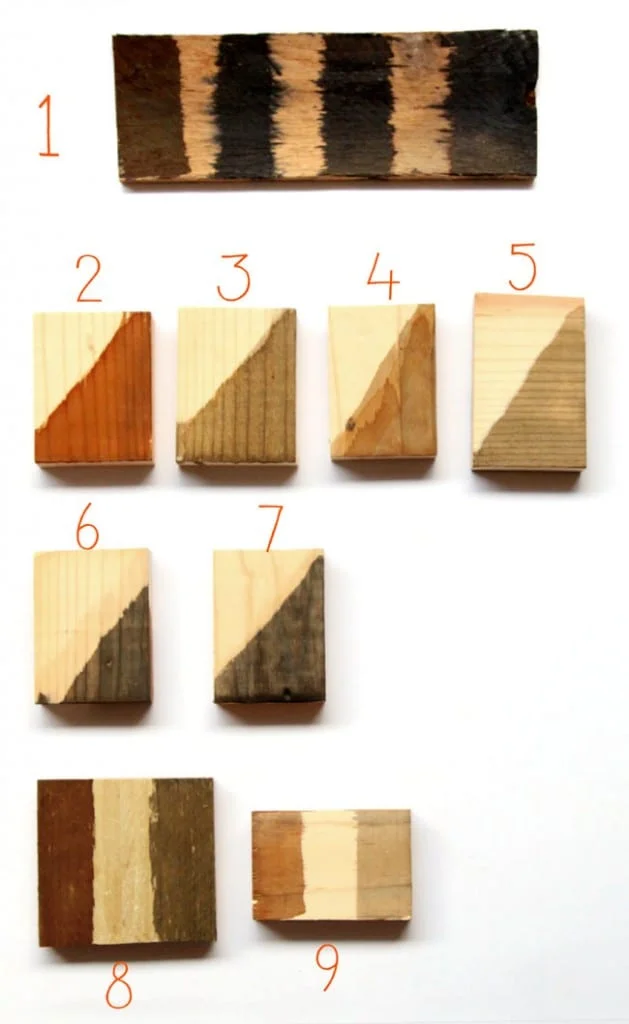 One of the reasons why we love using pallet wood is we can stain it according to the shade we want. Doing this helps us find the perfect pallet shade for our DIY projects.
You can play around with the different colors for your next decorating project. 
46. Outdoor Shed Pallet Wood Wall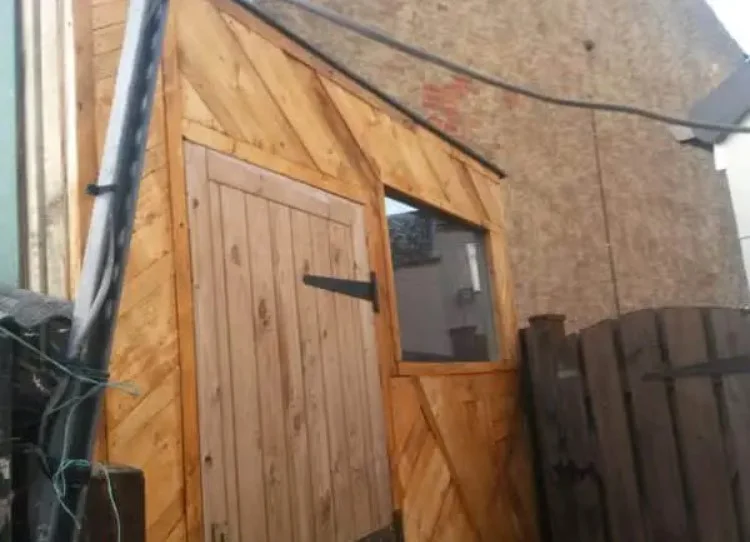 via 1001 Pallets
Complete your outdoor project by making a shed entirely out of wood pallets. This is one of our go-to wall ideas because we can utilize our pallet wood properly. 
Just make sure to use sanded pallet wood planks to give the entire wall a nice and smooth finish. You can even paint it over with a plain-looking varnish and a water-resistant top coat.
47. Pallet Frame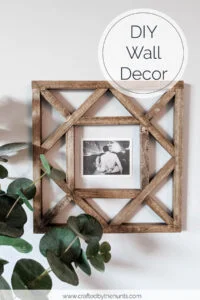 Another awesome wood craft you might be interested in is this wood pallet frame. It only requires a few pallet pieces, which you can get for free. 
The beauty of this project is you can craft the frame in nearly any shape and design you want. Just make sure to attach its pieces and add your favorite picture!
48. DIY Picture Holder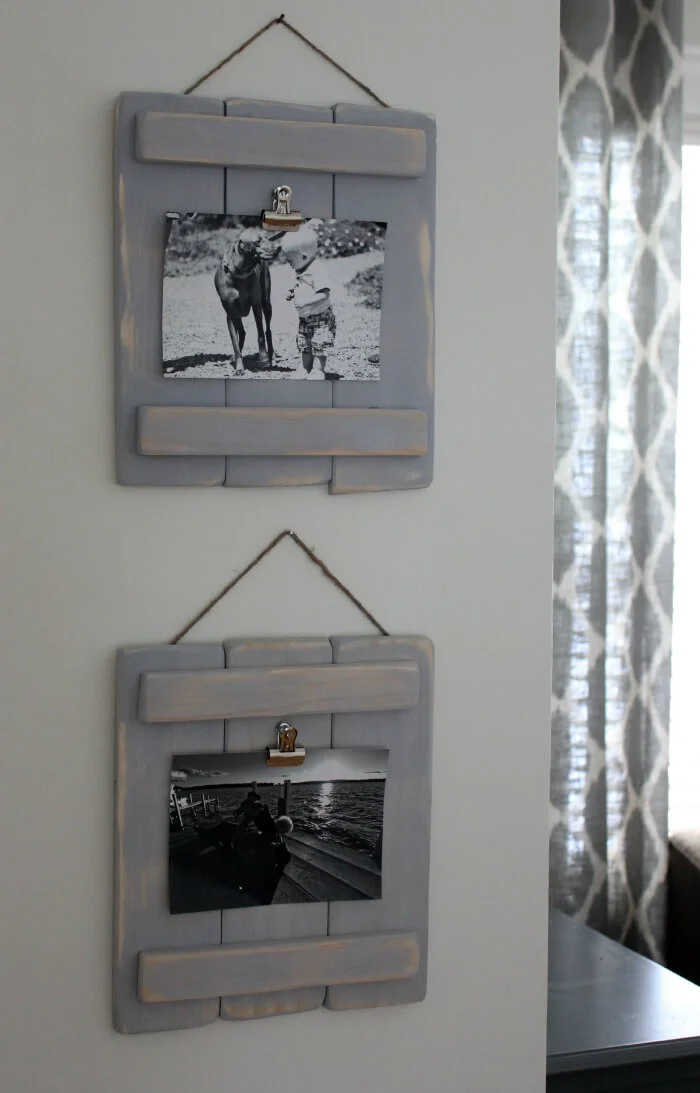 via ohmy-creative
Wooden pallets can be cut into small pieces and repurposed as picture holders. This project is perfect for people who don't want to cover their walls with pallets. 
You can paint over the pallet wood, depending on the color of your room, to match it. Hang it to your walls, and you're done! 
49. Office Space Full Pallet Wall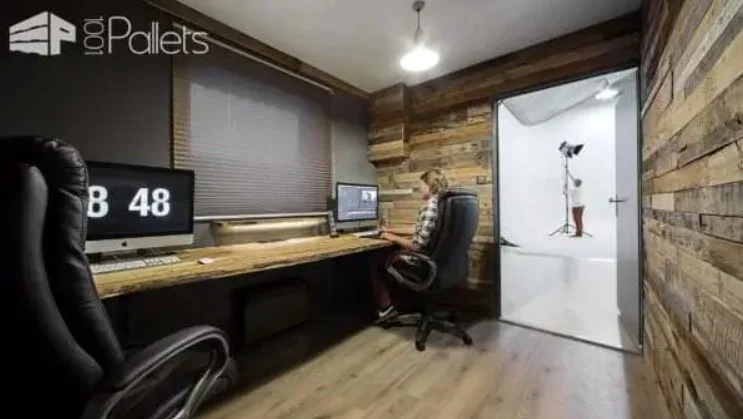 via 1001 Pallets
A full wood wall office looks great because it has a cozy and professional-looking finish. This is the most loved interior improvement project for crafty people. 
Finish off your interior with your favorite pin lights, and you've got an amazing-looking space. 
50. Wood Accent TV Wall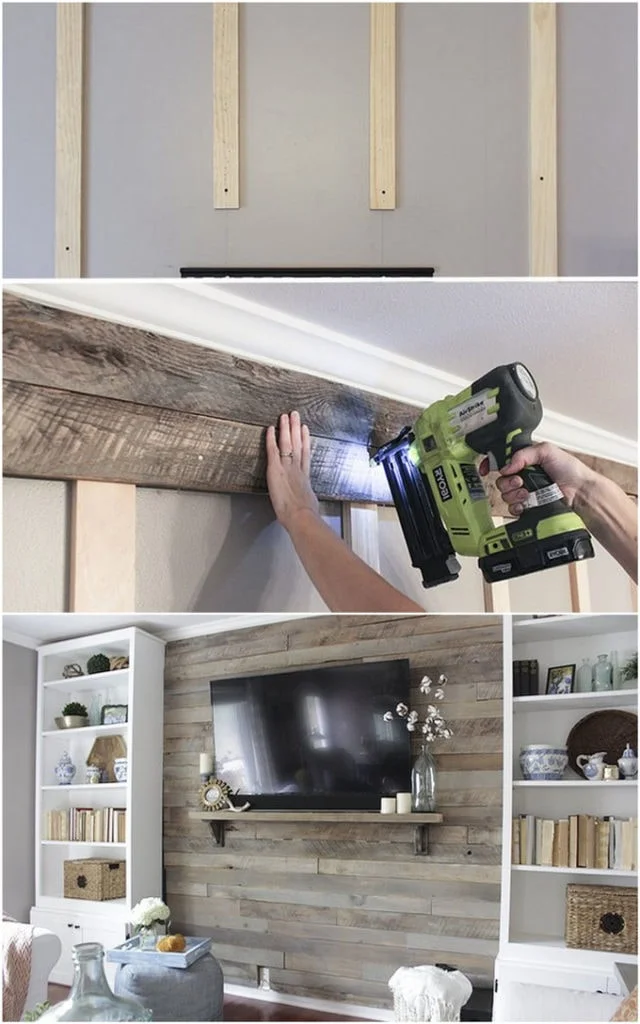 via hunker
Use wooden pallets to create a rustic-inspired TV wall. This simple DIY project will take you only a few days to complete! 
Just make sure to screw the boards in properly to prevent them from falling over your living room.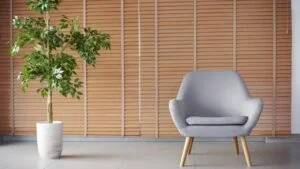 Pallet Wall Conclusion
With all the pallet wall ideas we've mentioned in this list, we're sure you found one that piqued your interest.
What else are you waiting for? It's time to get your pallets now and start crafting! This is just as awesome as other DIY bamboo projects you love to do.
We hope you enjoyed this article. Let us know in the comment which pallet wall ideas you love in this list. We'd love to know your thoughts.