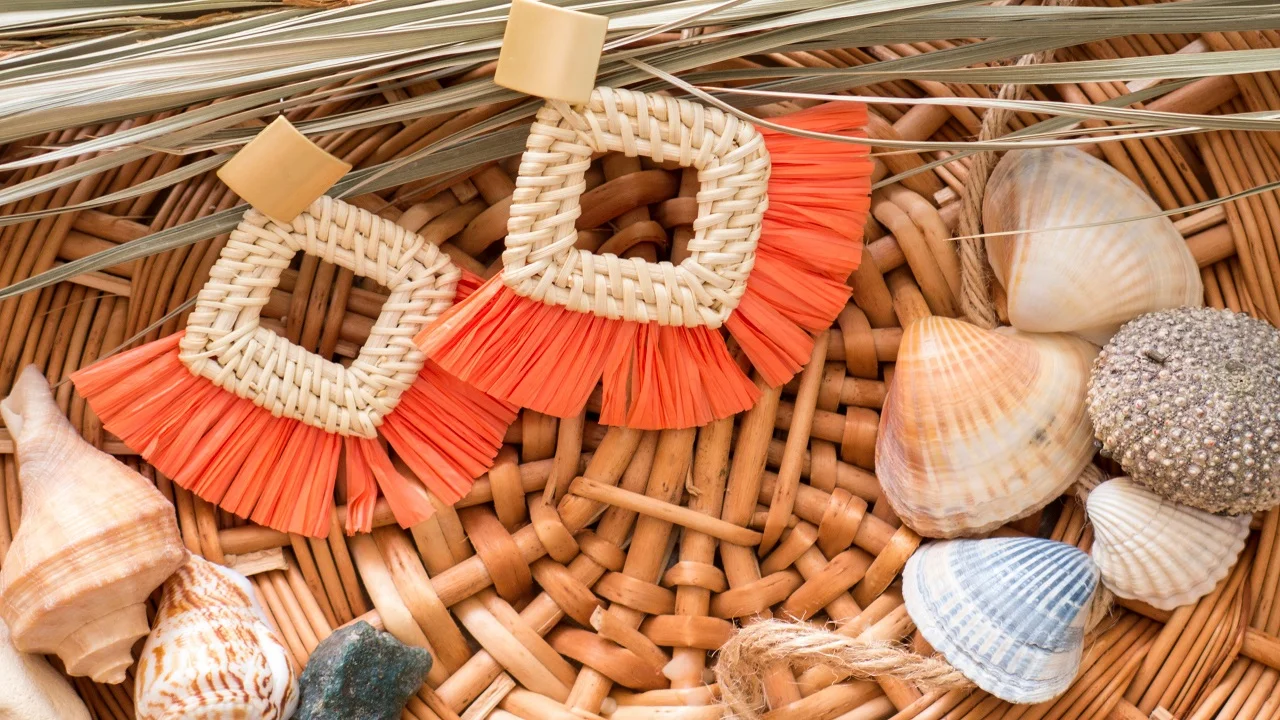 People worldwide have found around 1,048 ways to utilize the bamboo plant. With this, many regard bamboo as the "plant of a thousand uses."
Don't believe there are that many ways to use bamboo poles and sticks? People use it for everything from food, clothing, shelter, and herbal medicine.
You can even make amazing crafts and ornaments out of bamboo plants that make the perfect decorations for your home or great personalized gifts for friends and family.
We're here to show you how in this article! So, keep reading and learn about what bamboo craft projects you can do to inject life into your garden!
31 DIY Bamboo Projects to Bring Out the Natural Beauty of Your Garden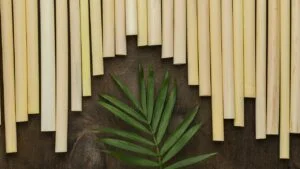 Like DIY wine bottle and tire crafts, DIY bamboo projects are great CREATIVE OUTLETS. You can use your imagination to make crafts and decorations out of natural elements, plus add a personal touch to your designs!
Aside from pieces of ornaments, you can also use bamboo to create yard and lawn art so you can have something more creative than your plain old garden gnomes.
Here's a list of 31 projects you can do to beautify your garden using bamboo:
1. Cascading Bamboo Fountain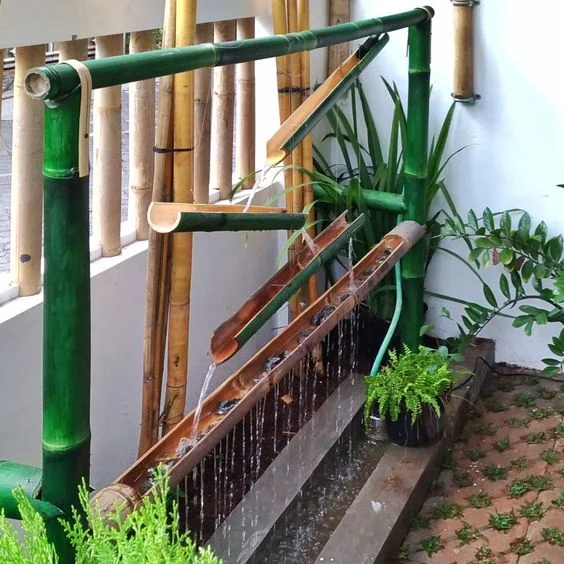 Including a cascading fountain in your garden is a great choice to add a refreshing vibe to the place. It's made of alternately split bamboo poles, so they look like they're pouring water on each other.
A cascading fountain could be one of the sophisticated DIY bamboo projects, and it may take some time to create. However, the results speak for themselves.
2. Bamboo Garden Fence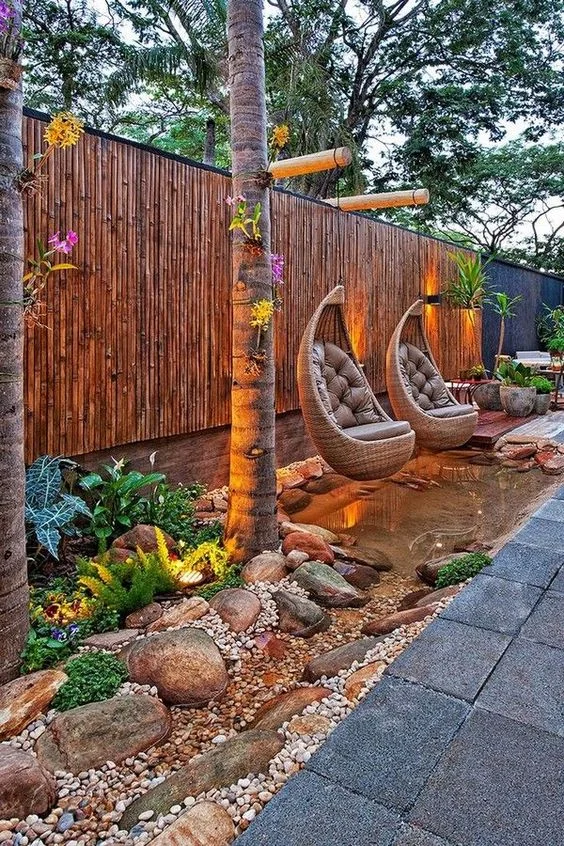 A bamboo fence also adds an EXOTIC FEEL to your garden. You can use thin or thick bamboo poles that vary or are the same length.
Line them up and tie them with nylon twine like you're making a raft. You can also enclose it in a cedar wood frame to create a vertical panel.
3. Bamboo Garden Trellis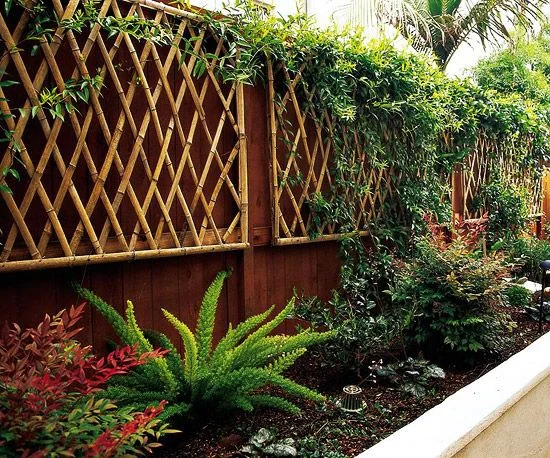 Another DIY bamboo project you can create is a bamboo garden trellis. It's made of bamboo pieces that follow a crisscross pattern. This can be attached to the wall or directly on the dirt of your backyard.
A trellis allows you to be creative with your flower or fruit-bearing vines.
4. Vertical Bamboo Planter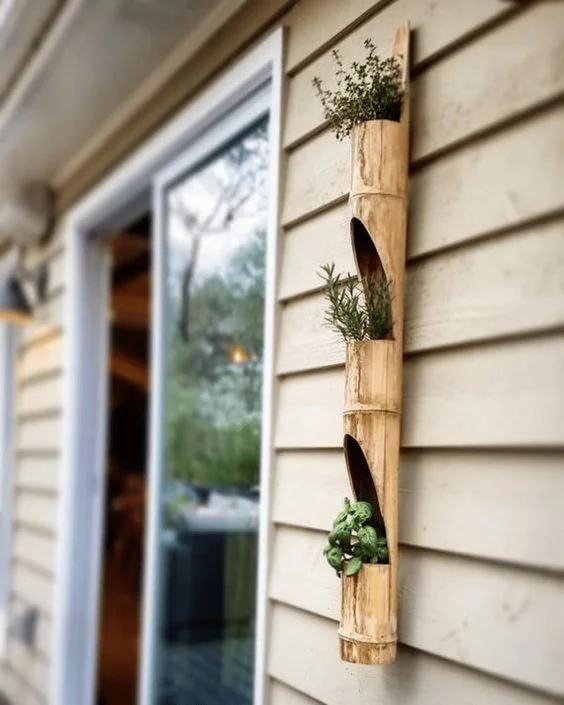 Aside from a bamboo trellis, you can also make a vertical bamboo planter to add a fresh touch to your patio, balcony, or courtyard.
You can create bamboo planters using a bamboo pole with INTACT BOTTOMS so the soil will stay in place. Don't forget to drill small holes at the back portion. 
5. Outdoor Shower Enclosure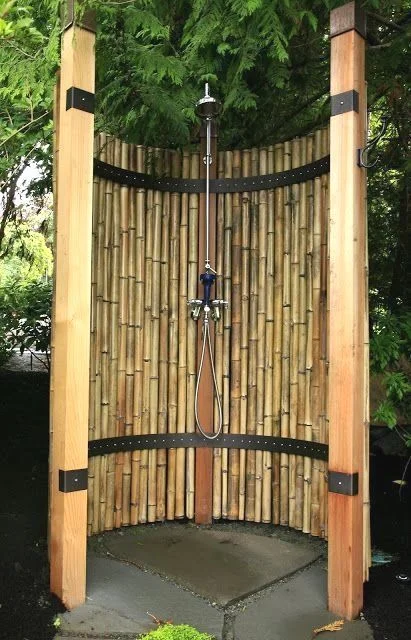 An outdoor shower is another fixture you should add to your garden near your pool area or if you live near the beach to maximize the tropical feel.
You can make an enclosure using whole bamboo poles or those split in half. This is quite similar to making bamboo fencing, except it follows a half-circle shape.
6. Bamboo Gate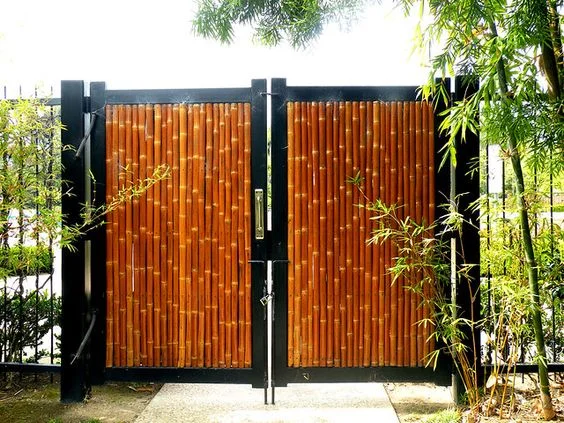 If you're using bamboo poles for fencing, you might as well create a bamboo gate to match the yard fence. How it's made is similar to a bamboo garden fence but with hinges and locks.
You can make a double door or one large gate, depending on your preference. 
7. DIY Bamboo Swing
A swing is a FUN and RELAXING fixture to add to your patio or outdoors. Small swings, like those you see in parks, are easier to make since you only need to secure short bamboo poles and tie them together like a raft.
However, the one in the photo might involve a drill, metal washers, bolts, and nuts to secure the large poles in place.
8. Lantern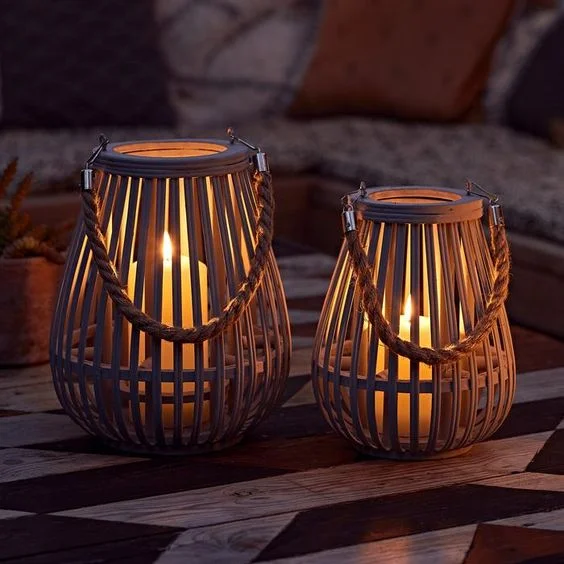 You can also make small baskets out of thin bamboo stalks and slide a candle or LED light inside to make lanterns for your garden or backyard. You can also add rope handles to hang them anywhere in your area. This adds visual interest to your garden, especially at night.
9. Tiki Bar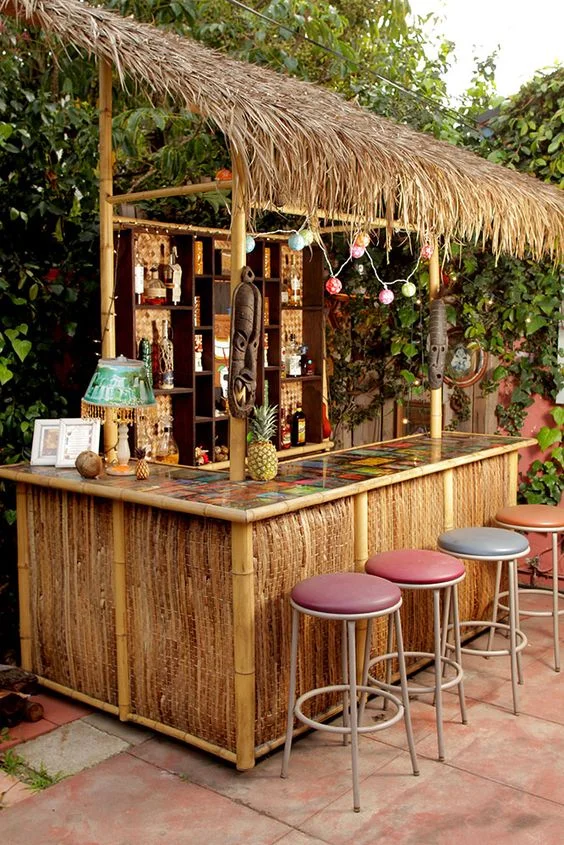 A tiki bar gives your garden Hawaii beach vibes. If you're into this, it's a project WORTH your time.
In these types of bamboo projects, the basic materials you must prepare are four bamboo poles, large enough to be the bar's foundation, as well as smaller poles, weaved bamboo sheets, and dried palm leaves for the roof. 
10. Bamboo Garden Bench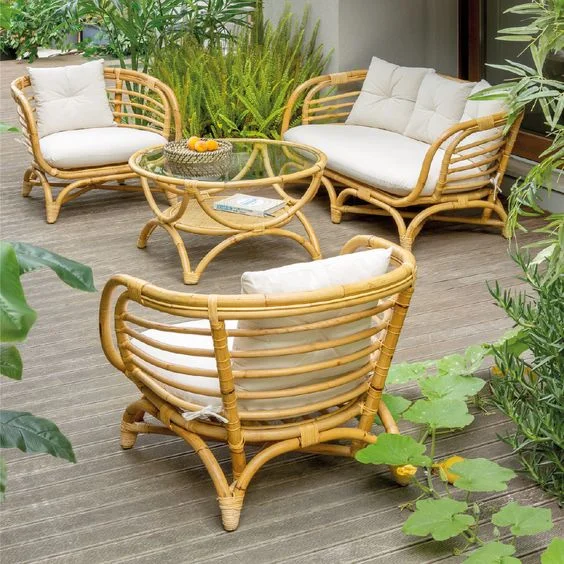 Another DIY bamboo project you can make is a bamboo garden bench. It's perfect for making your outdoor space cozy and enhancing the natural beauty of your garden.
It would also make an excellent addition to your indoor space. When putting this outside, make sure to position it below a shed. 
11. Coffee Table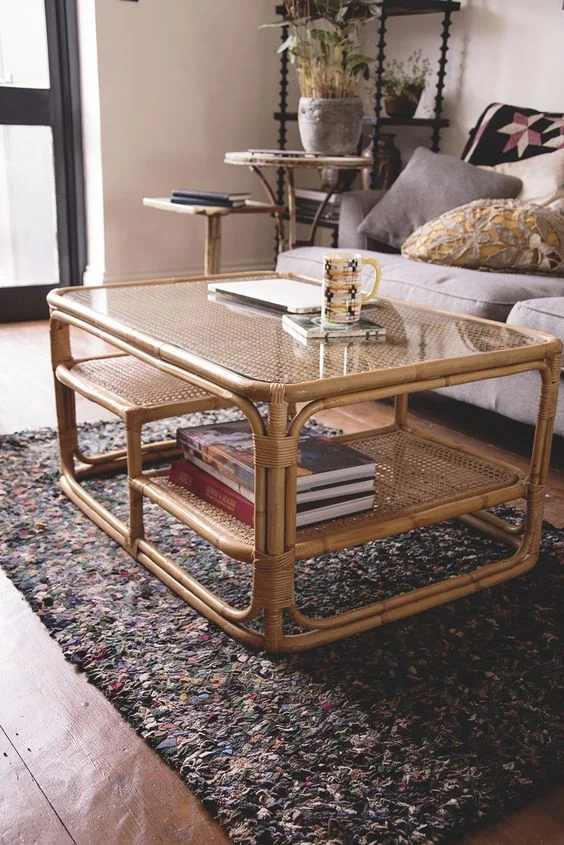 A coffee table is a perfect pair for your bench. This is one of the DIY bamboo projects where you need to prepare a drill, twine, and some thin bamboo poles. As seen in the photo, you can also incorporate woven rattan and a large piece of glass into your design. 
12. Room Divider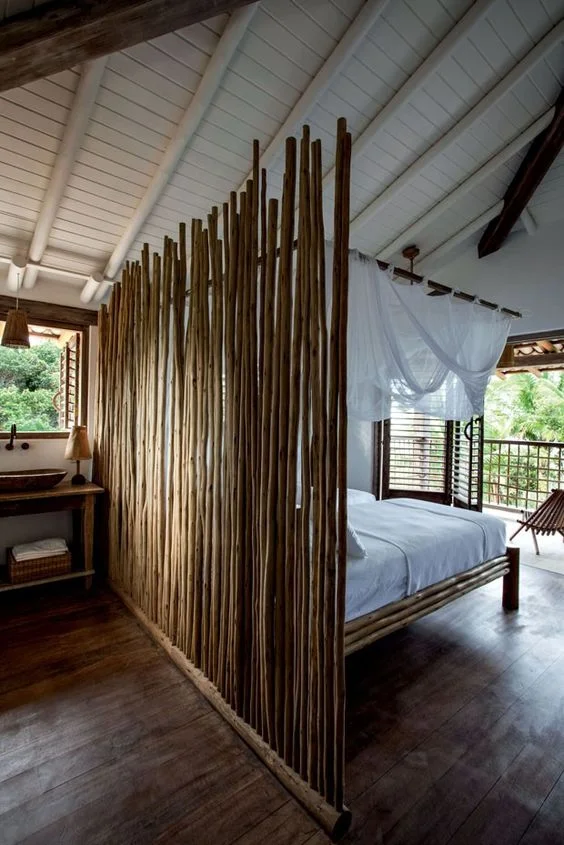 A room divider made of bamboo might look like an indoor bamboo fence. It divides the space while still maintaining the illusion of continuous space. You can make this with varying length of poles to add visual interest to the design. 
13. DIY Bamboo Wind Chime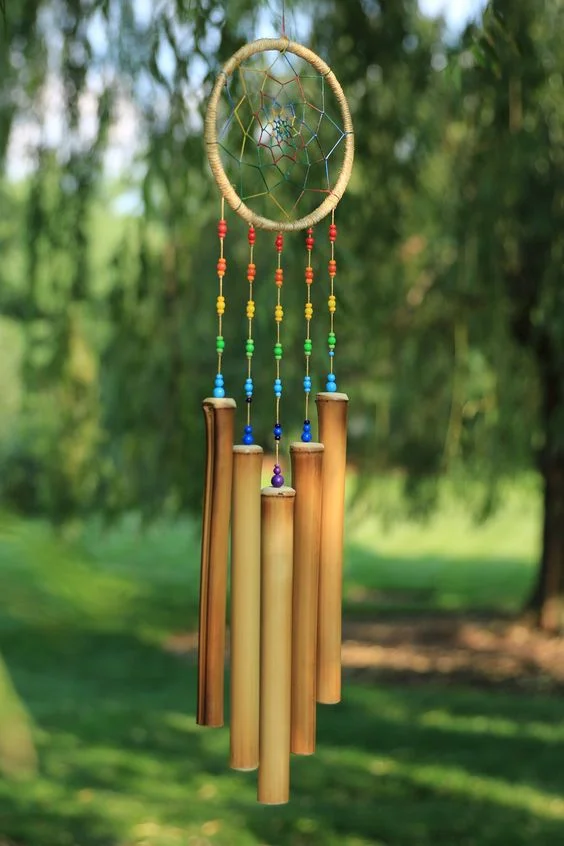 A DIY bamboo wind chime adds a serene, calming feel to your garden. It's believed by many to purify energy and attract good, friendly spirits. You can hang this in trees in your backyard or on the front porch. 
14. Easy Bamboo Hanging Planters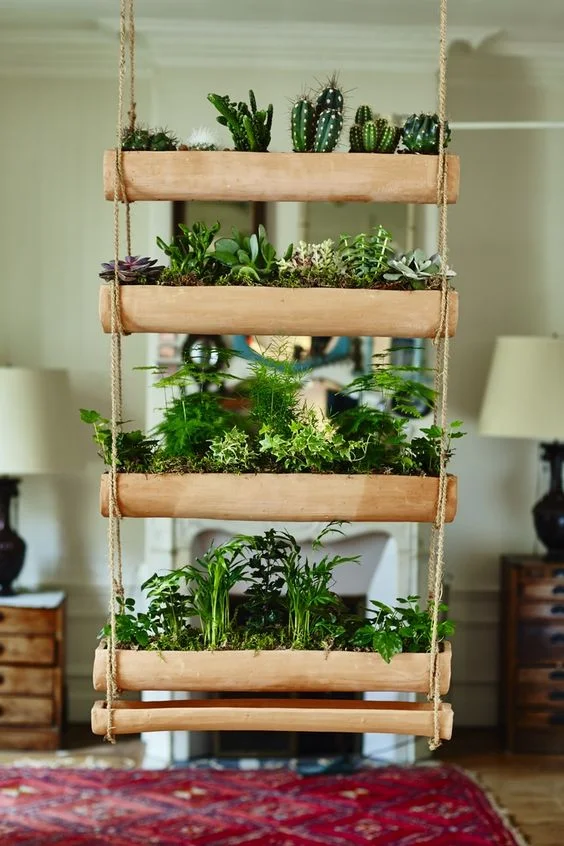 These hanging planters are quite similar to the vertical bamboo planters we featured earlier. It's probably the easiest DIY bamboo craft you can make. Just grab a bamboo pole and split it into equal parts. Make sure to drill small holes at the bottom before filling it with soil. 
15. Bamboo Tomato Cage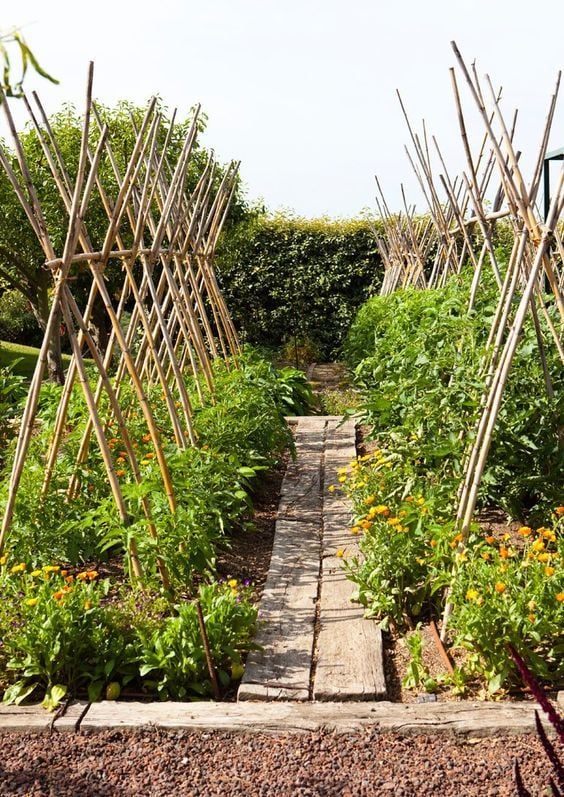 You can also make a tomato cage with bamboo sticks. This will help your tomatoes grow upright and keeps the fruits from falling to the ground. 
16. Privacy Screen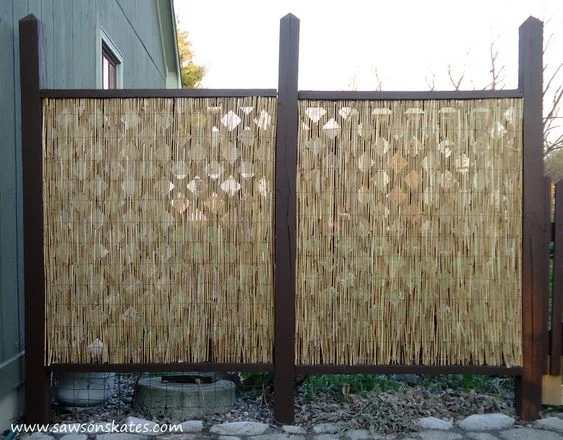 A DIY bamboo privacy screen is great for attaching to existing walls, especially if your wall is made of wood. You can install woven bamboo screens to your yard's fence to add a more rustic vibe.
17. Grow Wall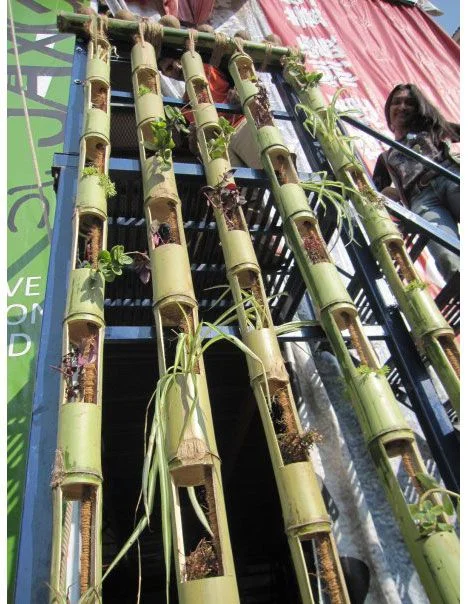 This is just like the vertical bamboo planter we featured previously. This is also attached to the wall, along with a series of planter containers. You can grow herbs, veggies, and small flowering plants in this.
18. Bamboo Garden Cubby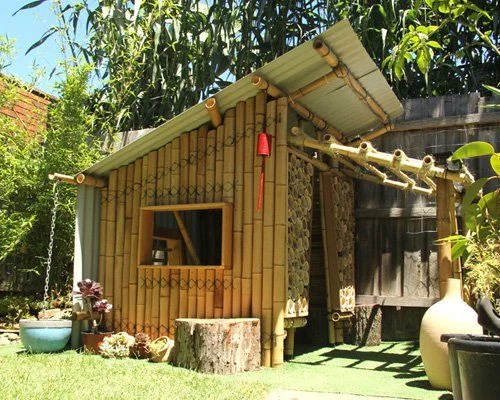 This bamboo cubby is a great addition to your garden too. This can be your child's secret fort, your pet's little playhouse, or even your own space to RELAX. You can bring pillows and some furniture inside to make it feel more homey!
19. Garden Edging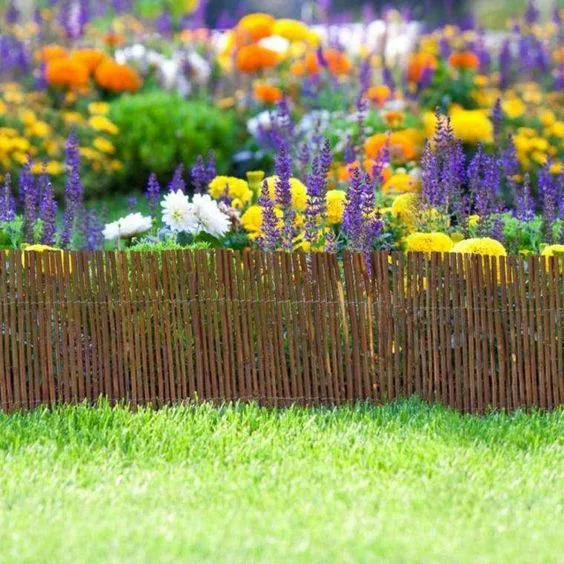 Thin bamboo poles can also be used to decorate your garden edging. It blends well with the flowers and ground, and it DOESN'T overpower the colors of the plants.
This one is pretty simple to do. You only need to line the sticks up, secure them with zip ties, twine, or thin rope, and stick it on the soil around your garden box.
20. Bamboo Water Feature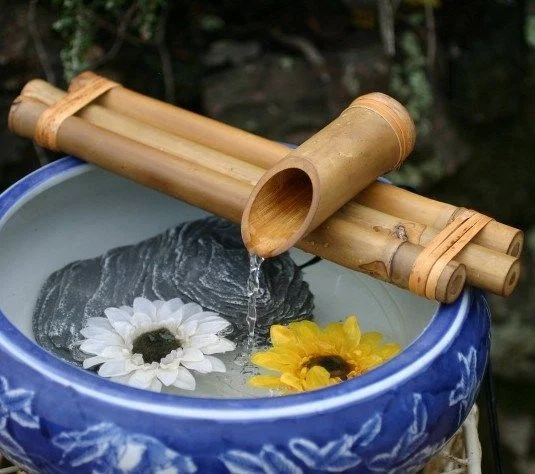 This simple mini water feature is also a great DIY bamboo project if you don't want the large cascading fountain. You only need three small poles and a short one that acts as a faucet. You must purchase a small water pump for this one. 
21. Planting Container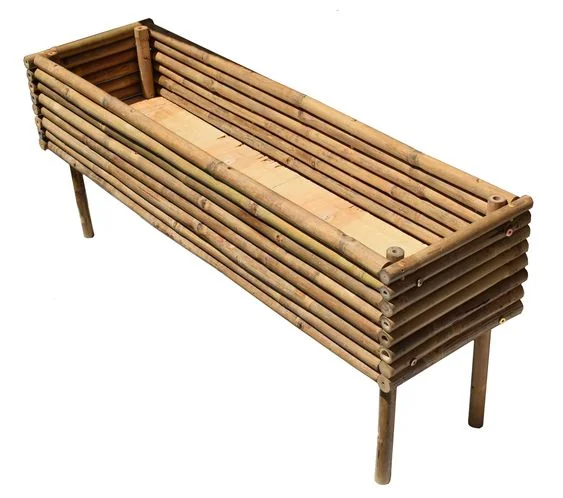 Another variant of a bamboo planter is this big plant box.
The frame is made of long bamboo poles. You can use a different kind of wood for its base, but some prefer to use purely bamboo. This is perfect for growing flowers and vegetables in your yard. 
22. Spiral Garden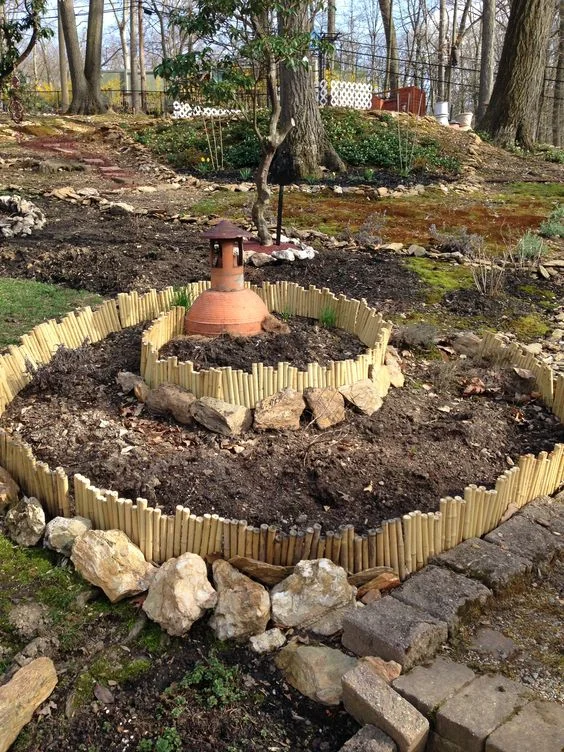 This spiral garden is relatively simple and cheap to make since you only need short sticks. The method is still similar to garden edging. But don't wrap it around the plant box! Instead, make a spiral pattern with significant gaps in between.
23. Large DIY Bamboo Wind Chimes
As with the regular DIY bamboo wind chimes we showed you, this LARGE VERSION is also a great project to work on. Instead of using small poles, you'll need larger stalks. You can hang it on a circular base, like in the photo, and secure it using a wire or rope. 
24. Bamboo Yard Divider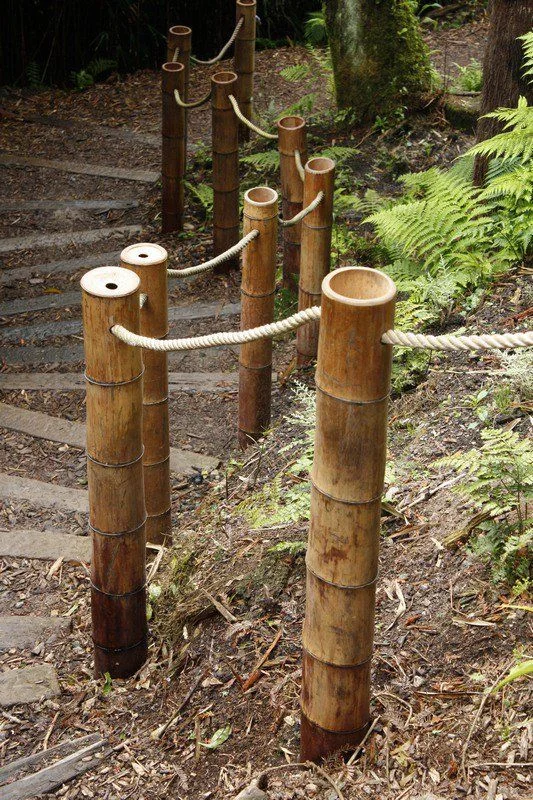 This yard divider is a great option if your property has an open space near the woods or fields. If you don't want to cut the open space short, making the area still appear wide and unbroken, this yard divider made of bamboo stalks is a must-try!
25. Bamboo Rain Gutter
You can also use a bamboo pole for your rain gutter instead of your usual PVC pipes. This is more ECO-FRIENDLY and adds a grove-like feel to your home. 
26. Bamboo Outdoor Lighting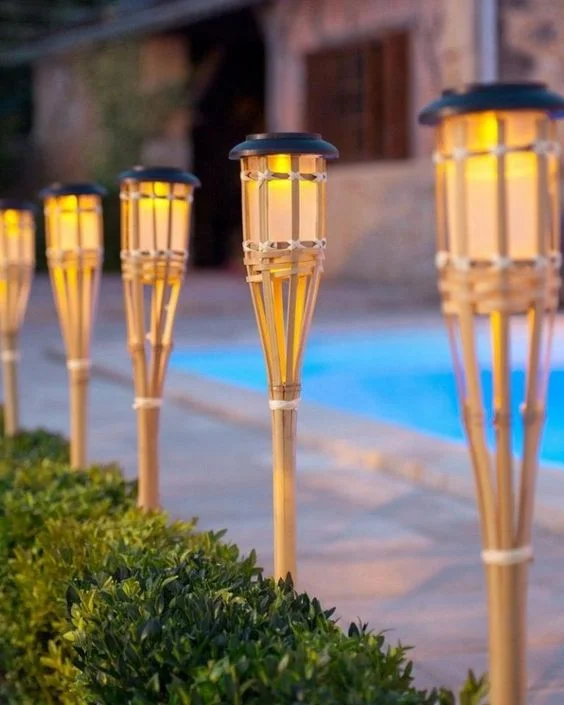 Bamboo torches provide great lighting to your yard or garden, especially at night. Like a tiki bar, it makes your home feel like you live on a tropical island, especially if the area is filled with flowers, plants, and other rustic fixtures. 
27. Bamboo Plant Stand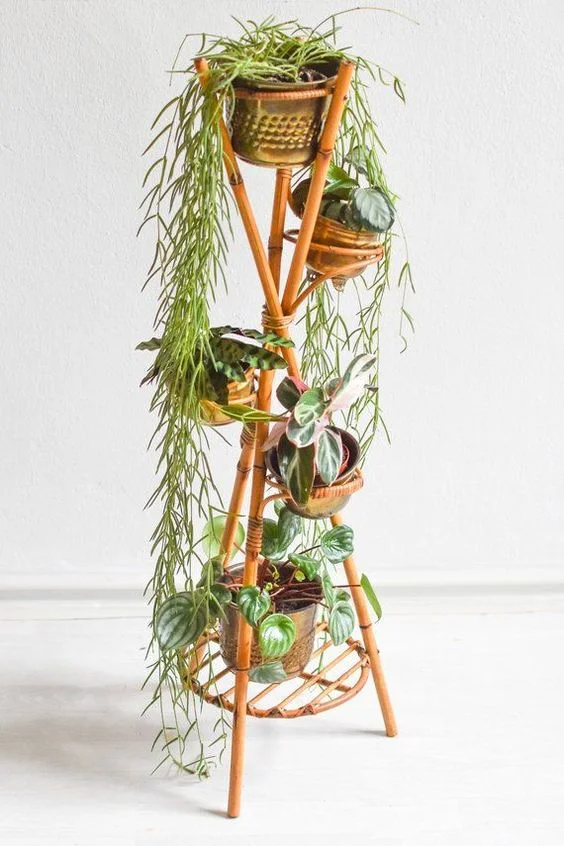 You'll surely appreciate this bamboo plant stand if you love MINIMALIST and NORDIC DESIGNS. It's a perfect pair for your ornamental plants since the colors brown and green blend well, giving a refreshing, natural look. 
28. Bamboo Bee House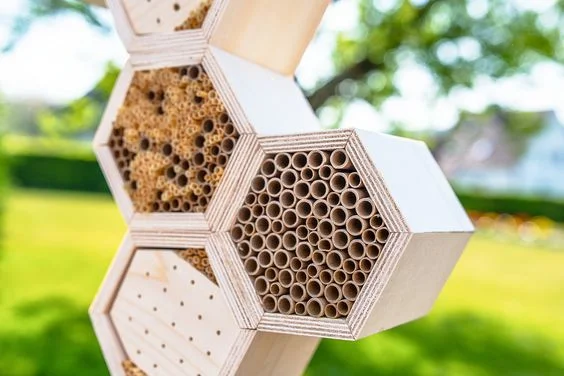 Bees give life to flowers and plants. So, giving them a home within your home is a good call. You can make this bamboo bee house and place it on a tree. You may even get free honey out of the deal.
29. Bamboo Mirror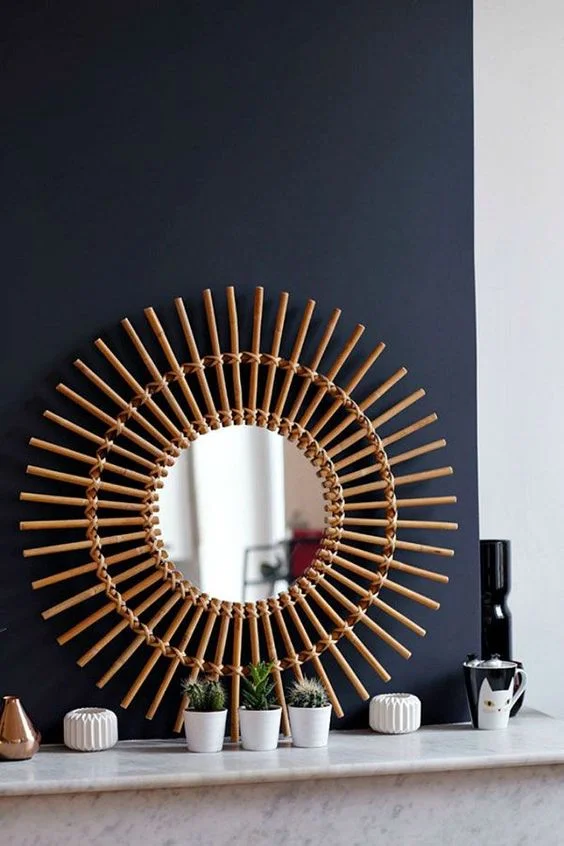 You can also use bamboo to make the frame of a mirror. This sunburst design is easily achieved by aligning the poles to follow a circular shape and securing them with twine or wire.
You can use bamboo with varied or similar lengths, depending on how symmetrical or asymmetrical you want your mirror to be. 
30. Bamboo Chair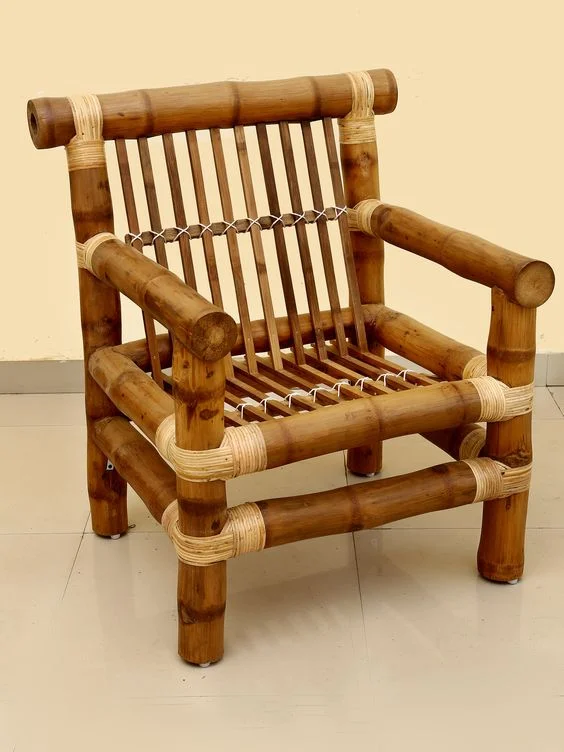 If a bench is too big for your liking, you can make a bamboo chair instead. It's also a fine choice to include in your courtyard, along with other wooden furniture. 
31. Bamboo LED Landscape Lights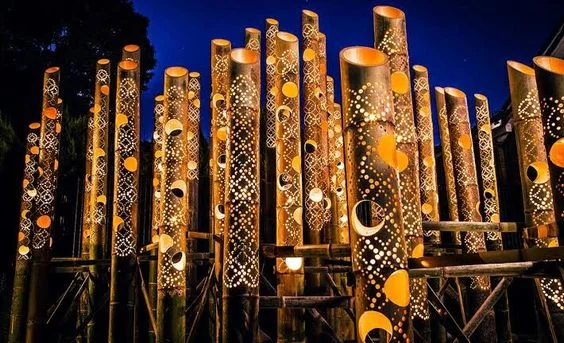 You can make LED landscape lights using large bamboo poles by drilling holes or carving different shapes and patterns. This can look mesmerizing at night and make you feel like you're looking at the sky full of stars.
Bamboo Projects FAQ
Let's answer some of your questions about working with bamboo!
How Long Does It Take for Bamboo to Dry?
Air drying bamboo takes 6-12 weeks to ensure all the moisture has dried out completely.
What Projects Can You Do with Bamboo?
You can make all sorts of craft projects with bamboo, such as a garden planter and trellis, furniture, shower enclosure, and even a small hut! You can consult our list for just some of the bamboo crafting ideas you can try.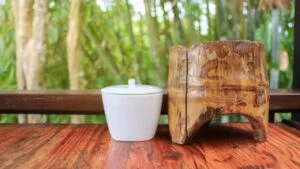 Bamboo Project Conclusion
That's a wrap! You now have 31 DIY bamboo projects to work on to enhance the beauty of your garden and backyard.
You can even look for a video tutorial online for the DIY bamboo craft you plan to make. 
So, are you planning on making a bamboo planter, fence, outdoor shower, or other fixtures? Whichever it is, we hope you HAVE FUN in your spare time! 
Tip
If you want to add a splash of color, you can always paint your projects. But, when doing multiple colors, always use masking tape to keep things clean.