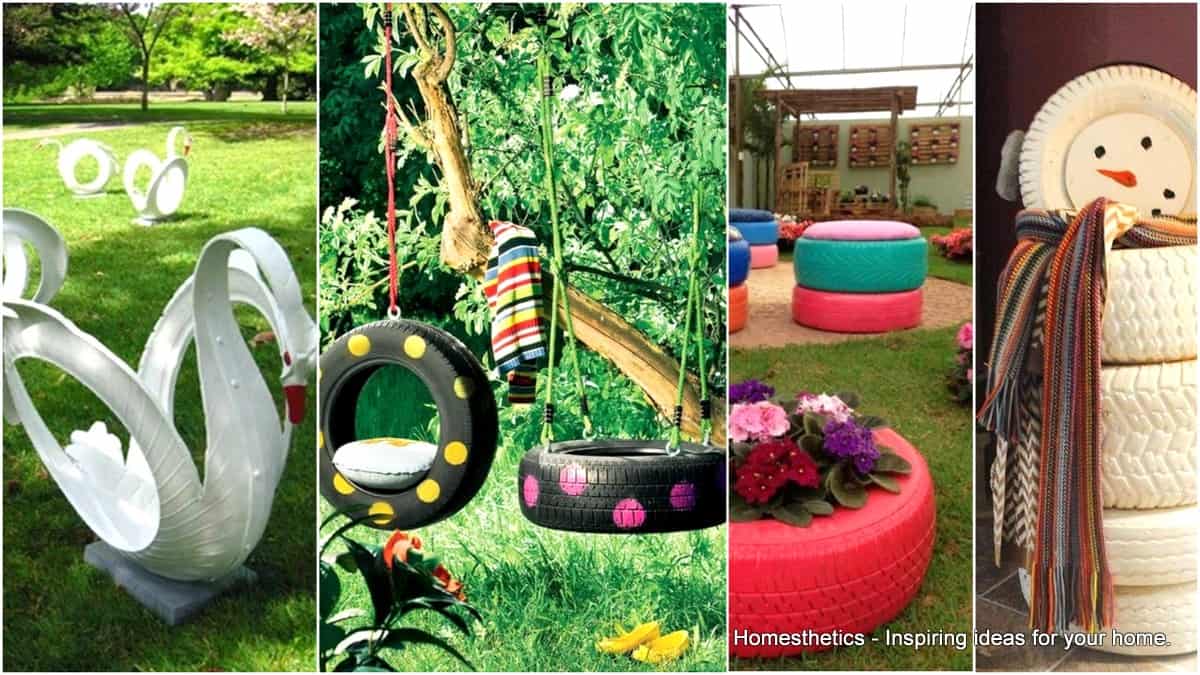 An old, dirty tire doesn't always have to end up in a landfill.
There are actually many ways to reuse them in and around your home. However, you might not be sure of what to do with your recycled tire or how it can be used to improve your home.
Fortunately, we have a few ideas for turning your used tires into outdoor décor or functional furniture inside your house. All you'll need are a few simple tools and a spark of creativity to make that happen.
We've gathered the best DIY tire projects to give you some ideas on how to reuse an old tire and make it functional again.
48 DIY Tire Projects to Reuse Old Tires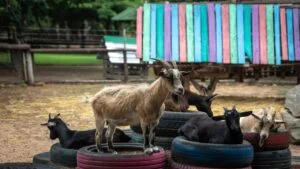 There are many ways to reuse an old tire. Depending on the procedures involved, it can be a personal tire craft or a fun family project.
We've collected a few colorful and easy DIY ideas to inspire you to recycle those old tires. Finding DIY instructions online for these crafts should be easy.
Here are 48 DIY tire crafts you can try out for your home.
1. Tire Tee Totter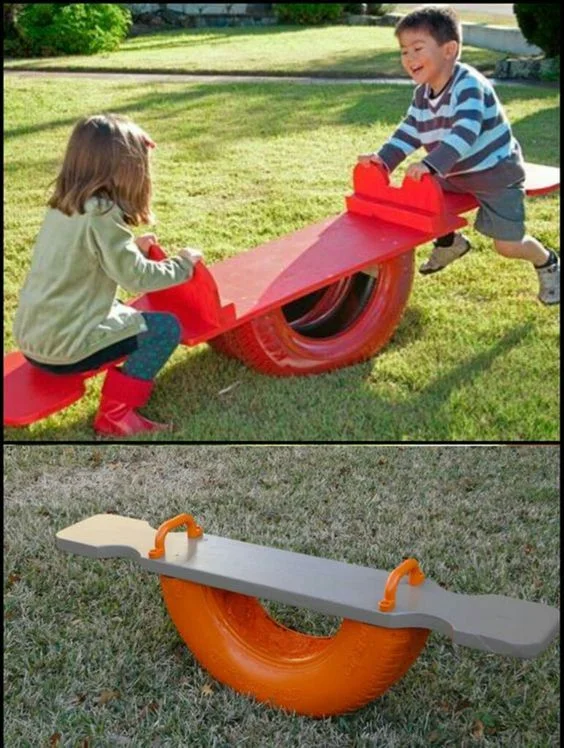 via Pinterest
One of the common ways to reuse old tires is to turn them into something the kids can play with. Try turning it into a tire totter for your backyard, and your kids will have fun for hours on end.
All you'll need is half a tire, a few pieces of wood, and bolts to create this DIY project. Paint it with bright colors to make it more eye-catching and vibrant.
2. DIY Tire Planters
​​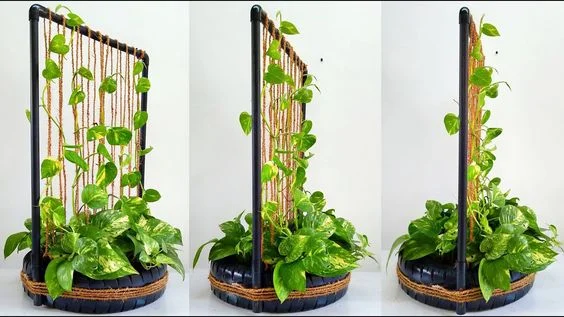 If you have a few plants, you may want to try turning your tires into a recycled tire planter. Using your tire as the base is the easiest way to do this.
This design is best used for vines that need a good base to creep up on a structure.
3. DIY Dog Bed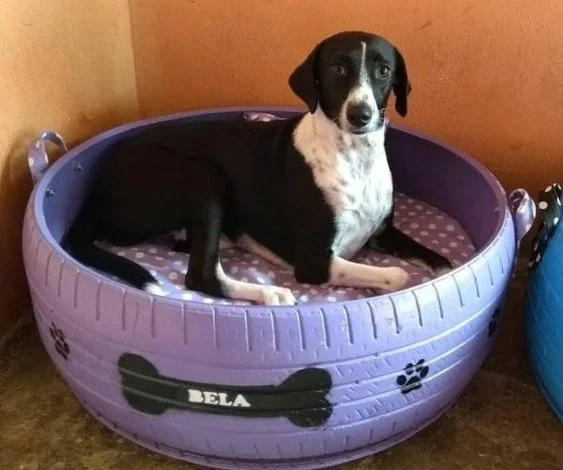 via Amarildo Silva
It's amazing what an old tire can be to our furry friends. If you have a pet puppy, you can try making a dog bed for them, especially since its shape is similar to traditional style dog beds.
This alternative can be cheaper than the most affordable dog bed, giving your dog a comfortable place to stay.
Depending on the design you have in mind, you can add a comfy fabric cushion to make it feel more like an actual bed.
4. Tire Swing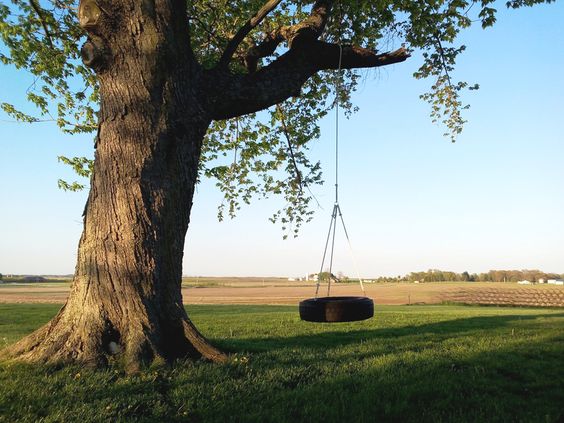 via Hello Farmhouse
The most traditional way to reuse old tires is to turn them into a tire swing. They're usually built to hang on a tree branch to ensure it's sturdy and can handle people's weights.
This project is great for the kids and those at heart.
5. Tire Hammocks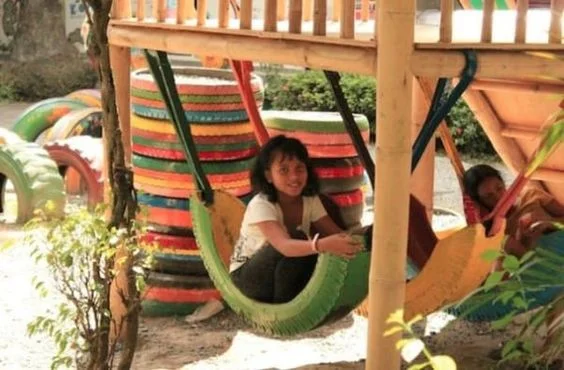 via Playground Ideas
A more relaxing version of a swing is a hammock. You can sit or lie on it on a drowsy afternoon and relax to your heart's content.
Make sure you hang these hammocks onto a sturdy structure to support your weight and handle movement.
6. Rope-Wrapped Ottoman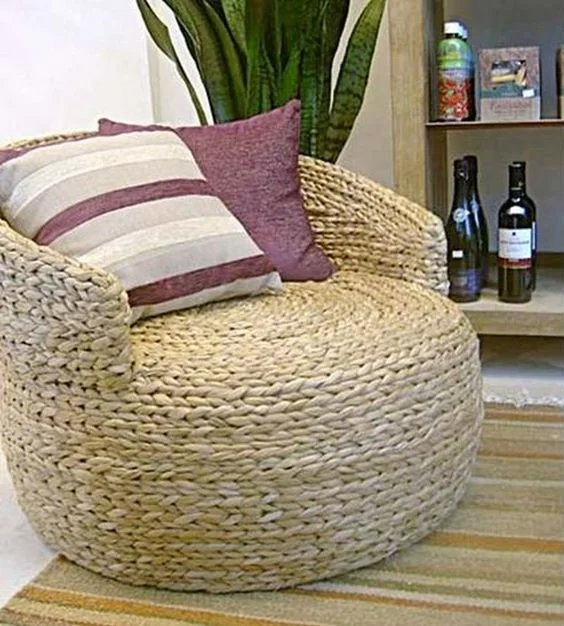 via Pinterest
Another one of the most common DIY tire ideas is furniture, especially ottomans. Creating a rope ottoman will give a more rustic vibe to your home.
You would need a wooden platform for the base of a tire ottoman. Then, you'll have to wrap the rope around the tire. It may take a few hours to work on the wrapping part, but it would be worth it.
7. Tire Dog Bowl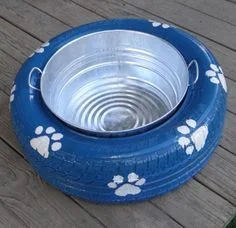 via Barb Webb
Need something to match the tire dog bed? Try this tire dog bowl to keep your furry friend well-fed and hydrated.
Just place a plastic bucket in the middle of the tire. Ensure it fits snuggly into your wheel to keep it in place when your dog drinks or eats.
It's spill-proof and can be painted in fun, bright colors that fit your home's decor.
8. Tire Sandbox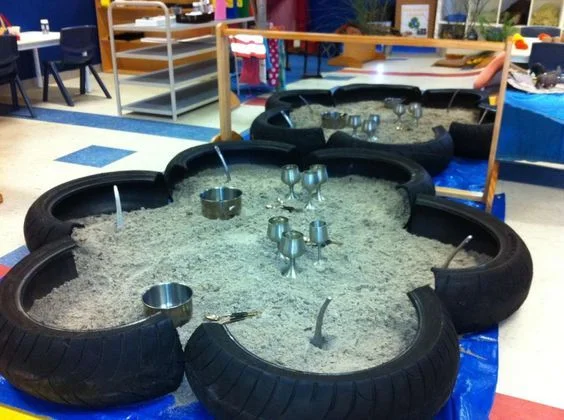 via Pinterest
Some of the best schoolyard games tend to happen in a sandbox. If you have multiple tires to work with, you can try turning them into a DIY tire sandbox for your kids and their friends.
A tire sandbox is rounded, making it less hazardous for the kids when playing. It's also a unique way of reusing your old tires.
9. DIY Tire Coffee Table
​​
If you have two tires, you can try turning them into a funky upcycled tire table. It's sure to make your living room more attractive. It can also match your other tire furniture pieces.
A tire table can give off many aesthetics, from rustic to retro, depending on how you design it.
You can top it with a craft made from wine bottles for the centerpiece, creating a cohesive, eco-friendly space in your living room.
10. Tire Sofa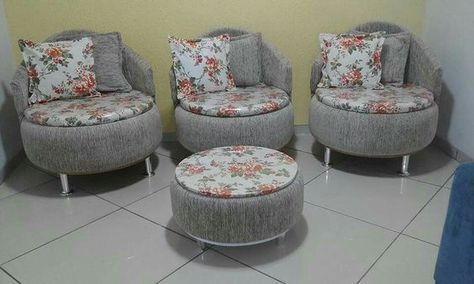 If you have access to many recycled tires, you can easily create sofas for your living room.
You would need a round board and upholstery cushion to make them comfy for lounging.
You can get matching upholstery or be more quirky and choose mismatched designs. Making your furniture can be a work of art.
11. Tire Seats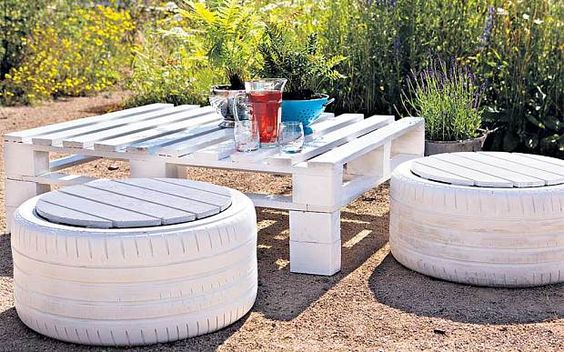 If you're looking for outdoor furniture, you can use your old tires to make just that.
The principle for indoor furniture is similar. However, if you're looking for a more rugged and outdoor vibe, we recommend exposing most of your tires' original design.
However, you can spray paint it to a color that would best fit your space.
12. Tire Wishing Well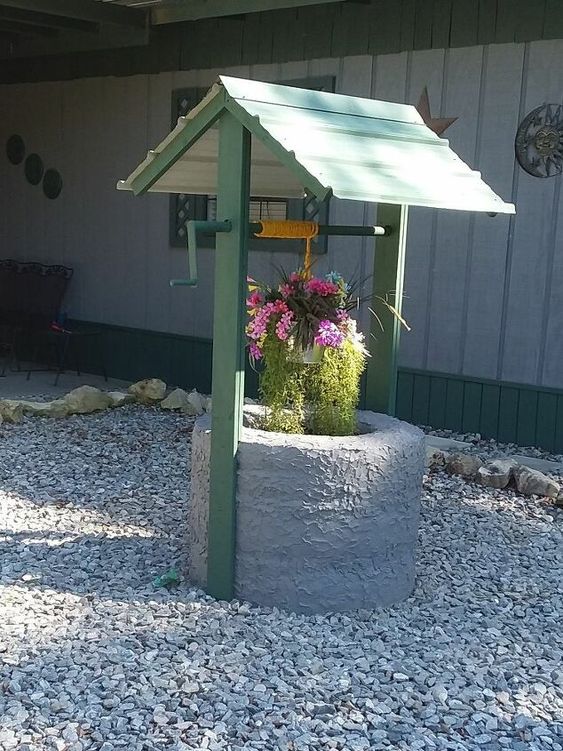 Backyard décor tends to be expensive, especially if you want a wishing well.
Fortunately, you can also make it with used tires, making the project much cheaper. It's also a rustic way of recycling your old tires. You can also add flowers and other elements to make it more unique.
If you want your well to have actual plumbing, you might need to hire a professional to help you with that.
13. Tire Bike Stand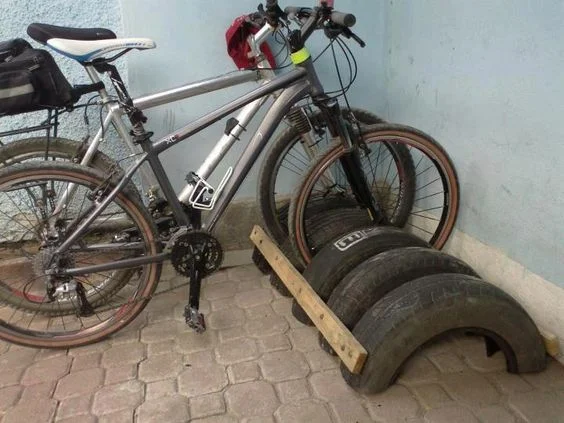 via Punyx
If you're a cyclist or your family has a lot of bikes, having a place to park your bicycles would be ideal.
You'll have to cut the tires in half and attach wood as your bike tires' stopper. You can do this by drilling holes into each tire to secure the wooden planks.
A tire bike stand is one way of reusing your old tires to keep your wheels in place.
14. DIY Tetherball Set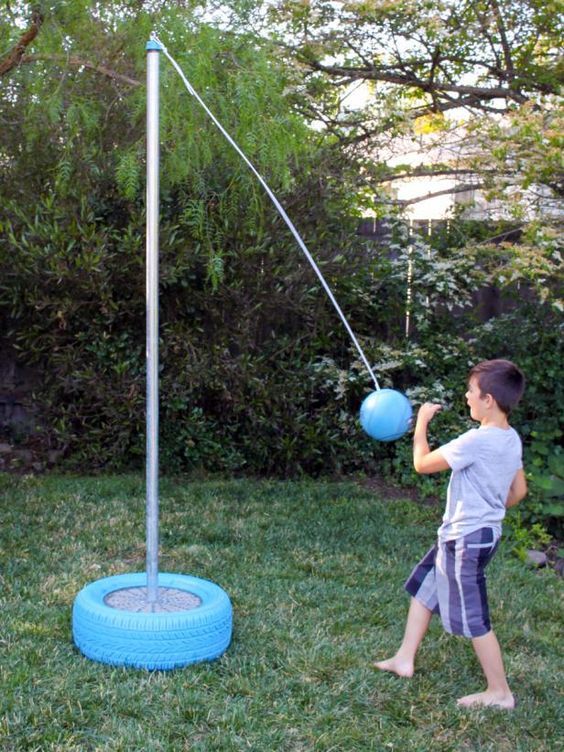 Another tire craft that can be great for kids is a tetherball set. You can set it up in your backyard. The outdoor space will be perfect for this activity.
It should take about an hour to complete this tire craft. You'll only need one tire to act as the base of your tetherball, which you can spray paint with bright colors.
15. Tire Flower Pots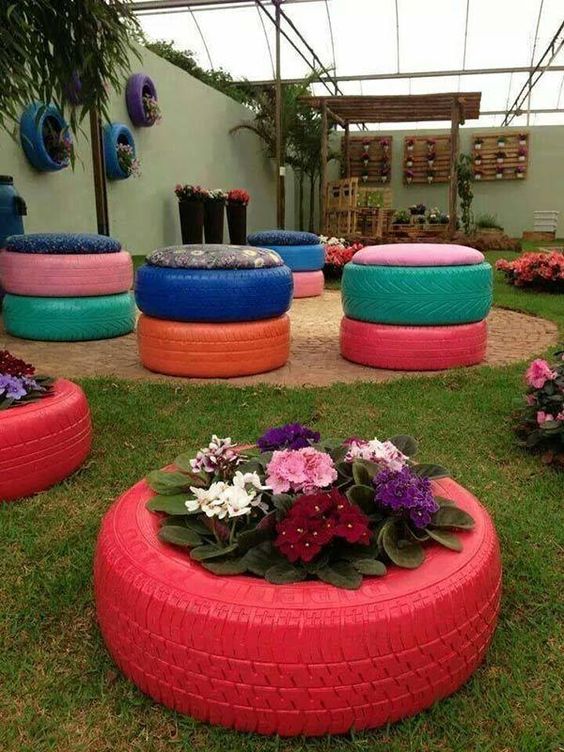 via Pinterest
One way to show off your bright flowers is to pair them with a flower pot. For large arrangements, you can use tires to display these flowers outdoors.
You can also spray-paint and design them with similar hues to match your flowers.
Using an old tire as a flower pot is a great way to add color and life to your home.
16. Tire Valance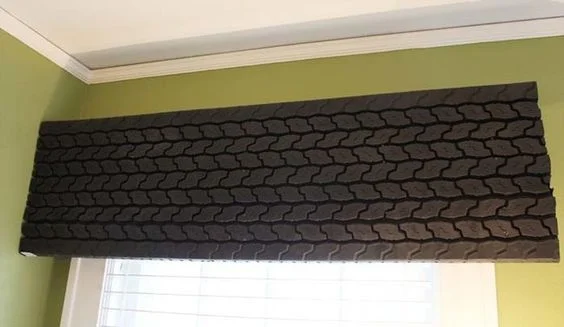 via Pinterest
A unique way of hiding your curtain fixtures is to turn an old tire into a valance. It makes for a memorable and eco-friendly addition to your house's interior.
Whether you're a car lover or are going for a more rustic vibe, reusing your old tire for your windows is a great way to keep them out of landfills.
17. Tractor Tire Pond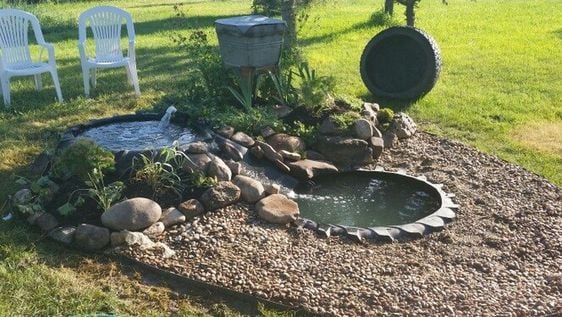 via Pinterest
A tractor tire is excellent for recycling because of its size. There are many possibilities when it comes to this item.
One of the more aesthetic tire ideas for this one is a tire pond in your backyard. It can create a relaxing outdoor space for your family and friends to sit around.
That said, the plumbing may require additional help, especially if you have to tap into your water supply.
18. Hose Caddy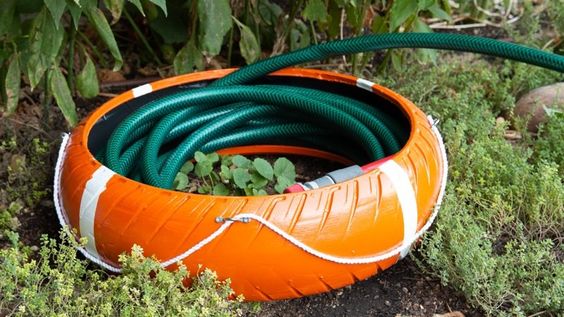 via Josephine Donna Rxlan for Home Talk
Tires are also great for organizing your things. One of the most common uses for old tires is to use one as a hose roller or caddy.
Keep your garden hose from tangling up by fixing them to a used tire.
19. Ottoman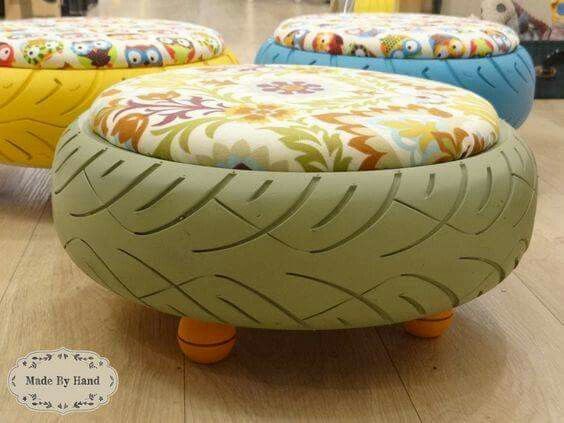 via Pinterest
If you're looking for a different style of tire ottoman, you can try the pastels and patterned style. It's a great way of turning a recycled tire into something adorable.
These tire crafts are fun to work with, especially with their whimsical outcomes.
They're also less time-consuming than the rope ottoman since the tire would only need to be painted instead of having to wrap some rope around it.
20. Horse Swing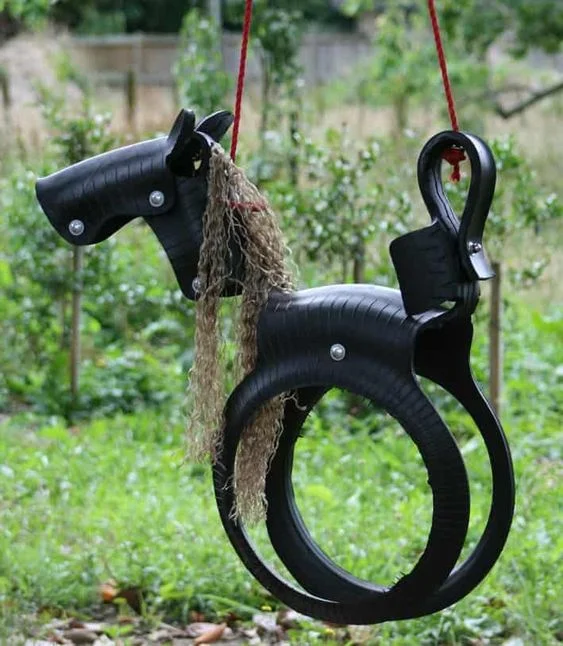 via Pinterest
If you're looking for an alternative to the classic tire swing, try turning it into a horse. It's a great way to reuse old tires, especially if you have kids.
Like the other swings, ensure that this one is safely tied onto a strong tree branch or stable structure.
21. Tube Seat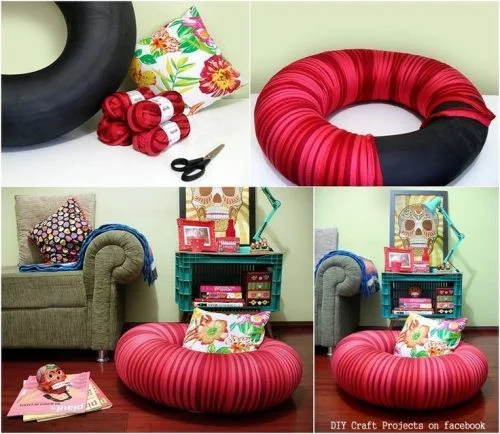 If you're sick of the elevated tire seats, why not try a tube seat? It's set on the floor, making them great for staying cozy and curled up on the ground while hanging out with your family.
All you have to do is wrap your recycled tire with colorful yarn. You can add a pillow to make it more comfortable.
22. Garden Pond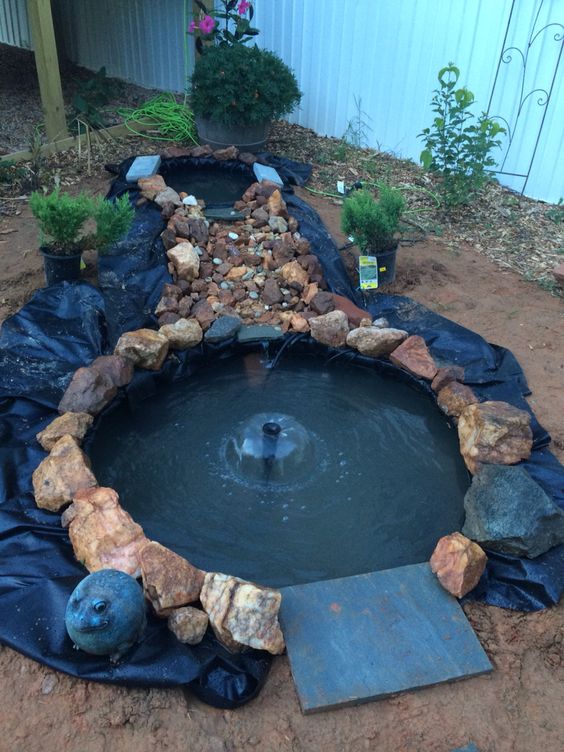 via Pinterest
Any recycled tire can be turned into a garden pond, adding a lucky water element to your outdoor décor. It can also match your crafts with bamboo or other woodworking projects.
You would have to drill holes in your background to achieve this project. You might also need professional help when it comes to its plumbing.
23. Stool Chair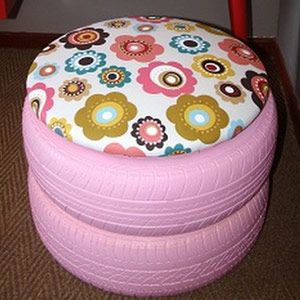 via Pinterest
Another type of chair you can turn your old tire into is a stool. You can paint it in unique colors and add an upholstered cushion to make it more comfortable.
It's great for those who might use this chair while they paint on a canvas or work on other crafts.
24. Trug/Garden Basket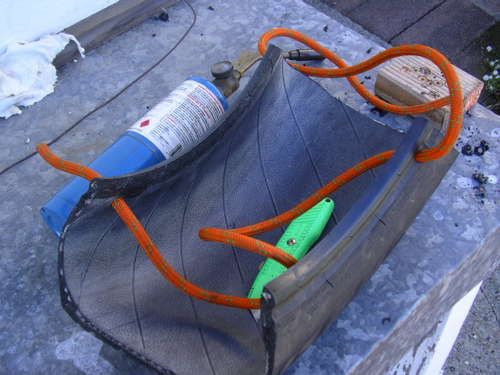 via Marcos
A trug or garden basket is a helpful tool to have around when you're working on your background.
Part of a recycled tire can be used to create this tool to help you carry your things around. Drill a hole in each corner and add rope to help you take it everywhere.
25. Tire Mushroom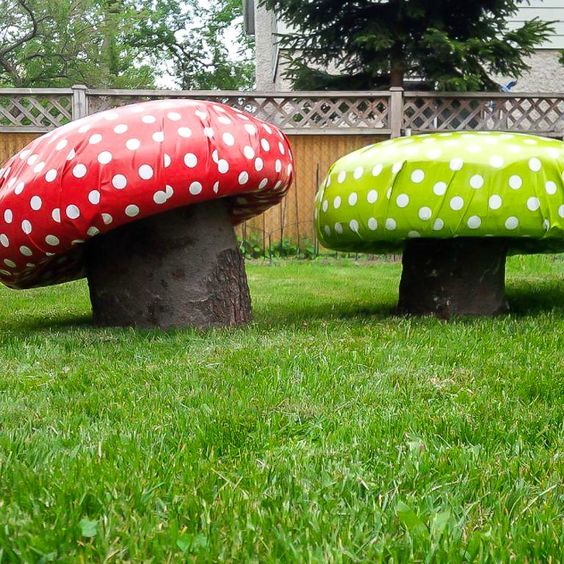 via Heather Hicks
Massive tires are best for décor, especially when you're into video games. Turn them into giant mushroom toadstools to make it look like it came straight out of a Super Mario game.
It's a quirky and whimsical way of turning your recycled tires into exterior décor.
26. Hammocks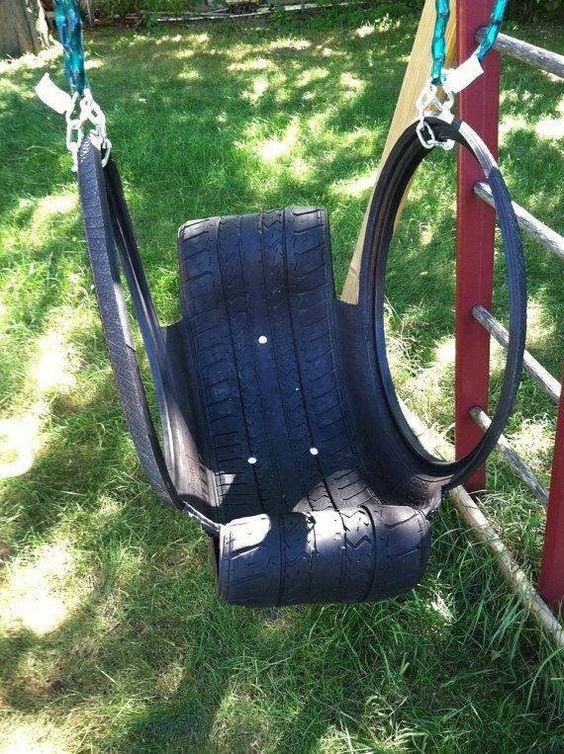 via Pinterest
You can create a giant hammock using a recycled tire. It may require extra bending and cutting to get a hammock fit for adults.
Some instructions can even work with many tires, which can be connected to create more oversized hammocks.
27. Tire Urns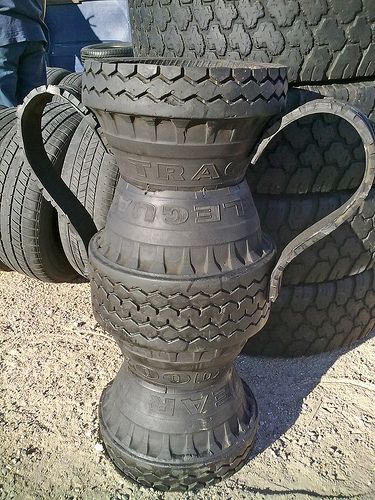 via Paul Garland
These tire urns are great for decorating your front porch. You can even elevate it using cinder blocks for a more regal vibe.
You can also cover them with a coat of white paint to give them a cleaner and more classic look.
28. Toy Storage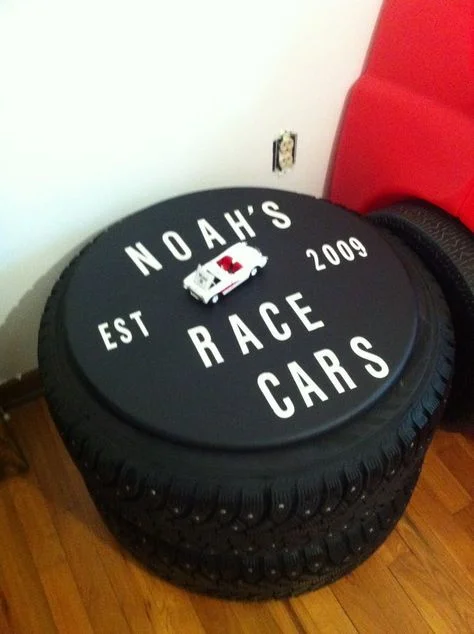 via Pinterest
As mentioned previously, tire crafts can be a great way of organizing other things in your house. A great example is turning your tires into toy storage for the kids.
They can put all their toys into it. Not only are you keeping the environment clean, but you'll also be teaching kids how to clean up with ease.
29. Pouch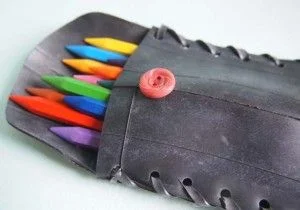 via Julie Schneider
You can easily bend some tires and turn them into something new. One way of creating a small storage space using an old tire is by turning it into a pouch.
You can give this pouch as a gift or use it to keep small items safe and secure.
30. Mirror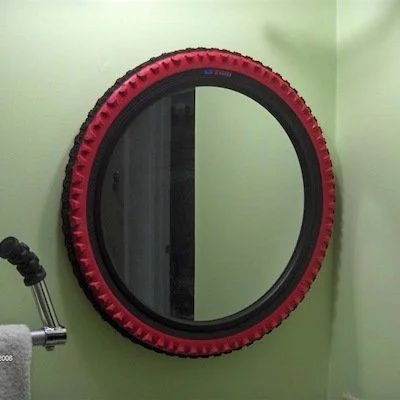 via zpinaddict
Why use a boring frame for your mirror when you can use the unique textures and designs of one tire? It's best if you use a bike tire for this crafting project.
Replacing your frame with a recycled tire is an excellent way to personalize this furniture piece.
31. Porch Screen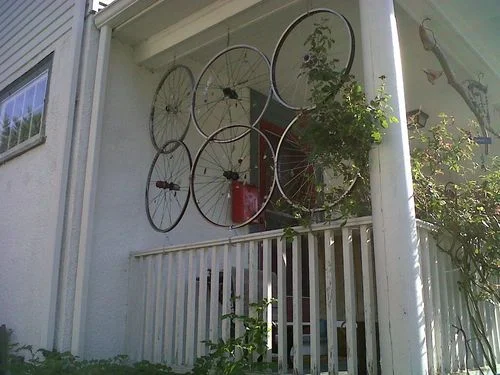 via Pinterest
Using your old tires as a porch screen can help if you want more privacy. You can also use it to make barriers for the same purpose.
Tying them up onto the side of your house is easy, making it the fastest and cheapest way to make your home more private.
32. Backyard Tire Tower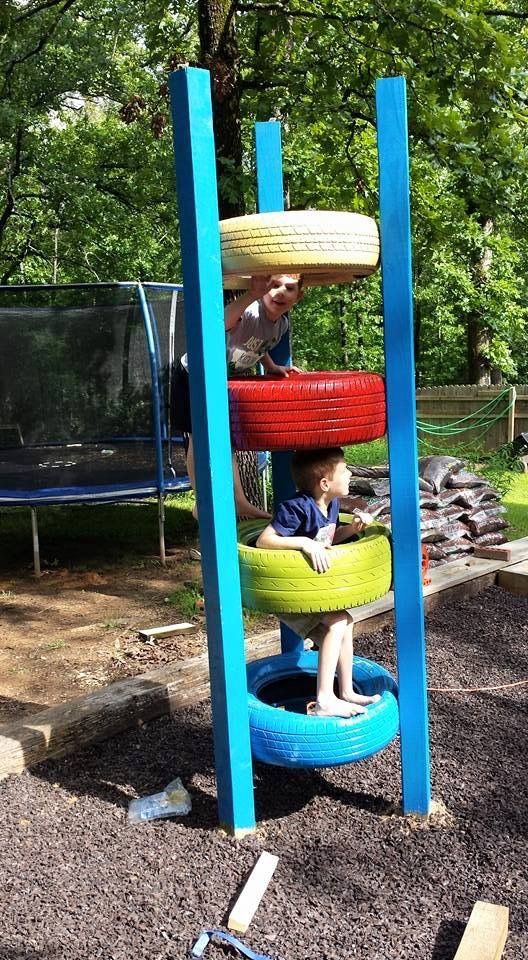 via Pinterest
One great way to keep kids active is to have a tower in your backyard, especially if you have the space for it.
You can use your old tires to create this. You can even paint it in bright colors to make it more engaging for the kids.
33. Wreath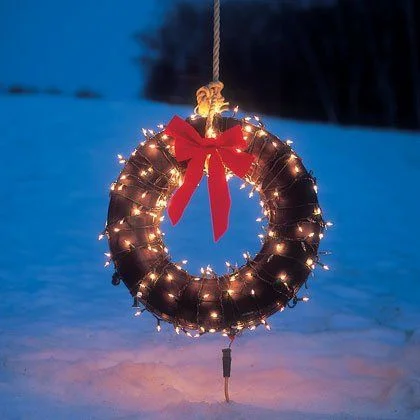 via Pinterest
If you're looking for décor for Christmas, you can use a tire to make a wreath. It will help with the environment and spread holiday cheer.
You can also decorate this unique wreath with plastic spoons and other items in your pantry.
34. Wall-Mounted Tire Planter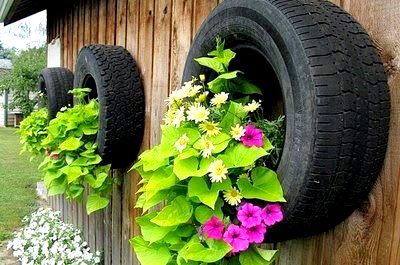 via Autowise
Another tire planter idea is to mount the tire onto a wall. They're easy to attach, and many tutorials are available online to guide you.
Let this tire planter display your beautiful flowers outdoors.
35. Concrete Tier Piers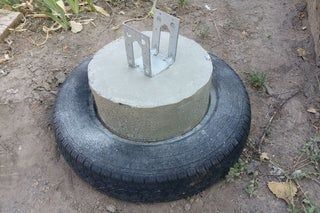 via Pinterest
If you love to play volleyball or badminton, you might want to make space for it in your backyard. Using old tires to create concrete tier piers can keep your net in place.
These are a great way to set up your court and get playing in your background.
36. Tire Shelf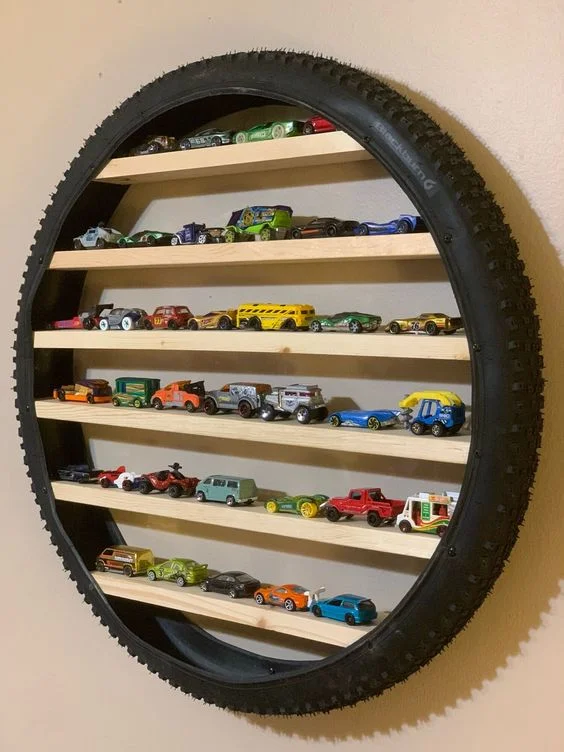 via Pinterest
What can you do with a large used tire, wood screws, a hot glue gun, and a few pieces of plywood?
You can turn it into a wonderful tire shelf to display small items, from toys to little knick-knacks. Choose the exterior paint that will fit your aesthetic.
37. Outdoor Furniture
​​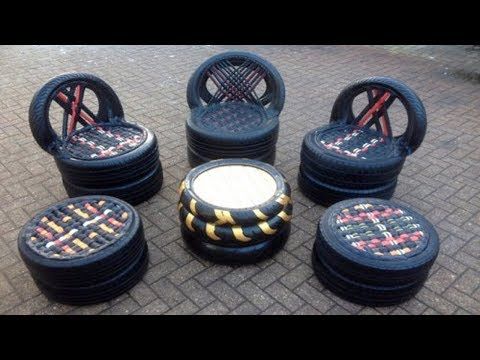 via Alam Sakti
Try crafting a tire table and chairs if you want a more eco-friendly way to furnish your backyard.
You can have a complete set of furniture for your backyard, complete with a tire table and chairs.
38. Hanging Tire Planter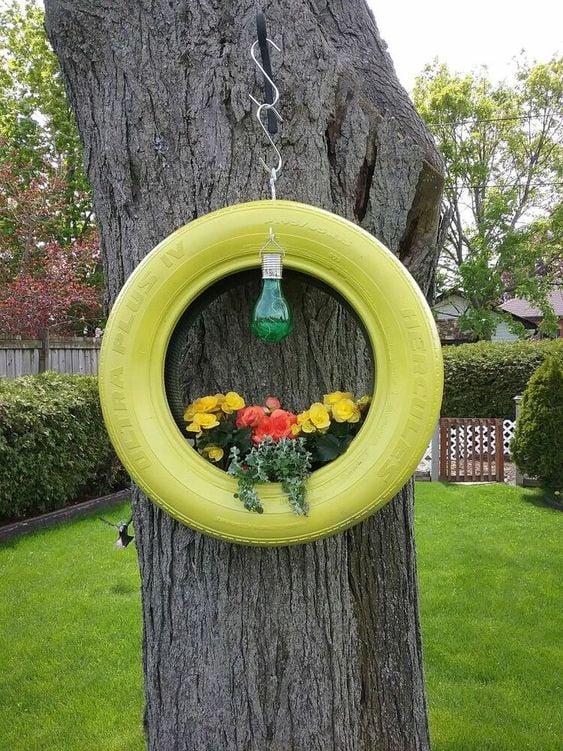 Another tire planter idea is to hang it on a tree to make it more unique. It's also one way to keep it close to nature.
You can paint it with bright colors to make it more eye-catching.
39. DIY Tire See-Saw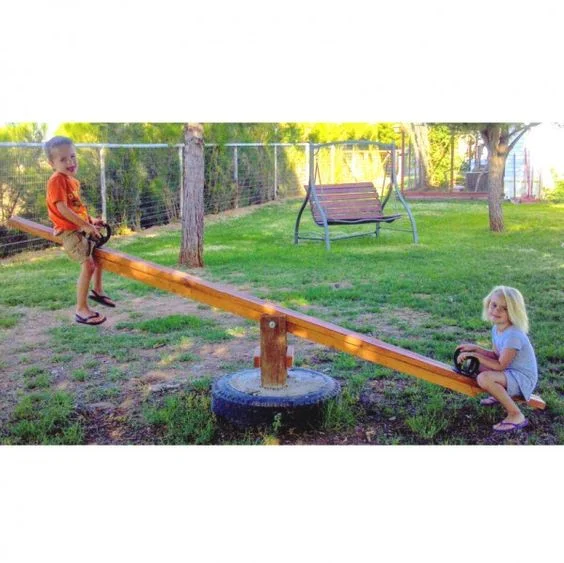 via Tee Diddly Dee
Besides the tee totter, you can make a bigger see-saw to make it more appropriate for the older kids.
Use the tire as the base of your see-saw to keep it stable on the ground.
40. Grass Bench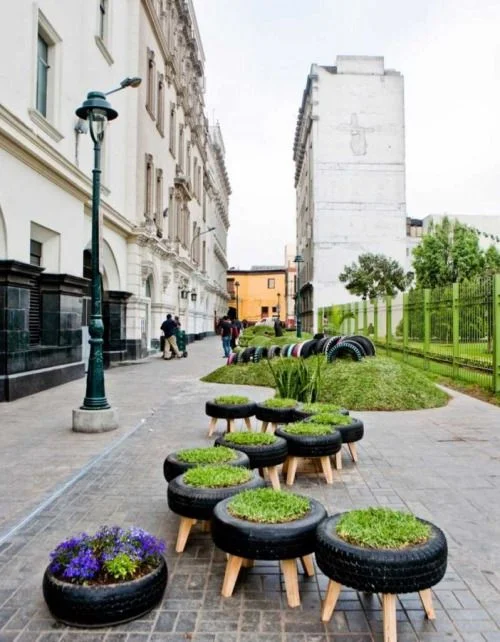 via Invasion Verde
If you have ample space for many tire planters, you can take inspiration from this installation from Peru.
It's a great way to stay green and reuse your old tires to improve the aesthetics of outdoor space.
41. Yarn and Tire Planters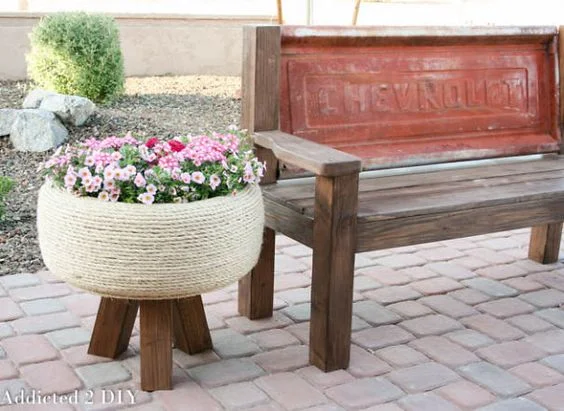 via Pinterest
Taking inspiration from the rope ottoman, wrapping your tire planter with yarn can be a great way to upcycle it and make it more aesthetically pleasing.
It will surely add a cozy, cottage-core feeling to your classic tire planter.
42. Tire Pumpkin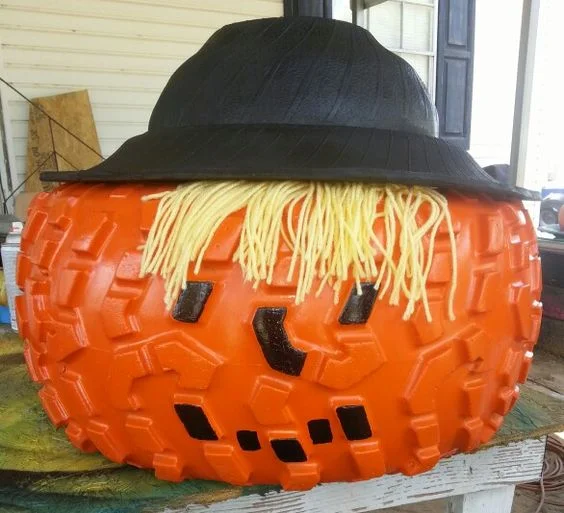 via Pinterest
If you're looking for Halloween décor, you can easily make a jack-o-lantern without needing to carve out a pumpkin.
Depending on the features, you can paint it orange and black and add different accessories to your pumpkin.
43. Tire Climber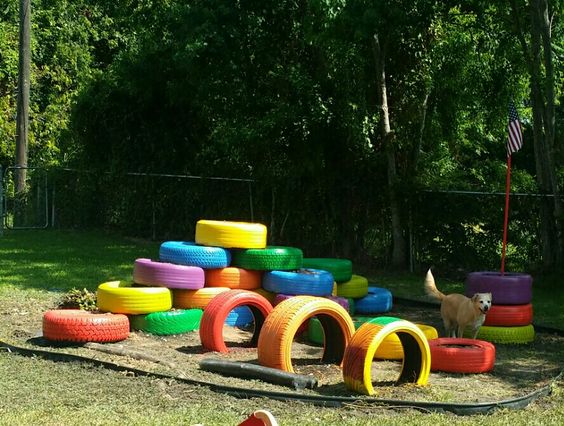 via Pinterest
Another way to keep the kids active is to use your old tires as a climber. It can be turned into a DIY jungle gym for children of all ages.
Paint them rainbow colors to make them more fun for the kids.
44. Tire Storage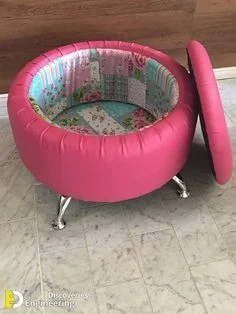 via Pinterest
If you turn your tire into a stool, it can usually double as a storage space. You can have it upholstered to fit your décor's aesthetic.
Keep your other craft materials in a reliable and organized storage space.
45. Tire Swing Ladder Set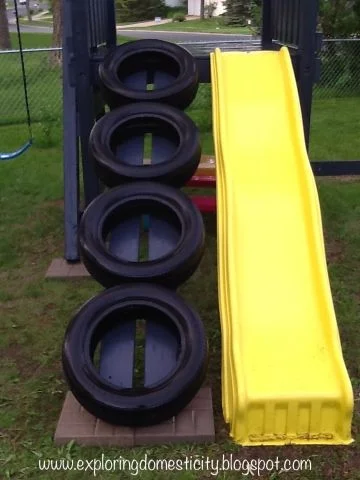 via Pinterest
Tires are commonly used for playgrounds. Your kid can climb them to get to the top of the slide.
If you build a little playground for your kid, you can use tires to your advantage.
46. Tire Obstacle Course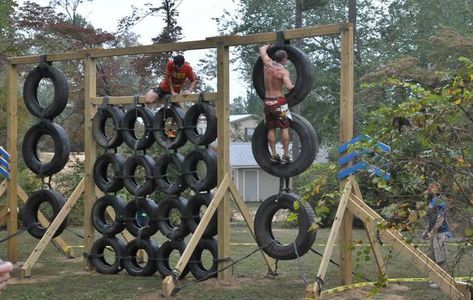 via Rev. Tom Benz
If you're looking for an adult version of a tire climber, you can try making a whole obstacle course.
Tires are usually used by the military and other physical training establishments to keep people in shape.
47. DIY Tire Toy Shelves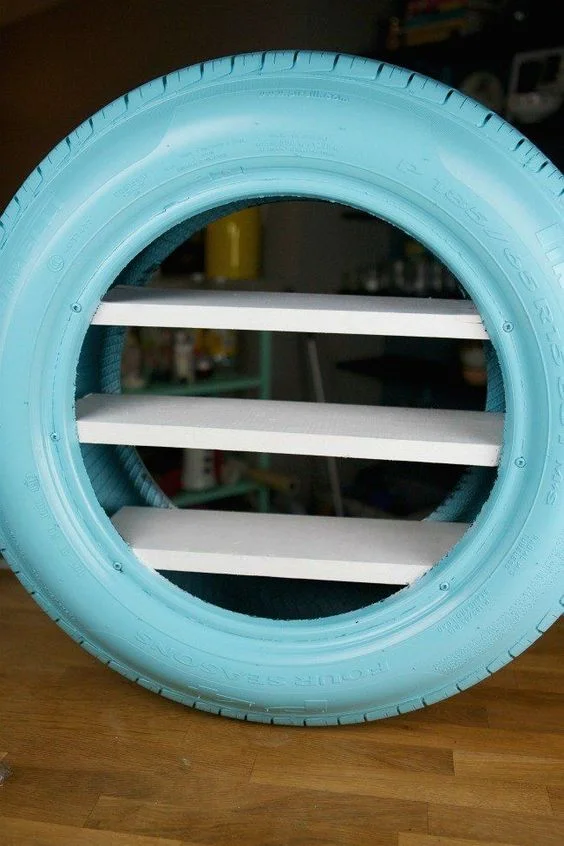 via Layne Henderson Quintanilla for Home Talk
If you create more significant gaps between the tire shelves, you can easily turn them into toy shelves for kids.
These can store more oversized items and are a great way to keep their toys accounted for.
48. Tire Tread Stairs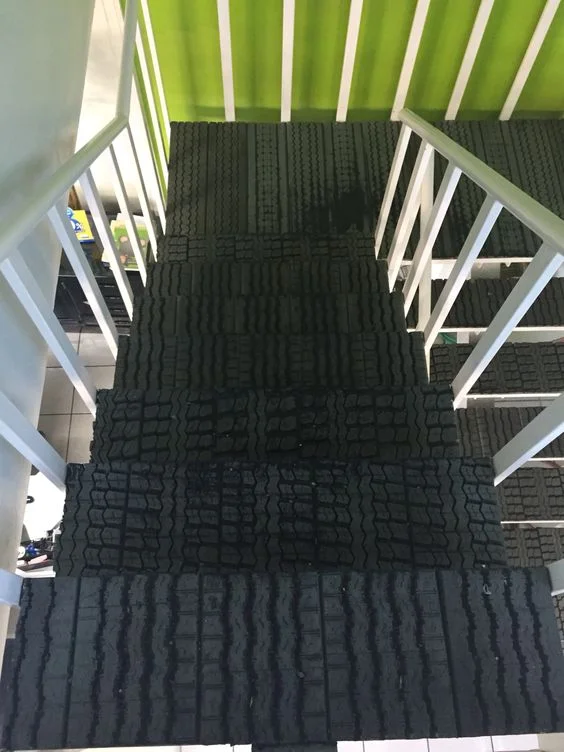 via Pinterest
The rubber used for wheels can also be used to tread stairs. You can cut up an old tire and flatten them against the steps instead of buying new ones, which could be expensive.
Make your stairs safer by trying out this crafting work.
Tire Projects FAQs
You may have more questions about DIY projects for recycled tires.
We've gathered the most common questions to help with your tire crafts.
Is It Safe to Reuse an Old Tire?
The common concern for recycling an old tire is the chemicals in the plastics and rubber. People think that they are harmful. However, that's typically not the case.
The simple answer is yes, old tires are safe to use since volatile organic compounds (VOCs) found in tires are usually gassed out by this time.
Can I Clean My Tires for Recycling?
Yes, you can clean your old tires by washing them with water and scrubbing them with soap.
However, if you're unsure if your tires are safe for recycling, you can take them to a recycling plant instead.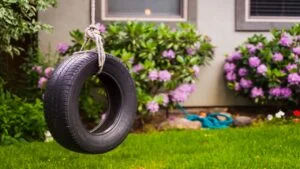 Conclusion
Many tires end up in landfills, which can be extremely dangerous for the environment. Luckily, there are ways for us to keep them out of there.
If you have a few old tires lying around your garage, why not try out one of these DIY ideas?