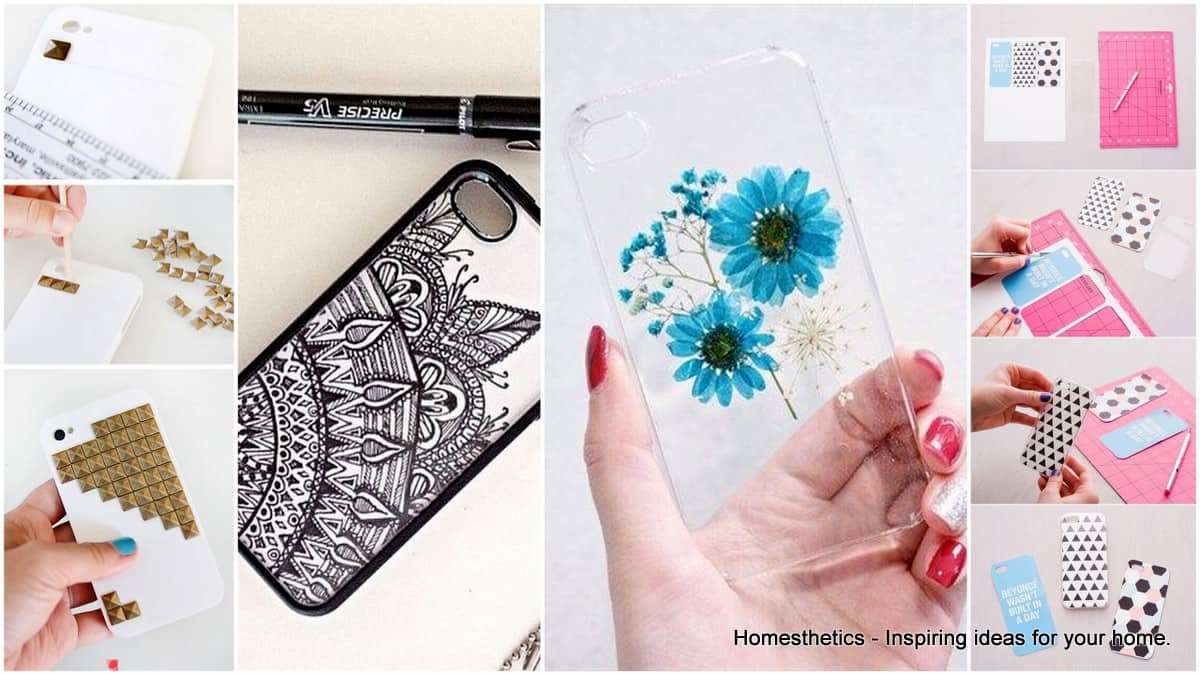 In this chaotic world highly driven by consumerism we rarely get the chance to see something different, something rare; and we are happily blessed with such a piece we instantly recognize the item as something extraordinarily expensive, a limited edition piece of furniture, a car or some sort designer item that few individuals in this world can afford. Things are changing and manufacturing and crafting gain extraordinary values as they represent the individuality of each and everyone materialized in custom, unique, one of a kind objects.
Now is the time to take on diy projects, from simple to complicated, from colorful to elegant and subdued ones, we are to shape the universe around us rapidly, we are to design our lives.
In gallery that follows we have presented splendid homemade cell phone case ideas that we have find interesting, intriguing and easy enough to recommend for a fast craft in the evening or Sunday afternoon. Cast a glance, surge inspiration and leave your valuable feedback in the comment section below. 
Homemade Cell Phone Case Ideas
1. ice cream homemade phone case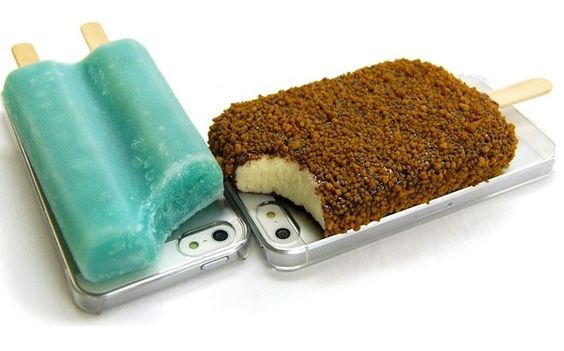 It might look sweet, delicious yet it is not edible.
via trendhunter.com
2. posh glittered phone case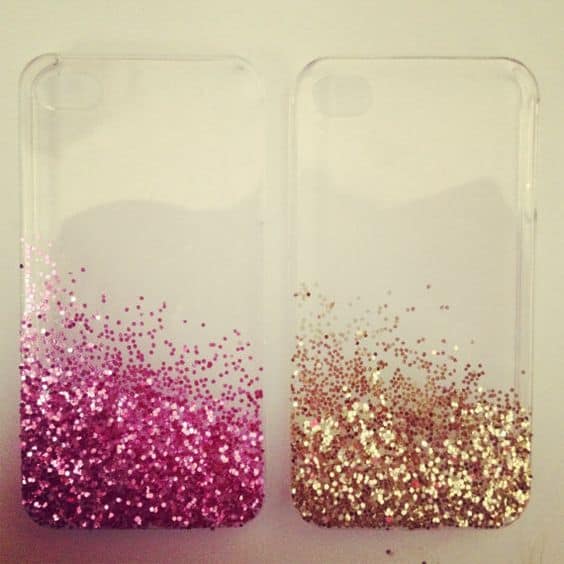 Super simple craft, eye-candy that speaks of the fashionable diy glitter crafts trend.
via wanelo.com
3. re-purpose textile into epic phone pouches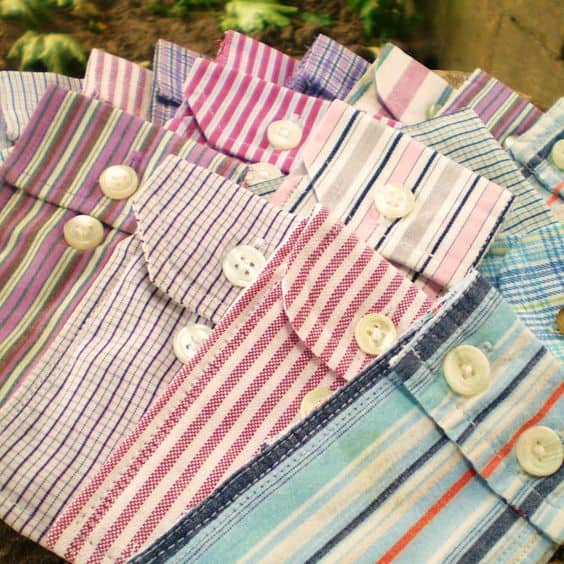 via greenme.com.br
4. pick the right case and improve with colorful weaving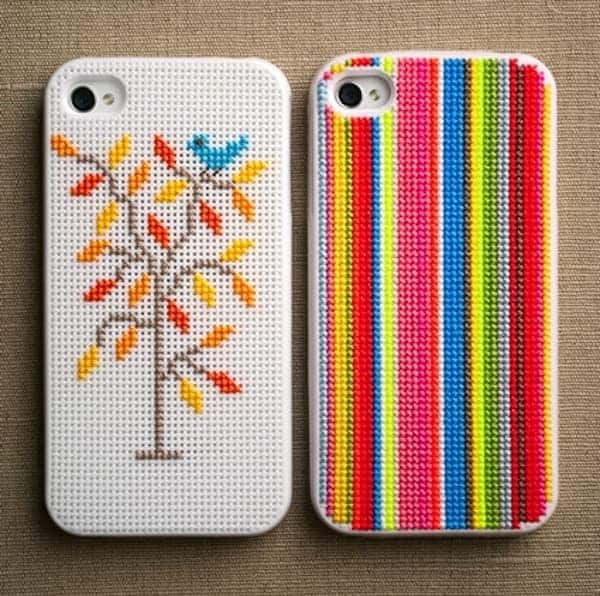 These simple cases open up great possibilities, colorful ones that you will surely wear proudly.
via The Purl Bee
5. diy lace homemade case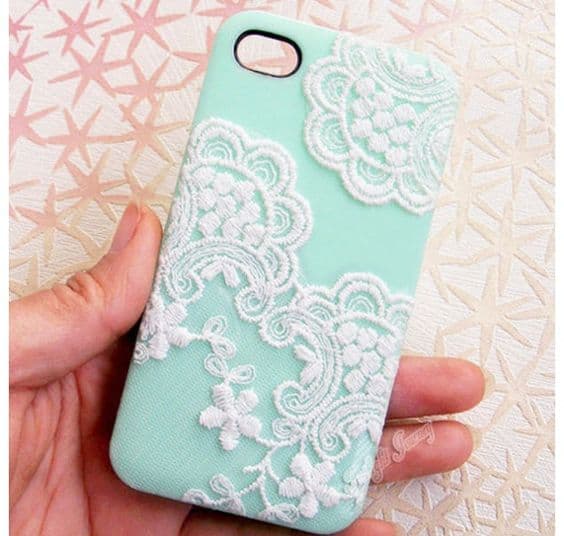 There are few things in this world which cannot be improved with lace and a simple phone case ain`t one of them. Choose the right color to bring the lace delicate look forward and enjoy your new phone case !
via storenvy.com
6. painted clear case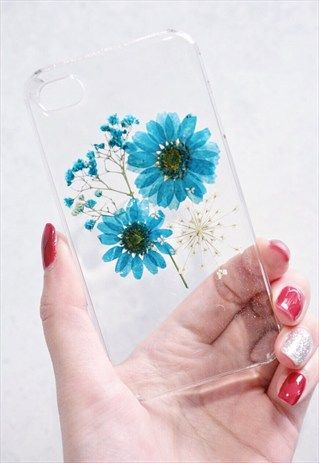 A clear case can receive the splendid brush treatment, whether you are experienced or just starting out this homemade surely is worth a chance; you direct everything from the colors up to the painting.
via asos.com
7. washi tape homemade phone case
Washi tapes are known to be responsible for thousands of truly inspiring diy projects ideas around the inter-web and yours may be next one, simply pick up the washi tapes that you find interesting and start playing around !
Source Unknown
8. colorful polka dot homemade case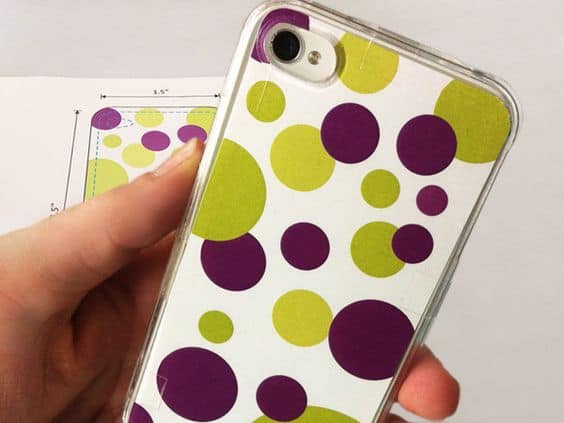 Polka dots in one or multiple colors can go beautifully on a clear case, you choose the density and colors, you enjoy your new case.
via sheknows.com
9. re-purpose paper and textiles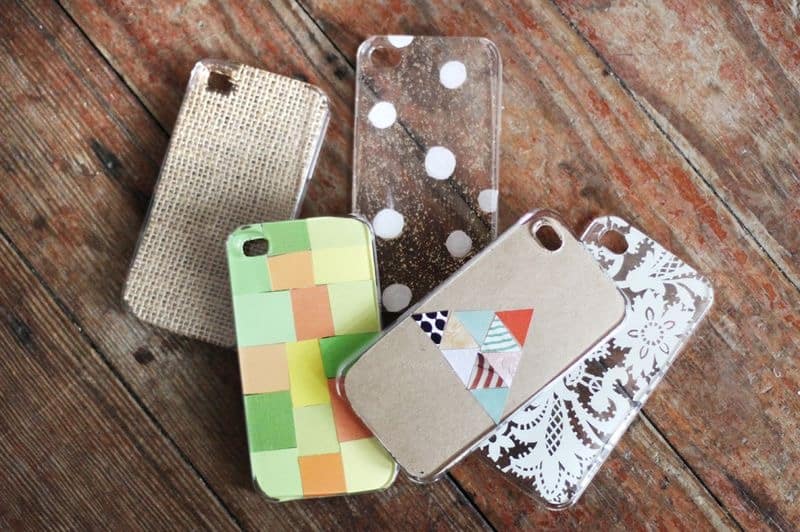 A craft session with the little ones may present them creatively how they can repurpose various textiles and pieces of paper into new items thus saving the plant a bit of energy; this can be a super creative lesson on sustainability and responsibility.
via brit.co
10. sew epic sweet phone pouches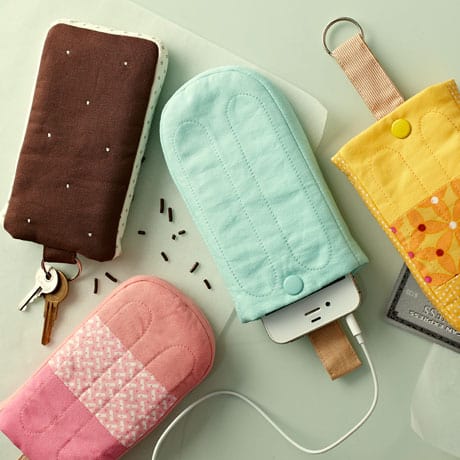 In a few minutes salvaged textiles that you no longer need can become super awesome ice-cream or pieces of cake able to contain your phone in color and style.
11. artful sharpie homemade phone case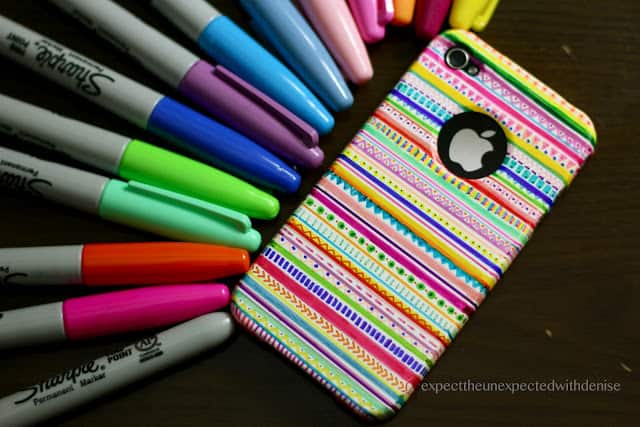 Simple, graphic, splendid results can be obtained with colorful sharpies, you can customize a bland phone case beyond belief, choose the pattern, the illustration, the colors, get coloring !
via Unexpected Expectations
12. DIY felt homemade case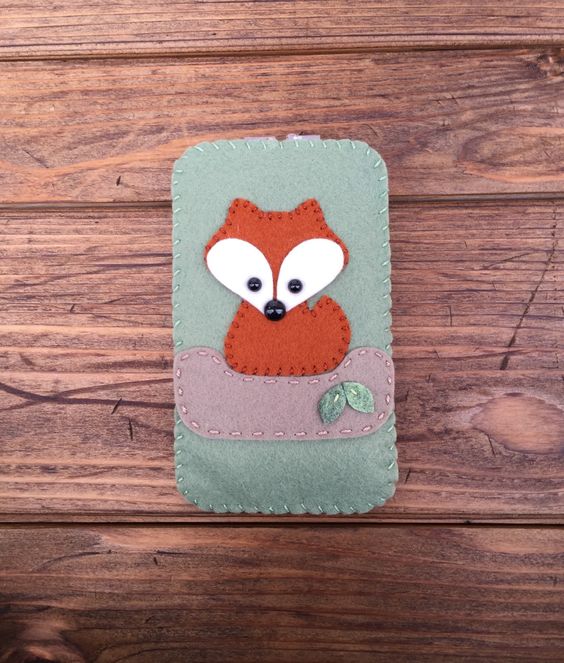 Easy to work with and available inany possible color, felt can make wonders regardless of application and homemade cases are no exception.
via etsy
13. Black and white sharpie case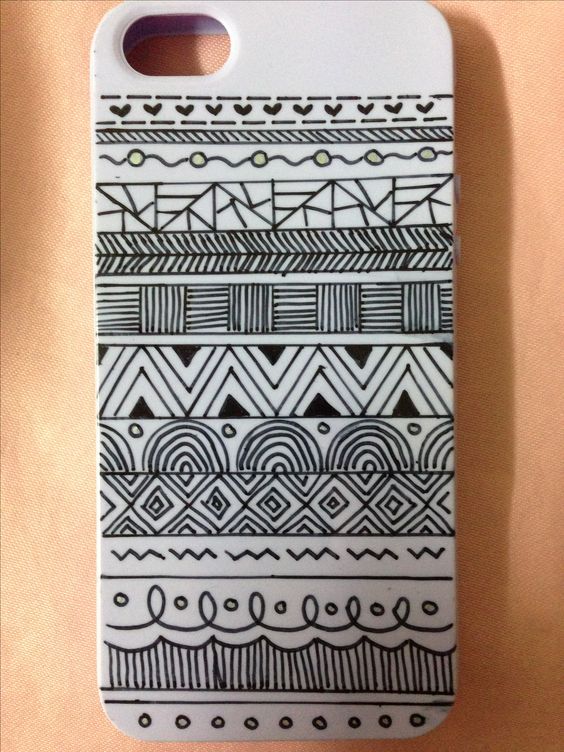 via Zhook Yueng
14. Stardust homemade phone case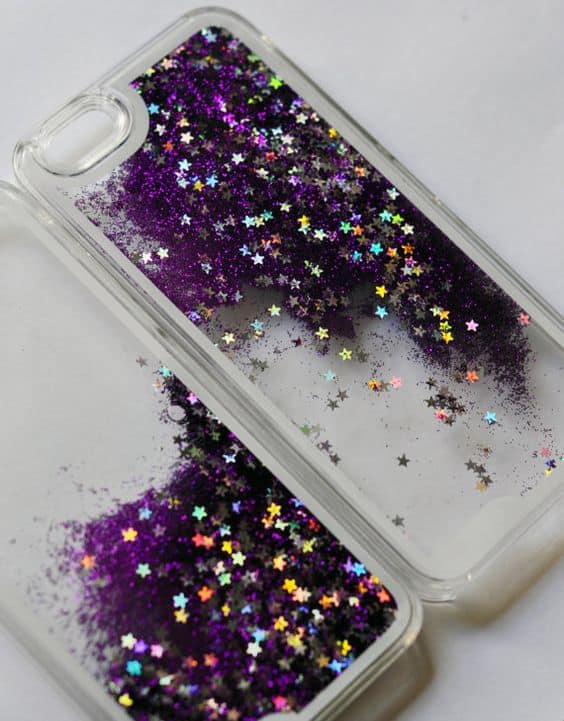 Your craft store nestles all the ingredients necessary; boost your phone case with stars and colorful stardust.
via etsy
15. diy mandala homemade case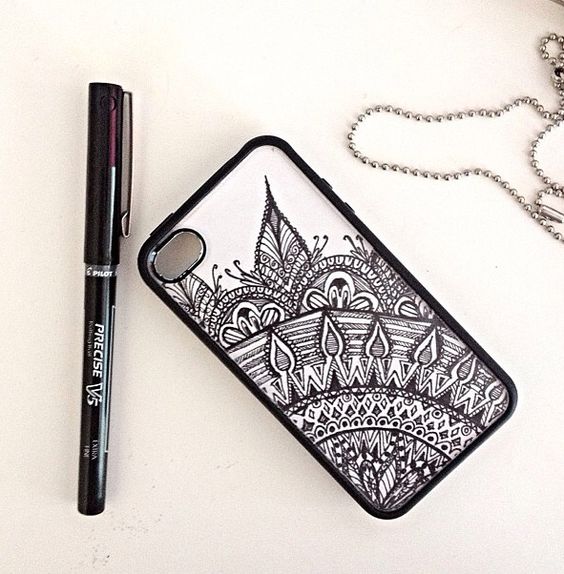 via Amanda Martineau
16. simple pattern or print cut-outs 

It can be that simple ! You need to print to scale different patterns or motivational messages, cut them out and position them between the phone and the case.
via weheartit
17. diy studded iPhone case

It goes without saying that the pattern can be changed to fit your design idea and that the studded case itself can be realized on any bland case, regardless of the phone`s manufacturer.
via repiny.com
Simple designs that can be realized fast have presented above; an one hour session for an enthusiast DIY can easily result with two three homemade cell phone cases that he or she can be proud of. What do you think? How would you personalize your case and what`s your favorite design from the selection above? We would love to hear from you in the comment section below !
Related Articles