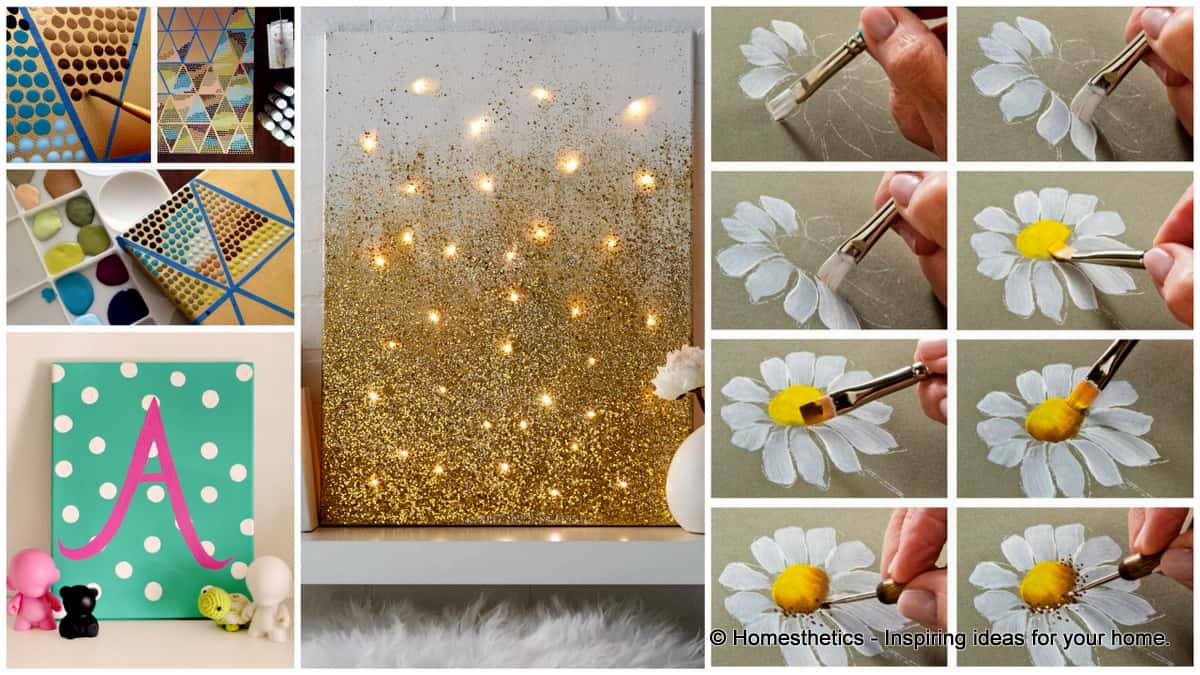 When it comes to expressing your creativity freely, opting for a subject such as canvas painting ideas seems like a viable option. Art in its many forms has a great ability which can be easily underestimated. It can get under your skin without you even noticing it, becoming an essential part of our beings and daily life.
Every single DIY project you start has the potential to become a work of art if enough dedication spirit and love is being given. Painting in general has been proven to exude calming effects, thus providing a wonderful method of relieving daily stress and disconnecting from the outside world.
As a beginner in the canvas painting world, one must accept from the very start that a set of basic rules apply here as in any other domain in order to obtain the desired end results. So today we'll be starting with a set of basic rules revolving  around Canvas Painting Ideas and the right choices you should take to start on the right track your easy canvas painting projects.
Before you start, the bests oil or acrylic paints for canvas painting, best acrylic palettes, best overall acrylic paints, best budget acrylic paints, best acrylic paint brushes or the best paper products for acrylic, Homesthetics is here to help!
Without further ado, let's get started!
RELATED ARTICLES
3 Canvas Painting Ideas You Should Definitely Take On
Get Your Hands Dirty With DIY Painting Crafts And Ideas
Expand Your Knowledge With Watercolor Painting Ideas
19 Fun And Easy Painting Ideas For Kids
19 Incredibly Beautiful Watercolor Painting Ideas
19 Easy Canvas Painting Ideas To Take On
20 Oil And Acrylic Painting Ideas For Enthusiastic Beginners
Add Color To Your Home With 15 Beautiful Canvas Painting Ideas
15 Do-It-Yourself Pottery Painting Ideas You Can Actually Use
Delight Your Senses With Canvas Painting Ideas For Beginners
Top 31 Amazing DIY Paintings For Your Blank Walls
Best Acrylic Paint Brushes for Artists & Students Reviewed
Basics of Canvas Painting Ideas And Projects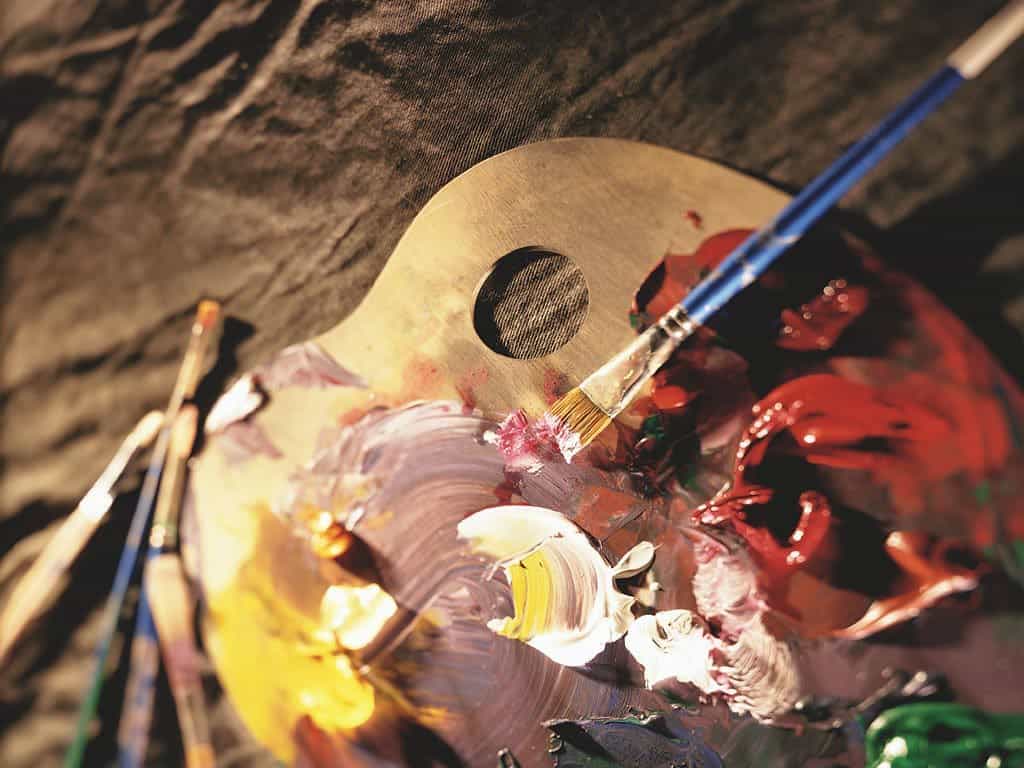 the Basics of Canvas Painting
The very first and basic mistake everyone makes at their beginning in this art is the rush of jumping into the painting act itself without the right preparations of the working environment and materials used. As I am sure many of you have done in the past, I was used to buying a pre-stretched canvas or canvas board from a library and starting the piece right away, on the black slate, which I have found out can be a huge mistake from my part
One of the fundamental techniques used in painting is covering the white canvas with a solid paint color called a "toned ground" or "colored ground"
The reasons behind this choice are numerous. A toned ground will provide a background for your work of art which will result in a more professional looking piece, give you more speed and efficiency in the painting process .There are two methods of applying the colored ground to your canvas. The first one is opaquely where the second is a transparent stain, an Imprimatura. We recommend you to start with the opaque finish and work from there on. As for the colors themselves, it all depends on your choice of subject and the results you are looking for. Earth colors such as umber or yellow ochre are the best choices for landscapes and for the beginner level. Yellow ochre might seem like a bold first choice but can provide a balanced background on which you can build on your different acrylic layers that will compose your work. If you are still not sure of this choice, you can add some Titanium white to the mixture to tone it down.
What is the best paint to use on a canvas?
As we are working our way up from the beginner level, we recommend you to start with basic Acrylic paint. "Acrylic paint is a fast-drying paint containing pigment suspension in acrylic polymer emulsion. Acrylic paints are water-soluble, but become water-resistant when dry. Depending on how much the paint is diluted with water, or modified with acrylic gels, media, or pastes, the finished acrylic painting can resemble a watercolor or an oil painting, or have its own unique characteristics not attainable with other media."
As Acrylic is based on adding, you can count on the colored ground you have added to your canvas to do the work for you. It will temper the hues and help you observe the true tones of the paint you add in comparison to a blank white canvas which will play tricks on your eye.
How much do I dilute my acrylics?
A procent of 40-50% water is accepted from most manufacturers. More than this and you will be diluting some of the acrylics adhesive qualities, which are essential in order for the paint to really attach on the canvas and on each added layer. After gaining some experience with basic Acrylics you can opt for other paint sets which come already diluted from fabric and provide a consistent layer.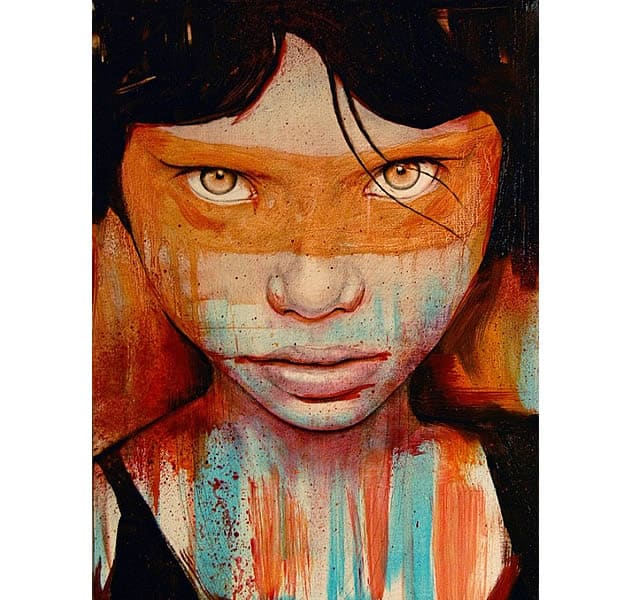 This amazing piece by Michael Shapcott has used different techniques of applying the paint layers, resulting in a rich explosion of tones and creativity. We can all agree this level is very difficult to reach, but we can aspire to greatness.
Further on we'll explore some of the different techniques you can choose in your Canvas Painting Ideas Projects.
The classical paint brush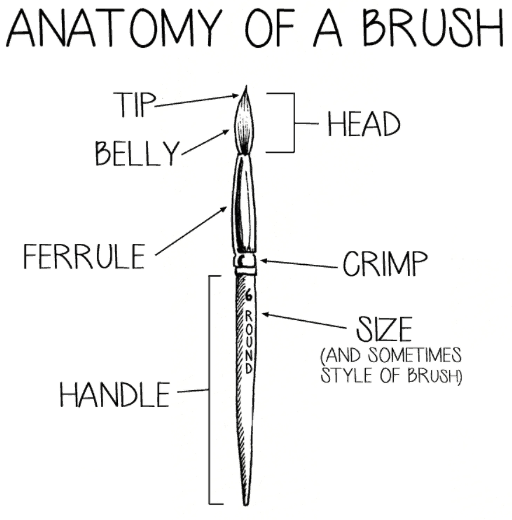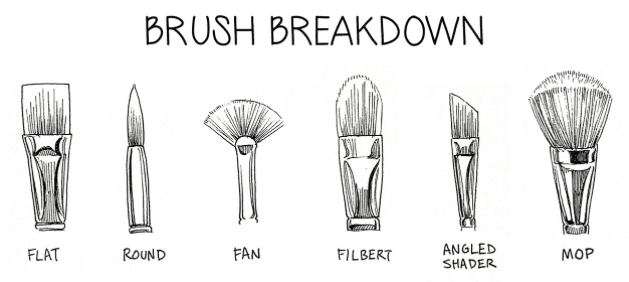 1. Start by learning how to paint a simple flower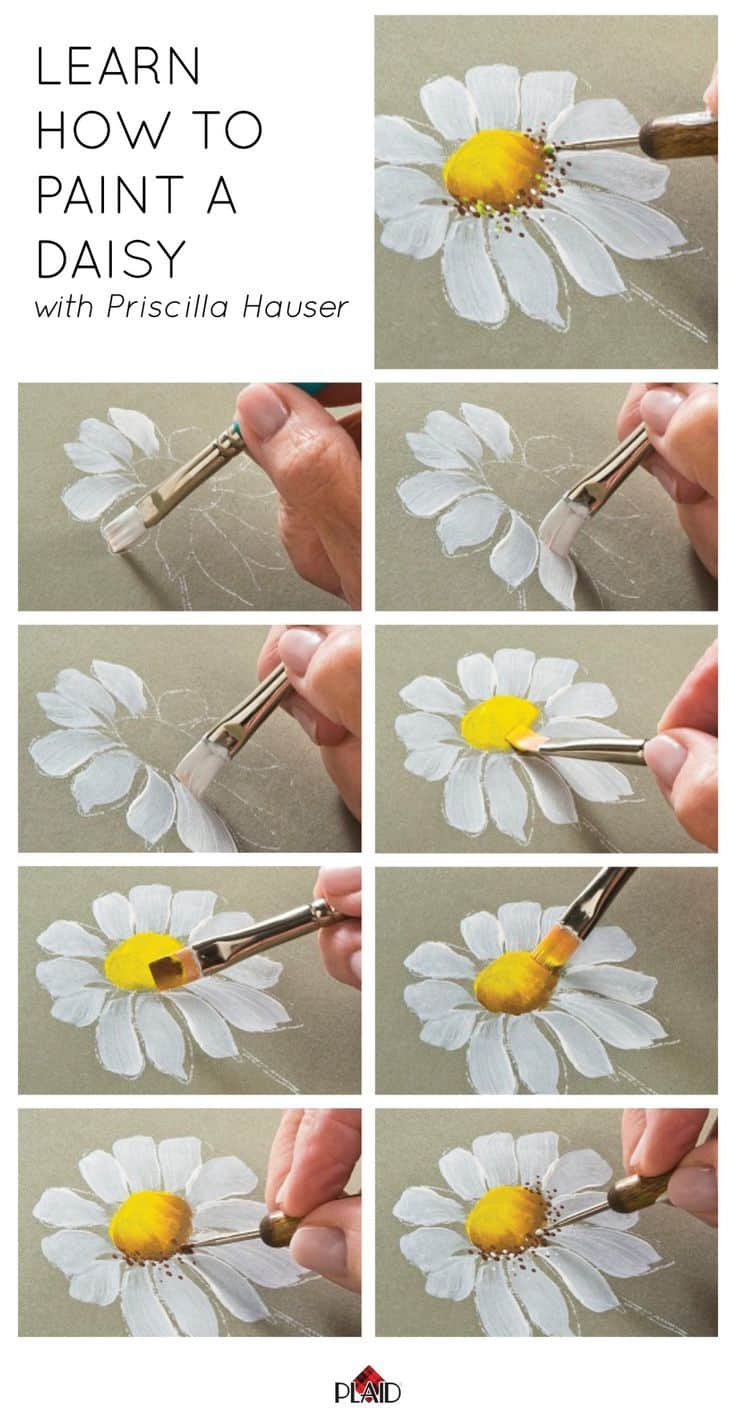 2. Advance and learn to mix up tones and create transitions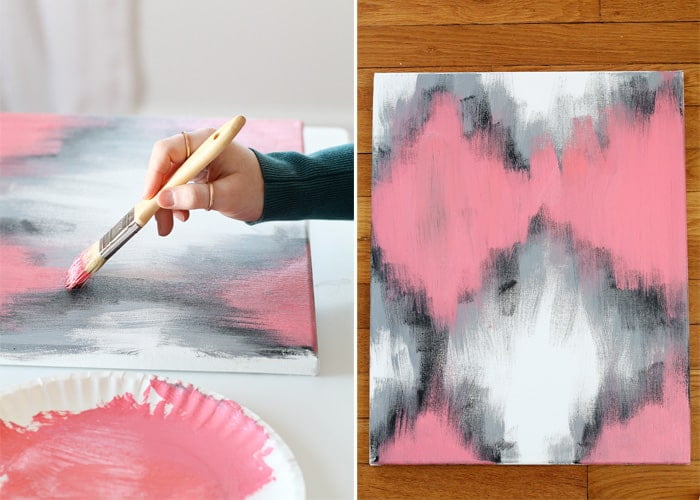 Tutorial here
3.Use basic colors at the beginning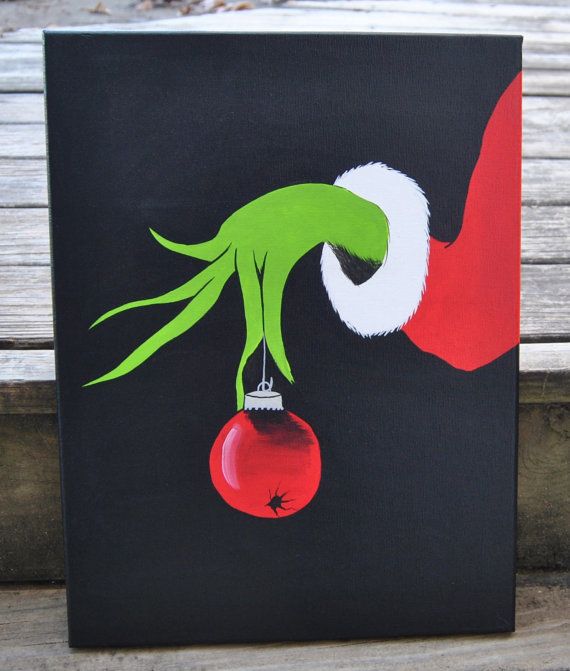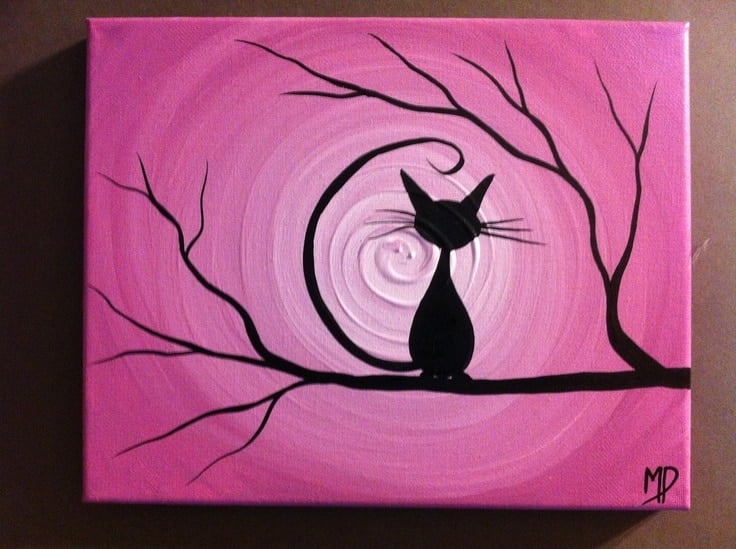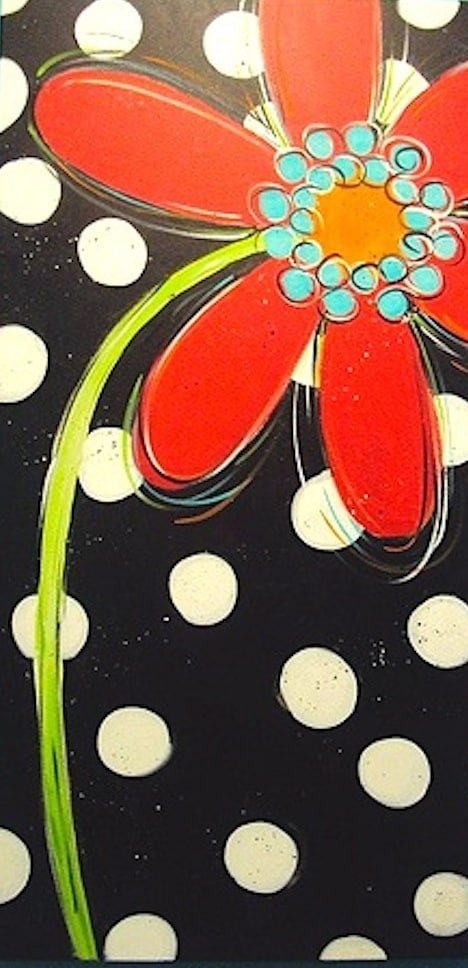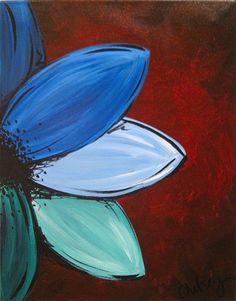 Image source
Mixing things up and combine the technique of classical painting with a brush with ordinary objects to create texture
4. Bubble wrap and paint

Source
5. Create a pattern by using tape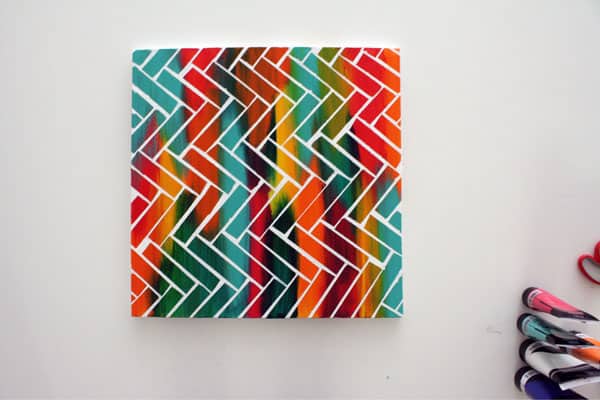 Source
6. Decide on your limits and go for a dual tone artwork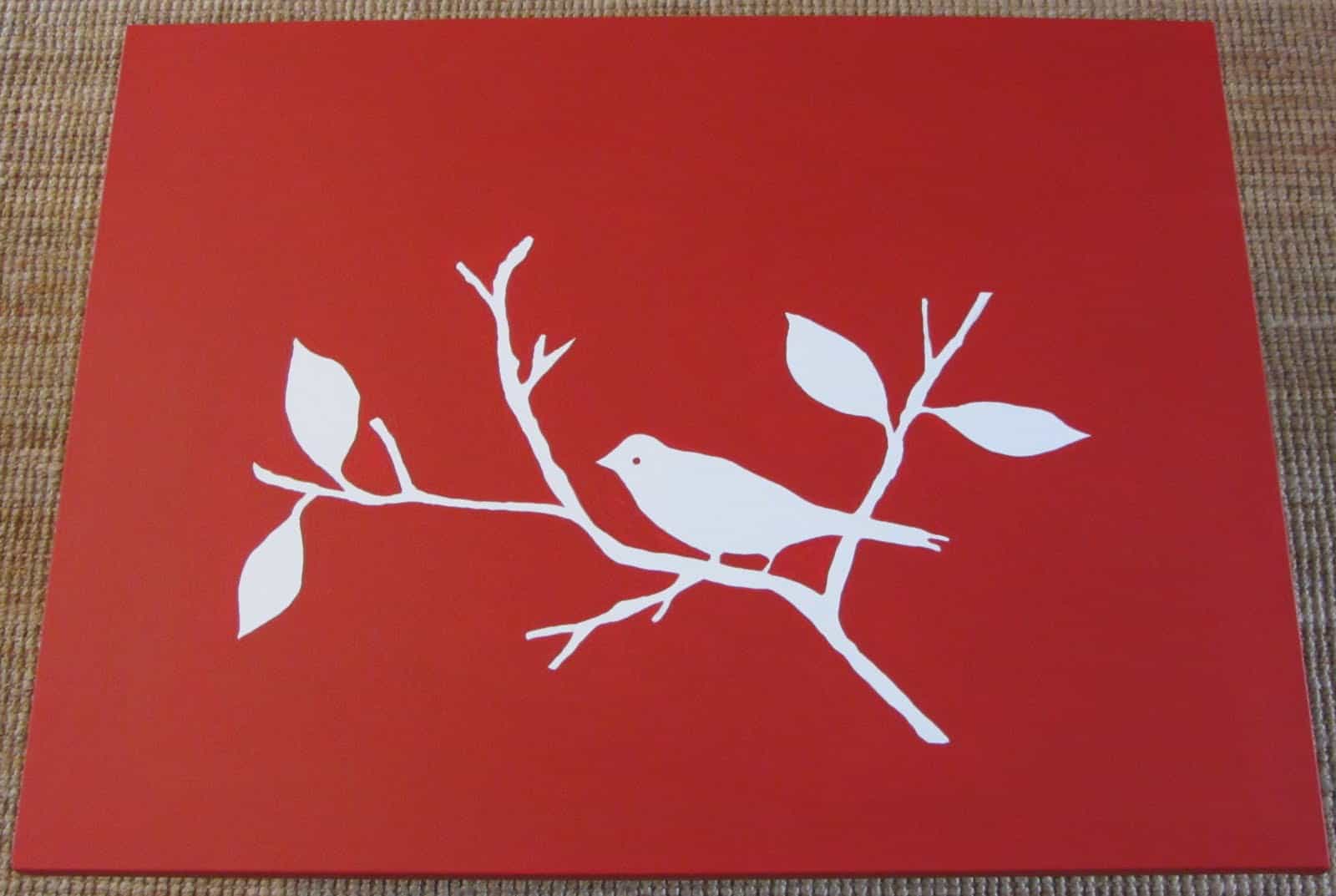 7. Design a pattern using tape and start dotting
8. Pop colors in a pallet knife technique art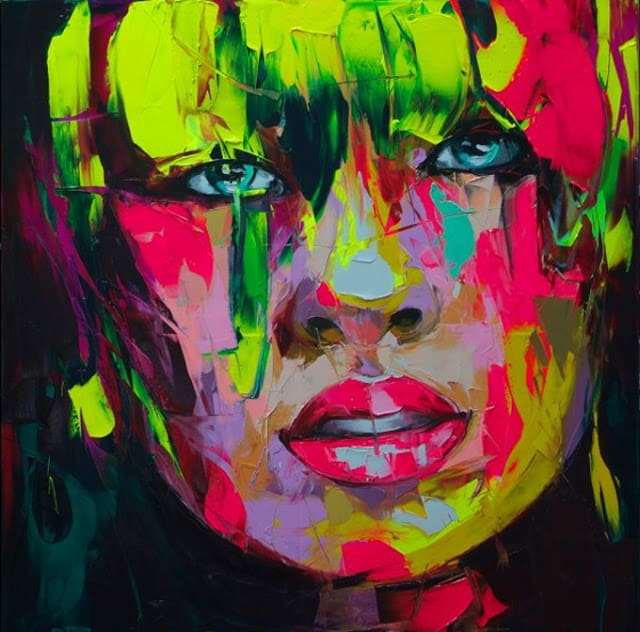 9. Create wall art using a stencil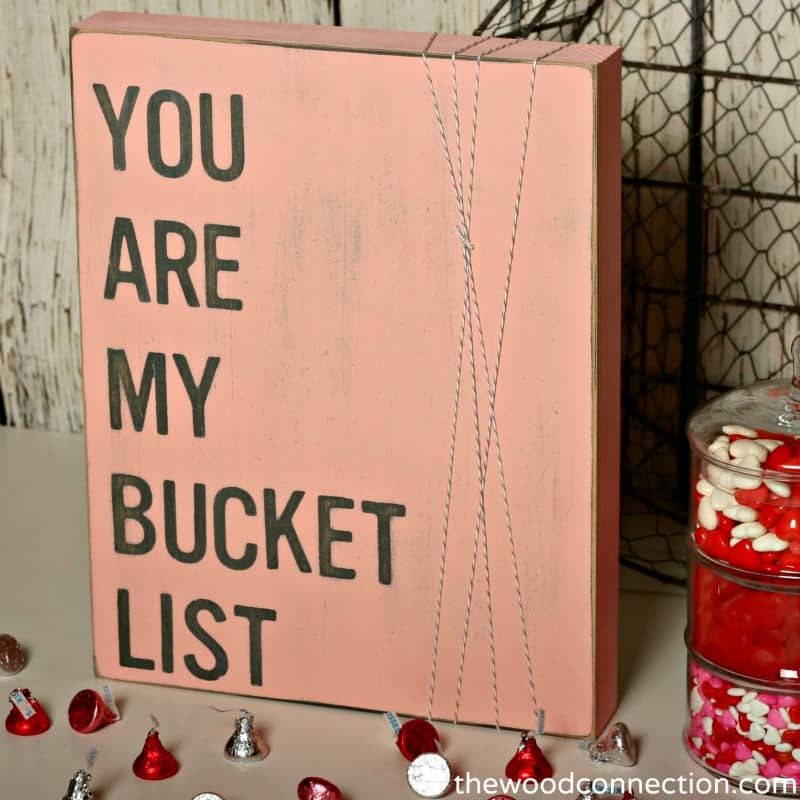 10. A bright colored ground and some sparkle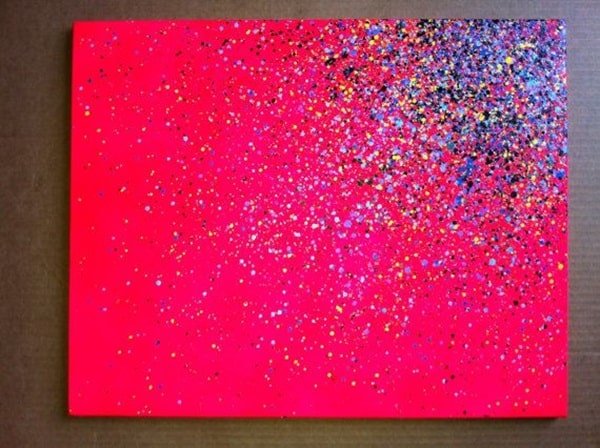 11. Combine fun tones and play with shapes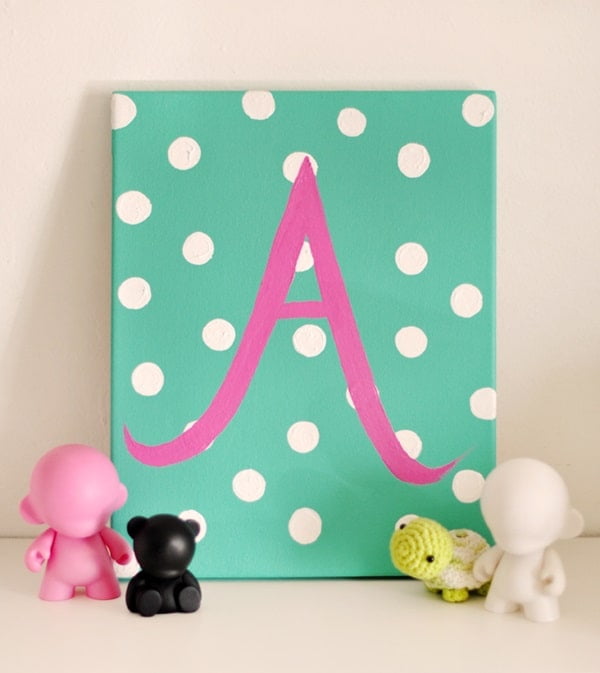 12.  You can add newspaper to your canvas for a textured background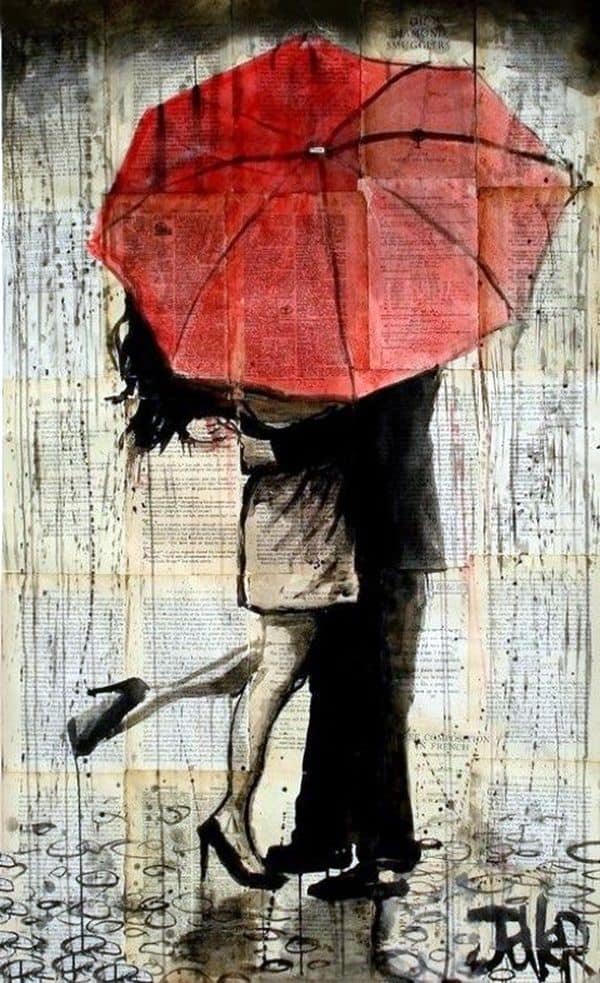 13. Or keep a neutral color pallet and exercise on detailing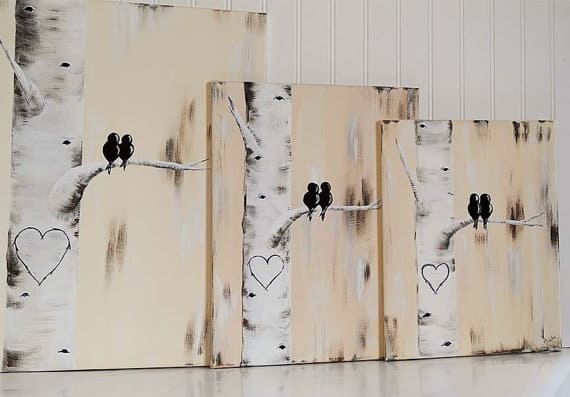 14. Spray-painting is also a choice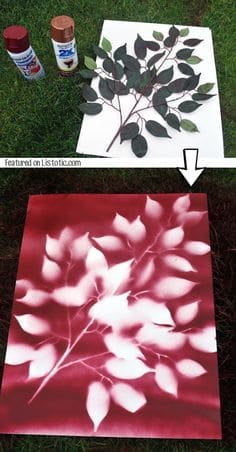 15. A splash of color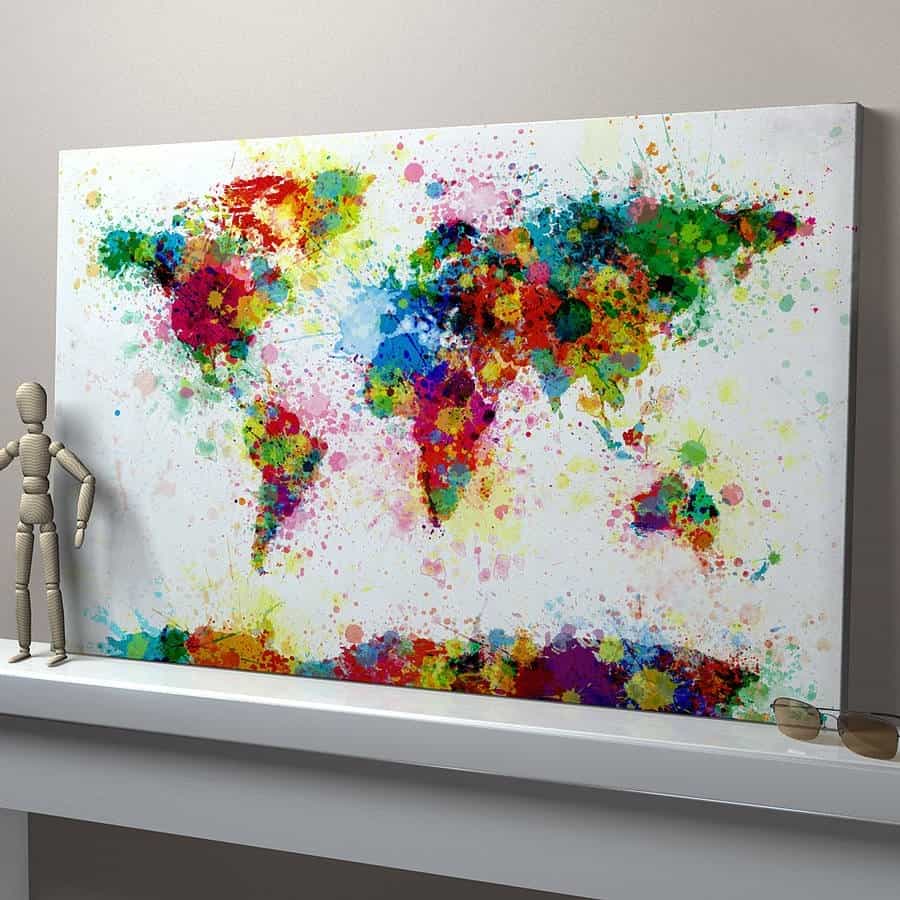 16. A deep blue ground and a delicate intricate paint pen insertion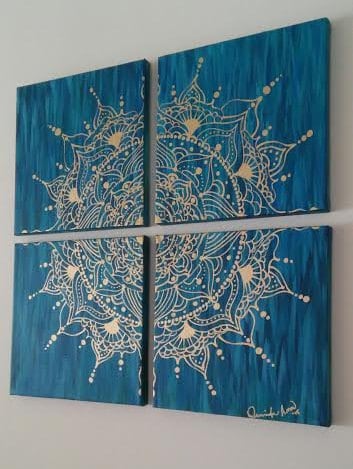 17. Stardust canvas painting idea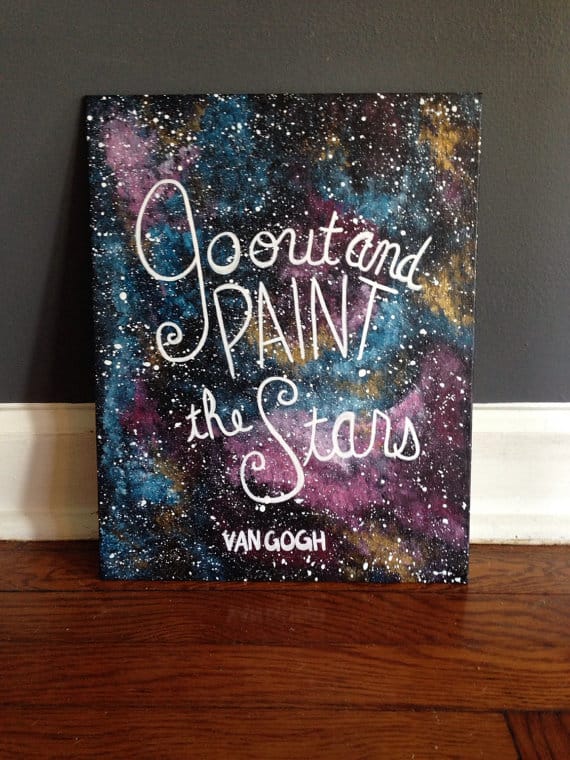 18. White on grey seems so delicate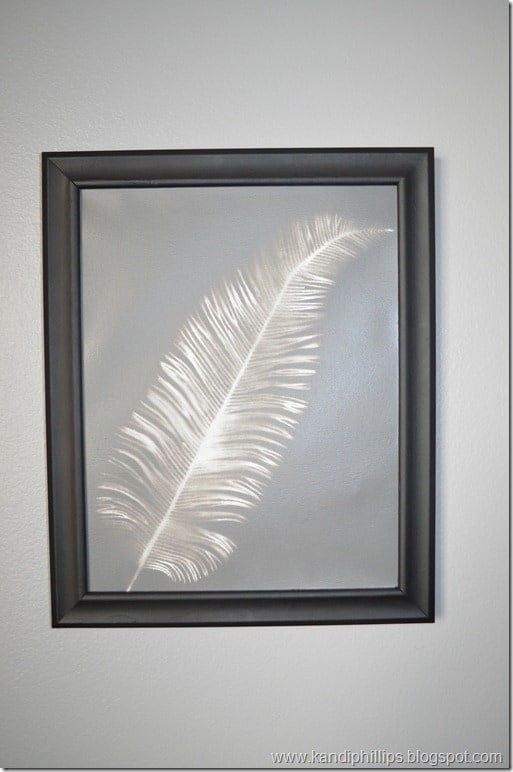 19. An example of an easy canvas painting project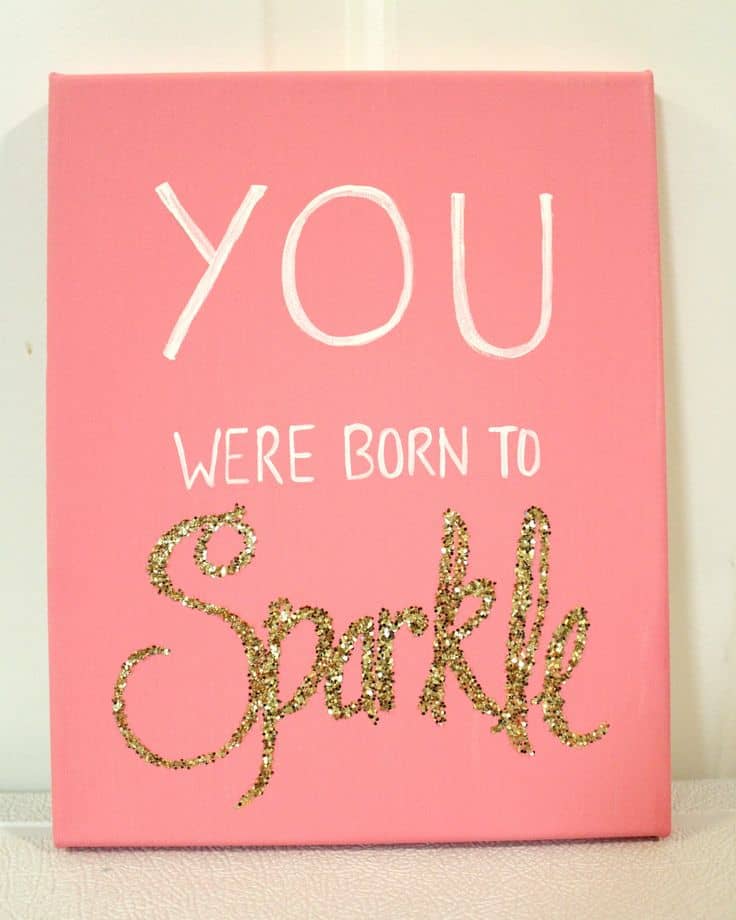 20. Choose simple designs as a beginner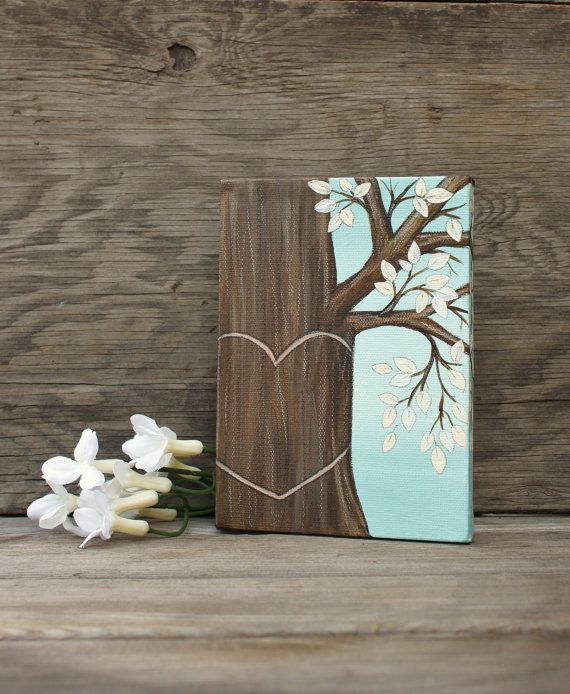 21. A mixture of a chevron background obtained with the use if tape and a central brush painted heart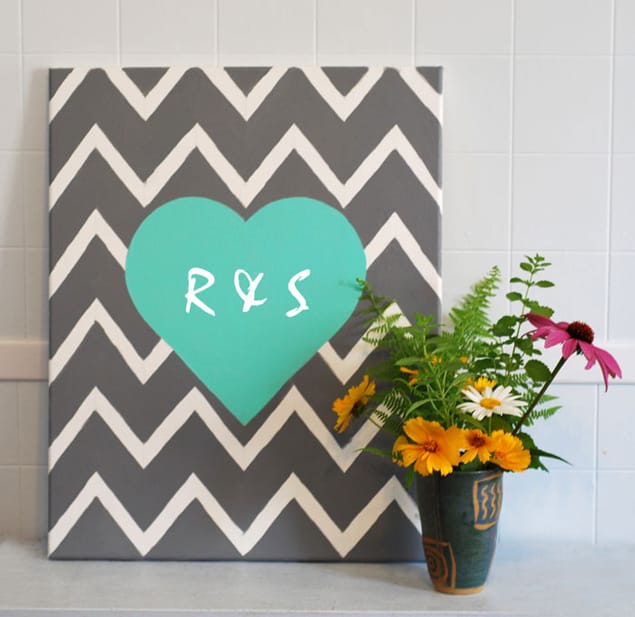 22. Cool canvas painting ideas projects using tape
23. Mix paint tones using a piece of cardboard and create a wave effect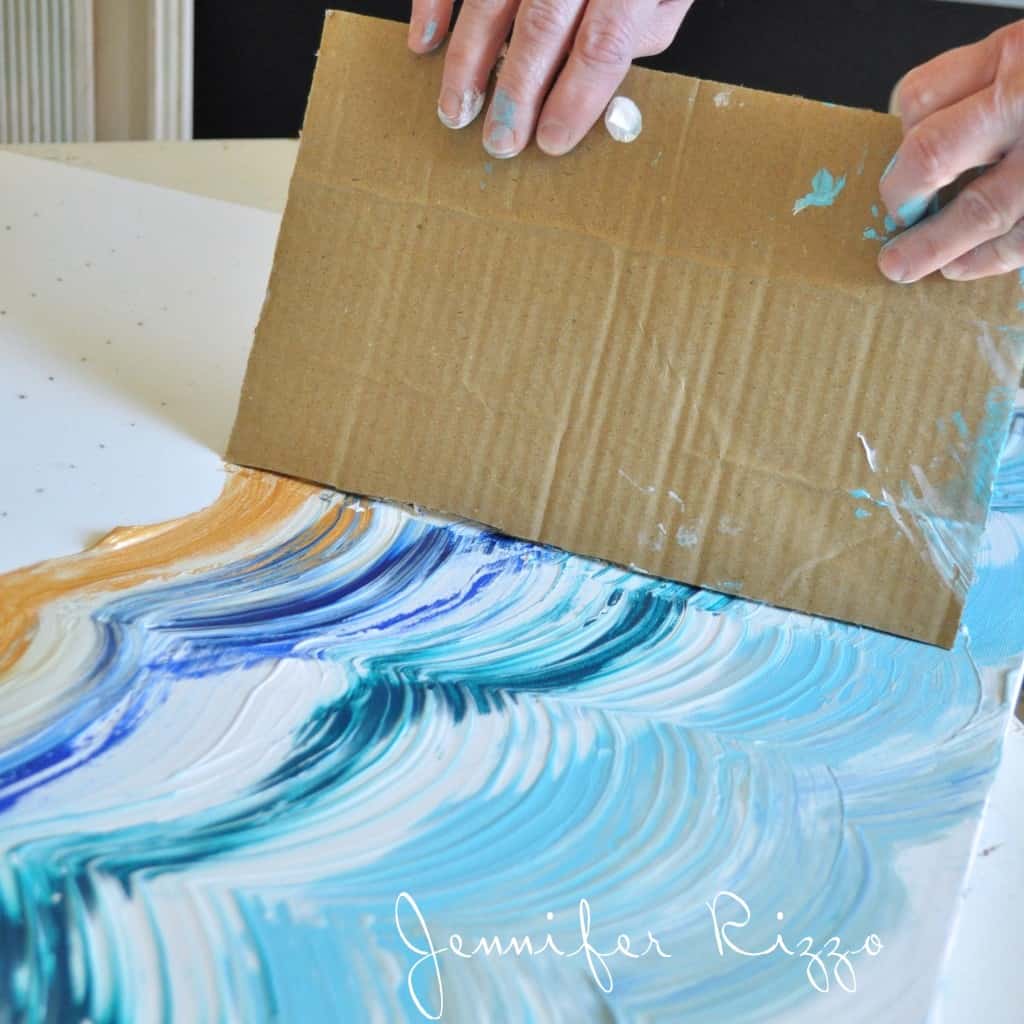 24. Take things a little bit further and transform your work of art into a light design piece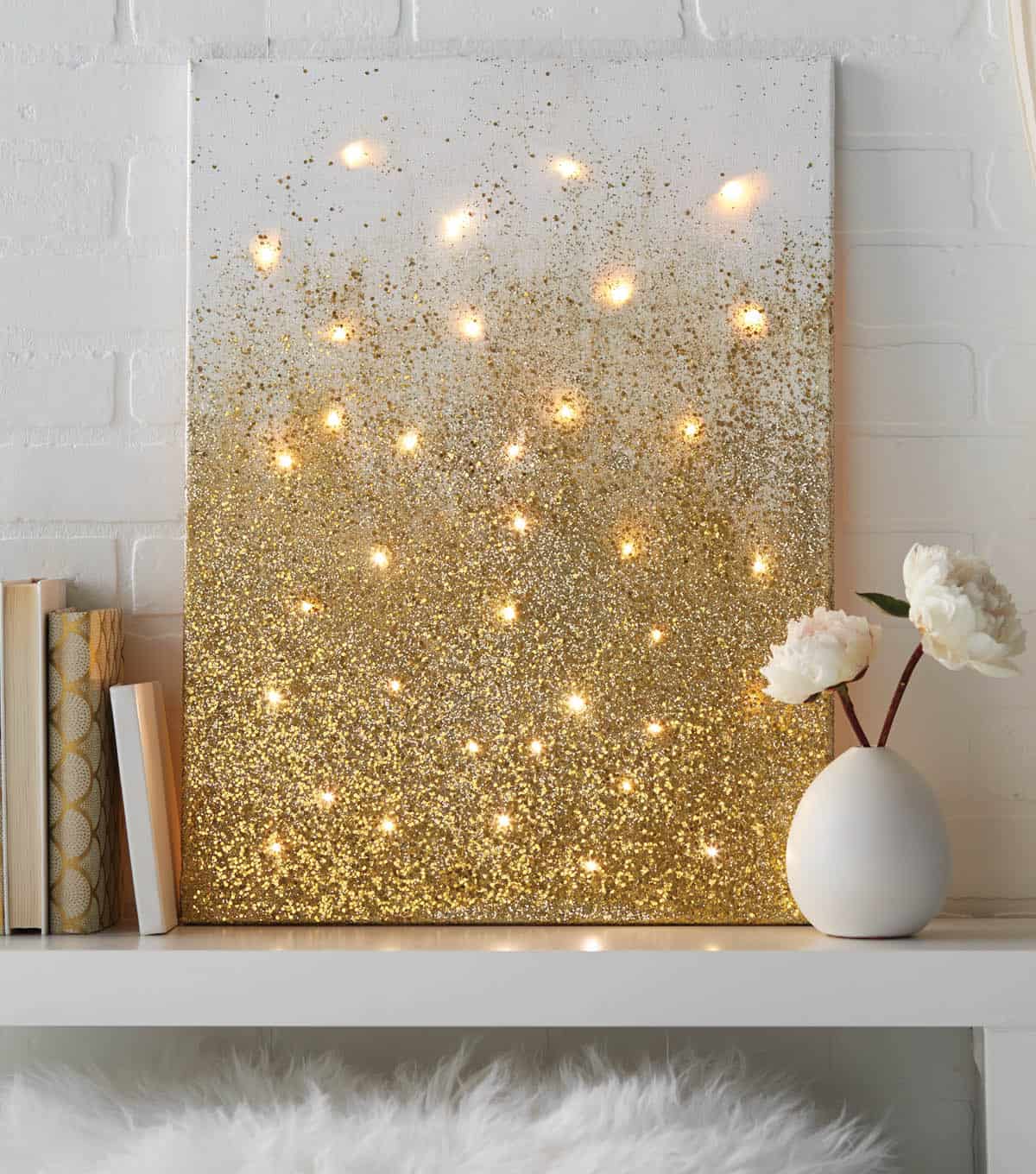 25. An elaborated piece combining a series of techniques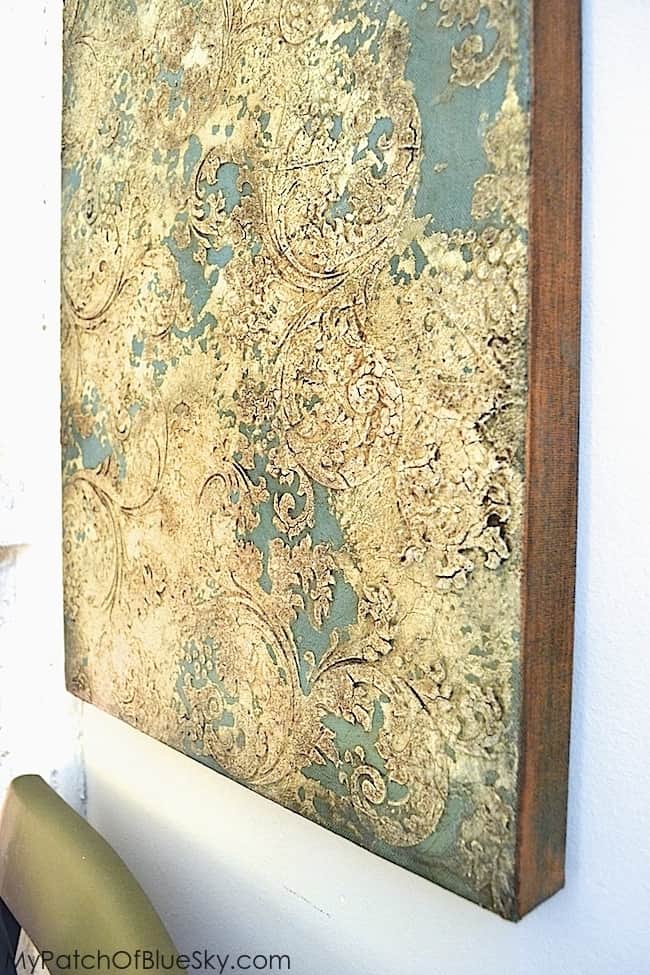 So what is your take on these easy canvas painting ideas? Is it something you would dare to try on? We would very much like it if you would share your ideas and personal canvas painting ideas and projects in the comment section below.