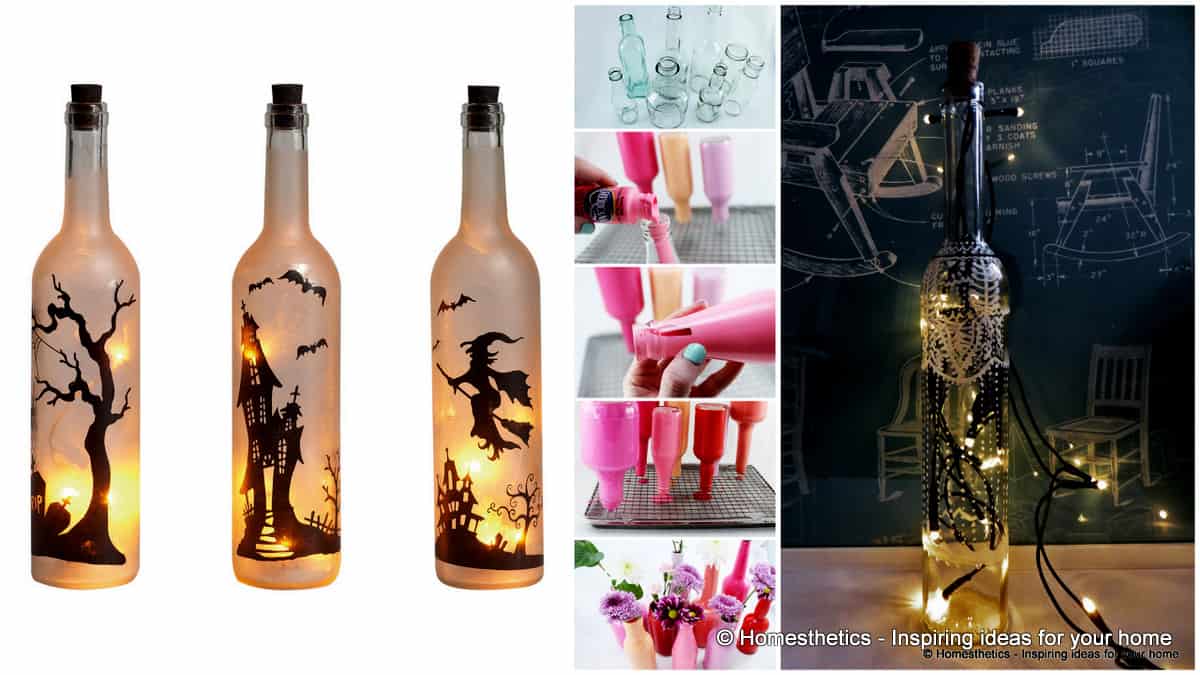 Painting has been for a long time an incredible expression of the most inner feelings, a personalized display of the multiple ways we can perceive the world surrounding us through our eyes, with multiple deductible and traceable overall lines and topics present at the same time all over the world.
Techniques and basic materials have evolved over time, offering us endless possibilities to allow our creativity to run free and voice about our personalities and taste but the basic principles set by our ancestors from Greek and Roman times have remained as key rules in creating, transposing and elaborating a sketch or painting and we are talking here about perspective, human body proportions, depth, representation of the static and of movement and so on.
This unique set of rules is applicable indifferently of the basic material, no matter if we are talking about canvas painting ideas or watercolor paintings on special types of paper and of the chosen technique-oil, acrylic, textile, watercolor or glass painting.
Today we are going to focus our attention to the first basic steps one must take in learning how to paint glass.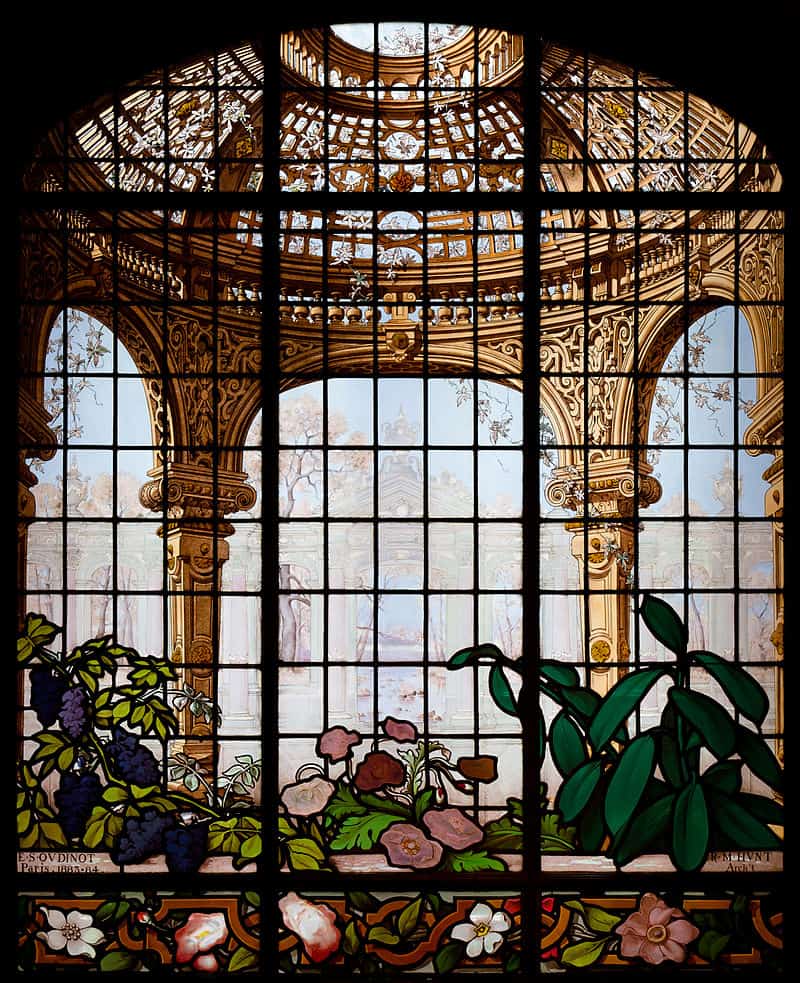 By Designer : Richard Morris Hunt (1827-1895)maker : Eugène Stanislas Oudinot (1827-1889) – Self-photographed / PierreSelim, CC0
"Colored glass has been produced since ancient times. Both the Egyptians and the Romans excelled at the manufacture of small colored glass objects. Phoenicia was important in glass manufacture with its chief centres Sidon, Tyre and Antioch. The British Museum holds two of the finest Roman pieces, the Lycurgus Cup, which is a murky mustard color but glows purple-red to transmitted light, and the Portland vase which is midnight blue, with a carved white overlay. In early Christian churches of the 4th and 5th centuries, there are many remaining windows which are filled with ornate patterns of thinly-sliced alabaster set into wooden frames, giving a stained-glass like effect.Evidence of stained glass windows in churches and monasteries in Britain can be found as early as the 7th century. The earliest known reference dates from 675 AD when Benedict Biscop imported workmen from France to glaze the windows of the monastery of St Peter which he was building at Monkwearmouth. Hundreds of pieces of colored glass and lead, dating back to the late 7th century, have been discovered here and at Jarrow." [Wikipedia]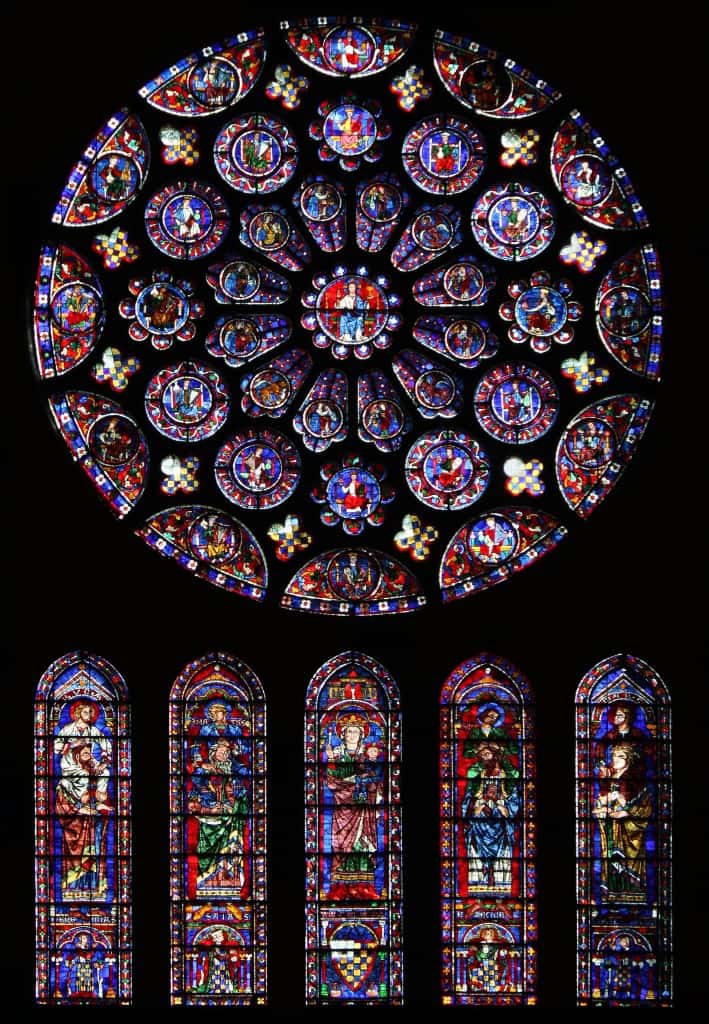 The South Transept windows from Chartres Cathedral By Ludwig Schneider – Own work, CC BY-SA 3.0
Even though this beautiful technique has had its significant origin in the stained glass of churches and monasteries, nowadays many contemporary artists dedicate their passion to expressing creativity on glass in impressive manners.But we know for a fact that you do not have to be a professional to learn some basic tricks and tips and start painting your own designs at home as a wonderful method of relaxing and exploiting one's latent creativity.You can apply a set of principles and steps to any chosen glass item you wish to transform and embellish. Learn how to paint wine glasses, how to paint glass bottles and how to use spray paint for efficient fast results.
Tips and tricks on how to paint glass
What type of paint should i choose?
This is the first question one should ask himself before starting a diy glass painting project, because the paint type will determine the possibilities you could have in designing an item and actually being able to achieve exactly what you were looking for without struggling too much. from what we have found, glass paints can be divided under 5 big categories based on their consistency, inner structure and finished appeal.
Acrylic enamel paint or enamel paint designed for glass and other shiny surfaces
Acrylic glass paints
Acrylic paints that require a medium added
Solvent based paints
Special markers
1. Acrylic Enamel Paint
Acrylic enamel paints fall under the "easy to use" category and do not require heat to set. Their composition is based on water which will help the paint to dry and harden rather quickly, offering a very glossy end result. They come in a variety of hues and some types an actually be use don ceramics too, being dishwasher safe after having cured.We recommend the Plaid Folk Art Enamel Beginner Set for the basic tones you will need in the beginning, as it is usable on ceramics, wood, Styrofoam, plaster, terra cotta and tin as well and provide easy cleanup with soap and water.

2. Acrylic Glass Paints
The acrylic glass paints contain a formula specially designed to adhere to plastic, glazed ceramics and glass, with a transparent hue that might come in handy in the case of stained glass projects. Depending on the manufacturer, this type of glass paint can be let to air dry or will require heat setting in the oven. For a professional looking aspect we recommend the Pebeo Vitrea 160 Glossy Glass Paint Set applicable on glass, crystal, porcelain, china, glazed earthenware, terracotta, metal, enameled sheet steel, and copper. This specific glass paint type needs to be set in the oven and according to the bottle instructions,  the colors are permanent, microwave safe, UV resistant and have remarkable resistance to dish-washing and to normal detergent.
3. Acrylic Paints That Require a Medium Added
 Folk Art 869 2-Ounce Glass and Tile Medium
by Plaid Enterprises is a medium used to allow the paint to adhere to the glass surface. This particular product confers the glass a frosty, sandblasted appeal that will allow regular acrylic paints to adhere perfectly to the surface.
4. Solvent Based Paints
Pebeo Vitrail Stained Glass Effect Glass Paint
 is a solvent based paint that will not require heat to set and will air dry in about 8 hours.Its appeal is a transparent one, suitable for stained glass projects and applicable on glass, polyester, acetate, canvas and metal; we recommend using
pebeo cobra deco
or
iris brushes
.You can thin the paint by adding mineral spirit or white spirit. Unfortunately, you cannot use this type of paint on items you consider using everyday as the paint itself bears only a light wash without soaking.
5. Special Markers
There is a variety of glass painting markers available that can even guarantee dish-washing safe items. Markers are perfect for glass painting beginners as they are very easy to control. The downside is that a consistent flow is not always possible because you will have to pump the actual paint from time to time for it to reach the tip of the marker. The Pebeo Vitrea 160 Assorted Glossy Markers are applicable on  glass, crystal, porcelain, china, glazed earthenware, terracotta, metal, enamelled sheet steel, and copper and will fully dry after a minimum of 24 hours. They require baking which will add incredible resistance to dish-washing and to normal detergents.
Should I Prepare the Glass Before Applying the Paint?
When we usually start a canvas painting project we prepare the canvas and apply a ground color as the prime background for the rest of our colorful layers. The same principle applies to glass too. You have to make sure the surface is perfectly clean and grease free in order to obtain a uniform stained glass appeal.
Start by washing it thoroughly sing warm water and soap. Another method involves using water and vinegar and a final wipe with an alcohol damped paper towel. Remember our hands have natural oils that can smudge the glass surface, so we recommend you to use latex or surgical gloves.
Let the glass air dry or use a clean porous paper cloth to remove water. If your project involves applying a basic uniform color to a wine bottle for example, keep in mind that the transparency of the glass will complicate the process of obtaining a good even coverage. Apply several coats for an opaque effect and let the paint layers set before applying another by respecting the paint manufacturer's instructions in the bottle.
What are the recommended brush types for glass painting?
There is no specific brush type required. Some manufacturers prefer and recommend their own brush that can come along with a specific paint, but both natural and synthetic brushes will work well. As for the size and shape of the actual brush, it all depends on the design you are trying to achieve. As a beginner, if you are looking for an intricate model, choose a rather small pointy paint brush that will allow you to be more precise and fallow your guidelines properly, as well as to distribute the glass paint evenly on the surface.The Martha Stewart Crafts Glass Brush Set contains 5 special angled brushes that will help you in painting wine bottles for example and are made from Nylon bristles, ideal for glass painting and fine detailing.
Another useful item that should have a place in your painter tool box is the Craft Martha Stewart Crafts Glass Scraper And Pick Setwhich will definitely come in handy in glass painting projects, allowing you to correct mistakes, clean the paint from your glass surface and remove bubbles from it as well.
How should I heat-set my glass painted item?
When it comes to paint types that require heat setting in the oven, the exact temperature required for the paint layer to dry perfectly is usually dictated by the paint's manufacturer so we highly encourage you to read them carefully before tying to heat dry your glass product.
Check your oven's temperature and never, ever insert the glass into a preheated oven. This will lead to the glass shattering under the huge temperature difference. Insert the glass into the oven, set the right temperature and timer, let it dry and allow the glass to cool to the room's temperature before taking it out of the oven.
We again advise you to fallow the instructions written on your paint product in order not to ruin your work of art at the very end. Just be patient and take it one step at a time.
Are glass paints safe to use on food or fluid containers?
Here again the concern issue depends on the paint's composition and chemical structure. Check and double check the instructions before applying glass paint on the interior side of your wine glasses. Non toxic is not the same thing as food safe so take precautions and do not paint the areas that can come in contact with food or liquids. From our knowledge such a product does not exist yet but if you know different we would very much like it if you could share it with us.
How to Paint Glass Step by Step
1. Set your basic materials within reach
When starting a painting project it always indicated to prepare in advance and set all your required materials within reach. Some types of paint can set very fast and won't allow you much flexibility so arrange all your utensils on the working table. For this particular project we have used an A4 sized glass piece, a set of Idea glass paints that will air dry in about 8 hours and an erasable black liner to set the basic design lines on the glass surface.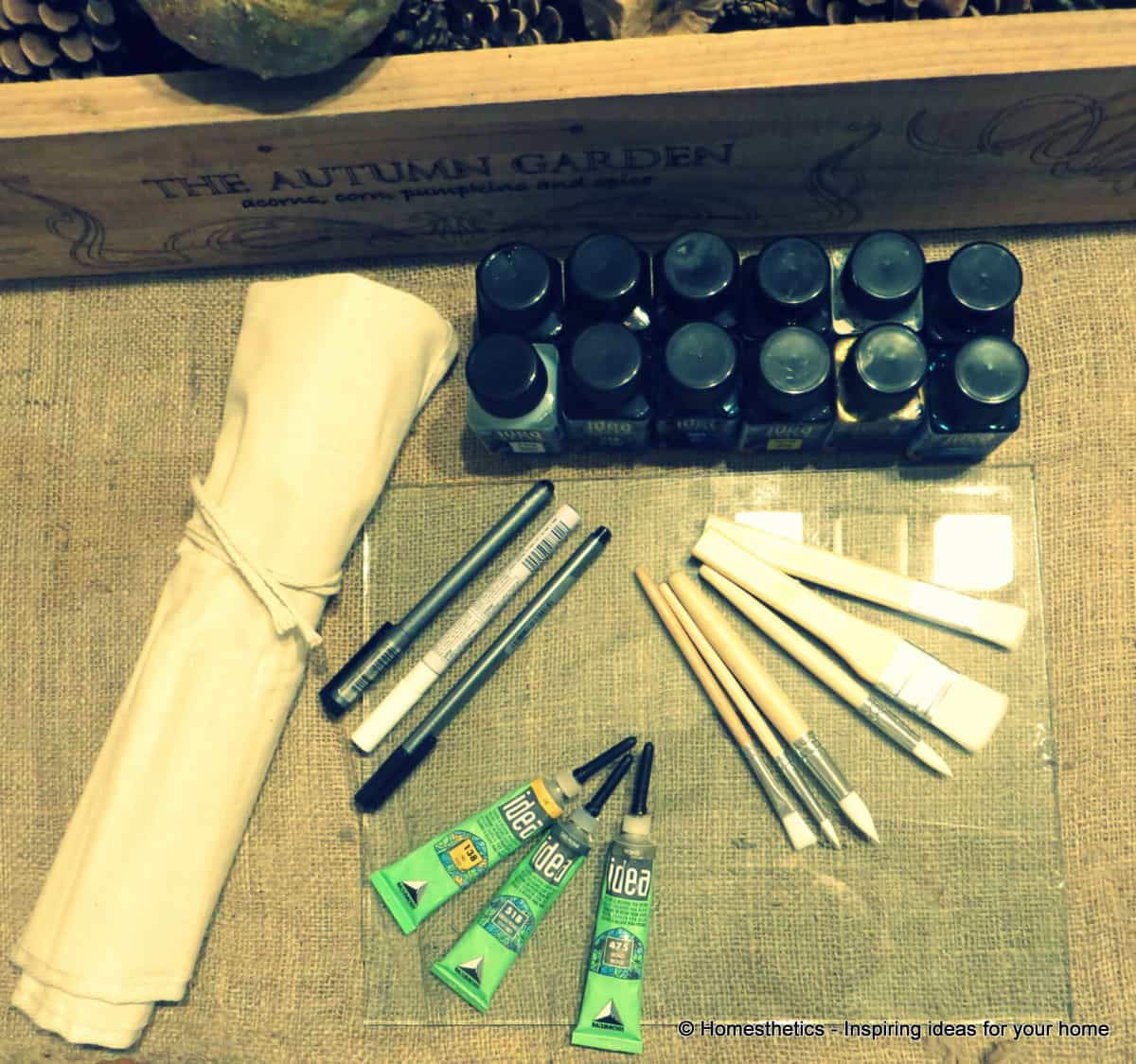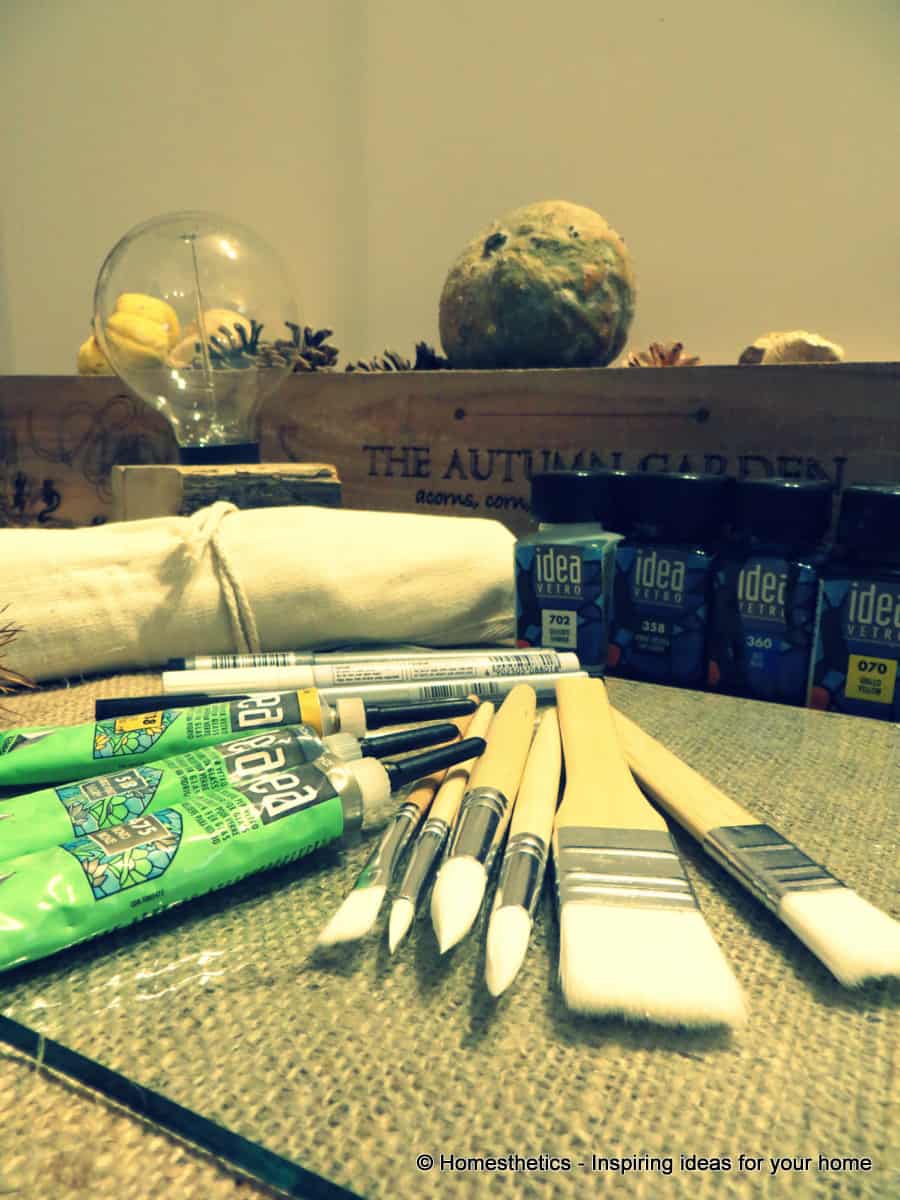 2. Prepare and clean the glass surface
As mentioned on the above tips and tricks, it is very important to clean and prepare the glass surface before starting applying layers of paint and unraveling the beuatiful design you have envisioned.We have used a glass cleaner product that contains alcohol and wiped the glass thoroughly. Afterwards we have let it air dry, naturally, to avoid unwanted marks that a cloth might have left. Remember to use gloves to prevent the natural oils of your skin from smudging the surface.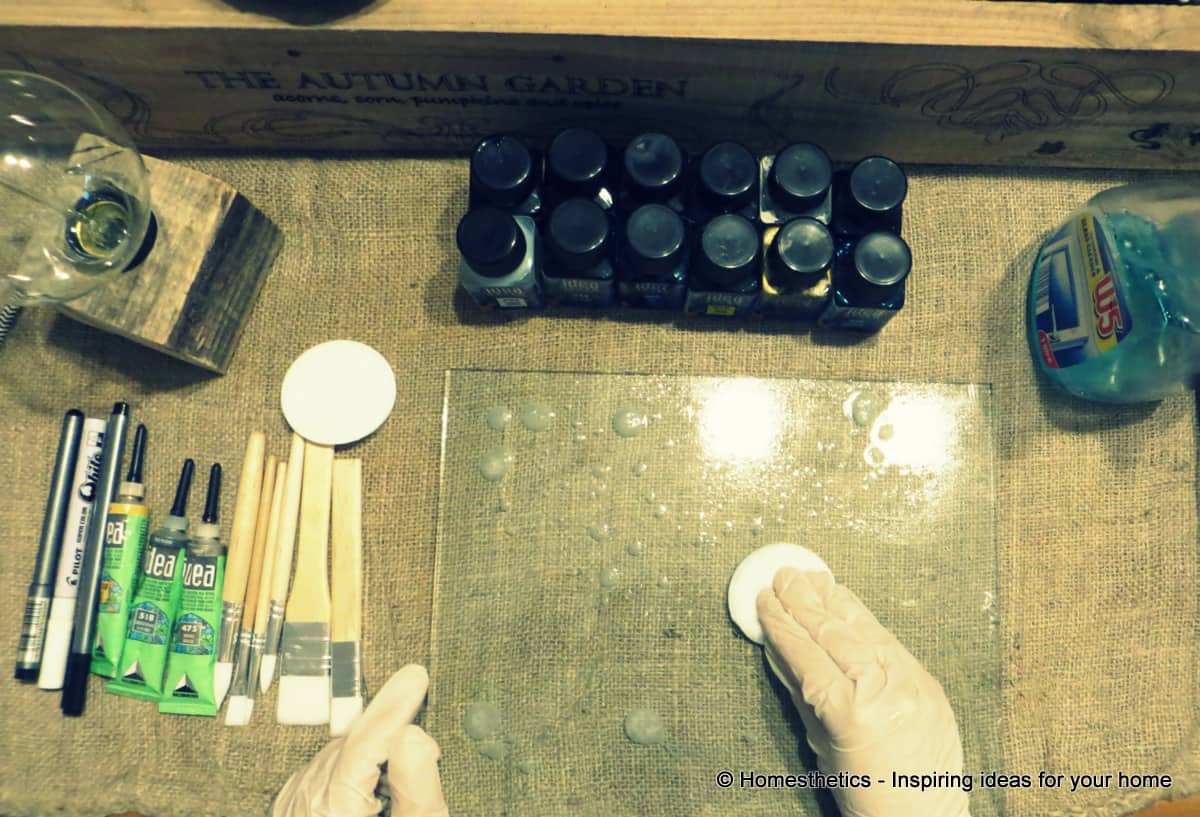 3. Sketch the basic design lines of your art work
For a simpler approach we have drawn our simple iris design on a piece of paper before starting the actual work on the glass piece. This might come in handy if you are not sure of the precise form of your future creation. Now you have the chance to think about the hues you will use and the positioning of the design on your glass canvas.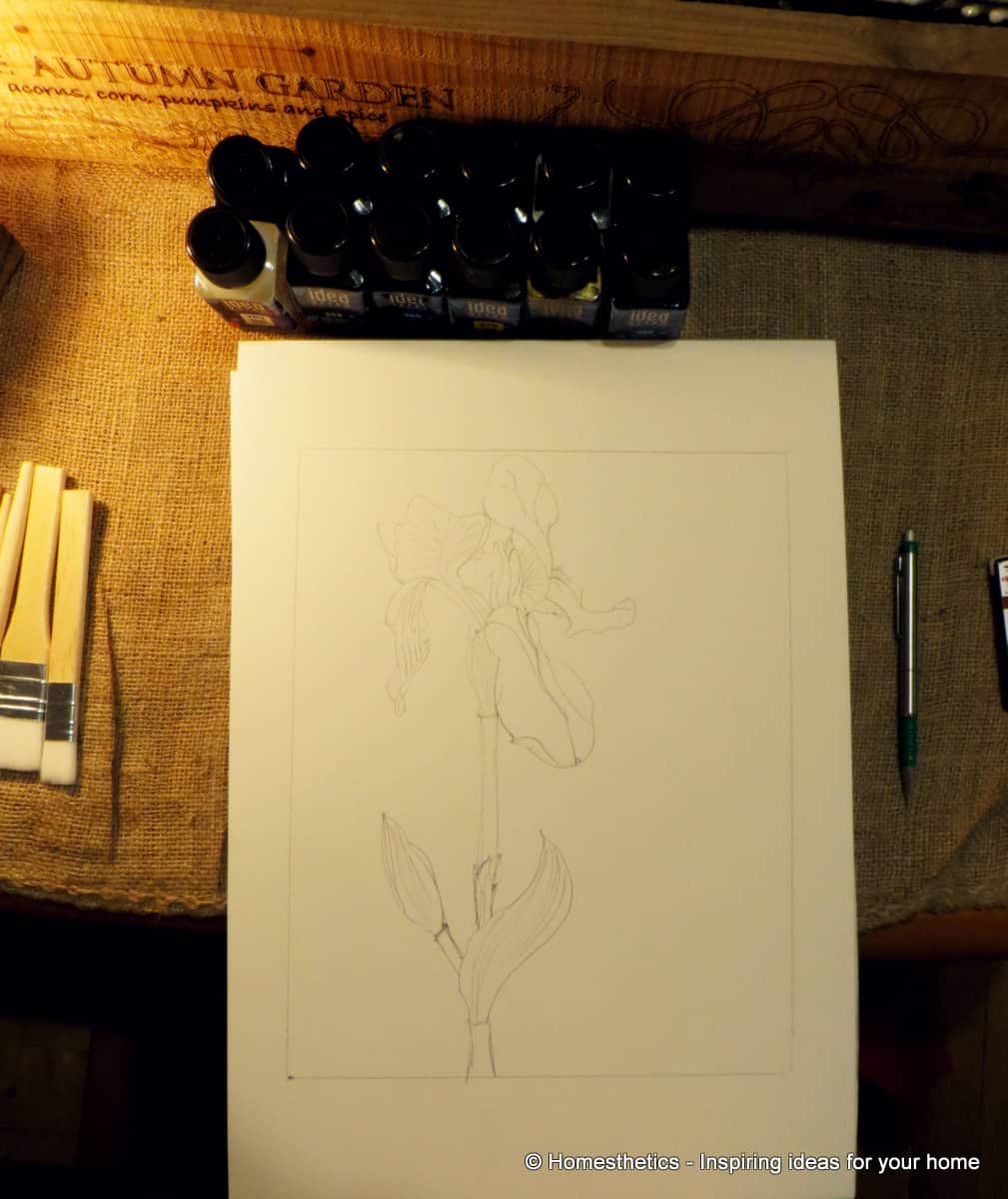 4. Reproduce the design on the glass surface
Place the piece of paper underneath the glass piece and start drawing by using a black liner. You can use a permanent marker if you have a steady hand. Otherwise, opt for a removable one and keep an alcohol damped cloth nearby to remove unwanted smudges that will definitely happen. Once the lines have been set you can start adding your hue layers.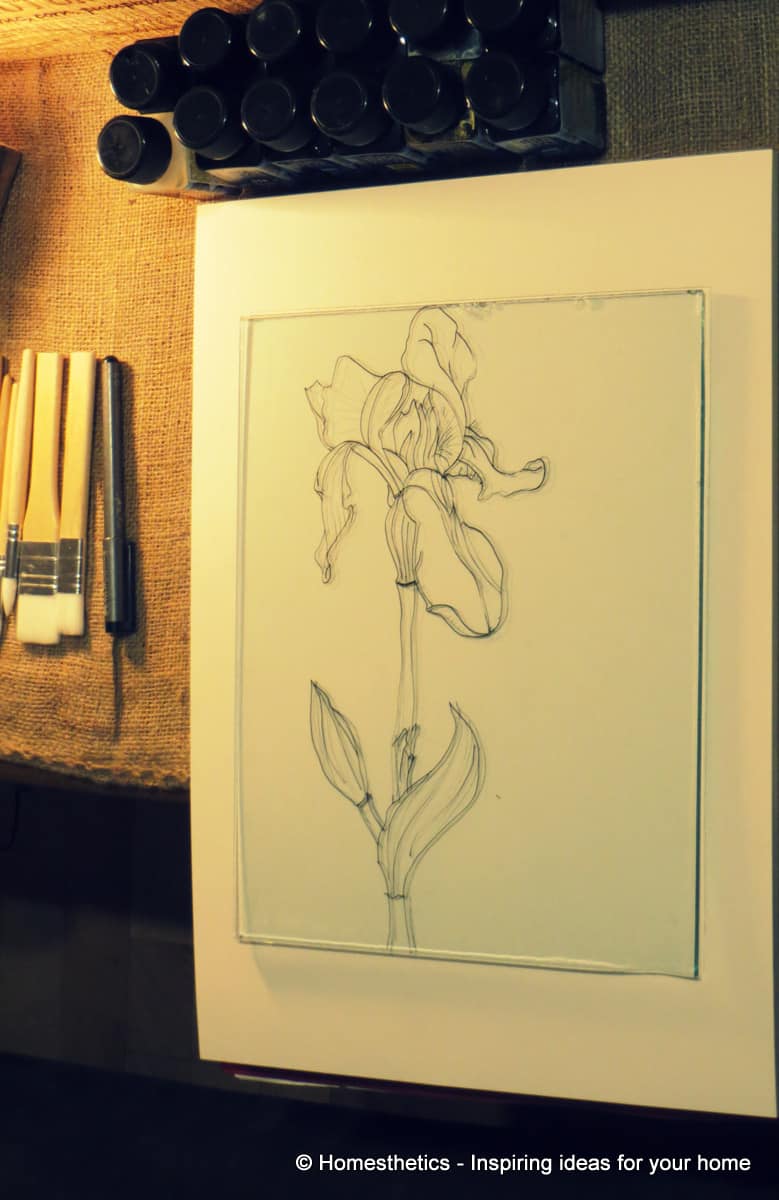 5. Start applying the layers of glass paint
As a glass painter beginner it is not recommended to buy a variety of pain tones from the very start. Choose the basic primary colors and learn to mix and match them to obtain the right tones you desire for your creation. Do not forget about the pain thinner which will definitely ease the process. be careful though to not overuse it or you might end up with a dripping set of paints on your glass which will never set right.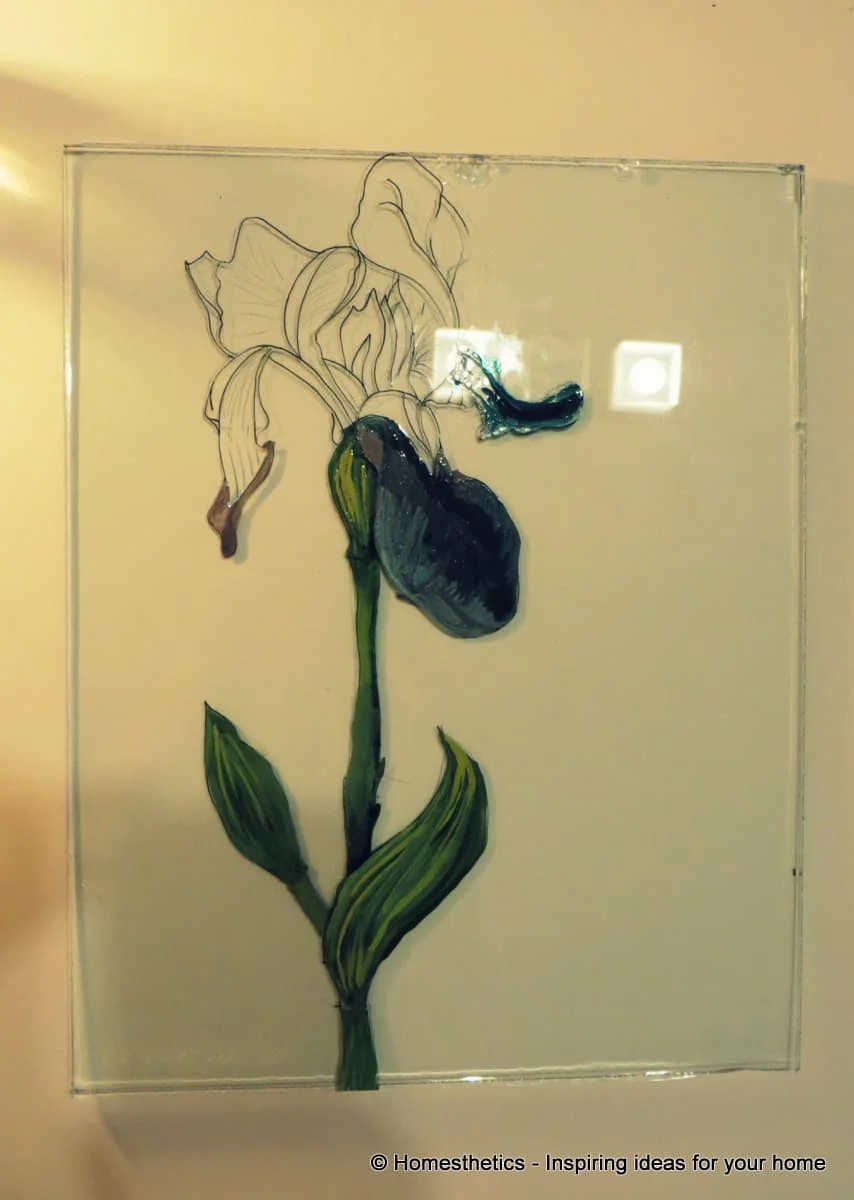 6. Mix and match hues to obtain the right tones
Once the primary design is done you can focus on your background.For this basic simple design we have chosen a yellow and white combination color ground that could accentuate the iris flower. We have used a flat brush to apply in large strokes the paint layer and obtain a more artistic stroke.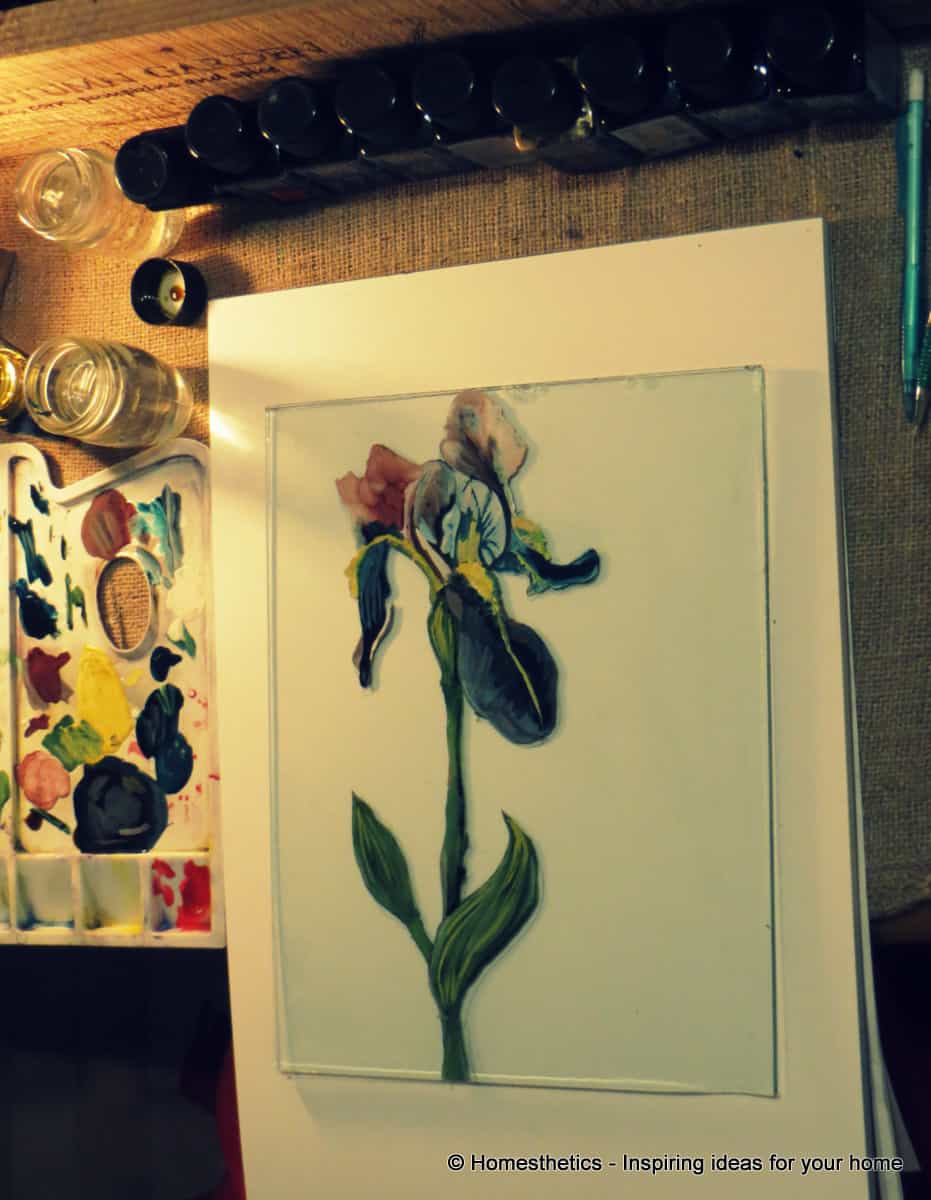 7. Let the glass painting air dry or heat set it depending on the paint's specifications
The particular paint type we have used air dries in about 8 hours and does not require heat setting. Make sure to read the instructions and we highly advise you to respect them accordingly in order to really profit from your investment in glass painting materials.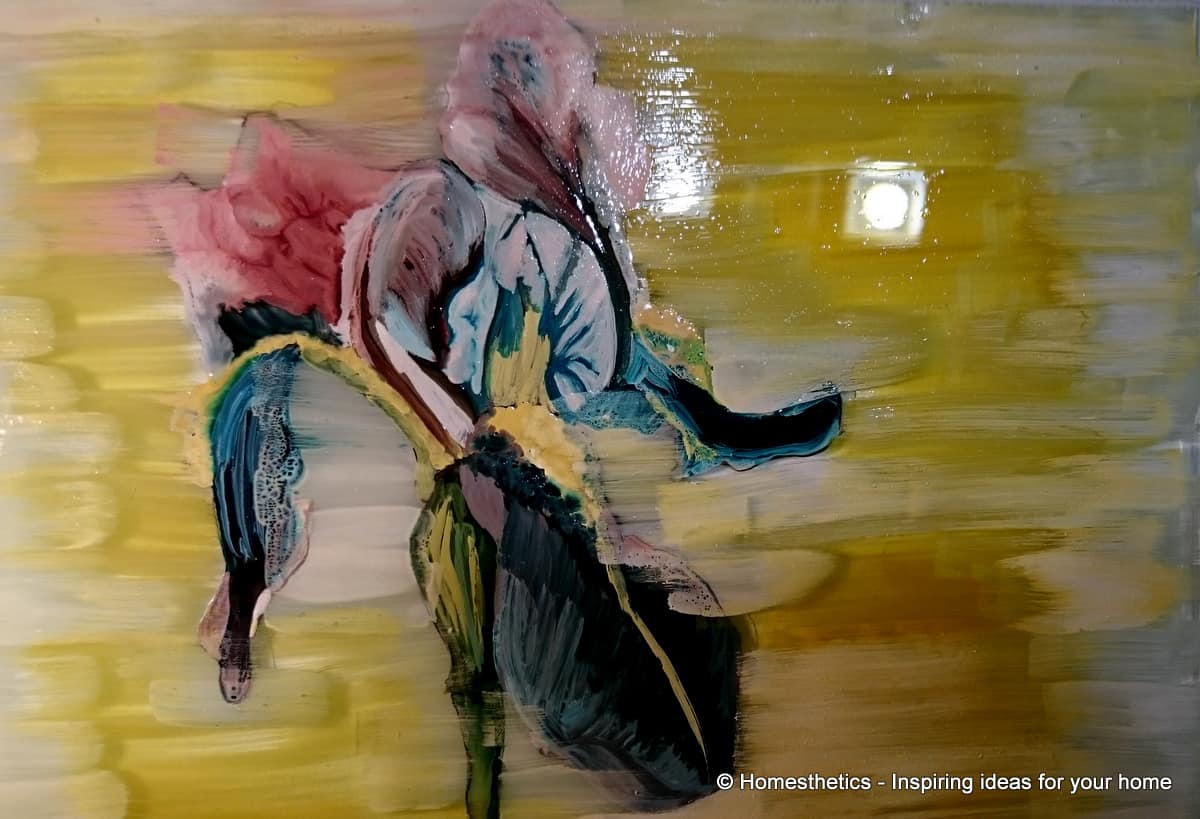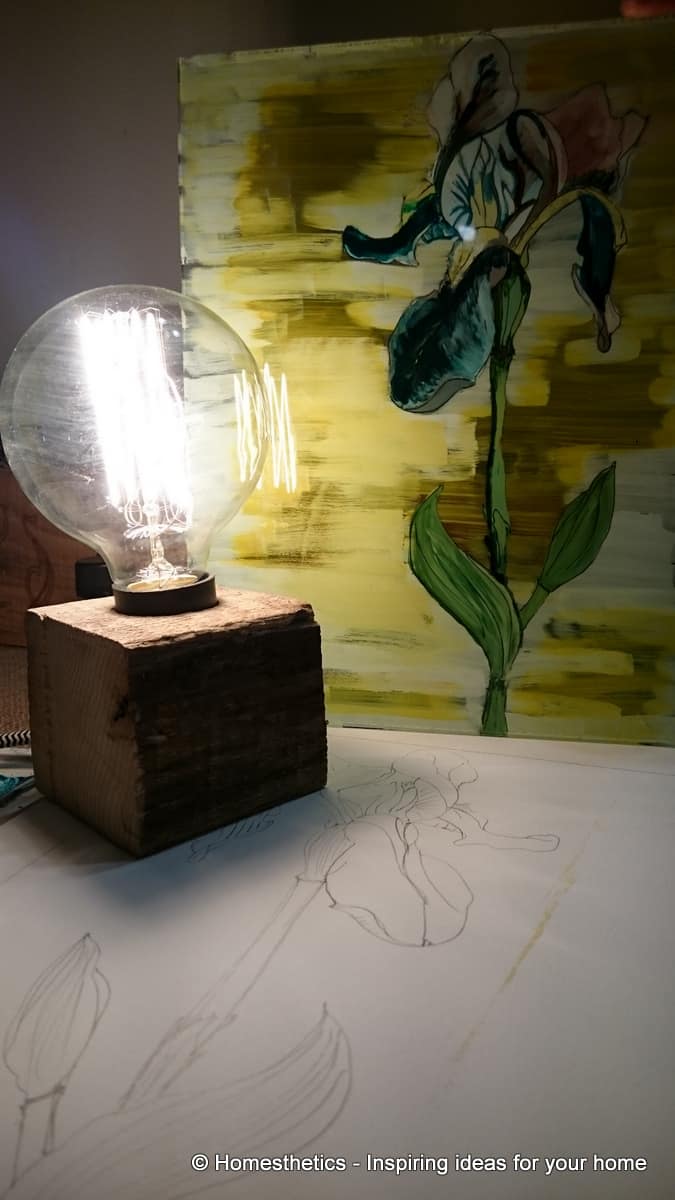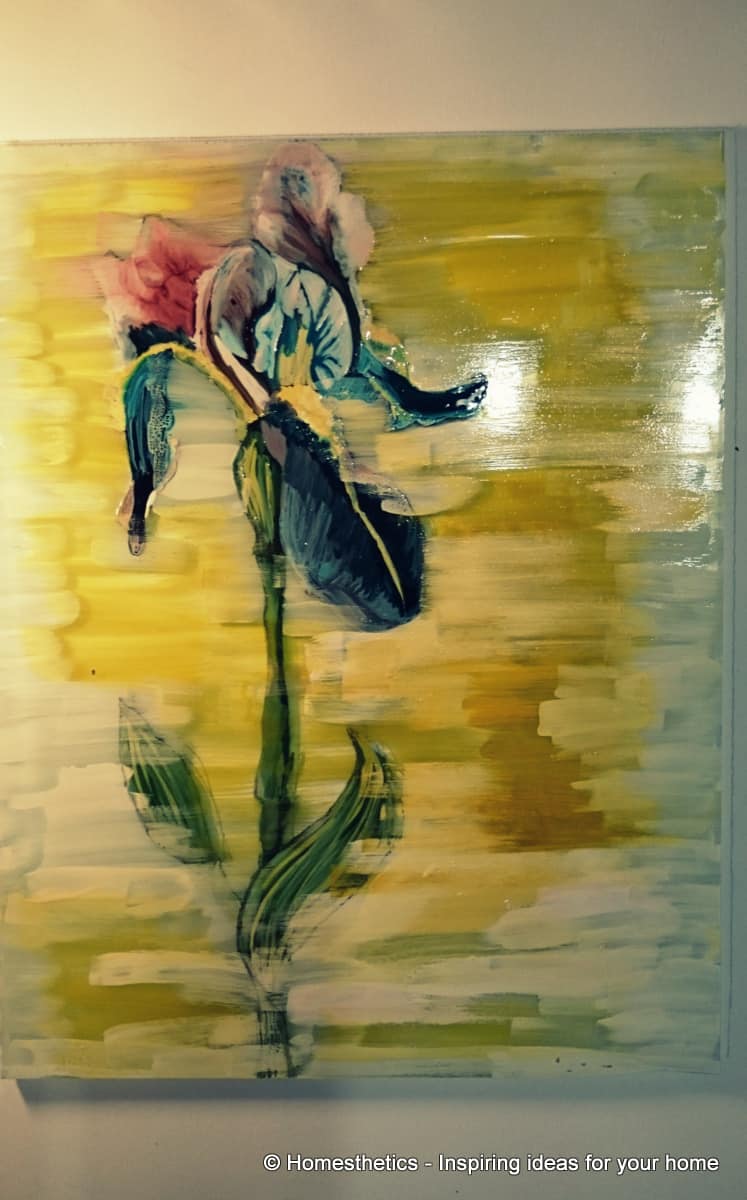 How to Paint Glass Bottles Ideas
Single Snowflake on a Transparent Wine Bottle

A Mosaic of Colors

A Solid Tone Versus a Transparent Base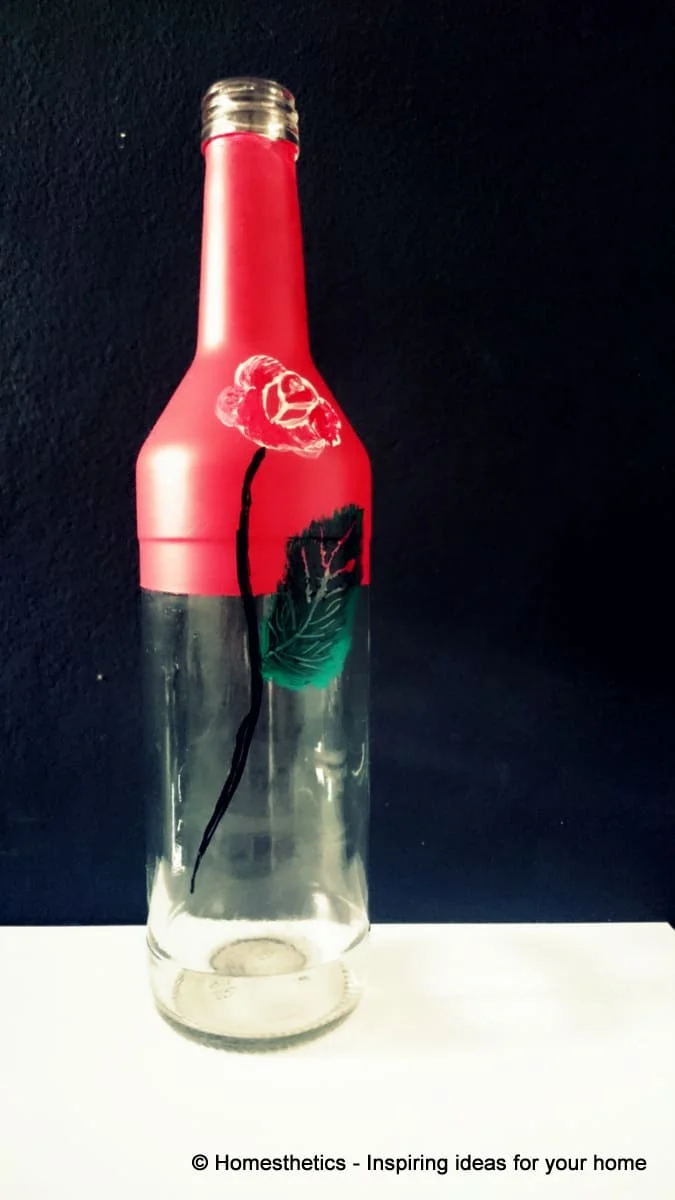 Paint a Colorful Dream-catcher

Wine Bottles Transformed Into Candle Holders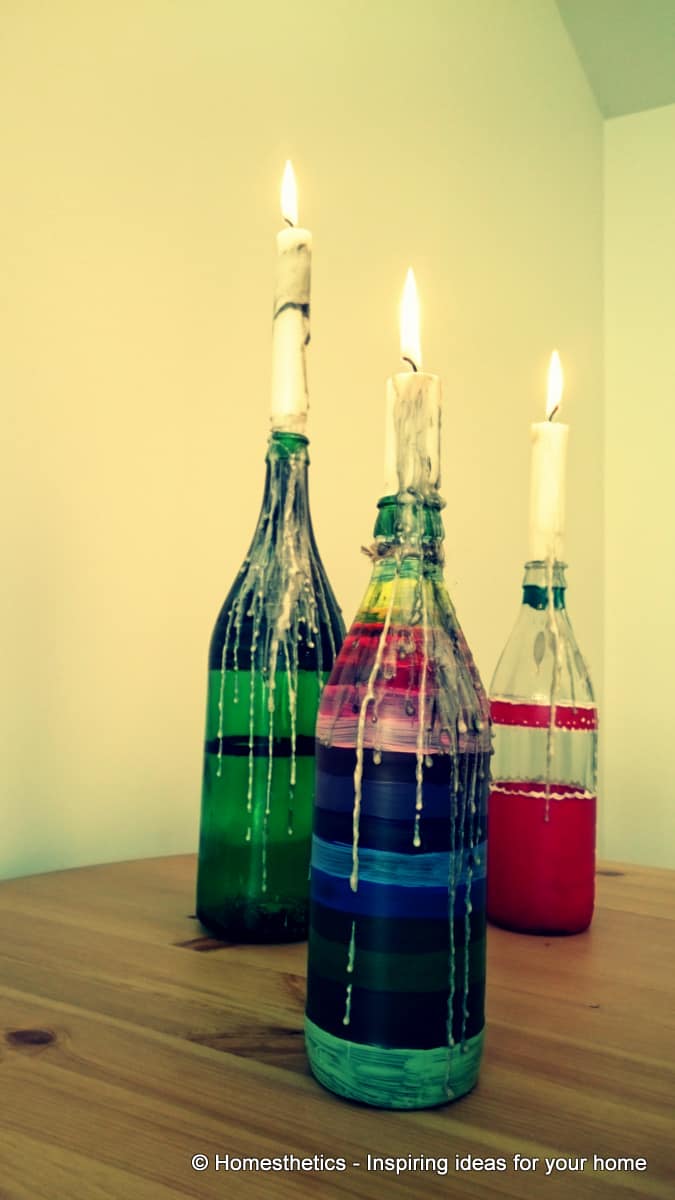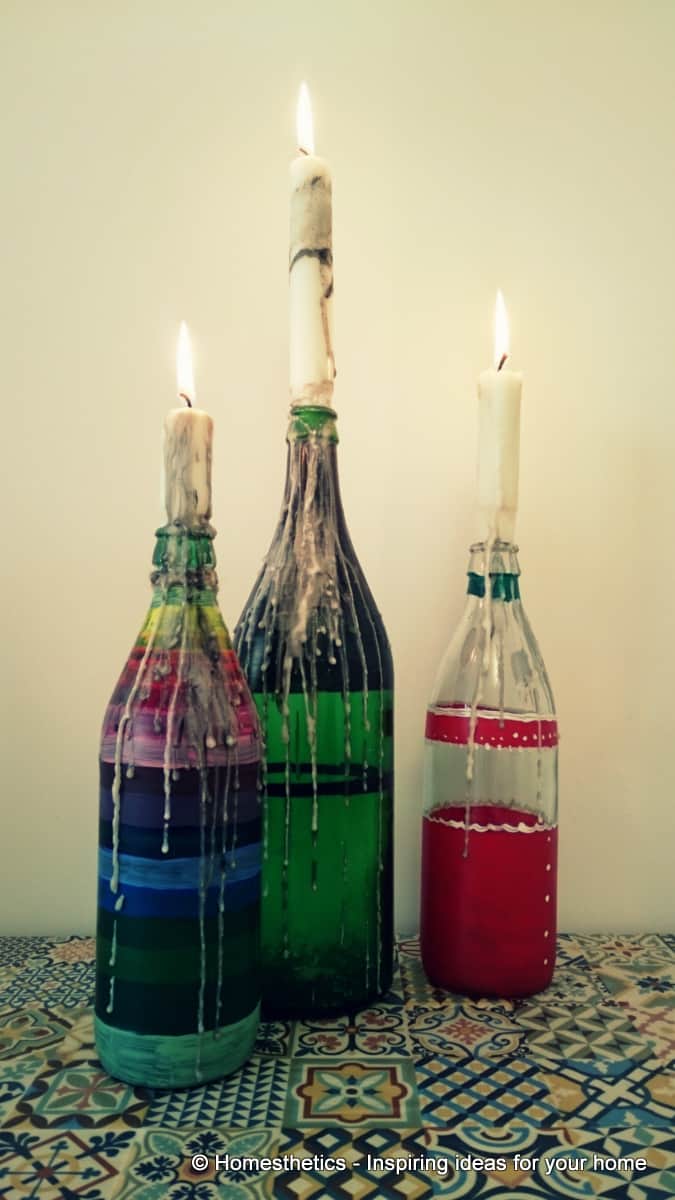 Limit Yourself to One Tone and Enhance the Bottle With String Lights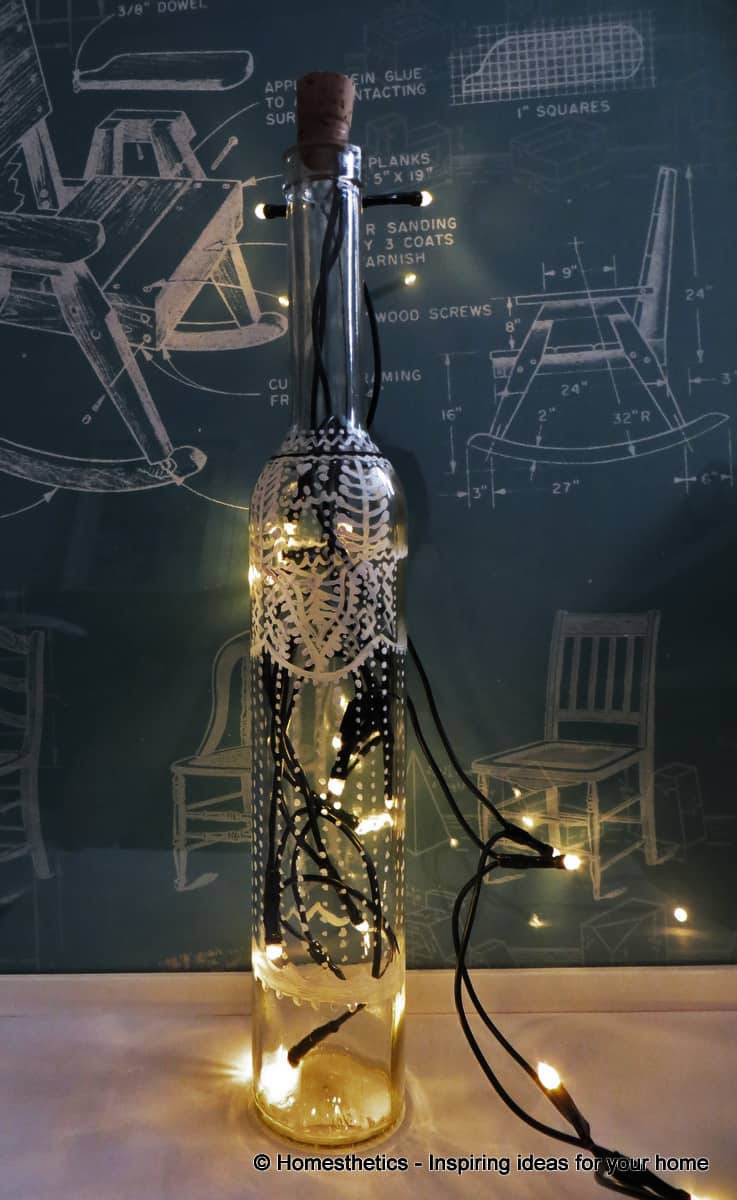 Have Fun and Choose a Girly Theme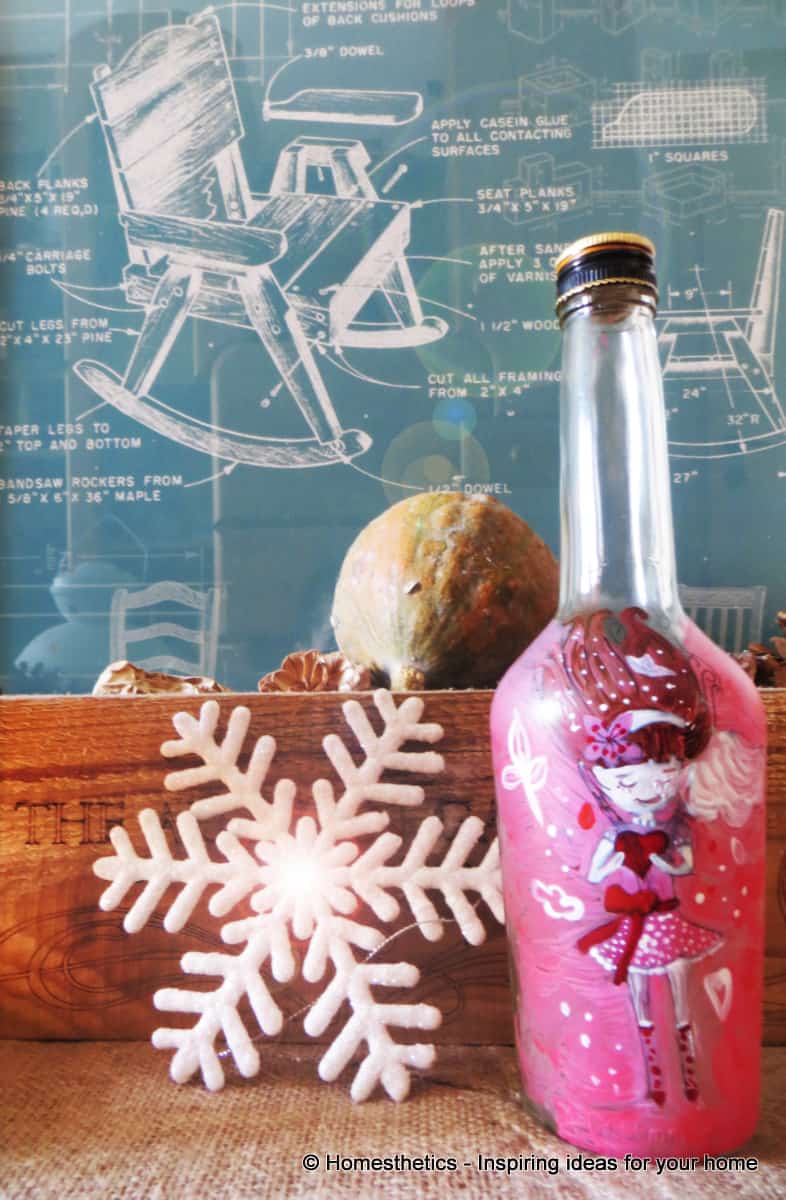 Paint on a Solid Base Color

Opt for a Fairy-tale Scene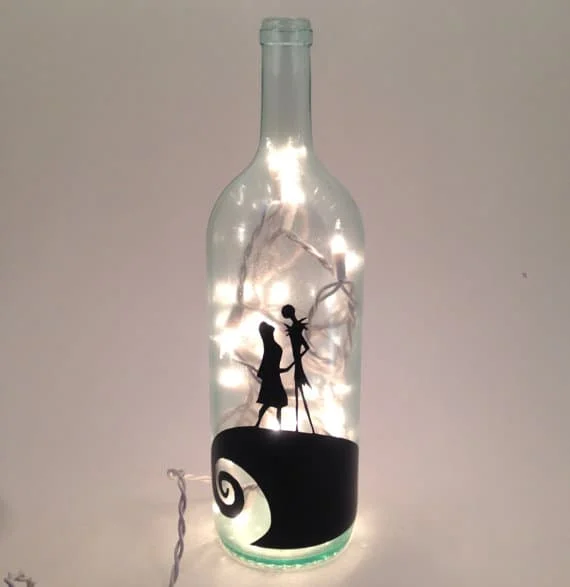 Mix Styles and Add a Piece of a Story Onto Your Bottle

Learn to Uniform Paint a Bottle from the Inside Out

Choose Fun Characters and Transform the Bottle Into a Lamp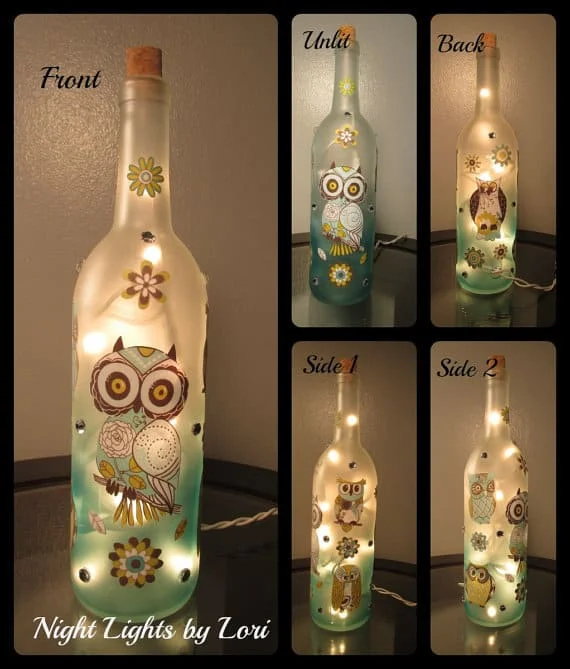 Decorate Your Christmas Dinner Table With a Holiday Inspired Decoration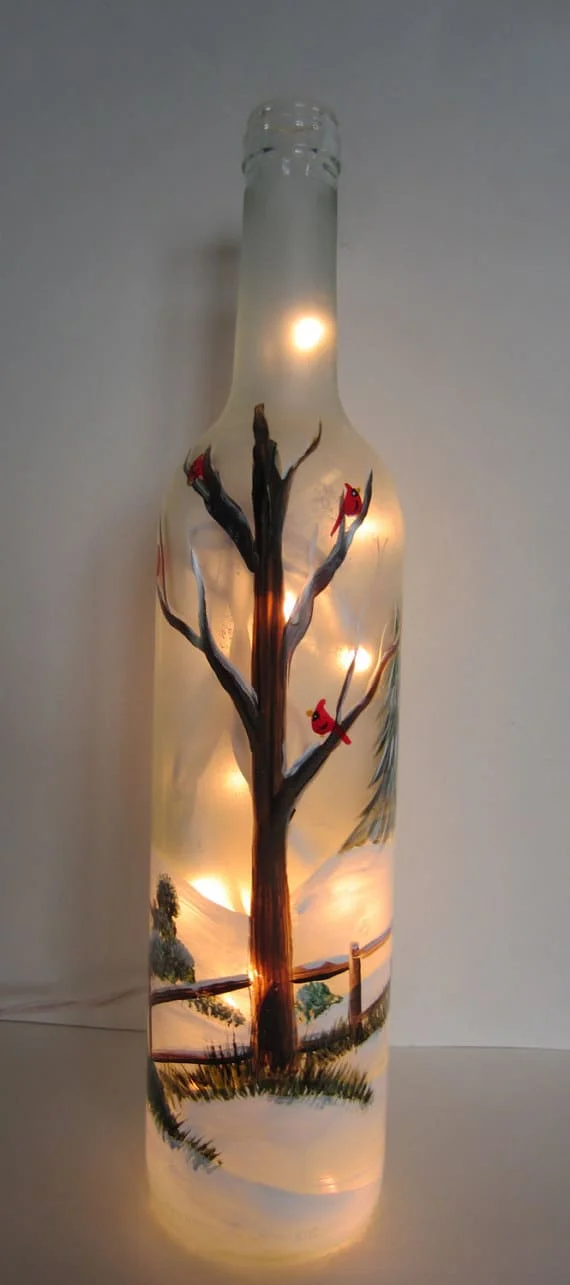 Test Your Skills and Patience at an Intricate Wine Bottle Paint Design

Embellish Your Patio at Night with a Floral Wine Bottle Lamp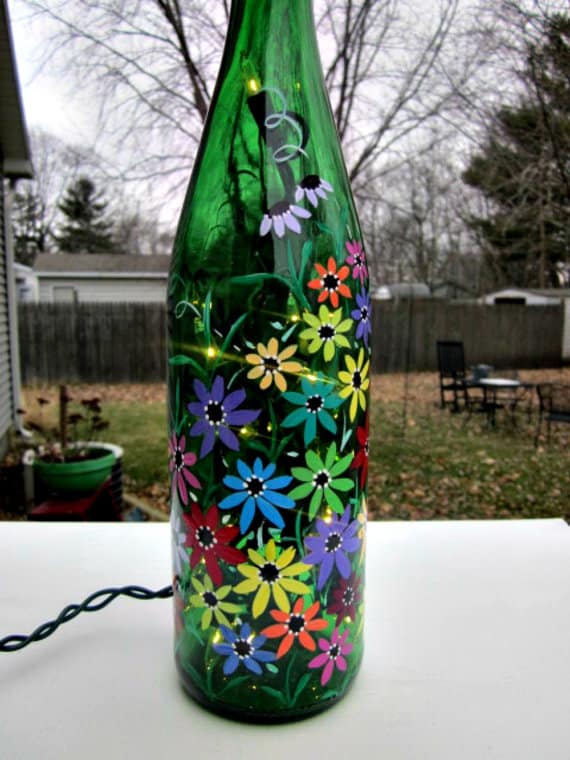 Imagine Your Favorite Tropical Scenery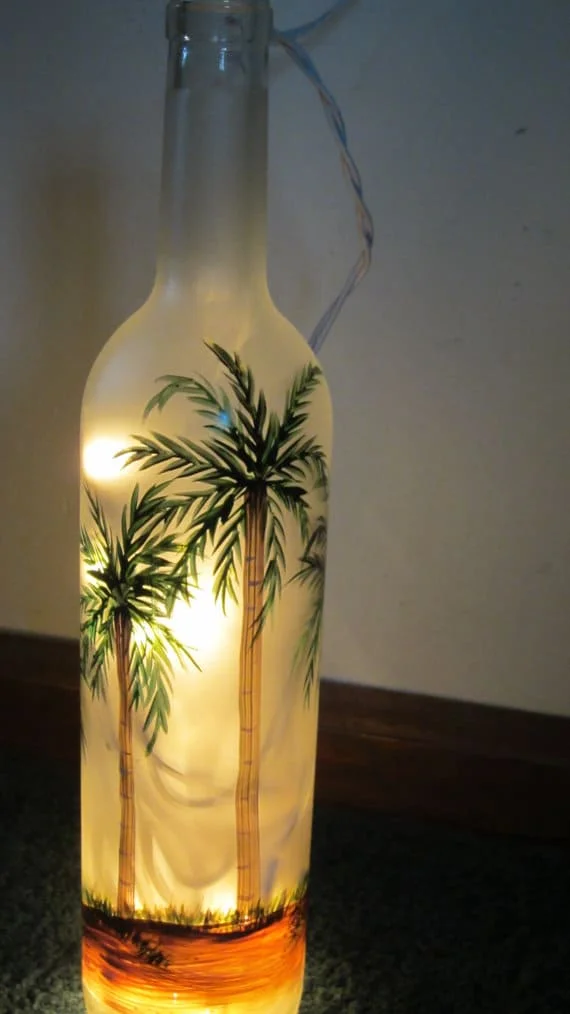 Transform a Wine Bottle Into the Perfect Canvas for a Miniaturized Creation

Choose Transparent Glass Paints for a Wonderful Effect When Lit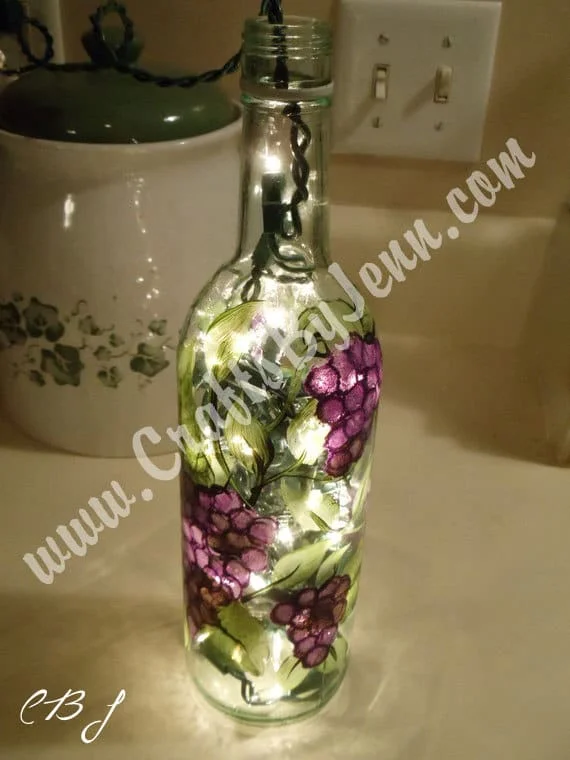 A Delicate Candle Holder for the Outdoors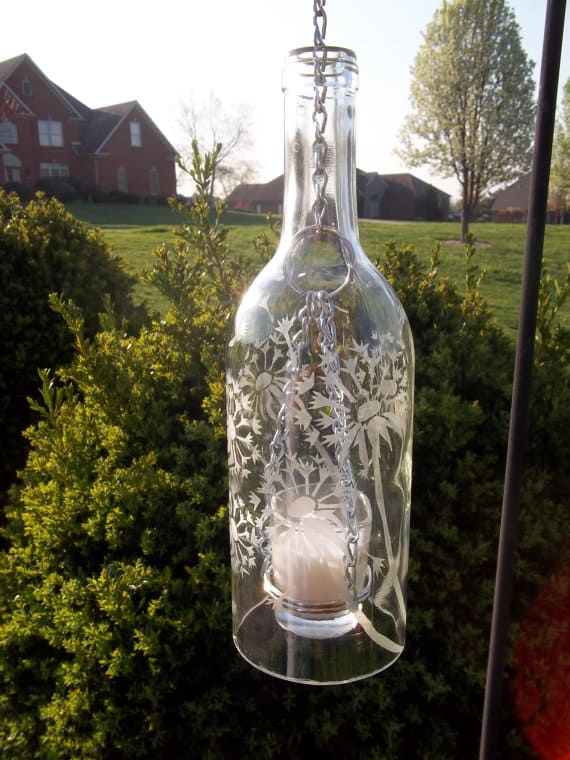 Create an Intricate Complex Pattern

Decide on a Holiday Theme and Create Wonderful Decorations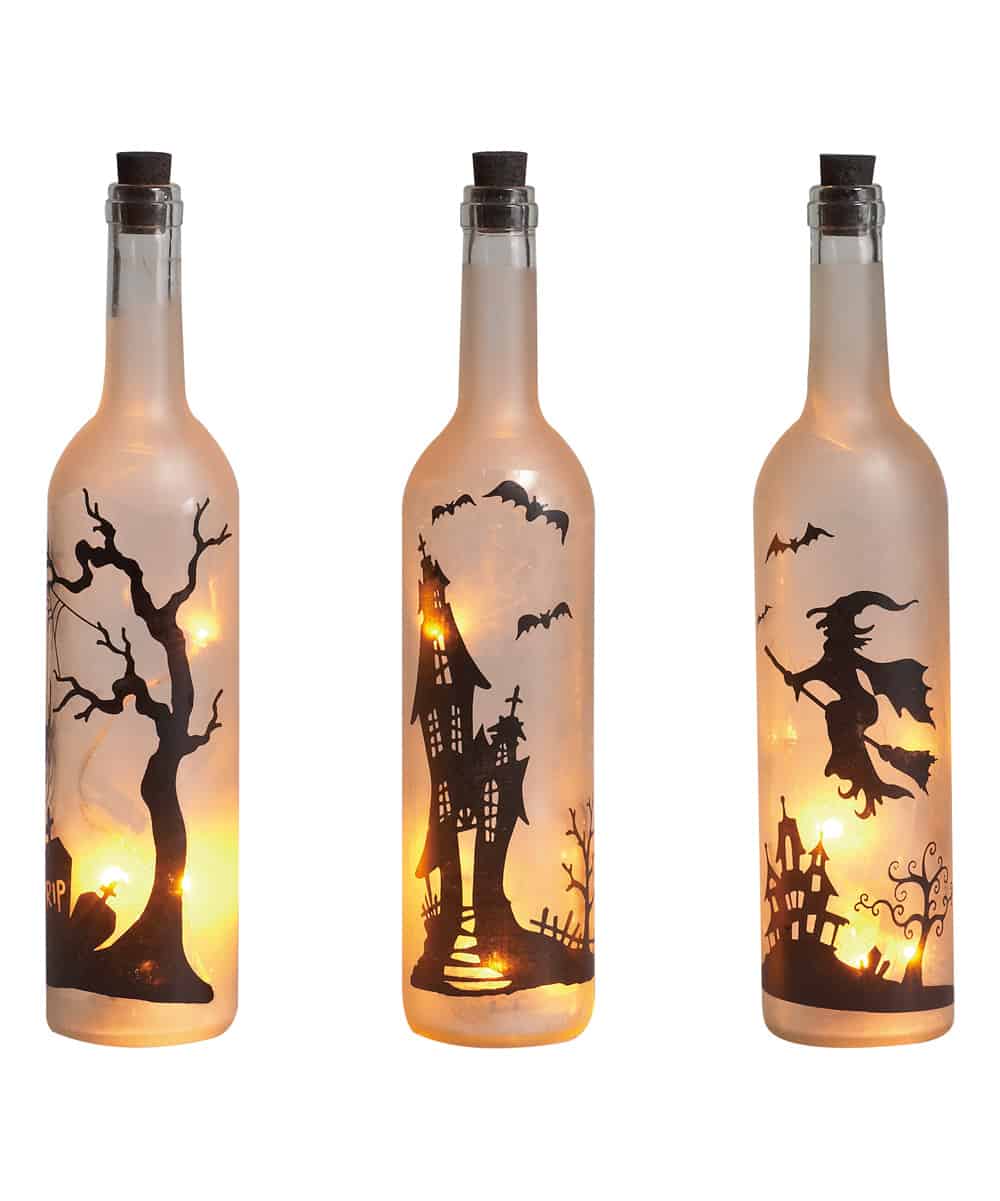 Transform Your Wine Glass Collection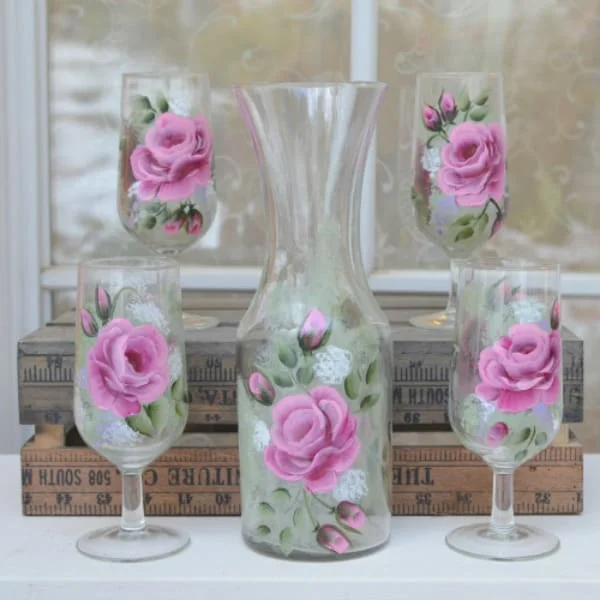 Opt for a Delicate Design That Will Embrace the Entire Glass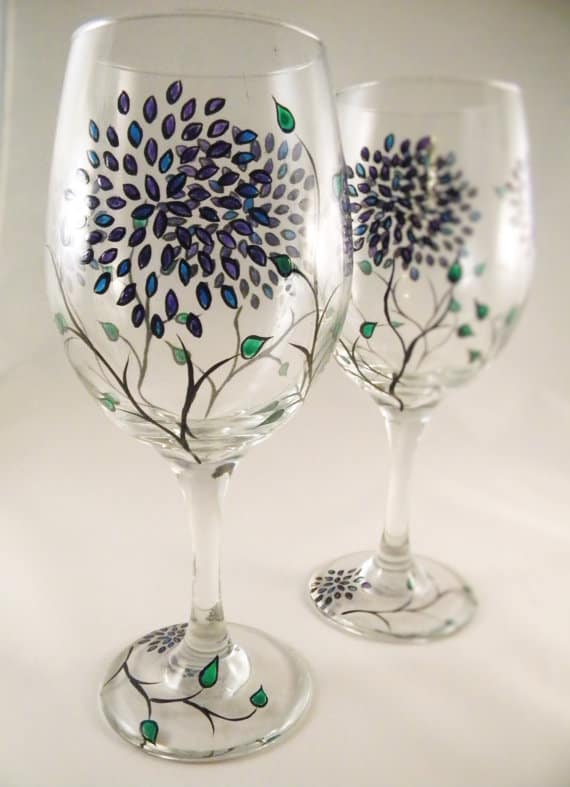 A Delicate Beautiful Design Created on a Solid Ground

When in Doubt Always Opt for a Simple One Toned Creation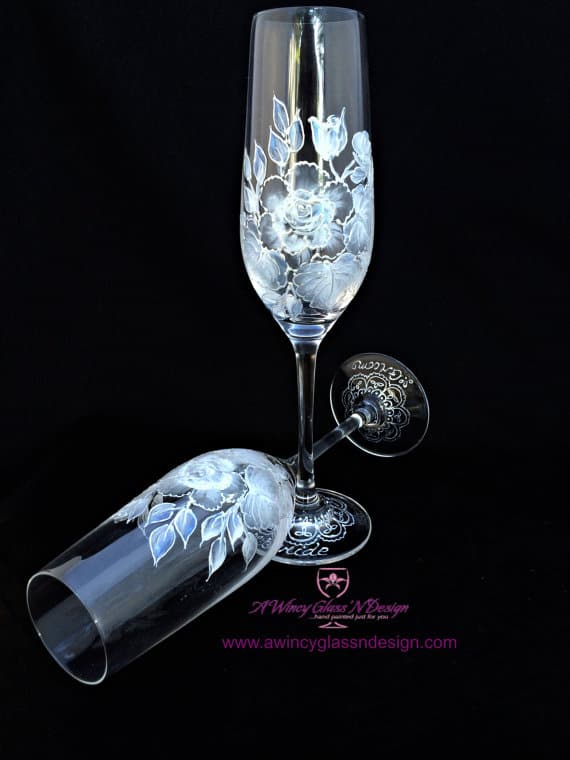 Adorn Your Wine Glasses With an Array of Flowers
A Fun Design for a Special Occasion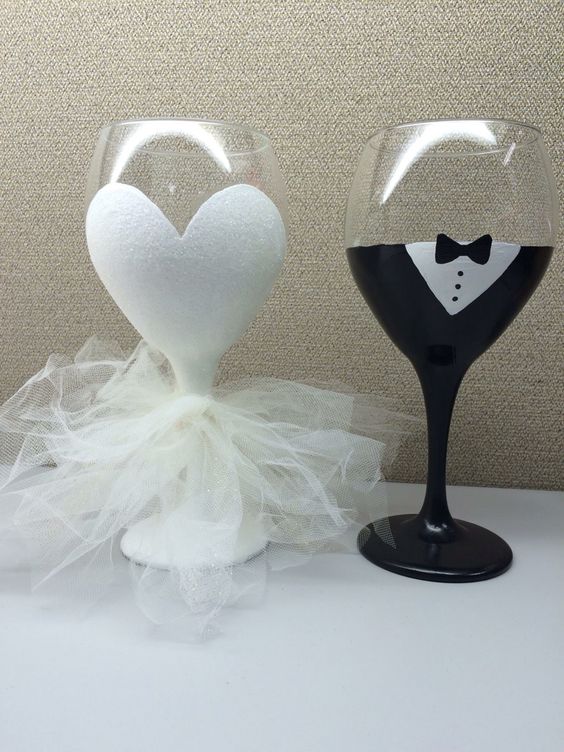 You Can Use a Stencil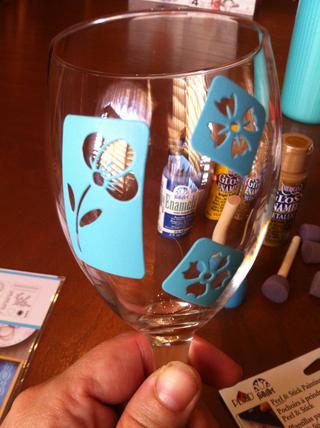 Spring Lilac Embracing a Wine Glass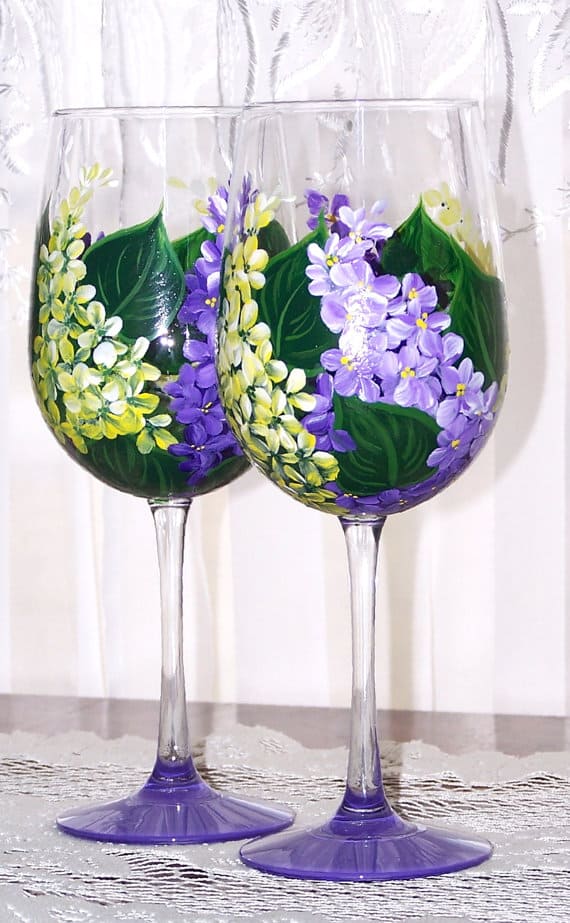 Gorgeous Chromatic Creation Appreciated From Within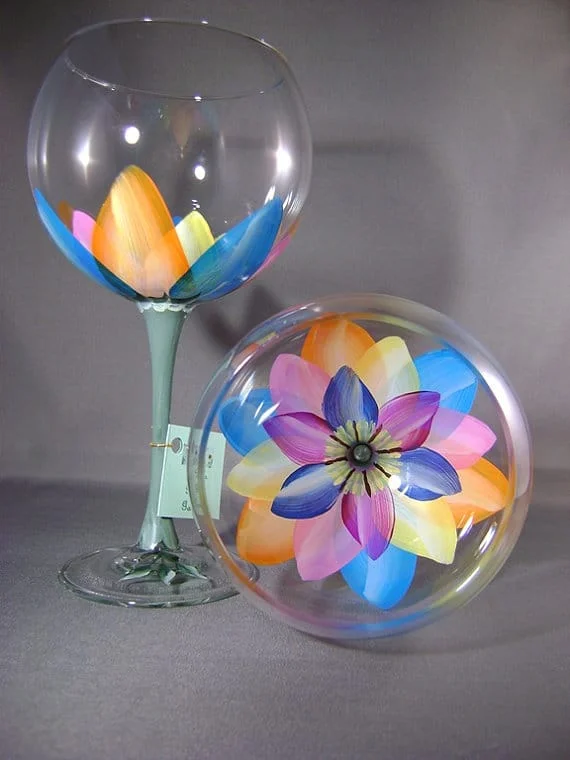 Let Your Design Take Roots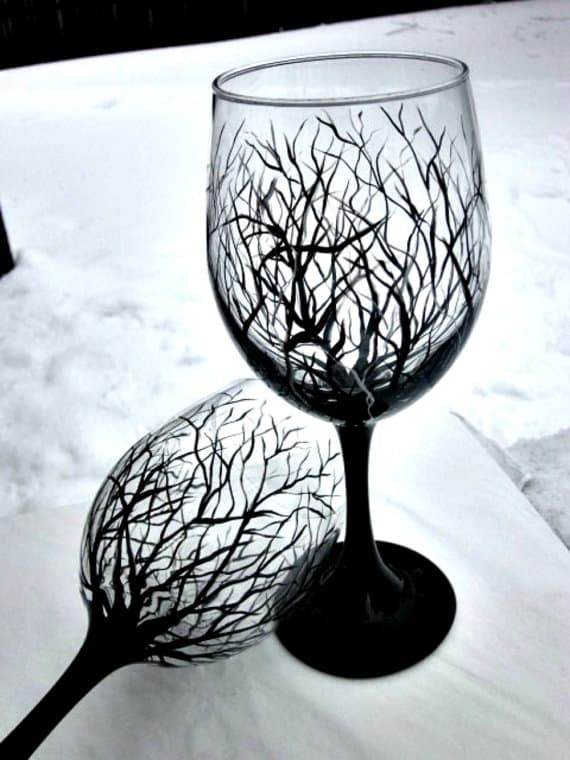 Paint the Whole Mason Jar Body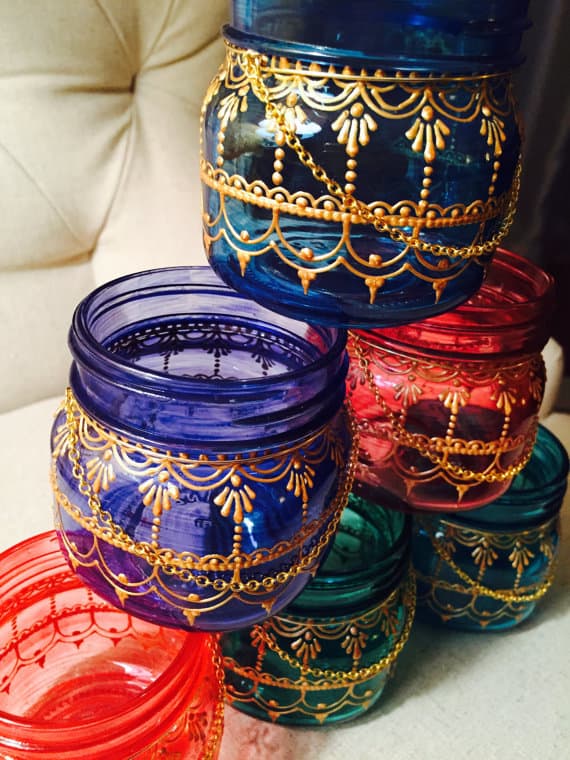 Create Luminaries Out of Mason Jars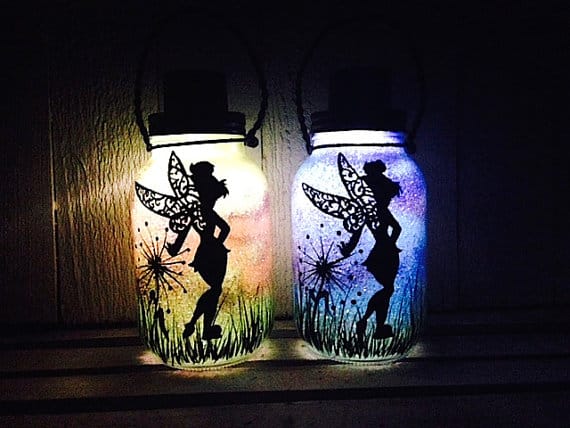 A Flowery Mason Jar for Spring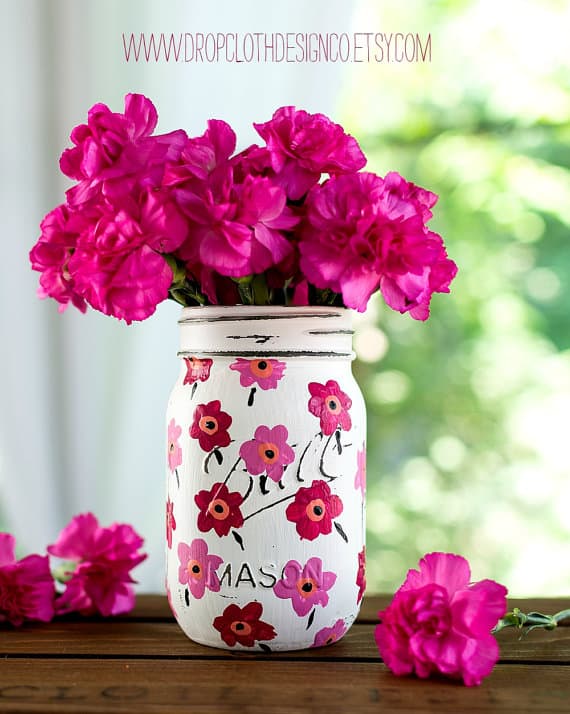 Well Colored Composition With a Spring Vibe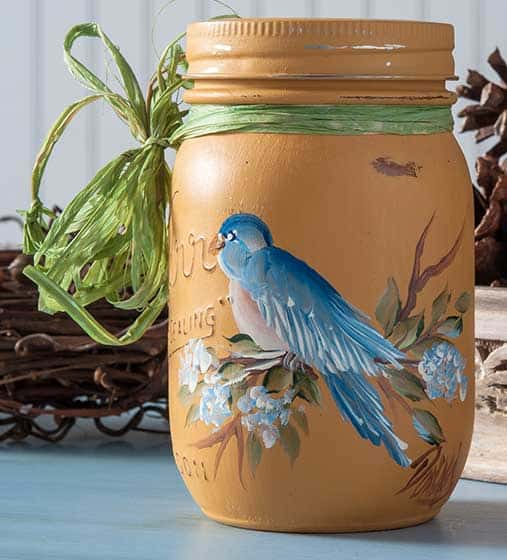 Use Lace to Paint Mason Jars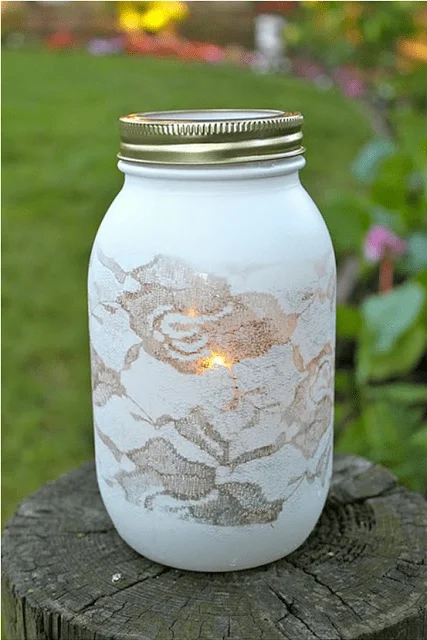 Watermelon Painted Mason Jars for a Summer Party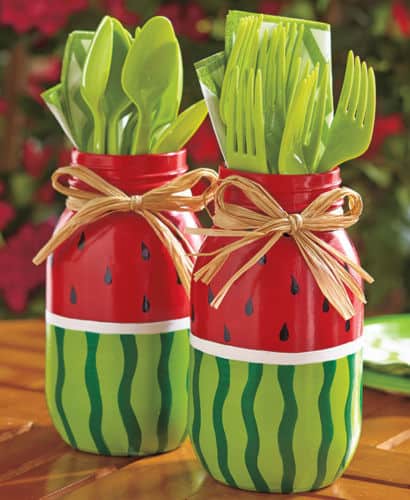 A Romantic Candle Holder Display

Let Your Imagination Take Charge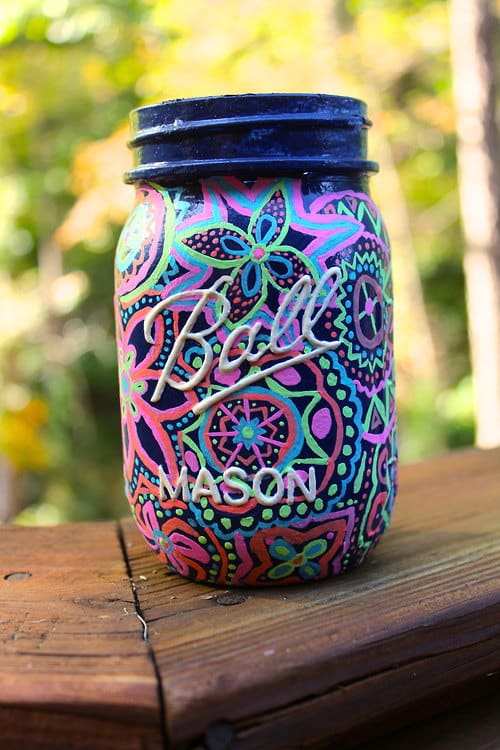 Paint Your Own Dream-Catcher Mason Jar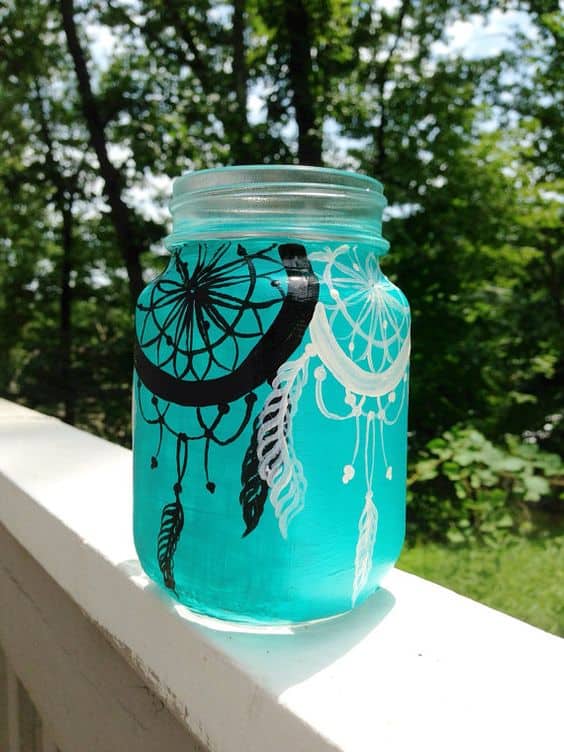 In the end imagination, creativity and dedication will define your work. Keep the basic rules in mind and simply have fun with any glass painting project. We would love to complete our collection with your own work so feel free to share your creations along with opinions and ideas in the comment section below.
If you are looking to paint glass ornaments we have featured the best paints here.
Happy painting!