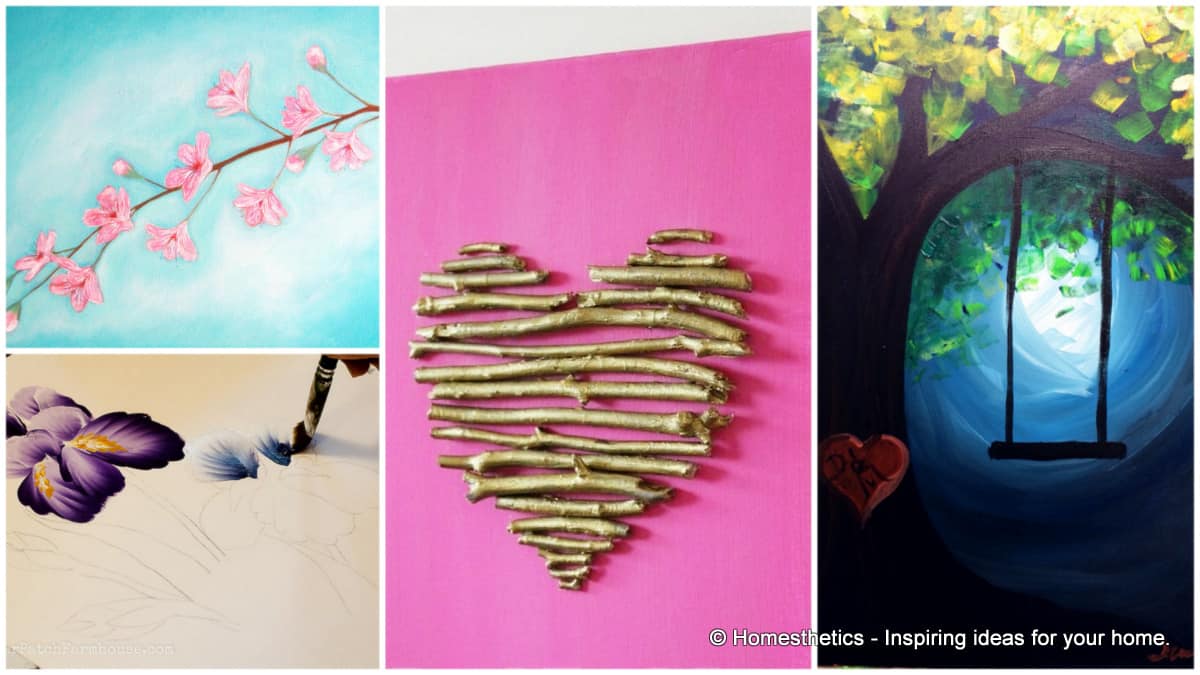 Yesterday we have presented you a small guide on 3 Canvas Painting Ideas You Should Definitely Take On, opening thus a drawer filled with exciting amazing DIY wall art ideas we will try and present you from now on. DIY projects is an area we are highly attracted to, a domain with multiple topics and ingenious solution meant to provide for a safer, cleaner environment for the future generations.Today we have come to you with another small collection for the mind and soul, designed to Delight Your Senses With Canvas Painting Ideas For Beginners. Each idea presented below is of a low difficulty level but with a fun creative side we are sure you will enjoy.
If you are just starting out here are the best paint options for canvas painting, in there you will find both oils and acrylics[best overall and cheap options], if you think you are confident enough to go to a canvas directly here you will find the best paper options for acrylic painting, best brushes for acrylics and acrylic palettes!
Canvas Painting Ideas For Beginners
1. Learn how to paint elegant irises
Flowers are quite difficult to master so we recommend you to try out this tutorial first before engaging in even more difficult works of art.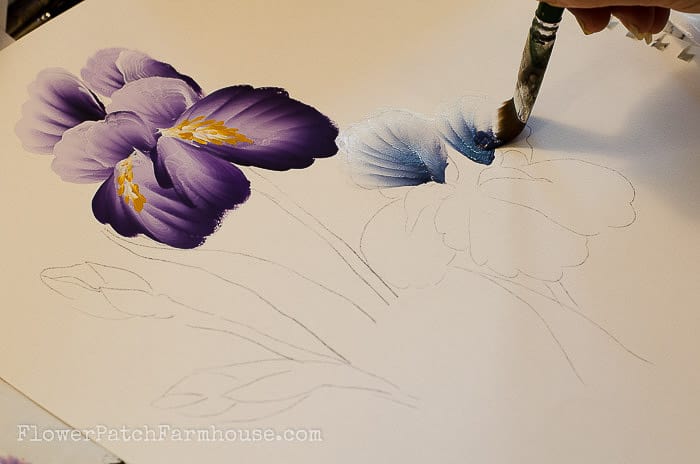 2. A forest clearing in the night
Express your romantic side by creating a moon lit scenery.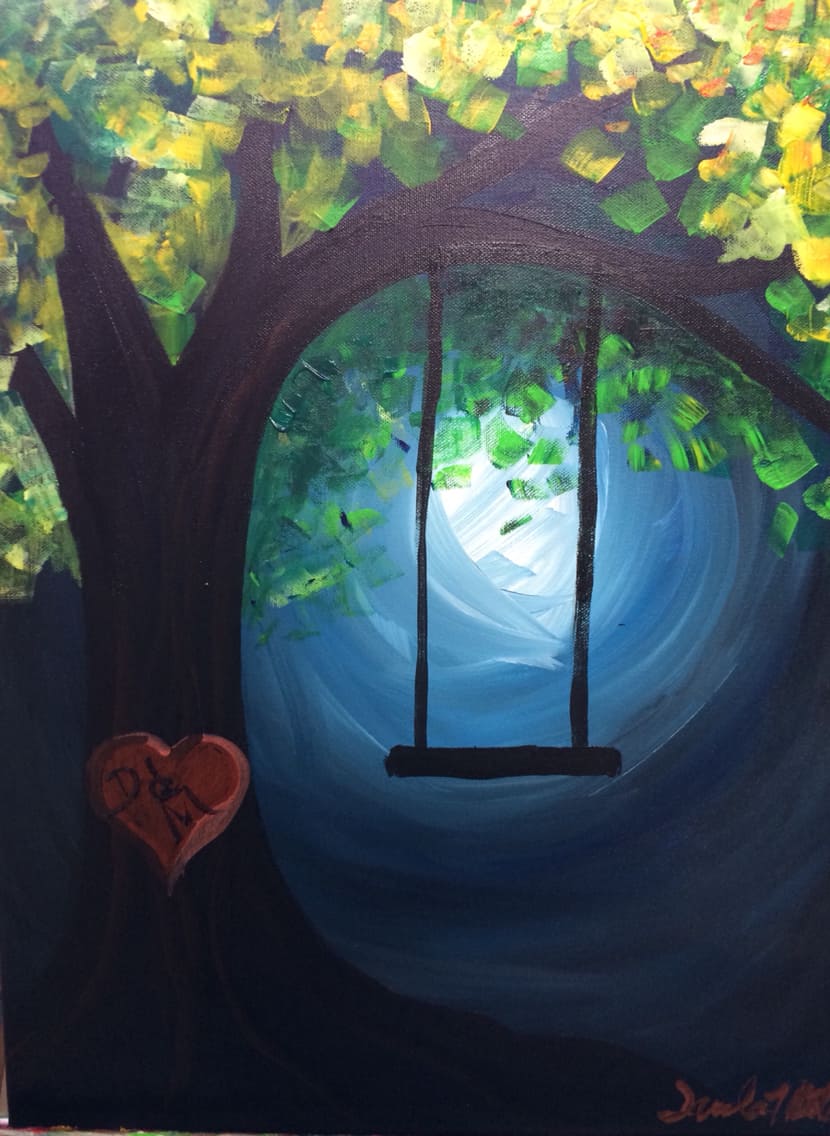 3. A three toned canvas painting idea
Start with simple landscaping art.
SOURCE
4. Delicate cherry blossoms
Delicate cherry blossoms on a turquoise sky require a delicate touch.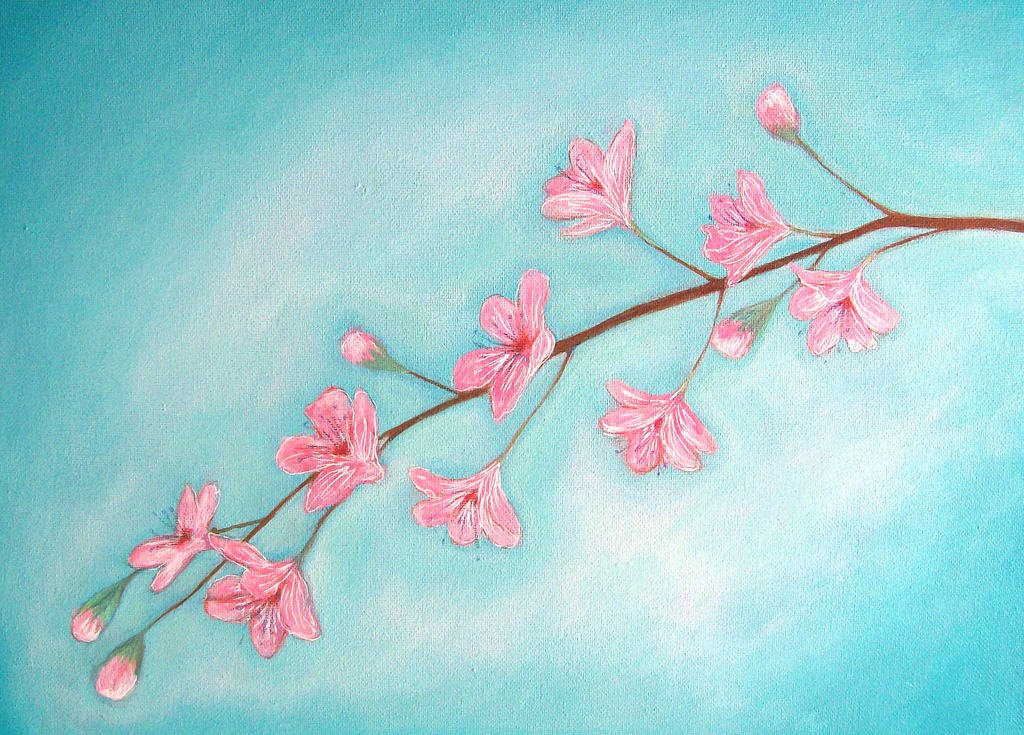 5. Purple flower in the making
Master the different tones one color has to offer.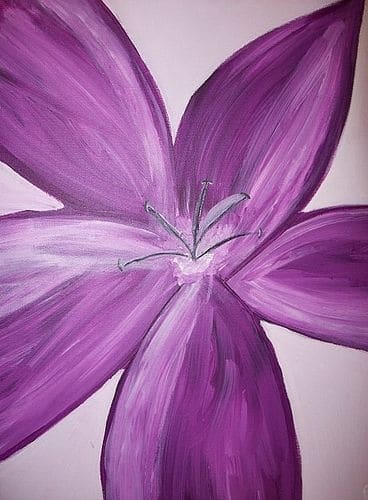 6. Have fun with DIY wall art
Express creativity with an abundance of colors.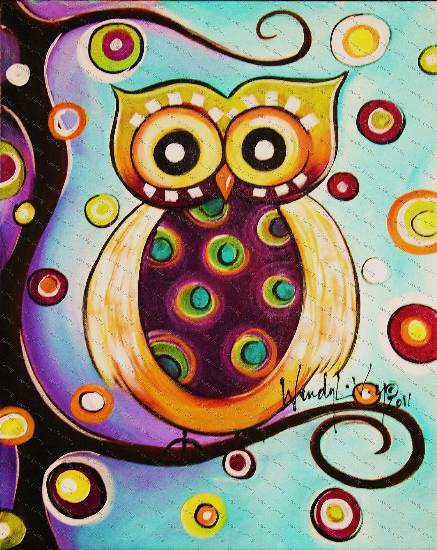 7. A transition from white tones to red and pink
Gold white and bright pink merged into an elegant expensive looking composition.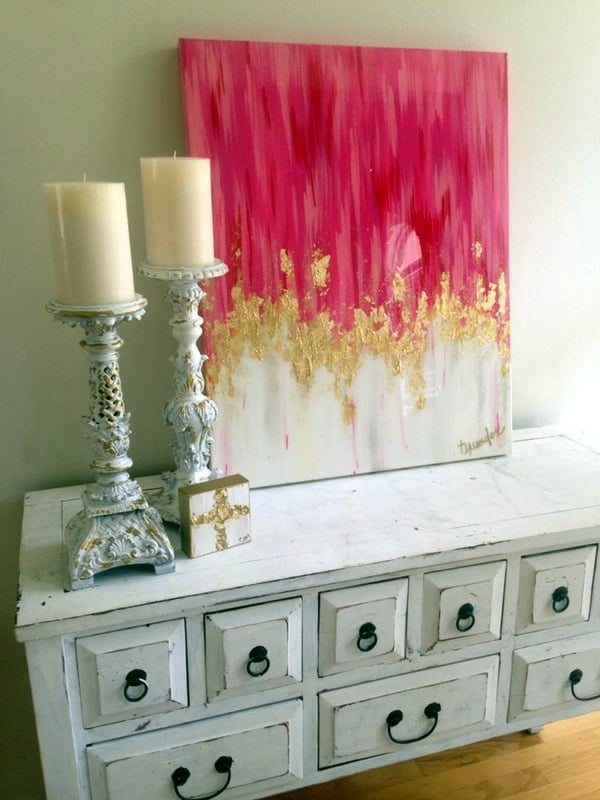 8. Paint juicy pumpkins
A combination of black white and orange will set the perfect Halloween mood.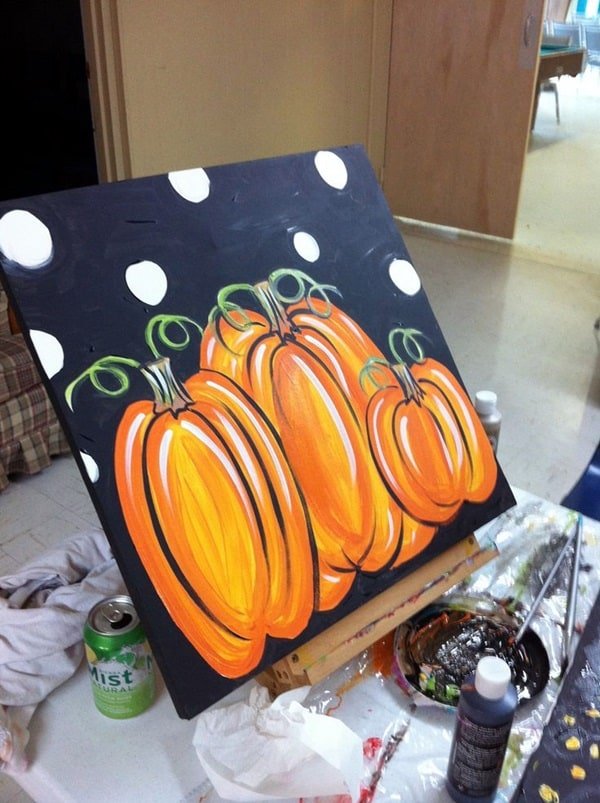 9.A white seahorse in a turqoise background
Use masking tape to  preserve a set design line clean and paint the rest of the canvas in one tone.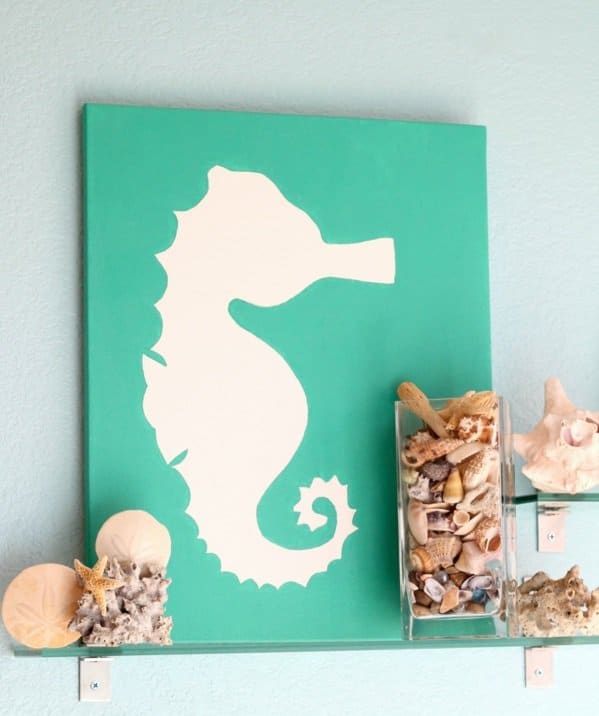 10. Learn different techniques of applying a colored ground
Create a grungy looking colored ground by adding white acrylic paint on an uniform background with a flat tough brush.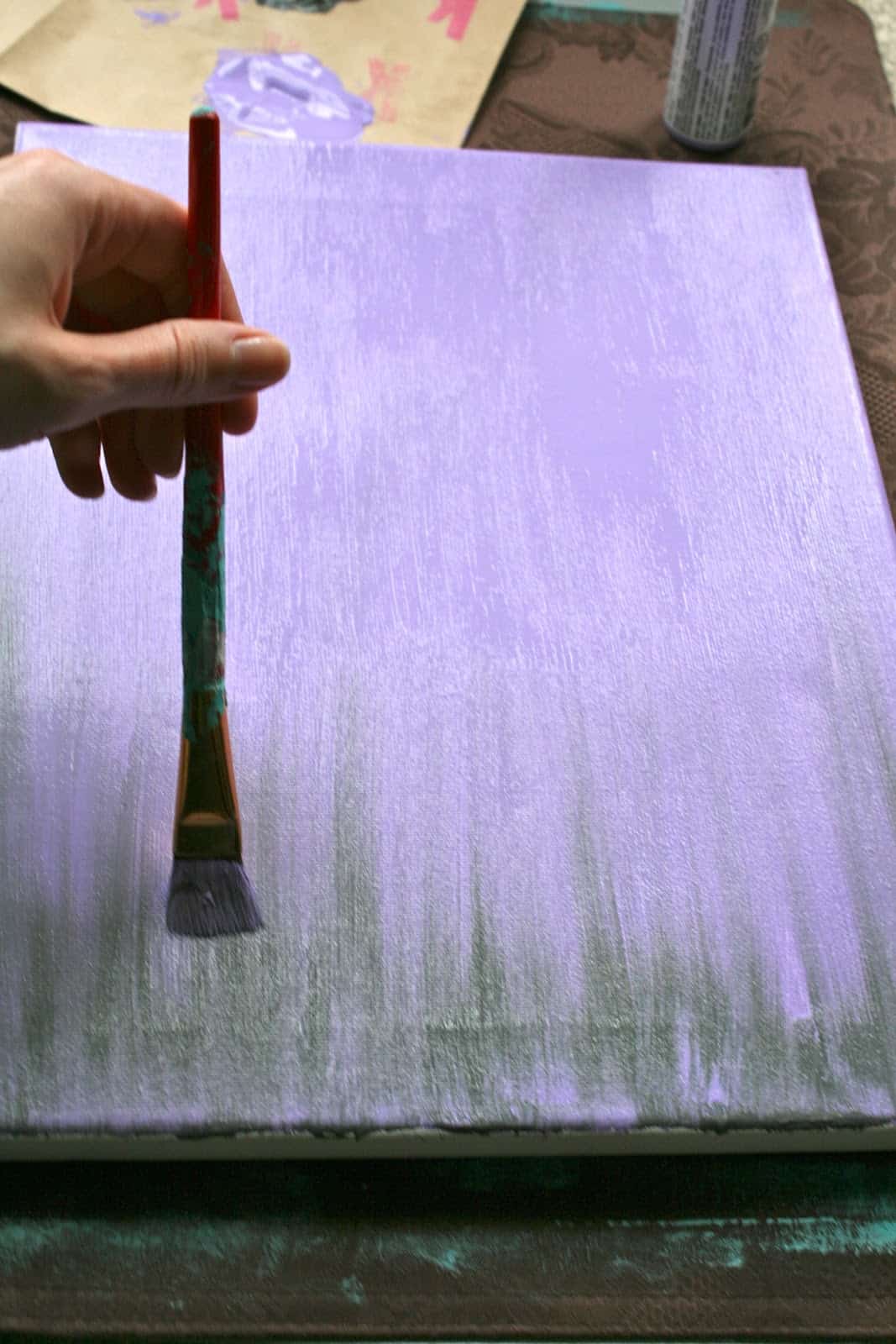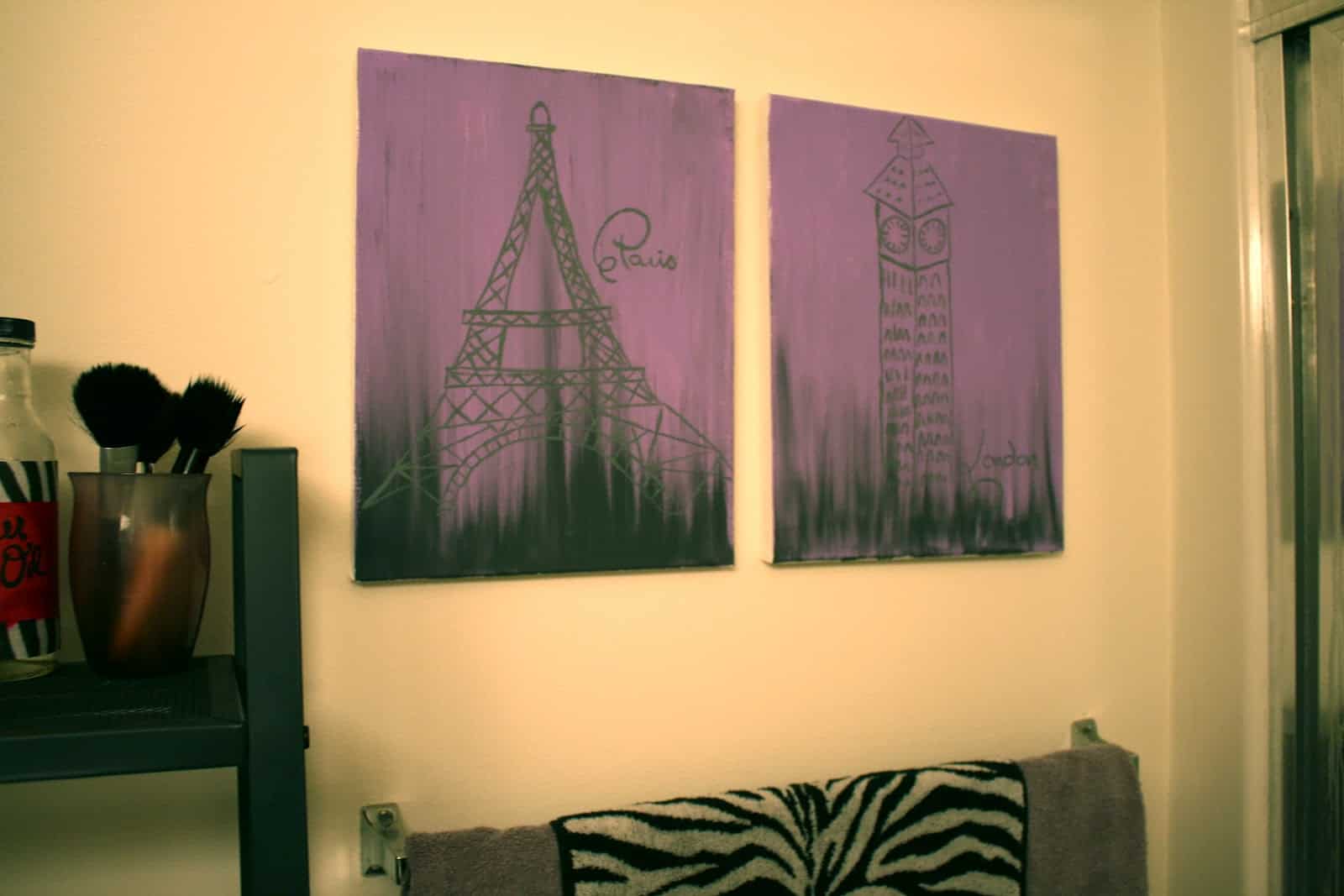 11.  Vivid tones in a single peacock feather wall art piece
A rather difficult looking canvas painting idea which uses a variety of layered tones to create a beautiful effect.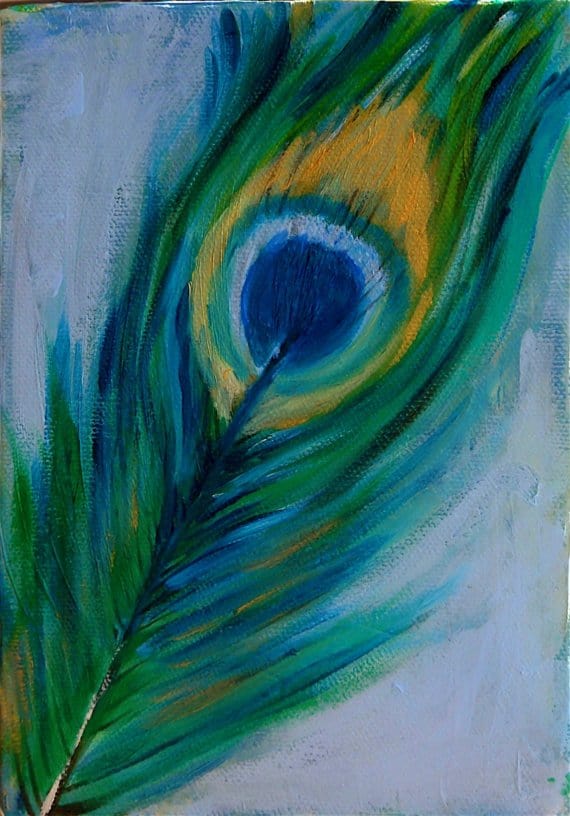 12. Gold hues look elegant on a delicate blue colored ground
An abstract neutral gold on blue composition perfect for a modern interior design.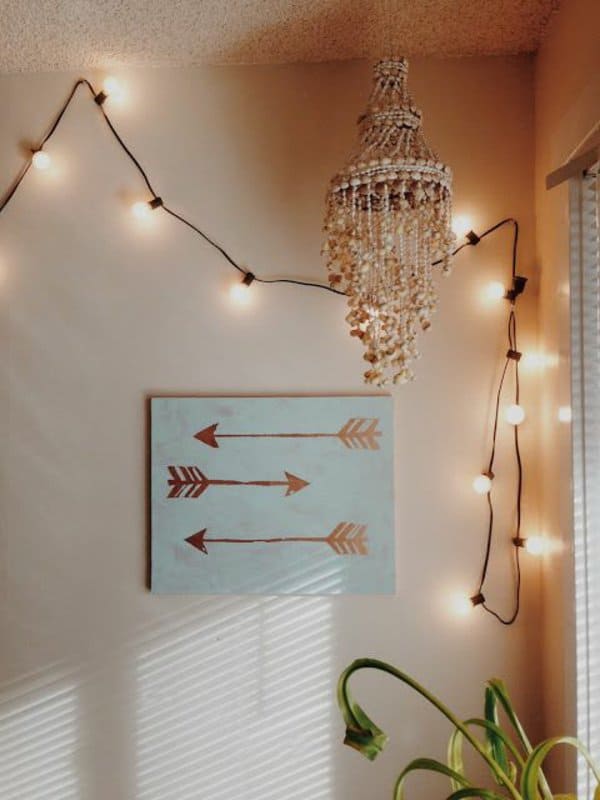 13. Express the girl in you
Keep your feminine side and express yourself.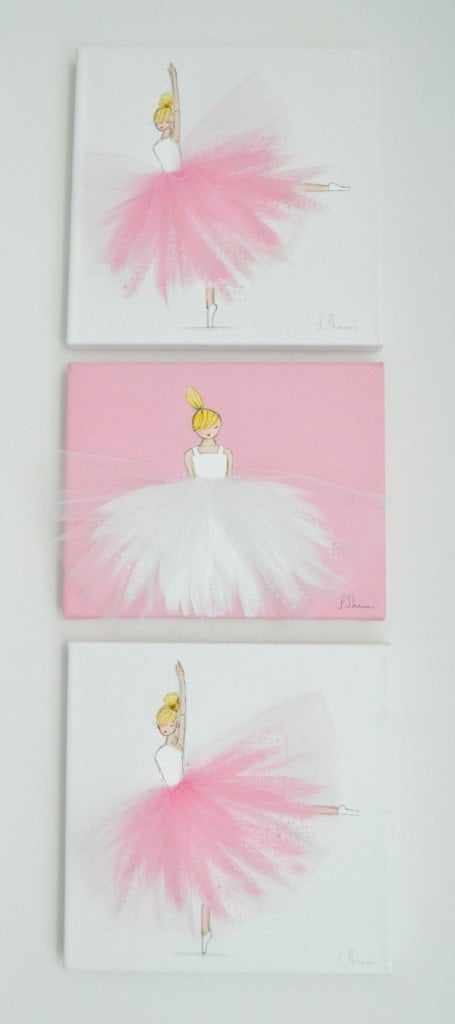 14. Use one tone on a newspaper background for an interesting effect
Adding newspaper on your white canvas is a technique that will guarantee a very interesting and appealing effect.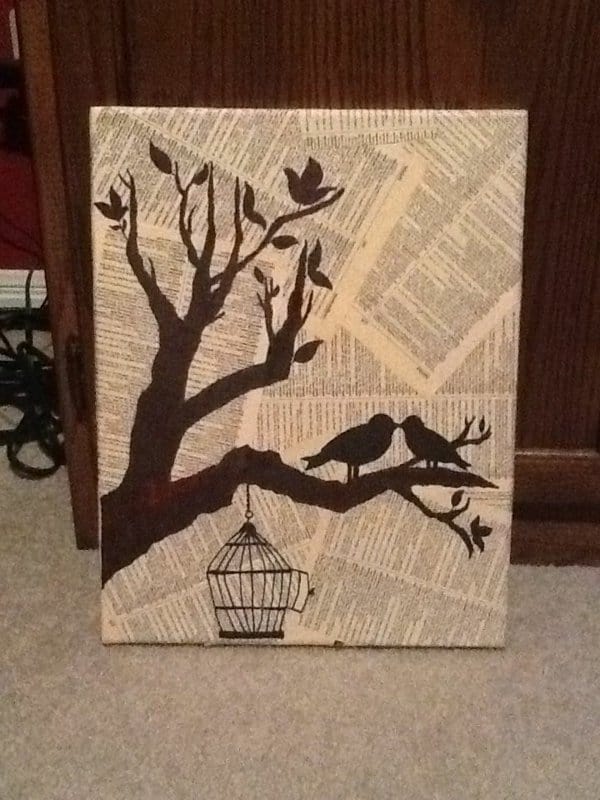 15. Mix things up and create a bold powerful contrast
A bold choice fit for a pop interior design with a spark of gold.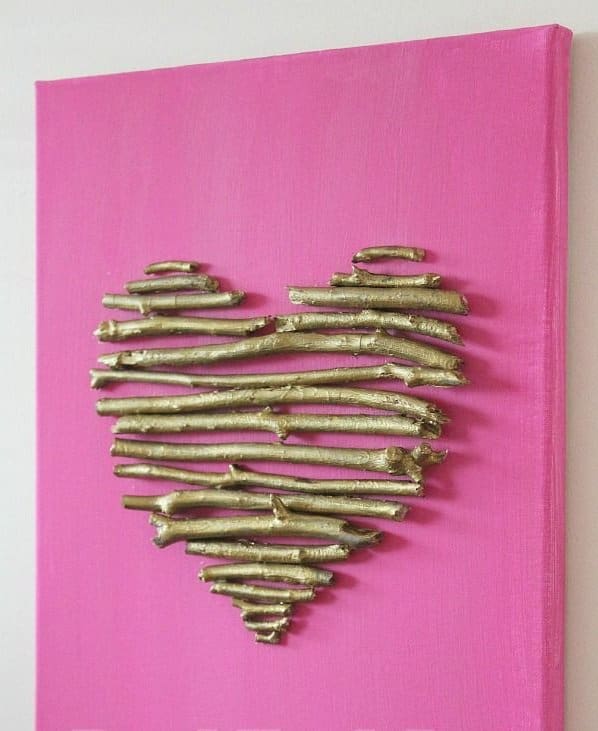 16. Tiny canvas painting ideas
Tiny paintings look so fun and delicate, especially when pastel tones are used in the design.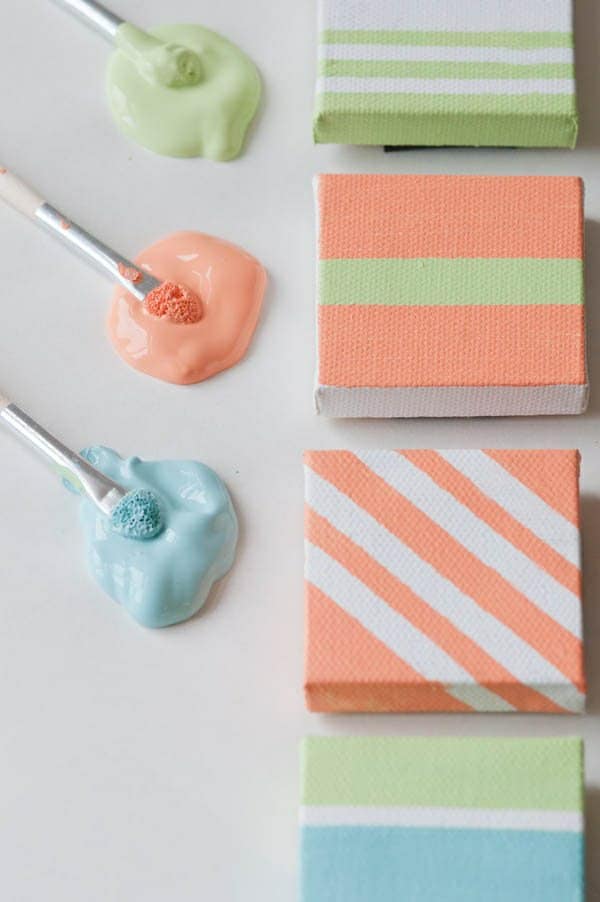 Paper flowers add delicacy to any wall art piece so create a colored ground canvas and use real twigs and newspaper flowers for a three dimensional composition.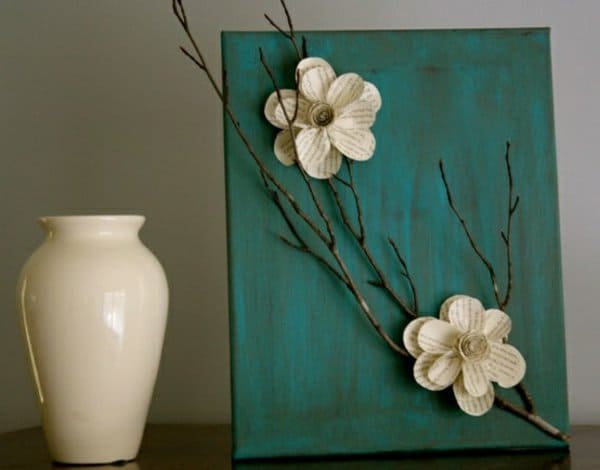 18. Learn to make and paint a dream-catcher
Dream catchers are such lovely delicate elements you should definitely try and learn to crate and even paint one.
19. Abstract wall art is a great idea for a Canvas Painting Idea For Beginners
Work some magic with an acrylic paint pen and a rather steady hand.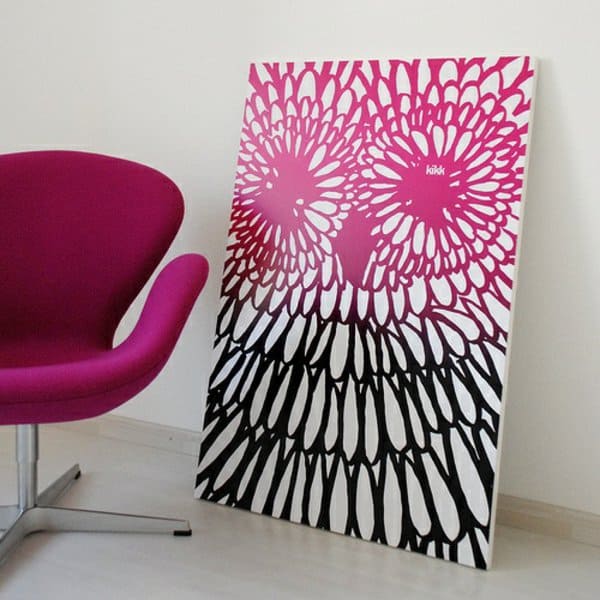 20.  Crayon melted DIY wall art
Learn how to create this artistically wild canvas wall art here.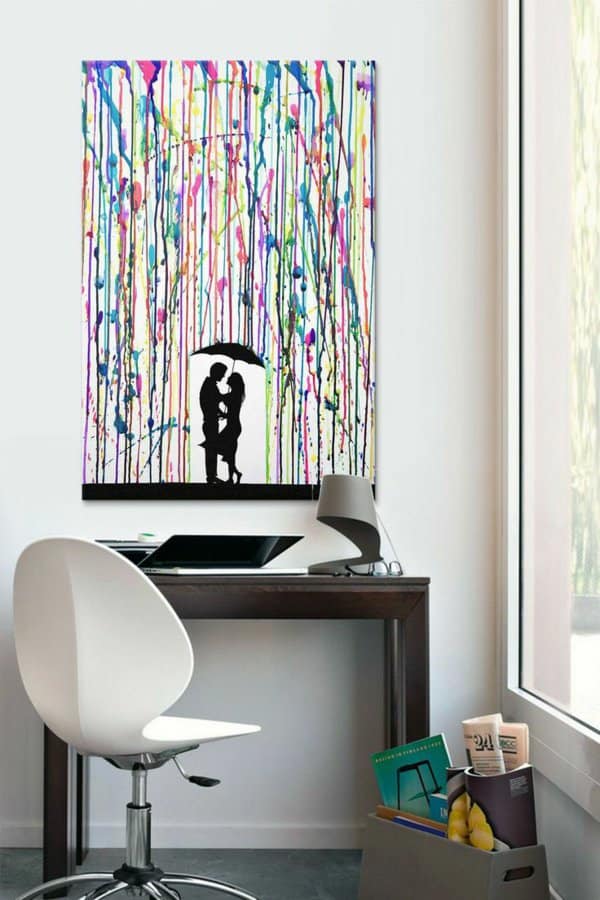 `
21. Who says simple shapes like dots can't create incredible works of art
Use a circular stamp and glitter and have fun with a simple composition.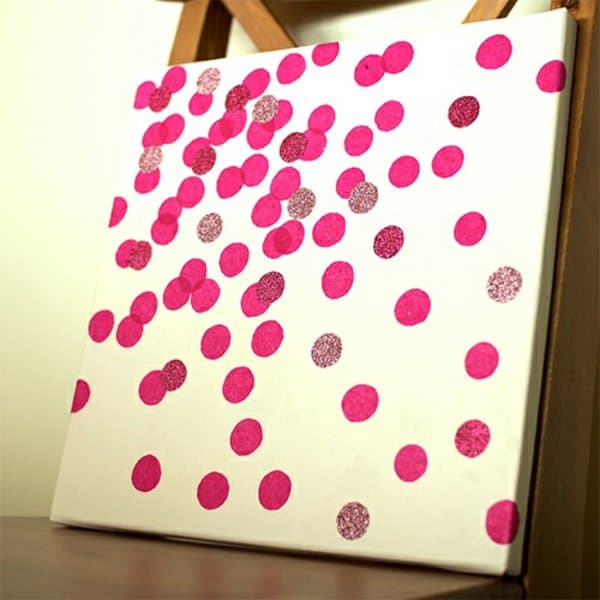 Send a sweet message with this 3 canvas painting idea composition.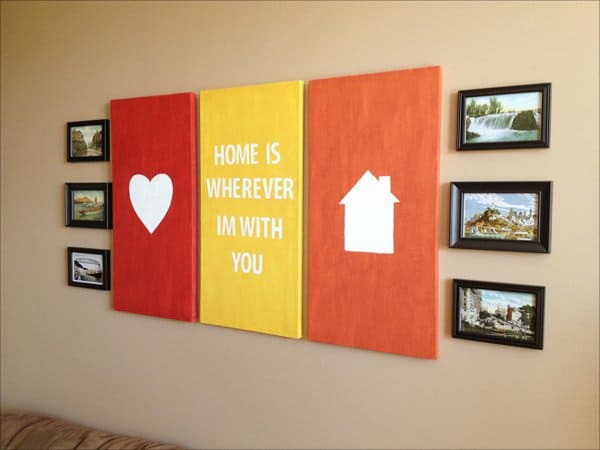 23. Gold leaf can add elegance to a basic pastel colored ground
Apply gold leaf on a pastel colored ground by using gold leaf adhesive and try and fringe the contact edges to make it look more wild.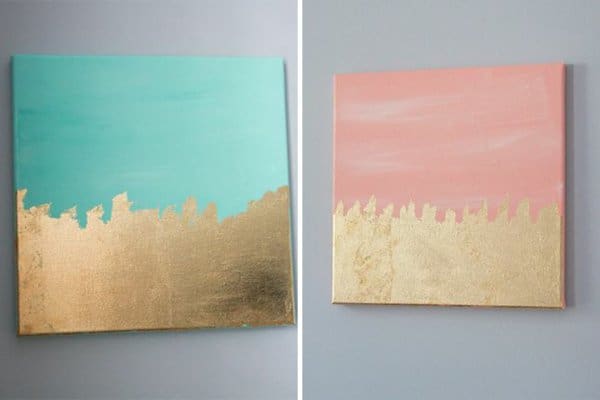 24. Add volume to your canvas painting
Try and mix painting with paper cut flowers to create a three dimensional effect.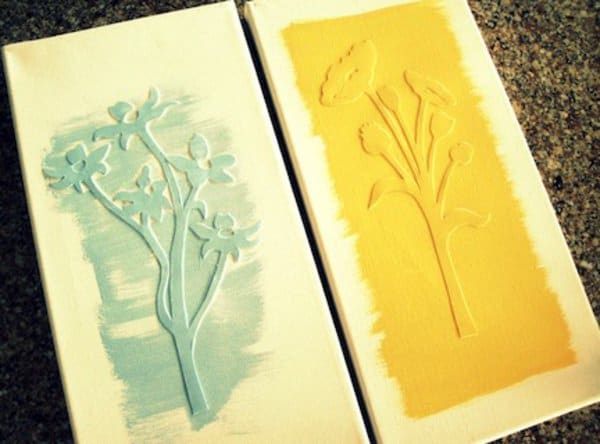 25. Learn to master the alternation of black and white
A simple white on black design will look elegant anywhere in your home.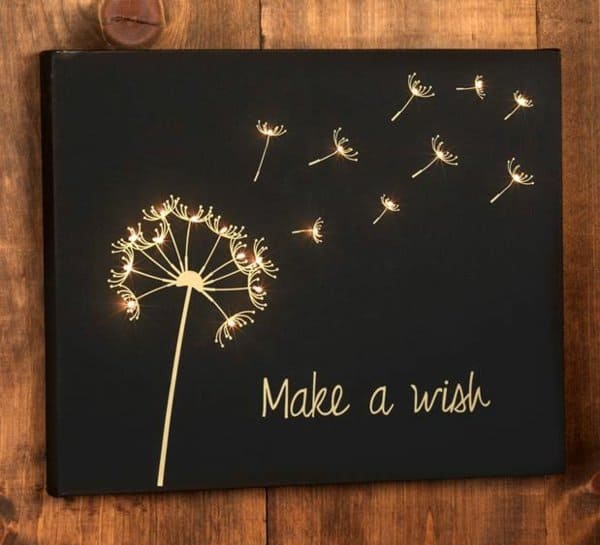 26. Cute idea for a canvas painting for beginners
Start out your canvas painting ideas with a simple design like a fun colorful snowman.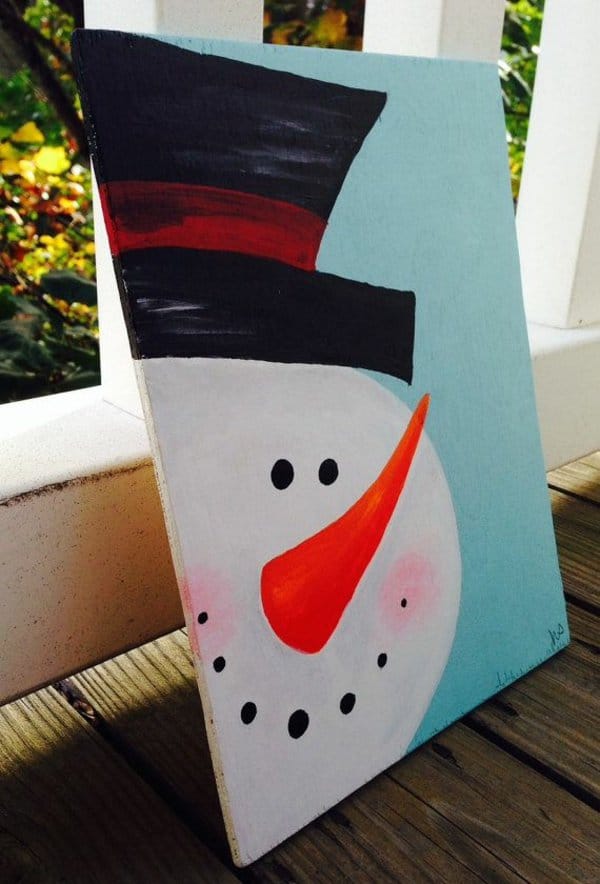 27. Childish designs can fit perfectly your little one's room
Decorate your kid's bedroom with a fun spring greetings diy canvas painting idea.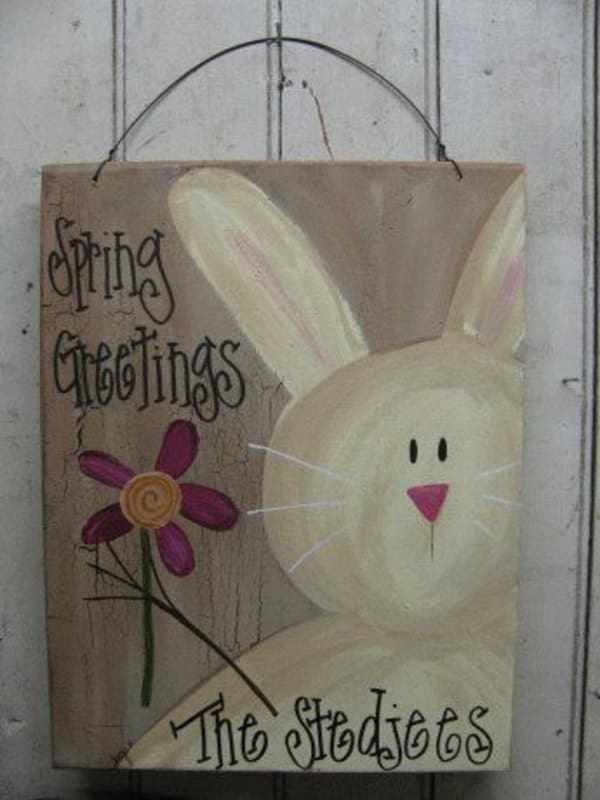 28. Let it go DIY wall art
Write a message using white acrylic paint on a grunge blue colored ground.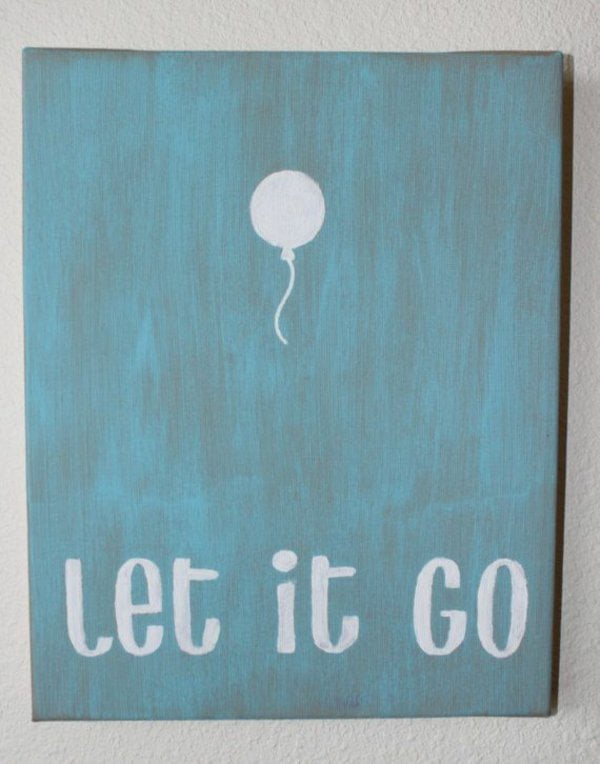 IMAGE SOURCE
What do you think about these creative Canvas Painting Ideas For Beginners? We invite you to leave your valuable feedback in the comment section below and to choose your favorite 3 Canvas Painting Ideas and take them on.
Related Articles 
15 Best Canvas Printing Service Providers
The Best Websites to Get Your Art Framed Online
The Best Online Sources for Framing Art
15 Best Canvas Printing Services Today
Learn The Basics of Canvas Painting Ideas And Projects
Get Your Hands Dirty With DIY Painting Crafts And Ideas
Expand Your Knowledge With Watercolor Painting Ideas
3 Canvas Painting Ideas You Should Definitely Take On
19 Incredibly Beautiful Watercolor Painting Ideas
19 Easy Canvas Painting Ideas To Take On
20 Oil And Acrylic Painting Ideas For Enthusiastic Beginners
Add Color To Your Home With 15 Beautiful Canvas Painting Ideas
15 Do-It-Yourself Pottery Painting Ideas You Can Actually Use
Top 31 Amazing DIY Paintings For Your Blank Walls