In the world of crafts, imagination and creativity thrives before anything else, regardless of scale, regardless of materials involved, the creative process is something that cannot suffer comparison and today, in the little league we have no less than 49 incredibly beautiful acorn crafts worth pursuing. Each and every craft can be realized from the comfort of one`s home, no power tools, nothing that a diy amateur can`t tackle.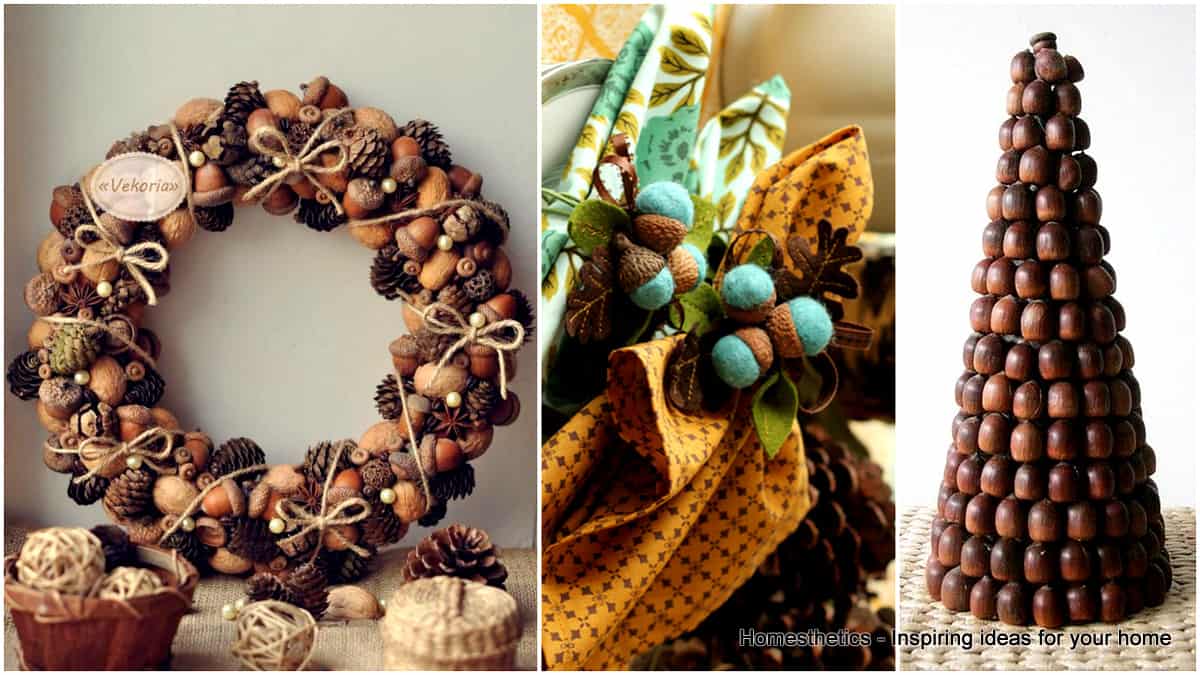 The simplicity of the crafts and their versatility are an encouragement and a recommendation for parents to realize these with the little ones, children will love to see something take shape from their bare hands. Take a minute and cast a glance over the gallery, we would love to hear from you in the comment section below !
49 Incredibly Beautiful Acorn Crafts to Pursue
1. use acorn caps with glitter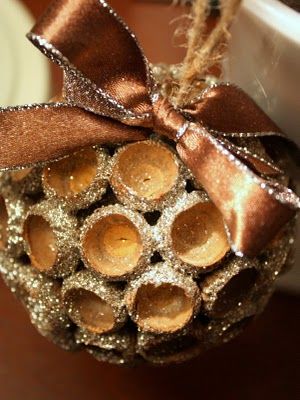 To shape extraordinarily beautiful Christmas ornaments, a simple diy endeavor to be realized with your family.
via sweetsomethingdesign.blogspot.com
2. create acorn initial ornaments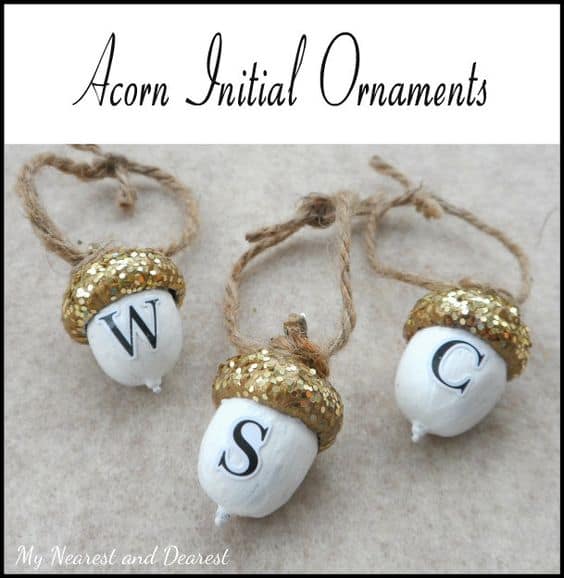 These can designate one`s place at the dinner table, the glitter and white can fit any decor easily but in simplicity they truly shine.
3. create a fall tribute in a wreath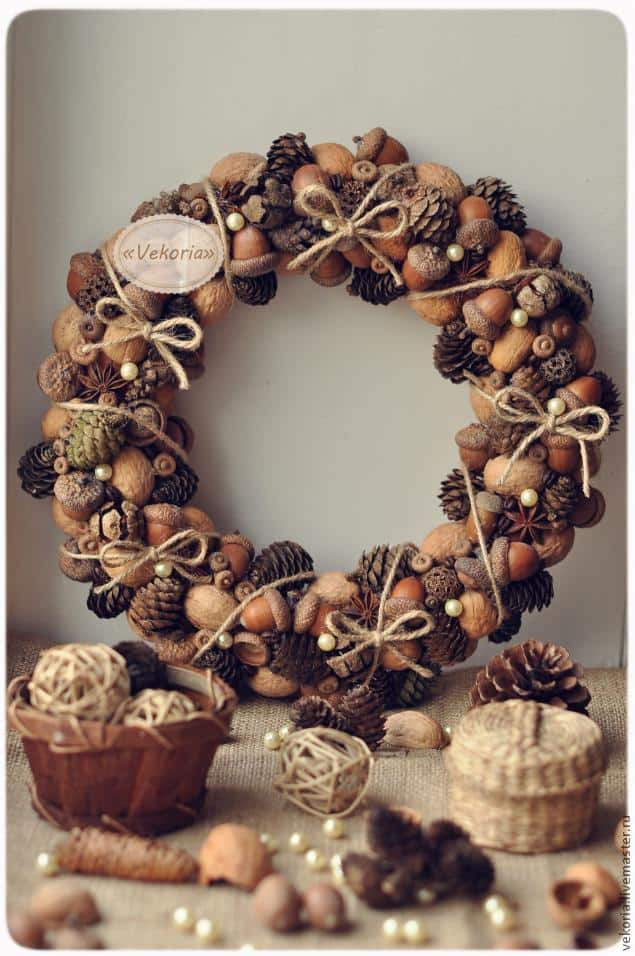 Acorns, pine-cones, walnuts are elements of great beauty all  by themselves yet together they`re able to change any decor; use them with burlap and yarn and win the day !
via livemaster.ru
4. learn to preserve acorns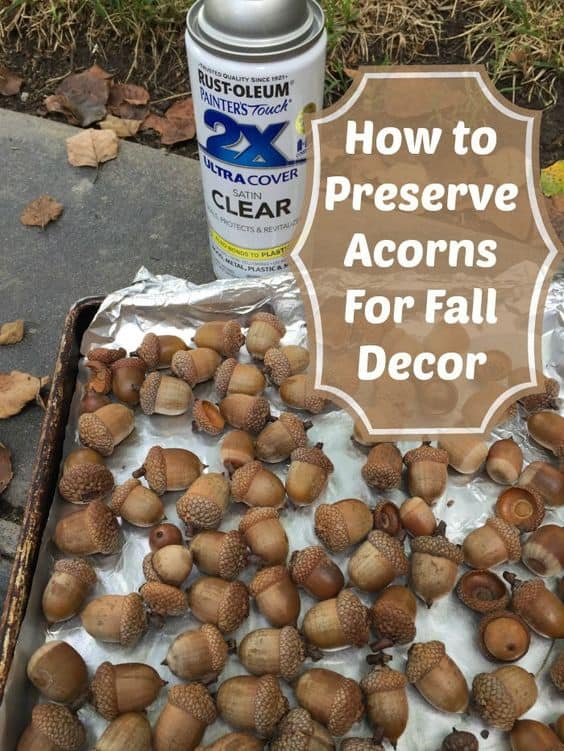 In fall decor acorns are key, needless to say that they are an amazing element when it comes to crafts for preschoolers.
5. create beautiful fairies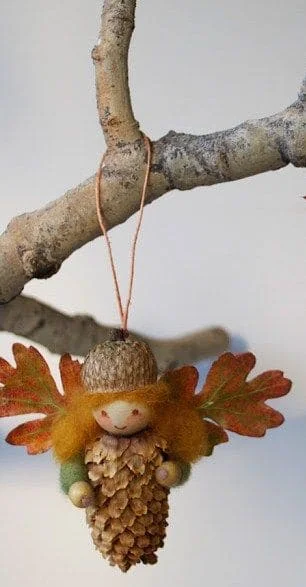 Leaves, pine-cones and acorns can sculpt simple decorations.
6. decorate your CHRISTMAS tree with acorns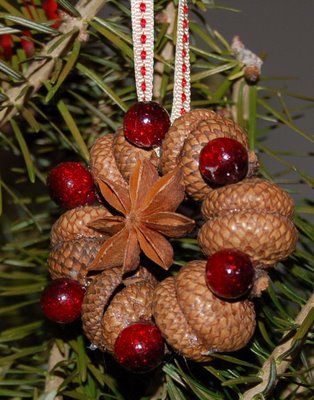 7. create adorable acorn toadstools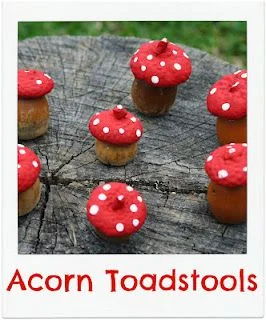 Red and white acrylic paint is all you need. A memorable craft for toddlers and parents alike.
via twigandtoadstool.blogspot.com
8. use mason jars and candles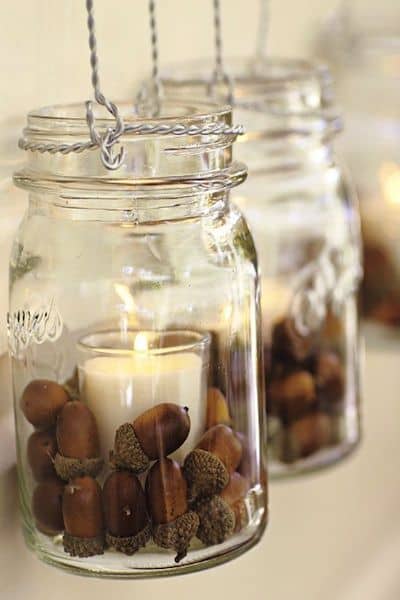 Contain acorns beautifully in a mason jar surrounding a candle that will share the scent of winter from a very graphic package.
9. create miniature easter installations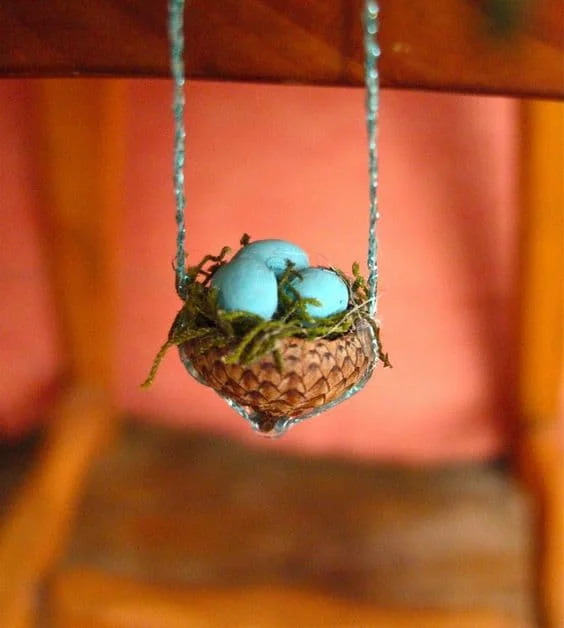 Epic simple installations can be challenging and quite interesting, a craft worth tackling with little ones !
via twigandtoadstool.blogspot.ca
10. acorn lights can animate pine-cones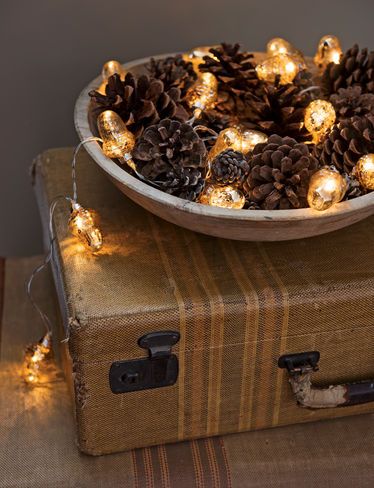 The color of fall in a bowl.
via gardeners.com
11. craft an acorn photo frame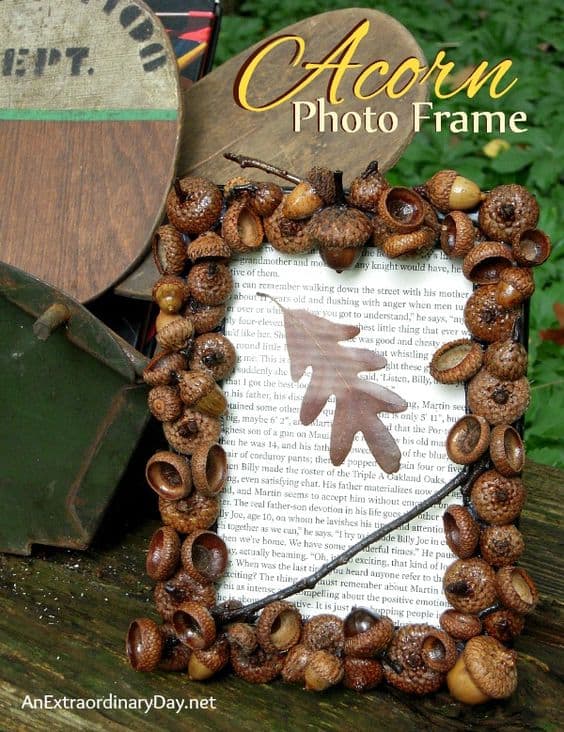 It speaks of nature and it proudly showcases it, a beautiful gift for the adventurous, a beautiful gift for nature lovers all-around.
12. halloween acorn crafts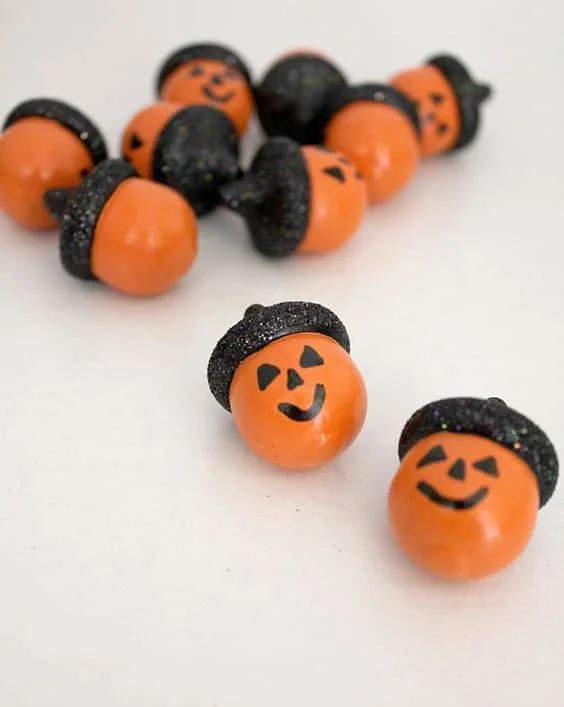 Spray paint or acrylics can do the deed, a sharpie can aid with details.
via etsy.com
13. create acorn necklaces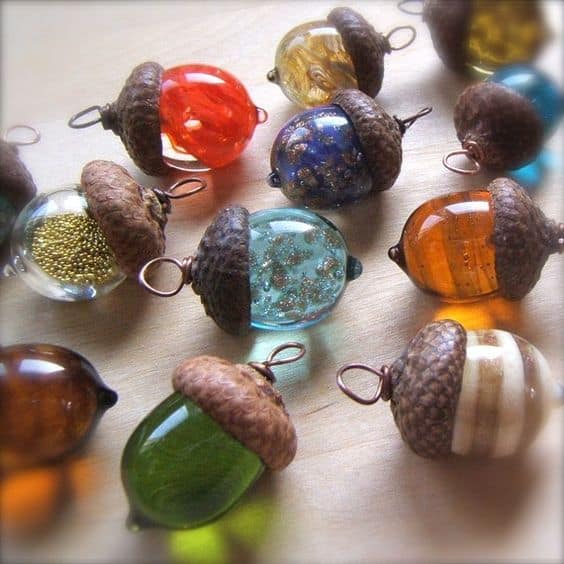 14. petite installations for children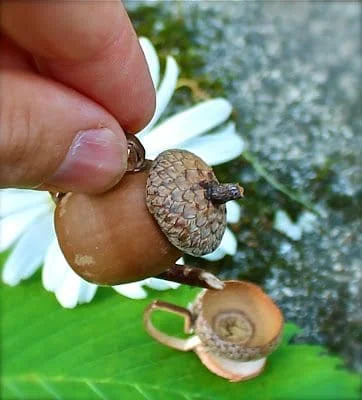 A small game, a big challenge for little ones. Create the extraordinary at a small scale using acorns only !
via twigandtoadstool.blogspot.com
15. Mod Podge and Fabric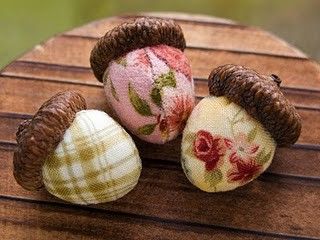 A craft for mod-podge enthusiasts, a beautiful way to display textile samples in a presentation.
via Patchwork Pottery
16. sculpt art with nature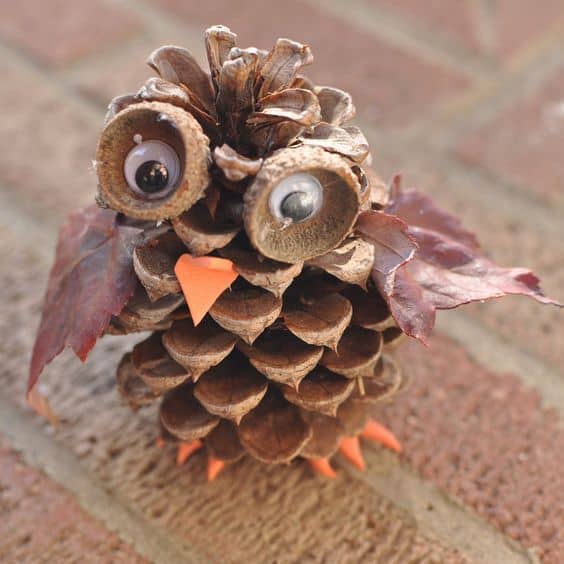 If this owl surprises you imagine the immense joy on the face of your children when you are to craft this with them !
via broogly.com
17. use a multitude of acorns in a wreath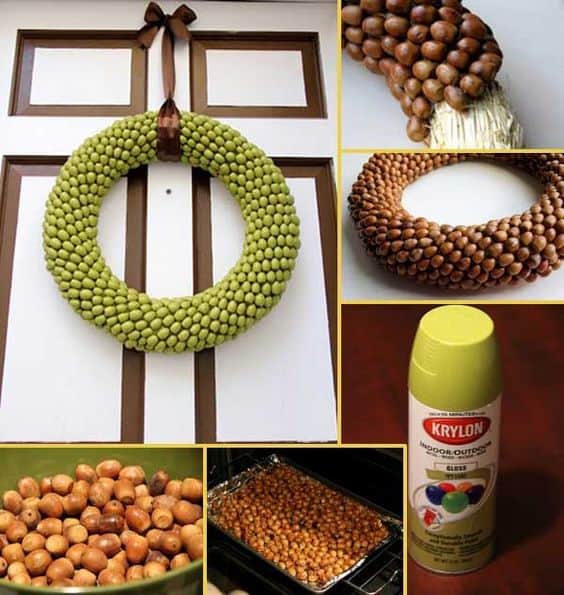 The extraordinary result can be painted to match your porch-theme afterwards or it can simply be left bare to exude naturalness.
via craftionary.net
18. use small glass recipients along acorns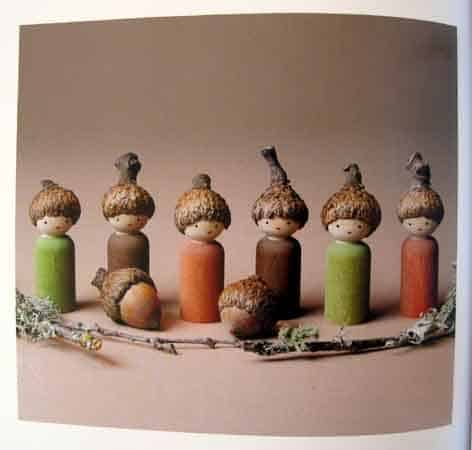 Little family portrays can be depicted using small glass recipients, glass paint, acorns and creativity.
19. simply paint acorns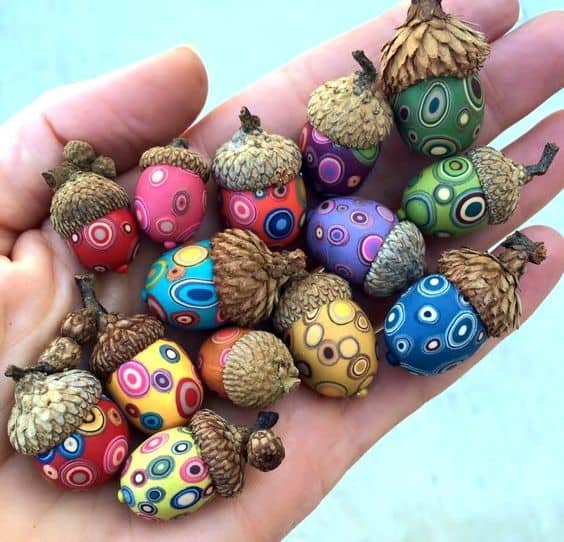 At a small scale they adorn the most creative illustrations, get creative.
20. christmas tree shaped with acorns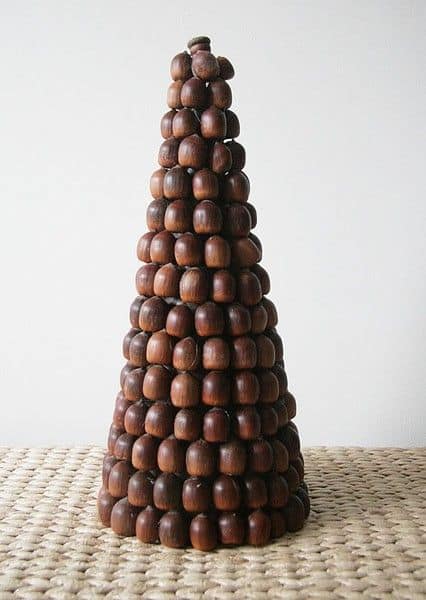 A paper cone can nestle this simple, beautiful Christmas tree alternative for your office, get crafting and spread Christmas joy.
21. Create a candle holder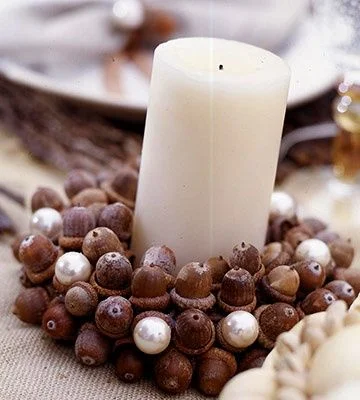 The simplest decoration for a candle can be constituted out of acorns and a few pearls.
via dishfunctionaldesigns.blogspot.com
22. felt and glitter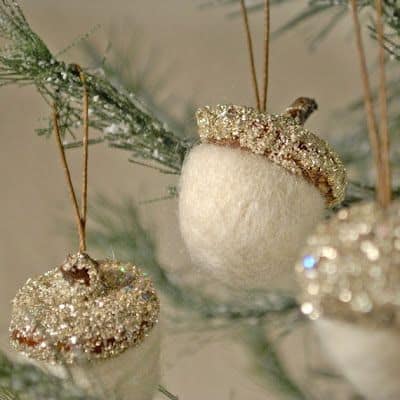 Replace the acorn fruit with white felt and dip the small cap in glitter for something really remarkable.
23. create acorn garlands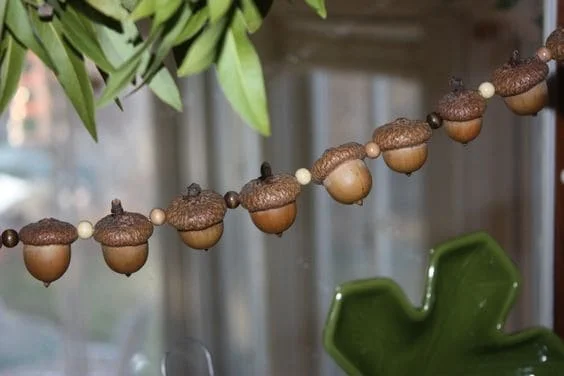 Decorate your home with fall.
24. Emphasize a boring vase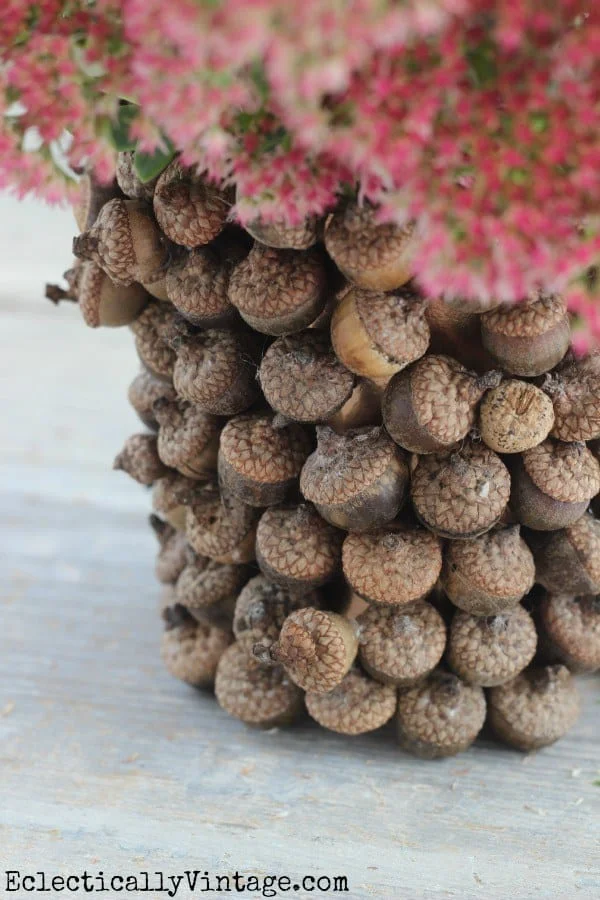 Acorns can change everything, give acorns a chance.
25. use acorn caps to form floating candles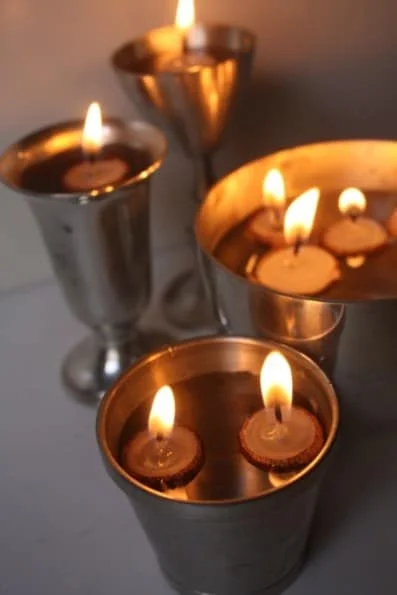 A romantic setting with a simple craft.
via ThinkCrafts.com
26. use acorns to define a table setting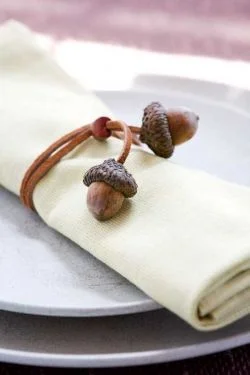 Leather and acorn can function in any interior decor yet it is in rustic designs and among fall decorations they truly thrive.
via yankeemagazine.com
27. decorate a mirror with acorns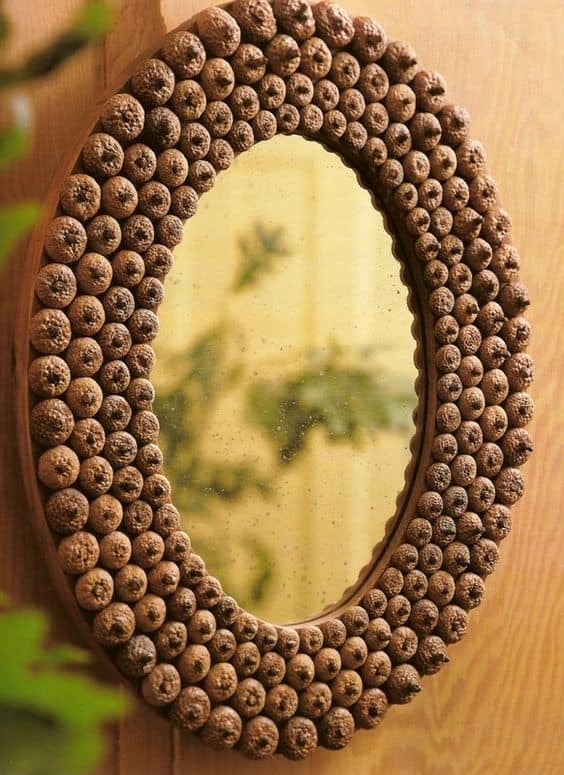 Start by categorizing acorns by size and proceed by sticking them with the glue gun in concentric circles around the mirror.
via craftionary.net
28. Acorn christmas globe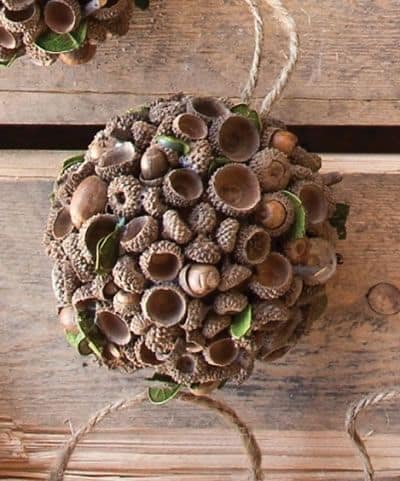 One sphere, acorns and a piece of yarn, that is all you need for an epic Christmas decoration.
via duncraft.com
29. Nail paint and acorns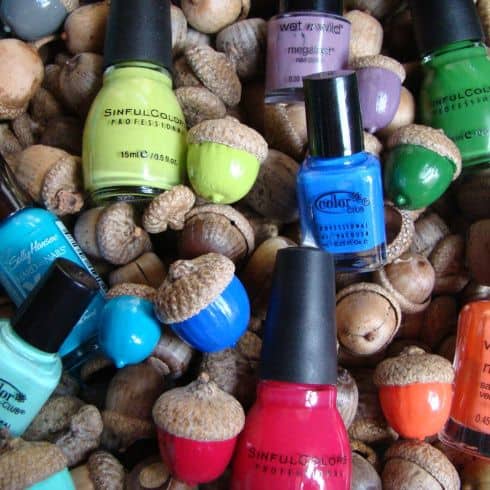 Simple solutions for simple crafts.
via blog318.com
30. happy acorn necklaces for children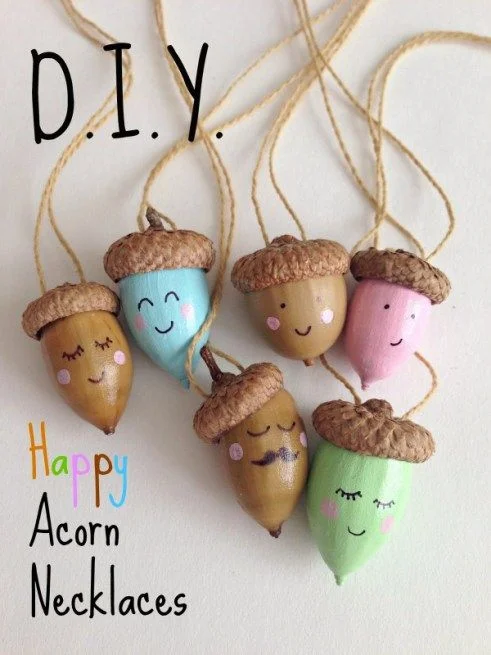 Super graphic and immense happiness in a craft to realize with children.
31. small decorative acorn globes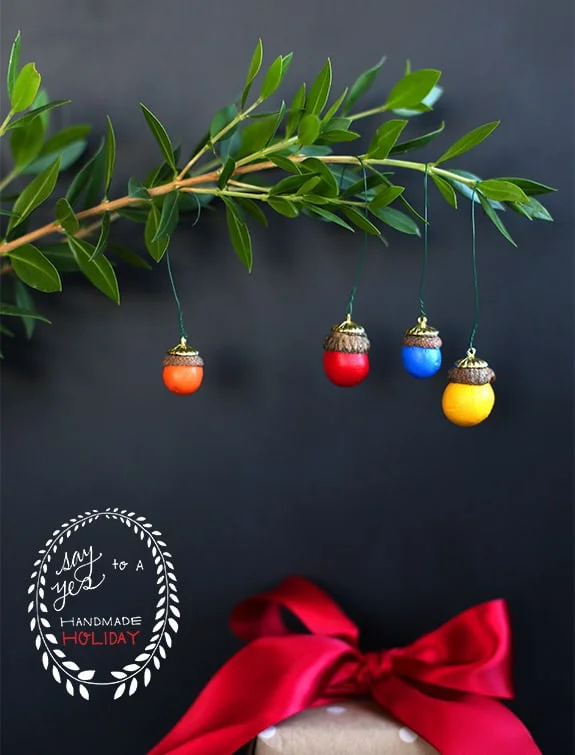 Simple joy in a small package.
via sayyes.com
32. create fall acorn necklaces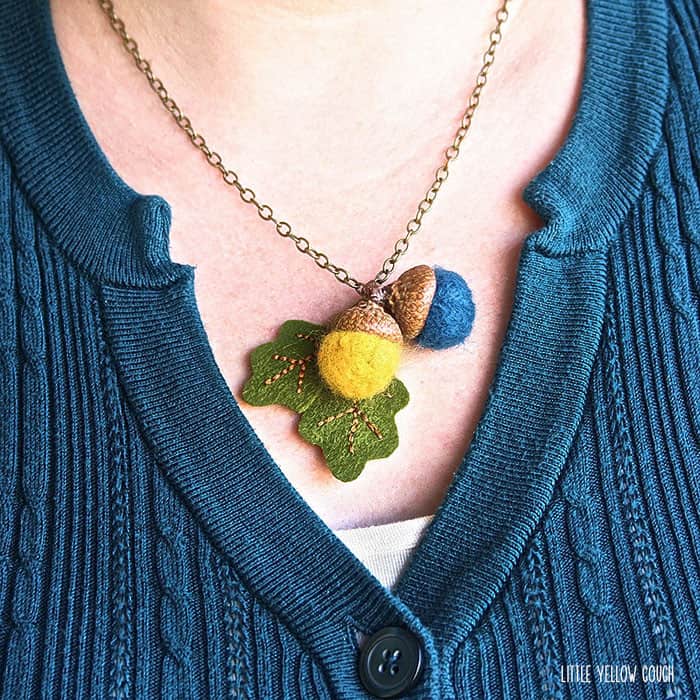 33.  textiles and acorns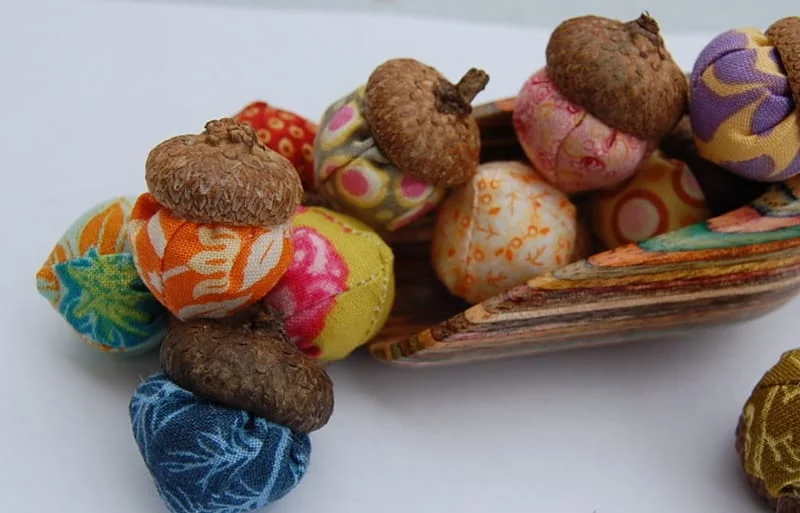 34. create super epic magnets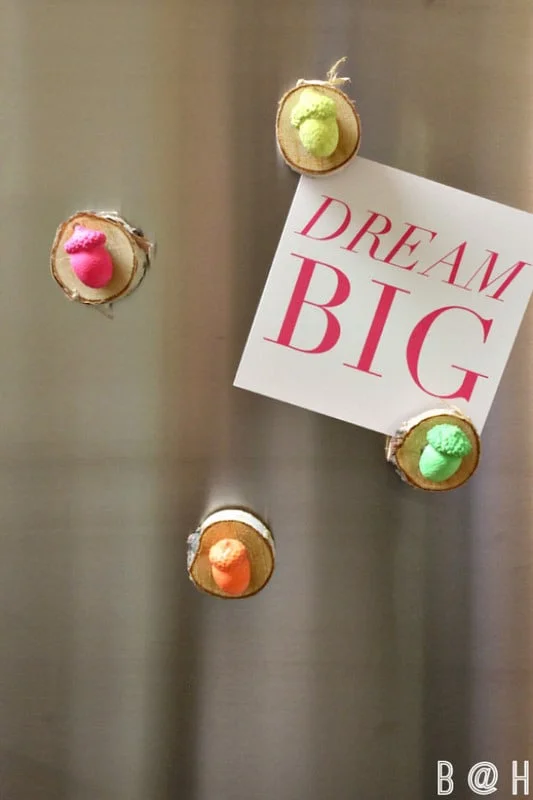 One slice of wood and colored acorns shaping epic kitchen magnets.
via bliss-athome.com
35. one acorn width wreath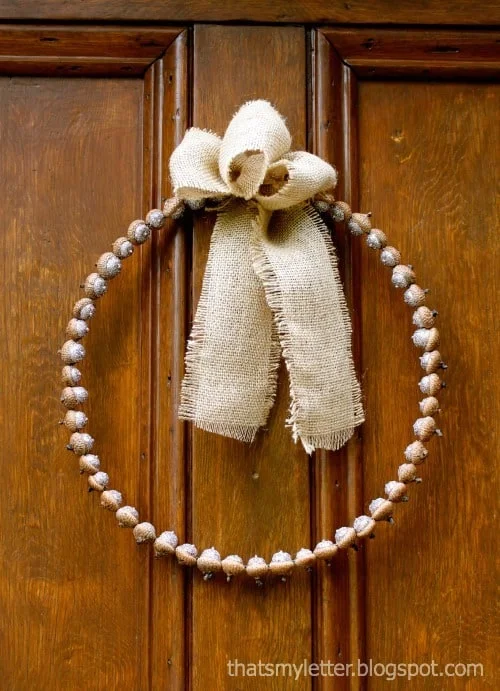 A beautiful design to welcome guests, family and friends on the front porch.
36. create an acorn basket for your harvest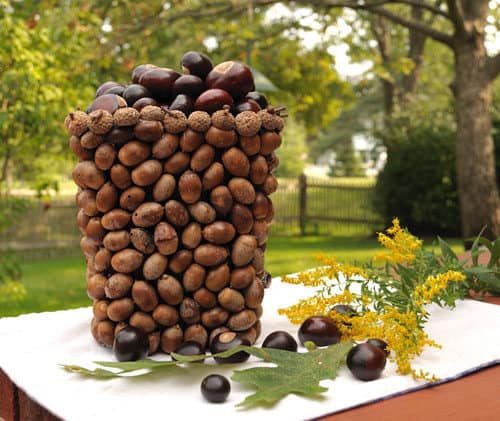 Interesting to say the least.
via craftionary.net
37. diy pumpkin acorns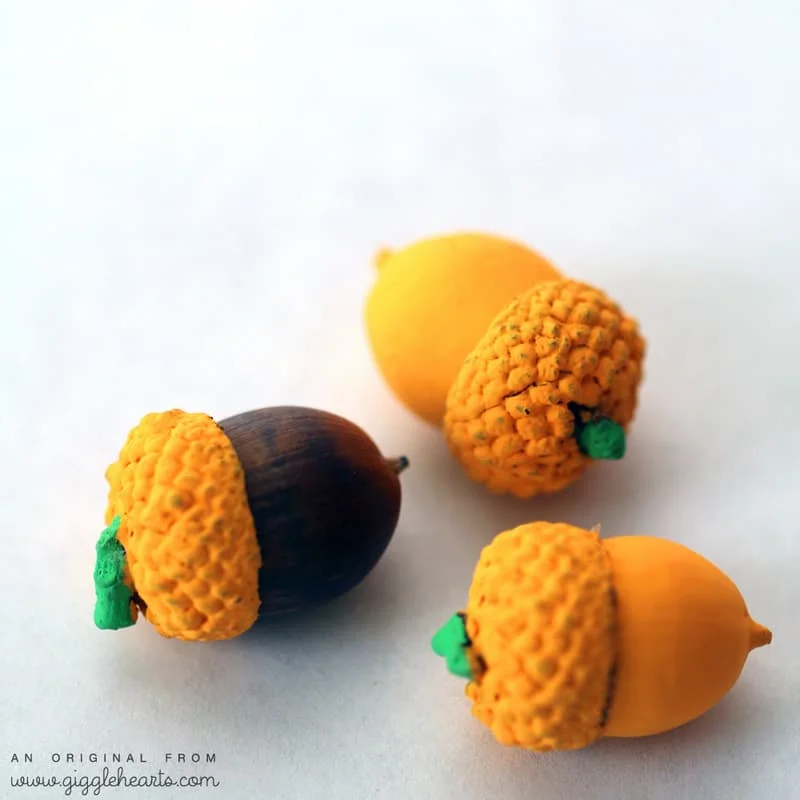 Color expressing joy and simplicity for Halloween.
via gigglehearts.com
38. transform PINE-CONES into acorns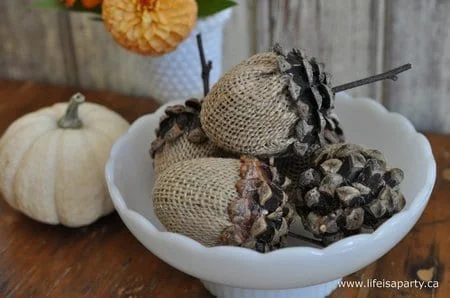 Creativity at its best.
via lifeisaparty.ca
39. acorns and mason jar motives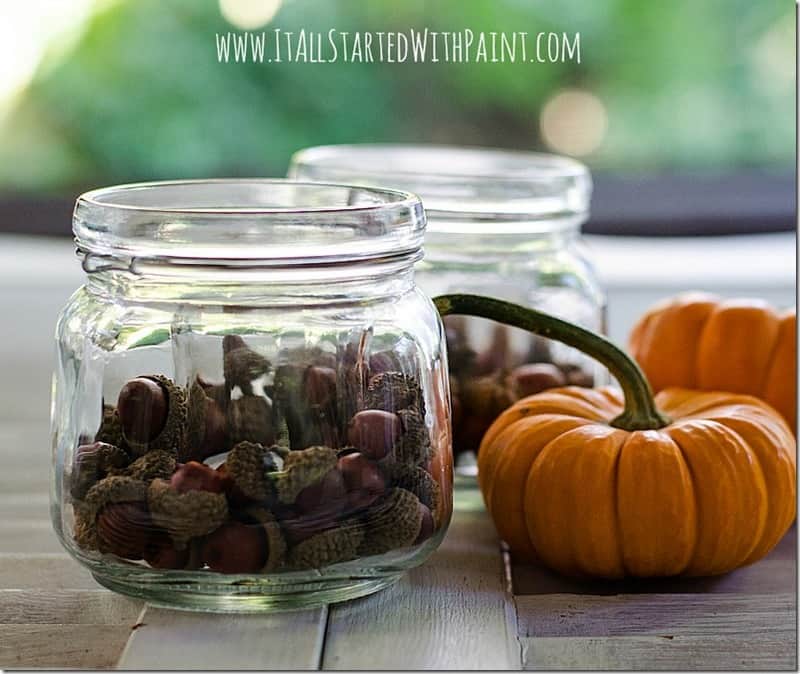 40. Wall art on a slice of wood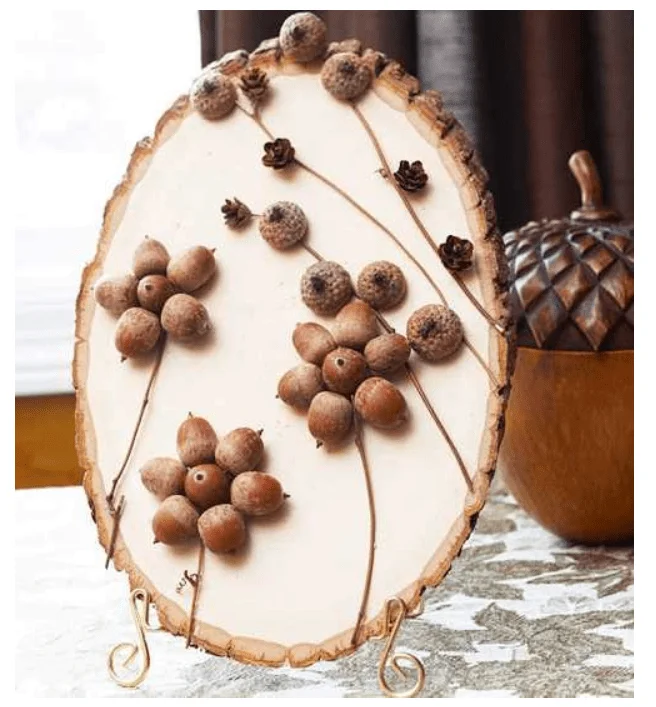 A very beautiful craft to take up with children, a beautiful gift for parents, soon to become family heirloom.
Source Unknown
41. remake simple boxes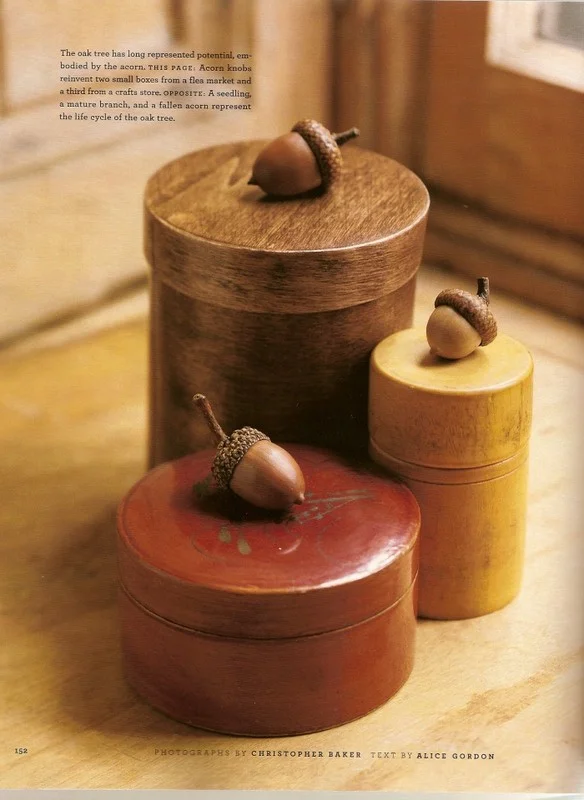 A cherry or an acorn on the top and everything changes.
via coroflot.com
42. petite colorful candles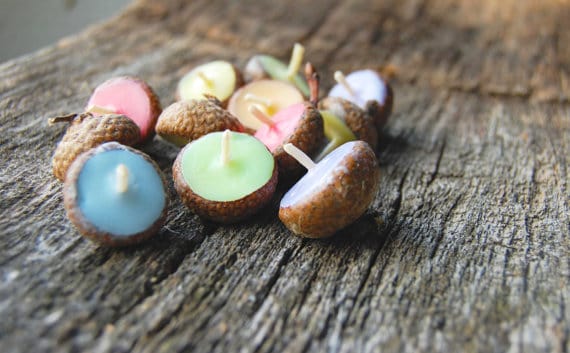 A small colorful memory for an interesting experience.
via etsy.com
43. fall display wall art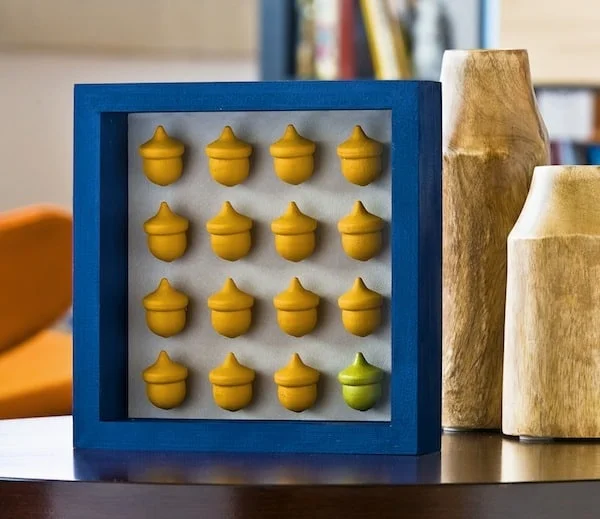 Color can emphasize any medium, regardless of support.
44. tailor acorn flowers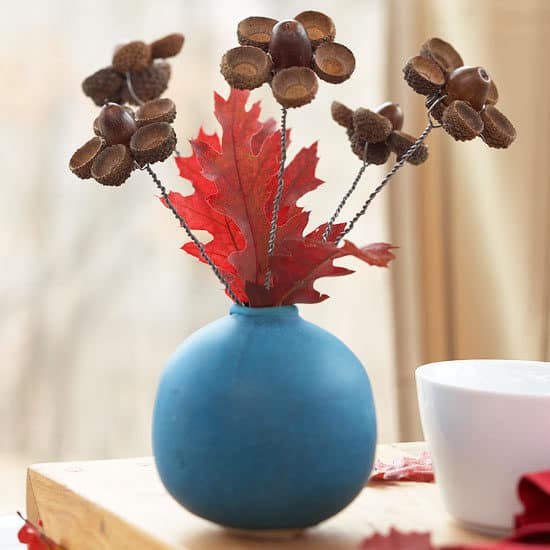 A beautiful expression with no expiration date.
via bhg.com
45. teal felt in acorn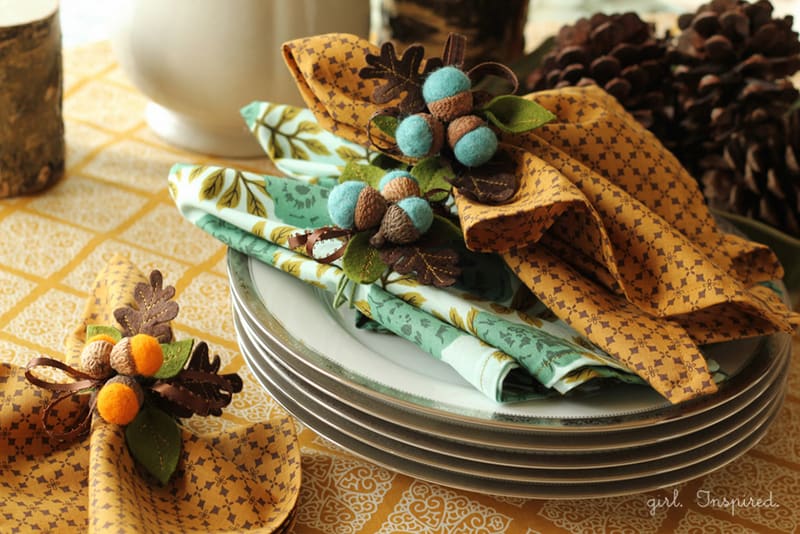 A beautiful match of colors defining a dinner setting.
46. funky acorn rings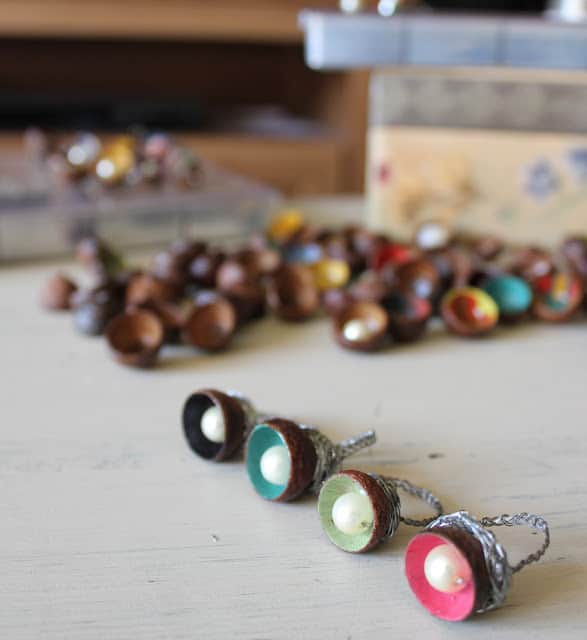 A treat for children and parents alike.
47. simple white with a little red
A heart worth sharing in a splendid decor, an extraordinary match for a cozy-airy setting.
Source Unknown
48. Color in the natural ENVIRONMENT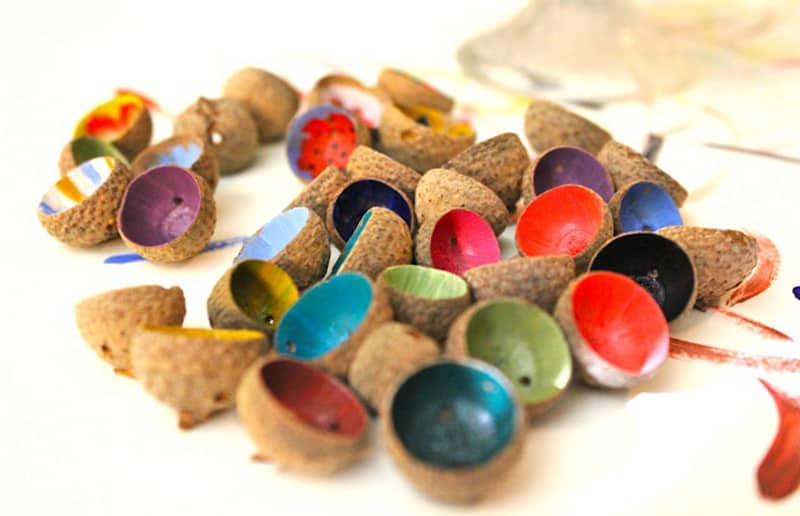 Spread a game of color with acorn caps in your family circle, children will love it !
Source Unknown
49. a simple pair for your christmas tree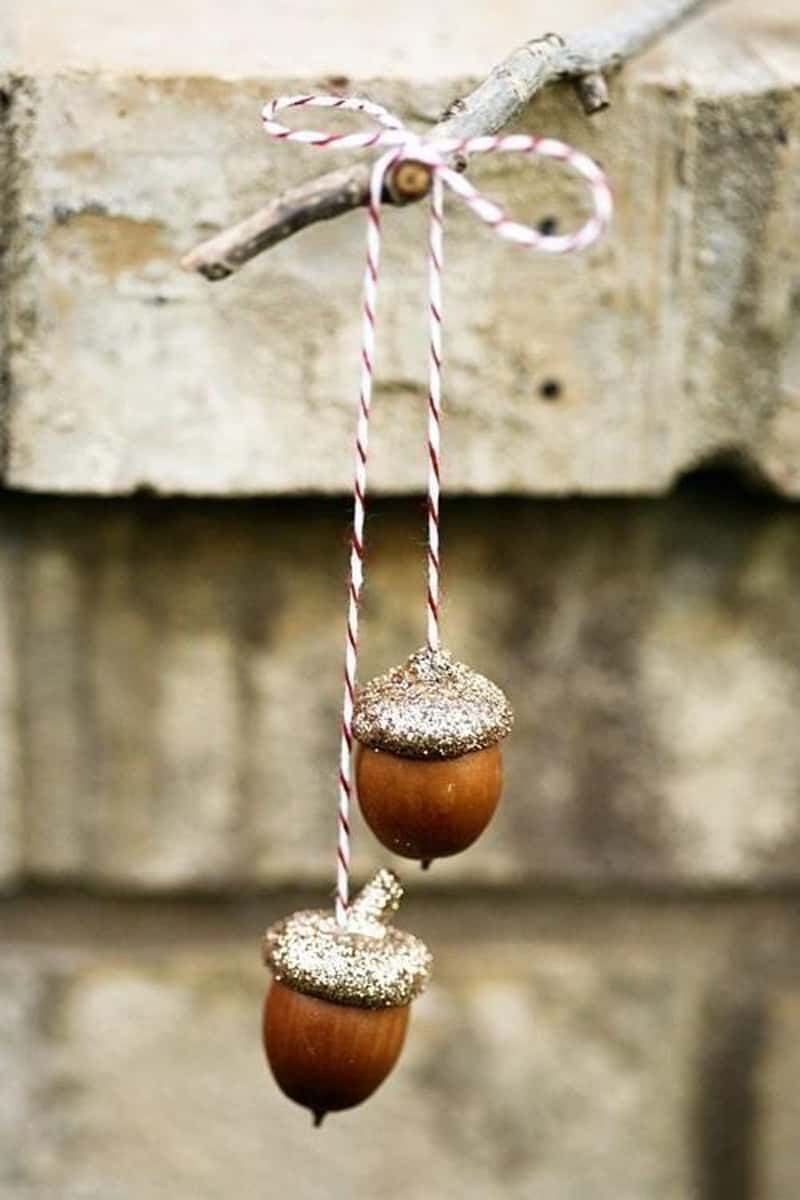 One of the simplest crafts might be the one to win the Christmas tree ! A simple pair, ready to rock !
Source Unknown
Acorns might not be the first thing that comes to mind when one thinks of diy projects and crafts but yet their potential is extraordinary and they`re quite resourceful, lucrative, they can solve a lot of problems despite their small form-factor ! What do you think about acorn crafts? We would love to hear from you in the comment section below !