Red is a very powerful color that is often associated with fire and blood; it can be connected with energy, war, danger, strength, power, determination or desire and love. Highly intense and spectacular, red is a color of emotion that can increase metabolism, respiration rate and elevate blood pressure. This being said it is understandable why some homeowners do consider a tad too powerful for home-use when it comes to their chromatic palette yet every now and then, an individual bold enough to give it a go breaks the charts, creates the extraordinary, the unbelievable with the color through bold red accent walls.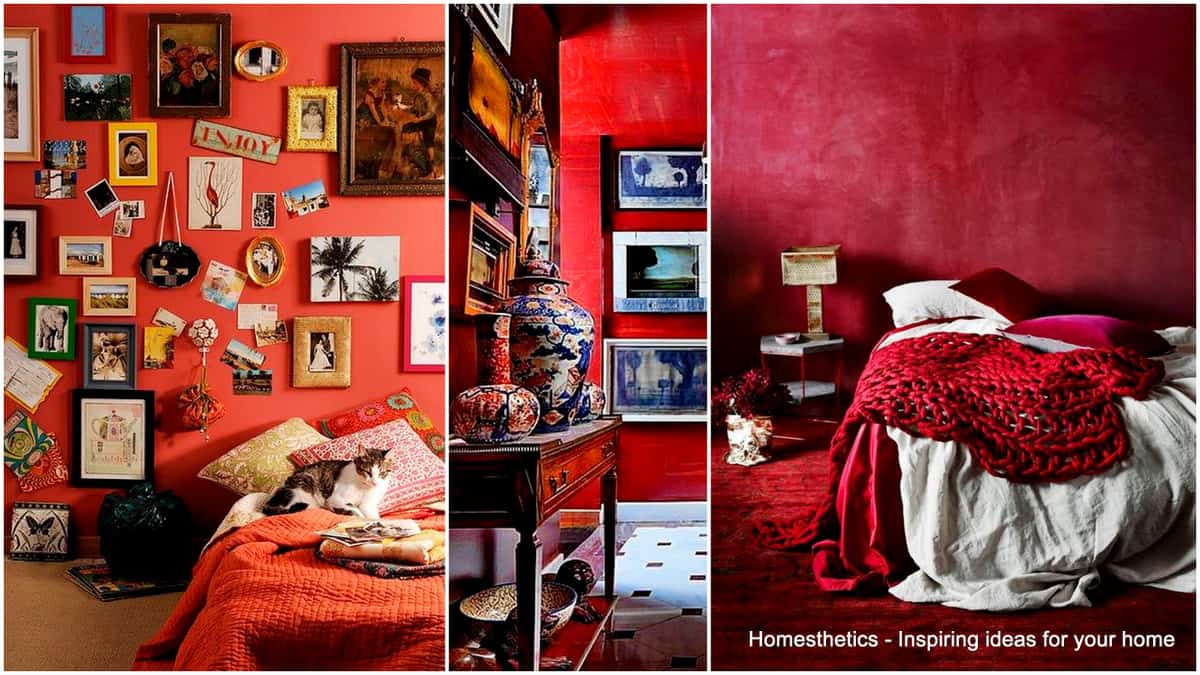 Red Accent Wall Ideas 
Red Kitchen Wall Accent
In one`s kitchen and dinning room red makes sense as it is known to increases metabolism and be associated with love and determination. The kitchen and dining room are, at the end of the day, the spaces in which we share the most extraordinary days with our family, spaces in which we find comfort through food, spaces that offer us that important glass of water when we need it. The kitchen is considered the inner core of a home for a good reason; cast a glance at the extraordinary designs below.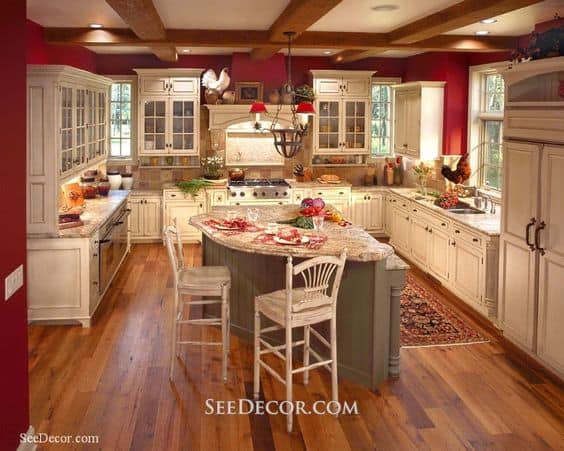 Red embracing the walls in kitchen can be balanced with white, sufficient light and a joyful state of well being. Notice how the amount of red above tends to complement the setting.
via seedecor.net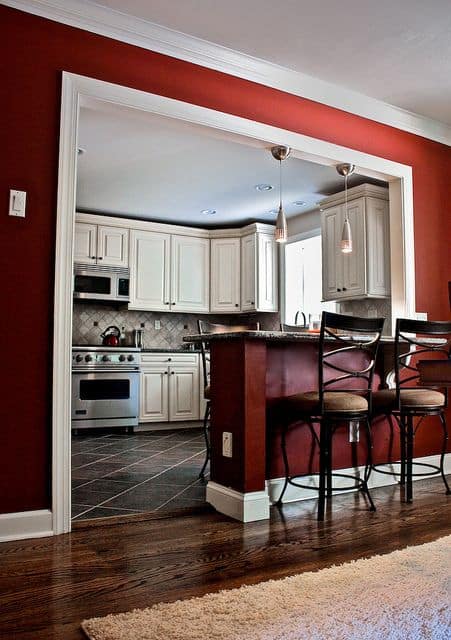 The wall that contains the bar receives red framed in white; inside the portal, beyond, in the kitchen, white and grays animate the setting.
via flickr.com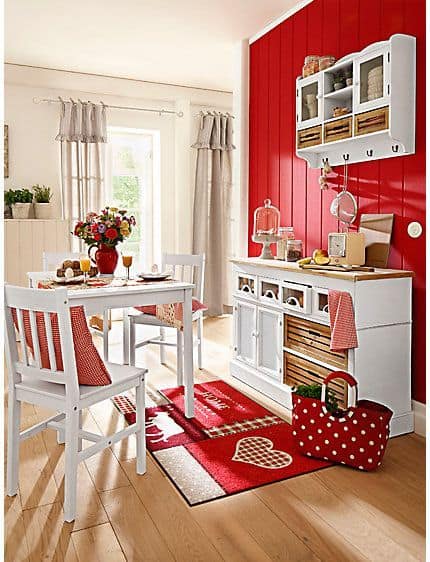 A Scandinavian setting with sufficient red and sufficient polka dots simply energizes a space, cherish it.
via ourcosyhome.ru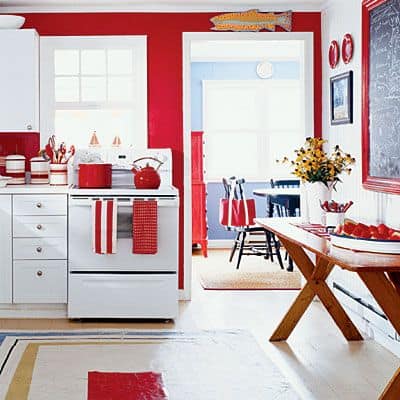 Light floods an interior spiced with red. The chalkboard with a red frame on a white wall creates a great balanced contrast that challenges the red accent wall.
via coastalliving.com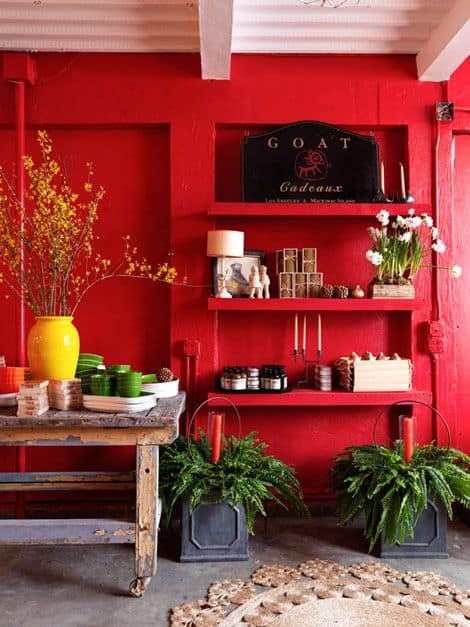 Sufficient red can create a great background to be animated by your sculptural iconic items; it gives one the opportunity to create depth of filed as the color greatly highlights the item in front.
via journal.homepolish.com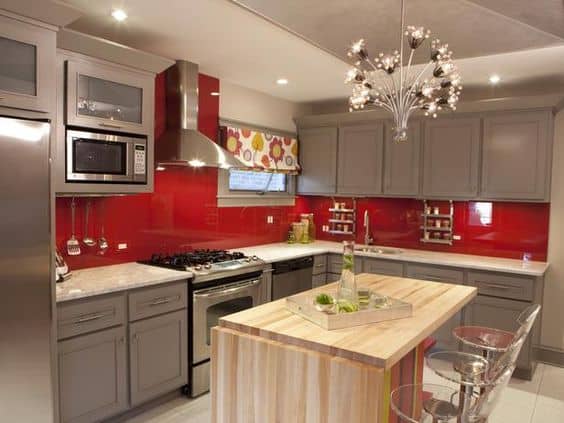 The entire taupe palette functions well with grays and the design above highlights this argument with a slight contrast between gray and red thus bringing the wooden isle forward as an accent.
via HGTV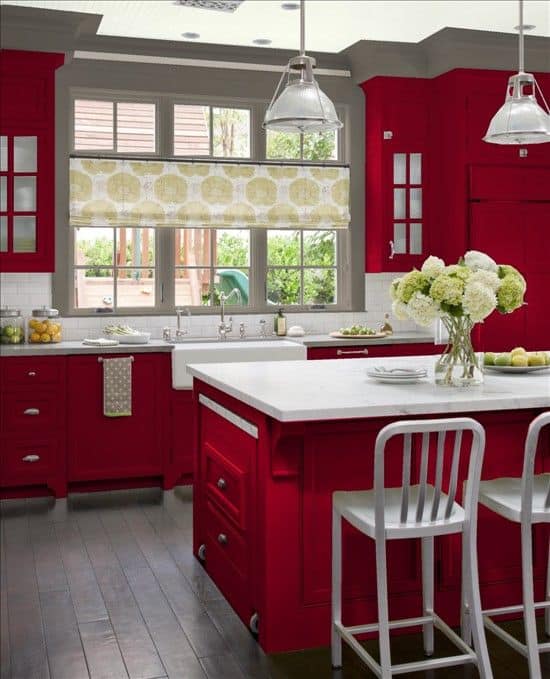 Red furnishings are a more permanent choice that can function in spaces with sufficient natural light.
via bhg.com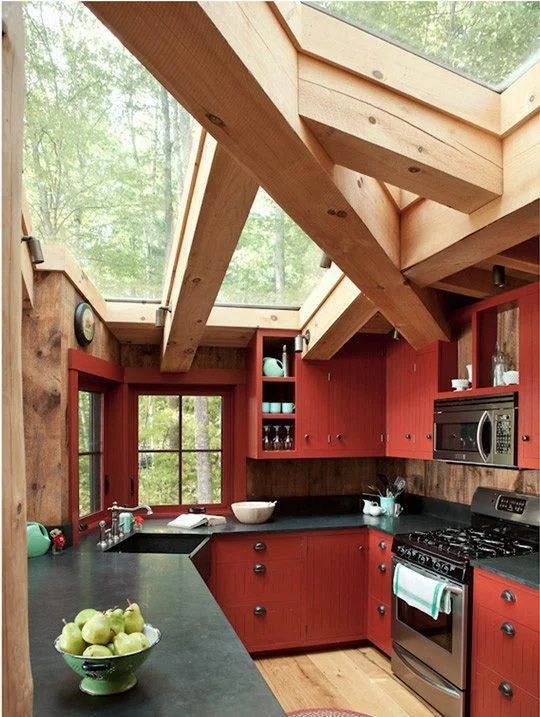 Wooden textures, a black counter-top and full red furnishings represent a difficult composition. Here the wooden beams dominate the space with an immense volume sculpted by light; the room also enjoys an extraordinary amount of light that dims the red`s intensity.
via thekitchn.com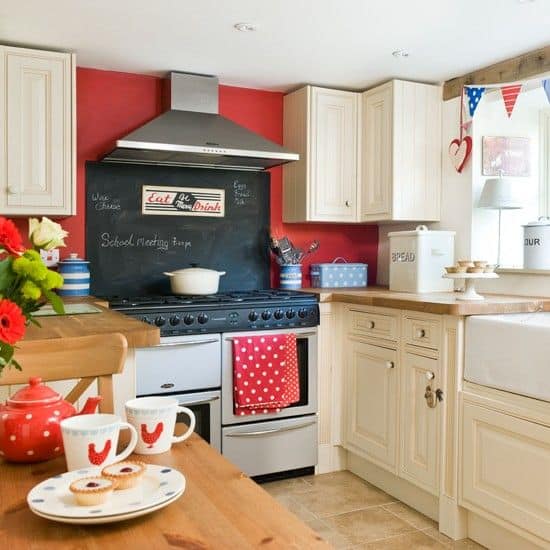 One red wall accent can be sufficient, here it contrasts with the black chalkboard and surrounding white furnishings.
The shabby look of a french cottage kitchen needs little visual aid in terms of color palette; here it was sustained with greenery and it`s natural complement in wall paint : red.
via houzz.com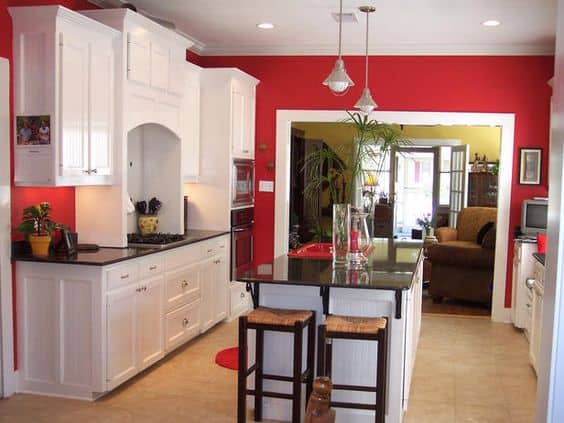 A space can evolve in time; paint is an evolutionary tool that homeowners can use and here red was used brilliantly, it simply highlights the contour of the furnishings embraced.
via hgtv.com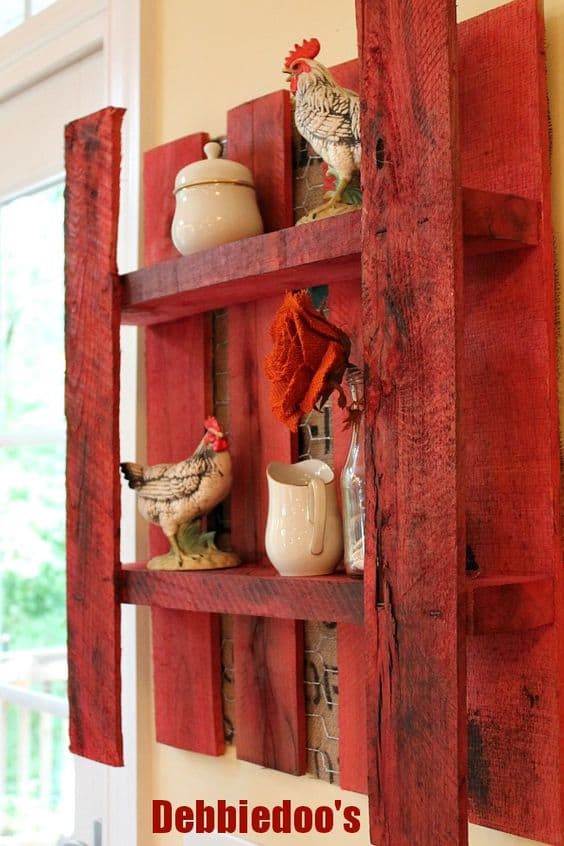 A simple red pallet can bring that rustic-vibrant feel of the rural environment indoors.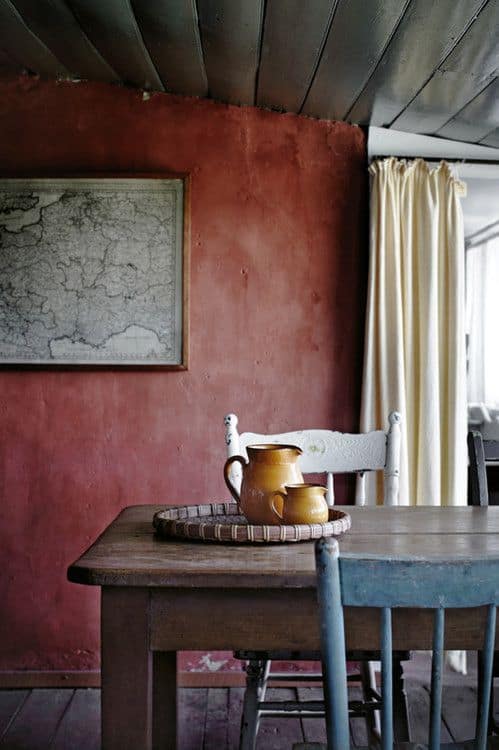 The red`s intensity can be adjusted to fit your needs; there the surface looks aged, tested by time.
via homelife.com
Red Hallway Accents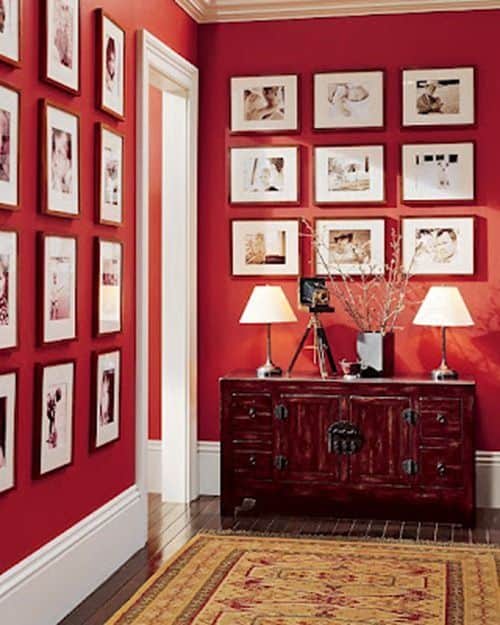 In the hallway red can be the idea conversation starter; it can also bring forward a gallery, highlight your collectibles or simply energize your guests from step one.
via centsationalgirl.com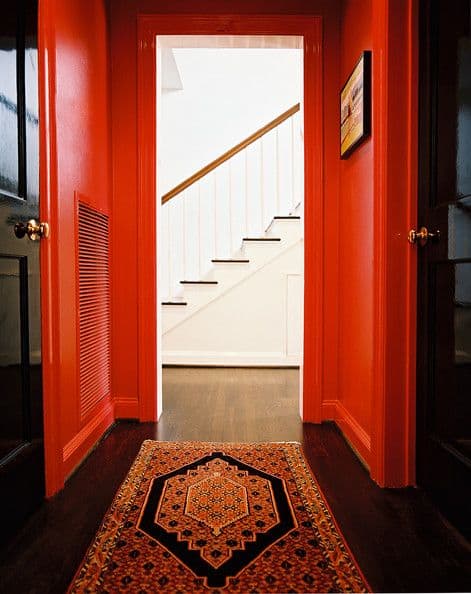 Stark white space beyond a door opening framed by an intense red that encapsulates two black doors.  Extraordinary contrast and composition that in practice ought to be executed with great attention to details.
via lonny.com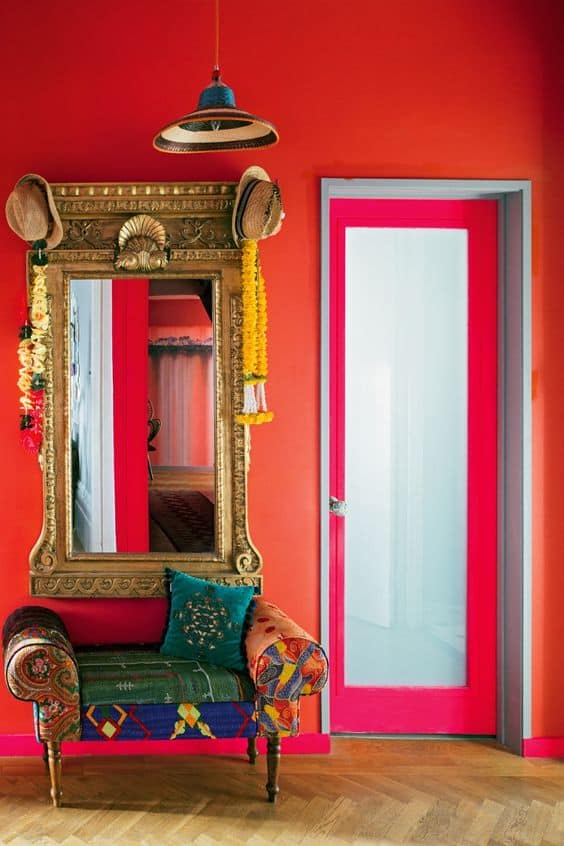 Elegant hue differences can create a depth hard to perceive by the mind but insanely appreciated by the eye.

via ruthburts.com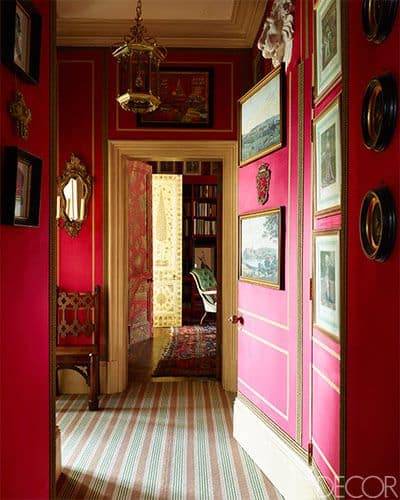 via elledecor.com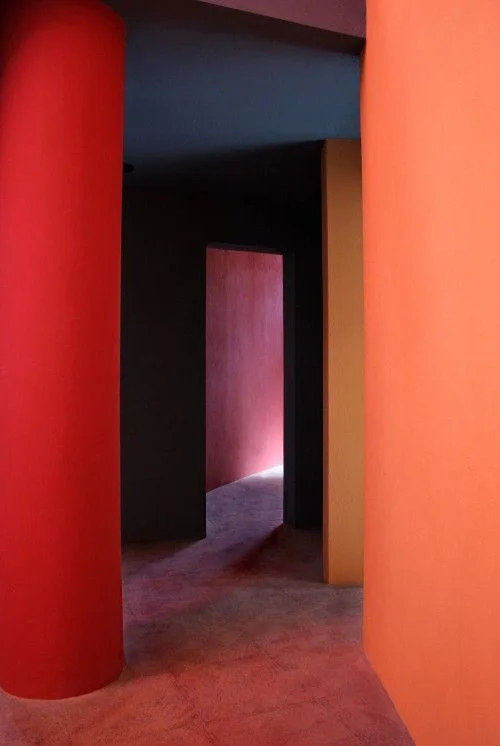 Gradient gallery hallway starts with red only to darken the path towards a light opening.
via saffronandsilk.blogspot.com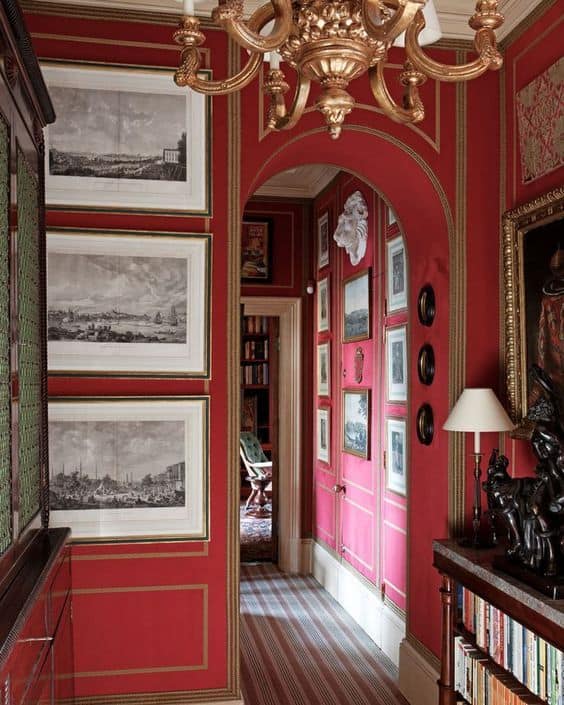 A display of memory, identity, authenticity.
Dinning Room Red Accent Wall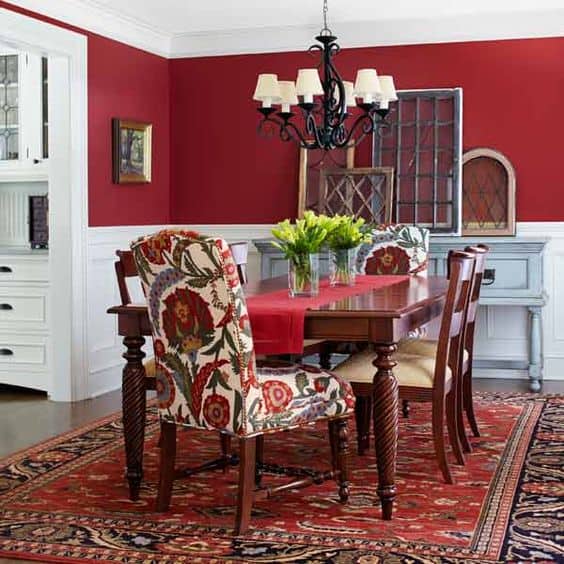 White wood paneling emphasizes the feeling of space in a room that uses multiple red hues.
via thisoldhouse.com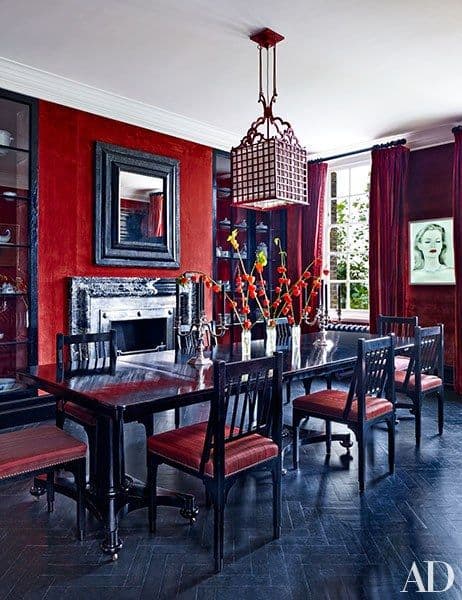 Contrast between wood and textured red in an ambiance flooded by light.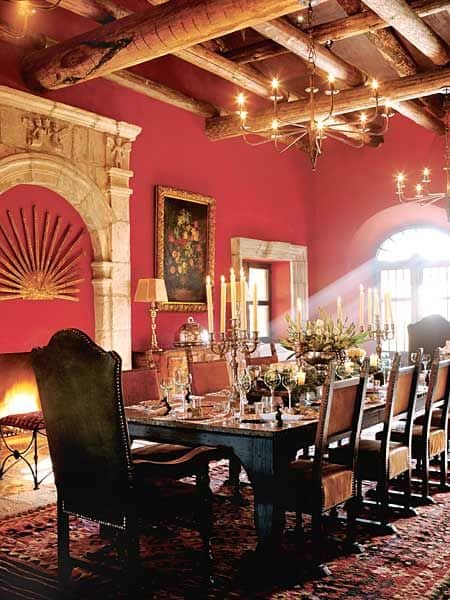 Dense setting uses red to tie various elements together.
via Jeremy Samuelson; designed by Rachel Horn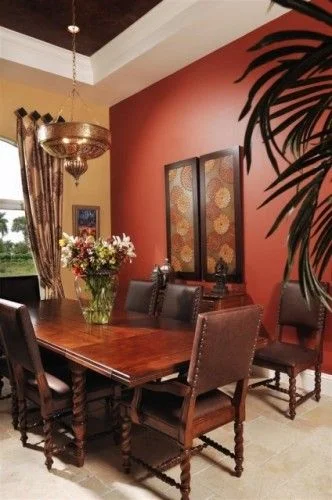 via houzz.com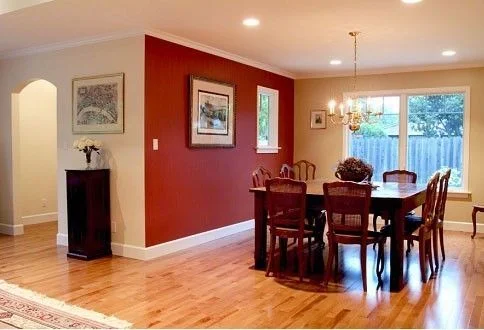 One accent wall in an uncertain space may do more harm than good.
Source Unknown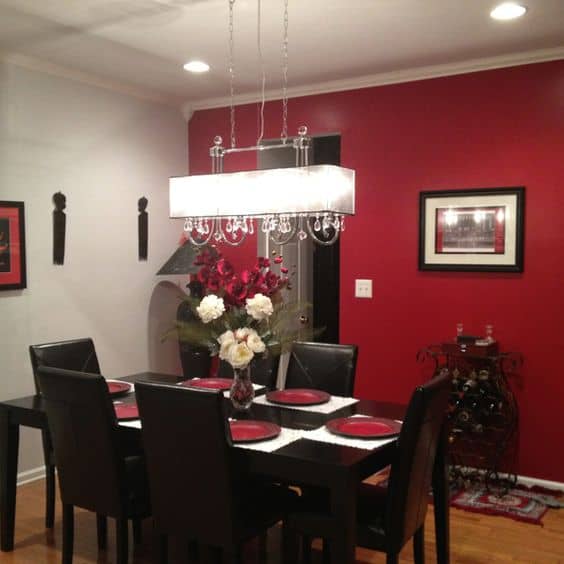 Source Unknow
Red Accent Wall in the Bedroom
In the bedroom red might energize the individual each morning, it might aid the individual to create a positive ambiance. Red in any space can bring the light furnishing forward, it can allow the use of numerous highly intricate patterns, textures and details without creating that cluttered feel.
Bedroom red accent walls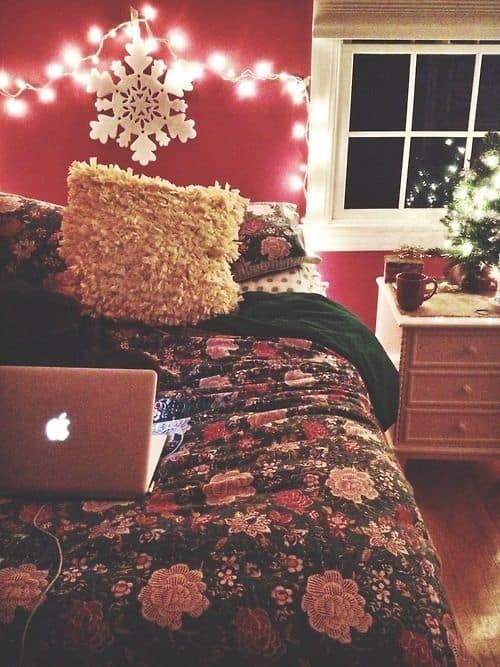 via weheartit.com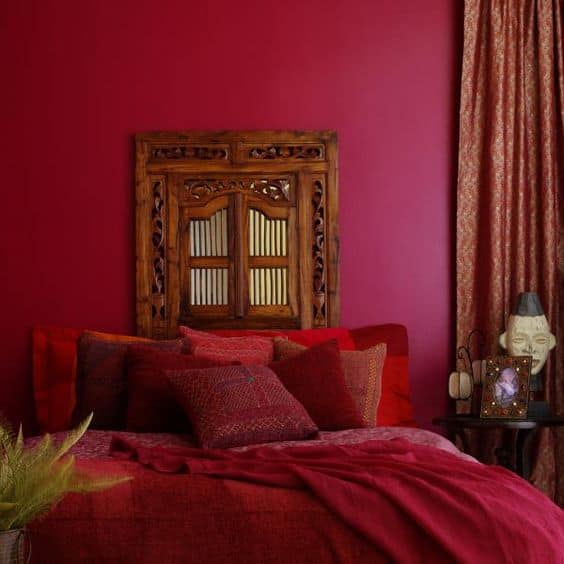 The different hues here are creating a very sensible-manageable space in terms of chromatic. Simplicity can be read.
via debbietravis.com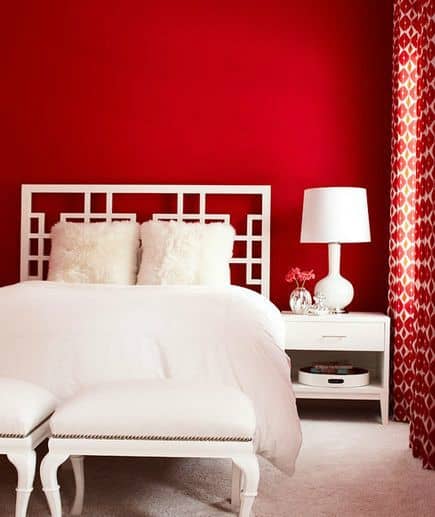 Stark white and pure red creating an immense contrast.
via realsimple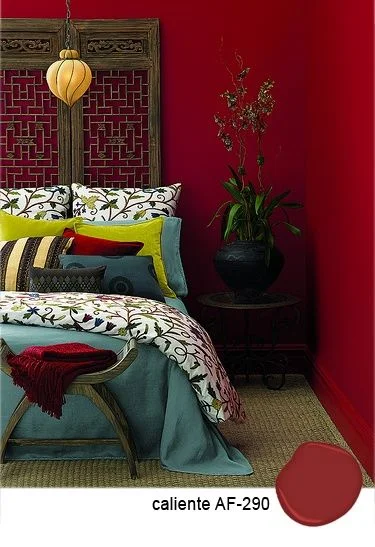 The proper red will need no introduction, you`ll know when you see it.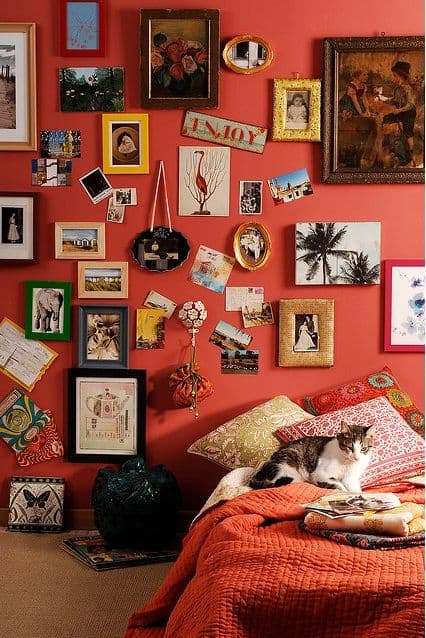 A gallery or collection of memories can be easily sustained by the red palette.
via pinterest.com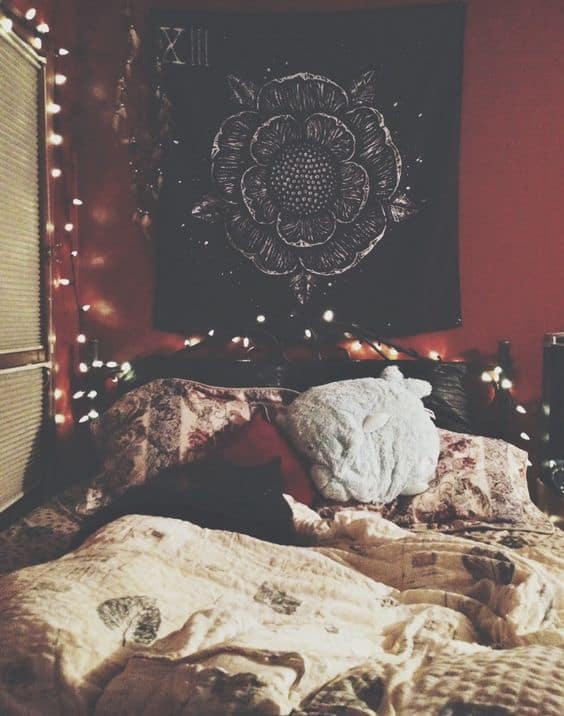 In the world of dreams red has a special place, the serenity of the bedroom above does the color great justice.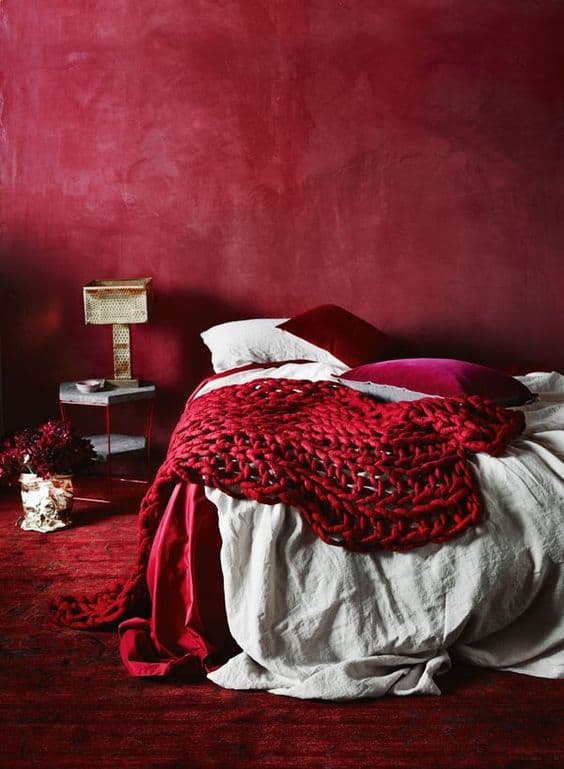 Depth through hues and balance through light.
via eudecoro.com.br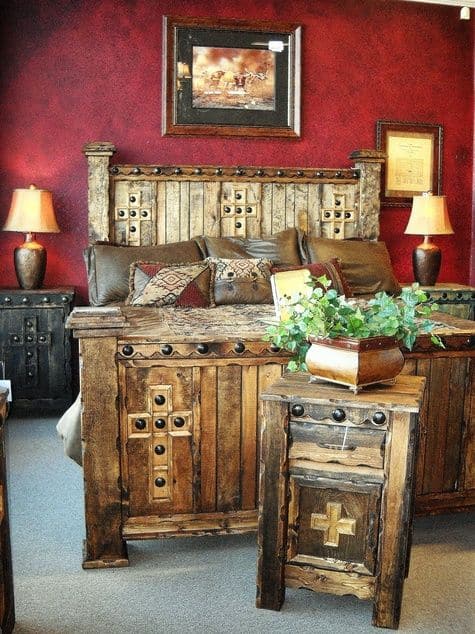 via cowboyreflections.com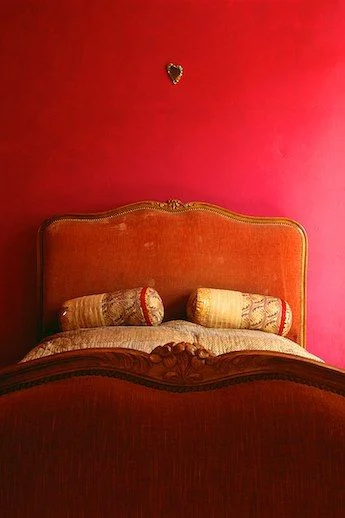 The cherry on the top is the small little heart above the bed. In this setting the right palette disrupts color tension to instate harmony.
Source Unknown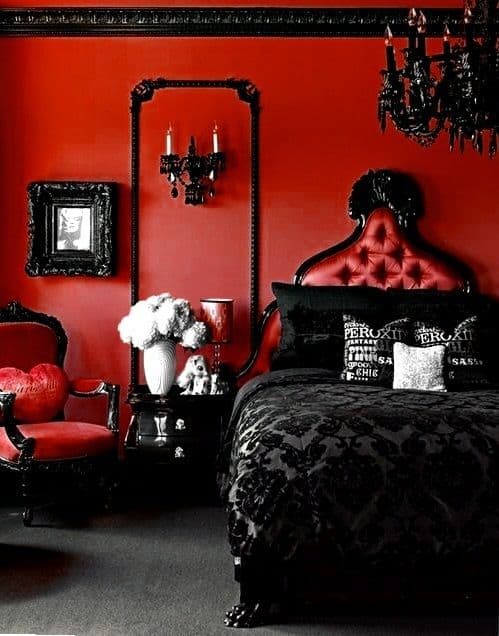 Black and red in interior design are definitely not a common option yet the combo has its certain allure, greatly appreciated by certain homeowners. The boldness and great contrast of the combination clearly stands out.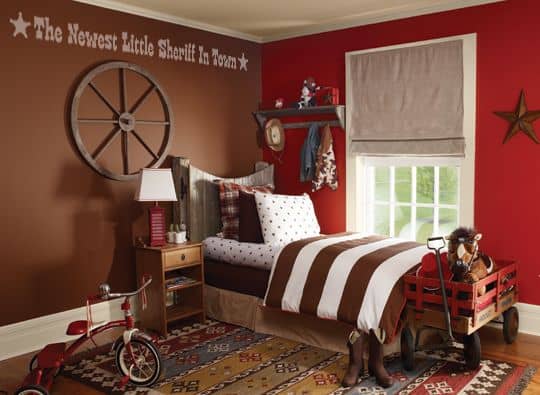 A child`s bedroom ought to contain color. The red and brown combination is not a happy choice as it makes the interior look dated, rustic and a tad old for a child but if one was to glance at the cart that carries the plush toy and the red wall he will surely be able to see the half-full part of the glass.
Red Accent Wall in the Living Room
Find balance through simple elements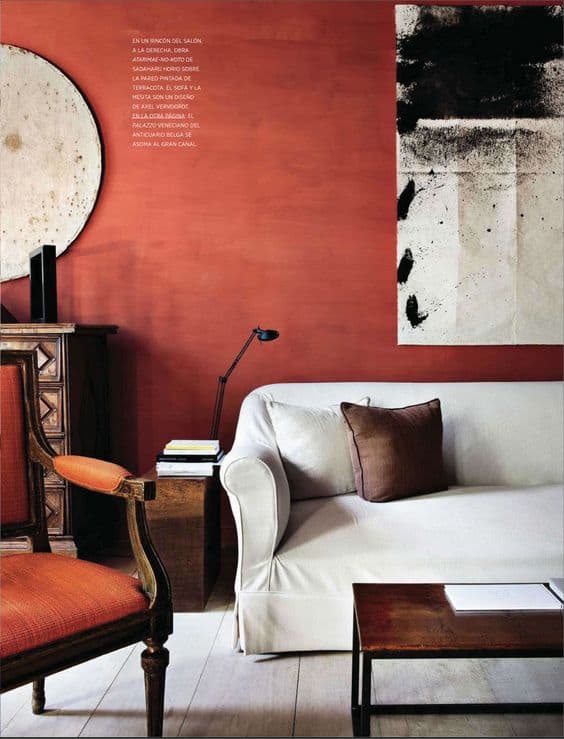 Simple elements can shine regardless of color, form or texture. In the setting above they happen to function in chromatic terms too.
via plascontrends.co.za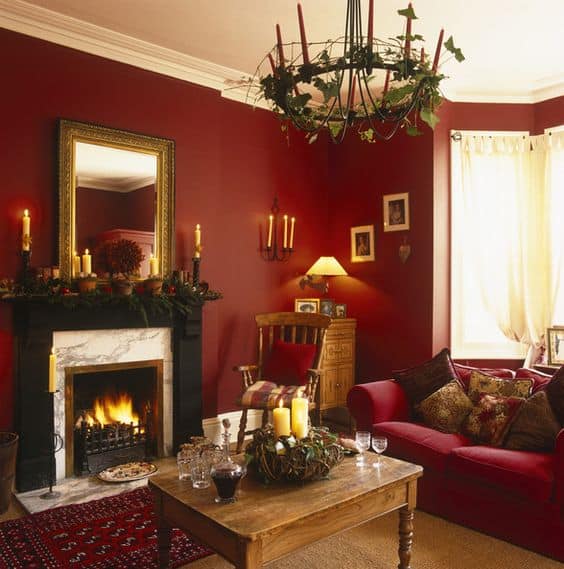 via lonny.com
Use intricate pattern detailing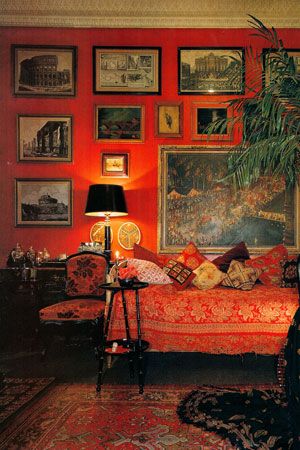 A simple frame gallery or your most intricate pattern can benefit from a red background.
via christinefife.com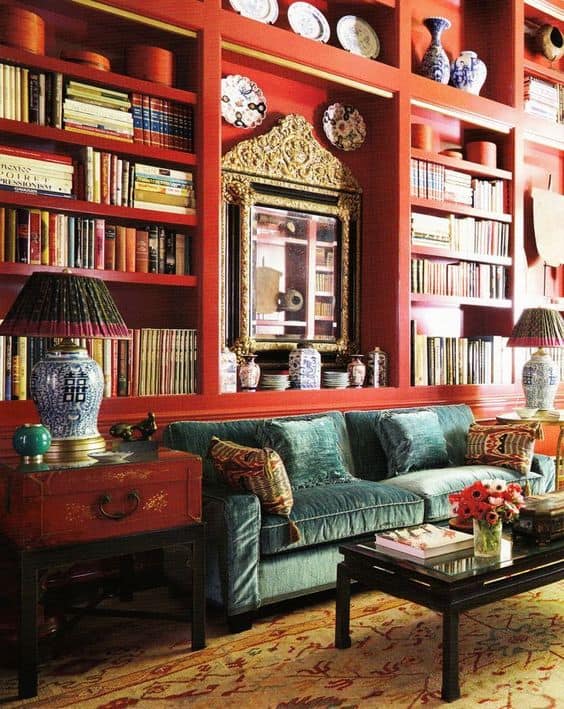 Red accent walls can help you bring forward more intricate items that you would like to expose thus earning the support status.
via ladolcevitablog.com
Use simple shelving to DISPLAY memories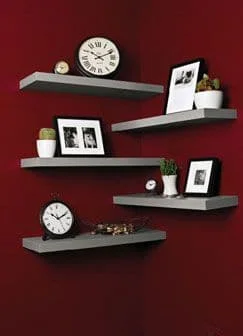 Source Unknown
Bring forward a gallery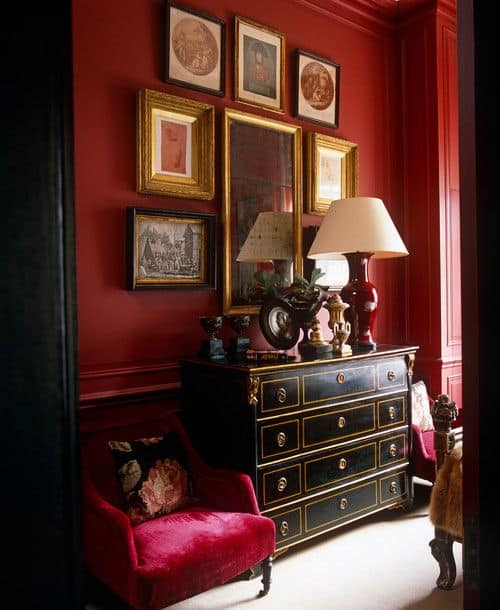 Emphasize your golden frames with intricate details with right background; red creates that intense energizing atmosphere that simply amplifies the effect of the exhibit.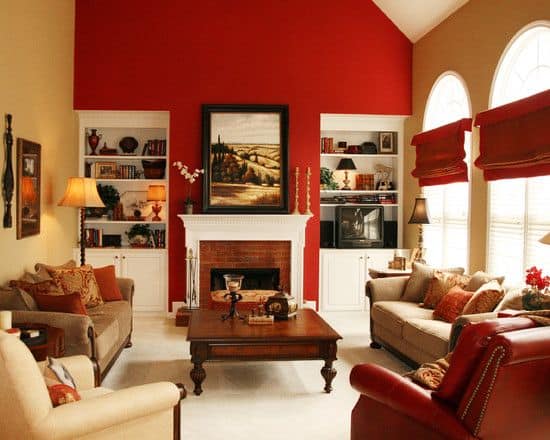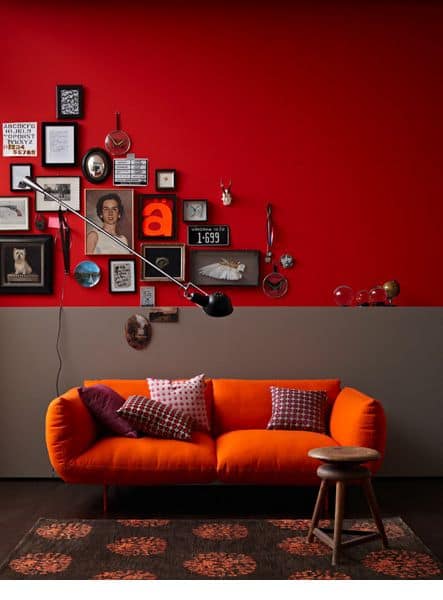 via vonderhude.de
Chromatic balance with earthy tones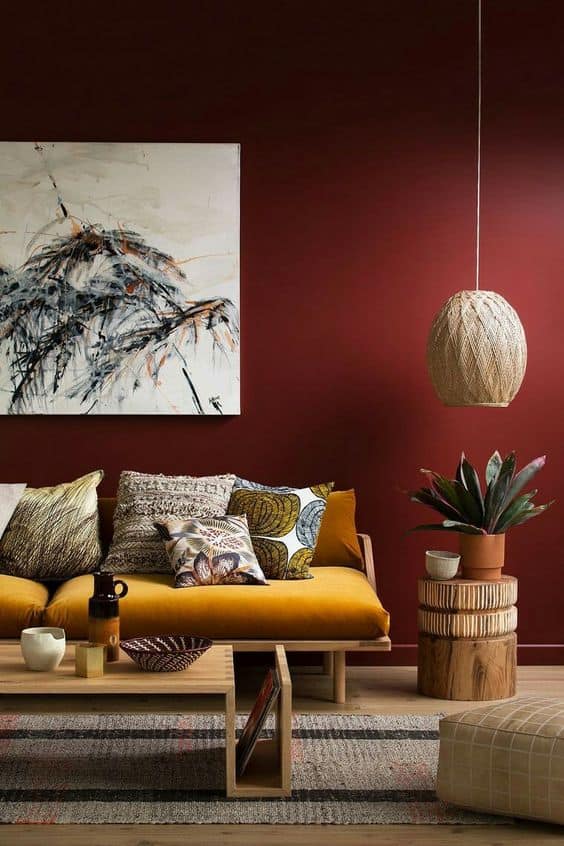 Earthy tones dim down the intensity of red with ease, use them to your advantage to complement the intense setting.
via cotemaison.fr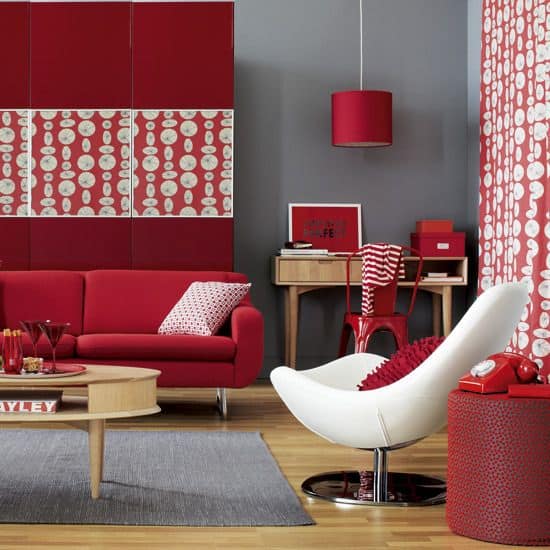 Modern interiors could use red with ease, sculptural modernist furnishings applaud this color.
Source Unknown
Break the impact with light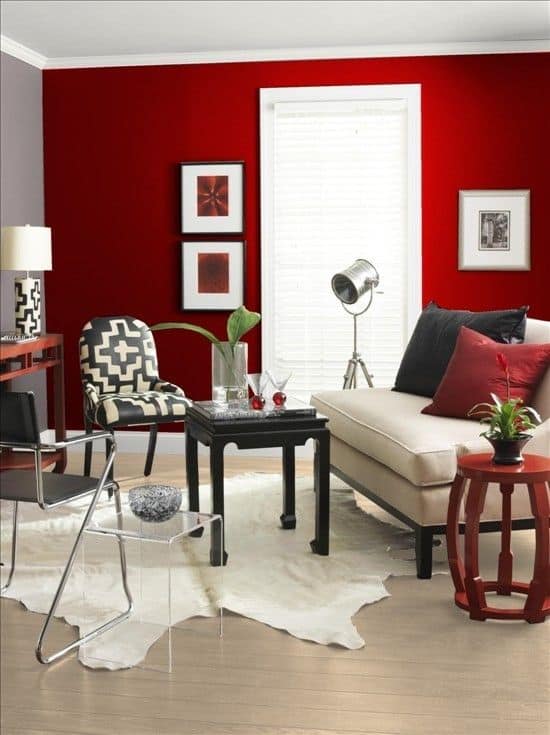 The light from a window can brighten the interior space being able to change a red interior that might look dark and unfriendly to something highly positive, filled with energy.
via bhg.com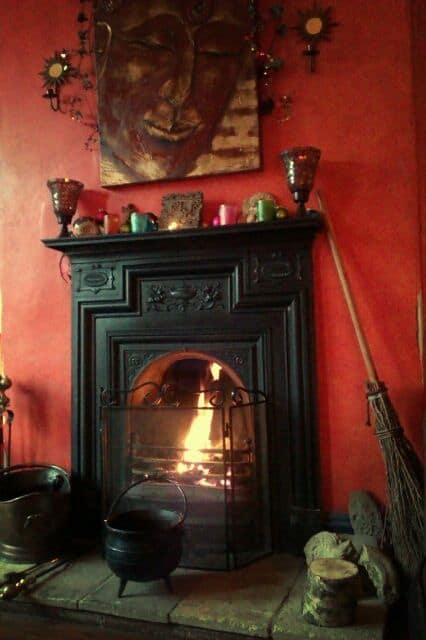 The coziness of a wood burning stove or a fire-place can shape a magical setting.
via loveatpsychedelicvelocity.tumblr.com
Create a red distraction on the wall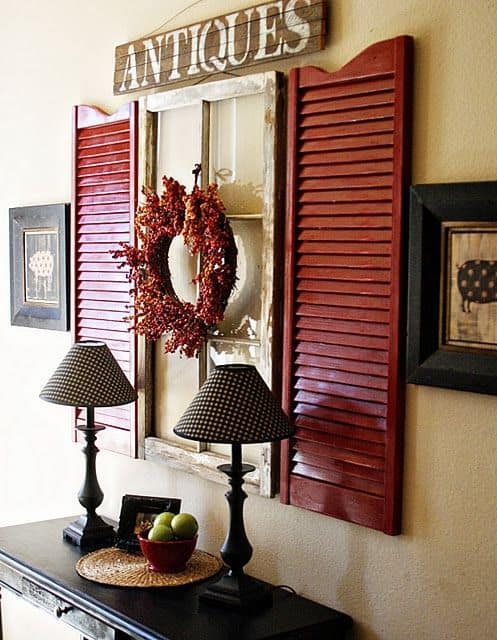 To distract with red in interior design is no surprise, use unusual elements to break the pattern.
via dishfunctionaldesigns.blogspot.com
Natural green complementing red accent wall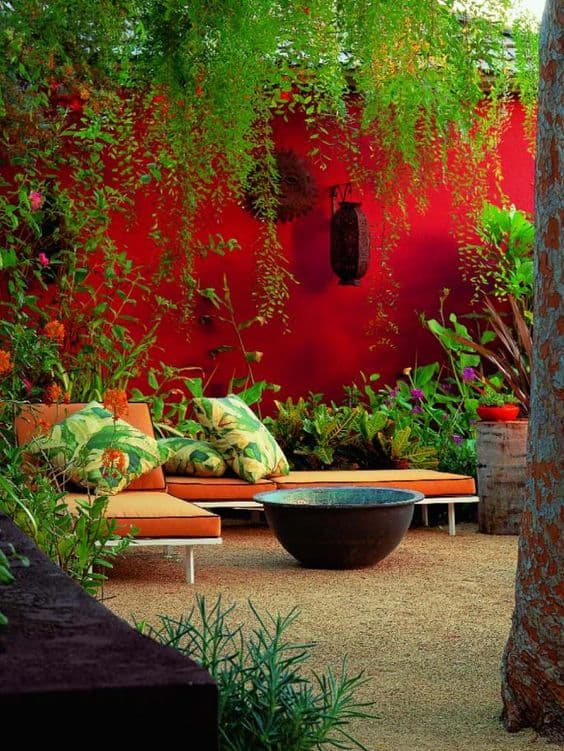 Greenery complements a red wall accent from a chromatic standpoint whilst beautifully emphasizing the whole setting through its naturalness.
via books.google.com
Complementing texture and patterns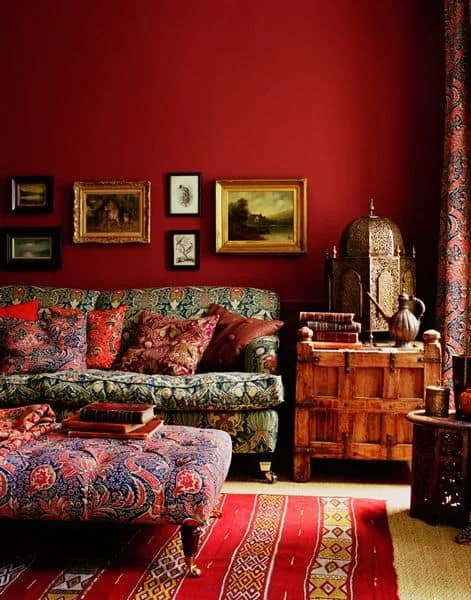 via picsdecor.com
Your spectacular textures ought to shine with the right support, chose wisely.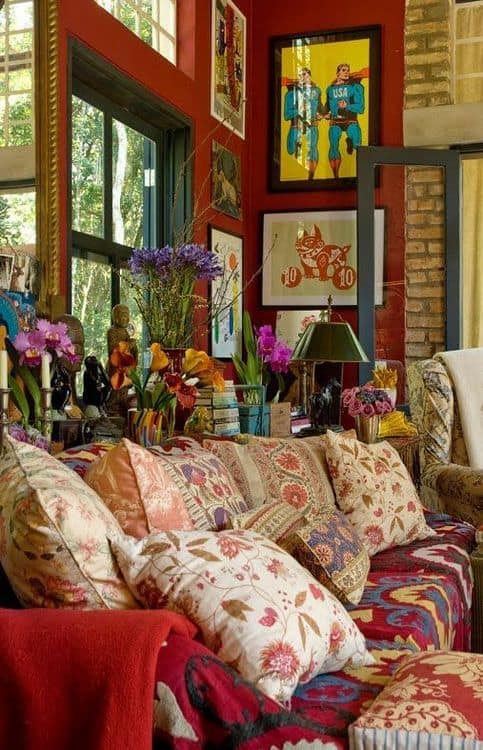 Red bold accent walls are most commonly used as support elements for intricate details, furnishings and patterns thus creating highly intense spaces in interior design. How do you see and use the red color indoors? We would love to hear your valuable feedback in the comment section below !