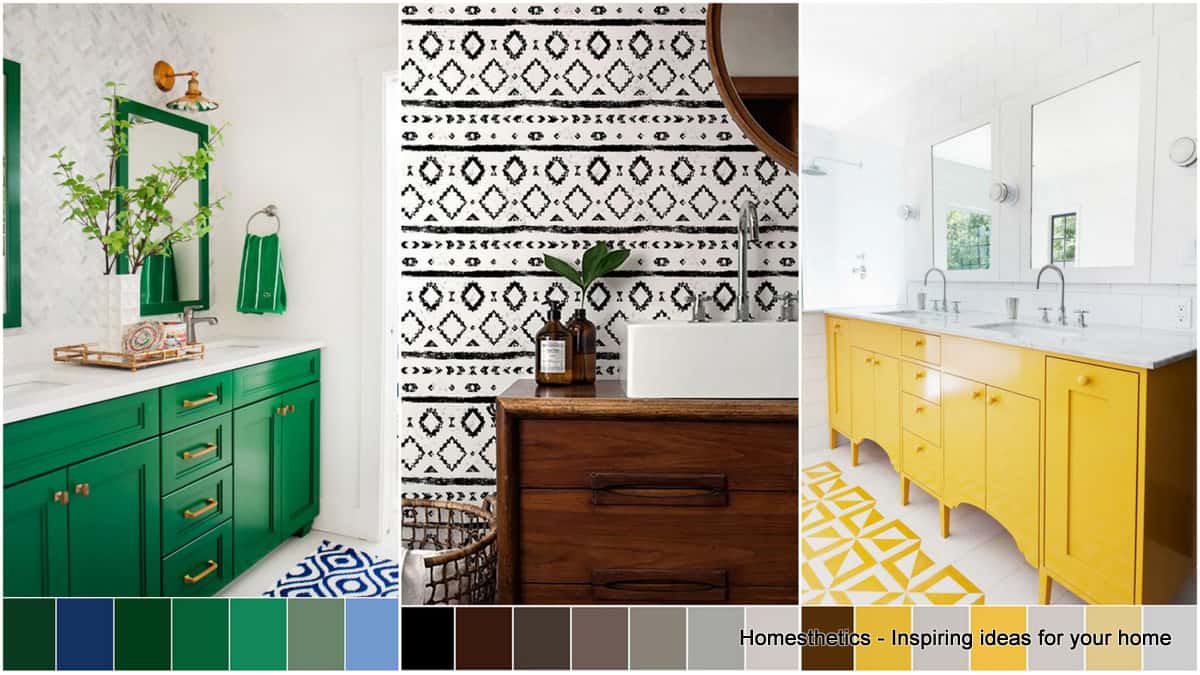 The bathroom is a space in which we find calm and peace at the end of a long day, soothing our nerves in the bathtub surrounded by scented candles and ambient music thus giving this space paramount importance. To find calm and peace and the comfort of being sheltered in one`s home the individual ought to pursue change in small gestures, small decorations that function in the overall color scheme envisioned. The best bathroom color schemes that a homeowner can choose are the one he creates yet to aid you in your in this endeavor one of the most extraordinary options the internet surfaced have been presented below.
Small elements make the difference in each and every setting: a golden accent that goes unnoticed or a marble texture in the vertical plane that serves as complementary pattern.
The details are not the details. They make the design.

Charles Eames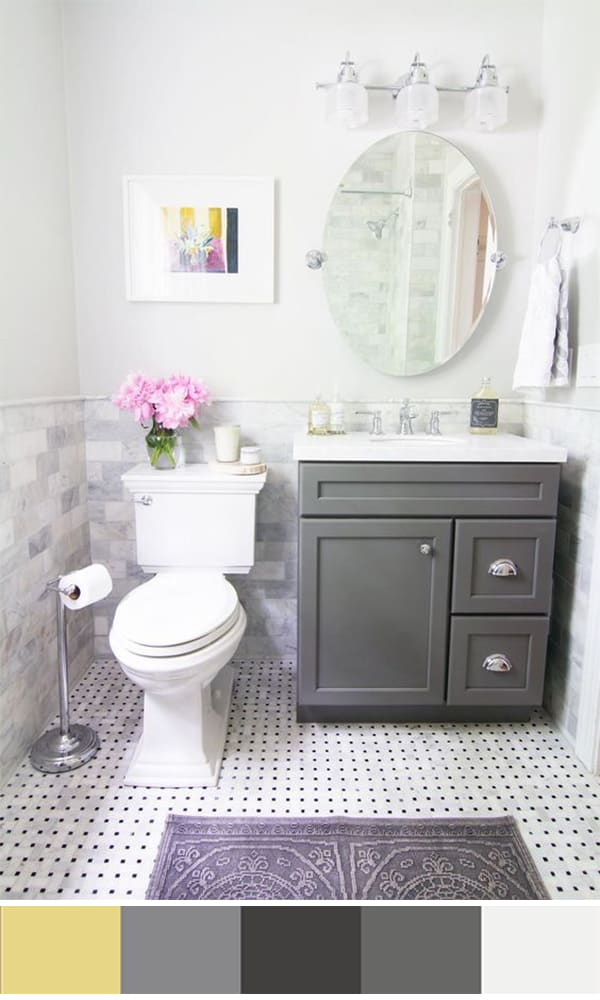 image via curbly.com
Small bathrooms are usually designed in light tones able to light up the space make it seem clean, sterile. Contrast though is required and grey variants offer the right solution when inserted in small amounts. A touch of yellow will complement the color scheme and tie everything together.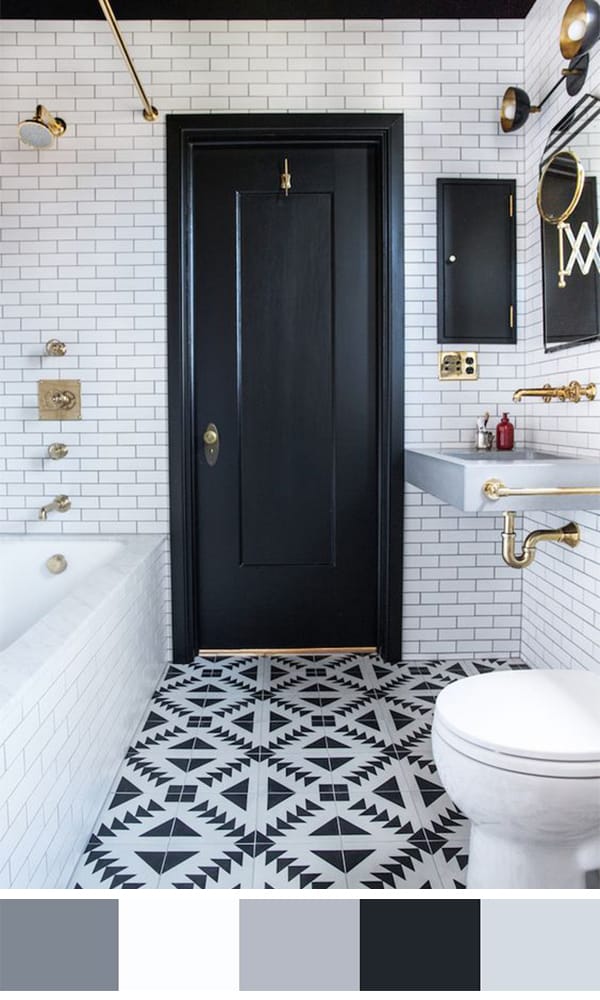 image via bloglovin.com
Add the vintage appeal you so otfen see in magazines by using black and white combinations with gold accents for contrast.Such a design can be considered timeless and rather neutral, suitable with any home.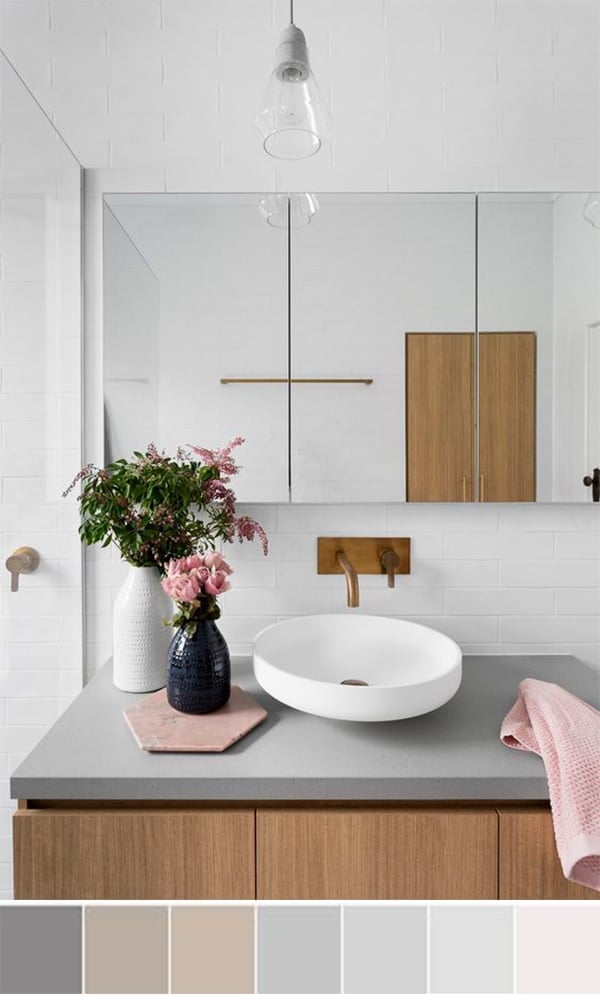 image via chic-deco.com
A modern simple design approach infuses pastel hues in accessories to smooth down the coldness of white and grey. Wood has been used for the same reason for the actual bathroom furniture,making thus the space a pleasant airy one.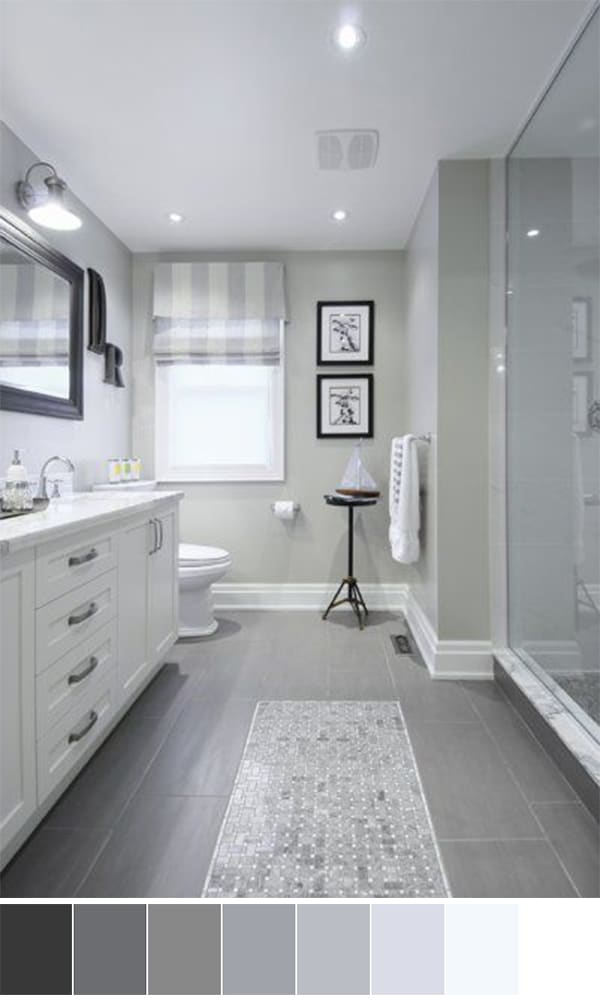 image via canadianhometrends.com
A guest bathroom should be conceived in a neutral color pallet, using modern yet elegant tones of grey that vary from cold to warmer ones.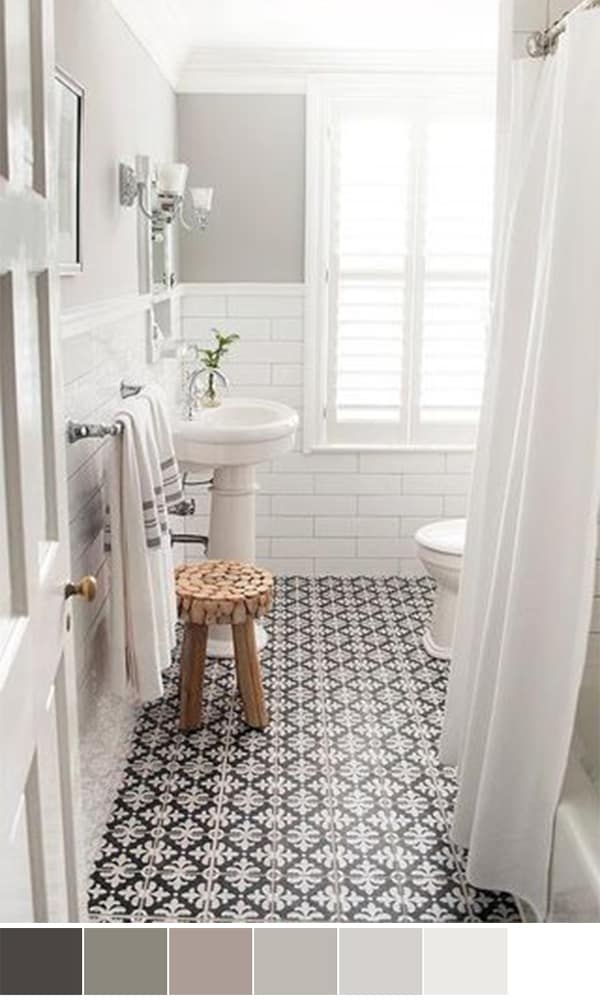 image via bloglovin.com
A small bathroom dressed in white requires a touch of contrast, reason for which the above Mauro design in black and white has been chosen.The small wooden chair adds a small note of warmth to the entire ensemble.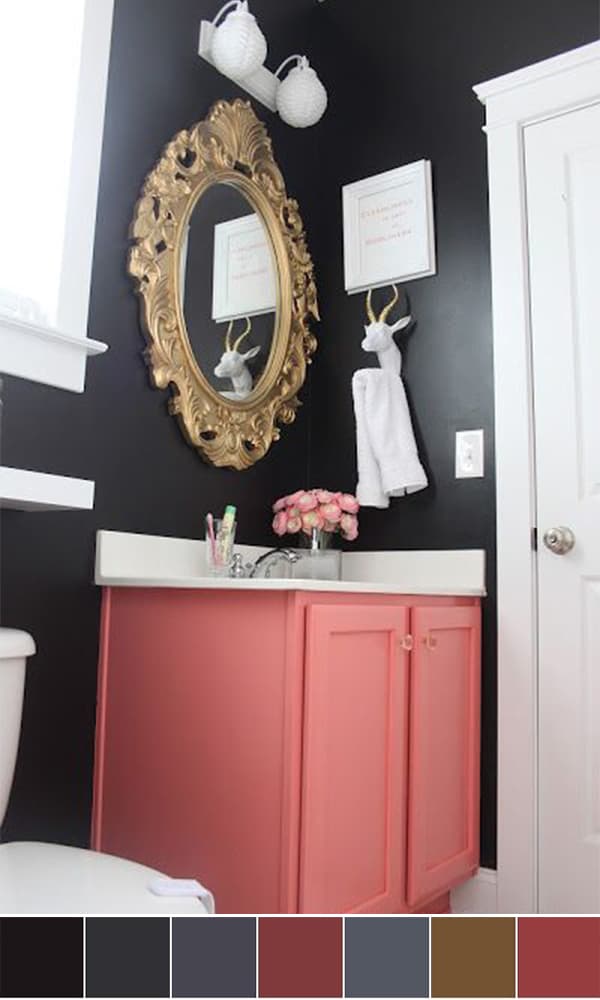 image via dwellingsbydevore.com
A bold bathroom design might imply the usage of black, gold and bright coral for an eccentric touch.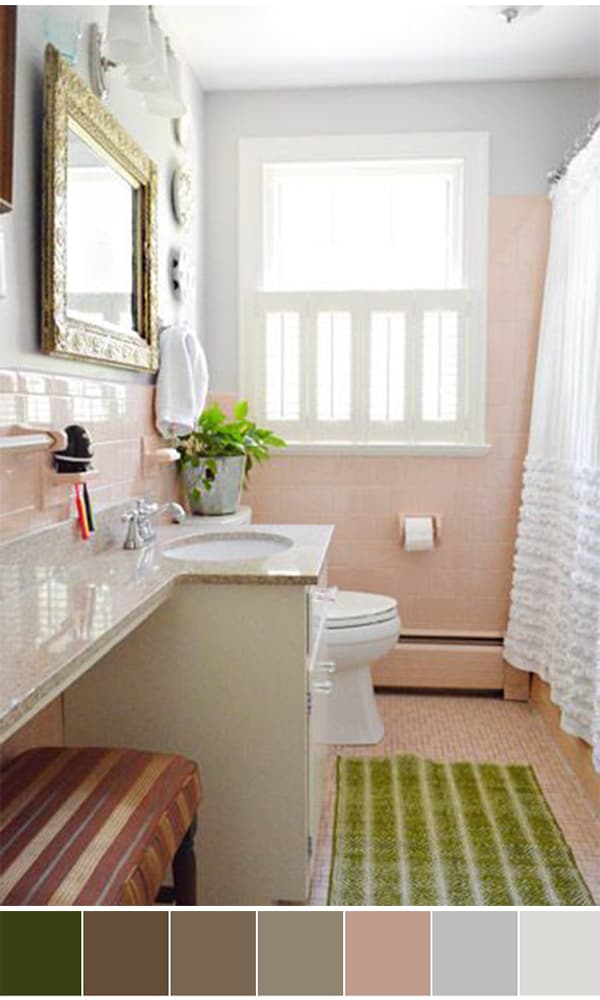 image via younghouselove.com
A more feminine bathroom uses soft pink shades and a bright green for contrast.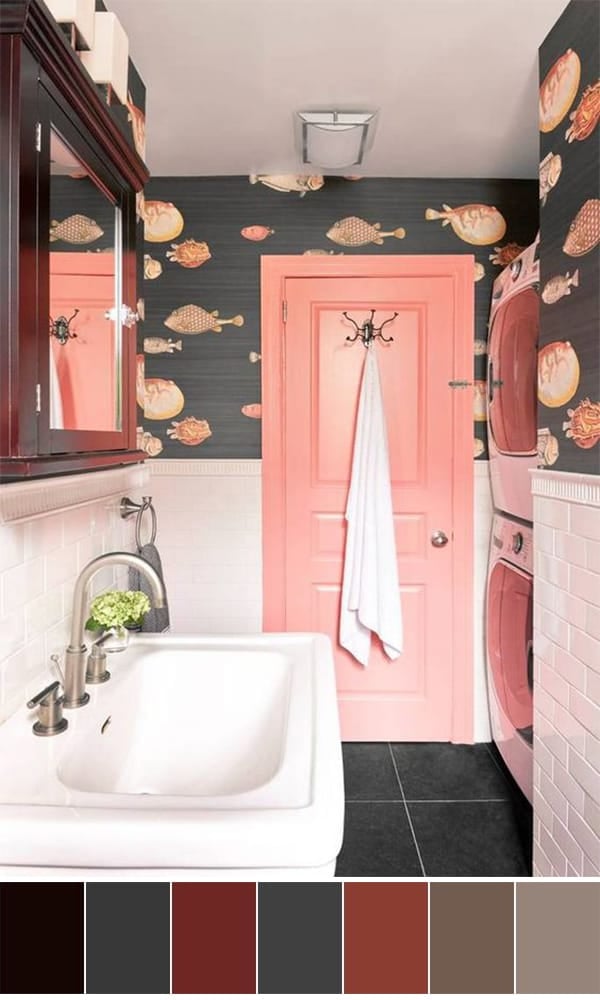 image via domino.com
Wallpaper is seldom used in bathroom due to high humidity yet when such is the case, a bright hue on the bathroom door makes the walls stand out.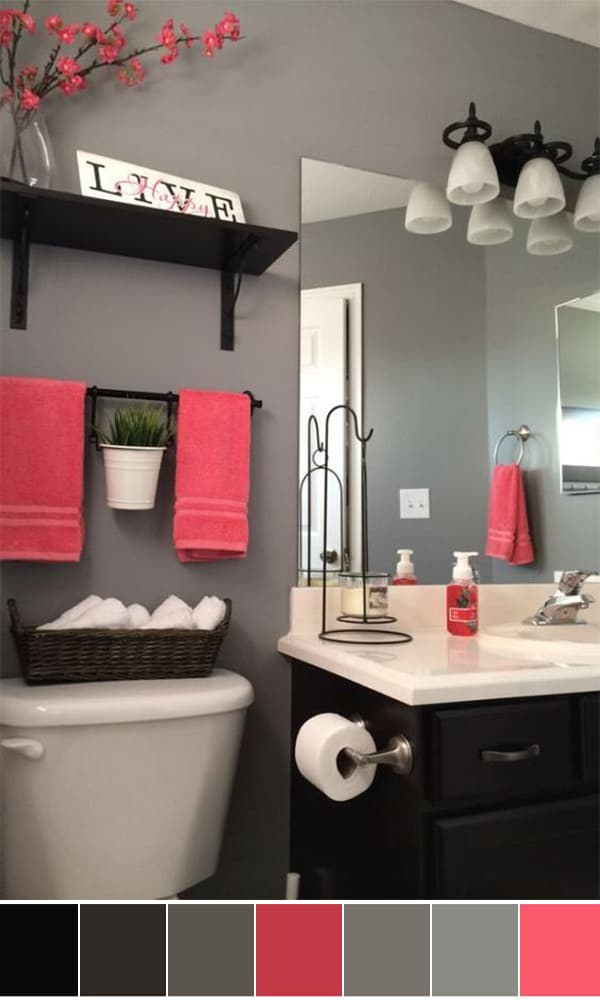 image via kylieminteriors.ca
Remodeling a bathroom can simply be taken as a change of accessories.A neutral black white and muddy grey background can be chosen as a support for future transformations.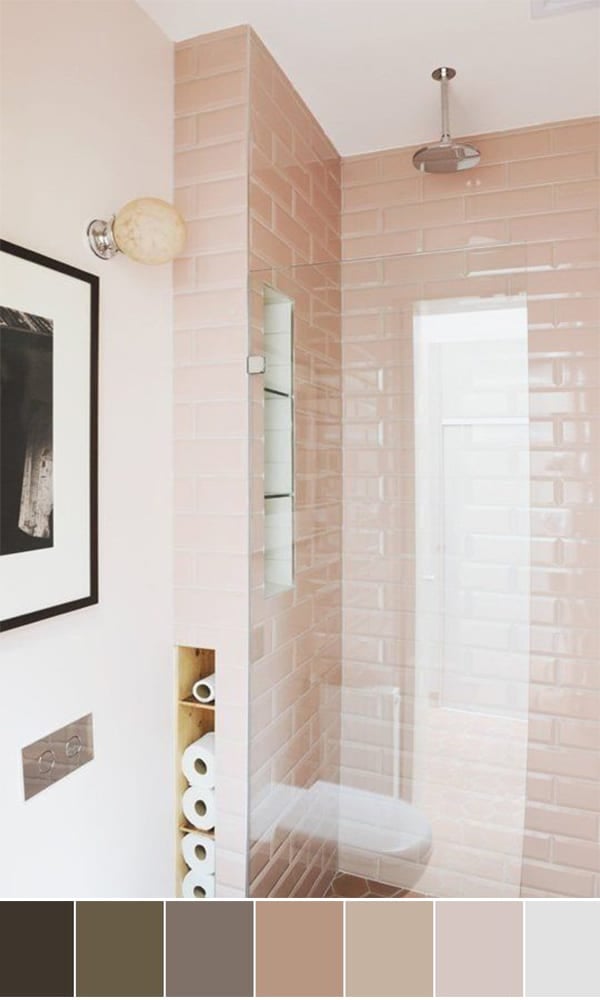 image via Design by Hearth Studio
You can leave a bathroom completely white as long as you choose an accent color for contrast. A soft blush pink has been used above to mark the shower zone.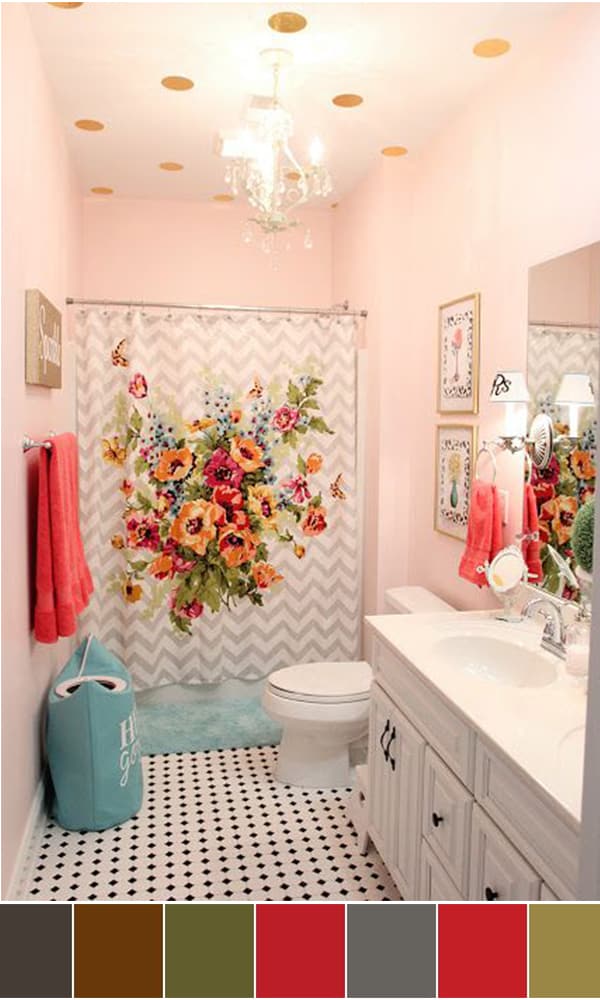 image via lessthanperfectlifeofbliss.blogspot.com
You can transform any space by inserting feminine touches: a flowery shower curtain, coral towels, a blue laundry basket.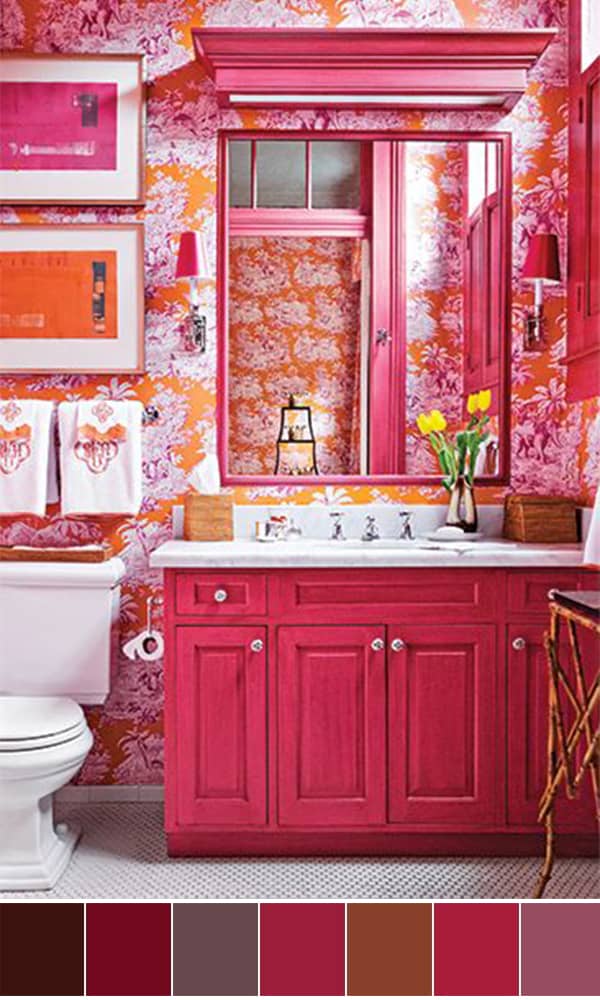 image via domainehome.com
Some opt to go to the extreme in using bright bold shades of pink and red and although such a choice is quite bizarre for a bathroom we applaud the creativity.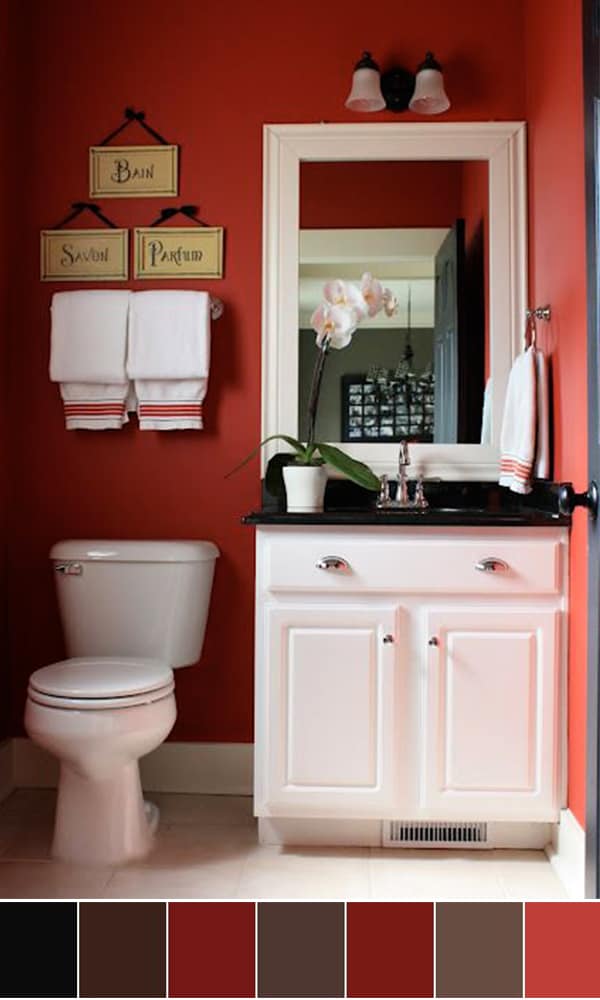 image via curbly.com
A bright illuminated bathroom can receive stronger hues, darker hues that add a slight touch of elegance to the space.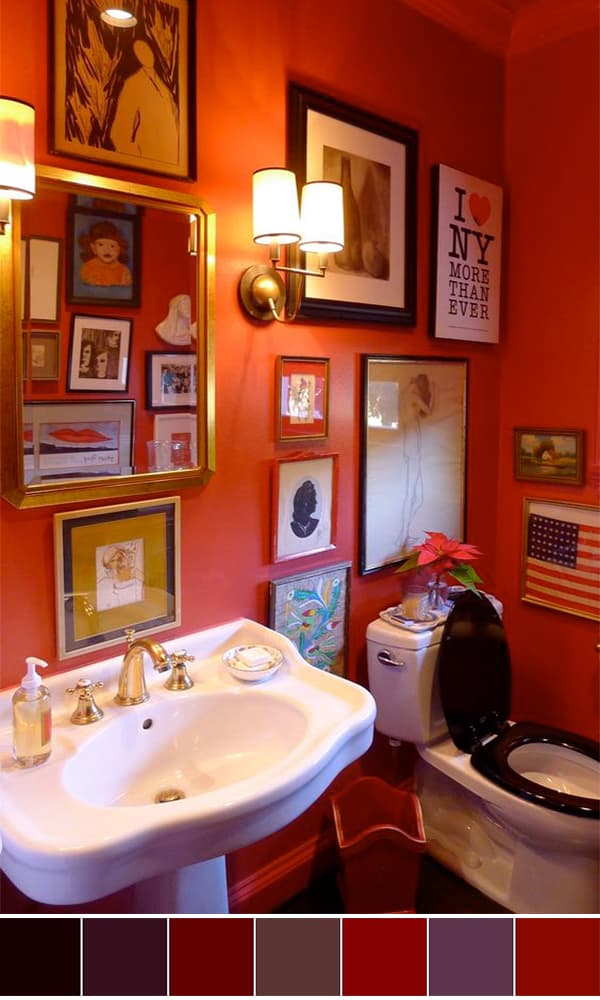 image via semidesignedlife.com
A pop inspired bathroom color scheme involves bright red walls and a ton of wall art, a bizarre combination for this particular space.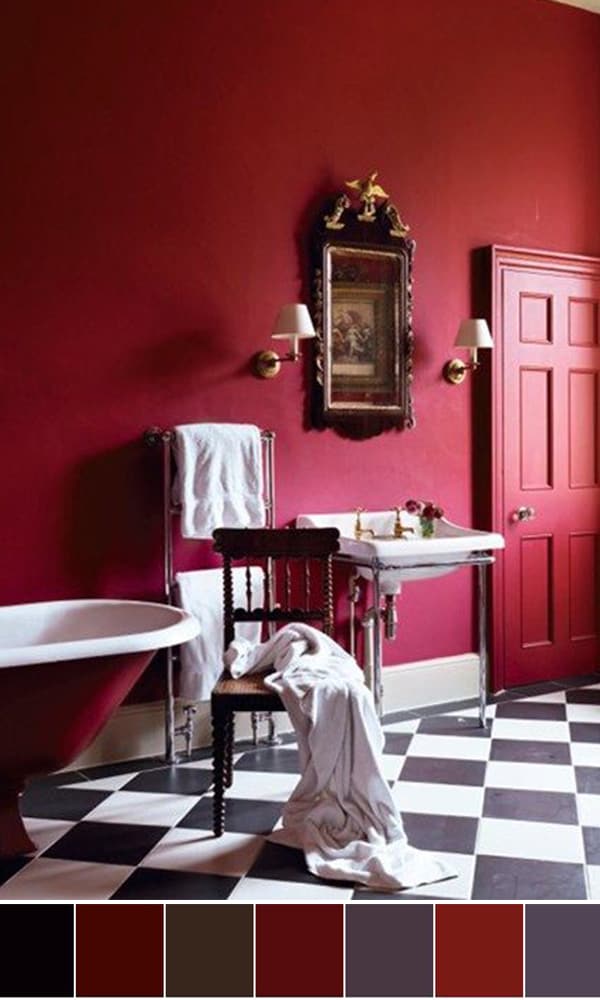 image via houseandgarden.co.uk
Bold red and a checkered flooring describe a glamorous bathroom space fit for a classical home.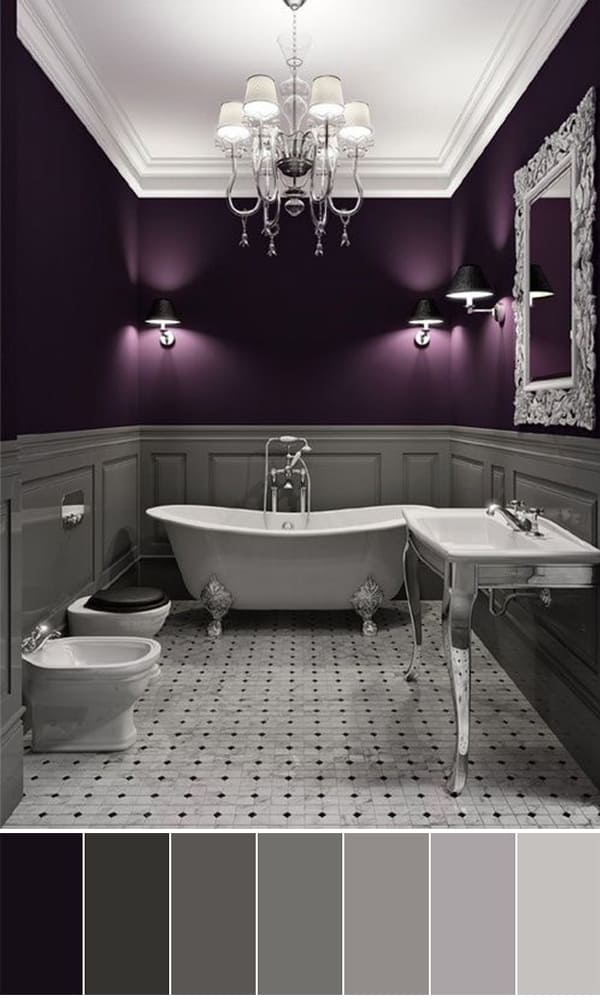 image via blog.styleestate.com
At the opposite corner lies the modern bathroom design with a neutral, solid base and a bright bold powerful purple accent on top used to accentuate the extravagant furniture used in the design.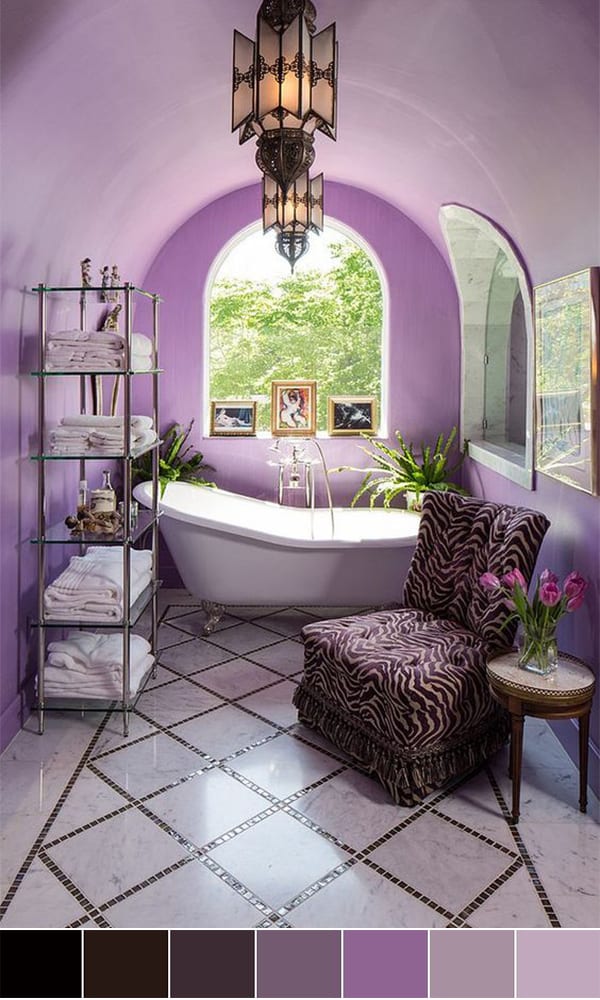 Source Unknown
A lilac bathroom can be toned down by contrasting decorative elements and a light floor.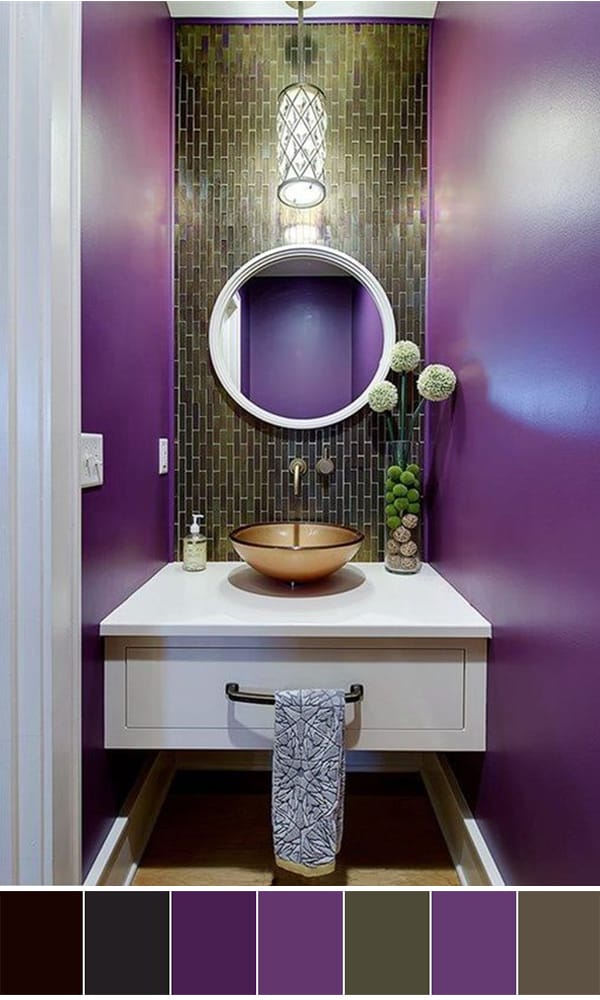 image via zlw.re
You can mark the sink and mirror wall by using a bold hue in a small enclosed space for a shocking bold contrast.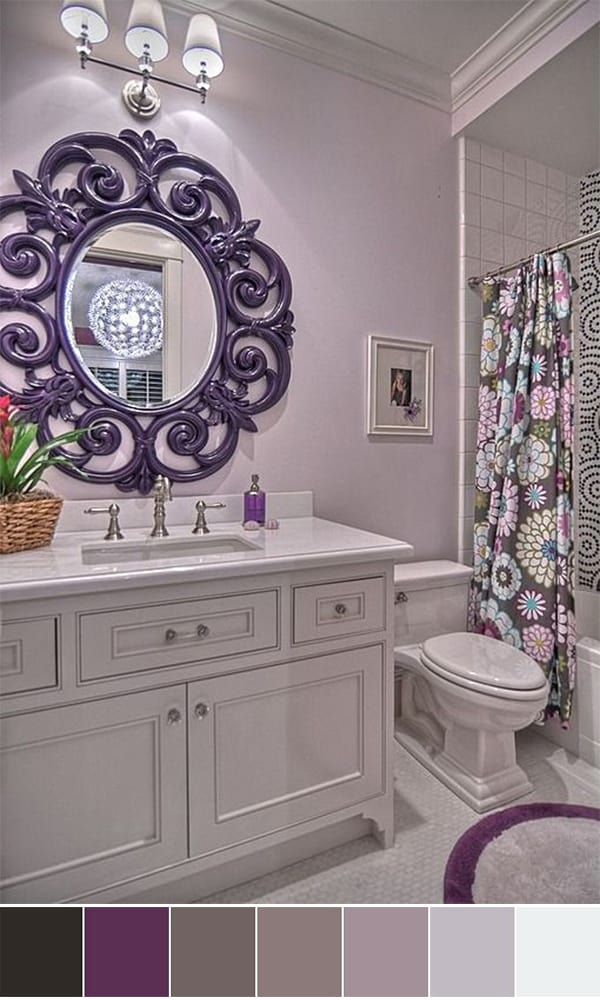 Sometimes a colorful accent is all you need in an all white/beige bathroom design. The mirror frame and the shower curtain in this case have been the two chosen elements to receive color.
image via zillow.com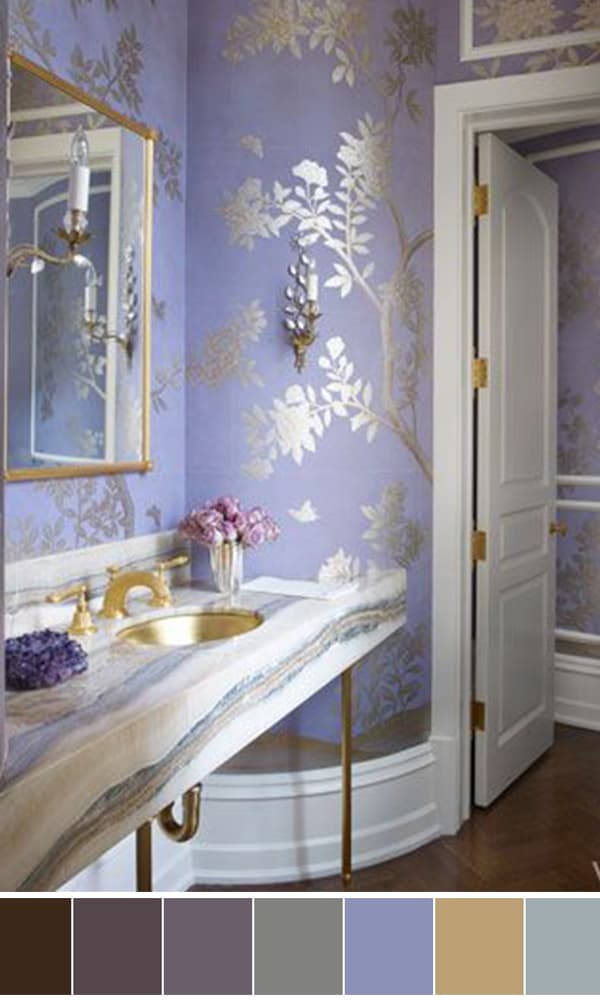 image via veranda.com
An elegant wallpaper with golden insertions can infuse a French spirit into your bathroom space.The marble top nestling the sink has been chosen to wear the same delicate golden insertions.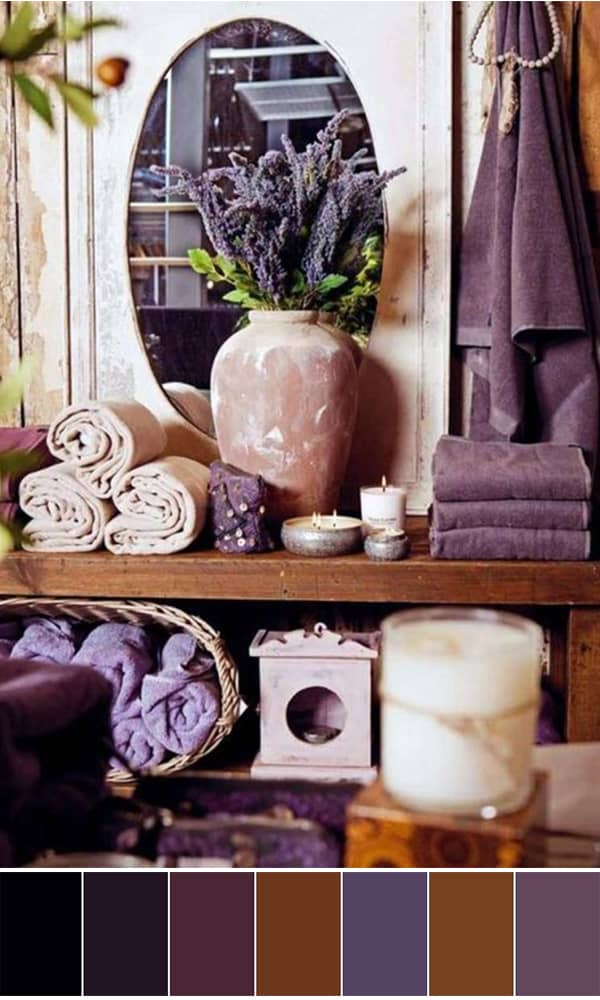 image via eclecticrevisited.com
Another French classic involves the usage of lavender purple and delicate shades of pink and beige as well as a base of wooden earth tones.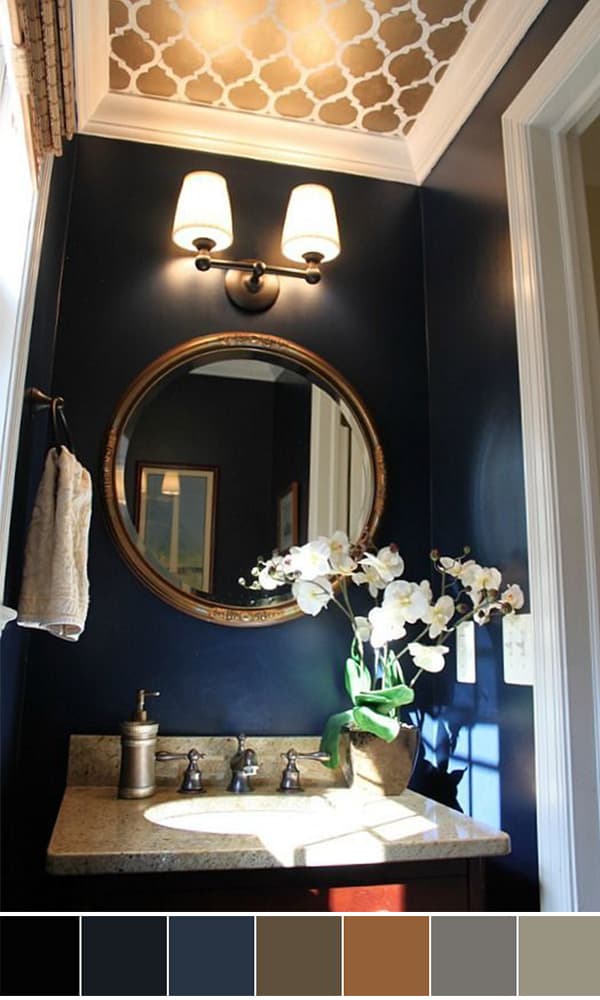 image via hookedonhouses.net
We move on to the blue hues where strong royal blue speaks of elegance and class like no other without being too overpowering.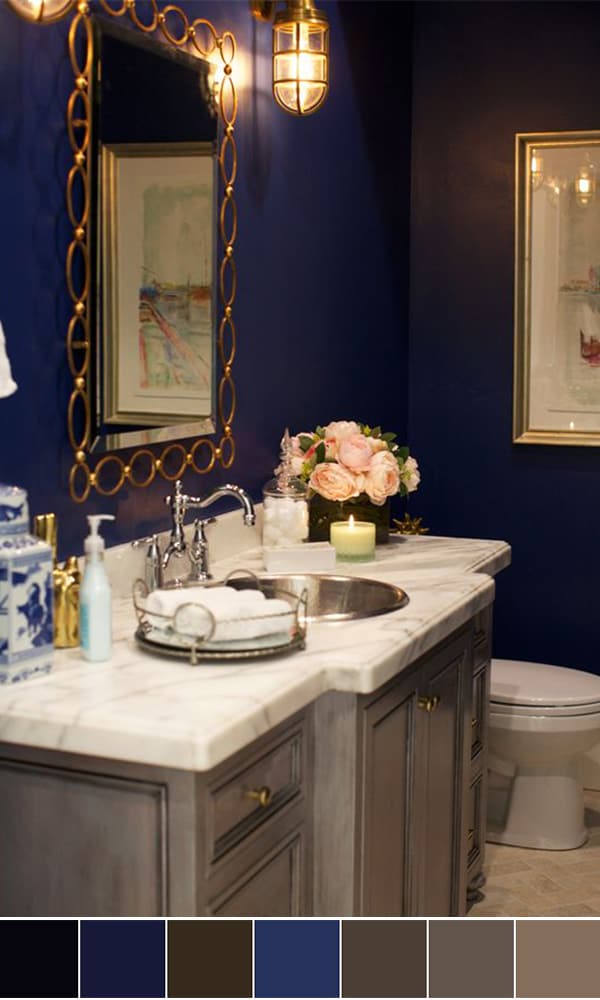 image via pinkpeonies.com
A powerful blue wall should accept a neutral grey base for balance.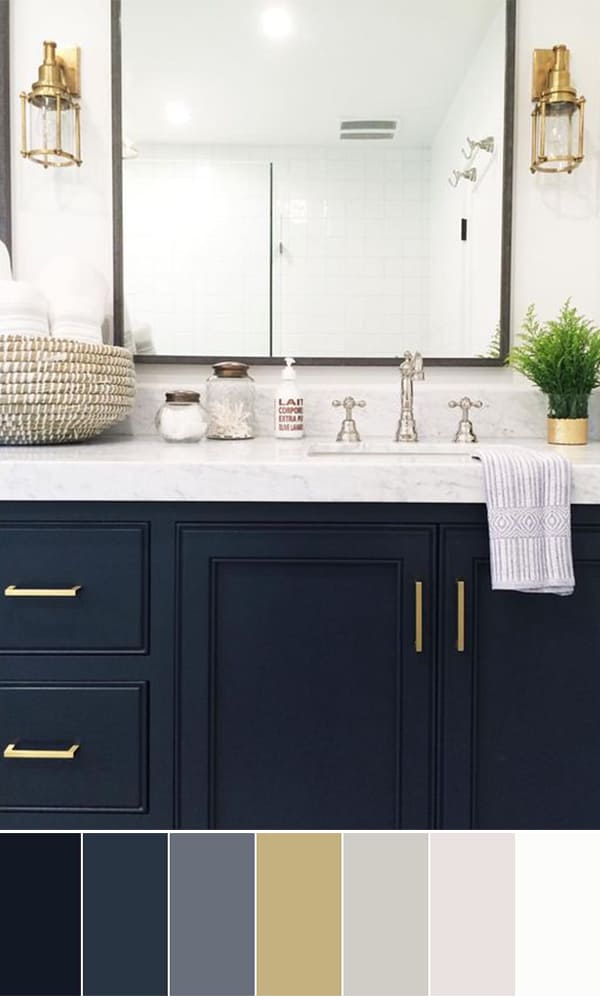 image via instagram.com
Choose to add the desired color on the furniture and to maintain the walls stark white and clean. This navy blue took on gold accents for a French aesthetics.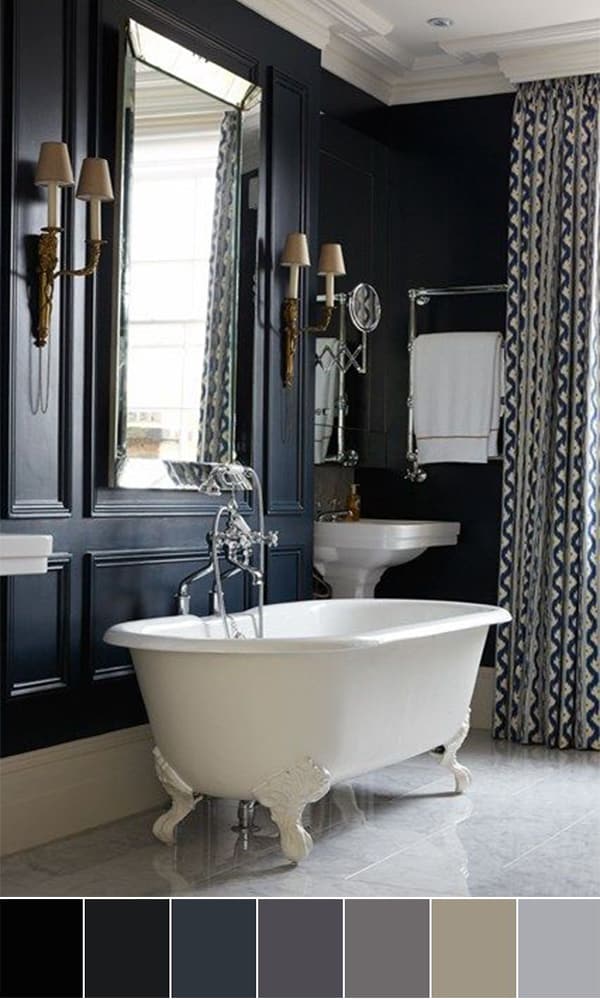 image via houseandgarden.co.uk
A classical bathroom requires classical materials: marble, wood, copper and a bold statement wall to sustain them all.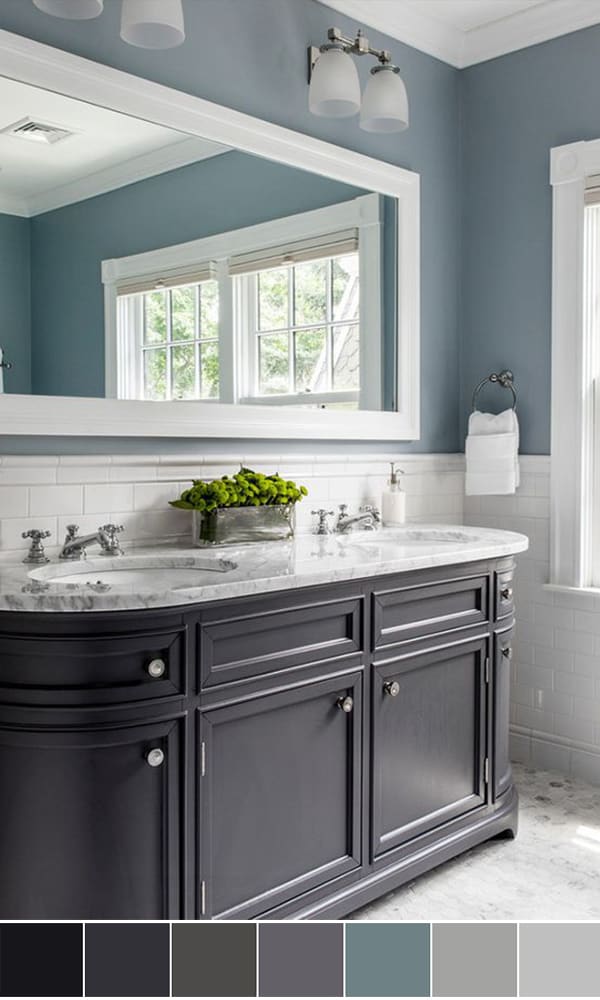 image via houzz
Lighter blues are often used in bathroom color schemes for their assimilation to water and relaxation, yet balance is the key ingredient no matter the tone.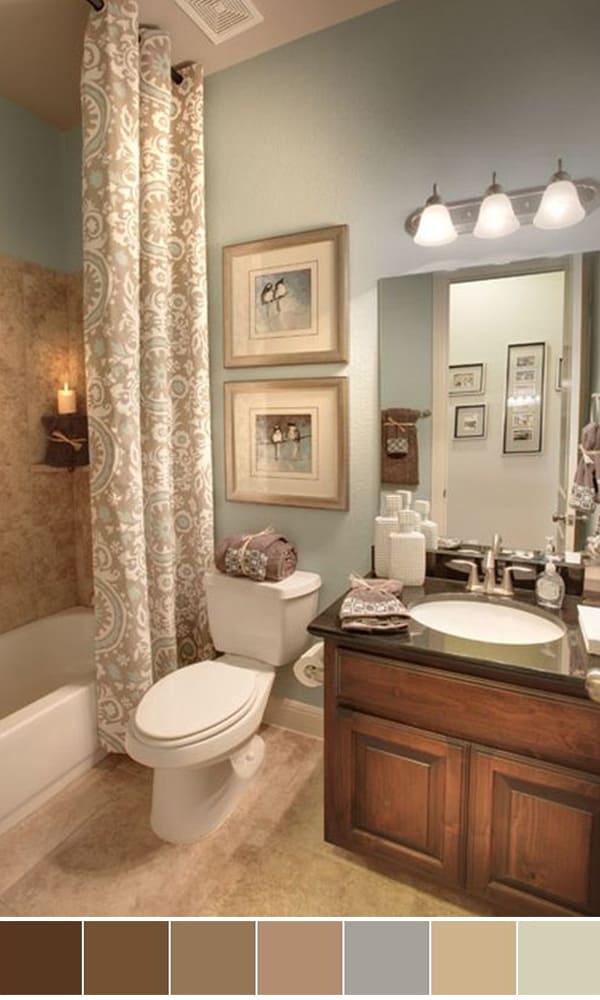 image via zillow
For a warmer atmosphere use earthy tones and delicate greens as the supporting background.
image via porch.com
A rustic vibe has been added to this simple grey color scheme in the form of the wooden vanity piece and the wicker baskets and wooden ladder used as towel rack.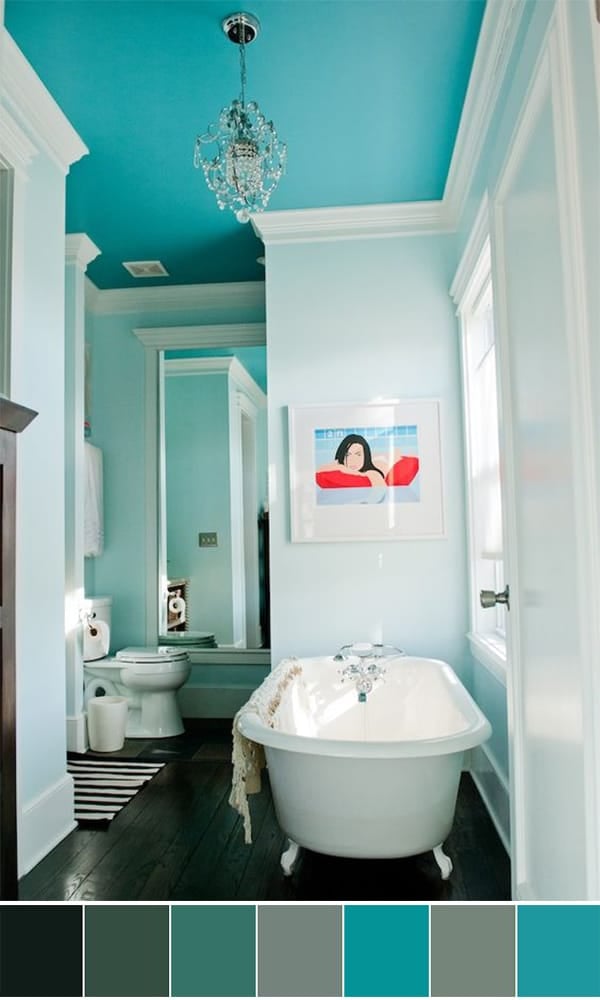 image via involvingcolor.com
A fresh marine theme with a delicate touch of red and a dark wooden floor exudes a relaxing light atmosphere suitable with the space.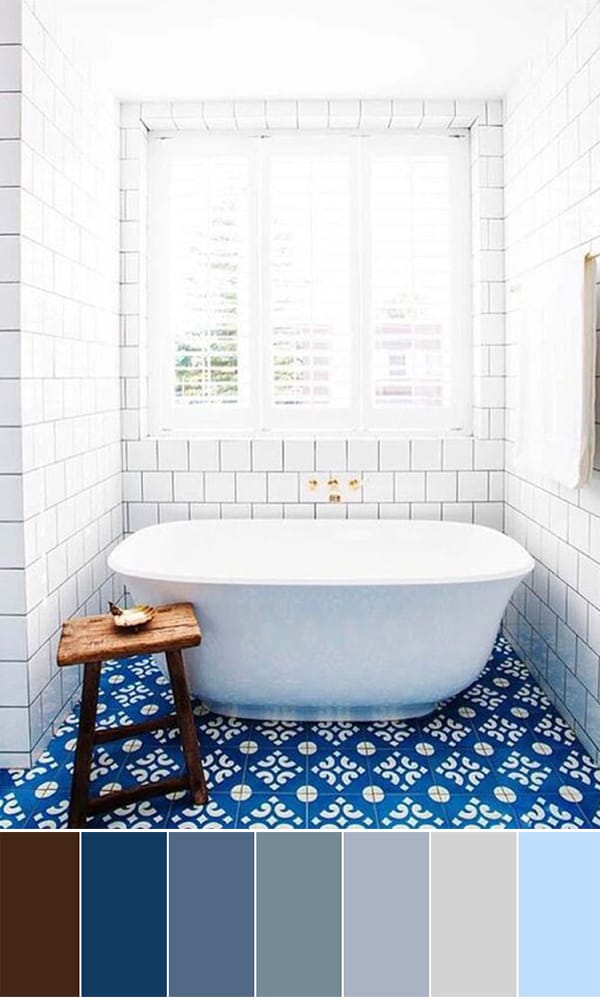 image via interiorsyum.tumblr.com
An all white bathroom with an exquisite blue floor and a small wooden insertion feels so familiar yet so elegant and sophisticated at the same time.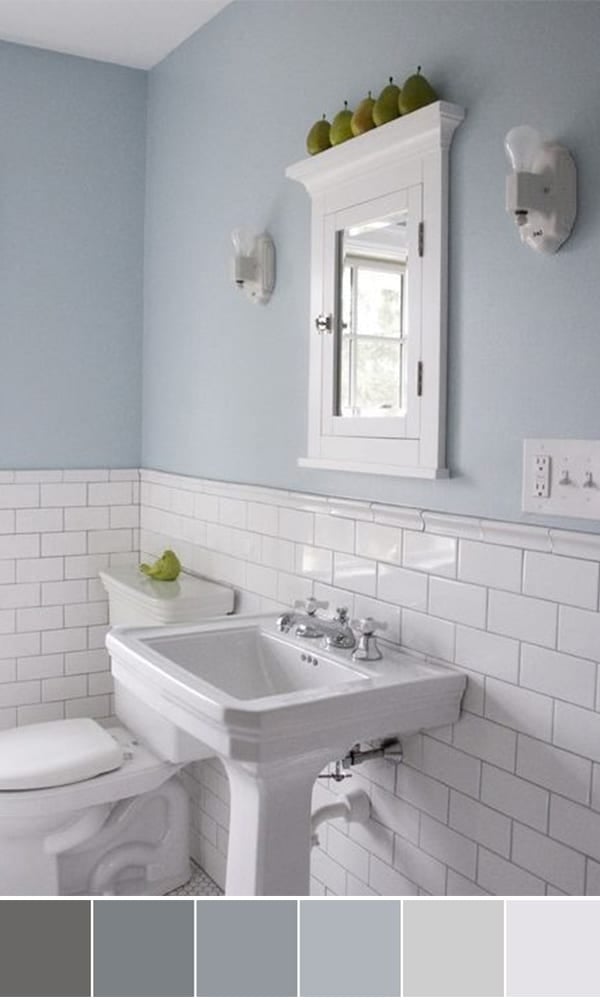 image via dovcorbathrooms.co.uk
For introvert personalities an all white bathroom with a touch of delicate baby blue is the solution.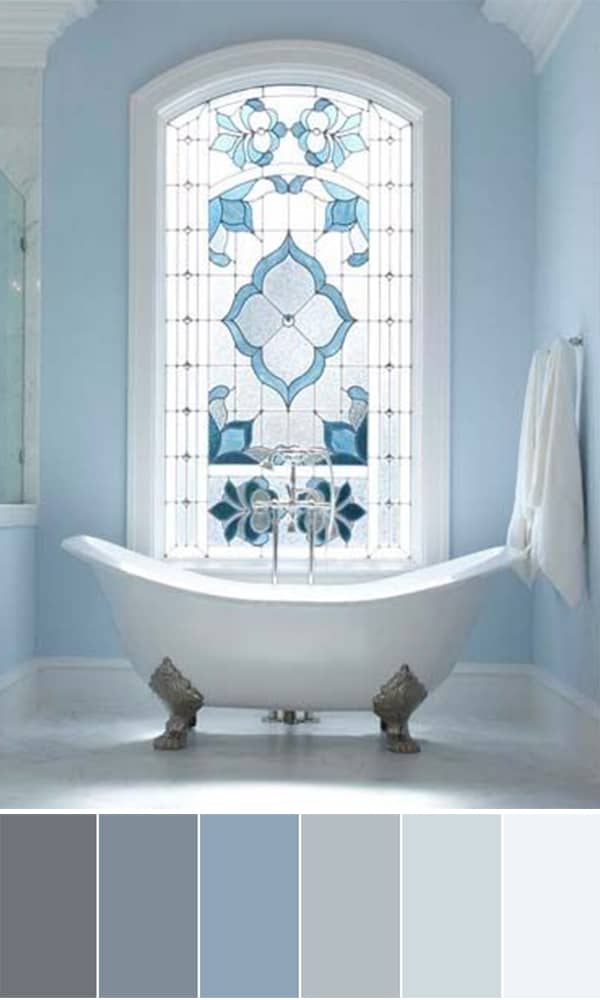 image via carlaaston.com
A space with such a window decorated with stained glass and a clawfoot tub demands an exquisite blue color scheme.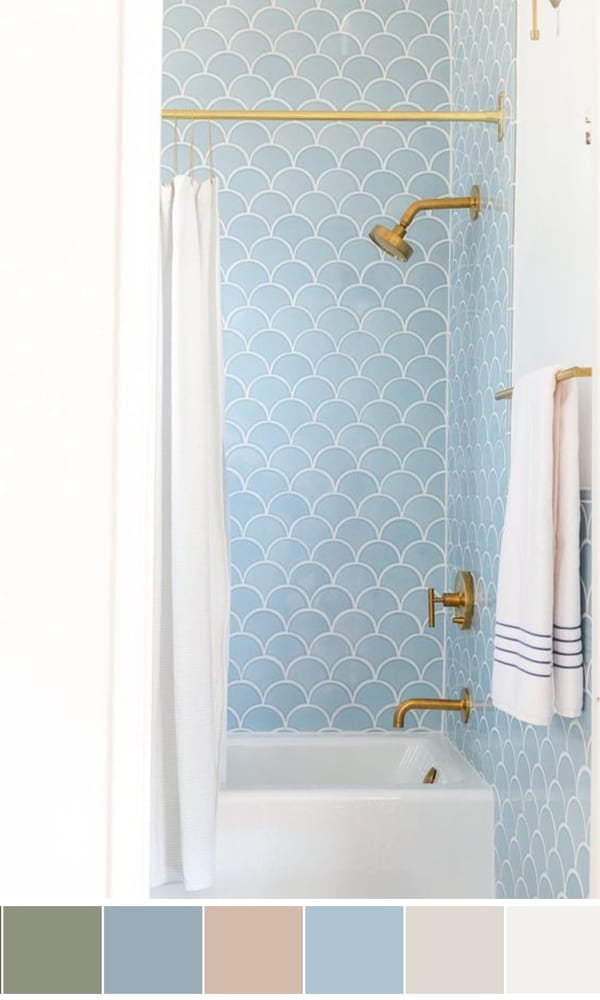 image via  interiorsyum.tumblr.com
A mermaid's skin transposed in a delicate blue tiled bathroom.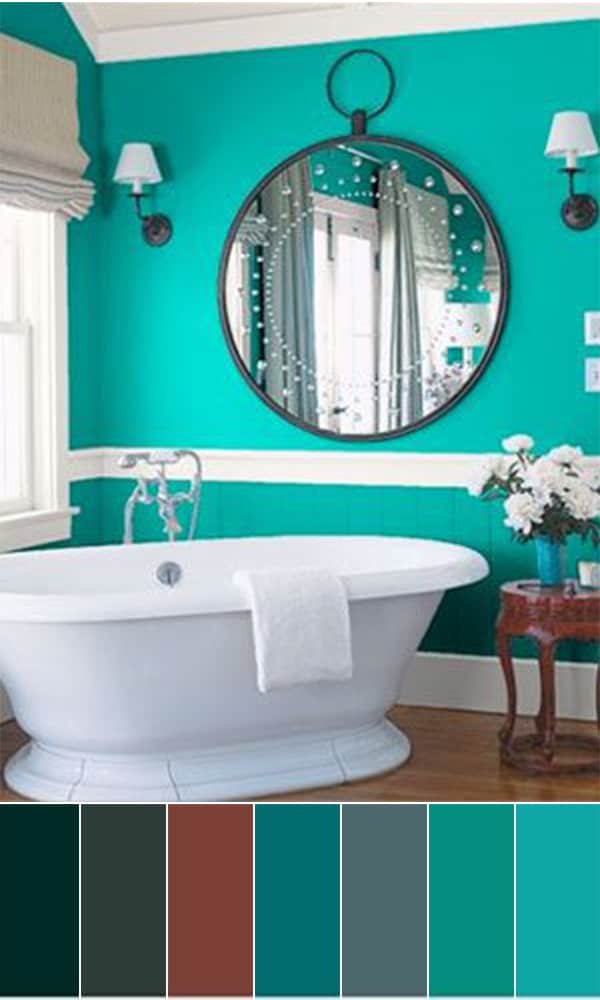 Source Unknown
Find the right earth tones elements to tame a powerful bluish green hue that tends to overwhelm the space.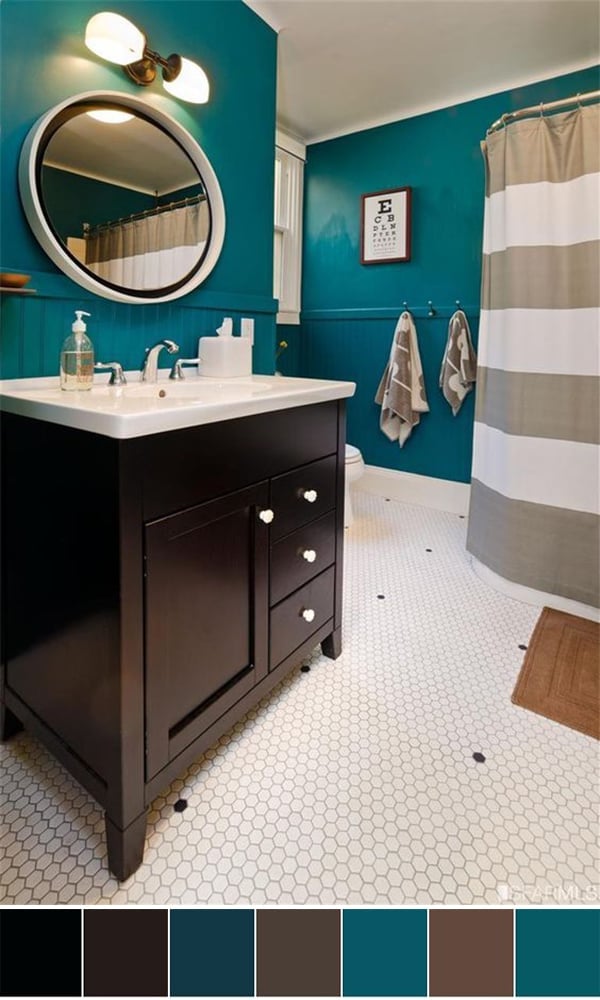 image via redfin.com
Brown and green is an often used color scheme, balance it with a light flooring.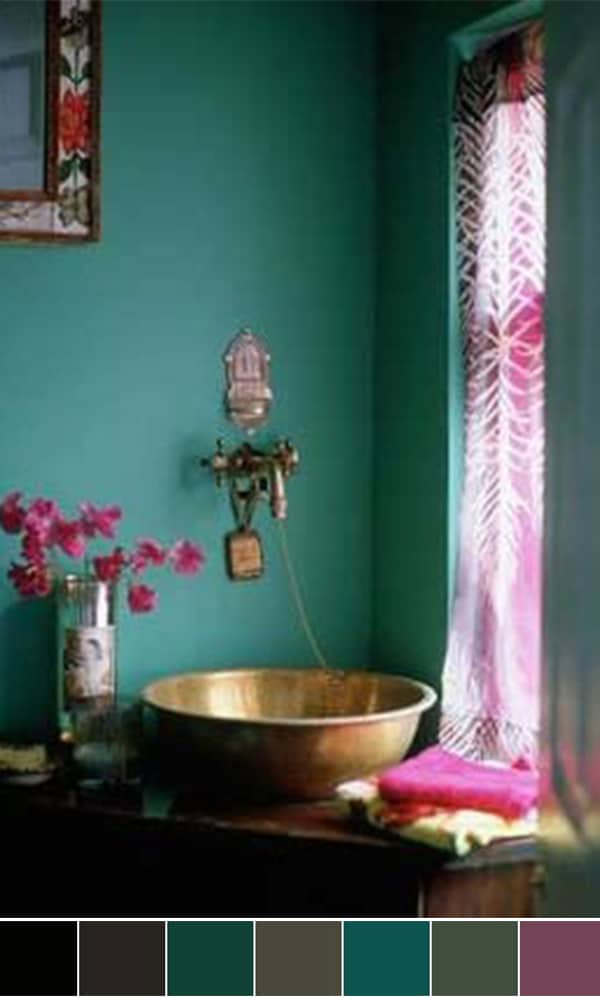 image via thedecorista.tumblr.com
Copper and green make such a delicious combination, rich and vibrant, ideal for a bohemian inspired bathroom design.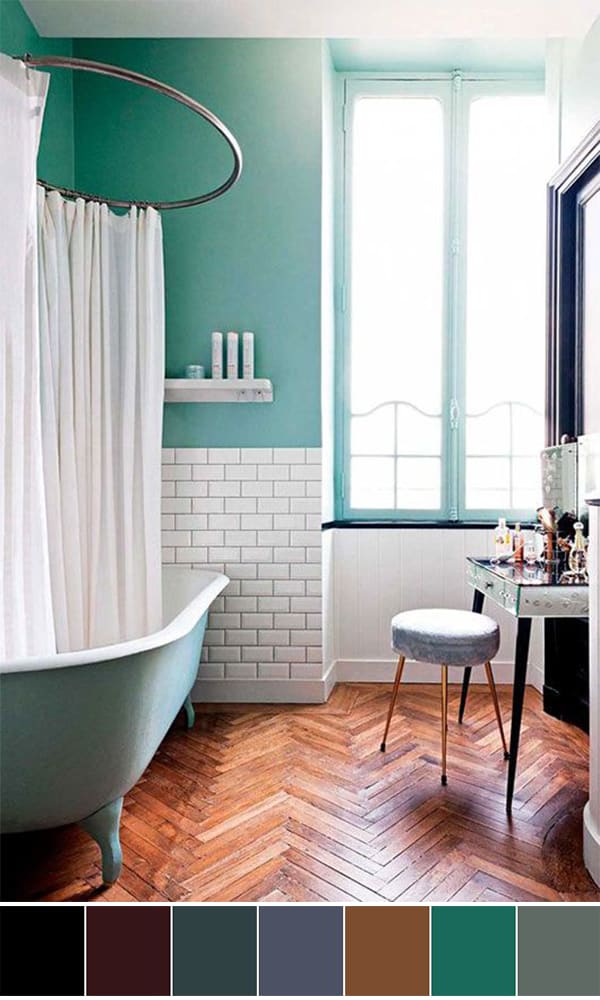 image via sfgirlbybay.com
A classical wooden floor was merged perfectly with a teal base color for the walls and the clawfoot bathtub.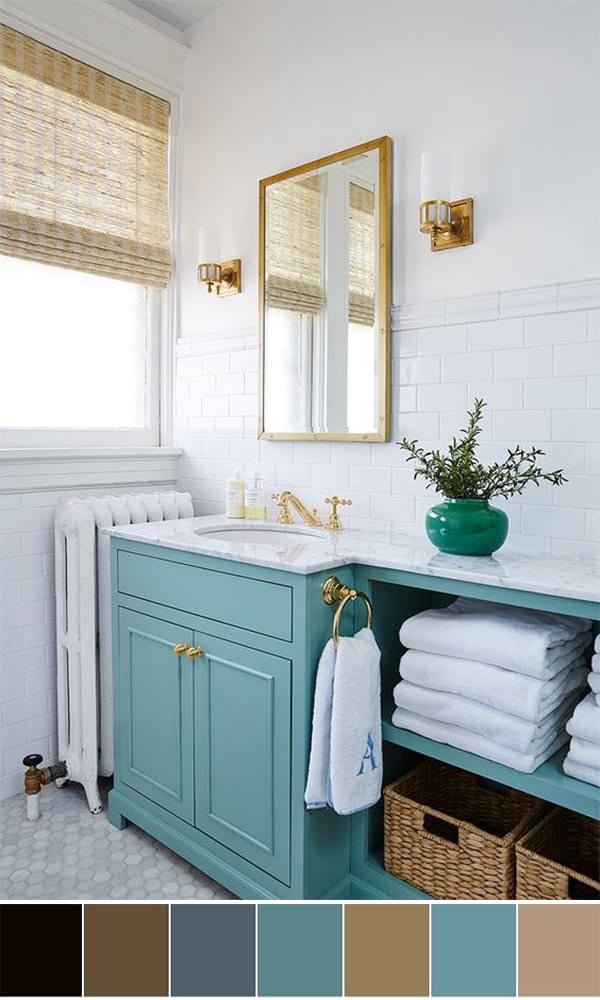 image via gallerieb.com
White teal and gold have been merged in a fresh young bathroom design that is both elegant and versatile at the same time.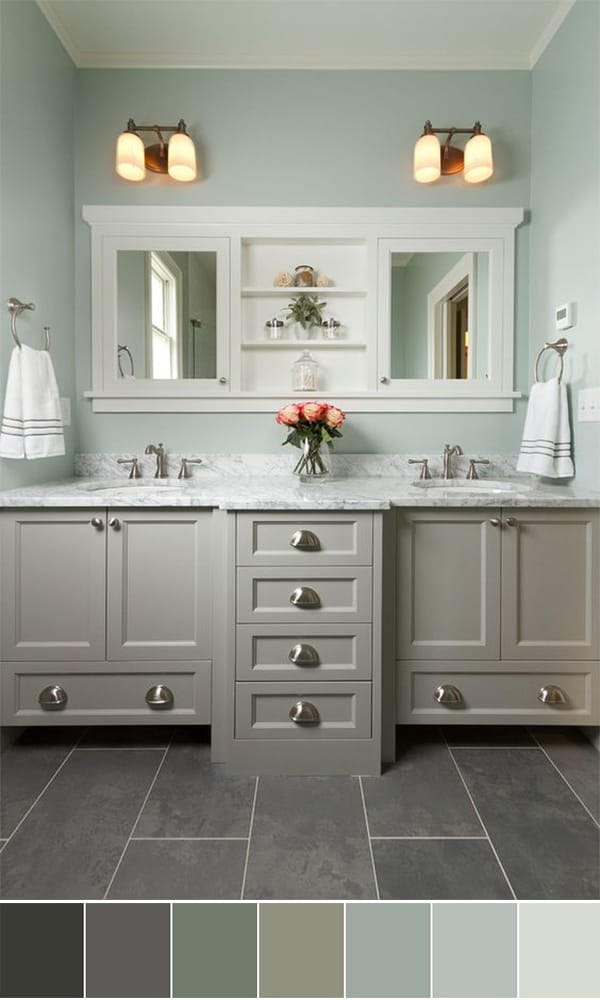 image via fluidesignstudio.com
Warm beige and delicate soft green flow effortless into one another to define a rich simple space.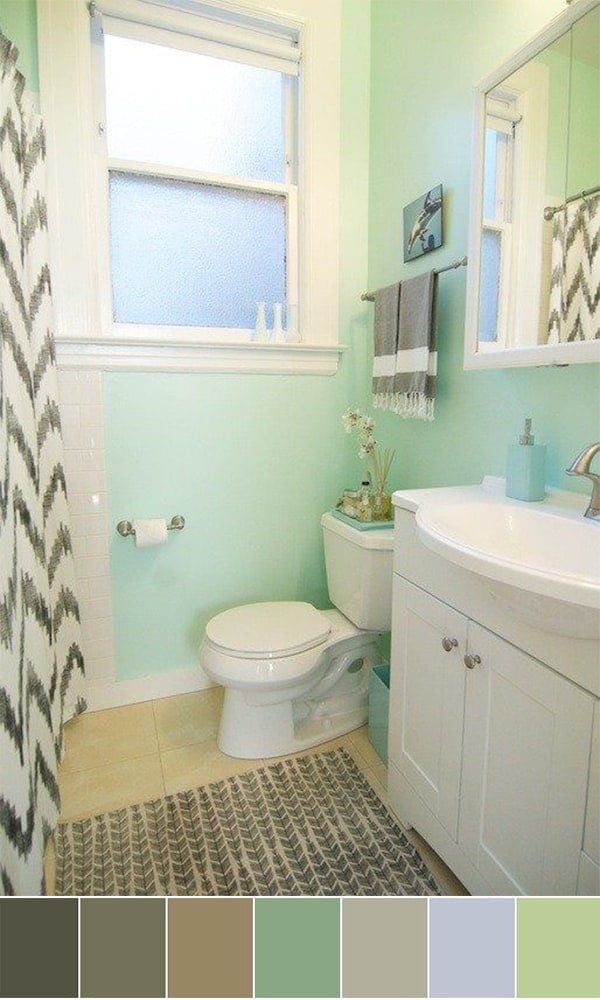 Source Unknown
Fresh, young, colorful, marine themed are the words that describe best the above color scheme.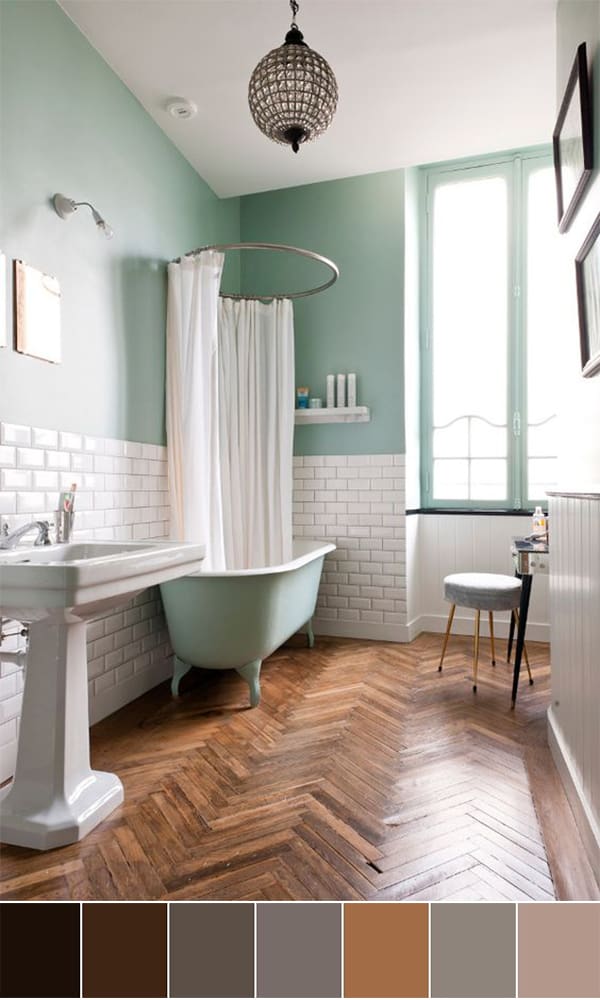 © Julien Fernandez – Bordeaux – France. Appartement a Bordeaux. Architecte d'interieur – Fusion D.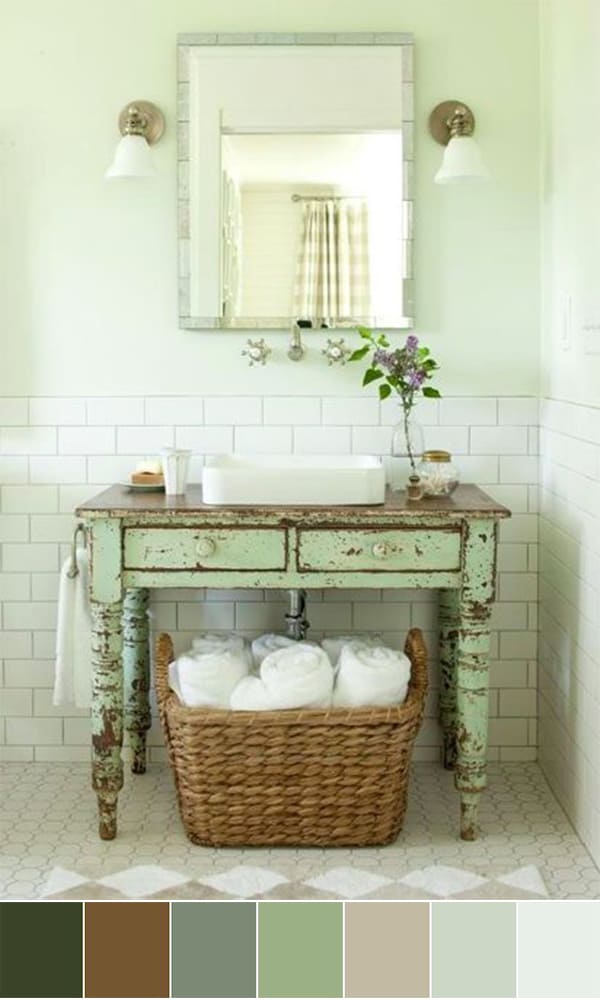 image via es.paperblog.com
The vintage shabby chic appeal works its magic in the bathroom as well in a faded teal green furniture piece and a neutral grey and white background.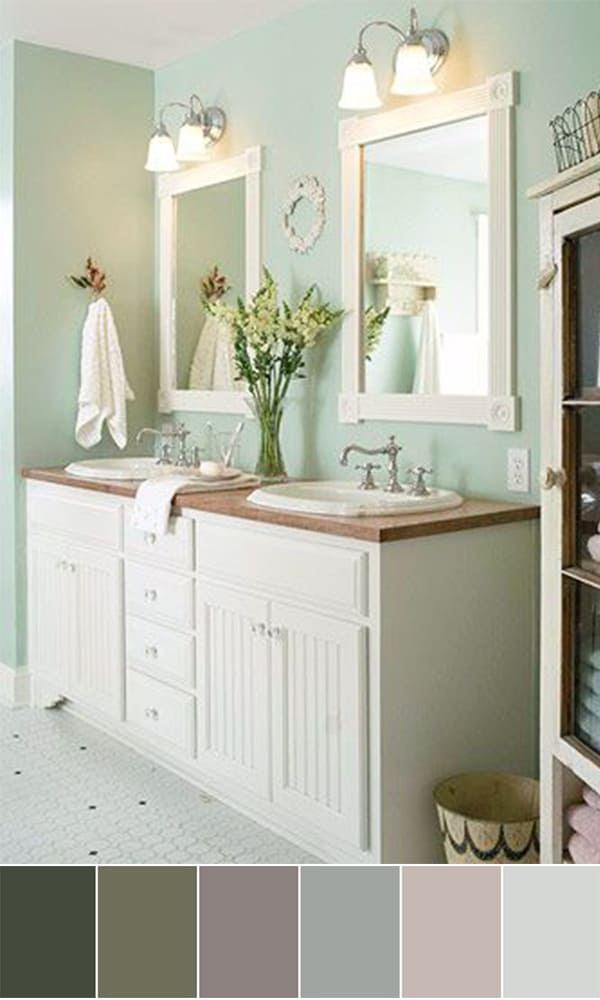 image via bhg.com
The simple yet classy white furniture stands out thanks to the green blush wall. The tow large mirrors placed on that specific wall gather up natural light and reflect it back into the space.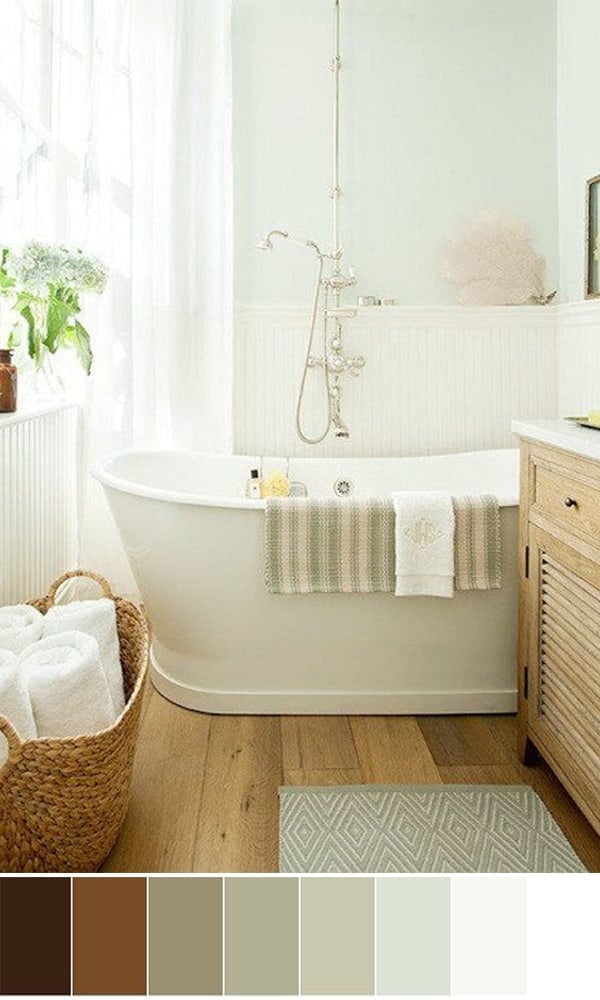 Source Unknown
If you are a fan of the simple Scandinavian inspired design the all white and wood hue color scheme is your choice.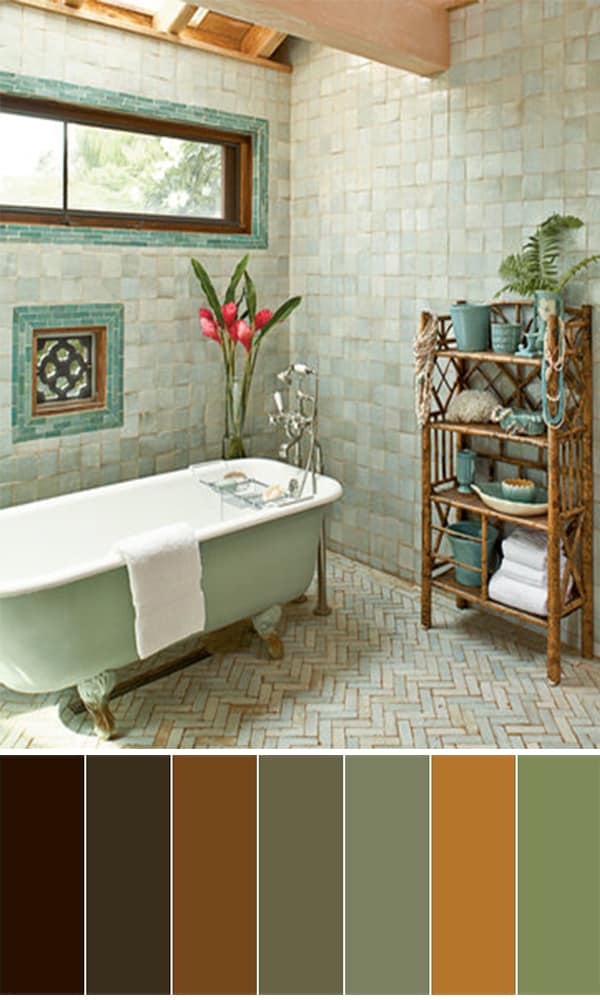 Photo – Linny Morris; Stylist – Sunday Hendrickson
Natural stone in a green hue forms an intricate pattern suitable to hold the elegant green bathtub and the delicate bamboo shelf.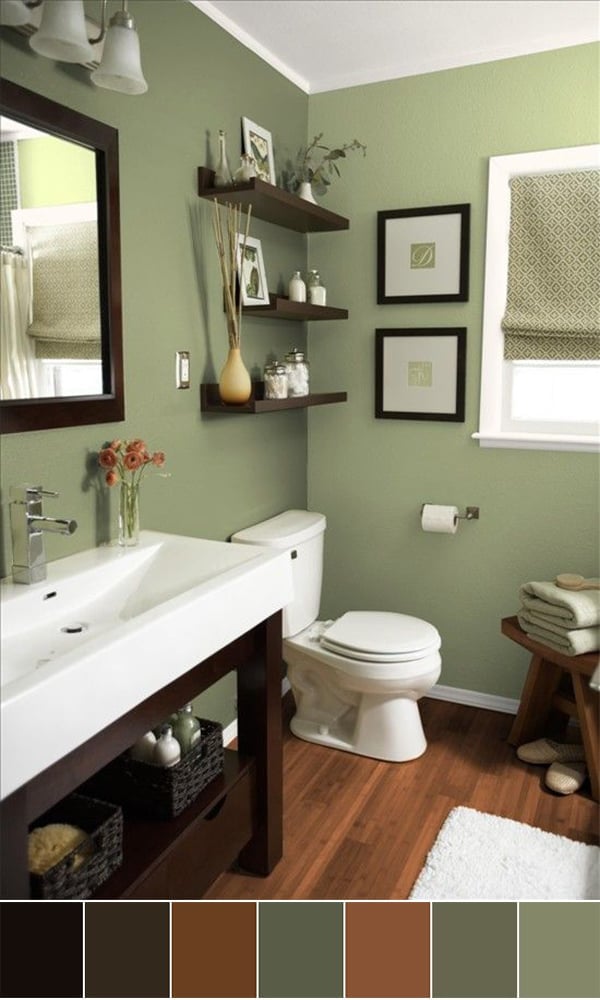 image via bhg.com
Balance out the moss green with dark and reddish tones of wood. Different accessories are what give complexity to the design.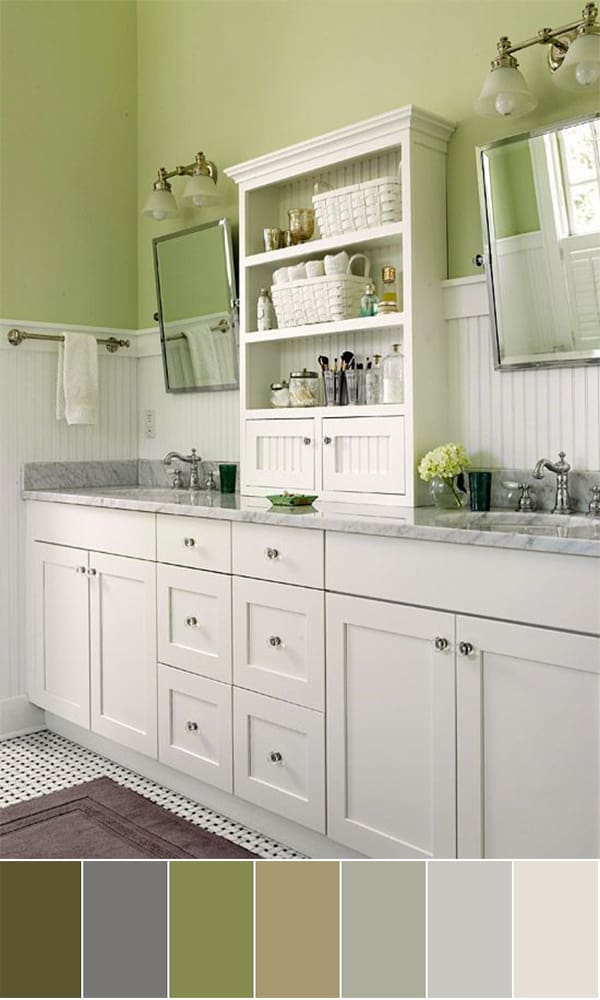 image via bhg.com
When an entire wall has been chosen to be occupied  with bathroom furniture, make the actual available bare wall in question stand out by using a contrasting tone, here a moss green has been added.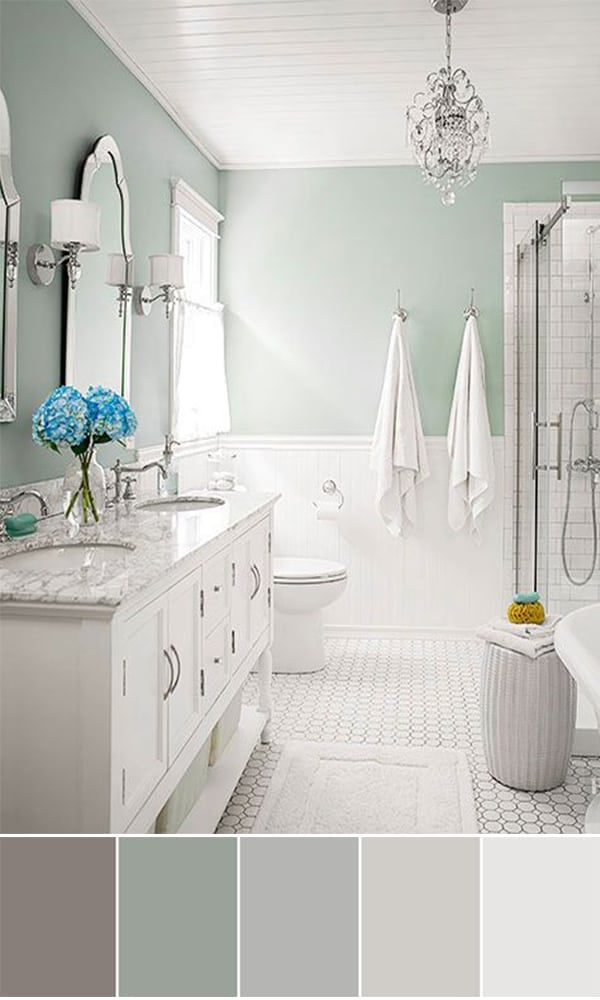 image via bhg.com
A fresh clean white bathroom with a delicate contrast. The used white captures and reflect the light back indoors, amplifying the space.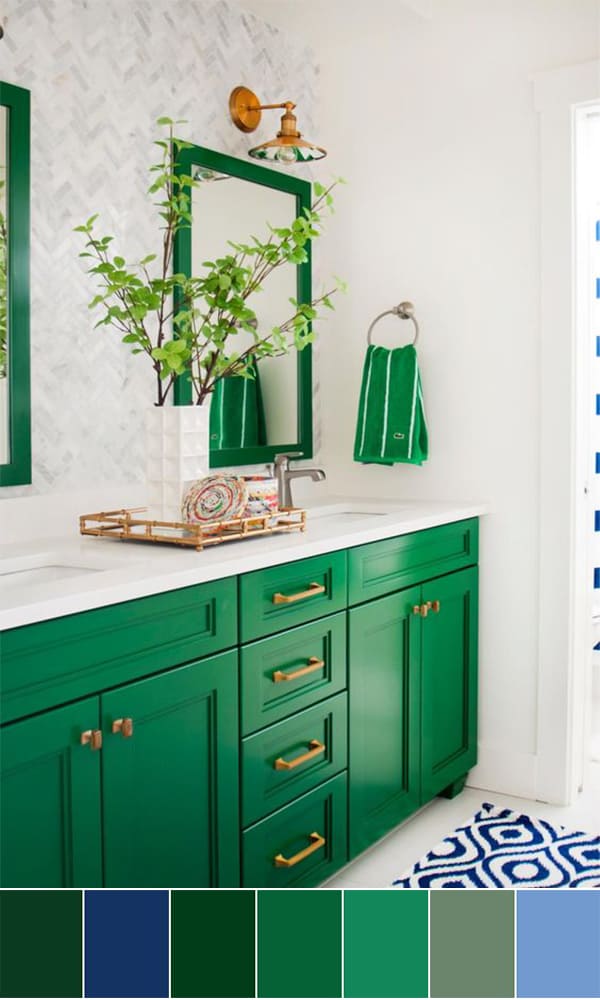 image via hgtv.com
One of the richest hues, emerald green and copper infuse a vibrant touch able to bring to life a mundane bland white space. The touch of blue from the carpet is the final touch that completes this exquisite creation.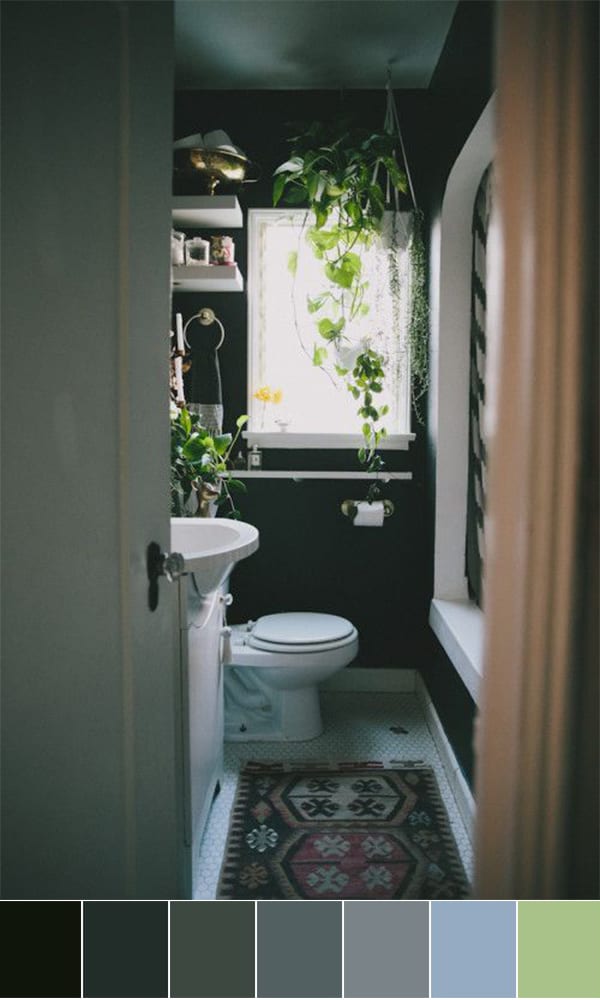 image via designsponge.com
Black is quite difficult to be used in interior design, being associated with depression and introversion. Yet in the above interior the light floor, the greenery inserted and the delicate infusion of natural light balance out the darkness and makes the space intimate.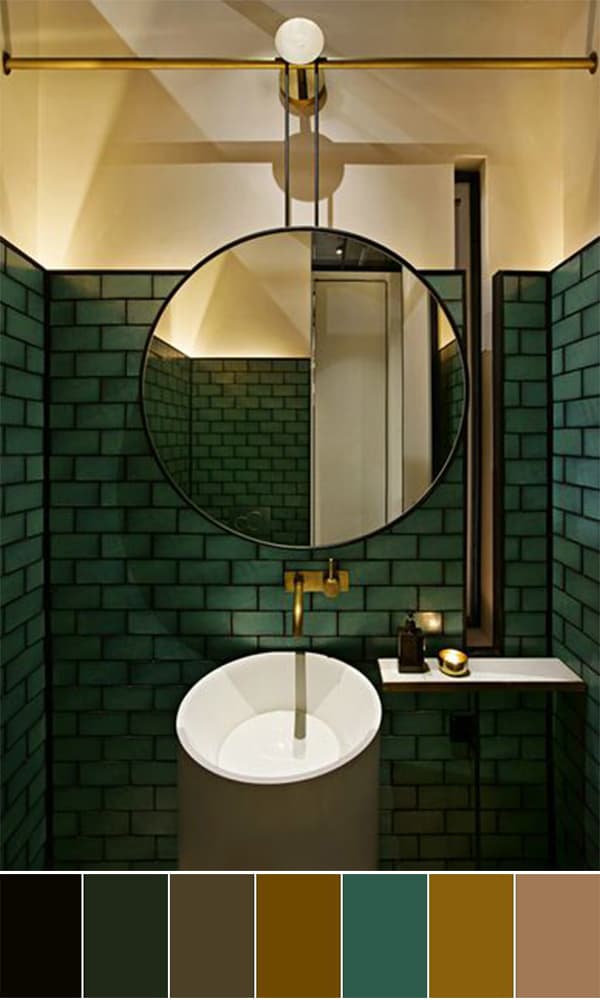 image via gallery.australianinteriordesignawards.com
A mysterious atmosphere has been created with the usage of a dark green hue on the bathroom tiles and a minimal approach to bathroom furniture design.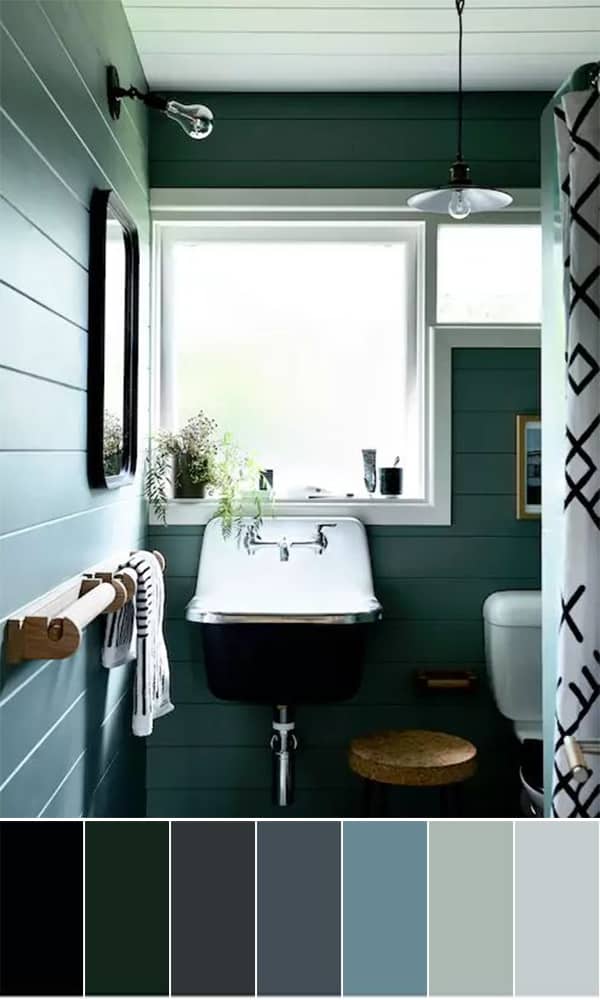 image via gravityhomeblog.com
A masculine approach as the color scheme is concerned has been used in the example above flooded by natural light.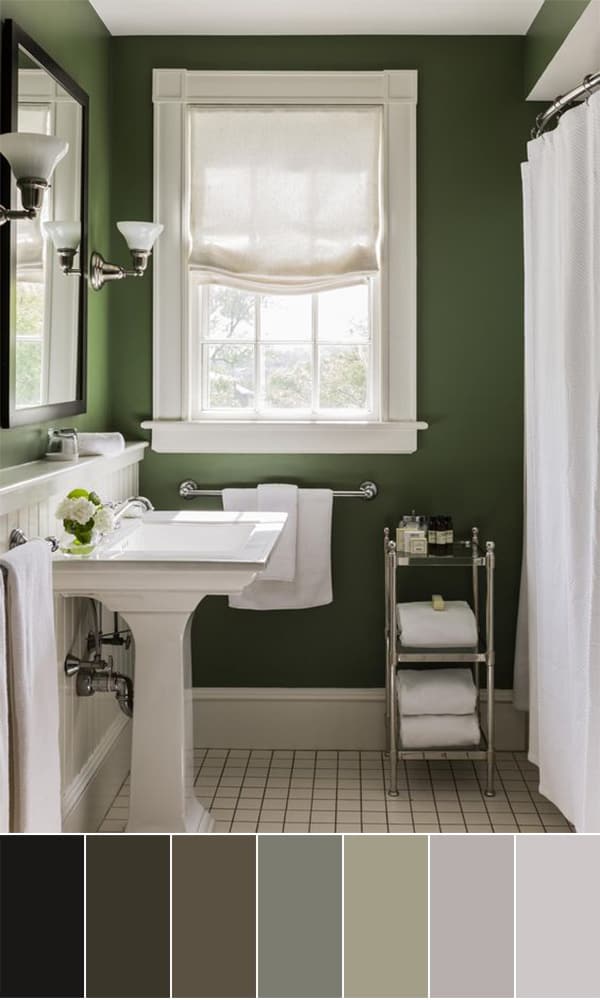 image via bostonglobe.com
The purity of white and the freshness of green will always merge well.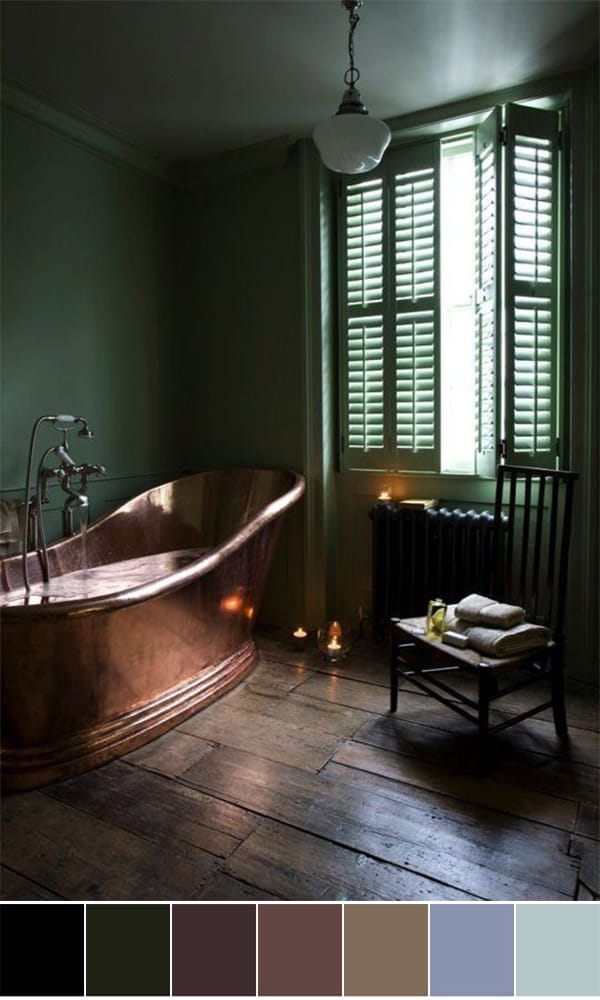 Source Unknown
A romantic, intimate atmosphere has been created with the usage of copper and dark green. The wooden massive floor sets the scene, making the entire picture more cozy and private.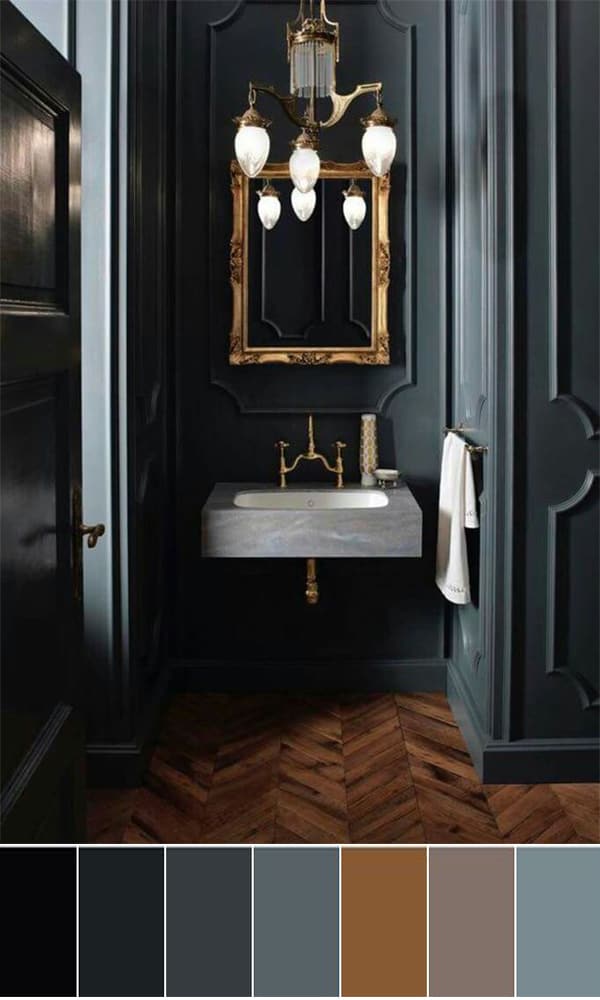 Source Unknown
A greenish grey and a warm shade of wood create a powerful balanced contrast. Notice how the golden mirror frame shine through the color scheme.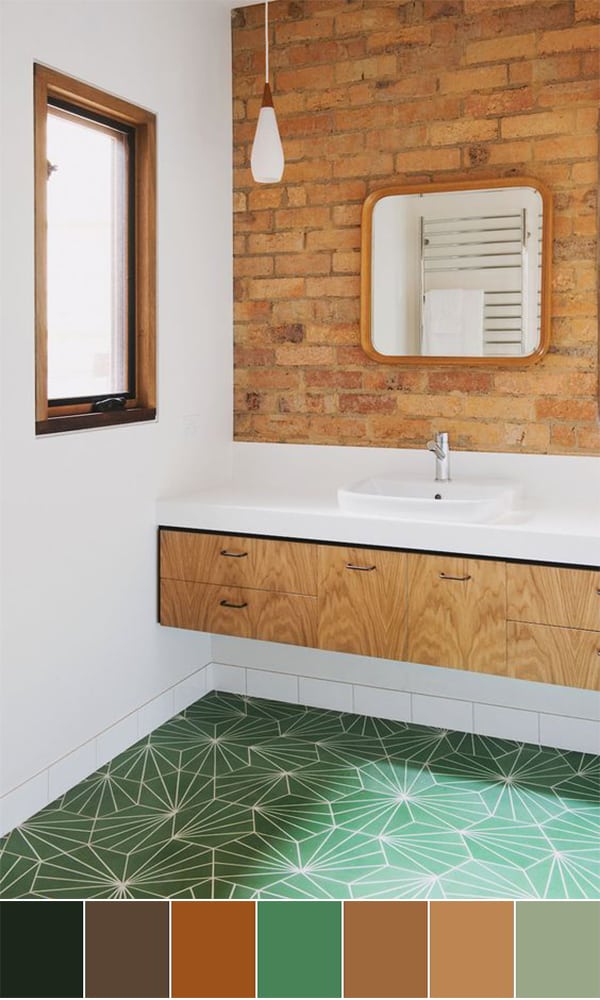 image via habitusliving.com
At the opposite corner lies this fresh open bathroom designed in warm hues of wood and a touch of green in a geometric patterned floor.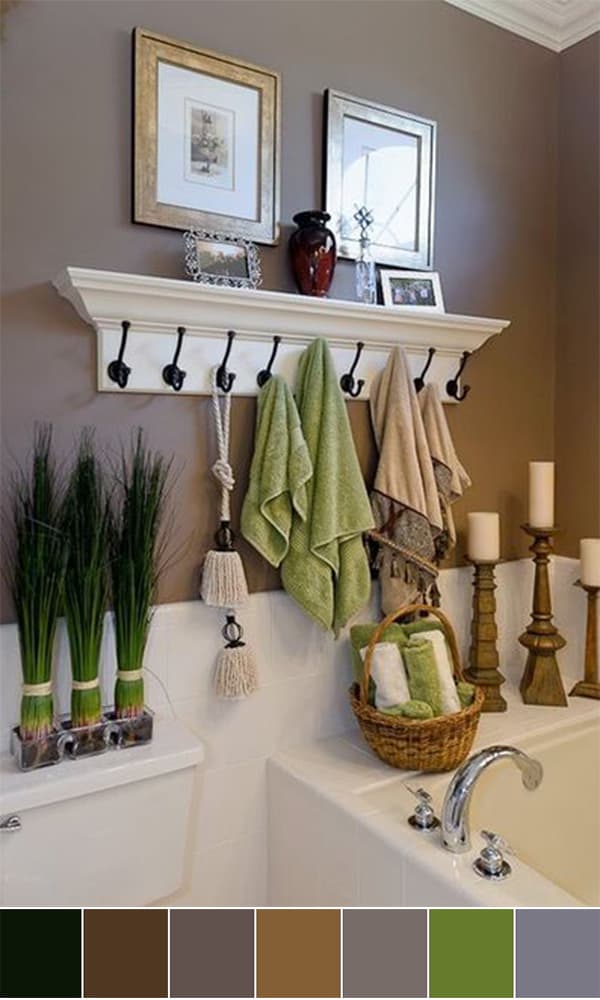 image via following-friends.com
A conservationist approach where the green accessories represent the accent.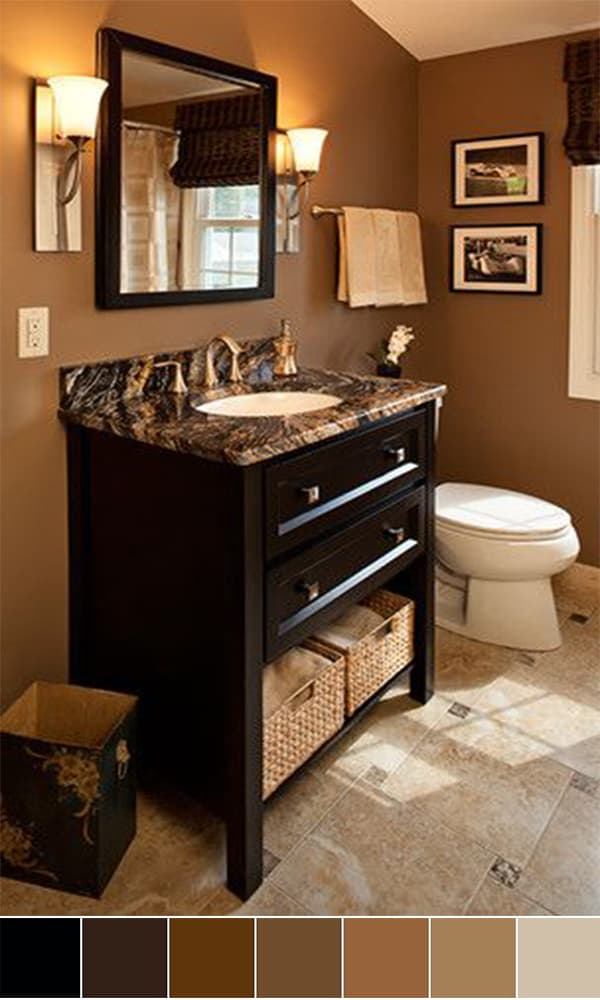 image via houzz.com
Earthly tones used in excex can overcrowd the space and make it appear outdated.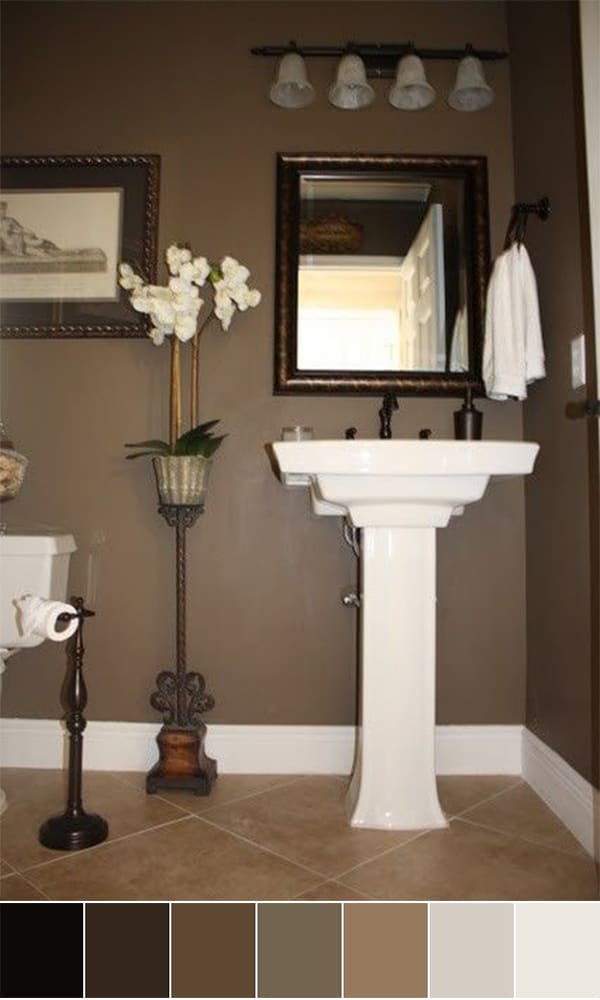 image via houzz.com
Opt for a neutral line with shades of beige and brown.Add a touch of gold for extra elegance.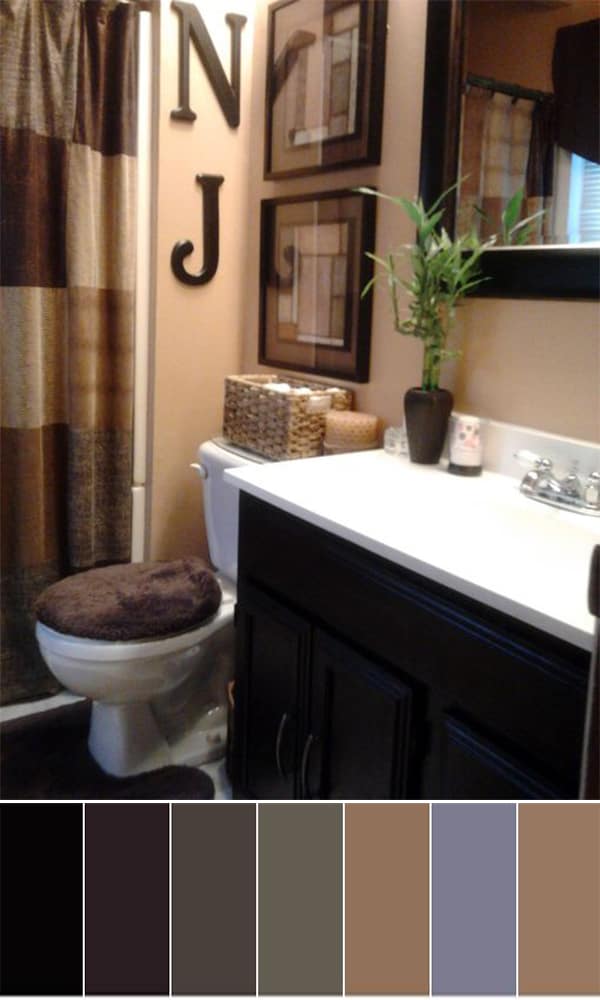 image via roomzaar.com
Balance is the key in everything, especially in interior design.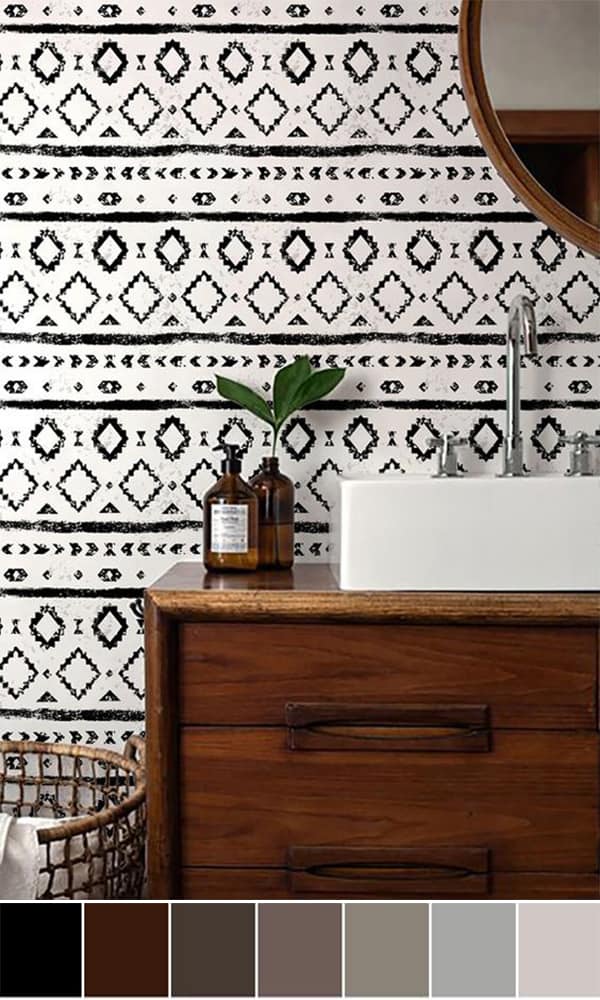 image via southernzoomer.com
The proper black and white accent wall with a geometric motif can become the ultimate sophistication.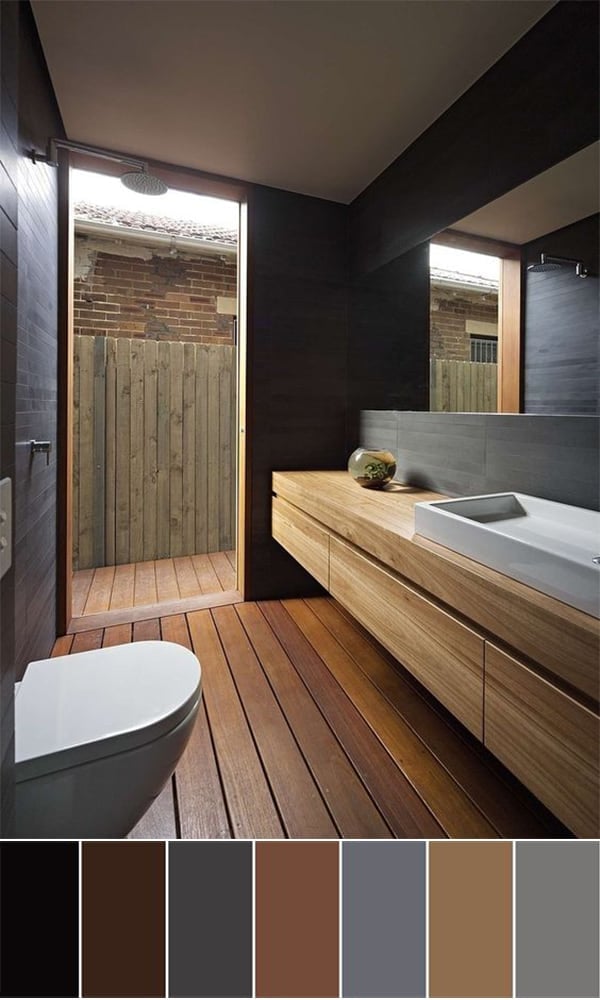 Source Unknown
A modern sleek appeal obtained with the usage of natural wood and a grey back-splash. Elegant and simple.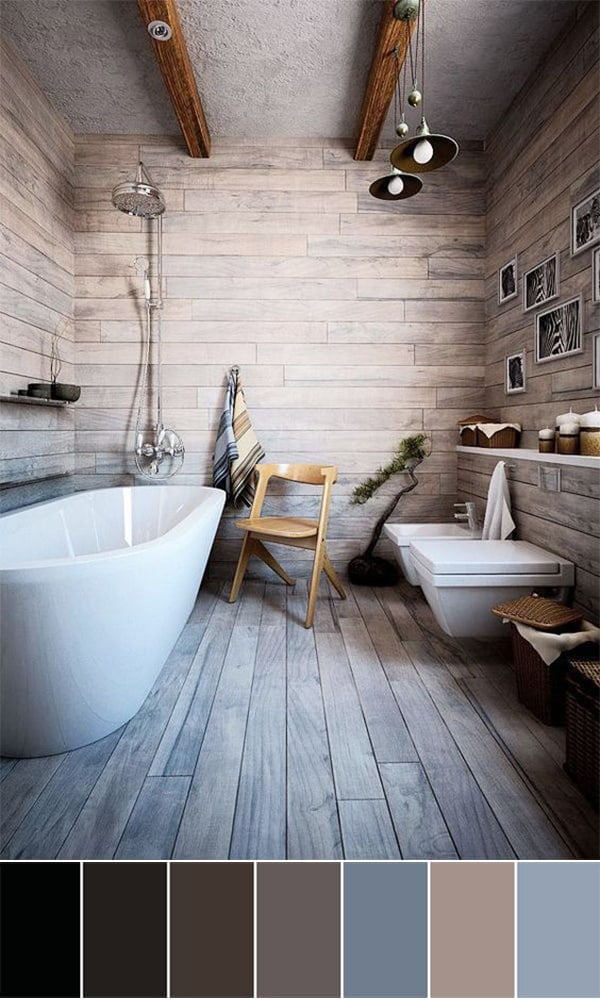 image via hotphotography.tumblr.com
Too much wood can b overwhelming but the color scheme used above manages to make the bathroom breathable, airy and cozy at the same time.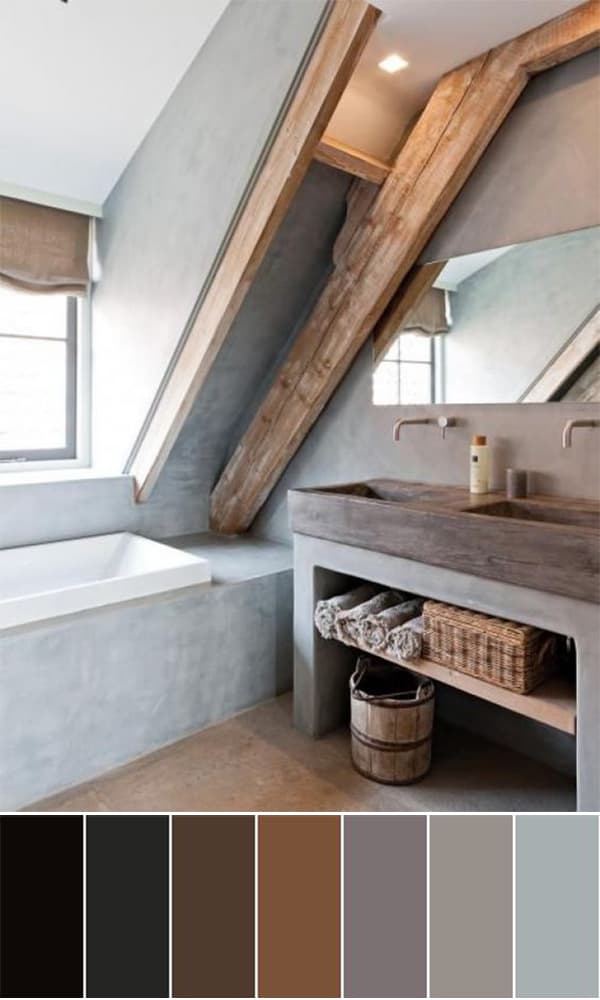 image via welke.nl
Exposed concrete is such a huge trend righ now and matched with exposed wood you are set for a cozy, earthy toned interior you will find appealing and familiar.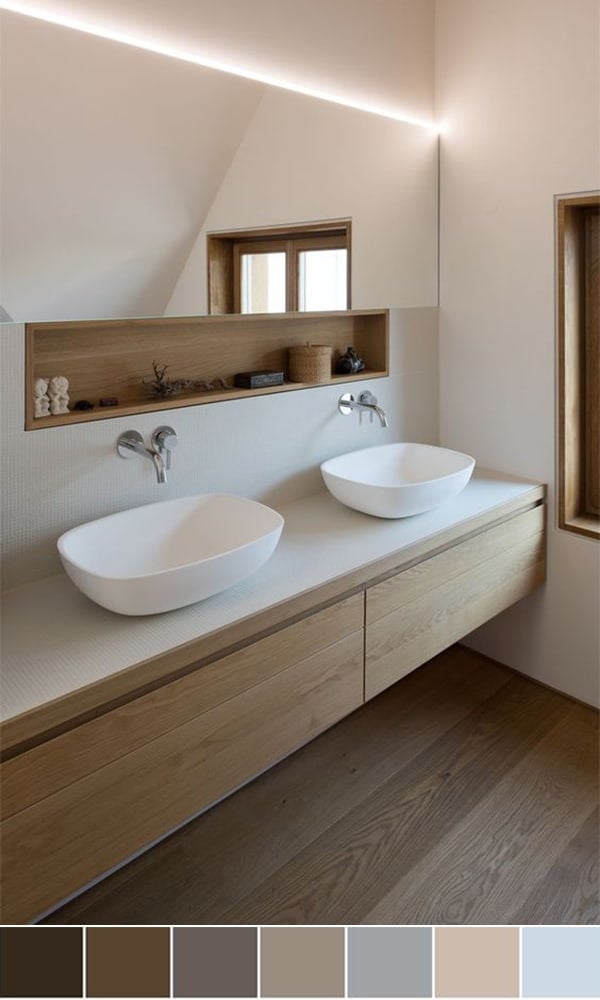 image via archdaily.com
Sleek, clean, modern, edgy. Wood can set the right tone for your bathroom.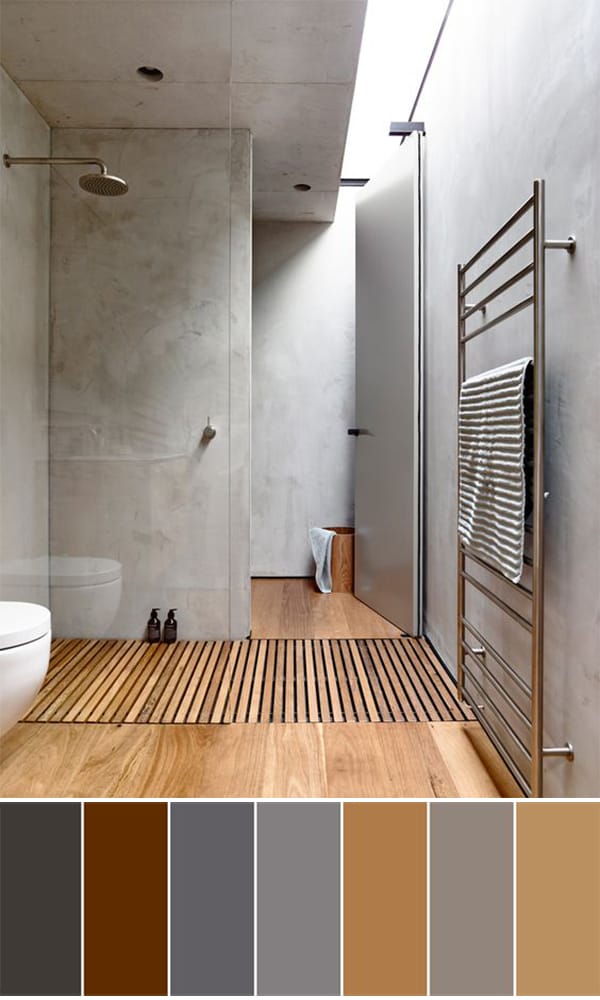 image via s-c-r-a-p-b-o-o-k.tumblr.com
Balance a grey simple background and warm the atmosphere up with a wooden floor.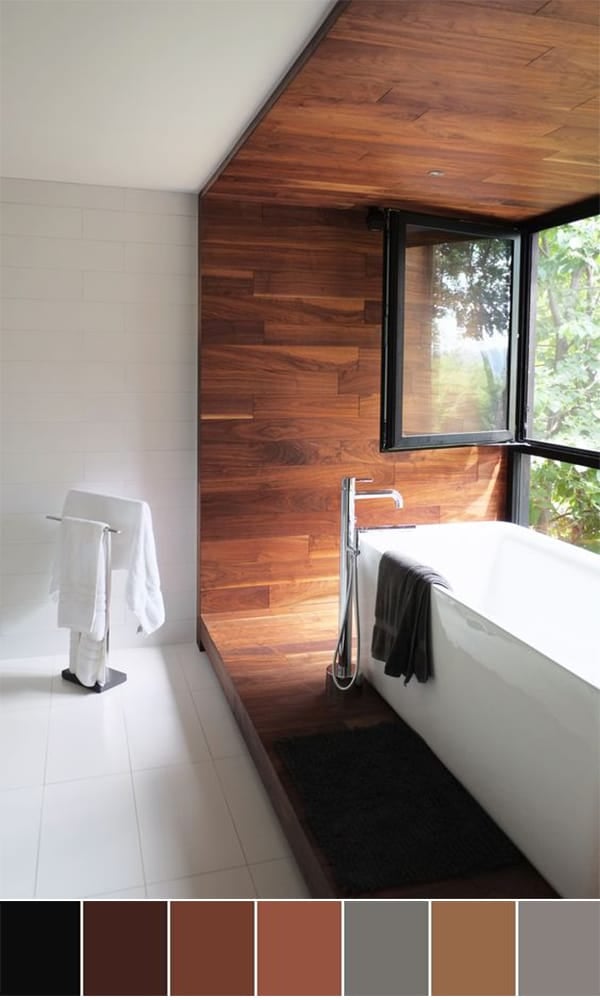 image via parkaarchitecture.wordpress.com
You can go for the extravagant approach and define your bathtub space with wood.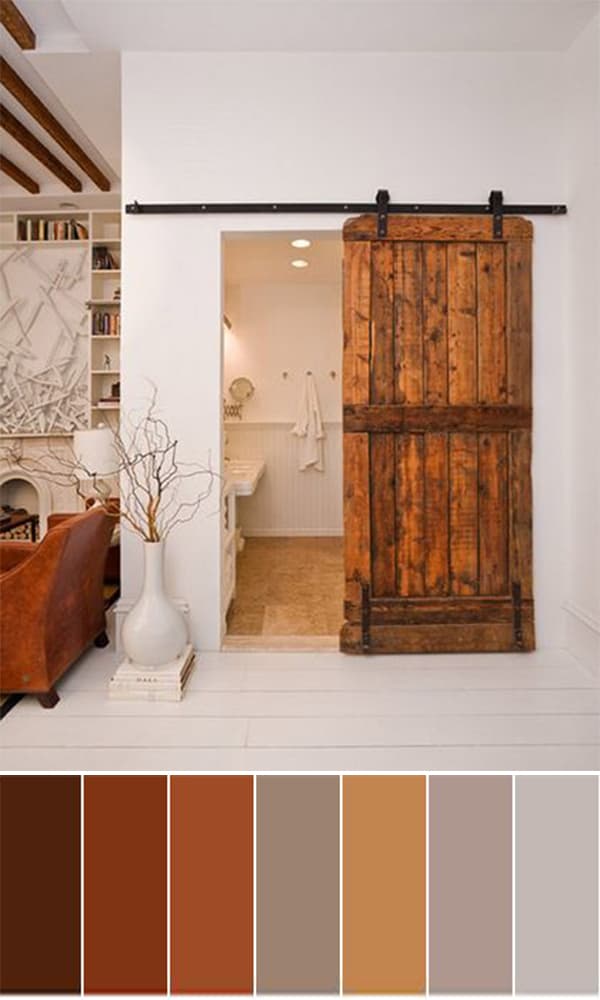 Source Unknown
Keep your bathroom stark white and let a sliding barn wooden door stand out.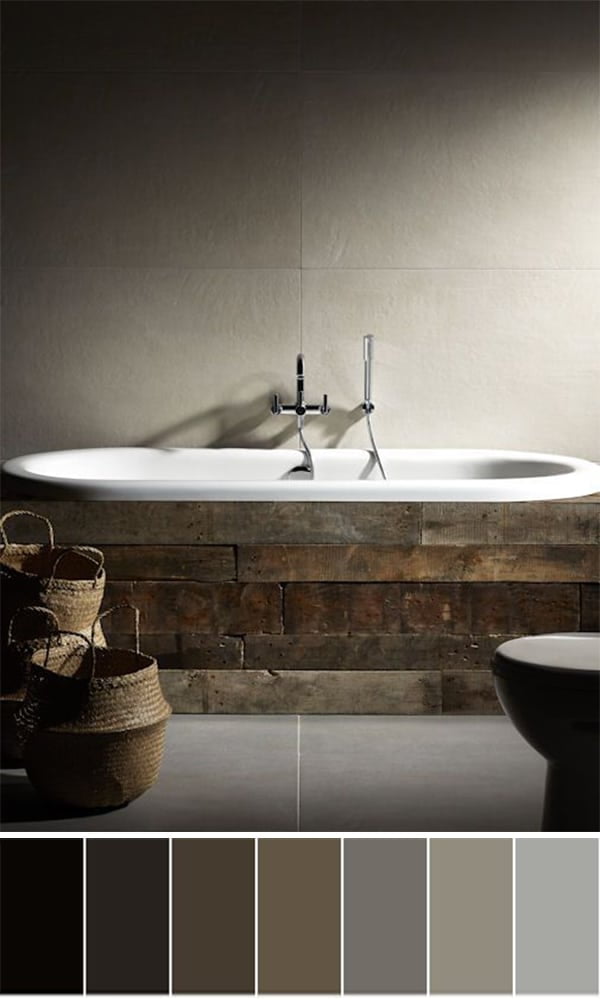 image via mandarinstone.com
The raw beauty of the recycled wood is allowed to breath and stand out in a minimal clean decor.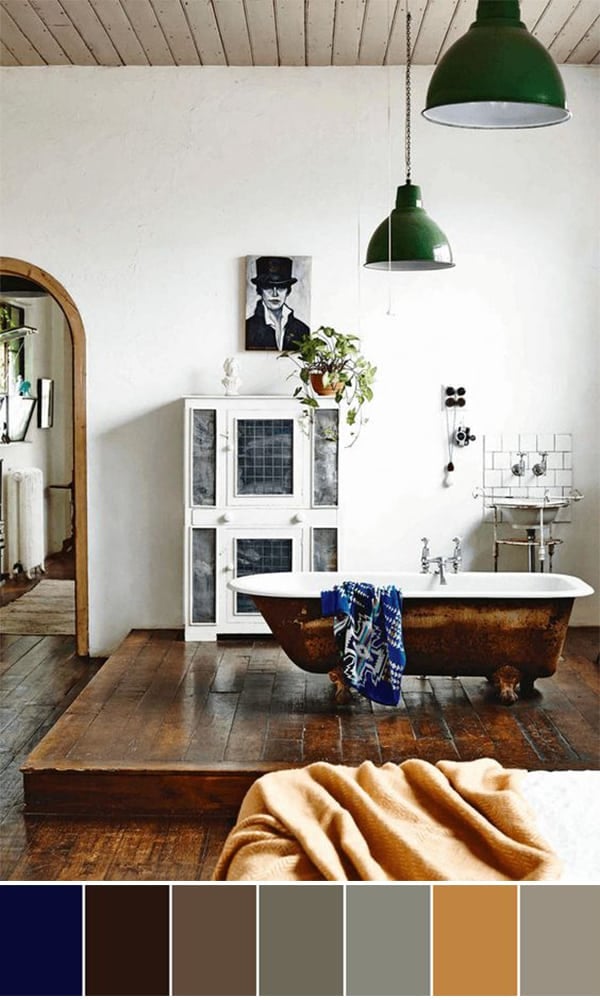 image via myscandinavianhome.blogspot.com
A hard wooden floor in a rich hue should be left to shine.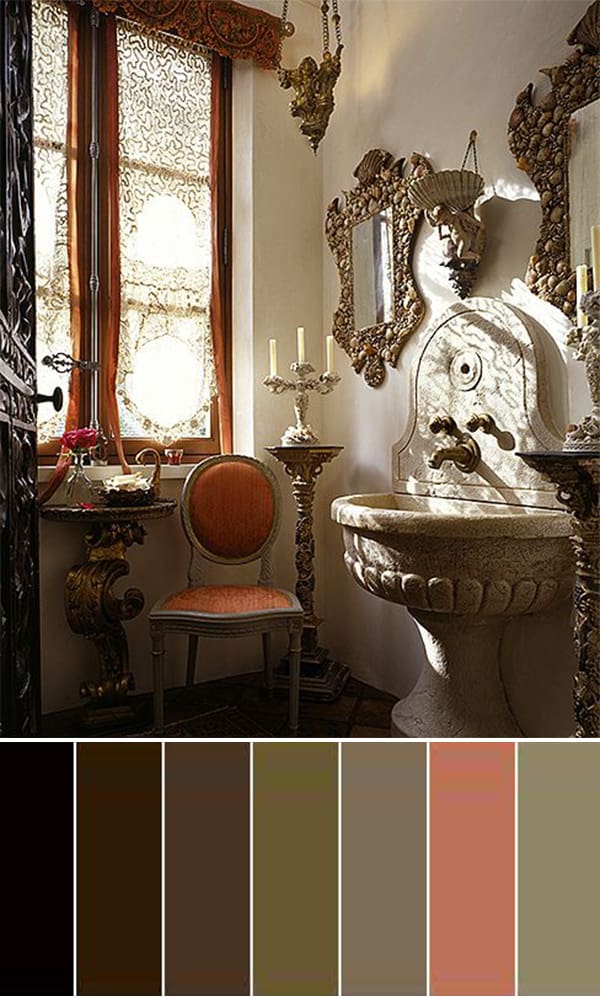 image via thingsthatinspire.net
Extravagant tastes will find the above interior design alluring with its earthy tones and orange coral accents.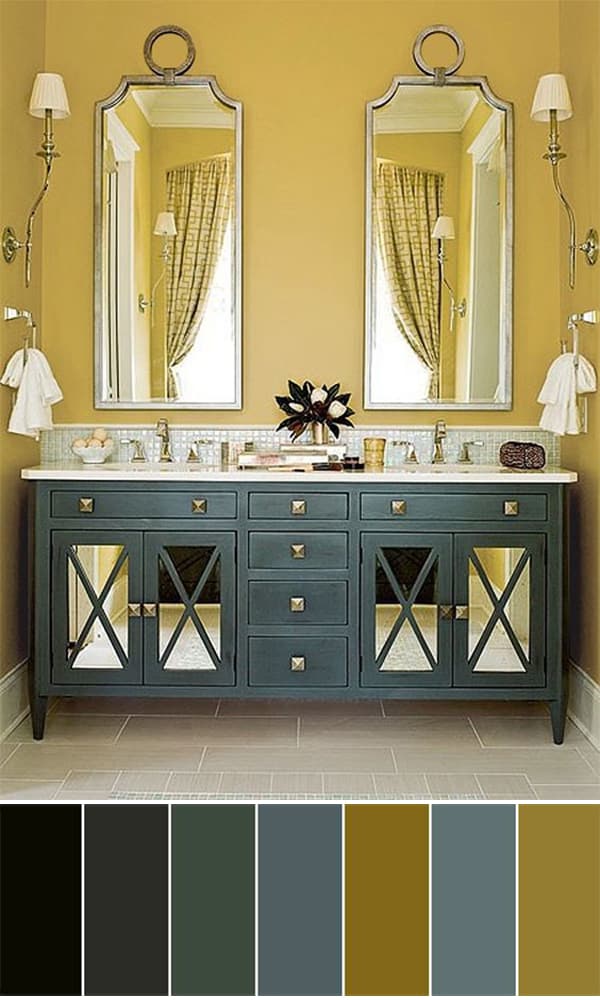 Source Unknown
Yellow will always find a way to balance out greys.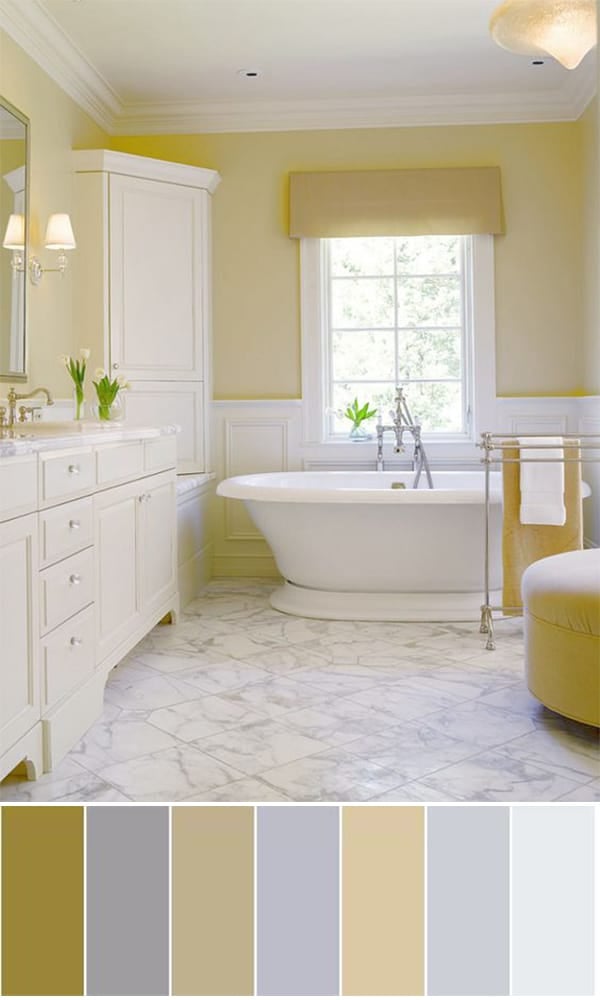 Source Unknown
Marble with grey and blue insertions was balanced with a delicate golden hue.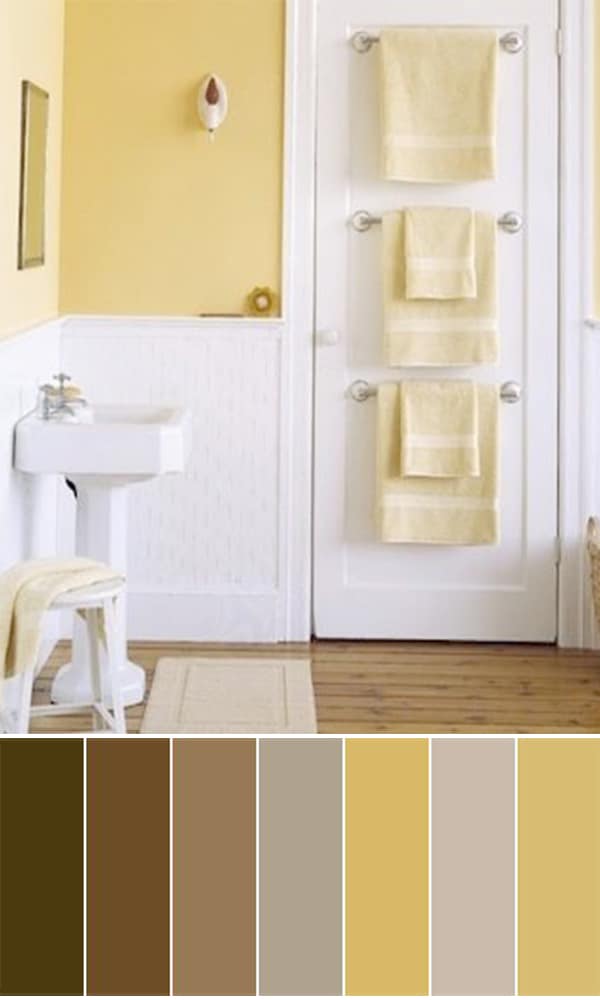 image bobvila.com
Golden yellow attracts light and bounces it off beautifully.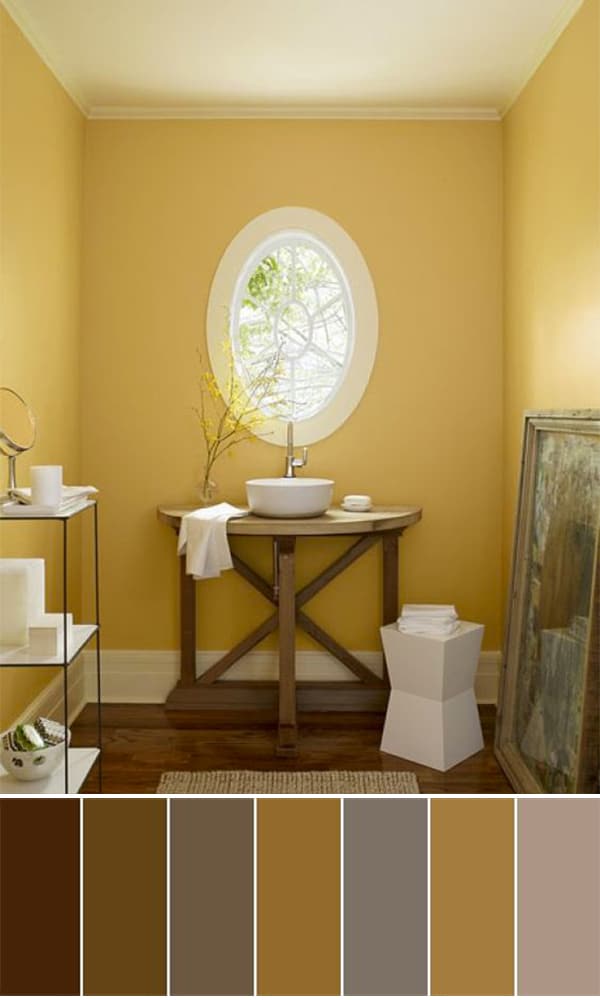 image via huffingtonpost.com
A mustard gold background will set a cheerful mood.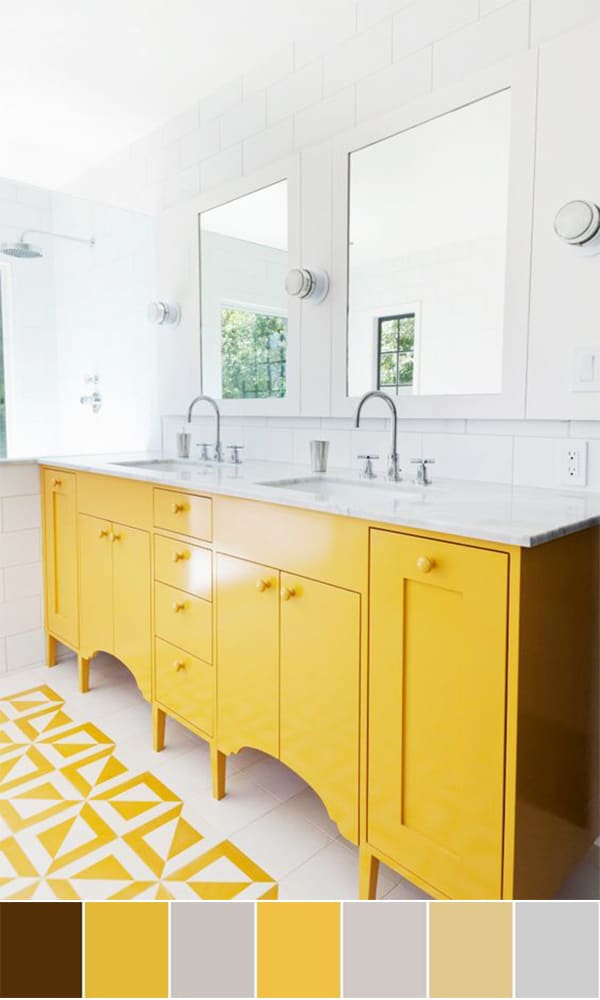 Yellow can spread joy with its simple palette that simply shines in airy ambiances; here white brightens the presence a great deal.
image via mydomaine.com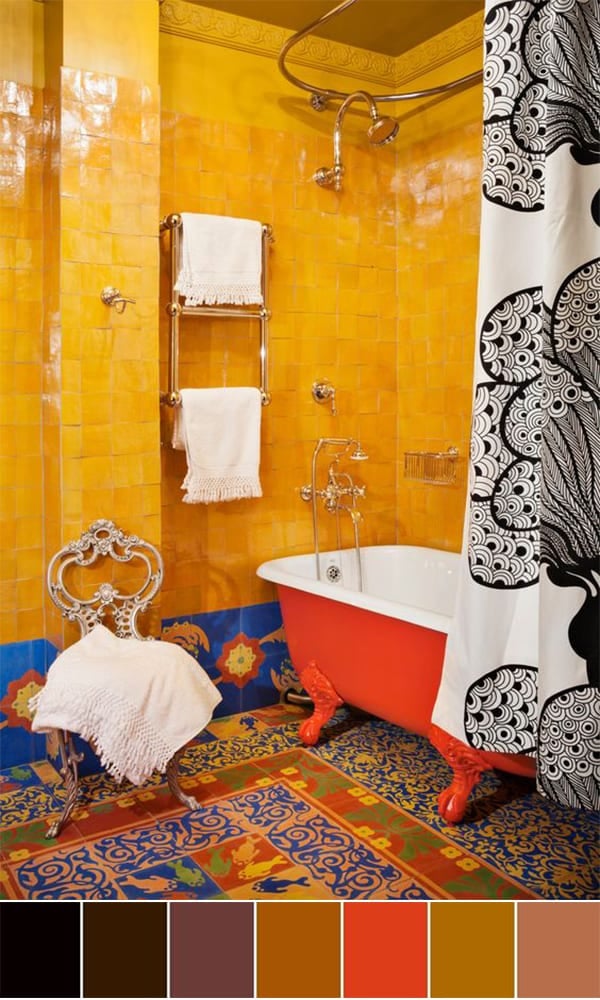 image via loveisspeed.blogspot.co.uk
A Mauro design is all about warm bold colors and powerful contrasts.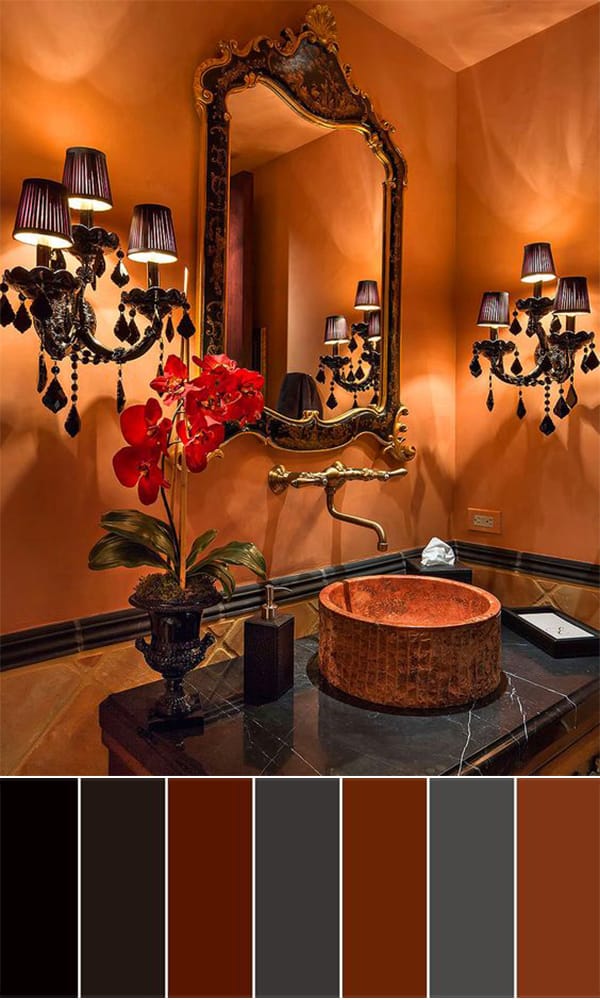 image via c-a-n-d-y–k-i-s-s-e-s.tumblr.com
Elegance has been transcribed in the usage of warm earthy tones and subtle artificial lighting.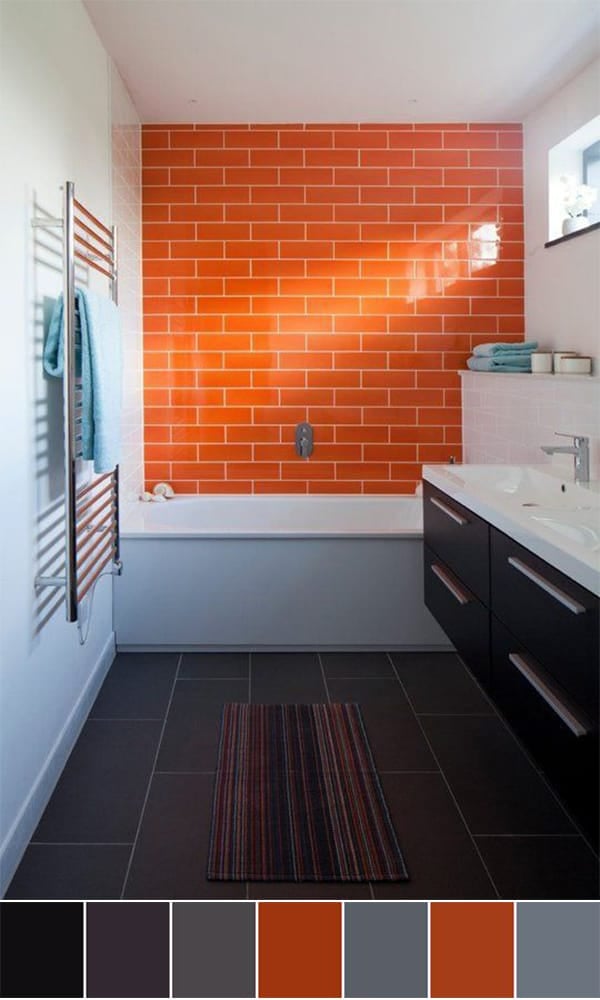 image via apartmenttherapy.com
A modern young appeal realized with bright orange tiles and baby blue accents.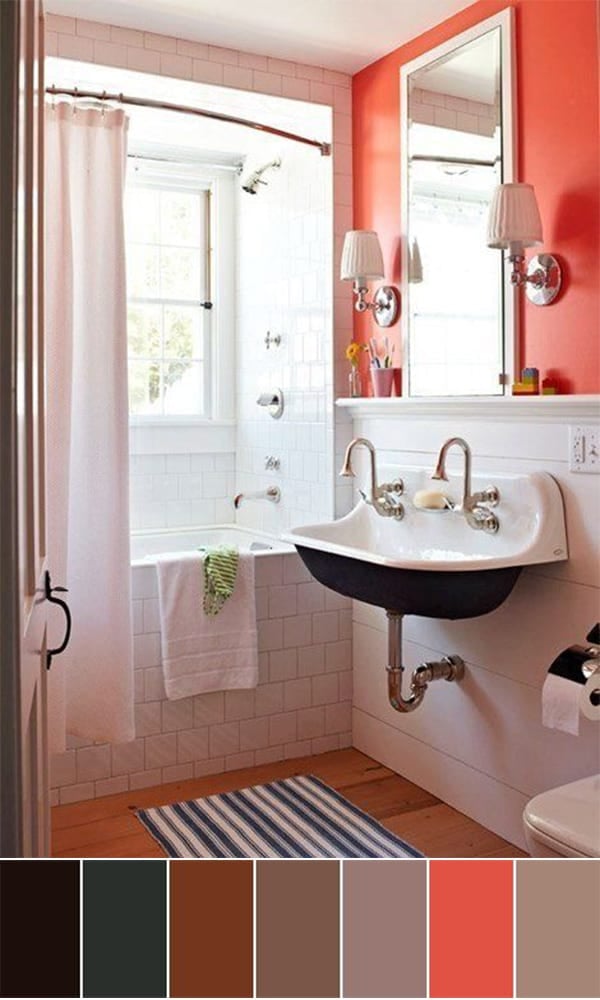 Source Unknown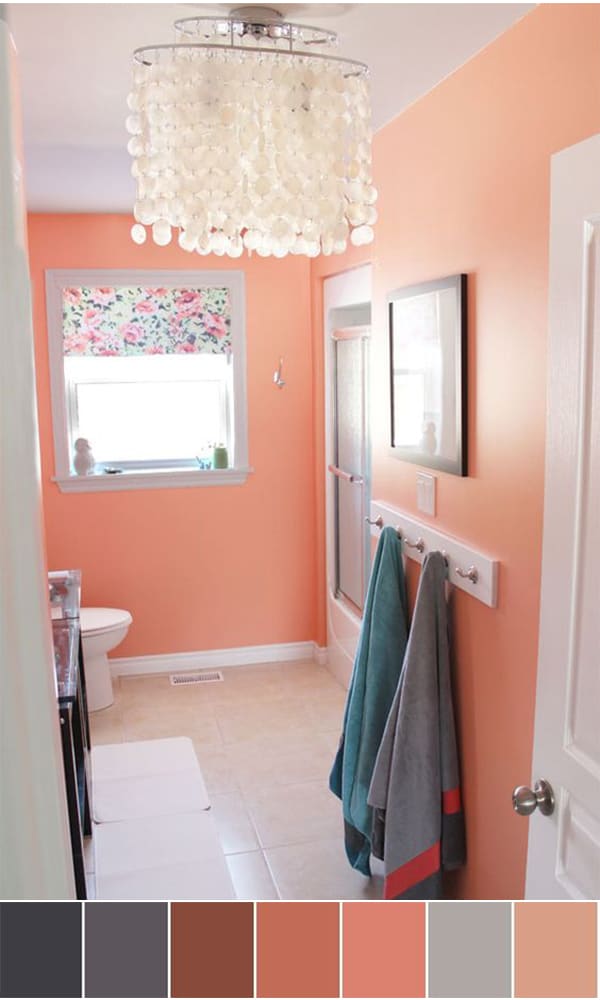 Coral and white function in perfect balance; black can complement the setting with slight contrasts.
image via fynesdesigns.com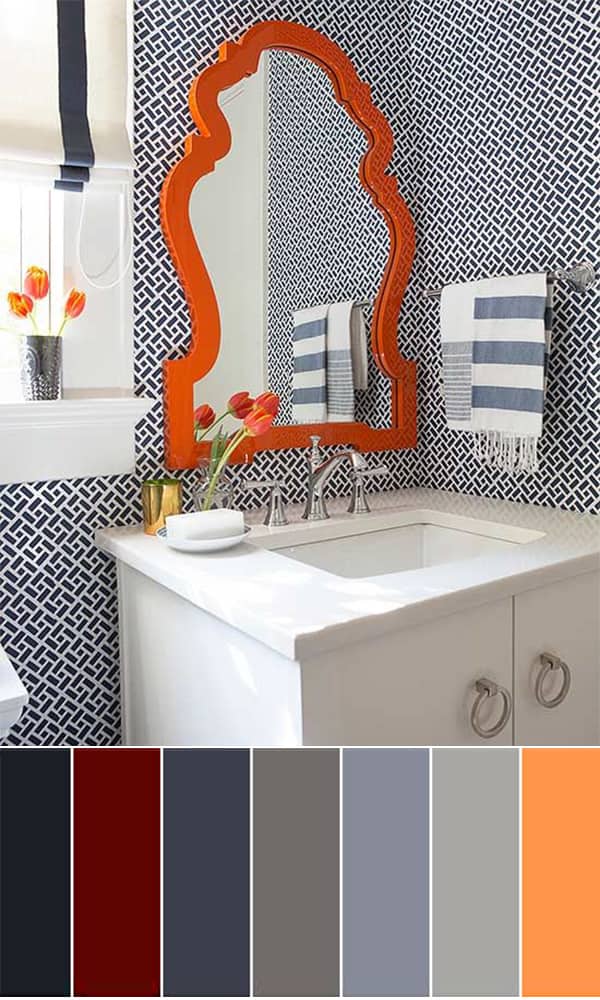 An intricate pattern can be disrupted with a strong color contrast; here the intense orange is the focal point.
image via bhg.com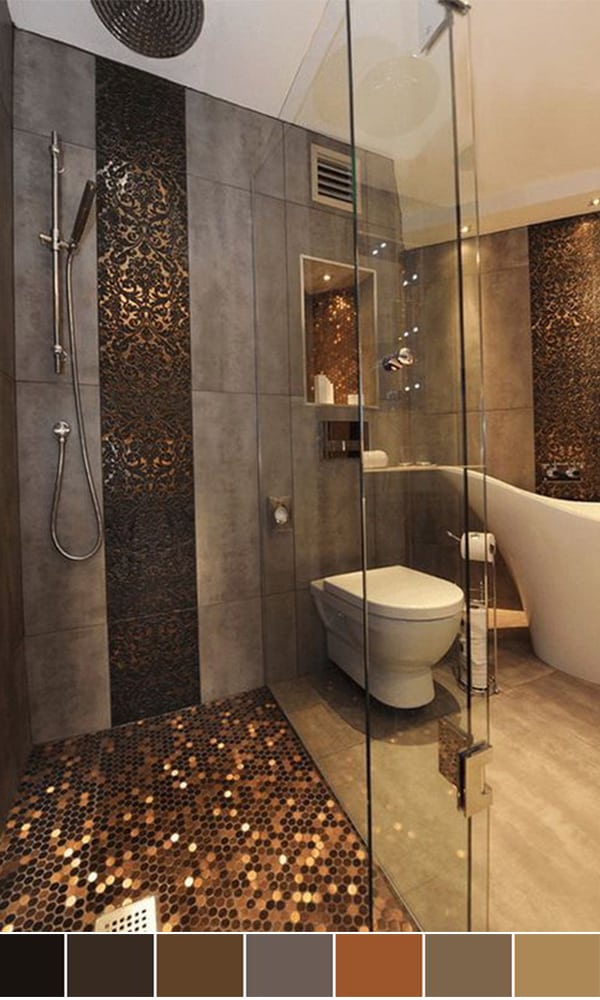 Copper presences can bring in that elegant glittering atmosphere able to redefine a setting.
image via theberry.com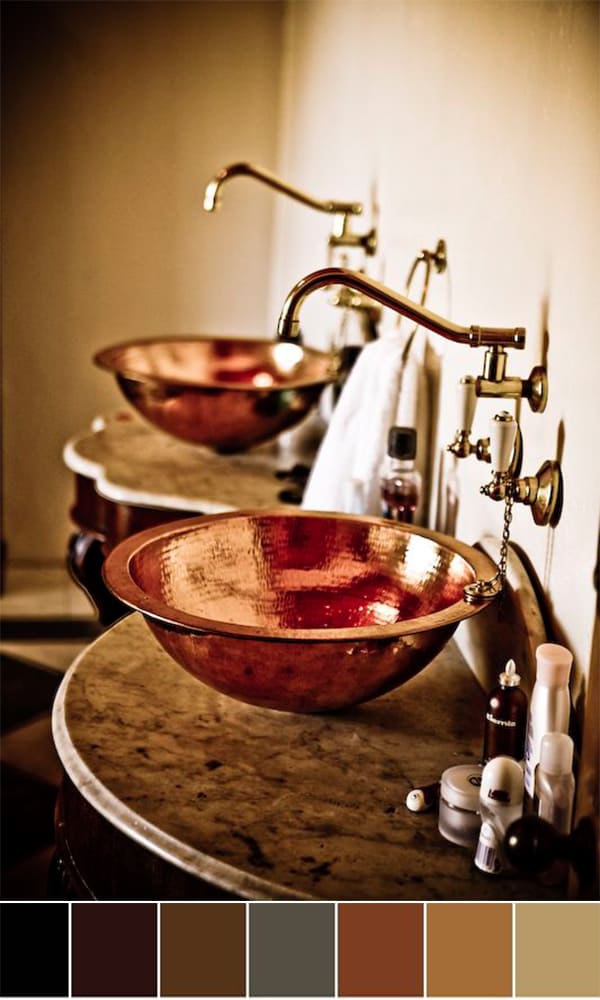 Copper can function as a complement yet when it shines as the main protagonist the element achieves its full value.
image via copperbathaustralia.com.au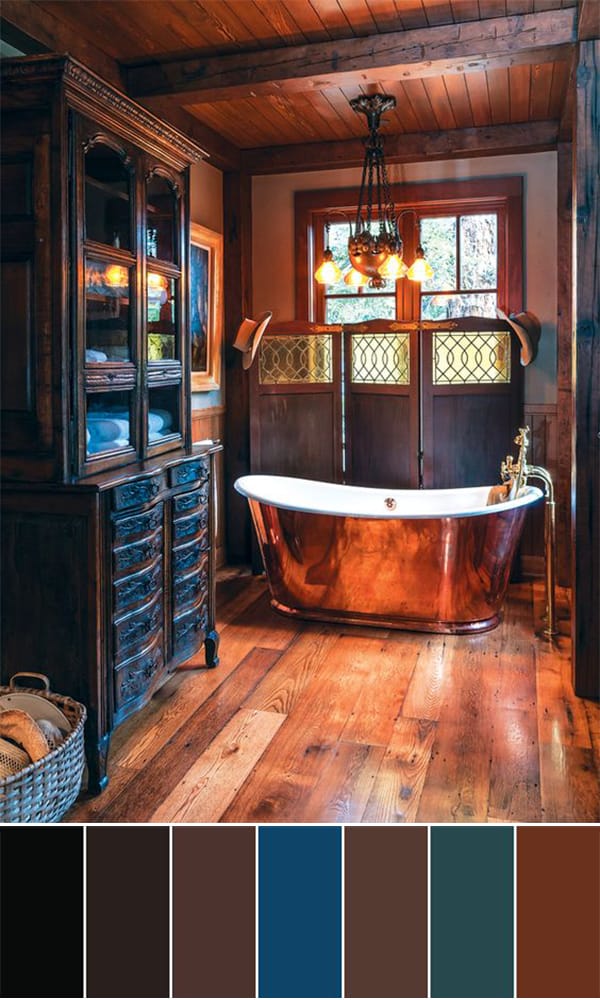 An antique high end-look ought to be obtained with the right materials in a certain state that speaks more of balance than it does of color.
Source Unknown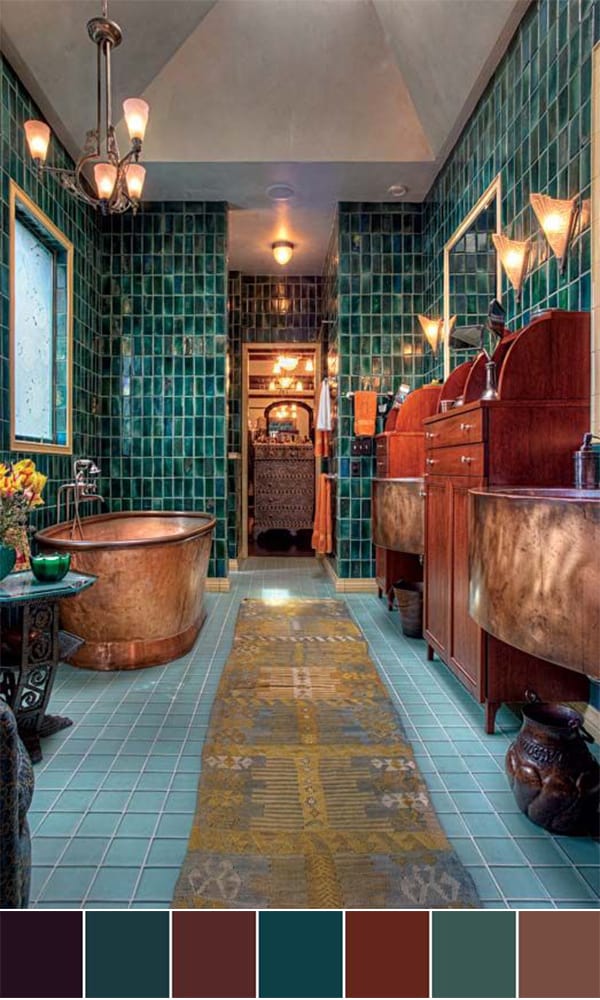 Copper and dark turquoise are known to make a great color scheme that can receive plenty support tones.
image via oldhouseonline.com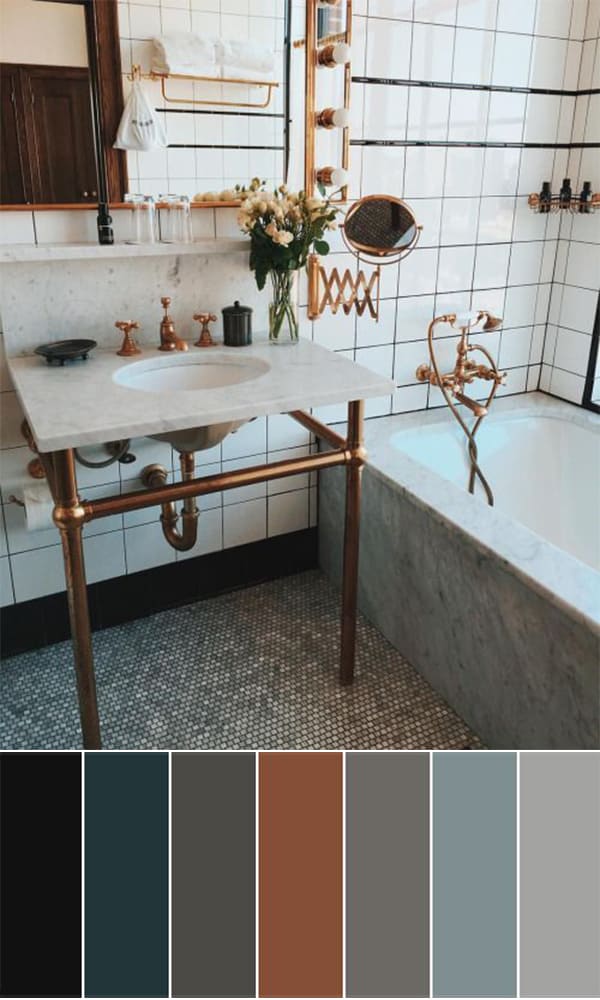 In simple spaces details gain immense value and so do materials involved. Here golden metal accents steal the show; they`re aided by marble and geometric patterns on walls and flooring.
image via interior–style.tumblr.com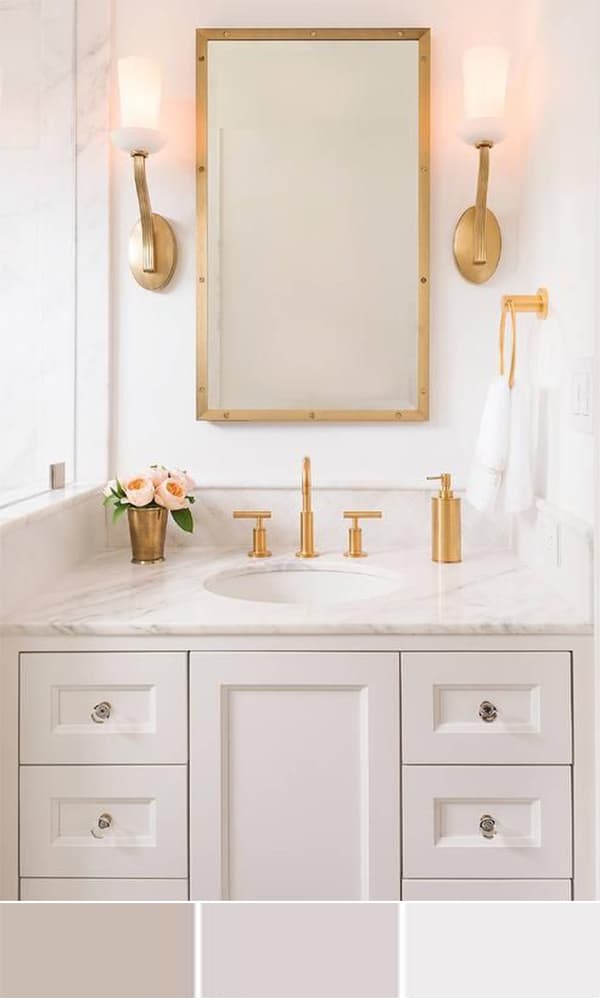 image via decorpad.com
There is nothing more elegant than a classical white bathroom with golden touches.Simplicity at its best.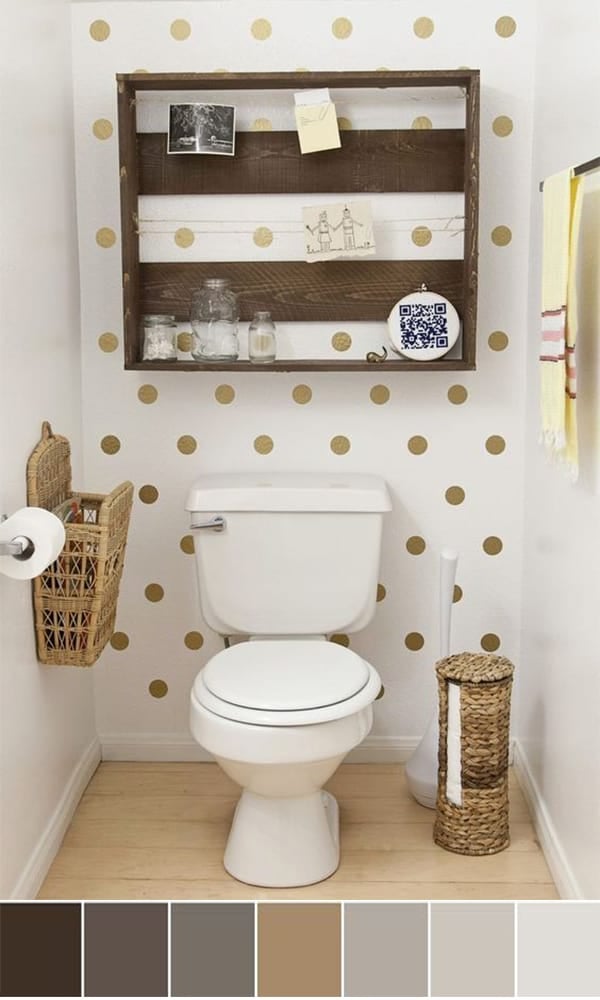 image via abeautifulmess.com
Who thought polka dots can fit well in a bathroom? The golden accents complement the simple clean space.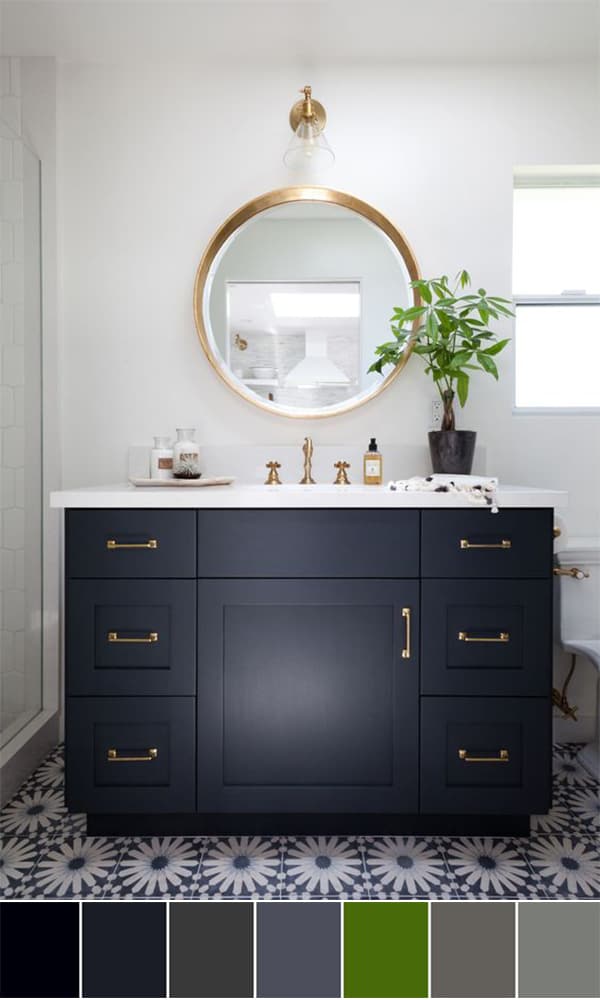 The most balanced, the most powerful shape is the circle; emphasized with the right finishing it returns legendary results.
image via kirstenmarieinteriors.com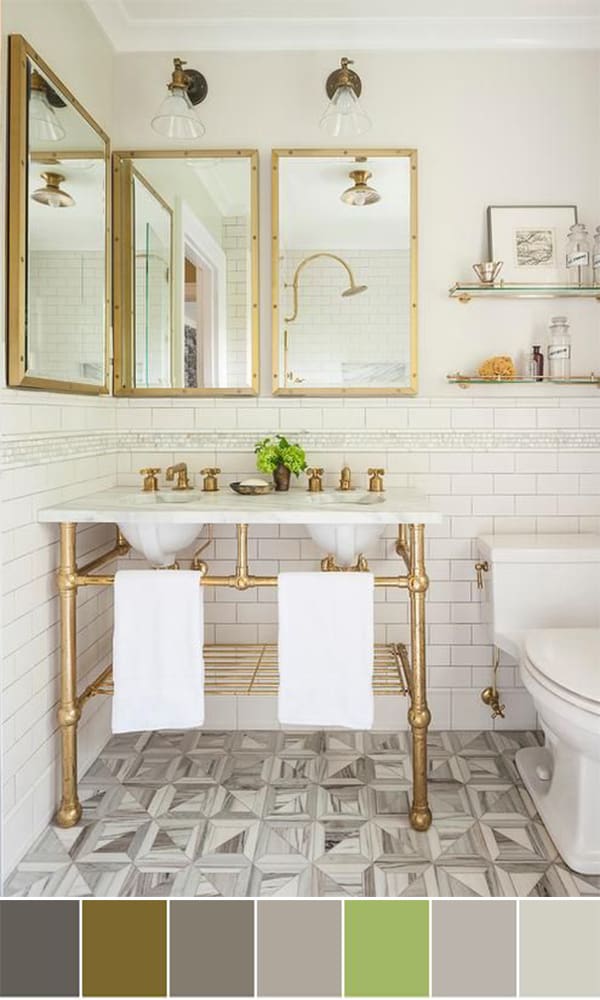 A modern take on a timeless color palette.
image via decorpad.com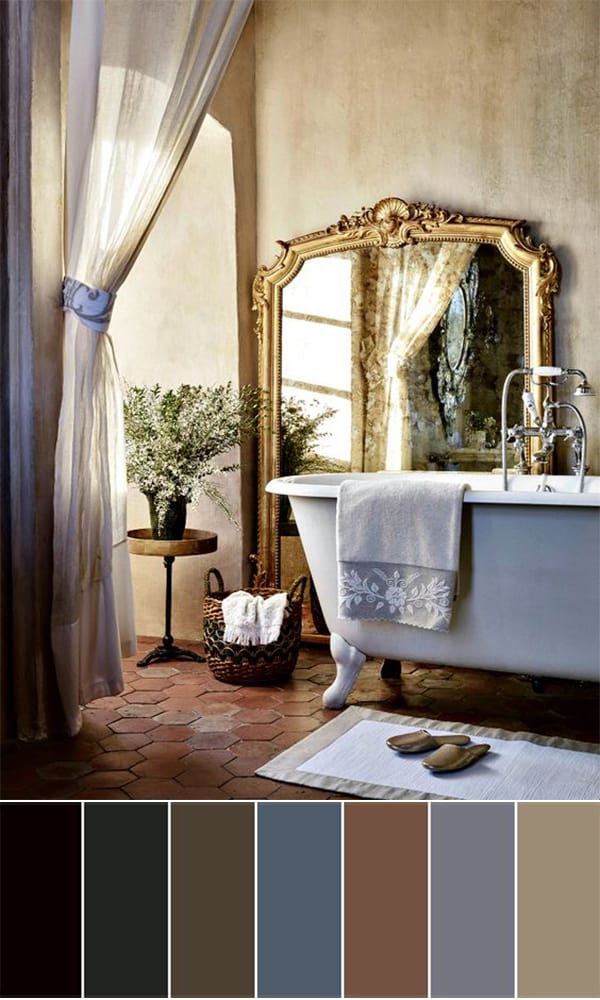 Certain classic ambiances ought to remain frozen in time, extraordinary for centuries.
image via wingsviewathome.tumblr.com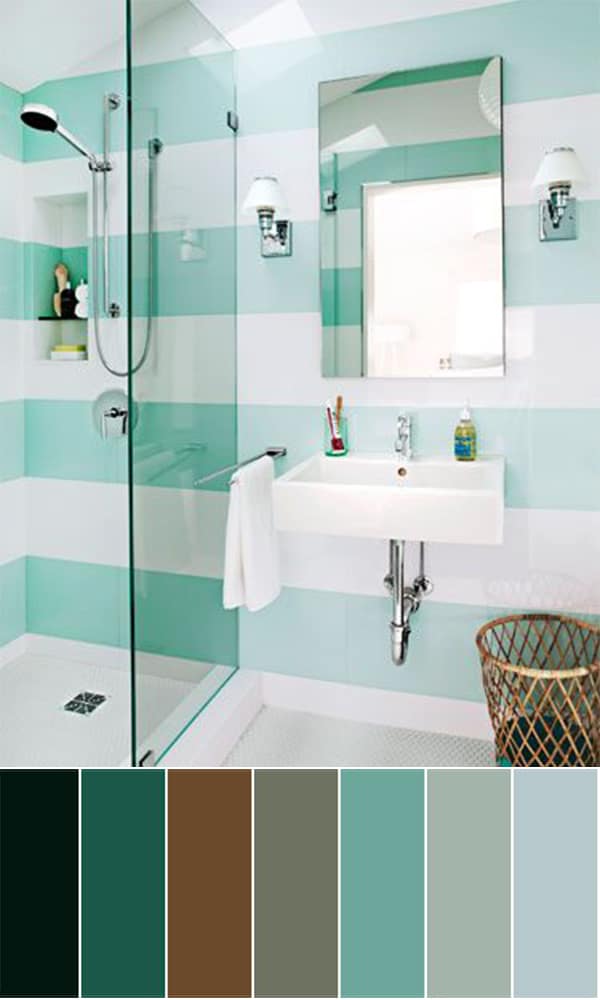 Stripes can be joyful and airy, chose the right rhythm and the light color.
image via housebeautiful.com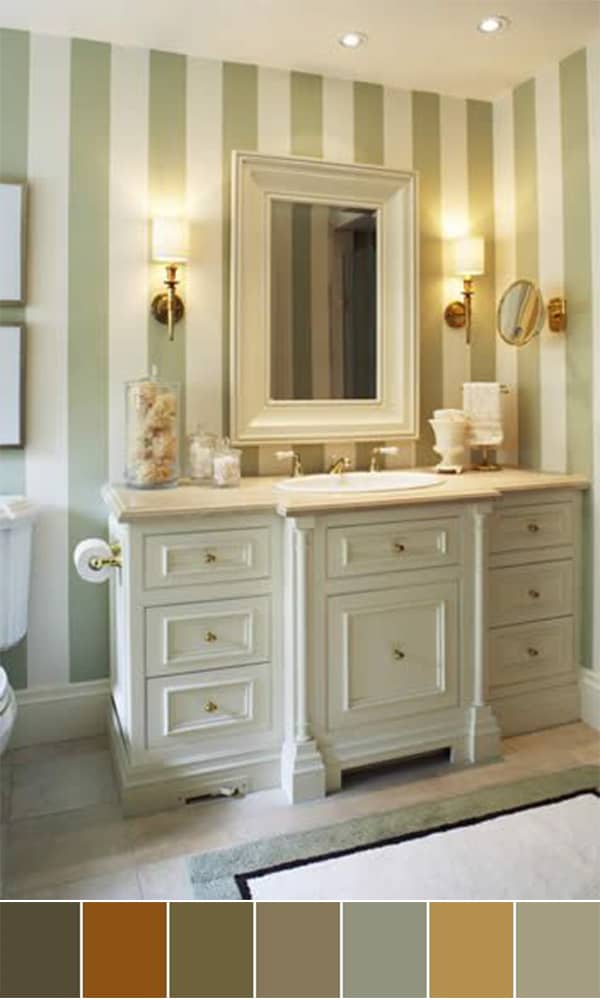 Conservative look obtained through stripes.
image via ritavindedzis.blogspot.com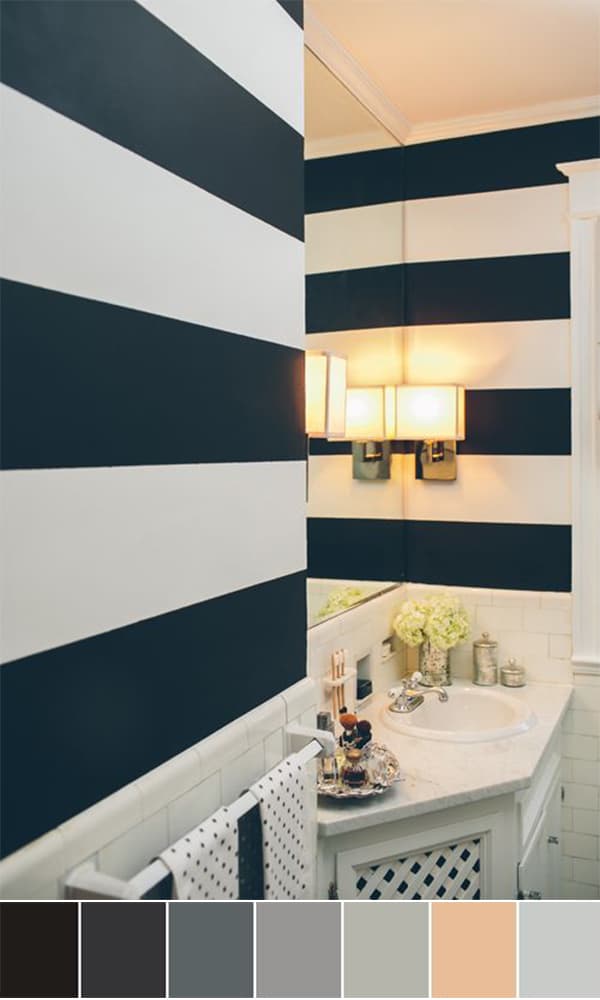 image via designsponge.com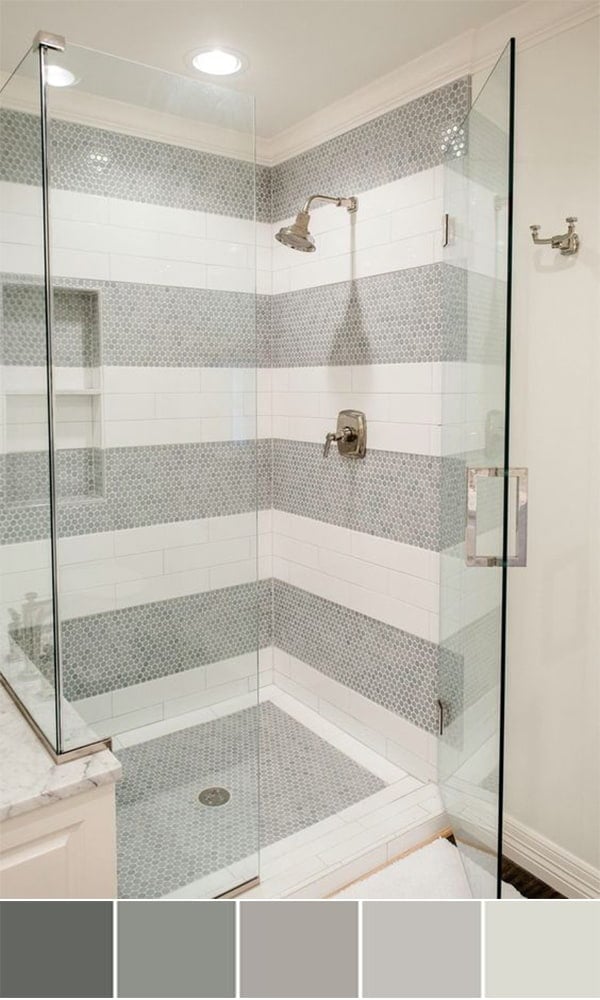 image via hupehome.com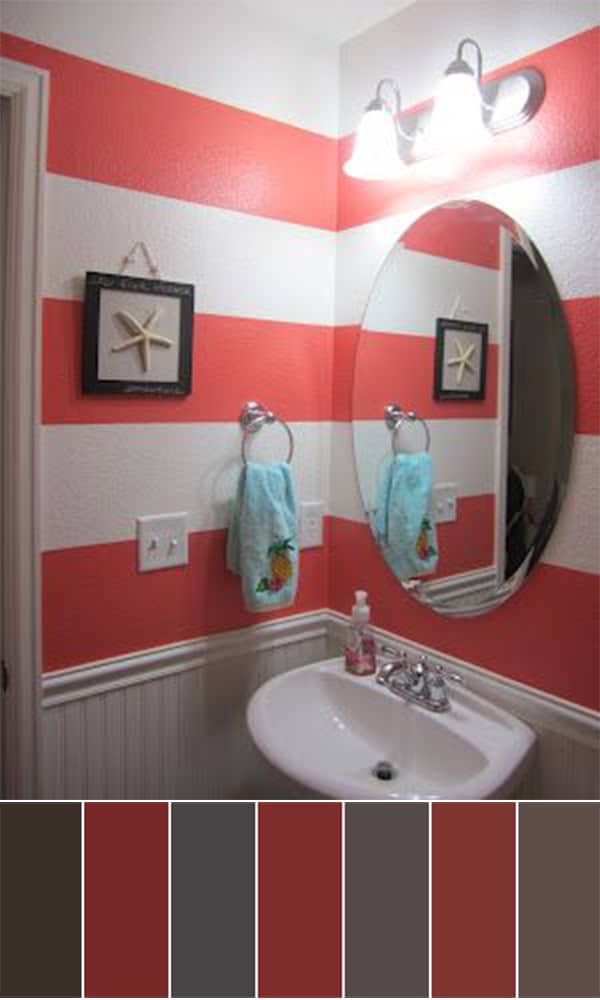 image via mommatobug.blogspot.com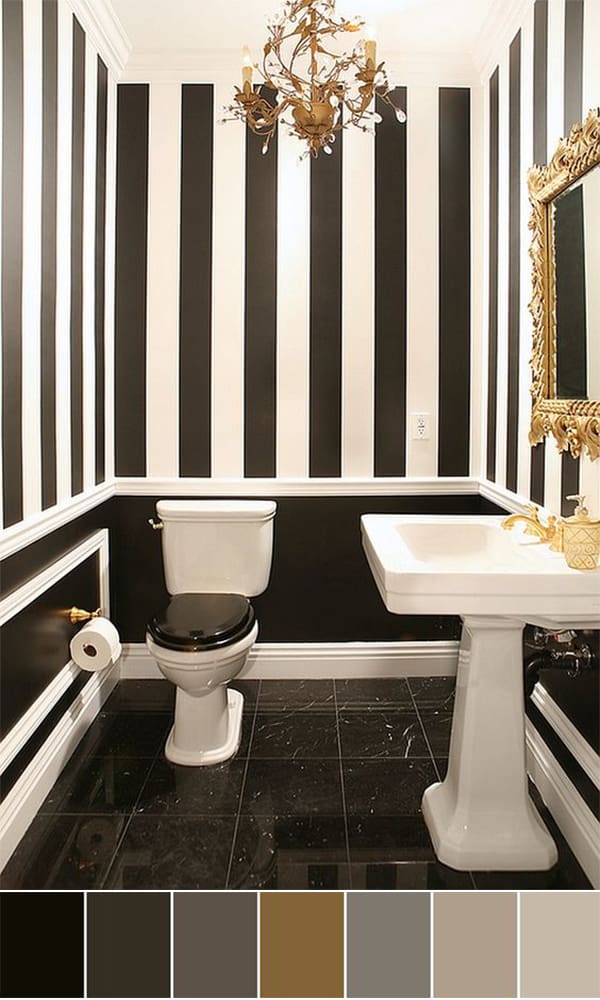 Elegant, noble and intense ambiance obtained through high end black and white materials embellished by golden accents.
Source Unknown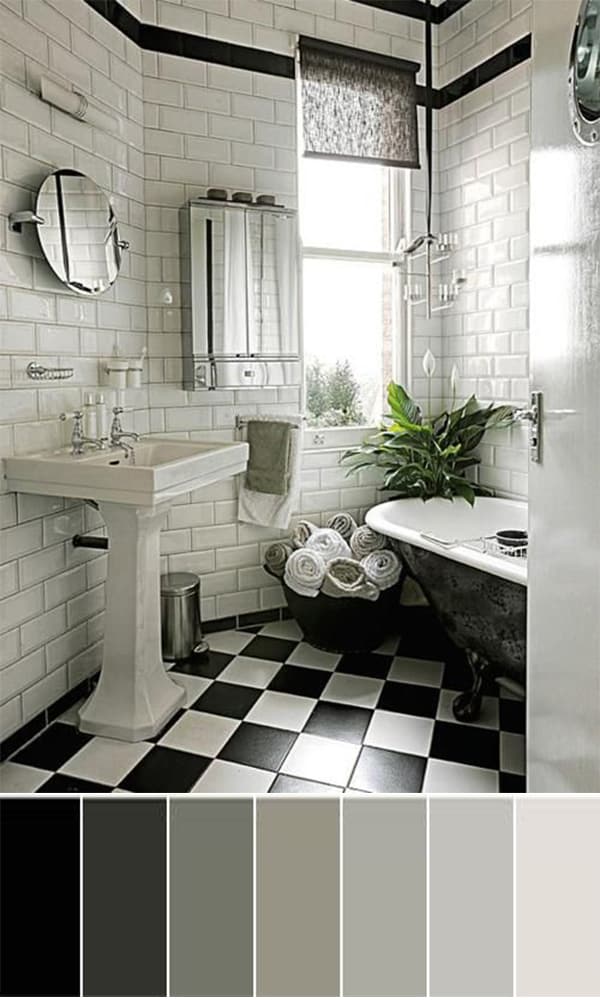 Checkered black and white obtains the timeless attribute.
image via notmybeautifulhome.tumblr.com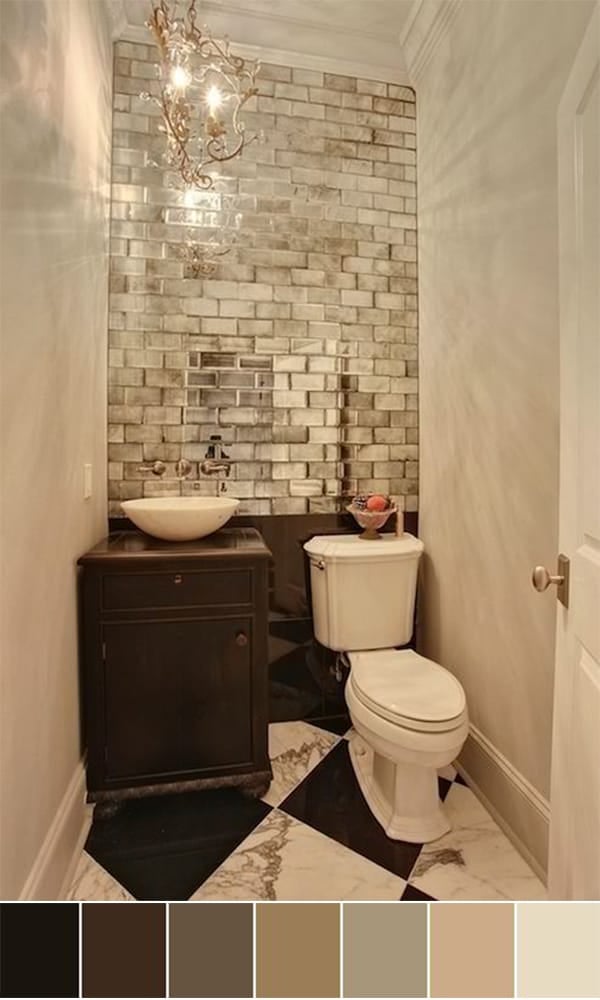 image via tidbitsandtwine.com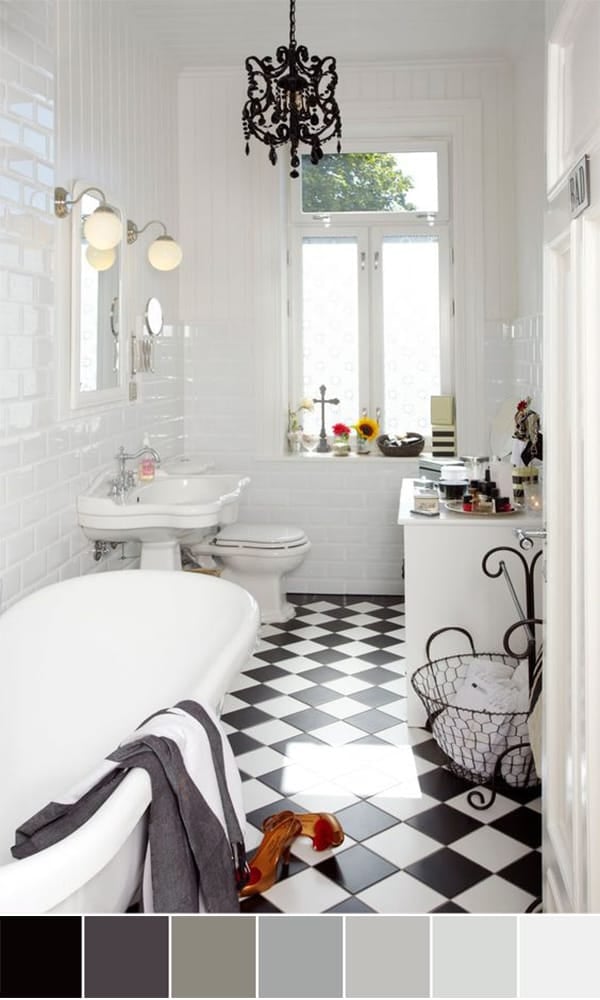 Notice how the glossy walls bounce light throughout the room while the flooring creates a dynamic effect through position.
image via thinkdecor.tumblr.com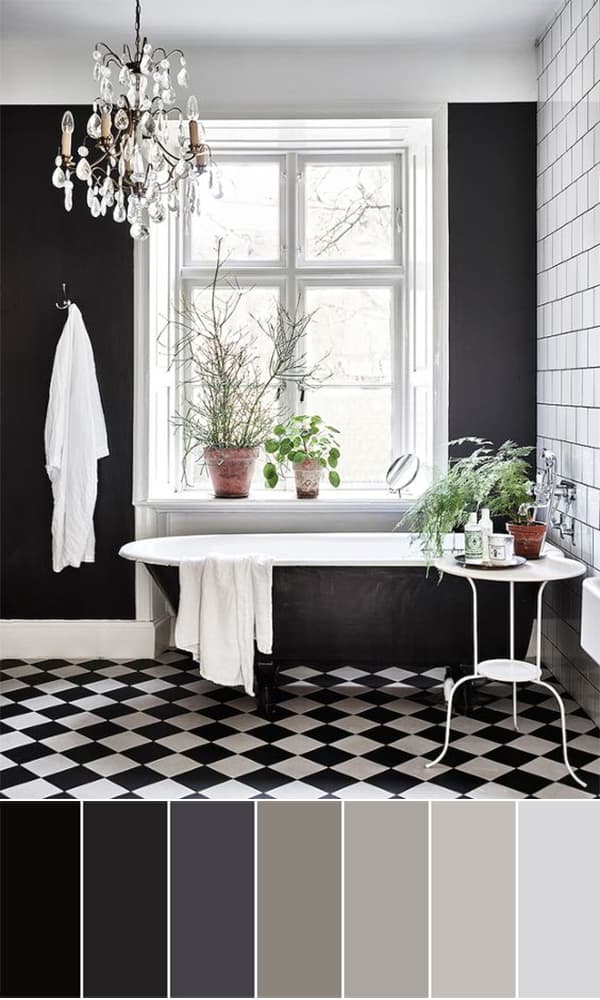 image via dustjacket-attic.com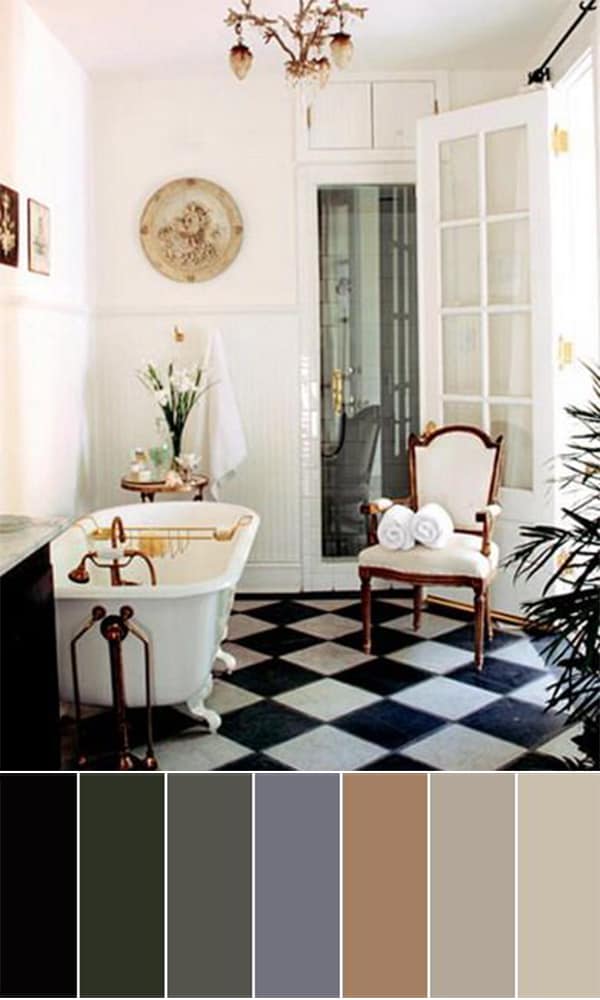 image via housebeautiful.com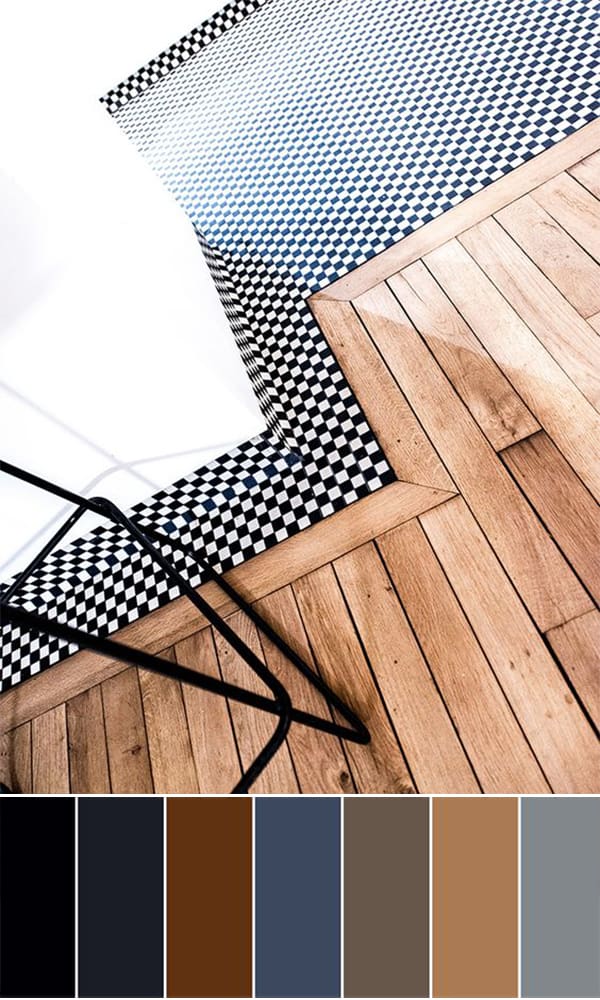 image via royalroulotte.com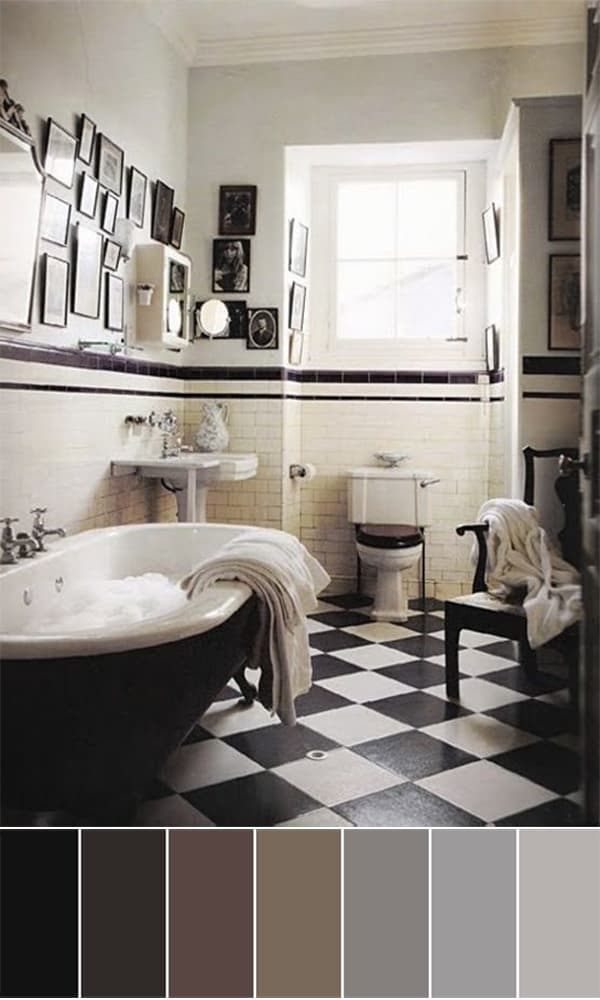 image via livecreatingyourself.com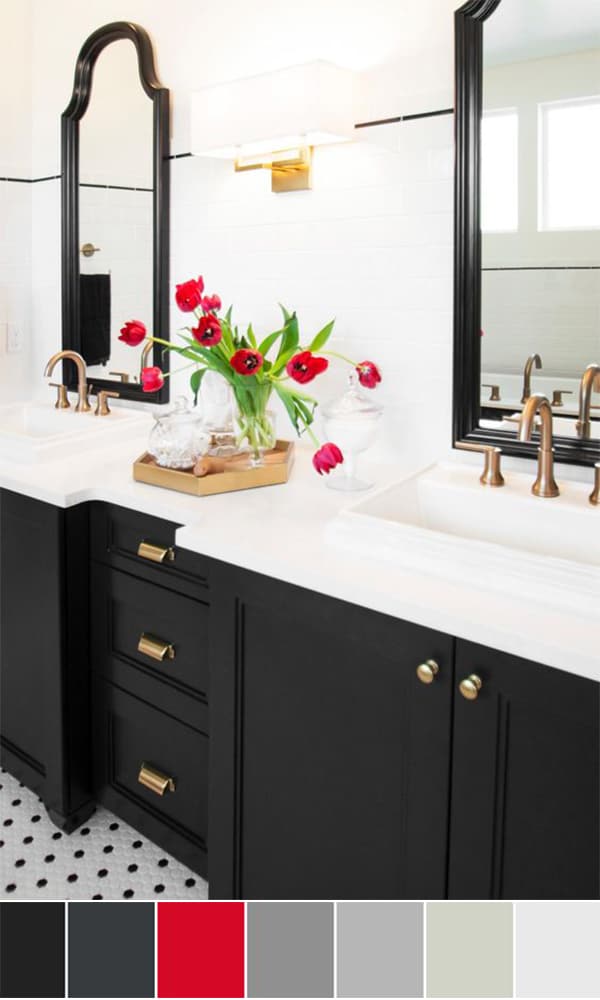 Amaranth might be the ideal accent in a setting in defined by black and white; make tests with temporary items.
image via hgtv.com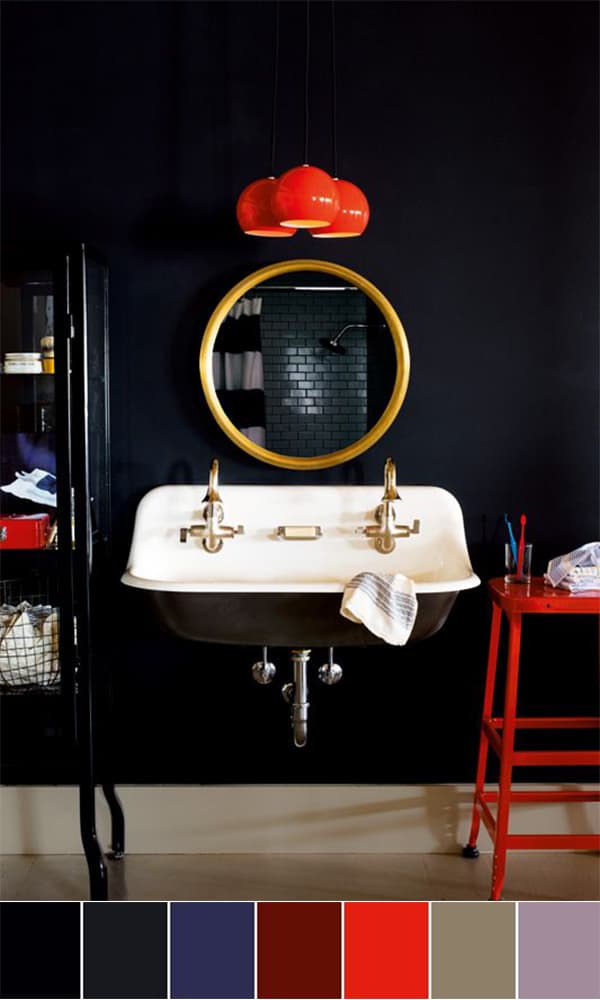 image via remodelaholic.com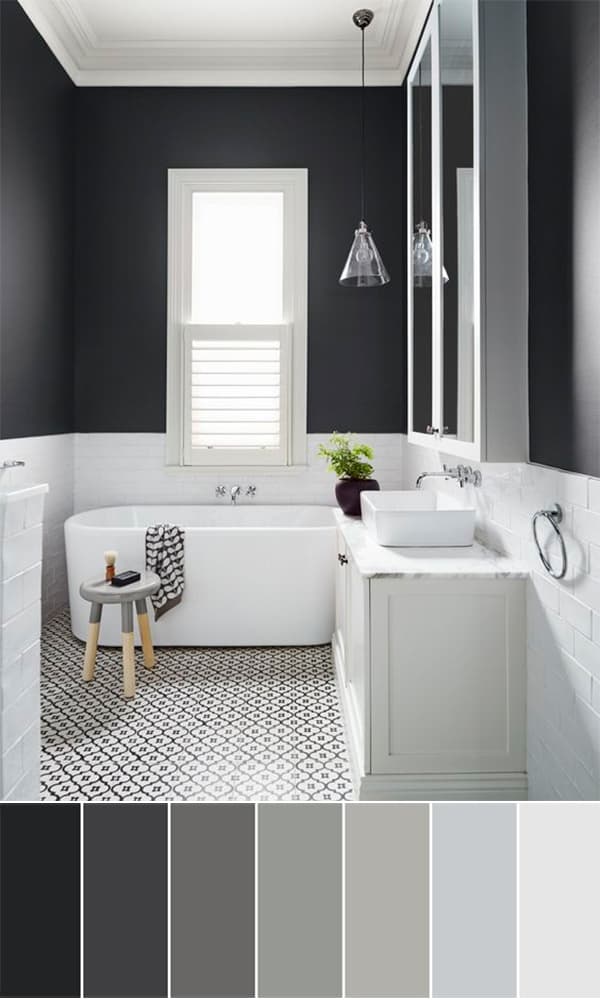 image via dulux.com.au
A warm grey can define the upper part of your bathroom while white and accents of black inserted in the flooring mark the lower part of the space.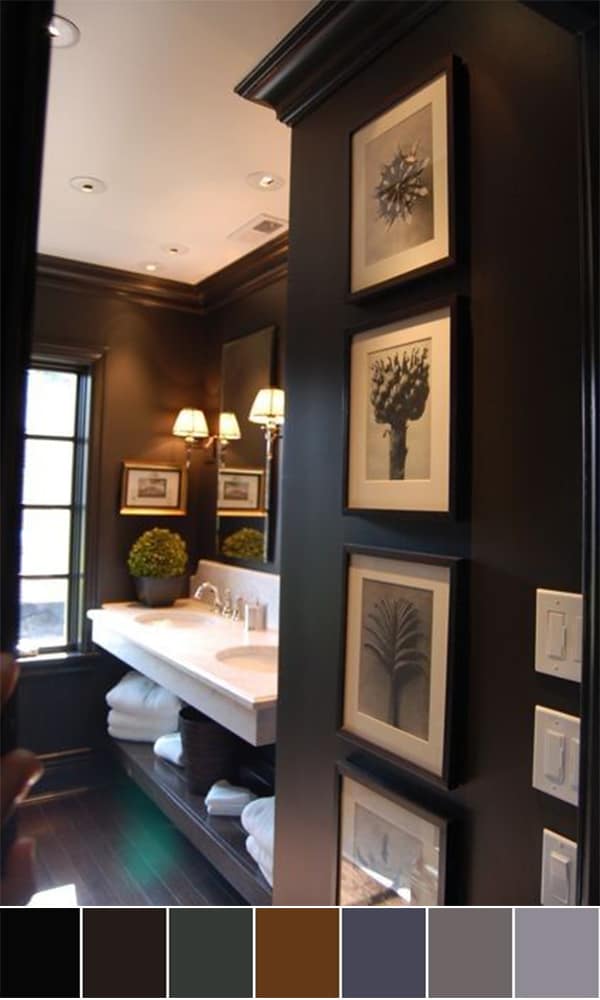 image via remodconsult.com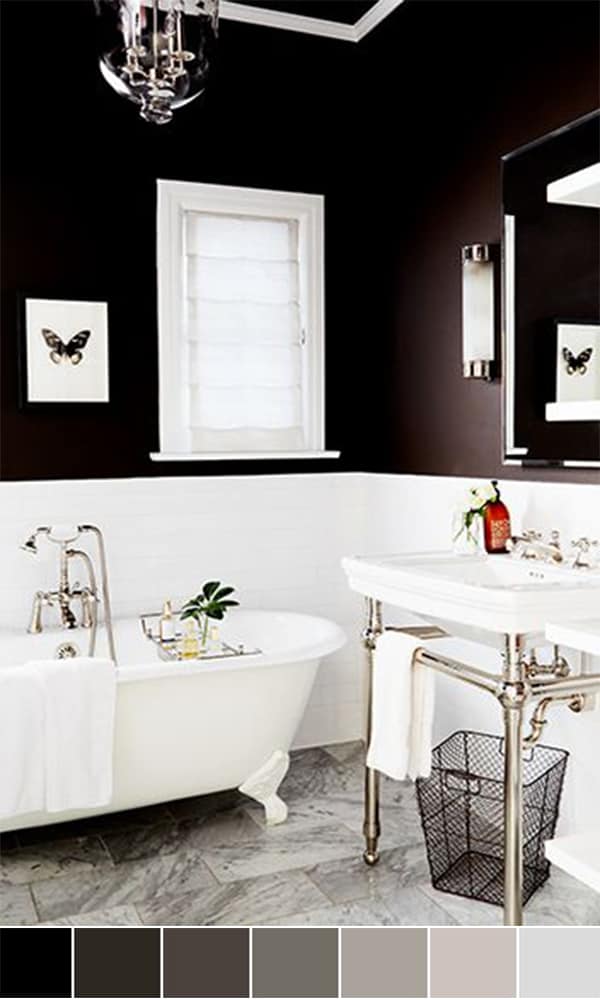 Source Unknown
The black and white limit in this particular design is quite brusque and bold but works well in a modern interior designed home.
Source Unknown
A dark alluring ambiance has been created by the usage of black and blue, allowing the coppery finished bathtub to shine like a piece of jewelry.
Related Articles
13 Best Paints for Bathroom Ceilings.
99 Super Cool Shower Curtains to Transform Your Bathroom  
111 World`s Best Bathroom Color Schemes For Your Home
13 Best Electric Towel Warmers