Painting the bathroom ceiling seems like an easy job but when it comes to deciding on the paint, confusion arises. But don't worry; we've got you covered, the best paints for bathroom ceilings are here! 
Bathrooms are places that are prone to damp spots and molds. Because the moisture level is high, it is difficult to stop the growth of bacteria inside nooks and corners. So we needed a paint that was resistant to mold and mildew and could cover damp areas. 
Generally, bathrooms are covered with tiles, from floors to walls, to get rid of damps and molds hassle-free. But on the ceiling, you need to stick with paints. Although, paint for bathroom tiles is also a thing today, and people tend towards it very fondly without replacing the tiles. 
Now for bathroom ceiling paints. After going through a lot of reviews, we decided to create our list of the 13 best bathroom ceiling paints. It will give you a detailed description of the products as well as the advantages and disadvantages of using each of them. 
We assure you that this list will make life a lot easier for you. Read on to learn more about the best of the lot when it comes to paints for bathroom ceilings.
Best Bathroom Ceiling and Shower Paints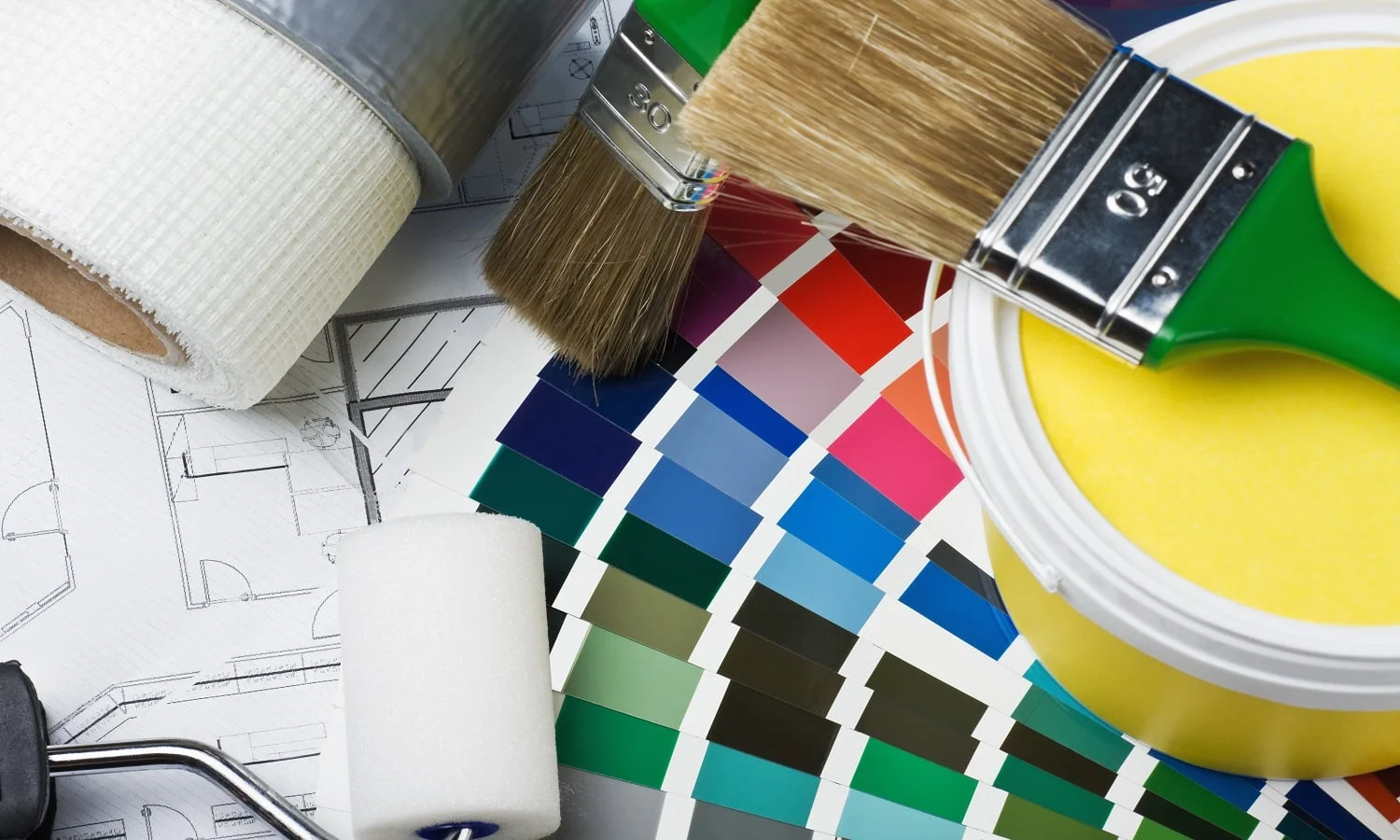 Are you looking for the best paint to use on your bathroom ceiling? Painting the ceiling of a bathroom requires a specific kind of paint that can withstand moisture. Regular paint can't stand up to the humidity and steam of a bathroom and will eventually start to peel and flake away. To make sure you get the best results, here is the list of the 13 best paints for bathroom ceilings!
Sale
If you are looking for paint for your cracked ceiling, this one will do wonders. Known to be a multi-tasker, the Zinnser 03688 ceiling paint is one of the best products in the market today. With the capacity to fill up and hide cracks, this paint will take care of all your needs.
Why Did We Like It?
This product is a paint primer, sealer, and finish together in a single container. We were happy to find out that the paint not only does its job but does three other tasks too. It saved us a lot of money as we did not have to buy a sealer and primer separately.
Further, the flat, matte-white finish makes it very difficult to spot on the ceiling surface. Also, the color and the chemicals used are such that it does not lead to yellowing or material damage. This worked very well on our ceiling, which had tiles on it already.
It could be enough to add a thin layer to the entire ceiling or multiple layers to one spot if we were only targeting the damaged areas. We had a few damaged parts, and one can be sufficient.
What Could've Been Better?
The paint itself worked exceptionally well, but we were disappointed with the amount of paint dust that is left behind. It took us a lot of time to clean the dust off the furniture and floors. The painting job took more time because of the additional effort here.
Pros
Any-angle nozzle for easy spraying

Seals ceilings against stains

Quick to use
Cons
Leaves a lot of paint dust
Volume: 1 Quart | Coverage: 100 sq ft | Type: Interior Paint | VOC Content: Low | Dry Time: 30 minutes
If you feel the ceiling often becomes damp and you need something to control the moisture level, this product is a great choice. It is moisture-resistant and would not let damp patches form on the ceiling. We were very impressed with the capacity of the product.
Why Did We Like It?
This paint will keep your ceiling free of mold and mildew too. It is made with chemicals that do not let water percolate or show through. Also, it can be used both on a fresh bare surface or a surface with an existing coat of paint.
Further, you can store this paint for a long time without it getting dry. One gallon of paint could easily cover an average-sized bathroom ceiling multiple times or a large ceiling once. If you are using it for specific spots, you will obviously need to store the rest, which will not be a hindrance while using this product.
Lastly, it is water-based and not oil-based. Thus, it dries up much more quickly than any oil-based product. Additionally, it does not have any bad odor like most ordinary paints.
What Could've Been Better?
The product works very well but costs a lot. This could be problematic for those who are on a tight budget. But the paint is totally worth it, and if you can spare a few extra bucks, we strongly recommend that you go for it.
Pros
Moisture Resistant

Easy to wash

Dries quickly
Volume: 1 Quart | Coverage: 100 sq ft | Type: Interior Paint | VOC Content: Low | Dry Time: 30 minutes
If you are looking for weather-resistant paint, we have got the perfect product for you. It is highly resistant to moisture and will protect your ceiling from water damage. We live in a place where there is torrential rainfall every now and then, and this product worked wonders.
Why Did We Like It?
We found out that the paint uses chemicals that are corrosion-resistant, so it will not corrode even if water seeps in from the roof after rain. This makes the paint very durable, allowing it to last for years before the need to repaint arises.
Further, the paint can be applied to various types of surfaces, including metal, concrete, stone, and even treated wood. We had wooden ceilings, and the paint quickly covered it all without looking odd.
Also, the satin finish of the paint provides a glossy surface, which stops light from reflecting into your eyes. It looks good and is beneficial for people too. We loved the look and feel of our bathroom after the paint was applied correctly.
What Could've Been Better?
The paint looked extremely good, but it took a long time to dry. It is best to leave it for a day before you are sure that it has dried completely. Also, try not to paint during the rainy season. Once the paint settles in, there are no further issues.
Pros
Resistant to moisture

Withstands corrosion

Durable

Applies to multiple surfaces
Volume: 1 Quart | Coverage: 120 sq ft | Type: Interior/Exterior Paint | VOC Content: Low | Dry Time: 30 minutes
Sale
This product has a smooth matte look, which enhances the aesthetic of the bathroom without overshadowing any other furniture. It is a treat to apply, and we were pleased with the changed look of the area. Read ahead to find out about the brilliant features.
Why Did We Like It? 
This paint is rust preventive and promises lasting protection for your walls. With water seeping into the ceiling, we faced severe issues with dampness and rusted metal bases for lights. This product ensured that no dampness would be visible, and the bases were securely covered too.
To add on, the product has been created in such a way that it is resistant to weather, chip damage, abrasion, natural corrosion, and a variety of cleaning chemicals. The bathroom is the most susceptible to water damage, and thus this paint became an essential addition to this particular room.
Lastly, you can use it over painted surfaces too to add an extra layer of protection. If you have cheap quality paint already used on the ceiling, scrape off a layer before applying this for a smooth finish.
What Could've Been Better?
We faced some issues with the spray nozzle, which was slightly bent. This could be a problem with the specific product too. We recommend you get the product exchanged in the first place before using it if there is an issue with its nozzle.
Pros
Dries to touch in 2 to 4 hours

Can be sprayed in tight spaces

Smooth finish

Moisture-resistant
Cons
Spray nozzle is slightly bent
Volume: 1 Quart | Coverage: 120 sq ft | Type: Interior/Exterior Paint | VOC Content: Low | Dry Time: 30 minutes
Sale
If you have some major damaged spots to cover, this product will be of great use. The KILZ MAX Maximum Interior Latex Primer provides a one-coat solution for most damaged ceilings. Be it a spot burnt because of a mishap or a water–damaged area; this paint will cover them all up in a jiffy.
Why Did We Like It? 
We were very glad about this combined sealer, primer, stain coverer, and odor blocker all in one product. It offered a remarkable level of protection from a single 1-gallon can. With its multifunctional capacity, this paint cum primer is the only thing you would need for your bathroom ceilings.
Further, each can have the ability to cover three-to-four-hundred square feet and will thus last you months or years when only taking care of the bathroom ceiling.
The paint is also highly resistant to any form of moisture damage and can be used on any material ranging from wood and bare bricks to drywall or tiles. We even painted on glass, and the finish was perfect. We truly recommend this moisture–resistant primer, and we encourage the use of latex paints for bathroom walls and ceilings mainly because they're mildew resistant, and no one really wants to peel paint in their bathroom or home.
What Could've Been Better?
The product functioned well, but we have one complaint. The smell of the paint is too strong and can be a problem for a few days after painting. This is because the bathroom is a small area and the smell of paint refuses to go.
Pros
Durable

Extensive coverage

Resistant to common hazards

Sands easily

Ideal for restoration
Cons
The smell of paint is bad
Volume: 1 Gallon | Coverage: 300-400 sq ft | Type: Interior/Exterior Primer | VOC Content: Low | Dry Time: 30 minutes
This is a 100% acrylic advanced technology paint and primer in that offers superb coverage. We managed to hide the dark spots on the ceiling easily. You will surely have a spotless bathroom once you paint the ceiling with this product.
Why Did We Like It?
With low VOC, we were assured that the paint would not leave any dangerous artificial residue in the bathroom. Irritating chemicals could become a hazard, and this paint protects you from being exposed to them.
Moreover, this is extremely good for renovations and can be used after remodeling the bathroom too. It can be applied like regular paint and does not need another coating on top of it.
Also, you can easily apply it to wood, masonry, plaster, and even drywall. It will give you a smooth, unobtrusive finish that builds up the look and feel of the room. Pair the color with warm lights, and you have a welcoming space waiting right there.
What Could've Been Better?
The only issue we faced with this product is that one coat is not sufficient. We had to paint our ceiling thrice before the color appeared adequately, and all the spots were covered. This used up more paint, and thus the overall cost could go a little up.
Pros
Simple application

Low light glare

High coverage
Cons
One coat of paint is insufficient
Volume: 1 Gallon | Coverage: 300-400 sq ft | Type: Interior Paint | VOC Content: Low | Dry Time: 1 hour
If you want spray–based paint that will dry up very quickly, the Rust-Oleum 327920-6 PK American Accents is a great choice to make. We had a party planned the next day, and the bathroom had to be done up. This painting helped us achieve our goal in no time at all. 
Why Did We Like It?
With a drying time of 20 minutes, we had not initially expected the paint to last long. But it has superb durability, and this color looks exactly the same after months from the date of painting. 
Also, it is not only weather-resistant and does not let damp patches form, but the paint also provides a scratch-resistant layer. You can expect a smooth finish for a long time without having to repaint. 
The spray can come with an any-angle tip which makes it easy for you to spray paint evenly in all areas. We had some corners behind the closet where it would have been difficult to reach otherwise. 
What Could've Been Better?
One thing we found out is that the ambient temperature has to be above 60 degrees Fahrenheit in the room; otherwise, it will crease or blur. This happens because oxygen gets trapped in the creases. It could be a hindrance to painting in cold temperatures. 
Pros
Smooth, full coverage and vivid color

Spray-based

Provides long-lasting protection
Cons
Paint creases if dried below 60 degrees
Volume: 12 oz | Coverage: 25 sq ft | Type: Spray Paint | VOC Content: Low | Dry Time: 20 minutes
This paint has a primer already mixed, and all you need to do is apply one layer of it. That is all! If you have less time in your hand or do not have the patience to apply multiple coats and wait for the paint to dry, try this. It works like wonders, and you will be left impressed. 
Why Did We Like It?
The paint is very strong and is incredibly resistant to dampness as well as cracking. If you have some work to do with the lights and light bases on the ceiling, rest assured that whatever tools you are using will not leave scratch marks on your ceiling.
Adding on, with low VOC, this paint is not going to be harmful to you or your pets who may wander into the washroom while painting. This was very helpful for us because we have two pets who follow us almost everywhere we go.
Also, there are multiple varieties of this paint available, and you can precisely choose the finish and the sheen level that you are looking for.
What Could've Been Better?
This product offers a one-coat solution, but the only concern we would raise is the smell. The smell is very strong and can leave one feeling light-headed after a while. So make sure not to expose yourself to too much of it while the paint dries.
Pros
Durable

Resistant to weather damage

High coverage
Cons
The strong smell of paint
Volume: 1 Gallon | Coverage: 350-400 sq ft | Type: Interior Paint | VOC Content: Low | Dry Time: 30 minutes
This product can be added to any existing paint, and you have a solution that will not let mold grow on the ceiling. We live in a place with bad weather conditions, and it rains throughout the year. With this additive, we were finally able to relax.
Why Did We Like It?
When you mix this additive with any sort of paint, it makes the product more durable, enduring humid or moist conditions much better than it would typically do. We should point out the smoothness of the color and sheen, which was retained perfectly even after mixing.
Also, it increases the opacity level of the paint. This could ensure a thick layer in one go, and you do not need to apply multiple coats of paint.
Also, the non-toxic, low-VOC paint ensures that you do not inhale harmful chemicals. This is an issue with most colors, and it becomes difficult to check if the paint is drying correctly. But with non-toxic chemicals, we could easily visit the space and check on the paint, which is drying.
What Could've Been Better?
After we were done painting, we found the paint drips and left a yellow puddle. This can be problematic, but now that you are aware of it, leave sufficient newspaper or protective cloth, which will absorb the paint the moment it drips.
Pros
Mixed into regular paint

Durable

Smooth
Volume: 4 oz | Coverage: N/A | Type: Additive | VOC Content: N/A | Dry Time: N/A
Sale
If you want to paint that will cover the existing mold and prevent it from spreading further, this product is a great choice. We brought home this product after we found bacteria growing in the bathroom, and this paint helped eradicate all of it.
Why Did We Like It?
This product will effectively deal with existing mold, mildew, moss, fungi, and odor-causing bacteria on the non-porous interior and exterior surfaces. You can be sure that your bathroom has none of it growing anymore.
Another significant benefit of this product is the water-based coating that forms. You can easily clean it with soap and water if need be. If you have kids in the house who shoot water on the walls with a jet spray, this paint will ensure your ceiling remains damp-proof.
Also, its smell does not bother anyone and would not be of hindrance like the previous product. Lastly, it works with any topcoat and is especially ideal for use with ZINSSER perma-white.
What Could've Been Better?
One thing we would have liked is if the cans were bigger. The amount is pretty less, and if you want to apply a second layer, you would have to buy another can. It may become a costly affair. Otherwise, the product worked well.
Pros
Humidity-resistant

Covers moist areas

Won't bleed through
Cons
Lesser quantity in one can
Volume: 1 Gallon | Coverage: 400-450 sq ft | Type: Interior/Exterior Primer | VOC Content: Low | Dry Time: 30 minutes
If spots are your concern, this paint will give you the solution. Made with superior chemicals, this paint provided us with an efficient cover-up for all the scars on our bathroom ceiling. You could also use it for other parts of the house if there is extra color remaining at the end.
Why Did We Like It?
This product hides stains perfectly with just one layer of it. We had not painted the wall for years now, and there were dirt marks on the bathroom ceiling. Also, there were areas that were darkened around the lights. With this solution, we were able to hide all the spots and remove all marks of discoloration.
Further, even if the surface you are painting has an uneven texture, this product will help cover them up, leaving a smooth surface without any imperfections.
Lastly, latex paint also protects the surface from mold and mildew, two very common problems in a bathroom. We have been facing this, especially in this room, as it remains damp a lot, and thus mildew-resistant paint is a blessing. Paint over any surface, be it metal, wood, or bricks, and you will have a silky smooth finish to show off.
What Could've Been Better?
The problem with this paint is that it dries up quickly. While this works well on walls, we were unhappy to find the can of remaining paint wholly dried up in a few months. This is the only issue we had with this product.
Pros
Very low VOC

Low odor

Blocks light to medium stains

Smooth consistency sealing porous surfaces
Volume: 5 Gallon | Coverage: 1500 sq ft | Type: Interior/Exterior Primer | VOC Content: Low | Dry Time: 30 minutes
If you are looking for a thick primer that will take care of the uneven textured paint that remains on your ceiling, this paint is the one to go with. With proper coating capacity, this paint was a treat to use for us. 
Why Did We Like It?
This is a very efficient primer and will provide a shining surface on the ceiling. Though it should actually be used with another topcoat, the primer itself looks nice and covers every kind of spot on the bathroom ceiling.
Further, this paint works excellent for repainting work as it stays well on the existing color. You do not have to remove the previous layer altogether. Just cover it up with this primer, and you have a spotless ceiling.
Also, the formula dries up pretty quickly, and you do not have to keep checking. Leave it for an hour or two, and the paint would have completely dried up. It does not scratch easily. If you are working on the showerhead or pipes near the ceiling, you can do so without worrying about tools leaving marks.
What Could've Been Better?
One thing you should remember before using this paint is that it would not work well with a brush. The liquid is thick, and our brush could not handle it. We used a roller that did the work perfectly. So please purchase a roller beforehand while buying the product.
Pros
Adds extra shine to the ceiling

Capable of hiding most stains

Dries quickly on surfaces
Cons
Does not work well with a brush
Volume: 1 Quart | Coverage: 100 sq ft | Type: Interior/Exterior Primer | VOC Content: Low | Dry Time: 1 hour
If you are looking for latex paint with less odor, which does its job without being too expensive, this product is a great choice. We had a smooth eggshell finish after repainting our bathroom ceiling, and we could not have been happier.
Why Did We Like It?
It is essential to sand the ceiling properly before applying this paint. We did that and then applied two thin layers of this product. The effect was impressive, and the paint dried up very quickly, leaving us with a spotless, smooth coat.
Further, the paint did not scratch easily, and since it is the ceiling you are painting, this color will stay intact for a long. Also, it has been months, and the paint has not shown any sign of peeling.
To add on, this product covers up to 120 sq ft and dries to touch in 30 minutes for quick project completion. This is one of the shortest drying periods that we have seen.
What Could've Been Better?
We thought that the cans could be bigger. We needed two cans for two coats of paint and had to wait for the second can to be delivered after painting a thin layer on the ceiling. So we would recommend you buy two together at once. Now that you know it, this should not be a hindrance.
Pros
Can be cleaned with soap and water

Eggshell glossy finish

Covers mark well
Volume: 1 Quart | Coverage: 120 sq ft | Type: Interior/Exterior Paint | VOC Content: Low | Dry Time: 30 minutes
Best Paints For Bathroom Ceilings Comparison Table

Types of Paint for Bathroom Ceiling
Latex paint
Latex paint is a water-based paint that is highly versatile and can be used for a variety of interior and exterior projects. It's particularly well-suited to painting bathroom ceilings, as it provides an effective seal against mildew and mold growth effortlessly. Since it's water-based, latex paint is easy to clean up with just soap and warm water, the ideal paint for your bathroom ceiling and shower area, where regular cleaning is necessary. It also has excellent adhesion properties, so you don't have to worry about the paint peeling off or flaking in humid conditions. Latex is the right type of paint and finishes for bathrooms as it is extremely durable, resilient, low odor, and fast drying, so you can get your bathroom painted quickly without having to worry about lingering odors or waiting for the paint to dry, especially in small bathrooms without proper ventilation, as some bathrooms and showers are. Thanks to its durable finish and easy cleanup, latex paint is the best type of paint for your bathroom ceiling.
Oil-based paint
Oil-based paint is a type of paint that commonly uses oil, such as linseed oil, as its main ingredient. This type of paint generally has a thick, glossy finish or semi-gloss finish and provides superior protection against moisture and humidity, making it a great contender for ceiling painting in humid conditions. It is also durable and resistant to wear and tear, so it will not easily fade or crack over time. When it comes to painting the bathroom ceiling, you want to make sure that the paint your choose meets your initial expectations, so make sure you are not going for a flat finish with oil paints. Oil-based paints are a good pick because they are highly resistant to moisture and humidity which can be found in bathrooms due to high levels of moisture from showers and baths.
The downside of oil paints is their long drying time and the odor that comes with the paint but the upsides are well worth the more difficult painting process if you are looking for glossy paint for the bathroom.
Water-based paint
Water-based paint is a type of coating that is made from acrylic or latex resins and water and they're by far the most commonly used paint formulas for households. Water-based paints are known for being easy to apply, having no odor or very low odor, and quick-drying times that allow great layering and corrections, making them ideal for renovations and home improvement projects of all kinds.
Experts recommend them as the best ceiling paint for bathrooms because they provide a beautiful finish that will last long after the initial fresh coat has been applied and additional coats can be easily applied effortlessly at any given time. Water-based bathroom ceiling paints typically offer superior coverage and increased resistance to staining or discoloration compared to oil-based paints.
Water-based paints come in every sheen and color as the formula is highly adaptable but for bathroom ceilings, it should be glossy enough to provide a subtle sheen and durable enough to stand up to moisture from steamy showers and baths.
Tips for Applying Paint to a Bathroom Ceiling
Preparation
Before applying paint to a bathroom ceiling some preparations are in order, taking the time to properly prepare the surface is very important as we can't just paint over the steamy bathroom ceiling.
Start by thoroughly cleaning the ceiling with a damp cloth, followed by thorough drying with a clean towel, make sure the wall is dry to the best of your abilities to prevent mold from forming under the new fresh coat of paint in the following weeks.
Now proceed by inspecting the ceiling for any cracks or other damage, and repair as necessary, there are specialized silicones that fill the gaps with an elastic material, preventing further cracks.
If your ceiling has a texture, use a sander to lightly sand it down and remove any imperfections, insist more if you are looking for a flat paint finish.
Finally, use painter's tape to tape off the edges of the ceiling, such as around light fixtures, vents, and trim.
Tip
Never apply primer or paint over mildew or surfaces that are still wet or humid even if the package brags about the primer or paint being able to paint over mildew.
Clean the surface well with mildew solution, rinse with water, let the surface dry completely, and apply specialized mildew primer in that area before proceeding.
Priming
We are now prepared for priming.
Primer will ensure that the paint adheres to the surface and covers evenly thus hiding previous imperfections through proper adhesion as much as possible. If the ceiling is new and unpainted, use an oil-based primer. For previously painted surfaces, use a water-based primer.
Apply the primer with a paint roller or brush and wait for it to dry completely before moving on to the next step.
Painting Techniques
When it comes time to paint you can get as creative as the surface allows you to. The most common painting technique is to use a roller with a ¼ inch nap to apply the paint evenly and then start by rolling the paint in the corner of the ceiling and in the direction of the longest wall.
Working in small sections will help to ensure an even coat. If the ceiling has a texture, you will have to roll the paint on in an up-and-down motion to mimic the texture.
Let the paint dry completely before applying a second coat, for water-based paints average drying times are between 4 and 6 hours but always refer to the instructions on the bucket. It is recommended to apply two coats for proper coverage and once both coats of paint have dried, carefully remove the painter's tape and enjoy the look of your freshly painted bathroom ceiling.
Buying Guide For The Best Bathroom Ceiling Paints
Painting a ceiling does not seem like a difficult job at first. But the moment you have to go through the tedious task of choosing a product to do it, a problem arises. The umpteen number of paints in the market seems extremely confusing.
Now that you already know about the different types of paint, take the next step to understand their specifications.
Using a Moisture-Resistant Ceiling Primer in the Bath and Shower Area
A bathroom is a place that often tends to get damp. To top it all, if you have bad weather conditions and/or face rainfall throughout the year, you need a primer that will be resistant to moisture.
Also, bathrooms have showers that may leak, or the steam often rises up and gets stuck inside crevices, making them moist. To prevent the peeling of the paint or damp spots from forming, apply a layer of paint that will not absorb moisture.
Paint With Mold and Mildew Resistance
Since washrooms are prone to water splashes that may not dry up soon, it is incredibly prone to bacterial growth and mold formation. A bathroom without proper ventilation will also face the same problem.
So it is essential to choose a paint that will be mold and mildew resistant and will not let them grow on the surface. Antimicrobial options are readily available and see to it that the one you are ordering has this feature.
Semi-Gloss Paint v/s High Gloss Paint for the Ceiling
This is an alternative to mold-resistant color. This surface is not resistant to molds but provides a glossy texture that can easily be cleaned with water and soap if needed.
We know that many of you prefer semi-gloss paint or high gloss paint for a shiny surface with a glossy or eggshell finish. We would ask you to go for it, but then you have to take care of the surface by occasionally washing it.
Time Taken for the Paint to Dry
There are some paints that take a lot of time to dry up while there are some which will dry up very quickly. There are advantages and disadvantages to both. Quick-drying paints often have more chemicals in them or may dry up in the can if left for some months. While the one which takes a little longer to dry can usually be stored for a longer period.
Best Bathroom Ceiling Paint FAQ
What Is The Key Difference Between Normal Paint And Bathroom Paint?
Bathroom paints are fundamentally different from normal paint since they have different chemical formulations and compound structures. Generally, bathroom paints have a high-quality resin in the formulation, which eventually dries and forms a tight barrier on top of the paint. 
This barrier is responsible for making the paint less prone to moisture as it prevents the paint from absorbing moisture in the air. 
How Does Bathroom Paint Resist Mold and Moisture?
Most bathroom paints have a higher concentration of mildewcide, which makes them highly resistant to moisture and mold. This compound essentially slows down the growth of mildew and prevents mold from appearing. However, mineral deposits from steam can trigger the growth of mildew spores. 
Hence, we suggest cleaning the bathroom walls and ceilings regularly with bleach regularly to prevent the minerals from depositing. 
What Is The Best Color For Bathroom Ceilings?
Based on our experience and trials, we recommend using a brighter color to paint the ceiling, as it will make the bathroom look aesthetic and more prominent than usual. In this regard, most professionals prefer to use a bright white color ceiling to contrast the light colors of the bathroom walls. 
We'd recommend mixing eight parts of white with two parts of your desired color to achieve the best results for your light paint.  
What Are The Benefits Of Painting The Bathroom Ceiling With White Color?
White paints are known for giving the bathroom a classic and smooth finish. Using darker colors can make it depressing and gloomy, which is why you should avoid them. Plus, lighter colors help to reflect light better compared to darker colors. 
However, if you do end up using darker colors on the wall, you can contrast them with a bright blue or white ceiling to render a modern look that also makes the space look bigger. 
Should You Paint The Bathroom Ceiling First?
Ideally, you should start painting the ceiling and then proceed to the walls. This will help to set the overall look and feel of the space, and the walls can be painted to match it accordingly. 
Besides, painting the walls before the ceiling can result in additional work since the paint will trickle down and spoil the freshly painted walls. That's why you should allow the ceiling ample time to dry before moving on to the walls.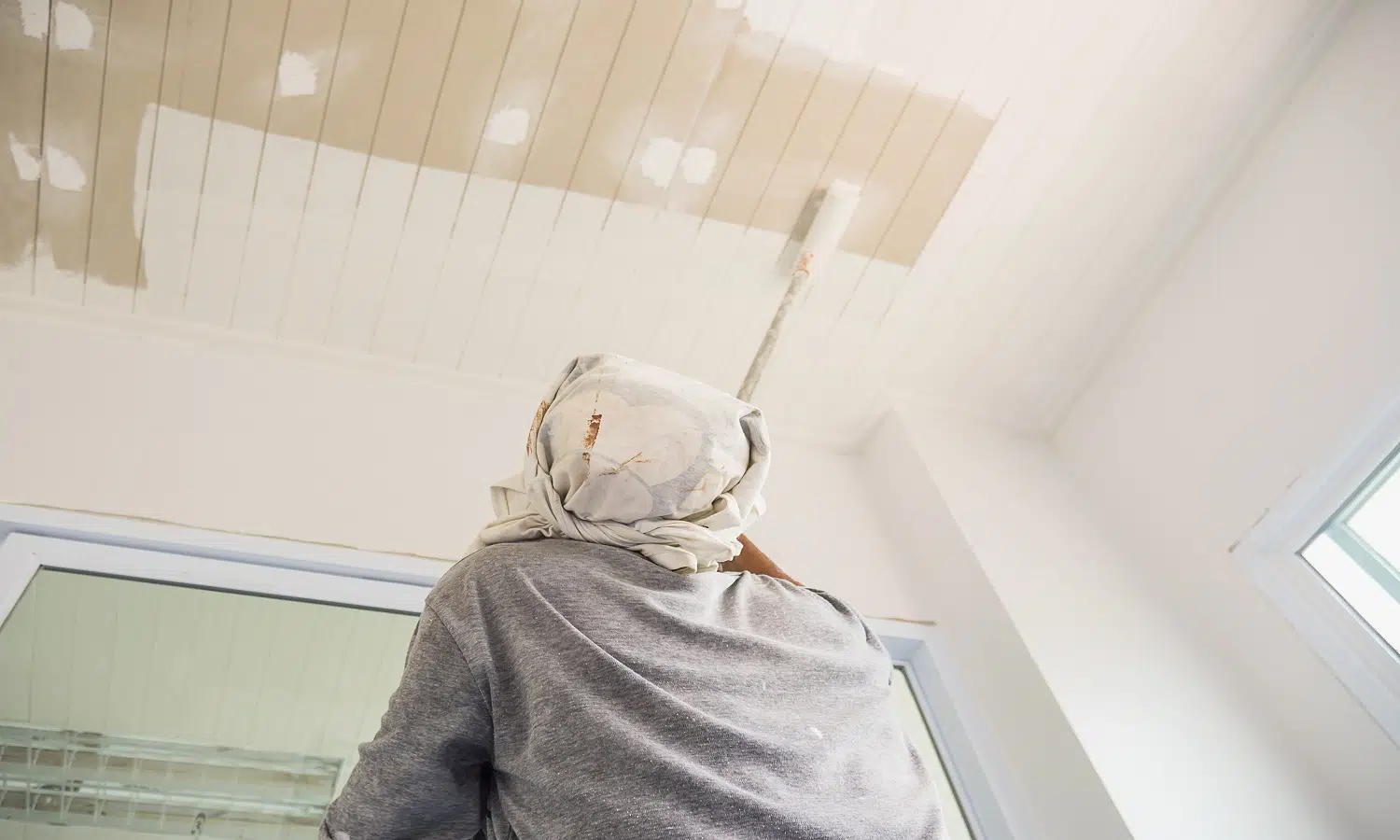 Conclusion
Every painting has its pros and cons, and it is difficult to choose a clear winner. But if we do have to, these are our favorites.
We thought that the Zinnser Ceiling Paint is the best of this lot. It functions as a primer, and paint, and does not need a topcoat. Along with this, it covers molds and has a nozzle, which makes it very easy to be used.
If you want glossy paint and do not mind spending a few extra bucks, the Zinsser Quart Satin Gloss Bathroom is a fantastic choice. With low VOC and moisture-resistant capacities, it works wonderfully well.
Now that you know the best paints for bathroom ceilings in the market, it is time to hit the 'order' button. Happy shopping!
Related Articles
5 Best Sprayers For Plasti Dip
9 Best Pump Sprayers For Staining Fence
Learn How To Soften A Hard Paint Brush
11 Best Paint For Concrete Walls In Basements
9 Best Paint Brushes For Chalk Paint
13 Best Professional Airless Paint Sprayer
13 Best Electric Towel Warmers
What is the Best Paint for Glass Ornaments?
7 Best Paint for Interior Garage Walls
13 Best Paint for Kitchen Cabinets
11 Best Polyurethane Protective Coatings
13 Best Spray Paints For Metal
7 Best Airbrush for Miniatures & Model
11 Best Epoxy Resin For Crafts
5 Best Polyurethane for Floors
5 Best Epoxy Resin for Tumblers
10 Best Clear Coat for Kitchen Cabinets
6 Best One Coat Paint and Primer
7 Best Primers to Cover Dark Paint
7 Best Exterior Primer For Peeling Paint
6 Best Paint Primer For Rusted Metal
9 Best Paint Stripper For Metal
7 Best Cold Galvanizing Paints
11 Best Paint Scrapers to Rock
How to Remove Spray Paint from Concrete
7 Best Primers For Covering Red Paint
11 Best Paint Roller To Hide Imperfections