Painting your home is one of the most exciting aspects of interior decoration. However, while we pay meticulous attention to the walls, we often ignore the ceiling.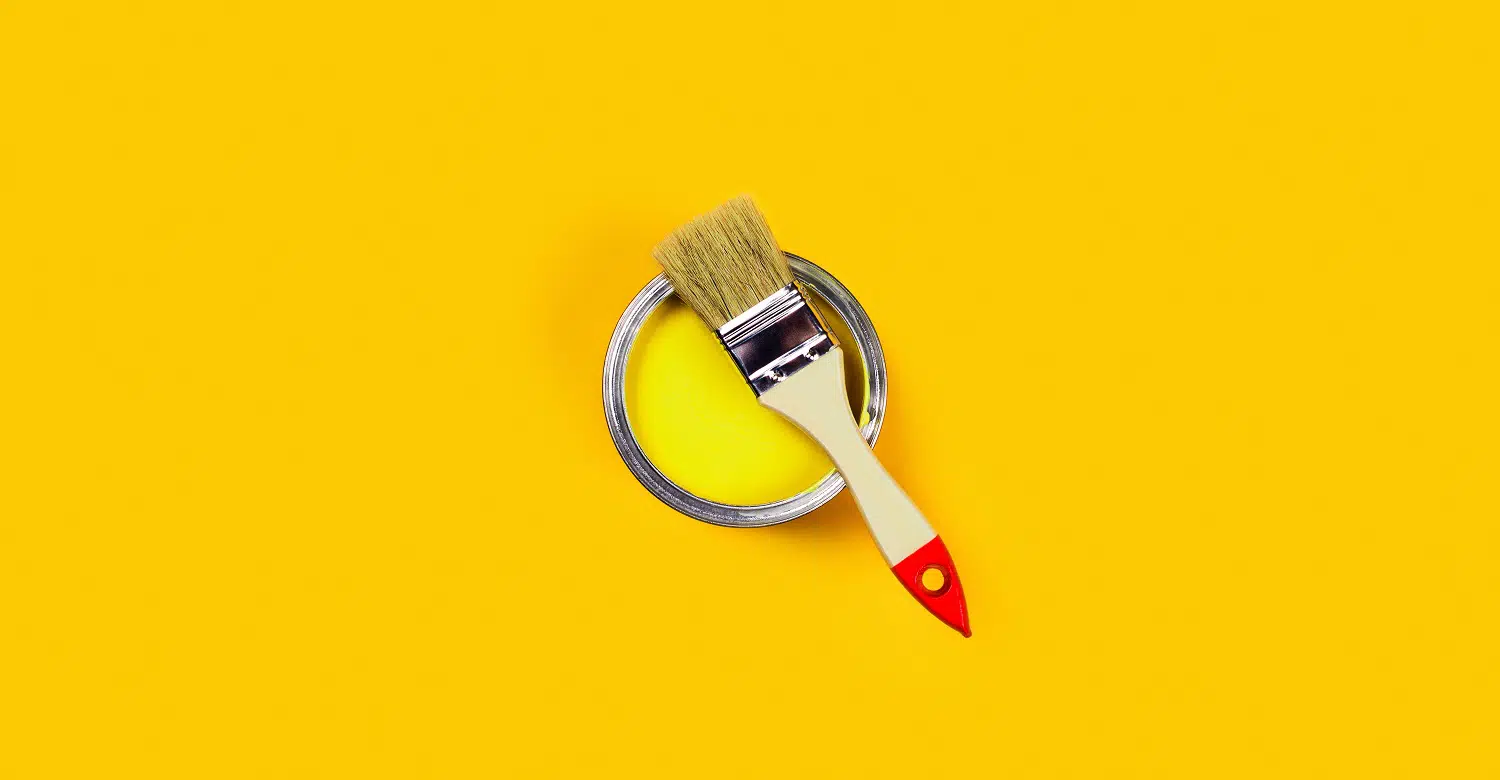 Ceilings can present a challenge as paints tend to splatter, and we have far less control over the equipment. This is why finding the right one is nothing short of a eureka moment! Given the plethora of paints available today, it certainly helps to keep in mind the unique features offered by the products. They might just be exactly what you're looking for! 
Some paints are splash-resistant, while others offer excellent coverage. Some go the extra mile and block out high-frequency radiation and tinning noise. Sounds perfect, right? 
Needless to say, individual requirements are of primary importance when choosing the best paint for ceilings. The ideal paint fulfills your needs and also suits your budget. To help you find it, we've listed down the 11 best paints thronging the market. 
Do you know how to paint ceilings professionally? Check out our article link to learn more about it, and the difficulties faced compared to painting regular walls. 
Let's get started, shall we? 
Best Ceiling Paints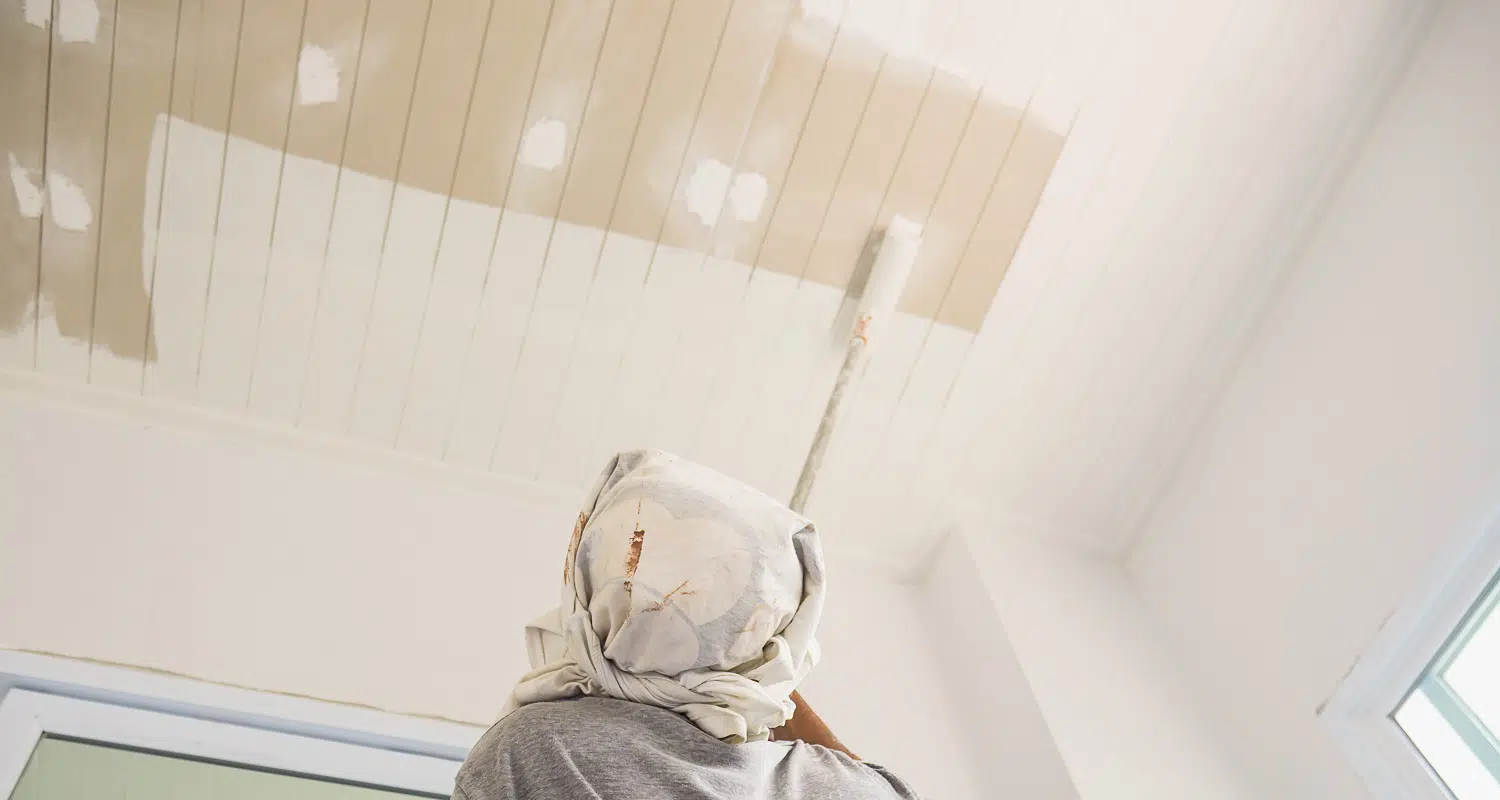 Whether you are looking for paint that is easy to apply, covers imperfections, or offers a smooth finish, we have got you covered. So, without further ado, here's the list of the 11 best ceiling paints.
First on the list, is an excellent paint from Rust-Oleum, an established brand in the field of paints. Elegant and well-pigmented, this is a product you can trust on the exterior as well as interior surfaces. Along with coating your ceiling in lush shades, the paint also ensures user safety and is a long-lasting one.
Why Did We Like It?
This water-based paint from Rust-Oleum makes for one of the top choices for ceilings for good reason. The presence of mica beads in their composition greatly enhances pigmentation and results in a gorgeous finish with a metallic appearance. Long story short, your ceiling gets the conversation started.
In addition to aesthetic appeal, the product also offers a number of features that speak in favor of its quality. Compared to its counterparts in the market, it is a low-odor pigment that ensures comfort during and after painting. Also, it dries to touch in 30 minutes and is highly time-efficient.
Furthermore, what magnifies operational efficiency is the hassle-free application process. This greatly reduces mess and eliminates additional clean-up time. Not that cleaning is a problem; soap and water suffice just as well. With a coverage of 105 square feet per 32 fl oz container, this paint offers good value for money and looks great while at it.
What Could Have Been Better?
Although excellent in every way, the paint suffers from a weaker consistency, especially in comparison to its silver counterpart. However, the copper penny shade is hard to find elsewhere, and given its advantages, consistency is hardly a dealbreaker!
Pros
Odorless paint

Simple, mess-free application

Impressive coverage area

High operational efficiency
Cons
Inferior consistency in comparison to the silver shade
Paint Type: Water-based | Coverage Area: Up to 105 sq. ft. | Finish: Metallic | VOC Level: Low | Eco-Friendly: No
If you are a stickler for perfection, you are onto the right product for your home. A thoroughly impressive buy from Glidden, the latex ceiling paint offers a stunning finish on a budget. Composed of high-quality material, it delivers well on all ceilings and gets the job done well and fast. Read our review to know all about it!
Why Did We Like It?
Glidden's product has a stunning array of features on offer, especially given its affordable price. Comprising a splatter-resistant material, it delivers a luminous white finish that leaves your interior looking roomier in comparison. In creating such an illusion of space, the paint enhances the room's aesthetic appeal and makes your space an area worth taking inspiration from!
In addition to that, this paint emits low odor and keeps the rooms free of any undesirable smells. Also, it covers up imperfections with ease thus resulting in a smoother finish, and does not splatter during application. In this way, cleaning up becomes a breeze which speeds up the entire process of painting.
Last but not the least, the volume of paint available is a big feather in its cap. The product comes in 3.75-gallon containers that leave you with little to want in just one coating. This means you don't need to buy a large number of units and additional expenses are greatly reduced. For paint that dries in under one hour, this is a win-win situation!
What Could Have Been Better?
The only issue this otherwise excellent product suffers from is consistency. It has been found to be a little too watery on occasion. However, given its properties, this is no deal-breaker and not something that cannot be easily resolved with assistance from the customer support team.
Pros
Great value for money

Bright, matte finish for high aesthetic appeal

Large quantities of paint in one container
Cons
Consistency tends to be watery
Paint Type: Water-based | Coverage Area: Up to 400 sq. ft. | Finish: Flat | VOC Level: Low | Eco-Friendly: Yes
Another superb product on the list, this environment-friendly paint from Montage makes for a great buy for the environmentally-conscious buyer. Highly adaptable and well-pigmented, it caters to a variety of customer needs and proves its utility as a versatile ceiling paint.
Why Did We Like It?
Montage's product is impressive on all accounts, especially variability. With the number of finishes and shades available, you are not only spoilt for choice but also end up saving time and money on different products. From low sheen to semi-gloss finishes and a plethora of colors, this paint has something for everybody's needs.
Additionally, the paint offers excellent coverage on uneven or stained ceilings. Complementing that is its capacity for protection against mildew, mold, and moisture. Altogether, it would be safe to say that with this product, the maintenance of your ceiling is not something that will hamper a good night's sleep!
Moreover, and especially relevant in today's times, is the fact that Montage's paint is entirely devoid of pollutants and makes for an eco-friendly choice for your house. And last but not the least, this paint does not chip. However, in case it does, you have a 10-year warranty to fall back on!
What Could Have Been Better?
The paint is near without flaws; it's incredibly difficult to find even one. But since we delved deep, we found that the swatch behind the can is quite small which made it difficult to gauge the exact shade. As you can tell, this is hardly an issue at all, and Montage ranks high on our list regardless.
Pros
Caters to diverse choices

Budget-friendly option

Good coverage on rough surfaces
Cons
Swatch behind can is too small to gauge the shade
Paint Type: Water-based | Coverage Area: Up to 2,000 sq. ft. | Finish: Matte | VOC Level: Low | Eco-Friendly: Yes
Next up, is a very unique product which is quite the chameleon. This ceiling paint from KILZ promises good coverage coupled with aesthetic appeal. Also, it comes with a hassle-free application and a reasonable price tag. All the reasons for potential buyers to take a good look at it!
Why Did We Like It?
This is definitely not among the ceiling paints you come across every day. Alongside providing excellent coverage on uneven surfaces and water stains, it changes color and brightens up any ceiling no matter how worn and weathered. When it comes to style, few items can match up to what this has to offer.
KILZ is certainly not all talk, and this product is no exception to the rule. The packaging includes a dry time indicator that ensures flawless application with an adequate amount of coverage. Also, the drying time is an impressive one hour at the most! The indicator is simple enough to follow: the paint remains pink when wet and turns white on drying.
Last but not the least, this is another product that is resistant to splatter and prevents mess. With a stunning matte finish, each coat covers an area of 250 square feet and it is suitable for both indoor and outdoor use.
What Could Have Been Better?
Although an incredible product, the paint suffers from a slight drawback. At times, there is a discrepancy between the color indicated and the actual product which misleads the customer. However, this may easily be verified by the seller or customer support and does little to deter the discerning buyer.
Pros
Enhanced features for ease of use

Improves the aesthetic appeal of the surface

Suitable for interior and exterior use
Paint Type: Water-based | Coverage Area: Up to 400 sq. ft. | Finish: Flat | VOC Level: Low | Eco-Friendly: No
Homax is a brand that is sure to feature on lists of interior paints, and its products unfailingly live up to the company's values. It's no surprise then, that we have one of them on our list as well! The Roll-On-Ceiling is a textured ceiling paint that lends a distinct character to the surface it's applied on and becomes a focal point in any house.
Why Did We Like It?
This excellent paint from Homax impressed us from the get-go! Few paints offer the degree of versatility this does in terms of colors, finishes, and textures. Users may choose between a smooth finish or a decorative sand finish, both of which are a breeze to apply on the surface with the applicators provided.
Speaking of which, the product comes with a wide range of applicators that allow for a multitude of textures to be applied to ceilings. The set, therefore, is ready for use and at your disposal. Also, with a drying time of one hour, Homax's ceiling paint is thoroughly enviable.
Moreover, there is little cause for concern in terms of odors. Made of high-quality material, there are no foul smells as often experienced by those painting their homes. The paints are available in cost-efficient tubs with a capacity of 2 gallons and offer a coverage area of 150 square feet with each coating.
What Could Have Been Better?
As with a number of ceiling paints, this otherwise excellent product faces minor issues with consistency as it is prone to drying out inside the container itself. However, Homax has a hands-on and responsive customer support team and we'd suggest getting in touch with them instead of blacklisting a good product!
Pros
High aesthetic appeal

Impressive drying time

Cost-efficient

Pros
Cons
Prone to drying out inside the container
Paint Type: Water-based | Coverage Area: Up to 150 sq. ft. | Finish: Textured | VOC Level: N/A | Eco-Friendly: No
Sale
Another highly satisfactory item, this ceiling paint from Prestige makes for a worthwhile purchase if ease of use is your first concern. The product is ideal for those with less time on hand and who are sticklers for finesse. Read on to find out why!
Why Did We Like It?
With Prestige's paint, not only do you get a high-quality semi-gloss finish, but you also have no problem cleaning up after. The hassle-free application is, according to us, the most attractive selling point of the product. It leads to no messes and saves you a ton of time and effort.
Moreover, this comes with a host of color options that are easy to select with the help of the Prestige comparable color base. Ceilings score high on aesthetic appeal when the finish is smooth and this is something that Prestige keeps in mind. Also, specifically being an interior paint it is optimized for best results indoors, which ultimately leads to greater finesse.
Lastly, the paint is low in VOC content and is a safe choice for all households. As a 100% acrylic latex paint, it is easily managed and allows for negligible to no spillage. All in all, Prestige's product makes for a smart choice and should definitely be on your shortlist.
What Could Have Been Better?
This worthy ceiling paint sometimes presents a discrepancy in shades and the colors are not represented correctly. However, this is more of an issue on part of the packaging rather than the product itself and hardly a red flag!
Pros
Hassle-free and low-mess application

Good value for money

Optimized for the best results indoors
Paint Type: Water-based | Coverage Area: Up to 400 sq. ft. | Finish: Eggshell | VOC Level: Low | Eco-Friendly: Yes
Next on the list is a worthwhile product from Hy-Tech which is a brand that prioritizes operational efficiency and user comfort. Composed of high-quality material, the Acousti Coat Sound Deadening paint makes for a ceiling paint that leaves you with little to desire. The performance is close to flawless and ensures maximum comfort.
Why Did We Like It?
Hy-Tech's product never fails to give us ample reason to be impressed and this product is no exception to the rule. Right off the bat, its capacity to soundproof the house pleased us no end. It muffles ringing and tinning noises in metal structures and is made entirely out of non-toxic material. Thus it makes for an eco-friendly purchase and is ideal for the environmentally-conscious buyer.
In addition to that, the paint is easily applied and utilizes a multitude of applicators such as brushes, rollers, and even sprays. Not only does this eliminate messes, but the occasional spillage is also easily dealt with using soap and water.
Furthermore, Hy-Tech's product is available in tubs of 1 or 5 gallons, which allows for flexibility and makes it usable to both the homeowner as well as the commercial buyer. Last but not the least, what you are left with is a bright white finish. This means that your paint can easily double up as a primer and save you an additional expense!
What Could Have Been Better?
Similar to most premium products in the market, the advantages of the Deadening paint come at a cost. Priced on the higher end of the scale, it is unlikely to suit the average budget. However, it does have an incredible range of features on offer and makes for a worthy companion to anyone willing to expend a little more.
Pros
Ensures maximum user comfort through soundproofing

Easy to apply

Two-pronged action as a primer and paint
Paint Type: Water-based | Coverage Area: Up to 75 sq. ft. | Finish: Flat | VOC Level: Low | Eco-Friendly: Yes
True Value's products never fail to impress. The JSE1-GL is no different and makes for a promising ceiling paint with properties that enhance user comfort. Keeping in mind factors such as drying time and cleaning, the product makes for a worthwhile purchase and proves useful in any painting project.
Why Did We Like It?
Specifically geared for indoor use, the Satin Latex Enamel makes use of commercial-grade material to provide a magnificent white finish to ceilings. The result is a smooth surface free of unevenness and stains. Also, it is washable, so you need not worry about dust collecting on it or any such hassle.
In terms of operational efficiency, the paint bears in mind the essentials. It is splatter-resistant as well as quick-drying and comes in handy for users who need the job done well and fast. The time-efficient formula of the product makes it one of our top recommendations, to say the least!
Lastly, it is available in convenient tubs with a capacity of 1 gallon and is ideal for all sorts of households. In addition to that, it is an affordable item that caters to various ranges of budgets and offers good value for money. And if that wasn't enough, it boasts an incredible warranty of 15 years!
What Could Have Been Better?
There is literally no inherent flaw in the product. Yes, we were just as taken aback! The only disadvantage that could be mentioned is that it is not suitable for use on exterior surfaces. With such features under its wing, it's but natural that one would want to make full use of the paint!
Pros
High operational efficiency

Incredibly time-efficient formula

Good value for money
Cons
Unsuitable for exterior use
Paint Type: Water-based | Coverage Area: Up to 400 sq. ft. | Finish: Satin | VOC Level: Low | Eco-Friendly: No
Manufactured by Rust-Oleum, a brand well-known for its superior painting solutions, the Zinnser 3688 makes for an efficient and convenient option for painting the ceiling of your house. A unique product on the list, it affords great comfort to the user and is a time-efficient item that does not disappoint.
Why Did We Like It?
Nobody likes chipped or faded ceilings and property owners are on a constant lookout for the best products in the market. In that case, if you happen to chance upon this spray paint from Rust-Oleum, note that it is an item worth your time and consideration for a number of reasons.
This spray paint, essentially, acts as a paint and primer in one sleek bottle. Adept at covering up patches or stains on uneven surfaces, it is a handy tool to have around, especially in case of unprecedented emergencies. The oil-based formula lasts long enough and leaves you with a smooth finish and little to complain of. 
Last but not the least, the most unique selling point of this product is its method of application. Ceilings are vast surfaces in most cases and painting them takes time and effort. The spray formula not only does away with considerable manual labor but also allows for incredible time efficiency. One of the most affordable options out there, we'd suggest you keep an eye out for this one!
What Could Have Been Better?
Although quite excellent in application and use, this product falls short on the consistency front. It is slightly thicker than its counterparts which may interfere with the application and slow the process down. However, given its high operational efficiency otherwise, the issue hardly seems like a deal-breaker.
Pros
Time-efficient application

Long-lasting formula

Works well on uneven and chipped ceilings
Paint Type: Water-based | Coverage Area: Up to 350 sq. ft. | Finish: Flat | VOC Level: Low | Eco-Friendly: No
Next up is a versatile product from Valspar, another known name in the industry. Easy to apply and offering an even more attractive finish, this product caters to a variety of customer needs and promises to deliver well. Read on to learn more about this color-changing ceiling paint!
Why Did We Like It?
There is much to like in this affordable and convenient painting solution from Valspar. First up, the coverage is even and always flawless. This is because the paint comes with an indicator that is purple during application and turns white on drying. It ensures that no spot is left unattended and that the entire surface area is adequately covered.
Speaking of finishes, the 1420 latex paint from Valspar dries to a sophisticated non-glare finish that is easy on the eye and adds to the ambiance of the room. Imperfections are camouflaged under the matte sheen, which affords a smooth finish to a variety of ceiling surfaces such as acoustical tiles.
Moreover, this paint is a good choice for the environmentally-conscious buyer. It is made of high-quality materials that emit less odor and comprise an extremely low amount of VOC. This enhances the sustainability of the product and the one-coat coverage also minimizes excess use, thus reducing waste.
What Could Have Been Better?
The only disadvantage it suffers from is the drying time. Although mostly convenient, Velspar's product dries too soon which requires constant touch-ups along the wet edges. This often leads to uneven coating. In case of such a predicament, we would recommend reaching out to customer support as it is a responsive team, always ready to help.
Pros
Good operational efficiency

Less polluting and versatile

Affordable price range
Paint Type: Water-based | Coverage Area: Up to 400 sq. ft. | Finish: Flat | VOC Level: Low | Eco-Friendly: No
Next up is a product that you should definitely keep an eye on. This paint from a well-trusted brand makes for an excellent ceiling coating with its gorgeous pigmentation and attractive features. Comprising a number of qualities to ensure maximum customer satisfaction, the EMR Shielding Solutions paint ranks high on our list.
Why Did We Like It?
There is little to dislike about this product from EMR. Showing exceptional resistance to water, the paint makes light work of the largest ceilings and is available in 1.32-gallon containers. What impressed us the most is the importance placed on user safety. As far as ceiling paints are concerned, this one is a winner in terms of features that work to keep your interiors comfortable.
In this regard, its shielding properties take the cake. The paint is adept at blocking out high-frequency radiation as well as low electric fields and RF/microwave radiation. Further, it is composed of breathable elements and possesses low quantities of VOC content. This makes it suitable for a number of uses, thus increasing its versatility.
Moreover, the pigment doubles up as a primer and prevents abrasion from telecommunication industries operating across high gigahertz ranges. Last but not the least, it is non-toxic and environment-friendly and offers great durability as it is not oxidized. All things considered, EMR's product is one of the most premium paints you could invest in!
What Could Have Been Better?
Although offering a large number of advantages, this is an expensive product priced considerably high on the scale. While it may not suit the average homeowner's budget, it fares well for commercial projects requiring a high degree of sophistication.
Pros
Exceptional shielding against water and radiation

Acts as a primer

Non-toxic and sustainable paint
Paint Type: Water-based | Coverage Area: Up to 200 sq. ft. | Finish: Flat | VOC Level: Low | Eco-Friendly: Yes
Best Ceiling Paints Comparison Table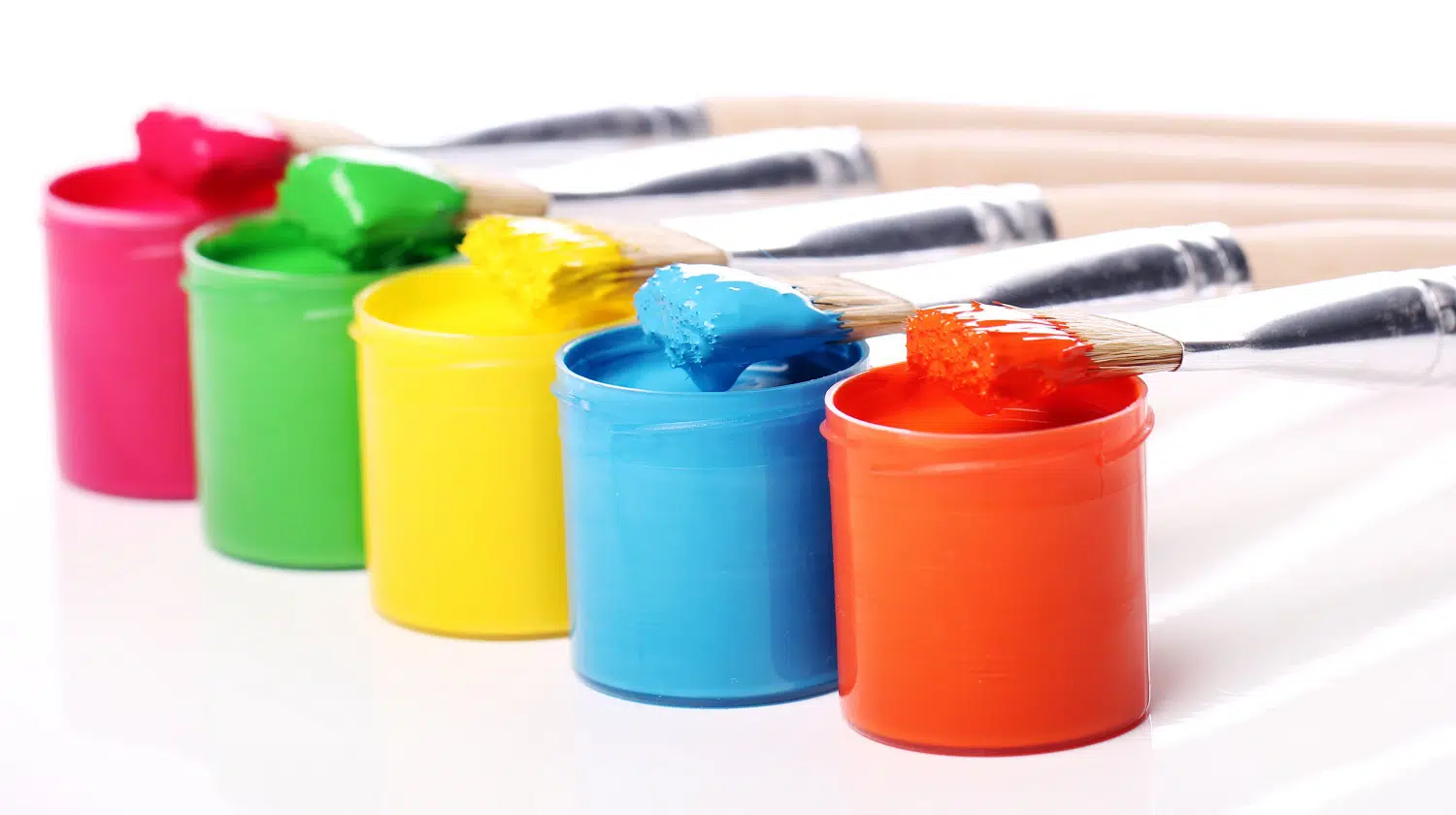 Buying Guide For The Best Ceiling Paint
By now, we hope we've been able to resolve some of your doubts. While making a purchase, keep in mind that specific paints have their unique uses.
For instance, the ceiling of your bathroom will require paint that is resistant to both mold and mildew. Also, even though wall paints work in most cases, paints for the ceiling are often thicker in composition so that they hold fast for longer.
Below, we have a comprehensive guide for you outlining the major factors to consider before buying ceiling paints. Your home deserves nothing but the best and we always keep that in mind.
The Paint for Your Home Ceiling
In comparison to wall paints, these pigments are thicker. Not only does such a composition hold better, but it also enhances the splash resistance of the product. Most ceiling paints are washable and made to last years of use. Another feature that sets ceiling paints apart is the potential for coverage. As opposed to wall paints, they cover stains and watermarks without hassle.
Method of Paint Application
This is dependent on the type of ceiling. Rollers are the most common method of applying paint on regular ceilings that bear a smooth finish. Textured, popcorn ceilings, however, run the risk of abrasion from rollers. In this case, spray guns provide the best alternative as they minimize contact with the surface.
Paint Preparation
Before painting, a primer may be required. However, this is optional if your ceiling is in good condition. Although, primers are excellent at covering up minor blemishes and ensuring that the final coat is smooth and results in a fine finish.
Paint Color Options
The color of the ceiling holds the potential to make any room considerably roomier. They enhance the illusion of space while complementing the wall paints, especially in the case of contrasting shades. Also, this is bound to catch anybody's attention as it offers a high degree of aesthetic appeal.
Flat, matte finishes are usually reserved for ceilings. But trends change like the weather, and gloss and metallic finishes are fast becoming popular choices among customers. Given their excellent quality, such paints walk the talk and upgrade your ceiling to a major focal point.
Ceiling Paint FAQs
How Many Coats Of Paint Does A Ceiling Need?

A single coat of paint is usually enough when painting a ceiling, even if you are only refreshing a white ceiling with a fresh coat. But if you want to give it a brighter and fresher finish, it is highly recommended to apply two coats. It is especially true when using bolder and brighter colors or if you need a dramatic color change, which will require the use of the color-drenching technique. 

Is It Possible To Use Regular Paint On A Ceiling?

While it is possible to use regular interior paint while painting a ceiling, it is not recommended to do so. The reason for this is that regular paint is thinner than ceiling paint and has low viscosity, which can cause it to drip while you are painting. Not only will this make it difficult to work with the paint but it will also require greater work during the clean-up process afterward. 

Why Is White The Most Commonly Used Color For Ceiling Paint?

The primary reason why most people prefer to have their ceilings painted white is that this color reflects the maximum amount of light, making the room look brighter. Additionally, it helps bring the other contrasting elements of the room together since it goes well with every color. For darker rooms, white can help create a sense of space, helping them appear to be larger than they actually are. 

What Is The Most Suitable Type Of Paint For Ceilings?

You should always use flat, matte acrylic paint for ceilings, which offers several advantages. Since ceilings face minimal wear and tear, they do not require durable, glossy paint. Moreover, flat paint will not reflect any light and will not draw attention away from the room furnishings and the walls. Finally, it can effectively hide architectural blemishes and imperfections that may be present in the ceiling. 

How Often Should You Repaint A Ceiling?

Dust, moisture, and sunlight determine the period for which a ceiling paint retains its appearance. Compared to walls, the paint on a ceiling takes longer to dull or yellow, but over a period of time, it will start to appear discolored. Generally, you should paint the ceiling every ten years, but it is a good idea to paint it any time you paint the walls to help the ceiling retain its pristine appearance.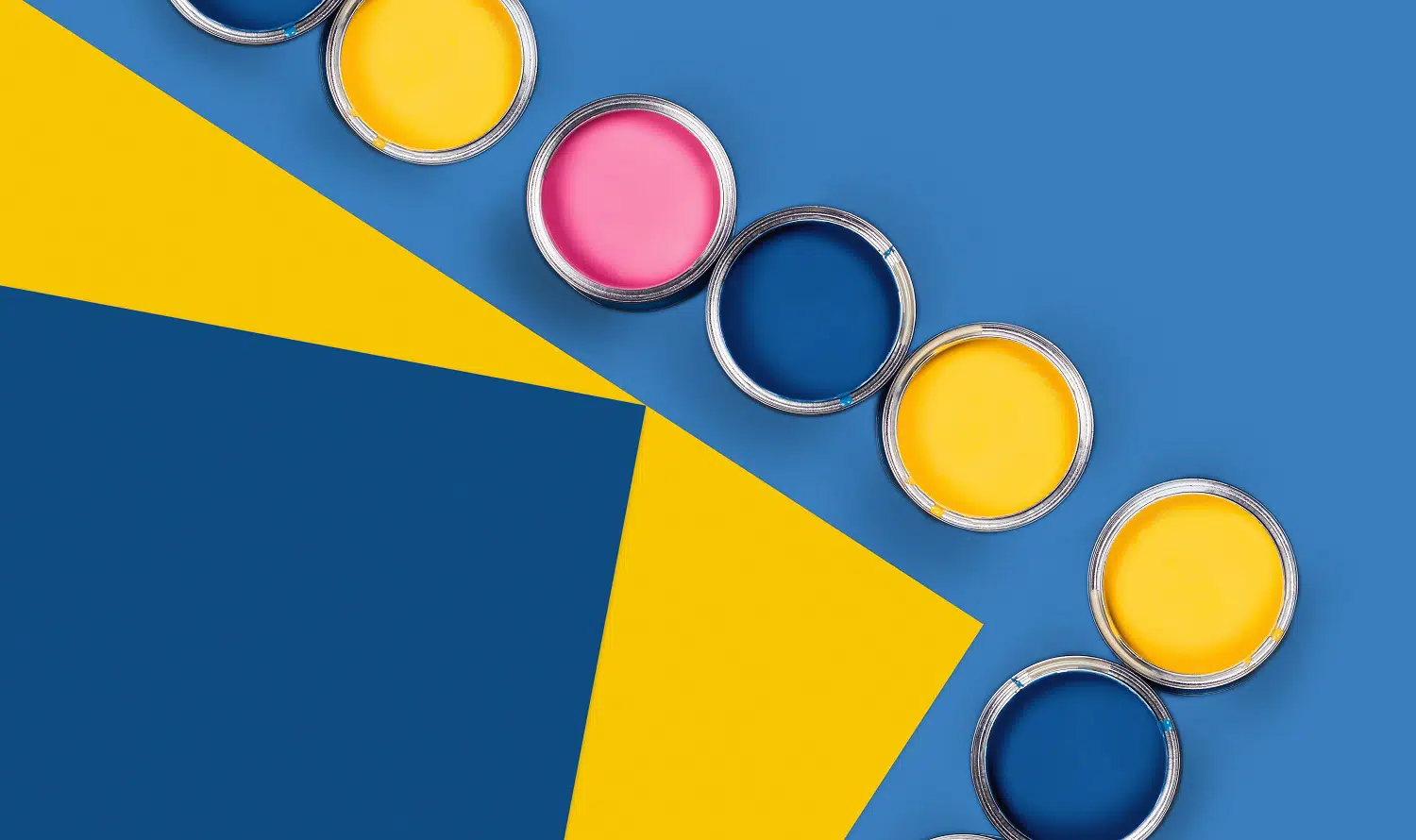 Conclusion
Ceiling paints are a crucial element of a room's decor, adding to the overall aesthetic while also covering imperfections and ensuring your space looks well-maintained. Not only is it important to choose a high-quality product that offers good coverage, easy application, and durability, but also one that aligns with your specific needs and preferences in terms of finish, color, and eco-friendliness.
From the above 11 best ceiling paints, here are the top three expert recommendations:
The Rust-Oleum 253536 Metallic Accents Paint is an ideal option for those looking for a unique and elegant finish, as well as user safety and a long-lasting product.
On the other hand, the Glidden Latex Ceiling Paint is a good option for perfectionists seeking a smooth, luminous finish that easily covers up imperfections and offers quick drying at a budget-friendly price.
Lastly, the Montage Signature Eco-Friendly Paint is the right choice for anyone prioritizing eco-friendly and versatile choices with protection against mold, mildew, and moisture.
Ultimately, selecting the best ceiling paint involves considering your specific needs, style preferences, and budget. With the right product, you can achieve the desired look while also enjoying the benefits of easy application and maintenance. So, transform your living space by choosing one of these top three expert-recommended ceiling paints and making a stylish statement that suits your lifestyle and vision.
Related Articles
Bathroom Ceiling Paint: 13 Best Paints for Bathrooms in 2023
Ceiling Finish Types | Types Of Ceiling Textures
9 Best Paints For Closets of 2023
Best Exterior Primer Paints Of 2023
13 Best Paints for Bathroom Ceilings
9 Best Paint Sprayer for Lacquer
What Is The Difference Between Ceiling Paint And Regular Paint
How To Paint A Ceiling With A Roller