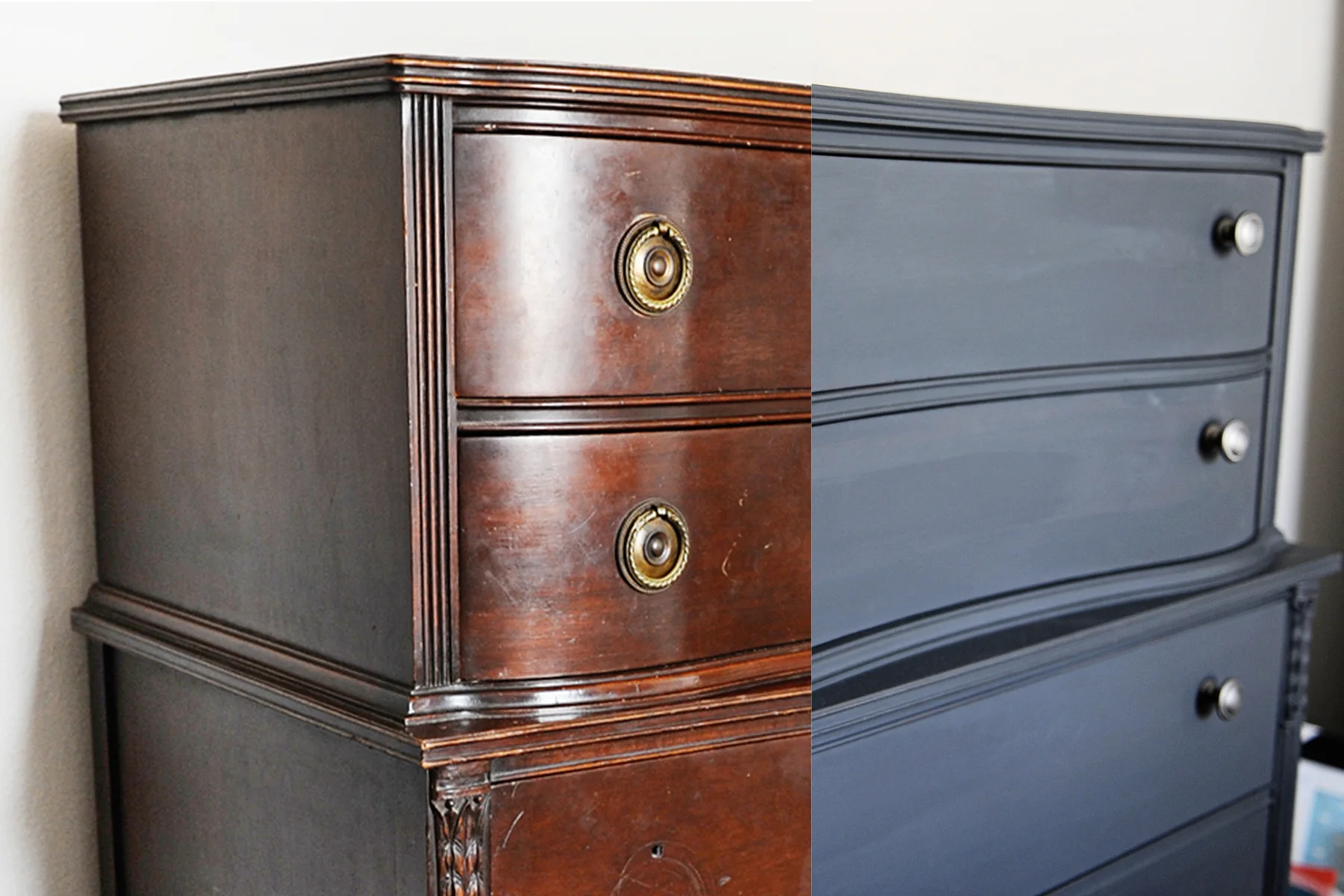 Give your furniture a new look with a fresh coat of paint. Sounds cool, right? 
That's what most of us think when we decide to buy paint for furniture as it's seemingly too simple to get a can of our favorite color. But then it's not the same as purchasing paint for the wall as there are a lot of other factors at play. 
You could be a seasoned DIY-er or a professional who knows their paints, front to back, but you may still need help figuring out what works on what. That's why we took it upon ourselves to put together a comprehensive guide and find the most happening selection of furniture paints. 
Obviously, we had to look through extensive catalogs, do our research on compositions, and dig up more about the highest–rated products to determine the best paint for wood furniture. It was only after a lot of groundwork that we ended up with the 13 best paint for furniture. 
Before we begin, check out our next article on paint techniques for furniture to gain more information on furniture and how to paint them.
Best Paints for Furniture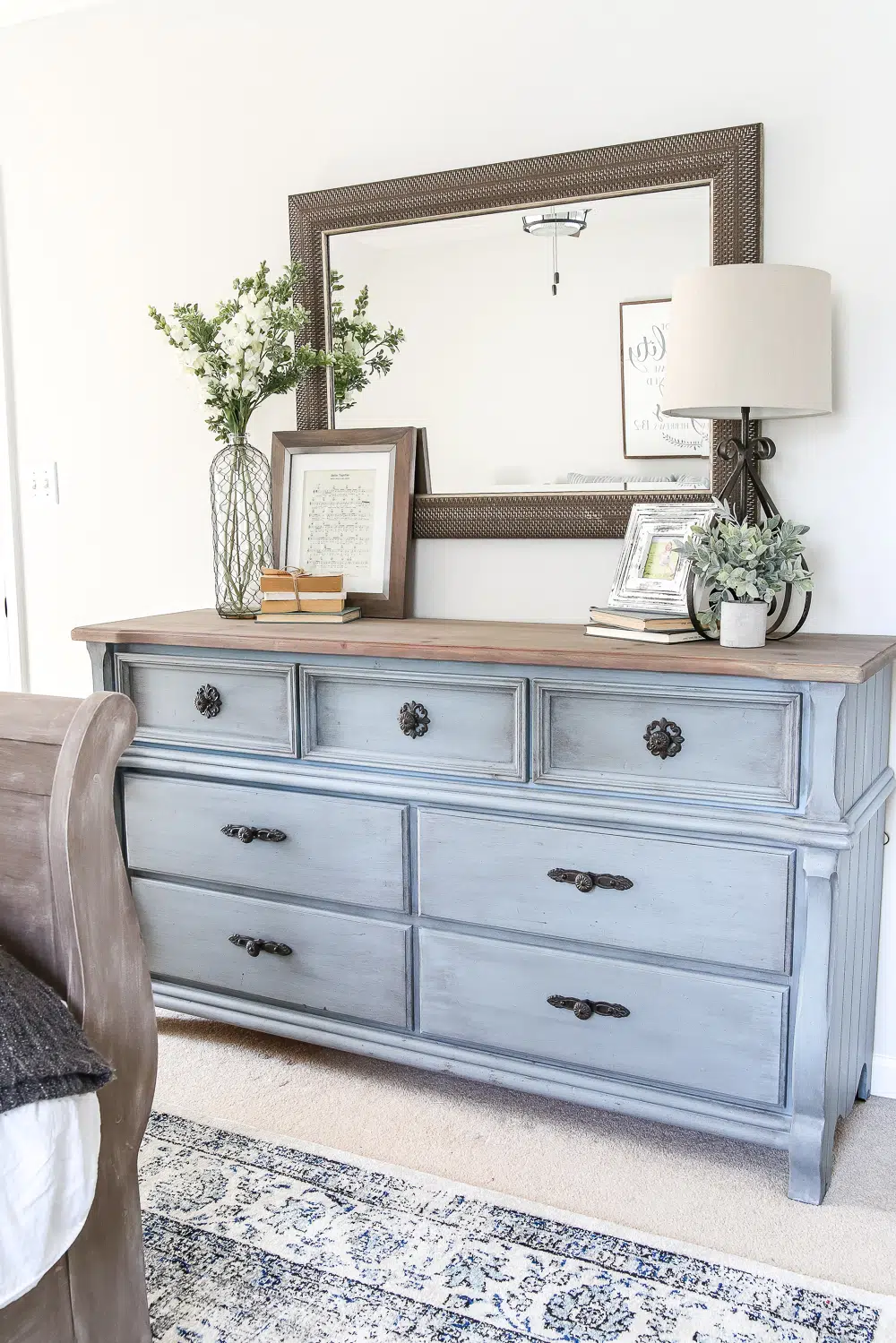 Whether you're a beginner or an experienced DIYer, this list has something for everyone. So, without further ado, here's the list of the 13 best paint for furniture.
Our top pick not only has a regal name but also adds a sophisticated touch to furniture and cabinets, creating a look you'd love to show off. Furthermore, Renaissance works well on new wooden pieces and also does an excellent touch-up job on previously painted wallboard, interior masonry, plaster, metal, or glass. 
Why Did We Like It?
If you want a smooth and well-covered finish on any piece of furniture, you can rely on Renaissance to execute it flawlessly. With this high-quality paint, there are no endlessly tiresome sessions of priming and sanding involved. And neither do you need to indulge in multiple coats to get the desired consistency. 
Simply put on a single coat on the furniture or cabinet surface to create the perfect vintage, contemporary, or even shabby chic look you want. Apart from the effortless application, we also like that this product is environment-friendly and safe for indoor use, and around children and pets. 
What Could've Been Better? 
We absolutely love the smooth finish of the paint and the fact that it contains no VOC (volatile organic compound). However, you have to leave the furniture you applied it on for an extended drying period. Avoid applying a second coat before the first layer dries up fully as you'll end up with globs all over the surface. 
Pros
Smooth and consistent finish

Safe for indoor use

Does not require sanding or priming

Single coat easy application
Brand: Renaissance Innovations, LLC | Finish: Chalk | Size: 16 fl oz | Coverage: 80-100 sq ft | VOC Level: Low
Sale
If you want to give the kitchen a low-cost makeover, we suggest buying this paint kit from Nuvo that will completely revamp the boring kitchen cabinets. You may not have premium quality wooden cabinets installed in the cooking area, but with this paint, you can surely create an appealing façade.
Why Did We Like It?
For starters, this is a reliable kit containing everything you need to upgrade the appearance of cabinets made from wood, painted metal, or primed laminate, without requiring lots of prep. Furthermore, you don't even have to remove the doors of the kitchen cabinets before beginning the paint job.
We liked the superior quality of the paint and flawlessly smooth finish of the product that can liven up any antique cabinet. Lastly, this water-based acrylic paint and primer kit will allow you to cover 100 sq. ft. of cabinet surface adequately, which is the appropriate quantity for the average kitchen in a modern home. 
What Could've Been Better?
After checking the product we do not have any complaints regarding the quality of the product, but you may need to undertake some preparatory work before applying the paint. In case your cabinet surfaces have not been cleaned for a while, follow the list of sanding and cleaning instructions so that the paint adheres perfectly to the cabinet body.
Pros
All-in-one acrylic paint and primer kit

Can cover 100 sq ft of cabinet surface

Provides a smooth and luxurious finish

Works on wood, metal, and laminates
Cons
Requires prep work before application
Brand: Nuvo | Finish: Satin | Size: 2 quarts | Coverage: 50 sq ft | VOC Level: Low
Sale
Next up is the Chalked Ultra Matte Paint from the house of Rust-Oleum that works on multiple surfaces including metal, wood, ceramics, and canvas. So if you want a royal, velvety matte appearance on the furniture, you can rely on this premium quality paint to do a splendid job without fail. 
Why Did We Like It? 
To begin with, we're impressed with the excellent coverage and adhesion of this ultra-matte paint. Therefore, we recommend this product to busy homeowners who are looking to jazz up their old furniture while avoiding a long and elaborate prepping session.
Furthermore, it is easy to apply and dries up in just half an hour, without any peel-off. Also, since the paint rapidly sets on the surface, it's convenient to use around children and pets as there's less risk of smudging. 
Based on our firsthand experience, it's a praiseworthy item that can transform and rejuvenate old furnishings in a snap and is also perfect for creating an innovative distressed look without any surface preparation.
What Could've Been Better?
As already mentioned earlier, the Ultra Matte Paint from Rust-Oleum is a premium quality paint and therefore comes at a steep price. Nevertheless, if you want to achieve that marvelous, smooth look, we recommend investing in this item. However, you can always look for cheaper alternatives if you're on a tight budget.
Pros
Superior paint coverage and adhesion

Paint sets within 30 minutes

Can be used to create a distressed look

No surface preparation required
Brand: Rust-Oleum | Finish: Matte | Size: 30 fl oz | 4 Coverage: 150 sq ft | VOC Level: Low
So when we say Milk Paint, we do not mean it in the literal sense, but what General Finishes offers is a traditional paint with a strong mineral base. However, it is surprisingly adaptable, UV resistant, and can be used both indoors and outdoors on a range of items including furniture, crafts, and cabinets. 
Why Did We Like it?
First and foremost, we like this durable furniture paint for perfectly adhering to surfaces and not chipping away easily. Furthermore, you need not apply a top coat on the surfaces, but we recommend putting one on furniture placed in high–traffic areas like the kitchen, living space, or dining room.
Other than that, we like that the product can be used on surfaces created from raw wood and existing finishes without any adhesion issues. Besides, this milk paint is perfect for repurposing old pieces of furniture as it facilitates easy cleaning and maintenance post-application. All in all, it's a good choice if you're looking to create a long–lasting, low-luster look on your chairs, tables, cabinets, etc. 
What Could've Been Better?
We are, for the most part, happy with the overall paint quality, but we're not satisfied with the results while applying multiple coats. That being said, while testing this product, the paint seemed to get a bit chunky when more than two coatings were needed. Therefore, you must be careful while applying additional coats as you don't want to spoil the finish.
Pros
Durable, high-adhesion paint

Allows hassle-free cleaning after application

Can be used indoors and outdoors

Paint does not chip away
Cons
Paint gets chunky while applying multiple coats
Brand: General Finishes | Finish: Matte | Size: 1 quart | Coverage: 100 sq ft | VOC Level: Low
If you would rather invest in a set than buy individual cans, you can settle for this top-drawer selection from Folk Art. On that note, you can play around with 9 different color options and fashion a beautiful toned-down look on your furniture that will surely create a buzz among your guests. 
Why Did We Like It? 
Firstly, this is a highly functional and versatile paint kit that can add interesting details to a variety of surfaces, including, metal, wood, ceramic, terra cotta, paper, fabric, and glass.
Besides, these are water-based paints, so cleaning up after application is quite easy and doesn't come in the way of the upcycling process. Simply use some soap and water for regular cleaning to maintain the classy look of your furniture. 
Other than that, we like that the product is safe for indoor use as it does not contain any form of toxins. Also, you can use this high-quality color set to create a distressed and layered on the furniture for adding a whole different vibe to your interior setup. 
What Could've Been Better? 
The 9 bottles of paints come in 59ml containers each, so it's practically more of a sample set and not a full-size kit. Therefore, you can buy this set for a small project that does not require a lot of coverage. However, it is not suitable for any major applications as the quantity is just not enough. 
Pros
Easy-to-clean, water-based paint

Covers a wide range of surfaces

Paints do not contain any form of toxins

Can be used to create a distressed or layered look
Cons
Quantity too less for big projects
Brand: FolkArt | Finish: Matte | Size: 8 fl oz | Coverage: 60 sq ft | VOC Level: Low
So if you're looking to add grandeur to your existing furniture, you can never go wrong with the Rust-Oleum Metallic Accents Paint. Long story short, this is an advanced water-based paint that offers a rich metallic finish for a variety of projects, including furniture, doors, walls, ceilings, trim, and more. 
Why Did We Like it? 
Let's just start by saying that is one-step paint contains real mica beads to deliver an outstanding shimmer effect when any light hits the coating. Therefore, you can throw some pizzazz to your existing décor by glamming up your furniture with this elegant metallic paint.
Furthermore, we like that it does not smell, unlike some other products in this price range. Also, the paint becomes touch dry merely 30 minutes after applying, so you do not have to wait much longer for the sparkling, high-end finish. Lastly, we like how low maintenance this paint is as you can simply use soap and water to clean and preserve the iridescent effect. 
What Could've Been Better? 
We are pleased with the beautiful, shimmery effect it creates on the surfaces. However, you may require multiple coats to get the desired glowing effect on your furniture or cabinets. So in case, you have a lot of surfaces to paint, make sure to buy and apply the product in generous amounts for the best results.
Pros
Metallic paint containing real mica beads

Creates a stunning, iridescent effect

Paint does not smell

Touch dry within 30 minutes
Brand: Rust-Oleum | Finish: Metallic | Size: 32 fl oz | Coverage: 70-75 sq ft | VOC Level: Low
We're halfway through our recommendations, and now is a good time to introduce the Chalk Finish Paint from Dixie Belle. On that note, this product stands out because of two things; it is quick to dry and pretty hard to mess up while using it. Therefore, if you're a beginner, we suggest you start with this item for a seamless application. 
Why Did We Like It? 
To begin with, painting furniture with this paint does not require stripping, sanding, and priming before applying on any surface. Thus saving you hours of work, as it's otherwise also pretty easy to use and does not require a lot of experience in terms of brush strokes. 
Other than that, we like how pigmented this product is, offering better coverage than most other competitors at the same price range. 
Besides, this is a well-made product as it allows you to mix it with chalk finish furniture paints to brighten up any furniture with a high satin finish. Also, we like that it does not contain any form of toxins, making it safe for indoor use. 
What Could've Been Better? 
We like the easy brush application of this product that is best suited for DIY-ers trying to do a nice touch-up job on their previously owned furniture. However, the item is on the pricier side, and we recommend using this only if you do not find a cheaper, equally effective alternative. 
Pros
Easy to apply, hard to mess

Does not require sanding or priming

Highly pigmented with better coverage

Can be mixed with chalk finish furniture paint
Cons
Product is a little expensive
Brand: Dixie Belle Paint Company | Finish: Satin | Size: 16 oz | Coverage: N/A | VOC Level: N/A
The BB Frösch is a premium quality alternative to pre-mixed chalk paints that readily blends with any regular latex paint or acrylic paint to transform it into rich and creamy colors. With this special powder, you can get all the benefits of chalk paint and achieve a flat finish on your furniture. 
Why Did We Like It? 
For starters, we like that this unique and special mix of minerals can combine with virtually any color and create the most fascinating, even-textured hues for your furniture. Also, to get better bonding than premix products, you can simply adjust the amount of powder for superior adhesion. 
Furthermore, not only does it provide you with the flexibility to create a variety of attractive finishes but also cuts down on cost and reduces waste. To explain further, this powder is capable of mixing up to 1 gallon of paint, so you can use specifically the amount needed to cover a particular project. 
What Could've Been Better? 
We like this 100% natural chalk paint powder that offers better coverage than its ready-made counterparts. However, all things considered, it is not the most affordable option for small-scale projects. Therefore, you won't get the best use of it if you don't need multiple color options for painting over different surfaces. 
Pros
No waste because you only mix the required quantity

Made with 100% natural ingredients

Offers excellent coverage

Creates a smooth and self-leveling paint
Cons
Not economical for small projects
Brand: BB Frosch | Finish: N/A | Size: 3 oz | Coverage: N/A | VOC Level: N/A
If you did not like the price on our previous item, you might find this Majic Paints product quite appealing. On that note, this highly versatile satin paint is an excellent choice for repurposing furniture, cabinets, and other surfaces that need a whole new look to give serious transformation goals. 
Why Did We Like it? 
In the hands-on review, we liked this product thanks to its broad applicability on a range of surfaces including wood, metal, brick, drywall, glass, plastic, tile, steel, vinyl, and masonry. Besides, if you're creative enough to try it, you can also use this paint on other surfaces, and we feel you wouldn't be disappointed. 
Other than that, we like that it can be used for both indoor and outdoor purposes, offering an incredibly durable and resistant satin enamel finish. Furthermore, this product uses a water-based formula that offers added convenience and safety, and will most likely outperform conventional oil–based paints in any situation. 
What Could've Been Better? 
To be honest, we like the quality and the price of this paint, but there are a few minor concerns regarding the application. That being said, while painting furniture with it, we found some bubbles when we went for top coats. Therefore, the texture was not entirely smooth throughout the surface as there are some inconsistencies.
Pros
Can be applied on a wide range of surfaces

Performs better than conventional oil-based paints

Suitable for both indoor and outdoor use

Durable satin finish
Cons
Paint may leave bubbles while applying top coat
Brand: Majic Paints | Finish: Satin | Size: 1 gallon | Coverage: 400 sq ft | VOC Level: Low
Sale
What if there was one painting that could work as a bonder, primer, and finisher? Well, that's no longer a mere thought as this Beyond Paint product can do all of that and more. So if you think your old dresser or accent piece needs a look enhancement, try out this fail-safe paint for a gorgeous look. 
Why Did We Like It?
So when you intend to class up the furniture in the living space, why put up with shabby when you can have snazzy? As with the latter, you get the option of using this Beyond Paint product that works like a charm without any sanding, priming, or stripping. 
Furthermore, you'll like how easily it takes to the brush and allows you to coat any surface effortlessly without smudging. Besides, this remarkable all-in-one product ensures a high finish, and durable performance both indoors and outdoors. And if that's enough to convince you, its affordable price tag surely will. 
What Could've Been Better? 
After trying it in various situations we hardly have any complaints regarding our 10th entry as we found it works exceedingly well. However, if we had to point out one flaw, then it would be its limited coverage. We would've preferred if the paint covered more surface in a single coat as there are other options at the same price point doing a much better job.  
Pros
Bonder-Primer-Finisher in one

No stripping, priming, or sanding required

Available at an affordable price

Durable, high-finish paint
Brand: Beyond Paint | Finish: Matte | Size: 1 quart | Coverage: 100 sq ft | VOC Level: Low
Up next is yet another excellent product from Rust-Oleum that can add a dash of gloss to any lackluster furniture. So if you're looking for a reliable, high–coverage paint that can lift the look of your decorative accent pieces, give this item a shot for amazing results. 
Why Did We Like it? 
Despite its position on our list, this item is among our favorites, mainly because of its bargain bin price and superior coverage. Other than that, this is easily one of the best latex paints in the market that can paint a broad spectrum of surfaces, including wood, metal, masonry, and unglazed ceramic. 
Furthermore, the water-based formula of the paint releases low odor and adds a protective layer on surfaces that will last for years. However, the icing on this glossy cake is its coverage area of nearly 120 sq. ft., which is a pretty significant number for a low-price item like this. 
What Could've Been Better? 
Obviously, we are very impressed with the performance of this product, but what we don't like is the laborious prepping required before the painting furniture actually begins. If you pick this latex paint, you'll have to sand the surfaces and thoroughly wash it with a degreaser before beginning with the paint job. 
Pros
Cost-effective latex paint

Covers about 120 sq ft of surface area

Adds a durable and protective layer

Works on wood, metal, glazed ceramics, etc.
Cons
Needs sanding and a lot of prep
Brand: Rust-Oleum | Finish: Gloss | Size: 32 fl oz | Coverage: 120 sq ft | VOC Level: Low
The Hemway Chalk Matt Finish Paint can surely make heads turn as it simply elevates the appearance of any furniture, offering a suave and refined look. Therefore, if you want a flat touch finish on the pieces, to go with modern, stylish home décor, this product will surely impress you with attractive results.
Why Did We Like it? 
To begin with, you can use this water-based paint on furniture, woodwork, walls, and accessories without encountering any odor or fumes. Also, since there's no sanding or priming involved, all you have to do is use your brushes to finish the job in a single coat. 
We determined through our tests that the creamy texture of the paint is ideal for covering up hideous touch-ups and for creating a trendy distressed look. Also, we are very impressed with its quick drying within only two hours, which is practically a very short span compared to the drying time required for traditional paints. 
Lastly, we like this well-made product even more as it is suitable to use with stencil, or masking tape to make fun shapes on your chosen surface. 
What Could've Been Better? 
You might be wondering what could be wrong with this product, especially when we couldn't stop raving about it. Well, to be honest, this Hemway product missed several spots as it tends to chip away easily. Therefore, it's not suitable to apply this one on surfaces that receive a lot of traffic. 
Pros
Does not require sanding or priming

Requires only 2 hours to dry

Can hide the ugliest paint jobs

One coat is usually enough
Brand: Hemway | Finish: N/A | Size: 5.3 oz | Coverage: N/A | VOC Level: N/A
Now that we've reached the end of our list, we would like to finish off with the Rust-Oleum Hammered Metal Finish. Even though we may seem a little partial towards this brand, it would be unfair not to include this dependable, oil-based furniture paint that offers excellent rust prevention on surfaces. 
Why Did We Like It? 
As already mentioned, this paint does a wicked job of protecting iron and metal furniture from rust and corrosion. Also, it does a superb touch-up job on metal, wood, concrete, and masonry, be it somewhere inside or outside the home.
Apart from that, the robust metal finish of the paint enables you to obscure the imperfections and flaws found in rusted, pitted and scratched metal surfaces. Furthermore, we also like that the product can cover around 100 sq. ft. of surface area and dries up within only 2 to 4 hours. 
However, the best part is that it creates a professional look even if an amateur uses it for DIY projects. 
What Could've Been Better? 
Keeping aside all the good things offered by the Hammered Metal Finish, one of the main disadvantages of this paint is that you need to apply at least two coats. Therefore, be sure of the surface area you got to cover and buy accordingly as you need to use more paint to get the desired finish.  
Pros
Offers excellent protection against rust and corrosion

Dries up just 2 to 4 hours

Cover 100 sq ft of surface area

Works on both indoor and outdoor furniture
Cons
Requires two coats for the best finish
Brand: Rust-Oleum | Finish: Hammered | Size: 1 quart | Coverage: 100 sq ft | VOC Level: Low
Best Paints For Furniture Comparison Table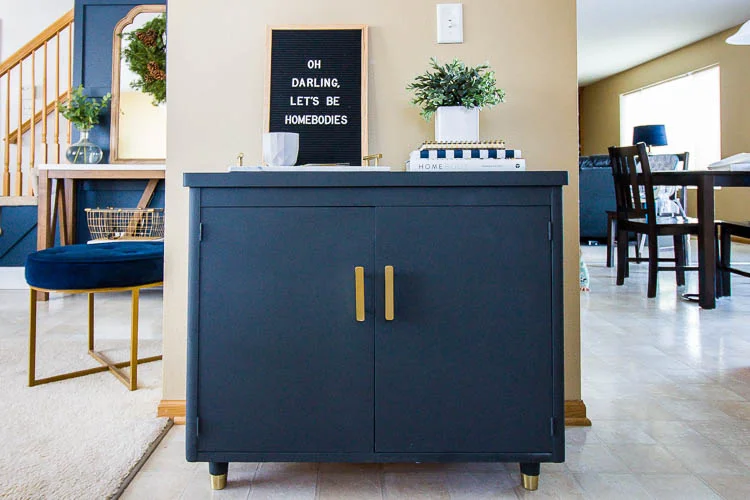 Buying Guide For The Best Paint For Furniture
Knowing all about the 13 best paint for furniture is hardly too much information. You still need to figure out which one of these options suits your existing décor best. And that can be a bit of a challenge, now that you've been introduced to all the excellent products available in the market. That's why we went the extra mile and created this guide for you, which will hopefully make painting furniture become far easier! 
We have listed the various factors you need to consider when buying the best furniture paint. Read on to know more… 
Type of Furniture Paints
We have included a wide variety of paints on our list so you can find the most suitable composition. Depending on your requirements and budget, you can invest in premium quality chalk paint. Alternatively, you may go for a water-based option if you want something more cost-effective yet dependable. 
Furniture Finish
Like paint type, the finish you want is also an important point to weigh in. And since different furniture paints render different finishes after they dry off, you must be sure about the kind of look you want to achieve. For outdoor pieces, it is best to go with a matte or metallic finish paint as the latter also prevents rust. But if you're buying paint for indoor furniture, you can experiment with a glossy or satin finish. 
Durability of the Furniture Paint
Durability is an essential factor that you cannot ignore at any cost while purchasing furniture paint. Do not go just by the looks, as no matter how attractive the paint may appear, it should also be long-lasting. You do not want to invest in a product that chips away easily when applied on surfaces receiving high traffic. Furthermore, make sure that the paint is resistant to scratches and also washable. 
Dry Time When Painting Furniture
We cannot stress enough how crucial dry time is. As a matter of fact, you'd be surprised how often people choose a product based solely on the speed at which it dries, or at least to what the lave mentions as dry time. Therefore, it's absolutely important to select a paint with minimum dry time, especially if you've pets or children at home. You would not want to deal with fingerprints, smears, or smudges as then you've devoted more time to make reparations. 
Paint for Furniture FAQs
Can You Paint Furniture Without Sanding?
The answer to this question depends upon various factors like the condition of the furniture and the materials it is made of. Rough surfaces do not require sanding and can be painted on directly, which is why wooden furniture in good condition can be painted easily. On the other hand, furniture with a smooth surface, such as that which has already been painted before, needs to be sanded to help the paint stick better.
Does Furniture Paint Require Sealing?
The main purpose of paint sealers is to protect the top coat as the sealant dries to give a harder, more durable finish than paint. So, while it may not be necessary to apply sealant, it is generally a good idea to do so to enhance the durability of the furniture paint.
Applying one or two coats of a sealant will help protect your furniture to withstand regular use and make it easier to clean the surface.
How Long Does Furniture Paint Last?
How long furniture paint lasts will depend upon the type and the paint you are using. For instance, new or unused water-based acrylic and latex paints can easily last for about ten years, while oil-based and alkyd paints can last as long as 15 years.
You can use unused paint since it is not exposed to air, and the ratio of semi-solids and liquids remains the same even if the ingredients have separated. 
How Many Coats Of Paint Should You Put On Furniture?
Using multiple coats of paint will help provide a more even look and keep your furniture better protected. We'd suggest applying at least two coats, while three coats will provide even better results. Also, keep in mind that after every coat, it is vital to provide ample time for it to dry. And sand the surfaces in between the coats to make the application process easier.
What Is The Best Type Of Paint For Furniture?
Semi-gloss or satin paints are the best bet for painting your furniture pieces. These paints can easily stick to dry surfaces and can be cleaned easily compared to less lustrous paints. They also reflect the light better, are durable, and can withstand regular use without much damage. Plus, they do a better job hiding scratches and marks that more reflective paints like a high-gloss option would emphasize.
Conclusion
As a homeowner, you may want to modify your décor from time to time. However, if buying new furniture is not a feasible thing to do, you can always add a dash of color and spin a new look on your existing chairs, tables, cabinets, or wardrobes. 
On that note, we have come to the end of this brief and informative guide about the best furniture paint on the market. And we hope you could find an ideal option that will best meet your needs without going overboard on your budget. 
But before signing off, let's go for a quick recap. The Retique It by Renaissance Chalk Finish Paint is the best overall, while the Rust-Oleum Painters Touch offers great coverage. Other than that, the Beyond Paint Refinishing Paint is the best budget buy, and the BB Frosch Chalk Paint Powder is the most eco-friendly option. 
Painting furniture is fun,  even if brush marks remain and they're a bit imperfect. Regardless of whether you use milk paint, oil-based paint, water-based paint or chalk, latex or spray paints, regardless of means, it's an extraordinary process that adds value to our homes to our crafts and do-it-yourself projects. 
What did you paint recently?
Till next time, keep adding color! 
Related Articles
5 Best Sprayers For Plasti Dip
9 Best Pump Sprayers For Staining Fence
9 Best Concrete Stains to Consider
Learn How To Soften A Hard Paint Brush
11 Best Paint For Concrete Walls In Basement
9 Best Paint Brushes For Chalk Paint
13 Best Professional Airless Paint Sprayer
40 Of The Most Unusual and Bizarre Furniture Designs You Have Ever Seen
10 Highest CFM Air Compressors
9 Best 6 Gallon Air Compressors for Your Home & Garage
13 Best Paints for Bathroom Ceilings
13 Best Paint for Kitchen Cabinets
11 Best Polyurethane Protective Coatings
13 Best Spray Paints For Metal
7 Best Airbrush for Miniatures & Model
11 Best Epoxy Resin For Crafts
5 Best Polyurethane for Floors
5 Best Epoxy Resin for Tumblers
10 Best Clear Coat for Kitchen Cabinets
Alcohol Ink Art Tutorial [Alcohol Inks 101]
6 Best One Coat Paint and Primer
7 Best Primers to Cover Dark Paint
7 Best Exterior Primer For Peeling Paint
6 Best Paint Primer For Rusted Metal
9 Best Paint Stripper For Metal
7 Best Cold Galvanizing Paints
11 Best Paint Scrapers to Rock
How to Remove Spray Paint from Concrete
7 Best Primers For Covering Red Paint
11 Best Paint Roller To Hide Imperfections