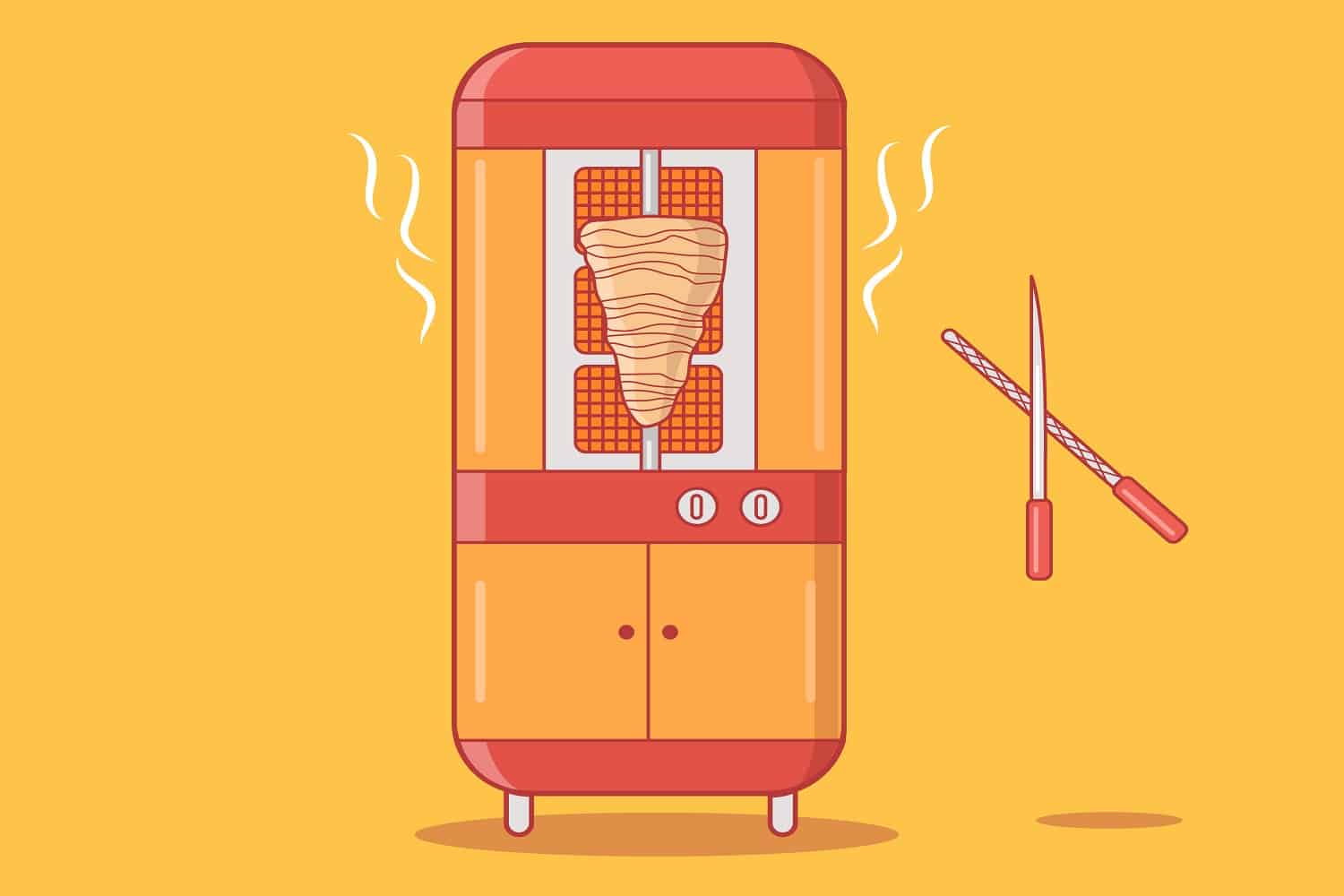 Imagine a dinner spread with succulent kebabs and shawarmas on your plates! It is time to make it happen with the best gyro cooker machine in your kitchen.
These ovens hang meat vertically, giving you amazing flavors, and providing a delicious meal. Be the star of your party with a spread that your guests will remember for ages.
But the problem arises when you start looking for the perfect gyro cooker machine. With a vast range of choices in the market, it often becomes difficult to choose one. We know the dilemma as we've gone through it ourselves. That is when we decided to create this list for you all.
With the 13 best gyro cooking machines that we carefully handpicked, it is time for you to sit back and relax while you read through and choose one. Whether you need one for commercial purposes or home use, there are options for all. To help you further, a detailed buyer's guide follows the list of recommendations.
So, let's dive in to know more.
Gyro Cooker Machine
IMAGE
PRODUCT
DETAILS

Our Top Pick

Our Top Pick

Spinning Grillers 4 Burners Shawarma Machine

Equipped with 4 burners
Propane gas only
Energy saver side reflectors

VIEW LATEST PRICE →

Lakago 110V Shawarma Doner Kebab Machine Gyro Grill Machine

360° infrared rotating barbecue
Mesh heating plate
Independent oil pan

VIEW LATEST PRICE →

Spinning Grillers 5 in 1-Shawarma Machine

Made from high-quality stainless steel
Operates on propane gas
Electric motor that rotates smoothly

VIEW LATEST PRICE →

Wonderper Vertical Oven Electric Grill Countertop Oven Rotisserie Grill

Detachable structure
Half-round stainless steel reflectors
Alternative heating and cooling

VIEW LATEST PRICE →

Flexzion Rotisserie Toaster Oven Grill

Certified with the ETL safety standard
Power shuts off on opening the door
Capacity of 21 L

VIEW LATEST PRICE →

Nutrichef Upgraded Multi-Function Rotisserie Oven

Multi-function cooking ability
Comes with skewer rack, bake pan & grill racks
Capacity of 24+ Quarts

VIEW LATEST PRICE →

Sunbeam Carousel Rotisserie

Smokeless cooking
Dishwasher safe components
Weighs 8.8 pounds

VIEW LATEST PRICE →

Spinning Grillers Shawarma Machine Gyro Machine Commerical Vertical Broiler

Operates on natural gas
4 ceramic burners
Patented new chain motor design

VIEW LATEST PRICE →

Kouwo Shawarma Doner Kebab Machine Mini Gyro Machine

Manual ignition
360° auto-rotating roast
110V constant speed motor

VIEW LATEST PRICE →

Tacos Al Pastor Gas Doner Kebab Machine - 2 Gas Burners Shawarma Grill Gyros

Made for commercial usage
Four burners with independent controls
Commercial-grade Stainless Steel construction

VIEW LATEST PRICE →

Autodoner 3PGM-LP Optimal Automatic Single Vertical Broiler for Gyros

Features a drip pan and cover along with a catch pan
Uses liquid propane
Adjustable heat shields for cooking efficiency

VIEW LATEST PRICE →

NutriChef Countertop Vertical Rotating Oven

Temperature range up to 464-degree Fahrenheit
Multi-function rotating oven
Auto power off

VIEW LATEST PRICE →

Remta Makina Shawarma Gyro Al Pastor Grill Trompo Machine

Meat capacity of 17 lbs
1 burner
Uses Propane gas

VIEW LATEST PRICE →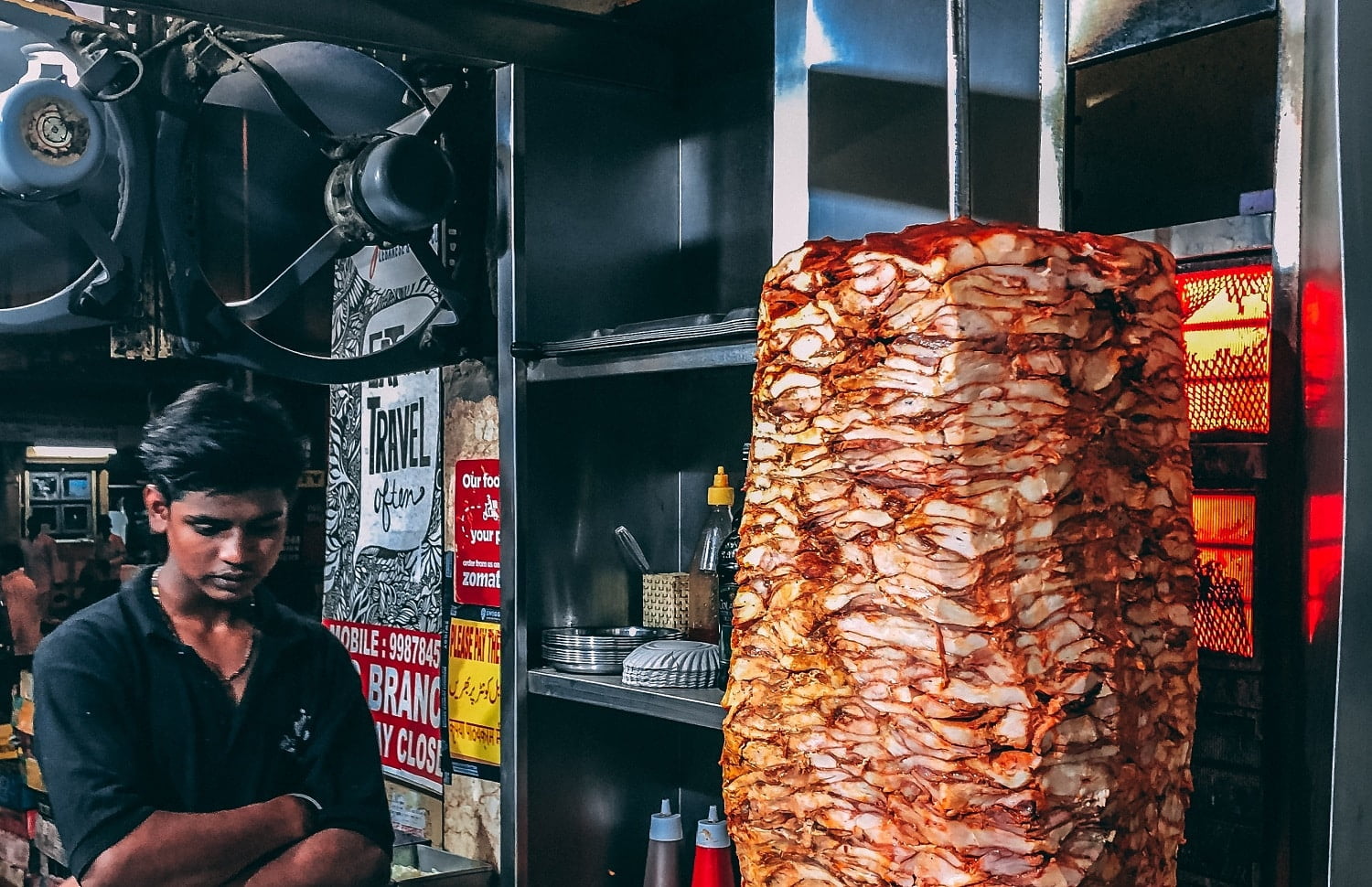 Whip up authentic food and impress your neighbors and relatives with the Spinning Grillers Shawarma Machine. With incomparable flavor and mouth-watering aroma, this spinning grill is one of the most preferred choices in the market. From tacos to shawarma and kebabs, it can handle it all!
Why Did We Like It?
First off, this device works on propane gas and comes with a hose and regulator, which would be needed to operate it. Now, if you do not have access to propane, natural gas can also be used. There is an adapter included, which will help you make that change.
Also, we liked the new patented motor design. Here, the motor is completely sealed at the bottom, preventing grease from dripping over it. Grease will drip, but the outer covering will prevent it from getting to the motor, making sure that it lasts long and does not burn out fast.
Furthermore, commercial-grade stainless steel has been used to make the body. We found that meat remains crispy on the outside while juicy on the inside, thanks to this. 4 independent burner controls help in maintaining the right temperature.
Accompanying this are energy saver side reflectors. These help in saving electricity and keep your bills in control.
What Could've Been Better?
Because the product comes completely assembled, there is a chance that it may get damaged during the shipping process. There was less protection provided inside the box, and though ours arrived in good condition, there were a few scratches here and there.
Pros
Easy to clean

Patented new motor design

Stainless steel construction

Comes with grease catcher
Cons
Risk of damage during shipping
Preparing for Thanksgiving and wanting to roast the perfect turkey in a different style? The Lakago 110V Gyro Grill Machine will make your wishes come true. Paired with remarkable performance, if you love hosting family get-togethers, this may be the much needed addition to your events.
Why Did We Like It?
With a capacity of 15.5 lbs of chicken or turkey, this machine is the perfect choice for an average sized family. It rotates 360 degrees, automatically making sure every bit of the meat is finely roasted.
Along with this, the infrared barbeque makes some of the best shawarmas with two natural gas burners. These burners can be controlled individually and give way to a perfectly cooked bird.
It also comes equipped with a mesh heating plate, which adds to the uniformity of the flame. Gas is a better choice than electricity as it is more energy-efficient and consumes way less energy. This makes it more environmentally friendly and can be used safely.
Furthermore, there is an independent oil pan which protects the surrounding from oil and water splashes. While roasting oil splashes are almost inevitable. This one takes it all, leaving the surrounding environment clean.
What Could've Been Better?
In comparison with previous devices, this one consumes more time in cooking. This is not really a hindrance for those who have time to spare, but with a busy schedule, you may face difficulties. In such cases, you could reserve this for Sunday brunches.
Pros
Made of high-quality stainless steel

Contains cooling holes

East to manage switches

Adjustment distance lever
Planning a backyard party or a get together with friends? With the Spinning Grillers 5 in 1-Shawarma Machine, you will have your neighbors remembering this night for long. This product is known for its impeccable flavors that give the right amount of crispiness to your meat.
Why Did We Like It?
First off, the unit comes with two burners and uses propane gas. The burners have individual burner controls, which makes sure that you can maintain the correct temperatures while cooking. We found that the meat was very juicy inside and had not dried out at all.
Also, to enhance convenience, the pack comes with a Vertical Rotisserie Skewer, 2 side skewers, and 2 drip pans. The drip pans are very needed as while cooking meat, you will have grease dripping continuously. With these pans, it accumulates the grease and saves you the trouble of having to clean up every inch of this product.
Besides this, we felt that the electric motor worked wonders in rotating the spit. It rotates in perfect speed, ensuring every side of the meat chunk is perfectly seared.
Lastly, the body is made of stainless steel giving it sturdiness and the ability to hold on to meat vertically.
What Could've Been Better?
Though there are no complaints about the functioning, we would have preferred if the device was bigger. It is small and cannot feed a lot of people at once. You will need to keep operating for a few hours to feed a party of 20 plus people.
Pros
2 burners for crispy and juicy meat

Capacity of 15 lbs

Easy to clean

Easily fits on the countertop
With 1100W high-power performance, the Wonderper Vertical Oven Electric Grill Oven is known for its quick-cooking abilities. You can cook kebabs in less than half an hour while thicker meat could be cooked in an hour, giving your taste buds a lovely treat indeed!
Why Did We Like It?
We loved the brilliant technology that this product has in making sure that every inch of the meat is cooked to perfection. Firstly the gyro changes direction every time force is applied. Also, the skewers and gyro rotate in opposite directions. This is essential for the food to be heated thoroughly.
Adding to this, the meat is broiled by constant heating and cooling. This change in temperature makes sure that the meat remains juicy.
Next up is the ease of cleaning. All the parts are detachable, making it very easy to clean. A fat collecting tray is part of the structure which needs to be taken out and cleaned, and you are pretty much done.
Furthermore, it has half-round stainless steel reflectors, which saves energy. The open structure is beneficial for conserving energy while cooking to perfection. All in all, we found this product to be remarkable.
What Could've Been Better?
The only issue is that there is one switch only. If you need to pause cooking, you will have to turn the power off completely. This makes the device lose its consistent heating if you want to switch off and stop it from rotating. We wished there would be another button that would just pause the rotation.
Pros
Lightweight at 5.7 pounds

Equipped with 6 skewers

East to maintain

Durable with a sturdy body
Cons
Comes with a single switch
Prepare your favorite authentic shawarma dishes and Brazilian rotisserie chicken with the Flexzion Rotisserie Toaster Oven Grill. It is a perfect addition to the house if you are planning occasional backyard parties. Guests will be surprised to find this on your dining table.
Why Did We Like It?
It is a 1500 watts machine which will cook nearly every kind of meat, even duck and beef, which typically takes a longer time to make. Equipped with skewers and a kebab tray, you can cook mouthwatering delicious kebabs and have them ready on the table within half an hour!
For a healthier meal, this rotating oven makes sure that the oil drips away and collects in a greased pan below. This prevents a mess from being created, making it easier to clean up.
With indicator lights and an alarm, this product is known for its convenience too. You can rest assured that the meat will not be overcooked.
Also, we loved the safety feature. There are times when someone may pull open the door of the gyro machine without you around. Since the cooking is done on high heat, it could have been very dangerous. But the machine shuts off its power, immediately making sure the person is not hurt.
What Could've Been Better?
The product works well, but we found that no real information had come along with it. So we had to figure out how to use it by ourselves. This took time, and we ended up watching a number of videos. The company could have added a guide book needed for those who are buying a gyro machine for the first time.
Pros
Grease tray for a neat cooking experience

Presence of an alarm

Comes with skewers and kebab racks

Indicator lights
Cons
No instructions came with it
Known to be one of the most versatile options, the Nutrichef Upgraded Multi-Function Rotisserie Oven will take care of baking, broiling, roasting, and rotisserie, to name a few! It is a multifunctional unit with immense capacity to cook your favorite meat just the way you want to.
Why Did We Like It?
This gyro machine can be safely placed on any kind of countertop or table. At 1500 watts, it is known to be high powered and works quickly while not transferring the heat to whatever it is kept on. It is also energy efficient and will make sure that the meat is cooked as quickly as possible without spoiling the flavors.
Besides this, you can also adjust the temperature. With a maximum temperature of 464 degrees Fahrenheit, you can toggle between slow roasting and fast grilling. The time can be set along with it, so the food does not overcook. This is an important feature as there are times when you might lose track of time, especially during parties.
Furthermore, we loved how easy it was to clean the oven. The body is stain-resistant and makes sure most stains do not stick along. It comes with a grease accumulating tray that collects all the oil and grease for a low-fat experience.
What Could've Been Better?
We found the front of the product to be heavier. Naturally, if you pull the glass door hard, the whole of it may fall off, and there is a chance of getting severe burns. So be very careful while operating, and it is best not to let children around it while cooking.
Pros
Resistant to stains

Heat resistant tempered glass door

Energy efficient

Time and temperature can be adjusted
If you want juicy meat with its natural juices intact, the Sunbeam Carousel Rotisserie will make sure that you are in for a lovely treat. With the excess fat dripping away, you are left with soft melt in the mouth meat. We bought this before a party and everybody went home fully satisfied.
Sunbeam Carousel Rotisserie
Seal in natural juices while unwanted fats drip away
Cook chicken to be moist and flavorful inside, crispy and...
Why Did We Like It?
It is one of the most manageable devices to use. All you got to do is run your skewer through meat, attach it to its base, close the glass door, and set the timer on. The bird will be cooked to perfection with crispy skin and juicy meat inside. The timer will make sure it is cooked properly, and it stops when the bird's done.
Further, with a grease tray at the bottom, cleaning up is easy as all the grease accumulates in one place beneath your chicken. This is dishwasher-safe too, and no manual work is required. This is something we loved about this product, as most others are not compatible with dishwashers.
Additionally, we got a cookbook along with the pack. This will help in creating different recipes from scratch. All of these features come at a very affordable rate, making it a pretty sought after device in the market.
What Could've Been Better?
The only thing that could be slightly disappointing is that it does not work well with meat, which is challenging to cook. We would recommend it to cook easy meat like that of a chicken. Cooking beef or duck may not be a good option for this product.
Pros
Lightweight and easy to

Sturdy body

Very affordable

Comes with a timer
Cons
Does not work well with hard meat
Next up is a very tough device made for commercial use. The Spinning Grillers Gyro Machine Commercial Vertical Broiler is a brilliant option for those who are part of large establishments. It will bring to the kitchen incomparable flavors, and you will soon be a favorite among your guests.
Why Did We Like It?
This cooker runs on natural gas, and you can easily set it up in an open space in case of weddings or other big events. The 4 ceramic burners with independent controls are a huge benefit. They make sure that you can control the temperature at all times while the heat is consistent and thoroughly spread.
Another big benefit of the burners is that they can be brought backward and forward while cooking. We found that this feature is vital for properly roasted/grilled meat.
This also comes with a patented new chain motor design. The motor is tightly sealed and placed in the bottom. This eliminates any chances of drippings affecting it or causing burnouts. It runs smoothly and for years thanks to this incredible feature.
Lastly, this has a whooping capacity of 75 lbs, which will literally serve a lot of people at one go. You can use this for live counters for occasions.
What Could've Been Better?
The only issue here is that you would need to buy the hose separately. This may lead to costs increasing, but now that you know, order the hose along with the pack. This will ensure you do not have to wait for the hose separately to operate this product.
Pros
The burner can be moved forward and backward

Enclosed motor for safety

Energy saver side reflectors

For commercial use
Cons
You have to buy hose separately
Are you looking for a small gyro cooker for your family? Make the best shawarmas and kebabs for dinner with the Kouwo Mini Gyro Machine. It is meant for personal and domestic usage and cooks up delicious treats in a jiffy. What's more! This is super affordable and would not burn a hole in your pockets.
No products found.
Why Did We Like It?
Capable of handling 4-6 pounds of meat, this small gyro cooker is perfect for a small family. It needs 110V of power and takes around an hour for perfect roasting of hard meat.
It also looks at conserving energy and cooks food fast. This is beneficial as you do not have to leave it cooking for hours. But you do get a delicious meaty lunch or dinner which tastes like it has been slow-cooked to perfection.
Besides this, with a 360-degree auto-rotating roast, you are bound to get evenly cooked meat. Every part receives equal attention so as to get the outside layer crispy while making the insides soft.
Lastly, we cannot miss out on the stainless steel grease collection tray. True to its name, it collects the fat, providing you with a healthy meal while also making it easy to clean up afterward.
What Could've Been Better?
For its size, it does weigh a lot. The net weight is 14.72 pounds, which we did not expect for a mini product. But this should not be a hindrance while working and will fit most countertops easily. It may just be a little heavy for older adults and kids to carry, so it's best not to let them handle this.
Pros
2 ceramic burners

Looks in energy consumption

Easy to load meat on a skewer

Stainless steel oil collection tray
Known to be very reliable, the Tacos Al Pastor Gas Doner Kebab Machine is another sought after product in the market. It works on propane gas and comes fully assembled. This is specially made keeping in mind commercial use and thus is known to be very sturdy and durable.
Why Did We Like It?
The motor of this oven comes tightly sealed and placed on the bottom half of its body. This seal prevents grease drippings from impacting the motor. We have heard complaints about some devices whose motors do not last long because of excessive grease. This feature is specially made to combat such a case.
Also, it has a foot pedal with which you can start and stop the machine. This is beneficial and adds to the convenience.
Besides this, we were very pleased with the burners. There are 4 burners in total, and each can be controlled individually. Also, the burners can move to and from the meat chunk to heat it according to your needs.
Lastly, since this is made for commercial purposes, it is going to be used for long hours. Thus they have side reflectors, which are energy-saving and make sure that the meat heated up quickly.
What Could've Been Better?
We found that the regulator was a bit faulty, We could not turn it too low, and it worked better at higher temperatures. On reading reviews, we found that there are others who are facing similar problems with their regulators. It is suggested that you contact customer care in case such a problem arises.
Pros
Encased motor to prevent grease from damaging it

Foot pedal to stop and start

Burners can be brought closer and away from meat

Energy-save side reflectors
Are you looking for a gyro cooker for your restaurant or cafe? The Autodoner 3PGM-LP Optimal Automatic Broiler for Gyros is a brilliant choice to make. It works with liquid propane and is a superb addition to your kitchen space. You will be surprised to see how flawlessly it works.
Why Did We Like It?
This oven comes with an adjustable skewer and automatic slip clutch. These are very beneficial while carving meat. As soon as you start carving, the skewer will stop rotating, allowing you to proceed without hindrance.
Also, there are heat shields that make it comfortable for you while you are carving as well as ensures the food cooks fast. It could otherwise be a tough job to stand in front of the door and carve, but thanks to this, you would not be sweating badly.
To add on, the product is perfect for hard meat like beef and turkey and makes sure that these are cooked thoroughly. It is made to be used in restaurants and catering houses where a sturdy device is needed for continuous use.
Lastly, this product does come with the additional grease tray, drip pan cover, and a catch pan, so there is no mess altogether.
What Could've Been Better?
Though it is supposed to have a 35 lb capacity, we found that it works best with 20-25 lbs at max. It is best not to put in 35 lbs as it may then not rotate well. This is one area where we wanted the cooker to be better. Otherwise, we faced no other issues.
Pros
Easy to clean

Works well with turkey and beef

Uses 20,000 BTU burner

Automatic slip clutch for easier carving
Cons
Lesser weight capacity than mentioned
Show off your rotisserie style cooking skills with this brilliant device. The NutriChef Countertop Vertical Rotating Oven will make sure that you have a flavorful and delicious dinner. It retains flavors and cooks slowly, making the outside of the meat crisp while its inside remains juicy. We were delighted by how well it functioned.
Why Did We Like It?
This high powered device can cook at a maximum of 464 degrees Fahrenheit, making the best shawarmas and kebabs. Try limiting the meat to less than 5 pounds, and you should have a very smooth cooking experience.
Though it cooks at very high temperatures, the product comes with a heat resistant tempered glass door. This prevents heat from leaving it, and you can open the door without burning your fingers. Further, it will not lead to overheating of the countertop too.
Besides this, we were impressed by the safety measures that were in place. The unit comes with an auto switch-off feature in case it heats up too much, or you forget to turn it off. So be assured that you are in safe hands.
Lastly, the oven is stain resistant and very easy to clean. It comes with a grease drip tray that collects the grease, and you just need to wash it off.
What Could've Been Better?
It works just fine except for a minor problem. Being big in size, it may not fit on all countertops. Check the size of your kitchen counters before buying this. Otherwise, you can buy a broad side table to keep this device.
Pros
Energy-efficient and saves a lot of time

Heat resistant tempered glass door

Easy to clean

Can cook multiple recipes
Cons
May not fit on all countertops
Last up is the Remta Makina Shawarma Gyro Al Pastor Grill Trompo Machine. This is a truly versatile unit that can be taken anywhere easily from homes to backyards to offices. In charge of the food department at your office party? Surprise your co-workers, with a delightful spread.
Why Did We Like It?
To begin with, the product has a capacity of 17 lbs and comes with a manual spinner. It is a simple device where you will have to rotate the skewer on your own. This has its benefits as you can exactly control the cooking process.
Also, this comes with a safety valve and gas valve, which adds to the convenience of using it. The rotary skewer can be further adjusted according to how you need it, helping in the performance. We were able to easily take it out after use for cleaning.
To add to the ease of cleaning. There is a stainless steel plate at the bottom which collects grease and any bits of meat that fall off from the skewer. Since there is no glass door, this is essential to prevent your floor or kitchen top from being dirtied. All you need to do at the end is take the skewer and this tray and clean them both.
What Could've Been Better?
We found that the body is not very sturdy and thus you should use it carefully. Though for the price it comes in, it does offer true value for money. But it would have been better if they charged a bit more and brought a better constructed body to the table.
Pros
Serving tray, skewer, and meat holder included

Made for domestic use

Manual spinning

Energy efficient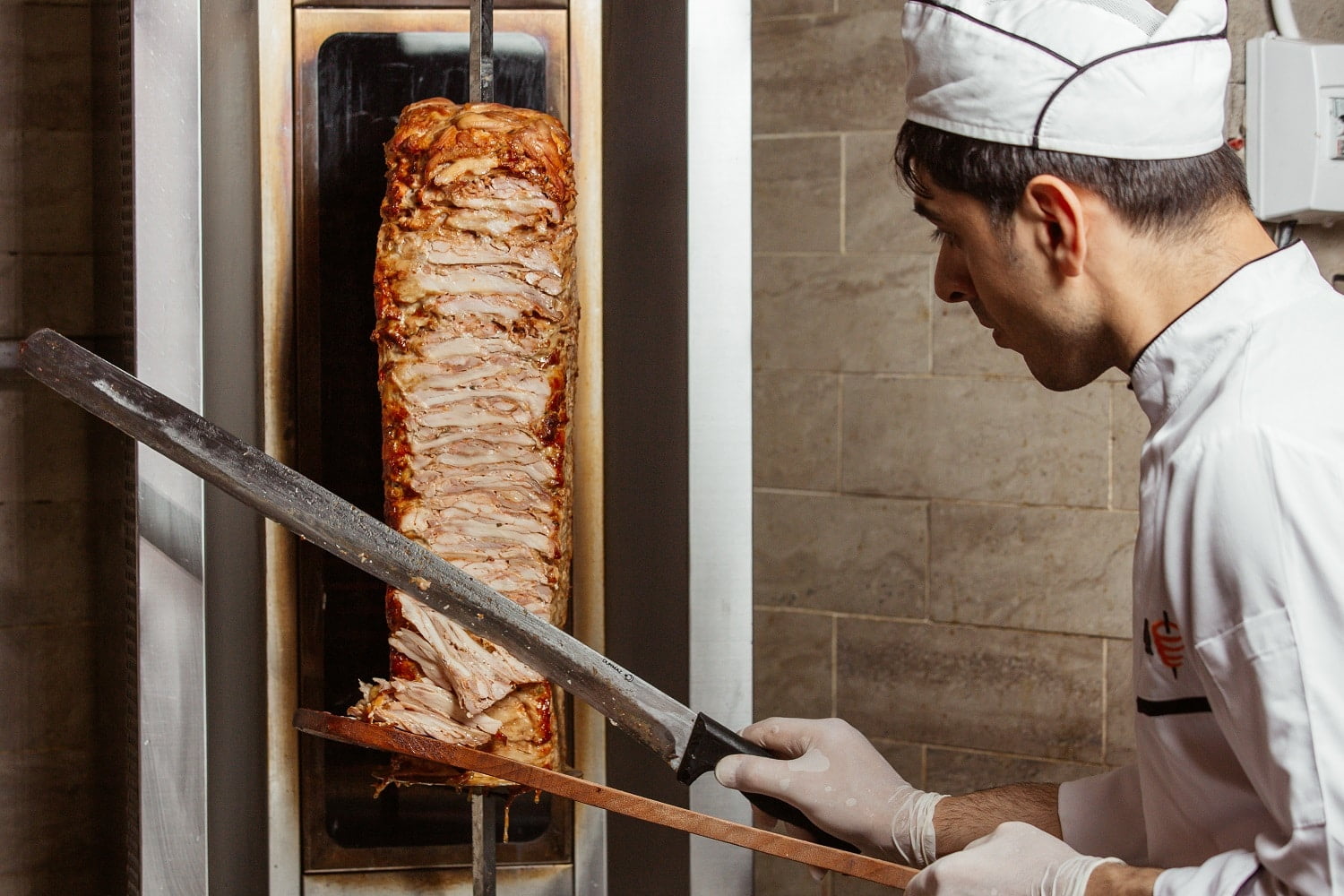 Gyro Cooker Machine Buyer's Guide
A good gyro machine will not only cook your food well but will also help conserve energy and be easy to clean. But there are various types as you have already seen and it is essential to understand which one will fit your needs.
The biggest and most expensive one may look well in a hotel, but not so much in your homes. Read on to know about all these essentials that you should keep in mind before purchasing any product.
Capacity
Different products come with different capacities, and it is very important that you make a note of this. If you have a large family or are looking to organize parties, it is best to go with an option that can cook larger amounts of meat. This will prevent you from having to cook twice.
On the other hand, if you want an oven for personal use, there is no point in investing in a big one. It will only cost you a lot while giving you no extra benefits.
If you are planning to use it for commercial purposes, it is essential that you buy a bigger unit as you may need to be cooking large quantities at times.
Manual v/s Automatic Spinner
There are mainly two kinds of a spinner, one where you will have to rotate it by hand while the other rotates on its own automatically. Manual spinners are good for smaller amounts of meat and can be a perfect choice for domestic usage. They are a lot cheaper and smaller in size and can fit all kitchen tops.
But if you are looking for a cooker for commercial purposes, it is best to opt for an automatic one even if it costs more. It would save you the trouble of constantly taking care of it for hours as you would be cooking for large numbers of people.
Additional Features
A good gyro oven will come with skewers and a kebab tray along with a grease tray, at least. These are the minimal requirements, and you should make sure they do not need to be bought extra. A skewer is essential to turn the meat around. Also, if you are to cook kebabs, without a skewer, it is not possible.
A kebab tray holds them firmly while a grease tray collects the fat at the bottom. Units without a grease tray have the tendency to become dirty and messy, making it difficult to clean. So a grease tray is unavoidable.
Cleaning Process
It is best if you could take out the dirty parts and put them in a dishwasher. This would save time and effort, and everything gets done automatically. There are some ovens that come with dishwasher-safe components. For the others, try buying one which is at least resistant to stains. Stains can become a big hindrance, and it makes the body look unattractive.
Electric v/s Propane Gas
Some of the devices listed here are fueled by propane gas, while others need an electric point to operate. Now make a decision according to where you would be using it the most. If you are going to use it in your backyard and there are no plug points around, it is best to settle for one that works with propane gas or natural gas.
But if you need it indoors mostly, an electric gadget would be more suitable. Also, see if your area is prone to power cuts. If that is the case, again, electricity might be an issue, and gas is a better option. Keep all of these into consideration before purchasing.
Motor
The motor is the most important part of a device, and it cannot burn out fast. To ensure this, it is best to go for an option that has a sealed motor. Some devices have the motor in a sealed compartment at the bottom. The seal prevents grease from penetrating inside and damaging the motor. This is crucial as you cannot prevent grease from trickling down while cooking meat.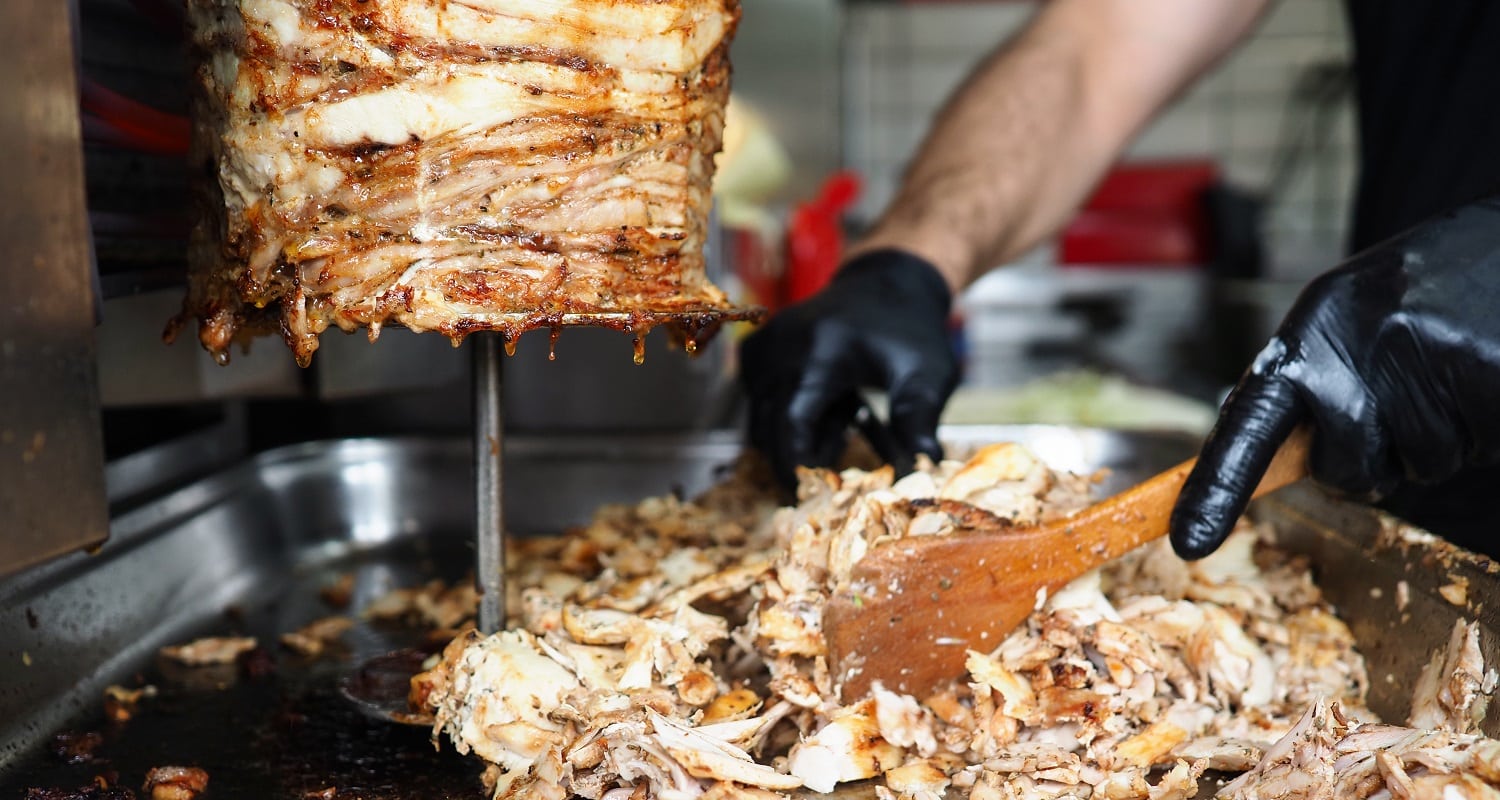 Verdict
After testing each of our recommendations extensively, we felt that the Spinning Grillers 4 Burners Shawarma Machine is the one that stands out for its brilliant performance. It works like a breeze and comes with no significant flaws.
If you're looking for a versatile unit, the Spinning Grillers 5 in 1-Shawarma Machine is one of the best options out there. It is known for its excellent capacity to tackle different recipes with ease.
With this, we come to the end of this guide. By now, you must be well-versed and ready to make a decision. Let us know if you have any further queries in the comments section below, and we'll be more than glad to help you.
Happy shopping!
Related Articles
7 Best Smokers for Turkey Right Now [Buyer's Guide]
5 Best Gyro & Shawarma Machines
13 Best Small & Compact Microwave | Reviews & Guide
10 Best Food Scales | Buyer's Guide and Reviews
15 Best Electric Smokers – Guide & Budget Picks
13 Best Steak Knives Right Now | Buyer's Guide
5 Best Small Traeger Grill For Backyard & RV BBQs
5 Best Smokers for Turkey Right Now [Buyer's Guide]
7 Best Smoker For Making Jerky
11 Best Smokers for Summer Sausage
46 Best BBQ Forums, Websites & Broadcasts
6 Best Charcoal for Kamado Joe
Masterbuilt 20078715 Smoker Reviewed
Waring Pro ICT400 Double Induction Cooktop [Reviewed]
Broil King CSR–3TB Electric Cooktop Reviewed
Legendary Camp Chef Explorer 2 Stove Under the Microscope
Induction Cooktop 101| Consumption, Usage, Voltage, Temperature
7 Best Broan Range Hoods Reviewed [Buyer's Guide]
13 Best Portable Induction Cooktop  [Reviewed & Buyer's Guide]
11 Best Gas Cooktop With Griddle