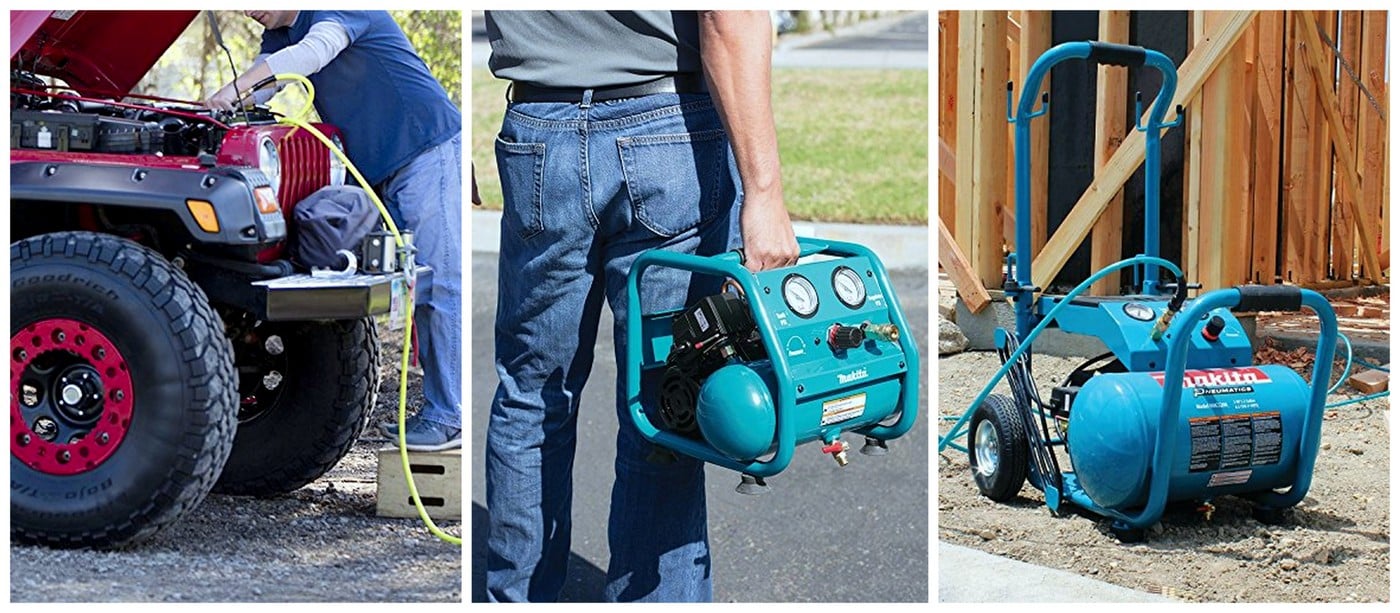 If you are a heavy-duty mechanic, a contractor, or a serious DIYer, you already know air compressors are a must-have in your workbench arsenal.
From pressure washing stubborn surfaces to sandblasting wood and metal, this versatile tool can achieve all difficult feats with perfect ease.

QUICK COMPARISON: Our Top 3 Picks For 6 Gallon Air Compressors
However, buying an air compressor that suits all your requirements is a lot easier said than done. The market is flooded with cheap quality products, and more often than not, we fall for false gimmicks and end up choosing one that yields poor performance. 
Here, we have prepared a list of the 9 most affordable and versatile air compressors available in the market.  
But in case they don't meet all your needs, you will also find an extensive buyer's guide that will take you on tour to explain each useful feature of the nine best 6-gallon air compressors. 
So, before any further ado, let's begin, shall we?
Best 6 Gallon Air Compressors
IMAGE
PRODUCT
DETAILS

Our Top Pick

Our Top Pick

California Air Tools 6-Gallon Air Compressor

Ultra-quiet unit with 60 decibels
Features an oil-free pump
Reduces maintenance cost

VIEW LATEST PRICE →

1ST RUNNER-UP

1ST RUNNER-UP

Bostitch Pancake Air Compressor

150 max PSI 6.0-gallon tank
High-efficiency motor with easy start-up
Couplers to maximize air tool performance

VIEW LATEST PRICE →

2ND RUNNER-UP

2ND RUNNER-UP

PORTER-CABLE C2002 Pancake Compressor

150 psi max tank stores more air
Pancake style delivers added stability
Durable and low maintenance pump

VIEW LATEST PRICE →

Campbell Hausfeld 6 Gallon Portable Quiet Air Compressor

50% quieter than other compressors
Features durable soft-grip handles
Comes with an oil-free pump

VIEW LATEST PRICE →

DEWALT (DWFP55126) Pancake Air Compressor

Comes with 75.5 dBA noise level
Has convenient cord wrap for secure storage
Features easy start-up motor

VIEW LATEST PRICE →

Makita MAC5200 Big Bore 3.0 HP Air Compressor

Comes with a powerful 3.0 HP motor
Features an oil-lubricated pump
Features durable cast-iron cylinders

VIEW LATEST PRICE →

Makita AC001 Compact Air Compressor

Comes with a powerful ⅙ Hp induction motor
Features a lightweight design
Provides up to 125 PSI

VIEW LATEST PRICE →

CRAFTSMAN Pancake Air Compressor

Features durable, low maintenance pump
Comes with a 1year warranty
Lightweight and portable

VIEW LATEST PRICE →

WEN 2286 6-Gallon Oil-Free Pancake Air Compressor

Delivers a maximum pressure of 150 PSI
Features a durable construction
Comes with easy to reach quick drain valve

VIEW LATEST PRICE →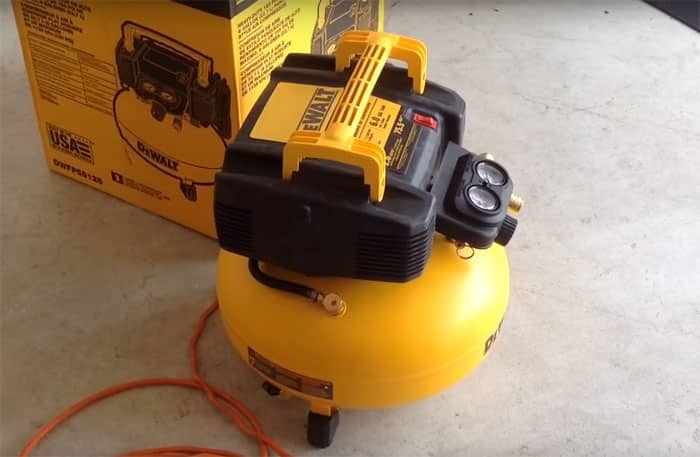 Let's start off this list with one of the quietest and highest-rated air compressors in the industry, The California Air Tools 6010LFC. The tool is engineered with cutting-edge technology that allows it to run as silently as a snail, even when operated in full power. 
Let's take a quick sneak peek into its core features!
Why Did We Like it?
This massive 6 gallon Air Compressor comes equipped with a powerful 1.0 HP motor (MP100LF) that is known for its superb sound insulation technologies. Not to oversell, but it is truly one of the quietest models we have come across till now.
This machine also features an Oil-Free Dual Piston Pump System that minimizes harmful emissions, delivering you clean air every time. Most of the buyers confirmed the pump ensures that there's no accumulation of dirt and oil inside, thereby reducing your maintenance charges.
Conveniently, this also comes equipped with a durable steel construction and also promises 4000 hours of uninterrupted performance. And as compared to most of the premium models, this is almost 40% more than what the other compressors offer at this price range.
To top it all, it's pretty lightweight (weighs only 54Lbs), which makes it easy for you to carry it around. 
So, if you don't mind spending a few dollars to bring home a powerful and ultra-quiet air compressor, opt for The CAT unit right away.
What Could've Been Better?
The only aspect that disappointed us a bit about this otherwise highly convenient model is the fact its relief-valve is prone to malfunctioning. Some customers reportedly said to have faced problems while shutting off the unit as the relief valve did not provide enough pressure. 
Pros
Ultra-quiet unit with 60 decibels

Features an oil-free pump

Reduces maintenance cost

Features MP100LF motor that lasts for 4000hrs

Is a lightweight model
Cons
The unit does not shut off due to low pressure of relief valve
Speaking of innovations that make our lives easier, Bostitch is the brand that you can rely on, eyes closed. The best part about Bostitch is that all of its compressors come with remarkable upgrades over their previous units. We recently got the opportunity to test the Pancake-compressor, and we're quite thrilled with the cutting-edge high-flow regulators that come within such an affordable price range.
Here's what the product has in store to offer.
Why Did We Like it?
After a series of tests and thorough scrutiny, we can say that for the ones looking for the best pancake air compressor that delivers value for money, the BTFP02012 can be your way to go. We were pleased to notice that the manufacturers have included everything that professionals look for in the air compressor in this affordable unit.
Not only is it oil-free and optimized for quiet operation, but it also comes with a secure switch-on mode. This allows you to turn on the device instantly, even during the coldest months of winter, when most other compressors fail to thrive. Another noteworthy aspect of this oil-free low-maintenance pump comes is that it comes with a 78.5 DBA rating, making it ideal for people who prefer a quiet work environment.
In case you are still not convinced, we must mention the model also features a high-flow capacity regularity system that ensures the device is pumping at an optimal level.  
What Could've Been Better?
Have you been wondering why the tool failed to grab the first slot despite features such convenient specifications? Well, the first aspect that holds it back is that the compressor is a little bit louder than the CAT model. Even if we choose to ignore this issue, considering the difference is almost negligible, what upset us was that the operational valve tends to get stuck sometimes, adding to your frustration.
Pros
Features 150 max PSI 6.0-gallon tank (22.7 L)

High-efficiency motor with easy start-up

Couplers to maximize air tool performance

Lightweight model
Cons
Operational valve gets stuck at times
As we are already two products deep into the list, we thought maybe it's the right time to introduce you to this high functioning unit from Porter-Cable. The brand is globally known for designing affordable and convenient tools that come with numerous attractive features, and it has struck the right chord again with the C2002 model.
Sale
Why Did We Like it?
This oil-free UMC Pancake Compressor from Porter-Cable is the ideal piece of machinery you need for finishing all your nailing and light framing operations in a snap. What makes it all the more convenient is that the compressor only needs roughly 130 seconds to reach the max pressure of 150 PSI. 
The air pressure is also sufficient for working for prolonged periods and saves you from the ordeal of frequently stopping in-between work to refill the tank. Adding to your convenience, its oil-free pump ensures you don't have to worry about oil spills or spend your hard-earned money on maintenance of the tool every other month.
It is also worth mentioning the machine comes equipped with a built-in thermal overload protection. Thanks to its low amp 120volt motor, the engine starts almost instantly and delivers long runtime even in cold weather conditions.
Another plus point of the machine is that it's pretty lightweight and comes with an ergonomic handle, allowing you to carry it around with ease. 
What Could've Been Better?
The only thing we didn't like about the compressor is its noise level. Though the machine claims to have reasonable noise cancellation upgrades and delivers an output of only 82 decibels, in reality, the sound seems to be a lot louder than that.
Pros
150 psi max tank stores more air

Pancake style delivers added stability

Durable and low maintenance pump

Lightweight and easy to use
Any professional with a decent knowledge of air compressors will be familiar with the name Campbell. The company's history of manufacturing high performing efficient tools date back to as early as the nineteenth century, and so far it has never failed to deliver quality products. 
Today, the manufacturers excel in the arena of air tools and accessories. And, with its latest introduction of the DC060500 model, it only sets the bar high for the rest of its competitors. 
Why Did We Like it?
When it comes to buying a sturdy and reasonably priced air compressor that can withstand a sufficient amount of wear and tear, Campbell can be a great option to consider. We have no qualms saying, the manufacturer aptly sums up the efficiency of the tool in the tagline "Half the noise, All of the power!" 
Speaking of power, the device is equipped with a whopping 7 Amp induction motor that functions at PSI 125. This makes it easier for you to tackle a wide range of projects like nailing, fastening, hobby painting, bolting, stapling like a pro.  
Another thing that really impressed us about this unit is its sturdy and convenient construction. The tool features a unique roll cage design that provides excellent protection to the motor and the key compressor components, increasing their longevity.
And if you prefer working in a calm and peaceful work environment, let's confirm the DC060500 is ideal for those who are sensitive to noise. Though it might not be the quietest one we have reviewed so far, it's still worth your consideration.
What Could've Been Better?
We must warn you that the many users have reported the unit slightly leaks around the regulator fittings. Although it can be easily fixed simply by tightening the screw, we hope the manufacturers will look into this issue and improve their future models.
Pros
50% quieter than other compressors

Features durable soft-grip handles

Comes with an oil-free pump

Comes with a quick-start option
If you are looking for a high-efficiency compressor within a reasonable budget, the DWFP55126 can be your go-to option. We were searching for a compact budget option that you can conveniently carry around for outdoor tasks and also use it for DIY projects in your home. And the DEWALT (DWFP55126), with its top-notch features, simply blew our mind! 
Why Did We Like it?
The first thing that got us interested in the DEWALT DWFP55126 Pancake model is the compressor comes equipped with an oil-free motor. And what we love about these types of oil-free pumps is they require almost negligible care and eliminate the necessity of regular maintenance like periodic oil-checks.
Another feature that makes this model stand out from the rest is the air power the compressor delivers. This amazing tool is capable of supplying a maximum pressure of 165 PSI and creating airflow of 2.6 CFM at 90 PSI, which is equivalent to providing air for more than three trim guns. 
Coming to the nitty-gritty, the device is equipped with a console cover and a protective rubber leg. These coverings protect the control accessories and prevent marring, thereby adding to its durability.
 Additionally, the convenient unit features 2 universal couplers and a ball drain valve for quick and easy tank draining. 
What Could've Been Better?
The only glaring shortcoming of the device is it does not include an air hose, and you will end up spending quite a few dollars buying it. This isn't great news for people who are on the lookout for budget models, and the manufacturers should resolve this bug on priority. 
Pros
Comes with 75.5 dBA noise level

Has convenient cord wrap for secure storage

Features easy start-up motor

Feature high flow regulator and couplers
Cons
Does not come with an air hose
Makita is one of those reputed companies who always strive to bring you the most efficient products that score high in terms of versatility and functionality. They have engineered the MAC5200 model with all the essential features a professional looks for in their compressors, and we can confidently say the unit offers exceptionally satisfactory efficiency. 
Why Did We Like it?
The Mac5200 is frankly one of those models which are able to handle tougher job site conditions under any given circumstances. What helps the tool achieve this difficult feat is its massive cast iron cylinder that comes with a greater bore and stroke for delivering increased compression. 
We were also really impressed with its out-of-the-box 3.0 HP piston that delivers enough power for running two framing nailers at once. 
We also observed, the manufacturers had durability in mind while designing the device and included a roll cage construction, which gives extra protection to the pump and motor assembly. Moreover, the pump is oil-lubricated for a cooler runtime and comes equipped with finned discharge tubing that dissipates heat quite efficiently, adding to the longevity of the model.
We also noticed it offers convenient features like a built-in storage compartment for air fitting and accessories as well as an air hose wrap for storing the 50 ft hose. 
Some of its other useful features include a tank drain valve, oil drain, and oil sight glass, which makes it easier to maintain than the petcock designed counterparts.
What Could've Been Better?
While this high-end model is an excellent option for tackling heavy-duty tasks, one thing that becomes a bit bothersome is its motor sound. Most other products in this price range feature proper sound-insulated construction, but that doesn't seem to be the case with this model.
Pros
Comes with a powerful 3.0 HP motor

Features an oil-lubricated pump

Features durable cast-iron cylinders

Comes with rugged wheel for easy portability
Cons
Sound insulation not up to the mark
Makita has bagged yet another position in our coveted list of best air compressors with their latest addition, the AC001. Like all Makita devices, this impressive model comes with a powerful and reliable motor that left us surprised with unparalleled functionality. 
Why Did We Like it?
The professionals speak highly of the AC001 unit for its quick recovery time, the longer shelf life of the accessories, and its consistent performance. 
And, upon testing the device, we were excited out of our wits to see how efficiently its 1 hp motor manages to handle a wide variety of tasks. It can deal with the case and base installations, trimming and finishing of carpentry work, and spray painting sessions smoothly like a cakewalk.
Also, the model is ideal for indoor use. It comes with a lower noise output of 72dBA, which ensures you do not get interrupted during work due to weird rattling sounds.
Coming to its core features, the machine is equipped with a Low-AMP-draw system that eliminates the chances of tripped breakers during startup. Not only that, but it also features a roll cage construction that gives extra protection to the pump and motor, adding to their durability.  
Additionally, it comes with an ergonomic lever handle that plays a significant part in improving the maintenance of the compressor as it allows the air tank to be released easily.
What Could've Been Better?
We found the compressor tends to hold a lower amount of air after a few months of use and needs to be filled more frequently. This might be a bit of an issue if you want to use it for projects that demand prolonged working hours. 
Pros
Comes with a powerful ⅙ Hp induction motor

Features a lightweight design

Provides up to 125 PSI

Low noise for operator control
Cons
Does not hold much air after a few months of usage
Speaking of top-rated Air Compressors, we cannot ignore this oil-free model that comes with a 13 piece accessory kit, the Craftsman (CMEC6150K). The unit offers numerous attractive features and is ideal for tackling a wide range of pneumatic and air tool applications. 
Why Did We Like it?
Beginning straight with the USP of the product, this standard, affordable unit comes with a 13 piece accessory kit saving you the ordeal of buying each one separately. The kit includes a 25′ X ¼" Pvc air hose assembled with plug & coupler, blow gun, rubber tip, three inflator adaptors, tire gauge, tire chunk, etc., making it totally worth your dollar.
You may consider including this handy device in your car tool kit as it's very thin, which makes it easy to transport, and it comes handy during repair work in case of emergency blown ups. 
Also, the tool is engineered to provide a 150 Max PSI that delivers adequate cut-in pressure for a variety of applications. With this remarkable tool in your garage, you can finally say goodbye to those days of frequent interruptions in your workflow. However, though the Craftsman 6 gallon compressor delivers sufficient air pressure for basic projects, we would recommend you to not push its limits with heavy-duty work.
Noteworthy to mention, the tool is also pretty lightweight (it weighs only 30lbs) so, you can carry it anywhere you want for your outdoor projects.
What Could've Been Better?
In case you have assumed this heavy-duty compressor will allow you to work for long cycles, let us tell you that's not the case with this model. The motor runs for a bit more than 30 minutes, which won't be much of an issue for DIYers or professionals using the device for small trimming jobs. However, intense projects might overheat the compressor.
Pros
Features durable, low maintenance pump

Comes with 13 piece accessory kit

Comes with a 1year warranty

Lightweight and portable
Cons
Not suitable for intensive projects
The list would have remained incomplete without this versatile and affordable unit from WEN. If you want nothing but a reliable and functional unit that boasts of remarkable performance and durability, then little device from WEN manufacturers is definitely worth a look. 
Why Did We Like it?
This oil-free pancake compressor can be your ideal companion for job sites, garage, or indoor DIY tasks as it comes with simple controls deliberately laid out for ease of use. Also, the device has been optimized for travel and comes equipped with an onboard handle that aids easy transportation.
Impressively, 2282 also features a 1/4-inch NPT quick-coupler air outlet that allows for quick and simple hose changes. And what impressed us even further was its quick cold start-up feature that allows the device to operate instantly even during cold temperatures. 
We were happy to note the WEN 2286 is downright durable and is built with reinforced steel, which is guaranteed to last you for years to come. And, adding to your convenience, it comes equipped with three rubber-footed legs that guarantee utmost stability and prevent the tool from tipping over during operation
What Could've Been Better?
While everything about this unit is near to perfect, the motor is super loud and might get on your nerves after a couple of hours. But, considering the other useful features it comes with, the noise isn't a dealbreaker.
Pros
Delivers a maximum pressure of 150 PSI.

Features a durable construction

Comes with easy to reach quick drain valve

The three-legged design provides stability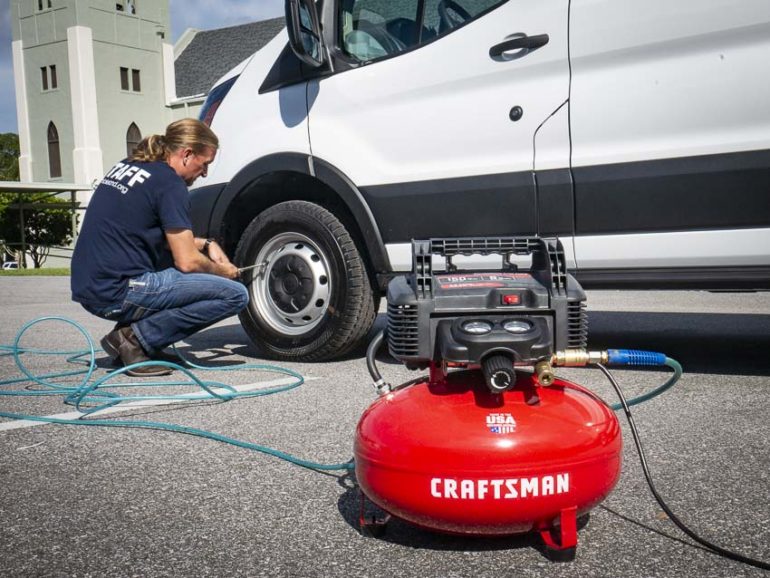 6 Gallon Air Compressors Buyer's Guide  
Undoubtedly, each of these 6-gallon air compressors are simply great for handling daily tasks like gauging finish nailer, auto tire inflation, and the like. But the most important question we should be asking ourselves is, "Which one will be best suited for our home & garage use?" 
You would certainly not want to throw around hard-earned money mindlessly into a tool that lasts only for a couple of weeks, do you?
So, to save you from the ordeal, we are going to walk you through some of the essential aspects to consider before hailing towards the shop. 
Analyze your requirements 
Are you going to use the compressor to power heavy-duty pneumatic tools and paint sprayers or for simpler tasks like inflating tires? In case you plan on using it to operate machines that demand high airflow, it's recommended to opt for one that comes with a high volume tank.
In short, the pressure and volume capacity of the tank will be fundamental to the functionality of your device. Therefore, if your work involves operating power-hungry tools like pneumatic sanders, wrenches it will be essential to opt for the 6 to 8-gallon compressors. Failing to choose one that's large enough for your intended use will result in periodically waiting in between projects for refilling the tank. And, needless to say, it will decrease your work efficiency significantly.
Know the airflow required
CFM and PSI are the keys to your compressor's functionality. Generally, compressors are measured in two fundamental ways, CFM (cubic feet per minute) and PSI (pounds per square inch). These are basically the most important numbers to consider. For example, if your device uses up air much faster than what the compressor is capable of delivering, you will need to stop frequently in-between work for the compressor to catch up.
For the best results, make sure to choose a compressor that exceeds the PSI as well as CFM requirements of the air tools you regularly work with. This will ensure you are not under-powered. We would recommend you to opt for one with 1.25 to 1.5 times more CFM airflow than what your air tools actually require. This will allow you to maintain the performance of your tools without overworking in any way.
Check the noise level
As you already know, air compressors are infamous for being noisy and loud. The standard compressors in the market vary within a range of 60-90 decibels. Though this might not seem to be a great difference at first, let us tell you, decibel scale is not like the other scales of measurements you are used to. Even a 10 DB increase is equivalent to double the amount of noise 
And, if you plan on using it indoors or in closed spaces, loud noise can become particularly problematic. However, on a brighter note, most of the new generation compressors are optimized with noise-canceling technology for silent operation. 
So if you are sensitive to noise, just go through our reviews before picking one, as most of the compressors we have included in this list come with superior sound insulation.
Final Verdict
Each one of the 6-gallon air compressor we enlisted here has quite a few strong suits of their own. However, it's quite evident that you wouldn't want them all nine, but a high-functioning one that does everything you dream of accomplishing.
In case choosing one from the lot seems complicated, let's do a quick recap of what we learned till now. If you want uncompromising functionality and performance, and don't mind spending a few more bucks to bring home a reliable device, go for the California Air Tools Industrial Air Compressor or the Makita Mac 5200. 
However, for buyers looking for a cheaper alternative, Craftsman, WEN, or the Bostitch air compressor can be the perfect option.
Have you used any of these compressors before? Then let us know about your experience in the comments section.
Good Luck!
Related Articles
7 Best Beginner Airbrush Kits With Compressor 
5 Best Airbrush for Body Painting
13 Best Air Compressors | Buyer's Guide and Reviews
10 Best Tire Inflators | Buyer's Guide and Reviews
10 Highest CFM Air Compressors 
10 Most Powerful Leaf Blowers to Consider
13 Brightest Light Bulbs For Garage 
10 Best Tire Pressure Gauges on the Market Today
10 Quietest Air Compressors For Your Garage
10 Best Hand Cleaner for Mechanics and Grease 
13 Best 30-Gallon Air Compressor
Makita Mac2400 Air Compressor Review
10 Best 80-Gallon Air Compressor to Consider
13 Best 20 Gallon Air Compressors 
13 Best Battery Chargers for Cars
13 Best Portable Air Compressor 
How To Refill Co2 Tank with Air Compressor?
13 Best Quiet Air Compressor for Your Home 
10 Best 60-Gallon Air Compressors 
13 Best 10-Gallon Air Compressors for the Buck  
10 Best Air Compressors For Impact Wrenches 
10 Essential Air Compressor Accessories You Need
10 Best Air Compressors For Nail Guns
13 Best Finish Nailers for Woodworking 
12 Best Gas Powered Air Compressor for the Buck 
13 Best Electric and Propane Heaters for Garage
12 Best Bi-Directional Scan Tools