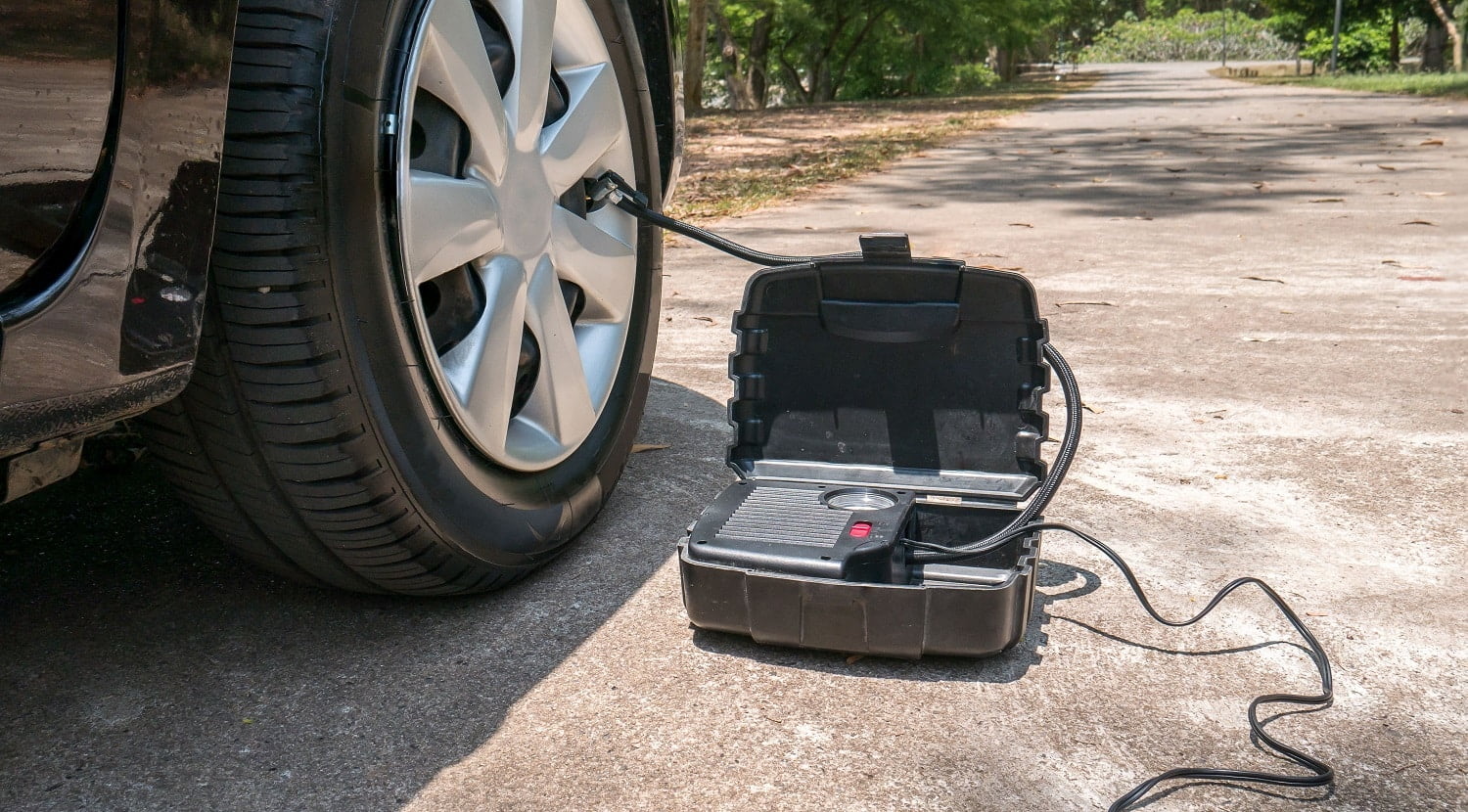 Deciding to buy an air compressor is an easy task. After all, it's one of the essential pieces of equipment you can have.
Whether it's pumping up a tire or inflating a soccer ball, air compressors can come in handy in a variety of situations. But the real challenge in buying an air compressor lies elsewhere.
Most air compressors come with a boatload of features. While some score high in portability, others offer unmatched air pressure. The decision of which one you should go with depends on a variety of factors.
That's why, to make the task easy for you, today we've decided to go ahead and review some of the best 12V air compressors in the market. We'll give you the complete lowdown on the features. And to make matters easier, we'll also introduce a buyers' guide to help you make the decision.
So, let's get going and see what's what!
Top 12V Air Compressor 
IMAGE
PRODUCT
DETAILS

Our Top Pick

Our Top Pick

Viair 00088 12V Portable Air Compressor

Highly portable
LED indicator
120PSI work pressure

VIEW LATEST PRICE →

EPAuto 12V DC Portable Air Compressor

Powerful yet convenient design
Versatile usability
Automatic-shut off function

VIEW LATEST PRICE →

Helteko 12V Portable Air Compressor

ABS and steel construction
Compact design
Automatic-shut off function

VIEW LATEST PRICE →

Slime 12V Portable Air Compressor

Single-button operation
Lightweight design
Comes with bright LED light

VIEW LATEST PRICE →

AstroAI Portable 12V Air Compressor

Max pressure of 100 PSI
Highly accurate operation
Integrated overheating protection

VIEW LATEST PRICE →

Sunvook Portable 12V Air Compressor

Fast inflation capability
13 feet long power cord
Easy-to-carry design

VIEW LATEST PRICE →

Superflow 12V Portable Air Compressor

Multi-use tool
Compact and simple to use
Super-grip handle

VIEW LATEST PRICE →

Kobalt Portable Air Compressor

Easy-storage design
Digital gauge display
Versatile use

VIEW LATEST PRICE →

Seekavan 12V Air Compressor

Automatic shutoff
Fast and powerful operation
Compact and efficient design

VIEW LATEST PRICE →

Lanxtech Cordless Air Compressor

Rechargeable battery
Digital LCD 
Advanced safety features

VIEW LATEST PRICE →

Wagan Digital Air Compressor

Dual AC/DC powered
Easy to read digital display
Auto turnoff feature

VIEW LATEST PRICE →

Tcisa 12V Portable Air Compressor

Multi-function design
LCD backlit digital screen
Longer operating time

VIEW LATEST PRICE →

TireTek TT-303 RX-i 12V Portable Air Compressor

Quick-connect hose
Auto shutoff feature
Multi-purpose operation

VIEW LATEST PRICE →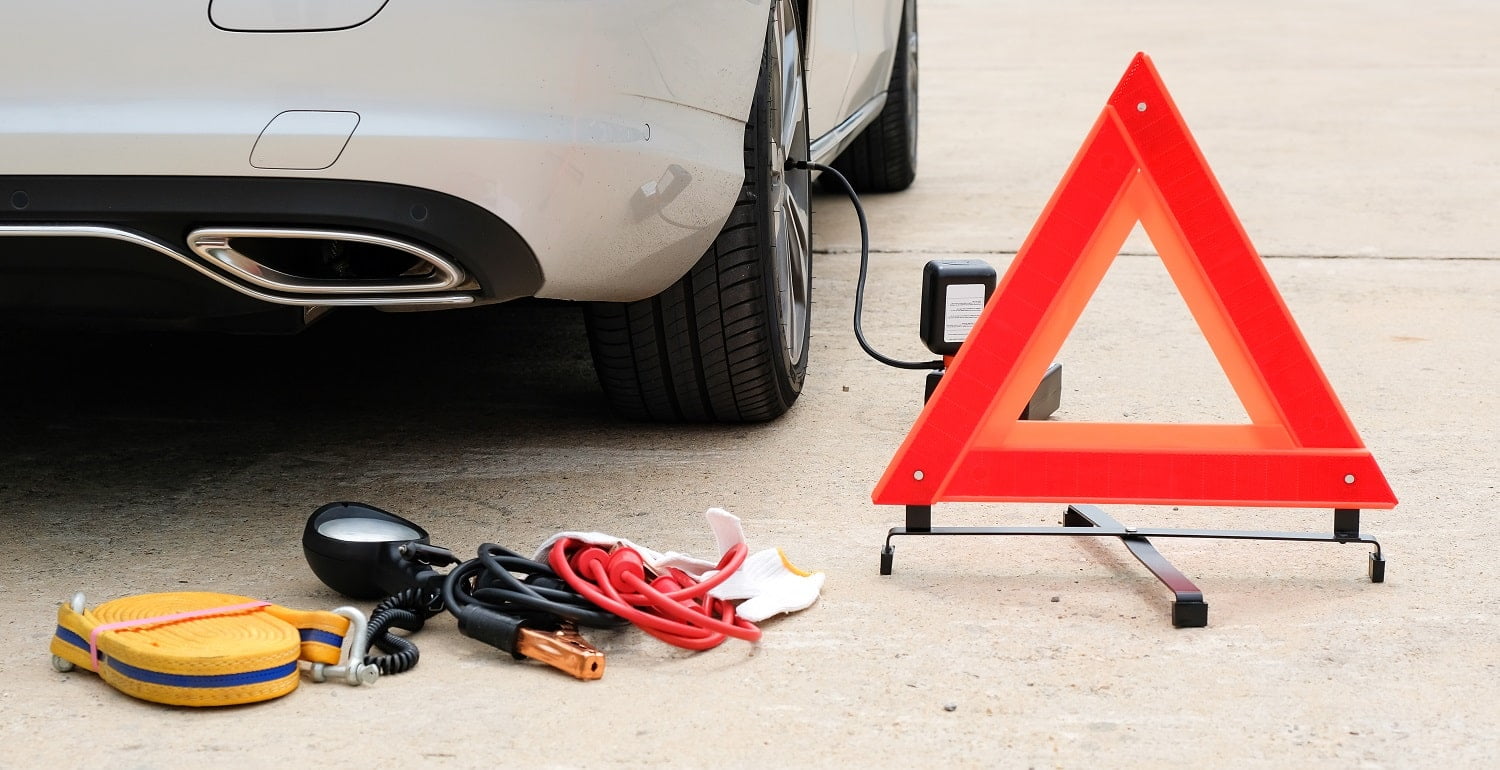 Seeing as people usually look for the best first, we've decided to list the top product on the list at the beginning. And this 12V powerhouse from Viair is undoubtedly the best one on the list, if not the market. Sleek, powerful, and handy, this is one air compressor you need to have in the trunk of your vehicle.
Why Did We Like It?
To be frank, it was the brand name that attracted us in the first place. Viair has been serving the air compressor market for over two decades, and being an ISO-certified business, they're known for products that have impeccable quality.
If you've ever been stuck with a flat tire by the roadside, then you know the importance of a reliable air compressor. And this 12V wonder from Viair didn't disappoint one bit. Viair has certainly distilled their 20 years of experience in this machine.
The device offers a 120PSI max operating pressure, which is enough for any make or model of car. We've tested it on several vehicles, including trucks and SUV tires, and the compressor provided an impressive performance on all tires up to 33 inches.
What's more, the device comes with a 10-feet power cord and 16-feet air hose, which means you have an ample range of movement. It has even got a 3-piece inflation tip kit that improves its versatility. In short, this is a complete compressor for all vehicular needs.
What Could've Been Better?
The only thing we'd have improved in the device is the power sourcing mechanism. It's powered by alligator clamps that must be attached to the car battery, which means your engine needs to be running for it to work. We'd have preferred if the device ran from a lighter socket, as this is more convenient.
Pros
Tough metallic construction

Long power cord and air hose

Versatile usability

Ample working pressure
Cons
Doesn't work from lighter socket
The second place on the list is occupied by EPAuto, another well-known manufacturer of portable air compressors. And convenience is the key operating word when it comes to this model. If you're looking for a powerful compressor that fits your trunk and purse, then this is the one to go for.
Sale
Why Did We Like It?
When it comes to portable air compressors, the first combination that anyone looks for is that of convenience with power. And this model from EPAuto fits the bill perfectly.
With a maximum working pressure of 70PSI and inflating speeds of 1.06CFM, this is decidedly a powerful machine. What struck us the most, however, was that it delivers this power in a surprisingly compact body.
The compressor itself weighs merely a pound, which means you won't have any trouble carrying it in your trunk. Further, it plugs directly into any car's cigarette lighter socket, which means there's no need to connect it to the car battery, like with the previous item.
Versatile in use, the device can be used for inflating tires on cars as well as bikes. What's more, it's even equipped with an easy to read digital display and LED flashlight. Add to that the auto-shutoff feature, and you've got a compressor that's worth the money.
What Could've Been Better?
The only downside to this otherwise excellent product is that it's not suitable for inflating truck tires. This is a damper for truck owners who'd like to get a taste of the ease of use that comes with it.
Pros
Lightweight build

Power-cable with backup fuse included

Overheat protection

CE certified
Cons
Doesn't work with truck tires
Next on the list is the 12V portable compressor from Helteko, and this one is yet another winner in our opinion. Built with a combination of durable ABS plastic and stainless steel parts, this is a device that promises and delivers long term operation. And that's only the first reason why you should consider buying it.
Why Did We Like It?
First off, the futuristic design. Looking like something out of a sci-fi movie, this is a portable compressor that gets all the right stares. But it's not all form and no function either, for the device delivers a whopping 150PSI peak pressure.
Durable in construction, lightweight, and compact, it can easily fit in the trunk of your car and get you out of a sticky situation. Apart from inflating car tires, it also works with motorcycles and bikes.
We found the operation speed of the device to be pretty quick. Using it on a mid-sized vehicle tire, we were able to inflate it within a few minutes. Plus, there's no risk of over-inflation as it comes with an auto-shutoff feature to prevent this from happening.
Equipped with a LED light and 11.5 feet cable, it connects to the cigarette lighter port of your car. What's more, you get all essential readings from the digital display that comes with the device. Plus, it's extremely quiet in operation, which is a bonus.
What Could've Been Better?
It doesn't come with an AC-to-DC power adapter, which means if you want to use it at home, you'll have to purchase the adapter separately. This adds to the cost of the product and makes it less affordable.
Pros
Digital LED display for readings

Comes with three additional nozzles

18 months extended warranty

Usable with sports equipment
Cons
Doesn't come with AC-to-DC adapter
The final item on our list comes from Slime, but don't be turned away by the name. Though not as renowned as Viair, Slime's got a reputation for turning our quality products that get the job done. And this highly portable device from their end is decidedly compact but delivers power enough to blow you away.
Sale
Why Did We Like It?
We've already seen some of the top performers in the 12V air compressor category. So for the final item, we've got one that strikes the perfect balance between compactness and affordability.
Weighing in at a little under two pounds, it's got all the necessary features without the added weight. Just plug it into your car's 12V port and voila! You've got a full tire in under eight minutes flat (pun intended!).
Another useful aspect of Slime inflators is that they are tire-sensor safe, which makes them perfect for regular use. The built-in pressure gauge measures up to 100 PSI, and the single touch startup button makes for smooth operation.
It's even got a long enough air and power hose, with cord storage facilities built into the product. And for the price, it packs sufficient power to fulfill all your inflatable needs. The best budget buy, in our opinion.
What Could've Been Better?
We all agree that this is a rather nifty product, but there are two minor points that we'd like to improve. First, we'd like the housing for the power cords and hoses covered, as this helps to maintain the aesthetics. Secondly, it'd be more power-efficient if the LED light had a dedicated on/off switch.
Pros
Remarkably slim and compact design

Built-in pressure gauge

Standard 12V operation

Storage compartments for power cords and air hose
Cons
No on/off switch for LED lights

Storage compartments lack cover
Up next, we've got the AstroAI 12V air compressor, which boasts of being made from high-quality materials. Fast and straightforward to use, it makes inflating tires a comfortable and enjoyable task. Promising and delivering unmatched accuracy of pressure, this is an option you should seriously consider.
Why Did We Like It?
Our primary reason for including this product is its advanced accuracy and safety features, which make this a secure option for most users. The highlight of the piece is an integrated inline fuse that improves the safety of the device.
And while we're on the subject of safety, we need to mention the overheat protection feature that ensures the device turns off automatically on overheating. Also, its simple operating mechanism means that anyone can use it without much difficulty.
Coming to the accuracy levels, we were glad to note that the device has been calibrated to give readings that are correct to 1% of the desired pressure. This eliminates all the guesswork from the inflation process and ensures proper tire pressures.
Finally, we must mention the LED-backlit measurement screen, built-in LED flash, and additional adapters for inflating anything from air cushions to balloons. In short, a complete solution for all your inflation needs. And it also comes with a three years warranty, so that's a bonus.
What Could've Been Better?
The only downside to this product is the fact that it can only run on 12V DC. This means you shouldn't risk using the device with home electricity supplies, as this might damage the fuse. Stick to your car's 12V port, and you'll be good to go.
Pros
Integrated inline fuse

Highly accurate measurements

Three years extended warranty

100PSI max pressure
Cons
Works only on 12V DC supply
We're already on the penultimate item, and this one's a real steal deal. Fast inflating, multi-purpose, and utterly easy to carry, the Sunvook portable air compressor makes sure you're never down with a flat ever again.
Why Did We Like It?
With a flat design and easy-to-carry ergonomics, this digital tire inflator from Sunvook can be a lifesaver. Using this tool, you can test tire pressure whenever you want and avoid flats on the road.
The device comes with a fast inflating technology, which means you can inflate any tire to full capacity in under five minutes. What's more, it can even be used with regular inflatables such as sports balls and rubber rafts.
The digital display makes setting the desired pressure a simple task, and the user-friendly design ensures anyone can use it with ease. It even has a built-in LED light for ensuring operation in the dark.
And if even that doesn't have you impressed, then you'll surely be wowed to know that the device has a max pressure of 150PSI. Silent in operation, high on power, and designed with overheating protection and auto-shutdown, this is a device that's made with the user in mind.
What Could've Been Better?
The only problem we faced with this device was that it gets hot very fast. This means even with the overheating protection, there's a good chance it might get damaged with continuous use. We suggest a cool off period of at least ten minutes before you use it again. This should take care of the heating problem. 
Pros
Powerful pressure output

Multifunction nozzle

Silent operation

User-friendly design
Occupying the seventh spot on our list is the Superflow 12V air compressor, which we have found to be one of the most versatile air pumps we've tested. Convenient to use, portable in build, and utterly simple in design, this is one device that'll never let you down. Just put it in your car and relax, for you're fully covered.
Why Did We Like It?
As far as air compressors are concerned, this one checks a lot of the right boxes. The first point it scores is in the range of flexibility. Fully equipped with an easy-grip handle and carry-bag made of nylon, this is a device that's easy to take anywhere the road takes you.
The compressor draws stable power from your vehicle's 12V cigarette lighter port and uses a 16-feet hose to supply air. With 140PSI max power, it can fill your car tire in under two minutes. Now that's what we call fast!
Another aspect of the product that's pleasantly surprising is its compact yet sturdy build. Although it's exceptionally lightweight and occupies very little space, that doesn't stop it from packing a whopping 1300 cubic inches of air output.
It even comes with two adapter nozzles and a ball inflation needle, which makes it easy to use this compressor for inflating sports equipment. Overall, this is a product that can be a great asset to any householder or vehicle enthusiast.
What Could've Been Better?
Despite all the great things we had to say about the compressor itself, the power cord does leave something to be desired. At only five feet, it's a bit too short to allow for fluid maneuverability, and you might have to invest in an extension cord to make things work for you.
Pros
Highly convenient build

Useful for general inflatables

Fast and powerful operation

Safe operation
Portability is the crucial component of this portable air compressor by Kobalt, one of the better manufacturers of air-tools. And this two-in-one portable air compressor is perfect for all your on-road as well as in-house requirements. Wondering what we mean by that? Just read on to find out more.
Sale
Why Did We Like It?
One look at this product and you're sure to want one for your car, or whatever use it needs to fulfill. This versatile air compressor isn't limited to being good enough for only inflating tires. It's also great for several other applications.
Whether you need to inflate an air mattress or set up the kiddie pool for your toddlers, this can be the goto device. Apart from the standard air-hose, the product includes a pair of sports needles, a raft nozzle, and even a Presta Valve Adapter.
This only leads to a quantum increase in the versatility of the device. Plus, the compact design ensures you can store and carry it in your car or even on a motorcycle for emergencies. It's also got a digital gauge that displays the air pressure you are using.
When it comes to power, this device has the dual capability of operating from a 12V power outlet as well as a 120V one. This means you can use it as quickly at home as on the road for your vehicle.
What Could've Been Better?
There are two things that we'd like to improve in the product. First, the air hose, which is only two feet long and needs to be increased substantially. Secondly, it doesn't come with an on-off switch; you have to plug and unplug it for operating. This can lead to unnecessary hassles.
Pros
Lightweight and compact design

Auto shutoff feature

Quieter operation than many other models

Additional storage compartments for accessories
Cons
Short air-hose

No on/off switch
Up next, we have the very handy, very efficient, and highly portable 12V air compressor from Seekavan. An extremely user-friendly product, this multi-purpose air compressor has the potential to be your constant companion, with a few caveats.
Why Did We Like It?
When testing 12v air compressors (and believe us, we've tested a lot of them), the major problem that we've faced is that of over- or under-inflation. That's why when we used the digital auto-inflate of this product, we were pleasantly surprised.
Not only does it provide the right amount of air to your tires, but it also automatically shuts off whenever the required pressure level is reached. We tested this one out with most standard tires, and it didn't take more than five minutes to fill any.
Apart from tires, the three multi-purpose nozzles of the device can be used to inflate anything. Sports balls, bike tires, beach accessories…you name it, and this one fills it up. Plus, it's even equipped with an LED light for nighttime operation.
Finally, we'd like to mention the extremely user-friendly design that this compressor sports. Compact and efficient, it even comes with special compartments to store the power cord and hose. All things considered, this is one of the most convenient compressors we've tested in a long time.
What Could've Been Better?
Now for the caveats. First off, the hose length is a bit too short, which leaves the unit dangling to reach valve stems on tire tops. Secondly, the instruction manual needs to be more explicit; we had considerable trouble deciphering it all.
Pros
Highly convenient design

Precise pressure gauge

Fast operation

LED lighting options
Cons
Short air hose

Unclear instructions
As you might have gathered from reading the above reviews until now, one of the major pain points with portable air compressors is the wire length. However, this particular unit has the advantage of being entirely cordless! This makes it a unique piece among the 12V air compressors we've tested. Just read on about it to know more.
Why Did We Like It?
As mentioned above, the entirely cordless design of this product sets it apart from the rest of the flock. Powered by a massive 1800 mAh rechargeable battery, this unit can inflate vehicle tires and beach balls with equal ease.
Packed in a nifty carry case, the compressor comes with a twin-sized air nozzle, a wide plastic tip, and Presta and Dunlop valve adapters. This complete set of accessories ensures that you can use the unit in any situation.
The auto shutoff feature is present as usual, and the digital gauge displays pressure settings accurately. What's more, it even comes with overheat protection and LED lights, which make the operation of the device that much more straightforward.
With a maximum inflatable pressure of 130PSI and an ergonomic design, this is a product that's made to help you out of tight spots. Plus, it's got a fresh look to it, which makes it all the more appealing.
What Could've Been Better?
The only pain point we faced with this unit is that even though it's powerful enough for most vehicles, nevertheless it can't be used on trucks. This limits its otherwise versatile use to some extent.
Pros
Entirely cordless design

High capacity rechargeable battery

Ergonomic handle

Comes with overheat protection
Cons
Can't be used for truck tires
The next item we have for you is by Wagan, an all-American firm located in Hayward, California. And with over 35 years of experience under their belt, every product they make is imbued with unmatched expertise. Just take a load of this air compressor from their stable and see for yourselves.
Sale
Why Did We Like It?
As you might have already picked up, the highlight of this product is the twin AC/DC operation. This simply translates to the fact that you can use it with the cigarette lighter socket of your car as well as any standard 110V wall outlet.
The dual operation gives the compressor an added advantage over cigarette-socket-only models. The twin operation means you can use the unit at home and on the road for emergencies with equal ease.
The digital display ensures that you get exactly the pressure you need, and shows readings in multiple units. Plus, the auto-shutoff feature protects your tires (and other inflatables) from over-inflation.
With a 100PSI max pressure and flow rate of 15 liters/minute, this is indeed a powerful air compressor. What's more, the lengthy power cords ensure restriction-free operation, and the price is reasonable enough, so it's a steal deal either way.
What Could've Been Better?
 The warranty, which only extends for a year and is a bit too little, in our opinion. Another concern that we'd like to point out is the flip-down lever that attaches to the tire stem. It's a bit flimsy looking, but we've used it without significant problems till now.
Pros
Works with both AC as well as DC power

Automatic operation

Sufficient cord length

Versatile operation
Cons
Only one-year warranty

Flimsy flip-down lever
Most 12V air compressors are built with the primary purpose of acting as tire inflators. However, the Tcisa compressor can be easily used with other inflatables such as sports balls, swimming accessories, and even inflatable rafts. But it doesn't stop there and goes on to offer a number of other nifty features as well.
Why Did We Like It?
Smartness is the first word that comes to mind when you set eyes on this air compressor. Fully equipped with preset pressure mechanisms, it comes with a built-in auto-off feature that ensures the safe operation of the device.
Whether you're a car person, an ardent biker, or an SUV veteran, this device has something to offer everyone. We tried this one out on standard sedans, motorcycles, and even inflatable rafts, and the performance was more than wonderful.
However, the one thing that impressed us about the product was the tire pressure monitor. Not only does it allow you to keep an eye on the tire pressure, but it also has the capability of displaying the readings in four different units. Now that's flexibility.
The bright LED lights on the device show the amount of thoughtfulness behind the product, as this makes it easy to use in the dark. Plus, the display screen and device feet are protected by durable, anti-vibration rubber guards that prevent unwanted movement.
What Could've Been Better?
The weight. At over five pounds, this is a decidedly heavy product. However, seeing as you're most likely to carry it in your trunk, this shouldn't pose much of a problem. Still, we think it could've been a lot lighter with a bit of careful engineering.
Pros
Multi-function operation

Smart tire pressure monitor

Long power cord and air hose

Four pieces LED lights
We know how harrowing it can be to deal with a deflated tire, especially when you have an urgent appointment. If you've ever been in such a spot, then you'll appreciate the speed and efficiency which the TireTek TT-303 provides. Fast, portable, and easy to use, this is an air compressor that can take care of all your vehicular needs. And then some.
Why Did We Like It?
 If there's one thing we like in an air compressor, then that's speed, and this one provides precisely that. The 100 PSI max pressure ensures that your car or bike tires are inflated in a jiffy.
Easy to use and portable to a fault, this device plugs into your vehicle's 12V Cigarette Plug for power. Just set the pressure to your desired level, and the pump does the rest. It even has an auto shutoff feature that prevents over-inflation.
And don't think its functionality is limited to vehicles either. The compressor comes with four additional nozzle adaptors, including a Presta Valve. This means it can be used to inflate anything from air mattresses to water toys, and more.
Add to that the bright LED indicator light, low-noise operation, and portable carry case, and you've got the perfect inflator for your needs. And yes, the device comes with extra long air hose and power cords that make it easy to operate. Overall, one of the best devices in this price range that you can buy.
What Could've Been Better?
The pressure gauge accuracy, which we often found to be below the actual mark. While the auto shutoff feature doesn't allow over-inflating, you might end up under-inflating your tires due to inaccurate measurements. 
Pros
Extreme ease of use

Quiet operation

Essential accessories included

Advanced safety features
Cons
Inaccurate pressure gauge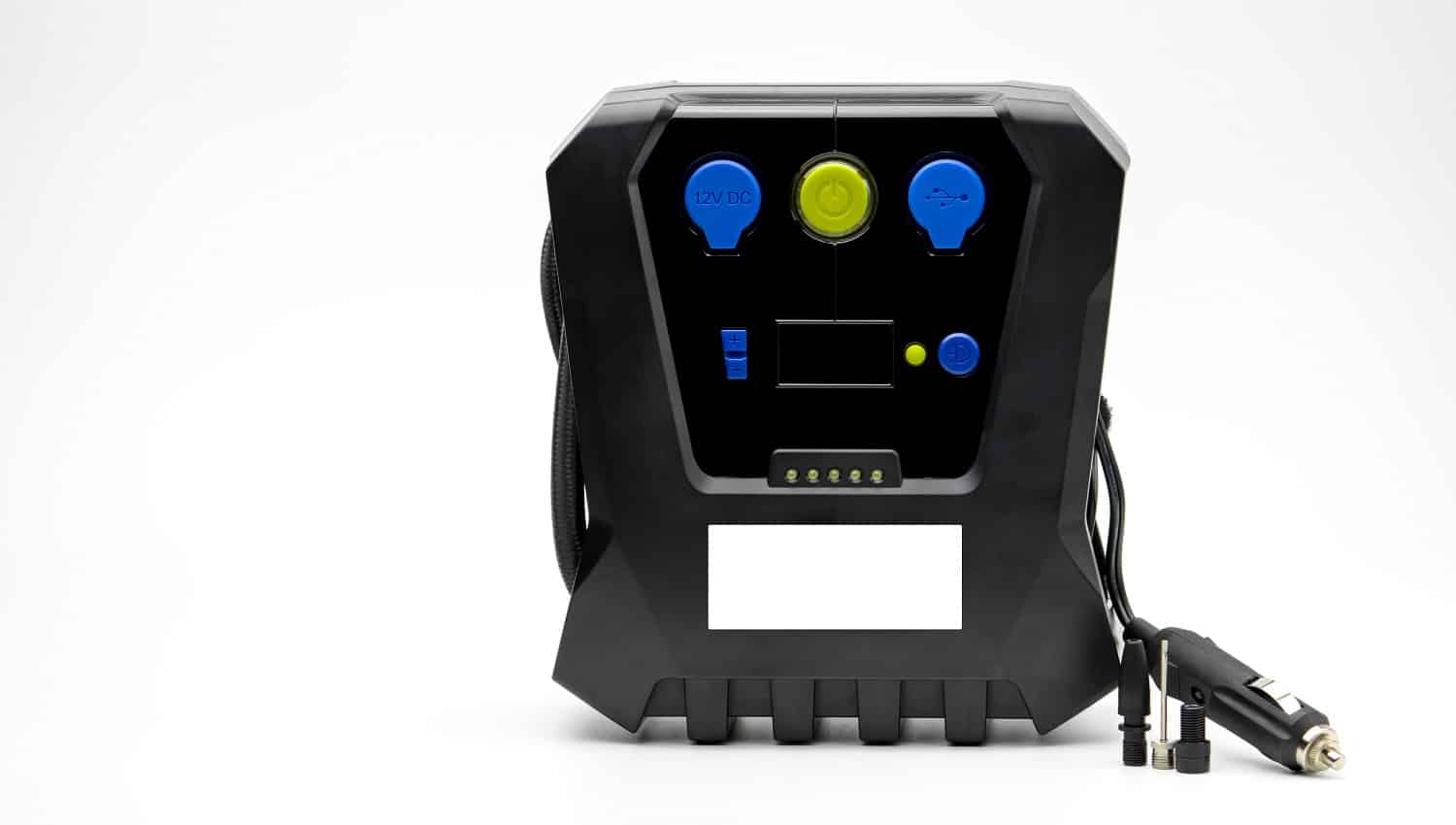 12V Air Compressor Buyers' Guide
Wait a bit! If you're ready to rush out and get the first item on the list, then be advised: it might just not be the best for your needs.
12V compressors come with a bevy of features, all of which are comparable. Yet there are a large number of factors that play an essential part in the choice of the right device. Unless you pay attention to them, then you might just end up with the wrong compressor.
That's why we've decided to make the task easier for you with this handy buyers' guide. Outlined here, you'll find all the information that you need to make the right decision when it comes to 12V air compressors. 
Let's see what factors you need to keep in mind.
Socket Type
The socket type determines the kind of power input that your air compressor requires. Most portable 12V compressors come equipped with a cigarette lighter connector that plugs into the 12V port of your car.
There are certain compressors, however, which can also be plugged into standard wall sockets. The choice depends on where you plan to use your device. If you're primarily interested in using it on the road, then go for the cigarette lighter type.
However, if you also need to use it at home for inflatables, then make sure the compressor has a wall socket connector. As an alternative, you can even go for ones with rechargeable batteries.
PSI Levels
The PSI levels determine the maximum pressure levels that your compressor can deliver. Usually, the higher the PSI levels of your compressor, the greater its inflating power. However, you must take care to adjust the PSI levels on your device according to requirements, as too high a pressure can lead to damaging your inflatables.
Safety Features
When buying a 12V compressor, you must keep in mind the safety features of the device. One such important feature is auto-shutoff, which ensures that your tire doesn't get overinflated. 
The auto-shutoff feature works by turning your device off automatically once the desired pressure level is reached. This helps to maintain the right tire pressure and also ensures the device's safety.
Compressors tend to get hot with repeated operation; this means they need to cool off between use. The best way to ensure this is to go for a model that has an overheating protection mechanism, which indicates when the device is getting heated above the safety levels.
Cord And Hose Length
The next thing that you should keep in mind when deciding on a 12V air compressor is the length of the power cord and air hose. Unless these two are amply long, you'll have trouble maneuvering the compressor and reaching complicated tire orientations. 
Take care to ensure that the air hose, as well as the power cord, is at least ten feet in length. This way you'll have enough room to move around and won't have to attach the compressor in an awkward position.
LED Lights
Let's face it: tires don't go flat only at opportune moments, as anyone who's been stuck with one on a dark highway will testify. In such a situation, it can become confusing, not to mention hazardous, to get out on the dark road and inflate your tire.
That's why, if you're planning on using your compressor on long road trips, then we recommend getting one with LED lights. This not only helps you to see the tires correctly but will also make you visible to any oncoming vehicles and thus avoid accidents.
Additional Attachments
Finally, we'd like to mention that if you want to use the compressor for inflating anything other than tires, make sure it comes with the right attachments and pins. Otherwise, you might face difficulty in using the product to its fullest possible versatility.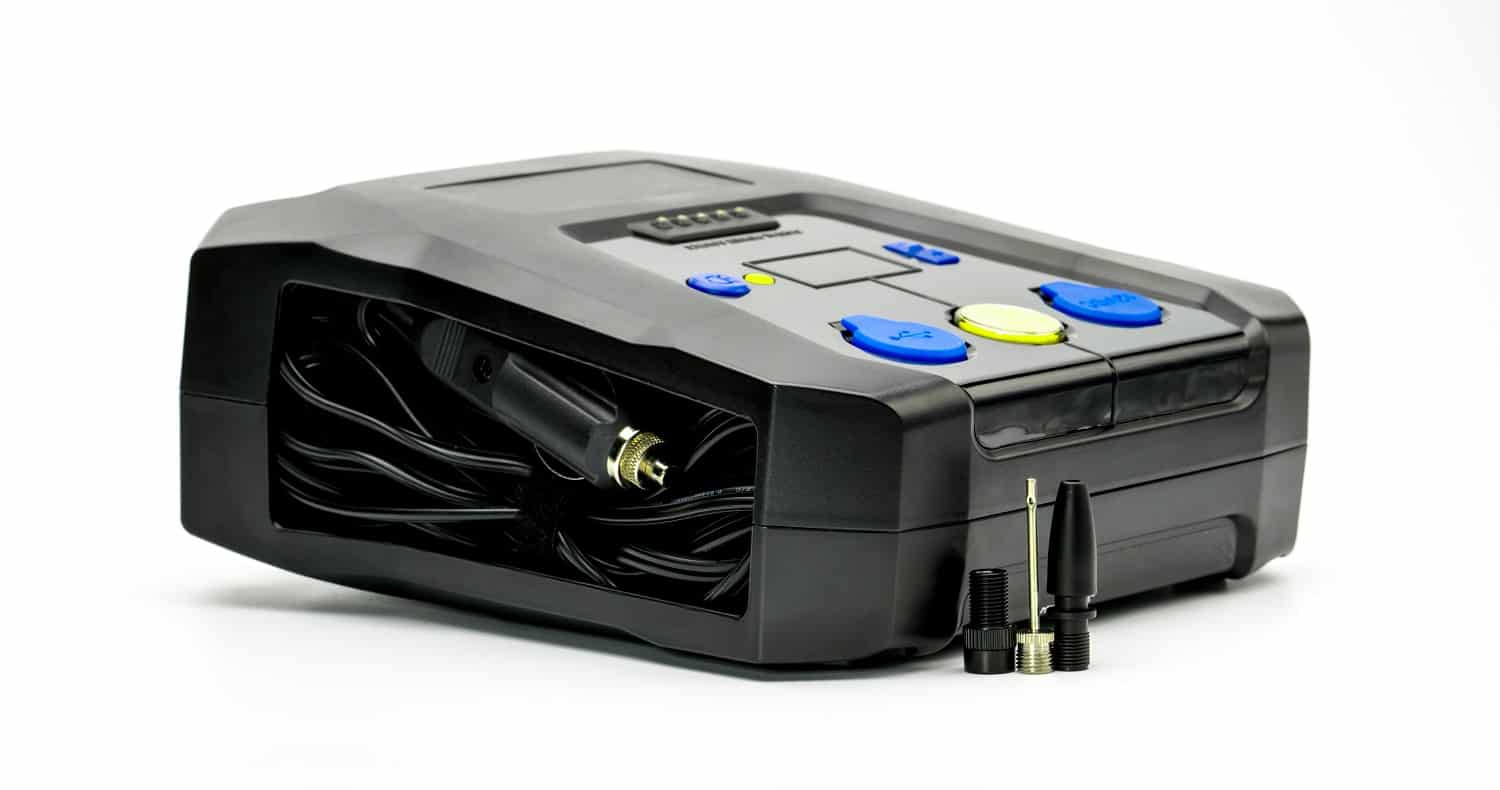 Verdict
Now that you know all there is to know about 12V air compressors, you can take the leap and choose the best one. Before you do that, however, here's a quick recap of our best picks from the list.
The overall winner is the Viair 00088 model, which is the first item on our list. This model provides unmatched power and value for money. Coming at a close second are the EPAuto and Helteko models.
And yes, if you're looking for a budget buy, then you can't do better than Slime. It's slim, it's sleek, and has all the power you need, minus the unnecessary frills.
With that, we'll take our leave, hoping that you enjoyed going through this compilation as much as we enjoyed putting it together. Here's wishing you find the best air compressor that money can buy.
Till next time!    
Related Articles
13 Best Air Compressors | Buyer's Guide and Reviews
10 Highest CFM Air Compressors  
9 Best 6 Gallon Air Compressors for Your Home & Garage
10 Quietest Air Compressors For Your Garage
13 Best 30-Gallon Air Compressor  
Makita Mac2400 Air Compressor Review
10 Best 80-Gallon Air Compressor to Consider
13 Best 20 Gallon Air Compressors  
13 Best Portable Air Compressor 
How To Refill Co2 Tank with Air Compressor?
13 Best Quiet Air Compressor for Your Home 
10 Best 60-Gallon Air Compressors 
13 Best 10-Gallon Air Compressors for the Buck 
10 Best Air Compressors For Impact Wrenches  
10 Essential Air Compressor Accessories You Need
10 Best Air Compressors For Nail Guns
13 Best Finish Nailers for Woodworking 
13 Best 60 Gallon Air Compressor 
12 Best Gas Powered Air Compressor for the Buck 
11 Best 4000+ PSI Pressure Washers  
9 Best Air Tools Oil Review | Top-Rated Pneumatic Nail Gun Oil