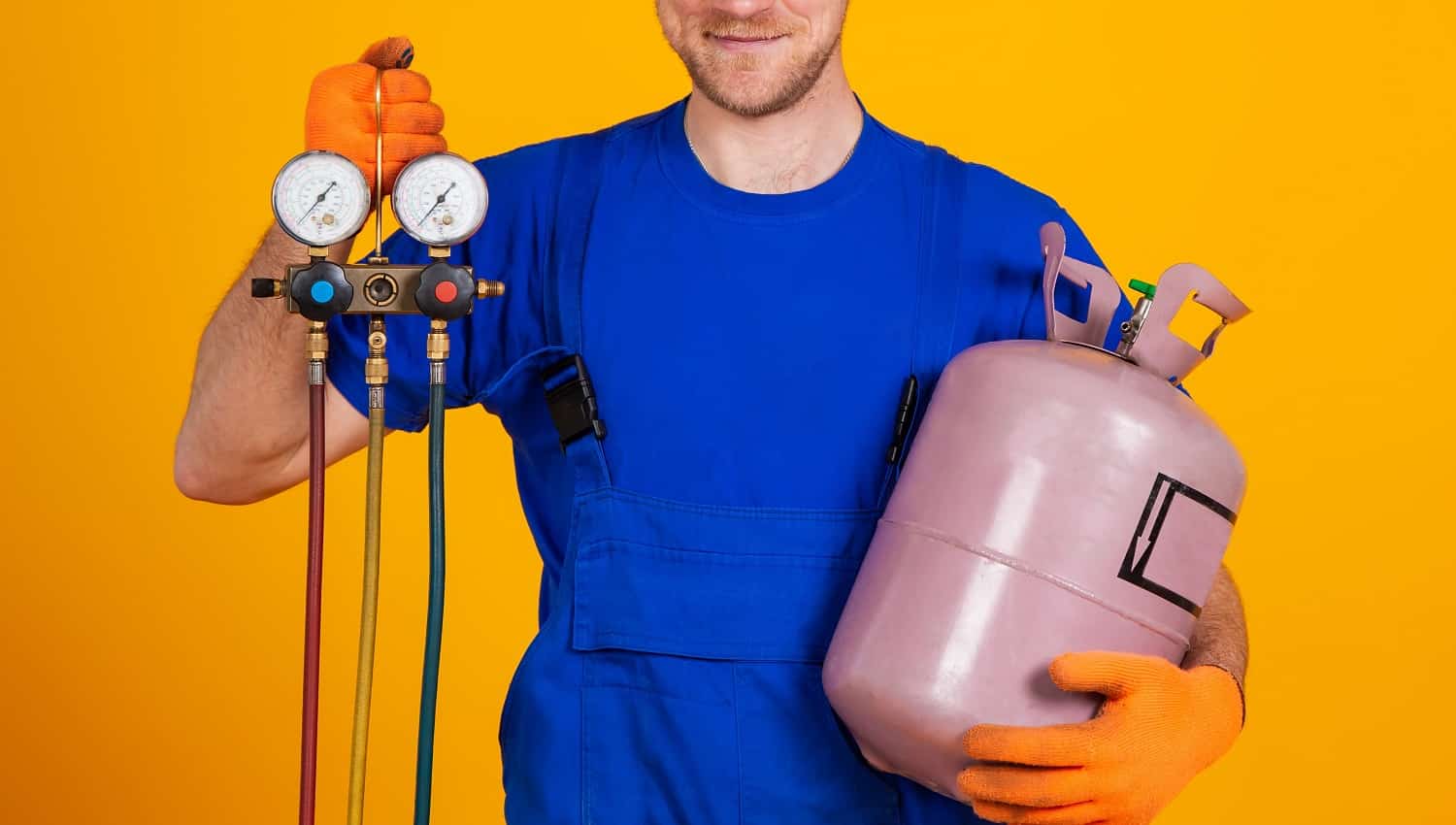 Can we all agree that loud air compressors are downright frustrating?
No one wants to work alongside a unit that constantly hammers the eardrum. And just because air compressors can generate a lot of power, it doesn't give them the liberty to make all that noise.
With this thought in mind, we set out to get a quiet air compressor – but our story did not meet its happy end. The wide range of options out there made us take a step back, and that's when we decided to shortlist the 13 quietest units. 
If you have met the same fate as us, or are planning to buy a quiet air compressor, then our list is a must-read for you. We've included every little detail to simplify your decision making before you spend all those hard-earned bucks.
So let's begin!
Top 13 Quiet Air Compressor
IMAGE
PRODUCT
DETAILS

Our Top Pick

Our Top Pick

Makita MAC2400 Big Bore 2.5 HP Air Compressor

Big Bore engineered pump
Air filter
Roll cage construction

VIEW LATEST PRICE →

DEWALT DWFP55126

Portable
Oil-free pump
High flow regulator

VIEW LATEST PRICE →

California Air Tools CAT-10020

Steel tank with wheels
Bleed valve
Silencing air filters

VIEW LATEST PRICE →

Campbell Hausfeld Portable Quiet Air Compressor

Dual-piston pump
80% duty cycle
Easy to carry

VIEW LATEST PRICE →

Rolair JC10 Plus

1725 RPM motor
Compact size
Low amperage draw

VIEW LATEST PRICE →

Hitachi EC28M Quiet Air Compressor

59 dB
Rubber suction feet
Small footprint

VIEW LATEST PRICE →

CRAFTSMAN Air Compressor

6-gallon air tank
Helpful handle design
13 accessories kit

VIEW LATEST PRICE →

DEWALT Air Compressor D55140

High flow regulator
2.6 amp oil-free motor
Heavy-duty cast-iron construction

VIEW LATEST PRICE →

California AirTools 2010A

2-gallon tank
Low maintenance
Light and easy to carry 

VIEW LATEST PRICE →

Excell SAC22HPE Quiet Air Compressor

Roll cage design
Oil-free pump
125 PSI

VIEW LATEST PRICE →

BOSTITCH Pancake Air Compressor

0.9 horsepower motor
15 amperage draw
High flow regulator

VIEW LATEST PRICE →

Stealth 2 Gallon Ultra Quiet Air Compressor

Sleek design
Rubber reinforced handle
6 feet cord

VIEW LATEST PRICE →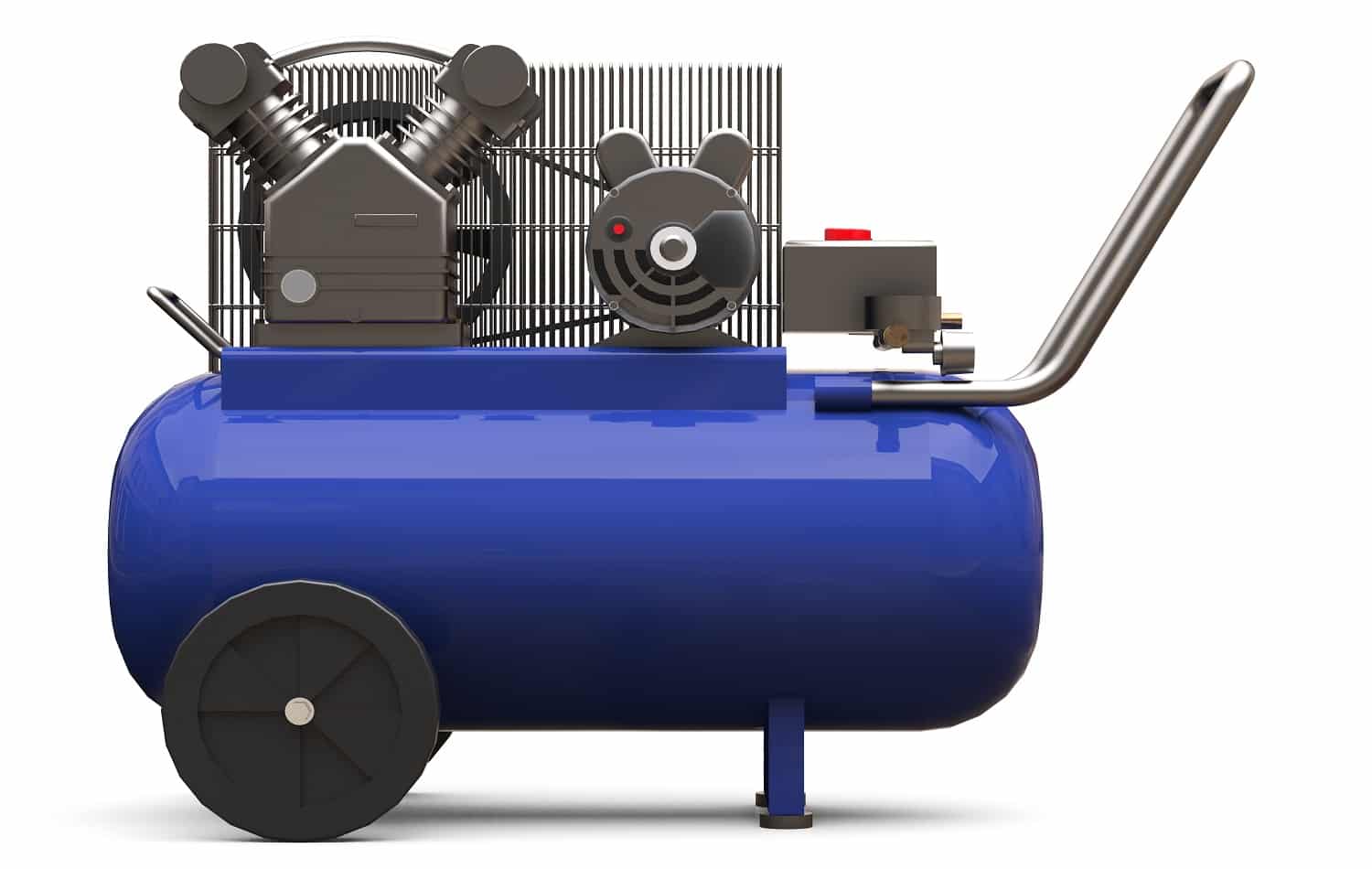 Our top pick for today's list is the Makita MAC2400 Big Bore 2.5 HP Air Compressor. This high-performing power unit is one of the brand's most elite air compressors with a durable design and easy maintenance. What's more, its industrial-grade performance comes at an affordable price.
Why Did We Like It?
First and foremost, there is a lot of positive feedback from both homeowners and professionals.  An all-out highlight is its Big Bore engineered pump cylinder. The bigger radius of the cylinder, and the longer strokes of the pistons operating within account for the compressor's efficiency.
To put it straight, this arrangement reduces the number of cycles required to produce the desired volume of air. This also enhances the overall durability of the pump for longer hours of operation.
With a low amperage draw, the unit reduces the chances of blowing off the circuit at start-up, thus maintaining optimum user safety. Furthermore, it's twin stacked engine delivers a combined output of 130 PSI for the same operating pressure value.
The cast iron roll cage construction makes the compressor sturdy enough to withstand harsh job site environments. Besides, an industrial-grade air filter cleanses the input for clean and efficient power delivery.
Overall, the Makita MAC2400 is a great combination of power and efficiency that comes without burning a hole in your pocket or rupturing your eardrums!
What Could've Been Better?
We tried to power an air gun for blowing out one of our filters, and we noticed that the pressure drops rather quickly. We had to wait until the pressure built up again. This is not much of a problem, apart from the fact that the whole process becomes a little time-consuming.
Pros
Easy maintenance

Rubber feet to prevent vibrations

Oil-lubricated pump for better operation

Low noise
For the second spot on this list, we have the Senco PC1010 air compressor. It is an ideal compact and lightweight compressor for those who are looking for something affordable and easy to carry. Even though it may not have enough power for bigger tasks, it stays truthful to its average power output.
Why Did We Like It?
We wanted to explore the more residential friendly air compressors on the market when we stumbled upon this one. And straight off the bat, we were impressed with its high customer ratings.
Its 1 horsepower engine has an operating range of 1/2 horsepower and a 1-gallon capacity tank. It may not sound like a lot of power, but its 125 PSI output is enough for operating smaller tasks like wood trimming or running a nail design unit.
What appealed to us the most is that its small size and compact design does not compromise with the user-friendly features. For instance, there's an overload switch mounted on the top of the compressor, which automatically turns off the engine during an overload. This also helps in preventing overheating of the motor. Once the temperature comes down, reset the switch to its initial position and you're good to go.
Its robust body makes the unit extremely reliable, while its heavy-duty carrying handle adds to its portability. If efficiency and mobility are on the top of your priority list, then this can well be your go-to compressor.
What Could've Been Better?
The only drawback of the Senco PC1010 air compressor is that its performance takes a toll during long work hours, even when carrying out moderate tasks. However, a quick 2-minute refill time helps solve the problem.
Pros
Quiet operation

6 feet long power cord

Quick refill

Durable enough for everyday use
Cons
Inconsistent output during long operating hours
The Dewalt DWFP55126 pancake air compressor is a reputable unit in the medium-sized category. Its large capacity tank comes with an overall lightweight design for effortlessly accomplishing a multitude of tasks. With very little recovery time, this unit performs a quick operation while you're on the go!
Why Did We Like It?
The first thing that drew our attention was its 6-gallon tank. For a compressor that's rated for light to medium tasks, the high capacity tank is nothing short of impressive. And if that's not enough, the 165 maximum PSI pressure makes the tank function like an even bigger unit.
Moreover, its low amperage motor can easily start in colder temperatures to minimize any delay. Coupled with an oil-free pump system, the unit delivers clean and adequate power required for those airbrushing tools. Besides, the oil-less pump makes maintenance easy, as you don't need to pay extra attention to oil refills.
For enhanced convenience, the compressor features a pair of universal couplers that supports two users or two equipment simultaneously. At the same time, it's important to note that running multiple tools together will deplete the tank faster than normal.
Complete with a console cover that protects the control panel from unwanted damage, this compressor is a competent blend of power and mobility for the price range.
What Could've Been Better?
Though this unit has a six times larger tank than that of the Senco PC1010, it was disappointing to observe that the Dewalt DWFP55126 does not have enough power to sustain long hours of operation. Nevertheless, it still performs well for its capacity.
Pros
Low noise level

High flow regulator for better performance

Durable

Rubber feet to minimize vibration
Cons
Not suitable for heavy-duty tools
Next up is the California Air Tools CAT-10020 air compressor. The huge 10-gallon air tank speaks for itself without creating a lot of noise. A strong overall build complements the compact design to render an industrial-grade look, while also taking care of maneuverability for home or job site use.
Why Did We Like It?
No surprises here as the 10-gallon steel tank is the unit's most prominent highlight, which can fill from zero to 120 PSI in just over 2 minutes. Much like the Dewalt DWFP55126, this one too has an oil-free compressor pump for hassle-free maintenance and easy start-up.
What worked the most for us is its bleed valve feature, which ensures optimum air consumption. The valve releases a little amount of air from the compressor pump while the unit turns on to create a temporary 'no-load' situation. This results in low current demand for a seamless engine start-up.
Since the compressor has been included in the quietest category, the unit needed to deliver on its low sound promise. And the pair of in-built silencing air filters do just that. Not only do these reduce the compressor noise, but they also filter the air-intake to discard airborne particles. In addition, the filters can be removed easily for regular cleaning.
Lastly, the heavy-weight steel tank is equipped with a pair of wheels for easy maneuverability. 
What Could've Been Better?
The only notable disadvantage for us is the positioning on the on/off switch. The design is such that it is integrated into the pressure switch, and you need to master the art of controlling it with some practice. It would've been better had there been a separate toggle switch on the control panel.
Pros
2-horsepower engine

Low-temperature start-up

Easy to access control panel

Dual 1/4-inch connect-ports
Cons
Lack of separate toggle switch
Yet another pancake air compressor on the list is from the house of Campbell Hausfeld. The reliable and quiet unit efficiently powers a number of devices, from finish nailers to air spray guns and other low consumption tools. What's more, all its utility comes with an affordable price tag.
Why Did We Like It?
Campbell Hausfeld has a legacy of manufacturing the quietest air compressors on the market, but there are many more reasons to like its power units. As for this compressor, its 6-gallon air tank is aided by a 1 horsepower motor that has a maximum capacity of 125 PSI. Operation wise, the 80% duty cycle means that it has a continuous run time of 48 minutes per hour. Talk about fast-tracking projects!
Like many other compressors in the range, this unit also comes equipped with an oil-free pump. In addition, its dual-piston design reduces the fill time for quick start and enhanced durability. 
We were also impressed with how its pancake design seamlessly blends with a roll cage construction to protect the vital components of the unit. Besides, it also has three wide rubber feet that completely absorbs the motor vibration. In fact, both these features relieved us from the stress of having any loose parts after long hours of work.
Its lightweight body also makes it easier to use the drain valve- all we had to do was simply tilt it forward instead of hunching over.
What Could've Been Better?
There is but one slight disadvantage-.the safety valve is not easily accessible. This will make things difficult, especially if there's a sudden air leak that needs immediate attention. But this is surely no deal-breaker.
Pros
Easily readable outlet pressure gauge

Easy to operate pressure regulator

Center-mounted handle for portability

Inexpensive air filters
Cons
Safety-valve is inconveniently positioned
Rolair JC10 is a popular choice among DIY enthusiasts for its productivity and affordable price. At 60 dB, this air compressor is suitable for use both indoors and outdoor. If you want to get rid of that small loud compressor, then this affordable unit is surely worth considering. 
Why Did We Like It?
To begin with, the 1 horsepower motor functions in tandem with a low 8 amperage power draw for easy start-up in colder conditions. Additionally, it has a 70% duty cycle, or it can continuously deliver for 7 minutes out of every 10 minutes. But you can keep aside the calculations, as the protective circuit gives you a warning before the motor gets overheated.
What's also worth mentioning is that unlike the more common practice, this motor is attached to a braided line, as opposed to a copper line. This makes it easier to replace the line in case of any irreversible damage. 
Similar to the Makita MAC2400, it also makes use of a roll cage construction to shield the engine and motor from job site adversities. Furthermore, it features double isolation- the compressor is rubber mounted on the frame, and the frame has rubber-tipped feet for better protection against vibration.
The 2.5-gallon tank comes in a compact shape and size, especially suitable for working in confined spaces. 
What Could've Been Better?
From our experience, we could guess that one or more control elements will be difficult to access- and we were right. The pressure gauge is located laterally, instead of facing upwards. Also, the rubber feet tend to leave a stain on the floor, which by the way, can be easily wiped off.
Pros
Easy to remove drain valve

Oil-less pump

Unloading valve for easy pressure release

Fitted with sound muffler
Almost halfway through the list and we'd like to introduce the Hitachi EC28M air compressor. This latest entrant in the brand's quiet air compressor range gets your work done as efficiently as quietly. With a host of user-friendly features, this relatively new model is worth considering.
Why Did We Like It?
At first glance, we were not too convinced about its power and productivity but were proved wrong in no time. To start off, its 1-gallon tank fills up pretty quickly to supply power at 125 PSI. To give you an idea, the subsequent output was enough to run our hose and nailer for a quick trim.
There are a number of things that the air compressor has in place for durability. Firstly, the oil-free motor has a highly responsive overload mechanism that promptly stops the motor in a possible overheating scenario. Its roll cage construction provides optimum protection to the valves and motor from external damage. In addition, the design is such that it doubles as an overhead handle for easy portability.
Not only that, but Hitachi has also left no stone unturned to make this unit user-friendly. Apart from the easily readable tank pressure and regulator pressure gauges, the regulator itself comes with a red locking ring. Simply decide the desired PSI and turn the locking ring to set the pressure in place. For its affordable price, we just cannot ask for more!
What Could've Been Better?
For its otherwise sturdy look and feel, the gauges seem to be a little flimsy. All we had to do was pay a bit more attention while carrying it around, so that the unit did not bump into any other surface.
Pros
Industrial-grade coupler for secure hose connection

Stainless steel discharge hose is corrosion-resistant

Centralized controls for smooth operation

Compact and lightweight
True to its brand name, the Craftsman pancake air compressor is indeed a skilled performer for its moderate price. This portable unit can hold up enough pressure to accomplish the intermittent tasks with absolute ease. What's more, its superior performance makes it ideal for the bolting, finish nailing, and stapling jobs.
Why Did We Like It?
The Craftsman air compressor has a simple and easy to use design that helps fulfill its primary duty of providing uninterrupted power. However, it doesn't compromise with durability either. This is evident from the fact that its motor comes with a cold start technology for hassle-free operation in lower temperatures. 
That the brand managed to equip the compact size with dual 1/4-inch NPT ports is commendable. Moreover, adjusting the output is as easy as familiar for new users and experienced operators alike. And how can we forget the pressure gauges with large and prominent markings!
The presence of a wide carrying handle makes it suitable to carry around, while the rubberized feet provide maximum protection to both the unit's base and the surface on which it sits.
We absolutely loved the 13 piece accessory kit that comes with this compressor. The blowgun with three interchangeable tips, quick connect plugs, tire inflation chuck and needle, among others, make this compressor a total value-for-money deal.
What Could've Been Better?
Similar to the Rolair JC10, this air compressor too has an awkwardly placed power switch. Also, we would've liked the unit to be a little quieter. Having said that, figuring out an appropriate placing distance to minimize the sound shouldn't be a lot of hard work.
Pros
Oil-free pump for minimum maintenance

Maximum pressure of 150 PSI

Quick compressor recovery time

Lightweight
The Dewalt D55140 is a portable and compact air compressor for your regular use needs. Its sturdy design makes it suitable to work with in almost any environment. At 71 dB, this air compressor is one of the more quiet units in the price range.
Why Did We Like It?
Having already worked with the Dewalt DWFP55126, we had pinned our hopes on this air compressor. And it didn't disappoint, to say the least. Its 1-gallon tank comes across as more capable than some other models in the same category. This is because the maximum pressure of 135 PSI is higher, as compared to the generally found 125 PSI models.
To ascertain this further, we tried the Dewalt D55140 for a variety of trim and custom installation jobs, as well as for testing the plumbing lines of our place. It's safe to say that the compressor's versatility is yet another all-out feature.
Although it may not seem to be that durable, its heavy-duty cast iron construction, combined with the rollcage construction accounts for the unit's longevity. Additionally, the full protection frame makes it capable enough to take a few knocks here and there. This feature will come real handy while working in confined spaces.
It's good to state that the multiple protective layers do not cost the compressor its portability. Weighing at 24 pounds, you'll hardly break a sweat for carrying it around.
What Could've Been Better?
Like many other air compressors, this unit from Dewalt is not devoid of a universal connector. However, the problem is that the connector may not be that 'universal' after all, since we couldn't attach a few of our tools that were to be tested.
Pros
Portable

Cord wrap for easy storage

Control panel guards the key parts

Compact design
For our tenth pick of the list, we chose to include another of California Air Tools' quiet air compressors. The 2010A is a small, compact and robust unit for all your indoor and outdoor needs. It has been designed to last longer than the standard air compressor.
Sale
Why Did We Like It?
The first thing that caught our eye was the positive customer feedback. Even though this isn't the most powerful air compressor, its fuel-efficient engine and aluminum-built tank put in all the effort to deliver as promised. Furthermore, a quick refill and recovery time helps you stay ahead of schedule.
So that you spend minimum time on maintenance, the air-compressor has employed two ways for enhanced longevity. Firstly, the oil-free dual-piston pump system takes out the need to monitor oil levels and delivers cleaner air. Secondly, its aluminum tank is rust-resistant. This makes it appropriate for use in areas that tend to have higher moisture content.
Like the Dewalt D55140, this compressor too has an overall lightweight design for easy portability. Moreover, it's easy to grip handle allows you to painlessly carry the unit from one place to another. The rubber tipped bottom minimizes the small amount of vibration that may occur while the compressor is running. 
What Could've Been Better?
Despite having a 2-gallon tank, this air compressor may not be suitable for more large-scale jobs. We've tried some 1-gallon units which had better performance, as compared to the 2010A. Nevertheless, it's a useful little unit for the smaller tasks on hand. 
Pros
Noiseless

Oil-free pump produces little heat

Weighs 35 pounds

Singe quick universal connector
Cons
Not suitable for heavy-duty jobs
One of the most affordable air compressors, the Excell SAC22HPE is a competent member of the moderately powerful category. With a low amperage draw and cold temperature mechanism, this unit has been designed to work 80% more quietly than most standard compressors.
Why Did We Like It?
For its affordable price, we were surprised to see the number of features that are found in the more expensive models. To start with, it's motor has a low amperage draw for easy pick-up. Also, the cold weather start feature assists its start-up on those chilly days. Also, this is a no-oil pump system for virtually zero maintenance.
We should also mention that this is one of the more user-friendly compressors, as its control panel has a convenient position, complete with gauges, regulators and quick connectors. This was a big relief, especially after dealing with a couple of units that had their switches placed awkwardly.
Much like the Hitachi EC28M, the roll cage construction of this compressor culminates into a carrying handle. Moreover, its rubber-tipped feet act as a shield against the vibrations and provide some much-needed stability. All and all, the unit delivers more as compared to its price.
What Could've Been Better?
Even though the equipment has a carrying handle for portability, we felt that it could've been a little more lightweight for the design. Nonetheless, it won't require a lot of muscle-flexing.
Pros
2-gallon tank

Easy to store

Long life

Cost-effective
The second last item on today's list is another pancake air compressor. The Bostitch 6 gallon air compressor is an upgraded version of its predecessor for better performance and easy portability. With low maintenance needs and high-efficiency motor, this is a simple and economical power unit for DIY enthusiasts.
Why Did We Like It?
Although looks shouldn't really find a preference while assessing the capability of an air compressor, one of the main reasons why we included this particular model was its resemblance to the Dewalt DWFP55126. Thankfully, its performance too was at par with the look-alike.
The 6-gallon tank can hold enough air to power medium pneumatic tools without interruptions. Not only that, the 0.9 horsepower motor is also equipped with cold start technology for trouble-free start-up during winters. In addition, the oil-free mechanism ensures better service life for the pump system.
There is no dearth of the more commonly found additional features either, as the pair of couplers and high-flow regulators assure optimum power efficiency. If you want a Dewalt pancake-like compressor at a lower price, then this unit by Boschitich can well be your go-to product.
What Could've Been Better?
Unlike its Dewalt counterpart, this air compressor has a maximum pressure of 150 PSI. But it's understandable at this price. Our main area of concern is that the pressure regulator sometimes has faulty readings. So you might have to adjust it accordingly.
Pros
Lightweight

Portable

25 second recovery time

Fits in confined places
Our final product of the day is a Stealth 2 gallon air compressor. Noiseless operation, stable design and easy maneuverability give this power equipment a spot in our list. This is one of the more affordable options on the market for DIY and residential projects.
Sale
Why Did We Like It?
Straight up, the powerful induction motor is capable of powering the medium-sized pneumatic tools without many hiccups. Its oil free pump system delivers clean power, that's not only easy on maintenance but also suitable for your spray painting jobs.
Stealth boasts of having an innovative quiet system that can reduce noise levels to 60 dB, which is the tolerable limit. Considering that some 1-gallon tank air compressors frequently cross this threshold, we could see why this is projected as a highlight.
Talking about stability, its Q235B steel body is both heavy-duty and resistant to bumps and creeks but is no obstruction to its portability. The reinforced rubber handles are comfortable for your hands, especially if you have to carry it for longer hours.
Lastly, the 6 feet extension cord gave us a flexible range for moving the compressor.
What Could've Been Better?
Like many other productive units on the list, the Stealth air compressor is also a bit on the heavier side, but the rubber handles work fine to negate its weight.
Pros
Long life-cycle

Fast recovery time

Quiet motor

Stainless steel body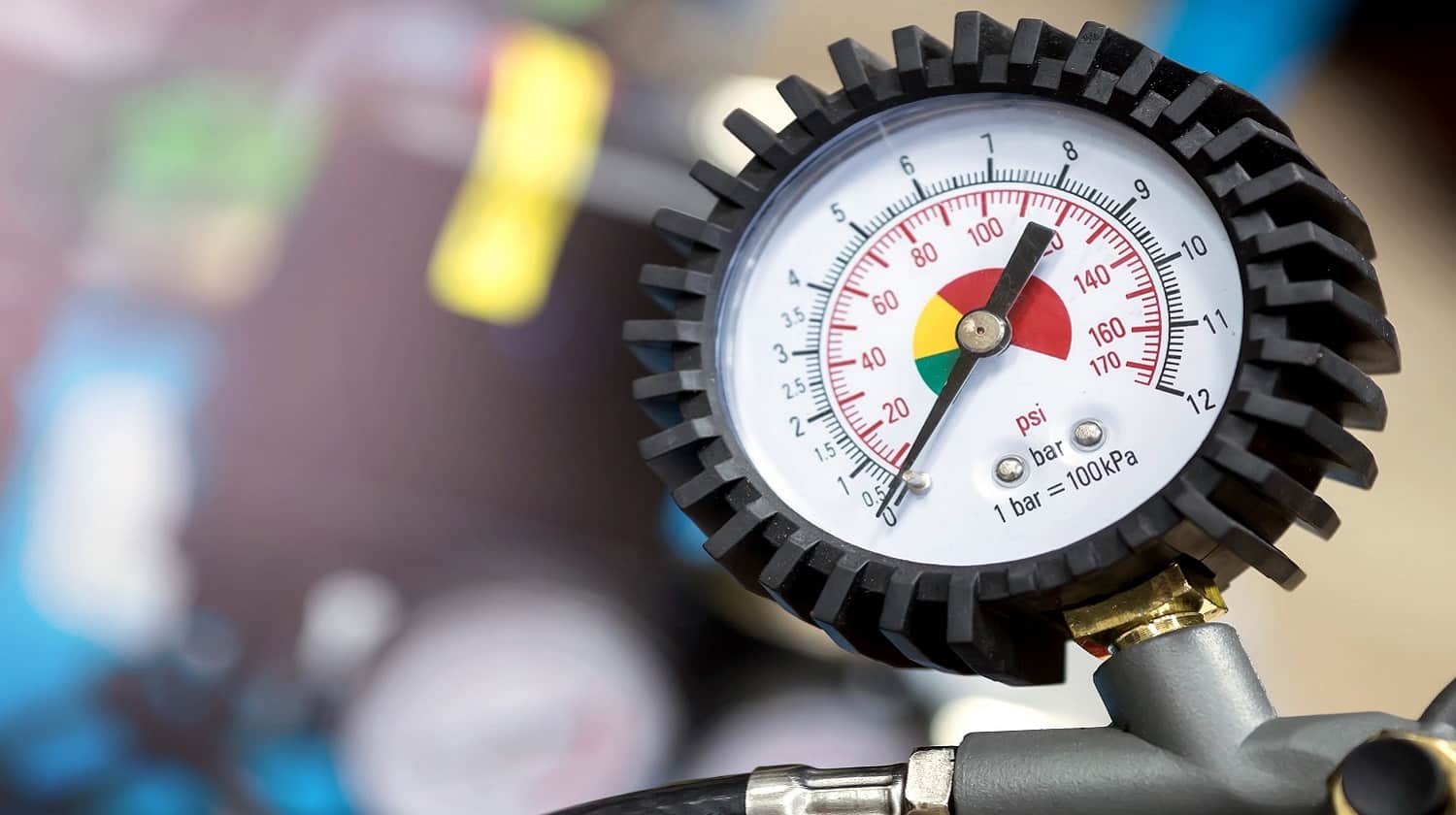 Quiet Air Compressor Buyers' Guide
We won't give you false hopes-buying an air compressor is easier said than done.
Even if you're looking for a quiet power unit, there are several other factors that need to be considered, so that your investment can actually fulfill your needs with minimum time and effort.
Long story short, we've noted down such features which may otherwise escape your mind. Read on to know more…
Noise level
That the operating dB should be on the top of your consideration is a no brainer. Generally, the quiet compressors are preferred for residential use. But some powerful units may have a slightly high sound-level. If you require such a powerful unit for the heavyweight trimming and refurbishing tasks, we would suggest that you figure out the right position for placement, so that the sound becomes less bothering.
Additionally, you may also shop for additional accessories like compatible enclosed containers or wear headphones/ear protectors for comfort.
Tank Size
A common practice while purchasing a quiet air compressor is to ignore the tank size of the unit. This is based on the generalization that a larger tank will produce more sound, which is not totally wrong. Some power units may have a larger tank, but comparatively lower sound level.
A good technique is to buy an air compressor that has a slightly bigger tank to make room for sudden needs that may arise in the future. Usually, residential pneumatic tools are easily operable by 2 to 6-gallon tanks. If you have a major task at hand, we would recommend a model that has an 8 or 10-gallon air tank.
Oil-free pumps
Our standard recommendation is to purchase a compressor with an oil-free pump system. Not only does this make maintenance easier, but it also ensures a longer service life of the engine.
Connect Ports
If your work requires the simultaneous operation of two related equipment, then we'd recommend a model that comes with dual connect ports. At the same time, it's good to know that multiple tools will drain out the tank faster than normal.
Portability
No matter what the weight is, most air compressors are equipped with carrying handles for better portability. However, a lot of units can still be difficult to carry around. If you require to frequently relocate the compressor, we'd suggest buying a lightweight compressor.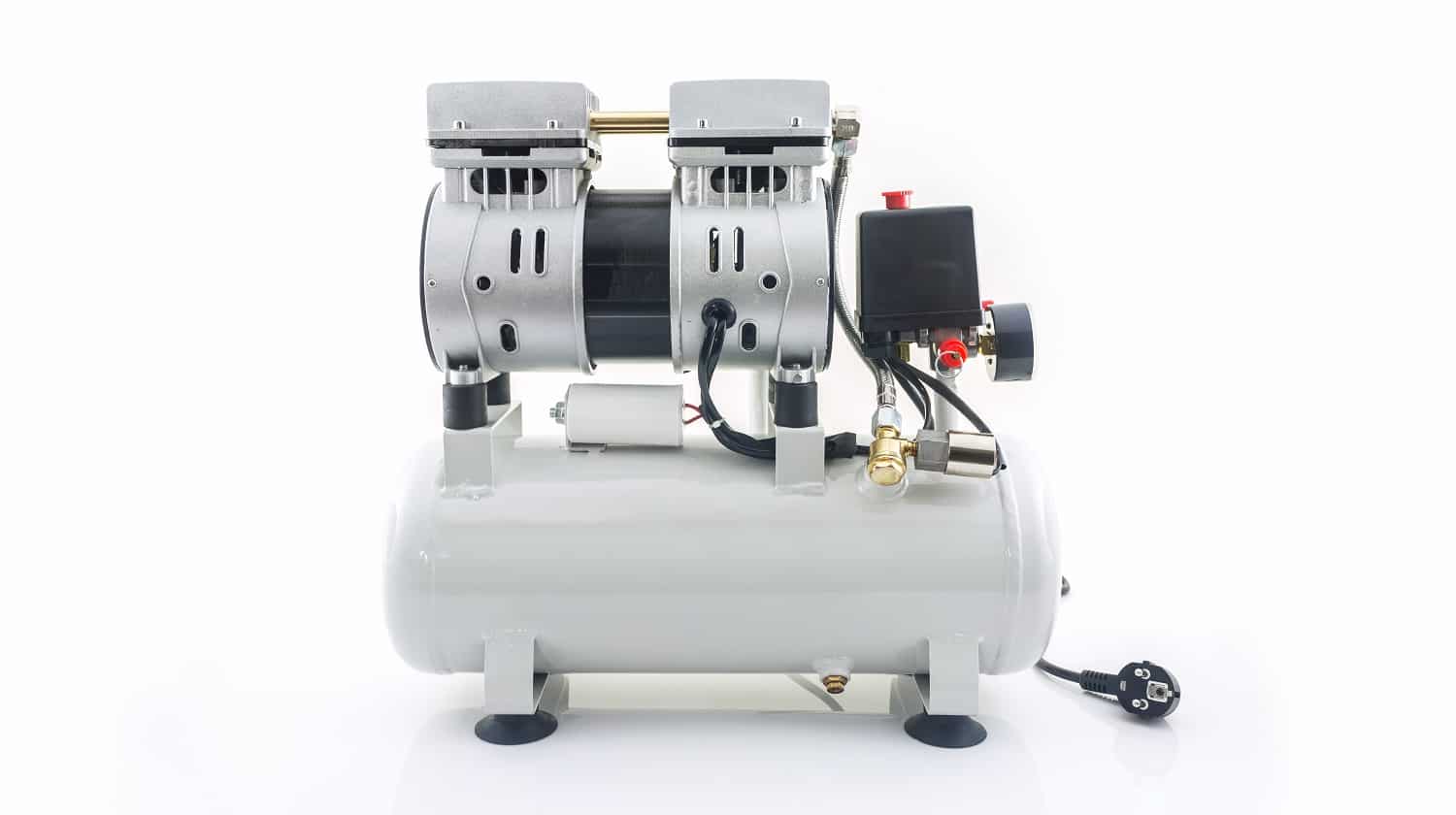 Verdict
Trust us when we say that the plethora of options would have left you all confused!
And that's why we compiled this list of 13 quietest air compressors that meet all your needs for DIY and residential projects. But before we say goodbye, here's a quick run-through of our findings for the day.
Both the Makita MAC2400 Big Bore and California Air Tools CAT-10020 are suitable for more power-consuming tasks. While the Hitachi EC28M air compressor is one of the quietest compressors, the Rolair JC10 has in-built sound mufflers for reduced sound levels.
With this, we come to the end of today's top 13 list. We hope that our effort can help you to bring home the ideal compressor that fits all your requirements. Let us know about your top picks in the comments section.
Till next time!
9 Best White Face Paint For Cosplay, Clowns & Halloween
8 Best Face Paint For Kids in 2022 Reviewed
6 Best Body Paint of 2022 | Top Brands Compared
5 Epic Face Painting Supplies That Will Improve Your Designs
6 Best Body Paint For Cosplay in 2022 Reviewed
11 Best Face Paints of 2022 Reviewed | Top Brands Compared
Learn How to Body Paint With Brilliant Results Right Now
16 Brilliant Face Painting Techniques to Feed Your Imagination
11 Best Face Painting Kits of 2022 Put to the Test
13 Best Air Compressors of 2022 | Buyer's Guide and Reviews
10 Highest CFM Air Compressors of 2022 Reviewed
9 Best 6 Gallon Air Compressors for Your Home & Garage
10 Quietest Air Compressors For Your Garage
13 Best 30-Gallon Air Compressor of 2022 Reviewed
Makita Mac2400 Air Compressor Review
10 Best 80-Gallon Air Compressor to Consider
13 Best 20 Gallon Air Compressors Of 2022
13 Best Portable Air Compressor of 2022
13 Best Air Compressors of 2022
How To Refill Co2 Tank with Air Compressor?
10 Best 60-Gallon Air Compressors to Use in 2022
13 Best 10-Gallon Air Compressors for the Buck in 2022
10 Best Air Compressors For Impact Wrenches in 2022
10 Essential Air Compressor Accessories You Need
10 Best Air Compressors For Nail Guns
13 Best Dual Fuel Generators of 2022
5 Best Nail Gun Brands of 2022
13 Best Finish Nailers for Woodworking of 2022
13 Best 60 Gallon Air Compressor of 2022
12 Best Gas Powered Air Compressor for the Buck in 2022
13 Best 12V Air Compressor of 2022
11 Best 4000+ PSI Pressure Washers of 2022
9 Best Air Tools Oil Review | Top-Rated Pneumatic Nail Gun Oil