Is your standard 30-gallon compressor falling short? If you're planning for a major upgrade, take a look at our top-performing 80-gallon options.
You'll be pleased to know that while compiling our list, we consulted with several industry experts, conducted thorough research, and individually tested each unit.
It was only after all that groundwork that we ended up with the 10 best 80-gallon air compressors, engineered to deliver high power and precision. Also, to ensure fair ranking on our part, we judged each unit across different parameters, thereby highlighting their advantages and areas that need work.
Now, without further ado, let's get down to business.
Best 80-Gallon Air Compressor
IMAGE
PRODUCT
DETAILS

DeWalt DXCMLA4708065 80-Gallon Stationary Air Compressor

Sturdy construction
4.7 Running Horse Power

VIEW LATEST PRICE →

Powermate Vx PLA4708065 80-Gallon Electric Air Compressor

Wired formed belt guard
240 V induction motor

VIEW LATEST PRICE →

DeWalt DXCMV5048055 Two-Stage Air Compressor

5.0 horsepower electric motor
Cast iron flywheel

VIEW LATEST PRICE →

Ingersoll Rand C2475N7.5FP Air Compressor

7.5 horsepower motor
Oversized balanced belt wheel

VIEW LATEST PRICE →

Emax ES05V080I1 80-Gallon Two-stage Vertical Silent Air System

Flow-tek concentric disk valves
1750 RPM motor

VIEW LATEST PRICE →

Campbell Hausfeld HS5180

12,000 hours working life
Commercial-duty 230V model

VIEW LATEST PRICE →

Industrial Air ILA4708065

V twin cylinder
155 PSI max pressure

VIEW LATEST PRICE →

Quincy QT-5 Splash Lubricated Reciprocating Air Compressor

50,000-hour pump life rating
Baldor motor

VIEW LATEST PRICE →

Industrial Air IV5048055 Two-Stage Air Compressor

Delivers 5.2 Horsepower
Pump has a patented design

VIEW LATEST PRICE →

Husky C801H 3 Cylinder Single Stage Electric Air Compressor

Motor generates up to 7 HP
Fast and easy to use model

VIEW LATEST PRICE →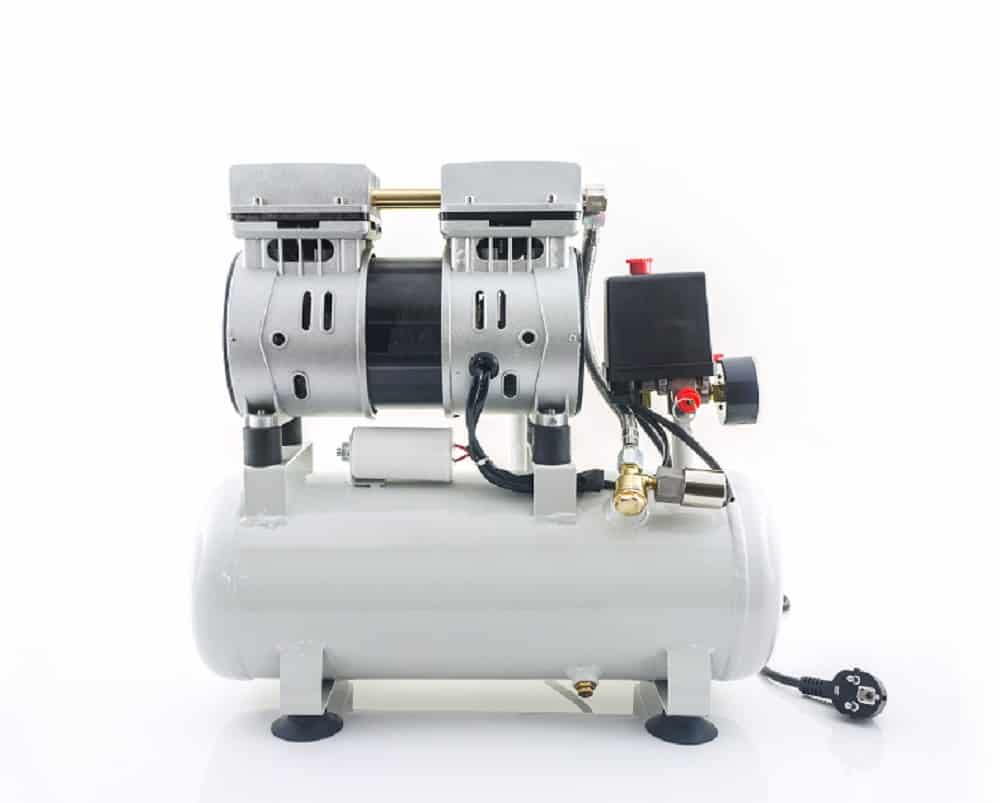 Our top product from Dewalt is a beast and often dubbed as one of the most powerful single-stage air compressors on the market. Made out of solid cast iron, this 230V heavy-duty stationary unit is designed to satisfy customers with superior performance without compromising on safety or efficiency.
Why Did We Like It?
This compressor is engineered to provide maximum power to support several heavy-duty tools at the same time. Also, it's capable of delivering up to 16.1 CFM at 40 PSI and 14 CFM at 90 PSI, taking care of all the pneumatic tools you have in the workshop.
Furthermore, this 230V product features 3 cylinders and a Hi-Flo pump, streamlining high air pressure needs in a snap. Other than that, we're very impressed with the integrated control panel on the DXCMLA4708065, allowing access to pressure gauges, airflow regulator, pressure relief valve, and quick connect air outlets. 
Besides, this high-tech compressor yields maximum pressure at 155 PSI, which makes it ideal for an extended run time while using air tools such as ratchets, impacts, sanders, and cutting tools. But that's not all; design-wise, we like the incorporation of the oil level sight glass, oil fill, and large intake silencers, contributing to the model's exceptional durability and functionality.
What Could've Been Better?
We're absolutely stoked with the performance of this reliable compressor and recommend using this if you're a heavy tools person. However, it's quite bulky and not the most convenient when it comes to portability. Also, if you're buying this, make sure to arrange sufficient storage space at the workshop.
Pros
Powered by 230V induction motor

Maximum pressure capacity of 155 PSI

Comes with an integrated control panel

3 cylinder pump model includes an oil level sight glass
Cons
Too heavy and difficult to move
For our second slot, we've picked the Powermate Vx PLA4708065 Electric Air Compressor, a suitable option for home users and small-scale workshops, requiring continuous air supply for a long time. Its construction is very similar to our top pick, but the former is comparatively more compact and easy to handle.
Why Did We Like It?
First and foremost, the PLA4708065 runs on a 240V 15amp motor, delivering up to 4.7 horsepower. But most importantly, we're impressed with its 14 CFM at 90 PSI capacity, which is enough to power a range of heavy-duty tools required for DIY projects. So if you're a busy multi-tasker, you'll benefit from this high-performing model, catering to multiple needs simultaneously.
Furthermore, we like the sturdy cast iron construction of this 3 cylinder pump, featuring an aluminum head and valve, ensuring overall surface cooling and faster heat dissipation. The unit also comes with a wired, fully enclosed metal belt guard that extends the durability and efficiency of the compressor by protecting moving parts and helping in the cooling function. 
Apart from that, we like the in-built controls, including the on/off button and pressure gauges, facilitating smooth operation and accessibility. However, what really surprised us is how quiet this powerful compressor is, rated at only 83dB, which is a lot less compared to other 80-gallon models.
What Could've Been Better?
We're pleased with the overall performance of this product and do not have any complaints regarding its capacity. However, the unit has to be bolted to the ground for safer operation, and the installation process is quite tiresome. Also, you need to buy a power cord and a pressure regulator as they're not included in the package.
Pros
Aluminum head and valve keeps the unit cool

Metal belt guard protects the unit from wear and tear

In-built controls offer easy accessibility

Compact and manageable size

Ensures quiet operation
Cons
Compressor must be bolted to the ground

Power cord and pressure regulator has to be bought separately
We have yet another superb model from Dewalt, and this time it's a 230 V two-stage air compressor powered by a 5 HP TOPS motor. If your job demands a high capacity unit that seamlessly supports several power tools without any interruptions, we suggest investing in this premium model for the best results.
Why Did We Like It?
The DXCMV5048055 is an industrial grade, dual-stage compressor, designed to meet the most demanding needs at the job site. And if you're still unconvinced about its functionality, let's elaborate a little bit on the specs. For instance, this powerhouse model delivers 17.9 CFM at 100 PSI and 17 CFM at 175 PSI.
Both the parameters are quite impressive and substantial in terms of professional applications as it can easily handle larger loads and multiple pneumatic tools. Apart from that, we're thrilled about the expert construction of this unit, ensuring unmatched durability and longer life. 
On that note, we like the integrated aluminum head and valve and the automotive-style bearings, adding to the robust build of the model. While the cast iron flywheel with large extended fins works to keep the pump cool and ensures compression efficiency.
Lastly, we like the integrated control panel that features a host of ancillary functions, including working pressure gauges, two quick connect air outlets, airflow regulator, and pressure relief valve.
What Could've Been Better?
The DeWalt DXCMV5048055 is one of the highest-rated air compressors in the market, primarily for its first-rate motor and extraordinary longevity. However, we recommend using this for large, multi-tool projects and industrial purposes only as it's too heavy and powerful for light-duty home use.
Pros
Ideal for industrial, large scale projects

Cast iron flywheel monitors cooling and compression

Built to sustain heavy wear and tear

Integrated control panel simplifies operation
Cons
Too heavy and powerful for home use
Our fourth entry, the Ingersoll Rand C2475N7.5FP, both looks and plays the part, offering enhanced features for improved air quality and user safety. So if you need a fail-safe unit for heavy-duty commercial use or automotive services, look no further as this guy can take care of it all.
Why Did We Like It?
While making our selection for the best 80-gallon models, we also put a lot of emphasis on the motor capabilities as that significantly impacts overall performance. That's why we're very pleased with this unit as it comes equipped with an ultra-powerful 7.5HP motor that supports almost all industrial tools with ease.
Also, since it's a Type 30 compressor, it provides up to 175 PSI maximum operating pressure, which is quite remarkable as per industry standards. Other than that, we're impressed with the addition of intuitive features that makes this product truly one of a kind. 
For instance, it comes with air-cooled aftercoolers that eliminate additional moisture, while an electronic drain valve automatically ejects water from the tank. Besides, it features a low-level oil switch that prevents the unit from running dry during applications round the clock. While the integrated inlet air filter with sound attenuation ensures discreet operation throughout.
What Could've Been Better?
Don't get us wrong, we're very happy with this dependable model and especially like its cast iron construction that can survive even the harshest work environment. But the only catch is its high price, and we do not recommend buying this premium model for domestic use.
Pros
Ultra-powerful motor delivers up to 175 PSI

Air-cooled aftercoolers get rid of moisture

Electronic drain valve drains water

Comes with a low-level switch
Sale
The Emax ES05V080I1 is a top-performing product that has us thrilled with its high capacity and extended working life. This latest addition from the brand is a two-stage, patented pressure-lubricated pump that ensures oil flow to all critical components, thereby minimizing wear and tear.
Why Did We Like It?
The USP of this resilient unit is its unique mechanism of delivering 19 CFM at 100 PSI at as low as 100 RPM. And the best part – the manufacturers promise a life expectancy of about 50,000 hours, which is nothing short of extraordinary. Therefore, owing to such remarkable specs, this model is genuinely useful in factories, heavy industries, and large scale workshops.
Feature-wise, we're very impressed with the cast iron flywheel, crankshaft, and rebuildable connecting rods that contribute to the smooth operation of the unit. Also, it comes equipped with an oil pressure gauge that allows users to monitor the running oil pressure with low oil pressure shut down. 
Besides, this 5 HP compressor incorporates Cool-Tek technology that lowers the operating temperature by 35% and reduces moisture build-up. Lastly, we like its quiet functioning as it dissipates intake noise and brings down the sound level by 25%. All in all, it's an excellent product that offers great performance combined with precise tolerances.
What Could've Been Better?
Well, there's no sugarcoating this, but the ES05V080I1 is one giant compressor and takes up a lot of storage space. Therefore, if you're short on space and cannot accommodate such a bulky unit, it's better to invest in something more compact and easily manageable. Regardless, it's still an excellent option and will serve you well throughout its lifetime.
Pros
Provides 50,000 working hours

Cool-Tek technology lowers operating temperature

Quiet operability with 25% less noise

Motor runs lowest at 100 RPM
Cons
Takes up a lot of storage space
We're halfway through our recommendations, and now is a good time to introduce the Campbell Hausfeld HS5180, the ideal compressor for professionals and DIY-ers alike. That being said, this two-stage model is a hot favorite among small shop owners, automotive enthusiasts, and serious home users, primarily for its design and power capacities.
Why Did We Like It?
To begin with, this heavy-duty compressor can operate over 20 high-demand air tools required for automotive spray painting, sanding work, cutting sheet metal, and grinding. Therefore, if you need a highly efficient unit to finish your projects faster, you can never go wrong with the HS5180.
On that note, this model delivers 14 CFM of air at 90 PSI and goes up to a maximum of 175 PSI. And according to industry experts, that's an excellent number and good enough to meet the needs of most power tools. 
Other than that, this product comes oil-lubricated as uninterrupted performance also generates a lot of friction. That's why the oil ensures smooth functioning while keeping escalating temperatures in check and minimizing wear and tear. Additionally, the enclosed metal belt on the unit contributes to the overall durability as well.
Lastly, what we like best is its user-friendly design and reduced size, allowing you to conveniently store it in a small shop or a garage environment.
What Could've Been Better?
You might be wondering what could be wrong about this product, especially when we couldn't stop praising it. Well, to be honest, we are pleased with the overall functionality and reliable construction of the compressor, but we found it a bit noisy. Things got really loud when we used it in a small, closed set-up, but if you can ignore that, it's still a good buy.
Pros
Delivers a maximum of 175 PSI

Oil-lubricated pump for demanding needs

Easy to store, compact unit

Enclosed metal belt protects from wear and tear
If you thought we ran out of single-stage compressor options, we've this hi-tech model from Industrial Air to surprise you. It is relatively heavy compared to other 80-gallon units, but we're not complaining its one-piece cast iron crankcase enables high sustainability even in the toughest worksites.
Why Did We Like It?
First off, this unit features an oil-lubricated pump for effective friction and heat management, thereby providing optimum performance and uninterrupted airflow. Furthermore, it delivers 16.1 CFM at 40 PSI and 14.0 CFM at 90 PSI, while providing a maximum capacity of 155 PSI.
Apart from that, we're quite impressed with its detailed control panel that includes, working pressure gauges, airflow regulator, quick connect air outlets, and pressure relief valve. Also, the cylinder features an aluminum head and a machined cast iron valve plate that keeps the unit temperature controlled. 
So if you need a commercial-grade compressor to support air tools like ratchets, impacts, spray guns, hammers, etc., you can confidently invest in this heavy-duty item. But the best part is that you are not limited to use it on professional tools only, as this versatile, multi-tasking machine can also be applied to power brad nailers, inflate tires and take care of other minor tasks.
What Could've Been Better?
We are, for most parts, satisfied with the functioning of this unit and especially like the user-friendly controls on it. But the ILA4708065 is quite high maintenance mainly because the pump is oil-lubricated. Moreover, it is a tad noisy as well, which, although is a minor inconvenience in this otherwise excellent model.
Pros
Construction ensures temperature-controlled functioning

Detailed control panel for convenient operability

Versatile machine; can support several tools

Oil-lubricated pump prevents overheating and friction
The Quincy Reciprocating Air Compressor is built to last a lifetime and produces more compressed air at a lower horsepower. This single-stage unit comes equipped with a heavy-induction motor that delivers 5 HP to the pump and runs at a slower RPM to prevent overheating, thereby reducing operating costs.
Why Did We Like It?
First things first, this 80-gallon unit has a reciprocating mechanism, which is why it can supply air at such high pressures. Furthermore, it runs on a specialized US-made Baldor motor that includes a thermal overload protection system that protects the motor from harmful voltage fluctuations.
Besides, the motor starts by using a capacitor and functions at a moderate 942 RPM to keep the pump cooler and increase the overall efficiency of the machine. Also, we like the 145-175 working PSI range, which is good enough for large scale industrial applications.
So if you need a high power model for heavy-duty machines, it only makes sense to invest in this superior product as it offers 50,000 working hours. Other than that, we're very impressed with the minimum oil carry-over rating of less than 5 ppm, ensuring seamless function without interruptions.
Overall, it's an exceptional option for commercial and industrial needs providing consistent performance throughout its lifetime.
What Could've Been Better?
We are happy with how productive this unit is, giving stiff competition to the top brands in the industry. But if we had to find a flaw, then it would be its hefty price tag, which is quite steep compared to other single stage 80-gallon compressors in the market. Therefore, we recommend buying this only if you have the budget to buy premium quality for professional use.
Pros
Runs at as low as 942 RPM

Motor has a thermal overload protection system

145-175 working PSI range

Less than 5 PPM oil carry-over (blow-by) rating
Cons
Grossly overpriced even for commercial use
The Industrial Air IV5048055 model is an excellent acquisition for large projects involving multiple power tools. So if you're looking for a dependable model that you can easily store somewhere at your workspace, get cracking with this superior two-stage compressor, resolving air pressures needs in a pinch.
Why Did We Like It?
First off, this commercial-grade unit is designed to meet demanding needs at the busiest of work sites. That being said, this model can produce up to 17.0 CFM at a maximum pressure of 175 PSI, which is enough to support several high-demand tools at once. Also, we're thrilled about its rugged construction that makes the pump ideal for harsh industrial applications.
The other outstanding feature of the IV5048055 is the thermal overload protection system that protects the motor from voltage inconsistencies. Additionally, this mechanism enables the unit to shut down automatically when the temperature level rises above its threshold value during operations.
Other than that, the oil-lube pump comes equipped with aluminum fins that prevent overheating and keeps the compressor cool while running. What we like best is that the model comes with a pre-wired and mounted magnetic starter, providing hassle-free function from the get-go. Therefore, we recommend this badass machine to tradesmen and industrial users who need faster and proven results each time.
What Could've Been Better?
Well, this is a monster air compressor that is primarily meant for industrial purposes, but it's futile trying to have a conversation anywhere near it as the unit is astoundingly loud. So if you can make peace with noisy mechanical sounds while working, you wouldn't regret investing in this otherwise top-notch option.
Pros
Maximum capacity of 17.0 CFM at 175 PSI

Motor has a thermal overload protection system

Aluminum fins on the pump prevent overheating

Comes with in-built magnetic starter
Now that we've reached the end of our list, we would like to finish off with the Husky C801H 3 Cylinder Single Stage Compressor, known for its unmatched resilience. Although we've ranked it at the bottom, that's not a comment on its functionality as it's merely the last of the best.
Why Did We Like It?
Our final entry is a single-stage model that gets the job done quicker than dual-stage units, as in the case of the latter, the air is compressed twice. Therefore, you can expect high efficiency and fast delivery from this oil-lubricated 80-gallon pump.
Furthermore, the C801H offers a maximum of 22.2 CFM at 175 PSI while also providing about 23.7 CFM at 90 PSI. And both the capacities are pretty good for powering multiple tools simultaneously without undue interruptions.
To further streamline operations, the compressor comes included with a magnetic starter, allowing users to control the start and stop functions. But what we like best is the Solberg-style intake filter that prevents air contamination in the unit, which could otherwise damage your air tools.
Lastly, we like the no-frills control panel on this 7 HP machine featuring a globe valve, pressure switch, and outlet gauges for on-demand access and improved monitoring.
What Could've Been Better?
Well, obviously, it's a heavy-duty machine, and it'd be unfair on our part to expect high mobility from this model. But that aside, the oil lubricant on this Husky product has to be changed often to ensure seamless functionality, and that can be quite a hassle for busy professionals. Nevertheless, we recommend buying this if you can deal with a little maintenance now and then.
Pros
Magnetic starter provides both start and stop control

Solberg-style intake filter checks air contamination

Delivers maximum pressure of 175 PSI

Control panel for better on-demand access
Cons
Oil lubricant needs to be changed often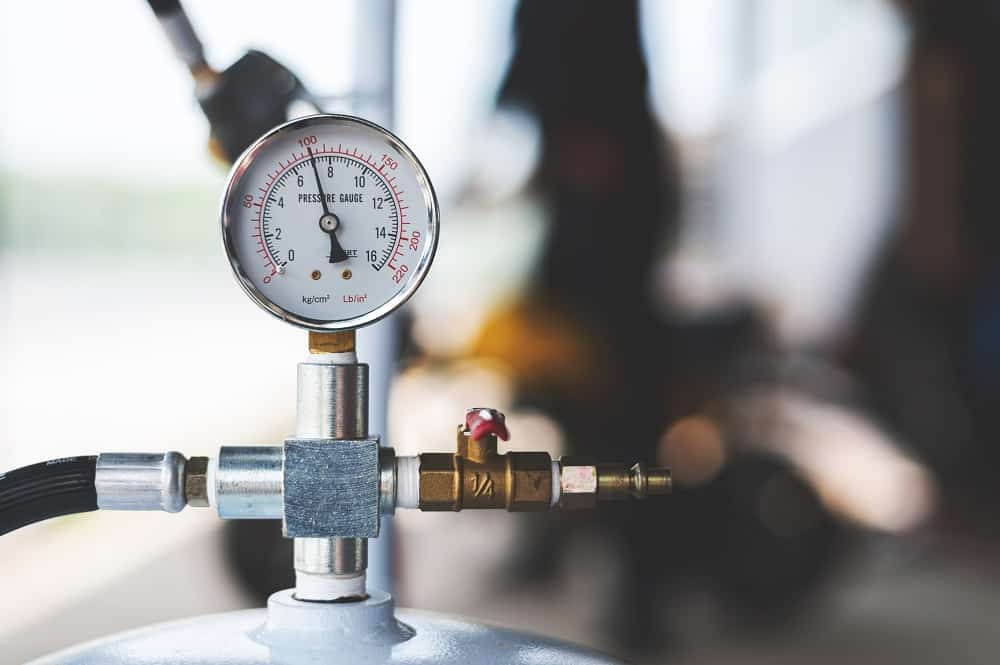 Buyers' Guide for 80-Gallon Air Compressor
Knowing all about the 10 best 80-gallon air compressors available right now may seem like an information overload. However, we don't want to leave you all confused and worked up with all this detail, and that's why we went ahead and put together this brief and informative guide.
Following are a list of factors that you must consider before investing in one of these high-performing options. Take a look now!
Purpose
This may seem like a no-brainer, but an 80-gallon air compressor is a substantial machine that you can't just buy in a blink. Since most of them come with a considerable price tag, it's essential to weigh in the purpose and usability of one before selecting an option.
For instance, if you need a unit for minor tasks around home or workshop, like inflating tires, mattresses, or powering tools like grinders, nailers, etc., a simpler model will suffice. Conversely, you can go for something heavy-duty if you need a model for commercial use.
Two-Stage vs. Single-Stage
By now, you already know that there are mainly two types of models in the market: two-stage and single-stage compressors. As the name suggests, the dual-stage units go through two cycles to compress the air and deliver higher pressure and power to the tools. However, they take quite some time to implement said power since the compressing mechanism is performed twice.
Conversely, single-stage compressors are faster but provide lesser power. So depending on your priorities and budget, make your choice wisely.
Noise
If you want a unit for home purposes, make sure that it's quiet, especially if you will also be using it inside the premises. Also, the larger the model, the louder it will be is the usual norm for most heavy-duty appliances. Nevertheless, you can find 80-gallon units that operate almost noiselessly and yet packs in a lot of power.
Even for industrial use, we recommend using models with quieter operation as they not only reduce noise pollution but also ensure a comfortable work environment.
Horsepower
Horsepower is the unit for measuring the power that the motor provides to the pump. Obviously, the more the horsepower, the higher the air pressure will be, but it's essential to have a clear judgment to assess how much is enough. High horsepower can be dangerous in unskilled hands and is not necessary for minor tasks.
Usually, a 7 HP 80-gallon air compressor is sufficient for industrial purposes, but you can always buy anything lower than that.
Durability and Longevity
While evaluating durability, you must take into account the construction of the unit and the quality of the built-in motor. While all our options are cast iron air made, they differ in their weight, proportions, and design. Some options come with aluminum parts that ensure low wear and tear while some feature enclosed metal belts for added protection.
Other than that, learn about the motor mechanism and its capacities as the air pressure ultimately depends on motor functions. Also, consider the working span of the unit and select the one that will serve you best.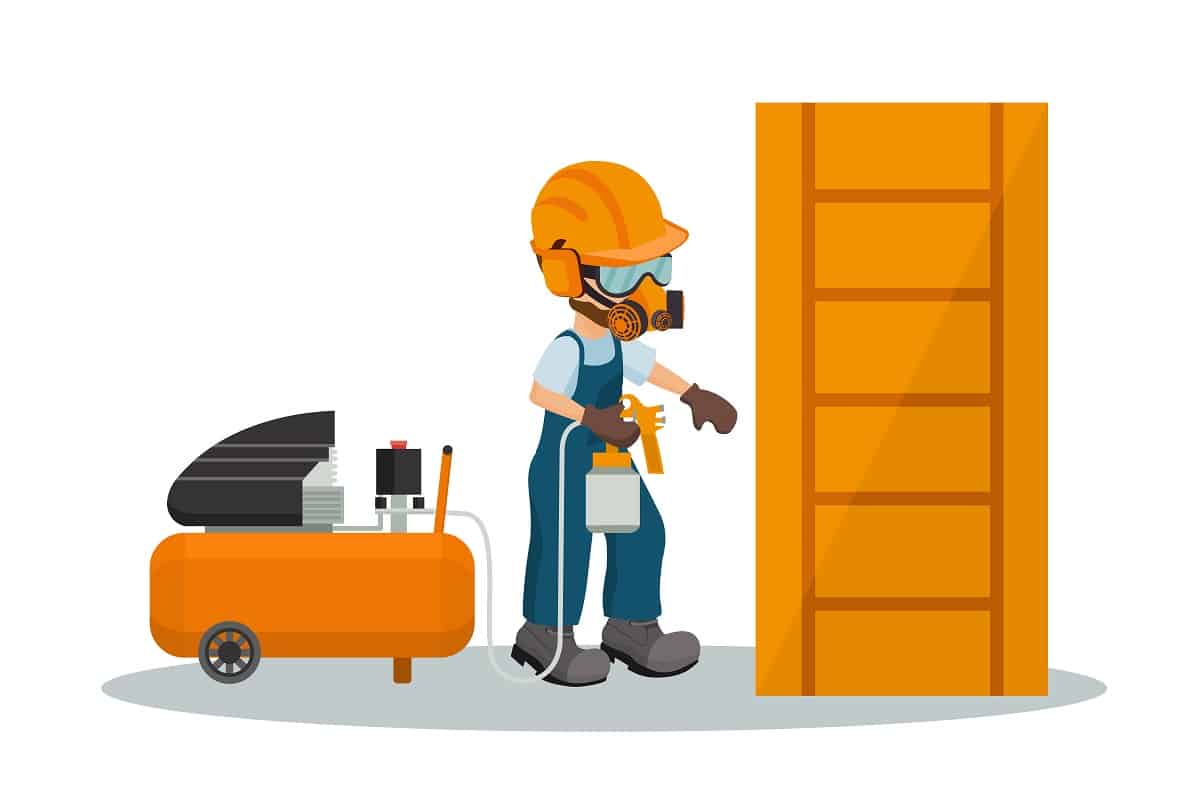 Verdict
An 80-gallon air compressor is an ideal investment, especially if you have to work with multiple power tools most of the time. But it's important to choose a unit that gives value for money and consistently delivers across all critical parameters.
On that note, we have come to the end of this comprehensive guide. And we hope you were able to select the ideal option from our all-star selection that will best meet your needs.
But before signing off, let's go for a quick recap. DeWalt DXCMLA4708065 Stationary Air Compressor is the best overall, while Industrial Air ILA4708065 is the most versatile. Husky C801H is the best budget buy, and Emax ES05V080I1 has the quietest operation.
Let us know in the comments section below if you agree with our verdict.
Till next time!
Related Articles
11 Best Face Paints Reviewed | Top Brands Compared
Learn How to Body Paint With Brilliant Results Right Now
16 Brilliant Face Painting Techniques to Feed Your Imagination
11 Best Face Painting Kits Put to the Test
13 Best Air Compressors | Buyer's Guide and Reviews
10 Highest CFM Air Compressors 
9 Best 6 Gallon Air Compressors for Your Home & Garage
10 Quietest Air Compressors For Your Garage
13 Best 30-Gallon Air Compressor 
Makita Mac2400 Air Compressor Review
13 Best 20 Gallon Air Compressors 
13 Best Portable Air Compressor 
How To Refill Co2 Tank with Air Compressor?
13 Best Quiet Air Compressor for Your Home 
10 Best 60-Gallon Air Compressors to Use 
13 Best 10-Gallon Air Compressors for the Buck  
10 Best Air Compressors For Impact Wrenches 
10 Essential Air Compressor Accessories You Need
10 Best Air Compressors For Nail Guns
13 Best Finish Nailers for Woodworking 
13 Best 60 Gallon Air Compressor 
12 Best Gas Powered Air Compressor for the Buck  
11 Best 4000+ PSI Pressure Washers  
9 Best Air Tools Oil Review | Top-Rated Pneumatic Nail Gun Oil