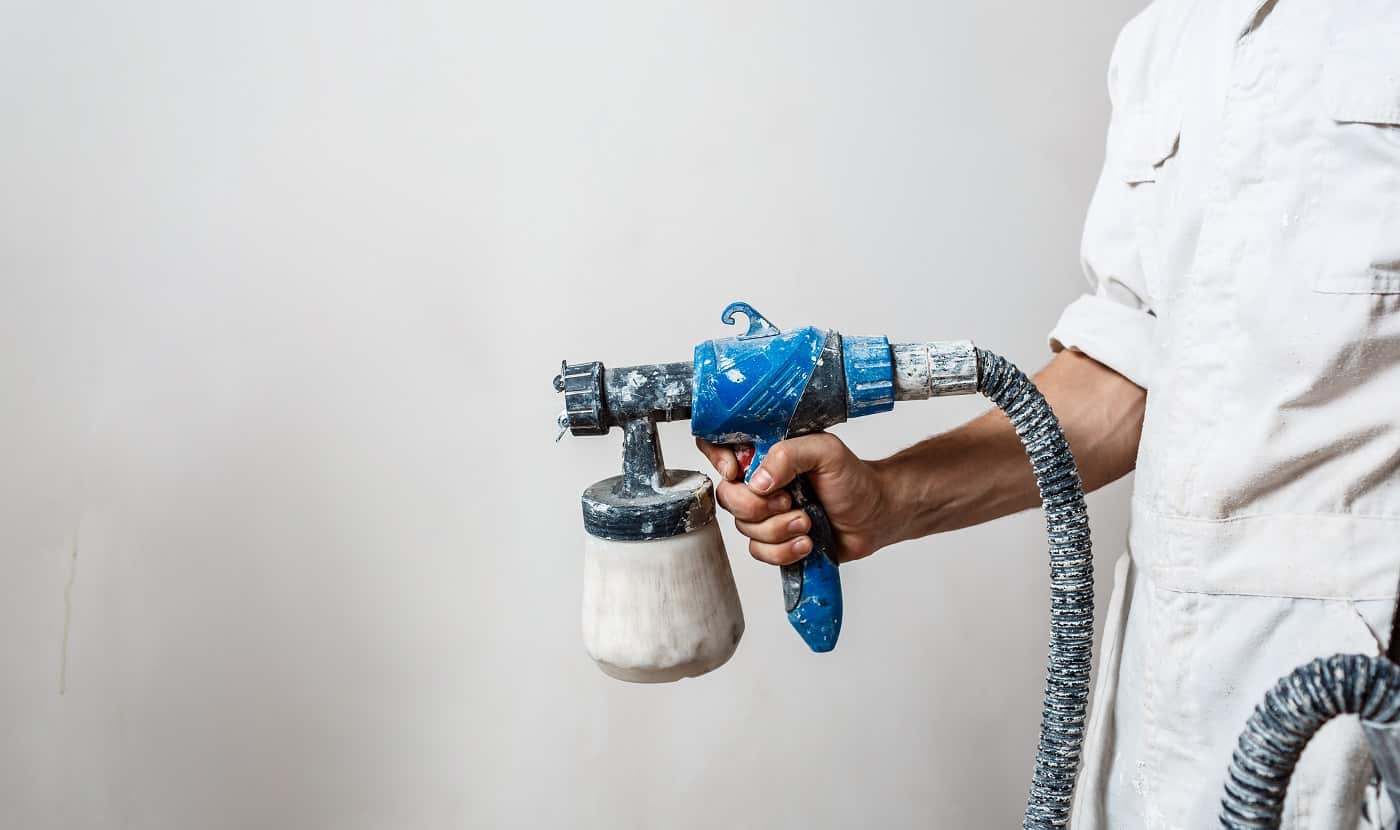 Got a very particular home improvement project in mind? Confused about the spray gun you need? Don't worry; we've got you covered!
If you're doing woodworking of any sort, then the perfect option would be an LVLP spray gun. These tools are generally used for any kind of automotive body work or woodwork.
If you want to know which kind of LVLP spray gun suits your needs, then we're here to help. Of course, these machines' prices might differ depending on the model, but we'll help you select the right one for your needs.
We've made a list of 9 top LVLP spray guns for you. So, read on and find out which model suits your needs.
Best LVLP Spray Guns
IMAGE
PRODUCT
DETAILS

Our Top Pick

Our Top Pick

SPRAYIT SP-33000

Aluminum body
Has a working pressure of 28-45 PSI
Separate and adjustable control

VIEW LATEST PRICE →

Campbell Hausfeld AT706099

Provides particularly sized paint for even spray
Helps reduce paint waste
Comes with a carrying case for efficient storage

VIEW LATEST PRICE →

Astro EVOT14

Comes with a stainless steel needle
Has a fluid tip that allows for fast cleaning
'Air Curtain' feature allows for cleaner usage

VIEW LATEST PRICE →

NEIKO 31215A

Has a single piece all-steel body
Comes with stainless steel rust-resistant nozzle
Has a color-coded 1.7mm nozzle for smooth use

VIEW LATEST PRICE →

Astro Pneumatic 4008

Comes with adjustable pattern control
Comes with a 1 quart capacity cup
Has a standard nozzle size of 1.8mm

VIEW LATEST PRICE →

SPRAYIT SP-33500K

Has an air consumption of 2.4-3.4 CFM
Has a working pressure of 45 PSI
Fan pattern comes to 10.9"

VIEW LATEST PRICE →

SPRAYIT SP-352

Comes with a lightweight aluminum body
Accurate air controls for perfect application
Has a working pressure of 58 PSI

VIEW LATEST PRICE →

AEROPRO R200S

Comes with a larger siphon feed cup
Made from special precision copper for better spray
Has a more accessible trigger design to reduce fatigue

VIEW LATEST PRICE →

SPRAYIT SP-31000

Comes with a one-piece lightweight aluminum body
Adjustable accessories for accurate application
Large 1000cc aluminum cup

VIEW LATEST PRICE →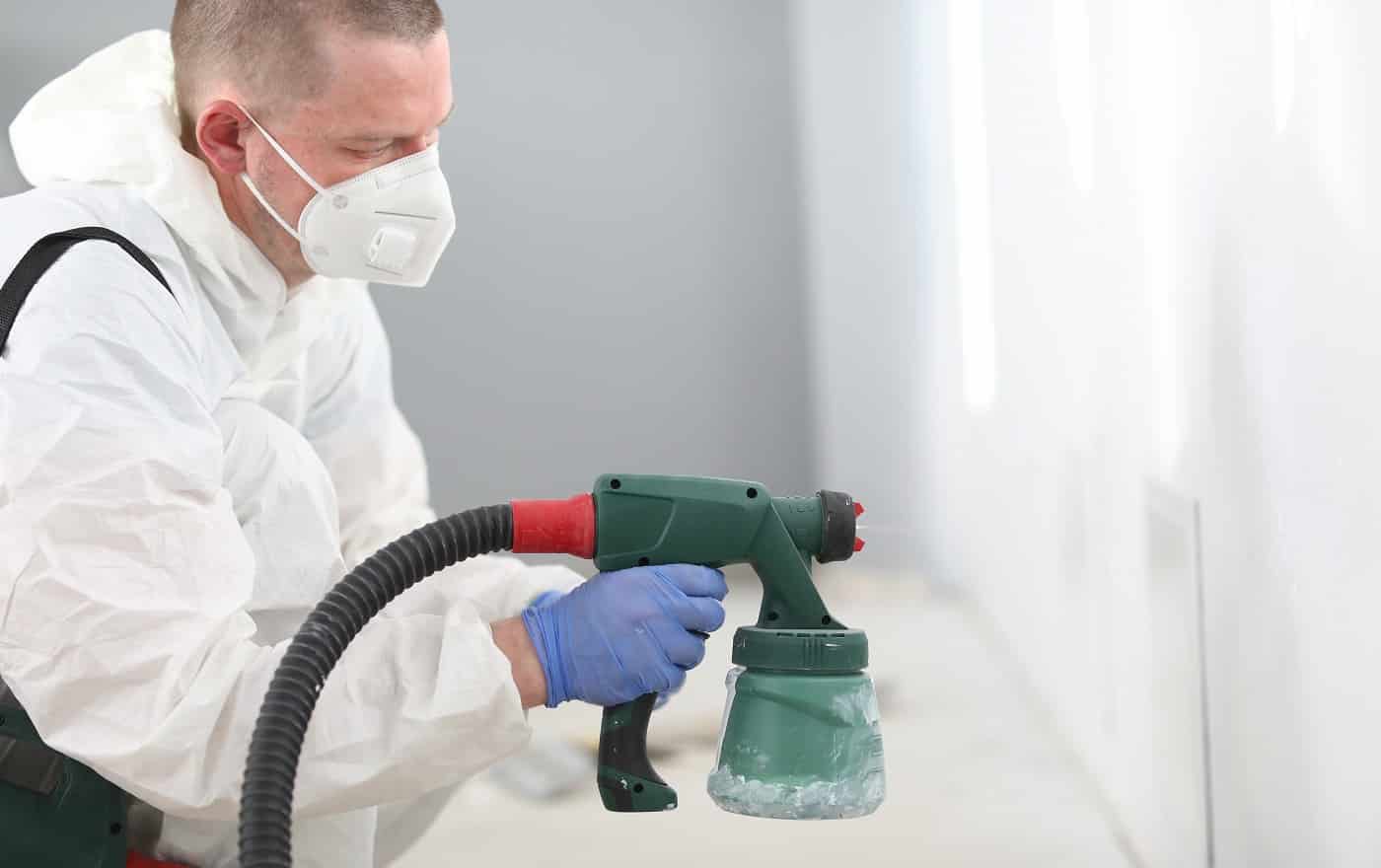 The SPRAYIT SP-33000 LVLP Spray Gun can be used for several different projects. These include applications like marine, woodworking, manual and automotive projects, just to name a few. Another praiseworthy feature of this gun is that it is quite easy to handle.
Why Did We Like It?
The SP-33000 is an excellent choice if you plan to paint anything, owing to its build technique. The spray gun comes with a one-piece aluminum body that is exceptionally lightweight and ideal for cleaning. It also has far more power behind its spray for precise painting.
The gun consumes almost 3.9 CFM while working at just 30 PSI. This means that it has solid power without needing too much pressure. It is also ideal when working with a lighter air compressor and has an excellent reputation at completing any paint projects without using up too much air.
Along with this, the product comes with an adjustable fluid fan that you can customize for any paint jobs that need completion. The device's solid aluminum body makes it less susceptible to damage, which means it's quite durable.
What Could've Been Better?
We liked a lot of aspects of the SP-33000. But we did feel that it lacked in a couple of areas. Firstly, the paint cup and spray gun come only in a single size. That can be a bit problematic if you have larger painting projects. In addition to this, the spray pattern on the device seems a little weaker than you would expect.
Pros
Strong aluminum body

Highly durable device

Does not require a lot of pressure

Fluid fan pattern

Does not consume too much air
Cons
Single sized paint cup and gun

Weaker paint pattern
The Campbell Hausfeld AT706099 is probably one of the more durable spray guns manufactured. The device has been designed to be completely user-friendly and comfortable in your hand. Its configuration is such that it is expected to deliver a fine finish and smoothness to the painting project you undertake.
Why Did We Like It?
The AT706099 comes with two spray guns. This is designed to help ensure faster and smoother usage. The guns require 2.1 and 0.7 CFM, respectively, and work well at 40 PSI.
One thing we liked about the product's structure is that it reduces waste drastically. Along with that, it also gives a perfect and smooth performance. One major reason we loved the AT706099 is its versatility; it is quite useful for a number of different painting tasks.
Thanks to its lighter structure and aluminum body, it is quite user-friendly and doesn't wear you out. You also get a cleaning kit along with the package to make the cleaning task more manageable. The package also comes with a secure container for storage and convenience of portability.
What Could've Been Better?
You heard all the good things about the AT706099. Now, let us tell you about the less desirable aspects of the product. Firstly, using it with latex paints is out of the question because the machine has not been made compatible with the material. Moreover, the machine's chances of getting clogged are high, especially if the paint you use with it is quite thick.
Pros
Highly versatile

Comes with waste reduction features

Strong body makes it quite durable

Light and easy to use

Convenient storage and portability
Cons
Does not work for latex paint

Machine gets clogged due to thicker paints
The Astro EVOT14 is an elegant piece of equipment that, despite the cost, is highly beneficial. With a solid and stable body made of aluminum, the EVOT14 is one of the finest spray guns around. Its ergonomic design and efficiency make it ideal for your needs.
Why Did We Like It?
There's plenty of reasons to love the EVOT14. One of those reasons is its 'air curtain' feature. It is a unique aspect of the product that allows for reduced paint wastage and lesser pollution. The feature also allows for lower paint consumption.
The product has a body that has been fixed with a cast as well as an anodized cover. The feature brings about a longer shelf life for the product. In addition to this, it has internal protection that prevents corrosion, which increases the product's durability.
Along with all these features, the product also comes with a fine, fluid tip. This helps you clean the device easily. Besides that, the product is designed to work quite efficiently under lower pressure.
What Could've Been Better?
While there are plenty of reasons to love the EVOT14, we found one slight flaw with this device. If you're looking to work with this device at higher speeds, then you need to look for a different product. The device does not work well at higher speeds.
Pros
Air curtain helps provide longer life to the device

Smooth and efficient cleaning

Functional and smooth fluid tip

Works well under lower pressure
Cons
Does not work well at higher speeds
If you're an expert in painting, the 31215A is the spray gun for you. It has an ergonomic design and stability that gives you a level of comfort. The spray gun comes in various designs and nozzles that help give comfort and ease while in use.
Sale
Why Did We Like It?
There are a lot of reasons to love the 31215A. The first and foremost reason is its solid, stainless steel body. The strength and power in the body allow for durability and longer life. Since almost all parts of the tool, right from the nozzle to the body, are made of steel, it is also rust-free.
The device comes with a brass cap that is strong enough, durable, and helps in increasing its shelf-life. In addition to its all-steel look, the device also comes with a working pressure of 10 PSI. Along with this, the gauge in the device package helps users to operate it efficiently.
We told you about its stainless steel body that keeps the product healthy and long-lasting. But the all-steel look also means that the needle and nozzle work cleaner and smoother than ever. This means that painting with the device is a fresh experience.
What Could've Been Better?
We loved a number of things about the 31215A. But we did feel it lacked in one area. Despite its versatility that allows you to work with a number of different paints and projects, it is impossible to use the device for latex paints. There is a strong possibility that it might damage the device.
Pros
Comes with a highly durable nozzle and needle

Ideal for long term projects

Easy to carry and use

Durable and corrosion-resistant
Cons
Impossible to work on latex paint
The Astro Pneumatic 4008 is another spray gun that allows you to finish painting projects without any hindrance. If your need is a spray gun that can be used for a vast number of projects, then the 4008 fits the bill.
Why Did We Like It?
There's a number of reasons to adore the 4008. One of them would be its fully customized design that also has a fluid control feature. This allows you to personalize the spray gun for any project effortlessly.
The device has a tip of 1.8mm and works well at pressures around 60 PSI. This feature allows you to coat any surface with thicker layers of paint. The gun can be used for a vast number of surfaces, making it quite versatile.
We loved the design of this product. This is because it prevents wastage of paint and ensures a smooth finish to your project. Once you're done painting, you can detach the parts easily for easy cleaning.
What Could've Been Better?
We talked about everything we loved about the 4008. Now, let's talk about something that could have been improved. Firstly, it cannot be used with smaller air compressors because it can cause damage to the material. Secondly, we felt that the plastic handle could use an upgrade.
Pros
Solid steel body for longer shelf life

Designed to prevent wastage

Comes with an easy-clean feature

Has corrosion and rust-resistant feature

Created for personalized usage
Cons
Usage with smaller air compressors impossible

Plastic handle not stable
The SP-33500K is probably one of the more dynamic spray gun kits we've reviewed so far. This is because the kit comes with a large number of options to choose from. It is naturally larger and has a lot of components when compared to other spray guns. The features on the device are also quite appealing.
Why Did We Like It?
There are plenty of reasons to love this device. One of them is its wide range of tools that help with a lot of applications and painting projects. These pieces of equipment are suited for a number of different projects for both beginners and experts.
Another reason to love the device is its solid body. The body, composed of aluminum, fits your hands perfectly. This makes it perfect for regular, long-term usage. Along with this, the gun has two different sizes for a vast number of projects.
We also loved the power on this device that allows smooth functioning. The product comes with a working pressure of 45 PSI which allows you to work without any obstacles.
What Could've Been Better?
We loved a number of aspects of the 4008. However, one aspect we felt could have been an improvement, especially considering the accessories that come with it. The spray gun tends to work a little slowly. This can be a little distracting if you need to complete a project quickly.
Pros
Two spray guns for a broader range of projects

Lightweight and easy to use

Solid aluminum body for durability

Smooth and easy to clean
Cons
Spray gun works a little slowly
The SP-352 has a light aluminum body that fits comfortably in hand. Along with that, it also has a 13.5 oz paint cup. The gun is smaller than most others of this range. That makes it ideal for detailed paint projects.
Sale
Why Did We Like It?
The first thing we loved about the SP-352 is its size. While we appreciate the larger spray guns, sometimes, you need smaller tools for a more precise application. The cup allows you to move easily as you spray, making it ideal for tighter corners.
We also loved that a wide range of paint flows through this gun without any trouble. This is why it is suited for any kind of painting task you might have. We also loved that this gun can be cleaned quite easily with little to no trouble.
While talking about performance, we have to say that the separate and customized fluid fan pattern certainly works for this device. The air pressure at which you can spray on this device goes up to 58 PSI. This makes the tool pretty smooth to work.
What Could've Been Better?
There's a lot to love in this product. But we did find that the device had a flaw that can hinder your work, especially if there's a lot to be done. The air hose on the device does not release quickly enough.
Pros
Reaches tight corners easily

User-friendly and lightweight

Easy to clean

Works well on all kinds of paint
Cons
Air hose not released quickly
The Aeropro R200S may not look like much, but it is definitely a good option for beginners. The product works well within a limited budget, and if you're content with a simple spray gun that gets the job done, this is the right choice. The device may not be as perfect as other spray guns of the same category, but it is reasonably functional.
Why Did We Like It?
The R200S has a few distinct features we liked. One of them is its high-quality stainless steel needle which allows for precision while working. The device has a lightweight construction that gives you ease and comfort while using it.
Besides that, the device's lightweight build means it is sturdy and has the ability to hold various kinds of paint. Along with its lightweight build, you'll also be pleased that the fluid needle helps thin the paint out. After that, it becomes easier to spray any paint on the surface you desire.
Along with the build, the needle, and the device's model, you will be pleased to know that this device works well for any smaller projects. We were immensely pleased that it is not just ideal for industrial use but also for domestic purposes.
What Could've Been Better?
The R200S is indeed a pretty good machine in a lot of ways, especially the price. But we did notice a flaw with it. While sturdy enough and smooth to work, the machine is a lot harder to clean than you would like. This is especially the case since handling paint is no easy task.
Pros
Has a strong aluminum body

Works well for smaller projects

Compatible for different forms of paint

Easy to handle
Almost all the devices we've talked about have something or the other. The SP-31000 is different from most models we've talked about so far. The device comes with a strong body that can withstand enough pressure. Besides that, we're sure you'll love the enormous paint cup holder on the device.
Why Did We Like It?
There's a lot to like about the SP-31000. One of the first features we noticed was that the device works on a lower air pressure-volume to spray it. The lower pressure suits the machine quite well.
Besides that, we also loved the fluid fan pattern and air control features of the device. This is especially useful and quite underrated. The feature helps in ensuring that paint doesn't spill and ensures zero wastage.
Along with these two features, there's another aspect we loved about the SP-31000. The device works comfortably with all forms of paints, even lower viscosity and quicker drying paints. You can use the device for any project quite well.
What Could've Been Better?
While it's true that there's a lot to be admired about the SP-31000, there is one aspect we wish worked differently. Although the device works excellently on a lot of surfaces with no trouble, it is difficult in other areas. This includes working in smaller areas as well as tighter corners.
Pros
Zero paint wastage due to air control features

Strong aluminum body

Can be used for all kinds of paint

Can be used for respraying
Cons
Does not work well in tight corners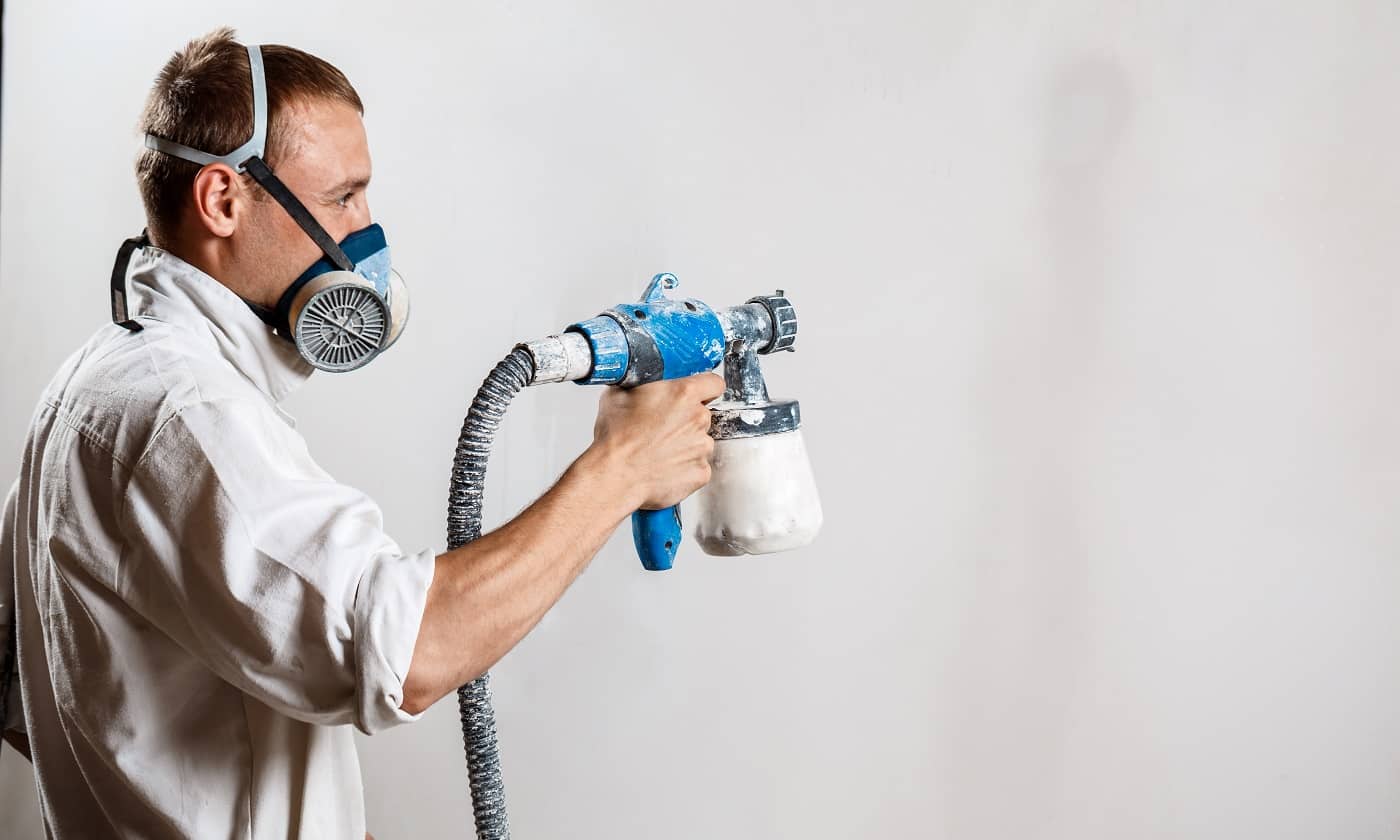 LVLP Spray Gun Buyer's Guide
We hope you've picked out a good spray gun from the list we gave you. If not, then don't fret.
Finding a suitable LVLP Spray Gun that works well for your purposes is extremely important. This is especially the case if you are a professional woodcrafter who always needs these kinds of devices.
We know that making the right decision certainly does not happen overnight. There are a lot of factors that you need to keep in mind before making the final purchase. So here are a few aspects that you need to remember before buying an LVLP spray gun.
Maintenance Needs
One of the most important factors you need to remember before buying a spray gun is maintenance. The fact of the matter is that anyone can use these devices since their handling is relatively easy. But maintaining them can be a little handful.
 When you pick out a spray gun, it needs to be easy enough to use and maintain. You should be very much aware of the sprayer's model and all the pros and cons associated with using it. Some brands that have a complex design are often difficult to clean.
Spray guns are almost always susceptible to wear and tear. This means that regular maintenance is needed for these devices. The number of maintenance needed depends on the model you choose.
Materials Used
Another element to be aware of is the material used. You need a durable and lightweight material that is easy to handle and use. Choosing a suitable device also means that it should not be of any trouble to you while using it. A lot of people believe that an aluminum gun works well for several reasons.
 Aluminum sprayers work well mainly due to the ease with which users can handle them, regardless of their expertise levels with the device. In addition to this, such spray guns are a very good investment due to their durability and lightness compared to other devices.
Weight Of The Device
It is common knowledge that a heavy machine can be tiresome. The same holds for spray guns as well. They end up becoming too challenging to manage, and you might feel that such a gadget is not worth using. As a result, we recommend picking a lightweight model that fits comfortably in your hands.
While heavier materials look good, they are definitely impractical. So we'd advise going for a lighter model that fits comfortably in your hand. They need to be suited for long-term use and larger projects.
User-friendliness
If you are a beginner, you need to be aware of which brand works well. Choosing a user-friendly gun is essential because most devices need to be used for longer periods before they can be mastered completely.
You must also be aware that a lot of models are designed for intermediate and expert users. This means asking experts all the time may not be practical. In such cases, we recommend using a simpler model that works well for your needs.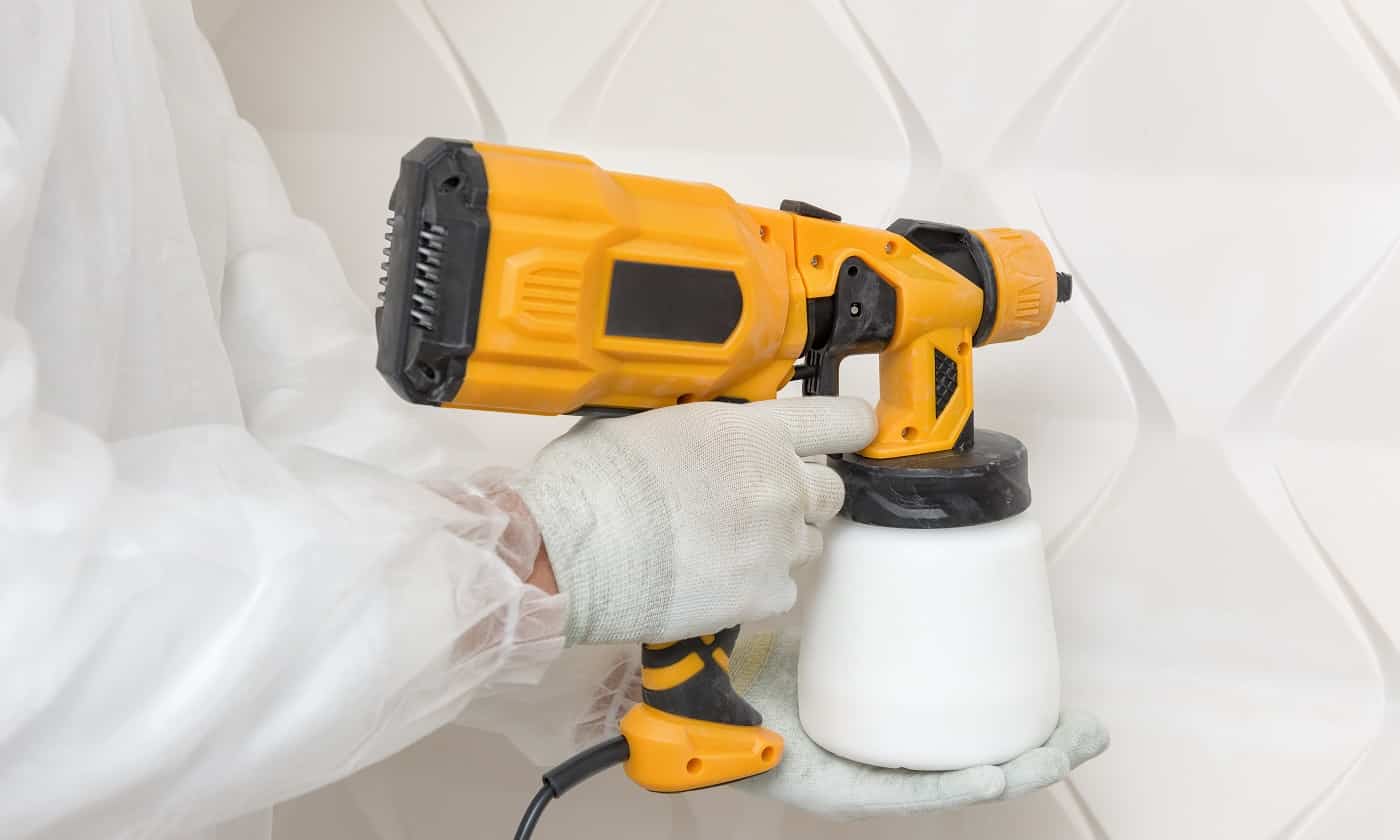 Verdict
The LVLP spray gun is an essential item, especially if you regularly get involved in household renovations and other similar projects.
If you ask us which spray gun we'd pick, then we would say the SPRAYIT SP-33500K. Out of all the devices we've reviewed, it ticked all the boxes that matter, namely price, user-friendliness, and comfort while using.
You could also go for the Neiko 31215A, which is an ideal device for long-term use. It is also relatively user-friendly, marking it as another of our favorites. Whichever device you choose, make sure it works well for your needs.
We hope you've been able to make an informed decision based on the products we've picked out.
We'll be back with another exciting guide soon. Have a nice day!
Related Articles
9 Best White Face Paint For Cosplay, Clowns & Halloween
8 Best Face Paint For Kids Reviewed
6 Best Body Paint | Top Brands Compared
5 Epic Face Painting Supplies That Will Improve Your Designs
6 Best Body Paint For Cosplay Reviewed
Learn How to Body Paint With Brilliant Results Right Now
5 Best Airbrush for Body Painting Reviewed
16 Brilliant Face Painting Techniques to Feed Your Imagination
13 Best Paints for Bathroom Ceilings 
11 Best Polyurethane Protective Coatings  
What is the Best Wood for Outdoor Furniture 
13 Best Spray Paints For Metal
7 Best Airbrush for Miniatures & Model 
11 Best Epoxy Resin For Crafts 
5 Best Polyurethane for Floors  
5 Best Epoxy Resin for Tumblers  
9 Best Exterior Wood Stains Today 
13 Best Spray Paints For Metal
7 Best Sprayers For Staining A Fence
7 Best Airbrush For Models & Miniatures  
10 Best Clear Coat for Kitchen Cabinets [Buyer's Guide]
7 Best Polyurethane for Floors 
How Much Does It Cost To Bottom Paint A Boat?
How To Thin Latex Paint For A Wagner Spray Gun
How Much Does Benjamin Moore Paint Cost? [Guide]
9 Best Paint Sprayer for Lacquer
7 Best Sprayers For Staining A Fence
9 Best Paint Sprayer For Lacquer