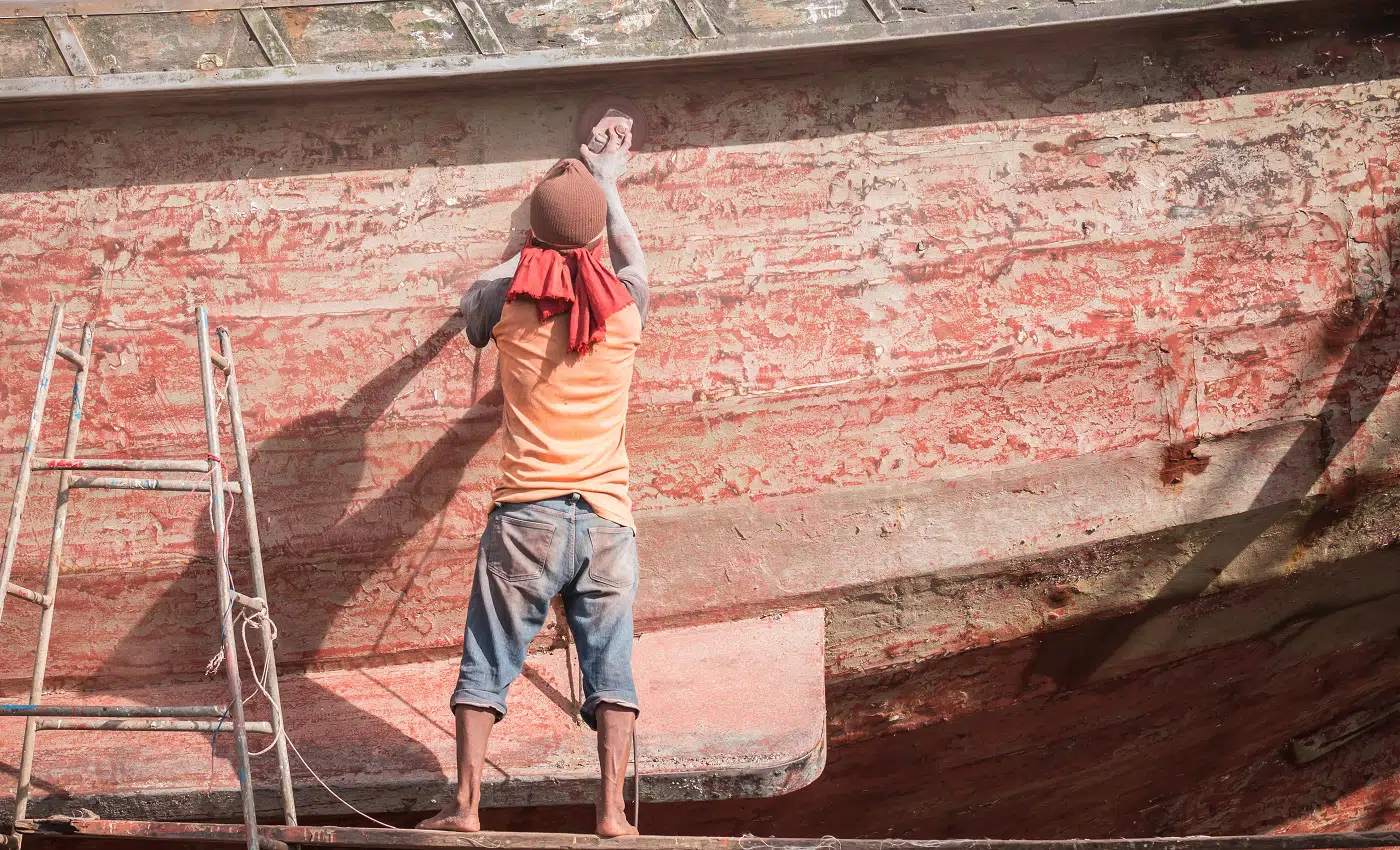 Sometimes, a sail on the boat is all you need to uplift the mood after a long day at work, especially with your loved ones.
If you are a boat owner, it is essential to take care of the boat so that it is able to steer through the sea for a long time.
But did you know that the paint of the hull of a boat does a lot more than giving it a fancy look? In fact, it is responsible for keeping away weed, slime, and other organisms that grow under your boat.
However, effectively painting the hull involves a decent amount of expenditure and is certainly time-consuming. So, we thought of helping you out in this process by providing an informative guide, explaining all the nitty-gritty concerning bottom painting a boat.
That said, what are we waiting for? Let's get down to business, shall we?
Is Bottom Painting Really Necessary?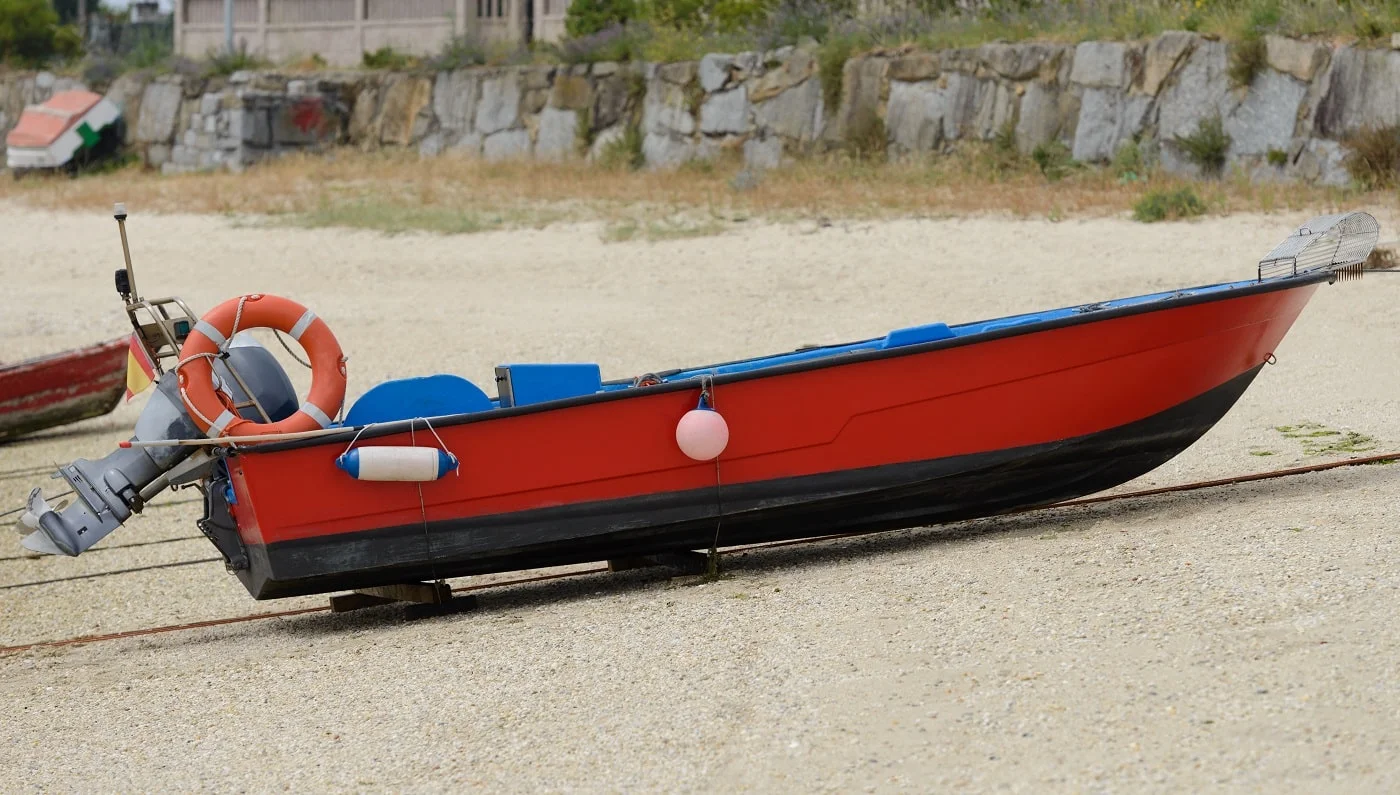 Bottom painting is not mandatory if you take the boat out every once in a while. For instance, if it's kept in a warehouse most of the time and only hits the sea occasionally. You can effectively maintain its bottom by applying a wax coat and cleaning it periodically in such scenarios.
However, if you take the boat out every now and then, you'd dock it in the sea most of the time. In these cases, bottom/hull painting becomes absolutely mandatory.
That being said, painting the bottom is not enough; you must clean it on a daily basis, remove the paint and repaint it with antifouling paint. Doing this not only protects the hull but also makes the boat highly functional.
Antifouling Paint 101
Antifouling paint plays a very important role in saving the boat from all types of water-based damages. It is applied all over the hull from the water line to the bottom. Furthermore, antifouling paint helps in keeping away all water-based lives like weed and barnacles that tend to leach onto the bottom of the boat.
Plus, antifouling paint comes in a wide range of brands, colors, and styles, just like normal paint. However, there are mainly three types of antifouling paint: ablative, hard, and hybrid. The right type of antifouling paint for you depends on the boat and your budget.
What Are The Types Of Hull Paint?
As mentioned in the previous section, there are mainly 3 types of antifouling paints. Let us take a closer look at the functions of these paints.
Ablative Paint
Ablative paints are perfect for boats that are taken out on the sea occasionally or that move very slowly. This type of antifouling paint tends to wear away with the passage of time. Also, it releases a lot of biocides while sailing through the sea.
An ablative paint is also called "self-polishing" paint since it sits very thin on the hull. Overall, painting the hull with ablative paint is relatively easier, less time-consuming, and affordable since there will be less paint to remove.
Hard Bottom
On the other hand, hard bottom paints are suitable for all types of boats that move very fast. They contain a very thick layer of biocide, making their coating very hard and long-lasting. However, with time, this paint too wears away but lasts a lot longer than ablative paint.
Hybrid Paint
As the name suggests, hybrid paint is a mixture of ablative and hard bottom paint. The best part about this paint is that it can be used on the hull of all types of boats.
How Much Does It Cost To Bottom Paint A Boat?
We hope, by now, you are aware of the three different types of antifouling paint and why bottom painting is so important. So, let us now focus on the main question: how much is it going to cost?
The best thing about bottom painting is that you can either choose to do it yourself or hire a professional. That said, like most projects, going DIY will help save money while hiring a professional would be rather expensive but less time-consuming and deliver guaranteed results.
DIY Bottom Painting
Going DIY makes you take charge of the boat. Before starting, plan it all out and note that it will take a lot of time. Also, be careful while painting, as you cannot afford to make too many mistakes. The cost of DIY bottom painting varies widely, but it mostly comes down to the quantity and type of paint you use.
In general, bottom paint is available in one-gallon drums, which usually cost between $20 and $200 per gallon. That being said, the brand and the type of paint also play important roles in deciding the price.
You will require a handful of painting supplies as well, such as goggles, rollers, paintbrushes, breathing masks, gloves, masking tapes, sandpaper, and drop cloths.
The bigger the boat, the more paint you will need. The amount needed per linear foot would be clearly mentioned on the drums of paint. In general, most ablative bottom paints require two coats, whereas customized epoxy bottom paints need just a single coat. Keep these in mind to have a clear estimate of the cost.
Double coating boats measuring 20 feet to 35 feet would require 3 gallons of hull paint.

Single coating boats measuring 20 feet to 35 feet would require 1.5 gallons of hull paint.

Double coating boats measuring 36 feet to 51 feet would require 6 gallons of hull paint.

Single coating boats measuring 36 feet to 51 feet would require 3.5 gallons of hull paint.

Double coating boats measuring 53 feet to 63 feet would require 9 gallons of hull paint.

Single coating boats measuring 53 feet to 63 feet would require 4.5 gallons of hull paint.
Professional Bottom Painting
When it comes to professional bottom painting, it usually starts with a base cost. The professionals determine the base coat after they check the size of the boat. In this day and age, the cost per linear foot is about $25 on average.
However, this is just the price of basic selection; if you want to opt for premium selection, the price may shoot up to $125. If you want to make some additional repairs, then it is going to cost even more.
In general, professionals charge less for larger boats than small boats. The cost further depends on the place where the boat will be painted. Also, painting older boats costs a lot more than new ones, as the professional will need to repair the damages prior to bottom painting.
You are in luck if your boat has never been painted before because it is going to cost the least as the professionals will not need to remove any paint.
Keeping the location and the boat size in mind, these are the estimates that you may end up paying.
60-feet and larger boat: $56 per linear feet + $555 for a premium selection

55-feet to 59-feet boat: $49 per linear feet + $490 for premium selection

50-feet to 54-feet boat: $43 per linear feet + $400 for a premium selection

44-feet to 49-feet boat: $38 per linear feet + $330 for a premium selection

37-feet to 43-feet boat: $34 per linear feet + $250 for a premium selection

30-feet to 36-feet boat: $29 per linear feet + $190 for a premium selection

29-feet boat: $25 per linear feet + $155 for premium selection
Frequently Asked Questions
In this section, we have answered some of the frequently asked questions regarding hull painting a boat. We strongly recommend you read this part carefully.
How often should I paint my boat?
Like we mentioned earlier, if the boat hits the water daily, get it checked every year to know if it needs bottom painting or not. In most cases, it will be required. Plus, if you use the boat for commercial reasons, you would have to get its bottom painted at the end of each season. And finally, if it mostly stays ashore and you take it out occasionally, it will require bottom painting every other year.
What are some of the popular brands of bottom paint?
Some popular bottom paint brands are – Forespar, West Marine, Ocean Accessories, Pettit Paint, Prop One, Interlux, Harken, Z-Spar, and Prop Armor.
Can bottom paint slow down a boat?
Yes, it can; however, it is mostly negligible. It depends largely on the paint job; if it's smooth, there should be no problem. Having said that, if there are multiple coatings of antifouling bottom paint on the hull of your boat, then the loss of speed will be noticeable.
Furthermore, ablative bottom paints are meant to shed their coatings over time, so the coating may wear off over time, and weed may begin to grow underneath the hull. In that case, too, the boat will experience noticeable speed loss.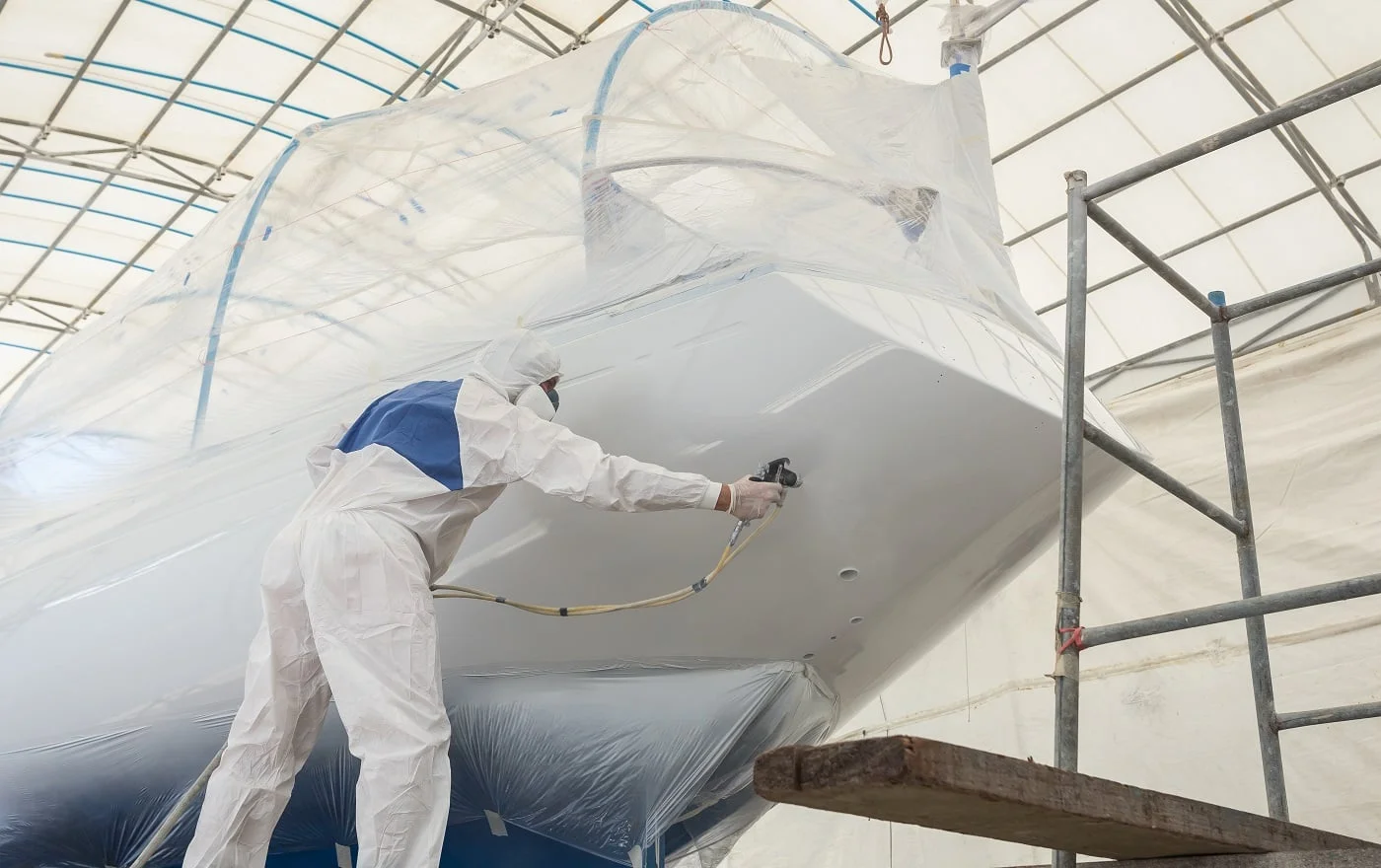 Final Thoughts
Bottom painting the boat is a must if you take it out in the water quite frequently. It protects the boat and also makes it look attractive.
However, when it comes to the cost of bottom painting, it is quite affordable if you know what you are doing, given the wide range of options available out there. Taking proper care of the boat, especially the hull, will make it last a very long time.
On that note, we have come to the end of this informative article. We hope we could provide some clear insights on the cost to bottom paint a boat. For further queries, kindly drop a comment down below.
We hope to see you soon. Until next time!
Related Articles
9 Best Pump Sprayers For Staining Fence
9 Best Concrete Stains to Consider
Learn How To Soften A Hard Paint Brush
5 Best Paints For Stucco Reviewed
11 Best Paint For Concrete Walls In Basement
9 Best Paint Brushes For Chalk Paint
13 Best Professional Airless Paint Sprayer
13 Best Paint for Furniture | Reviews & Buyer's Guide
10 Highest CFM Air Compressors  
9 Best 6 Gallon Air Compressors for Your Home & Garage
13 Best Paints for Bathroom Ceilings  
13 Best Paint for Kitchen Cabinets This Year
2 Luminess Silk Reviews [All You Need to Know]
HVLP vs. LVLP [All You Need to Know & Winner]
5 Best Sprayers For Plasti Dip
How To Thin Latex Paint For A Wagner Spray Gun
How Much Does Benjamin Moore Paint Cost? [Guide]
Alcohol Ink Art Tutorial [Alcohol Inks 101]
7 Best Latex Paint Remover [Reviewed]
9 Best HVLP Spray Gun [Review & Buyer's Guide]
6 Best One Coat Paint and Primer
7 Best Primers to Cover Dark Paint
7 Best Exterior Primer For Peeling Paint
9 Best Deck Stains Today [Reviews & Buyer's Guide]
6 Best Paint Primer For Rusted Metal
9 Best Paint Stripper For Metal 
7 Best Cold Galvanizing Paints
11 Best Paint Scrapers to Rock
How to Remove Spray Paint from Concrete
7 Best Primers For Covering Red Paint
11 Best Paint Roller To Hide Imperfections Tested