Are you trying to revamp your room by repainting some old furniture? Are you confused about which HVLP spray gun to buy for optimum results?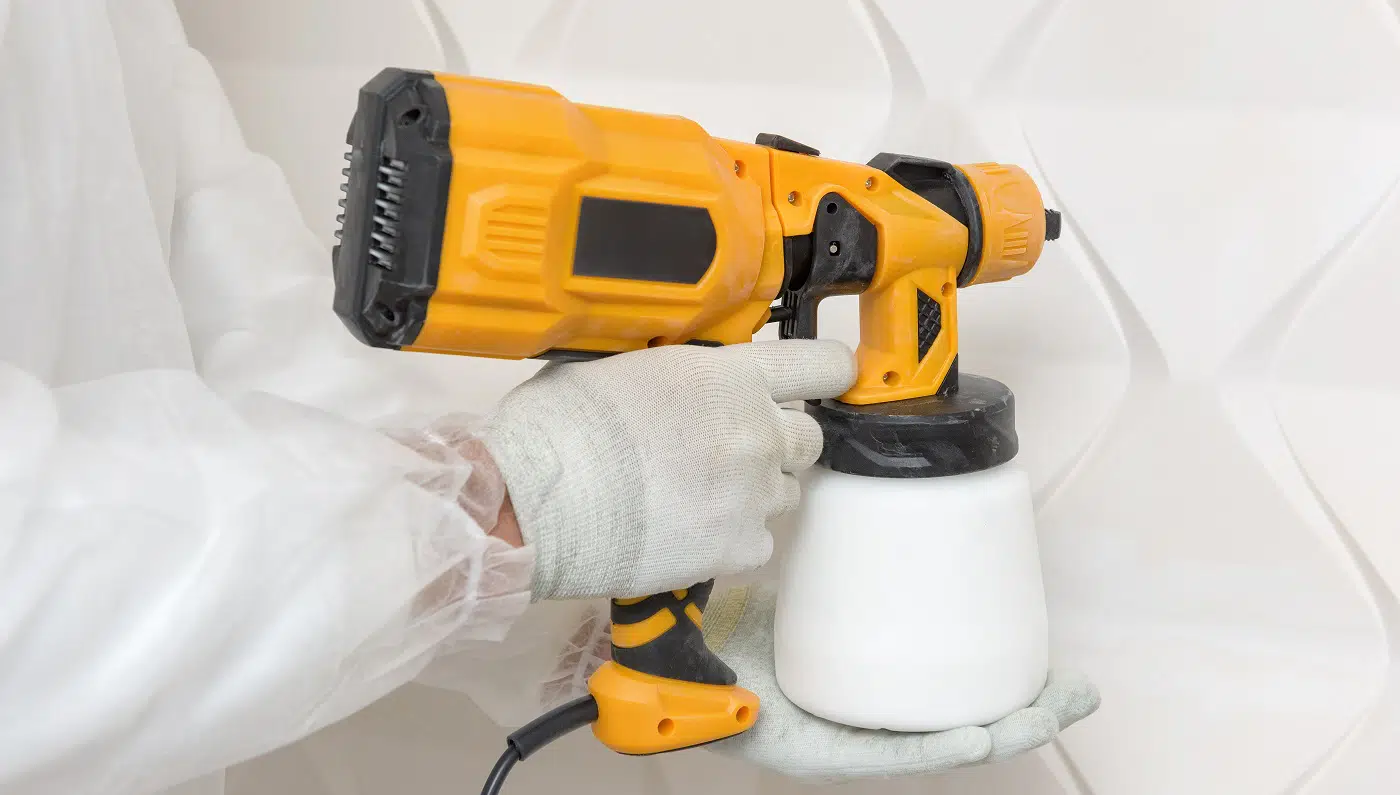 Worry not, because we have got you covered!
As you probably know, HVLP spray guns are the ideal equipment for your home and professional painting needs. They not only give quicker results than brushes but also cause much less of a mess than their high-pressure counterparts.
In this article, we have handpicked the 9 best HVLP spray guns available on the market today. Apart from detailed reviews of each of our recommendations, you will also find a buyer's guide to simplify your decision-making process.
So, what are we waiting for? Let's dive right into it.
Top HVLP Spray Guns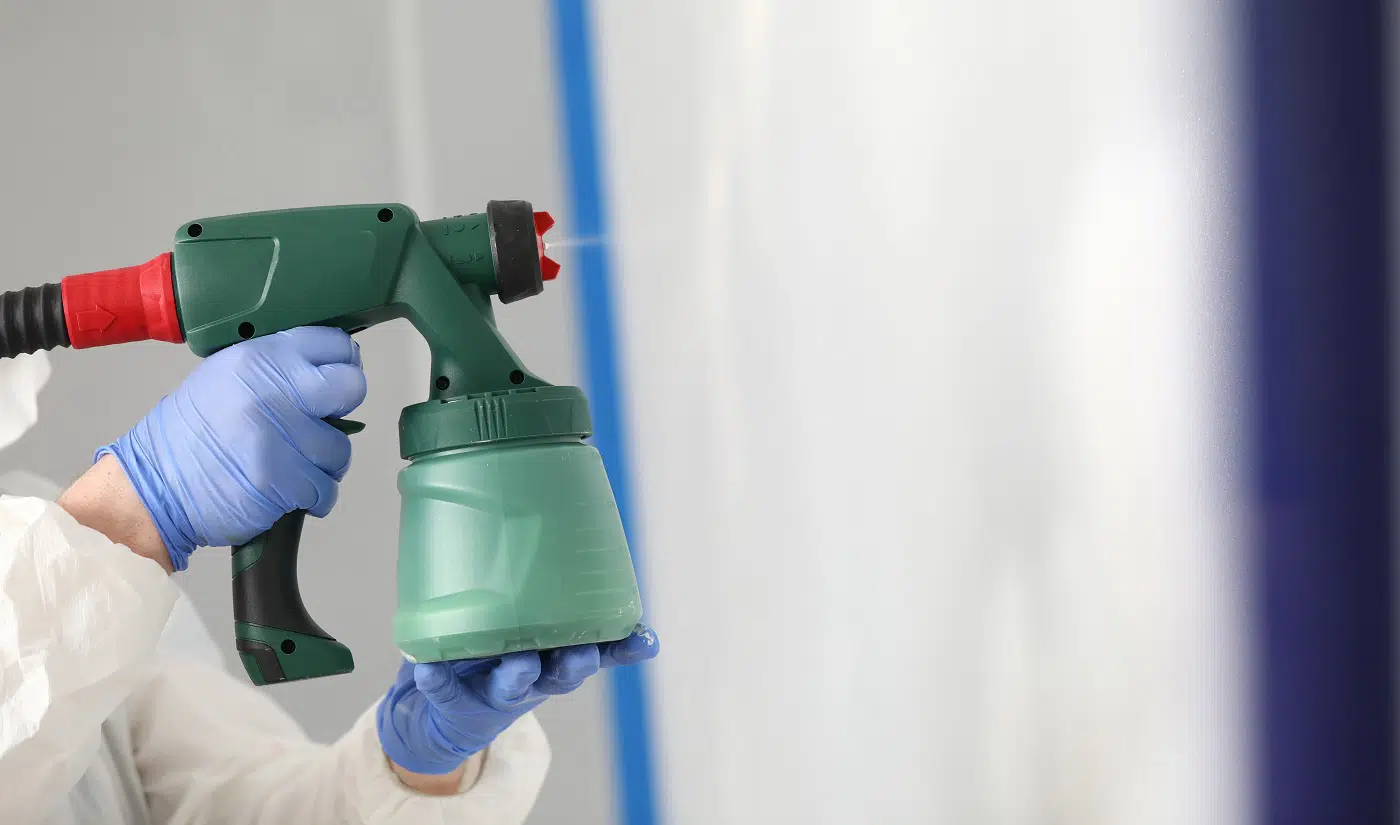 This HomeRight HVLP spray gun in the variant "Super Finish Max" provides a very professional quality finish on all surfaces you use it on. It's ideal for DIY paint projects of all shapes and sizes because of its adjustable mechanisms that help you customize your paint flow. This spray gun is also one of the more affordable high-quality options out there.
Sale
Why Did We Like It?
This spray gun is not only great for more intricate DIY projects but also other larger projects such as painting furniture, cabinets, and so on. It has easily adjustable spray settings and alternative spray tips that allow you to customize the material output and paint flow according to the needs of the project.
Since the spray gun functions on 450 watts of power, it offers a rather powerful spraying experience, making it a versatile product for a variety of projects. It also comes equipped with a cleaning brush that makes the process of cleaning a lot quicker and more efficient.
That's not all; the USP of this product is the 2-year warranty and highly-rated customer service provided by the company. The spray gun also has a rather large paint capacity (39 fluid ounces) that facilitates longer spraying without having to refill very often.
What Could've Been Better?
While this sprayer claims to require little to no thinning of the paint before use, a few customers seemed to have experienced the exact opposite. The tips that this spray gun comes equipped with are very tiny and therefore easy to lose. It is especially easy to lose them down the sink while you're cleaning. Hence, we recommend having a dedicated plastic bowl to keep and clean your tips in.
Pros
2-year warranty available

Easy to clean and maintain

Superior quality finish

Versatile and can be used for a variety of projects

Large capacity
Cons
Very small spray tips

Requires the paints to be generously thinned
Next up, this Fuji paint spray gun has an unconventional design and is one of the very best HVLP options available on the market. The product has professional precision and very high durability, which is why it is also one of the most expensive products on the list.
Why Did We Like It?
One of the biggest reasons why this product is so popular is because of its strong and sturdy build as compared to other spray paint models. Moreover, the gun provides a very uniform and precise spray pattern, and an adequately fast spray speed, making it one of our top contenders!
Moving on, we love how this product is non-bleed, which means the moment you release the trigger, the paint automatically stops flowing, thereby avoiding any potential mess. The 25 feet hose that comes with it has an air control valve that significantly reduces overspray and bounceback as well.
Also, this model of the Fuji Spray gun is convertible, meaning it can be switched between the bottom feed cup and gravity feed cup for ease of use. That's not all; it has an ergonomic stay-cool handle and is very easy to disassemble and clean, which has quickly made it a fan favorite.
What Could've Been Better?
While this HVLP spray gun is one of the best 2-spray systems out there, it is significantly heavier - weighing 26.1 pounds. The price of this paint gun is also significantly higher than its counterparts, but we feel that it's well worth its high price.
Pros
Very sturdy and long-lasting

Non-bleed product

Minimal overspray

Quick and easy to disassemble

Convertible
This spray gun, while being one of the lowest-priced spray guns on this list, is also one of the highest-rated. It uses high volume low-pressure technology to provide a smooth and consistent finish on all surfaces, from doors to decks to furniture.
Sale
Why Did We Like It?
Like most spray guns on this list, this too has customizable settings to control and optimize the pressure and flow of the paint. Furthermore, the air cap of this tool is adjustable, thereby allowing you to choose your spray pattern - round, horizontal, or vertical.
Moving on, a feature that sets this spray gun apart from the rest is its stationary base and lightweight build that significantly reduces hand fatigue. Since the turbine is placed on the ground, it makes it a lot more convenient to hold the tool for extended periods of time.
That's not all; we love how affordable this tool is compared to its counterparts with the same features. So, if you're looking for a budget-friendly HVLP spray gun that has high performance and a year-long warranty, this is the one for you!
What Could've Been Better?
This tool works optimally only with light materials like stains or thinned-down paints of different kinds. This makes this tool less than ideal for people looking for thicker coverage on their projects. However, this does not compromise the overall performance of this spray gun.
Pros
Professional, consistent finish with minimal overspray

Easy to assemble and clean

Powerful nozzle

Lightweight and easy to maneuver

Very affordable
Cons
Works well only with thinned paints
If you're looking for a spray gun that has one of the most professional finishes, then this is the one for you. It comes equipped with the latest atomization technology and delivers a superior finish on most surfaces. This product doesn't come with a motor though, so ideally it's for someone who is just trying to replace the paint gun from their set.
Why Did We Like It?
This HVLP spray gun is most well-known for its high-precision spraying capabilities and is one of the top picks of working professionals. It comes with precise fluid nozzles and high-quality air caps that enable it to deliver superior results. From auto-body work to painting kitchen cabinets, this gun can provide top-notch results.
While it may be on the expensive side, the precision with which it delivers the spray paint is unmatched by most other guns. What's more, its anodized internal passages make it very easy to clean and maintain while using it on a regular basis.
Also, this spray gun is comparatively lighter than its alternatives, which is a major benefit in our books! So, once you pair this gun with a high-quality air compressor, there is next to nothing that it can't achieve.
What Could've Been Better?
As we mentioned earlier, this spray gun is mostly used by working professionals. One of the major reasons behind this is that there is a certain level of experience and technique required to use it to achieve optimum results. Hence, if you're a beginner looking to invest in a spray gun, this is not the one for you.
Pros
Unmatched precision

Easy to clean

Lightweight

Professional finish

Long-lasting and hardy
Cons
Expensive

Not for beginners
Earlex, just in case you didn't know, is one of the leading brands of spray gun equipment. The Earlex 5500 is designed specifically for automotive work, serious woodworking, and light contractor work. Long story short, this is another HVLP spray gun that is ideal for professional rather than home environments.
Why Did We Like It?
One of the most impressive qualities of this spray gun is the user-friendly performance that makes it ideal for both working professionals and beginners alike. This, coupled with its sturdy and long-lasting building, makes it an ideal investment for many woodworking enthusiasts.
Furthermore, this spray gun is extremely convenient to carry around because of its handle along with the onboard storage for the hose and the gun. Its all-metal paint gun with stainless steel tip and powerful turbine provides a more polished finish on wooden surfaces as compared to its other counterparts.
Moving on, the innovative push-and-click spray pattern adjuster in this tool allows you to quickly shift between the various spray patterns. It also has a paint flow control dial and comes with a pick-up tube for overhead and downward spraying. This, along with its high non-bleeder gun control features, comes in especially handy while painting with a wide variety of water-based and oil-based materials.
What Could've Been Better?
This gun is specifically designed for small to medium-sized woodworking projects, thereby restricting its use. If you're looking to attempt more versatile projects, then this HVLP spray gun is not the one for you.
Pros
Very user-friendly

Portable

Sturdy and durable build

Perfect for woodworking

Easy to clean
Yattich is one of the best brands of HVLP guns on the market today. Its products are not only very affordable but also perfect for home use and smaller DIY projects. The 191 model has a unique design aimed at enhancing user experience. It has a double layer of insulation that makes it very safe to use outside of a professional environment.
Sale
Why Did We Like It?
This model of the Yattich Spray gun is known for its large variety of nozzle sizes and unique trademarked copper composition. These copper nozzles are not only more versatile and durable, but they also avoid blockage, which reduces resistance and can extend the life of the motor significantly.
What's more, these spray guns are extremely versatile and can be used on a variety of surfaces, ranging from craft steel and walls to wood. Its suction tube can be easily adjusted according to the angle at which you require it to spray, while its customizable spray modes add to the ease of use.
If that wasn't enough, this spray gun is quite affordable, thereby making it a rather ideal investment for anyone interested to purchase it.
What Could've Been Better?
This product is majorly made of plastic, so it is not as long-lasting as its metal counterparts. This could also be an issue for more environment-conscious consumers who do not wish to invest in plastic equipment.
Pros
User-friendly experience

Easy to clean

Easily detachable

Very well insulated and safe to use
Cons
Made mostly out of plastic
Wagner is one of the leading companies to manufacture the HVLP spray gun and is best known for its versatility in the same. And that can be said about its model FLEXiO 890 that gives a high-quality consistent finish on projects of all textures and sizes.
Why Did We Like It?
This model of Wagner is built like a high-performance professional spray gun while being priced at a comparatively lower rate, which we love. It's built ideally for home-improvement projects and can be used both indoors and outdoors with relative ease.
One of the best features of this spray gun is its integrated storage which allows you to easily store the hose and nozzles within the system after usage. Since the turbine base is stationary, this spray gun avoids hand fatigue and has a long 11.5-feet flexible air hose that allows you to cover more area with ease while working.
Apart from being user-friendly, this spray gun has one of the fastest spray speeds amongst all the other products in this guide. This means it can cover a larger surface area in a relatively high-quality shorter period of time making it a very good painting tool. You can also use unthinned paints of all kinds in this spray gun which sets it apart from all its competitors.
What Could've Been Better?
The nozzles of this spray gun tend to require cleaning at regular intervals. This makes it kind of a hassle to use, especially for larger projects. The spray tip of this equipment is also not very precise and tends to overspray frequently.
Pros
Easy to use

Ergonomic design

Fast spraying speed

Can spray unthinned paint

Easy storage
Cons
Tends to overspray

The nozzle requires regular cleaning
Next up, this model is called the Earlex 6003 Pressure. Known for its professional finishing capabilities and high durability, it's no surprise that this spray gun is one of our topmost recommendations. Its powerful motor and onboard gun docking system has made this tool gun one of a kind.
Why Did We Like It?
This spray gun is ideal for people looking for a high-performance and durable tool that can spray everything from milk paints to varnishes and lacquer. It is also designed specifically for users who engage in serious woodwork, so it delivers a flawless finish in all its projects.
Moving on, the nozzle of this spray gun is non-bleed and precise, which along with its pressure-fed gun, stay-cool handle, and dual adjusters provide maximum performance. Not only that, but its 360-degree rotating air cap allows you to spray even the most difficult crooks and crannies with ease.
Furthermore, its 25 feet Hyperflex hose gives this stationary spray gun maximum maneuverability in and around any project area. Earlex also provides customers with a 2-year warranty and highly rated customer service which is always a pro in our book.
What Could've Been Better?
While this spray gun is marked on the more expensive side, most customers agree that it is well worth its price. Some customers have pointed out that the paint gun is prone to spitting which may hamper the final finish of projects in certain cases.
Pros
2-year warranty

Super long, flexible and durable hose

Non-bleed

No thinning required

High and comfort and performance
Cons
Paint spraying may be prone to spitting
This gravity-feed HVLP spray gun is great for a beginner in painting projects looking for an affordable tool that gives high quality and consistent finish. It works best on wooden projects ranging from cabinets to door frames and smaller furniture. The product also comes with bonus accessories that include a cleaning brush, a spanner wrench, and a pressure gauge.
Why Did We Like It?
This paint spray gun is made for the typical DIY user and can cover regularly to heavy-duty work. Hence, it is very easy to operate even without prior experience using paint sprays. Users rated it rather highly, mentioning that the more you get used to it, the better finish it provides.
Also, it is entirely made of stainless steel and hence very durable. And it comes with the expected one-year warranty and decent customer service. Apart from that, the lightweight build of this tool gives it high maneuverability and provides a beautiful consistent finish on all surfaces.
The 1.44mm spray nozzle it comes equipped with is great for most painting projects. However, you can also replace the nozzle with other differently-sized tips available on the market. This product also has full control over air pressure and spray pattern thanks to its adjustable control knobs.
What Could've Been Better?
The gun comes equipped with only one kind of tip which is kind of a let-down for people who do want to be able to do a variety of projects. This gun also works optimally better with thinned paints and pigments which could prove to be another letdown for users.
Pros
Ideal for basecoats

Lightweight and portable

Very easy to use

Durable

Affordable
Cons
Only comes with one tip

Not great with thick paints
HVLP Paint Spray Guns Buyer's Guide
That brings us to the end of the list of our top 9 picks of the best HVLP paint spray guns. But we understand that 9 options may still seem like a lot to pick one out of.  For this reason, we've compiled an in-depth buyer's guide discussing factors to look out for that should help you make this decision.
Spraying Speed
Most HVLP spraying guns have a lower rate of painting speed as compared to their higher-pressure counterparts. Even within the options for this spraying, different tools have different spray speeds. So, you must decide how quickly your project needs to be completed and buy one of these accordingly.
Nozzle/Tip Size
The nozzle and tip at the end of the spray are what determine how smoothly the paint will be applied on any surface. A larger nozzle will help you cover a larger surface area at once while a smaller one will help you zero in on details.
Some guns come equipped with multiple nozzles and tip sizes and that gives the spray added versatility. Hence, depending on the kind of project, you'll have to choose a spray gun accordingly.
Paint Adaptability
HVLP spray guns have different levels of adaptability when it comes to the kind of paint or lacquer you want to apply on a certain project. If you're going to be working with a lot of different thicknesses of paint, you're going to require a spraying gun that supports it. Some guns come equipped with a thinner funnel that helps you thin down paints to the required amount before use.
Adjustability
These spray guns also come with a variety of customizable and adjustable options such as rotating air caps and boost power dials. These variations help you adjust things like the spray rate and help you achieve different types of finishes and patterns.
Length Of Hose and Capacity
If the paint sprayer has a stationary base, then you will require a long hose in order to easily walk around and work in your station. You should also prefer a spray gun that has a larger cup capacity so that you don't need to waste much time refilling it.
Cost
One last factor to consider while buying an HVLP spray gun would cost. Different brands of spray guns have marked them at different prices. Higher-priced products will usually have more professional level equipment with additional features. However higher price does not always mean higher quality, and hence one should study the features in detail before deciding which one to invest in.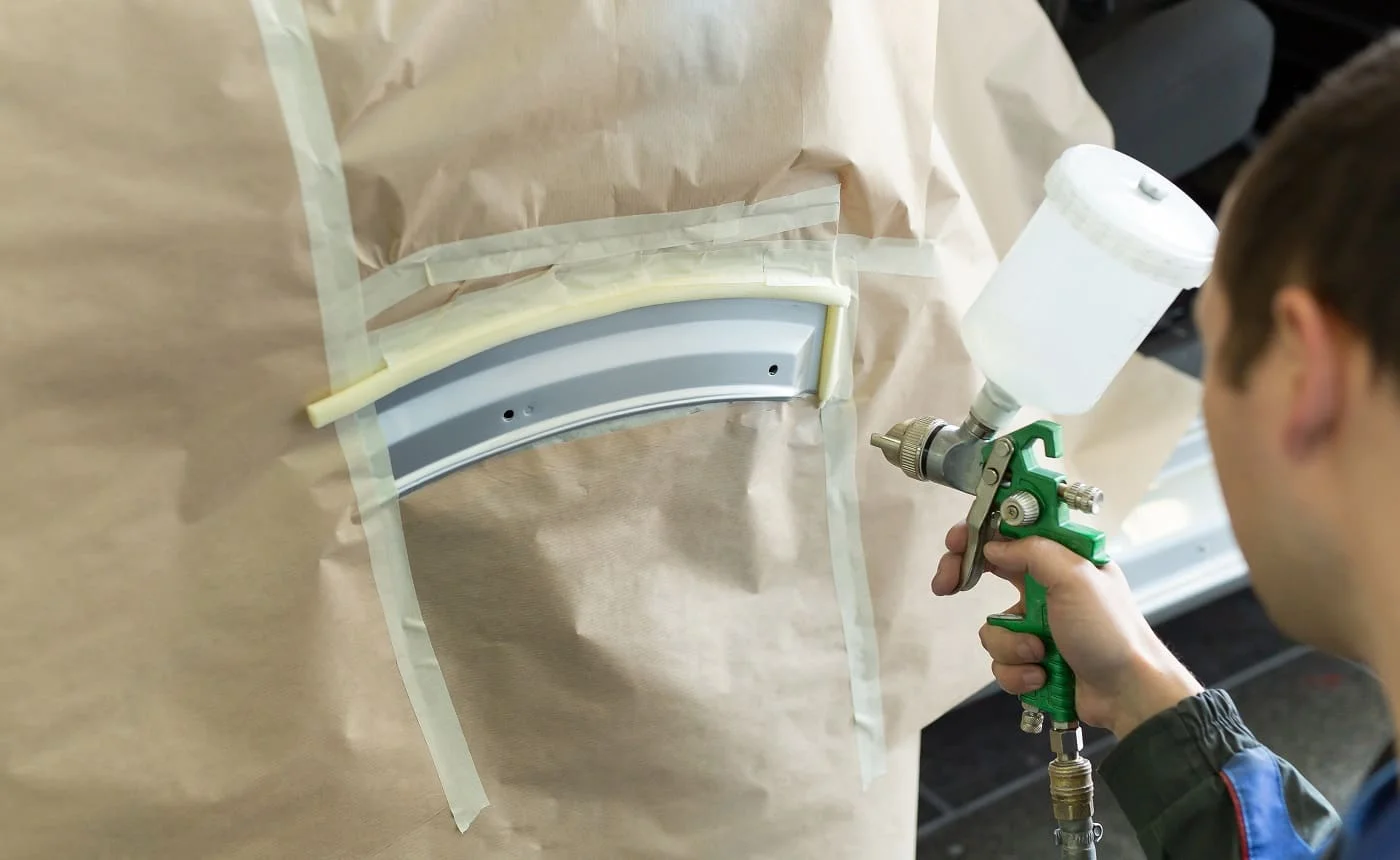 Verdict
With this, we come to the end of our comprehensive guide to the best HVLP spray guns. We hope it will now be easier for you to pick the ideal product for your needs. But if you need another nudge in the right direction, read on.
To summarize, the YATTICH 191 is the most affordable as well as DIY-friendly spray gun. So, if you're a beginner looking for a low budget and easy to operate product, this is the one for you.
On the other hand, if you're a professional looking for high performance, high quality and a flawless finish, then Earlex 0HV6003PUS and Fuji 2203G are more ideal for you.
Before signing off, we would also like to give honorable mentions to the Earlex HV5500 and TCP Global G6600-14 for their high customer reviews and versatility. Wagner 052902, alternatively, has the fastest spraying speed among all the paint guns on this list.
On that note, we will sign off. Till next time!
Related Articles
Alcohol Ink Art Tutorial [Alcohol Inks 101]
7 Best Latex Paint Remover [Reviewed]
6 Best One Coat Paint and Primer
7 Best Primers to Cover Dark Paint
7 Best Exterior Primer For Peeling Paint
9 Best Deck Stains Today [Reviews & Buyer's Guide]
6 Best Paint Primer For Rusted Metal
9 Best Pump Sprayers For Staining Fence
9 Best Concrete Stains to Consider
Learn How To Soften A Hard Paint Brush
5 Best Paints For Stucco Reviewed
11 Best Paint For Concrete Walls In Basement
9 Best Paint Brushes For Chalk Paint
13 Best Professional Airless Paint Sprayer
13 Best Paint for Furniture | Reviews & Buyer's Guide
10 Highest CFM Air Compressors  
9 Best 6 Gallon Air Compressors for Your Home & Garage
13 Best Paints for Bathroom Ceilings  
13 Best Paint for Kitchen Cabinets This Year
2 Luminess Silk Reviews [All You Need to Know]
HVLP vs. LVLP [All You Need to Know & Winner]
5 Best Sprayers For Plasti Dip
How Much Does It Cost To Bottom Paint A Boat?
How To Thin Latex Paint For A Wagner Spray Gun
How Much Does Benjamin Moore Paint Cost? [Guide]
9 Best Paint Stripper For Metal 
7 Best Cold Galvanizing Paints
11 Best Paint Scrapers to Rock
How to Remove Spray Paint from Concrete
7 Best Primers For Covering Red Paint
11 Best Paint Roller To Hide Imperfections Tested