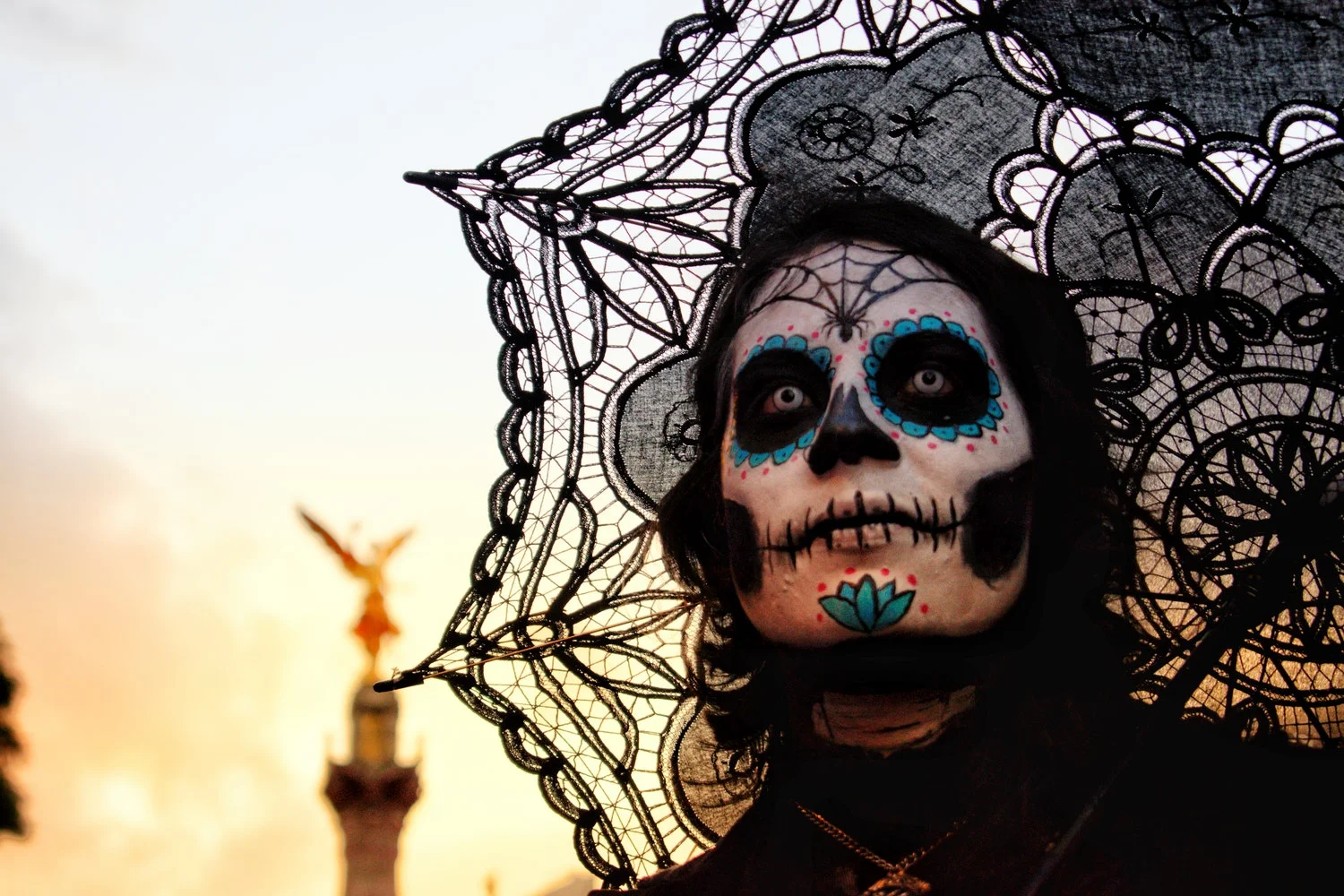 Getting ready for Halloween? Or perhaps a costume party?
Well, we're on the same page! Literally. If you're looking for ideas and techniques on how to nail that fantasy look, then you are in the right place!
Today we're going to take you through multiple face-painting ideas and techniques from various artists. See how these professionals use different creative approaches to deliver impressive face-painting results.
Before we start, we'd like to say that yes, there are plenty of YouTube tutorials which will tend to your visual learning. But today, we are going to contribute verbal learning to it as well.
We will be explaining how to successfully achieve each of these looks step-by-step.
So without further delay, let's dive right into it!
Face Painting Techniques 
LiveLifeSketch's Face Painting Tutorial
This is the first and probably the most lengthy tutorial on this list. Here, the artist explains most of the basics of face-painting in details.
If you are someone who is new to face-painting, this tutorial will be very helpful because all steps and techniques are broken down into simple explanations.
Some of the important contents of this tutorial include explaining how and where to grab the brush while working, how to work according to the size of the face, and also how much water one must use so the paint will last for a longer period.
Besides then again, since it's an hour-long video, it includes many more tips and wonderful techniques one can learn from it.
We would suggest getting ready with all the necessary materials before jumping into the world of face-painting.
Love Birdy's Double Dipped Flowers Technique
In this next tutorial, you'll see how the artist creates gorgeous flower designs using various methods.
Among these different methods is the main one, which is the double-dipping a brush technique. With this, you can create a two-color blended effect on the petals, and any design for that matter.
The best thing about this technique is that it is very easy, yet it gives beautiful results. For this particular design, you will need to have a rainbow color cake and a petal brush in hand. For the extra paints and brushes, you can choose whatever you already have.
So if you're looking for quick techniques to create flower petals, this video will be the best option for you.

Fairy Fox Design's Three Horse Power Tutorial
This next design tutorial is perfect for kids or for cute costumes.
The artist shows you how to paint three different types of horses like a zebra, a unicorn/pony, and a horse.
However, this technique is a bit different from those we have previously discussed because it requires a little practice before you can actually use it for actual face-painting. So if you're bound by time, we would suggest going for the easier ones for now.
However, the good thing is that although this technique requires some practice, it is not that hard to follow once you get the hang of it.
Also, the artist does not use a lot of tools except for the main ones like an applicator, some paints, and a brush.
Fairy Fox Design's Rainbow Fairy Mask Tutorial
Another one by Fairy Fox Design is this rainbow fairy mask tutorial.
For this design, the artist starts off with a sponge which she has put on rainbow colors and then dabbing it on to half of the face, creating a mask effect.
You will see that she includes a lot of techniques in this video to create every design that she is using. This makes it simple and easy to understand for anyone who wants to use this design for face-painting.
Along with the sponges, split cakes are also the reasons that make designs like these truly stand out.
And since the sponges are only meant for creating a smooth background, a couple of brushes is also needed to work with the details.
Silly Heather's Arty Cake Princess Tutorial
Here is a face-painting design by Heather for little girls. Since every little girl's dream is to become a princess, we as artists might as well make their fantasy come true for once.
Heather takes us through the steps and techniques for creating this design. When you have learned these methods, it will be easier to make something similar.
Whether you are a beginner or an expert, Heather's techniques will be of great help when trying to master the art of face-painting. We would suggest watching this video and trying to copy her style in the beginning so you can see the final results for yourself.
The essential tools for this design include brushes, a sponge, and split cakes.
SophiesTips' Glitter Gel Techniques
Glitter gel is the key to creating this face painting design.
For certain effects such as this, adding glitter gel will only enhance the already beautiful artwork and take it to a whole different level.
In this video, you will see how the artist uses different brushstrokes on different areas to highlight the designs.
Sophie, the artist, has done an exceptional job in this video by adding just the right amount of glitters for highlighting specific areas of this flower design. Too much glitter will also be unappealing, so see how she paints it without overdoing the glitters.
Shimmery looks are very common for kids' costumes so the next time you're doing face-painting, make sure to include it.
Magali Laville's Easy Cat Face Painting Tutorial
This cat face painting for kids by Magali Laville is simple, yet very beautiful. With different colors and designs, this will be perfect for both boys and girls.
In this tutorial, the artist uses a sponge for creating the fading wash effect, and then starts shaping the design with a brush.
Also, throughout the process, the artist uses only a few tools and brushes, along with some accessories to make it look lively.
And because this is an easy painting, it does not require a lot of face-prepping beforehand. Therefore, anybody who wants to give face-painting a try can start off with an easy design like this.

Greta Smartie's Easy Pink Unicorn Face Painting Tutorial
If you are a beginner, this would be the perfect choice to start off with. It is pretty easy and quick to do.
It's a good option for times when you are in a rush. Say, if you are dressing up a kid for their costume party in a hurry, this design would be very helpful.
In the video, you'll see how the artist actually does not have to put in too much effort for creating this look. She starts off with a light wash using a sponge and then moves on to the details directly.
You'll notice that she also added a few glitters to highlight some features of the design.
This is a very short tutorial, so feel free to watch it for yourself.
FacePaintcom's Camouflage Face Painting Tutorial
Little boys and girls who admire soldiers will love this face-painting design.
Like the others, this design is also simple and anybody can do it. The colors you'll need for this face-painting are black, brown, and green. Also, only two brushes are enough: a medium brush and a chisel brush.
The best thing about this design is that it allows you to be as creative as you want, using only those three colors. There are no methods that you need to follow.
You will see that the artist uses large patches of each color, but like we said, you are free to create shapes of your own.
International Face Painting School's Sugar Skull Makeup for Kids Tutorial
Since we have been doing easy and simple tutorials, we thought of including this next one.
It's a sugar skull design, in which you will need a few practice sessions before going on to the actual work. And this particular design is not only for kids, but for adults too.
The design includes a lot of techniques such as setting the base with a white paint and some sponges, blending two colors to get one effect, setting guide points while drawing lines, and more.
Even the brushes have to be specific according to the requirements if we want to see that complete and neat final result.
Besides these, you will also see how careful the artist is with each design or brushstroke. Glitters and accessories are also needed for this look.
If you have had some experience with face-painting and want to try out something more advanced, then we'd suggest going for this look or anything similar to this.
Madeyewlook's Harley Quinn Tutorial
So far we have discussed colorful face-painting techniques, but now we'll shift our focus to adults.
Let's start off with this Harley Quinn look by Madeyewlook.
We included this in this list because firstly, it is a very simple look to achieve whether you're a learner or an expert.
Secondly, the artist explains every technique in detail including how to make the effects pop and appear realistic. Moreover, this is a very trendy costume which girls would usually consider going for.
In this video, you will see methods for body-painting as well. The artist explains how to create fake muscles, highlights, and other effects too.
And the best thing about this tutorial is that she uses minimal paints and a few tricks to recreate a perfect copy of Harley Quinn's costume.
Personally, we think this video would be very inspiring for beginners who thought they have to own loads of materials in order to become a professional face-painter, which in reality, they don't.
Jasmine Allyse's Avatar Face Painting Tutorial
Jasmine Allyse is a certified special effects artist who will be your guide to achieve this blue Avatar look.
She is another product minimalist who uses only two palettes to recreate this famous cosplay look.
For the wash, she uses a hydrocolor face paint palette where she mixes the colors with water. While for some details, such as the highlights, she uses a regular makeup palette.
You will see how she consistently keep going lightly with her brush to create a compact wash over her face and body. Also, you will see how she blends a few harsh lines using brushes.
And for this look, you will require only a few painting and blending brushes.
If you want to learn how to blend and use highlights in face-painting, you will find this tutorial very helpful.
Roxxsarus' Half Skull Tutorial
This half skull face painting by Roxxsarus is very easy to create and it's perfect for Halloween and other competitions.
Not only is this design easy, but the artist also explains everything strategically so that everyone can easily follow the tutorial.
Apart from that, this design only requires two opposite colors – black and white.
If this is the first time you're trying out scary half-mask face-painting, then this video is a must-watch. You will get all the basics about face-painting, such as blending two colors to make them seem more natural.
Throughout the video, you will see that the artist uses different types of brushes for different effects, therefore, we suggest paying close attention to it.
Shonagh Scott's Gamora Face Painting Tutorial
Being one of the most popular characters, a lot of people interested in face-painting are trying out the Gamora look.
Luckily, we found this exceptional face-painting done by Shonagh Scott. And we chose this not only because it is recreated successfully, but also because it is very easy to follow.
As a heads-up, the techniques in this video are much advanced which are used by professionals and there are a lot of products for creating special effects too.
The artist took simple steps and used easy methods to complete this. In the tutorial, you'll see that she uses different methods and then explains why you need to use them.
For instance, using the multipurpose foam to protect the face before starting off with the painting. She also shows us the different kinds of tools for various purposes.
FacePaintForum's Scary Clown Face Painting Tutorial
If you are looking for the perfect easy Halloween face-painting idea, then you will love this next one.
The look we are trying to copy today is of the infamous Pennywise. And in this tutorial, the artist explains everything step-by-step as she proceeds with the painting. She tells us what she uses and why she uses it.  
You will also see that she puts in some more effort into the painting saying if it was for costumes.  The techniques she uses are actually quite simple. And they do not need a lot of materials or paints since we are painting a three-colored look anyway.
This is also easy for anyone who wants to try out Halloween face-painting for the first time.

FacePaintForum's Scarecrow Face Painting with Powders
Another easy scary and fun Halloween face-painting is this scarecrow look from FacePaintForum.
Here, you do not need a lot of designs and shapes for the base. You'll see the artist actually covers the base with a yellow shade mixed with orange. She uses powder makeup for this effect, along with makeup brushes.
And for the details, she uses a round brush where she draws just the outlines without having to fill in colors.
This is perfect for both kids and adults so we would suggest this look for your next Halloween outfit.

Conclusion
All the above ideas we have mentioned can be used as references for practice to create other designs as well. Let your creativity take its own course.
And with that, we will end today's guide. We hope you enjoyed reading this!
Thanks for stopping by!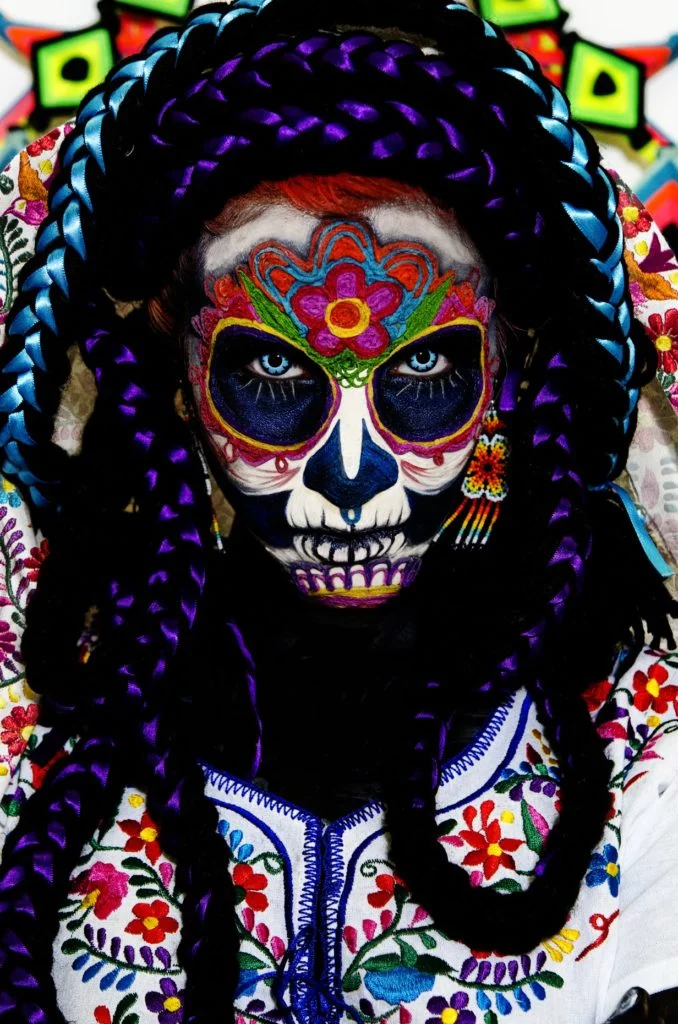 Related Articles
9 Best White Face Paint For Cosplay, Clowns & Halloween
6 Best Body Paint | Top Brands Compared
5 Epic Face Painting Supplies That Will Improve Your Designs
11 Best Face Paints | Top Brands Compared
Learn How to Body Paint With Brilliant Results Right Now
5 Best Airbrush for Body Painting 
11 Best Face Painting Kits of 2022 Put to the Test
13 Best Spray Paints For Metal
7 Best Airbrush for Miniatures & Model 
11 Best Epoxy Resin For Crafts 
5 Best Polyurethane for Floors  
5 Best Epoxy Resin for Tumblers  
9 Best Exterior Wood Stains Today 
10 Best Clear Coat for Kitchen Cabinets [Buyer's Guide]