Colors, especially in the form of paint, were always the best mode of self-expression no matter which cultural or historical period you look at.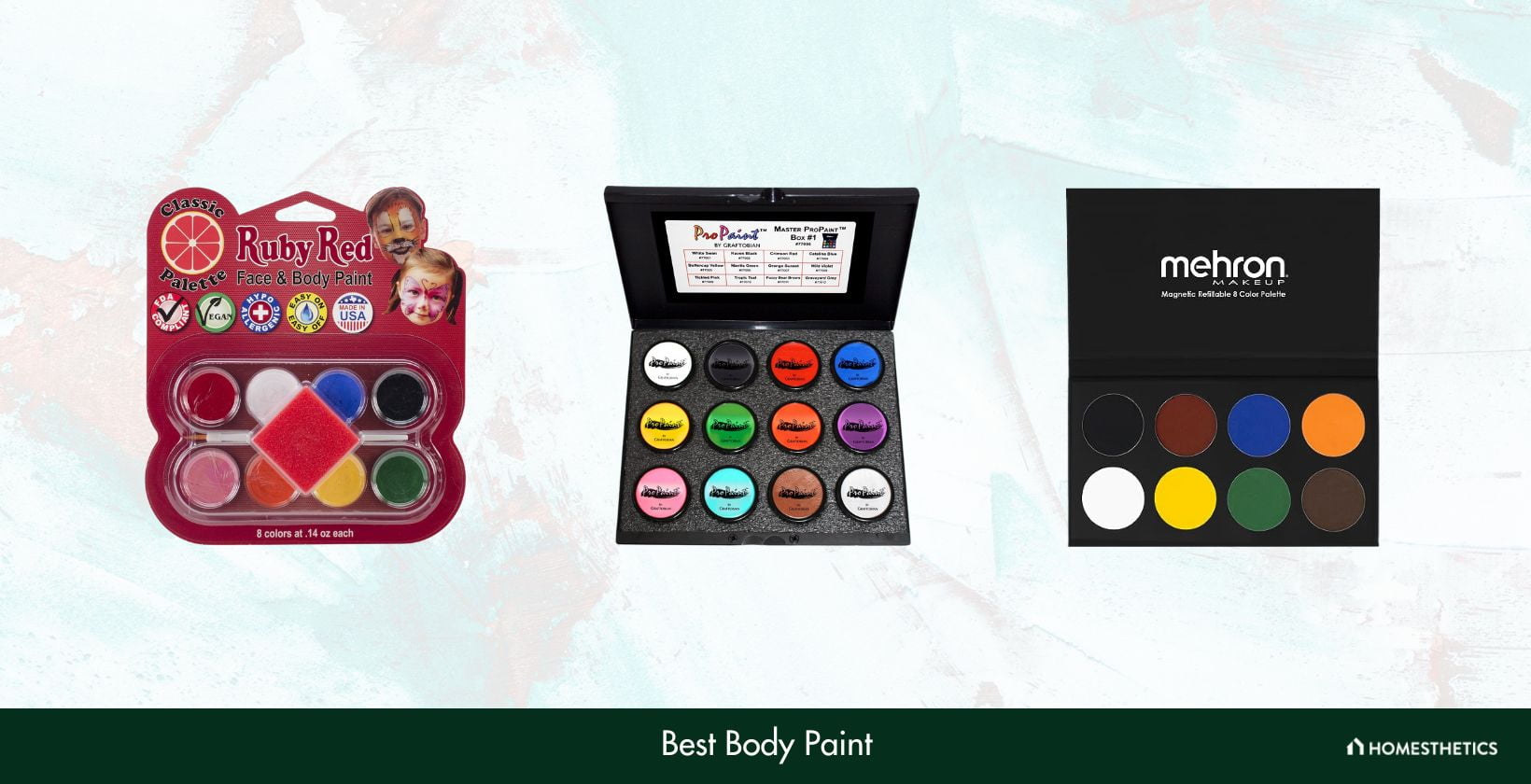 And as the years rolled by, that form of self-expression went from the confines of a white page to the surfaces of walls as graffiti and now even on human skin as body art. 
Body and face painting may be the newest form of artwork in on the block, but they have of late grown to be the most popular. 
Not only are body paints more steadily being used in fashion shows, but they have become the go-to choice of paint come every comic con and cosplay convention. 
But with so many body paint types and models in the market, from water-based all the way to glitter, it can be hard for even professionals to pick the one that can fit their needs the best. 
Many professionals avoid acrylic paints to apply on the face or skin, to know what's the deal, continue reading this article till the end, or check out our exclusive article on acrylic face paint to know more details. 
So if you're one such artist, struggling to decide which body paint to get, then you have come to the right guide. 
Listed below are the Best Body Paints:
Mehron Paradise: The Mehron Paradise Body Paint is a high-end, professional body paint known for its fantastic pigment load and coverage. Its non-toxic and non-allergenic formulation suits all skin types, elevating it to be a top choice among professionals in the fashion industry. A significant drawback is its higher price and a tendency for colors to rub off.
Snazaroo Range: The Snazaroo Range Body Paint offers FDA-approved, child-safe body paints at a budget-friendly price point. Despite its affordability, it provides quality, earning a reputation for being one of the best budget-friendly picks. Longevity can be an issue, with the water-based paints requiring frequent touch-ups.
Red Ruby: The Red Ruby Face and Body Paint stands out with its vegan, hypoallergenic formula. Offering 99 color variations, it caters to a wide range of creative needs. While it promises safety and variety, its high price and limited coverage may deter some users.
TAG: The Face and Body Paint excels in durability and color intensity, ideal for cosplay and character creations. Although known for its waterproof and sweatproof qualities, the range lacks color variety and is known for its time-consuming removal process.
Midnight Glo: The Midnight Glo UV Body Paint is unique for its glow-in-the-dark feature, a hit for parties and clubbing scenarios. While the paint's flexibility allows it to combine well with other body paints, its adherence to skin and slightly high cost compared to others fall short.
With so many options on the market, it can be overwhelming to choose the best one for your needs. But worry not, we've got you covered! Here's the list of the 6 best body paint options that will help you stand out and create a lasting impression.
1. Mehron Paradise Body Paint - Best for Professionals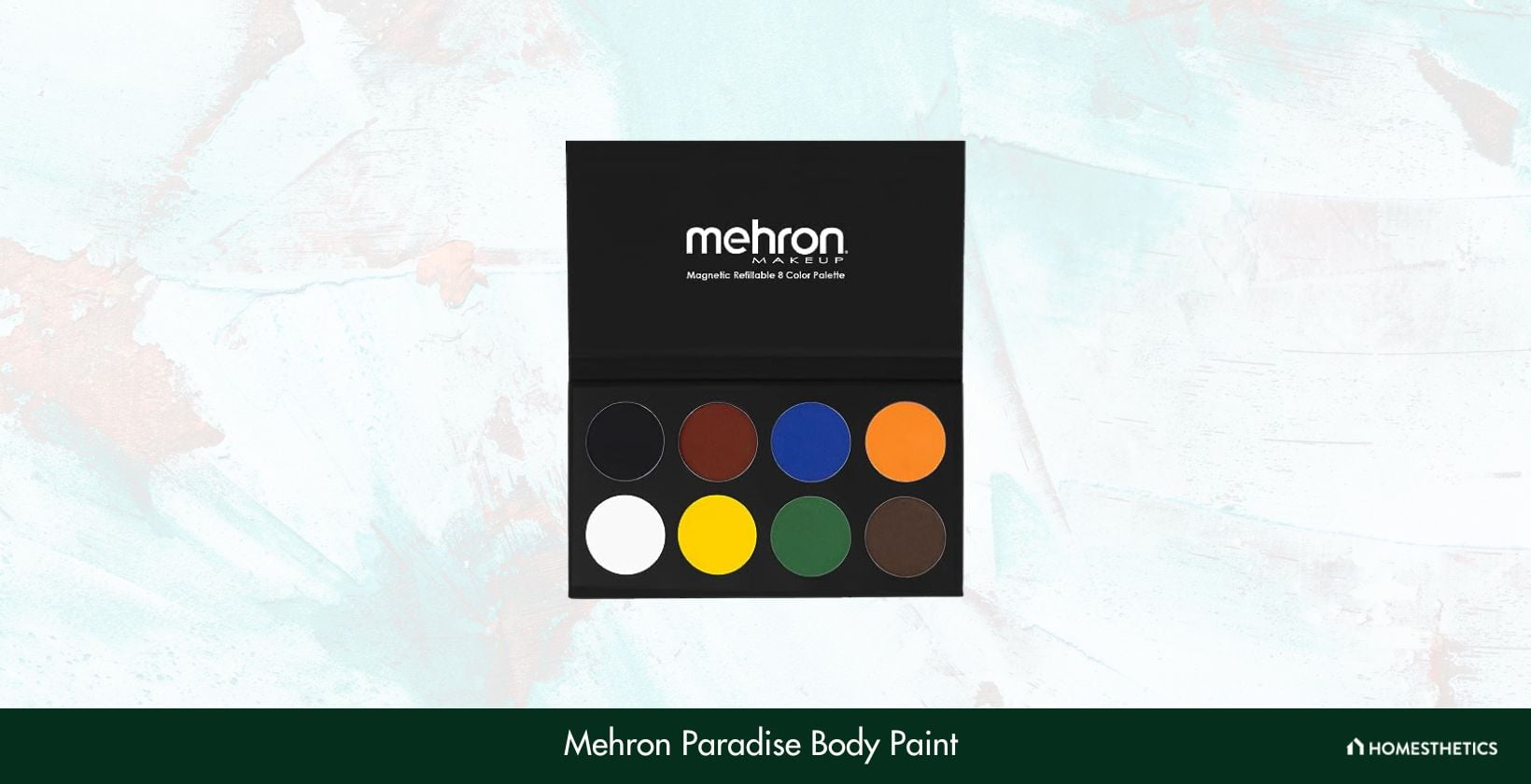 The Paradise Body paint collection Mehron is what professional models and body painters in the fashion industry rely on the most. This body paint is by far one of the best sets of paints on the market and comes with not only a fantastic pigment load but coverage and a long-lasting sheen as well. 
Experience 
Apart from the incredible gloss and the long-lasting durability, what truly impresses us about this Mehron range body paint kit is the ingredients Each model in the Paradise series is composed of ingredients that one would otherwise find only in high-end beauty products.
From vitamin E Oil to cucumber and ginseng root extracts the Paradise body paints contain a lot of ingredients that keep the paint safe for use for all skin types. They are absolutely non-toxic, and non-allergic and act as an amazing substitute for body moisturizers that nourishes the skin.
The paint sticks to the skin rather well are sweat-proof, and the texture will not crack even under dry conditions. But the colors are prone to rubbing. The paint can very easily rub off on other surfaces, and also come off if a lot of water is applied to it. This is what makes the Mehron paint so easy to remove after application.  
However, the Mehron Paradise is an extremely expensive range and out of reach for a lot of the average buyers. So if you're looking for a budget-friendly set of body paints, then Mehron may not be the way to go.
What We Like
Supports a fantastic pigment load
Non-toxic ingredient base that can double as a moisturizer
Easy to apply and remove
Has great coverage and is long-lasting
What We Don't Like
Very expensive
Can succumb to rubbing and stick to foreign surfaces
Palette/Kit Size: 1.4 oz (40g) | Number of Colors: 8 | Type of Paint: Water-activated cake | Waterproof: Yes | Hypoallergenic: Yes
2. The Snazaroo Range - Best Budget-Friendly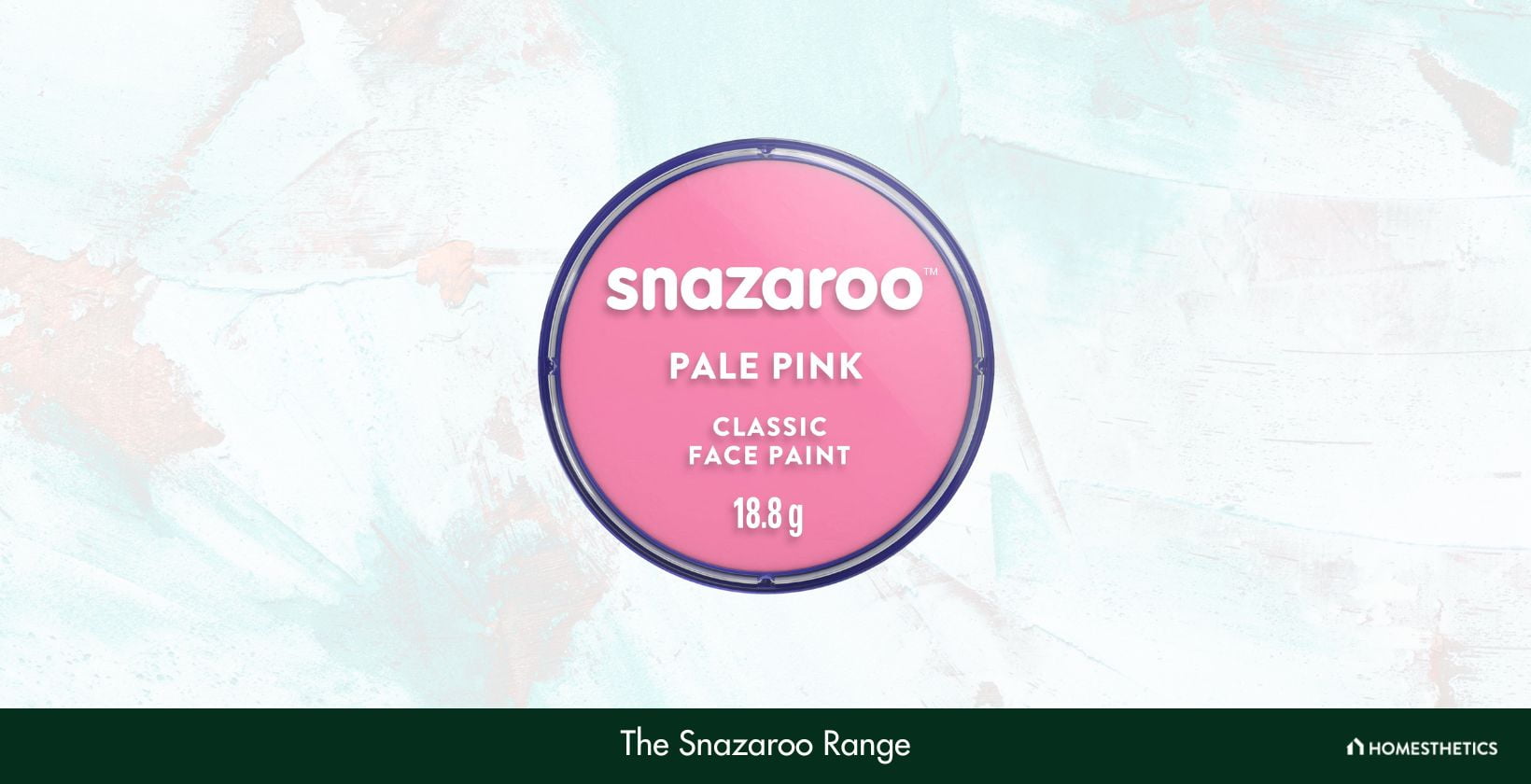 The Snazaroo range of body paints is one of the more popular picks on our list today. And the reason behind that is quite simple really; it's quite affordable and budget-friendly. But the lowered cost doesn't mean that the paint compromises on quality even a bit, they meet all the health and safety standards, and come with FDA approval. 
Experience 
The Snazaroo Paint series is one of the very few body colors that are kid-friendly and can be easily applied to all skin types (even highly sensitive skin) without the fear of adverse reactions. Unlike the paints from other standard bargain brands, these ones are completely non-toxic.
They are fragrance-free and don't give off harmful fumes during application which many other paint bases tend to give off. So, you will not be requiring an air mask during application and removal.
One important fact to know about the Snazaroo is that their paints are water-based; hence, they are incredibly easy to apply and equally effortless to remove.
However, the drawbacks of water-based body paint lie in longevity. Due to their 'easily removable' nature, the Snazaroo paints are not as long-lasting and definitely not sweat-proof and water-proof. Their texture can crack under dry atmospheres and will need constant touch-ups from time to time.
The pigment load is also an issue, as the sheen and gloss can feel inadequate. But for the price of this body paint set, the Snazaroo provides a lot more than expected.
What We Like
Cost-effective and one of the most affordable paint range
Non-toxic and induces no adverse effects on the skin
Easy to apply and remove as its water-based
Is kid friendly and comes with no age restrictions
What We Don't Like
Insufficient pigment load
Not as durable as some might want it to be
Palette/Kit Size: 0.66 oz (18.8g) | Number of Colors: 1 | Type of Paint: Water-based cream | Waterproof: No | Hypoallergenic: Yes
3. Red Ruby - Best Hypoallergenic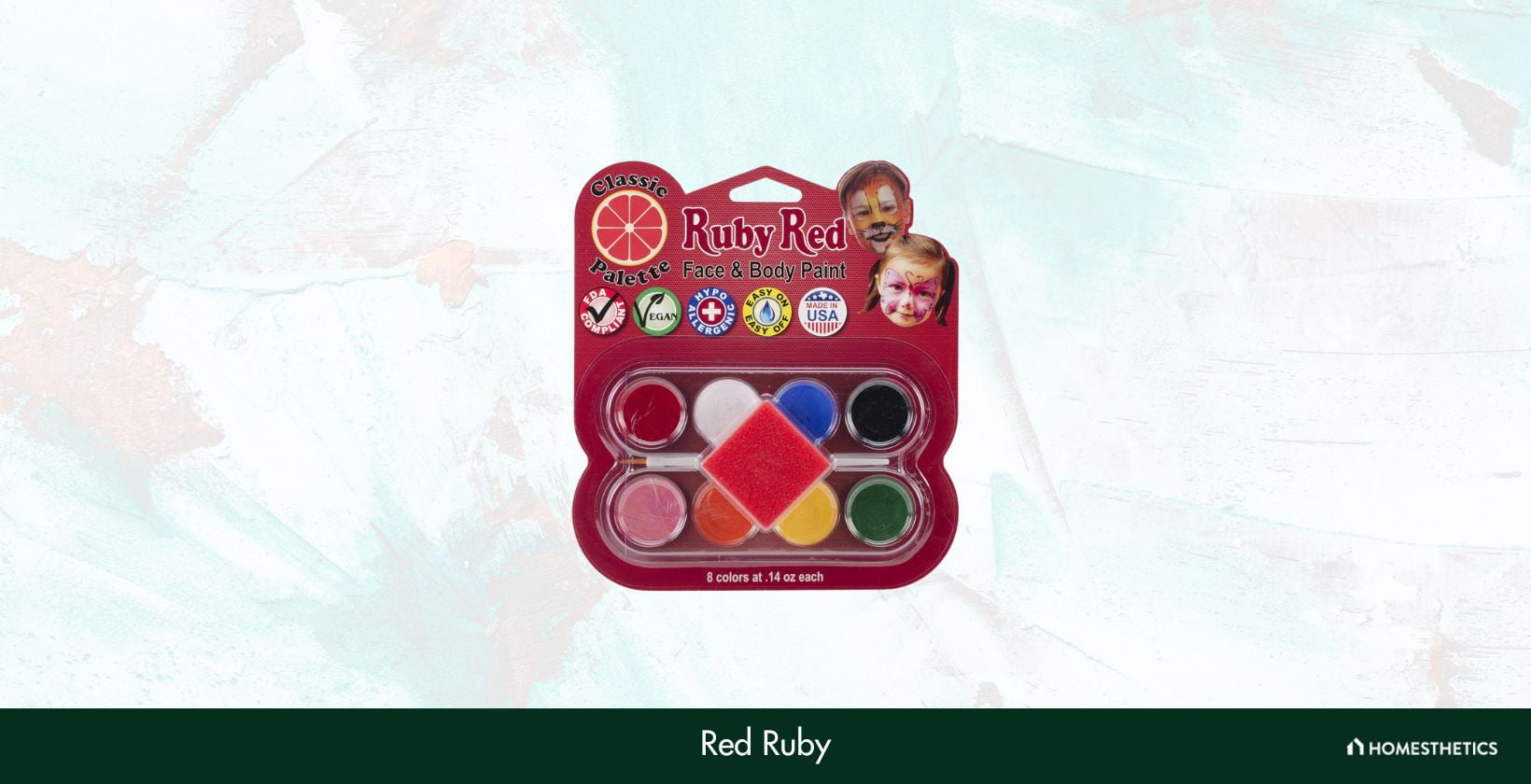 If you're in search of a set of body paints that is extremely gentle on the skin, then the Red Ruby Face and Body Paint might be exactly what you're looking for. Not only are these paints completely vegan, but they are also made of a hypoallergenic formula that contains no nuts, gluten, or any other form of fragrance. 
Experience 
What attracts us the most towards the Red Ruby range is the sheer number of colors that these paints come in. This paint series has a total of 99 varieties that can be effortlessly combined together to form newer shades and color patterns.
Red Ruby is all about user safety and maintaining the highest quality standards throughout the manufacturing process. And this is precisely why the company doesn't rely on third-party manufacturers for their products but makes all of their paint right in the US; in Texas to be more precise.  
If you're looking for safe paint with zero animal by-products, then the Red Ruby can be your best bet. It's widely used by both professional and amateur users and is quite highly recommended by a lot of fashion gurus as well.
However, Red Ruby is a bit on the expensive side. The coverage is also an issue as well and doesn't spread across the skin all that well. And even though it's quite easy to apply (can be done with just an airbrush or synthetic sponge) removing it can consume a good amount of time.
What We Like
Easy to apply a set of body paint
Perfect for use by both professionals and amateurs alike
Is extremely gentle on the skin
Comes with 99 color variations which can be combined for more shades
What We Don't Like
A bit more on the expensive side
Can take up some time to remove
Palette/Kit Size: 3.7 oz (105g) | Number of Colors: 8 | Type of Paint: Water-activated cake | Waterproof: Yes | Hypoallergenic: Yes
4. TAG Face and Body Paint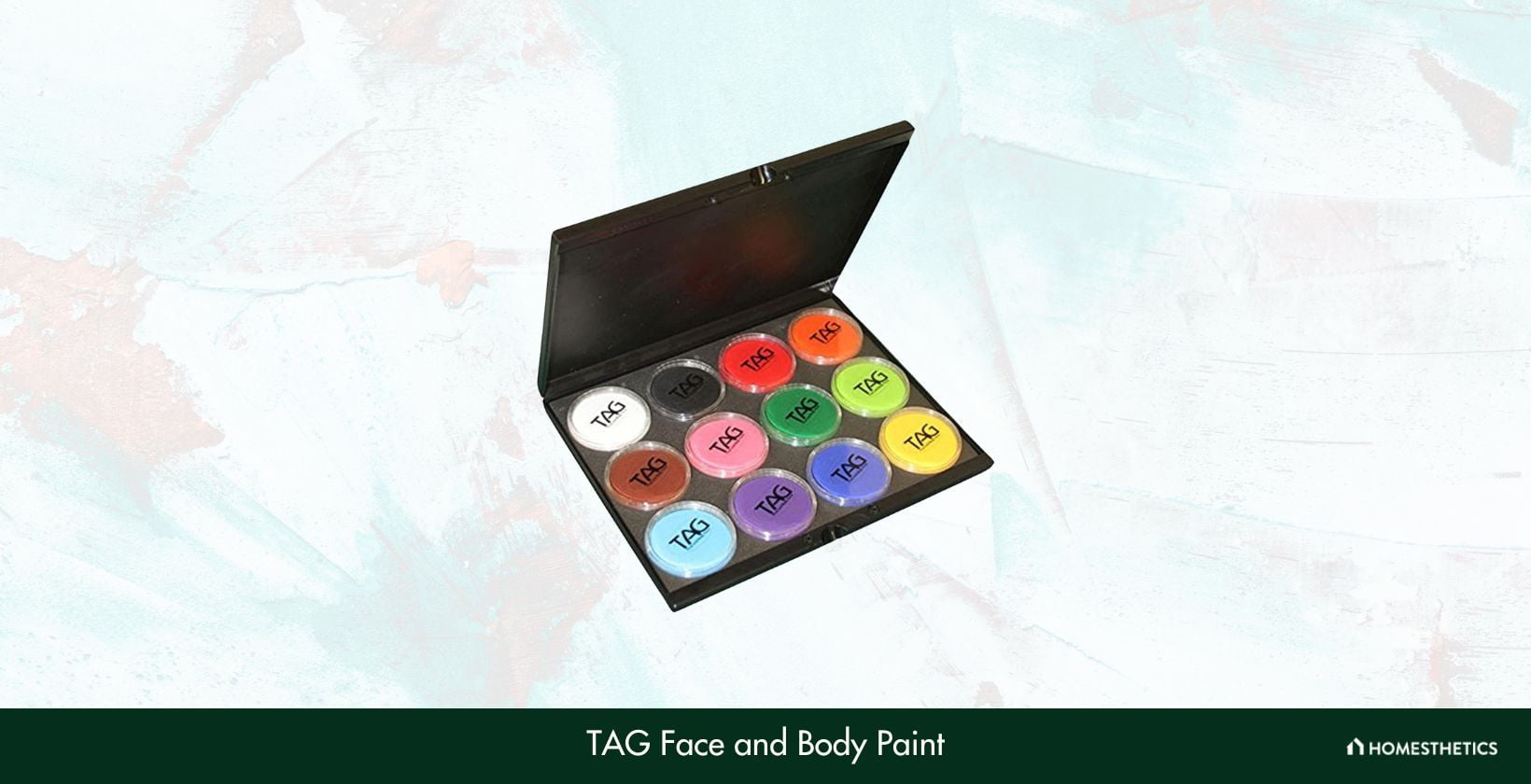 Planning a trip to a cosplay convention or the annual comic con and want to go dressed as your favorite fictional character? Then the Tag range of cream-based body paints might just be your best friend for this field trip. They are amazing at detailing and face character creations and go exceptionally well with every form of body art and concept creation. 
Experience.
The Tag body paints are extremely waterproof and sweatproof and also come with a high pigment concentration that gives a more wet and reflective shine. These paints are well known for their high gloss and longevity, and what's truly amazing about them is that they do not succumb to rubbing or friction all that easily.
This paint (a lot like the latex-based paints) will stick to you like glue, and will not rub off on any other surface even if you're sitting, lying down, or taking a long drive.
The paint will not lose its unique texture over time. Even if the atmosphere is very dry, the paint won't flake out or crack and will hold its shine indefinitely
The tag lineup disappoints when it comes to variety. They do not have all that many color variants, but we still love their 'white body paint' a lot, as its sheer sheen and brilliance are just fantastic.
Removing the Tag body paint from the skin can be an issue for some users as well. As they are highly sticky, they need special removers which might take up a significant amount of time.
What We Like
Body paint is perfect for dressing up and character creation
Waterproof and sweatproof, and will stick to the skin
The texture is not affected by dry weather
Has a high gloss and shine to them
What We Don't Like
The range lacks color variety
Removing takes up a lot of time
Palette/Kit Size: 12 x 1.13 oz (32g) | Number of Colors: 12 | Type of Paint: Water-activated cake | Waterproof: Yes | Hypoallergenic: Yes
5. Midnight Glo UV Body Paint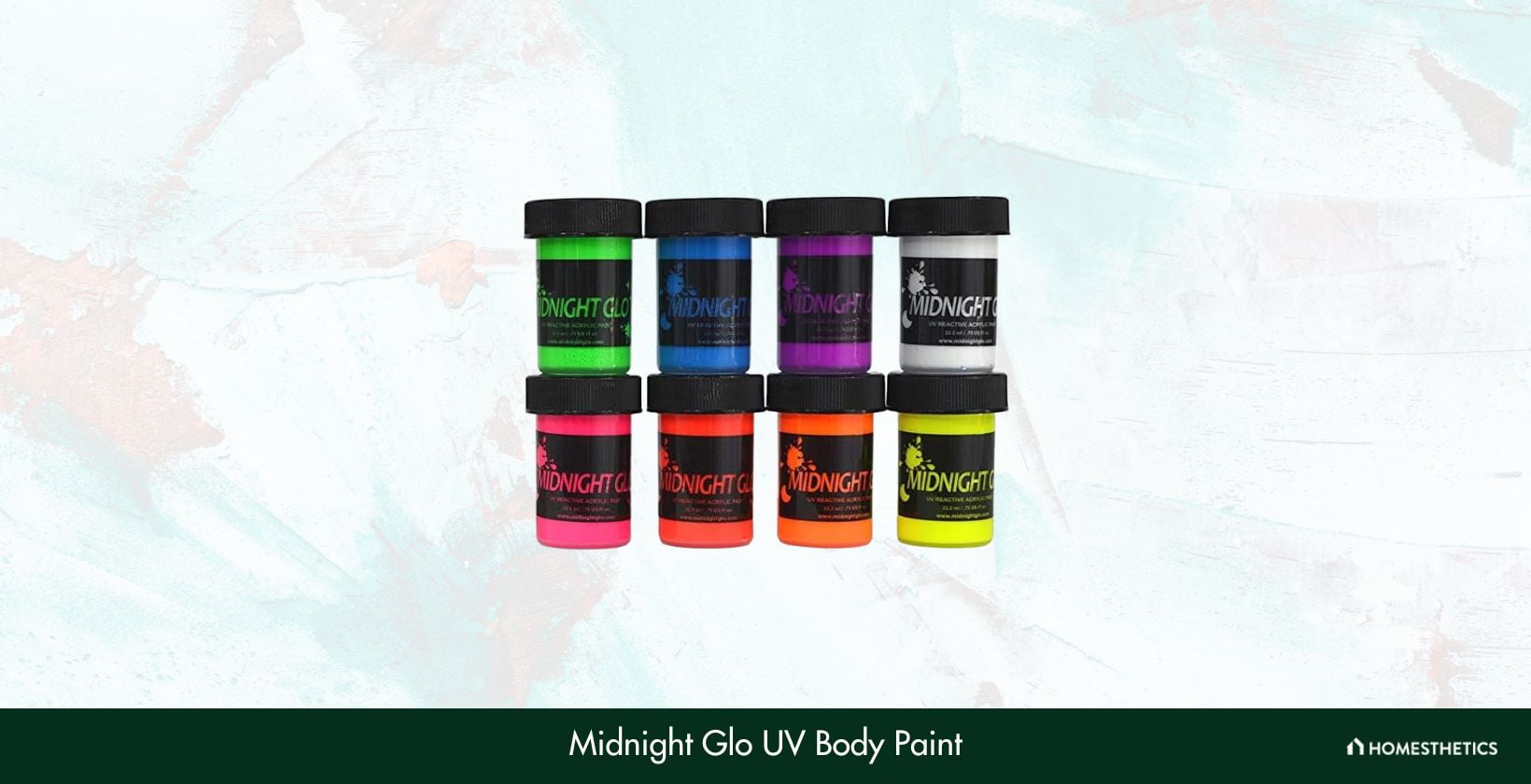 The UV Body Paint series is perhaps one of the most highly-rated ranges of body paints on our list today. Its reviews online are overwhelmingly positive with not many negatives or issues to speak of. And even though we were a bit skeptical about this product at first, as we did not find much information about the manufacturer but after trying it out for ourselves, we absolutely fell in love with it. 
Experience 
What we absolutely loved about this paint range, is perhaps not the long-lasting shine or the sweatproof nature of it, but how it glowed in low light settings. The UV Body paint will allow you to stand out on any social occasion.
This paint set from Midnight Glo is quite popular as party wear and is widely used to be worn while visiting a club or a discotheque. 
However, the best feature of this paint set, in our opinion, is how it can easily blend with other forms of body paint. If you don't want to completely lather and douse yourself in it, you can effectively use the paint as an accent for your already existing body paintwork.
Concurrent with their recently trending reviews, we're quite taken by this paint set, but we hope that it was a bit cheaper than what it's coming at. Moreover, the paint is not as sticky and can easily come off if rubbed on any surface, but this is also what makes the paint so easy to apply and remove.
What We Like
Sweat-proof paint that glows in the dark
Goes well with paints of different bases and can be used as an accent
Very easy to apply and remove
What We Don't Like
A bit expensive
Doesn't stick to the skin all that well
Palette/Kit Size: 0.75 oz (21.25g) per bottle | Number of Colors: 8 | Type of Paint: UV reactive liquid | Waterproof: No | Hypoallergenic: Yes
6. Graftobian ProPaint Kit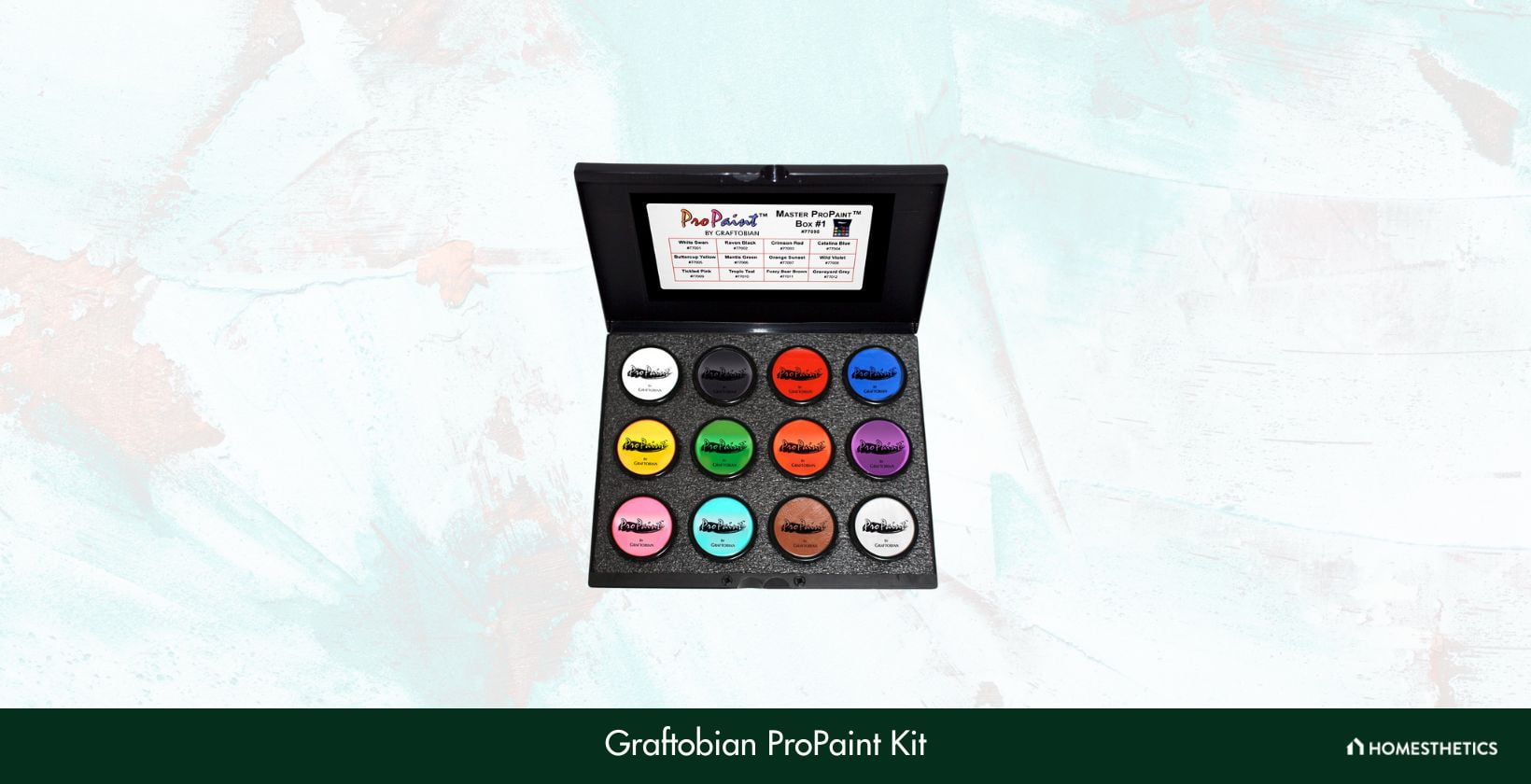 A lot like the Mehron, the Graftobian range of paint kits is extremely high-performance and comes loaded with pigments to produce brilliant long-lasting results on the skin. Graftobian has amazing quality control with its paint products as well, and its Pro Paint Kit comes with colors that are non-toxic and create no adverse reactions on the skin. 
Experience
Even though the Graftobian Pro Paint Kit is made with professional and commercial users in mind, that doesn't mean that it cannot be used by regular customers. As a party accessory to accenting and planning a get-up for cosplay, the Graftobian Pro Paint Kit can effortlessly fit a variety of occasions. 
And as these paints are water-based, applying and removing them is relatively easier as well, but they are very expensive, and you will be required to pay a premium to have enough paint to cover your whole body in. 
But if you're serious about all your cosplay and comic con aspirations, or if you're a body paint model or professional body painter, then the Graftobian Pro Paint Kit can indeed be a perfect choice. 
What We Like
Water-based paint that's easy to apply and remove
Can fit both professional and domestic use
Perfect for a variety of occasions and uses
Long lasting with great texture sheen and durability
What We Don't Like
One of the most expensive sets on the list
Can rub off on other surfaces
Palette/Kit Size: 0.5 oz (14.17g) per container | Number of Colors: 12 | Type of Paint: Wax-based cream | Waterproof: Yes | Hypoallergenic: No
What Are the Body Paints?
Body paints are varied, multifaceted, and serve a myriad of purposes, from theater productions to festive holiday decorations. This article compares different types of body paints available on the market, based on attributes such as palette/kit size (measured in ounces and grams), the number of colors included, the type of paint, and whether the paint is waterproof and hypoallergenic.
Buying Guide For The Best Body Paint
But before you go ahead and invest in body paint, we think that it's important to keep in mind the type of body paints that are available in the current market.
Unlike tattoos, body paint is temporary; it's something that will evidently fade and needs constant retouching. So body paints like any other cosmetic product also ranks in terms of longevity, user safety, affordability… and so on.
So the type of body paints that we include today will cover all of the above essential markers, and give you a better idea as to which product will fit your needs the best.
Due to a lot of advancements in science and technology, modern water-based face and body paints are made with the strictest of guidelines and are designed to be as non-toxic and non-allergic as possible.
And best of all, they are incredibly easy to apply and wash off. You can either use a paintbrush (which is the most common) to apply this type of paint or use something like synthetic sponges, a natural sea sponge, or an airbrush.
However, due to its easy wash-away feature, water-based body paints need constant attention to touch-ups. They tend to rub off much easier than the other type of paints, also crack in excess heat and dry weather, and are often susceptible to sweating as well.
Coverage is also an issue, and certain colors like yellow and white, will not spread across the skin as effectively as some of the others. But, water-based body paints are cheaper and will suit all forms of skin types and color tones.
Certain Brands like Mehron produce a lot of metallic body paints which are primarily applied with a bit of water and alcohol. This is called a 'mixing liquid' solution and ensures that the paint lasts longer than it usually would.  
The metallic paints have a rather high amount of shine and gloss to them. The paints are comparatively higher on pigments and produce a sort of metallic sheen on the skin. However, they might produce some allergic reactions on certain skin types, and most of these paints, especially some of the Mehron models contain actual metal and is definitely not FDA-approved.
For occasional use, metallic body paints are really good, but we will not recommend them for everyday application.
Hybrid airbrush body paints already come with the lasting powers of the 'mixed liquid solution' along with the easily removable feature of the water-based body paints.
These type of body paints are simply one of the best when it comes to performance, but they're much more expensive in comparison and tends to clog up airbrush guns ever so often. And even though long-lasting, their textures can crack up in dry atmospheres and lose a significant portion of their shine.
Alcohol-based paints are primarily intended for use in SFX makeup applications and for smaller airbrush tattoos. But recently it's been used for full-body painting and has been gaining popularity ever since.
Alcohol-based body paints are both sweat and waterproof, but they do succumb to rubbing, and the texture might crack under dry weather.
It's not all that easy to remove as well. Removing alcohol-based paints from your body will require a lot of patience and extra time. However, rubbing might get the paint to come off faster, but we do not recommend you do that as it might excessively irritate the skin and may lead to bruising.
The fumes of the alcohol-based paints are toxic as well, so remember to always wear a mask when applying, retouching, or removing it.
Sometimes, liquid latex can also be used as body paint. It provides one of the best coverage and allows one the option of separating it from the skin and using it more like custom, single-use painted-on clothing.
This form of body paint doesn't follow the traditional form of body painting in any way and perfectly suits those who are looking to do something new during all the festive days. Latex paints are widely used during cosplay conventions and Halloween parties.
As it's a lot like clothing, it doesn't leave behind any form of residue or marks either on your body or on any surface you are sitting on or lying on.
They're a very cost-effective alternative to costume cosplays which tend to be quite expensive.
However, not all is well with the late body paints. Aside from the risk of contact allergies, it can also cause heat strokes if worn for a longer period of time in hot and humid weather, as it inhibits perspiration.
You should be cautious about applying this form of paint on your hair as well. As it is extremely difficult to remove from hair, as the latex needs to be pulled at and can ultimately damage the roots of your hair
There are only a few body paint brands such as Makeup For Ever and Kryolan that makes cream-based makeups and body paints for those who want a sort of an Avante garde look. These paints are very character specific and are highly waterproof and sweatproof.
And though these paints come with a sort of a 'finish spray on' accessory, they usually don't dry and can only be removed with the aid of special removers.
Cream-based makeup can be perfect for you if you're looking for a stronger pigmented color to repair cracking areas on the skin or are going for a more wet and reflective look. They can create amazing face designs and goes perfectly well with every form of body art and concept.  
However, remember to use a palette when applying this form of body color, as there is always a fear of over-application if you do it straight out of the container.
The Silicone-based Airbrush makeup and body paints are one of the most durable and long-lasting. They also come in a variety of colors that are popularly used during high-profile fashion shows and model photoshoots.
This airbrush paint comes in extremely small bottles and is very expensive, hence average users tend to shy away from using them for full-body works, and occasionally just use them for face painting.
However, this paint does clog up airbrush guns every now and then, but they are a fantastic option for body painters to try something new as it opens up a vast range of possibilities.
Biodegradable body glitter has suddenly gained traction in recent fashion trends. They are cheap, harmless, and very easy to use and remove. However, not long-lasting at all, and tends to rub off on surfaces.
But they are a viable option in our books nonetheless.  
Henna is a more traditional approach to body painting. It creates a sort of brown or reddish stain on the skin which is more like a lasting temporary tattoo.
And although henna is created from natural sources, the market has a lot of readymade mixes which come at low costs but contain metallic additives and can be harmful to sensitive skin.
Black Henna, on the other hand, is almost completely toxic and should really not be used in our opinion. Hence, when using henna in tattoo and body paint parlors, make sure that what they are using is normal henna and not black henna.
The Hand Marbling variant of body paint is quite popular during music festivals. It's where the audience dips their hands into a mixture of paints and receives a sort of marling or tie-dye effect which they can wear on their arms.
Even though this form of paint looks very cool, they are not FDA-approved and can be harmful to the skin. So we will not be recommending it for everyday use.
Paints like non-toxic acrylic, house liquid latex, and tempera paint might seem like cheap alternatives to other body paints; however, they can have serious allergic reactions on sensitive skin.
With higher concentrations of pigment and with everyday use, they can indeed be extremely harmful to the skin and should always be used with caution.
They even crack quickly on the skin, and they are made for use on other surfaces and not human skin. Neither are they flexible, nor long-lasting, hence should not be opted into no matter how attractive their price range might seem.
Applying crude oil on your skin is an age-old tradition, which is practiced in the Caribbean and other African countries. And although the shiny black polish that they create might seem attractive, this form of paint is highly toxic and is proven to cause strokes, heart attacks, and a lot more.
So keep away! 
Is Body Paint Safe To Use?
Yes, the best body and face paints are entirely safe to use, as they are hypoallergenic, non-toxic, and non-irritating and won't damage your skin, clothing, or anything else. Hence, they don't usually cause any adverse reactions.
Plus, most of them don't give off any harmful fumes during application, so you won't need to wear a mask during the application or removal of the paint.
How Long Will The Paint Last?
Depending on the type and quality of the product used. Body paint lasts anywhere between a few hours and a day. Henna lasts even longer for about two weeks if cared for and protected.
On the other hand, alcohol-based body paints last up to 3 days, while water-based ones won't survive overnight as rubbing against sheets and sweat removes most of the pigment. Glitter tattoos go up to a week if you take good care of them.
Can You Apply Acrylic Paint On Your Body?
It is a common question that most people have regarding the paints, and the answer will be no. Acrylic paints aren't meant to be applied to the skin, and the ingredients used in these are also not cosmetic grade. They might even contain impurities like heavy metals that are dangerous for the skin, causing chemical burns and other issues.
Hence, it's always advisable to put cosmetic-grade products on your body.
What Should You Look For In A Body Paint?
What Are Body And Face Paints Used For?
Body and face paints are generally used for:
Self-expression and artistic creativity
Cosplay and costume
Photography
Halloween
Art Installations and performance art
Religious and cultural ceremonies and rites
Clubbing
With quality body paint in hand, you can take your creativity to a whole new level and transform it into something that inspires others. However, always ensure that you follow the instructions provided by the manufacturer while preparing and applying the paint.
Body painting is not only an amazing art form but a fantastic mode for self-expression as well. And when making the perfect body art, the perfect body paint is needed, but we know how difficult it can get to find the right now. But we hope that our guide today was able to help you out with that.