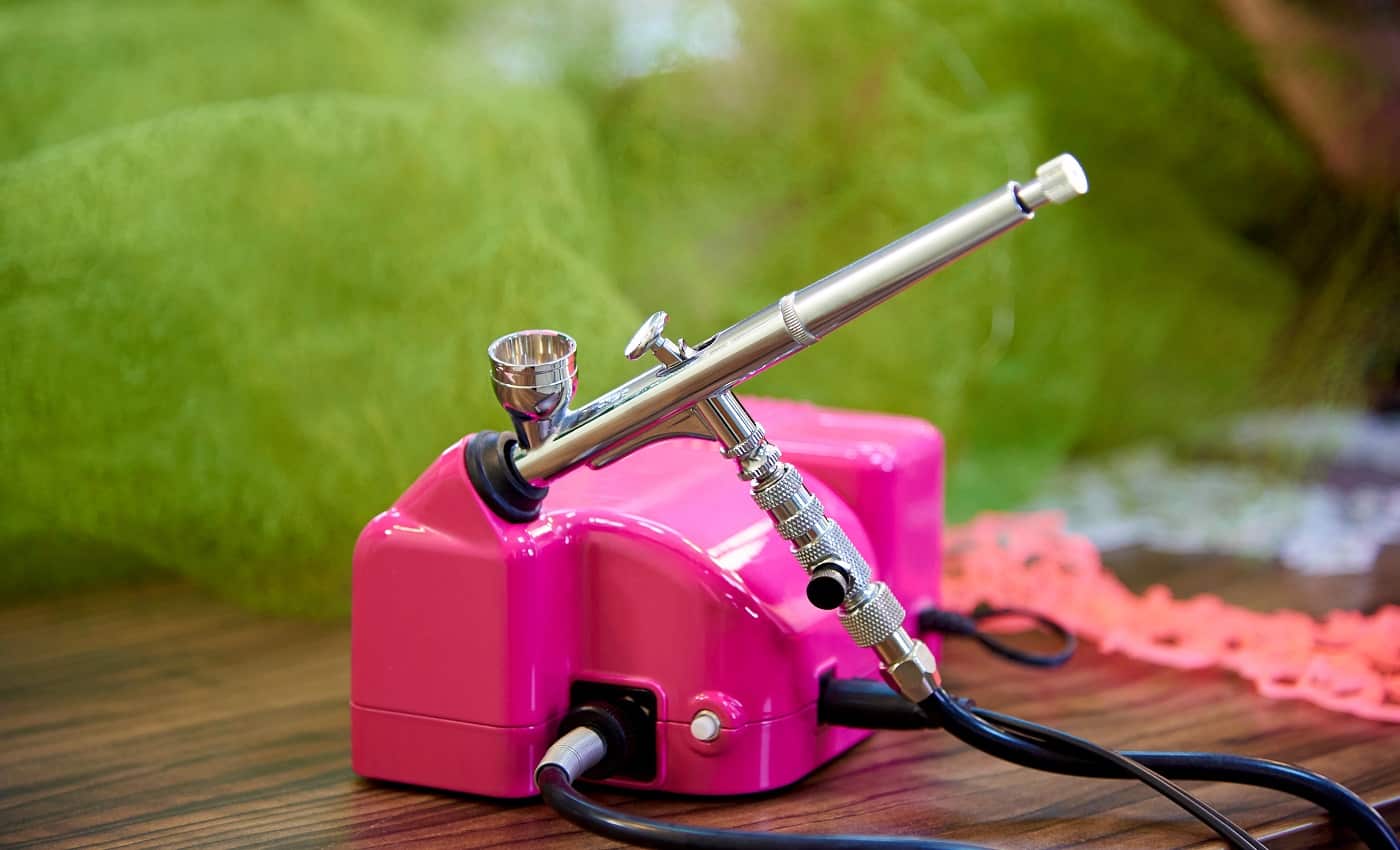 Making models and miniatures is an art! After all, replicating a 2D sketch to 3D requires a lot of skill and painting that is even more challenging.
If you are new to painting models and miniatures, using an airbrush is a great way to start. Even if you are experienced, including an airbrush with other painting tools can help save time during the painting process. It may be a bit expensive compared to regular brushes, but it is worth the investment.
However, the big question is – what airbrush to choose for your next project. There are endless options to pick from, so we are here to help you. After some in-depth research, we have put together these reviews of the 7 best airbrush for miniatures and models.
Now, without further ado, let's get into the details.
Best Airbrush for Miniatures & Models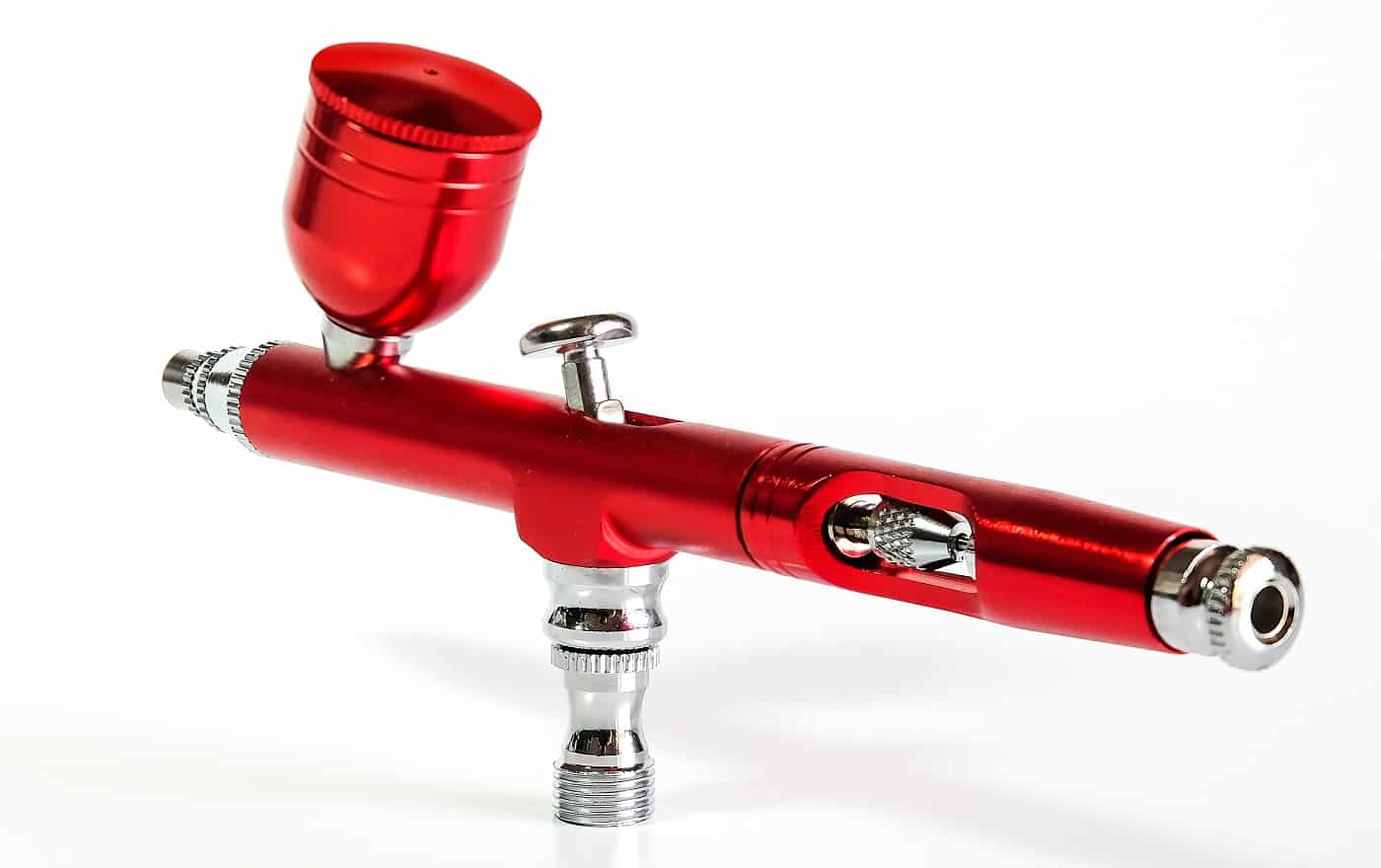 If you are just venturing into the world of airbrushing, this one is a great option to consider. The Master Airbrush is excellent for beginners and quite affordable too. It comes with three easy-to-use nozzles and an all-purpose kit. Let's take a look at some of its features.
Why Did We Like It?
To begin with, we appreciate that this is a multi-purpose airbrush making it easy for beginners to use. It is a dual-action brush with an ergonomic design. The trigger is easy to use and smoothly adjusts and controls the paint. Because of this, it is excellent not just for miniatures but also cake decoration, temporary tattoos, and other crafts.
Now, let's dive into some specifics. It has three tip sizes – 0.2, 0.3, and 0.5 mm – and nozzles that allow detailed painting. Since there are a variety of needles, background sprays up to 2" wide is also possible. Additionally, it has a 1/3 oz gravity fluid cup and a fluid control knob.
Moreover, you won't have to worry about clean air passages in the brush as the cutaway handle allows quick and efficient cleaning. Overall, it is a great choice, and in case you are not satisfied, Master Airbrush offers refunds or replacements within the first year of purchase.
What Could've Been Better?
Since this is a budget airbrush, it has a few issues. While it sprays well, it does tend to clog a lot. Reviewers have also mentioned that certain components are a bit hard to clean. However, overall it sprays well and is great for first-time users.
Pros
Multiple tip sizes

Smooth spray

Great for beginners

Easy to use trigger
Another very efficient multi-purpose airbrush is this one by Gocheer. It is a mid-range product that includes many accessories to enable easy usage. This airbrush is made of high-quality materials and is quite user-friendly. Since all the components are small, there is no problem in carrying this anywhere.
Why Did We Like It?
When looking for an airbrush, it is always great to have one kit that has everything. That is something you can find with this airbrush kit by Gocheer. It has multiple cleaning and painting accessories, like an extra needle and different sized nozzles, which make the whole experience better.
Additionally, it has two valves – one to control the air and one for color – that makes it easier to achieve precise painting without interruption. Using these valves, you can control the opacity of the paint and the range effortlessly. The overall make is quite simple and has plenty of easy-to-understand instructions included, making this beginner-friendly.
Reviewers mention that this airbrush is relatively easy to clean, thanks to the cleaning tools included. Moreover, the company has a responsive customer care team to handle any issues. It is quite easy to refill, though that is not required often since it has a large ink container.
What Could've Been Better?
This is an excellent airbrush; however, the mini compressor is a bit tedious to deal with. It has to be shut off after 30 minutes of continuous use. This is done to extend the life of the mini-pump but can make the painting process a lot more time-consuming.
Pros
Valves to control air and color

Multiple cleaning tools

Big ink container

Simple instructions
Cons
Compressor needs to be turned off and on periodically
If you are looking for a sleek-looking airbrush that is effortless to use, we recommend the YLINGSU cordless airbrush. It is a single-action airbrush that is rechargeable and portable. This product makes spray painting seem like a cakewalk. Let's have a look at what this airbrush has to offer.
Why Did We Like It?
One of the reasons this stood out for us was because of its portability. Since it is made to be used without an air hose, it is easy to carry around no matter where your work is. It has a sleek look and will fit in your backpack or pocket. This one is a must-have for anyone that loves to spray paint.
Another great feature is that it is rechargeable, so no need to carry any wires to use with the airbrush. Plus, it is very simple to charge it. All you need to do is plug it in using a USB cable to any power source. And, after it is fully charged, it can be used for about an hour.
You will appreciate the ergonomic design of the hand-held air pump since it is made to keep the hand from cramping. It has curves that make it easy to grip onto and make the airbrush even more comfortable.
What Could've Been Better?
One of the most significant issues is that it does not have a proper customer support team if anything goes wrong. Moreover, it is also quite hard to clean. Other than that, the airbrush is made out of excellent quality and lightweight.
Pros
Lightweight

Easy to hold design

Easily rechargeable

Hand-held and portable
Cons
Bad customer support team
Next, we have another airbrush by Master Airbrush. This, too, is a mid-range product that is great for beginners and professionals alike. It comes with all the essential accessories and can be used by tattoo artists, cake decorators, nail technicians, and anyone interested in arts and crafts.
Why Did We Like It?
This particular model by Master Airbrush was quite impressive as it looked big but was quite lightweight and easy to carry. It is manufactured to offer precise lines and even sprays on any surface. It has a 0.3 mm fluid tip and a 6-foot hose allowing enough flexibility to move around as you paint.
In addition, we also liked the "air-on-demand" feature it has to offer. This airbrush has an automatic shut-off button. Although it produces an air pressure of 25 PSI, it can also produce 15 PSI air on demand. This feature automatically shuts off when it is not being used. Moreover, the removable airbrush holder adds a good touch.
The whole package comes with an easy-to-understand user manual and guide written by the company, which can be used if you're a beginner. Plus, it is not a loud machine, so you know it will not disturb anyone.
What Could've Been Better?
While this is a great buy and a handy tool to have, it has a few downsides. Firstly, the compressor is not stable even on a flat surface, which can be a little distracting. Also, some reviewers mention it tends to spurt paint on occasion.
Pros
Long hose

Airbrush holder is removable

Simple instructions

Easy to clean
Now, we have the very popular Iwata Medea HP-CS airbrush. This is a very reliable brand in terms of airbrushes and is known to manufacture only high-quality products. It is compatible with a variety of paints and delivers excellent results every time. It's time to now look into some of its features.
Sale
Why Did We Like It?
Straight off the bat, we were quite impressed with the hose size. It has a 10 feet long hose which is of excellent quality. Also, it has a 0.3 mm needle and nozzle made for detailed sprays, making it ideal for fine spraying with no clogging issues.
The next great thing about this is that it was made for heavier colors. It has a 1/3 oz sized cup that can hold a lot of ink, allowing you to work without interruptions. Plus, using this will ensure the color does not lose its clarity.
The best thing is that the needle is resistant to breakage as it is made with high-quality spring steel. This airbrush is easy to clean, thanks to the funnel shape of the ink cup. Moreover, that shape allows a smoother flow of paint.
What Could've Been Better?
One of the most consistent issues with this one was regarding the chrome plating. The ink cup has chrome plating inside that tends to erode over time. Plus, this is a very high-end model and hence is quite expensive compared to its competitors.
Pros
Long hose

Does not clog

Great for creating detailed designs

Easy to clean

Ideal for heavy colors
Cons
Chrome plating is prone to damage

Quite expensive
Coming up next is the badger airbrush.This one is similar to the one by Iwata, but it's more affordable. It is a simple tool that does what it says and is effortless to maintain. The design is ergonomic, which is one of the reasons it is so popular. Let's have a look at some features.
Why Did We Like It?
This is a new model by Badger, aka "Patriot", that has everything you need. It is not overly complicated and is user-friendly, thanks to the detailed instruction manual. The patriot is made to be used with any type of paint on any surface. This is a great starting tool for beginners, which assures quality.
Coming to the specs of the airbrush. It is a gravity-fed tool and has a single-sized needle – 0.5 mm. It also has a 1/3 oz ink cup with a spill-proof cap reducing the chances of a mess. The body is designed in a way that is comfortable to hold even for a longer duration.
Maintaining this airbrush is a breeze since it is easy to clean. Additionally, it also has a patented needle removing system. The patriot operates at 30 PSI, which is the highest and on lower settings between 10-15.
What Could've Been Better?
Badger is known for quality products, and this airbrush is no exception. However, the issue is that this model is that it's not ideal for ultra detailed work. Reviewers mention that it is great for simple details, but it is impossible to do intricate designs with it.
Pros
Effortless maintenance

Comes with one year warranty

Simple instructions

User-friendly design
Cons
Cannot paint intricate details
Finally, we have the airbrush kit by Letsport. It is a cordless gravity-fed tool that is easy to carry around and can be used for various jobs. It has a sleek design that looks good and is comfortable to hold for long periods. Let's move on to some of its unique features.
Why Did We Like It?
We found it to be a convenient tool that is a must for any airbrush enthusiast. The Letsport airbrush is a cordless tool with no power switch. The trigger controls the brush, and it shuts off when the trigger is not engaged. Moreover, the mini compressor is compatible with airbrushes of any brand.
Another impressive feature is that the feed cup can also be replaced with a bigger one which helps when the airbrush is needed for continuous work. It has a 0.5mm nozzle and that provides smooth and even painting. Additionally, it is a rechargeable airbrush, and if the brush is running low on charge, it vibrates.
Overall, this is a very lightweight and portable airbrush that comes with a one-year warranty. Plus, multiple accessories ensure that this kit is easy to work with.
What Could've Been Better?
Among the glowing reviews regarding this airbrush, it was challenging to find a downside. However, one of the biggest issues is the PSI. This one can, at max, run at 20 PSI which is a lot lesser than most competitors. Plus, the compressor needs to rest after every 30-40 mins.
Pros
Ergonomic design

Comes with warranty

Indicator for low battery

Replaceable feed cup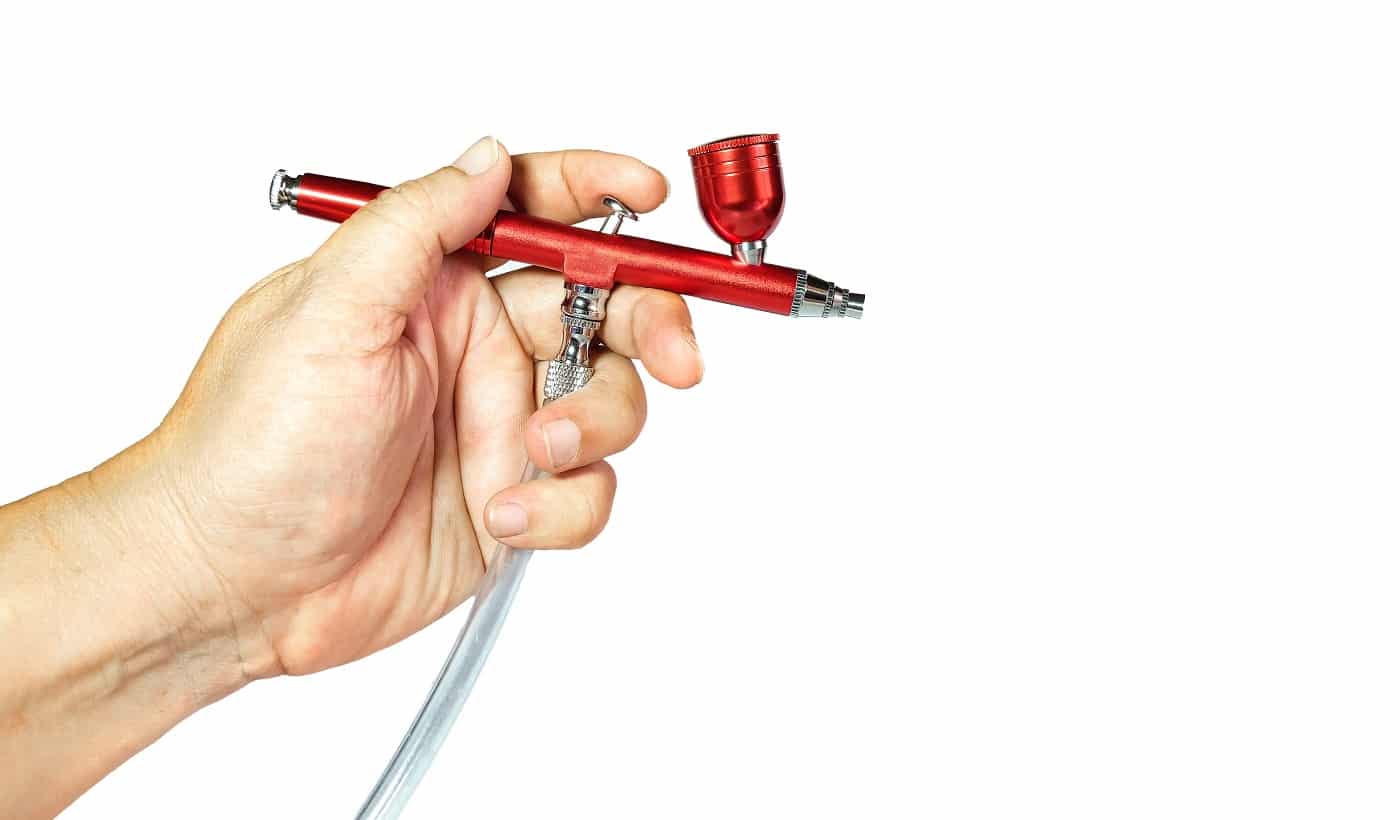 Airbrush for Models & Miniatures Buyer's Guide
Now that we have come to the end of the reviews, you must be wondering what made us choose these seven out of endless options available.
Multiple factors need to be considered when buying a new airbrush. This tool can accelerate the painting process tremendously, but only if you pick the right one. It is essential to be clear why you need an airbrush since some are made for specific purposes while others are great overall.
Read on to find out what to look for while buying your first airbrush.
Type
The first thing to be sure of is the type. There are two types of airbrushes – single and dual-action. They both have their own set of pros and cons, and it all comes down to what kind of paint flow you are looking for.
In a single-action airbrush, the trigger only moves up or down. Consider it as a switch; when it is pressed down, it will spray the paint. On the other hand, a dual-action brush has a trigger that moves up, down, and back. This allows more precise control of the air and paint.
For models and miniatures, a dual-action airbrush is generally preferred since the control is better and allows precise painting. It also helps with detailing.
Ink Feed
The ink cup of an airbrush is where the ink is placed. While the cup remains the same, its location is what makes the difference. There are two different types in this scenario – gravity-feed and siphon-feed airbrushes.
A gravity feed airbrush is one where the ink cup is located above the brush. It is called gravity feed because the paint slides naturally into the main unit and then flows through the brush. This is very beneficial when painting miniatures since the pressure is low and detailing is easier.
In contrast, the ink cup in a siphon feed is under the brush. The paint flows upwards with the help of a bit of air pressure and then sprays out of the brush. This kind of brush is better when you're planning to paint a larger surface.
Kits vs. Brushes
If this is the first time you are buying an airbrush, it will help to get a whole kit to help you understand the tools better. Kits usually include the brush itself along with a compressor, different needles, and even cleaning accessories. If you are investing in a good quality brush, having accessories from the same company is better.
However, if you already have multiple airbrushes and additional accessories, then buying another kit will not be of any use. That is when just an airbrush will come in handy. Although, with each additional, you might have to buy a compatible compressor.
Needle Size
This is also a crucial factor, especially when buying for miniatures and models. These figures require fine lines and a lot of detailing, which is only achievable by specific needles. However, if you are looking to paint larger surfaces as well, then fine needles aren't going to be of any use.
For models and miniatures, a needle between 0.2 mm and 0.5 mm is ideal, and many kits come with multiple needles. But if you are just buying one airbrush, then a needle size that's in the middle of the range will work best. Most first-time users prefer 0.3 mm sized needles.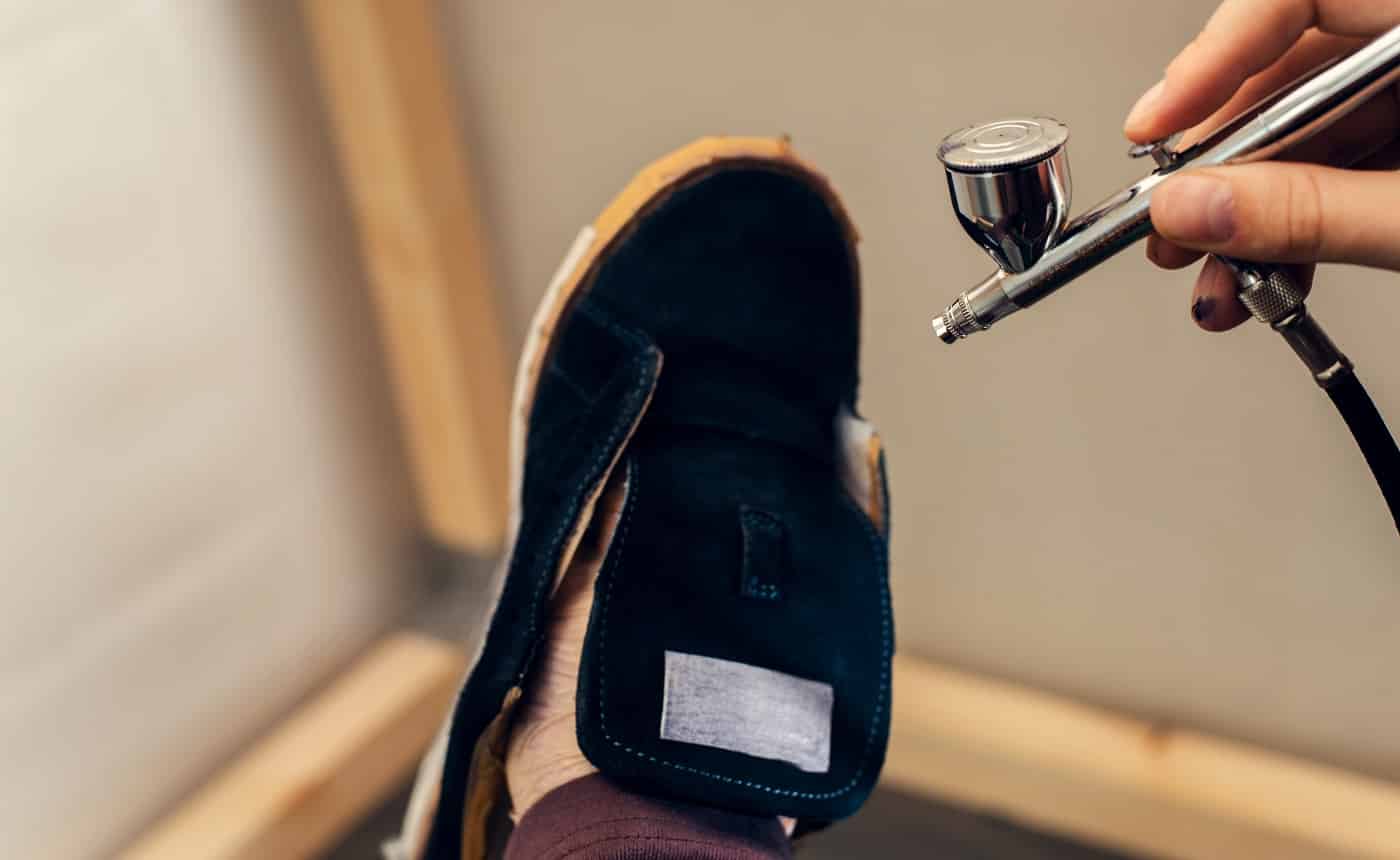 Verdict
And there you have it – a guide on the 7 best airbrush for miniatures and models. If you are looking to achieve precision and accuracy while spraying, it is vital to have the right tools.
Before we leave, we know that picking one out of these seven is an arduous task. That's why we would like to reiterate our favorites. If you are looking for something convenient and easy to use, we recommend the YLINGSU airbrush or the one by Letsport. They are both hand-held and easy to carry around.
However, if you want something more traditional and have the money to spare, we recommend the Iwata Medea as it is a high-end option that offers good quality.
On that note, we shall now take your leave, but we will be back soon with more reviews and guides.
See you next time!
Related Articles
9 Best White Face Paint For Cosplay, Clowns & Halloween
8 Best Face Paint For Kids Reviewed
6 Best Body Paint | Top Brands Compared
5 Epic Face Painting Supplies That Will Improve Your Designs
6 Best Body Paint For Cosplay Reviewed
Learn How to Body Paint With Brilliant Results Right Now
5 Best Airbrush for Body Painting Reviewed
16 Brilliant Face Painting Techniques to Feed Your Imagination
13 Best Paints for Bathroom Ceilings 
11 Best Polyurethane Protective Coatings  
What is the Best Wood for Outdoor Furniture 
13 Best Spray Paints For Metal
11 Best Epoxy Resin For Crafts 
5 Best Polyurethane for Floors  
5 Best Epoxy Resin for Tumblers  
9 Best Exterior Wood Stains Today 
13 Best Spray Paints For Metal
7 Best Sprayers For Staining A Fence
7 Best Airbrush For Models & Miniatures  
10 Best Clear Coat for Kitchen Cabinets [Buyer's Guide]
7 Best Polyurethane for Floors 
11 Best Miniature Primer [Reviews & Buyer's Guide]
9 Best Paint Sprayer for Lacquer
7 Best Sprayers For Staining A Fence
9 Best Paint Sprayer For Lacquer