Your garage can be either a messy spot or an organized sanctuary, but, regardless,  some beautiful colors can give your space a sense of personality, and you wouldn't want to miss that, the best garage walls you've ever had are a few clicks away.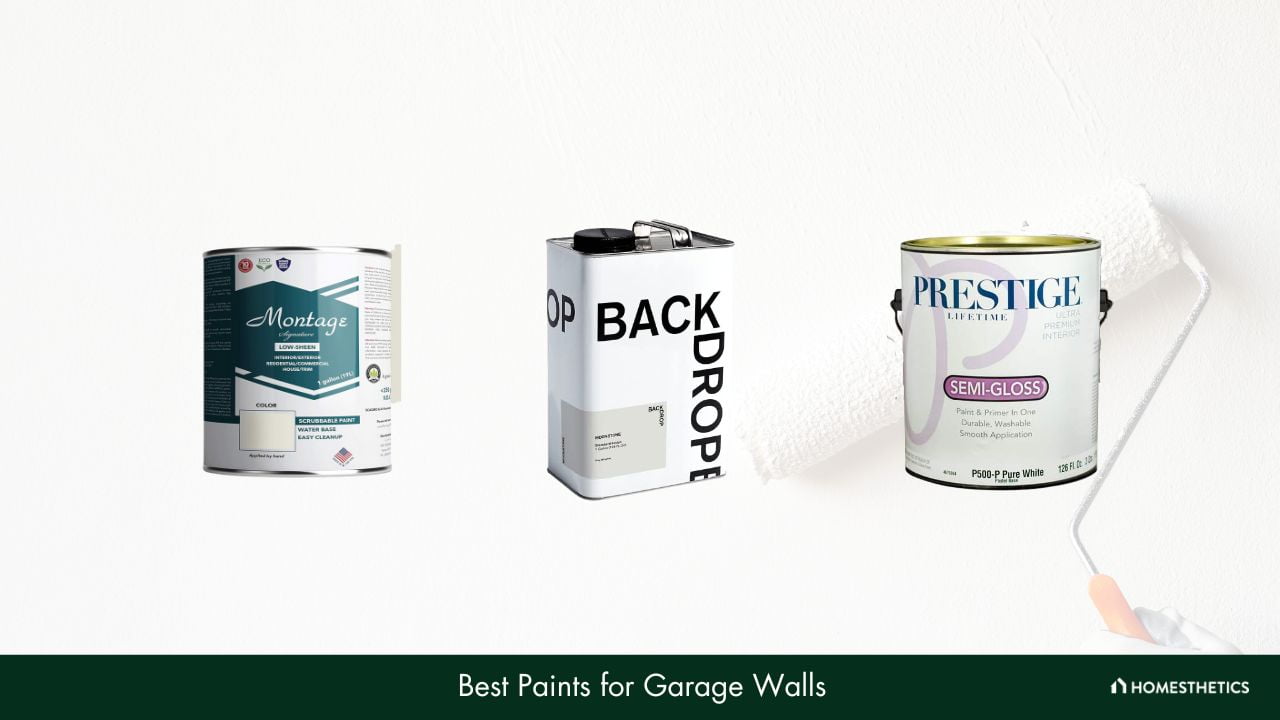 Painting the wall of your garage helps to seal not only the seams and cracks but also complements your pristine concrete garage floor, and your favorite cars.
How many times have we even considered the aesthetics of the garage? No matter, if we want to transform that space into other functional aspects like our office, crafting station, or shed; a little splash of paint can go a long way. 
And why not?
The garage deals with some of the worst conditions when compared to other parts of the house, which is why a small change makes a huge impact.
In the following section, we've curated some of the best wall paints for the interiors of your garage. This should help you figure out which paint will be suitable for your requirements.
So, without further ado, let's get started with the best paint for garage walls!
Listed below are the 5 best Paints for Garage Walls from our list:
Backdrop Premium Interior Paint: Moonstone: Stands out for its Green Wise-certified, low-VOC and low-odor paints, with designer-approved color combinations that brings out stylish aesthetics in your garage.
Montage Signature Paint: Snow White: Distinguished for its eco-friendly upcycled latex paint production along with a built Green and LEED certification compatibility, it also offers a 10-year warranty.
PRESTIGE Interior Paint and Primer in One: Acclaimed for being suitable for humid areas, and known for its low VOC content and acrylic base, offering two different finishes and 237 color variants.
KILZ Tribute Matte Paint and Primer: Esteemed because of its high demand due to the combination of paint and primer in one, low VOC and mildew resistance, offers 100 different colors in 4 finishes.
Glidden Duo Paint and Primer: Celebrated for its century-old legacy of providing quality paints, combination of paint and primer, 300 color options, and three different finishes, it's stain-resistant and provides a mildew-resistant coating.
Are you looking to paint your garage walls? Painting can add color and style to the space while also protecting the walls from wear and tear. To help you find the best paint for your garage walls, we've rounded up a list of 5 products. Here is the list of the 5 best paints for garage walls.
1. Backdrop Premium Interior Paint: Moonstone - Best for Designer Color Combinations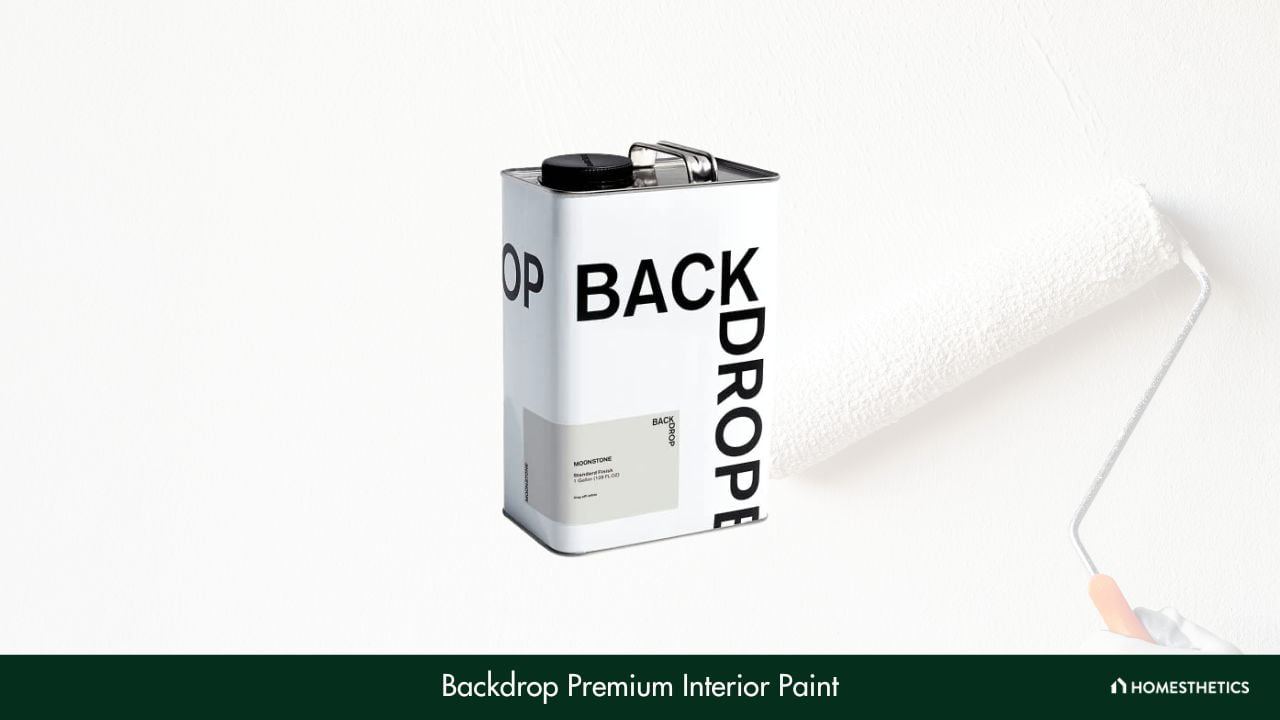 Backdrop, a socially conscious premium paint manufacturer headquartered in New York, has only recently come into the industry. It offers an entire line of Green Wise-certified, low-VOC, and low-odor paints; its selection of off-whites, such as whites, browns, and greys, is impressive and well-received by designers. However, the company really shines with its unique paint combinations that bring out a harmonious look, even while in contrast.
To find the perfect accent color for your garage transformation, check out Backdrop's paint collections and consider the color of your cars, bicycles, and garage gear while planning out your combos, especially if you have one or more brightly-colored vehicles. I recommend Moonstone, an off-white with a cool white with a greyish tint, and Surf Camp, a dark blue with green undertones. Play around with colors, but remember that using light colors with isolated accents of color is always a good rule of thumb.
What We Like
Green Wise-certified, low-VOC, and low-odor paints
Great selection of off-whites
Superb complementary color options
What We Don't Like
New brand, a little history
Bit more expensive than other options
Finish: Matte | Sheen: N/A | Coverage: 350-400 sq ft | VOC: <5 g/L
2. Montage Signature Paint: Snow White - Best for Eco-friendly Durability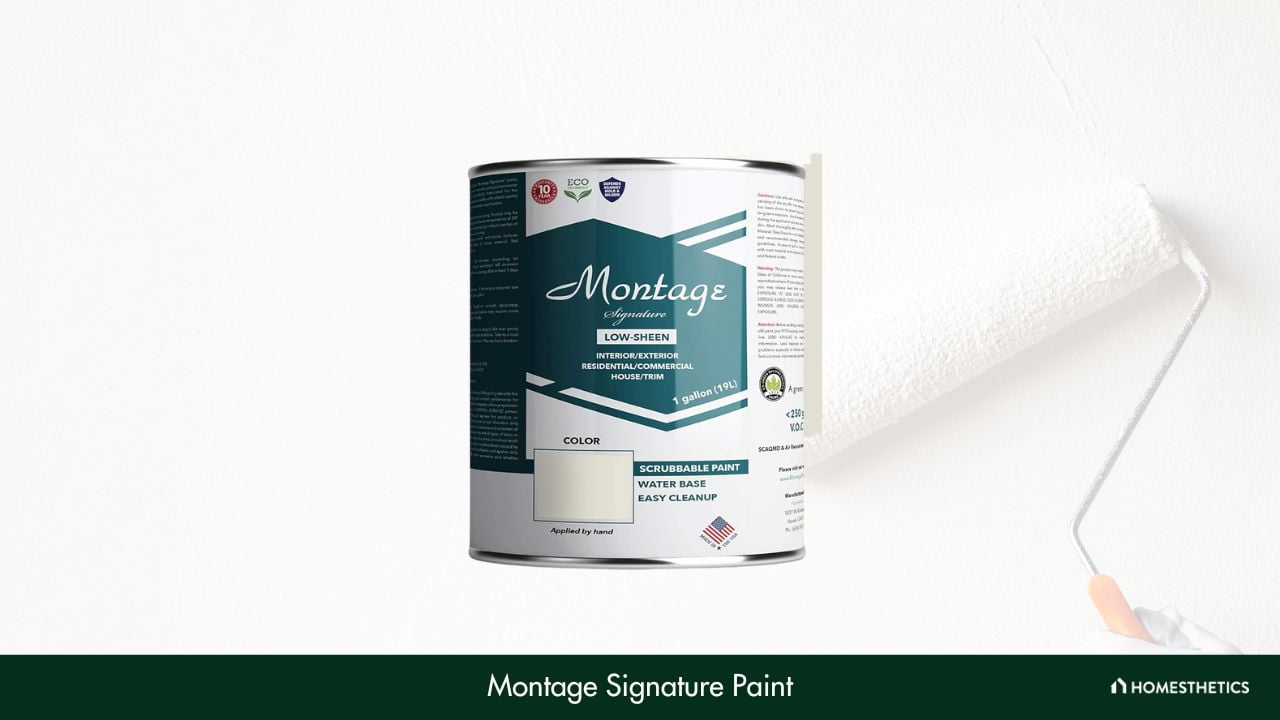 If you're looking for an eco-friendly paint option that is both durable and aesthetically pleasing, Montage paints might be the right choice for you. Their paints are created through upcycling raw and post-consumer latex paints, making them eligible for points toward Built Green and LEED certifications which is an extraordinary feat.
They offer a 10-year warranty. You can't go without their line but I'd recommend Snow White in a low-sheen finish for a splendid understated look - it's a warm white that will brighten up your garage and bring forward your car and gear, allowing them to be the centerpieces. Dove Gray is also a second excellent off-white option that you might enjoy. A lighter color is also far easier to retouch when needed.
This is mildew-resistant paint so, we don't need to worry about the paint chipping off during the winter season. However, you'll need to get a separate jar of primer, along with your painting kit for this paint job.
What We Like
Built Green and LEED certifications compatible
Eco-friendly manufacturing process
10-year warranty
What We Don't Like
Doesn't come in a  paint and primer combo
Finish: Eggshell | Sheen: Low | Coverage: 400 sq ft | VOC: <50 g/L
3. PRESTIGE Interior Paint and Primer in One - Best for Humid Areas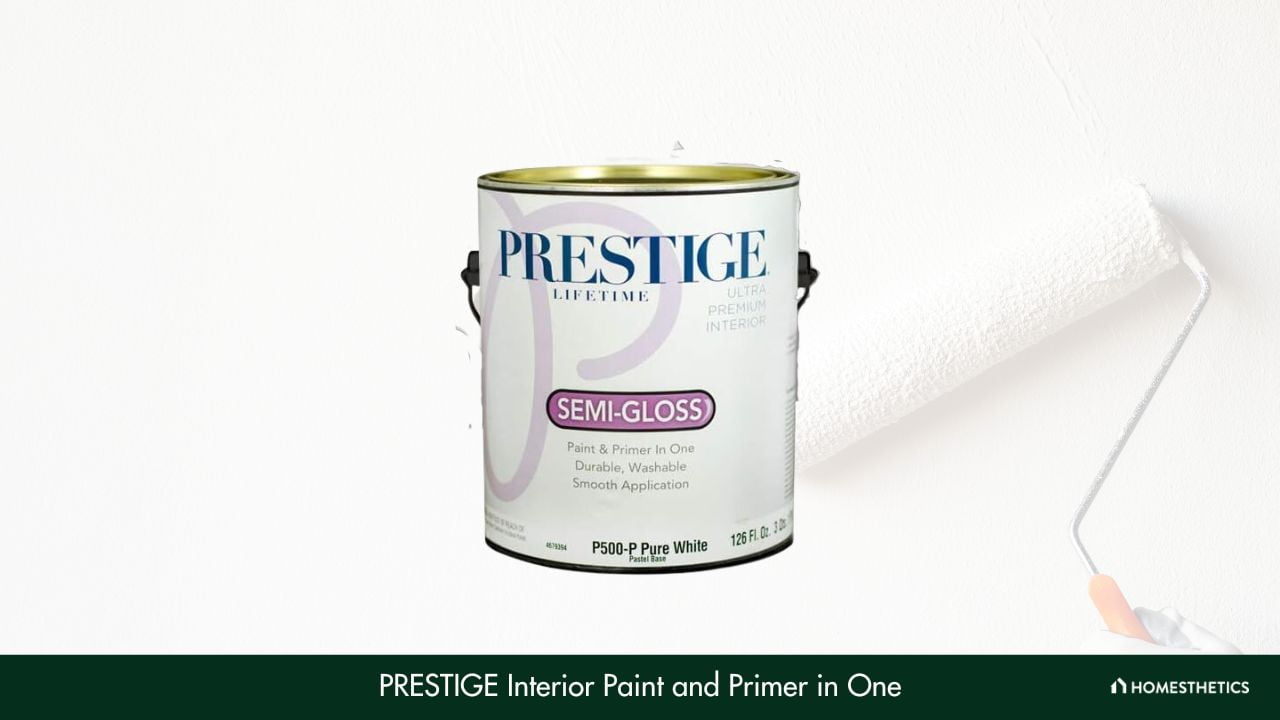 It's known to be the best paint for both the interior and exterior garage walls. This paint is most suitable for humid areas when compared to other brands. 
Prestige offers a paint and primer combo that doesn't require more than three coats. It has an acrylic base, with two different finishes, and 237 color variants. The low-level VOC (volatile organic compounds) content ensures that it's not harmful to the human body.
In the market filled with non-eco-friendly paints, we wanted to opt for a brand that has a minimal amount of toxic compounds. This Prestige paint has a long-lasting product quality, and it dries faster than regular paints.
 It might be an expensive product, but I wanted to consider eco-friendly paint for the safety of my family. It doesn't produce any strong odor, and the smell of fresh paint disappears within 3 to 4 days.
Our garage is about 600 sq feet, so I had to order two gallons, which was perfect for applying three coats. And it's a primer and paint combo, so we never had to purchase them separately. This allowed us to stay within the budget. We live in the southern region of the US, which is known for its humid summers. So, we had to be a little careful with the quality of the paint.
It took us about two days to paint the full interior of our garage because we wanted the paint to dry properly to avoid any smudges on the curing paint. The wide variety of color options helped us find the right shade that we had been looking for.
What We Like
Comes with a paint and primer combo
Eco-friendly paint
Has around 237 different color options
Each gallon can cover about 400 sq ft.
Good for humid areas
What We Don't Like
One of the most expensive garage wall paint
Finish: Semi-gloss | Sheen: Medium | Coverage: 400-450 sq ft | VOC: <50 g/L
4. KILZ Tribute Matte Paint and Primer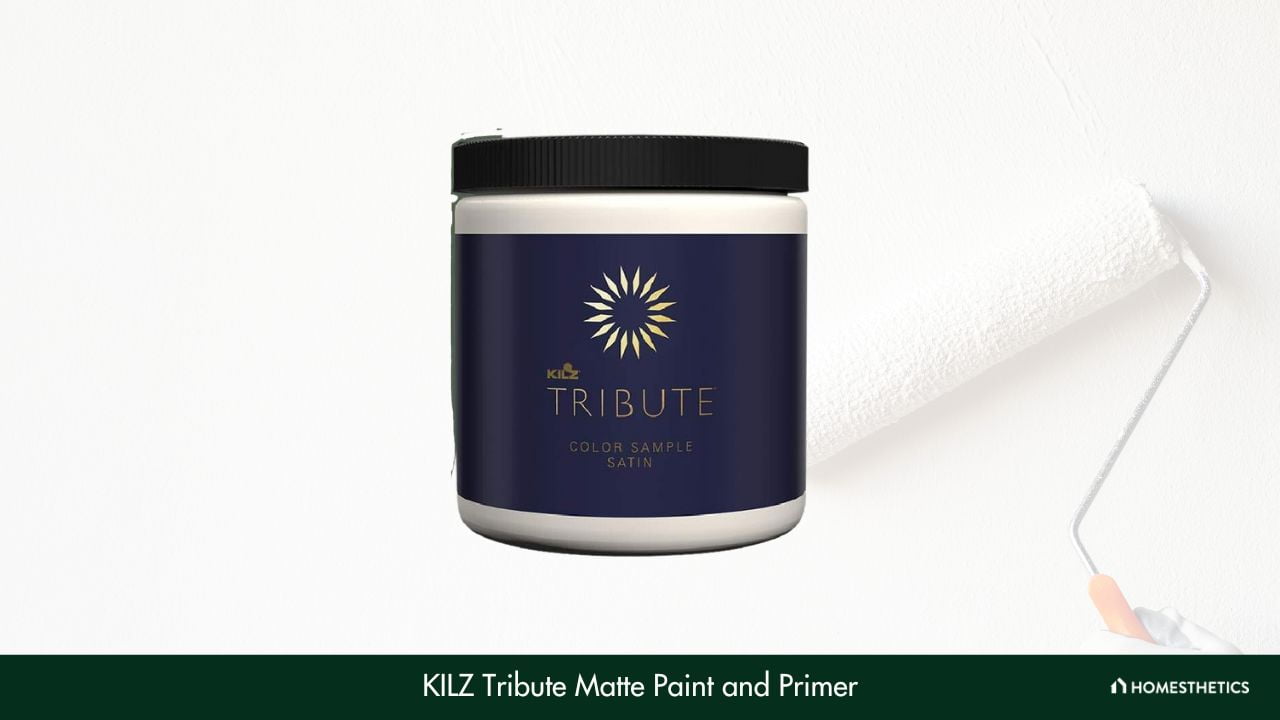 KILZ is known for making this excellent paint and primer formula. The functionality and the overall aesthetics that KILZ delivers is the prime reason for the high demand for their products. 
It offers quality coverage, and it has an easy application process. You'll not need to apply more than 2 to 3 coats to get an even finish. However, it comes with a high PVC content, and it's also a mildew-resistant paint.
We are quite satisfied with the superior coverage and exceptional durability of this paint. While we were painting our garage, we didn't get a strong odor like other fresh paints. It has a low content of VOC, making it the right quality product without harmful effects on the human body. 
We were done painting the walls of the garage after applying about three coats, which gave the interiors a perfect finish.
You'll get around 100 different colors to choose from, that come in 4 different finishes. With KILZ paint you can be sure of the quality, they have been ruling the market for about four decades.  
It comes in three different sizes; however, each gallon is suitable for painting an area of about 400 sq. ft. We had to prepare our wall correctly to ensure that it's free of grease, mold, chalk, dust, and other peeling paint. 
This matte paint gives a subtle, flat finish, and it's also washable, which enhances the overall value and durability of the painted walls. It has very low emission of VOC, making it safe for your indoors. On the flip side, if you're using this paint in very humid conditions, it might run during the application process.
What We Like
Acrylic, low VOC paint
Paint and primer combo
Comes in 4 different finishes
Offers you 100 different color options
What We Don't Like
Not suitable for humid weather conditions
Expensive paint
Finish: Matte | Sheen: N/A | Coverage: 300-400 sq ft | VOC: <50 g/L
5. Glidden Duo Paint and Primer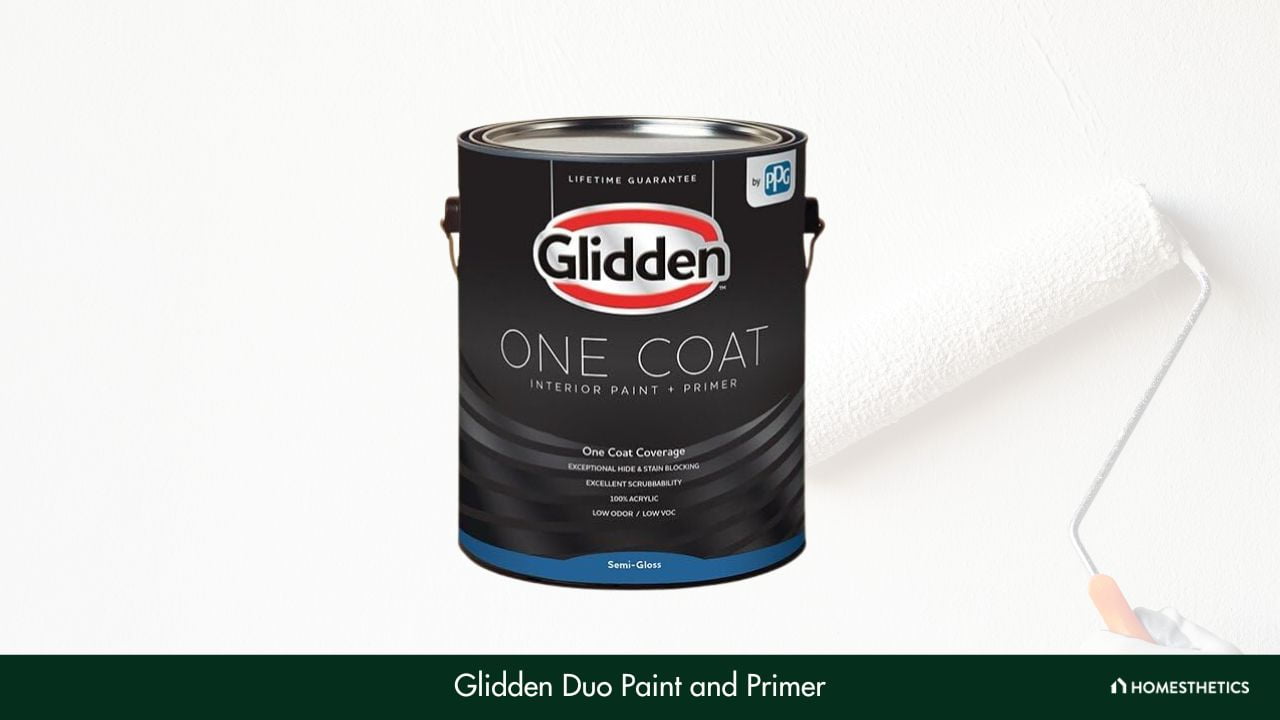 Glidden is an almost century-old company that manufactures quality paints. It comes in approximately 300 different colors, with three different finishes. The high level of saturation with superior durability can give your space the best coverage. It's stain-resistant paint, which also provides you with a mildew-resistant coating. You can get this product in three different sizes.
Glidden is like the granddaddy of paint; it has been used in our household for many decades. And when I was considering the paint for my garage, I couldn't think of opting for another brand. This is a paint and primer combo that helps to reduce the effort of getting them done separately. 
You get three hundred different color options, which made it pretty simple for us to find sunset orange on this list. I was quite particular about the shade that I wanted for the interiors of my garage, and thanks to Glidden for offering such a wide variety of shades. 
 It has a very slight odor, which is almost negligible, making it safe for a household with children. The low VOC quality is also an attractive component of this product. This is an excellent combo of stain-resistant paint and stain-blocking primer.
Apart from the superior coverage that it provides, we were happy with the fact that it's also washable. So, we have no more fears about any stain spoiling the overall look of the garage. Finally, the high saturation level gives a vibrant color with even a single coat of paint.
What We Like
Available in 300 different colors and three different finishes
Paint and primer combo
Acrylic, low VOC paint
High saturation level
What We Don't Like
Slightly higher price tag than other paints
Finish: Eggshell | Sheen: Low | Coverage: 300-400 sq ft | VOC: <50 g/L
What is the Best Paint For Interior Garage Walls?
Types of Paint for Garage
 Walls
Latex paint is a type of water-based paint that is made with synthetic polymers and pigments. It has excellent adhesion characteristics, making it a popular choice for both interior and exterior surfaces. Latex can be used on a variety of surfaces, including drywall, wood, metal, masonry, and plastic, and is known for its low odor and quick drying time. Its durability and resilience make it ideal for high-traffic areas as it resists fading and chipping better than other paints. 
Latex paint is without a doubt the best type of paint to use for painting garage walls because it's considered by homeowners the easiest to maintain. It is ideal for these surfaces as it's easy to work with and clean up, and can be applied in a single coat which encourages DIY projects. Latex paints are considered the best for garage walls because they dry quickly too and that allows for quick touch-ups where needed.
Additionally, latex means that cleaning the walls is a breeze, you can just use water and if need be some soap instead of more aggressive chemicals to remove grime and debris. As far as selecting a color, latex paint can come in any color your mind can conjure, so you can easily choose whatever paint color you prefer or simply go with a neutral one that will blend and bring forward your gear and vehicles. It is worth noting that interior latex paints can be safely on the garage walls and ceilings without worrying that they're interior paint. Most homeowners use exterior paint as garage paint as it is known to be a bit more hardwearing but you can comfortably go with latex
Overall, I recommend latex paint as the best option for painting your garage walls because of its ease of application and cleanup.

Masonry paint is a type of paint specifically designed to protect and decorate masonry surfaces such as raw concrete, brick, stone, and other similar building materials. It can be purchased in a variety of colors and sheens, from flat matte to high gloss.
Masonry paints contain waterproofing agents, making them ideal for areas with high humidity or exposure to water or other elements. They also contain fungicides and mildew inhibitors, which protect the surface from mold and mildew growth. This kind of paint ability to resist fading, chalking, and UV rays, masonry paint is often used on exterior walls and other outdoor surfaces and it can beautifully embrace the garage interior thanks to its great resilience. Additionally, it provides a durable finish that stands up to extreme weather conditions. Masonry paint is an excellent choice for painting brick patios or walkways as well as stuccoed walls or eaves.

Masonry paint might be a bit overkill for an enclosed home garage but I recommend using masonry paint on garage walls when the construction material is raw and untreated. Using masonry paint on exposed concrete or a brick wall might be a good idea if that wall also has a humidity barrier on the exterior.
Epoxy paint is a type of paint that is used for interior purposes. It comes in a neutral color, making it easy to match with any decor style. This simple paint can be applied to a variety of surfaces and dries quickly, making it ideal for indoor projects. Epoxy paint is also very durable and resistant to moisture and humidity, making it perfect for areas such as bathrooms or kitchens where water may be present. It also provides good coverage, so you don't need to worry about multiple coats when using epoxy paint, simply paint and make the garage pretty again.

Epoxy paint is a strong and resilient paint that will last for years, even in high-traffic areas but is mainly designed for indoor use. The application process is simple and any enthusiast homeowner can enjoy the DIY process, one can spruce up the garage walls even if walls are already painted thus beautifying your garage space through simple means. Epoxy paint also resists fading from UV exposure so don't worry if your garage has huge windows, the paint will not fade.
I recommend epoxy paints for increased flexibility, especially if you just want the garage wall paint color changed and you are trying to paint the garage door in the same color as well. Epoxy paints have great adhesion, just in case your materials are tricky to paint over, with the proper primer for your material, you can paint any interior surface.
Oil-based paints use an oil base as their primary binder. This type of paint has been around for centuries and is certainly the most popular paint used for painting surfaces such as walls and woodwork. Unlike water-based paints, it takes longer to dry and has an odor during application which turns off of plenty homeowners today. Its main advantage is that it's more resistant to scratches, scuffs, and fading than other types of paint.
Do note that oil-based paints tend to have a glossy finish that gives them more durability than water-based paints generally. They are used for painting hard-to-reach areas due to their viscosity and slow drying time but they can be difficult to clean up after use, they provide a superior level of coverage when compared with water-based paints.

I do not recommend oil-based paints for the general garage walls but if you are going for a gallery look, if your garage is a private gallery for your collection of cars then oil-based paints might be the choice for your garage walls.
Buying Guide for the Best Paint for Interior Garage Wall 
Just like how painting your garage wall makes it look lively again, similarly, with a little effort, you can find the right jar of paint. Here are the different factors that you should consider before you purchase your new paint.
Consider choosing the color palette yourself
The color of the paint should be a reflection of your personality and mood. What is your favorite color? Those should be the best colors for you! If you're having trouble picking one, you can take a look at your garage. It should help you determine which color will suit this space.
Quality
Don't opt for a lower quality of paint, because good quality paint will come with better longevity. It will not leave brush marks, and it's less prone to getting yellow as it continues to age. You'll get a smooth wall for many years to come, and some of them are also dirt and stain-resistant, making it easier to clean.
Tip
Before starting to paint clean off existing oily stains and wash the walls off all stains that look problematic as these stains can bleed through paint and damage the new layer.
No-VOC or Low-VOC paint
VOC (Volatile Organic Compounds) are harmful chemicals that are often released from regular paints once they dry off. You should always read the label to check if you're picking a paint with No-VOC or Low-VOC and decide purposefully on the way to paint your garage in regards to VOC levels.
Water vs. Oil 
When you're opting to get paint for your interior finish, it's often advised to get water-based paints as they have less odor. However, the oil-based comes with better durability, and it will be easier to clean the stains.
Latex vs. Acrylic
Latex paint gives proper protection from the build-up of mold or moisture. It's also easier to clean the surface. But acrylic paints are less expensive than your other paints. Even though latex and oil-based paints are generally preferred over acrylic paints, the latter can be blended well to serve a lot of aesthetic options.
Selecting a Paint Finish
The finish is also known as the "sheen," which serves as the artistic and tactile quality of your paint. For a garage that is not used for any events, you'll prefer to paint with a less glossy finish. But, if the garage is used for other purposes too, a higher gloss will make the space appear more appealing. 
The garage wall paints which have more resins than the regular paints can also double as primers. These resins can impact the overall finish of the paint. You can find different options for a paint finish which include- flat, matte, satin, eggshell, semi-gloss, and high-gloss. Each of these finishes comes with a varied range of effort, time, budget, and durability.
Size of the garage
Selecting a lighter color paint for a small garage can give the illusion of it being more spacious. While dark colors tend to absorb the light, making it appear smaller. The size of the garage and the atmosphere you are trying to create will dictate the color of the garage.
How do I paint the walls of my garage?
To paint the walls of your garage, start by cleaning the walls and removing any dirt, dust, and grime. Then, apply a primer to the walls and let dry overnight. Once the primer is dry, you can apply either latex or oil paint to the walls in a series of thin coats, allowing each coat to dry before applying the next.
What is the difference between latex and oil paint for garage walls?
The main difference between latex and oil paint is the drying time. Latex paint typically dries in 1–2 hours, while oil paint can take up to 24 hours to dry. Latex paint is also easier to clean up, while oil paint is more durable and resistant to fading.
Do I need to apply primer before painting the walls of my garage?
Yes, it is recommended to apply a primer before painting the walls of your garage. Primer will help the paint adhere to the wall better, and it will also help fill in any cracks or gaps in the surface of the wall.
What kind of paint should I use for the unfinished walls in my garage?
For the unfinished walls in your garage, you should use oil–based paint. Oil–based paint is more durable and will provide a longer–lasting finish.
What is the best paint finish for garage walls?
The best paint finish for garage walls is a semi–gloss or gloss finish. These finishes are more resistant to dirt, dust, and other wear and tear. They also create a nice shine that can help brighten up the space.
Thanks so much for taking the time to read through our comprehensive guide on the best paints for an interior garage wall! We hope that this information has been helpful, enlightening, and even exciting for you as you embark upon your own garage transformation journey. Remember, choosing the right paint can make all the difference between a dull, lifeless space and a vibrant, welcoming workshop or storage area.
Out of these 5 best paints for interior garage walls, here are the top three expert recommendations:
Backdrop Premium Interior Paint: Moonstone is an ideal option for those who appreciate Green Wise-certified, low-VOC, and low-odor paints, and have a creative knack for choosing complementary color combos.
Montage Signature Paint: Snow White is a good choice if you value eco-friendly manufacturing, Built Green, and LEED certifications compatibility with a 10-year warranty for some peace of mind.
PRESTIGE Interior Paint and Primer in One is the right choice for those living in humid areas or who prefer a paint and primer combo with numerous color options, all while being eco-friendly.
Choosing the perfect paint is truly a blend of aesthetics, durability, and eco-friendliness. Regardless of which option you select, you're well on your way to transforming your garage into a beautiful and functional space. So go ahead, grab your paint rollers, and unleash your creative potential! We're sure you'll be amazed by the results, and your garage will become a source of pride for years to come.