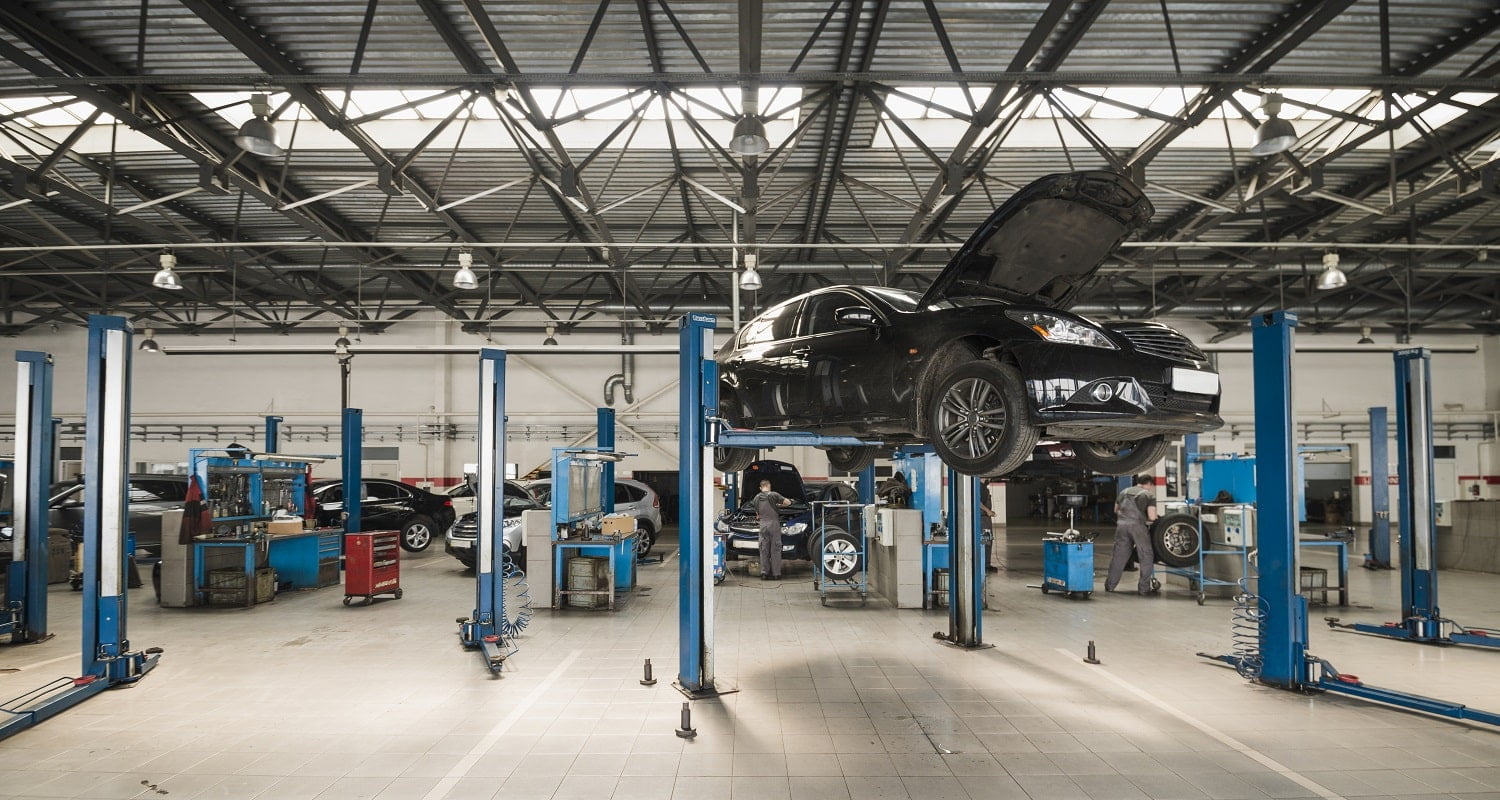 We agree, maintaining a vehicle is one hell of a job!
Even more so when you don't have the right tools and equipment to help you for the cause. But with something like a topside creeper, the daunting task becomes considerably less demanding.
After all, who wouldn't want to access those remote areas minus the strain on muscles?
With this thought in mind, we set out to get a suitable model for our requirements. But the number of options made us drop the idea altogether.
So that you don't face the same problem as we did, we've curated this list of the best topside creepers of the year that money can buy. And as a bonus, a short buyers' guide will help you make the decision real quick.
With all said and done, let's begin!
Top Topside Creepers 
IMAGE
PRODUCT
DETAILS

Our Top Pick

Our Top Pick

Traxion 3-100 Foldable Topside Creeper

Adjustable height
Four swivel casters
Padded deck

VIEW LATEST PRICE →

Traxion 3-700 Foldable Topside Creeper

I-base design
Dual-locking casters
75 inches high

VIEW LATEST PRICE →

TD Tools 8116F Foldable Topside Creeper

48 to 64-inch adjustable height
Front tool pouch
Wheeled base

VIEW LATEST PRICE →

Traxion 3-120 Topside Junior Creeper

300 pounds weight capacity
Padded fronts
Foldable

VIEW LATEST PRICE →

REL Stapleton Foldable Topside Creeper

3 lean-in adjustments
Locking casters
Powder-coated finish

VIEW LATEST PRICE →

Champ Overhead Creeper

Wide steps
Adjustable height
Foldable

VIEW LATEST PRICE →

JEGS 81166 High Top Creeper

400 pounds carry capacity
Adjustable height
Collapsible

VIEW LATEST PRICE →

Whiteside Manufacturing Professional Over The Engine Creeper

Tool tray
Adjustable deck
Wheeled base

VIEW LATEST PRICE →

Nomad Manufacturing - The Elevator - Over Engine Creeper

Flying platform
Shin pads
Industrial wheels

VIEW LATEST PRICE →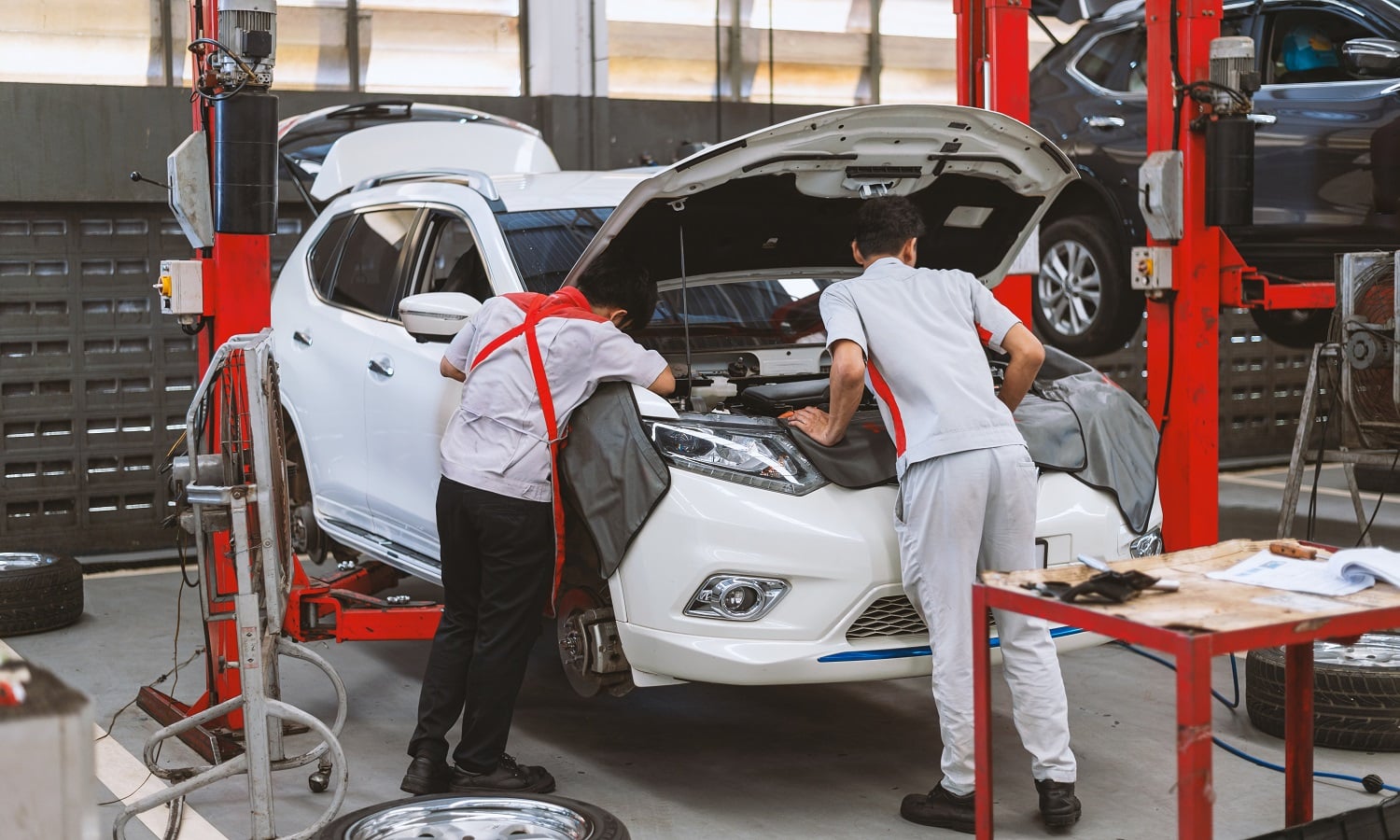 The top spot on our list goes to the Traxion 3-100 Foldable Topside Creeper. Made from heavy-gauge steel, this foldable creeper can effortlessly hold up to 400 pounds. What's more, the ergonomic design provides comfort and stability at a pocket-friendly price.
Why Did We Like It?
Traxion is well known for manufacturing high-quality tools and equipment, and this topside creeper justifies its reputation. Firstly, the heavy-gauge steel frame is well-built and can carry up to 400 pounds, making it equally suitable for heavyweight users. Besides, the smooth finish keeps it from scratching and denting nearby objects.
As far as stability is concerned, the V-shaped base ensures optimum side-to-side stability. Apart from that, the two pins securely hold the support pieces in place, thereby reducing any risk of toppling. Furthermore, you can lock the four swivel casters before climbing up.
Once the frame is set up, all you have to do is pop out the top pins to slide it out and remove them for lowering the stand. When you have reached the desired height (from anywhere between 48 to 65 inches), reinsert the pins to lock it in place. After finishing work, simply pull out the lower pins to fold the tool flat.
Last but not least, the broad padded deck has just the right thickness that allows you to work comfortably for long working hours. For its rather affordable price, we really can't ask for more!
What Could've Been Better?
While the height range of the 3-100 topside creeper gives smooth access to SUVs and pick-up trucks, it might not be very helpful for trucks with over 6 inches lift. Also, the vinyl quality on the deck makes it prone to damage.
Pros
Stable and wheelable base

Folds quickly for secure storage

Wide vinyl deck

Rust-resistant finish
Our second pick of the day is yet another topside creeper from Traxion. The 3-700 Topside Creeper boasts of a sturdy construction to provide safe and unobstructed access to the engine compartments. Plus, its foldable design aids hassle-free storage.
Why Did We Like It?
To begin with, the positive customer feedback got us interested in this product. Talking about the overall construction, its robust all-steel body is equipped with a carrying capacity of 400 pounds. When extended, it creates a convenient angle to provide proper access while keeping the frame adequately backed away from the vehicle.
On that note, it can be adjusted to achieve a height anywhere between 53 to 75 inches, with increments of 6 inches. The dual-locking casters use pins that can be popped in and out to slide and adjust the creeper.
Moreover, the steps are perfectly distanced, which makes climbing up and down the frame quite fast and easy. Additionally, the I-base design amps up the stability factor of the structure.
Unlike other creepers that use a hard plywood base, the upholstered vinyl cover on this one goes over a sling, which facilitates maximum comfort and uniform weight distribution. And since it's secured by velcros, you can easily remove the cover for cleaning all that grease and oil.
Lastly, the foldable design, in tandem with the wheelable base, makes it easier to move around and store in compact spaces, respectively.
What Could've Been Better?
The steel construction makes the frame weigh almost 75 pounds. Thus, you may need extra help while loading and unloading. We'd have liked some more padding on the sling base for added comfort. However, you may use bedding foam to stuff the sling as per your convenience.
Pros
140-inch engine compartment access

I-design base goes well around the tires

Triangle support near the base reinforces stability

Removable and washable cover
Cons
Heavy

Insufficient padding
Completing our top three positions is the TD Tools 8116F Foldable Topside Creeper. Its robust construction and ergonomic angle make it a popular choice among users, especially professionals. The adjustable height feature makes it suitable to work with a range of vehicles.
Why Did We Like It?
Similar to the Traxion 3-100, its heavy-gauge steel frame is designed to be all stable and sturdy on most surfaces. Unsurprisingly, it adds up to the product's weight, but the wheeled base makes it convenient to move around.
What appealed to us the most is the judicious use of padding. In addition to the upper deck, it has a fair bit of cushioning extra near the front, which keeps the vehicles from getting scratched by the frame. Other than that, the padded rear bar on the steps also reinforces stability.
Not only can the ladder be adjusted to achieve a height from anywhere between 48 and 64-inch, but it also collapses tightly for easy storage. We also liked how the wheels facilitate smooth maneuverability.
Although the TD Tools 8116F Foldable Topside Creeper is designed to be a professional mechanic's sidekick, we won't discourage homeowners from having a go at it. However, do remember that it's not the most affordable model out there.
What Could've Been Better?
Honestly, we aren't too bummed out about the expensive price tag after all that it has to offer. The absence of locking casters may disappoint some users, but we didn't feel any less secure and stable while working with it.
Pros
Broad, wheeled base

Collapses tightly

Attached tool pouch on the front deck

Wide vinyl protected deck
For number four, we are back with another Traxion product. The 3-120 Junior Creeper is a lightweight model that sports a solid metal frame. Ideally meant for assisting working with smaller cars, the padded deck saves you from strained backs.
Why Did We Like It?
We were quite impressed with the simplistic design of this model. Sure, it isn't a full-fledged stepladder per se, but this junior creeper has a sturdy construction that makes it appropriate for the job. Plus, the heavy duty steel frame doesn't add on to the weight. So, that's a bonus!
Coming to its construction, the padded seat sits atop two sets of metal frames that provide plenty of stability. Since there are no steps to climb, all that the user has to do is place it near the vehicle and lay his chest on the deck. If you're a tall person in possession of a relatively smaller car, we bet you'd appreciate the support from keeping your legs firm on the ground.
Much like the TD Tools 8116F Foldable Topside Creeper, we found the front padded lower legs helpful in preventing scratches and bumps on the car. And when you're done with the day's work, simply fold the creeper for storage. Again, the low-profile design will save you a lot of space.
All in all, we are pretty satisfied with how the Traxion 3-120 Junior Creeper performs for its cause and moderate price tag.
What Could've Been Better?
Considering that the model is more suitable for smaller cars, we aren't exactly mad about the fact that it doesn't have an adjustable height mechanism. However, we feel that you might need to drill in some more holes while installing to make the frame more stable.
Pros
Suits heavyweight users

Adequate padding

Rubberized feet

Can be carried around
Cons
Needs to be made stable during setup
The REL Stapleton Foldable Topside Creeper is another one of our affordable favorites. It's simple yet effective design is a fit for a range of mechanical tasks, be it at the workshop or home. Besides, it facilitates a fair bit of adjustment.
Why Did We Like It?
Having tried a number of steel framed topside creepers, we were looking forward to this one, in terms of stability. To our relief, the heavy duty steel construction is capable of holding up to 300 pounds, which is a decent capacity, in our opinion. But similar to the TD Tools 8116F Foldable Topside Creeper, this takes a toll on its overall weight.
Perhaps the biggest advantage of this unit is its adjustable height feature. In addition to setting up the side ladder from 48 to 64 inches high, you can also choose between 3 lean-in angles. This, in turn, allows you to customize it for reaching different areas of the engine compartment.
Complete with a durable vinyl-covered padded deck and locking casters, the REL Stapleton Foldable Topside Creeper is one of the most cost-effective models in its price range.
What Could've Been Better?
Despite having twin casters, we did face considerable difficulty in wheeling it around. We feel maybe a pair of extra casters would have solved this problem.
Pros
Abrasion-resistant deck

Corrosion-resistant steel frame

Angle and height adjustments

Folds easily
For the sixth pick on today's list, we'd like to introduce the Champ Overhead Creeper. Boasting of an ever-reliable steel construction, it provides a safe and comfortable reach to the most remote compartments.
Why Did We like It?
Frankly, we didn't expect a lot from this topside creeper after the unimpressive first impression. But we were in for some pleasant surprise. To start off, the out and out steel construction makes this unit stand firm and still on most surfaces. The H-shaped base is built evenly, which supports the ladder without causing it to topple.
Furthermore, it has three wide steps that make it easy to climb up and down the creeper. And unlike other models, the steps have a traditional mesh-like design that makes them slip-resistant and more secure.
By setting up the creeper from anywhere between 48 to 64 inches high, you can easily reach the remote areas of taller vehicles like SUVs, for instance. Moreover, the padded cushion allows you to extend comfortably on your chest.
Like all the above-mentioned creepers, the frame has a foldable design for trouble-free storage. All in all, the Champ Overhead Creeper won't add much value in terms of looks but performs decently for its purpose.
What Could've Been Better?
There are a couple of things that need improvement. First and foremost, we are not really stoked about the finishing of this product. The rough edges can easily catch on your clothes or skin. Next, the cushion isn't sufficiently thick to provide optimum comfort.
Also, the package doesn't mention a specific carry capacity, so wouldn't recommend this for users weighing above 300 pounds.
Pros
Adjustable

Foldable

Securely built and anti-slip steps

Suitable for working on high areas
Cons
Bad finishing

Thinly padded deck
Next up, the JEGS 81166 High Top Creeper finds an honorable mention in today's list. Its compact design ensures optimum stability for your legs while working on the vehicle. Designed to carry considerable weight, it's an ideal option if you're looking for an upgrade.
Why Did We Like It?
Undoubtedly, we were intrigued to find how well the model performs for its massive carry capacity. For starters, the durable steel structure culminates into an L-shaped base, which ably holds up the stepladder above. Moreover, the topmost step has a padded rear bar for better stability.
Similar to the TD Tools 8116F Foldable Topside Creeper, the cushioned deck has an attached tool pouch for user-convenience. Apart from that, the ladder has an adjustable height range of 55.5 to 60.5 inches, meaning you can customize it as required.
Weighing at nearly 66 pounds, it isn't the most lightweight model on the market. And this is where the 4 swivel casters will come in handy. Plus, two of them can be locked in place to prevent even the slightest movement.
Despite having a compact frame, the JEGS 81166 High Top Creeper is equipped to carry heavyweight users with ease. If you're on the hunt for an affordable and sturdy option, then this model might fit your needs.
What Could've Been Better?
We are not particularly impressed with the uneven finishing of the top edges, which may cause injuries. Also, first-time users may find it challenging to assemble the frame, so we'd recommend setting aside a good amount of time for the cause.
Pros
Maneuverable

Foldable design for hassle-free storage

Padded and upholstered deck

Slip-resistant steps
Cons
Sharp top edges can cause injury
As we near the end of the list, here's another professional topside creeper. This model by Whiteside Manufacturing is quite versatile and makes those long working hours more comfortable. Besides, there's no compromise on stability.
Why Did We Like It?
Even before we could put it to use, we did admire how compact the design is, more so after its carry capacity of just under 400 pounds. The durable steel construction has a U-shaped base for better stability and safety on the ground.
Moving on, the top deck has an adjustable height, which can be set anywhere between 43-1/4 to 57-3/4 inches. On top of that, the padding extends up to the hinge of the deck, providing more comfort during long work hours.
Since its all-steel frame is considerably heavy, the base is equipped with two wheels on the back for smooth maneuverability. And lastly, the instructions guide makes it easy to set up the frame within minutes. If premium pricing isn't an issue, then the Whiteside Manufacturing Professional Over The Engine Creeper is worth considering.
What Could've Been Better?
Although we don't really have a lot to crib about, we feel that it's priced way too high. Thus, it may not be the ideal pick for homeowners. That being said, it's one of the most durable and stable options on the market.
Pros
Sturdy build

Thick padded deck

Powder-coated finish for rust resistance

Quick assembly
For the ninth pick, the Nomad manufacturing Over Engine Creeper makes a deserving entry. This one-of-a-kind topside creeper is loaded with a host of convenient features and built to provide optimum comfort in the workshop.
Why Did We Like It?
The most prominent feature that sets this model apart from the rest is its full flying platform. Simply put, the conventional deck has a full-length extension that supports your legs so that you can completely lie down. Besides, the shin pad provides extra comfort during long work hours. This makes it even easier to reach the difficult parts without putting any strain on your muscles.
We also liked the fact that this distinct design doesn't compromise on stability. The metal legs sit firmly on almost any surface, including slippery floors. In addition, the wide platform above ensures a safe dismount from the deck. Furthermore, a simple locking mechanism holds the deck securely, which can carry up to 350 pounds. Likewise, tightening the safety screw after making required height adjustment prevents the deck from swaying.
Last but not least, the rubber bumpers extend from 10 to 36 inches, that in turn, protects your vehicle from developing dents and scratches.
What Could've Been Better?
Similar to its predecessor, the exorbitant price may be the biggest constraint for potential buyers. Agreed that the full-length deck does provide unmatched comfort for most users, but we are not sure if that's worth the hefty price tag.
Pros
Safety locks to prevent sudden swivel

Hard powder coated frame

Velcro attached cushioned deck

Has a tool holder
The penultimate product on today's list is the Redline Topside Creeper. This fully adjustable unit is an ideal sidekick for diesel and 4×4 trucks. Sporting a durable construction, it has all the features to facilitate optimum user convenience.
Why Did We Like It?
Having tried the REL Stapleton Foldable Topside Creeper, which also comes with the adjustable angle feature, we were eager to see what this one had to offer. And we were glad that the performance wasn't too behind either. Apart from choosing between three angle positions, you can also set it to a height anywhere between 53 and ½ to 68 inches.
Other than that, the thick padded deck has an ergonomic position that allows you to get your hands on those hard-to-reach areas of the engine. For its relatively simple-looking frame, the 400 pounds carry capacity comes across as quite impressive.
Finally, the three 4-inch casters enable friction-free movement on most surfaces.
What Could've Been Better?
Although the sufficiently broad casters aid maneuverability, the Redline Topside Creeper weighs a massive 97 pounds, meaning you will face a significant challenge in loading and unloading the frame.
Pros
Folds flat for storage in cramped spaces

Thick cushion

Integrated tool tray is easy to access

Smooth maneuverability
The last name for today is the XtremepowerUS Creeper. Sporting a familiar design, this unit does a fair job of keeping up with the brand name. Its padded deck and adjustable mechanism provide optimum flexibility for varied requirements.
Why Did We Like It?
First things first, the unit's resemblance to the Redline Topside Creeper got us interested in trying it. In tandem with the stepladder, the padded deck allows 40% more reach to the front areas of the vehicle. Apart from that, the L-shaped based slides easily under the car and around the wheels for reinforced stability.
Not only do the four casters facilitate smooth movement, but two of them lock in place once you've brought the frame to a position. As a result, there are almost zero chances of any sudden drift, thereby ensuring maximum security for the user.
Lastly, the adjustable height has a range of 48 to 66 and 1/2-inches, making it versatile enough to work with different parts of the vehicle.
What Could've Been Better?
If you ask us, the XtremepowerUS Creeper is a value-for-money product and is a good option if you're looking to invest in a topside creeper for the first time. However, it doesn't bring a lot to the table for being an ideal upgrade.
Pros
Steel body can carry 400 pounds

Powder-coated finish

Collapsible frame

Durable padded deck
Cons
Doesn't have any distinct feature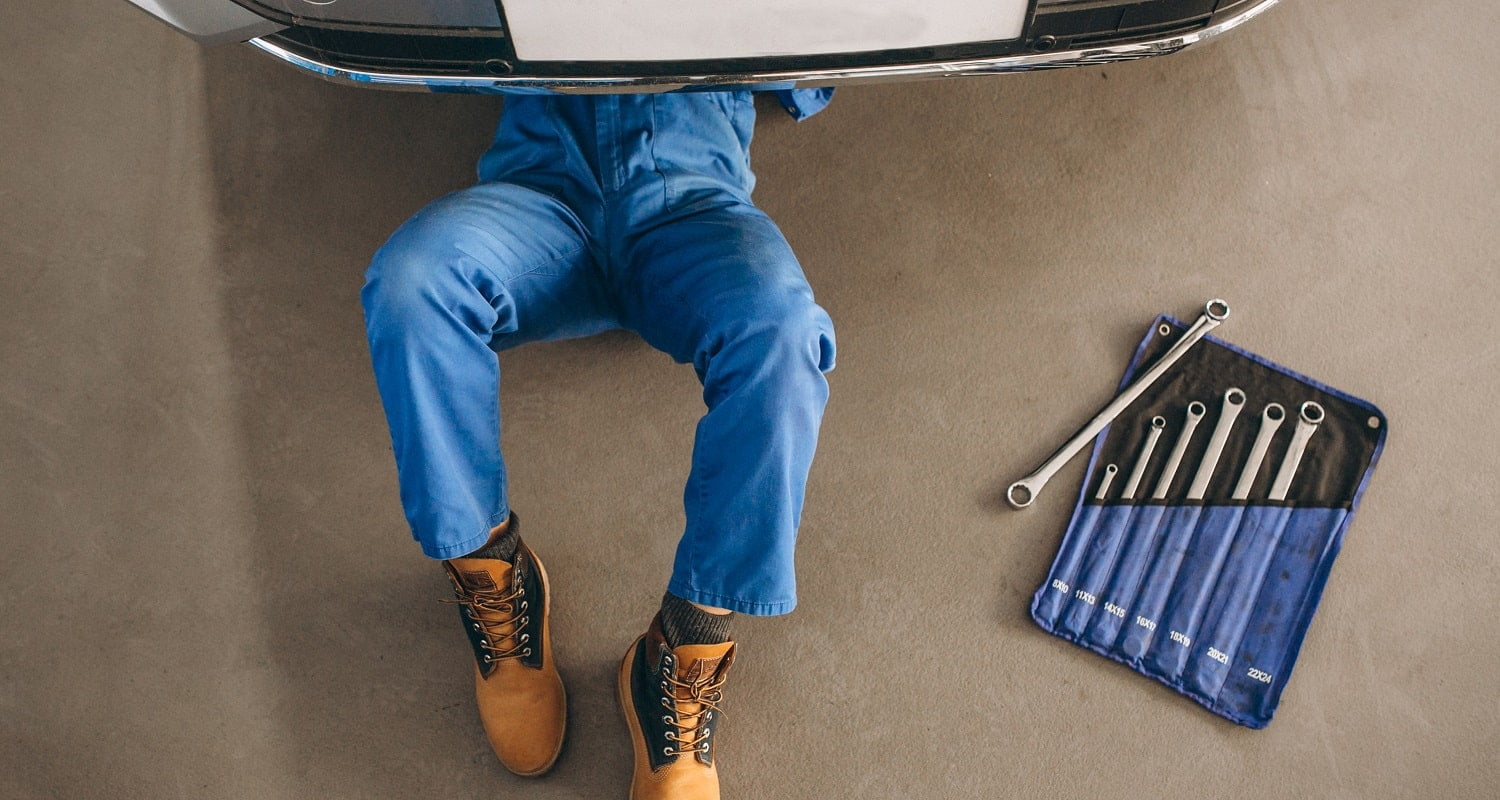 Topside Creeper Buyers' Guide
With all the top names worth considering at your disposal, the job is only half done. No matter how big (or how little) you spend for a topside creeper, your investment won't yield desired results if the unit can't perform as per your needs.
So, here we are with a short buyers' guide that will help you take note of the most crucial features that should drive your purchase decision.
Weight Bearing Capacity
Without a second thought, the very first thing to consider is the carry capacity of your preferred topside creeper. Here, we'd like to state that an all-metal body or wide cushioned deck shouldn't be used as the parameters to judge how much the frame can carry.
To be absolutely sure that what you're buying will keep you from falling, we strongly recommend looking out for the exact carrying capacity. On a side note, it's a good practice to invest in one that has a slightly higher weight capacity than required, just to make room for future needs.
Adjustable Height
Since topside creepers keep you a fair bit above the ground, they come with an adjustable mechanism that lets you decide on the height of the frame. Generally, a height range between 40 to 64 inches is suitable for semi-trucks and SUVs. However, you may opt for a higher creeper for larger vehicles.
Maneuverability
For durability and stability purposes, most models on the market have a steel construction, which also makes them quite heavy. Hence, you may want to look out for wheeled bases. Additionally, lockable casters are one of the main features that lock the unit in place to ensure optimum stability.
Padded Deck
Because you may end up spending long hours working on the topside creeper, the padded deck should be thick and comfortable to sustain your body weight for a long span. So, keep an eye for the durability of the cushion as well. Also, a removable cushion facilitates easy cleaning and replacement when required.
Tool Pouch
Tool pouches attached to the front of the deck make it convenient for the user to store all necessary tools and equipment in one place.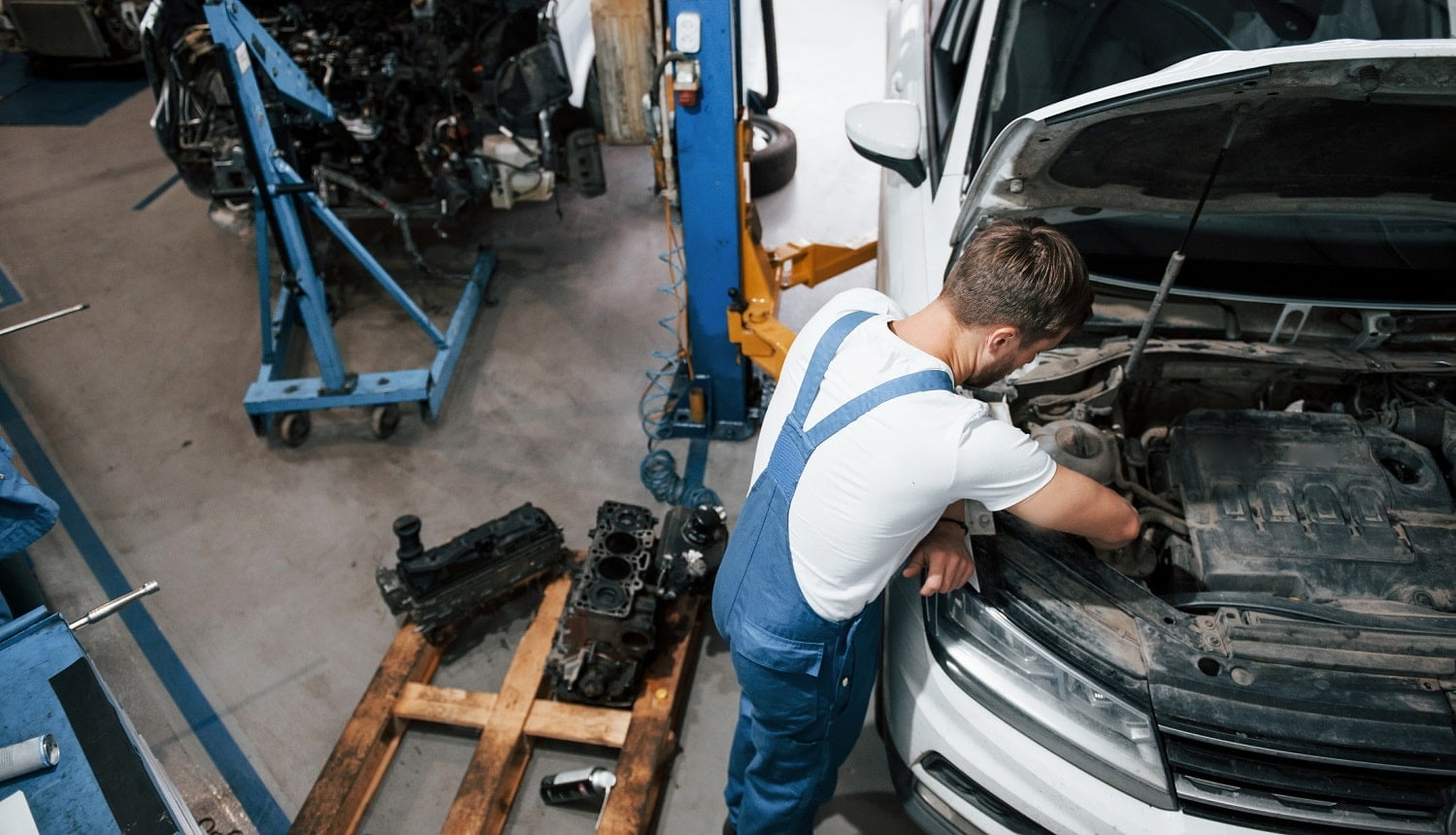 Verdict
Trust us when we say that buying a topside creeper isn't as easy as climbing one!
Even before you can appreciate this very beneficial invention, you will have to bring the right one home. And making that decision can well make you rack your brain. But to help avoid this unpleasant situation, we've listed out the 11 best models up for grabs.
Now, before you take a pick or head out to buy one, here's a quick shoutout to some of our favorites from the list.
The Traxion 3-100 Foldable Topside Creeper is affordable and delivers quality performance. On the other hand, the TD Tools 8116F Foldable Topside Creeper has a front tool pouch for added user convenience. And the Traxion 3-120 Junior Creeper has a simple, distinct yet effective design.
With this, it's time for us to bring down the curtains. Hope our effort has, by now, helped you make the final call. Do let us know about it in the comments section below.
Till next time!
Related Articles
8 Garage Door Alternatives For Your Future Home
23 FREE Detailed DIY Garage Plans With Instructions To Actually Build
13 Best Electric and Propane Heaters for Garage
10 Quietest Air Compressors For Your Garage
13 Brightest Light Bulbs For Garage 
9 Best 6 Gallon Air Compressors for Your Home & Garage
10 Best 240v Electric Garage Heater To Consider
7 Best Paint for Interior Garage Walls Right Now