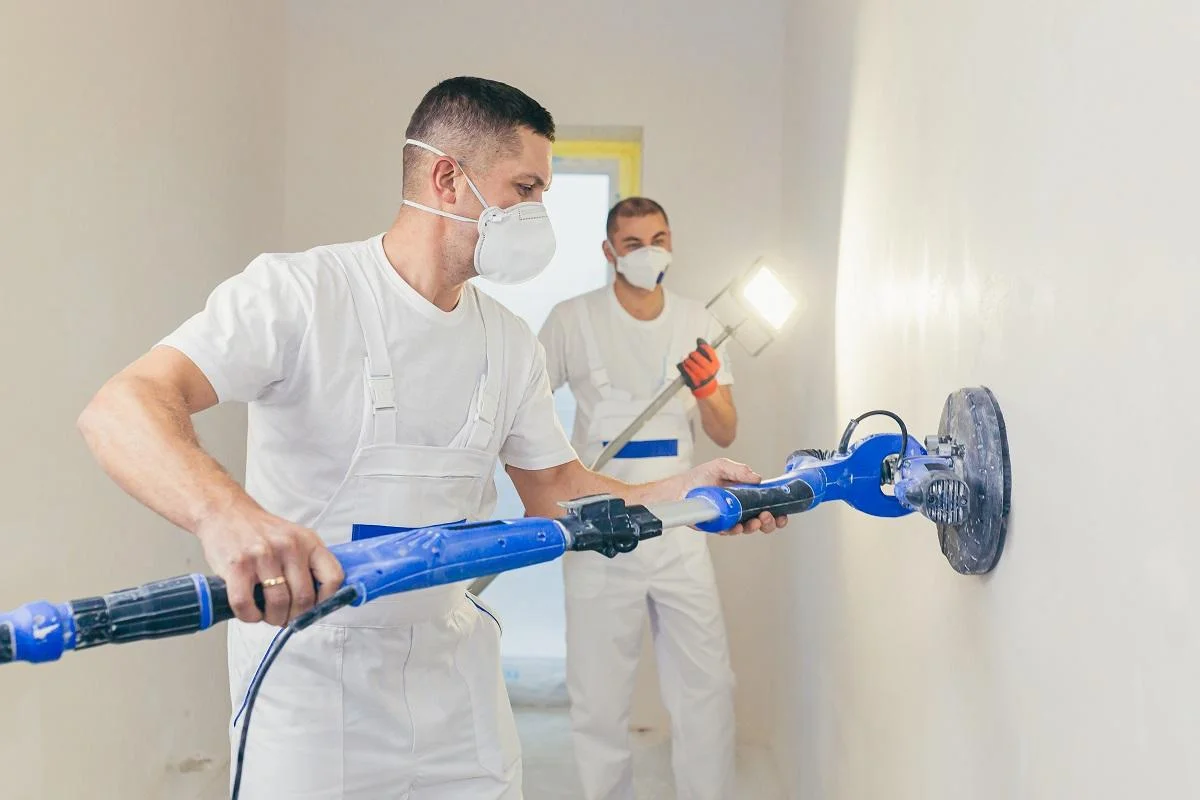 High-performing drywall sanders are essential for achieving a smooth finish for your drywalls. 
Sanding drywalls have always been a crucial factor in getting a smooth and clear finish for your room's aesthetic. Most professionals prefer to use top-quality drywall sanders to get the job done, as they save a lot of time while covering a larger area. 
With the advancement in technology, we have gone far from using basic sanders, as brands today incorporate them with a variety of features for better performance. But choosing the right one can be troublesome. 
With this goal in mind, we have curated the following list after trying different drywall sanders. In addition to this. So, without any further ado, let's get going! 
Top 11 Drywall Sanders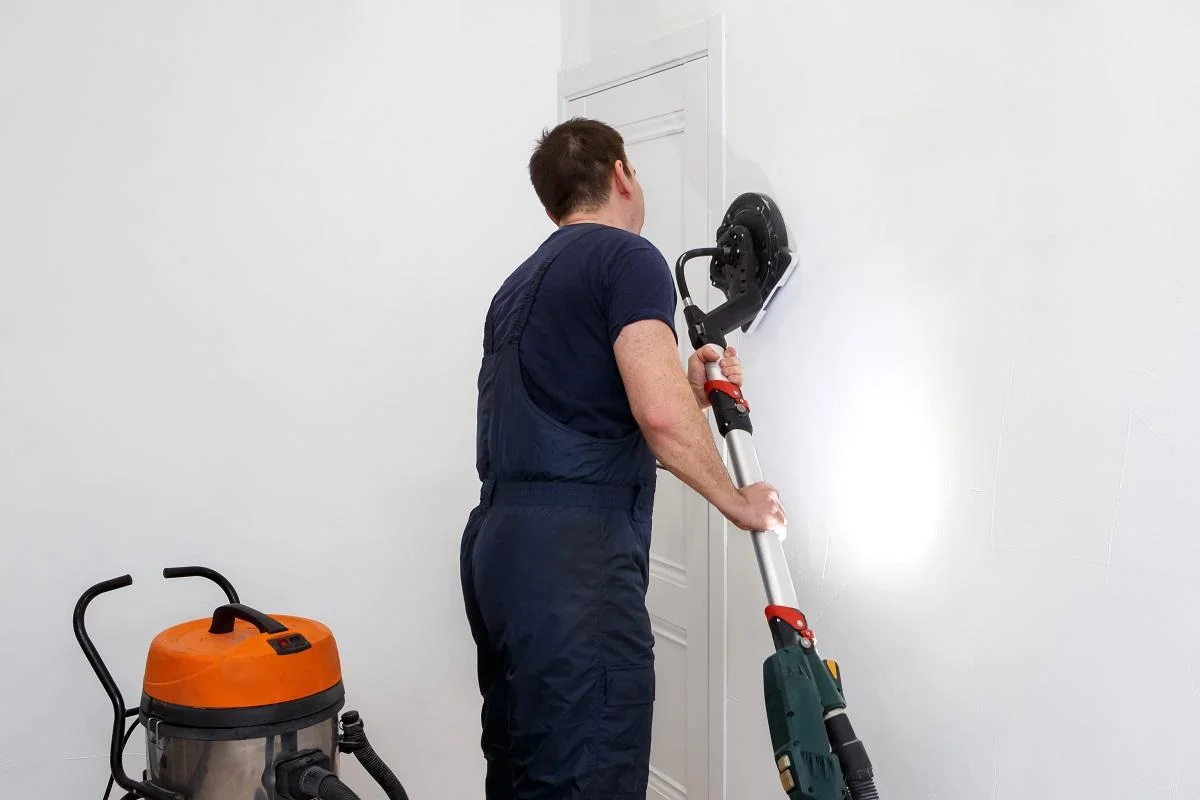 WEN is a brand known for making some of the best drywall sanding tools. Over the years, it has garnered positive reviews from its customers, thanks to high-quality equipment and customer satisfaction on offer. Moreover, its drywall sander comes with a two years long guaranteed warranty. 
Why Did We Like It?
Wen 6369 comes with a 5-amp motor that is capable of adjusting its speed from 600 to 1500 RPM, making this a top choice for most sanding projects. Besides this, the hook-and-loop base bed can easily switch between six different combination-grit sanding discs, which allows the users to sand all types of surfaces and textures. 
The sander has an ergonomic design that makes it easy to move around without worrying about any pain or stress on your body. We also liked how the brand offers various handy features as it makes this product more versatile and flexible. 
It comes equipped with a 15 feet long hose that can reach farther distances, such as high ceilings or wall corners. Plus, the switches and click dial are easy to access since they are placed near the handle. On that note, you can easily adjust the dials without too much effort.  
What Could Have Been Better?
Overall, Wen 6369 is an efficient electric sander in its price range, and it has all the features you need to get the job done. However, we were disappointed with the poor instructions manual, which made it difficult to assemble the product. In this regard, we suggest watching a few tutorials online before using this product. 
Pros
Affordable price tag

Long hose for reaching different places

Ergonomic design

Accessible switches and click dial
Next on our list is an amazing product from YATTICH, a brand known for making some of the most premium home appliances for its customers. This drywall sander comes with a powerful and efficient motor with a speed rate of 1750 RPM. The aluminum rods can also be adjusted to meet different height requirements. 
Why Did We Like It?
Right off the bat, we were impressed by the variable speed design, which allows the users to adjust the speed of suction and sanding jobs. The speed dial can be easily adjusted to suit different project types. Also, the premium build and ergonomic design make this product versatile for all purposes. 
Apart from this, the high-power motor can easily cover a large area within a short period, making this convenient for small-scale and large-scale projects. In addition, the vacuum suction system comes equipped with a reliable dust bag and 6.5 ft dust that can easily absorb 90% of the dust without any effort. 
This drywall sander also comes with 12 sandpapers of different sizes and various other accessories such as sanding sponges, sanding pads, and sanding paper to make your task easy. 
What Could Have Been Better?
When it comes to premium build and multipurpose design, the YATTICH has completely stolen the show. Although the features and utility are commendable, we feel it could've been priced more affordable. 
Pros
Comes with a dust collection bag and 6.5 feet hose

Easily adjustable heights

Extremely lightweight

High power motor
Compared to the other brands, Ginour is a small brand that has earned its reputation by providing reliable power tools with advanced features to all its customers and has received excellent customer reviews and feedback over the years. Moreover, this product comes with a lifetime warranty. 
Sale
Why Did We Like It?
This Ginour drywall sander comes with a 9-inch head that can easily rotate 360 degrees, making your task of cleaning corners, perpendicular walls and edges effortlessly. In addition, the head can adjust itself according to the surface texture and fluctuation. 
We also liked the fact that the sander has a strong vacuum system that can clean 90% of the drywall dust. So, you can rest assured about cleanliness while using this unit. 
Moreover, the aluminum alloy handles can be adjusted according to the required height you desire. Once you are done with the sanding and cleaning, just remove the handle and store it in a tight place. 
Lastly, the double layer electric strip facilitates easy sanding in the dark. 
What Could Have Been Better?
Unlike the previous products, Ginour drywall sanders come with a heavy-duty motor, making it hard to maneuver across the surface for an extended period. Hence, using it for a long period can cause severe pain in your shoulders and back. 
Pros
Comes with seven adjustable speed

Automatically adjustable head

Lifetime warranty

Absorbs 98% of dust
Handife is a brand that specializes in making high-performance drywall sanders with various features and multi-purpose utility. This unit is equipped with a high motor power that has a speed of 1800 RPM. Additionally, the motor can easily sand drywalls as well as grind surfaces such as walls, ceilings, plasterboard, and corridors. 
Why Did We Like It?
First off, the detachable sanding disk can easily reach tight corners and perpendicular edges. Apart from this, the handle can be adjusted to reach tall places that are not accessible without a ladder. During our trial, we hardly faced any difficulty, especially while sanding ceilings and tough corners, making this a very versatile drywall sander.
In addition, we liked how this unit comes with five adjustable speeds, which make sanding different surfaces a breeze. The 800W high-power motor will efficiently power the sanding work, making it ideal for sanding corridors, walls, and ceilings. You can also optimize the sanding efficiency by adjusting the RPM setting from 800 to 1800 RPM. 
Moreover, the extendable and collapsible design allows the drywall sanders to reach high places effortlessly. It can also be used as a convenient storage solution since the handles can be folded. 
What Could Have Been Better?
For the price, we expected the drywall sander to have more speed options. The five-level speed dial gets the job done, but it is not ideal for large rooms and big-scale projects. as it takes a longer time to finish the task. 
Pros
Suitable for tall places

Can remove 90% of dust particles

Automatic Dust removal system

Five-level adjustable speed
Cons
Lack of variable speed options
When it comes to utility and flexibility, CUBEWAY drywall sanders are one of the most reliable and suitable products, as they can handle various tasks easily. In general, it can sand surfaces such as interior walls, loose plaster, paint coating, plaster walls, and many more. Besides, the sander comes with a 6.5 amp motor. 
Sale
Why Did We Like It?
The CUBEWAY drywall sander comes equipped with a 360-degree rotary dust shroud that can easily reach the toughest of corners and edges in the room. Besides this, the vertical positioning of the head helps to reduce the strain and fatigue experienced during sanding. 
And the adjustable suction power is capable of decreasing the overall perceived weight of the machine, making it easy to move around the room. 
In addition, the copper motor is extremely durable and can tolerate intense heat. Plus, the detachable brush section makes it quite convenient for customization according to your personal preference. You can easily store the drywall sander anywhere, thanks to its foldable design, making this a convenient solution for small storage problems.  
What Could Have Been Better?
Although the product stands out for its unique build and ergonomic design, we were still disappointed by the poor battery life. It is not ideal for long-term projects as you will need to charge the battery frequently. However, it is ideal for small-scale projects. 
Pros
Ergonomic build

Easy to operate and use

Comes with eye protection LED lights

Copper motor
Cons
Battery life can be improved
TOKTOO is a brand that focuses on making reliable home appliances at affordable prices. With this aim in mind, this lightweight drywall sander has been provided with a durable and easy-to-handle build, which makes it ideal for short-term and long-term projects. 
Why Did We Like It?
The TOKTOO electric drywall sander is a convenient option to go for since it is extremely user-friendly and easy to use. Moreover, the 6.5 amp motor can complete short-term projects as well as long-term projects with ease. And the six adjustable speeds make it extremely convenient for saving time and energy. 
Unlike most drywall sanders that require an additional extension cord, the TOKTOO electric drywall sanders come with a 26ft long power cord. This makes it easy to move the device around the room without any hassle. 
Also, the 360-degree rotary dust shroud and detachable brush segment are designed to make sanding corners easy since they can easily reach the toughest of corners. Last but not least, the swiveling handle can reach most angles as it is designed to adjust itself at 90 degrees.  
What Could Have Been Better? 
We left no stone unturned while testing this product, and it excelled in most areas except for the vacuum hose, as it is made out of cheap material. The hose can easily break down during the cleaning process, and therefore, we suggest taking extreme caution while using it. 
Pros
Affordable price

User friendly

Multiple accessories

90% cleaning efficiency
Cons
Requires a stronger and more durable hose
The Power Pro 1850 is a robust machine that allows you to sand any surface efficiently and easily. While testing the product, we were impressed by the 750W motor as it was more than capable of getting the job done in time. Also, the variable speed allows you to adjust the speed according to your liking. 
No products found.
Why Did We Like It?
The Power Pro 1850 has a 750 W powerful motor that comes with an adjustable sanding speed ranging from 1000 to 1850 RPM. In addition, the 9-inch diameter sanding head swivels in multiple directions, which helps to keep the head flat on the surface. The detachable brush segment and removable bottom also aid in proving a smooth finish to edges and angles. 
Apart from this, we like the adjustable handle as it gives better control to the user. Moreover, the static-dissipating PVC dust hose and the vacuum bag are capable of absorbing 80% of dust effortlessly. Similarly, the circular brush around the head is designed to sweep the dust away from the wall by containing it under the sanding head.  
It's equipped with a foldable design that allows the users to store the device efficiently even in small corners and tight spaces. Plus, the 12W LED lights around the head can easily illuminate dark spaces, which makes it easy to sand drywall even in a dark room.  
What Could Have Been Better?
The Power Pro electric drywall sander is an excellent choice to go for if you are looking for a sturdy and durable tool for your work. However, the collection bag needs improvement as it has a tendency to get clogged while collecting dust. 
Pros
Lightweight and easy to move

Comes with all the accessories

Adjustable angle for better control

Auto-vacuum with the dust collection system
Cons
Collected dust can clog the machine
Over the years, WESCO has dedicated its time and energy to making innovative and useful power tools for home and commercial use. The WESCO drywall sander comes equipped with a 750W powerful motor that can complete the toughest of tasks with ease. 
Why Did We Like It?
Firstly we liked the design of the product as it is extremely lightweight and ergonomic for easy maneuvering and control. In addition, you can quickly change the sandpaper since the built-in hooks and loops are user-friendly. Also, the 9-inch head can rotate 360 degrees and reach the toughest of corners without any problem. 
Apart from this, you can also gain from the adjustable suction control as it helps to regulate the suction power of the vacuum. Additionally, the extended handles can adjust according to the height of the ceiling so that you can sand it without climbing a ladder. Moreover, the handles can be folded, which makes it convenient for easy storage within a small space.  
What Could Have Been Better?
Despite having a satisfactory performance, this tool isn't recommended for first-timers since it takes a long time to learn and understand its operation. Also, the installation process takes a long time due to the manual lacking proper illustrations. 
Pros
Extendable handle and LED light

Quick changing sander paper

Can control suction power

360-degree rotatable head
Cons
Not suitable for first-timers
With a 6.5 amp motor, the ZELCAN drywall sander can complete any task within a short period. Based on our experience, we were able to adjust the speeds easily, and the results were amazing each time we tested it out. 
Why Did We Like It?
The 360-degree LED lights were extremely efficient in lighting up the dark corners while sanding interior and exterior walls. In addition, the adjustable handle is a convenient solution for storing your sanders in the corner of your garage. 
Moreover, the automatic vacuum system is highly efficient in cleaning 97% of the drywall dust, so less time is required to clean the room after the sanding tasks. If you are a beginner, we will recommend this product since it comes fully equipped with all the accessories and kits required to sand the dry walls. 
Additionally, the six-speed sanders can take care of different floor surfaces and textures. Apart from this, 360-degree LED lights can illuminate the darkest corner without any difficulty.  
What Could Have Been Better?
Although this product guarantees a smooth sanding process, the heavy motor makes it extremely hard to move around. Ideally, you can use this machine for short-term projects, but we wouldn't recommend it for heavy-scale tasks. 
Pros
Equipped with all necessary accessories

Mess-free

Easy to store

Six-speed sander
Cons
Too heavy to lift and use
Mophorn has long been known for making one of the most durable and long-lasting home appliances. The corded electric drywall sander comes with a 7 amp motor that can get the task completed within a few hours. On a similar note, it is extremely lightweight to carry around the house. 
Why Did We Like It?
Mophorn Drywall Sanders comes with a durable design that is built to last for a long time without getting damaged or worn out. In addition, the ergonomic handle is extremely comfortable to grip as it is made out of rubber. Also, you wouldn't need to worry about losing your grip as the handle offers a sturdy area to grip on. 
Moreover, we found this product was extremely versatile in performing several tasks such as grinding and polishing ceilings, drywalls, interiors, and exterior corners. It can also be used for residential use as well as for commercial applications, making this a product you shouldn't miss. Plus, 6.5 feet dust hose is extremely convenient for reaching tall ceilings and tough corners without the need for a ladder.  
What Could Have Been Better?
During our trial, we observed that this drywall sander makes a loud noise, meaning using it for an extended period can cause discomfort and even hearing problems. Keeping this in mind, we recommend wearing proper protective gear while working with this tool. 
Pros
Durable structure and efficiency

Ergonomic handle

Great versatility

Pure copper motor
Cons
Extremely loud while working
The Generic drywall sander comes with a two-year warranty so that you can replace it any time you notice a default in the machine. The team of experts is highly responsive, and they immediately solve the problem at sight. 
Why Did We Like It?
The Generic drywall sanders come with a powerful motor that can sand any surface with ease. Besides this, we like the adjustable vacuum attachment, which can switch modes according to your needs. Plus, the 6.5 hose and dust bag can collect all the dust efficiently without messing up your place. 
Notably, the 360-degree rotatable sanding disk stands out as a unique feature since it can reach any corner without breaking a sweat. Also, the extensive handles can be adjusted to reach challenging corners of the ceiling or wall. 
Subsequently, the six-variable speeds allow the users to choose from speeds between 500 – 1800 RPM. This allows the users to optimize their sanding process according to the different situations and textures in the room.  
What Could Have Been Better?
At this price range, we expected the product to be made out of high-quality materials. Despite being highly versatile, the product can easily break down in the middle of the sanding princess since the body is made out of cheap plastic. So, we suggest being careful while using it. 
Pros
Adaptable vacuum cleaner

360-degree rotatable sanding disk

Powerful motor

Extensible handles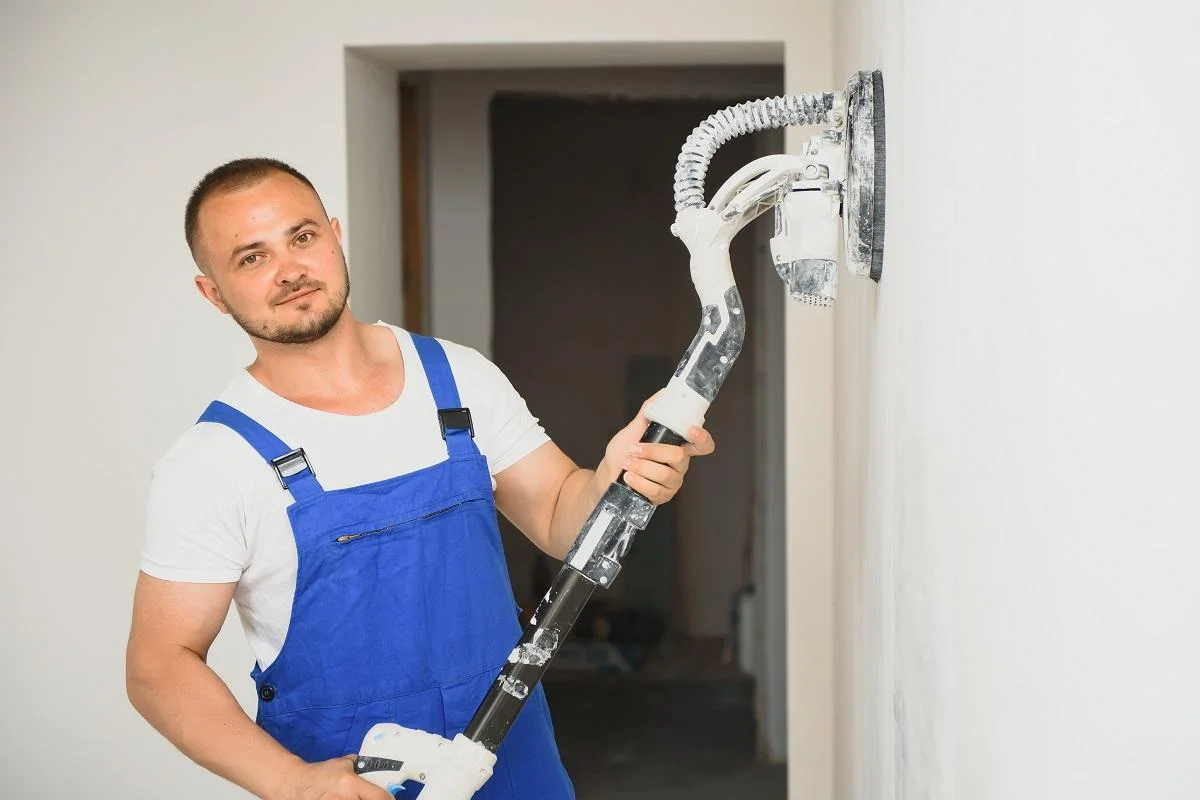 Drywall Sanders Buying Guide
When it comes to buying a drywall sander, there are several factors to consider. At first, it might seem difficult to narrow down a suitable sander for your task. However, a little patience and research can do a great deal in making the right decision. 
1. Speed and Motor Power
One of the most important factors to consider while purchasing a drywall sander is the time it takes to complete a job. Ideally, electric drywall sanders are highly demanded because they can complete a project within a short period. Apart from this, a powerful motor can reduce the overall time you spend on a project. 
Under normal circumstances, we recommend a motor with 5 amps and 600 watts for minimum requirements, whereas 7 amps and 800 watts will be beneficial for the heavy-duty task. Some models come cordless; therefore, a model with 20 V is ideal for DIY projects. 
2. Versatility And Flexibility
In general, most sanding projects and works require you to work with floors and ceilings of different heights. Keeping this in mind, some brands offer drywall sanders with flexible and adjustable handles that can reach any corner of your house. 
Depending on the dimension of your house, you should choose a drywall sander that has a flexible handle and a long hose. 
3. Types Of Drywall Sanders
A. Pole Drywall Sanders
Pole drywall sanders are a type of manual sander that comes with wider and broader heads to cover a larger area. It is usually mounted on a pole to sand ceilings and walls. However, manual labor can cause pain in the arms if used for a long duration. 
B. Manual Drywall Sanders
Manual drywall sanders are usually small blocks made out of wood or plastic that have a sandpaper coating around the surface. Manual sanding is generally used for small-scale projects such as repairing cracks in the wall or giving a smooth finish to a sculpture. 
C. Electric Drywall Sanders
Electric drywall sanders are one of the most efficient and quickest tools to use to get your job done. In addition, it is easy to use as the handles give the user a sturdy grip for better utility. Some electric sanders come with built-in features such as vacuum suction, collection bags, adjustable handles, interchangeable sanding head, and many more. 
Drywall Sanders Frequently Asked Questions 
What Is The Best Possible Way To Clean Drywall Dust?
Generally, drywall dust has a very fine consistency, and they are light in weight, making it tough to clean as it can easily fly all over the room. Spraying it down with water can make the cleaning process easy as they stick together. 
Is It Possible To Get Sick From Drywall Dust?
Ideally, you should wear all protective gear while working with drywall sanders. Mild exposure to drywall dust can cause respiratory, eye, throat, and nose irritation. Similarly, longer exposure can cause severe breathing problems like asthma, intense coughing, and phlegm production. 
How To Choose A Suitable Drywall Sander?
When it comes to selecting the right sander for your drywall, you should consider the features and utility it has to offer. An electric drywall sander is ideal for reaching the toughest places in your house. For instance, you can easily reach the ceiling and corners of the walls. 
Additionally, some electric drywall sanders come equipped with adjustable vacuum tube handles and collection bags to make your job easy and simple. 
Can You Use A Random Orbital Sander For Efficient Sanding?
Yes, a random orbital sander is lightweight, compact, and more user-friendly as it doesn't make noise while working. Besides, it is extremely suitable for small-scale projects like sanding drywall, flat surfaces, and baseboards. 
Nowadays, orbital sanders come with loop straps and hooks on the sanding disc, making it easier to change quickly.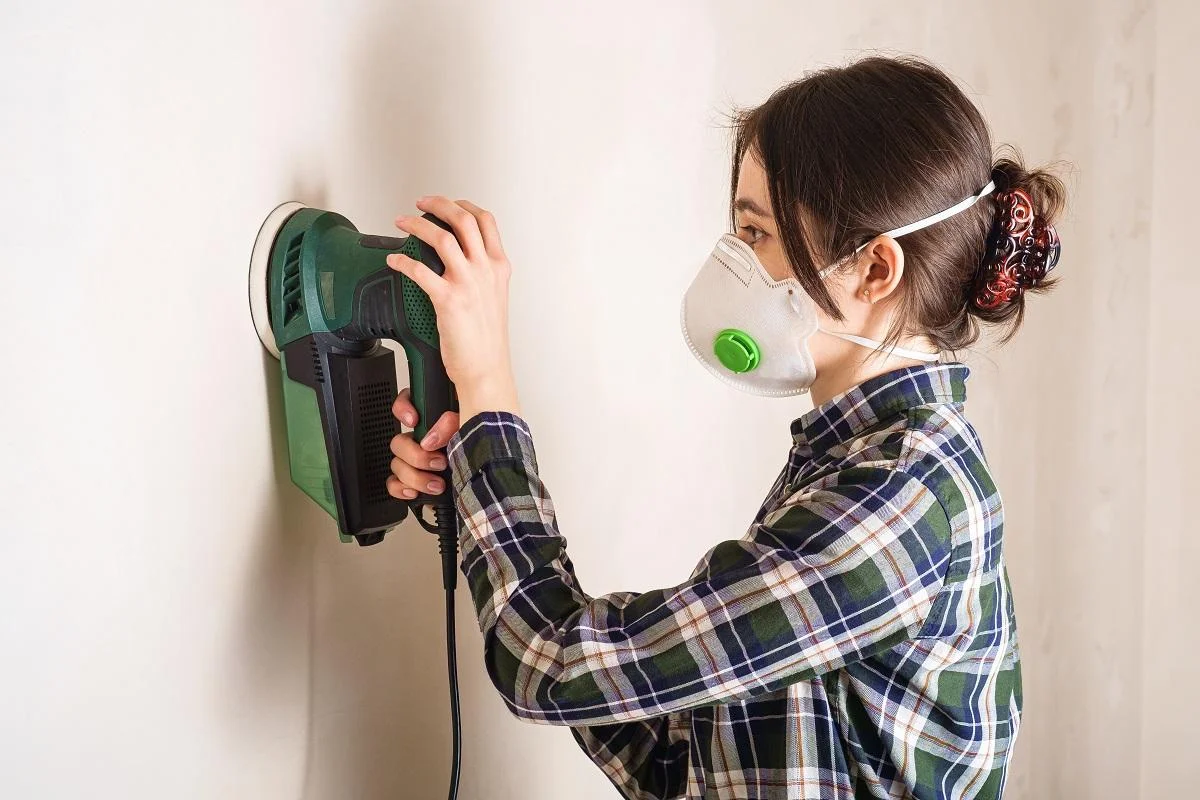 Top Drywall Sanders Verdict
That said, we have reached the end of our informative guide, and we genuinely hope that you were able to make the right call for your drywall. Just like we mentioned early, you should consider the different factors involved before picking the convenient drywall sander. Each sander is unique in its own way. 
Before signing off, we will sum up our top three picks. The WEN is the best drywall sander to go for when it comes to affordability. On the other hand, the Yattich drywall sander is a suitable alternative if you are looking for a premium design. 
Lastly, the Ginour drywall sander comes with a lifetime warranty. So, you wouldn't need to worry if the product breaks down since the brand has you covered. 
With that, we will now take off. See you next time! 
Related Articles
13 Best Cordless Oscillating Tools
Simply the Best Stained Glass Ring Saws
49 FREE DIY Router Table Plans
10 Best Shop Vacs For Dust Collection
11 Best Sliding Compound Miter Saws
13 Best Random Orbital Sanders
7 Best Concrete Grinder, Planers, Scarifiers
19 Different Types Of Hand Planes