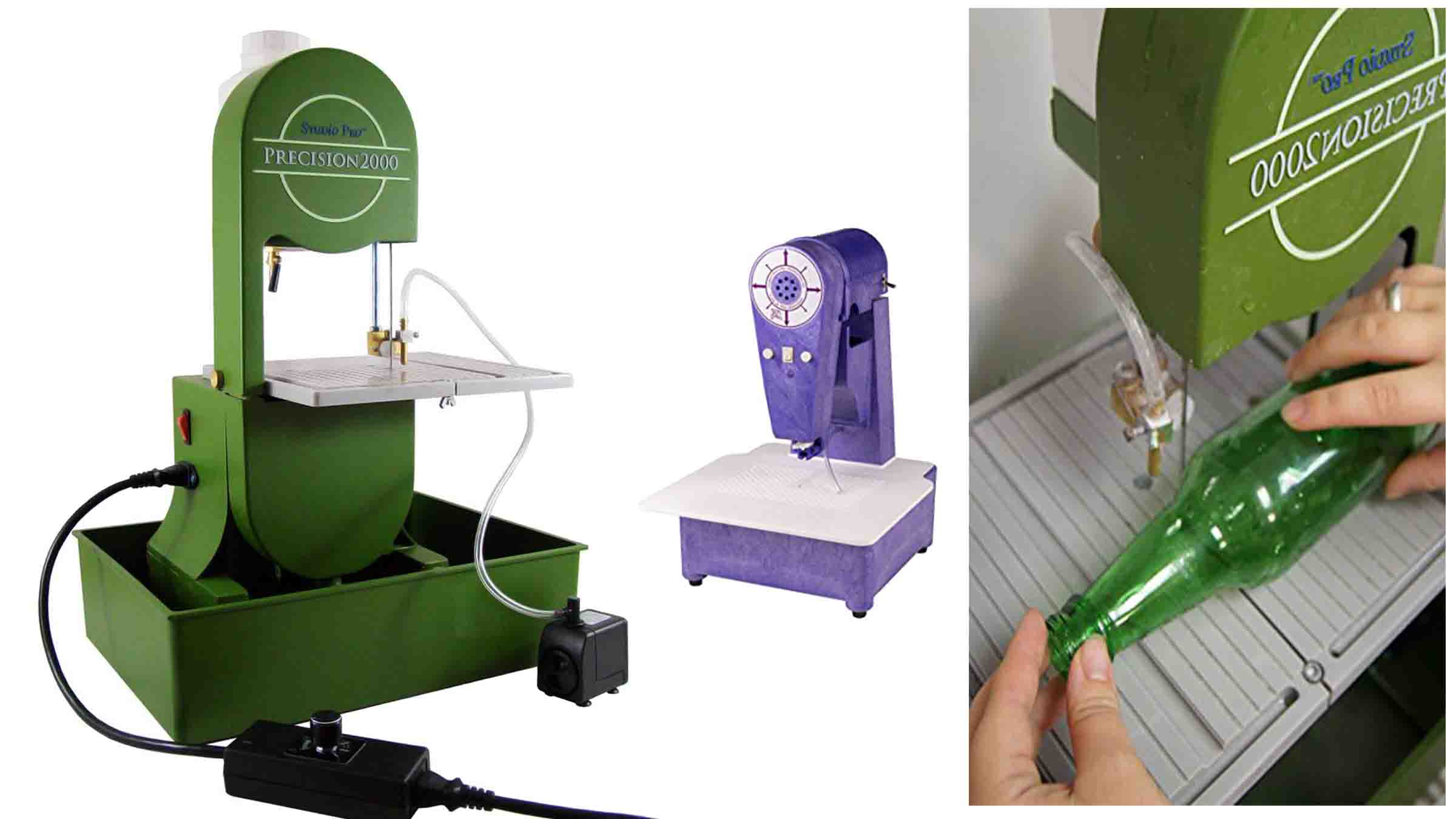 Stained glass work is a very involved art form, and each and every step requires extreme care, and due diligence has to be paid.
Ring saws are an essential addition to any artist's box of tools, since cutting the different glass pieces can become problematic if done manually.
The other way you can go in this regard is getting a handheld glass cutter, which won't do if you want to go in for finer cuts.
To make your life easier, we present reviews of the five best Stained Glass Ring Saws in the market.
Without further ado, let's begin with the reviews!
Best Stained Glass Saws Reviews
Gryphon Omni-2 Plus Wire Saw
UPGRADE - This new and improved wire saw offers faster...
POWERFUL - The Gryphon Omni-2 Plus uses a very strong steel...
With a round diamond studded blade, the Omni 2 Plus is a wonderful, durable, and versatile ring saw, loaded up to the brim with features. The Omni 2 Pro features a radically new blade design which lets you make cuts in any direction you want to.
Experience
The Omni 2 Plus is a truly unique ring saw, in that the technical features offered are unmatched in this range. First off, what hits you at the outset is how remarkably well built the saw is. Next, the shape of the ring saw gives a multi directional cutting ability, which gives you room to make cuts along any direction and at any width you deem fit.
Further ahead is the cooling technology, which allows you to drill for as long as you may want. The worry of having to have cool down periods for the saw which intrudes in your work time might as well be a thing of the past. Then, we come to the powerful 0.25 horsepower motor, which can cut through as thick a piece of glass as required.
The saw also comes with a unique spotlight for your desired surface, so you can focus on your art no matter the time of day. These features make it one of the best ring saws on the market to date.
Verdict
A wonderful, powerful and efficient ring saw. The versatility of a round saw which moves in any direction you want is alone a strong point. The rest of the features add to the value of the saw and make it a definite recommendation from our side.
Pros
Movable diamond tipped saw, whose direction can be varied 

Powerful 0.25 horsepower motor can claw through almost any glass surface regardless of thickness 

Spotlight and cooling features are a great addition 
The Taurus 3 Diamond needs no introduction to those familiar with stained glass work. Being extremely practical, versatile, and powerful, the Taurus 3 Diamond is the professional's tried-and-tested ring saw. Offering a large surface and throat depth, a spotlight, and even a stabilizer foot, this one is sure to impress you with both usage and the feature list.
Experience
The Taurus 3 Diamond is one of the most impressive ring saws to hit the market. Taurus has been making these for a while now, and quality has been high to date. Each and every component feels good to use and well put together. It can cut through pretty much anything due to its diamond tipped saw, including copper, bronze, steel, and thick glass.
The quiet and refined 0.2 horsepower motor is not the most powerful on the market, but it does the job just fine for most cutting applications. The biggest advantage is that the saw part can be removed from the base and used as a hand saw, which means you effectively get two products for the price of one.
The large base and throat area are wonderful to use while cutting. They ensure that you have the maximum possible convenience while cutting through those hard-to-reach areas. The spotlight is powerful enough to make sure you can focus on your work, regardless of the lighting outside.
Verdict
One of the most well-rounded ring saws on the market at the moment. The features, coupled with the long lasting finish and quality of materials, makes the Taurus 3 Diamond one of our top recommendations. The fact that you get two products bundled conveniently makes this saw a steal.
Pros
The saw detaches to become a hand saw independently  

Can be optioned with a protective face cover 

Large base area and well built construction 
Cons
Nothing serious which might be a deal breaker 
If you intend to provide all-round solutions instead of simply cutting through glass, this ring saw might just be what you're looking for. The sheer breadth of materials this saw can handle cutting is immense, given that it comes with an adjustable blade arm. Built out of rust-free aluminium and with a long warranty to boot, this is perfect for those looking for a versatile glass saw.
Experience
Many a times, you're not simply expected to saw through glass. In those occasions, you might be forced to ask friends to borrow a wood cutting saw or rent one. You might even have to buy one if the worst comes to pass. However, there's an easier way out.
If you're someone who regularly needs through saw through glass, but also has to deal with other surfaces regularly, look no further than this. This small, versatile saw comes with two different blades which cater to a variety of needs – the Studio Pro Diamond blade and the Studio Pro Wood Blade. 
The Diamond Blade is especially useful to cut through the toughest of glass surfaces without the risk of breaking it, making it suitable especially for wet cuts. On the other hand, the Wood Blade is meant exclusively for wood and wood-like drier cuts. If you're in the market for a multipurpose saw, make sure to keep this on top of your list.
Verdict
For people who are looking for a powerful saw which caters to multiple needs, your search ends right here. Other saws don't offer half the flexibility when it comes to how many materials and cuts can be dealt with by a single tool. The compromise between one set of features and the other is there, but it's well worth it if your requirements match this saw.
Pros
Comes with not one, but two different kinds of blades

Small and ergonomic, can be placed anywhere 

Motor is powerful enough for the vast majority of cuts you'll make 
Cons
Skimps on a few features like the spotlight and a working base area 
Gryphon Zephyr Ring Saw
ROUND BLADE – The round blade cuts in all directions,...
LARGE WORK SURFACE - The Zephyr saw has a large work surface...
If you're in the market for a relatively lightweight, versatile and easy to operate glass saw, you've come to the right place. This also features a movable round saw which can be rotated as per need, and like the Taurus 3, comes with a detachable saw piece. If you're looking for the comfort of a hand saw, with the flexibility of a rotatable saw, you've come to the right place.
Experience
For the best user experience among this class of saws with fixed blades, the Gryphon Zephyr is a strong contender. The slender saw is easy to use and is aesthetically pleasing to the eyes, since it gives away a sense of air and space.  
Further, the detachable hand saw feature gives it another edge up the regular offerings on the market. Coming with a large diameter, the blade can cut through anything that you might come across during your work. The overall user experience is such that anyone who works with stained glass is very likely to enjoy working with the Zephyr. 
The motor is powerful enough to serve as a worthy companion. Bear in mind, however, that it does not come with a cooling system which is sometimes necessary with a heavy-use cutting saw. The spotlight is also glaringly absent. However, the product does make up for some lack of features with the quiet and refined motor and high quality components.
Verdict
A wonderful and refined working experience is what sets the Gryphon Zephyr apart from the rest of the items reviewed. The motor, while as powerful as the rest, performs remarkably quietly. The components are crafted well together, with a large base and a thin saw which performs as good as the competition. A few features are sorely missed, however.
Pros
Looks like a piece of art itself  

Wonderful user experience, quiet motor 

Large work surface 
Cons
Does not have a flashlight or a cooling system for the blade 
This wraps up our review of the best ring saws available on the market, specifically for stained glass work.
You should make sure that you have your requirements sorted out, since getting one of these is a huge decision both financially and ergonomically. Armed with the knowledge of the top five products on the market, you are now ready to go shopping for one, and get the cuts you need.
Have fun shopping!
Related Articles
Cobalt vs. Titanium Drill Bits [Differences & Winner]
13 Best Portable Table Saws for Fine Woodworking | Buyer's Guide
13 Best Wood Routers for Professionals & Amateurs Alike
Top 10 Longest Pole Saws For Tree Pruning 
11 Best Tap And Die Set on the Market Today | Buyer's Guide
13 Best Saw Horses on the Market Today
Different Types of Saws & How to Use Them  
11 Best Bow Saw | Reviews + Buyer's Guide
11 Best Table Saw [Reviewed & Buyer's Guide]
7 Best Cabinet Table Saws [Reviewed & Buyer's Guide]
9 Best Band Saw [Reviews & Buyer's Guide]
7 Best 12-inch Miter Saw Reviews [Buyer's Guide]
13 Best Contractor Table Saws [Reviews & Buyer's Guide]
Best 20″ Chainsaw [Reviewed & Buyer's Guide]
11 Best Chainsaw for Milling Lumber | Buyer's Guide
5 Best Stihl Chainsaws [Reviewed & Buyer's Guide]
11 Best Table Saw Fences [Reviewed & Buyer's Guide]
DeWalt DW735X Planer Review [Should You?]
Bosch 4100-10 Jobsite Table Saw [Reviewed]
Hack Saw Vs Bow Saw [All You Need to Know] [Explained]
9 Best Compact Circular Saws Of 2022 [Reviewed & Buyer's Guide]
How To Sharpen A Bow Saw And Bow Saw Maintenance
Radial Arm Saw vs Miter Saw [Differences & Winner]