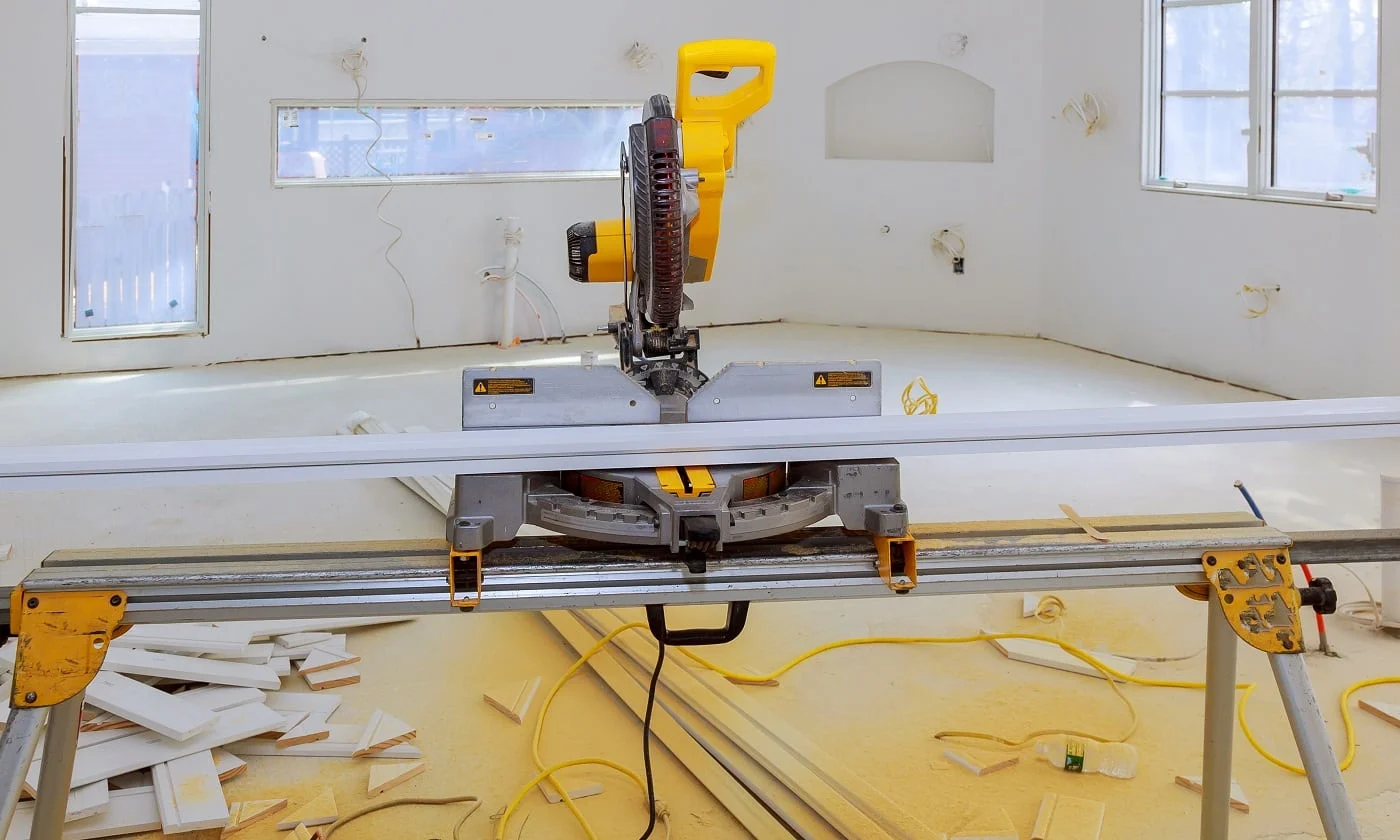 Miter saws come in a great number of varieties to fulfill various purposes, be it standard, compound, sliding, single-action, or dual-action—the list goes on. 
Generally, these power tools come in two distinct variations–10-inch and 12-inch. Though they perform the same basic functions, the 12-inch miter saws prevent the need to adjust your lumber with a wider working area. For larger projects, a 12-inch miter saw is the better pick. 
When it comes to 12-inch miter saws, you may consider choosing one of the following options. These are the best in the business and will satisfy any expectations that you may have of the power tool. Let's find out which suits your woodworking needs the best. 
Top 10 12-Inch Miter Saws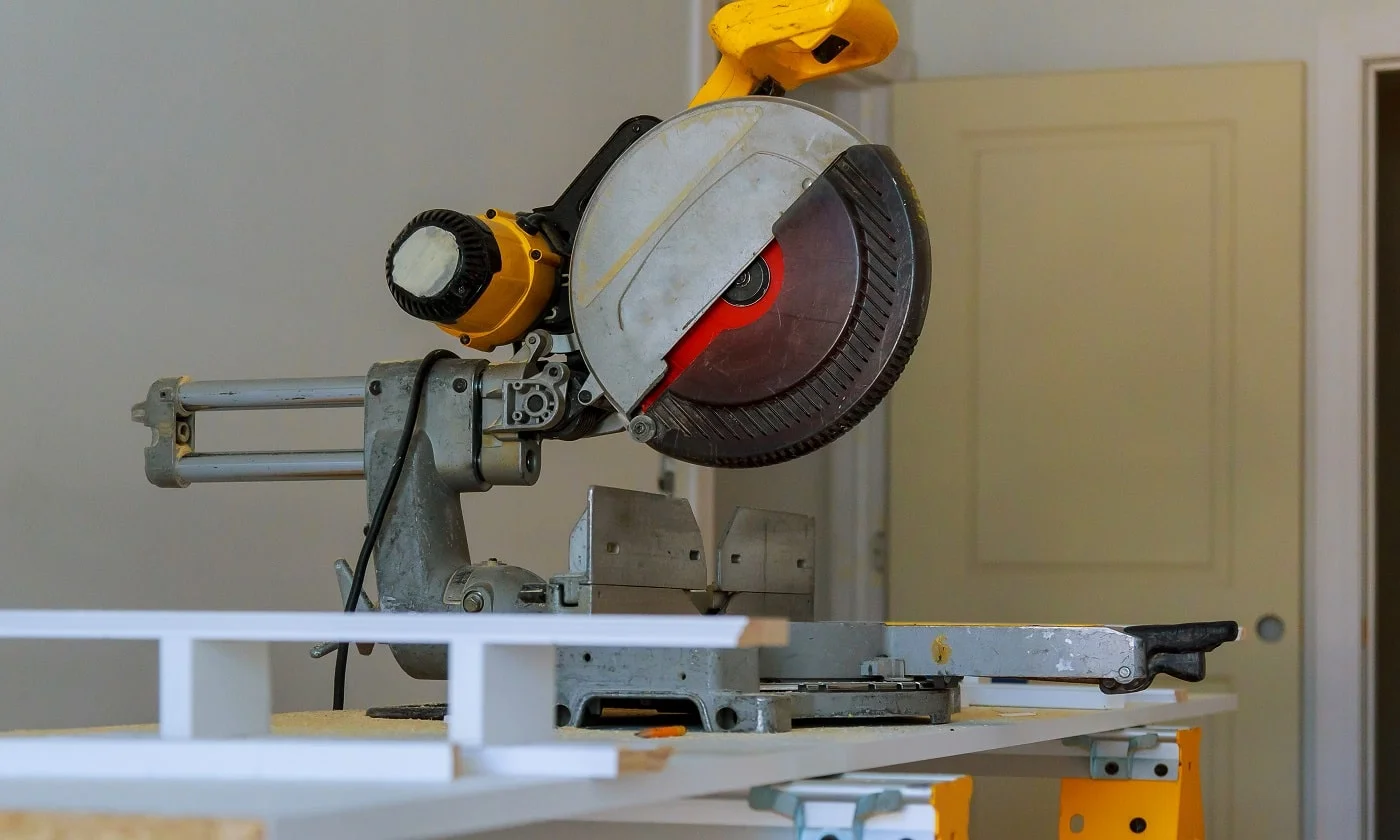 Sale
Bosch has been the forerunner of engineering innovations for ages now. Thus, every product it makes has a tangible effect on its competitors. The GCM12SD is no different; it brings to the table many features that make woodwork simpler and more effective. Here's how Bosch's Miter Saw is a game-changer. 
Why Did We Like It?
Bosch GCM12SD Miter Saw boasts a broader cutting capacity, easy adjustments for bevel angles, and its gliding feature. All you need is a finger to make it travel the distance you need. The Axial Glide system is what differentiates the GCM12SD from the competition. 
The build quality of this miter saw is excellent. The design is more compact than an average miter saw and may help those who like a smaller workspace. The saw locks in if you ever need to cut out a square with a one-touch locking fence. The controls are placed up front for swift access without you having to reach around the machine. Accessibility is key and Bosch does it well. 
What Could Have Been Better?
At 65 lbs, it's hefty and can be an issue if you want to move it around a lot. The GCM12SD could have benefitted with the inclusion of safety gear. You may also get into trouble cutting at a 45-degree angle against a fence, which may be a problem in some situations. 
Pros
Enhanced maneuverability

Accessible to left-handed and right-handed users

Easily accessible controls

Great cutting accuracy
Cons
The hefty design may make it difficult to carry
Sale
Thanks to its versatility, the DWS715 is often regarded among woodworkers as the go-to miter saw. It allows the user to make a variety of cuts with its adjustable bevels. This miter saw is priced quite competitively, being the most affordable of the ten. The Dewalt DWS715 may suit your needs and here's how. 
Why Did We Like It?
The miter has 14 positive stops on either side, providing you with various cutting angles. With a 4,000 RPM motor, you'll find that it easily cuts through wood as thick as six inches. The saw also features a precise miter system and machined base fence support. 
The Dewalt DWS715 is stable and reliable equipment. It comes with vertical clamps to ensure that the saw doesn't move during operation, resulting in finest quality cuts. This miter saw is cheaper than most other products of its caliber. You'll find it does everything without burning a hole in your wallet. 
What Could Have Been Better?
The angle markings may be a bit imprecise by a small margin. Having to correct this can end up eating into your time, unfortunately. The dust collection system also leaves much to be desired. You'll have to clean up after working with the DWS715 since it comes equipped with a basic dust bag. 
Pros
14 Miter stops on each side

Sliding fence with 5½ inch base support

Affordable pricing

Great build quality
Dewalt continues to improve its lineup of miter saws with the DWS716XPS. What may pique your interest with the miter saw is its low weight. At 49 lbs, you will find it easy to move around when needed. This saw will be an excellent tool for your woodworking projects. 
Why Did We Like It?
Though the motor is not as powerful as its competitors, the DWS716XPS makes up for it with more accurate cuts. A modern LED guidance system will aid you in improving the accuracy even further. 
The Dewalt miter saw is reliable with features aplenty, making your woodwork easy and hassle-free. This miter saw also boasts four positive stops on either side, allowing you to make cuts at angles ranging from 0 to 48 degrees on each side. It is simple to adjust and quick to boot. It has a cam lock miter handle with detent overrides. This enables fast and precise miter angles. 
Its tall sliding miter fences support crown molding up to 6⅝ inch nested and 6½ inch vertically. This will help you make large cuts nested on or against the fence. 
What Could Have Been Better?
The lighter weight does come with a notable caveat which is reduced durability. With woodwork, some damage to the miter saw is quite likely to happen. Where the Dewalt saw may also come up short is the dust collection system, which may not function properly at times. As a result, the DWS716XPS may leave much to be desired. 
Pros
LED guide for adjustment-free cut line indication

Accurate cuts

Low weight

Double bevel design for quick adjustment
A glance at Metabo's lineup will be enough to understand why the company has made such a splash in the power tools industry. With the C12RSH2S, the company has made further improvements to the tried-and-tested C12RSH2. The Metabo C12RSH2S may very well be the miter saw for your woodworking purposes, and here's why. 
Why Did We Like It?
Featuring a fixed rail system, the C12RSH2S glides freely for easy operation. With the aptly named Compact Slide System, you will not need to worry about rear space management. The gliding system is central to the saw's design, and all of its features work together for a smooth woodworking experience. 
The vertical handle is an unusual design choice, but it works with the glide system. With the saw's maneuverability, your cuts will be smooth, precise, and hassle-free. 
Its impressive cutting ability will have you slicing through wood in no time. The miter saw is large, has a wide degree range, and occupies less space than you would expect. If you want to set it up against a wall, you can do so. Metabo successfully kept the design ergonomic without sacrificing the saw's cutting capacity. 
What Could Have Been Better?
The bevel-locking lever is relatively inaccessible, located around the back of the miter saw. Its laser guidance system is not easy to calibrate and the clamp may give you some grief while adjusting. 
Pros
Wide range of cutting angles

Ergonomic design

Large cutting capacity

Tall sliding fences
Cons
Bevel-locking lever is hard to reach
The Milwaukee 6955-20 has carved out a distinct identity for itself in the miter saw market. With Milwaukee's build quality and the variety of saw features, woodworkers will have an easier time with their jobs. You'll find 6955-20 to be one of the most rugged miter saws in the industry. 
Why Did We Like It?
The 6955-20 maintains its RPM even when under load. The 3200 RPM motor remains steady during operation, providing you with quick, clean cuts. It boasts a digital miter system that will give you precise markings, along with a self zeroing feature. This will allow you to work on the entire miter range. 
The miter saw will perform as per your expectations, thanks to its robust build quality. Even in darker environments, the built-in work lights function well. Like its competitors, this tool also features a sliding miter for smooth cuts. The 6955-20 is user-friendly because of these features and is one of the top-of-the-line miter saws. 
What Could Have Been Better?
The 6955-20 has no digital bevel adjustment, which is a bit of an inconvenience. Its design is also quite hefty and may deter you from moving it to different job locations. The laser guide may also not be visible at times. It may end up being an issue in daylight. 
Pros
Robust build quality

Maintains RPM under load

Negligible start-up time

Smooth cuts
Cons
Hefty design makes it difficult to move
The Makita LS1219L is considered a lightweight powerhouse in the miter saw industry. It's fast, precise, and smooth consistently. The Makita miter saw certainly stands out among its competitors, coming with features like a carbide tipped blade right out of the box. Described as a production workhorse, the Makita saw will meet your carpentry needs well.
Why Did We Like It?
With the aforementioned carbide-tipped blade, the LS1219L provides you with chipping-free cuts. The miter saw is equipped with two extension wings, a vise, a socket wrench, and a dust bag. Its weight is low, making it easy to move to different job locations. Featuring a high cutting capacity as well, the Makita saw will surprise you with its power.
At just 48.3 lbs, this sliding miter saw is very light. Since it's quick and easy to set up, you will find yourself using this miter saw more often than you'd initially expect. You will also find its performance consistent, which is essential when working on something that requires precision. Consistency is key, and the Makita saw has it. 
What Could Have Been Better?
The lack of a laser system is a glaring flaw since most other miter saws in the market have it. However, the Makita saw makes up for it in every other department.
Pros
Accurate, precise cuts

Affordable pricing

4½ inch tall pivoting fence

Easy to move around
The WEN MM1214T has been the miter saw of choice for homeowners. It's a versatile power tool that will fulfill its job well. Its power rivals that of its competitors, with a strong 15 amp, 3800 RPM motor. This miter saw is a solid option for woodwork of all kinds, be it DIY projects or large-scale crafts. 
Why Did We Like It?
Like the LS1221, the MM1214T comes with a 60-tooth carbide-tipped blade for clean cuts. It's strong and cuts through timber with no trouble.
It features 45 degrees bevel and miter on either side of the saw with nine stops. The bevel controls are placed on the front for easy access. The MM1214T features an onboard laser that works in tandem with the work light for illumination. You'll be able to work in darker environments with relative ease. 
The saw also comes with two retractable extensions that increase the work capacity to 38 inches. The WEN saw also has a large cutting capacity, and with its powerful 15 Amp motor, you'll find it ideal for most lumber work.
What Could Have Been Better?
The saw has some weight to it, which may make mobility an issue. Its accuracy may also suffer due to markings on the bevels and slightly off miter. These markings are not laser-engraved and may shift upon repeated use.
Pros
9 miter stops on bevel and miter

Large cutting capacity

Onboard class II laser

Retractable table extensions
The SKIL 12-Inch Miter Saw may catch your eye immediately with the performance it offers. With a feature list that rivals competitors far above its price range, its swiftness and quality are undeniable. From woodworking amateurs to seasoned professionals, this compound miter saw will satisfy anyone's needs on a budget. 
Why Did We Like it?
The aptly-named SKIL Quick Mount Miter Saw is fast and efficient, thanks to its 15 Amp motor. You'll find it simple to use with its various adjustable angles and the aforementioned quick-mount system. The miter saw is pretty durable, thanks to its build quality. 
The SKIL 3821-01 is a compound miter saw. This allows it to make a bevel cut and a miter cut in one go. Since it can slide as well, the saw can make larger cuts with a wider reach. Its movement along the rail is smooth and requires little effort. With the included table extensions, this power tool has extra support to maintain precision while working. Once you have the saw mounted, the LED laser guide will help in increasing your cutting accuracy.  
What Could've Been Better?
Though the SKIL 3821-01 performs its job well, a few things are left to be desired. This miter saw is single bevel rather than the double offered by its competitors. It provides the most common adjustable angles for sawing, but you may find its use limited. 
Pros
Smooth rail action

Durable blade

Suitable for both amateurs and experts

Affordable pricing
Cons
Limited adjustability for cutting angles
JCB is a well-known player in the construction field. Naturally, every tool that they produce is watched with a critical eye because the standards are just that high. With the JCB Miter Saw, the company has bestowed the tool with all the power it could need for executing any woodworking requirement. This power tool may be worth eyeing for your lumber work needs. 
Why Did We Like It?
The JCB Miter Saw is a powerhouse, to say the very least. Its 15 Amp motor dishes out 5000 RPM, which is quite a bit higher than the standard 4000 RPM of its competitors. Like others in this price range, the miter saw also features a sliding system. 
The saw is light and hence, moving it around is a cinch. At 45 lbs, it's one of the lightest on the market but this doesn't come at the cost of its quality. The miter saw is built ruggedly and will last for a fairly long time. With 11 preset miter stops, the power tool will cut accurately at a wide range of angles. The miter saw comes packed with accessories to maximize efficient woodwork.
What Could Have Been Better?
The dust collection system is flawed. Dust is an unavoidable part of woodwork and so, such an oversight cannot be waved away as easily. The saw is also difficult to operate for left-handed users, having been designed for right-handed individuals.
Pros
High power motor

11 preset miter stops

Easy to move about

Tungsten-carbide toothed blade
Cons
Dust collection system is poor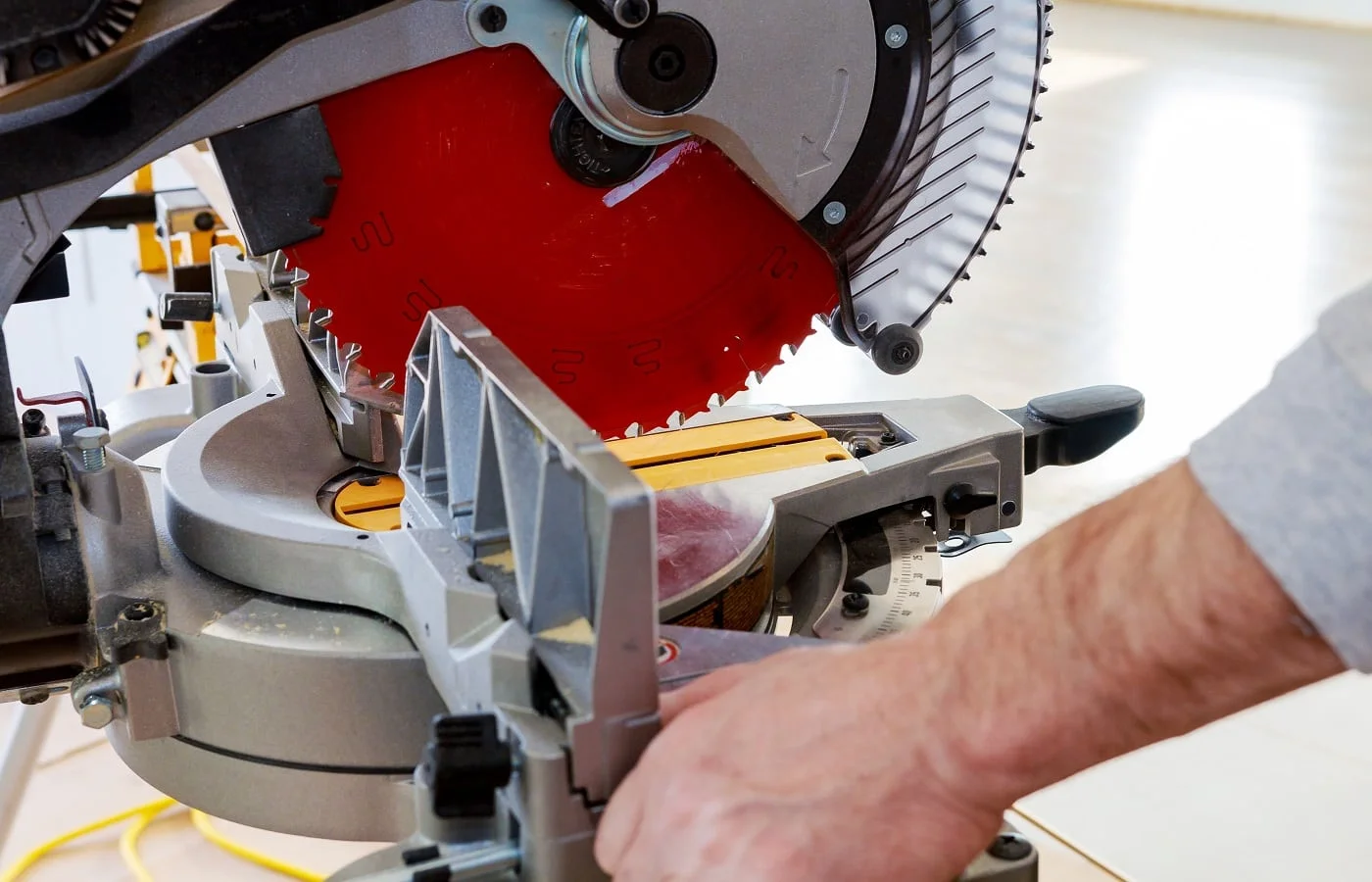 12-Inch Miter Saw Buying Guide
Miter saws have become the norm for both hobbyists and professional woodworkers alike. They are portable, sturdy, and most importantly, accurate. The convenience they pose is undeniable and so, it's no wonder that people have gravitated to them. The variety of saws has expanded dramatically in the past few years and it can be quite daunting for a newcomer to choose which one suits their fancy the best. 
Here's what you should look for when purchasing a 12-inch miter saw. 
1. Motor
A 15 Amp motor is standard for a 12-inch compound miter saw. The output these motors provide may vary wildly, depending on the make. With RPMs ranging from 3000s to 5000s, the motor's power will decide if your saw cuts through lumber like butter or not. 
2. Build
Naturally, build quality is a significant part of any tool's efficiency. A miter saw ought to perform through the long working hours and so, heavy-duty miter saws are preferable. Many companies also offer a product warranty, so it would be wise to look out for those. 
3. Bevel Capacity
It's crucial for a miter saw to provide a good range of angles. A 45-degree bevel is the norm for most miter saws, with some offering even wider angles. In conjunction with miter stops, the bevels form a core part of any miter saw's success. 
4. Accuracy
This is quite self-explanatory: if a miter saw is not accurate, you'll be left with a mess. In the worst cases, a project may come to a screeching halt if the saw doesn't perform with precision. Many miter saws have a built-in laser marker system, which you can watch for when buying a miter saw. 
5. Features
A miter saw ought to be packed with essential features to suit the scale of a project. It must have a large enough working area in order to accommodate lumber of all sizes. Its dust collection system should minimize the dust produced during woodwork, with 75% collection being the standard in most miter saws. A sliding miter saw will be preferable over a non-sliding one. 
6. Safety Features
With any miter saw, the lack of safety options can be a deal-breaker. You may look for easy-to-operate trigger switches, quick-switch functionality for blades, and guards. A brake for the saw is also a must, in case you need to turn it off quickly. 
7. What's in the Box
A miter saw comes packaged with a number of accessories. These include table extensions, carbon brushes, wrenches, clamps, and a dust bag. 
12-Inch Miter Saw Frequently Asked Questions ?
Choosing between 10 and 12-inch miter saw: which is better?
10-inch saws are more versatile and 12-inch saws have a higher cutting capacity. The higher range alone puts the 12-inch saws at a more significant advantage. But, in the end, it all comes down to the task the saw must perform. 
Standard and compound miter saws: what's the difference?
Compound miter saws can rotate the saw head in several angles. Their rotational capability provides you the freedom of cutting wood at angles beyond the basic 90 and 45 degrees which is what the standard saws offer. 
What is the cutting limit of a 12-inch miter saw?
The maximum thickness of any piece of wood must be 7½ inches. It is as far as a 12-inch blade can go. These saw blades can quickly go through 4×4 or 4×6 pieces with minimal adjustments.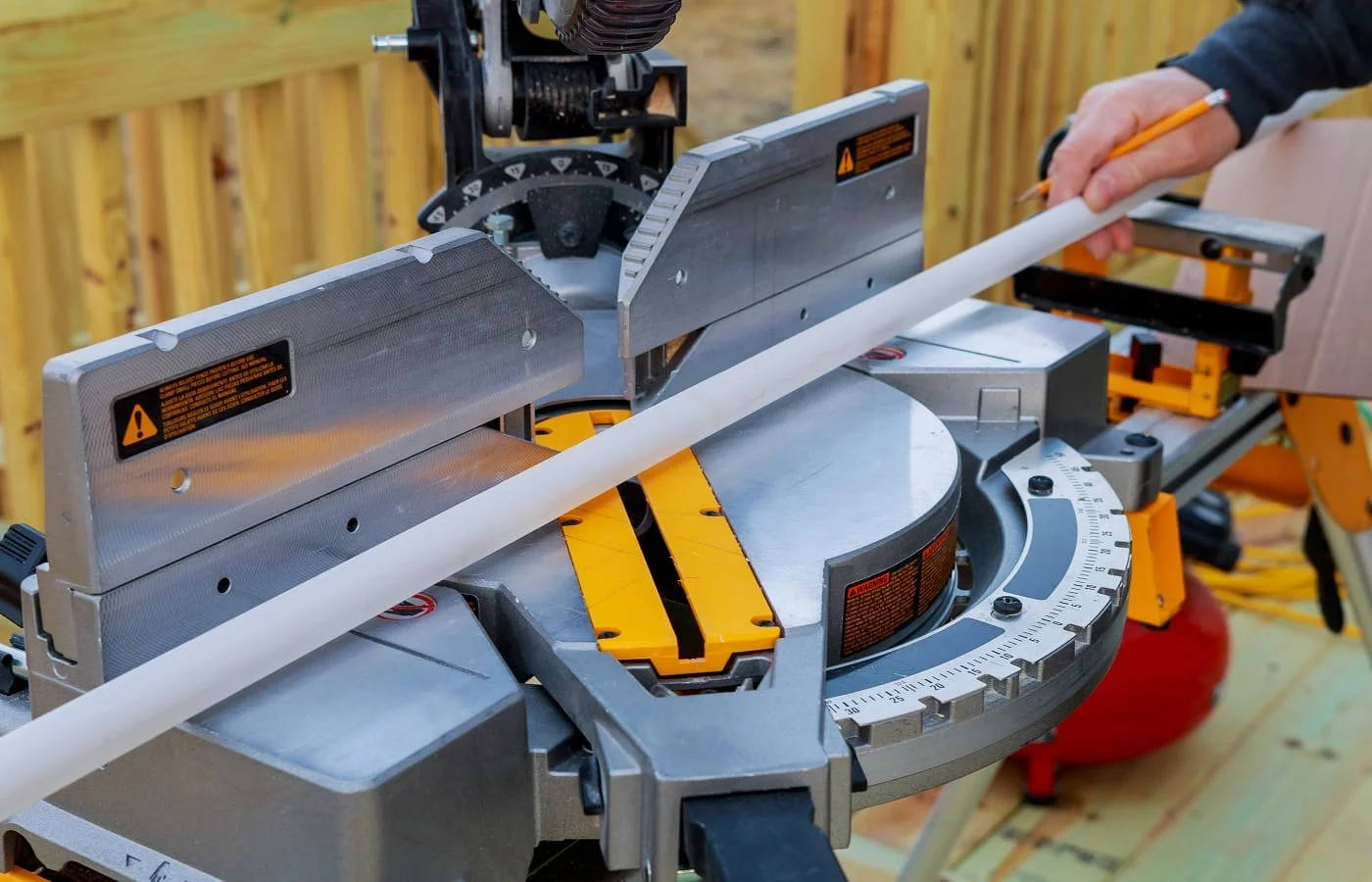 Top 12-Inch Miter Saw Verdict
As there are plenty of options out there, picking out a clear-cut winner can be challenging. Each miter saw comes with its strengths and weaknesses. 
With miter saws like the Bosch , you just can't go wrong despite its weight. A miter saw like the Dewalt DWS715 is an affordable option with the quality and performance to back it up. For rugged build quality, you can consider the Milwaukee. The JCB 12-inch Sliding Miter Saw shows off the most power, with a 15 Amp motor that churns out 5000 RPM. 
Though the competition is stiff and it is difficult to choose the right one, you'll find the Dewalt DWS716XPS to have the greatest bang for your buck. Its lightweight design, accurate cuts, plenty of miter stops, and powerful motor contribute to an excellent woodworking experience. 
Related Articles
Simply the Best Stained Glass Ring Saws
49 FREE DIY Router Table Plans For an Epic Home Workshop
13 Best Chainsaws for the Money
11 Best Sliding Compound Miter Saws
Different Types of Saws & How to Use Them
9 Best Hybrid Table Saws Under $1000
11 Best Dry Cut Metal Chop Saw
11 Best Chainsaw for Milling Lumber
Bosch 4100-10 Jobsite Table Saw
How To Sharpen A Bow Saw And Bow Saw Maintenance