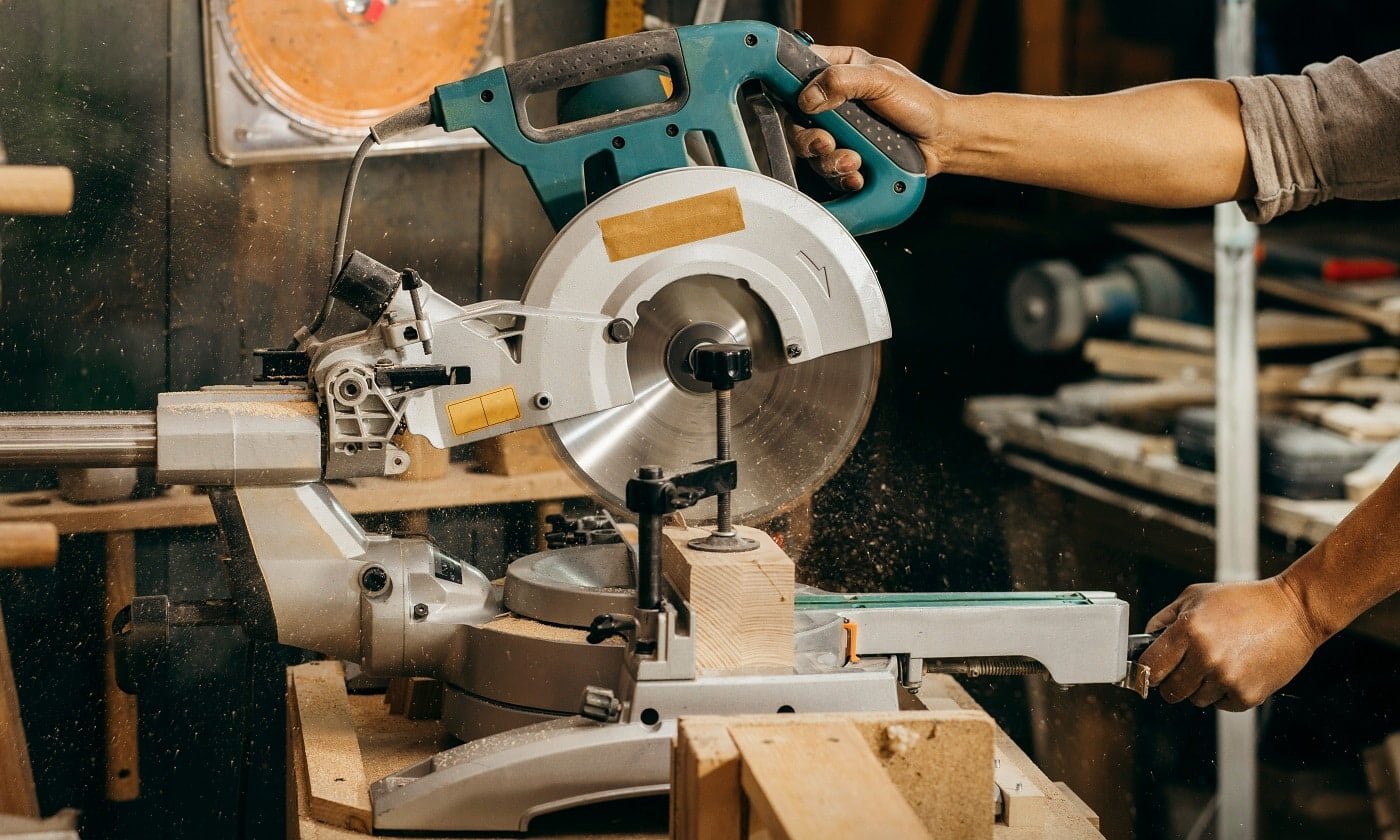 Whether you are a contractor or a DIY hobbyist, a good miter saw will help with all your projects. And it works quickly too! 
We were looking for a power tool within a budget that could help us with the woodwork around the house when we came across miter saws. These are very powerful devices that can cut through wood, plastic, and metal in a jiffy. The blades are pretty sharp and come with teeth to ensure clear and accurate cuts. 
But there are different varieties available in the market. Now we know making a choice can be really challenging, and hence we are here with the top 6 budget miter saws.We have come up with this after doing extensive research about all the available options. And every option is described along with their pros and cons for your benefit. 
So, what are you waiting for? Dive in! 
Top Budget Miter Saw 
IMAGE
PRODUCT
DETAILS

Our Top Pick

Our Top Pick

Metabo HPT C10FCGS Compound Saw

Speed of 5,000 rpm
15 Amp motor
Weighs 24.5 pounds

VIEW LATEST PRICE →

DEWALT 12-Inch DWS715

Motor speed of 4,000 rpm
15 Amp motor

VIEW LATEST PRICE →

TACKLIFE 10-Inch Sliding Miter Saw EMS01A

Speed of 4500 rpm
30.7 x 22.8 x 17.7 inches in size
10 inches blade

VIEW LATEST PRICE →

Genesis GMS1015LC 15-Amp Compound Miter Saw

Speed of 4600 rpm
Dimensions of 19.5 x 16.25 x 15 inches
60T Carbide blade

VIEW LATEST PRICE →

Delta Power Equipment Corporation S26-263L

15 Amp motor
Dimensions of 27.75 x 27.75 x 14.5 inches
Weighs 30 pounds

VIEW LATEST PRICE →

Makita LS1040 10" Compound Miter Saw

15 Amp motor
Dual post compound pivoting arm
27.3 lbs. in weight

VIEW LATEST PRICE →

Evolution Power Tools R255SMS+

Backed by a 3-year limited warranty
15 Amp motor
Blade length of 10 inches

VIEW LATEST PRICE →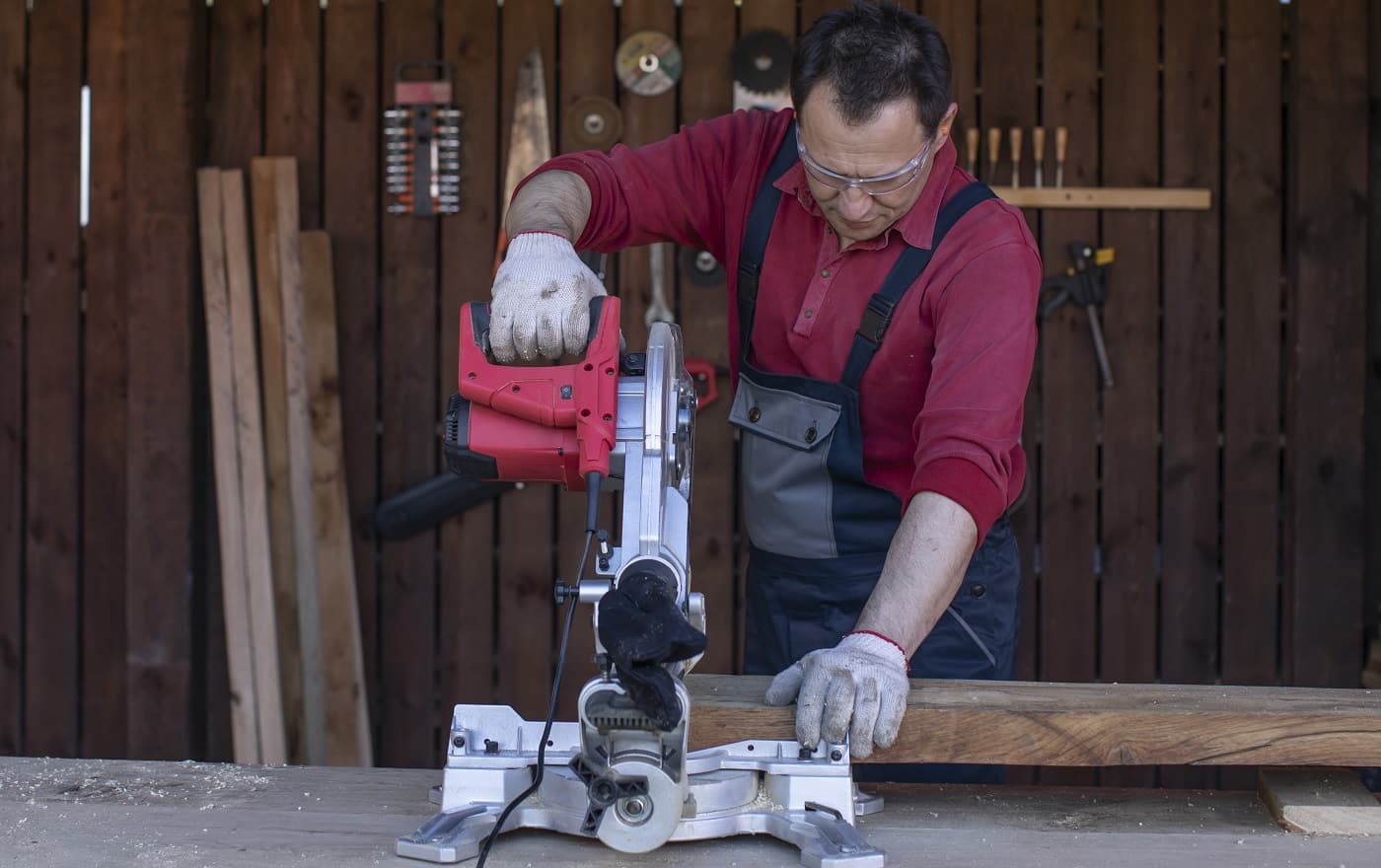 If you are looking for a lightweight option that is easy to work with, then the Metabo HPT C10FCGS Compound Saw will meet your needs. It is known for its maneuverability and portability. We were able to carry it around without any issues from our garage to our workshop.
Sale
Why Did We Like It?
First of all, this product is known to deliver high power with a 15A motor which operates at a no-load speed of 5,000 rpm. This allows you to take on difficult jobs with ease, and we were able to use it for professional purposes.
Next, it has a bevel range of 0-45 degrees to the left, and that works very well for precision cuts. You will be able to get clear and error-free cuts every time, and hence we would say that this ranks high on accuracy. The miter angle range also extends from 0-52 degrees on both sides, and that allows for better flexibility. 
To top it all, there is a larger table space that will provide you with more support, and that is accompanied by a vice clamping system. This will allow you to keep the workpiece safely in place while you go about cutting it.
What Could've Been Better?
Although this product works very well, the instructions are not clear, and the installation process takes a long time. This became time-consuming for us, and we would have preferred an easier process. Having said this, we are not going to hold this as a drawback as it functions really well. 
Pros
Easily portable

Bigger tablespace

Horizontal handle for better hold

0-45 degrees bevel range
Cons
Installation instructions are not clear
One of our best recommendations is this top-of-the-line model that will surprise you with its brilliant performance. The DEWALT 12-Inch DWS715 is known to be a truly powerful option that will help you cut through different kinds of materials easily. Read on to know more about its bells and whistles.
Sale
Why Did We Like It?
To begin with, the saw has a very sturdy miter detent plate that ensures accurate performance. It betters productivity with its stainless steel surface and the 14 positive stops on it. 
Adding to it is a base fence support system that will keep the fence at a perpendicular angle, and it allows better blade accuracy. The long carbide blade was indeed very impressive, and it can slice through various surfaces with ease. 
Further, the blade is attached to a 15A motor with a motor speed of 4,000 rpm. You can very well understand how efficiently it works in cutting through wood. 
Coming to its cross-cut capacity, it can cut 2 * 6 inches lumbar at 45 degrees and 2 * 8 inches lumbar at 90 degrees.
What's more, this saw comes with a dust bag that will collect most of the dust while you saw through wood. This prevents the area from getting dirty and makes the device perfect for indoor use.
What Could've Been Better?
The only issue is that it is heavier than most of its peers and weighs 42.8 pounds. This makes it difficult to carry around for long distances. If you do plan to move it a lot, then ensure that you have a cart for it. That should save you some effort and make the entire process easier. 
Pros
Comes with a machine-base fence support

Dust bag for cleaner performance

Side handles to carry around efficiently

Sturdy stainless steel detent plate
If you are looking for a versatile product that will be perfect for DIY use, then the Genesis GMS1015LC 15-Amp Compound Miter Saw will work well. It is very safe to use and will ensure quick alignment while you are working. We were very happy with the accuracy that it showed. 
Sale
Why Did We Like It?
The first feature that makes it stand apart is the presence of an electric brake. Now an electric brake will ensure that the machine stops immediately when the brake is pressed, and that makes it extremely safe. 
Next, it boasts of a laser cutting guide which is an advanced feature and will help in bettering the alignment. The accuracy is also improved because of it. This makes the device versatile and you can use it for making picture frames, shadow boxes, crown molding, to name a few. 
The miter saw also makes precise cuts up to 45 degrees left and right and has 9 position stops. These stops are placed at very common angles ensuring that you can make all kinds of cuts easily. 
Last but not least, there is a strong carbide-tipped blade that comes with 60 teeth. The large number of teeth will ensure that you get smooth cuts.
What Could've Been Better?
We would have liked it better if the clamp worked well. The clamp sometimes can be in the way of this product's motor, and that could become a problem. Also, while it can hold small pieces well, bigger pieces do not get as much support. This is something that the brand can improve on in the future. 
Pros
Electric brakes for better safety

Efficient laser cutting guide

Known for its versatility

Dust bag provided
Cons
Clamp does not work with large wood pieces
Are you looking for ample tablespace? Then the Delta Power Equipment Corporation S26-263L is a great choice. It will help you work with pieces of all sizes easily and is powered by a 120 volts 15 Amp motor. We were delighted with this dependable and powerful device.
Why Did We Like It?
This one comes with a laser along with an on/off switch, and both of these make it easy to align. Generally the blade and a piece that you are going to cut should be perfectly aligned to ensure precise cuts, and that is possible because of the laser. 
Also, the item features an electronic brake that will make the blade stop within seconds. This helps in not making any mistakes while cutting, and in case the angle changes, you can stop the cutting process immediately. 
Further, this has a dust collection bag too that will prevent the area from getting dirty. Yes, you might have to vacuum or broom the area once, but most of the dust and debris will be captured in this bag itself. 
Lastly, there was a clamp on the table that allowed us to place large and small workpieces. The clamp was able to hold them all in place, and nothing wobbled or moved out of the way. 
What Could've Been Better?
When we turned on the trigger, the machine jumped a little before beginning to work. Now, this might slightly move the workpiece, or your hand might slip if you are not prepared. So, be careful about this and ensure that you have the piece clamped down before you turn the trigger on. 
Pros
Extensions to support big pieces

Electric brake for safety purposes

Spindle lock for keeping the spindle in place

Backed by a 3-year warranty
Now that we are nearing the end of this guide, it is time to introduce a compact option that will fit even the smallest of workshops. The Makita LS1040 10″ Compound Miter Saw is an excellent option with a laser that works well. You will love the cutting capacity, and you can expect smooth cuts at all times. 
Why Did We Like It?
If you are a professional looking for a device to take care of a number of jobs, this will serve well. It is engineered for multiple purposes, including woodwork, flooring, and decking, creating cabinets, and using it on construction sites. This is just the right size to move about easily, and the lightweight makes it easier to work with. 
Moving on, there is a fluorescent light that will guide you while working in the dark. It is placed independently and will light up the work surface well. Since it is a compact product, the light spreads over the entire area evenly. 
It also has a dual post compound pivot arm which allows bevel cuts to the left. The maximum capacity is 45 degrees, and that works well for small to medium-sized pieces. 
What Could've Been Better?
The product was not packaged well, and that led to some cracks on the body when it initially arrived. We were very disappointed and called up customer care. However, they heard us out and sent over a replacement within the next few days. So, we will not be holding this against the brand and it does provide a host of other brilliant features. 
Pros
Improved speed of 4,600 rpm

Can be used for a variety of applications

Known for smooth and accurate cuts

Comes with a dust bag
Up next, we have a product that ranks high on reliability and power. The Evolution Power Tools R255SMS+ has a powerful 15 Amp motor and comes with a laser guide for perfect accuracy. You can also carry it around easily because of the integrated carry handles on both sides. 
Why Did We Like It?
This one is a very sturdy machine that can cut through steel, wood with nails, and plastic compounds. You can use it to cut up acrylic and drainage tubing without having to use fire to melt it down first. Also, while nails can be bothersome for some of its peers, this option will cut through hardwood with nails easily. 
Now, this is possible because of the Japanese tungsten carbide blade that is offered. It has a number of teeth which provides for a cleaner and more accurate cut. 
Moving on, to increase efficiency and the cutting capacity, it comes with a taller fence and neck. This will allow you to work with bigger pieces as this product should have no difficulty in cutting through them. 
Adding to it is the quick-release clamp that can be adjusted depending on the workpiece. You can keep the material in place and achieve smooth and error-free cuts. 
What Could've Been Better?
We noticed that whenever we got to cutting steel, there were small chips that kept flying around in the room. Now, this can be dangerous, so we will suggest always wearing proper safety gear before beginning your work. This will keep you safe; plus, you may always clean up later. 
Pros
Provides laser-guided accuracy

Can cut through mild steel of ⅛ inches

Taller fence for increased cutting capacity

High-quality tungsten carbide tipped blade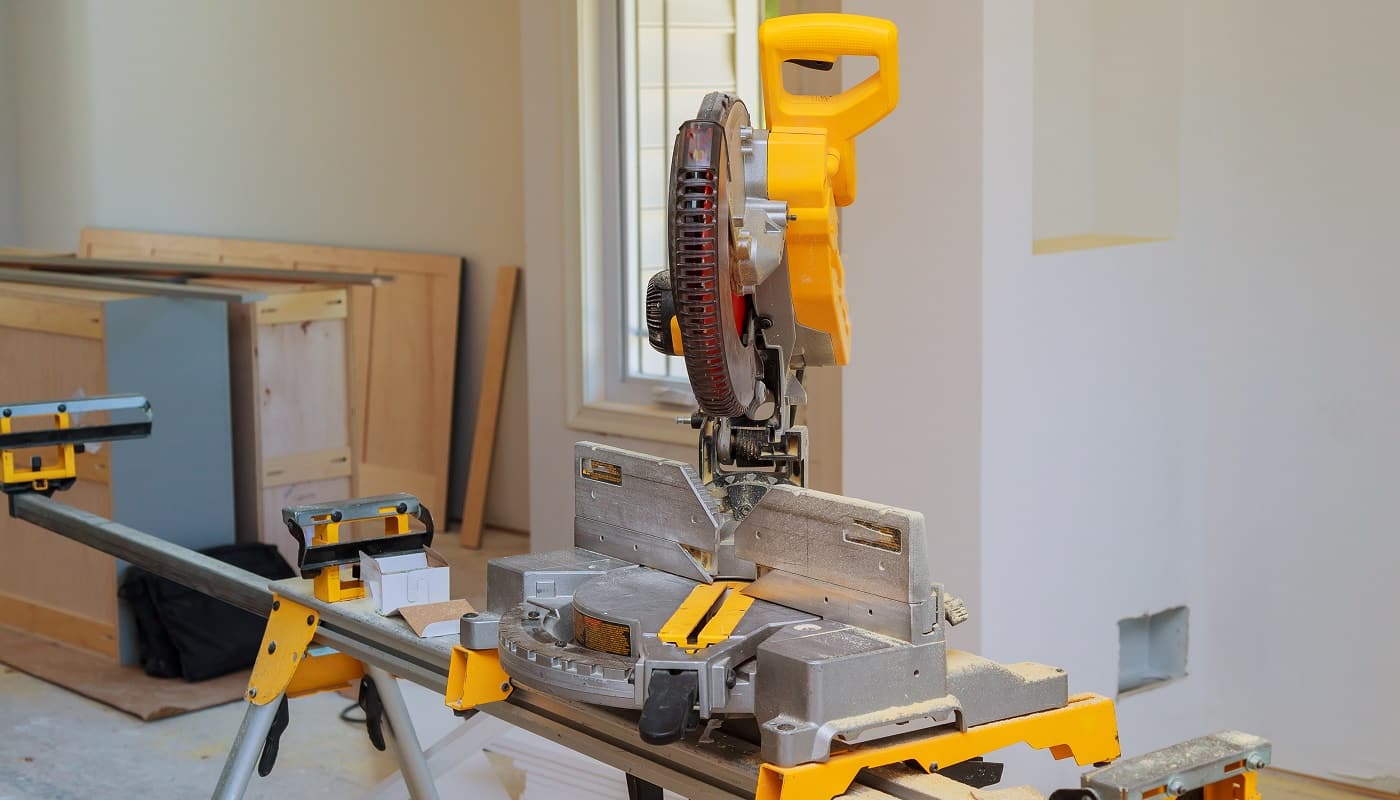 Budget Miter Saw Buyer's Guide
Now that you have knowledge about the 7 best miter saws of 2022, it is time to make a choice. But before you do so, it is best to read through the following considerations and understand the factors. 
Always put your needs first and see if your requirements are matching the description of the product. If it matches, then you are on the right track. Read on to know more about the factors that need to be kept in mind. 
Blade Guard
A blade guard comes with most products, and we believe it is a very important part of the machine. It is curved and follows the blade's shape. This will prevent anything from getting in contact with the blade and is usually placed near the side that is close to you. When the blade is spinning, it will surround the blade and prevent any mishap. 
Dust Bags
Dust bags are needed to prevent a mess from forming around the place. This is very important if you plan to work indoors as otherwise the entire room gets covered with dust. In this case, you will have to connect the dust bag to a vacuum, and that will collect all the flying dust. 
Now we did have to clean the place once the entire job was done, but it was way easier.
Safety
Please remember to put on your safety gear before working with a miter saw. The blade is generally very sharp, and it should not harm you at all. Now most products will come with a blade guard. But you are still working with sharp machinery, and there could be flying shards in the air. Wear work goggles and gloves and that should keep you safe.  
Coming to the brake, we prefer electric brakes as these work instantly in stopping the machine. It operates within seconds, and that will prevent any wrong cuts. If the workpiece moves slightly during this process, you can use this brake to pause the blade, adjust it and then continue with your work. 
Table Space And Clamps 
The tablespace provided on top of a machine varies with the size of it. Now, if you are going to work with small pieces of wood or metal, then a smaller space should work well. You might not be needing big extension arms on both sides to fit the pieces in. 
On the other hand, if you are dealing with bigger pieces, the surface has to be big. Look for bigger products with extendable arms for the best results.
While you are looking at the space, also check for clamps. Clamps on the table will help you keep the piece in place and will prevent any faults in cutting.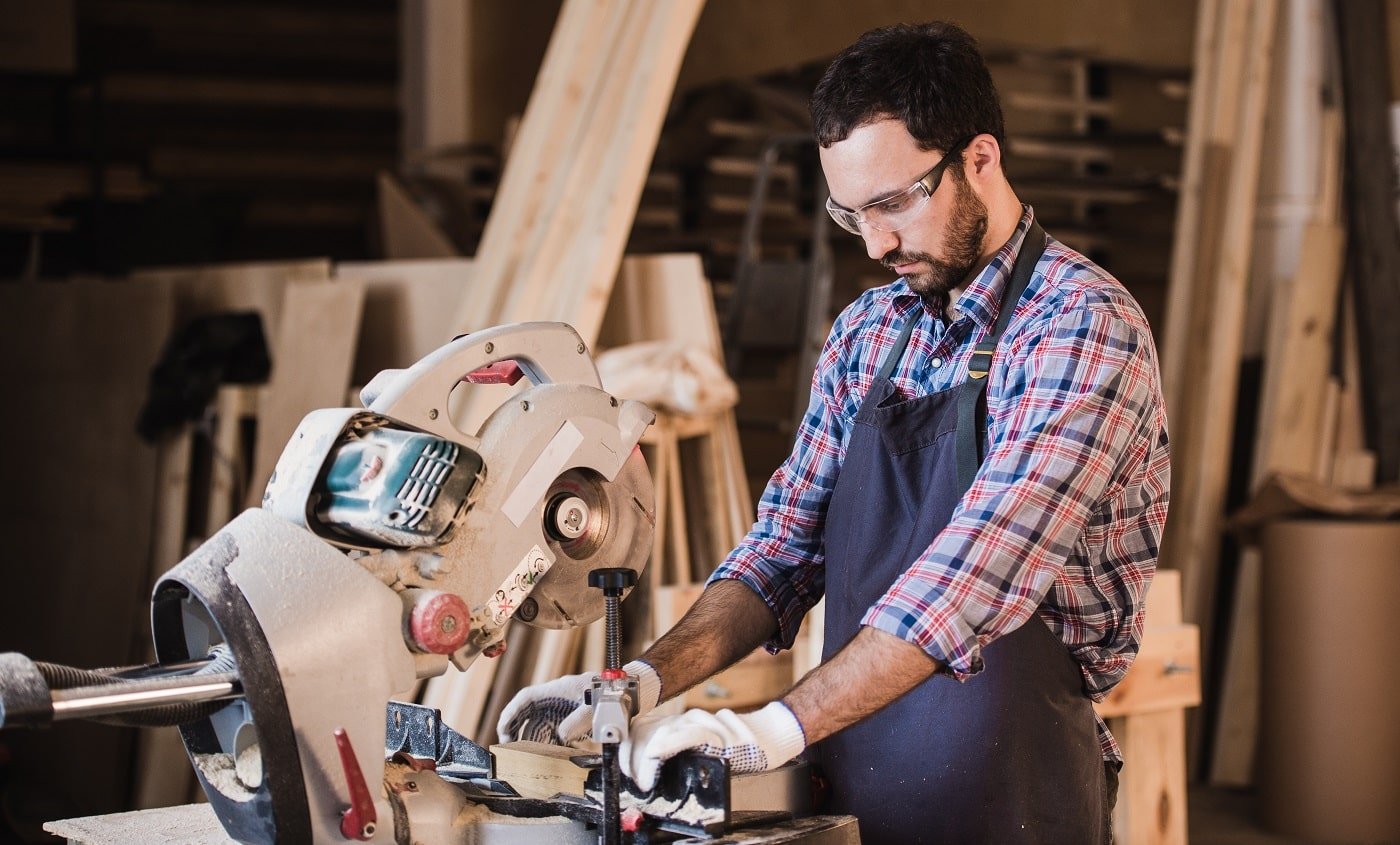 Verdict
We have finally reached the end of this guide, and by now, you must have a clear idea about the features of a miter saw. Remember that they should be easy to use; look up YouTube videos in case you have issues with assembling the unit. 
Now before we take your leave, let us take you through our favorites. The Metabo HPT C10FCGS Compound Saw is a very budget-friendly and portable unit, making it stand out. On the other hand, the DEWALT 12-Inch DWS715 is known for its brilliant performance. 
But if you are looking for a versatile product that will meet your multiple needs, then the Genesis GMS1015LC 15-Amp Compound Miter Saw is an excellent option. 
Let us know if you have any other queries in the comment section below. Until next time! 
Happy shopping! 
Related Articles
Different Types of Saws & How to Use Them 
13 Best Screwdriver Sets on the Market Today
13 Best Wood Routers for Professionals & Amateurs Alike
Simply the Best Stained Glass Ring Saws  
49 FREE DIY Router Table Plans For an Epic Home Workshop
11 Best Angle Grinders on the Market Today
13 Best Chainsaws for the Money  Reviews & Guide
13 Best Tile Saws  | Buyer's Guide
11 Best Sliding Compound Miter Saws
9 Best Hybrid Table Saws Under $1000 
11 Best Budget Bandsaw Reviews 
11 Best Dry Cut Metal Chop Saw
11 Best Bow Saw | Reviews + Buyer's Guide
11 Best Table Saw [Reviewed & Buyer's Guide]
7 Best Cabinet Table Saws [Reviewed & Buyer's Guide]
9 Best Band Saw [Reviews & Buyer's Guide]
7 Best 12-inch Miter Saw Reviews [Buyer's Guide]
11 Best Chainsaw for Milling Lumber | Buyer's Guide
5 Best Stihl Chainsaws [Reviewed & Buyer's Guide]
9 Best Sanders for Deck Refinishing [Buyer's Guide]
11 Best Table Saw Fences [Reviewed & Buyer's Guide]
DeWalt DW735X Planer Review [Should You?]
Bosch 4100-10 Jobsite Table Saw [Reviewed]
Hack Saw Vs Bow Saw [All You Need to Know] [Explained]
How To Sharpen A Bow Saw And Bow Saw Maintenance
6 Sabre Saw Vs. Jigsaw [All You Need to Know]