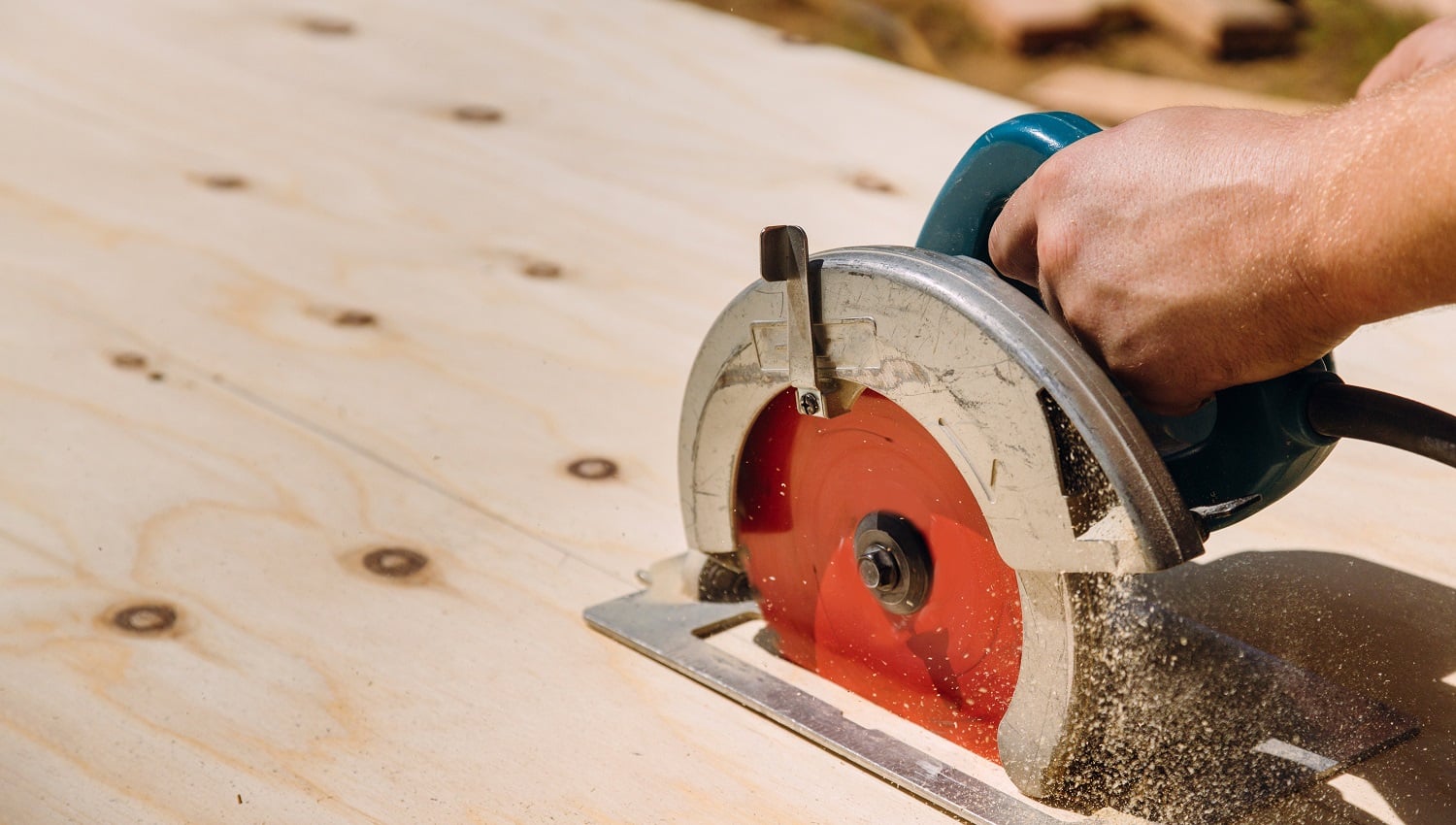 A track saw is one of the essential components of any handyman or DIY-er's toolbox. In fact, most professionals don't leave for work without one.
The trouble is, with the market flooded by several cheap products that offer below-par service, you can't expect to settle on the best track saw based on luck alone. What you need is a guide that can help you make the right decision.
And there also lies another piece of the problem. Most people don't have the time to go through the different websites and online reviews to narrow down the right track saw. The task of selecting the right review can seem more daunting than choosing the saw itself!
That's why we've decided to compile a list of the best track saws of 2022. And to make matters even more interesting we've gone ahead and created an informative buyers' guide on the topic.
So, without further ado, let's cut in.
11 Best Track Saws
IMAGE
PRODUCT
DETAILS

Our Top Pick

Our Top Pick

Makita SP6000J1

Perfect straight and bevel cutting
High-precision, splinter-free finishes
Rubberized grip for added comfort

VIEW LATEST PRICE →

Festool TS 55 REQ

Unmatched guard rail precision
Improved efficiency and effectiveness
Zero-tearout cutting technology

VIEW LATEST PRICE →

SHOP FOX W1835

High blade rim speed
Highly portable and accurate
Dust collection port

VIEW LATEST PRICE →

DeWalt DWS520K

Zero-clearance track-saw cutting system
Provides perfect straight cuts in both directions
Continuous anti-kickback mechanism

VIEW LATEST PRICE →

Bosch Tools Track Saw

Efficient plunge action with an accurate depth of cut
Overload protection feature
Efficient dust extraction mechanism

VIEW LATEST PRICE →

Triton 6.5-inch Plunge Track Saw

Soft grip handles
360-degree rotational outlet
Easy shaft-lock allows fast blade change

VIEW LATEST PRICE →

Grizzly T10687 Track Saw

Built-in riving knife
Robust and portable design
Powerful motor and blade

VIEW LATEST PRICE →

Festool 561438 TS75 EQ

Minimum kickback
FastFix system for blade change
Electronic speed control

VIEW LATEST PRICE →

DeWalt DCS520T1

Zero Clearance cutting system
Continuous anti-kickback mechanism
Optimal ergonomics

VIEW LATEST PRICE →

WEN 36055 Circular Track Saw

Enhanced cutting precision
Self-retracting riving knife
Depth-gauge for plunge cuts

VIEW LATEST PRICE →

VonHaus 20V Max

Powerful cordless operation
Offers both bevel and straight cuts
Ergonomic and comfortable design

VIEW LATEST PRICE →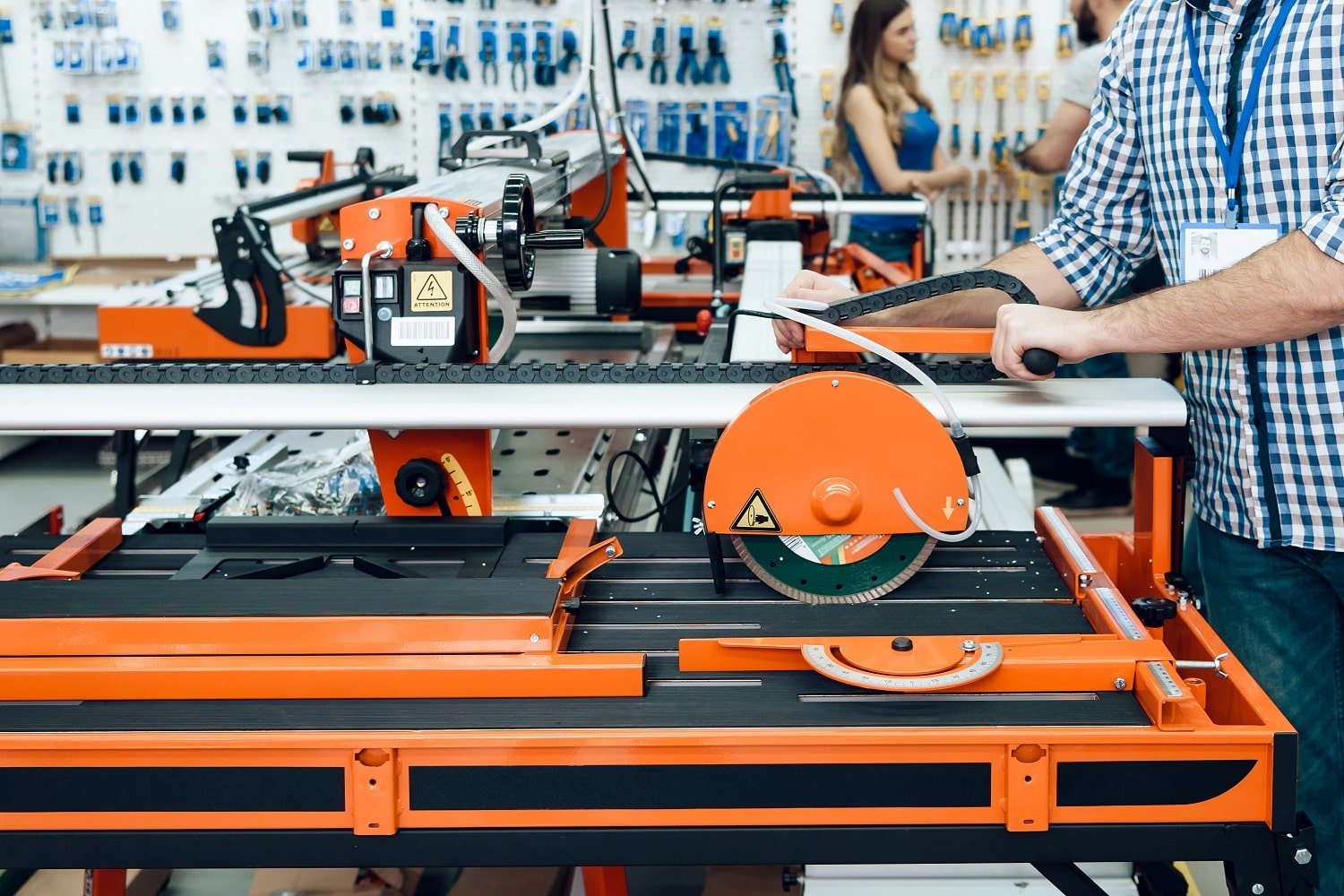 Bringing you the best of Japanese technology, the Makita SP6000J1 track saw is known for making accurate and straight cuts with minimal tear-out. Including a range of convenient features such as a large top handle and an electric brake, this product promises a no-frills, steady operation.
Sale
Why Did We Like It?
The Makita SPJ6000J1 is undoubtedly one of the best track saws in its class and provides the user with impeccable performance. The saw runs on a powerful 12A motor that guarantees improved cutting capacities.
What's more, the device incorporates magnesium components that make it lighter yet stronger to use. Add to that the electronic speed control mechanism, and you've got the perfect track saw for a smooth cut and mirror finish.
Ideal for use in a commercial setting or a DIY-er's garage workshop, this model delivers precise cutting capacities. And whether you're cutting straight or bevel, the device makes it certain that you enter the wood on the same cutting line.
Finally, it is equipped with a variable speed dial control that lets the user change the cutting speed as per the material to be cut. The 55-inch guide rail complements the 6.50-inch circular saw, and together they serve to make accurate cuts that ensure minimal tearout. Overall, it's the best buy, if there ever was one!
What Could've Been Better?
Honestly speaking, there's not much that can be found faulty with such a well-rounded device. And for that very reason, the product comes with a pretty steep price tag. However, given the range of facilities on offer, we'd certainly recommend you to go for it.
Pros
Powerful 12A motor

Electronic speed control

Enhanced cutting capacity

Precise and accurate operation
Our next item is a quality product from the house of Festool, one of the prominent names in the track saw industry. Whether you are a seasoned pro or a novice venturing on their first DIY project, this tool can help you get the desired results. But be prepared to shell out the dough accordingly.
Festool TS 55 REQ Track Saw
When used with Festool guide rails, you can achieve...
Spring-loaded riving knife (splitter) keeps the cut kerf...
Why Did We Like It?
The right blend of power and precision, the Festool TS 55 REQ is sure to be counted among one of the essential track saws in the market. The instrument provides unmatched accuracy, and is perfect for any workshop or construction site.
We were impressed by the 2000 to 5200 RPM cutting speed on the device, and have successfully used it to cut through a variety of materials. The integrated, spring-loaded riving knife helps to reduce the chance of kickback and allows for keeping the device in control.
But the one point that must be mentioned about this product is its versatility. Available in two different sizes and with nine blade types, this product can handle any surface and provide optimal results.
What's more, due to the presence of an integrated splinter-guard, this track saw gives you zero-tearout cuts, thus, in effect, reducing wastage of project material. Also, the micro-adjustable depth controls provide for precise material processing.
What Could've Been Better?
Once again we have nothing to say against the device, except cry out against the price, which is pretty high. Also, it would've been nice if the product came with clamps included; that would've been a great addition.
Pros
Comes with a 55-inch rail included

Multi-speed operation

Nine types of blades available

Riving knife for extra control
Cons
High price

Clamps not included
The SHOP FOX W1835 has been specifically designed to give you years of complaint-free service and flawless performance. Ruggedly built to ensure quality performance and error-free operation, this device can be your go-to option for accurately cutting sheet material.
Why Did We Like It?
If the first two items on our list were beyond your buying capacity, then this budget option will delight you to no end. Affordable yet with premium features, this is a product that can ensure you get the job done with the least amount of hassle.
The tool is built with lightweight portability in mind and ensures perfect cuts on any material. The 120V motor makes it easy to cut through sheets at 9070 feet per minute; that's enough for any professional-grade work.
We also must mention the bevel gauge lock that provides for performing bevel cuts up to 45-degrees. Also of note is the adjustable dust collection port, which ensures hassle-free cleanup after the work is complete.
Precise, dependable, and versatile, this is a budget buy that can fulfill all your needs, and then some—highly recommended for DIY-ers not willing to spend a ton.
What Could've Been Better?
The only thing that can be said against the product is that it does not come with a wide range of accessories included in the package. But we guess at so affordable a price point, and we should be happy with the high-quality product that is on offer.
Pros
Highly affordable product

Suitable for professional-grade work

Portable build

Highly precise
Cons
Doesn't include many accessories
DeWalt is the American brand that needs no introduction, and the DWS520K is yet another prestigious addition to their power tools repertoire. A perfect choice for woodworkers and carpenters looking for a reliable cutting instrument, the DWS520K combines the best features of table, panel and circular saws to deliver a unique performance.
Why Did We Like It?
Anyone who has ever had the opportunity to operate a DeWalt device can vouch for the smoothness and precision of every instrument from their stable. And naturally, this model of track saw is no exception.
This tool is made with a zero clearance cutting system that delivers immaculate cuts. With this tool at your side, you don't have to worry about crooked cuts and splintered edges ever again.
Plus, the dual-edged tracks that come with the product provide for flawless straight cuts in both directions. Choose any suitable on-track cut depth, set the angle, and cut in like a pro. What's more, the device even incorporates a depth scale that accurately measures the depth of the cut.
Other features that deserve mention are the 12A, 1300W motor that cuts easily through even hardwood, the riving knife, and the blade guard, which allows for operation in confined spaces. Overall, one of the best track saws that any enthusiast can hope to get their hands on.
What Could've Been Better?
While using it, we experienced some issues with the handling. For the price, we expected smoother handling capabilities. Also, the blade that comes with the saw is not of very high quality. We recommend you replace it with a compatible substitute.
Pros
Suitable for all kinds of cutting, truing, and edge joining

Precise and error-free operation

Powerful motor for effortless cutting

Anti-kickback mechanism
Cons
Handling capabilities leave something to be desired

Low-quality default blade
For those of you who like to swear by brands, the Bosch Tools Track Saw is the best bet. Combining the promise of German technology with the power of the Bosch name, this is a precision instrument that makes a perfect cut. But be advised, the Bosch brand doesn't come cheap, so you must be ready to shell out some extra dough.
Sale
Why Did We Like It?
The name of Bosch carries with it the guarantee of operational satisfaction, and this product doesn't disappoint. We like how the dedicated plunge technology helps to make accurate and precise cuts in both wood and wood-based sheets.
Another point that we'd like to mention in this product, and one which particularly caught our attention, was the single bevel pivot point. This allows the guidance track to be positioned in the same way for bevel as well as non-bevel cuts.
Other than that, we cannot fail to mention the electronic speed controller, which helps to maintain a constant speed, even during demanding cutting operations. Plus, there's the overload protection technology that guards the motor against overheating.
Finally, this device has provisions for efficient dust extraction using vacuum cleaners. It even includes a swiveling hose port for making it easy to connect the vacuum hose. This speaks to the level of thought the manufacturers put behind their product. 
What Could've Been Better?
As we mentioned before, this is one of the pricier ones. So imagine our surprise when we found that the guide track for this device is sold separately! Now, that's too much of a pocket pinch if you ask us.
Pros
Constant electronics for speed maintenance

Single bevel pivot point

Blade can work both ways

Compact build
Cons
High price tag

Guidance track not included
Versatile, portable, and packed with a load of features, the Triton 6.5-inch track saw is a budget option that is suitable for small jobs and DIY projects. Easy to set-up and known for delivering professional results, this product makes sure that you can slice through all your home-based projects with ease and efficiency.
Sale
Why Did We Like It?
Ergonomic, portable, and easy to use, this product from Triton is meant for those small jobs that require all of the accuracy but not much power. Which means it can be easily used for any small woodworking jobs that you might have on hand.
Although most of the accessories are available separately, the saw comes with a 48TCG blade that offers clean and precise cuts. The dust outlet adaptor enables easy cleaning of the device, and the plunge lock provides added safety.
We also like how the ergonomic handle of the product ensures a smooth and effortless operation. We tried the device out on various sheet materials, and it sliced through them all with equal ease. 
Another feature of the device that's worthy of the mention is the easily accessible shaft lock, which allows for faster blade change. This increases the efficiency of the device, as does the universal vacuum system adaptor.
What Could've Been Better?
Okay, we get it, this one is more affordable than the Bosch or Makita models. But it would've been nice if the product came with the guidance tracks included. As it doesn't, you'll have to shell out extra for it, thus pushing up the effective price.
Pros
Versatile operation

Efficient dust extraction

Precise and accurate cuts

Constant speed electronics
Cons
Guidance track not included
Anyone searching the list for affordable yet dependable track saw models can't go wrong by going with the Grizzly T10687. As tough as the animal it derives its name from, this product can tackle a wide variety of tasks. And it's easy on the purse, so that's an added advantage.
Grizzly T10687 Track Saw
Suitable for a variety of materials like solid wood...
Infinitely variable cutting depth up to 2-5/32
Why Did We Like it?
An affordable combination of accuracy, speed, and power, this product has the potential to deliver high-quality results that ensure success. The build quality is sturdy, and you can tell from the feel of the device in your hand that this is one for the keeps.
One of the things (and there are many) that we like about this product is that it has been put through a rigorous quality testing regime. This ensures that despite the budget price tag, it offers much of the functionality of premium models.
Lightweight and durable, the product offers fatigue-free use that's easy on the hands. Plus, the rugged build translates to years of dedicated service. Once you've got one of these in hand, you can rest assured it'll last for the future near and far.
The highlight of this model is the 9A, 120V motor that provides up to 5500 RPM speed. This makes cutting through sheet material a breeze. Plus, the built-in riving knife protects your workpiece from getting pinched. It even eliminates the risk of kickbacks, which is a bonus.
What Could've Been Better?
During our period of use, we found a small problem with this otherwise excellent product. The vent on the side of the device gets jammed up with sawdust after some time, and we had to go through the trouble of cleaning it. But we guess at this price point, we shouldn't be complaining.
Pros
Variable cutting depths

Riving knife for added safety

Provides smooth and clean cuts

Well-designed for comfort and efficiency
Cons
Side vents may get jammed
We don't need to say much about Festool, as we've already included one great product from the same brand previously. This product, however, is a notch above most of the options on this list. Be it the performance or the price, the TS75 EQ is a plunge cut circular saw that truly demands the tag superlative.
Why Did We Like It?
One of the top performers in every aspect, this product is best suited for heavy-duty use. With the promise of making home DIY jobs easy and professional work relaxing, this is the preferred tool of woodworkers and handymen everywhere.
We were floored by the high-quality cutting blade that slices through any material with ease, and the FastFix system, which makes changing the blades a cinch. Also, the 13A motor packs enough punch for any cutting operation.
For any track saw, kickbacks are a severe problem that must be tackled with ingenuity. And this product handles it beautifully with the inclusion of a spring-loaded riving knife. Plus, the variable speed control delivers burn and burr-free cuts for ready use. 
Ergonomic, heavy-duty, and comfortable to use, this is one of the investments you'll never regret making.
What Could've Been Better?
It appears the high price is the common flaw in all Festool products. But given the kind of service they deliver we shouldn't be complaining. Also, for the price, the manufacturer should have included the guide rails as well.
Pros
Powerful motor

Riving knife prevents the workpiece from binding

Variable cutting speeds

45-degrees bevel capacity
Cons
High Price

Guidance rails not included
We won't waste space and time by trying to introduce you to DeWalt, the all-American brand we know and love. Suffice to say that the DCS520T1 is a marvel of engineering. Running on the DeWalt 60V Max rechargeable battery system, this product provides durability, accurate cutting power, and high performance. Still need to know more? Take a look below.
Why Did We Like it?
First off, the cordless design of the product had us impressed from the get-go. The product offers a no-load speed between 1750 to 4000 RPM, which is better than many corded devices in this range.
Secondly, the continuous anti-kickback mechanism, along with the riving knife prevents kickbacks. This simplifies the process of operating along a track. What's more, it even stops the working material from binding.
The device has been designed with DeWalt's proprietary dual-edged tracks, which enable perfectly straight cuts in both directions. Plus, the enclosed low profile guard enhances the dust extraction capability for a cleaner work area.
Finally, we must mention the ergonomic design of the device, which makes working with it a comfortable experience. All-in-all, a real winner if there ever was one.
What Could've Been Better?
There's nothing wrong with the device itself, but as usual, this one too doesn't include the guidance track. We'd have welcomed the inclusion, and hope for the manufacturers to heed our request.
Pros
Straight Plunge Mechanism

Provides precise cuts

Ergonomic build
Cons
Guidance track not included
Affordable and suited for light work, the 36055 Circular Track Saw from WEN makes it easy to rip through thick boards. Providing clean and splinter-free cuts, this product can be your perfect companion for all applications that require precise operation. And all this comes at a reasonable price, so you don't have to pay an arm and a leg for it.
Why Did We Like It?
There used to be a time when saws tended to be restricted in their cutting operation. But with the WEN 36055, you can get plunge cuts and ripping jobs done in a jiffy. This little beast has the potential to be a perfect substitute for bulkier table saws.
We like how the device comes equipped with dual tracks measuring 55-inches in total. Rubber-backed and durable, the tracks clear the way for smooth and clean cuts. So whether you're trimming doors or building furniture, this is a device that can get the job done with ease.
We particularly like the powerful 9A motor that is sturdy enough to bite through even the hardest of woods. Also, the saw can easily be bevelled to create angled cuts, and the depth gauge ensures that you have complete control over how deep the saw-blade plunges.
And finally, before making a decision, you need to keep in mind the self-retracting riving knife that helps to prevent kickback during work. Plus, the product comes with a two-year warranty, which means that the manufacturers have faith in their own product. This is a big plus in our books.
What Could've Better?
At 11 lbs, this is not the lightest of track saws, and this limits its portability to a certain degree. Also, to make the combined guide rail stable, at least two rail connectors are needed. The device only comes with a single track adapter, which makes it a bit inconvenient to use.
Pros
Powerful 9A motor

Carbide tipped blade with 24 cutting teeth

Riving knife for preventing kickback

Dust port for easy cleaning
Cons
Slightly bulky build

Comes with only a single track adapter
We end our list with the 20V Max cordless circular saw from the house of VonHaus, a relatively new entrant in the market of track saws. Like most VonHaus Products, this device, too, is easy to handle and maintain. Plus, it's a budget buy, so if you'd like to save a few bucks, you can go for this one.
Why Did We Like It?
Let's face it: cordless designs are everyone's favorite, and this is the first point in favor of this product. Manufactured to appeal to any DIY-er as well as professional, the device sports a trendy and ergonomic look that's bound to turn heads.
But don't think this device is all form and no function! The 20V motor promises powerful cuts, both straight as well as beveled. Also, the 3.0Ah Lithium-ion battery promises extended operating times.
Another great feature of this device is the carbide-tipped blade that can slice through a wide array of materials. This lends to the versatility of the product. And the rubberized grip and ergonomic design ensure comfortable and easy use.
What Could've Been Better?
There have been reports from certain sections of customers that the charger is of poor quality. But we haven't faced a problem with the device during our time of use. Other than that, this is a rather well-made product.
Pros
High capacity Lithium-ion battery

Portable design

Sufficient cutting power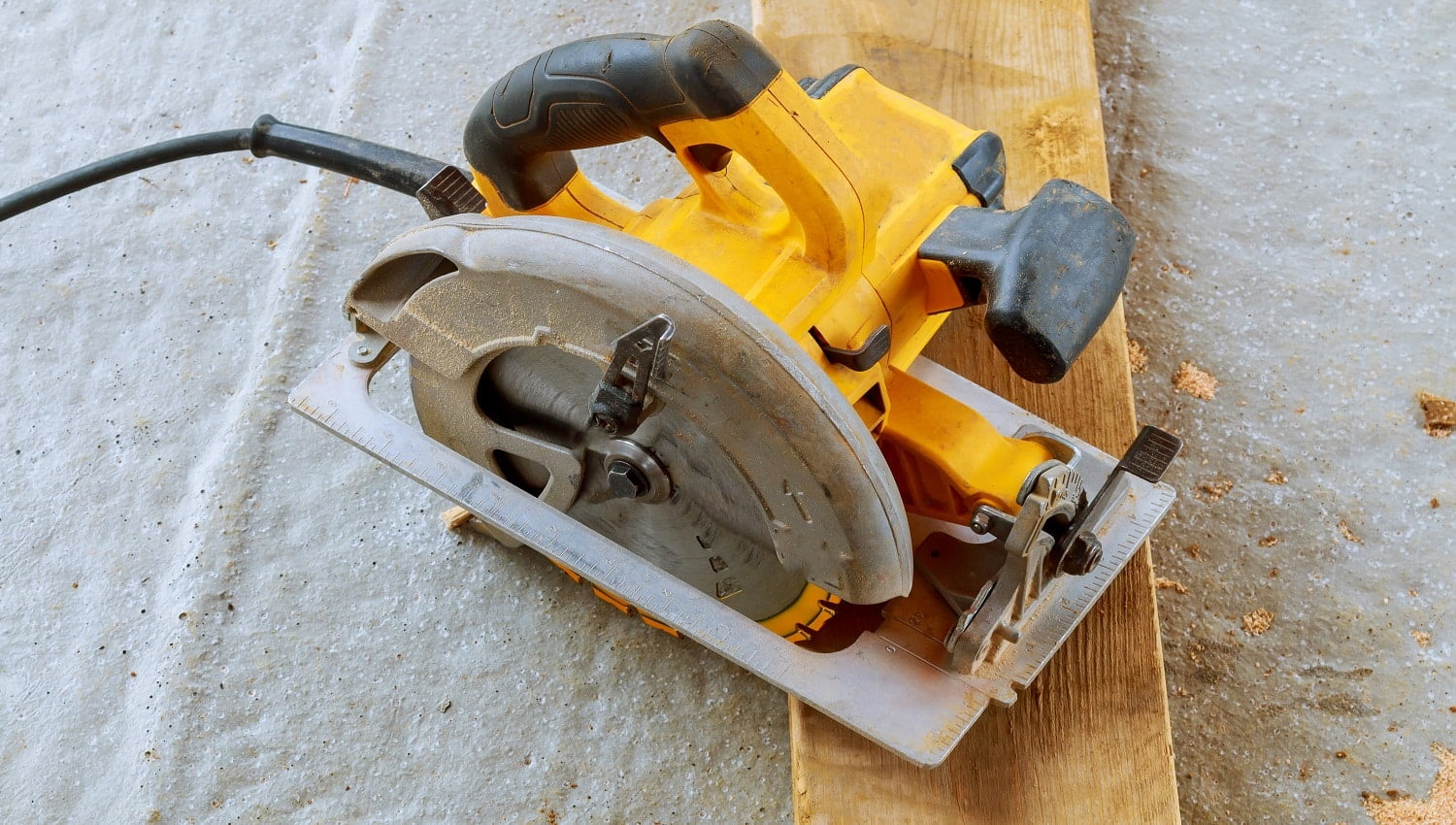 Track Saw Buyers' Guide
Believe it or not, now that you're ready with information on the top 11 track saws of 2022, you're only halfway there to the goal. In order to select the right track saw, there are a host of other factors that you have to keep in mind for making the right choice.
The following is a complete buyers' guide that'll help you in getting to the one that will meet all your requirements. So make it a point to go through the entire thing; otherwise, you're bound to miss a beat or two!
Let's get to it, then.
Corded Or Cordless
The very first thing that you need to keep in mind while selecting a track saw is whether you want a corded or cordless device. There are advantages to both types, and it ultimately comes down to your individual needs and preferences.
The cordless variety offers greater portability and ease of use; however, they can't deliver as much power as corded track saws. So fundamentally, it's a tradeoff between power and portability that you must keep in mind for this particular decision.
Bevel Capacity
This simply means the ability of your track saw to cut at an angle other than straight down. Usually measured in degrees, bevel adjustments improve the versatility of your track saw and allow it to be used for varied applications.
RPM
This stands for rotations-per-minute and is an indicator of your saw blade's speed. The higher the RPM, the greater the rate at which your saw will be able to slice through the work material.
Usually, track saws come with a variable RPM range, say from 2500 to 4500, give or take a few hundred RPMs. While buying, it's best that you go with the highest RPM range for extra versatility.
Safety Precautions
Using a track saw can be a hazardous operation, as there's always the possibility of a kickback, which can lead to severe injuries. However, most modern track saws (including the ones on our list) include anti-kickback measures to ensure that this doesn't happen. But still, we suggest you take special care to note that anti-kickback measures are present.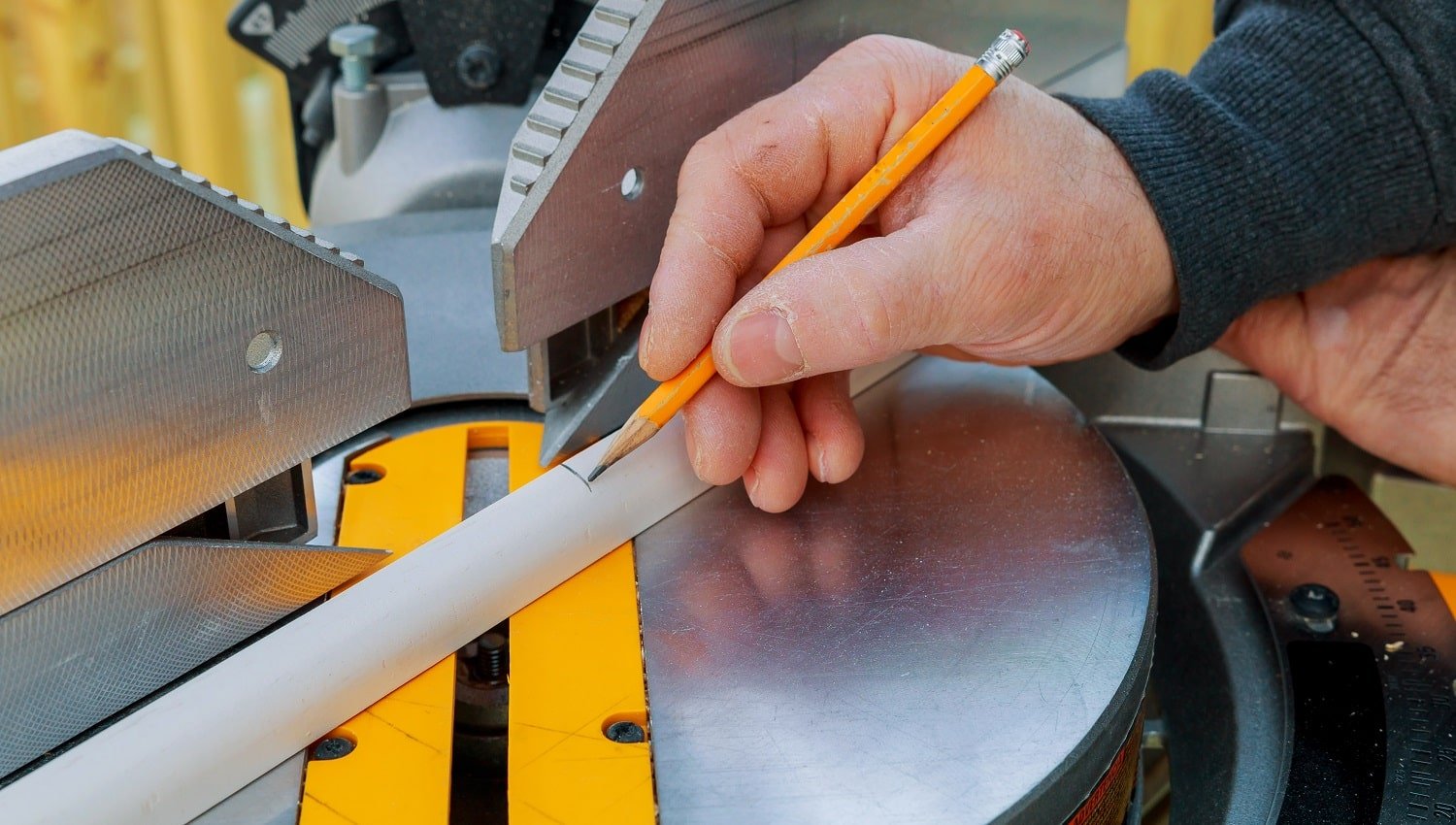 Verdict
It's been a long and exciting ride, but finally, you're ready to go out and get that track saw of your dreams. However, before we take our leave, we'll let you in on our top choices from the list.
The overall winner is the Makita model on the list, which, though pricey, offers the best value for your money. Closely following Makita is the Festool TS 55 model, which also offers premium features.
But if you're looking for a budget buy that can get the job done, then we certainly recommend the SHOP FOX W1835 or the Triton Plunge track saw. And if the brand is what you're worried about, then you can't go wrong with any of the DeWalt or Bosch Models.
And with that, we take our leave. Till next time!
Related Articles
Table Saw Vs. Circular Saw [Differences & Winner]
Single Bevel Vs. Double Bevel Miter Saw  
7 Best Bandsaws for Re-sawing [Tested]
13 Best Screwdriver Sets on the Market Today
13 Best Wood Routers for Professionals & Amateurs Alike
Simply the Best Stained Glass Ring Saws Reviewed
49 FREE DIY Router Table Plans For an Epic Home Workshop
11 Best Angle Grinders on the Market Today
13 Best Chainsaws for the Money Reviews & Guide
13 Best Tile Saws  Reviewed | Buyer's Guide
11 Best Sliding Compound Miter Saws
Different Types of Saws & How to Use Them 
9 Best Hybrid Table Saws Under $1000 
11 Best Budget Bandsaw Reviews 
11 Best Dry Cut Metal Chop Saw
11 Best Bow Saw | Reviews + Buyer's Guide
11 Best Table Saw [Reviewed & Buyer's Guide]
7 Best Cabinet Table Saws [Reviewed & Buyer's Guide]
9 Best Band Saw [Reviews & Buyer's Guide]
7 Best 12-inch Miter Saw Reviews [Buyer's Guide]
13 Best Contractor Table Saws [Reviews & Buyer's Guide]
Best 20″ Chainsaw [Reviewed & Buyer's Guide]
11 Best Chainsaw for Milling Lumber | Buyer's Guide
5 Best Stihl Chainsaws [Reviewed & Buyer's Guide]
11 Best Table Saw Fences [Reviewed & Buyer's Guide]
DeWalt DW735X Planer Review [Should You?]
Bosch 4100-10 Jobsite Table Saw [Reviewed]
Hack Saw Vs Bow Saw [All You Need to Know] [Explained]
9 Best Compact Circular Saws Of 2022 [Reviewed & Buyer's Guide]
How To Sharpen A Bow Saw And Bow Saw Maintenance
6 Sabre Saw Vs. Jigsaw [All You Need to Know]
Radial Arm Saw vs Miter Saw [Differences & Winner]