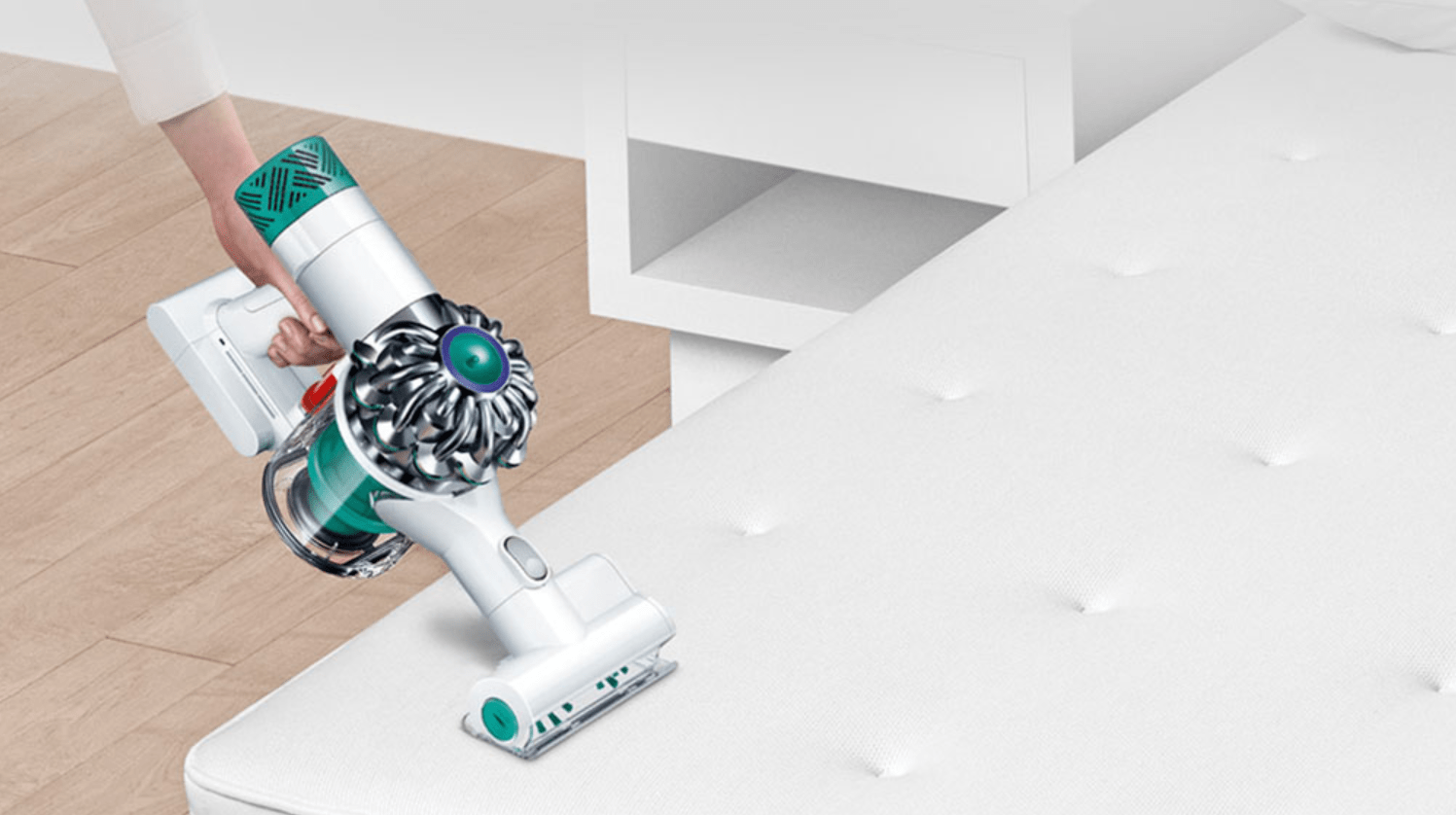 You may be aware of this interesting fact that we spend one-third of our life sleeping. But have you ever thought of it from a different perspective i.e. we spend one-third of our lives on mattresses. This sounds outrageous but it is the truth for all of us who live in these modern times.
At A Glance: Our Top 4 Picks for Vacuum Cleaners for Mattress
Given the amount of time we spend on mattresses, we don't take care of their tidiness the way they should be taken care of. Covered by bedspreads, mattresses only get our attention when they exceed their service life and start ripping apart. Being a responsible homeowner who wants to keep their household healthy and thriving, this is not how one should handle mattresses.
To keep your bedrooms free of allergens and irritants, you need to take care of your mattresses just the way you maintain a proper cleaning routine for the furniture and upholstery. And this is where vacuum cleaners for mattresses come into the equation. These are vacuum apparatus specially designed to treat mattresses and other similar material.
In this piece, we are going to review 6 of the best mattress vacuum cleaner available in the market right now.
Six Best Vacuum Cleaners for Mattress
IMAGE
PRODUCT
DETAILS

Best Cordless

Best Cordless

Dyson V7 Vacuum

Features powerful digital motor
Operates on powerful (20 minutes) and max power (6 minutes) modes
Can be used beyond mattresses

VIEW LATEST PRICE →

Holistic Vacuuming

Holistic Vacuuming

Euleven Hot Wind

Features UV sterilization and hot air current
Supreme filtration mechanism
A compact and lightweight design

VIEW LATEST PRICE →

Most Advanced Vacuum

Most Advanced Vacuum

Raycop Mattress Vacuum

Features a calibrated UV sanitizer
Features additional pulsating pad
Amazon's choice product

VIEW LATEST PRICE →

Most Versatile

Most Versatile

Sowtech Vacuum for Mattress

Features pro-cyclone system
Fitted with a powerful battery
Comes with six different hose extensions

VIEW LATEST PRICE →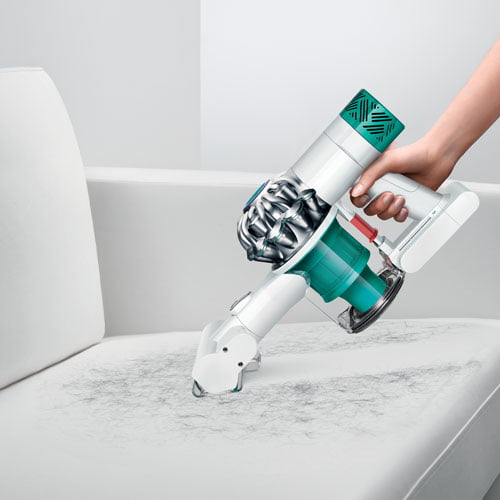 We hope that the above section has sufficiently highlighted the importance of owning a separate vacuum cleaner for mattresses. If you have made your mind to get one for your home, then you need to read on. We are going to discuss six of the best vacuum cleaners available in the market right now.
Features powerful digital motor

Operates on powerful (20 minutes) and max power (6 minutes) modes

Can be used beyond mattresses
We are starting our list with Dyson V7 which is undoubtedly one of the best handheld vacuum cleaners for mattresses. This ergonomically designed vacuum features a robust digital motor that offers 20 minutes of powerful suction and 6 minutes of max power suction. But it's not the power of the suction that makes Dyson stands apart.  
No products found.
It's the 2-tier radial cyclone arrangement and holistic HEPA filtration that gives Dyson V7 an edge over many compact vacuum cleaners available in the market right now. There are 15 cyclones circularly arranged in two layers to ensure maximum airflow with optimal capturing of fine dust particles.
To reinforce the mechanism of 2-tier cyclone assembly, Dyson has fitted a post-motor HEPA filter that can capture particles as small as 0.3 microns. The state-of-the-art HEPA filter is the reason why Dyson V7 handheld vacuum cleaner can round up all the dust mites invisibly lurking on your mattress. To keep this vacuuming and filtration in isolation, the entire machine body is completely sealed. Rest assured, the air leaving the vacuum is free of any contaminants and may be cleaner than the room atmosphere you are breathing in.   
To make its handheld vacuum product more versatile, Dyson has also made it compatible to work with a dusting brush. So, besides mattress, you can use Dyson V7 handheld vacuum to clean other small and tricky plan surfaces. Whether it's the difficult task of getting rid of the dust from in between the keys of a keyboard or dusting a tapestry, you can take on these challenging cleaning tasks with a Dyson V7 vacuum cleaner fitted with a dusting brush.
The ergonomic handle and light body also ensure that you can conveniently use it without repeatedly changing hands. Dyson enjoys 4-star customer rating on Amazon, indicating that customers approve of its quality and functions. 
Pros
The combo of HEPA and 2-tier radial cyclone offers absolute vacuuming of the tiniest particles
Light body and ergonomic design ensures convenient use
Compatible with dusting brushes
Cons
No extension hose provided to deal with soft spaces
Not usable while on charging
Go for the Dyson if you are looking for an easy-to-use and all-powerful vacuum suction for mattresses and other tricky surfaces.
Features UV tube sterilization
Fitted with double suction mouth
An Amazon's Choice product
We have earlier discussed how unheeded mattresses become the breeding ground for dust mites and bed bugs. The possibility of these pest infestations increases manifold if you are living in a humid region. Housemile has designed its handheld vacuum cleaner by particularly factoring in this situation.
No products found.
Housemile Mattress vacuum cleaner is not just a suction pump. It also kills the critters it traps. Yes, you read that right. It's a two-in-one vacuum machine that also features a state-of-the-art UV tube sterilization mechanism. A powerful UV light is installed inside the vacuum that goes through the outer cell to exterminate dust mites and bed bugs by mutating their DNA.
HEPA filters facilitate the working of UV sterilization by capturing all those microorganisms that remain invisible to the naked eye. The HEPA filtration also ensures that the air released by the vacuum remains healthy for respiration.
Let's dissect the suction features of this unique vacuum cleaner with UV light. The powerful motor of Housemile Mattress Vacuum Cleaner operates at 6000 rpm and entails dual suction mechanism. While the powerful pressure vacuum of 8.5KPa at the base draws the invisible dust mites from the deep threads of mattresses, the suction at the upper chamber collects them and throws them into the chamber so they can meet their fatal end. This dual-suction configuration brings noticable improvement in the vacuum's capturing ability.
The convenience is also at the forefront in the manufacturing of Housemile Vacuum Cleaner for Mattresses. Its 160 ml dust chamber has enough capacity to accommodate the vacuuming of all the mattresses in the house. Moreover, the light body of a mere 2.81 pounds doesn't put any strain on the holding hand.
To keep the performance of your Housemile Vacuum Cleaner consistent, make sure to clean its exhaust, suction inlet and dust collector after every vacuuming binge. Housemile Mattress Vacuum cleaner enjoys the tag of "Amazon's Choice" in the category of UV vacuum cleaners. 
Pros
A super light vacuum cleaner

Two-in-one UV operation also exterminates trapped bugs and mites
HEPA filters ensure improved cleaning
Cons
No additional hose included
The design is not that ergonomic and easy-to-use
If you are suffering from allergies brought by dust mites then get this handheld vacuum cleaner that captures and also exterminates them.
Features UV sterilization and hot air current (55-degree centigrade)
Supreme filtration mechanism (advanced HEPA and activated carbon filtration)
A compact and lightweight design
Do you know that a mere single gram of dust can host to over 1000 mites? Dust mites lurking in your mattress and other upholstery are responsible for 60% of allergens that go on to cause a range of dust allergies. From rhinitis to asthma, many respiratory complications actually arise and aggravate from the mite-laden dust that you are sleeping on (both literally and figuratively).
No products found.
Experts at Euleven are well aware of the far-reaching consequences of dust mite infestation and therefore have designed a particular vacuum option for that. Euleven Hot Wind Vacuum cleaner is a handheld device that is fitted with UV sterilization tube similar to that of Housemile's cleaner. The UV rays along with warm air current heated at 50 degrees Centigrade kills all the dust mites and bed bugs that end up in the dust container of the vacuum.
Euleven's suction also works on two levels. The base inlet drags the dust mites embedded in the deep layers of mattresses and quilts with high-pressure suction meanwhile the upper inlet takes them to the chamber where they are exposed to the UV light and hot air.  The presence of HEPA filtration inside make sure all the microparticles are trapped within the chamber. It also warrants the removal of cleaner air from the vacuum machine.
The 3 percent of microparticles that the HEPA filter can't capture, they are taken care of by the twice activated carbon filters fitted just before the air outlets. In short, the air coming out of the Euleven Hot Wind Vacuum Cleaner is as clean and crisp as that you find in vegetated surroundings.
Like any good vacuum cleaner for mattresses, Euleven Hot Wind Cleaner is also a light weight machine with single-touch operations. Customer rating of 4.1 out of 5 stars shows that users endorse the quality features of this vacuum cleaner designed for mattresses and other similar tricky fabric-laden surfaces. 
Pros
Dual suction ensures more effective vacuuming
160 ml dust chamber allows extensive vacuuming in one go
Twice activated carbon filters get rid of every last pollutant from the vented air
Cons
No hose is given to vacuum narrow spaces
Suction power is relatively lesser than other models on the list
If you want mess-free vacuuming that takes out all the dust mites from your mattresses and upholstery, then go for Euleven Hot Wind Handheld Vacuum Cleaner.
Features a calibrated UV sanitizer
Features additional pulsating pad
Amazon's choice product
Raycop Lite Vacuum for Mattress is one of the most technologically sound products among the handheld vacuum cleaners available in the market right now. It is also fitted with a UV lamp to exterminate the dust mites, bed bugs, and other microorganisms then and there. However, the difference is the UV wavelength in the Raycop Mattress Vacuum Cleaner is calibrated and tested with lab-grade SOPs to authenticate its bug and bacteria-killing capability.
Sale
The results show that even the tiniest of microorganisms like E-coli and Staphylococcus can't survive under the UV action of Raycop vacuum cleaner. From bacteria to dust mites, all troubling organisms perish within the exposure of 1-2 seconds.
Sometimes dust and with it dust mites are baked in the fine threads of mattress cover or upholstery. Even the high-pressure suction often misses out this strongly embedded dust and accompanying organisms. Raycop has gotten around this shortcoming in its Lite handheld vacuum cleaner, which is fitted with pulsating pads. These pads vibrate at the frequency of 4,600-5,000 hertz while the suction is on to loosen and stir all those strongly-latched dust particles.
As a result, you get three times better removal of allergens and dust in comparison to other vacuums with the same suction power.  Like any premium quality vacuum cleaner for mattresses, Raycop Handheld Vacuum is also fitted with HEPA filters that trap the tiniest of particles including pet dander, pollen, and even smoke particles.
The weight of these handheld vacuum cleaners is slightly higher than the models that we have discussed. However, you won't feel this extra weight on your hand because Raycop Handheld Filter works like an iron i.e. you press and move it against the mattress/upholstery surfaces.
Raycop Lite Vacuum Cleaner has rightly earned the tag of "Amazon's Choice" along with the customer rating of 4.1 stars. 
Pros
Calibrated UV wavelength gives 100% mite termination results
Vibration paired with suction ensures optimal dust collection
Easy iron-like use
Cons
Can't be used for standalone vacuuming
Non-cordless configuration doesn't make for hindrance-free cleaning
For people having an OCD-like temperament against bacteria infestations in upholstery, this handheld vacuum cleaner can come in really handy.
Features pro-cyclone system
Fitted with a powerful battery
Comes with six different hose extensions
If you have noticed the products we have reviewed above, all of them share the same con i.e. the absence of extension hoses to work in narrow spaces. Sowtech Cordless Vacuum Cleaner for Mattress stands apart among all of them because it is particularly designed to vacuum clean difficult narrow spaces. Unlike other handheld vacuum cleaners that have a horizontal or expanded frame, Sowtech has a vertical rod-shaped construction.
And not just that, it also comes with six different types of extensions so you can use it on all sorts of materials and surfaces. Even a crevice extension is given so you can get rid of dust and dirt from the narrowest spaces. The elongated design of Sowtech Cordless Vacuum for Mattress also makes it one of the lightest handheld vacuums on the block.
Another striking feature of Sowtech Cordless Vacuum Cleaner for Mattress is its powerful 4,000-mAh battery that provides 40 minutes of non-stop suction. In other words, you can accomplish an extensive vacuuming job on large square footage in a single go.  
The HEPA filtration system is the common feature of all the previously reviewed models. Here, too Sowtech Cordless Vacuum appears to be different from the rest. Instead of HEPA, it is fitted with a stainless steel filter that offers better result and fitted with a washable sieve so you don't need to spend any money on biannual or tri-annual filter replacements.
Sowtech has taken extreme care in making its product an embodiment of convenience. Apart from offering multiple hose vacuuming with a long-handle design, this handheld vacuum cleaner also produces the least noise. The 75 dB sound produced by the suction motor is so low that you can use it on a mattress without disturbing the person sleeping on the same mattress.
This versatile handheld vacuum cleaner for mattresses is available on Amazon with 4.2-star customer rating. It shows that users have approved of its multifaceted utility. 
Pros
Fitted with more effective and easy-to-maintain steel filters
Narrow-body allows working in the narrowest spaces
Noise-free operations
Cons
Suctions power could be better
No UV sanitization chamber to kill dust mites
Go for a Sowtech Cordless Vacuum Cleaner if you have to take care of a lot of upholstery and difficult to navigate vacuum spaces. The availability of six different extensions also makes for all sorts of vacuum work.
The lightest vacuum cleaner on the list
Ergonomic design
Dual-action vacuuming activity
If you are looking for a device just to get rid of dust mites and other invisible microorganism from your bedding, then there are several reasons to consider EcoGecko Handheld Mattress Vacuum Cleaner. To begin with, it's one of the most low-priced options on the block that gets the job done when it comes to mattresses. Secondly, its weight of only 1.6 pounds also makes it one of the lightest mattress vacuums.
No products found.
However, it is important to mention here that the weight and cost of EcoGecko Vacuum Cleaner have no bearing on its effective cleaning and extermination activity. Like any top of the line vacuum cleaner for mattresses, EcoGecko also works with that dual-action vacuuming. It first vibrates and ruffles the mattress surface with a 2500-RPM motor to loosen all those micro mites and bacteria and then exterminate them with efficient UV treatment.
Apart from offering uncompromising vacuuming and cleaning, EcoGecko has also made sure that the use of its mattress vacuum remains harmless for the household in any inadvertent way as well. For that matter, it is fitted with a micro filter that is designed to trap all ultrafine particles so that they don't seep into the environment again. The filter is reusable i.e. with a simple water wash you can make it all brand new. Similarly, the removable dust container is also washable. In short, you can reset the EcoGecko to its box setting after every vacuuming work.
Although EcoGecko is not a cordless vacuum option, its extended power cord of 197 inches makes up for that. It is the longest cord among the models we have reviewed here. This over 16 feet cord ensures you can use it just like a cordless one. Its ergonomic design and semi-circle handle also guarantee you can use it on mattresses and upholstery with the utmost convenience. 
Pros
A compact vacuum cleaner option on a budget
Comes with a reusable micro filter
Extended cord length
Cons
Suction power is not that good
Dust container needs to be emptied too often
If you are looking for a cost-effective vacuum cleaner just for your mattresses and beddings, then EcoGecko will not just fulfill your utility but will also fall well within your budget.
Best Mattress Vacuum Cleaner Buying Guide
But before we delve into this discussion, it is important to shed some light on the reasons why homeowners should invest in a quality vacuum cleaner for mattresses.
These are the three major reasons why you should have a vacuum cleaner for mattresses in your home.
1. Get Your Mattress and Bedroom Dust-free
Like regular vacuum cleaners are used on the floors to get rid of dirt and dust, mattress vacuum cleaners are used to remove fine particles of dust that trap in the lining of the mattress over a long period of time. You might be thinking that you can do this by using the regular vacuum cleaner without 'wasting' money on a separate vacuum cleaner.
You are right in thinking on these lines but here's the thing: a regular floor vacuum cleaner can't get all the dust out of the mattress because its suction pump is not designed to remove the finest dust particles. On the other hand, vacuum cleaners designed for mattresses are fitted with a mechanism that can agitate and suck all the fine dust particles and even microorganisms that are responsible for allergies.
If anyone in your home suffers from asthma and even apparently cleaned interior doesn't help in easing their condition, then you need to look in the condition of the mattress they are sleeping on. There are strong chances that the invisible dust from the mattresses is responsible for aggravating their condition.
2. Get Rid of Dust Mites and Bed Bugs
As mentioned earlier, mattresses are one of the most overlooked fixtures in the house. This is the reason why they often become a breeding ground for insects particularly beg bugs and dust mites; this is due to the same invisible dust that causes dust allergies and asthma aggravation.
According to some rough estimates, an un-vacuumed mattress is the host of over 2 million dust mites along with all their feces and shedding.  Though dust mites don't bite, their excretions and shedding are the reason to cause allergic reactions.
On the other hand, we all know how much trouble bed bugs can cause. Their silent stings are potent enough to mess up your nighttime sleep routine. The dark and warmth of mattresses prove to be the best haven for bed bugs.  Mattress vacuum cleaners can't help in taking out the bed bug problem from roots but they can be of great assistance to your fumigation efforts.
3. Get Rid of Bad Odors
Do you get frustrated by a persistent musty odor lingering in your bedroom even when there are no apparent signs that point to the source of that smell? This usually happens when bacteria and other allergens beget the mold in the mattress lining. If you devise a routine to vacuum your mattress once in a while, then you can prevent these stranger odors to permeate your room.
Although we have reviewed the best vacuum cleaners for mattresses that are available right now, one must still have a general idea of buying the right option for his/her mattress vacuuming needs. These are the five elements that you should factor in while looking for a vacuum particularly for mattresses, beddings, and upholstery.
Filters ensure that a vacuum cleaner can keep the smallest irritants trapped. In other words, filters are responsible for the clean air emission from the vacuum. For that matter, a good vacuum cleaner should always be fitted with a filter that can capture all the microscopic mites, dander, and other similar elements.
HEPA is now the go-to filtration system for mattress vacuum cleaners. They can capture 97-99% of those organisms that go on to cause allergies. But there is a downside to the use of HEPA filters. They are disposable and need to be replaced after a year or two.
If you don't approve of this ongoing replacement work, then vacuums with washable filters are also available in the market (we have also reviewed some). These filters are expensive but their reusability extends their service life to an extent where their higher costs are worth it.
If you have noticed, UV sanitization system is a recurrent feature in many modern vacuum cleaners. It is a chemical-free way to exterminate mites and bugs. In many vacuums, they are coupled with heat treatment to get rid of larvae and eggs as well.
In households with people having a sensitive respiratory system, a mattress vacuum cleaner with UV sanitization will be useful.  And even if that's not the case, prefer UV vacuum cleaner over non-UV because of their more holistic cleaning activity.
In conventional large vacuum cleaners, the power of suction is all that matters. However, handheld vacuums for mattresses have a layered and multifaceted cleaning mechanism. Besides UV sanitization, the vibration pads and dual inlet suction also factor in a lot in determining the efficiency of a mattress vacuum cleaner.
For that matter, a mattress vacuum cleaner even with low suction power but other features can work better on mattresses than the regular high suction models. In short, suction is an important characteristic of a mattress vacuum cleaner but not as decisive as it is in regular large vacuum machines.
Hoses and nozzles attachments at the vacuum inlet ensure a diversified cleaning activity. Handheld vacuum cleaners often don't come with a set of those attachments because they are particularly designed for mattresses and quilts.  However, there are some (we have also reviewed one) where you can get this cleaning versatility.
So, it is simple. If you want to use your vacuum not just on mattresses, then go for a model that comes with a package of hoses and nozzles.
It is another important characteristic to factor in while buying a mattress vacuum cleaner. Cordless ones are easier to use but you have to put up with their lower suction power and shorter vacuuming span. Similarly, if you are going for a wired one then it will give you more powerful suction and extended vacuuming cycle but at the cost of convenience, that's a trade off you will have to take even with the best mattress vacuum cleaners.
So, while choosing in between cordless and wired vacuum cleaner, make a trade-off that suits your particular cleaning settings and budget.
With the above list of products and a comprehensive buying guide, you can easily settle on the best vacuum cleaner for mattresses, upholstery and other tricky surfaces as per your cleaning needs and the money you are willing to spend.
What do you think, what's your favorite mattress vacuum cleaner?
Related Articles 
55 Best Robot Vacuum Names For Your Little One
Bissell Crosswave 1785A vs. 2306A [Two Wet/Dry Uprights Legends Compared]
Bissell 1806 vs. Bissell 1940 [Steam Mops Compared]
Bissell 3624 Vs. 2694 [SpotClean Portable Cleaners Compared]
Hoover Power Scrub Deluxe Vs. Hoover Turbo Scrub [Comparison]
Roborock H7 Vacuum Cleaner Review
13 Best Bagged Canister Vacuums
10 Best Shop Vacs For Dust Collection
7 Best Xiaomi Vacuum Cleaners for Healthy Homes
13 Best Shop Vacs | Buyer's Guide and Reviews
13 Best Vacuum for Stairs | Reviews and Buyers Guide
13 Best Robot Vacuums You Can Buy Under $200
8 Best Robot Vacuums Under $150 | Reviews & Buyer's Guide
13 Best Backpack Vacuum Cleaners | Reviews & Buyer's Guide
6 Smallest Wet Dry Vacs For Home and Workshop
13 Best Non-Electric Vacuum Sweepers
Best Samsung Robot Vacuums| POWERBot Buyer's Guide
19 Best Upright Vacuums with HEPA Filter| Reviews & Buyer's Guide
Dyson AM07 vs Dyson AM06 Fan Comparison
Shark NV682 vs. NV683 vs. NV752 | Upright Vacuum Comparison Review
Vornado 530 vs 630 vs 660 | Room Air Circulator Fans Compared
Bissell BigGreen 86T3 vs. BG10 | Carpet Cleaner Comparison & Buyer's Guide
13 Best Canister Vacuums for Pet Hair
ILIFE A4s vs. iRobot Roomba 690 Compared | Robot Vacuum Face-Off
Shark ION ROBOT 700 vs 720 vs 750 | Robot Vacuums Compared
ECOVACS Deebot N79 vs. N79s | Robot Vacuums Compared & Buyer's Guide
Lasko 7050 vs. U15701 vs. 655704 | Floor Fan Comparison
PureClean PUCRC95 Automatic Robot Vacuum Cleaner Review
Oreck Commercial ORB550MC vs. Orbiter Ultra Multi-Purpose | Buyer's Guide
iRobot Roomba 675 vs. 680 vs. 690 | Robot Vacuums Compared & Buyer's Guide
Bissell 9595A vs. 1831 | CleanView Upright Vacuums Compared & Buyer's Guide
13 Best Central Vacuum Systems
The Best Vintage Vacuum Cleaners To Collect
11 Best Wet/Dry Handheld Vacuum
13 Best Steam Cleaners for Hardwood Floors
6 Best Miele Vacuums For Cat, Dog, And Pet Hair
5 Best Central Vacuum Hose Replacements
12 Best Vacuums for Tile Floors
6 Best Central Vacuum Inlet Valve Replacements
14 Best Wet/Dry Handheld Vacuums
12 Best Robot Vacuums For Under $300
McCulloch MC1385 or Vapamore MR100
15 Best Robot Vacuums Under $300
12 Best Lightweight Vacuum Cleaners For Elderly
11 Best Central Vacuum Attachment Kits, Powerheads & Brushes
15 Best Lightweight Vacuum Cleaners for Elderly [Buying Guide]
11 Best Vacuums For Tile Floors
7 Best Central Vacuum Hose Replacements To Consider
5 Best Miele Vacuums For Cat, Dog, And Pet Hair
11 Best Upholstery Steam Cleaners