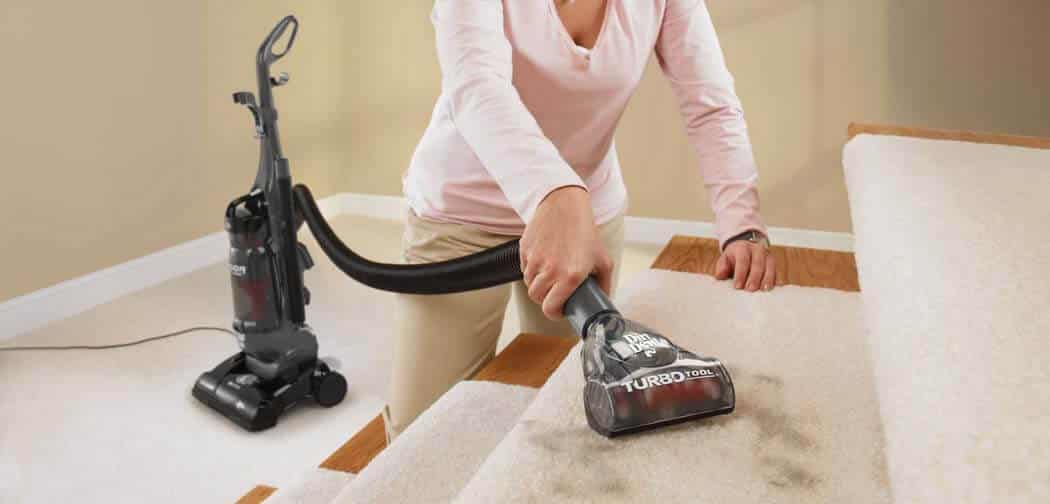 Well-kept and dust-free stairs improve the entire ambiance of the house and can always keep allergies away. 
However, keeping them clean can be a challenging task. For instance, if you are using brooms, then it can be time-consuming, and you may need to put in a lot of effort. However, with the right kind of vacuum, you can significantly cut down the time and effort. 
At the same time, there are various models available today, and you might find it difficult to pick one. Some will work well for hardwood floors, while others might come with the motorized brush tool. And perhaps, pet owners might want an upholstery tool to remove pet hair from stairs and rugs. 
To help you out, we have reviewed all the top vacuums and let you in on their pros and cons. So, keep reading! 
Top 11 Vacuum For Stairs Reviewed
IMAGE
PRODUCT
DETAILS

Our Top Pick

Our Top Pick

Bissell Featherweight Stick Vacuum

Bagless cleaning technology 
Powerful suction
Crevice tool included

VIEW LATEST PRICE →

BLACK+DECKER Dustbuster AdvancedClean Vacuum

Pull-out crevice tool
Ergonomic design with on-board extension
Flip-up brush

VIEW LATEST PRICE →

Shark Navigator Upright Vacuum

Multi-surface cleaner
Anti-allergen capacities 
0.9-quart dust cup capacity

VIEW LATEST PRICE →

Eureka RapidClean Pro Cordless Vacuum

Long-lasting lithium-ion battery 
Cyclonic filtration system
LED headlights 

VIEW LATEST PRICE →

BLACK+DECKER dustbuster Handheld Vacuum

35 AW of suction power
75 ml of dustbin capacity
Two-speed cleaning 

VIEW LATEST PRICE →

Shark Cordless Stick Vacuum

Self-cleaning brush roll
Anti-allergic in nature
50 minutes runtime

VIEW LATEST PRICE →

Dyson Cyclone Vacuum Cleaner

Spins at 125,000 RPM
Advanced whole machine filtration system
Captures 99.97% of dirt 

VIEW LATEST PRICE →

EUREKA Cordless Vacuum Cleaner

LED headlights
Carpets and hardwood floor cleaner
Two cleaning modes

VIEW LATEST PRICE →

iwoly Cordless Vacuum Cleaner

Detachable 2200mAh battery
Three suction modes
HEPA filter 

VIEW LATEST PRICE →

Dreametech Cordless Vacuum Cleaner

600 ml dust cup
Smart screen 
Anti-tangle pet hairbrush

VIEW LATEST PRICE →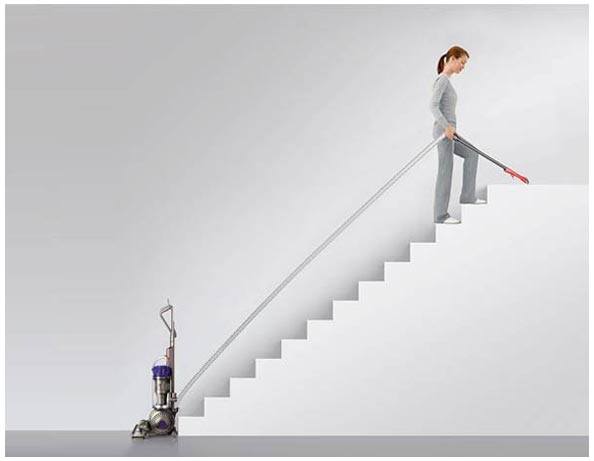 One of the most convenient and powerful vacuums that we found is the Bissell Featherweight Stick Vacuum. It is versatile, making it perfect for cleaning the entire house. With this piece of equipment, you can easily get dirt and dust off the floor and the stairs without facing hand pain or backaches. 
Why Did We Like It?
To begin with, the stick vacuum comes with powerful suction capabilities, which ensure dirt gets easily picked up. You can use it to clean the stairs and hard floors and remove surface dirt from carpets and rugs as well. So, for all those with carpeted stairs, this should be a brilliant fit. 
Moving on, the vacuum cleaner comes with a floor nozzle and a crevice tool. This nifty tool allows you to easily convert it into a handheld vacuum, which should help clean in between sofa cushions and around floor rugs. 
Plus, it is compact and convenient to use, and we especially loved the lightweight body, which is easy to work with in small and big homes. Also, it comes with bagless cleaning technology making it less bulky. You can just take it out of the box, plug it in and start cleaning. 
What Could've Been Better?
The only issue we had while using this vacuum cleaner was that we had to keep plugging it into different power outlets as we moved about. That is because the existing power cord is short, and you will not be able to go far away from the power outlets. 
Pros
Compact and easy to use

Can be used on floors and stairs

Does not cause hand fatigue

Easy to empty
If you are looking for a cordless vacuum for easy cleaning, then the BLACK+DECKER Dustbuster AdvancedClean Vacuum will fit the bill. It is easy to maneuver and sports an ergonomic design. The product can be beneficial for large staircases with no power outlets nearby. 
Why Did We Like It?
Firstly, this cordless handheld vacuum is lightweight and portable, making it easy to carry around and fit in tight spaces. You can use this tool for narrow staircases as well as nooks and corners. For further convenience, the 180-degree rotating nozzle allows you to enter these spaces and clean them at different angles. 
Aside from that, if you are planning to clean in between couch cushions and on top of shelves, the pull-out crevice tool comes in handy. Then, the flip-up brush adds to its versatility, allowing you to vacuum and dust carpets, rugs, and other fabric surfaces. 
Finally, you will love the cyclonic action that will spin debris and dust, moving them away from the filter. The vacuum cleaner will indeed provide you with strong suction power. 
What Could've Been Better?
While the absence of a power cord makes the vacuum cleaner more portable, you should know that the batteries may not last for more than a few years. Most users have mentioned that they had to dispose of the cleaner once the battery ran out. 
Pros
Does not have a cord

Can clean multiple surfaces

Rotating slim nozzle

For narrow and difficult-to-reach places
Cons
Non-replaceable batteries
Next, we have a product with a sizeable dirt-storing capacity. Let us introduce the Shark NV360 Navigator Upright Vacuum, which is perfect for houses with pets. Pet owners know how annoying it is to find hair everywhere in the house, from stairs to carpets, and this product will help you deal with them easily. 
Sale
Why Did We Like It?
One of its key properties is the anti-allergen complete seal technology used by the brand. The vacuum cleaner has a HEPA filter, which locks away allergens along with dust inside the machine. This can make the atmosphere more healthy and easier to work in. 
Moving on, it has a large dust cup that will let you clean the stairs and the entire house in one go. The vacuum cleaner is versatile and easy to maneuver, adding to the features. Equipped with dynamic swivel steering, you can take it around tight spaces and obstacles. 
In case you just want to sweep the floor or stairs, turn off the brush roll and begin cleaning gently. Also, it can be lifted to clean spider webs on top of the wall. The pod comes with a carry handle, allowing you to control the movement smoothly. 
What Could've Been Better?
While it comes with a lot of interesting features,  so not that the hose is relatively heavy. Hence, you might have some difficulties maneuvering it around the place if you are not physically strong. We will recommend keeping this in mind if you are buying it for the elderly. 
Pros
Brushroll shutoff allowed

Swivel steering for easy movement

HEPA filter

Perfect for houses with pets
Another cordless device known for its highly efficient performance is the Eureka RapidClean Pro Cordless Vacuum. It comes with LED headlights, making it a technologically advanced option. You can use this at night as well, thanks to the lights, which will allow you to see dust and debris a lot more clearly. 
Why Did We Like It?
This vacuum cleaner offers a runtime of 40 minutes, which should be enough to clean the stairs and floors in the house. Plus, you can achieve efficient cordless cleaning, thanks to the latest motor technology. If you notice more dirt, then switch to MAX mode, which will increase the suction power immediately. 
Furthermore, it is equipped with a cyclonic filtration system, which is specifically designed to separate and store particles. The dust, debris, and large objects will be trapped and kept separately inside, making space for more dirt to be sucked in. 
Besides, you will admire the slim nozzle, which will allow you to reach under the stairs and furniture easily. The nozzle can be laid down flat and moved around, thanks to the low-profile head. 
Moreover, it can clean multiple kinds of floors, including laminated ones, tiles, vinyl, hardwood, and low pile rugs. 
What Could've Been Better?
We were slightly disappointed to find no storage space in this vacuum cleaner. It does come with a few attachments, which have to be kept separately. Now, we keep the attachments in a larger storage box with the vacuum cleaner so that they stay together, and we recommend buying a storage box and doing the same. 
Pros
Easy to maneuver

Works on multiple surfaces

Can be assembled easily

Lightweight at 5.26 pounds
Cons
No storage for attachments
A high-performing handheld vacuum that can work perfectly in cleaning the car and the house is the BLACK+DECKER dustbuster Handheld Vacuum. You can clean stairs, floors as well as big messes made by pets or kids. We will now discuss the best features in the section below. 
Why Did We Like It?
This handheld vacuum is a cordless model known for its high performance. Equipped with a 20V MAX lithium-ion battery, you can use it to clean multiple places at once. 
As most of you may be aware, reaching the top corners or below stairs can be difficult. However, this handheld vacuum offers extended reach with its in-built crevice tool to solve such issues without having to stretch your body. 
Next, the cordless vacuum offers two-speed cleaning. Here, the Powerboost mode is useful for cleaning big messes, and you can shift to it by just pressing a button. 
Not only that, the vacuum comes with a large dustbin, which has a capacity of 75 ml. Hence, you can clean the entire staircase and floor in one go. The 35 AW of suction power will let you suck up dirt and debris at a higher speed making the process quick. 
What Could've Been Better?
To charge the handheld vacuum, you will have to plug it in and unplug it manually. A charging stand would make it more convenient as you would have to put the vacuum on the stand, and it will charge by itself. Then, when needed, it could just be lifted up. However, we are not going to hold this as a drawback as the functioning is not affected. 
Pros
Powerful lithium-Ion battery

For big and small messes

Powerboost button for better suction

Built-in long crevice tool
Cons
No charging stand provided
One of the best vacuums for stairs is the Shark IZ363HT Cordless Stick Vacuum. It is known for efficient cleaning and is ultra-lightweight. You can enjoy accelerated suction capabilities as you clean the stairs. Plus, it can be turned into a handheld vacuum when needed for smaller cleaning tasks. 
Why Did We Like It?
One problem that occurs with pet and human hair is that they tend to wrap around the brush and get stuck. However, this vacuum comes with a self-cleaning brush attachment that can easily pick up pet hair without wrapping them around. 
Moreover, it is known for HEPA filtration and is anti-allergic in nature. That means it can easily capture dander, dust, and allergens, keeping the air fresh and healthy. As a result, you and your family members can live and breathe safely. 
That is not all; the handheld vac has a runtime of 50 minutes when you are using the standard model. So, you can clean the entire staircase and the house in one go. What's more, it works on all kinds of floors beginning, from hardwood to carpets and thick rugs. 
What Could've Been Better?
We found this product to work very well, but it caused our hands to ache after using it for a long time. The suction power is tremendous, and that might lead to pain in the upper arm area if you are not physically strong. Keep this in mind while purchasing, especially for elderly people. 
Pros
PowerFins for better cleaning

Perfect for cleaning pet hair

Easy to use

Transforms into a hand vacuum
Cons
Can feel heavy near the top
If you are looking for powerful suction power, then the Dyson Cyclone V10 Stick Vacuum Cleaner will be a brilliant option. It is one of the best vacuums for stairs, and it comes with three power modes to toggle among. Learn more about its features in the section below. 
Sale
Why Did We Like It?
To begin with, the Dyson stick vacuum motor spins very quickly at 125,000 RPM, which then generates a lot of suction power. It is a handheld vacuum that works perfectly for cleaning tight corners and carpeted stairs. Equipped with a runtime of 60 minutes, you can look forward to cleaning stairs without stopping in between. 
Additionally, the machine is known for its advanced whole machine filtration, which will cleanse the air around you in the house. It can capture tiny particles as small as 0.3 microns and remove 99.97% of the dirt in the air. 
Moving on, the stick vacuum can deep clean carpets and remove pet hair that lies deep on rugs. You will also be able to reach under furniture because of its low-profile design. 
Moreover, you can transform it into a handheld vacuum to clean stairs, between sofa seats, and in the car. 
What Could've Been Better?
We noticed that the body keeps pulsating when it is being used at high power mode. This would mean that you would have to hold it in place firmly while working. Thus, this might not be for those who are not very strong physically. The brand can look into this and reduce the pulsations while working with the device. 
Pros
Advanced docking station

Mini motorized tool

Capture dirt up to 0.3 microns

Low profile to reach under furniture
Cons
Keeps pulsating while working
The EUREKA Cordless Vacuum Cleaner is lightweight and is perfect for daily cleaning. You can easily assemble it when needed. And we could maintain a much cleaner house after this was added to our cleaning supplies. Read on to know more about its bells and whistles. 
Why Did We Like It?
The best vacuums should be easy to assemble and use, and this one fits the bill. Assembling it is not going to be cumbersome, and you can wall-mount it as well. This will make storage easy, and you should be able to keep a well-organized space. 
Moving on, the cordless vacuum cleaner has two cleaning modes, and you can switch it on and off when needed easily. Also, switching from low to high mode is simple, and you have the button right near the top, which makes it easily accessible. Moreover, you will be able to enjoy 30 minutes of runtime, thanks to the 21.6 V battery. 
Another feature to consider is the low profile design, which makes reaching under cabinets very easy. All hard-to-reach places can be accessed with this lightweight vacuum. And there are LED headlights that will guide you while working. 
What Could've Been Better?
While you can hang the product easily, the crevice tool attachment keeps hanging out awkwardly. That looks very clumsy, and it is best to open the crevice tool and store it separately. Now, this could mean misplacing the product, which is not wanted. Hence, you will need to find an easily accessible place to store it. 
Pros
Wall mount for easy storage

Easy to clean dust cup

Lightweight body

Can be converted into a hand vacuum
Cons
No place to store crevice tool
One of the major problems in houses and stairs is fine dust that keeps accumulating. That is where the iwoly C150 Cordless Vacuum Cleaner comes in. With 18,000 Pa of suction power, this product will spin all the dust away, leaving the stairs clean. 
Sale
Why Did We Like It?
Like some of the top cordless stick vacuums, this one has multiple uses. You will get a number of accessories that can be used for vacuuming stairs, floors, and corners. If needed, you can also disconnect it from the power outlet and use it as a handheld device. 
Adding on, the upholstery tool sports a HEPA filtration system. It is a 4-stage cyclone filtration device that is completely sealed. Hence, it will lock all the dirt and collect them in the dirt cup provided inside. We will recommend cleaning the sponges and the filters daily to ensure better efficiency. 
That's not all; there are three methods to charge the device. You can leave it at the charging station, or you could charge the battery in or out of the battery slot. 
What Could've Been Better?
While the product works fine, the battery lasts for around 35 minutes, which is a shorter period when compared to most other models. This is an area where there can be a lot of improvement. However, other than this, the product will work fine, and you should not face any further problems. 
Pros
Soft dusting brush for furniture

Adjustable extension rod

One-click operation for emptying the bin

Suction power of 18,000 Pa
Have you been trying to get rid of pet hair but have ended up purchasing products that are unable to do so? The Dreametech T30 Cordless Vacuum Cleaner is going to be a great addition to your cleaning supplies. It comes with an anti-tangle pet hair brush, which can remove pet hair easily. 
Why Did We Like It?
This is one of those brilliant products with a large dust cup. The cup can hold 600 ml of dust and dirt at one time. Plus, it comes with a damping design, which prevents dust from flying around. 
Moreover, this has a V-shaped roller brush with comb and teeth. This will prevent hair from becoming tangled in the roller. Paired with it is a flexible elbow joint that can easily clean carpets and rugs. 
You can effortlessly maneuver the fiber stick around the top and bottom of the room. It even has a self-lock technology, which will let you vacuum continuously without having to hold on to a button. 
What's remarkable here is that the dust cup and the filters are washable and reusable. You will just need to take them out, clean and put them back. This makes it more effective, and the vacuum should last longer. 
What Could've Been Better?
The batteries provided with the pack should last for a long time. However, you will need to replace them at some point. We faced a lot of issues in getting the right batteries after the initial ones died, and it is best to talk to customer care about it. They should be able to provide replacements if needed. 
Pros
Comes with multiple attachments

Lightweight model

Intelligent sensing technology

Adjustable suction
Cons
Replacement batteries were not available
One of our last final recommendations is the Belief Cordless Vacuum Cleaner, which will offer you powerful suction and a brushless motor. It is lightweight and cordless, making it a perfect choice for many. We found the assembly process to be simple, even for first-timers. 
Sale
Why Did We Like It?
To begin with, this offers a six-layer filtration system that can capture particles of all sizes. Even ultra-fine dust can be sucked in, making it a very efficient product. The dust then gets collected into a 0.7-liter bin present inside. This is big enough to collect all the dust around the house easily. 
Moving on, the vacuum has brilliant cleaning power achieved with a 25,000 Pa and 50-minute runtime. The product is also equipped with a motorized brush head. You can switch between three modes, which include standard mode, economical mode, and strong mode. 
And the best part is that there is a wide touch screen with an LED display. It will let you adjust the power easily, ensuring trouble-free use. 
What Could've Been Better?
The only flaw that we noticed here is with registering the warranty. We tried doing it many times on the website but failed. But the customer service team is supportive, and they helped us finally get the warranty in place. So, if the same happens with you, please remember to contact customer care. 
Pros
Touch screen with LED display

Three suction modes

Brushless motor

Can suck fine particles
Cons
Difficulty in registering the warranty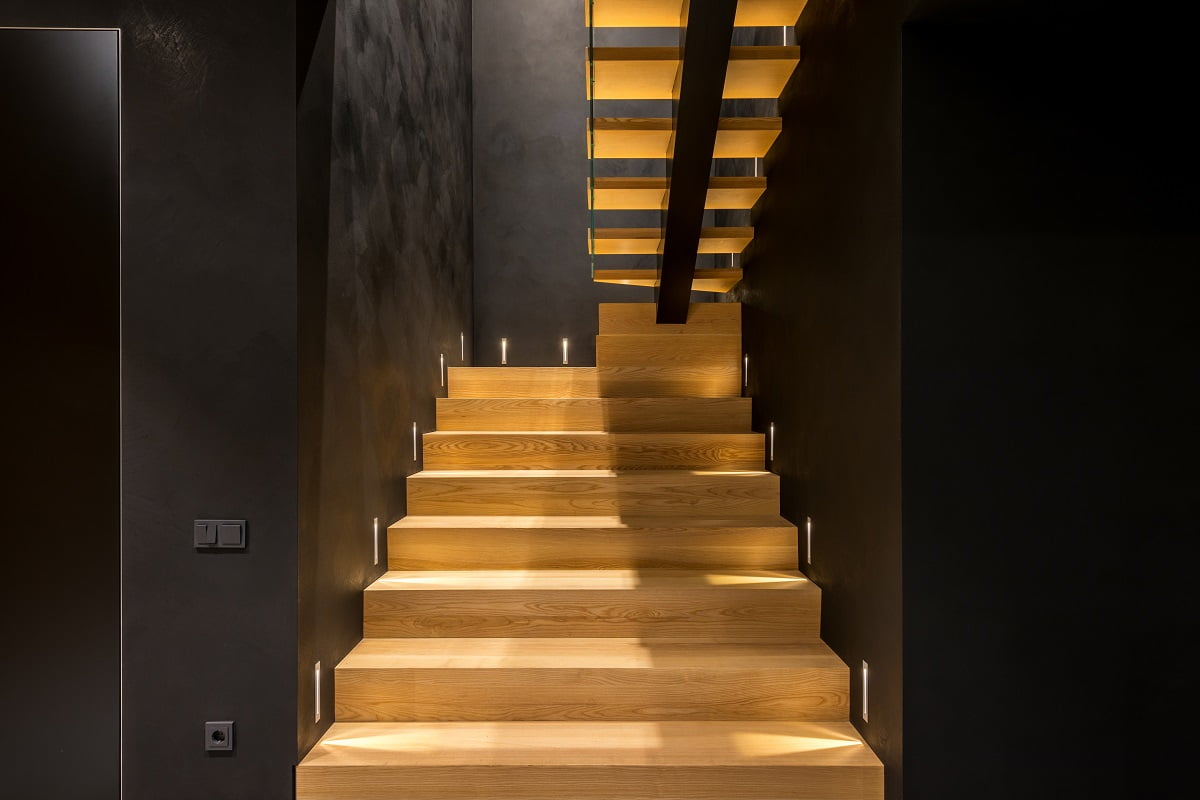 Vacuum For Stairs Buying Guide
The best vacuum for stairs should be able to suck in the dirt making your stairs look like new. There are some cool vintage vacuums to collect and backpack vacuum options if that is what you want. Then you will find Miele vacuums if you are looking for canister vacuum options.  Moving on, there are shop vacuums which would work well for workshops and garages. 
If you already own a central vacuum, there are hose options to make them more efficient. 
Now, you might still have problems choosing an option, and that is why we created this buyer's guide. Here, we have listed down all the points that have to be remembered before purchasing. 
1. Type Of Dirt
What is the kind of dirt that you need to remove? Some vacuum cleaners are perfect for cleaning pet hair and will come with a motorized brush. These are perfect options for households with pets. 
On the other hand, a dusting brush can come to use if your stairs see a lot of traffic and get dusty easily. Then there are options with rubber bristles that would work for wet wastes. 
2. Tools And Accessories
You will get a number of tools with every vacuum. There will be a crevice tool, an extender, a motorized brush head, and a dust brush. If you need to clean tight corners, then look for slim brush heads which can easily go under sofas and beds. A motorized pet brush is also available, which can remove pet hair better. 
Alternatively, cordless vacuums will be needed for places with no power outlet. It is best to opt for a compact handheld vacuum in this case so that you can work easily. 
Moreover, you might get an extra-long crevice tool with a specific model, which might be very much needed. 
3. Filter
Usually, stair vacuums will come with filters that suck in all the dirt and keep larger objects away. These filters become very dirty and will need to be cleaned often. Please do so to ensure that the vacuum is being used at its full capacity. 
4. Headlights
Some vacuums may have headlights, which will help you spot dirt and dust easily. They will light up dark corners or under the stairs so that you can capture and remove dirt well. 
Vacuum For Stairs Frequently Asked Questions ?
How long can a cordless vacuum cleaner last on a single charge ?
The best vacuums for stairs can last between half an hour to 90 minutes, depending on the type of battery and model that you opt for. They will then have to charge before using it again. 
Can vacuums suck in food crumbs from fabric ?
We believe that vacuums can suck up food crumbs easily. However, some vacuums cannot be used on fabrics as they are made for hardwood floors or solid tiles. So, please read the description well before.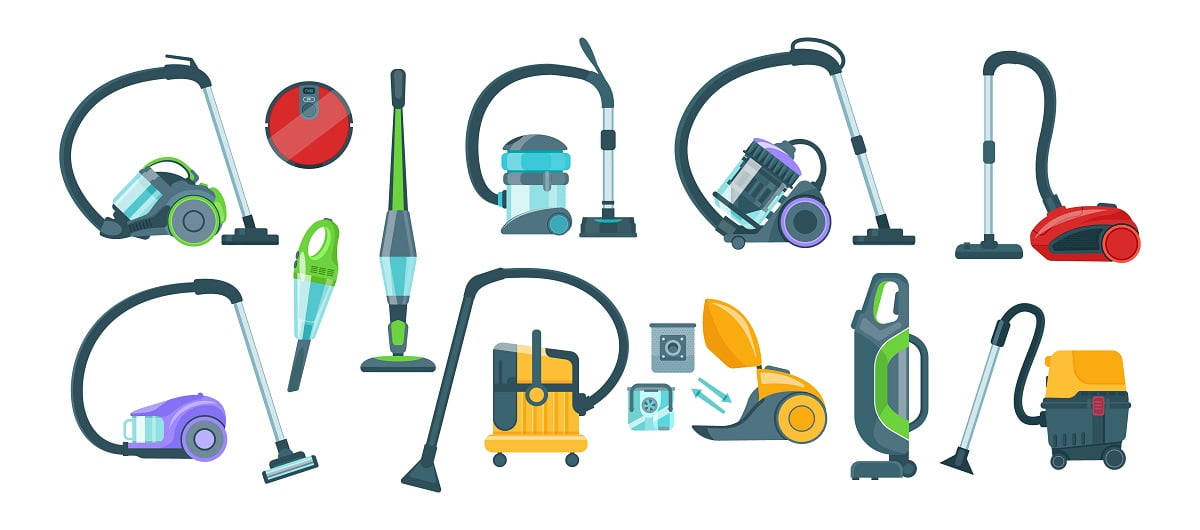 Top Vacuum For Stairs Verdict
While there are budget-friendly options available, we will always ask you to check the purpose before buying. There are models with better battery life, while you will find those with a self-cleaning brush roll that adds to the convenience. 
So, while choosing a stair vacuum, take all your needs into consideration and only then settle for one. Now, before we wrap up, we will take you through our favorites one last time. 
The Bissell Featherweight Stick Vacuum is one of the most convenient options available today. But if you are looking for a cordless vacuum that can be maneuvered easily, then the BLACK+DECKER Dustbuster AdvancedClean Vacuum will fit well. 
On the other hand, the Eureka RapidClean Pro Cordless Vacuum comes with LED headlights making them perfect for nighttime use. 
Hope you make the right choice, see you! 
Related Articles
Bissell Crosswave 1785A vs. 2306A
Hoover Power Scrub Deluxe Vs. Hoover Turbo Scrub
13 Best Bagged Canister Vacuums
10 Best Shop Vacs For Dust Collection
6 Smallest Wet Dry Vacs For Home and Workshop
7 Best Xiaomi Vacuum Cleaners for Healthy Homes
13 Best Robot Vacuums You Can Buy Under $200
8 Best Robot Vacuums Under $150
13 Best Backpack Vacuum Cleaners
13 Best Non-Electric Vacuum Sweepers
6 Best Vacuum Cleaners for Mattress
19 Best Upright Vacuums with HEPA Filte
Shark NV682 vs. NV683 vs. NV752
Bissell BigGreen 86T3 vs. BG10
Deik vs. Dyson V8 & V7 Stick Vacuum
13 Best Canister Vacuums for Pet Hair
ILIFE A4s vs. iRobot Roomba 690
Shark ION ROBOT 700 vs 720 vs 750
Lasko 7050 vs. U15701 vs. 655704
PureClean PUCRC95 Automatic Robot Vacuum Cleaner
Oreck Commercial ORB550MC vs. Orbiter Ultra Multi-Purpose
iRobot Roomba 675 vs. 680 vs. 690
13 Best Central Vacuum Systems
The Best Vintage Vacuum Cleaners To Collect
11 Best Wet/Dry Handheld Vacuum
13 Best Steam Cleaners for Hardwood Floors
6 Best Miele Vacuums For Cat, Dog, And Pet Hair
5 Best Central Vacuum Hose Replacements
12 Best Vacuums for Tile Floors
6 Best Central Vacuum Inlet Valve Replacements
14 Best Wet/Dry Handheld Vacuums
12 Best Robot Vacuums For Under $300
McCulloch MC1385 or Vapamore MR100
13 Best Steam Cleaners for Hardwood Floors
15 Best Robot Vacuums Under $300
12 Best Lightweight Vacuum Cleaners For Elderly
11 Best Central Vacuum Attachment Kits, Powerheads & Brushes
15 Best Lightweight Vacuum Cleaners for Elderly
11 Best Vacuums For Tile Floors
7 Best Central Vacuum Hose Replacements