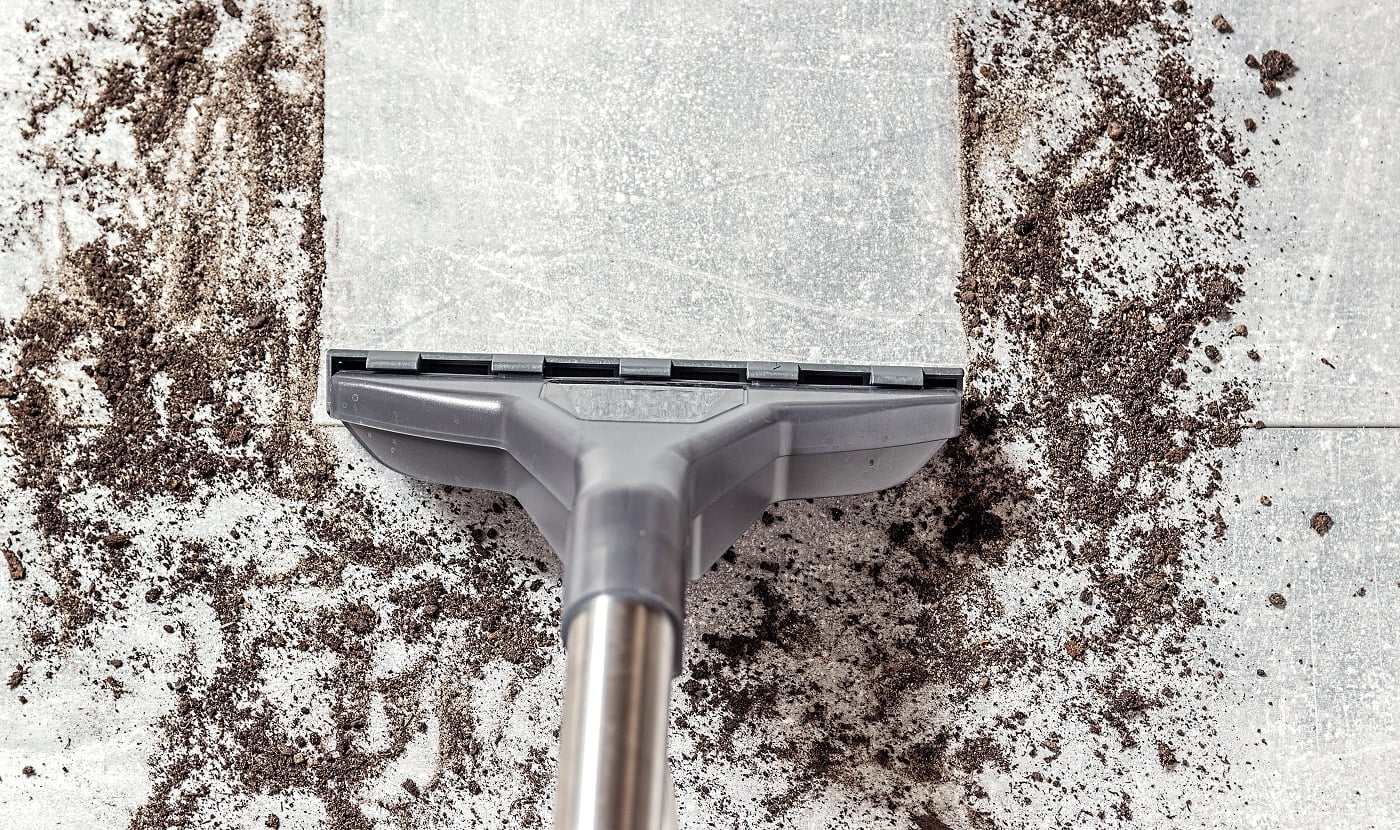 Tile floors are beautiful flooring options to have in a home. Not only are they great in adding character, but they are also great for their durability.
A spilled drink or food is no problem for a tiled flooring; simply wipe it away with a mop or cloth, and it's as if it never happened. Sadly, they are not the ultimate flooring option; they come with their share of drawbacks.
Dust and dirt can still build up on tiled floors and cause their color to become muddy. The cracks between tiles are also a dirt magnet, making the floor look grimy and unkempt. So, keeping them clean in the long run can be a chore without a proper cleaning tool.
Now, many vacuums do not have enough suction power to clean these small crevices. However, if you are looking for an option that can get the job done, read on and find the right vacuum cleaner for you.
Top Vacuums For Tile Floors
IMAGE
PRODUCT
DETAILS

Our Top Pick

Our Top Pick

Black+Decker CHV1410L

Washable dirt bowl
Four-hour fast charging base
Extendable crevice tool

VIEW LATEST PRICE →

Bissell Featherweight Stick (20334)

Three-in-one design (Stick, handheld, and stair vacuum)
Included crevice tool attachment
15 feet power cord

VIEW LATEST PRICE →

SharkNinja Shark Rocket HV302

Swivel steering
Converts into a handheld vacuum
25ft. cord

VIEW LATEST PRICE →

Hoover Linx Cordless BH50010

Battery life gauge
Brushroll lifts dirt from various floor surfaces
Switch between power controls on the handle

VIEW LATEST PRICE →

iRobot Roomba 675

Three-stage cleaning system
Sensors to navigate and detect dirt
Automatic height adjustment to reach different floor surfaces

VIEW LATEST PRICE →

iRobot Roomba i7+ (7550)

Smart Mapping to identify where exactly you need it
Disposes of debris autonomously for up to 60 days
A High-efficiency filter collects 99% of pet hair

VIEW LATEST PRICE →

SharkNinja NV352

Detachable pod for handheld cleaning
HEPA filter traps dust and allergens
Brushroll shutoff to switch from carpet to hard floor

VIEW LATEST PRICE →

Bissell Crosswave Pet Pro

Can vacuum and wash simultaneously
Can pick up hair up to eight inches long
25 ft. cord

VIEW LATEST PRICE →

iRobot Braava Jet 240

Three cleaning pad types - Wet, Damp, Dry
Easy cleaning pad eject
Designed to reach all corners and edges

VIEW LATEST PRICE →

Eureka WhirlWind

Two-in-one integrated attachments
Washable filters in a 2.5L dust container
Three suction modes - carpet, upholstery, and hard floors

VIEW LATEST PRICE →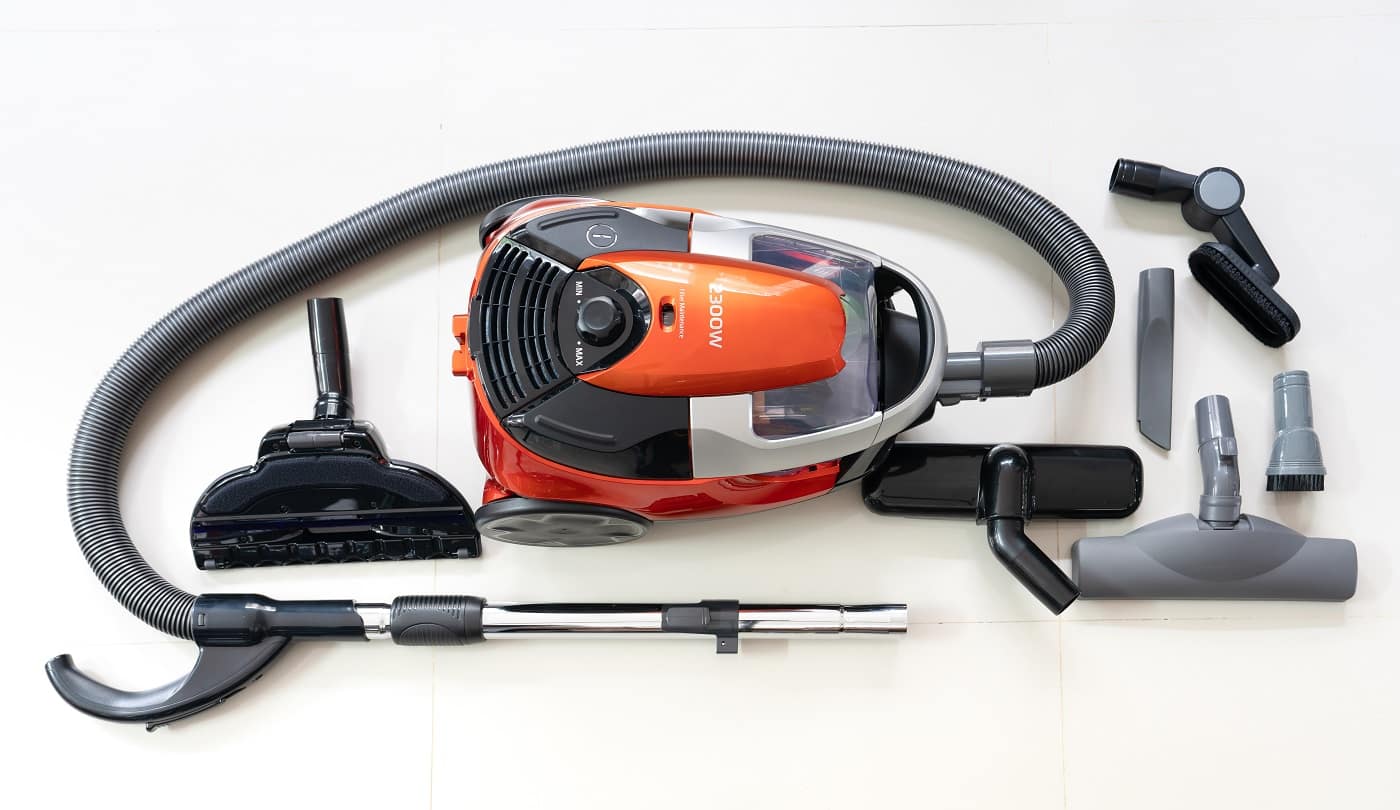 A cordless vacuum, the CHV1410L, is a powerful vacuum with great additional features that seem to be designed with cleaning tiles in mind. With a great battery and quick charge paired with its easy maintenance, this offering from Black+Decker is a small machine with incredibly strong suction power.
Sale
Why Did We Like It?
The CHV1410L is compact and lightweight, making it easy to maneuver and reach those tiny crevices. There are several extra features and its powerful 15.2 AW suction power, which makes it great for cleaning tiled floors.
With an extendable crevice tool that makes getting in tight spaces much easier, as well as a rotating slim nozzle, it's ideal for getting in between tiles. Additionally, the "cyclonic action" suction of the vacuum keeps the filter clean and maintains the same strong suction power over time.
As for the maintenance, the washable dust bowl and filter are easy to remove and make cleaning up a hassle-free experience. To charge up the lithium-ion battery inside, simply attach the vacuum to its charging base, and in four hours, you'll be ready to go!
What Could've Been Better?
One issue we did find with this model is related to the battery and its longevity. A lithium-ion battery is meant to last for years; however, this was not the case with this vacuum cleaner. The battery might die within a few months despite light use. Furthermore, the battery itself is not replaceable in this model.
Pros
Lightweight

Easy to clean

Reaches tight spaces with ease

Strong suction power
The Featherweight Stick is a stick vacuum cleaner with a unique three-in-one design that can convert into a handheld vacuum or a stair vacuum. This lightweight model is excellent for hard floors, with a 15ft. power cord that allows you to reach anywhere in the house with ease.
Sale
Why Did We Like It? 
Having the ability to change the vacuum type as needed in the situation is a treat and makes cleaning so much easier with an all-in-one machine.
The Featherweight is able to pick up pet fur and dust from tiles with sufficient power. Be it on a flat floor, furniture, or stairs; it is a pleasant experience to switch between the modes. Moreover, the crevice tool came in handy, especially for reaching tough spots in the corners and tiles.
That's not all; storing the vacuum away was easy as the overall footprint is smaller than many wired vacuums. The wire itself tucks away neatly and efficiently behind the handle, making the maintenance that much easier.
Cleaning the vacuum out is a simple task as well. After all, it has a filter with a bag-less design that requires simply opening the vacuum and emptying the collection chamber out.
What Could've Been Better? 
While some may enjoy having a smaller-sized vacuum, it may be a nuisance for those with larger areas to clean. The Featherweight truly is small and will require more passes to cover larger areas.
Although the 15ft. cord is sufficient for the standing vacuum, it can lack when using the other two vacuum modes.
Pros
Three vacuum types

Easy to store

Lightweight design

Easy to clean out
Cons
Shorter cord limits reachability
Another corded vacuum option, the Shark Rocket from SharkNinja features a two-in-one design with great suction, be it in the stick or handheld form. It has included attachments to clean those tight spaces and handle pet hair with ease. Taking it one step further, the fingertip controls allow fast switching between cleaning carpet and hard floors.
Why Did We Like It? 
One feature which stood out the most while using the Shark Rocket was the swivel steering. Maneuvering it around furniture was a breeze and made cleaning much easier than having to go around table and chair legs manually.
Another thing we liked was the reachability it offered. The low-profile, 8.5-inch wide cleaning path allowed us to reach under furniture: an included crevice and precision tool allowed for cleaning in even the tightest of spaces. Additionally, the handheld mode combined with the long wand gave easy reach from the floor to the ceiling.
Furthermore, storing the vacuum away was simple and easy. Simply detach the hand vac portion and hang it from the wand. After all, it comes with a free-standing and compact design.
Finally, the dust cup is easy to empty with a unique, bagless, bottom-opening design. At the touch of a button, the bottom of the dust cup is released, and the debris falls through into the disposal.
What Could've Been Better? 
Due to the design of the Shark Rocket, the top half offsets the weight distribution of the whole vacuum. This is why the storage calls for you to detach the hand vac and attach it closer to the ground. We have had multiple instances of it falling over, which could have caused damage or hurt someone.
Pros
Easy maneuverability

Fast cleanup

Excellent reach with long cord and wand

Compact and easy storage
Cons
Susceptible to falling unless stored properly
Another cordless option, this time coming from Hoover, the BH50010 uses a lithium-ion battery as its power source. Featuring a simple build, it gets the job done with ease thanks to its lightweight body. And with a low-profile design coupled with a powered Brushroll, it can pick up dirt and debris on any floor surface.
Sale
Why Did We Like It? 
Cleaning multiple floor types can be a hassle when vacuuming as the suction power may not always be strong enough for both hard floors and carpets. However, the powered Brushroll in the Hoover was fantastic at pulling the dirt and dust up from both these spaces.
Of course, the suction power itself is not lacking either. Equipped with Hoover's WindTunnel airflow technology, there was no problem in picking up dirt. Additionally, the low-profile design helped reach lower areas, under furniture and such, which is always great for convenience.
An included rechargeable lithium-ion battery on a base brings another level of freedom while using the vacuum. Additionally, the display in the front of the vacuum will show how much power is left in the battery to keep the vacuum ready to go.
What's more, the model comes with a washable filter inside that will allow reusability and make sure the dirt is collected properly.
What Could've Been Better? 
Without a dedicated slim nozzle option, you must rely solely on the Brushroll and suction power to reach the crevices in the floor. Apart from that, the battery charger seems to be lacking. After a few uses, it would stop charging the battery altogether, prompting us to buy a whole new charger.
Pros
Cordless experience

Removable battery

Excellent in picking up hair and debris

Washable filter
Cons
No nozzle for tight spaces
A modern robot vacuum option, the Roomba 675 is an autonomous cleaning device. With several onboard sensors and motors, it will power itself throughout your home and pick up dirt and debris. Paired with an app, it offers a futuristic experience when it comes to cleaning.
Sale
Why Did We Like It?
This is one of the most technologically advanced vacuums currently on the market. You may control it using voice assistant, through the app, or even letting it automatically clean based on your set schedule, making it convenient to use.
Autonomy on the Roomba 675 goes a long way when it comes to power, as it will run for up to 90 minutes before docking itself and recharging. Furthermore, the sensors will detect different floor types and adjust the bristle height to pick up dirt, from carpets to hardwood floors.
It also has multi-surface and edge-sweeping brushes to handle corners and tight spots. Pair this with the Dirt Detect sensors, and it will get to areas that you may have missed or can't reach right away.
What Could've Been Better?
Comparing the Roomba 675 to traditional vacuums, it does fall short in some areas. With such a compact build, it does not have as strong of a suction power that other vacuums might have. Additionally, it can miss spots that the sensors are unable to pick up due to obstacles, so the coverage is not always accurate.
Pros
Autonomous cleaning

Multi-surface brushes

It can be activated easily from anywhere

Recharges autonomously
Essentially the big brother of the 675, the i7+ from Roomba is packed with many of the same features but comes with a few more tricks up its sleeve. With more autonomy and power, as well as sensors and learning capabilities, this vacuum adapts to your needs specifically.
Sale
Why Did We Like It?
Watching the i7+ in action is a delight, knowing that it will handle the entire vacuuming job from charging to collecting to even disposal; this is definitely one for the low-maintenance lovers.
One feature that was especially useful was the smart learning capability. To be able to tell the vacuum where exactly you want it to clean without lifting a finger was a great, hassle-free experience. You can also tell it where not to go, such as play areas or pet bowls, instead of having it roam around looking for dirty areas to clean.
iRobot states the i7+ as being ten times more powerful than their 600 series in terms of suction power. This, combined with the adaptive bristles underneath, the i7+ will be able to power through many cleaning jobs across whatever floor surface you may have.
What Could've Been Better? 
There were issues that we ran into with the brush bristles getting caught on hair while cleaning. This clogged up the system and kept the i7+ from picking up more dirt, essentially just roaming aimlessly.
Furthermore, the sensors need light in order for the Roomba to function, which can be a nuisance at times.
Pros
Quiet operation

Full coverage with learned floor plan

Powerful suction

Cleans dust cup by itself for up to 60 days
Cons
Require adequate lighting to work
Corded vacuums can be limited in their maneuverability due to the length of the cord. The NV352 from SharkNinja is not one of these vacuums. With a detachable pod and excellent Swivel Steering, cleaning around tight spots and spaces is a breeze. Attachments and different length crevice tools are a nice touch as well.
Sale
Why Did We Like It?
With a larger build, the NV352 remains lightweight and easy to maneuver even with one hand. The lift-away pod feature is helpful to reach spots the vacuum wouldn't fit. There are two crevice tools of different lengths to get to those spots better to increase the reachability further.
Additionally, the swivel steering smoothly guides the vacuum around any obstructions like furniture legs and corners for full cleaning coverage. For cleaning on hardwood floors that may be prone to scratches from a vacuum's bristles, a quick shutoff feature is also available.
Weighing 14 pounds, the NV352 is a portable dust and allergen trap with a HEPA filter and two foam filters inside. Suction power is excellent on this vacuum, and with the substantial cord length, it can get around any room with ease.
What Could've Been Better?
While the suction on the NV352 is strong, it does struggle with hair getting tangled in the roller brush. Additionally, the vacuum is top-heavy, which means using it with any of the attachments on the hose can cause it to tip over easily.
Pros
Good suction power

HEPA filter

Lightweight

Lift-away pod for handheld vacuuming
Cons
Beater brush tangles easily
An excellent corded vacuum designed ideally for pet owners, it has a built-in washer so you can vacuum and wash in one go. Essentially a mop and vacuum in one build, it removes pet hair with a tangle-free brush roll. It can also remove odors with a multi-surface Febreze formula.
Sale
Why Did We Like It?
The Crosswave Pet Pro is an excellent vacuum for what it offers. The mopping feature is useful for any cleanup job, be it wet or dry. With two tanks to keep the clean and dirty water separate, the floor gets an even scrub of clean water and formula every time.
There are different cleaning formulas to work specifically with a particular floor type. The hard floor formula is excellent at removing sticky stains and odors from tiled floors, for example. Carpets and hard floors alike benefit from the multi-surface brush.
Another great feature is the hair strainer while cleaning out the tanks. It catches the hair collected in a filter to keep from clogging drains, which is a nice convenient touch. What's more, the tangle-free brush roll can pick up hair from any surface up to eight inches long without becoming entangled.
What Could've Been Better? 
With an excellent mopping feature built into it, it is not recommended that you use this vacuum on carpeted areas as it can cause damage to the flooring. It is an ideal choice, however, for tiled floors.
The cleanup must also be thorough as any remaining debris in the vacuum itself can cause odors if not done correctly.
Pros
Multi-surface brush

Mopping feature

Tangle-free brush

Can remove odors on hard floors
Cons
Requires thorough cleanup
Another of the robot vacuums from iRobot, the Braava Jet 240, is a cleaning machine for mainly hard floors like wood and tile. It mops and sweeps with different cleaning modes with an innovative design to ensure all the edges of a room are reached. Indeed, a great autonomous option for hard floors.
Why Did We Like It? 
Using robot vacuums can be a hit or miss, but this lithium-ion battery-powered machine from iRobot hardly misses. It is simple to use; simply select the cleaning pad type designed for your floor, and it will mop based on the pad type. Additionally, the Virtual Wall Mode confines it to rooms even without a physical doorway to keep it in the rooms with hard floors.
Cleaning and mopping are done with the jet spray firing in front of the robot and a vibrating pad that will gently scrub the floor underneath. To dispose of the pad when it is done, simply hold the Jet 240 over a trash can and eject the pad with the push of a button. Convenient!
Each pad has its benefits when used on different flooring and cleanup jobs. Utilizing these differences makes it versatile in dealing with hard floors.
What Could've Been Better?
Being designed as a mopping device, the Jet 240 does not pick up dirt well. Of course, there is no suction being done with this machine. It simply breaks down dirt with its vibrating pad.
Moreover, the water must be replaced when using it in rooms more extensive than it was designed for.
Pros
Operates quietly

Easy to clean

Compact design

Breaks down dirt with a vibrating pad
A bagless vacuum from Eureka, the Whirlwind is a lightweight yet highly effective vacuum for any type of flooring. A wand attached to the large dust cup will allow you to reach any surface with ease. Furthermore, included attachments are ready at your fingertips to extend your reach even further.
Why Did We Like It?
What stands out right away when using the Whirlwind is the long reach and maneuverability. Its 16 ft. cord paired with the long wand extends this reach even further. The wand has a telescopic design which helps fold the vacuum away easily.
Attachments are already at the end of the wand and can be switched between using controls on the handle itself. Additionally, all components, such as the tube and wand, connect with a secure snap for easy access. No more losing attachments or fumbling to get them on.
Maintenance is another area with great features to save time and money. The filters are washable, and the high-capacity container is easy to clean with a bottom-opening design that drops the dust and dirt directly into the trash. What's more, the power cord retracts at the push of a button, saving so much time and energy.
What Could've Been Better? 
While the whirlwind shines in its convenience, it lacks suction power. While ideal for hard floors, it struggles to pick up dirt trapped in carpets unless it is passed over the area a certain way.
Additionally, the 16 ft. long cord may fall short in reaching certain areas of the house.
Pros
Automatic retractable cord

Easy to clean

Lightweight

Large dust container
If a robot vacuum is what you are looking for, the E4 from Roborock is a great contender to look at. With voice assistant control as well as dual gyroscopes and a motion tracking system, it is fully autonomous. Packing a suction power of 2,000Pa, the E4 is by no means weak when it comes to robot vacuums.
Why Did We Like It?
One of the more heavy performers when it comes to robot vacuums, the E4 is great at picking up dirt and dust on any surface. Surprisingly, the noise level doesn't get loud for the amount of suction power it pulls when passing over the carpet.
The lithium-ion battery and substantial dustbin allow the E4 to clean larger areas or run for longer sessions before it needs to be emptied. When it gets low, it does return itself to the dock to top-up on power, so maintenance is kept to a minimum. It is rated to cover 2152 sq. feet and last up to two hours on a single charge.
Scheduling a clean or focusing on one specific area is intuitive with the app or using voice controls with your Alexa or Google Home assistant.
What Could've Been Better?
One feature that would be nice to have is the ability to block the E4 from entering certain areas. A magnetic strip must be placed on the floor, which is sold separately, to use this feature.
The cleaning pattern begins with the center of a room then runs along the edges, occasionally pushing the dirt and debris inwards again.
Pros
Long battery life

Large dustbin

Great suction power

Returns itself to dock for charging
Cons
Can't remotely block off rooms
Our next recommendation is this handheld vacuum from Holife; the HM036E has great suction, coming in at 7,000pa capable of handling a variety of floorings. Being one of the best cordless vacuums on the list, it comes with three attachments to help reach tighter spaces.
Why Did We Like It?
Handheld vacuums are usually used for on-the-spot cleaning. And this cordless vacuum cleaner from Holife, coming with three attachments for different cleanup jobs, is a great solution for small messes. The crevice, brush, and liquid nozzle attachments help deal with any surface and dirt that you may have.
Using it throughout the house is comfortable because of its lightweight design and low noise level. Additionally, it is easy to clean with a button on top ejecting the dust cup. With a capacity of 600mL and 100mL for liquids, it is sufficient for smaller jobs.
The suction is more than adequate to handle pulling dirt through most surfaces. Of course, the additional benefit of having washable HEPA filters in a vacuum is a nice touch as well.
When it comes to power and battery life, the HM036E lasts for around 30 minutes on a single charge. And with the included charging mount, it will fully charge within two to three hours.
What Could've Been Better? 
Due to the design of the actual dust cup, emptying the dust compartment can be awkward. Shaking it and turning it at different angles is necessary to get the larger debris out properly.  Additionally, it may struggle in picking up hair and pet dander from thick surfaces like car mats or carpets.
Pros
Can clean wet and dry messes

Long-lasting battery

Quick charge feature

Low noise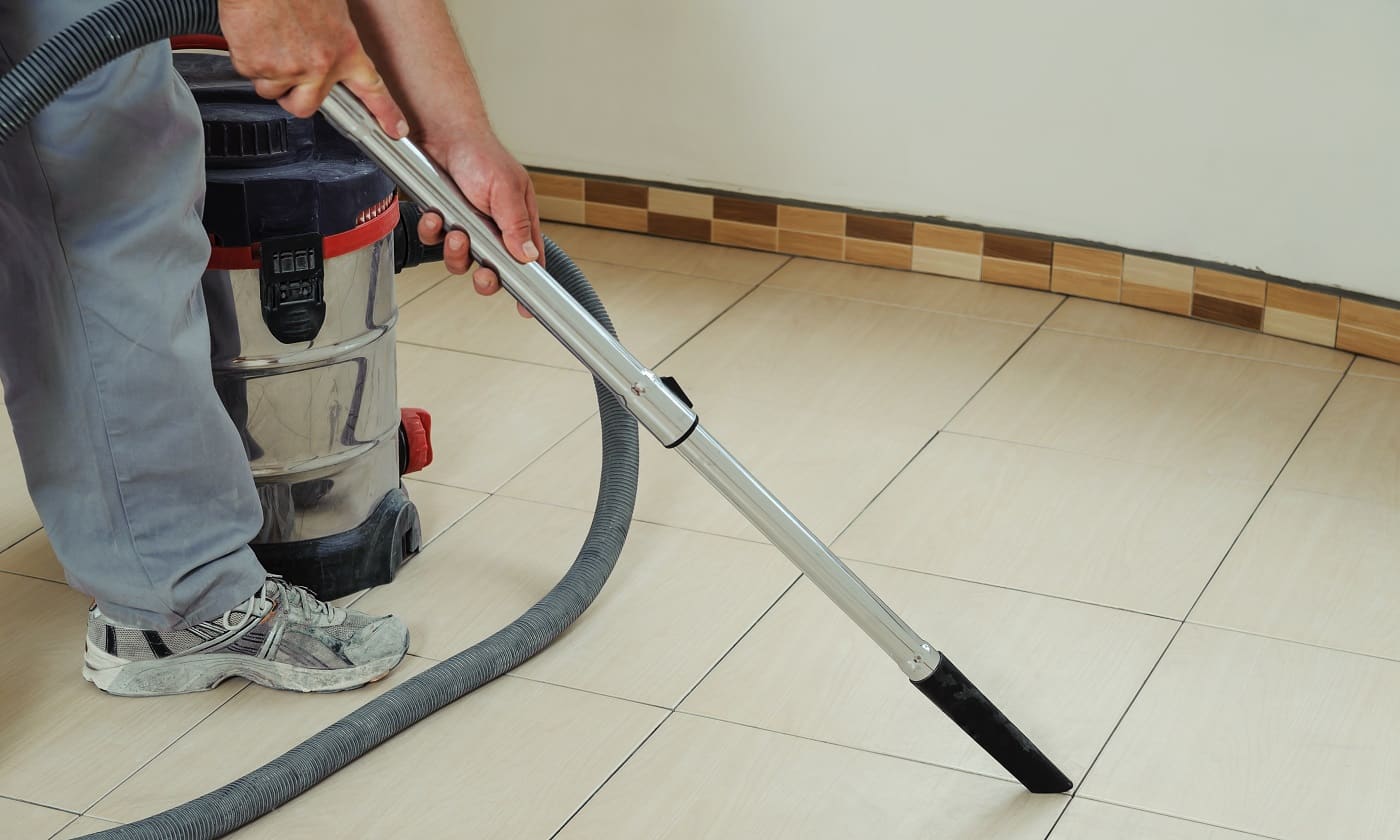 Vacuum for Tile Floors Buyers Guide
To ensure you have a vacuum that works best for your home, you should take into consideration a few points to look out for.
1. Maneuverability
A traditional vacuum is usually large and clunky. That is not the case with new, modern models sporting lighter materials and power in compact builds.
Modern vacuums have great features to help you maneuver them around the house. Especially with corded vacuums, it is common to unplug the vacuum to move it to another room to be cleaned. This process is overall made easier with lightweight models.
Additionally, how effective the vacuum can reach corners and edges is a factor to consider. Many models have a narrow cleaning path despite being wide. This can leave gaps along walls and in corners when vacuuming.
As a result, be sure to have the weight of the vacuum as well as its ability to reach tight edges and corners. This can make a difference in the time and energy spent while using the vacuum.
2. Suction Power
When it comes to how strong a vacuum can pull dirt from a surface, Of course, the performance is dependent on multiple factors.
The thickness of the surface being vacuumed, the type of debris being pulled, and the actual power of the vacuum will affect how well dirt is cleaned. For carpets and similar thick surfaces, higher suction power is useful.
Similarly, tiled and hard floors require even more power as rotating brushes will not be able to pick up and throw the dirt into the vacuum. Thus, the effectiveness of a vacuum on a tiled floor depends solely on the vacuum's suction power.
3. Power Source
There are two main types of power sources that you can choose from when it comes to your vacuum. Having a battery or corded vacuum brings its own strengths and weaknesses. However, the introduction of robot vacuums has brought a new contender when it comes to a power source.
The battery-powered vacuums have the advantage when it comes to maneuverability as they are not limited by a cord attached to a wall. On the one hand, they are usually more lightweight, and the power source is built into the design. On the other hand, they do require charging when not in use.
Using a corded vacuum is the more traditional option. They are limited in the cleaning radius around the length of their cord. One advantage they have is the ability to draw more power and, as a result, have stronger suction than battery-operated. What's more, the availability of a suitable power socket in the room is a must, or it is unable to work.
Robotic vacuums are the latest advancements in vacuuming technology. They have an onboard battery, with some charging themselves when low on battery is low. However, if this autonomous charge feature is not available, it is just another battery-powered vacuum.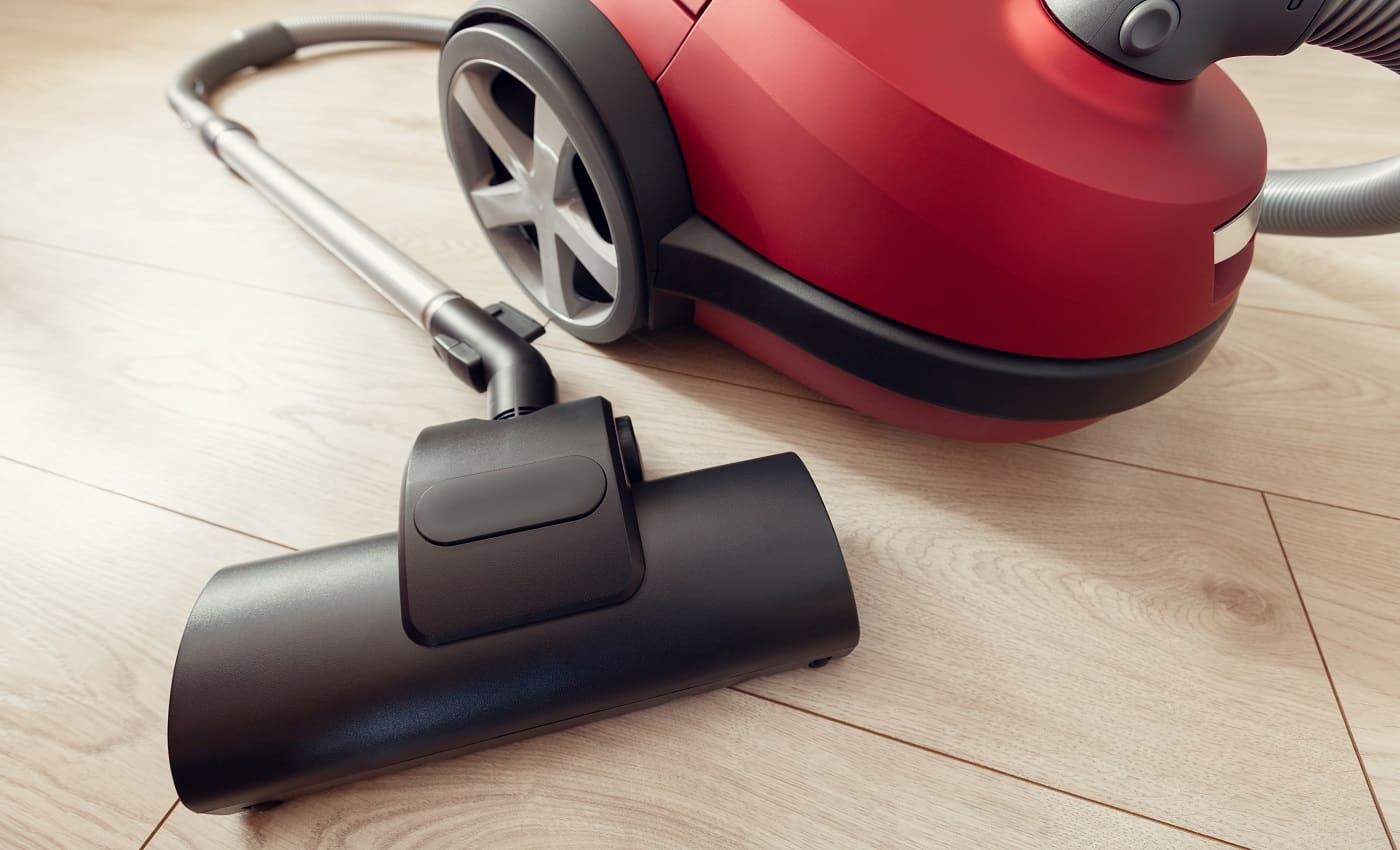 Verdict
So now that you know what to look for in the best vacuum for tile flooring, choosing a model from a handpicked list of great options with different strengths and weaknesses should be easy.
Depending on how large of an area you are cleaning, your choices can vary considerably. The handheld CHV1410L from Black+Decker is perfect for small cleanup jobs. For larger cleaning jobs, there is another cordless standing option from Hoover, the Linx BH50010.
Cordless vacuums are nice for convenience, but the stronger wired vacuums have greater suction power. Bissell's Featherweight Stick is still lightweight for being a corded vacuum. Another great cordless bagless vacuum is the Shark Rocket HV302 from SharkNinja.
Hopefully, now you have a better idea of how to go about selecting a vacuum for your tile floor. Let these models clean away the mess and take care of that stress!
Related Articles 
55 Best Robot Vacuum Names For Your Little One
Bissell Crosswave 1785A vs. 2306A [Two Wet/Dry Uprights Legends Compared]
Bissell 1806 vs. Bissell 1940 [Steam Mops Compared]
Bissell 3624 Vs. 2694 [SpotClean Portable Cleaners Compared]
Hoover Power Scrub Deluxe Vs. Hoover Turbo Scrub [Comparison]
Roborock H7 Vacuum Cleaner Review
13 Best Bagged Canister Vacuums 
10 Best Shop Vacs For Dust Collection
13 Best Vacuum for Stairs | Reviews and Buyers Guide
13 Best Backpack Vacuum Cleaners | Reviews & Buyer's Guide
6 Smallest Wet Dry Vacs For Home and Workshop
13 Best Non-Electric Vacuum Sweepers
6 Best Vacuum Cleaners for Mattress That Promote Healthy Sleeping
19 Best Upright Vacuums with HEPA Filter| Reviews & Buyer's Guide
Bissell BigGreen 86T3 vs. BG10 | Carpet Cleaner Comparison & Buyer's Guide
iRobot Roomba 675 vs. 680 vs. 690 | Robot Vacuums Compared & Buyer's Guide
13 Best Central Vacuum Systems
The Best Vintage Vacuum Cleaners To Collect
13 Best Steam Cleaners for Hardwood Floors
6 Best Miele Vacuums For Cat, Dog, And Pet Hair
McCulloch MC1385 or Vapamore MR100
13 Best Steam Cleaners for Hardwood Floors
12 Best Lightweight Vacuum Cleaners For Elderly
11 Best Central Vacuum Attachment Kits, Powerheads & Brushes