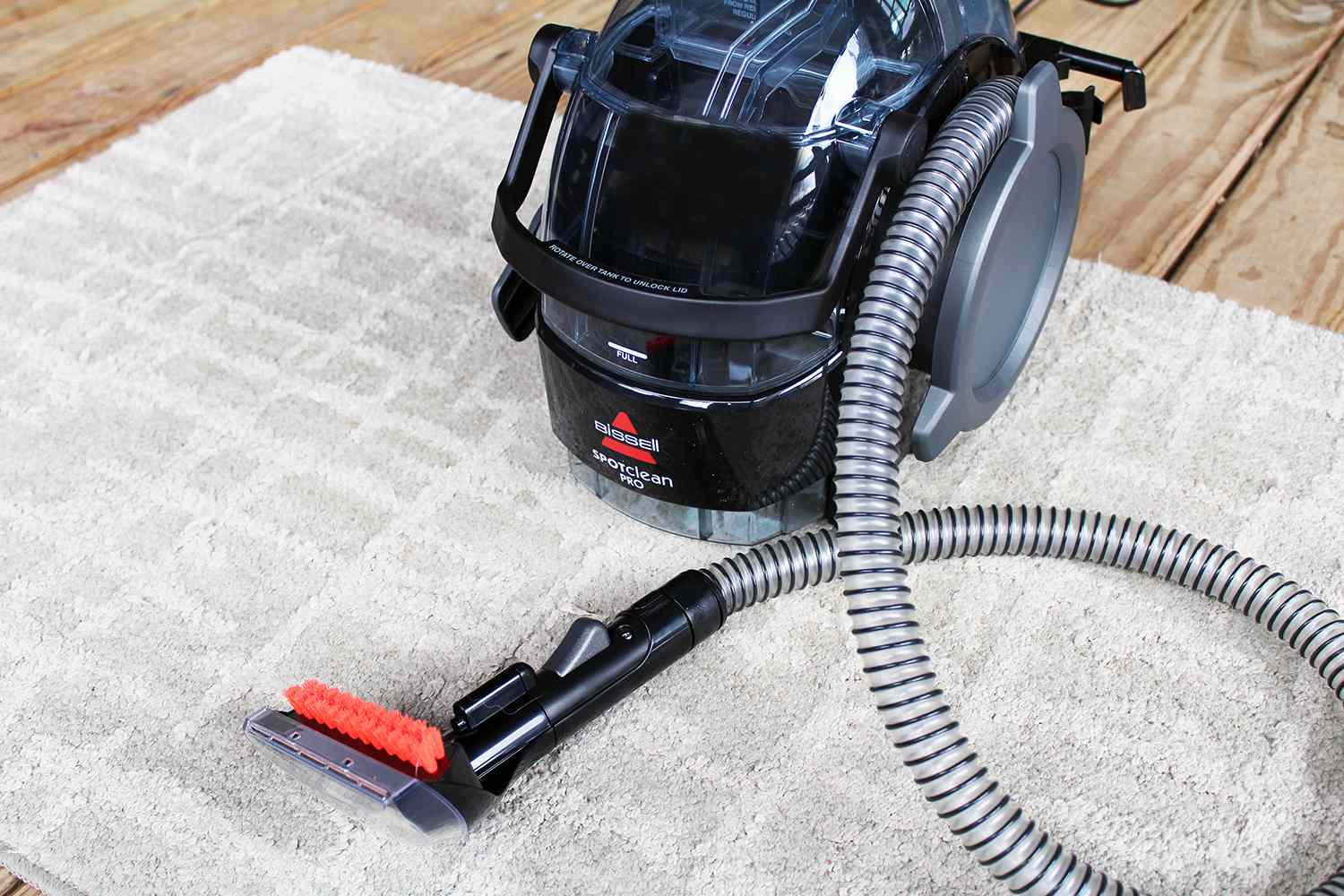 If you have a carpet, you know the effort it takes into keeping it clean and fresh.
Be it any mess or spill on the carpet, your regular vacuum cleaner is the first thing you think of, isn't it? Yes, we'd agree with you on that. But usually, carpet cleaners are enormous, bulky, heavy, and a pain to carry around. Did you know there's an alternative? If you haven't heard already, it's about time to learn about spot cleaners.
You need something that can clean the rugs and carpet in no time while also saving you from a workout every single cleaning session. And, a spot cleaner does just that. Today we're glad to share with you two fantastic spot cleaners by Bissell – Bissell 3624 and Bissell 2694.
You can go through the features for each and see for yourself which one fits your needs best. But first, a few more details about spot cleaners!
Bissell 3624 Vs. 2694
Bissell 3624 and 2694 both fall in the category of spot cleaners. But, what's different about spot cleaners? They look similar to vacuums, after all. Actually, they have the same purpose, but spot cleaners are designed especially for deep cleaning of rugs, carpets, car seats, etc.
More often than not, spot cleaners contain two tanks. One holds the cleaning solution, and the other stores the dirty water from cleaning. Apart from that, you will always find an exceptionally strong suction motor with a flexible hose.
This, along with the scrubbing brush feature, leaves your floor shiny and clean, although still slightly wet. Spot cleaners remove resistant, tough spots and stains and long-held dust using a combination of methods.
Let's see what those are-
1. Cleaning Solution
The first step to using any spot cleaning is applying the cleaning solution over the messy area. This is essentially a mixture of strong detergent with water, the formula of which differs over companies.
Some companies provide a ready-made mix which you need to pour directly into the tank. If mixed with warm water, it accelerates the process of removing stains.
2. Brush
The next indispensable tool for cleaning with a spot cleaner is the motorized brush that comes with it. The brush helps scrub into the dirty areas, allowing the detergent to work beneath the carpet surface.
3. Suction
The last feature is suction which removes the dirty liquids accumulated on the surface after cleaning. Since there are two tanks in the spot cleaner machine, the clean soapy water always stays separate from the dirty water.
Now, let's see the features of each option in detail-
Bissell 3624 is also known as Bissell SpotClean Pro. This model weighs merely 13 pounds, making it a pretty lightweight model for deep cleaning. It has been purposefully designed to be light enough to hold and carry for the time required to complete extensive house cleaning sessions.
Because of its portable design, storage becomes very easy. It snugly fits in small kitchen cabinet areas and can be easily moved around every day for use. If we had to point out a few things we liked about this model, the first one would be its simple and ergonomic design.
We also liked the buttons, which are easy to locate and understand. Thus, the few but valuable features it provides make it a hassle-free product to work with.
Furthermore, the cleaning tank capacity is 3/4 gallons of water which means you don't lose time constantly refilling it. This tank is attached to a flexible hose with a small nozzle used to clean carpets and rugs.
This nozzle allows you to suction dirt and stains lodged into the carpet. But, that isn't its only purpose; the clean detergent water is released through this nozzle, so you can easily apply it to problematic areas. Since the nozzle opening is small, you can get up and close into various types of surfaces for a thorough cleaning session.
Next, we have Bissell 2694, also known as SpotClean ProHeat portable spot cleaner, which is also a small and portable carpet cleaner. Its compact design makes it easy to move around manually without much effort. It is also quite affordable, so if you are looking for a basic spot cleaner, this might be a good choice.
To use the carpet cleaner Bissell 2694, the first step is to fill the tank with water and a cleaning solution. Once the tank is filled up, the device is ready for use on the surface and is powerful enough to remove a 3-inch tough stain. Plug the SpotClean portable carpet cleaner and attach one of the two tools provided by Bissell.
The two tools are called "Deep Stain tool" and "Tough Stain tool." Along with it, there is also a stain trapper tool and Hydro Rinse self-cleaning hose tool, which helps remove dirt from the hose. The Deep Stain tool removes embedded dirt stains buried deep into the carpet. You can also use it to remove old and larger stains effectively.
As for the Tough Stain tool, it can be used on those surfaces where stains refuse to go even after detergent and hot water. But, even though it is designed to remove the hard-to-remove stains, it can also be used for regular cleaning around the house.
Moreover, the hose is long and flexible, and the nozzle is similar to Bissell SpotClean Pro. With a good tank capacity, it can last you for lengthy cleaning sessions easily.
Bissell 3624 and 2694 Feature Comparison
1. Cleaning Ability
With this portable carpet cleaner, you get two cleaning attachments at no additional cost. It has a 3-inch wide attachment with rows of bristles attached to the nozzle allowing for the removal of tough spots and stains. The other 6-inch tool works the same but can be used on wider surfaces like stairs, upholstery and hard surfaces.
One interesting feature is its spray release technology. When you apply pressure, the nozzle releases a strong spray of water to clean the area you are working on.
Furthermore, pulling the tool around the surface suctions in the dirty water, leaving the carpet free from dirt. An excellent aspect of this tool is that it is transparent and allows you to see the progress.
SpotClean ProHeat portable spot cleaner also provides two tools, as mentioned previously. While the Deep Stain tool can remove spots and stains, the other tool can easily take care of a 3-inch tough stain. Both of them are lined with sturdy bristles for deep cleaning carpets and rugs.
One of its best features is the row of solution injectors which assist in deep cleaning with detergent and hot water. Also, both nozzles are transparent, allowing you to monitor your progress constantly. And, cleaning is made easy with the thumb trigger that releases water.
You do not need to bend to reach the main body/water tank for a fresh splash of detergent water. A quick push with your thumb would be enough for that. On top of that, this model also comes with a HydroRinse self-cleaning hose which automatically keeps the hose clean.
2. Size And Hose Attachments
Bissell SpotClean Pro 3624
With this model, you do not need to worry about hard-to-reach spots because the tool removes embedded dirt and stains. Since it has a 5-foot long flexible hose, you can't miss the tight corners of the floor.
Also, the hose can be stored on the side reel whenever you aren't using it. And, if we talk about the power cord, it is no less than 22 feet in length. This is more than enough to stretch across floors and stairs. Apart from that, this model weighs 13 pounds and is small enough for people to carry using its tote handle.
Carrying it over stairs shouldn't be an issue either. The entire spot cleaner is only 10 inches in length and width, so storing it becomes relatively easy. It can fit into any storage cupboard, and you can remove it without worries whenever it's required.
Bissell SpotClean ProHeat 2694
When it comes to the SpotClean ProHeat model by Bissell, it has a 4.5-foot hose that can twist and turn wherever required. It also has a 15-foot long quick-release power cord that winds around two hooks on the back of the cleaner. The hose also has a designated area at the bottom to wrap around with the help of a clip.
Compared to the 3624 model, this one is smaller and lighter, at only 9 pounds. Moreover, this is one of the best choices if you are looking for portability and transportation options. If you need to carry your cleaner over the stairs or to the car, this option would be suitable.
With its super compact design, it has a place to keep the brushes in the cleaner device. The overall size is only 6.5 by 12 inches, meaning it can fit just about anywhere in your house.
3. Water Tank And Motor Strength
Bissell SpotClean Pro 3624
When it comes to the motor power of the small-sized SpotClean Pro, looks are deceptive. You will be surprised that this small cleaner has 5.7 amps of electric current in circulation.
Also, you can add hot water to the tank without damaging it. In fact, that's the only option if you want to clean using hot water since it does not have water heating abilities.
Water temperatures of 140 degrees can be used without damaging the tank. Apart from that, its dirt tank capacity is pretty decent at a total of 96 ounces. The dirt collection tank has a wide outlet making it easier to throw out the dirty water. Also, the tanks have hinges which you can grab to carry the tank to the sink.
Bissell SpotClean ProHeat 2694
Unlike the 3624 model, the SpotClean ProHeat 2694 does not shine in the power department. With a motor strength of 2.3 amps, it falls into the category of low-powered spot cleaners. On the plus side, this model can maintain the temperature of hot water in the tank.
Even the tank water collection capacity is average at best. It can hold 37 ounces of water at a time, and both the tanks are separated with a rubber stopper. One thing we liked about this tank was the water markers on both tanks. This makes it easier to see if a water refill is required.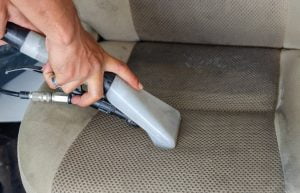 Bissell 3624 Vs 2694 Verdict
After reviewing both these models, we thought that both of them could be called multi-purpose portable carpet cleaners easily. They have above-average cleaning capacity, and the deep reach tool removes embedded dirt and stains, so they are evenly matched there.
But, when it comes to motor power, the Bissell SpotClean Pro 3624 has the upper hand and is much more powerful than ProHeat. The 3624 model also has larger tanks with more water capacity to provide more efficient cleaning for a longer time.
On the flipside, Bissell SpotClean ProHeat 2694 can retain heat which immensely improves the cleaning. Also, it is much smaller, lighter, and travel-friendly than the 3624 model. Which of these two models do you prefer? Let us know in the comments.
On that note, we will take your leave, bye-bye!
Related Articles
55 Best Robot Vacuum Names For Your Little One
Bissell Crosswave 1785A vs. 2306A [Two Wet/Dry Uprights Legends Compared]
Bissell 1806 vs. Bissell 1940 [Steam Mops Compared]
Hoover Power Scrub Deluxe Vs. Hoover Turbo Scrub
Are Kirby Vacuum Cleaners Worth the Money? + Best Kirby Vacuum Cleaners
The Best Vintage Vacuum Cleaners To Collect
19 Best Upright Vacuums with HEPA Filter
13 Best Canister Vacuums for Pet Hair
13 Best Bagged Canister Vacuums
13 Best Backpack Vacuum Cleaners
12 Best Lightweight Vacuum Cleaners For Elderly
6 Best Vacuum Cleaners for Mattress That Promote Healthy Sleeping
12 Best Vacuums for Tile Floors
11 Best Wet/Dry Handheld Vacuum Reviewed
6 Best Miele Vacuums For Cat, Dog, And Pet Hair
Bissell 9595A vs. 1831 | CleanView Upright Vacuums
Shark NV682 vs. NV683 vs. NV752 | Upright Vacuum Comparison Review