Having a pool can be both a blessing and a curse.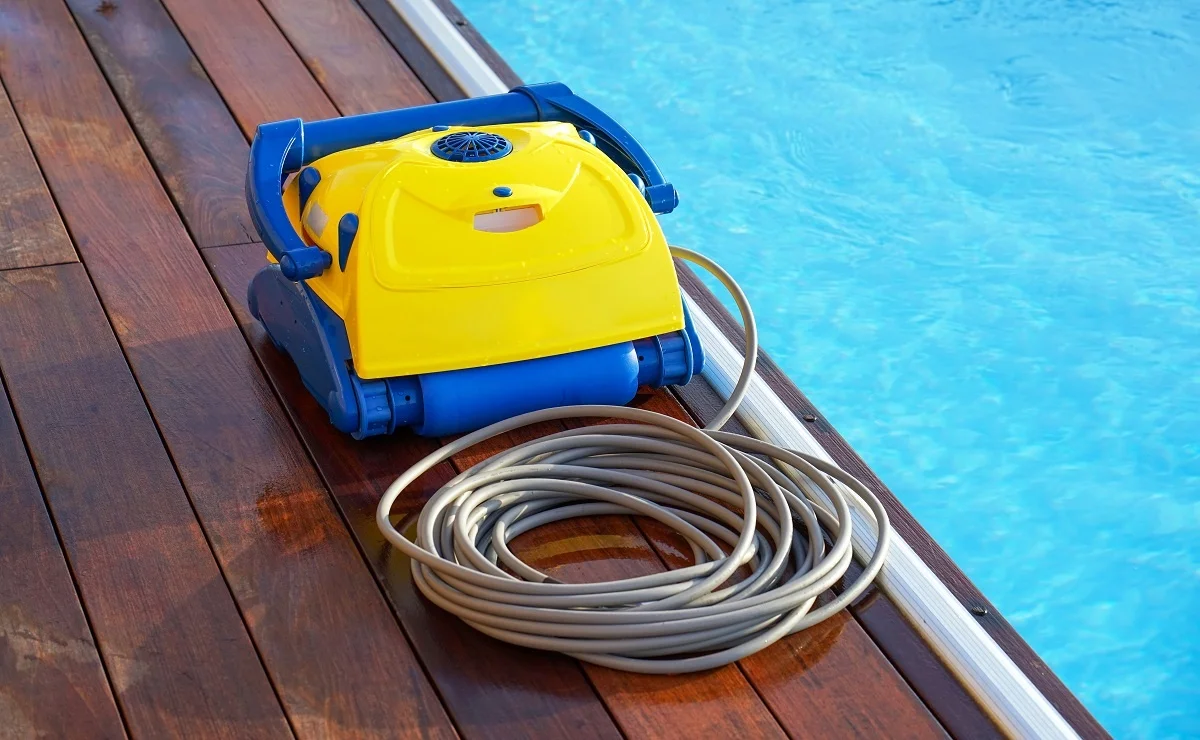 It demands a high level of maintenance, with dirt and debris constantly getting caught in the filtration system. Robotic pool cleaners were developed to take care of this job for us, eliminating any work or money involved in hiring a pool cleaner.
When it comes to robot pool cleaners, there are few that have the same quality as the Aquabot X4. Packed with the latest in pool cleaning technology and quality performance, the Aquabot X4 is a go-to option if you are looking for robotic pool cleaners.
Curious if this is the best robotic pool cleaner for you? Read on for our in-depth Aquabot X4 Robotic Pool Cleaner review and analysis.
Aquabot X4 Robotic Pool Cleaner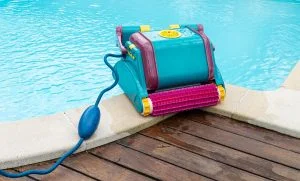 What are the various features that make the X4 robotic pool cleaner so great at keeping pools clean? We will go over every standout feature and then some to highlight how it performs in day-to-day life.
1. Micro-Brushes
One of the most essential features of a robotic pool cleaner is probably the attached brush on the unit. These brushes determine how efficient a pool cleaner is in breaking down and removing dirt off the walls and floor of the pool.
In the case of the Aquabot X4, it has micro-brushes that rotate to break down algae growth and stains. Everything from the pool floor to the walls even up to the waterline of the pool can be reached by these micro-brushes.
Moreover, thanks to their rotating motion, anything as small as 2 microns that stick to your pool can be brushed away.
2. 4-Wheel Drive
Being an area that is usually wet and slippery, it makes no sense if the pool cleaner can't even maneuver around the pool.
This is why the Aquabot X4 has a four-wheel-drive system to carry it around. Hence, you will have no issues with it slipping across the surface and missing areas.
4 wheel drive means the Aquabot X4 is able to climb the walls of your pool easily. Where other robotic pool cleaners may struggle to grip a 90-degree floor-to-wall transition, there are no issues with the Aquabot X4.
This is due to its incredible traction that delivers fantastic output no matter how wet it gets. So, whatever the size or shape of the pool, it offers a secure grip while cleaning.
3. Filtration System
The Aquabot X4 has two onboard filter baskets lined with an ultra-fine mesh filter. When combined, these filter baskets have an incredible capacity of 190 cubic inches. This means it can function for more extended periods with little maintenance needed in between cleaning sessions.
Thanks to it, the Aquabot X4 is able to capture more dirt and contaminants. Be it a large piece of debris or 2 microns of dirt; this robotic pool cleaner will scoop it up easily.
Also, one of the many helpful features of the Aquabot X4 is the top access to the filter system. This makes it convenient to reach and clean out the filter when it gets full.
That's why cleaning out the filters is quick and simple. A thorough rinse is enough to dislodge any debris caught by the filter. Then pop the filter back into the top of the Aquabot X4, and it's good to go for the next cleaning session!
4. Mapping System
Robotic pool cleaners are only as efficient as the mapping system that they use. In this case, the robot pool cleaner uses the AutoX pool mapping system to determine the size and shape of the pool.
Furthermore, the onboard computer gauges an ideal cleaning cycle and route to take for efficient coverage. Fixtures in the pool like stairs and drains can be obstacles that impede other pool cleaners, something the Aquabot X4 does not struggle with but easily maneuvers around instead.
5. Control Panel
Easily accessible with a straightforward design, the control panel is located on top of the Aquabot X4. There are options to run the pool cleaner in time intervals of 48, 72, or 96 hours.
Additionally, an external timer can be used to determine how far along the robot is in a cleaning cycle.
6. Coverage And Power
Whether it is above ground or in-ground pools, this robot pool cleaner is able to easily map out and reach every corner of the pool floor and walls right up to the waterline.
Packing 60 feet of a durable, floating power cable, the Aquabot X4 has no trouble reaching every corner of your pool with length to spare. This 60-foot cable can swivel 360-degrees, so all you need to do is place it in the water and power it on.
What's more, the power cord has an anti-tangle swivel, so it doesn't need to be untangled in the middle of a clean. The anti-tangle swivel allows the X4 to be truly autonomous.
A standout feature of the Aquabot robotic pool cleaner is the low power consumption it has. It can pump out 70 gallons of clean water per minute, all while taking up 15 times less energy than other similar models. This efficient power supply can save you lots of money over time.
What Could've Been Better?
While the X4 robot pool cleaner has incredible features, there are some areas where it fails to meet the mark. These are not deal-breakers but can be an inconvenience for some customers.
One feature that is missing from the X4 is remote control compatibility. This is not an essential feature but would prove handy if the robot overlooks a particular spot or area. Of course, the mapping system is more than enough, but having a remote control option would be good insurance to have.
Another caveat we found is the X4 seems to struggle with stairs, so those with ground pools may want to consider this before buying.
Furthermore, the timer on the control panel does not offer much customizability. Essentially what you see is what you get; you need to adjust your schedule according to the timers given on the X4.
Pros
Included caddy allows for easy transportation

Able to cover pool walls and waterline

Autonomous pool clean at the touch of a button

Anti-tangle swivel eliminates untangling power cords

Excellent build quality with an included 3-year warranty
Cons
No remote control capability

Seems to struggle with stairs

Limited timer choices
Aquabot X4 Buyer's Guide
To find the best robotic pool cleaner for you, keep in mind some key features before making a purchase. Different models and manufacturers include various factors that can change your overall experience with the machine.
1. Versatility
There are different ratings and surfaces that a particular pool cleaner model is designed to handle. Check how efficiently a specific cleaner is able to manage your pool type.
Dimensions of the pool, as well as obstacles within it like drains, slopes, and walls, are dealt with differently. A combination of an efficient mapping system and proper traction make for the best possible pool clean service.
Other factors like brushes vary across pool cleaners and give them different levels of efficiency in removing contaminants. Pollen, dust, and dirt are just some of the tiny debris that gets stuck to the side of the pool. Having a brush that is able to remove these contaminants is an essential component.
2. Power
For larger pools, a robot that is able to filter large volumes of water quickly is preferable. The volume of water output can make the cleaning process much more efficient and save you money and time.
Similarly, the length of the power cord determines how far it can reach. It should be able to cover the length and depth of the pool for the best coverage possible.
3. Warranty
While it may not be a feature included directly on the pool cleaner itself, the warranty of a particular model can tell a lot.
Usually, models with a more extended warranty period have a more substantial lifespan. The assurance that it will last the length of the warranty period is a testament to the confidence the manufacturer has in build quality.
4. Customer Reviews
One way to gauge the performance of a pool cleaner is by looking at customer reviews. These are real-life applications that can tell a lot about a model in the long run.
Using these reviews can help you have a clean pool without going through a trial phase to find the perfect pool cleaner for you. By having real people testify to the performance of a robotic pool cleaner, you can determine if it will perform adequately in your pool or not.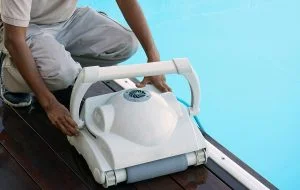 Aquabot X4 Robotic Pool Cleaner Verdict
When it comes to robotic pool cleaners, Aquabot has an exceptional product in the X4.
It is easy to use, versatile, and does not eat a chunk out of your wallet. If a clean pool is all you need, be it under the ground or above ground, the Aquabot X4 is a safe and budget-friendly choice.
Although it does have some areas where it can be improved, it offers one of the best value for money packages. With a caddy to store it in and a 3-year warranty, the Aquabot X4 robotic pool cleaner will not disappoint.
Related Articles
13 Best Pool Vacuum Cleaners for a Healthy Pool
13 Best Chlorine Tablets for Swimming Pools
9 Best Liquid Pool Covers and Why You Need Them