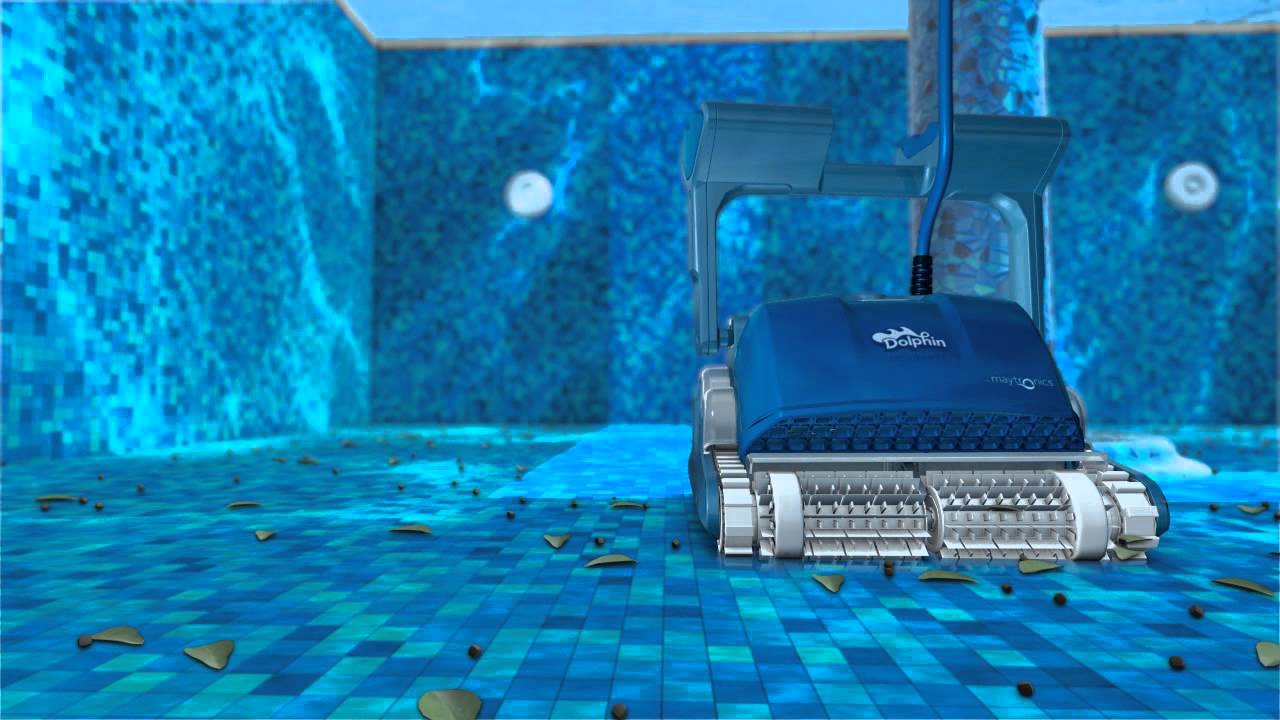 Using a pool and maintaining it are two different things; they lie on the extreme ends of the spectrum. Everyone loves to spend the long, blistering summer afternoons in the pool, but when it comes to pool cleaning, everything changes; and truthfully, people run from pool maintenance for some legit reasons.
From keeping up the chlorine levels to clearing leaves and other surface debris and then making sure the floor, waterline, and walls of the pool remain clean and free of slimy algae buildups— you certainly need a lot of time and energy. Doing all of this by hand needs a full day. You also need to factor in the extensive use of the pool in peak summer when it has to be cleaned every other week.
With such a daunting maintenance and cleaning task at hand, won't it be a good idea to find some automatic way to do it? Yes, this is certainly a great idea, and that's why robotic pool cleaners have been designed in the first place. They come in really useful for cleaning your pool from inside— the most difficult part of pool maintenance.
The market is brimming with robot cleaners, making it quite difficult for buyers to settle on a single model. To make the purchase of a robotic pool cleaner easy for you, we have picked a single model for your consideration: Dolphin's M400 with Caddy. Let's have a comprehensive review of this state-of-the-art robotic pool cleaner.
Dolphin M400 with Caddy Review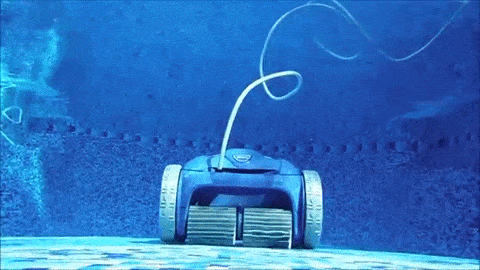 No products found.
Designed for in-ground pool types

Features dual-drive motor with a separate power supply

Clean walls, floors, and waterline of a pool
Dolphin M400 with Caddy is a powerful robotic pool cleaner (almost twice as powerful as similar units from other manufacturers). It comes with a long power cord that allows you to clean any pool with dimensions up to 50 feet thoroughly. In short, it is an ideal cleaning gear for all small and large home pools.
CleaverClean Technology Makes All the Difference
Besides power, the patented CleaverClean technology of Dolphin M400 is the reason why it stands apart among other automatic pool cleaners. Many buyers are skeptical of robotic pool cleaners because they think that these machines will only waste energy and time by cleaning the same patch over and over again.
Dolphin has dispelled this doubt by equipping its robotic cleaner with a technology that features an advance intuitive navigation system and scanning software. This combination of features makes Dolphin M400 a "Smart Cleaner."  The CleaverClean technology imparts the following abilities to the robotic pool cleaner.
It cleans the floors and walls of the pool by taking the most efficient path

It doesn't go back to the freshly cleaned patch/line again

It smartly navigates around obstacles in the pool (stairs, etc.)
All these characteristics make the use of Dolphin M400 time-saving and energy-efficient.
Everything Dual
The other bit that makes Dolphin M400 the best robotic pool cleaner on the block is its beefed up maneuvering and filtration. It uses an all-direction dual drive that ensures optimal coverage and maneuverability. This allows the cleaner to deal with all sorts of pools irrespective of their shapes and the obstacles and slopes they have.
Moreover, the cleaner also features a dual-filtration system. When other pool cleaners only collect rough dirt and dust particles from the pool floor, Dolphin M400 takes care of fine and ultra-fine particles as well. Just don't forget to clean the filter after every use so that the cleaner will continue to filter your water for maximum cleanness.
Even though the automatic system of Dolphin M400 is good enough to clean any pool without needing any assistance, but you still get the option to control the cleaner through a smartphone application. You can also set weekly timers and initialize the cleaning program via this app. The idea of the app control is to give you complete freedom to customize its working.
Many people refrain from getting automatic pool cleaners because they think that using electronics in water is not meant for long-lasting use. However, that's not the case with Dolphin M400. It has a sturdy construction and a completely sealed frame. Moreover, the manufacturer has incorporated special features in its design so that it can withstand the natural buoyant push of the water while traversing through the pool floor.
Dolphin has used floats on the handle of the cleaner for ascertaining it can keep its traction on the floor while moving, turning, and scrubbing in water.  
Pros
Ideal for in-ground pools

Smart navigation system saves time and energy

Dual filtration ensures more clean water
Cons
A bit difficult to operate through the app

Float and handle configuration is complex and confusing

Gets heavy after the use
Dolphin M400 Pool Cleaner FAQ
Is it Fitted with a Removable Filter?
Yes, Dolphin M400 comes with a detachable filter that you need to remove and rinse after every cleaning job. You also need to change it after 4-6 months, depending on your use.
How Long Does Dolphin M400 Take for Cleaning the Pool?
It varies from pool to pool, and the degree of cleaning a certain pool requires. But as per the manufacturer's claim, it can clean a small home pool within an hour.
How to Know If Cleaner's Cartridge Is Full?
The Dolphin M400 comes with a built-in indicator that lit up when the cartridge is full and needs to be cleaned. When this happens, remove the cleaner from the pool, detach the cartridge and rinse it with clean water and install it back.
Does Remote Come in the Package?
No, you need to buy it separately. However, you can use Dolphin's app on your phone as the remote control for the cleaner.
Robotic Pool Cleaner Buying Guide
If you want to explore more options in the market, then evaluate any robotic cleaner by factoring in these features.
Coverage
The majority of robotic cleaners available in the market are only good for pool floors and collecting rough debris. If you are investing in a high-end machine, then make sure it can also offer vertical cleaning (pool walls) coverage as well. Also, its filtration system must clean water for fine dirt particles too.
The whole point of getting a robot cleaner is to avail maximum comfort with regard to pool maintenance. Therefore, make sure the pool cleaner you are buying features a smart navigation system so that you can leave it on its own rather than overseeing it all the while.
Long and Tangle-Free Power Cord
Robotic pool cleaners make a lot of maneuvers and turns. The lateral movement of a corded pool cleaner twists its power cable that can hinder its cleaning operations. So, it would be better if the cleaner you are buying features an extra-long power cord that doesn't easily tangle.
Timer
Having a timer in your robot pool cleaner means you can use it while providing zero assistance. Try to pick a cleaner that is equipped with a programmable timer.
Dolphin M400 with Caddy is the right option for a cleaner if you are looking to clean the floor and walls of your medium-size home pool without offering any manual assistance. Its powerful motor, sturdy construction, smart navigation, and dual-filtration make it the best robotic pool cleaner in this price range.
Related Articles
5 Best Above-Ground Pool Pad | Buyer's Guide and Reviews
5 Best Epoxy Pool Paint | Buyer's Guide and Reviews
Learn How to Install a Spa Cover Lifter
Learn How to Keep Chlorine Levels Up In Your Pool
Aquabot X4 Robotic Pool Cleaner Review | Buyer's Guide
13 Best Chlorine Tablets for Swimming Pools | Reviews & Buyer's Guide
13 Best Salt Water Chlorinators
13 Best Pool Volleyball Nets to Enjoy This Summer
39 of the Best Pool Toys to Enjoy this Summer
5 Best Auto Chlorinators for Pool
9 Best Above-Ground Pool Ladder
11 Best Deck Box For Outdoor Storage