Carpets have become a stock flooring option for both home and office spaces in the last couple of decades. A well-knitted carpet adds a layer of visual character and sophistication to any interior. Moreover, high–pile carpets bring a level of luxury. They also prove to be an effective noise dampener to make any space calmer and restful. 
However, there is a flip side to the utility and diverse characteristics of carpets. As the time and foot traffic take its toll on a new carpet, you need to get more diligent with its cleaning. Professional dry-cleaning is not an option when you need to clean the carpet every once in a while. Removing a perfectly-fit carpet and then bringing it to the professional carpet cleaning facility is a task in itself. Moreover, the floor will remain bear and look unfinished all this while. 
The other option is to take care of the carpet cleaning manually. You can maintain a schedule to wipe clean the carpet from time to time. But here too, you have to give up your holiday if you have a large carpeted area. 
Finally, you have the option to streamline your carpet cleaning with the help of a carpet cleaner. A carpet cleaner will take the edge off the manual labor that you have to put in DIY carpet cleaning. By spending on a top-quality carpet cleaner, you can save a lot on the professional steam and dry cleaning of your home/office carpets in the long run. 
There are many different carpet cleaners available in the market, and settling on one unit remains tricky. Our team has done its research and found out some great options from the long list of cleaners. They have eventually picked two carpet cleaners that are getting rave reviews from users and available in a reasonable price range. Interestingly, both of them belong to the Bissell— a well-known floor care product manufacturer. 
Without further ado, let's delve into the comparative review of Bissell's BigGreen 86T3 and BG10. 
Bissell BigGreen 86T3 Vs BG10 | Carpet Cleaner Comparison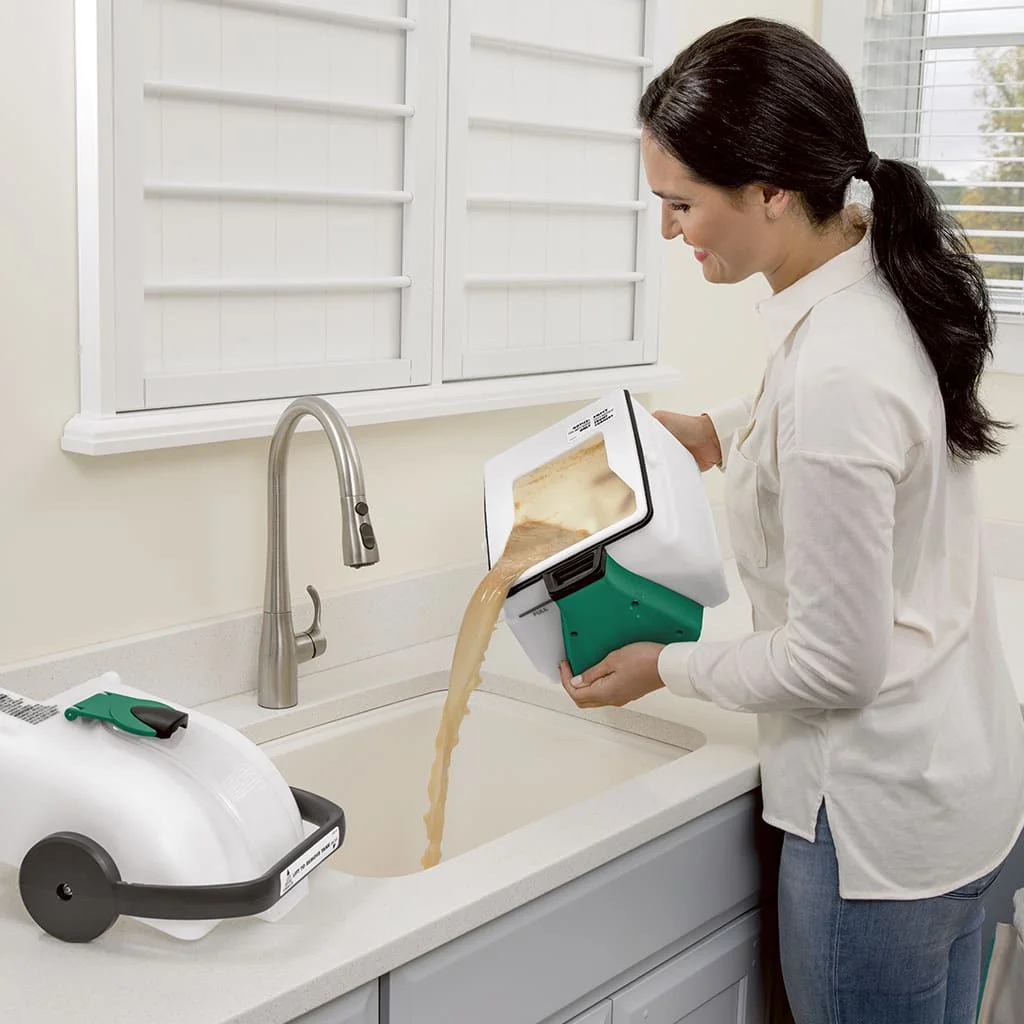 This Bissell carpet cleaner is one of the most versatile carpet cleaners on the block. It features two motors that separately operate the rotating brush and suction of the cleaner. It makes its cleaning work more streamlined. Moreover, Bissell has introduced a 9-ft long hose in 86T3 that allows you to use the cleaner on above-floor surfaces as well. With this hose attachment, you can clean your car seats, furniture upholstery, and stairs.
Sale
This Bissell carpet cleaner is a simpler version of 86T3. It has sturdy construction with an adjustable handle attached to the cleaning head. Usually, the weight of a carpet cleaner affects its maneuverability. However, that's not the case with Bissell BG10. It is fitted with two swift wheels at the back that guarantees you can move it around without straining your arms. The maneuverability of BG10 is further improved by 25-ft power so that you can clean an entire room from the single power outlet.
Note: The cleaning brushes are not spanned across the base of both the cleaners. So, they don't perform edge-to-edge cleaning.
Bissell 86T3 Vs BG10 Compared
We have picked a couple of features to compare these two Bissell carpet cleaners.
Design and Weight
As mentioned earlier, BG10 has a very basic design. The manufacturer hasn't tried to make it a sleek and aerodynamic model to make sure it hangs on to its heavy-duty cleaning capabilities. At first look, it seems as if you won't be able to maneuver BG10. But as soon as you grip its handle and push it, this worry goes away. The big tires and well-thought-out weight distribution make sure you can easily maneuver it on carpeted floors.
The adjustable handle is another highlight in the design of BG10. This allows you to maneuver and move the cleaner from the height you find more comfortable.
Weight: There is no doubt that Bissell BG10 is a bulky carpet cleaner. It weighs around 60 pounds. But it is important to mention here that the weight of the machine doesn't affect its performance by any means.
Bissell 86T3 has the same dimensions as BG10. However, it weighs lesser than its BigGreen counterpart. The manufacturer has cut down the weight of the cleaner by changing the tank capacities. This modification doesn't affect the cleaning performance of the machine.
Weight: In this comparison, we can certainly call Bissell 86T3 a lightweight machine because it weighs around 49 pounds— 11 pounds lesser than BG10.
Conclusion
The designs of both Bissell BG10 and 86T3 are virtually the same. However, the lesser mass of 86T3 makes it a slightly better option for carpet cleaning involving a lot of maneuvering.
Cleaning Action
Bissell BigGreen BG10
The cleaning action of Bissell BG10 is virtually a one-touch operation. You get a back-lit press-button on the right side of the adjustable handle. After switching the carpet cleaner and moving it through the surface, you only need to press this button wherever you want to 'dry-clean' the carpet. As you press the button, the cleaner releases the mixture of shampoo and water on the spot, followed by the rotating brush agitating the area to loosen all the grime and dirt. All this loosened debris is then sucked into the cleaner through the vacuum grille.
Bissell BigGreen 86T3
Bissell 86T3 also follows the same cleaning method as that of BG10. However, it features an extra 9-ft hose with a six-inch spot cleaning tool. This hose allows you to spot clean upholstery and leather surfaces. The idea is to give users convenience where they don't have to lift the bulky machine to clean above-floor surfaces.
Conclusion
If you want a versatile carpet cleaner, then Bissell BigGreen 86T3 appears to be a natural choice.
Bissell BigGreen 86T3 Vs BG10 Verdict
If you want to make exhausting and boring affair of cleaning the carpets a breeze, then both Bissell BigGreen carpet cleaners are good options. They are durable and feature reasonable price tags. But if you are looking for versatility in your carpet cleaner, then 86T3 would be a good pick due to its additional nozzle spot cleaner for hard-to-reach spaces.
On the other hand, Bissell BG10 is a great option if you want to buy a cleaner that guarantees lifelong use.
Short Buying Guide to Pick the Right Carpet Cleaner
If you want to explore more carpet cleaner options, then assess any model for the following characteristics.
Tank Size
If you want to clean your carpets in a single go without emptying and refilling the cleaner, then you must go with models that feature large tanks. You also need to factor in your specific use of the carpet cleaner in determining the tank size you need. For instance, if you are buying the cleaner for a setting with pets, smokers, and generally high foot-traffic, then it is always better to opt for large size tanks.
Brush
Some carpet cleaners have brushes while others don't. Carpet cleaners with brushes come in both stationary and motorized configuration. Motorized cleaning brushes are a better option because it rules out any requirement of manual exertion from the user. Also, they are better in agitating and getting the baked-in dirt and dust out. Both Bissell 86T3 and BG10 feature motorized rotating brushers.
Weight
Many people only go for lightweight carpet cleaners without factoring in how it affects their performance. The lightweight body and sleek design of a carpet cleaner suggest that it uses low-power suction and features small tanks. If you choose a lightweight carpet cleaner, then you won't be able to carry out your extensive multi-floor carpet cleaning job in a single go.
You can make your efforts of cleaning and sanitizing your interiors more meaningful by using a top-quality carpet cleaner. We hope that you will be able to buy the right carpet cleaner unit for your home/office after reading this piece.
Related Articles
13 Best Bagged Canister Vacuums of 2023
13 Best Vacuum for Stairs of 2023
13 Best Central Vacuum Systems of 2023
6 Smallest Wet Dry Vacs For Home and Workshop
13 Best Backpack Vacuum Cleaners of 2023
13 Best Non-Electric Vacuum Sweepers of 2023
6 Best Vacuum Cleaners for Mattress That Promote Healthy Sleeping
19 Best Upright Vacuums with HEPA Filter of 2023
7 Best Stationary Vacuums of 2023
Bissell Crosswave 1785A vs. 2306A | Two Greats Upright Vacuums Compared
Hoover Power Scrub Deluxe vs. Hoover Turbo Scrub
iRobot Roomba 675 vs. 680 vs. 690 | Robot Vacuums Compared
The Best Vintage Vacuum Cleaners To Collect
McCulloch MC1385 or Vapamore MR100
13 Best Steam Cleaners for Hardwood Floors
12 Best Lightweight Vacuum Cleaners For Elderly
11 Best Central Vacuum Attachment Kits, Powerheads & Brushes