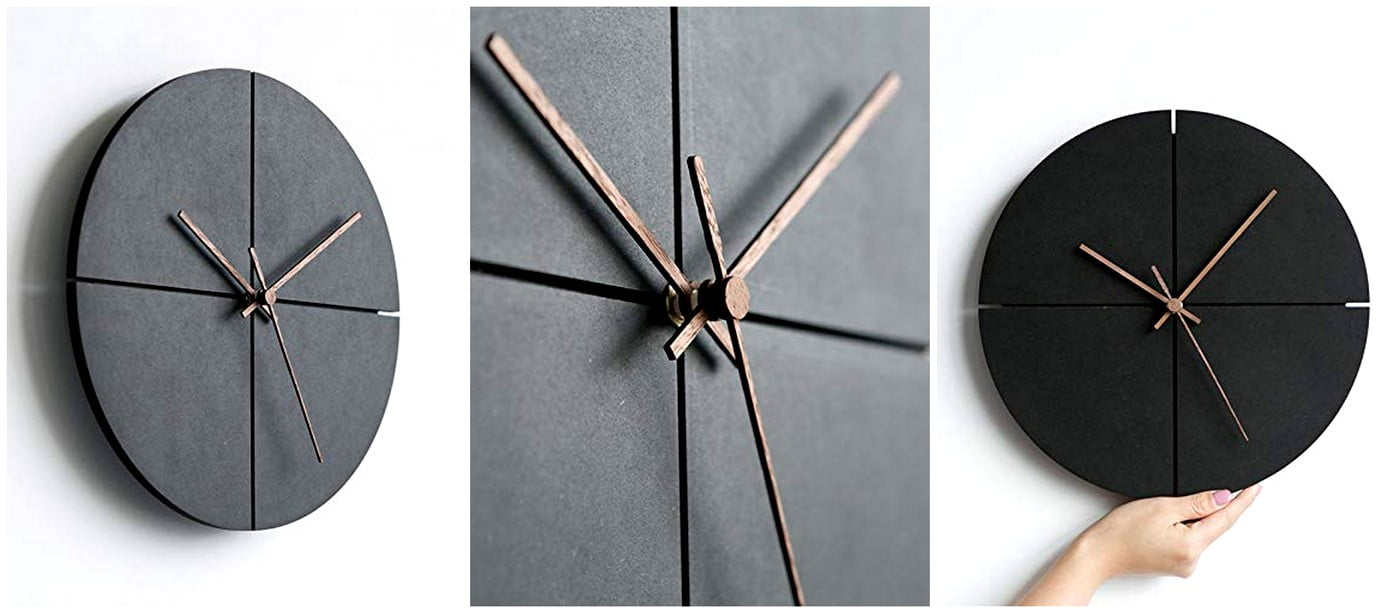 Concrete wall clocks are a piece of art that imbues a sense of serenity with a perfect blend of form and function.
A clock is often considered to be a trivial commodity, but that is only when you pick up a model without any design value. We indeed hang a clock primarily to serve the purpose of reading time. And it's for that particular purpose that we take a glance at it quite often. Which is why it's essential to pick a design that matches and compliments our decor.
The wall clock should be a perfect timekeeper for vital tasks! So, try selecting a model that goes with your vibe, and is easy to read as well. Finding a modern clock is pretty simple these days,  as it serves a wide range of structure, purpose, and designs. Even though our markets are getting swamped with digital clock and smartwatches, nothing can take away the simplicity of our classic wall clocks.
This simple device runs on a small power source and two or three sticks which is enough to exude a timeless style. The concrete wall clocks are handmade designs which can be a perfect home decor item and even a thoughtful gift.
Best Concrete Wall Clocks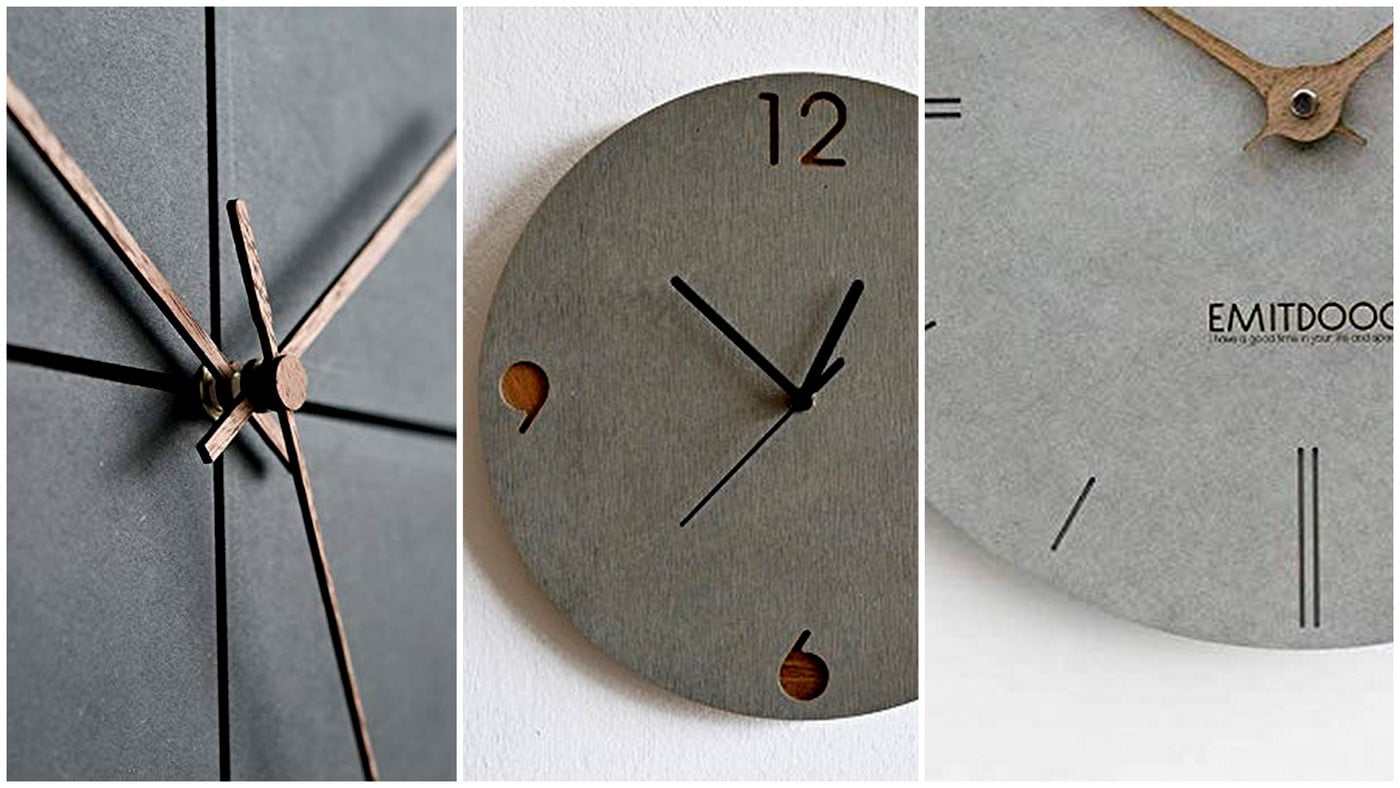 Here are the seven best concrete wall clocks for you!
This grey color clock has been uniquely designed and handcrafted. It's constructed by using two layers, one of wood and one of concrete. The clock has an overall diameter of 11.80 inches. While the concrete sheet is around 0.23"- 6mm, and it covers the marine plywood, which is about 0.2"- 5mm. The designer has carefully edged the numbers 12, 3,6 and 9 by using a laser or CNC.
Experience
We received this clock within a few days after placing the order. The inspiration and design of this contemporary model stand out even on the dullest of walls. We have had many friends complimenting this classy piece. The clock functions silently and it uses an EZ quartz sweeping mechanism. So, there is no disturbance even if you place it in the bedroom or the study place.
The concrete sheet is grey, and the highlight of this product lies in the fact that it's hand-painted. There are very few wall clocks available in the market which has been carefully crafted by hand, and this clock is a steal for its quality. Moving inside, the wood that is placed under the concrete sheet is plywood oak.
Moreover, you can see the classy dark oak stain only in places where the numbers have been edged. You need to get 1 AA battery to operate this modern wall clock.
Pros
Has a quartz second-hand sweeping mechanism
Clean design
Does not require any maintenance
Cons
The color combination can appear a little dull
This modern wall clock looks pretty iconic and it's made of high-quality materials. It has a precision laser-cut design that ensures steady performance and time accuracy. The minute and hour hands are made of metal,  and they are painted with real walnut color. This clock is available in four different styles, that will suit different wall types accordingly.
It has a superior sweeping mechanism that helps it to function in true silence. The clock measures 12 inches in diameter and is spherical in shape.
Experience
We wanted a concrete wall clock with an innovative design, and this model was the best option available to suit our needs. It has blended in perfectly with our modern cum traditional styled home. The color scheme of the dial along with the walnut color minute and hour hands can complement any interior.
There were two models of this clock that we had ordered, and they both look stunning in our office and the living room. We never faced any disturbance while the clock is operating and that's because of the quartz sweeping mechanism. It weighs about 2.29 pounds and has mounting hardware, so the installation process was pretty simple.
This wall clock delivers precise and accurate time, and it functions with 1 AA battery. The clock face features distinctive edges to indicate the time, but it can get a little challenging to read from a distance. Overall, it is a very unique and stylish wall clock.
Pros
Unique laser-cut design
Runs on 1AA battery
Reasonable and fair price
Built with high quality
Cons
Might be challenging to read the time from a distance
3. DHR Modern & Fashion Modern Wall Clock
This wall clock has an interesting twist in the design laid on a traditional round clock face. It features a simple yet stunning clock. It has a diameter of 12 inches and weighs about 2.27 pounds. The clock is made of Forescolor MDF, which gives the dial a smooth surface. There are real walnut or colorful minute and hour hands that look classy on the black dial.
It comes with a higher-level sweeping movement which makes it run in true silence. The package for the clock also includes mounting hardware and 1 AA battery.
Experience
The open-faced design with brown hands and the black dial blends in perfectly. We have placed it in our dining room, but the simple design will suit any environment. We were looking for an industrial looking and minimalist clock, and this model meets our needs perfectly. The distinctive color scheme of this model stands on any wall background. When you look at the clock itself, you can perceive that it's built to last.
The "HDR- Cross Concrete Series" is known for having a range of reliable, stylish, striking, and distinctive looking clocks and this model is no exception. You'll receive a mounting hardware with this package which will make it easier to hang the clock. The clock operates quite smoothly with no ticking sound, which is an added benefit. It has an exciting bodywork, with four engraved edges that are precisely cut with a laser.
Pros
Silent wall clock
Built with quality materials
Has a classic color scheme
Durable wall clock
Wallohere is known for its handmade products. This wall clock is made of fair-faced concrete while the hands are made with black walnut. There are roman numerals that have been engraved with superior intaglio technology. The clock has an average size measuring about 12 inches in diameter, and it runs on 1 AA battery. The clock does not have a second hand; therefore, you'll not be disturbed by any ticking sound.
Experience
This wall clock has a distinctive aesthetic appeal, and it looks perfect in modern style homes. The design is such that it will decorate every wall that you hang it on. The fair-faced concrete with a light grey tone is a subtle color scheme that doesn't appear to be obtrusive even on brightly colored walls. It has an excellent quartz mechanism that gives you precise and accurate time.
Also, the non-ticking feature helps to ensure that you're not disturbed with any sound, thereby creating a pleasing environment. You can hang this clock in almost every space from office to bedroom to the living room. We face no issues with reading the time, as the roman numerals have been edged sharply.
It's a lightweight product, and you'll surely be flooded with compliments for the unique and attractive features of this wall clock. There will be no issues with the installation process since the package also includes a wooden wall hook and other screws for the wall.
Pros
Made with fair-faced concrete
Silent wall clock
Minimalist design
Display has a decent size
The Blomus concrete wall clock has been tastefully designed, and it's square-shaped, which makes it relatively unique in comparison to the other models. It's made of superior quality of industrial concrete. The clock face has a neutral color that will match any style of decor.
This model does produce a slight sound when it's working, and visible markings are there for 12, 3, 6 & 9 positions.
Experience
We received this product in perfect packaging, and it's a beautiful timepiece that adorns every style of interior. You cannot expect this clock to stand out, as the neutral tone makes it more subdued. It's on the heavier side, as it weighs about 3.61 pounds. So, you should be a little careful while hanging it on the wall.
We can usually hear a subtle sound from the clock, especially at night, but it's barely noticeable. This concrete masterpiece has been built to last for an extended period, and it's equally easy to maintain. We have placed this clock in our living room, but you can put it anywhere. The structure and size of this modern clock will blend in perfectly with the rest of your furniture.
Pros
Fits in perfectly with any home decor
Easy maintenance
It's ideal for small-to-medium sized homes 
It produces a faint sound
The Piatto wall clock from Umbra has a concrete clock face with a copper-plated metal rim. It has been built to satisfy the preferences of the consumer. This meticulously designed and handcrafted concrete clock has a super smooth finish. It has a silent performance because of the quartz sweeping mechanism. It features a 10-inch diameter and runs on 1 AA battery.
Experience
It has a grey colored dial along with neutral-colored minute and hour hands. The copper-colored metal rim is a little flimsy, but if you handle it with care, then it will last for years to come. The dial of 10 inches is ideal to fit perfectly with the wall in the kitchen, living room, bedroom, and offices.
High-quality, durable metal is used for building the frame of the clock, and it comes with thin metal markers that are placed against the numbers. We had a little difficulty initially with reading time, so we removed the clock from the brightly lit wall and placed it in the bedroom instead. It doesn't produce any ticking sound, so there has been no disturbance even when the house is silent.
Pros
Does not produce any ticking sound
The color scheme of the metal frame and concrete dial will complement any wall space
It has a functional and affordable design
Light-colored numerals make it challenging to read the time
This clock from TIVIT is made of pure natural concrete; it's epoxy and chemical-free. It's available in three different colors. The minimalist design is suitable for office, home, or any other commercial use. Each of the concrete clock by this brand is sustainably produced and made with advanced molding technology. The clock measures about 8 inches in diameter and weighs around 3.5 pounds.
Experience
This versatile piece does stand out when compared to the other traditional and mundane looking clocks we had previously owned. We never faced any issue with the installation process, and the weight for a concrete clock to be 3.5 pounds is perfectly fine. The clock is sustainably produced, and it's free of any chemicals, which is why we have ordered one for the children's room.
We have hung this clock in our living room, which is brightly colored, but the white and black arms can perfectly complement any wall space. Even though the clock has a small size and minimal look, it's appealing. And the unique retro-inspired design will look perfect in any contemporary home.
Pros
Silent sweep movement
Easy maintenance
It has a perfect size – neither too big nor too small
Sophisticated design
Cons
It can be challenging to read the time
Concrete Wall Clock Buyer's Guide
You can find wall clocks in almost every color. There are some which have an antique design while few are fusion, in plenty of different sizes and shapes. Based on the common day-to-day interests of people, we have selected a few essential features in a wall clock.
1. Sound
There should not be any ticking sound from wall clocks. Try to choose a clock that comes with the sweeping quartz movement, which ensures the absence of ticking noise. If you want a clock that produces sound, then it should have a sensor that lowers the frequency when you have turned off the lights.
2. Exteriors
The frame and the overall look of the wall clock should match the room and your taste. It can either have matching or contrasting colors.
3. Battery Life
The wall clock should have a good battery life so that it can work well for a long time. And you'll not be troubled with having to change the cells quite often. The battery life also depends on the money being spent on the wall clock. The higher the price of the wall clock, the better will be its battery life.
4. Number Display
When you're buying a clock, you should consider the number display as an essential trait to select the right model. You may prefer Roman numerals, regular numbers, or at times, no numbers at all. If you're going for an edged design, then ensure it has been made with precision to help you read an accurate and precise time.
5. Material
You should select a wall clock that is made of durable material. It is vital to go for a clock that will last you for long because wall clocks aren't something that we buy frequently.
6. Visibility
Choose a wall clock that will look attractive and complement the interiors of your home. The numerals on the clock face should be clear and prominent. There shouldn't be any front glass, which is either too shady or flashy to reflect light because it can make it difficult to read the time from a distance.
7. Size
The size of the wall clock should coordinate perfectly with the room size. When you try to place a large clock in a tiny room, it will not look very appealing. Similarly, if you match a small clock in a large room, then it will not be visible. The best way to understand the right size is by having an idea of the dimensions of your room.
Final Words
A wall clock is not just a  time revealing device, but it also plays a substantial role in office/home decor. Before buying a clock, you should consider the looks, design, and color of the product but above all the accuracy of time.
Concrete clocks are a growing contemporary trend that will give your space a modern upscale look with sustainability in mind. It's a small initiative but can create a wave of change if we all start investing in environmentally friendly products. Then why not start with a concrete wall clock itself?
Related Articles
8 Best Bauhaus Wall Clocks for Clock-A-Holics Everywhere
17 of the Best Wall Clocks to Consider for Your Home