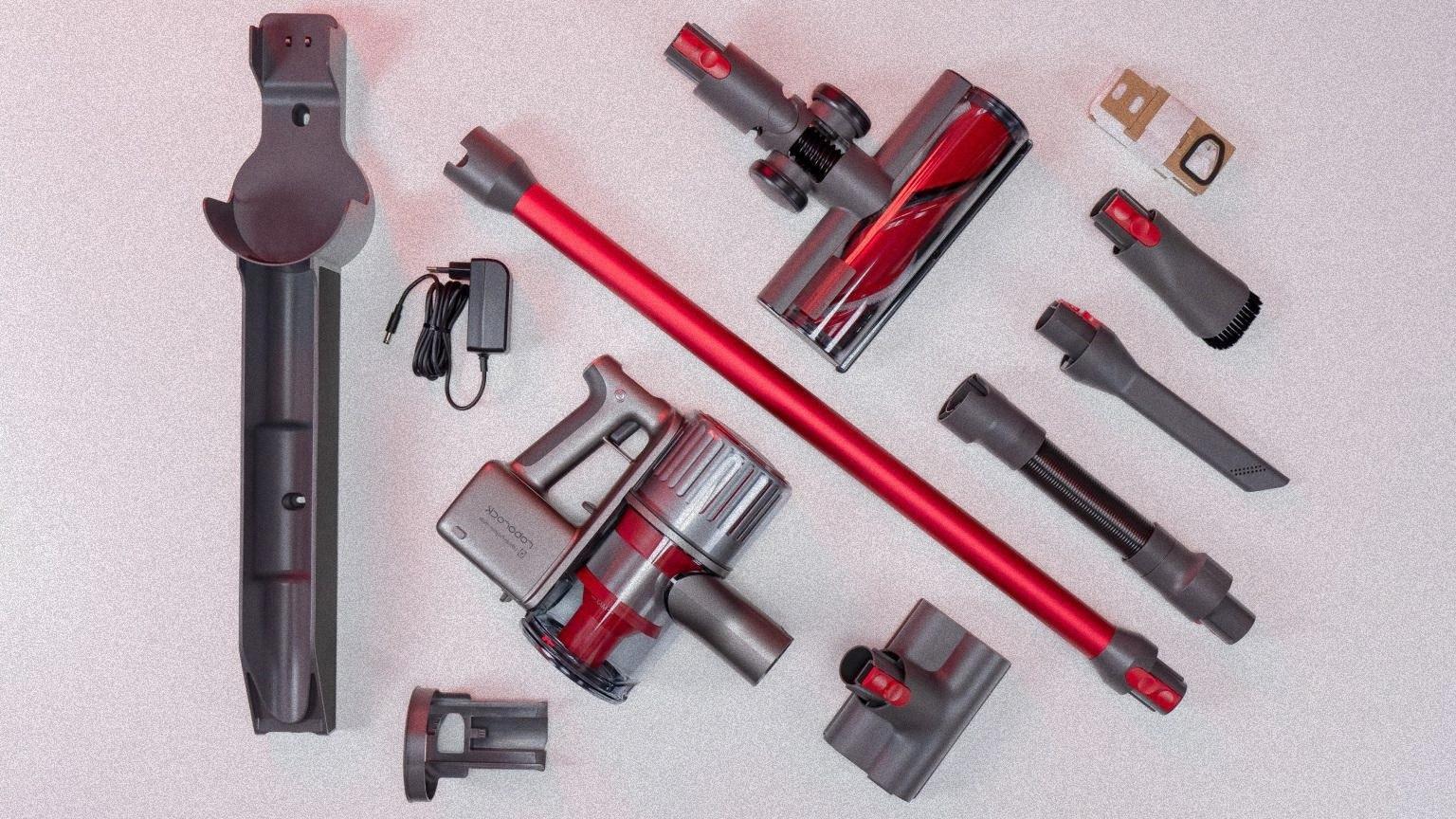 Roborock has been making vacuum cleaners for many years, and this cordless version is indeed a superb creation. So, it is time to say goodbye to the wires! This product is currently discontinued, and no such updated products available from the maker.
The Roborock H7 vacuum cleaner comes with a wide range of features and is an upgraded version compared to the H6 model, which was released in 2023. And with this unit, Roborock offers a lot of competition to the top vacuum cleaning brands like Samsung, Shark, and Dyson. 
If you are looking for a vacuum cleaner that can be easily taken around tight spaces, this one can easily serve the purpose. Plus, people of all age groups can easily operate it because of the lightweight design. 
And so that our readers can have a better understanding of the Roborock H7, we have penned down some of its main features in detail below.
Now, dive in! 
Roborock H7 Vacuum Cleaner Review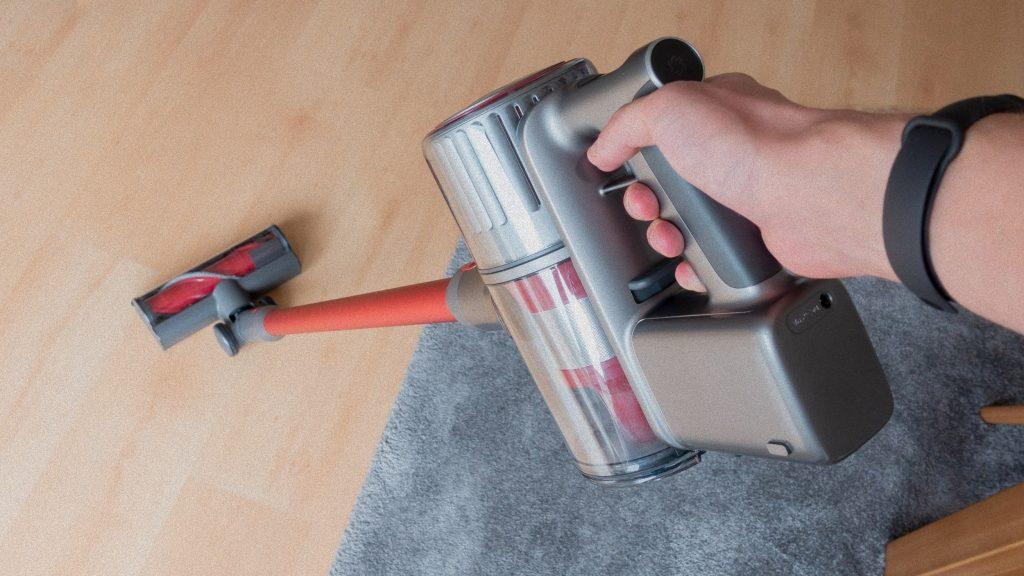 About the Brand
Beijing Roborock Technology Co., Ltd. or Roborock was founded way back in 2014, and it has been striving to make life easier for its customers. It has its headquarters in Beijing, and there are a number of scientists, designers, experts, manufacturers, and engineers who work closely to come up with the products. They have been designing different kinds of vacuums, and the cordless variant has been a huge success. 
Furthermore, the team members come from reputed companies including Huawei, Microsoft, and Foxconn, and they have diverse experience in various fields such as electronic engineering, manufacturing, machine structure design, and development of algorithms. 
The main motto of Roborock is to ensure that it uses the latest technologies to manufacture its vacuum cleaners so that people can leave the job to these machines. They believe in creating smart products that will make life easier and ensure that you can focus on other important activities. 
Product Review
Features And Specifications
First of all, the H7 vacuum cleaner comes with a 1.3-inch OLED screen that will help you understand the remaining time, battery percentage and display the mode that is currently selected. It initially shows the battery percentage, but on selecting a mode, the display will tell you the remaining time that you have while working with that specific mode. 
There is a button just beside the screen, which will help in changing the mode, and it is easily accessible while working. You can reach out to it at any time by just moving a finger. 
The package includes a set of accessories that include a multi-surface brush, dusting brush, MagBase, crevice tool, and a motorized mini-brush. 
They all are magnetic and can easily stick onto the MagBase easily. Besides, the MagBase can be mounted on a wall so that you can keep all the brushes in one place without worrying about misplacing or losing them. 
We also loved how the vacuum cleaner can be used as a mop as well, but you will need to buy a separate accessory for this purpose, which can be ordered while purchasing the device.
However, there are some drawbacks that caught our eye. Firstly, this vacuum cleaner doesn't come with a roller, which buyers will generally expect from a premium brand like Roborock.
And although the brushes function well, we were not able to remove the brush bar from the casing that it came in. This makes maintaining it slightly difficult, as you will not be able to reach the inner corners of the brush. 
Design And Build
If you are specifically looking for a vacuum cleaner that can be operated easily around furniture, then the H7 is a great option. Its lightweight design weighs only 1.5 kgs, which makes it easy to take around and maneuver near the corners of your home. 
Plus, you won't have to strain your hands while working with it in handheld mode, especially while cleaning stairs or car seats. This is a huge bonus for elderly people or users who may not have much strength in their arms.
Apart from that, it's accompanied by a dirt bin, which has a considerable capacity of 0.5 liters so that it can hold a lot of dirt and debris. However, there is no mechanism that automatically pushes out the dirt from the bin, so you will need to clean its insides manually. 
Now, this can be prevented if you line it with a plastic bag, which makes it easier to remove all the debris at once. However, if you plan on using the vacuum regularly, you're likely to use removable dirt bags, and the package comes with two of these.  But if you have dirt allergy or other issues with dust, we will recommend that you purchase more such bags. 
Performance
This unit ranks pretty high when it comes to performance, thanks to the 480-watt motor, which can create powerful suction to remove a lot of dust and dirt at one go. Hence, it will cut down on your maintenance efforts and time.
Additionally, you can toggle among 3 different modes, namely max mode, standard mode, and eco. 
The max mode should be switched on when you need to clean dirt that is clinging to the fabrics of the sofa or carpets. However, it's extremely powerful and can pull almost anything out. Hence, be very careful while operating the device in this mode to ensure that you don't cause any unnecessary damages.
Next is the standard mode, which provides ample suction power but also consumes a lot of energy. Hence, we will recommend using this once in a while to do a thorough cleaning of the place. 
Lastly, the eco mode is the most power-friendly operation option that you will find on this device. It is perfect for everyday use without racking up the power bills. 
Besides, you do not have to keep the trigger pressed at all times. You can switch on the sustain mode, and the vacuum will operate smoothly. After the work is done, just turn this mode off, and you are good to go. 
Furthermore, this machine is known to perform really well when it comes to tiny dust and dirt particles. It also works well with hair, and it will pick hair and fur that is scattered around the floor. You can keep using eco mode for all of it. However, if you need to pick up larger particles, then the standard mode may be required. The max mode is generally not used at all in practice as it is too strong.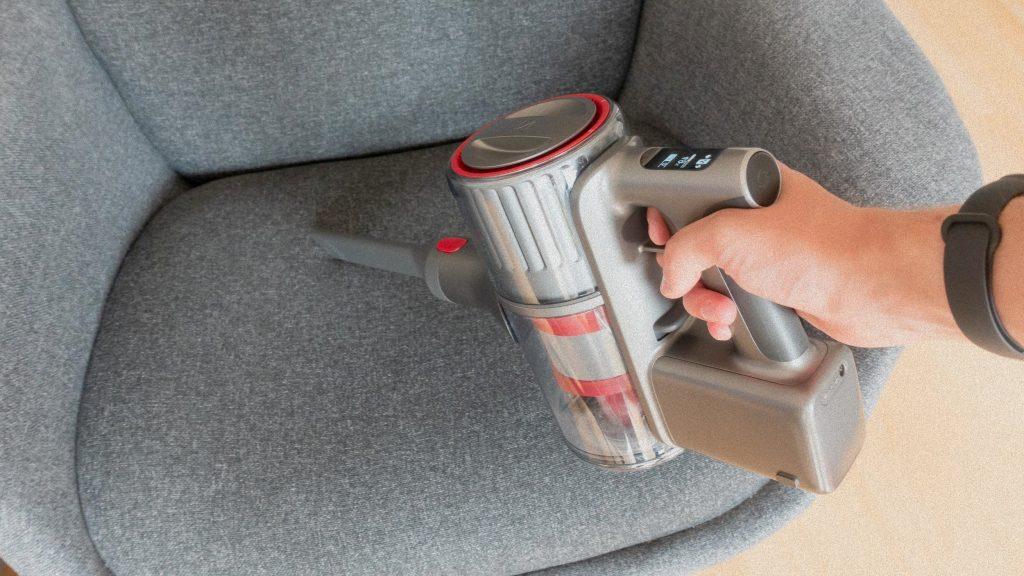 Battery
As with all vacuums, the battery life differs depending on the mode you use, and you can recharge it once the power drops. You will be getting an 80Wh Li-Po or a lithium polymer battery, which takes around 2 and a half hours to charge completely. The battery cannot be removed, and hence, you cannot keep a spare battery and charge it. 
If you are using the standard mode, then the vacuum will function for around 40 minutes. On the other hand, if you are using the max mode, then it will function for 8 minutes. The eco mode is the most long-lasting, and in this case, the battery lasts for 90 minutes. 
We will recommend switching on the max mode rarely for a half-yearly sofa and carpet cleaning, and then you would not be consuming too much power. 
Pricing
The price is on the higher side, and you will have to pay $500 for it. This may require you to go over the budget, so we will ask you to consider all the features before purchasing.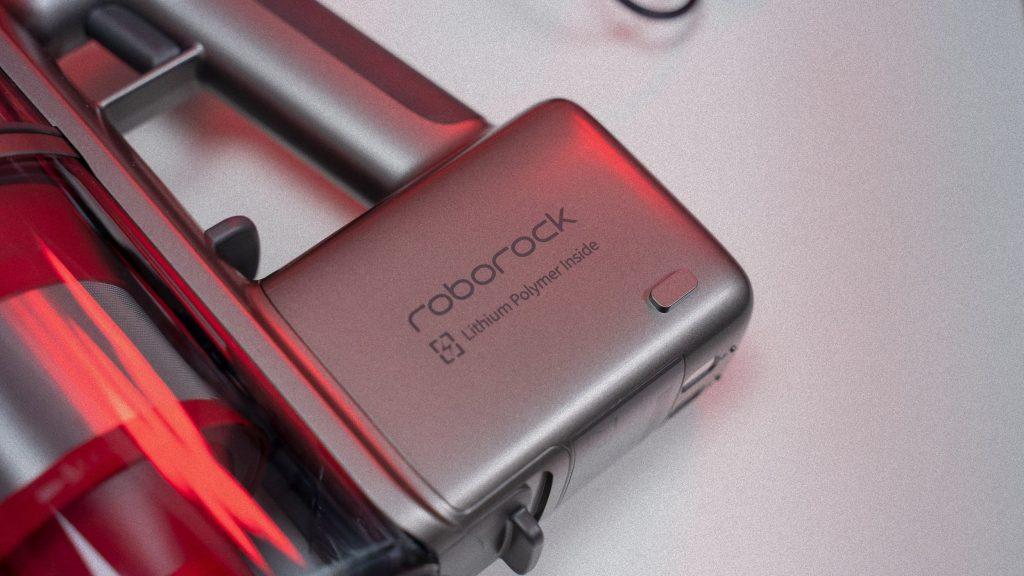 Return Policy And Warranty
There's no doubt that the Roborock H7 is a powerful and efficient device that will work well for many years if you maintain it properly. Ensure that you keep charging the battery and do not let it drain out completely. The company offers a 1-year warranty on the product, and you can always contact customer care in case of any issues. 
Moreover, you can return the product within 30 days of getting it delivered for any reason. If there is a fault with the product, then the shipping charges will be paid by the company. 
Otherwise, you will have to pay the charges yourself while the rest of the money will be returned back. Just remember to double-check and see if all the accessories are returned along with the product. Else the product will not be eligible for return. 
The company uses trusted shipping services, which include UPS, FedEx, USPS, and Amazon Logistics, and you should receive the product within 3 to 5 days of placing the order. 
Pros
Charges quickly

Known for powerful suction capacity

Efficient air filtration

Easy to store

Lightweight and easy to maneuver

Comes with multiple brushes
Cons
No roller is provided

Requires manual removal of dirt and debris
Roborock H7 Vacuum Cleaner Verdict 
We believe that this is a very powerful and cost-effective option to choose among the other competitors in the market. It may not stand out too much considering the price is high, but the price is well justified with the huge number of features and accessories that come along. 
However, there are some disadvantages like the absence of a roller and the fact that one has to put their hand in the bin to get the dust out. But since it allows users to add disposable dirtbags, the problem is taken care of to some extent. 
Also, the attachments have built-in magnets, and you will not lose them easily as they can all stay attached to one base. 
With this, we have reached the end of this review, and we are sure that you have enough information about the H7 vacuum cleaner. If there is something more you would want to know, leave a comment in the section below, and we will try to answer it. 
See you another day!
Related Links
55 Best Robot Vacuum Names For Your Little One
Bissell Crosswave 1785A vs. 2306A
Hoover Power Scrub Deluxe Vs. Hoover Turbo Scrub
12 Best Lightweight Vacuum Cleaners For Elderly
6 Best Vacuum Cleaners for Mattress That Promote Healthy Sleeping
6 Best Miele Vacuums For Cat, Dog, And Pet Hair
19 Best Upright Vacuums with HEPA Filter