Gone are those days when you were drowned in the curses of cleaning up the massive sawdust, wood shavings, or other kinds of large debris of your workshop.
In this day and age, portable and compact shop vacuums have replaced traditional cleaning methods. Heck, it has become an indispensable tool in large industrial workshops as well as households.
Professionals are always in search of their dream shop vacuum that can be an antidote to their every day bane. But, most of us often tend to invest in a mediocre product, only to realize that it's an absolute waste of our investment.
We do get that you lack time to scour the internet for the best options that can meet your standards. Hence, to help you save precious time, we have highlighted some of the best shop vacs along with a breakdown of their premium features as well as their improvement areas. Also, do not forget to cast a glance at the comprehensive guide that we have attached to take your pick from the best.
So. let's get into the deets, shall we?
Best Shop Vacs For Dust Collection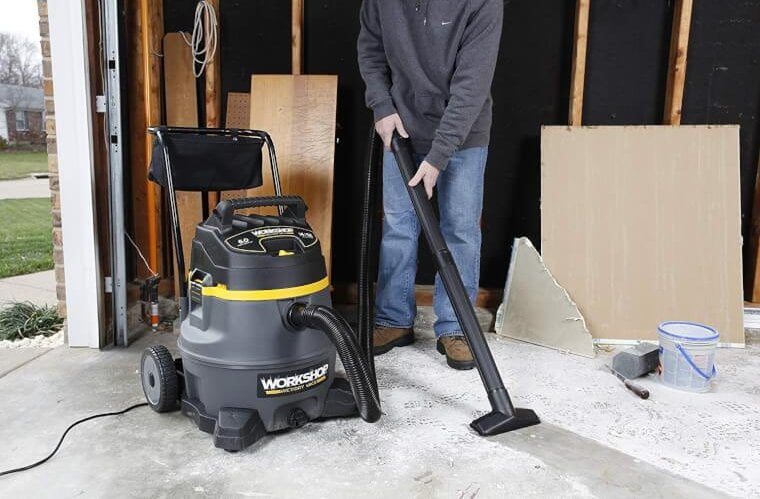 If you are on the lookout for the coolest shop vacuum that can be the remedy to your heavy-duty cleanup stress, then there isn't a better tool to use than this highly durable machine. One of the most affordable options on this list, this two-in-one easy portable unit can be classified as one of the best small shop vacs on the market.
Why Did We Like It?
Wondering why this specific vac tops our list among hundreds of products out there? Well, let us tell you, we were hugely impressed by the raving reviews on the web and thought of giving it a try.
Being a versatile vacuum cleaner, it is no biggie for this machine (sporting a strong 4.5 HP motor) to clean wet and dry messes of diverse areas like garages, retail center stores, and basements.
Apart from that, with a stainless steel tank capacity of 5 gallons, it does not require emptying every minute. Hence, kudos to Shop VAC for getting that right!
What's more, the tank of this unit is highly durable and long-lasting; it can undoubtedly take a beating. And within this affordable price range, we honestly couldn't have asked for more.
What Could Have Been Better?
After giving it a try, we have noticed some minor downsides of this otherwise remarkable vacuum cleaner. Its fairly short power cord creates a recurring struggle to use it efficiently. So, we recommend using an extension box to connect it.
Pros
Affordable

Strong 4.5 PHP for maximum performance and efficiency

5 gallons stainless steel tank
Ridgid is one of those brands that we cannot have enough of when it comes to versatile and high-performance dust cleaning shop vacs. Likewise, the WD1450 has impressed us with its 6 peak HP motor and fine dust filters which appear to be ideal for tough jobsite cleaning purposes. Let's dive deep into its core functionality and see what it brings to the table.
Why Did We Like It?
For those searching for a low-noise vacuum cleaner, this can be one of your best options. Despite the high power rating, this unit has a fairly low noise output compared to other similarly performing shop vacuum available in the market.
Before we talk about anything else, we want to take a moment to appreciate it's 20-foot long power cord. What's more, it also comes with multiple foot accessories that definitely play a significant role in contributing to its versatile usage.
Furthermore, with a 6 HP motor, this model can deliver an extremely powerful suction capacity on both dry and wet areas. This feature ensures that the unit is able to pick up large pieces of mulch in a single pass and suck up 2 gallons of water in 3.8 seconds, the best time among all the shop vacs on this list.
To cut a long story short, if you are on the lookout for a shop vacuum that can handle your dirtiest tasks around the yard within a pocket-friendly range, you can consider giving this a try.
What Could Have Been Better?
The only gripe we had with this Ridgid Vac was its large dimension. While testing it, we felt awkward carrying this Vac, even more so, due its small carry handles. But this is far from a deal-breaker.
Pros
LowSNR noise levels

Strong and heavy-duty 6 HP motor

Value for money
Cons
Large dimension

Small carry handles
Now that we have covered some of the top pocket-friendly options, it is time to look at a vac that is a tad bit expensive. This professional-grade shop vacuum comes adorned with a diverse range of rich features that make it superior to other models in terms of performance. Let's delve deep to understand what makes it one of the strongest performers on our list.
Why Did We Like It?
Honestly, we were a tad bit skeptical about purchasing it due to its mixed reviews and expensive range. But, when we received it, we couldn't have been more satisfied.
Those were the old days when you had to worry over being inhibited during the operation of your shop vacuum. With a powerful 9.5 Amps motor, this appliance can be powerful when it comes to sucking air or blowing it out efficiently.
Apart from that, Bosch designed this device with a unique automatic cleaning system that helps you to clean air filters every 15 seconds. This prevents any obstructions and ensures the unit delivers the best performance its motor can provide.
Oh! And did we mention that it is backed up by a power broker dial? This feature helped us to prevent blowing up the shop vacuum when we were using it for heavy-duty tasks. Hence, it is definitely worth giving a try.
What Could Have Been Better?
Undoubtedly, this is one of the top woodworking shop vacuum that exists out there. But, if some reviews are to be believed, this device reverts back to default mode whenever it is unplugged. This means that every time you switch on this device, you have to reset the functions manually again.
Pros
Powerful 9.5 Amps motor

Automatic filter cleaning

Strong motor with power broker and power switching dial
Cons
Reverts back to default whenever it is unplugged
DeWalt is one of those brands that are specifically best-known for their fine dust collection shop vacs range. Likewise, their DWV012 model with a generous 10-gallon dust collection tank and 5 Amp motor appears to be a sturdy machine specifically designed to encounter the toughest job site cleaning tasks with precision.
Sale
Why Did We Like It?
Since this product competes neck to neck with the BOSCH shop vac, how about we walk you through a more comparative analysis.
Unlike the BOSCH shop vac with 9.5 amps, this model sports one of the most robust motors rated at 15 amps. Hence, with 140 CFM airflow, this strong machine can easily swallow up even solid materials like rock chipping, gravel, and small nails, amongst many.
What's more, you can stop fretting over those tiny sawdust particles that are even invisible to your naked eye. The HEPA filters of this machine enable it to successfully absorb these as well.
As an added bonus, this vac also features an automatic filter control mechanism that helps you clean the filters every 30 seconds for effective and continual operation.
What Could Have Been Better?
Like the BOSCH shop vac, this unit also comes at the cost of the lack of a blower in it. It's hose adapters can be costly too. But, considering its given advantages, these factors cannot be considered major deal-breakers!
Pros
High-quality and durable build

2 HEPA filters for automatic cleansing

Huge tank capacity of 10 gallons

140 CFM airflow
Cons
Lack of a blower function

Costly hose adapters
We are halfway through with our recommendations, and it is time for you to get acquainted with this rich-featured shop vac. If you want portability with power, you can consider checking out this 5-gallon vac. And, if an immediate vac shopping spree is on your mind, what better way to start than with this 5.5 HP motor vac, that truly outrank others in its capacity class.
Why Did We Like It?
It doesn't get better than this when it comes to owning a shop vac with a 5.5 peak HP engine that makes sure you have an amazing experience.
Besides that, with a tank as large as 5 gallons, the product can do heavy-duty cleanup jobs with ease. So, if you are looking for a powerful cleaner that can take care of all the heavy mess in your workshops and garages, then it won't disappoint you.
What's more, if you require a blower for your backyard, pull this vac out of your garage and convert it into an amazing blower with the snap of a finger – it's as simple as that!
What Could Have Been Better?
Despite being one of the most affordable options, it has certain flaws in it. First, while testing, we noticed a weak connection in the hose and the wand. Second, we found it challenging to attach the bag to the inlet hole, which was a tad bit inconvenient for us.
Pros
Easy to assemble

Beasty suction power

Good CFM rating for the size
Cons
Weak connection in the hose and wands

Challenging to attach the bag to the inlet hole
The Armor All 2.5 Gallon is worth a look if you are in search of a compact shop vac that comes within an affordable price range. This 2.5 wet dry vac is one of the cheapest options on the market and can be an absolute delight for every bargain hunter out there. So, if you are on the search for good value products, you can consider giving this shop vac a try.
Sale
Why Did We Like It?
Straight off the bat, we were impressed by the highly positive customer reviews for this shop vac, so we decided to give it a try. And we weren't disappointed one bit! With a mere weight of 7 pounds, we found this model to be extremely compact, making it an ideal option for cleaning even the interiors of your cars.
This is a tiny powerhouse that can hold up to 2.5 gallon of debris. Hence, you can stop worrying about dumping midway while cleaning out your mess. Besides that, this utility vacuum also comes with a cloth filter that can help you to get rid of hair, dirt and other dry particles. If you need to remove liquid messes, just replace the cloth filter with the included foam sleeve. It's as simple as that!
Furthermore, this shop vac also comes with six tools – a utility nozzle, detailing brush, crevice wand, a blow-conversion nozzle, and a nozzle made just for automobiles. All of this combined makes it an excellent shop vac that boasts of durability and versatility.
What Could Have Been Better?
What troubled us about this otherwise powerful vac is when it is in blow mode, the hose fails to stay in place. Also, the cloth filter clogs easily, which makes it difficult to use it for nasty jobs like cleaning up baby spit, etc. This shop vac also doesn't come with wheels; however, it is light enough, so most of you won't be inconvenienced by that.
Pros
Decent power

Compact

Great attachments

Easily portable

Reasonable price range
Cons
Lack of wheels

Easy clogging of the cloth filter
When it comes to using a vac that is designed specifically for cleaning the huge home mess, the brand that masses trust is no other than Tacklife. We have recently had the opportunity to test the Tacklife PVC01A wet dry vac. And we can't wait to share our amazing experience with you. So, let's have a look at some of the premium features that hugely impressed us.
No products found.
Why Did We Like It?
For those who aren't ready to settle for anything less than a high-function shop vac, this Tacklife model can be a significant option to consider. Equipped with a 5-gallon capacity tank, this device is undoubtedly designed to put a stop to all your worries of cleaning humongous amounts of debris and liquids in a jiffy.
We were hugely impressed with its safety buoy technology that automatically powers off once the water level in the tank exceeds. In other words, it sets the boundary to protect the motor, thus, making the product much more durable and long-lasting.
In addition, the unit also boasts of a copper motor that ensures persistence, maximum power, and high performance. Furthermore, the 4-filtration system of this unit will also enable you to filter small to large particles with much ease, thus making your life easier.
What Could Have Been Better? 
Although this shopping vac is quite efficient at what it does, it's a little disappointing that this model can easily tip-off, especially when it's half full. This way, the users need to be extra cautious while handling the machine, which can prove to be inconvenient for many.
Pros
Pocket-friendly price range

Excellent holding capacity

Convenient storage design
Honestly speaking, this is one of the most compact shop vacs we have ever reviewed, and that's what captivated our attention in the first place. But once we gave it a try, we wanted to incorporate it on our list for more than one reason. And the very first being, Craftsman is a reliable brand with a diverse range of shop vacs that have impressed many for quite some time.
Why Did We Like It?
It's only after intense amounts of scrutiny that we have decided on this product. Packed with a 6-gallon tank, this device made cleaning all the dirt, grime, gunk as well as the wet messes around our house seem a complete cakewalk.
We believe that vacuuming your space should not be a tiring process, and very few understands this as well as Craftsman.That's because they engineered this unit with a sealed on and off switch for easy controls, a 360-degree swivel that caters to maneuverability, and a conveniently placed carry handle to maximize portability.
Furthermore, this vac also comes equipped with a 10 ft chord as well as two extension wand pieces. On combining these extension wands and all other accessories, you can quickly remove cobwebs from a 17-foot high ceiling height without unplugging the unit. The manufacturers have honestly put a lot of thought into the little details and these make a massive difference in the consumer's hands.
What Could Have Been Better?
We're a little disappointed that this product comes equipped with a 3HP motor. Though its strong performance capacity seems to be compensating a little bit; however, most of its competitors are setting the bar high by introducing products with a higher motor capacity. This becomes quite a bummer, as most consumers are always looking for the best value under the lowest price.
Pros
6 gallon tank

Sealed on and off switch

360-degree swivels

10ft chord

2 extension wand pieces
We enjoy the silence in our homes, and if you are like us, this shop vac can be one of the best choices for you. Shop-Vac is known to be technologically a step ahead at all times with their innovative products, and this one isn't an exception. Not only does this model assures you with a professional-level efficiency, but it also comes with an advanced sound diffusion technology we  have come across till now.  
Why Did We Like It?
If you are one of those who want to make the kids responsible by letting them contribute to the household vacuuming, then you can consider giving this product a try. Not that it is specially designed for children, but it is just so easy to operate that even your child can use it without any difficulties.
Not only that, it comes with an attached dolly that makes sure you can roll it instead of carrying it around. Want your kids to vacuum the stairs mess? No worries, this shop vac comes with a carry handle that will help them to clean the mess they created.
Undoubtedly, this vac is small in size; it still packs a punch, offering 2 HP motor no less. Whether your aim is to clean the dust on the carpet, or pet hair from your sofas, the motor can surely help you raise your cleaning game by a few notches.
Now, what separates this product from the rest of our recommendations is that this vacuum is equipped with an 18-foot cord that facilitates more movement over a wide radius. This feature allows you to vacuum the stairs even with the unit placed on the ground.
What Could Have Been Better?
After using it for two months in our workshop, we are yet to find a significant flaw in this vac. But if we had to nitpick, the only thing we would say is that it lacks a large capacity tank compared to other recommended models on this list. But, this doesn't affect its performance, so it cannot be considered as a deal-breaker.
Pros
Long hose and chord

User-friendly

3-year warranty
Cons
Lack of a large capacity tank
Although Emerson is considerably a new entrant in the shop vac market, this brand has been creating waves with its trailblazing innovations. The Emerson WS1600VA comes with an exemplary durable copolymer drum, making it one of the best value-for-money shop vacs in the market recently. Let's check out its core features.
Why Did We Like It?
To begin with, this shop vac comes equipped with a 16-gallon tank that maximizes the amount of cleaning you can do in a single session. Also, the WS1600VA can be one of the most logical choices if your needs go beyond a typical home use. Apart from that, a large storage capacity means you won't have to empty the tank very frequently, in between your cleaning spree.
The cherry on the cake is its durable copolymer drum. This ensures that this model can withstand any kind of heavy duty cleaning and successfully prevents cracking or dents from impacts.
As a bonus, the on-board filter system of the unit sports an Emerson's Qwik Lock fastening design. This makes switching filters quick and simple, like never before.
Apart from that, it also provides five years of limited warranty that will help you live peacefully, knowing that you are in safe hands.
What Could Have Been Better?
We couldn't help but notice a couple of drawbacks of an otherwise exceptional shop vac. First, the wand extensions lack some supporting clips to hold them in place. Second, the top doesn't seal as well to the bucket as we expected. Hence, we recommend you to be cautious and avoid bumping for perfect usage.
Pros
Enormous tank capacity

Quickest suction vacuum

Provision of Qwik Lock Filtering system
Cons
Lack of dust collection bags

Absence of clips to hold the wand extensions
Shop Vac Buyer's Guide 
Knowing the best 10 shop vacs that are available in the market today is only half the battle won! You still need to figure out which product suits you the best according to your needs. And, that can be a bit daunting as you are dealing with all excellent products with premium features. That's when our comprehensive buyer's guide can come handy.
Here are a few specifics you should keep in mind before shelling out your cold cash. So, grab your pen and paper. Let's get started.
Size
Know that the tank capacity and the size is central to finding the perfect shop vac of your choice. If you simply want a vac to only clean your backyard, then getting an industrial-sized model might not be precisely a logical decision to make.
Hence, if you require a shop vac to clean up areas around your home like the garage, we would recommend using an 8 to 14-gallon capacity vacuum. On the other hand, tanks that are larger than 14-gallon would be an ideal choice for performing heavy-duty tasks like the clean up of large commercial houses.
Suction
For those of you who don't have a clear idea, a shop vac works primarily by suctioning any wet dry dirt and debris into the collection tanks. Therefore, suctioning capacity and power are the pivotal points to consider while exploring a million shop vacuums that exist in recent times.
If you are in need of a vacuum with a high performance-suction, then aiming for high horsepower and CFM vac would be your best bet. Some models sport CFM of over 100, while some as high as 175. For light-duty vacuuming purposes, purchasing a low-CFM vac would be adequate.
Motor
While buying your vac, it is essential to remember that the motor can make or break the vacuum. Keep in mind to have a look at the amount of horsepower the motor sports. We always suggest purchasing high-performance motor shop vac for optimum performance.
Versatility
Shop vacs are not only limited to cleaning just the shop. Hence, it is always prudent to find something versatile to meet all your cleaning needs. All the more, it can be handy, both for financial and storage reasons, to use only a product that can clean up your yard, home as well as shops.
Affordability
Price! The final and the ultimate consideration. One of the excellent aspects of purchasing a shop vac is that you can even get a knock-off without splurging considerably. But, remember it is always wise to purchase a quality product rather than relying on cheap and mediocre ones. A good shop vac will stick around for a while, and therefore we would advise you to always purchase a quality product, than continuously replacing the cheap ones.
Final Verdict
We do hope we were able to resolve all your queries today with our selection of the top 10 shop vacs. We have made all the choices, keeping in mind the varying needs of different masses for varied purposes. From the high-end Shop-Vac 5989300 to a medium-end and compact Craftsman 12004, we have got it all covered for you.
But, if you ask us, we would recommend you to go with Shop-Vac All-In-One-Dry-And-Wet for less noise, VacMaster Professional of Beast Series for its 5.5 HP motor, and Armor All A225 for its portability.
However, if you are looking for a highly functional shop vac within an affordable price range, we believe there are no better options than Emerson WS1600VA or Craftsman 12004.
It's now time for you to make a sound decision. We will see you soon with more info about the best products that can take your experience to a complete new level.
Stay Tuned. Here's wishing you all the luck
Related Articles 
13 Best Portable Table Saws for Fine Woodworking | Buyer's Guide
13 Best Wet/Dry Handheld Vacuums of 2022 + Buyer's Guide
7 Best Xiaomi Vacuum Cleaners for Healthy Homes
13 Best Shop Vacs| Buyer's Guide and Reviews
13 Best Bagged Canister Vacuums| Reviews & Buyer's Guide
13 Best Vacuum for Stairs| Reviews and Buyers Guide
13 Best Robot Vacuums You Can Buy Under $200– Reviews & Buyer's Guide
8 Best Robot Vacuums Under $150| Reviews & Buyer's Guide
13 Best Backpack Vacuum Cleaners| Reviews & Buyer's Guide
13 Best Non-Electric Vacuum Sweepers
Best Samsung Robot Vacuums| POWERBot Buyer's Guide
6 Best Vacuum Cleaners for Mattress That Promote Healthy Sleeping
19 Best Upright Vacuums with HEPA Filter| Reviews & Buyer's Guide
Are Kirby Vacuum Cleaners Worth the Money? + Best Kirby Vacuum Cleaners
Dyson AM07 vs Dyson AM06 Fan Comparison
Shark NV682 vs. NV683 vs. NV752 | Upright Vacuum Comparison Review
Vornado 530 vs 630 vs 660 | Room Air Circulator Fans Compared
Bissell BigGreen 86T3 vs. BG10 | Carpet Cleaner Comparison & Buyer's Guide
Bissell Crosswave 1785A vs. 2306A | Two Greats Upright Vacuums Compared
Hoover Power Scrub Deluxe vs. Hoover Turbo Scrub | Buyer's Guide
15 Best Robot Vacuums of 2022 for Under $300
13 Best Canister Vacuums for Pet Hair 
ILIFE A4s vs. iRobot Roomba 690 Compared | Robot Vacuum Face-Off
ECOVACS Deebot N79 vs. N79s | Robot Vacuums Compared & Buyer's Guide
Lasko 7050 vs. U15701 vs. 655704 | Floor Fan Comparison
PureClean PUCRC95 Automatic Robot Vacuum Cleaner Review
Oreck Commercial ORB550MC vs. Orbiter Ultra Multi-Purpose | Buyer's Guide
iRobot Roomba 675 vs. 680 vs. 690 | Robot Vacuums Compared & Buyer's Guide
Bissell 9595A vs. 1831 | CleanView Upright Vacuums Compared & Buyer's Guide
The Best Vintage Vacuum Cleaners To Collect
11 Best Tap And Die Set on the Market Today | Buyer's Guide
6 Smallest Wet Dry Vacs For Home and Workshop
13 Most Powerful Shop Vacs For Your Garage & Workshop
Radial Arm Saw vs Miter Saw [Differences & Winner]
ROCKWELL VersaCut RK3440K Mini Circular Saw [Review]
McCulloch MC1385 or Vapamore MR100
13 Best Steam Cleaners for Hardwood Floors
15 Best Robot Vacuums Under $300
12 Best Lightweight Vacuum Cleaners For Elderly
11 Best Central Vacuum Attachment Kits, Powerheads & Brushes
15 Best Lightweight Vacuum Cleaners for Elderly [Buying Guide]
11 Best Vacuums For Tile Floors
7 Best Central Vacuum Hose Replacements To Consider