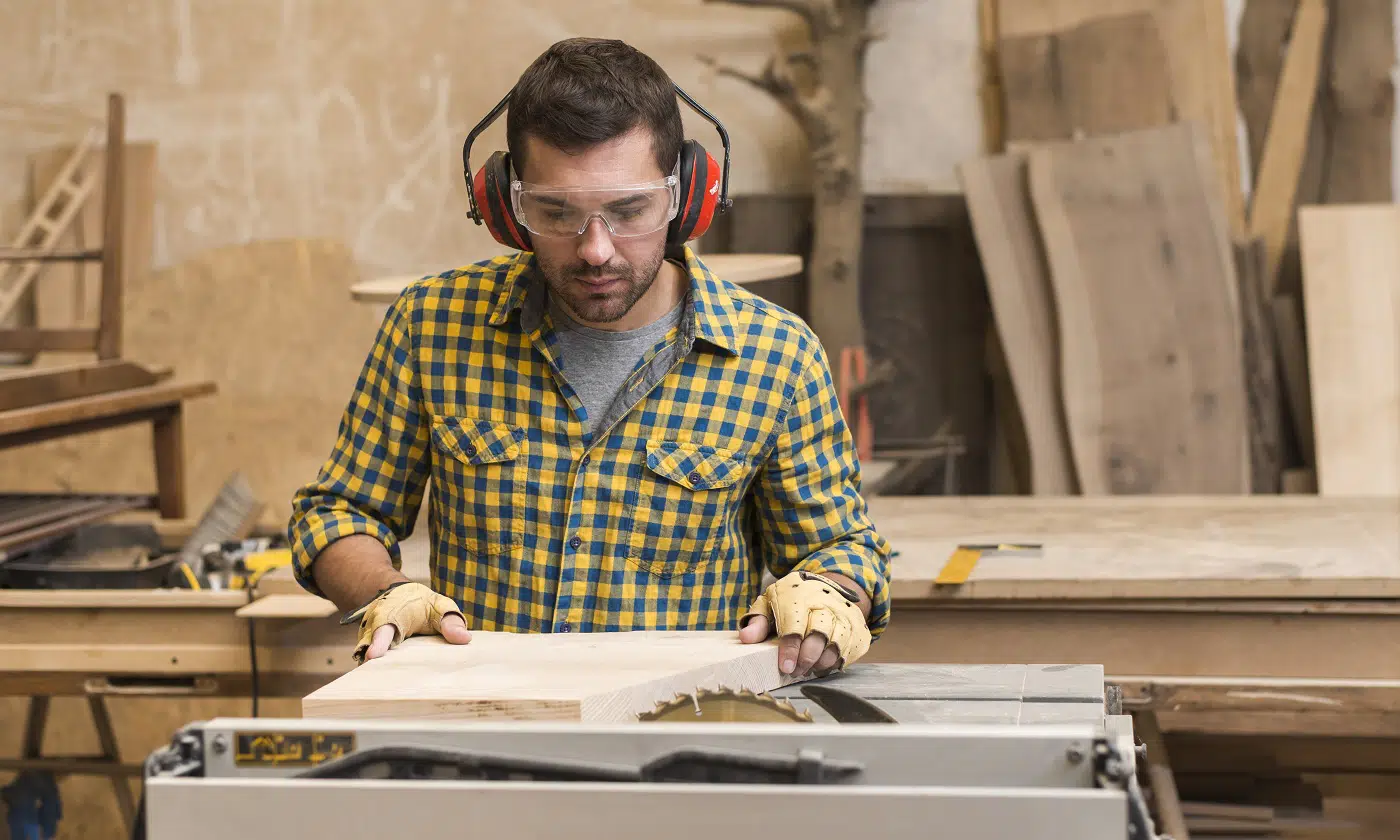 In today's reviews, we'll be looking at contractor table saws that are mainly used by professionals and DIY enthusiasts. 
The product features an improved design, keeping the continuously changing work environment in mind. So, what's special about these table saws, and what makes them different from other contractor tools? Well, they adapt to different conditions and deliver solid performances for your projects to stand out. 
Plus, thanks to the impressive motor and sturdy blades, you can make fast and powerful cuts to slice through various materials. Some of these units are also cordless, providing maneuverability and the option of working from various angles. 
But how will you select a unit that's best suited to your needs? We've narrowed down 13 quality options that are all the rage right now. Furthermore, we'll discuss some of the essential aspects of table saws in our buyer's guide. 
Strap on your hard hats, and let's begin. 
Top Contractor Table Saws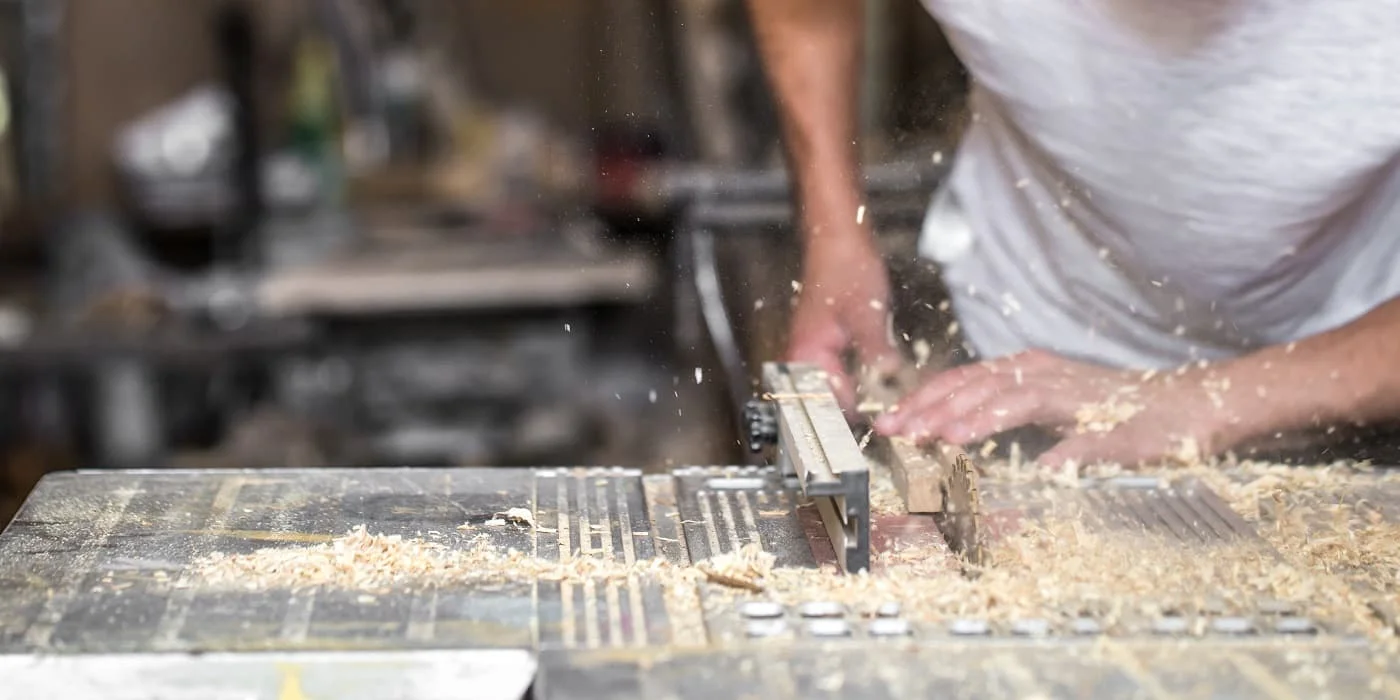 DEWALT is a well-known brand in the market, thanks to its ability of developing new and exciting tools. It has often been the standard for quality, and one look at the DWE7485 Table Saw reveals why. The tool has everything you could ask for and allows users to make additional upgrades if needed.
Sale
Why Did We Like It? 
First things first, a table saw needs to be compact for improved maneuverability and portability while working. Instead of using a bulky tool, you can easily make adjustments to this compact unit and store it without any hassle once work is over. Additionally, the fast fence adjustments permit you to complete work quickly without compromising on accuracy. 
We loved the 24.5-inch rip capacity supported by rack and pinion telescoping fence rails for making varied cuts. Furthermore, the 15amp motor produces 5,800 rpm to reduce work time and deliver a smooth experience. 
Moving on, the lightweight design reduces stress, allowing you to work comfortably for extended periods. But that doesn't mean the brand hasn't focused on durability. You'll see that this model features a heavy-duty steel tube construction for longevity and safety. Plus, the upper bar hardware proves useful for securely fastening the saw to the stand. 
What Could've Been Better? 
DEWALT has failed to mention the list of accessories that work with the unit, so first-time users may find it challenging to make additions to this model. Also, the tabletop coating is likely to wear off due to the slightest friction, which won't please you. While it doesn't affect performance or durability, you'll need clamps to secure the saw. 
Pros
Fast

Accurate

Smooth

Lightweight

Compact
Cons
Tabletop coating may wear off

No list of accessories
This is a 3HP professional cabinet saw, and the engineers have focused a lot on its details, ensuring that every aspect is covered. It delivers the consistent output with help from features like the patented safety system and vertical fencing. As a result, it's one of the most sought-after units available out there.
Why Did We Like It? 
An important component of table saws is the fence, and that's why the manufacturers have paid special attention to it. This unit features a 36-inch T-glide fence and rail made from heavy-gauge steel. As a result, the table saw can be securely held in place, allowing you to make accurate square cuts without worrying about deflection. 
Now, while working with powerful equipment, you need to remain safe. As such, it comes with a patented safety system to stop the blade from spinning when it touches the skin. It stops within five milliseconds and drops down, thereby protecting you from potential injuries.  
Other than that, the trunnion and arbor complement each other to deliver a balanced output. What's more, the gas piston elevation mechanism ensures a seamless experience for improved maneuverability. 
Another important component is the dust collection blade guard, which keeps the tabletop clean by removing 99% of the accumulated debris. 
What Could've Been Better? 
Noticeably, it takes time to start the unit, which won't please prospective buyers. Therefore, it would be best if you had time on your hands; otherwise, your projects might get delayed. Moreover, the price is slightly more than other models, making customers hesitant about the purchase. But if you can be flexible with the budget, this saw won't disappoint. 
Pros
Heavy-gauge steel construction

Accurate square cuts

Powerful

Removes 99% of the debris

Very safe
Cons
Takes time to start the unit

Slightly costly
Among all the functions, the worm drive power-train puts this table saw among the top products due to the superior torque and aggressive depth cut. Not only can you quickly complete work, but it's also exceptionally accurate to deliver a solid output in most situations. Unsurprisingly, it's quite popular among buyers.
Why Did We Like It? 
The SKILSAW Table Saw has a worm-drive gearing offering greater cutting depth and improved rip capacity. Therefore, the 3-⅝-inch cutting depth combined with the 30-½-inch rip capacity ensures you can work on various materials for the best results. Furthermore, the rack and pinion fence system delivers faster cuts to reduce work time. 
You'll be pleased by the smoother and more accurate cuts, ensuring your projects stand out. In that regard, the rugged rolling stand, the 16-inch wheels, and the easy-load handles provide exceptional mobility. So, you can work from various angles, highlighting the versatility of this model. 
Besides, SKILSAW has added a dust port elbow to clear debris for an unobstructed view while cutting. Therefore, there's no need for regular maintenance, proving highly convenient. 
Finally, we should mention that the outfeed and left support permits users to make larger cuts. 
What Could've Been Better? 
For the most part, installation is easy as the steps are clearly understandable. However, the steps detailing how to attach the wheels are ambiguous, while the diagram doesn't help either. Although it doesn't affect user experience, you'll need more time to complete the process. Also, over time the fence lock might bend, which isn't ideal. 
Pros
Smooth experience

16-inch wheels

Rugged rolling stand

Easy-load handles

Dust port elbow
Cons
Installing the wheels takes time

Fence lock might bend
We hope you've liked what we had to offer so far, but without wasting time, let's move on to the next product. This Skil Table Saw left us amazed with its lightweight construction and excellent motor, making it suitable for cutting different materials. Plus, with the necessary adjustments, you can work from different angles.
Why Did We Like It? 
We begin by discussing the rack and pinion fence rails, which keep the fence parallel to the blade for faster cuts. However, the reduced work time doesn't affect accuracy or control, ensuring you get a smooth experience. Similarly, the parallel blade alignment proves useful, permitting you to make minute adjustments and fix the blade parallel to the miter slot. 
Coming to its other details, you'll see that this is a compact unit, so it doesn't take up much space. You can quickly fold the legs for portability and take the table saw with you to different job sites. In that regard, the lightweight design reduces fatigue and helps you work for extended periods. 
Plus, it has a 4×4 cutting capacity permitting you to get moved up to 90 degrees. Therefore, you can make straight cuts, and supported by the improved bevel capacity, it cuts between two positive stops at 0 and 45 degrees.  
What Could've Been Better? 
Although the lightweight design has its advantages, you must know that the saw wobbles a bit while cutting. This problem usually occurs when you're using the full length of the tool, so we suggest not extending it to the maximum length. It's nothing significant, and you're bound to get better with practice. 
Pros
Improved bevel capacity

Accurate

Parallel blade alignment

Compact

Fast cuts
Up next is a tool having several similarities with some other units available out there, so what makes it stand out? The answer is the battery. With help from state-of-the-art technology, DEWALT has developed its FLEXVOLT battery that adjusts to changing voltages. But that's just one of many quality functions available in this model.
Why Did We Like It? 
An oft-overlooked aspect of table saws is flexibility, but the DEWALT FLEXVOLT Table Saw has done well in this regard. We were glad to see that this is a cordless model that makes work easier and improves maneuverability for the best results. 
Significantly, the innovative battery automatically changes voltage depending on the tools you choose to use. It delivers a 24-inch ripping capacity, allowing you to work on 4×8 plywood and OSB sheets. 
Also, the rack and pinion telescoping fence rails come in handy, providing greater accuracy and delivering smoothness in your tasks. There won't be any unnecessary interruptions, highlighting the enhanced user experience. 
Now, there's a metal roll cage base, which is extremely durable and acts as a better substitute for plastic bases. So, it lasts a long time and proves highly reliable. Another interesting addition is that of the power-loss reset function, preventing accidental restart after a power outage.  
What Could've Been Better? 
There's only one miter slot on the left side of the blade, meaning it's difficult for you to build a cross-cut sled. So, the designers need to add a second miter slot. Plus, the miter gauge is slightly loose, causing a noise while sliding across the surface. It's slightly irritating but isn't a major issue. 
Pros
Metal roll cage base

Durable

Power-loss reset function

Safe

Flexible
If you're looking for a powerful unit, there are few products that can match this Goplus Table Saw in terms of rotations per minute. It offers one of the highest outputs going around, leading to a positive response from buyers. So, it finds a place on most people's wish lists.
Why Did We Like It? 
There are several attractive features of the Goplus Table Saw but let's start with the power supplied by the 15 Amp motor. It generates 5,000 rpm to cut through different types of hardwood and is well-supported by the heavy-duty stand that prevents the table from rolling over. 
Also, despite the high output, it doesn't make much noise, creating a favorable environment while at work. We loved the 36-tooth blade along with an aluminum tabletop, producing a 24-inch rip capacity. As a result, it reduces friction and permits you to cut through thick wood for a smooth experience. 
Apart from that, you can make double bevel cuts up to 45 degrees, while the maximum angle for cross cuts is 90 degrees. Significantly, the designers have added a large hand wheel for easier blade lifting, which makes it suitable for slotting, cutting, and ripping. 
Finally, the onboard storage system is the perfect place to store your wrench and push stick.  
What Could've Been Better? 
While it has most bases covered, this model doesn't have a connector for the vacuum, meaning the sawdust poses a problem as you're working. Furthermore, the installation takes time, and the steps need detailing in an uncomplicated manner, keeping in mind that first-time users aren't adept at using it. 
Pros
Double bevel cuts

36-tooth blade

Aluminum tabletop

24-inch rip capacity

Onboard storage system
Cons
Installation takes time

Poor dust collection mechanism
We're at the halfway point of our guide, but there are many quality units that we need to review. Our next recommendation is the Metabo Table Saw measuring 10 inches and supported by a 15 Amp motor for unmatched output. However, that's not the only good thing about it and read on to find out more. 
Sale
Why Did We Like It? 
This 10-inch table saw weighs 96 pounds and comes with a stand for more stability while working. The motor generates 4,500 rpm allowing you to cut through tough materials with ease, leading to its increasing popularity. 
Some of its other features include a 40-tooth carbide-tipped blade and outfeed support. Moreover, the manufacturers have added all relevant components like a blade guard, rip fence, and miter gauge. Meaning, it delivers accuracy in your tasks while keeping the table saw in prime condition for long-term use. 
Further adding to the durability is the aluminum exterior, ensuring it can withstand bumps and scratches for consistent output. What's more, depending on the angle, you can vary the cutting capacity, making this an incredibly versatile model. At 90 degrees, it produces a cutting depth of 3-⅛-inch, while at 45 degrees, the cuts have a depth of 2-¼-inch.  
What Could've Been Better? 
There are a couple of issues with this unit. Firstly, the plastic component supporting the rip fence is susceptible to damage, meaning you need to conduct regular maintenance. Secondly, it's not ready for use out of the box, and you'll have to make minor adjustments to get the accuracy right before starting work. 
Pros
Highly maneuverable

Blade guard

Rip fence

Miter gauge

Aluminum exterior
Cons
Needs minor adjustments

Fragile plastic components
When it comes to delivering a precision performance, there's none better than this Delta Table Saw. Along with that, it has a 32.5-inch rip capacity and three quick adjustment tabs for an uninterrupted experience. So, it's easy to see why most people have taken a liking to what it offers.
Sale
Why Did We Like It? 
First and foremost, there's nothing eye-catching about the Delta Table Saw, but the carefully chosen functions deliver a reliable experience. It's a simple tool backed by the 15 Amp contractor-grade motor, allowing you to work on lumbar and hardwood for the best results. All you need is to plug it into a 120V power source, and this corded saw will take care of the rest. 
Most users have expressed their admiration at the 10-inch length supported by the 32.5-inch rip capacity. One of the main reasons for the improved rip capacity is the terrific handle design, meaning it's suitable for numerous projects.
 We must also mention the rack and pinion fence system permitting you to make fast but accurate adjustments. Other than that, the 2.5-inch dust collection port helps keep the workbench clean by connecting to a vacuum that removes debris. 
Furthermore, the portable stand proves useful during transportation while also providing stability.  
What Could've Been Better? 
Like some other models, it's difficult to assemble the unit, which is slightly frustrating. You'll need to devote more time, to ensuring all the components are in the right place, so don't try to rush through. Besides, you may encounter a slight wobble while working, which isn't ideal. 
Pros
Three quick adjustment tabs

2.5-inch dust collection port

Portable stand

Carbide blade

Rack and pinion fence system
Cons
Wobbles

Difficult to assemble
Another well-known brand that has done well in terms of quality is BOSCH. Most of the features on this table saw are stable and nothing too extravagant; therefore, it guarantees consistent output on different projects. It makes for an affordable and valuable acquisition.
Sale
Why Did We Like It? 
For starters, this saw has incredible power, thanks to the 15 Amp motor, which delivers 4HP and 3,650 rpm for various purposes. You can use it for rip-cutting or cross-cutting fine or rough materials, thereby highlighting the versatility on offer. In that regard, the weight of 94 lbs proves useful, delivering greater maneuverability. 
But despite having a large cast aluminum top, you won't experience storage issues as it easily folds into a more compact unit. Coming back to the aluminum top, you'll see that it increases the workspace and supports a 25-inch ripping capacity for most cutting purposes. 
Another fantastic upgrade is the inclusion of a smart guard system consisting of a riving knife and anti-kickback pawls. Additionally, the guard assembly improves your line-of-sight and prevents contact with the blade to keep you safe. 
Lastly, the manufacturers have added soft-start circuitry to reduce the chances of tripping a circuit breaker.  
What Could've Been Better? 
A common complaint among customers is that it doesn't have much stability, which is an important consideration before making the purchase. It doesn't wobble a lot but just enough to impact the rip fence, making it difficult to hold the saw in place. Therefore, remember to be patient and take your time when cutting. 
Pros
Soft start circuitry

25-inch ripping capacity

Compact

Portable

Versatile
Engineers at Shop Fox have developed a sturdy unit that can deliver several years of quality service. Irrespective of the project, this table saw produces a power-packed performance, made possible by close attention to detail. But there's no need to worry as it comes with the relevant safety functions for a reliable experience.
Why Did We Like It? 
Let's start by looking at the terrific precision delivered by this model, giving it an edge over other products. It comes with a polished cast-iron table and wings to make accurate cuts and ensure your projects stand out. Furthermore, the heavy cast-iron trunnions enhance performance, thanks to the 2HP motor and triple belt drive. 
You must also know that it has a 50-inch rip capacity, sufficient for ripping through the center of the plywood. In that regard, the adjustable legs and square steel tubing frame provide stability, allowing you to work from various angles. Plus, the miter gauge features a flip stop and proves useful when working with longer workpieces. 
Besides, this model has an innovative blade title mechanism, permitting you to fix the blade between 0 and 45 degrees. By loosening the blade tilt lock and turning the handwheel, you can change the angle of operation.  
What Could've Been Better? 
Disappointingly, the instructions are available in black and white, making it difficult to understand the steps. We didn't expect a modern tool to avoid color diagrams, and this laziness has led to DIY users missing out on a smooth user experience. Additionally, depending on your proficiency, you might need help assembling this unit. 
Pros
Improved angle of operation

50-inch rip capacity

Adjustable legs

Miter gauge with flip stop

Camlock fence
Cons
No color instructions

Installation takes time
To survive in the ever-changing market, every product has to evolve and adapt. This table saw designed by Evolution has made some significant upgrades to the blade and gearbox, meaning it's the top pick for many users. No wonder it has received mostly positive reviews. 
Why Did We Like It? 
Right away, you'll notice the upgraded blade design consists of a Japanese tungsten carbide construction, meaning it's suitable for various purposes. This model has 24 teeth that can cut through steel, aluminum, wood, and plastic. Therefore, it's a versatile unit, making it suitable for undertaking various projects. 
When it comes to cutting, the unit needs power, so the designers have included a 15 Amp motor with an optimized gearbox. It's well-supported by the blade system, and together these components improve longevity and quickly cut through different materials. 
Despite the faster cuts, you won't face problems with accuracy, thanks to the full-scale, adjustable parallel fence with a measuring rail guide. Unsurprisingly, it has a higher rip capacity complemented by the 45-degree bevel tilt and 60-degree miter. This means you can work from various angles for all-around coverage. 
Finally, the sturdy wheels deliver easy movement and enhance portability to store the table once work is over. 
What Could've Been Better? 
We believed that this model could've used an extendable roller to cut longer pieces of wood. As it is, longer-than-average numbers may fall off or bend while being cut. Another thing to note is that the dust collection system needs improvement as users have found a lot of debris under the table. 
Pros
Gearbox

Impressive blade system

Adjustable parallel fence

45-degree bevel tilt

Sturdy wheels
Cons
Dust collection could be better

Longer pieces of wood may bend
There's a lot to like about this JET Saw, and as the name suggests, you can make fast yet accurate cuts. The well-balanced functions have earned this saw a place among the top products; as such, most users are queuing up to check out its features. So, read the following section if you would like to know more.
Why Did We Like It? 
Among all the features, we loved the large cast-iron table and trunnion, reducing vibrations and providing stability while cutting through different materials. What's more, the wide stance and 10-inch cutting table deliver a 50-inch rip capacity, thanks to the 3HP motor. 
It's an easy-to-use unit with a convenient mounting mechanism allowing you to align the miter slot by loosening the four hex cap screws. Further adding to its user-friendliness, are the cast-iron wheels, proving useful for setting this table saw to the appropriate height for greater precision while working. 
But particularly pleasing is the addition of an industrial on/off switch to keep you safe during power fluctuations. As a result, there's no need to worry about the saw accidentally coming alive following a power outage. Finally, the inclusion of the Poly V-belt system reduces heat generation and prevents slipping.  
What Could've Been Better? 
Although it features an upgraded fence system, the instructions don't match the revamped component. It isn't a major issue since it reduces the number of steps needed for assembly; however, the engineers must mention this in the instructions. Also, the screw terminals in the wiring block might strip after regular use. 
Pros
50-inch rip capacity

Convenient mounting mechanism

Cast-iron wheels

Adjustable height

Safe
Cons
Incomplete instructions

Screw terminals need maintenance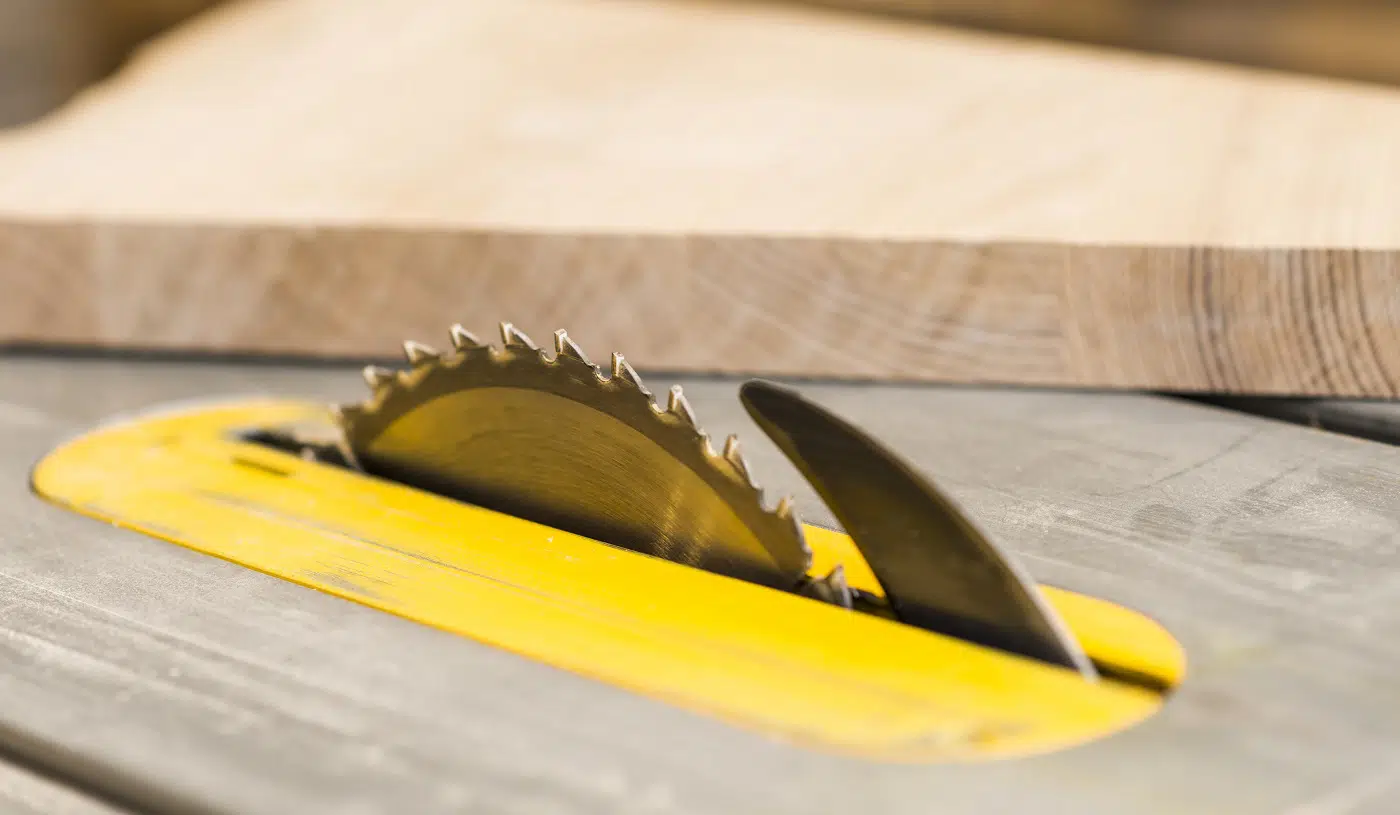 Contractor Table Saw Buyer's Guide 
Now, we focus our attention on the buyer's guide section. And here we'll discuss the inner workings of table saws with the aim to help you choose between two quality units. 
It'll interest you to know that we've selected the products for our guide based on the following points. So, we've highlighted some of the vital attributes you need to keep in mind, and you should note these down for future reference. 
Without further ado, let's dive in. 
Cutting Capacity 
It's pretty obvious that for any table saw to make a name in the market; it must have substantial cutting capacity. For that, it needs to have sufficient power, so it's imperative for the designers to develop a powerful engine. 
More power generates higher rotations per minute, allowing you to cut through various materials quickly. This reduces work time and delivers efficiency, but you must also have the option of managing the power for the best results.   
Accuracy 
A table saw must be accurate to help your projects stand out. To make the desired cuts and work from various angles, engineers must add the necessary adjustment functions. Therefore, you can raise the height and place the saw parallel to the surface for straight or angled cuts. 
Moreover, accuracy adds to the versatility of a model, permitting you to undertake various projects. 
Durability 
Also, a table saw needs to be sturdy to handle the demands of everyday use. Only the best materials need to be used for construction, ensuring it can handle the rigors of heavy-duty tasks. Moreover, the blade and teeth need to be made from the strongest materials to last a long time and remain unaffected by rusting. 
Besides, durability leads to reliability in your tasks and makes sure that the table saw doesn't break down suddenly. Consequently, users can reap the rewards of their investment.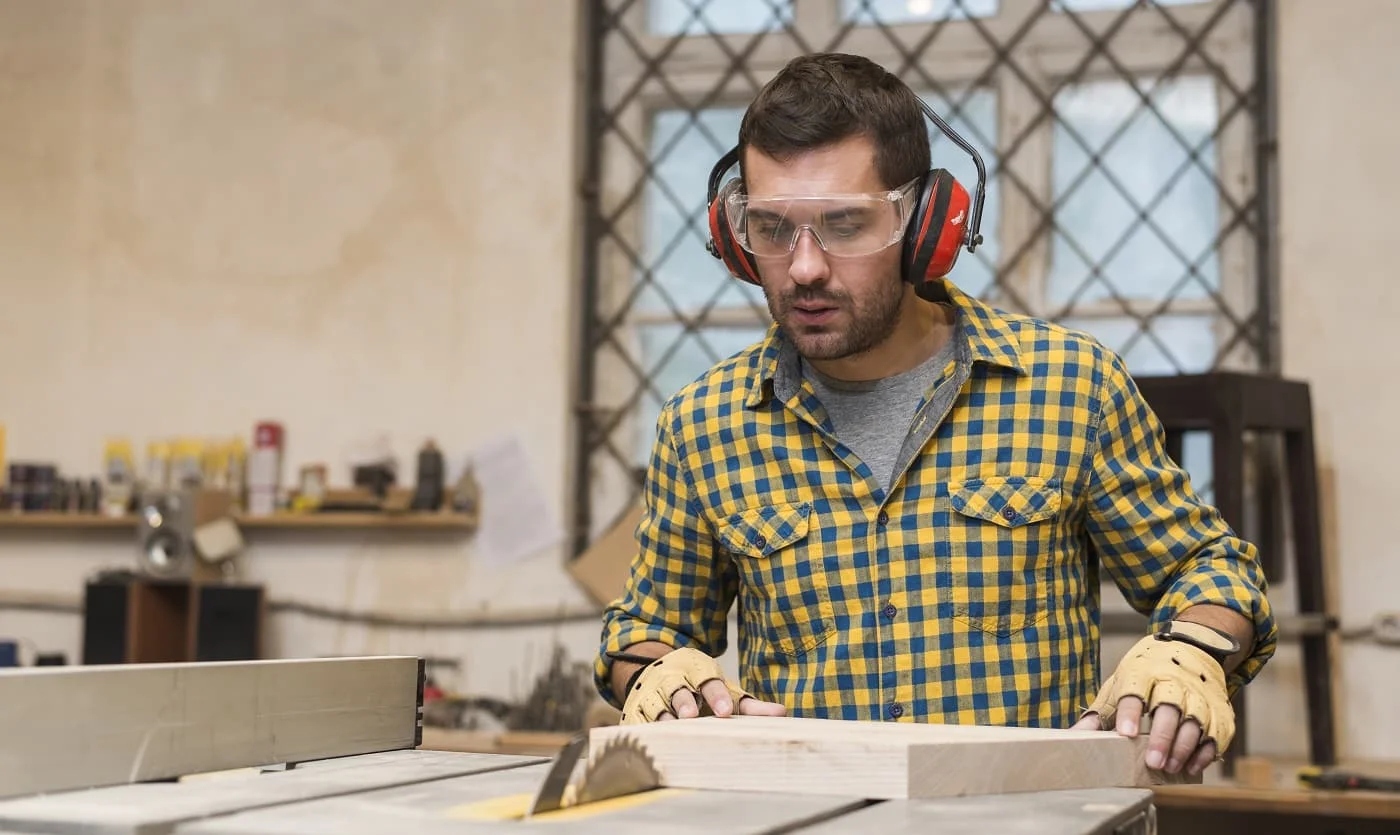 Verdict
We're down to the final section in our guide, and hopefully, you've learned something of value about contractor table saws. 
The reviews and the buyer's guide section have covered most of the critical aspects to help you make an informed decision. However, we've decided to highlight our favorite models from different categories for extra assistance. 
Having gone through our selection of table saws, we feel that the DEWALT DWE7485 Table Saw is the most balanced unit, delivering the best overall performance. Apart from that, the SAWSTOP Cabinet Saw keeps the workbench clean and has the required sturdiness to last a long time. 
That's all the time we've got, but we hope to be back soon to review other exciting tools. Till then, enjoy the frictionless experience and power output of your table saw while working on different projects. 
Take care, bye! 
Related Articles
13 Best Screwdriver Sets on the Market Today
Simply the Best Stained Glass Ring Saws Reviewed
49 FREE DIY Router Table Plans For an Epic Home Workshop
11 Best Angle Grinders on the Market Today
13 Best Chainsaws for the Money Reviews & Guide
13 Best Tile Saws Reviewed | Buyer's Guide
11 Best Sliding Compound Miter Saws
Different Types of Saws & How to Use Them  
9 Best Hybrid Table Saws Under $1000
11 Best Budget Bandsaw Reviews 
11 Best Dry Cut Metal Chop Saw
11 Best Table Saw [Reviewed & Buyer's Guide]
7 Best Cabinet Table Saws [Reviewed & Buyer's Guide]
9 Best Band Saw [Reviews & Buyer's Guide]
7 Best 12-inch Miter Saw Reviews [Buyer's Guide]
Best 20″ Chainsaw [Reviewed & Buyer's Guide]
11 Best Chainsaw for Milling Lumber | Buyer's Guide
5 Best Stihl Chainsaws [Reviewed & Buyer's Guide]
11 Best Table Saw Fences [Reviewed & Buyer's Guide]
DeWalt DW735X Planer Review [Should You?]
Bosch 4100-10 Jobsite Table Saw [Reviewed]
Hack Saw Vs Bow Saw [All You Need to Know] [Explained]
9 Best Compact Circular Saws Of 2022 [Reviewed & Buyer's Guide]
How To Sharpen A Bow Saw And Bow Saw Maintenance
11 Best Dowel Jigs [Most Accurate & Durable]
Radial Arm Saw vs Miter Saw [Differences & Winner]
ROCKWELL VersaCut RK3440K Mini Circular Saw [Review]
Bosch 4100-09 Review [A Clear Winner?]
Miter Saw vs. Circular Saw [Differences & Winner]