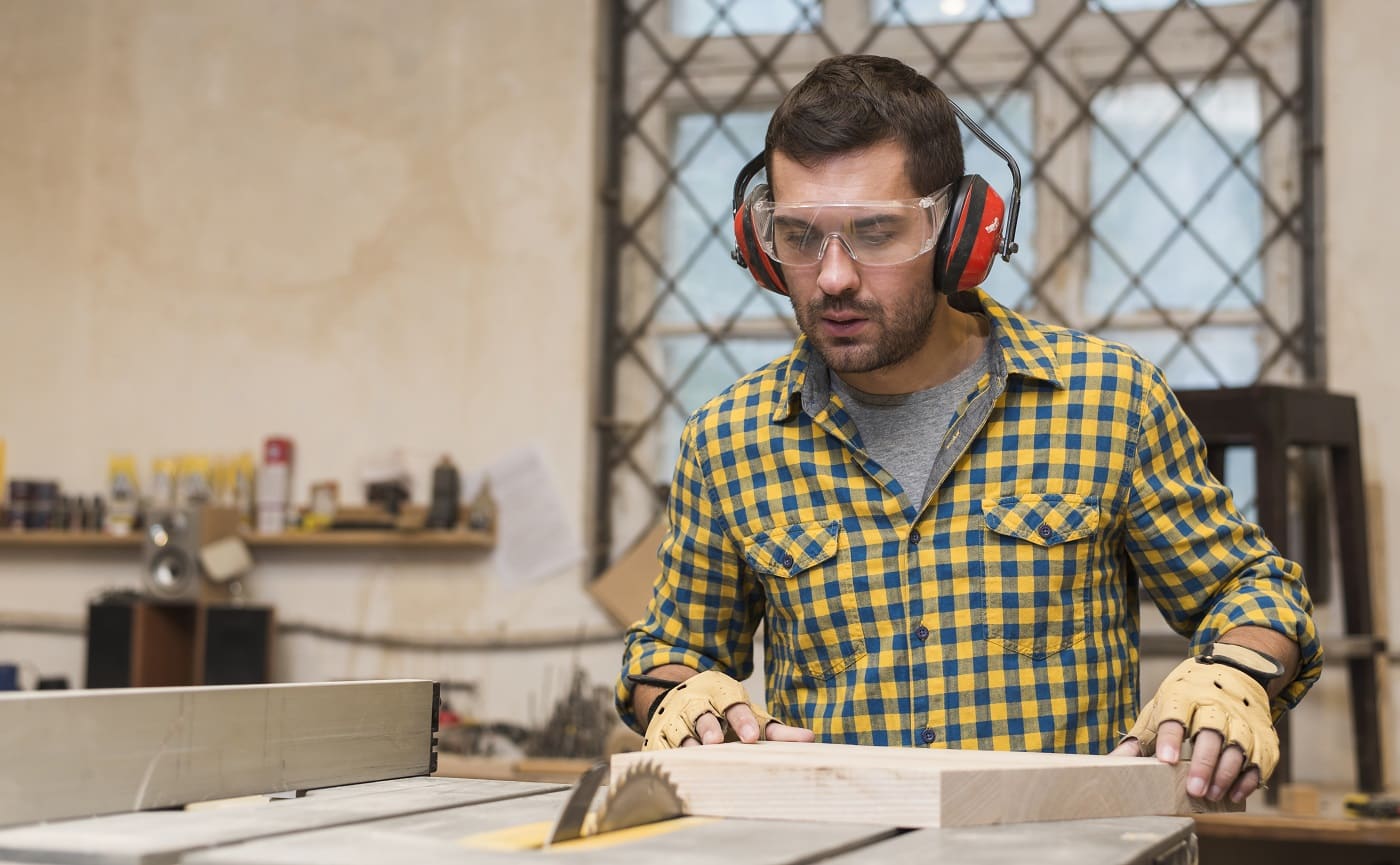 Most woodworking professionals would agree that a table saw is an important machinery in their workshops. As such, choosing the right one becomes crucial.
A table saw should be versatile, portable, and packed with exceptional safety features. Now, as far as the Bosch 4100-09 is concerned, most woodworkers say that it is one of the best performing table saws. 
But, is it so? Well, today we're going to find out. Bosch is one of the leading manufacturers of top-grade power tools and accessories. 
Naturally, the Bosch Worksite Table Saw is the ideal choice for DIYers and woodworking professionals alike, thanks to its robust combination of power and portability. What's more, it delivers top-notch precision, which allows you to cut through a wide range of wooden materials effortlessly. 
If we have piqued your interest, let us take a look at the capabilities of this table saw in detail. This will help you decide whether to buy it. 
Bosch Worksite Table Saw With Stand Review
Key Specifications
Before buying any woodworking machinery, you should have knowledge about the specifications of the model. Here, we have highlighted some of the key aspects of the Bosch 4100-09 unit so that you can quickly decide if it fits your requirements. 
Measurement:

39"×29.75"×21"

Power:

Electricity (corded)

Motor:

4 HP, 15 amp

Warranty:

1-year limited warranty

Table dimensions:

21-1/2''x 28''

Weight:

92 pounds

Blade diameter:

10"

Blade speed:

3,650 RPM

Size of dust collection port:

2.5" in diameter
What Do You Get In The Box
These are the things you get in the box
The table saw

SquareLock rip fence

A push stick

An adjustment wrench

Multi-functional blade wrench

Stand 

Throat plate insert

Miter gauge

A guard system consisting of a barrier-guard device and anti-back pawls
Bosch Features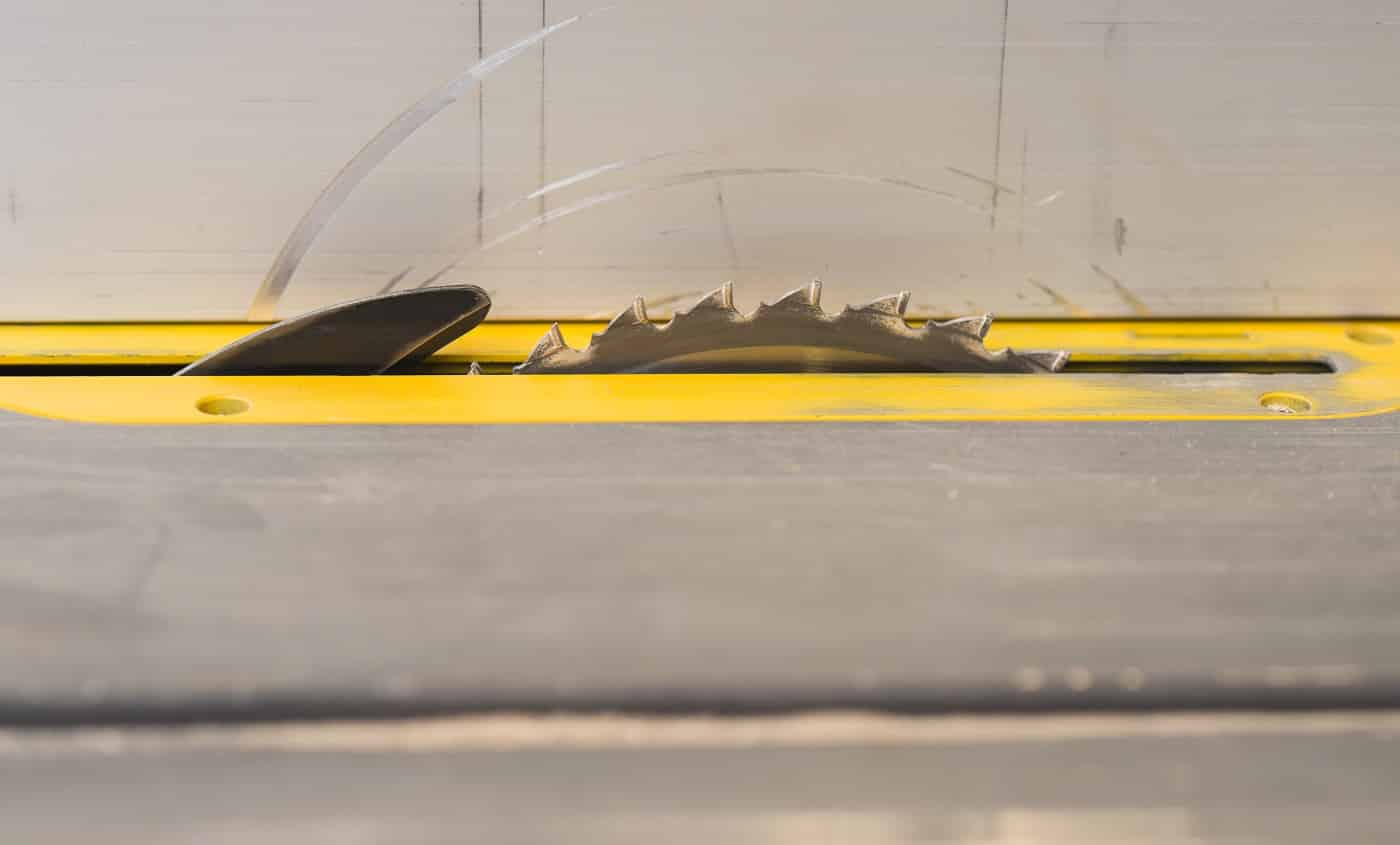 This unit is packed with a ton of features that make woodworking very easy. Let's take a detailed look at some of its top features. 
Portability
Portability is one of the many aspects, where the 4100-09 table saw from Bosch stands out from most of its competitors. Weighing around 92 pounds, it is a relatively lightweight table saw, which makes it very portable. 
For professional woodworkers, it is a very important feature as it allows them to easily carry it from one workstation to another. Meaning, all the spare parts, safety tools, and essential accessories can be conveniently stored inside the main body of the table saw without compromising on movement.  
Cutting Capacity
The product sports a 40-tooth carbide blade that easily fits into the 5/8" shaft of the motor. But, you can also use an 80-tooth blade for cutting veneered panels. 
Its unique shaft is compatible with different types of blades, including dado blades. What's more, you can change them in the blink of an eye; all you have to do is pull the locking lever and use a wrench to remove the old one.
Further enhancing its cutting capacity is its unique tabletop that measures around 21-1/2''x 28". But you can extend it to 40" by using the locking level and extending the tabletop to your right. 
Doing this will help you to achieve an 8" cutting capacity on the left and a 25" cutting capacity on the right. 
Safety Features
The Bosch 4100-09 comes with optimal safety features, thanks to its Smart Guard system which consists of adjustable blade guards, anti-kickback pawls, and a riving knife. The best part about it is that you can easily attach or detach the components without any additional tools, making this product extremely flexible. 
Now, if you have used a table saw before, you would know that kickbacks are a major problem, which must be dealt with ingenuity. And this unit handles it extremely well due to the inclusion of a high-quality riving knife, also known as a splitter.   
Finally, as far as the blade guard is concerned, it ensures that there is enough clearance between your hands and the blades, taking safety to the next level.  
Design
The unit boasts an aluminum tabletop, giving you ample space to work. 
But especially pleasing is its sturdy design which makes it worth the investment. Users worried about longevity will love its durable metal construction, which can handle regular wear and tear with ease.   
Additionally, thanks to its pneumatic wheels, the Gravity-Rise stand enables you to move the table saw without any difficulty. Also, you can adjust the height of the stand as per your requirements, which is an added advantage.  
Motor
It is powered by a robust 4 HP motor that can cut through thick hardwoods easily. And even though it is not the most powerful product that you will come across, it does a decent job for most parts. 
You will find that the motor delivers a blade speed of 3,600 RPM, but you can tweak it depending on the task. However, that doesn't mean it compromises on user experience because it comes with a soft start feature that reduces recoil and noise.
Furthermore, it is integrated with the Constant Response Circuitry from Bosch. Meaning, the unit can keep a check of the power consumption when it is under load and adjust the torque accordingly.
Overall Functionality
You need to have a certain amount of woodworking knowledge and experience to operate the Bosch 4100-09. However, it suffers from various shortcomings that affect its functionality, thereby restricting the variety of tasks users can perform. 
For starters, controlling the blade is not that simple as the height of the wheel is controlled by the handwheel, which you cannot lock in one place. Though it doesn't wobble much during operation, we feel that a locking feature would have added more stability.
Moreover, despite having positive stops at 90 degrees and 45 degrees, adjusting the bevel angle is not easy. Not to mention, the bevel scale tends to be inaccurate at times, which makes it suitable only for rough cuts.    
Pros
These are some of the advantages of using the Bosch 4100-09 table saw.
Outstanding Features
It comes with a Smart Guard system, which prevents accidents by ensuring that the machine does not jam or kickback during use. 
Plus, the riving knife lets you use blades that are wider than those available with the unit. This means that you may have to purchase additional components for the best results but we must tell you that assembly isn't easy. So, first-time users may find it difficult to get it ready.  
Highly Functional Fence System
The fence system is one of the best on the market and you can glide through the rail, thanks to its Sqaurelock Rip Fence. Moreover, you can lock it easily and carry out small precision cuts without any problem.  
Integrated With Constant Response Circuitry
The product's powerful motor is integrated with the Constant Response Circuitry, which helps keep track of the blade's rotational speed. Additionally, it helps you manage the output without impacting the performance of the blade and prevents sudden speed oscillations while using the unit.   
Top-notch Portability
Weighing around 92 pounds, the Bosch 4100-09 is relatively lightweight, so you can move it easily in case you need to switch worksites. Plus, its Gravity-Rise table deserves a special mention as it is equipped with wheels that deliver portability.  
Compatible
This model is compatible with dado blades that let you carry out different types of cuts. Meaning, it is highly versatile so that you can work on various projects. 
Cons
Just like any other machinery, the Bosch 4100-09 also has its disadvantages. Here are some of its most common problems.
Poor Dust Collection System
The 4100-09 mostly does a decent job when it comes to dust collection. It features a 2.5-inch dust port, which you can connect to a vacuum to remove most of the debris. However, don't expect it to collect all the dirt particles as it does not come with a dust collection bag.
Understandably, we were not impressed with the performance. It might still help you clean a room but you will have to undertake further measures to ensure that all corners are spick and span. 
Reduced Rip Capacity
In our opinion, the 25" rip capacity is not enough for cutting large pieces of wood. For example, if you intend on cutting wide sheet stock on a daily basis, the product's output may not match up to your expectations. 
We suggest that you use it for light-scale or moderate projects for the best results. 
Difficult Bevel Adjustment
Adjusting the bevel angle is quite difficult, to say the least and you might need assistance to alter the settings. 
Alternative Table Saws To Bosch 
After reading thus far, if you feel that the 4100-09 model from Bosch is not the right product for you, consider going with these options mentioned below. Needless to say, they are all highly efficient table saws.
The Bosch 4100-10 is an upgraded version of the Bosch 4100-09 unit and both these models have a lot of similar features. For starters, they come with a 4 HP motor, allowing both units to complete different tasks with aplomb. 
Now, the former can be bought with a Gravity-Rise stand; however, the model number is different.  Also, it looks a lot different from the one you get with the latter, meaning there could be variations in output. 
What's more, the 4100-10 features a 24-tooth blade which is better suited for rip-cutting wood, whereas the 4100-09 model has a 40-tooth blade. 
Pros
Powerful motor

Portable

Smart Guard system offers protection
Founded in 1924, Dewalt is one of the leading power tool brands in the US. On that note, allow us to introduce you to the DWE7485-QS table saw which is powered by a 15 amp motor.  
Understandably, it has a substantial capacity and can carry out high-quality and accurate cuts at 5,800 RPM. Speaking of cuts, what caught our attention right from the start was its 24-tooth blade which can make short work of different materials. 
Upon purchase, you will find that it comes with a wide range of accessories, including anti-kickback pawls, a riving knife, a push stick, and wrenches so that you can change the blade. Plus, it features an onboard storage, which comes in handy for keeping all the tools organized. 
However, despite all the good things, it has a rip capacity of 24.5," and an 8.5-inch blade, which we don't think is sufficient for cutting through large wood pieces. 
Pros
Lightweight

Onboard storage

Comes with all the necessary tools
Cons
Can't cut through thick materials
Next up, we bring you another quality alternative to the Bosch 4100-09 from Evolution Power Tools, a prominent name in the table saw industry. Whether you are a DIYer or a professional woodworker, this machine can help you get the desired results. 
Even though it is a bit bulkier than the 4100-09 model, it is more versatile in its functionality. For instance, by using its 28-teeth, 10-inch R255-TCT multi-material blade, it can easily cut through a wide variety of surfaces, including wood, aluminum, plastic, and mild steel. 
Moreover, the blade is made of Japanese tungsten steel, which makes it highly durable and long-lasting. But another advantage is that you can use it to make precise crosscuts without any hassle. 
It also comes with a hi-torque gearbox that helps in minimizing motor stress, thereby improving its performance and longevity. That said, we have noticed a few performance issues. 
You will find that its collapsible frame does not come with detailed assembly instructions, which is pretty disappointing. As a result, assembly takes time and could be frustrating. 
Pros
Highly durable

Backed by a 3-year warranty

Can cut through a wide variety of materials
Cons
It doesn't come with detailed assembly instructions
For over 50 years, JET has dedicated itself to manufacturing a wide range of top-quality woodworking and metalworking machines. And the Jet Table Saw is another prestigious addition to their woodworking repertoire. 
It features a robust 15 amp motor that can cut through thick materials easily. But, for us, the main highlight of this product is its wheeled stand, which collapses quickly for storage, portability, and quick setup. 
We also found that it weighs under 100 pounds and is slightly on the heavier side to provide stability during operation. Further adding to its stable output are the anti-kickback pawls and a European-style riving knife for working on heavy-duty tasks. 
Furthermore, it is backed by a 3-year of limited warranty, which is something we truly appreciate. However, the downside is that the fence is a bit difficult to adjust, and it is more expensive than other models. 
Pros
Professional woodworkers consider it as their go-to product

Tools can be easily stored in the base part

Even though a bit heavy, it is easily portable

Easy to fold and set up
Our next item is a quality product from the Japanese powerhouse, Hitachi, the new Metabo, a brand that has been in the business for over a century. So, it should not come as a surprise that their 10″ Table Saw is in our top recommendations for alternatives to the Bosch.
Just like the latter model, it also comes with a soft start feature that minimizes noise and recoil during startup. Now, excessive recoil can lead to safety issues, so Metabo has ensured optimal protection with the integration of an electric brake. It stops the movement of the blades instantaneously in case of any accident.
Moving on, as far as the cutting capacity is concerned, it sports a 10" 40-tooth blade, which can cut through thick materials easily. Meaning you need not worry about performance issues. 
But in case it encounters a problem you'll be pleased to know that it is backed by a 3-year warranty. Hence, you can expect it to perform efficiently for a very long time.
Pros
A portable option

Performs decently

Optimal safety
Cons
Takes time getting used to it

Doesn't deliver great value for money
SKIL is a very popular brand among woodworking professionals, and hence it requires no introduction. The 3410-02 Table Saw is a highly budget-driven alternative to the Bosch 4100-09 and could be a suitable choice for those looking for a reliable cutting machine. 
Thanks to its heavy-duty steel stand, woodworkers can set it up in a jiffy. This is further helped by the fact that it weighs around 67 pounds, which makes it a lightweight option. But keep in mind that it does not have wheels underneath, so you may need help with installation.
Lastly, people who are on a tight budget will love its affordable price tag, which makes this unit all the more valuable. 
Pros
Lightweight

Affordable

Backed by a 1-year warranty
Cons
The base doesn't have wheels

Not meant for heavy-duty use
As you already know, Dewalt is one of the oldest and most reliable power tool brands in the US. So, it made sense to add another robust product to the list. 
The DEWALT DWE7491RS Table Saw is a premium, powerful and accurate product. Weighing about 100 pounds, it is not the lightest option that you will come across. However, the base can be folded, which certainly helps in portability. 
It features a 2 HP motor, which can handle medium to light cutting jobs. However, it may fail to compete with the other options mentioned on this list because of its relatively reduced motor power. 
Now, as far as the blades are concerned, they deliver precise cuts. Not to mention, they are retractable and ensure safety for users. Naturally, it is a good alternative to the Bosch 4100-09. 
Pros
Portable

Delivers precise results

Good value for money

It has a decent motor
Cons
The miter gauge is not great
What Are The Various Categories Of Table Saws
There are 3 main categories of table saws on the market: 
Cabinet
These table saws are large in size and are mostly used for heavy-duty professional work; hence they need fairly big workspaces. Moreover, cabinet saws deliver accurate results but are more expensive than other table saws.   
Benchtop
Benchtop models are perfect for DIYers and individuals who are starting out new.They are much lighter than cabinet table saws, making them highly portable and easy to store. 
Also, if your workshop has limited space, you should go with a model in this category. 
Contractor
The contractor is another popular category of table saw and features robust motors that can perform all types of cutting tasks with ease. 
Although a bit heavier than benchtop models, they are lighter than cabinet table saws. But despite their robust design, they have spacious tabletops, which helps in cutting large materials. 
Factors to Consider When Buying A Table Saw
Let's be honest; choosing the right table saw that meets all your requirements is easier said than done. In this section, we have mentioned a few important factors that you should keep in mind before making a purchase. 
Blade Compatibility
While choosing a unit, it would be best to ensure that it is compatible with dado blades. 
The stacked variant utilizes two blades with a few chippers positioned between them. On the other hand, the wobble design offers excellent adjustments but cuts unevenly with more possibility of a tearout. 
That being said, both types of dado blades will need a table saw with an extended arbor for better grip and extra space. For this reason, we strongly recommend going with a model with a lengthy arbor.   
Build Quality
The build quality is another factor worth considering, as it plays a crucial role in determining the overall value of a table saw. Since buying any model requires a significant amount of investment, you should always go with a unit that offers durability. 
You must check the materials with which the table saw is made, as it affects both the performance and longevity of the machine. As far as performance is considered, the material should be able to minimize vibration; otherwise the cuts tend to be inaccurate. 
Now, the primary materials used in table saws are cast iron, aluminum, stainless steel, and plastic. Among them, cast iron significantly reduces vibrations but is heavy and expensive. 
Plastic, on the other hand, is inexpensive but flimsy and, therefore, vibrates the most. So, we suggest choosing a product that is made of either aluminum or stainless steel as both efficiently control vibrations while being lightweight and portable.          
Portability And Size
Portability is something that all professional woodworkers should look for in a table saw, as they have to carry it from one job site to another. It doesn't necessarily have to be lightweight, but it should come with a sturdy cart stand.  
Motor Power
Believe it or not, the motor power is as important as the build quality of a table saw as it has a direct impact on the torque. In general, strong motor power comes in handy when you cut thicker woods. 
So, in that case, you should always opt for a model that has a higher HP, amps, and rotations per minute. However, if you cut medium and soft hardwood, a medium-powered option will do the job. 
Fence Quality
The quality of the fence may not be the first thing that comes to your mind when purchasing a table saw, but it is a noteworthy factor nonetheless. An ideal rip fence should be adjustable, and it should lock well to the table. 
Dust Collection System
People with allergies and breathing issues appreciate machines with efficient dust collection systems. That said, the main problem with machines with poor dust collection systems is that it allows dust to build up inside them, which takes a toll on the tool's productivity.  
As a result, it lowers the cutting effectiveness of the blade and may cause it to wear out quickly. For this, all woodworkers should aim to purchase a table saw that comes with a big dust vacuum port. 
That being said, the best option would be to go with a model that features a dual dust collection system and a vacuum port on the blade guard.  
Safety Features
Table saws are usually very dangerous machines to use, which is why safety is a major concern. However, most models in this day and age ensure that they are packed with a ton of safety features. 
For starters, they come with the blade guard, which makes it easy to remove or adjust the blade as per the user's requirements. 
Apart from this, anti-kickback pawls are also necessary as they reduce wobbling and provide stability. Speaking of stability, you will also find that some models come with blade brakes that shut down the machine in the blink of an eye when it touches the skin. 
Understandably, these are some of the most practical safety features your table saw should have.  
How To Safely Use A Table Saw
These are some safety tips that you need to follow while using a table saw to avoid the risk of getting injured.
Wear Ear And Eye Protection
You should always wear proper ear protection while using a table saw. Since it is a large and heavy-duty piece of equipment, the saw blades can be exceedingly loud and may damage your eardrums. Hence, we recommend buying disposable earplugs or earmuffs that don't cost much in order to protect your hearing. 
Additionally, you could wear safety goggles while cutting wooden materials as it will prevent the debris and sawdust from entering your eyes.  
Consider Using Clearance Inserts
If you use the table saw for cutting extremely thin pieces of wood, it would be best to use an insert to avoid injuring your fingers. 
Those who don't know, an insert is a thin piece of wood that sits between the blade saw and the side fence to create a buffer zone while cutting thin wooden boards. Doing this prevents your fingers from getting too close to the blade.
Use A Splitter, Push Stick, Or A Push Shoe While Cutting Thin Materials
While you are cutting short and narrow pieces of wood, your hands might not have sufficient clearance between the side fence and the blade. This is why you should always consider using a notched sled or a push stick that guides the wood along the cutting line. 
Now, certain push devices come with adjustable features to easily fit different wooden materials. You can also buy these accessories from your local lumberyard or purchase them online from e-commerce stores.
Never Use Warped Boards
Never even think of using bent, warped, or water-damaged wooden boards because disfigured wood will lead to uneven cuts. This will in turn produce kickbacks, which obviously, is something you would not want.  
Don't Forget To Install The Blade Guard Properly
Blade guards play a very crucial role in ensuring safety. It keeps your fingers safe and deflects debris away from you. 
Nowadays, it is easy to hook guards to the blades. All you need to do is fit it on top of the blade and secure the plastic clamps or screws for a tight fit. 
Also, if the blade guard does not come installed, there is no need to worry. You can buy it from the manufacturer by visiting the brand website. 
Know The Location Of The Emergency Button
In case of any accident or a severe kickback, you should immediately turn off your table saw. Most models feature a massive paddle or button; simply press it to turn off the unit in an emergency. 
At times, it is possible to push the button with the leg if your hands are preoccupied.  
Never Wear Loose Clothing Or Hanging Jewelry
While operating your table saw, you should never wear clothes, such as ties or loose sleeves that can get caught in the blade. 
We have found that loose and baggy clothing could get trapped in the machine and pull you into it. And believe us; it is nothing like Charlie Chaplin's movies so you could get seriously hurt. 
Plus, people with long hair should tie it up before operating the machine.   
Always Read The Instruction Manual Carefully
Ensure that you read the instruction manual carefully before installing and using your table saw. Even though the functionality of most models are similar, it might vary depending on the brand and the year of manufacture. 
The reason you should read the instructions carefully is that they will provide a clear knowledge of every part of the table saw. You will be able to learn about its different components and how they operate. 
This will come in handy when fixing any accessory or to disarm the unit during an emergency. 
Tips To Maintain Your Table Saw
Table saws require regular maintenance to function efficiently without experiencing hiccups. Here are some table saw maintenance tips.
Check The Alignment
In most cases, table saws don't require an alignment provided that it's not a lower-ned model. Either way, it is best to develop a habit of checking the alignment every time you start working. Doing this will ensure overall safety and deliver precise cuts. 
On the other hand, bad alignment can cause many problems, including kickbacks, uneven cuts, and burnt wood edges. Hence, you need to ensure that you are using a straight blade. 
To check this, you can place the blade on a flat surface to ascertain whether the saw is vertical. One way to be sure is to look at the splitter or the riving knife which should perfectly align with the blade. Also, don't forget to check the stabilizing accessories like miter gauge stops, rip fences, and miter slots; the latter should be parallel to the blade. 
Overall, it would be best to check all the components that could affect the cutting angle because some parts will require realignment more than the others. 
The Cleaning Process
Most woodworking professionals and DIYers often tend to overlook this maintenance step. You must clean and lubricate the parts from time to time in order to prevent tool failures.
Firstly, ensure that you have unplugged the table saw from the power source before gaining access to the internal parts you want to lubricate. We suggest going through the user manual before doing that, ensuring that you know how best to clean them. 
After having cleaned the internal components, it would help if you lubricate them with a dry silicone-free lubricant, especially the trunnions and gears. However, do not use wet lubricants as they collect more dust and debris, thereby forming a gum-like material that may harm your table saw.      
Polishing And Caring
Always ensure that the tabletop of your model is smooth and well-polished. A dirty surface drastically affects the quality of your work and could reduce the lifespan of the machine. 
On the other hand, having a clean and polished tabletop means the materials will slide smoothly allowing you to make varied cuts. 
So, as a rule it would be best never to put any kind of food or beverages on them. Also, if you notice rust, sand it gently with a block of wood and sandpaper. 
Another valuable tip is that you should always wax and polish the parts in direct contact with the wood, such as the outfeed and rip fence.  
Consider Replacement
By following the steps mentioned above, you can extend the lifespan of the vital parts of your table saw. But, if the condition of the components does not look good, you might have to consider replacing them. 
So, if your table saw gives out weird vibrations while you are working, turn it off immediately. Then without further delay, get it diagnosed by a professional mechanic.
You should also note that the saw blade is the most common part that needs replacement as it becomes dull quickly if you use the tool frequently. But, if you don't want to get new blades, at least ensure that you use a blade sharpener for much-need longevity. 
Bosch Worksite Table Saw with Wheel Stand FAQs 
These are some of the frequently asked questions regarding the Bosch 4100-09 that we have answered. We strongly recommend reading it carefully to clear all your doubts. 
What is the Bosch 4100-09's country of origin?
Bosch is a US-based brand, but its power tools are made in China, including the Bosch 4100-09.
What is the cost of the Bosch 4100-09?
The Bosch 4100-09 table saw would cost you between $500 and $600, making it one of the high-end models. Rest assured, it will be well worth- the investment.
Can I use the Bosch Table Saw professionally?
What are the materials that I cut with the Bosch 4100-09?
You can use this product to cut wood but not other materials such as steel, metal, or plastic.
Is using the Bosch 4100-09's Smart Guard system mandatory?
No, it is not mandatory to use the Smart Guard system of the Bosch 4100-09. If you want, you can operate it without installing this safety feature. However, we do not recommend you doing so as it is highly risky.
What are the dust collection options of the Bosch 4100-09?
As mentioned before, this product comes with its own dust-collecting feature. But, if you consider adding additional equipment for enhancing the functionality of the dust-collecting system, you can do so by using these two vacuum hoses:
Do I have to remove the riving knife for dado cuts?
No, you don't have to remove the riving knife for dado cuts because it is unremovable. So, to carry out dado cutting, you need to slide it down until it reaches the tabletop.
What are some of the best brands of table saws?
Some of the popular table saw brands that have been consistently manufacturing quality units are Bosch, Dewalt, Skil, and Jet Power Tools. The table saws from these brands have always met the demands of the customers.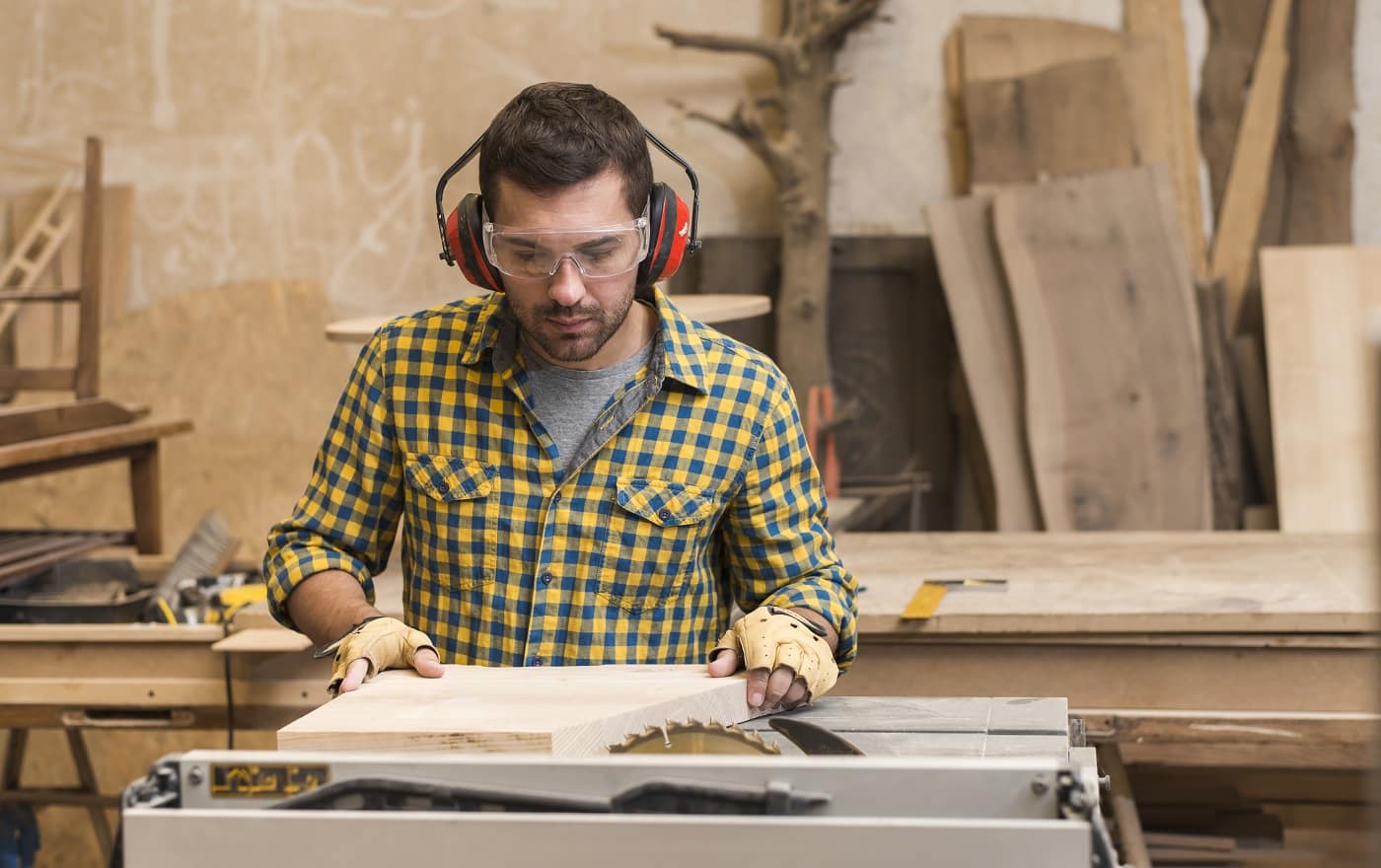 Verdict | Is The Bosch 4100-09 A Clear Winner?
Now, coming to the main question – Is the Bosch 4100-09 a clear winner? Well, without a doubt, it is highly beneficial for people looking to purchase a top-quality table saw. 
Its powerful amp motor can easily slice through thick woods, which is something professional woodworkers look for in a table saw. And to manage the power for a stable operation, it features a Gravity-Rise stand, allowing buyers to use it on uneven surfaces.
Apart from this, it comes with exceptional safety features, which is a bonus, especially for first-time users. 
However, it is not accurate and hence is best for making rough cuts where precision and half-angle play a minor role. But, this does not overshadow the fact that it is affordable, portable, and durable. 
Overall, the machine is safe, easy to use, and built with premium-quality materials. So, if you are looking for a portable and heavy-duty table saw, the Bosch Table Saw could be your best bet. 
That's all for now. Until next time, bye!
Related Articles
Bosch 4100-10 Jobsite Table Saw